Sewing a B6446 dress in pink and gold brocade
The transition to Autumn sewing has been slow on the blog. Life has been busy, with a very big project finally materialising – we are building a house and the construction is finally happening, hurrah!!! However, I have managed to find time to sew, and here is my latest make: a B6446 dress, in a glorious pink and gold brocade – discreet and understated as ever…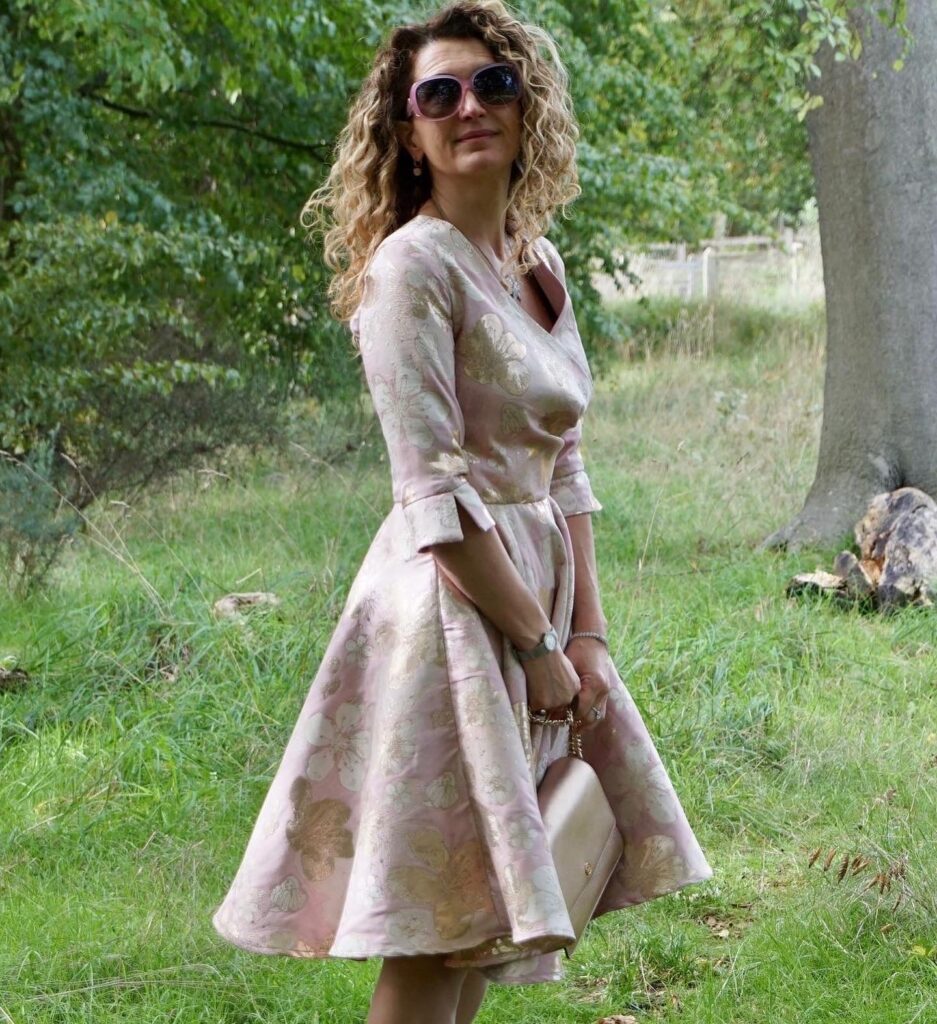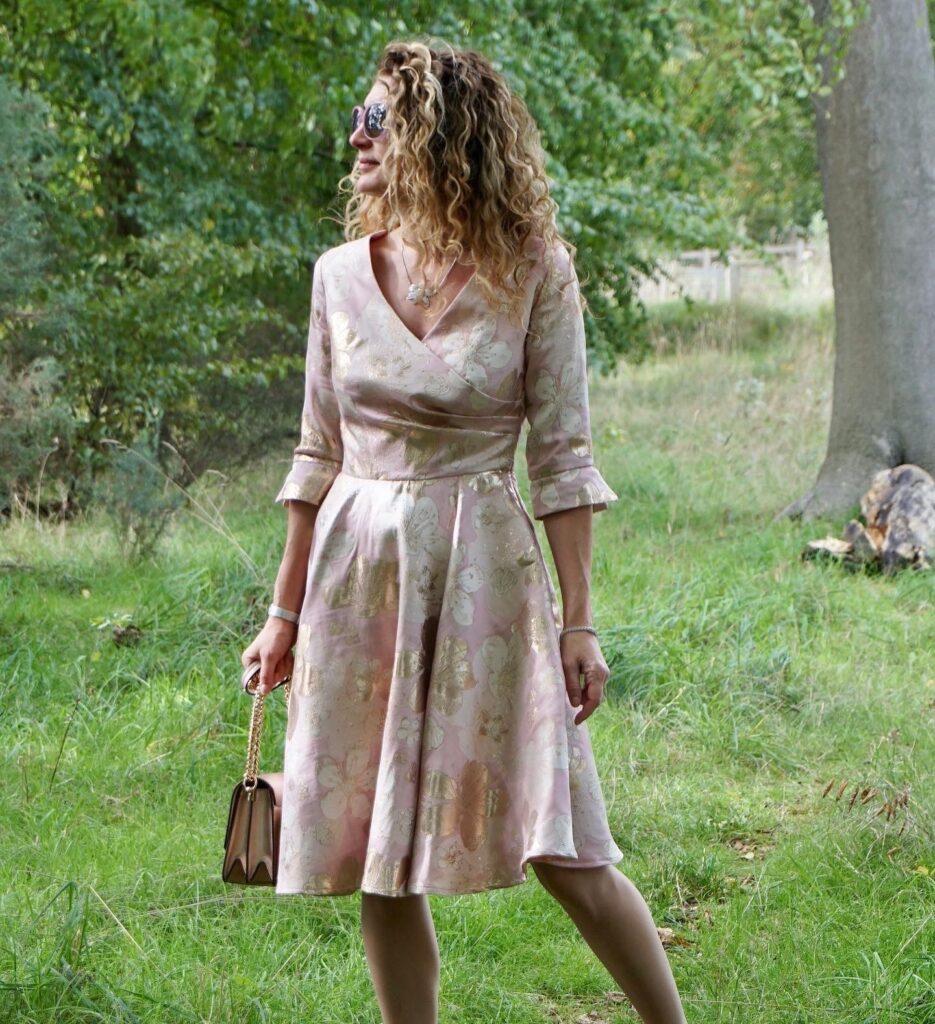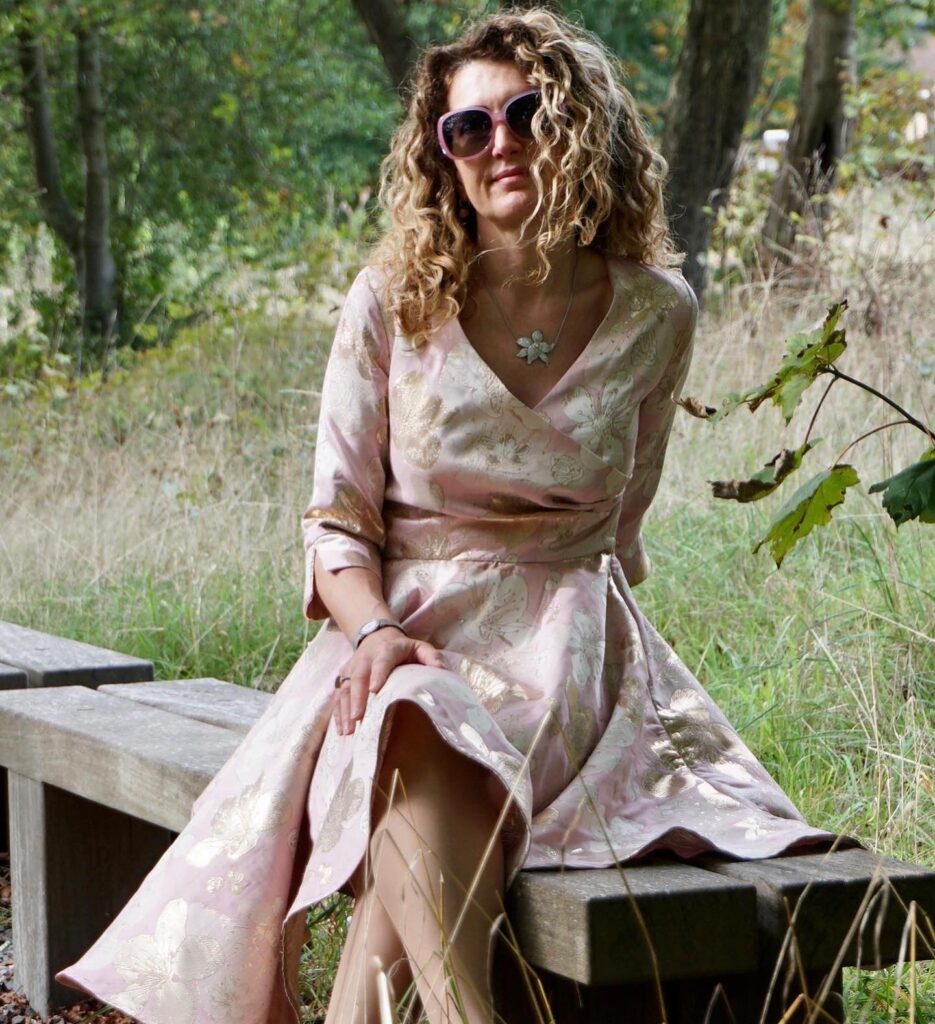 B6446: an all-time favourite pattern
I have now sewn the B6446 dress pattern… well, quite a few time! Enough for it to become well establishes in the "Six Mignons Sewing Hall of Fame", along with M7081 (8 versions), Magnolia by Deer&Doe (x8), V9253 (x5), M6696 (x4) !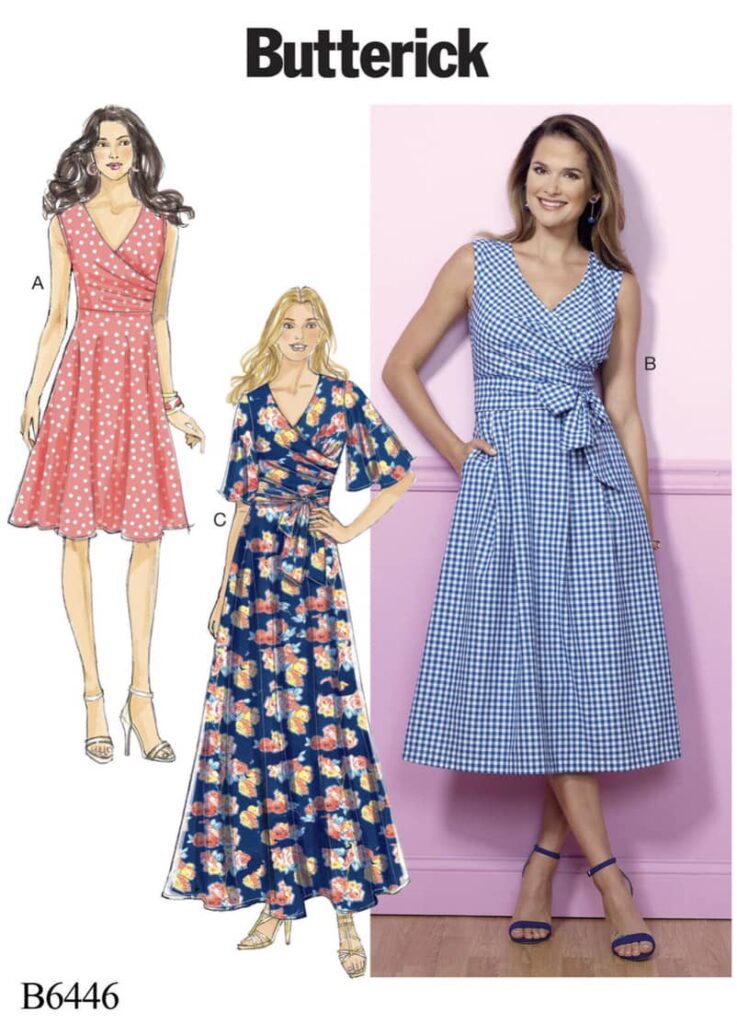 Here are my previous three versions of this pattern (reviewed on the blog here and here).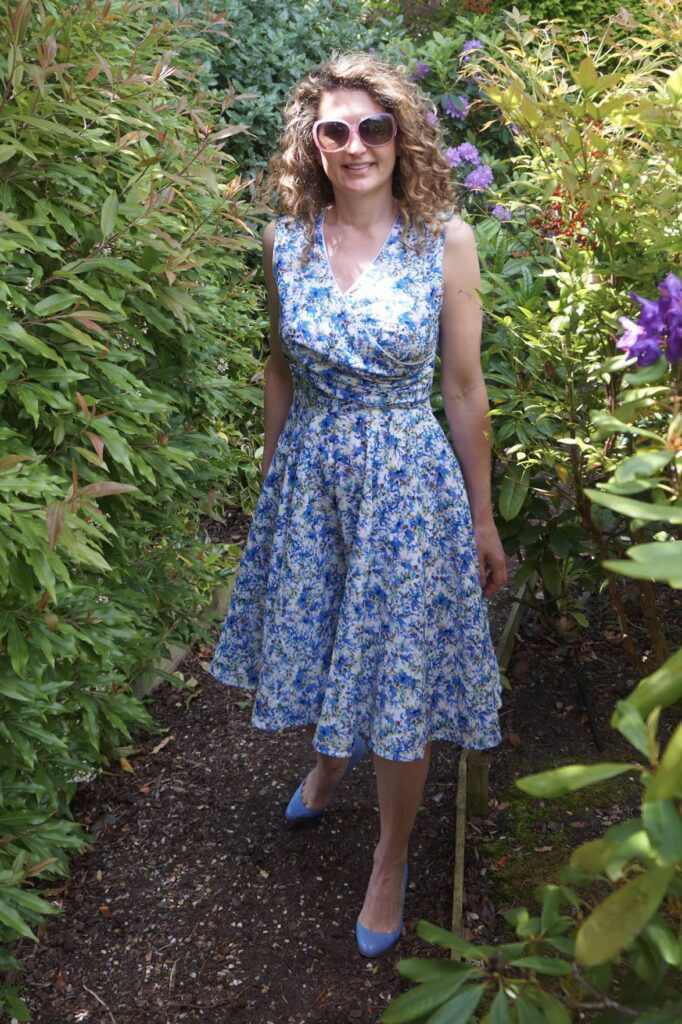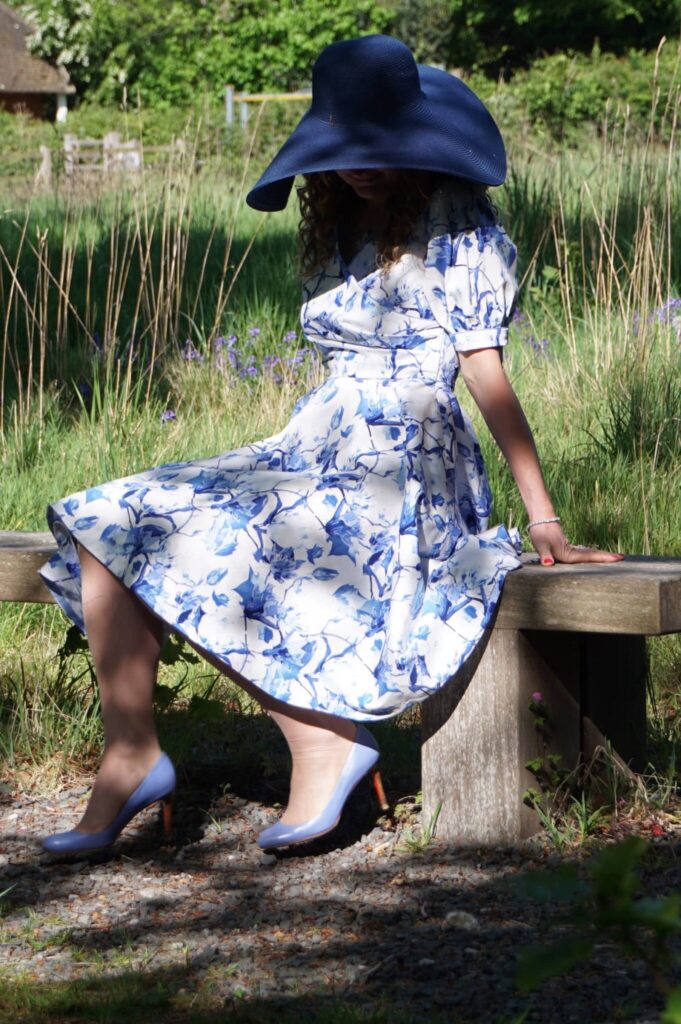 B6446 pattern review: many positives, only one negative
Let's repeat what I said before. There are many things I like about the B6446 pattern:
The dress beauty lies in its mock-wrap bodice: the bust ease of the top piece is created by three side pleats, caught in the side seam. These pleats are not replicated on the hidden part of the bodice wrap, to avoid unnecessary bulk.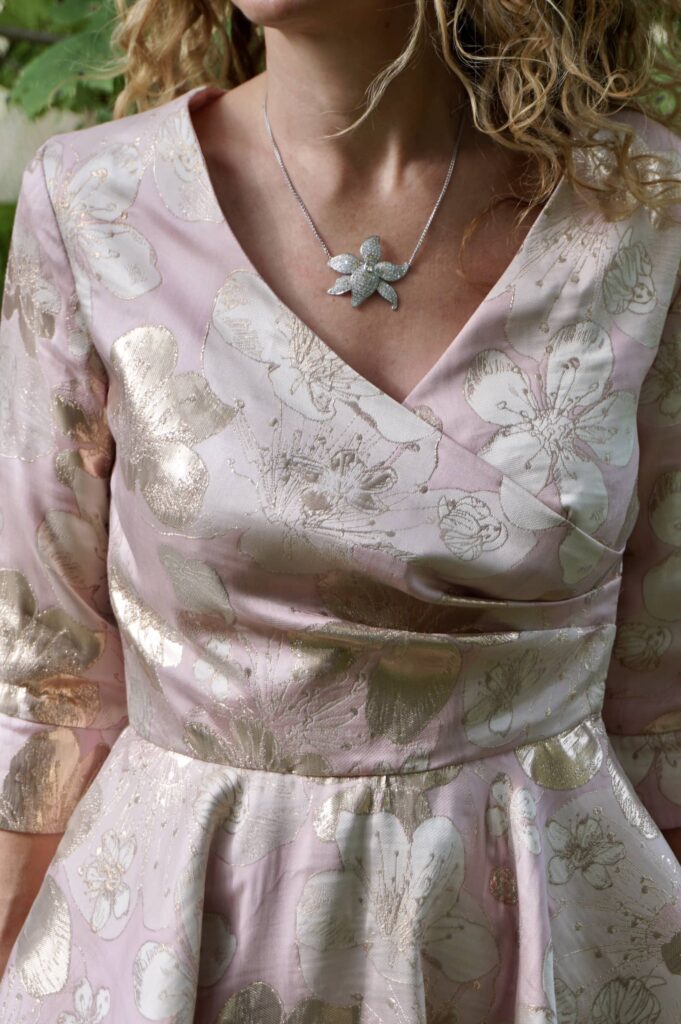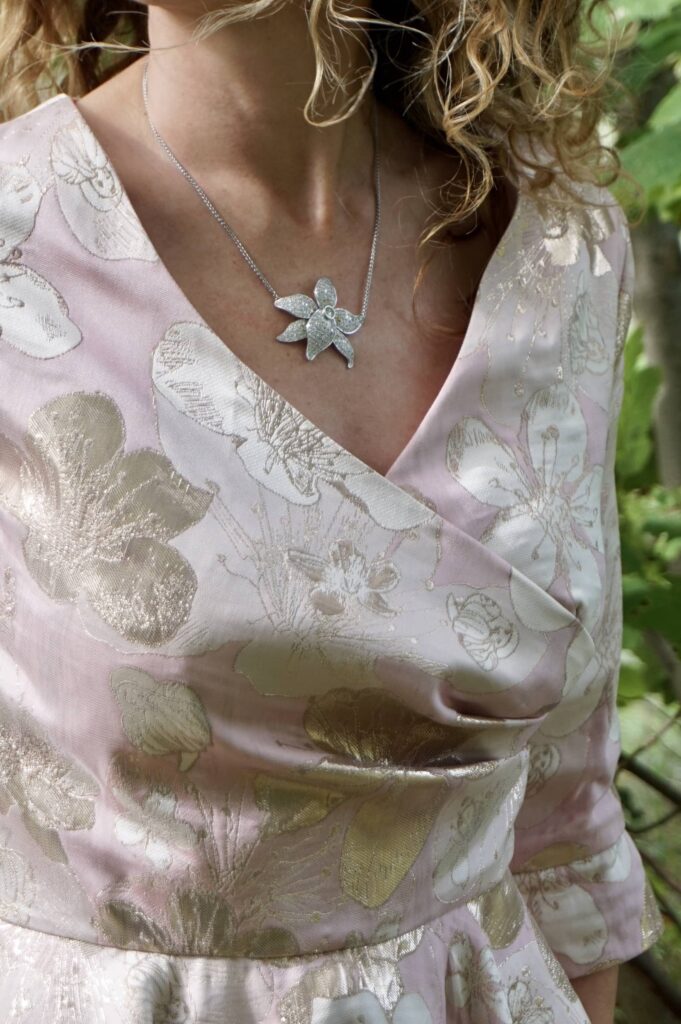 The dress fits to perfection. As usual with Vogue/ Mc Call's/ Butterick pattern, I cut a size 10 for my UK 8/ FR 36 / US 2. After making a bodice muslin, I did add 0.5cm at the waist to have a tiny bit more ease; but I made absolutely no other changes. In particular, there is plenty of bust room and I did not need an FBA for my E cup – hurrah!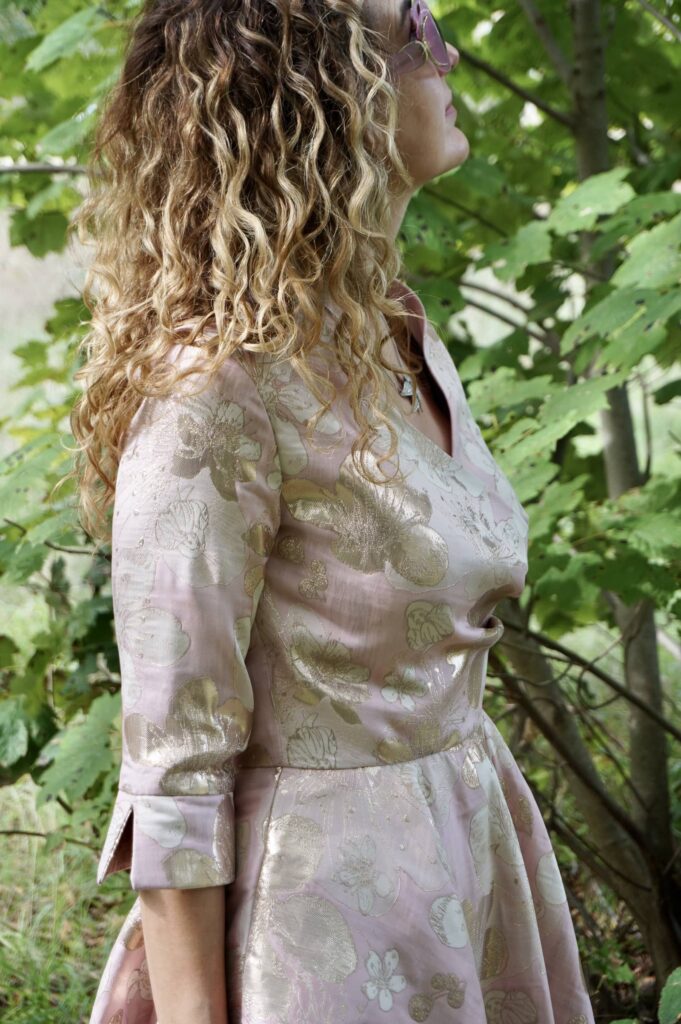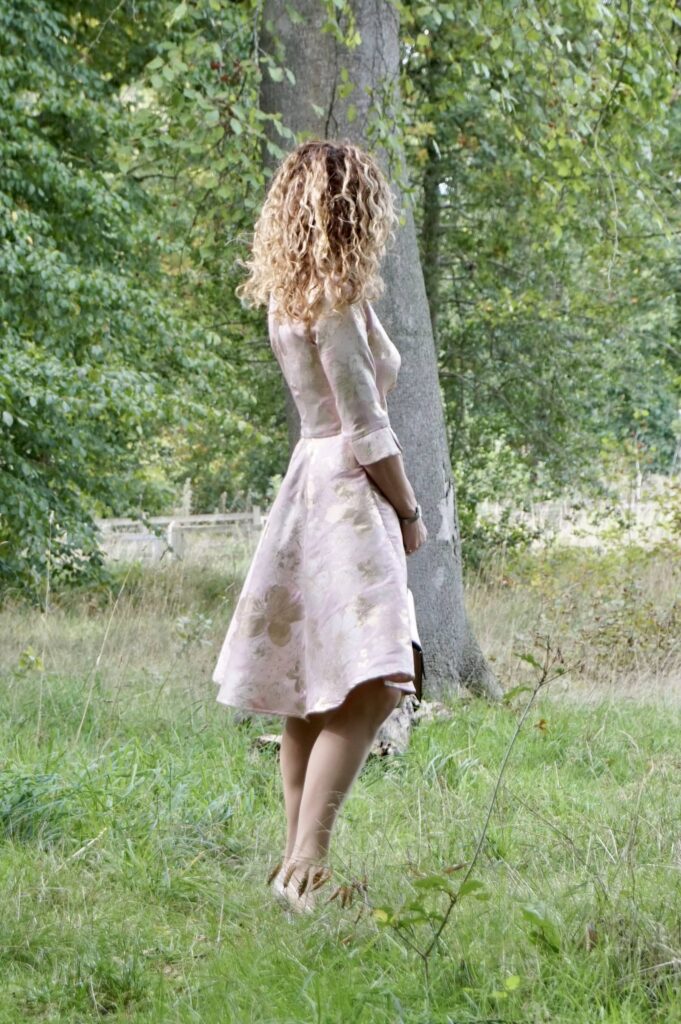 With a fully lined bodice, the inside finish is absolutely impeccable. I fully line my dress bodices most of the time anyway but it is usually not included in the pattern instructions – here it is.
The pattern instructions are crystal clear, as they usually are for Butterick, Vogue and McCall's. If you are not used to lining bodices, they will help you immensely.
The major negative of this pattern is the bottom. The skirts on offer are frankly uninteresting in comparison to the bodice. I would strongly advise you go for much more volume with a full circle skirt, as I did.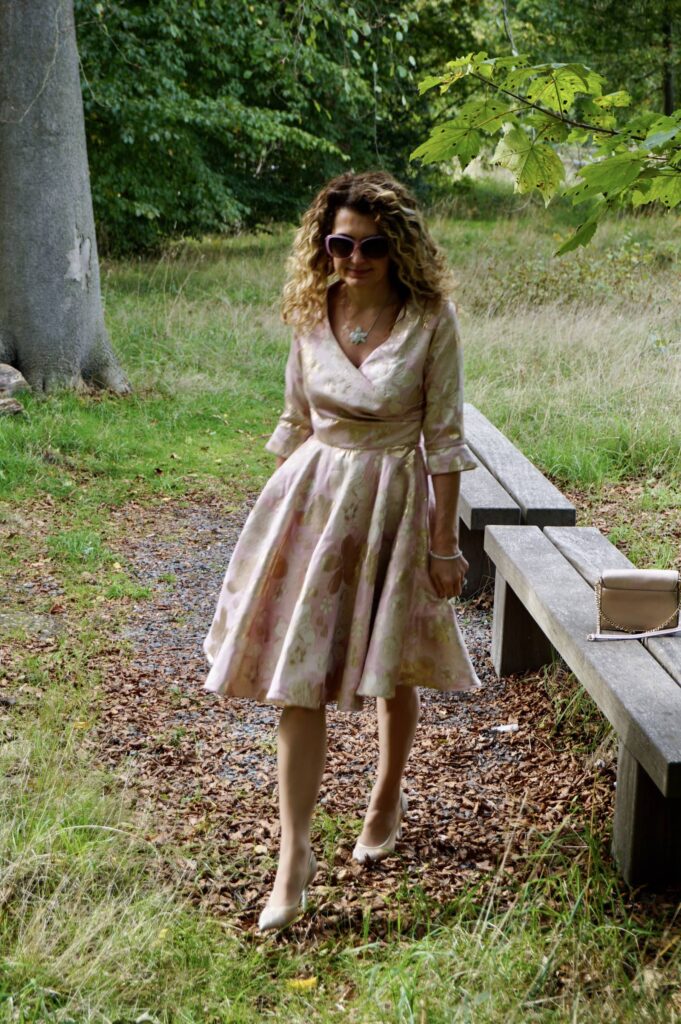 Changes I made to the pattern
I made two main changes to the pattern, using pattern pieces from my beloved M7081:
As just mentioned, I swapped the skirt for a full circle, so much more appropriate to the style of this dress in my view. Please note that I am note wearing a petticoat under my skirt, all the volume comes from the skirt itself – this is the reason why I like full circle skirts so much!
As I really dislike the sleeve option offered by the pattern, I used the sleeves from M7081.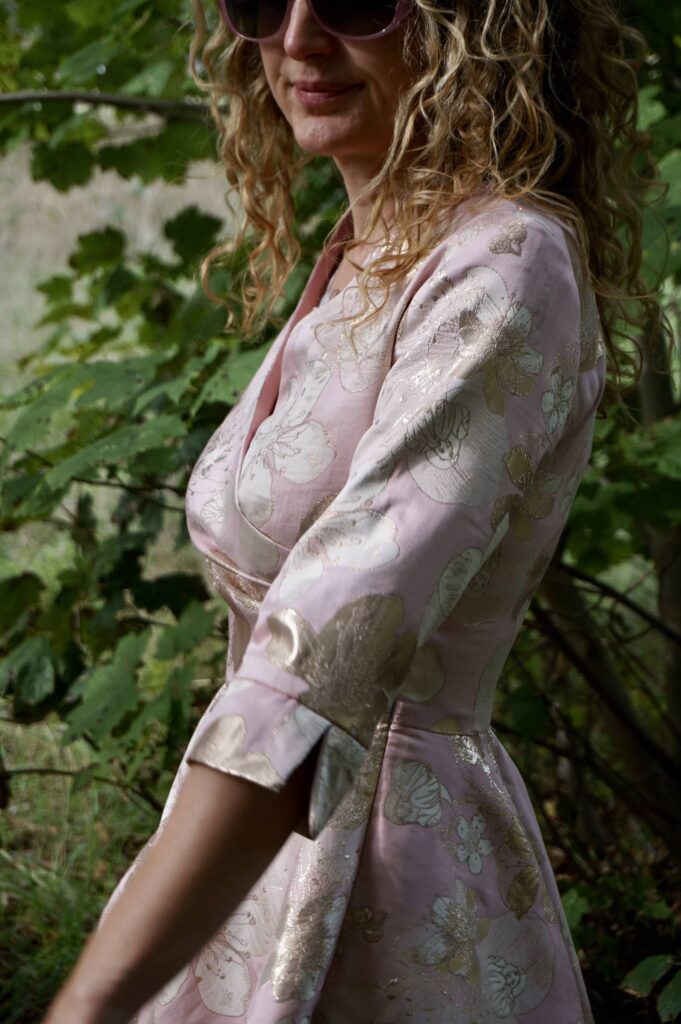 Fabric choice: advice for sewing metallic brocade
The fabric is used for this dress is a gorgeous pink and gold brocade from Croftmill (still a tiny stock left here at the time of writing). This is a fabric I enjoy wearing a lot in colder months, in a colour combination I absolutely adore.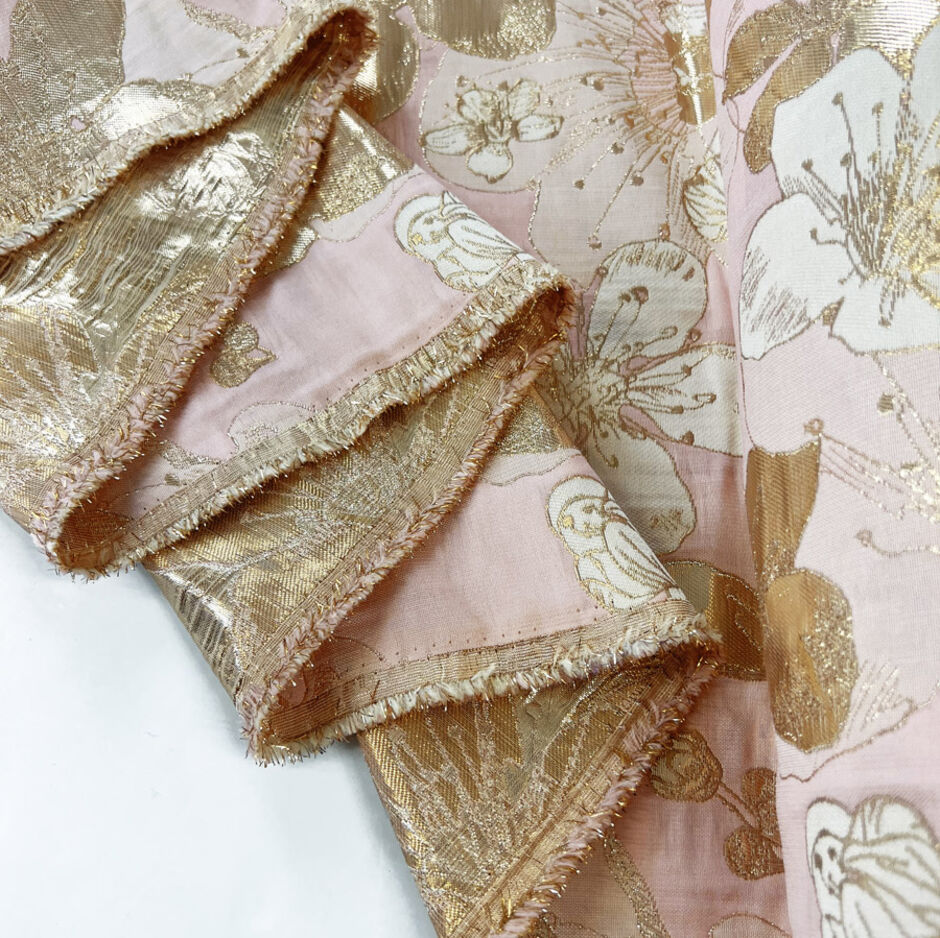 Croftmill had a large arrival of these brocades early September and I really had to refrain myself from purchasing the entire stock… They have two very big advantages: they are very affordable, at £12/metre (brocade usually costs £30 +); and most are soft brocades, which are perfect for dresses – did you not know I sew mostly dresses? Here are two other options I am about to purchase: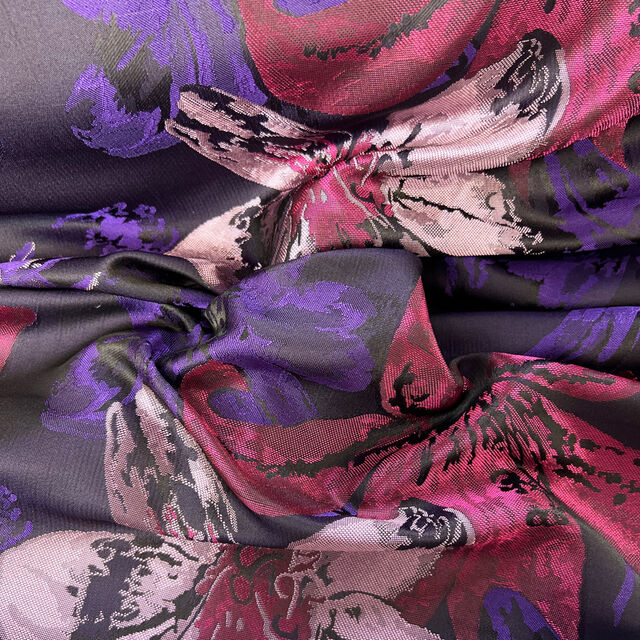 The problem with metallic brocade is that it creates several challenges to sew. I wrote a full article about how to sew metallic brocade a few years ago, here is a summary:
Brocade frays like there is no tomorrow so make sure you overlock absolutely all raw edges, even if they are covered with lining.
Metallic brocade is extremely itchy and absolutely intolerable on bare skin, so make sure to entirely line your garment and to finish your neckline so that the brocade fabric in not in contact with your neck (piping is a good option).
Brocade has very little give, so I would not recommend it on extremely fitted garments; and I would allow a bit more ease than usual.
Visible stitches are a no-go on brocade, so all hems will need to be invisible!
Once you're aware of these points, the sewing is quite easy, because brocade is very stable hence easy to sew.
Conclusion
Another dress I am entirely satisfied with! I am now working frantically on a collection of mid-season cropped jackets to match my fit-and-flare dresses, more to follow soon…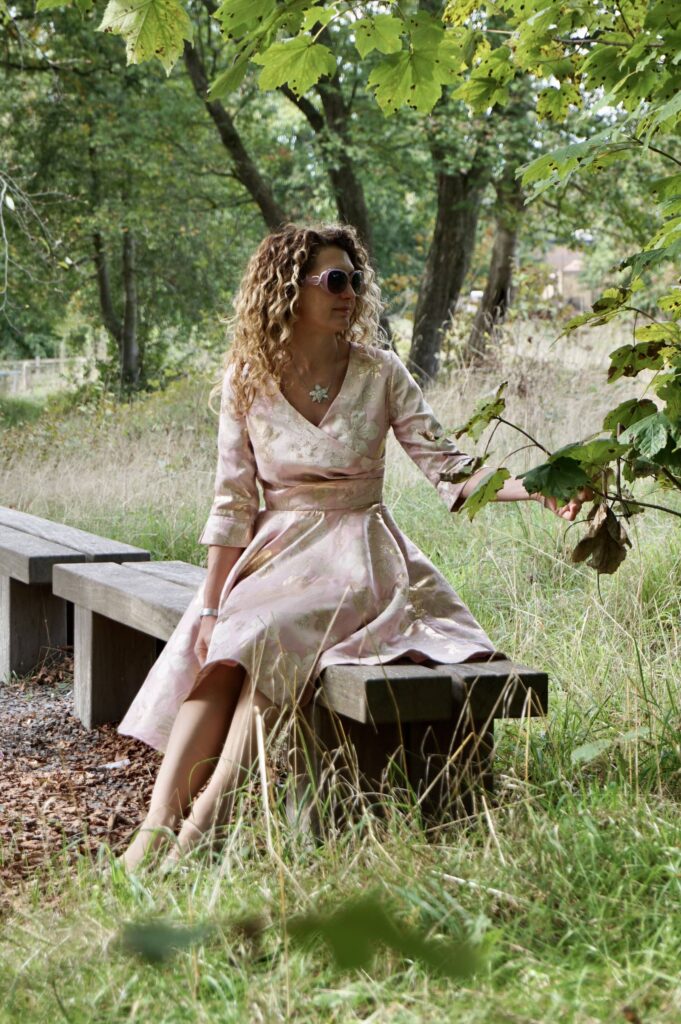 ---