A Spring version of V9253
I fell in love with the widely popular V9253 dress pattern last summer – much later than anybody else for sure. But the love has not left me since. So after sewing two summer versions (here and here) and two winter versions (here and here), let me introduce you to my latest and definitely very Spring-in-my-footstep version.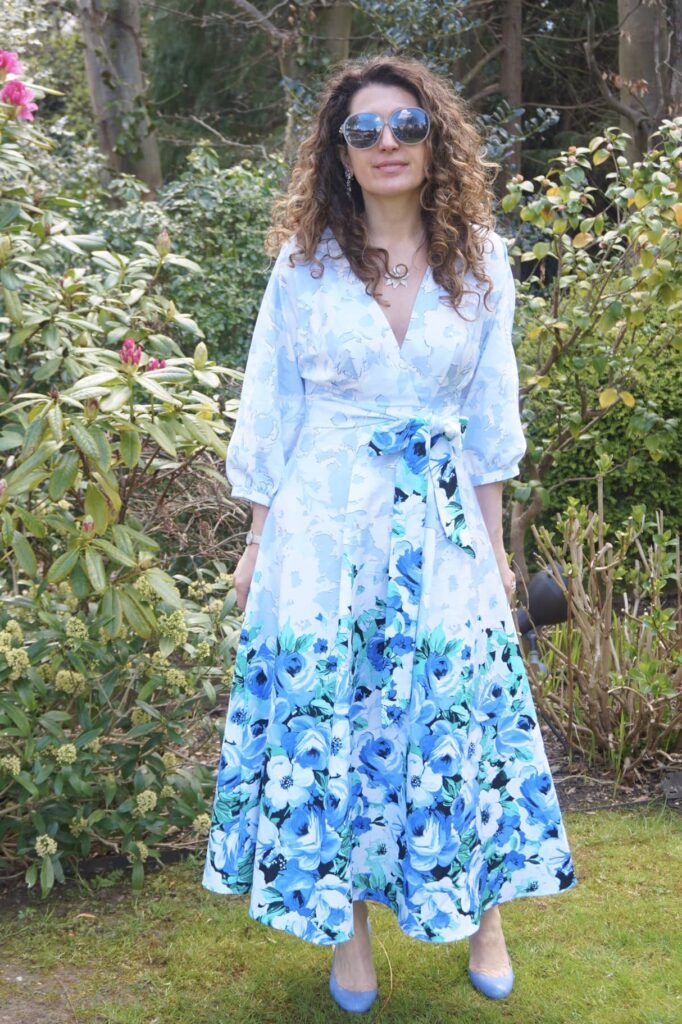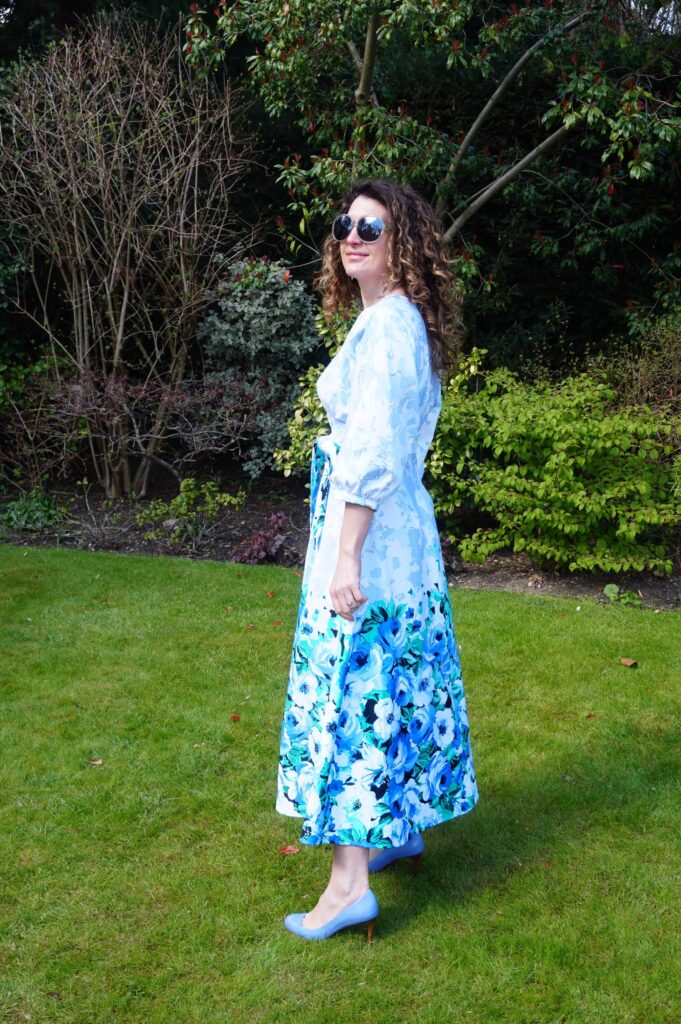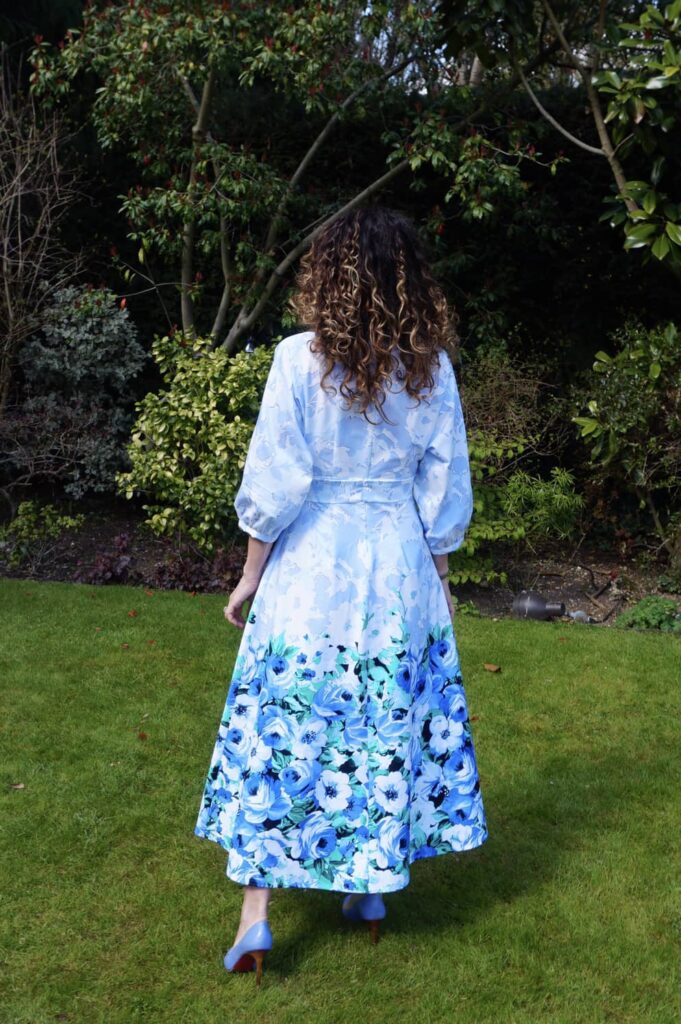 My previous versions… and the lessons I learned
Here is a little overview of my four previous versions of this pattern – which were a great opportunity to learn a few lessons!
My first two versions (blue and pink) were full summer: both in very lightweight cotton, with a self drafted V back (all explained here). I did not modify the very plunging neckline at the front (except trying to slightly stitch it up), which combined with the V back made the dresses… quite risky if I move my arms to fast!!
My next two versions were definitely for winter: one in suiting wool (which I adore) and one in thick silk (which I dislike). Here I kept the closed back (for insulation purposes!!) and slightly crossed the neckline, which makes the dresses so much more wearable!
The key lessons I've learnt from these previous makes are the following:
Fabric choice is absolutely key. It is the case for most patterns but even more so for this dress. After my successful transition from very lightweight summer fabric to slightly heavier suiting wool, I thought everything was possible. My white and red version clearly proved me wrong. I used very thick silk with no drape whatsoever and it is as if the dress stood on its own – perfect for one's own wedding but not for day-to-day wear. So my key conclusion here is that fabric weight does not matter that much but your fabric absolutely needs to have drape!
Closing the neckline was the best thing I ever did. I followed Emily'Hallman technique to make the bodice front panels slightly overlap and it works wonder. I will never go back to the fully plunging neckline.
This dress looks much nicer with the belt and I definitely regret omitting it in my summer versions. A mistake I shall no repeat.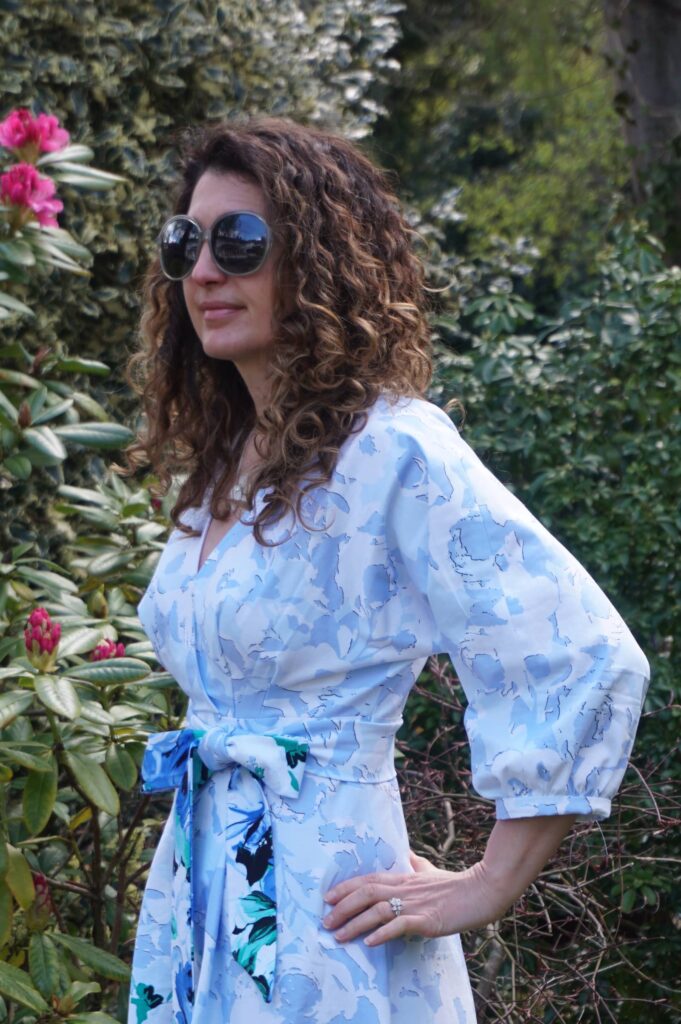 V9352 for Spring: pattern review and modifications
For my Spring version, I used a cotton satin fabric bought from Bennytex many moons ago and previously kept in my stash. The beauty of this fabric lies in its border print of bold flowers; and I scratched my head for a long time to find a pattern that would both suit my style (fitted bodice and waist, unfitted skirt) and work with the fabric. Eventually I chose V9352 over Deer and Doe's Magnolia.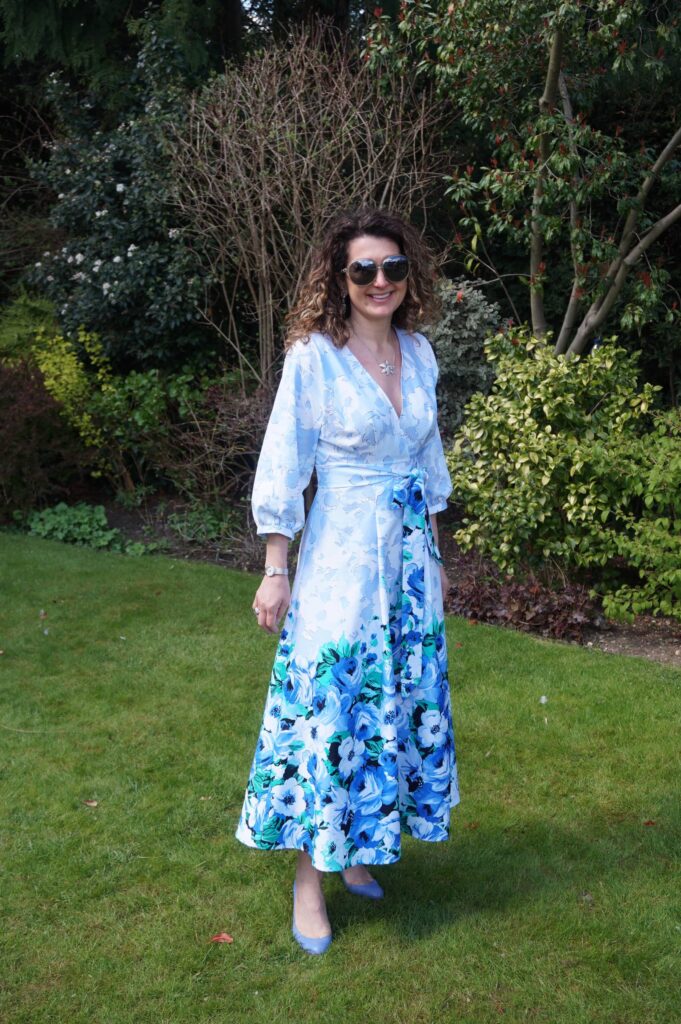 I really like the V9352 pattern for several reasons:
It is one of the easiest dress pattern I have ever sewn: with 4 pattern pieces, a few darts and an invisible zipper, you can sew it in a few hours.
Despite this simplicity, the shape is perfect and incredibly flattering. I am not a fan of bat sleeves and would never have thought they could go well with a skirt fitted at the waist, but for obscure reasons here the match is perfect.
The sizing is spot-on. I am a UK 8/ FR 36/ US 2 and the S size was perfect without any adjustment (except for an FBA, more on this later).
As my various versions show, this pattern can be easily used for all seasons, with a completely different outcome depending on the fabric you use.
I made a few changes to the original pattern, because… well, I guess, I can't help it!
I made an FBA to fit my E-cup, which is explained in great details in this article and shown in the picture below.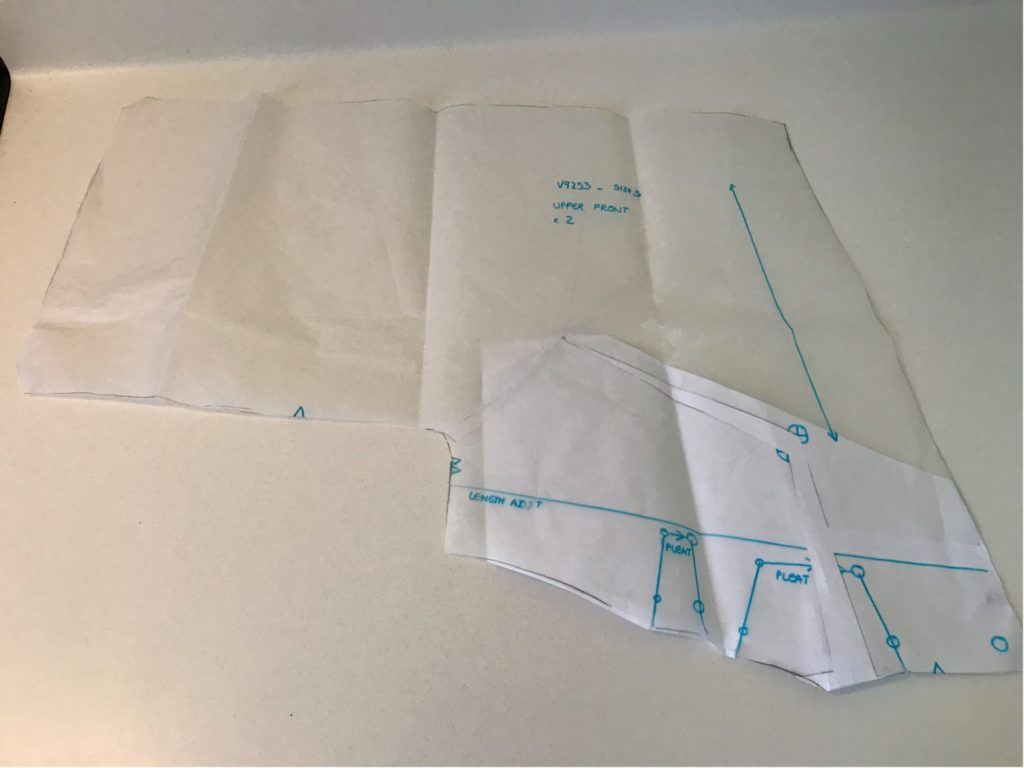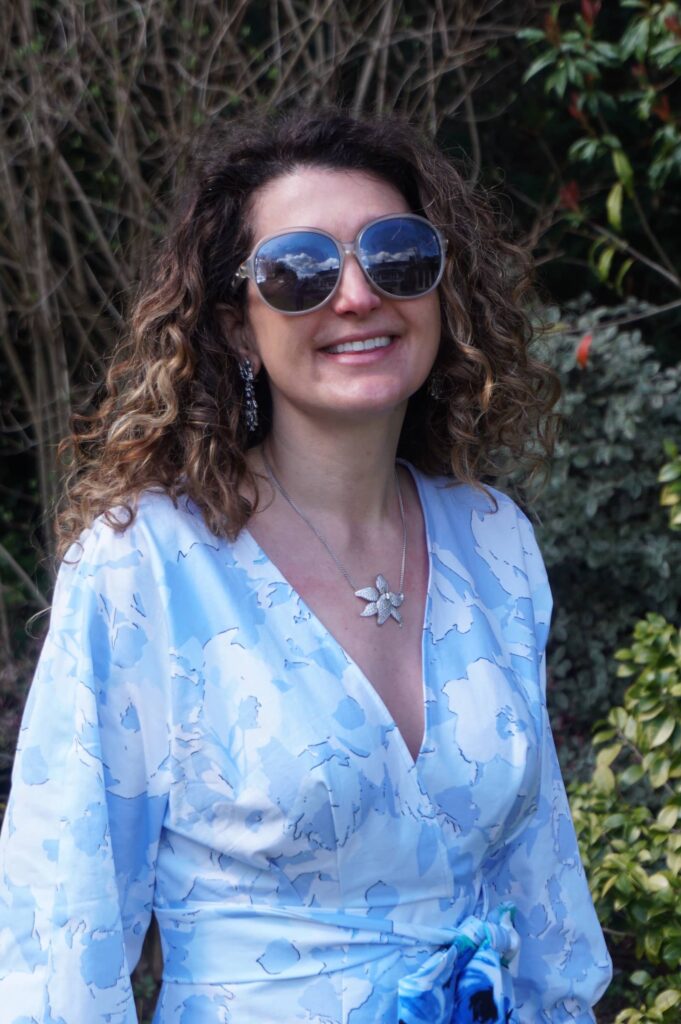 I went for a skirt in-between the mid and maxi lengths offered by the pattern.
I slightly lengthened the sleeves and added some sleeve bracelets, Emily Hallman's idea too you can tell I am a huge fan).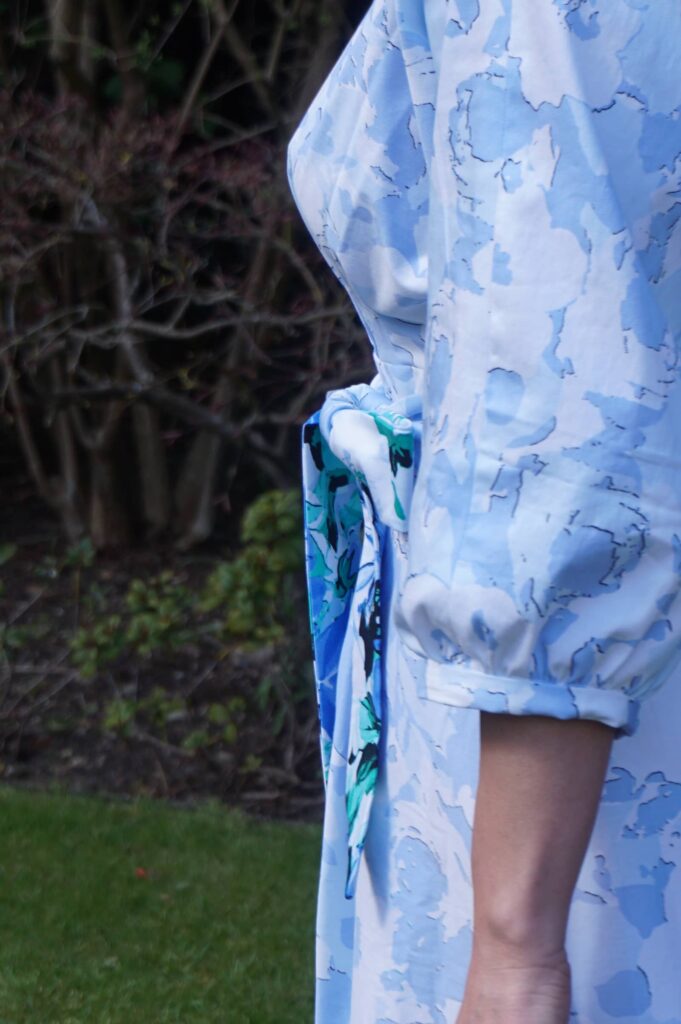 I attached the belt slightly differently from what the pattern recommends (over the zip rather than within it), so that it would not pull at the back.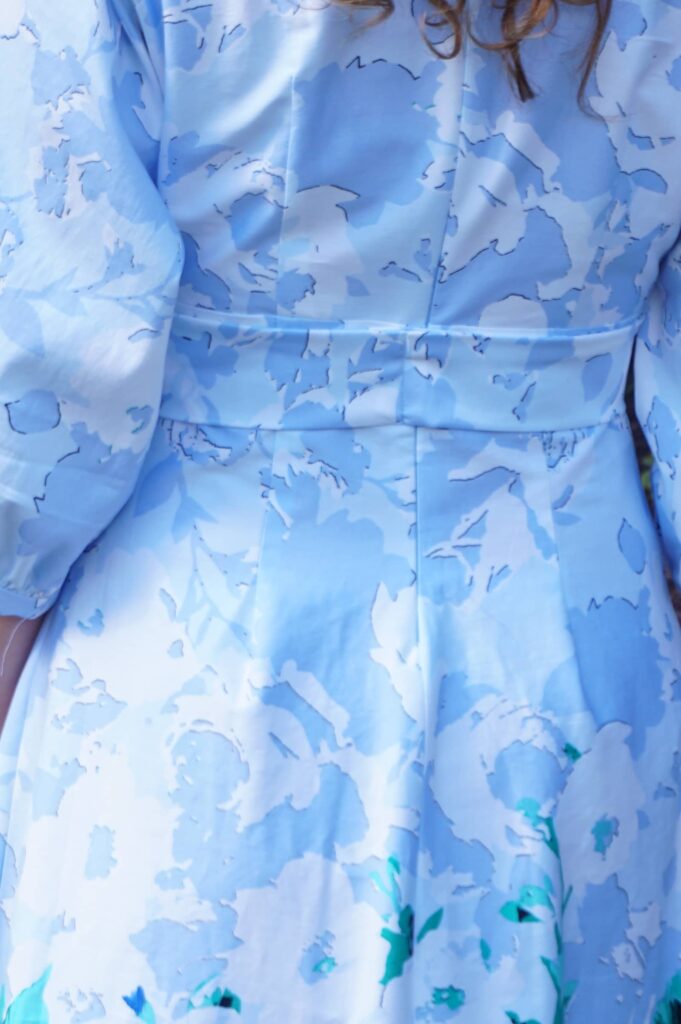 Conclusion: easy to make, easy to wear
This dress is just so easy to slip on and so comfortable to wear, I could actually spend all Spring in it! Thankfully Me Made Day is starting today so I will have to introduce a bit of variety in my day-t-day outfits!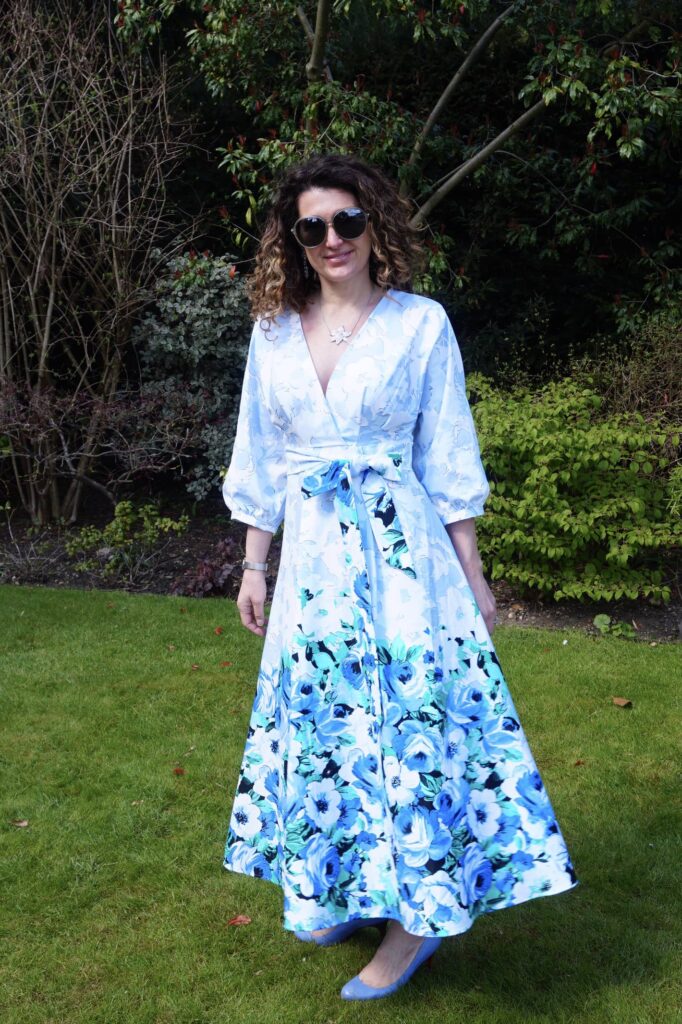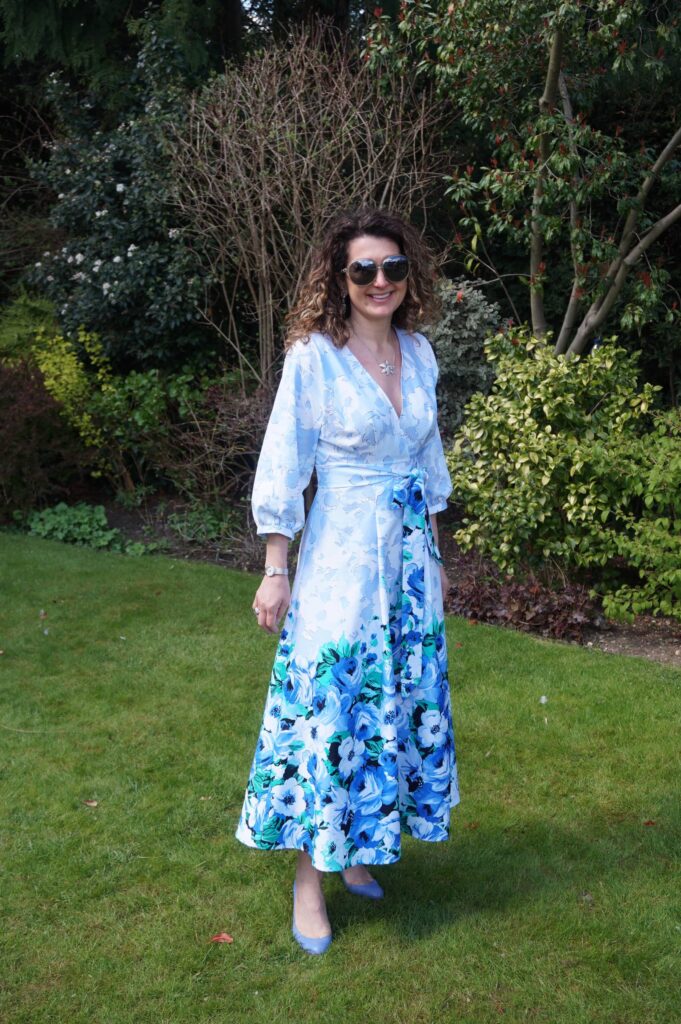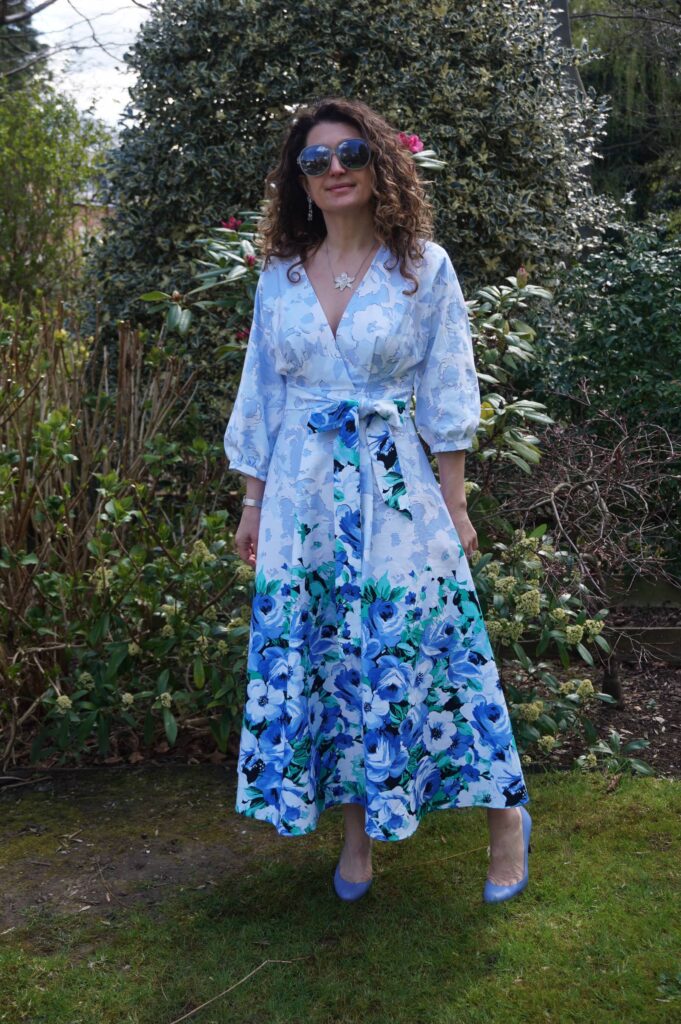 ---