Stretching a pattern too far…
If you have been reading this blog for a while, you are well aware that when I love a pattern, I can sew it many many times (as discussed most recently here). However, I think this is the first time I have pushed a pattern a bit too far – let me introduce you to "the dress with the right pattern but the wrong fabric".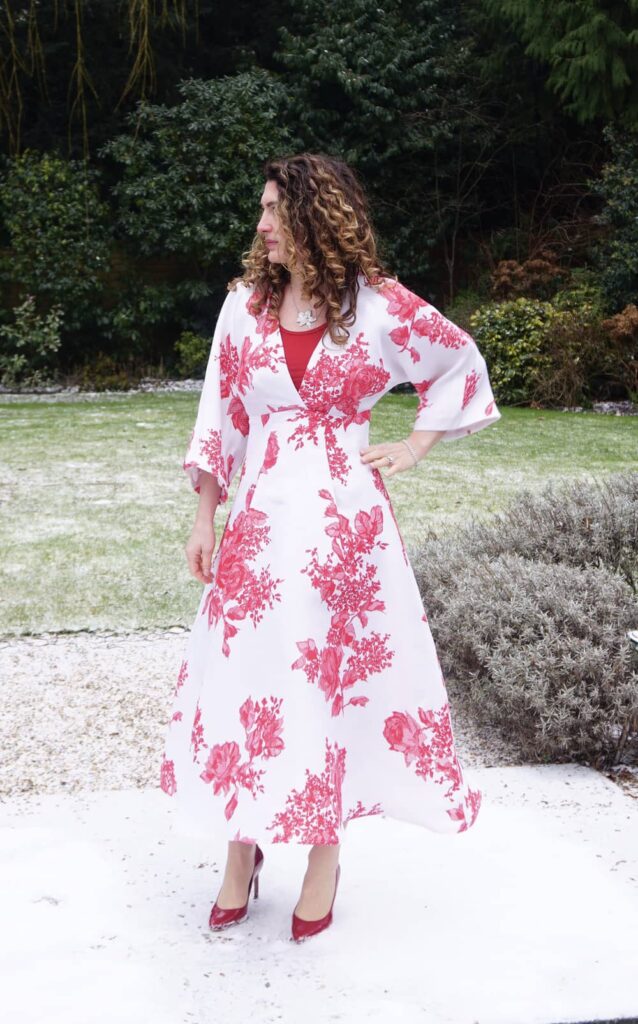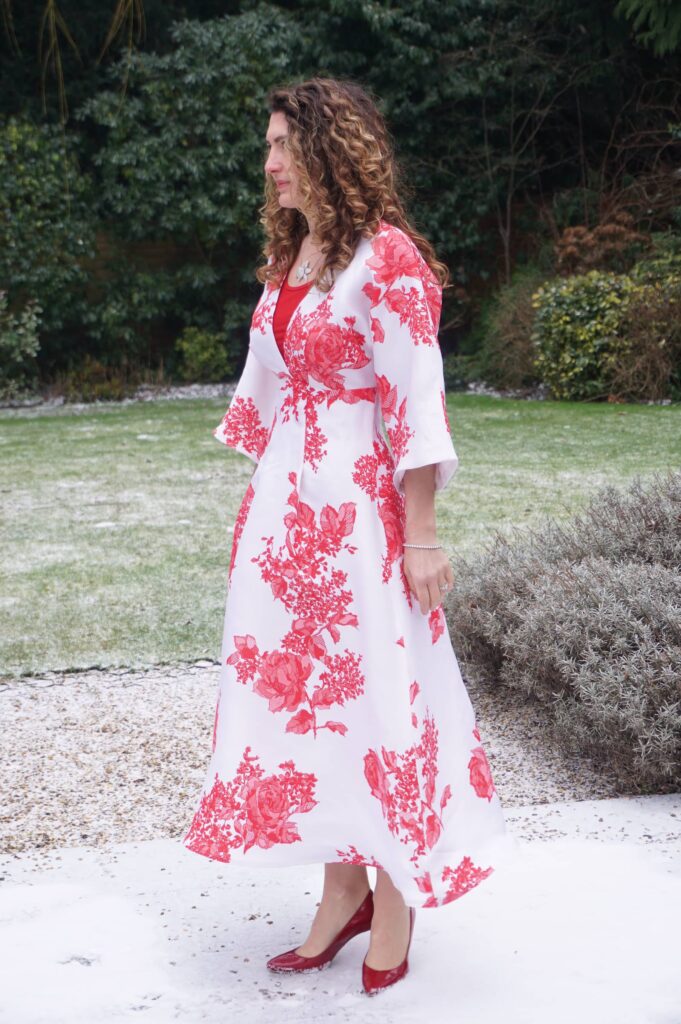 The perfect pattern…
You may (or may not) have recognised the famous V9253 dress. This pattern has been a success for years. Thousands of gorgeous versions can be seen all over the internet and Instagram, and I myself made three versions recently, which I adore. Here are my two summer versions (reviewed here and here on the blog):
…and my winter version (here on the blog):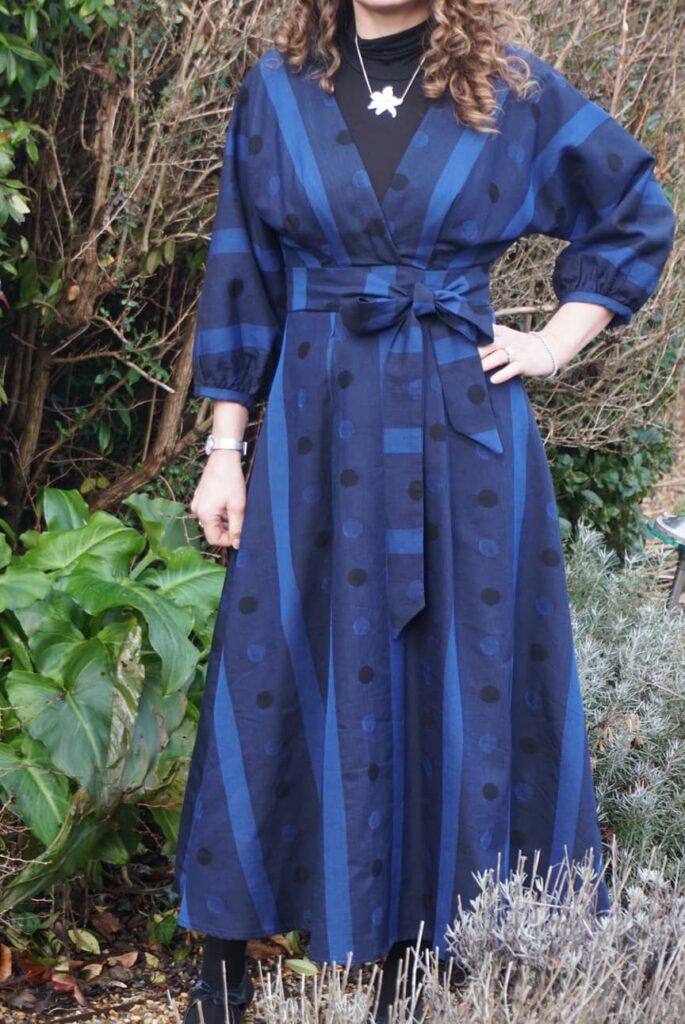 This pattern is a joy to work with. With very straightforward instructions and a minimal number of pattern pieces, you get a stunning result.
It is also quite easy to hack. For all version, I made a FBA (explained in the article) and shortened the skirt to long midi length (in between the two lengths offered). I drafted a V-back for the summer versions:
For the winter version, I slightly crossed the front neckline to make it less plunging; and I added bands at the sleeves to give them a puff:
… but the wrong fabric
So what went wrong then? Well, I chose the wrong fabric!
I bought this beautiful (and very expensive) silk from Selvedge and Bolts and I was surprised by it stiffness when it arrived. Even after washing, it could pretty much stand on its own! You can see it most when you look at the skirt of the dress – on this picture I was standing still, so the shape of the skirt is not created by movement, it is permanent.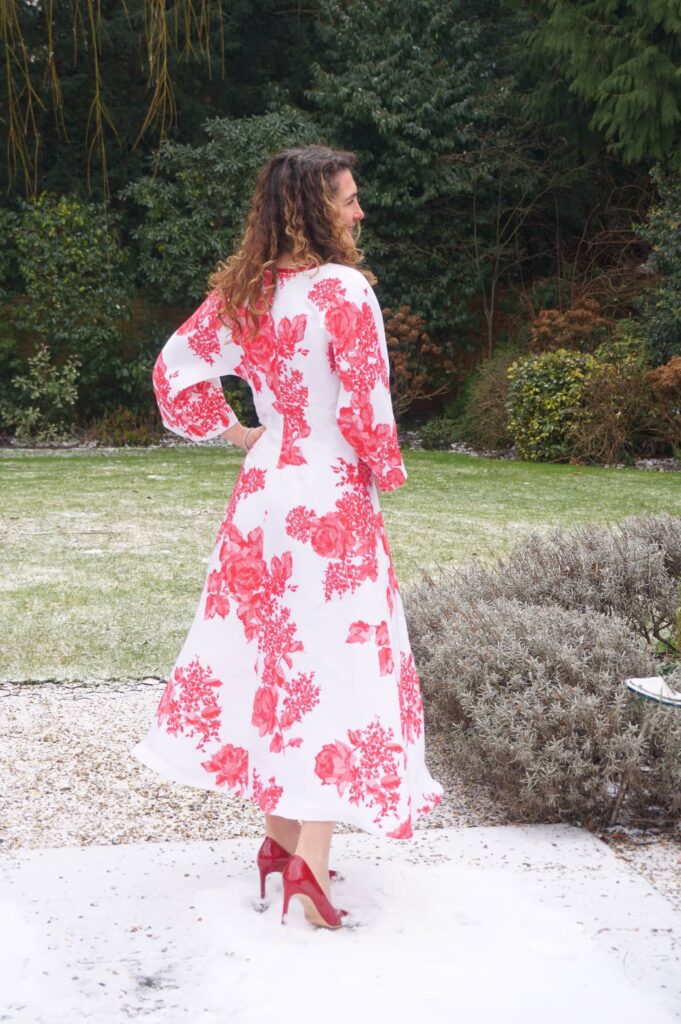 I thought long and hard about a pattern that would suit… I wanted a dress with a high-waisted skirt with as few pieces as possible, to keep the big flower prints intact. Eventually I chose V9253 for the wrong reasons – mainly because I got completely carried away with my winter version, which I absolutely adore.
Not only is the skirt too stiff at the bottom but the front waist pleats were an absolute nightmare – they required a change in direction, lengthening and a lot of pressing… Despite these efforts they still stand up quite a bit…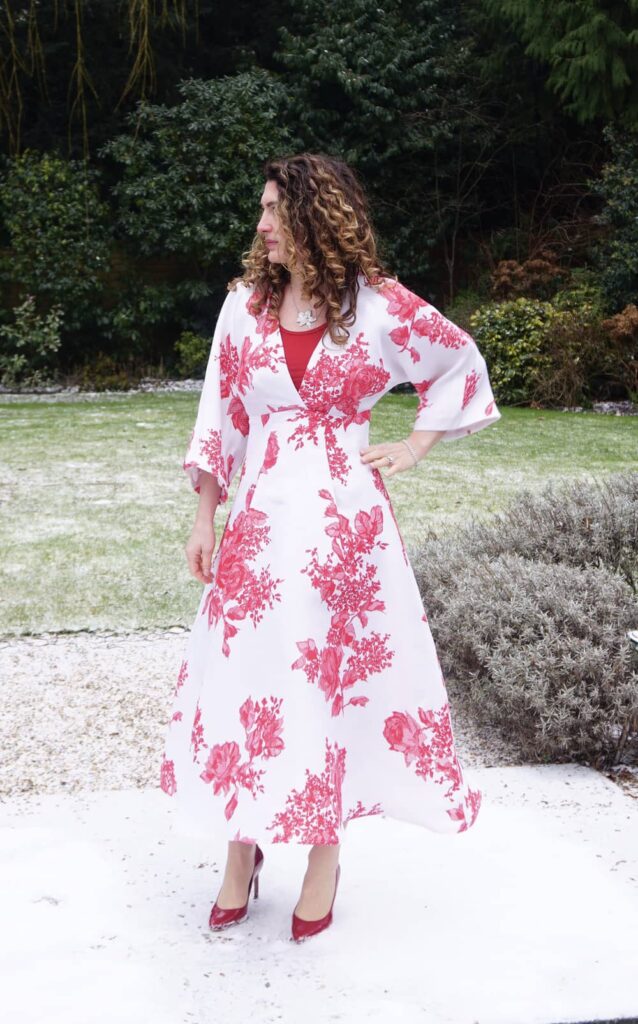 The bodice is also constructed with pleats, so it does not really fall nicely with this fabric. Not even mentioning the sleeves, which live a life of their own. Oh well…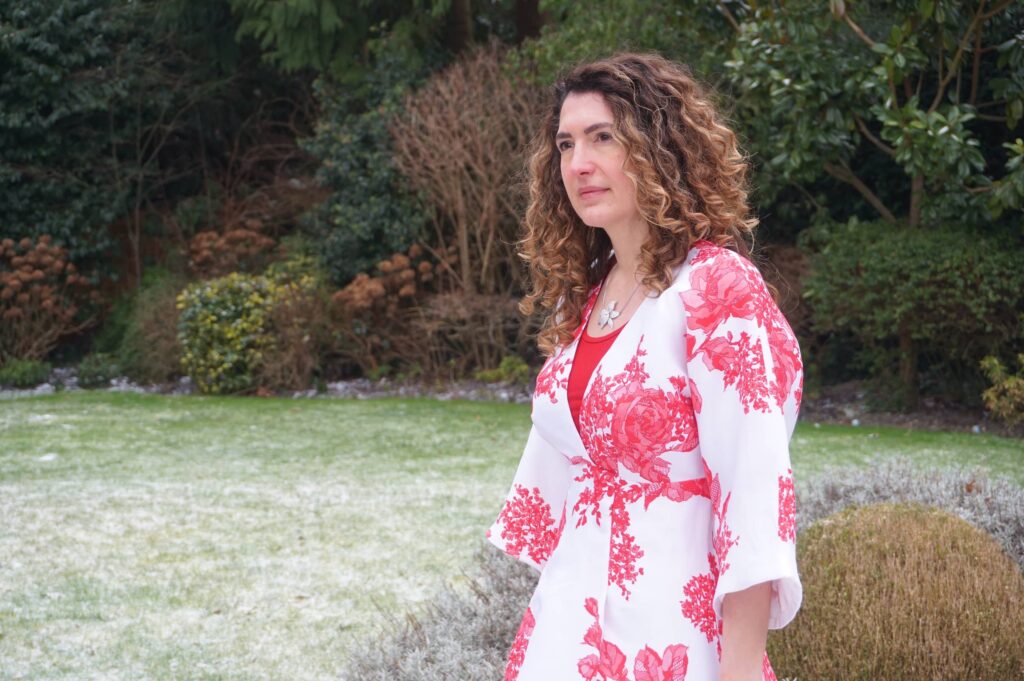 The back is probably the nicest part of this dress actually: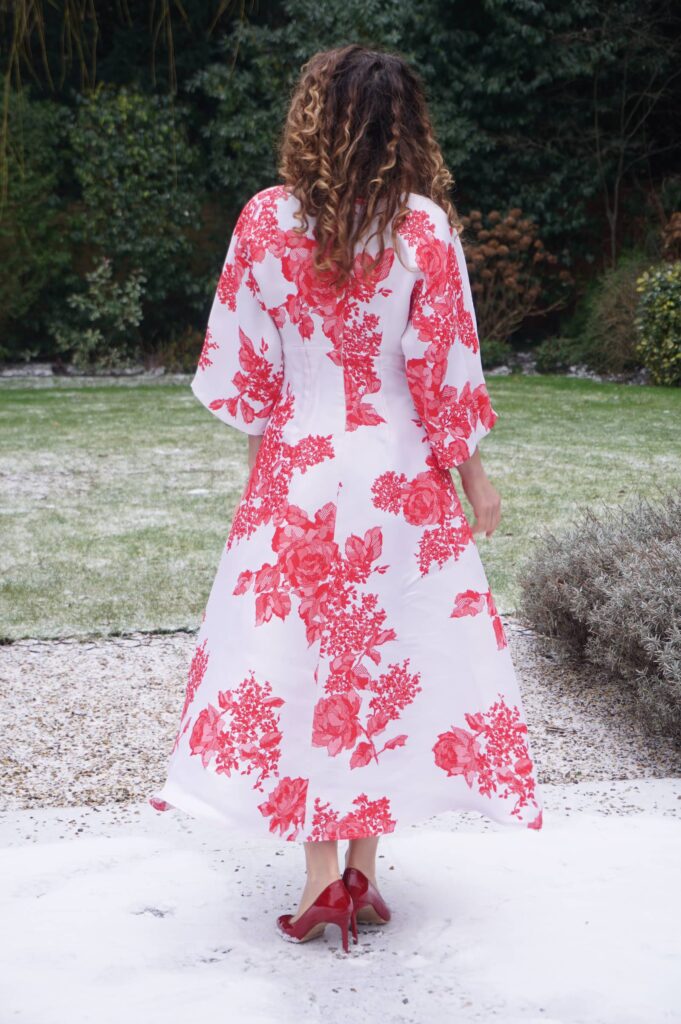 In conclusion…
At least I learned a few lessons from this dress.
The first is never the get over-confident with a pattern: even if you've used it many time, you can still mess it up!
And the second is that if you know from the start that a fabric is not going to work… send it back!! I knew from very early on that I only wanted this type of fabric for a dress, but that none of my dress patterns worked.
This will be known as my "princess dress", as my sons call it; and will patiently wait in my wardrobe for a big night-out – not a given in forever locked-down England!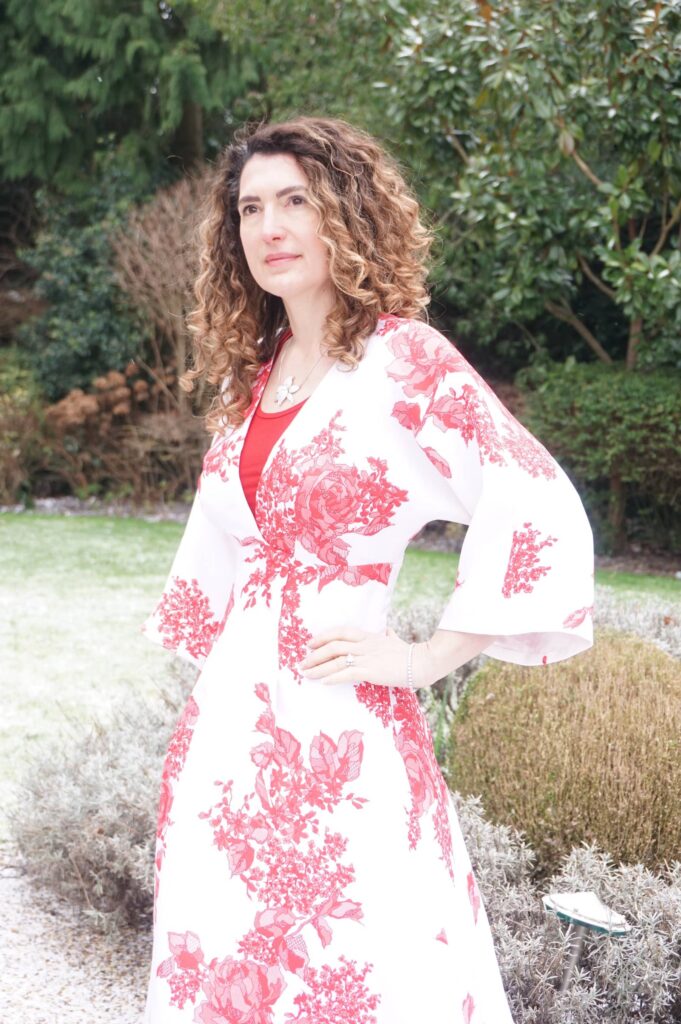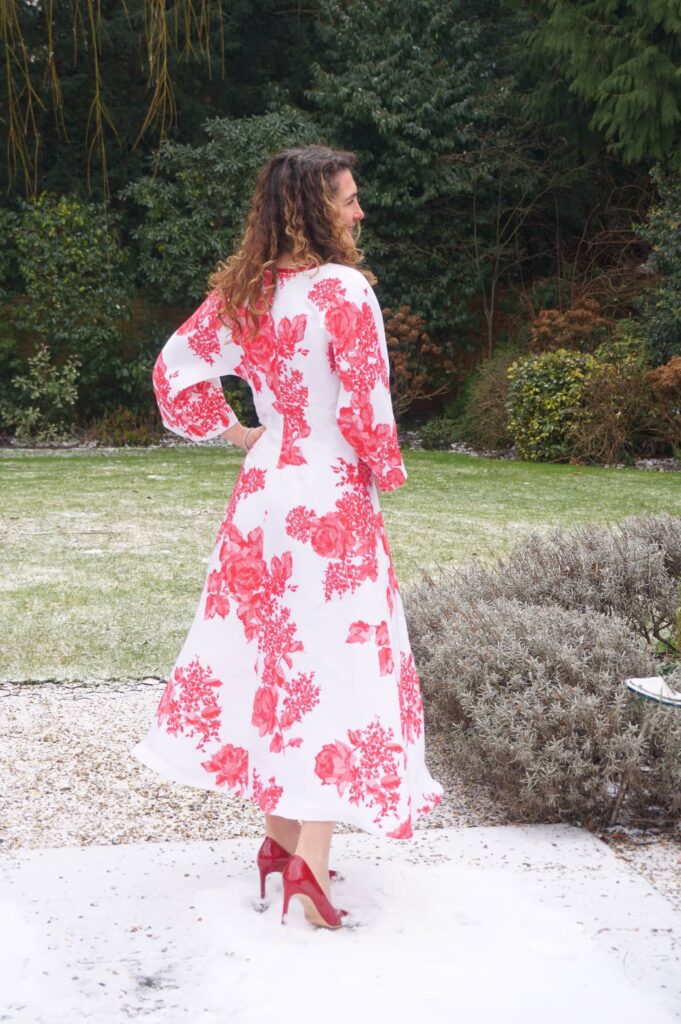 ---
2 responses to "Stretching a pattern too far…"