Going full circle
I have two loves that seemed incompatible until recently: circle skirts and midi skirts. Well, in theory they shouldn't be, but I had never dared exploring the fabric consumption required by making a circle skirt midi length. I have now, so let me introduce you to my Fabric Gobbler Midi Circle Skirt (how more complicated a name can I find…):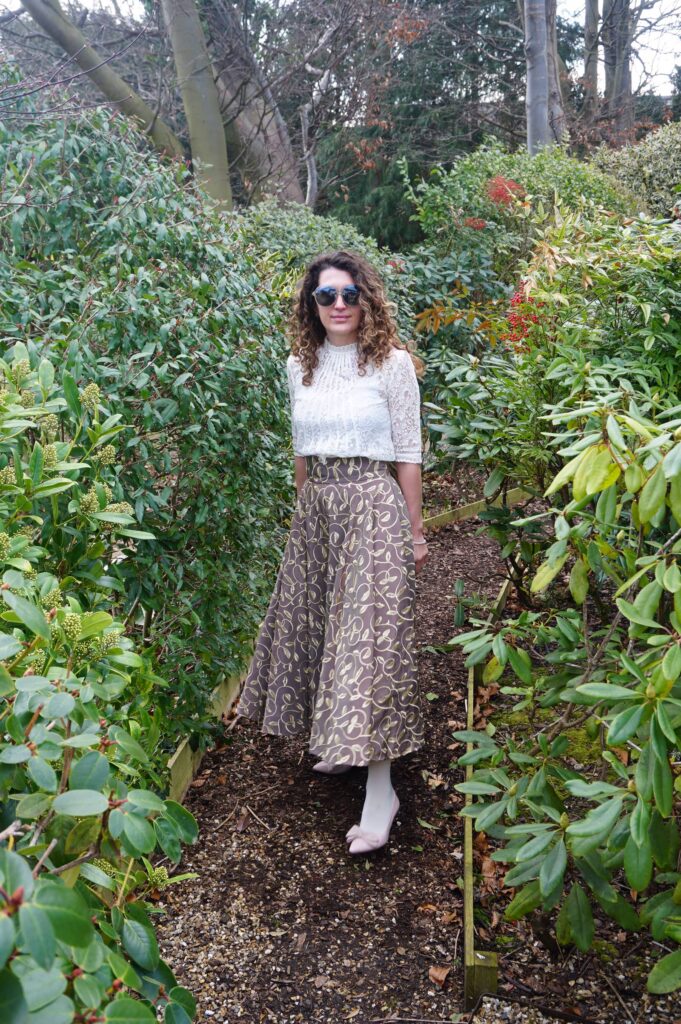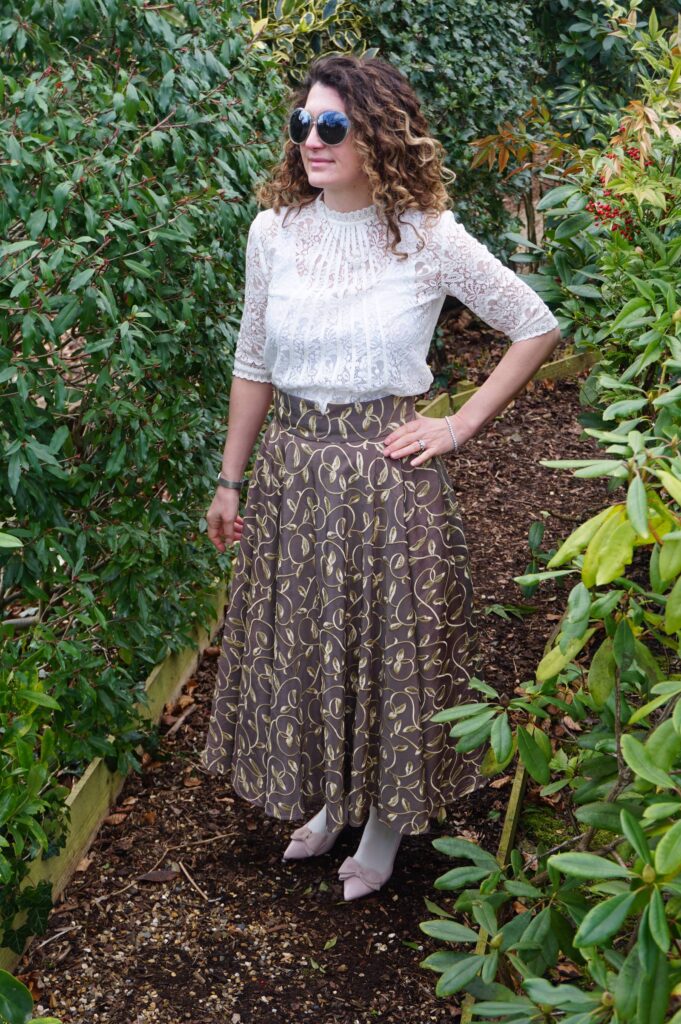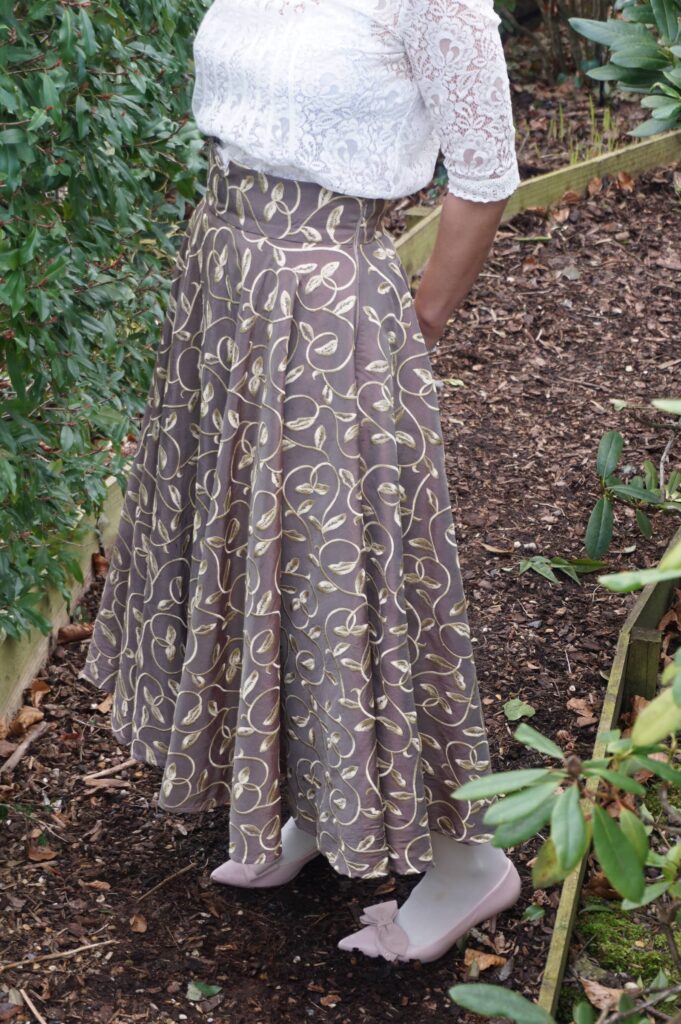 Which pattern to make a circle skirt?
Making a circle skirt is in theory quite easy: you just need to measure your waist and play with circle circumference formula (not forgetting to add ease).
In practice, life is short to remember what pi is so I strongly advise you use By Hand London's circle skirt calculator; or a tried-and tested skirt from your pattern stash. I went for the later option, using the circle skirt from the M7081 dress – with 8 versions to date, I don't think I have a more tried-and-tested pattern than this one…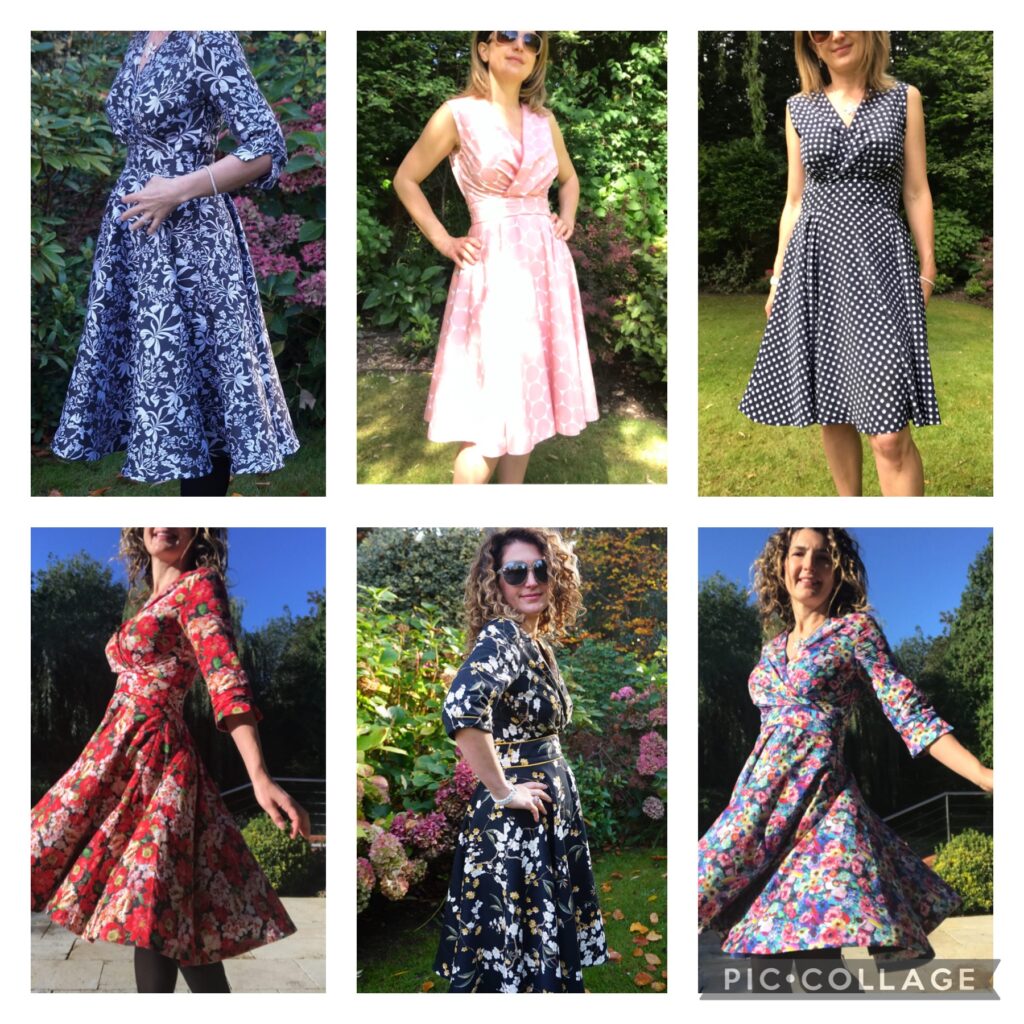 This knee-length skirt is perfectly designed to fit within a 150cm-wide fabric when cutting on the length grain of the fabric – ie the usual way, where your fabric selvedges sit right and left .
But if you want it to be any longer, you will need to cut the fabric on the cross grain – with your fabric selvedges sitting top and bottom. It is usually not recommended as the fabric has less stretch in this direction, but for a full circle skirt it doesn't really matter. The only constraint is that it will not work if your fabric has a strong directional pattern.
How much fabric then?
I decided to lengthen the skirt by 20cm – which actually makes it a very long midi skirt, 84cm long excluding the belt (I am 1m68 tall). For a real midi I think an extra 10cm would have been enough.
And for that I used a whopping… 4m of fabric!!! While the knee-length skirt uses only 2m! Arrrgghhh! Arguably there is quite a bit of fabric leftover, which could be used for a sleeveless dress bodice for instance – but definitely not enough left for sleeves as well.
But it is all really worth it – look how this beauty moves as you walk! I love it!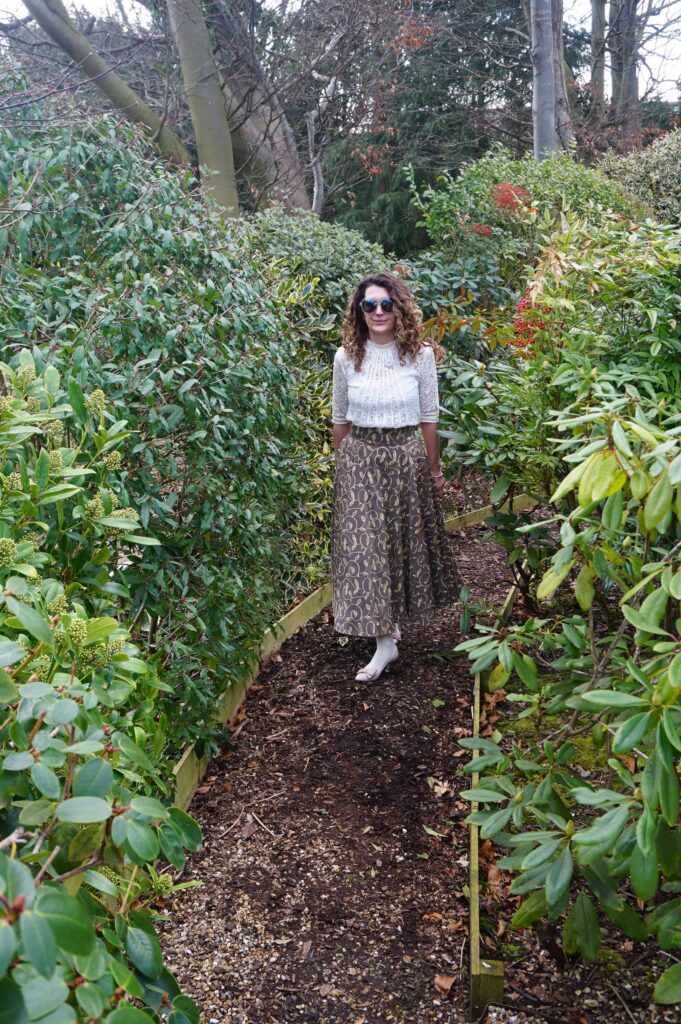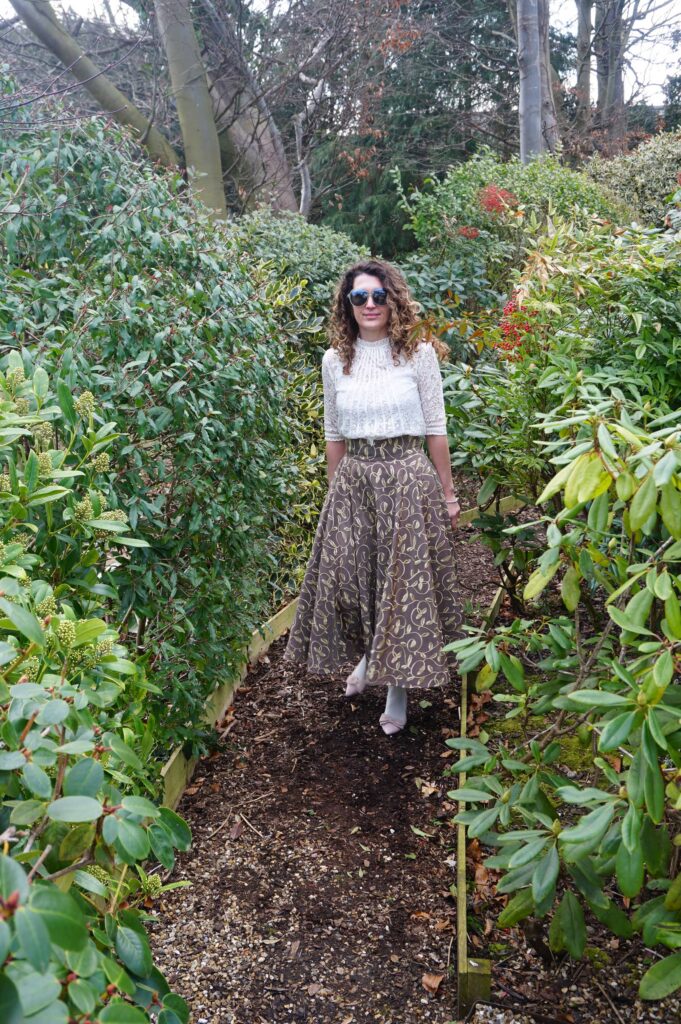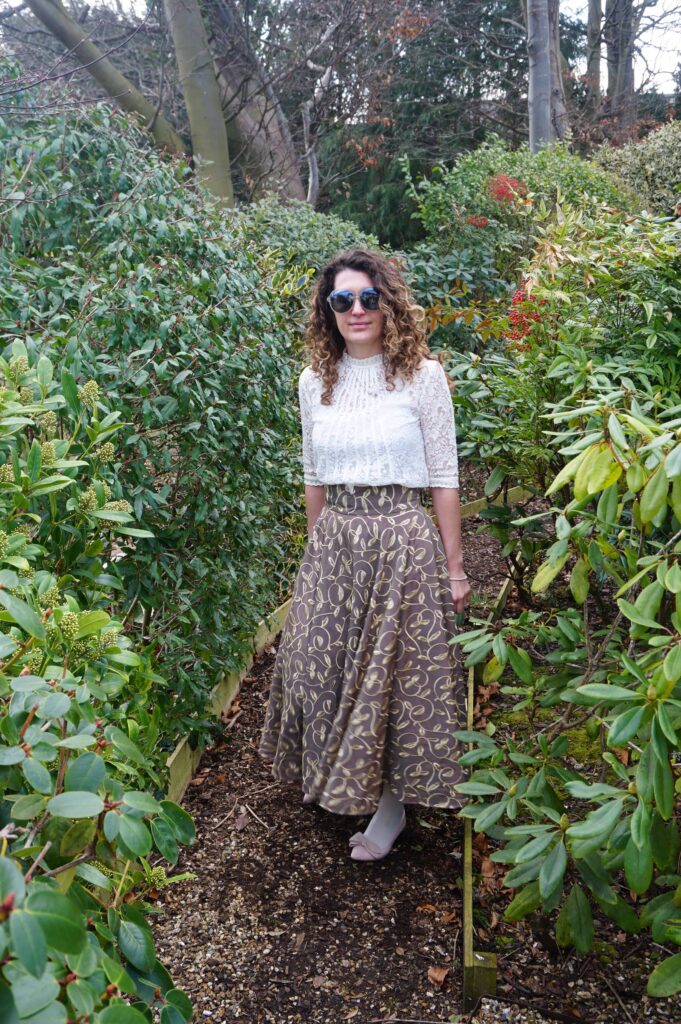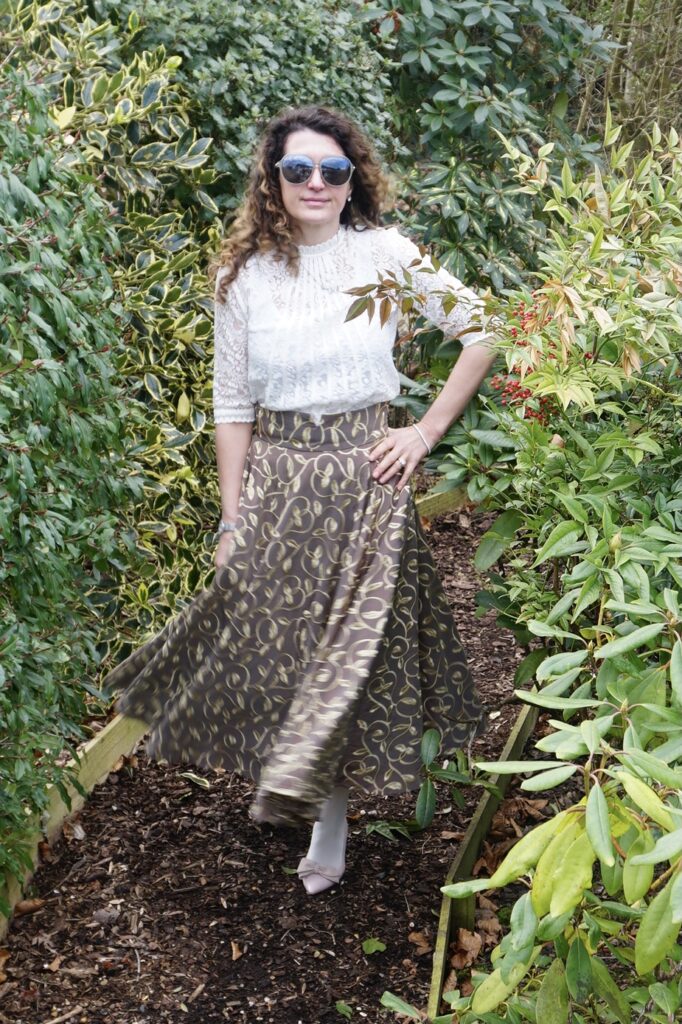 What belt then?
For the belt, I had the perfect belt waiting for me from my recent Elegante skirts; and the measurement was spot-on for my circle skirt. But after attaching the invisible zip and the lining, I realised the belt was too high… so I unsew lining, zip and belt, took off 1.5cm (5/8in) from the belt… and sew everything back together. NOT FUN! Never go into a project thiking it is going to be a fast one…
But here too very much worth it because this belt is just perfect with this skirt!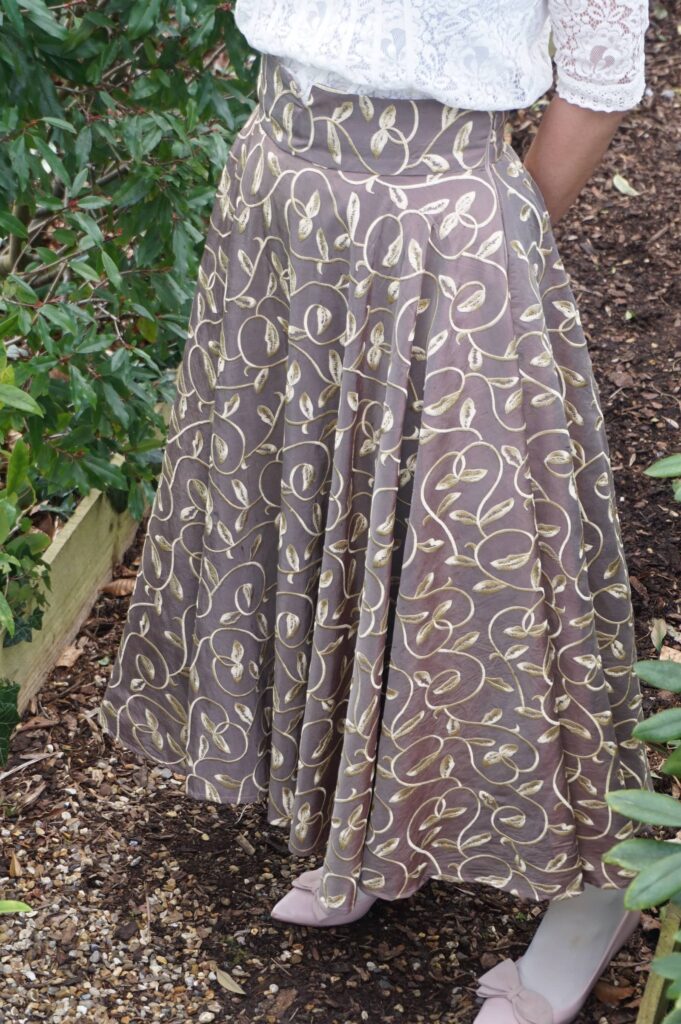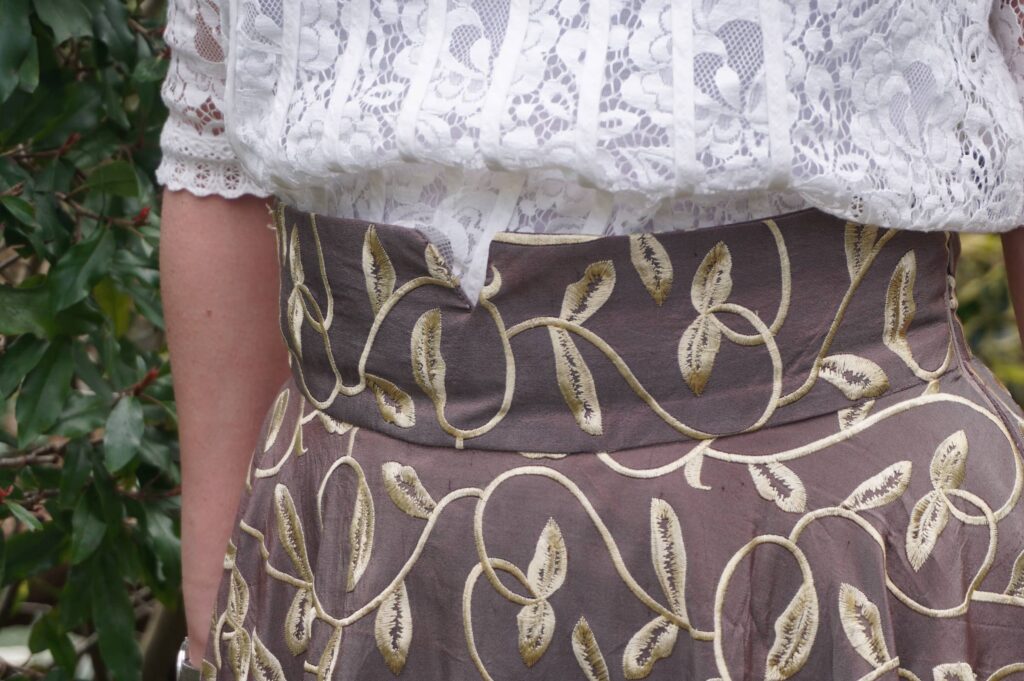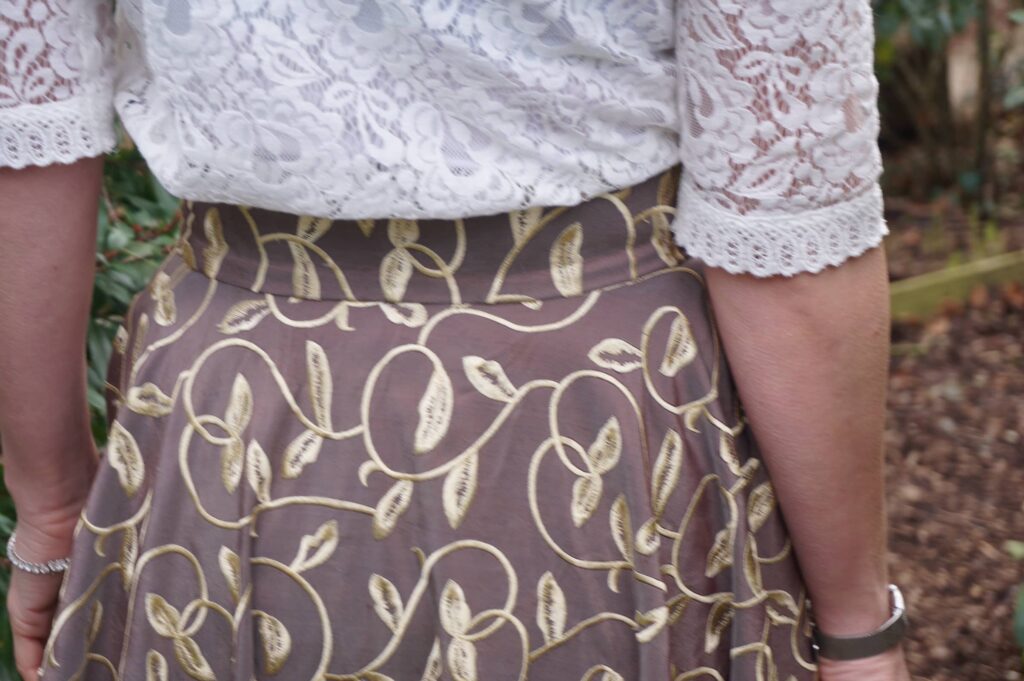 Fabric, lining and hem
This fabric is… silk, of course! More specifically embroidered silk dupion from Amothreads (and still in stock at the time of writing). It was very easy to work with (see my previous article for more details on working with this material) and makes the skirt feel very luxurious.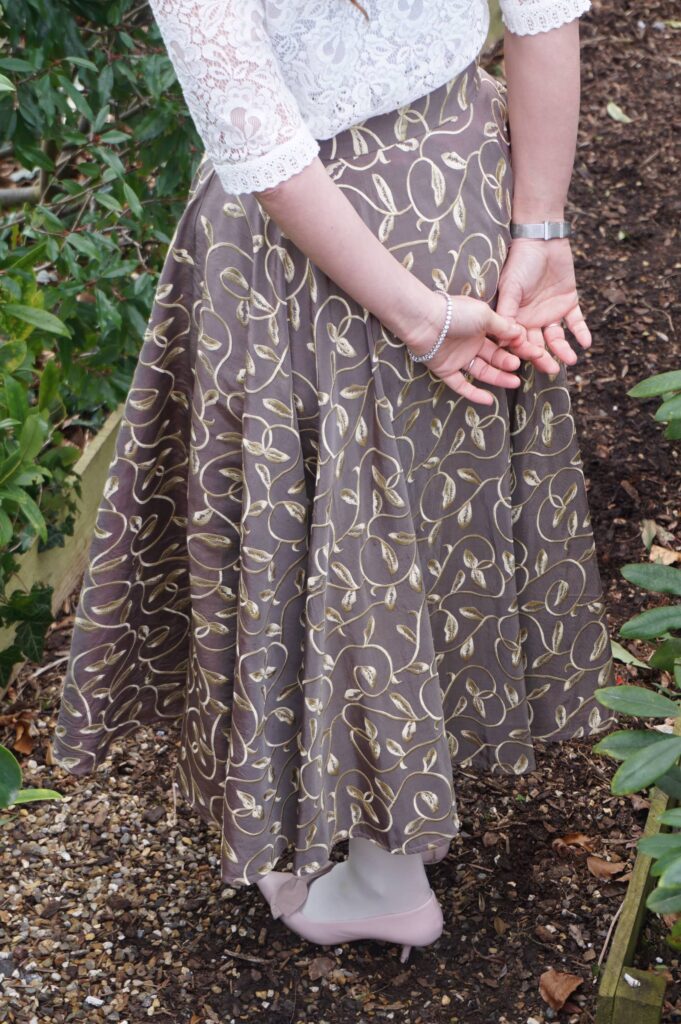 I lined it with plain (antistatic) lining fabric, of which I used only 2m by making the lining knee-length… I had completely omitted the fabric increase when ordering my lining, oh well…
And the hem… Usually I would sew the hem by hand on this type of fabric, just because it is so much nicer. But frankly after the belt issue I had run out of patience and I machine-hemmed, naughty me! I am the only one to notice I am sure but it does not annoy me too much…
Conclusion: never-ending fabric purchases…
My typical fabric length purchase seems to be continually growing . I used to buy 2m of fabric for dresses, went for 3m when I discover circle-skirt and maxi-skirt dresses, and I am now considering going for 5m to fit a midi circle skirt and sleeves… Where will it end? Let me hide in shame…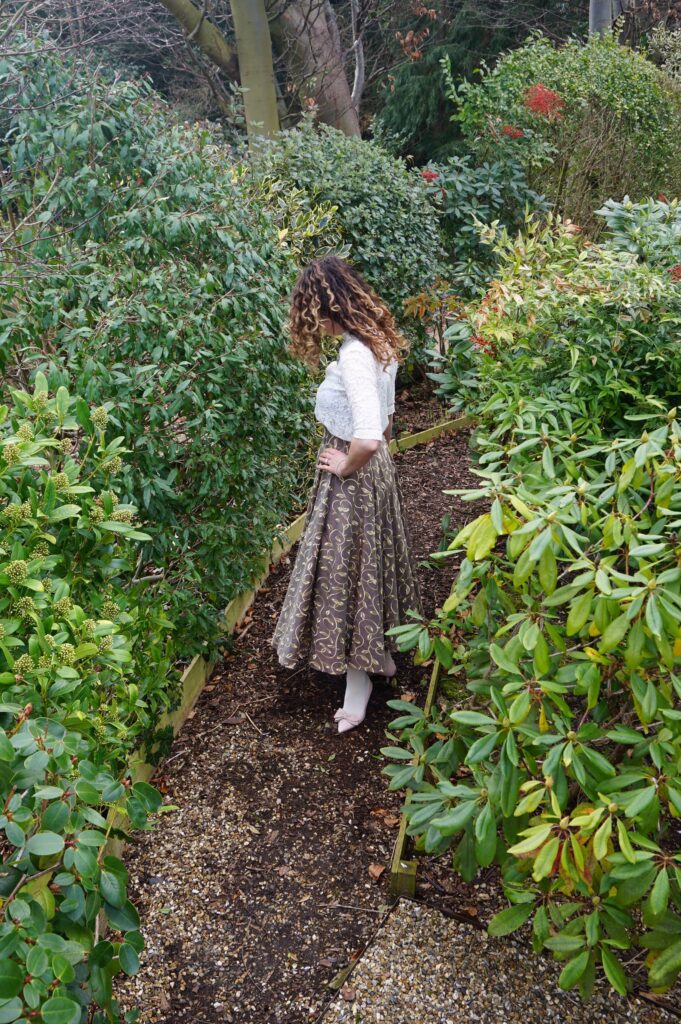 ---