I've done it again! Another M7081 dress… in silk
I warned you a few months ago, McCalls's M7081 has become one of me favourite ever patterns. And as I have turned into a complete fabric snob, I only sew silk now (only kidding – well…). So let me introduce you to my newest dress, a silk version of M7081.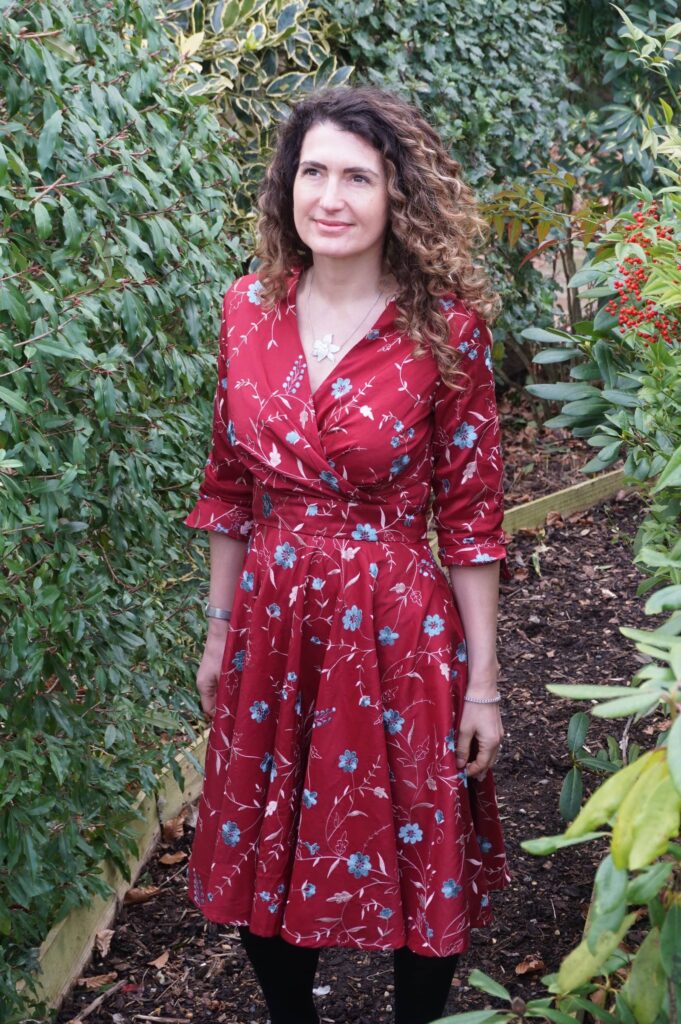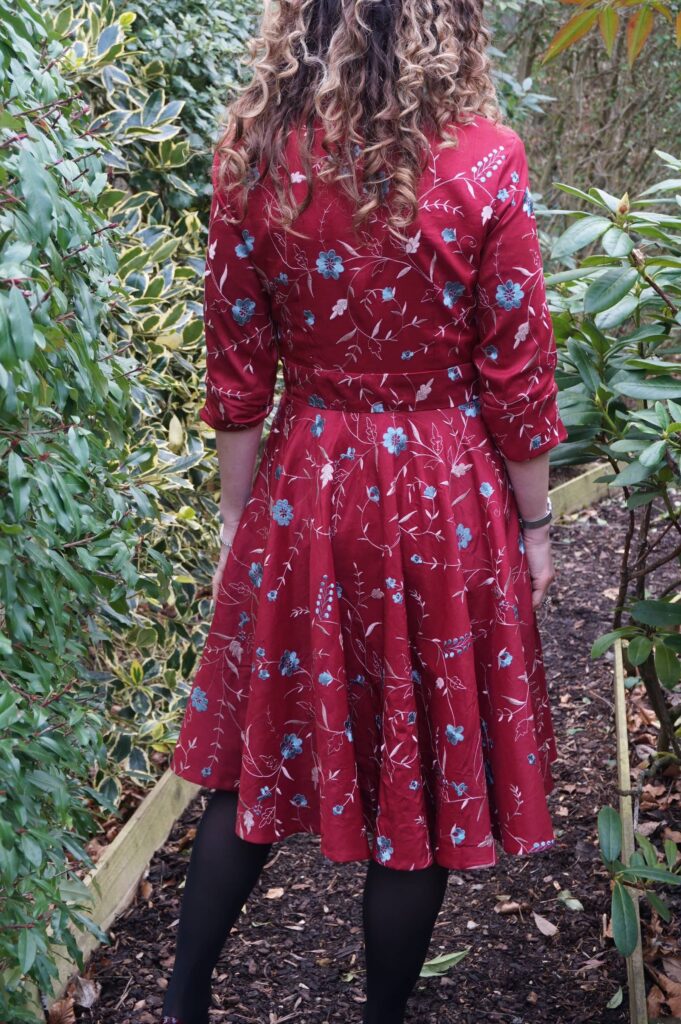 M7981 pattern review: one of my favourites
This is my … well, seventh!!! version of this pattern… No wonder I can sew it with my eyes closed! I already reviewed it on the blog several times – see here and here for my winter versions; here and here for my summer versions.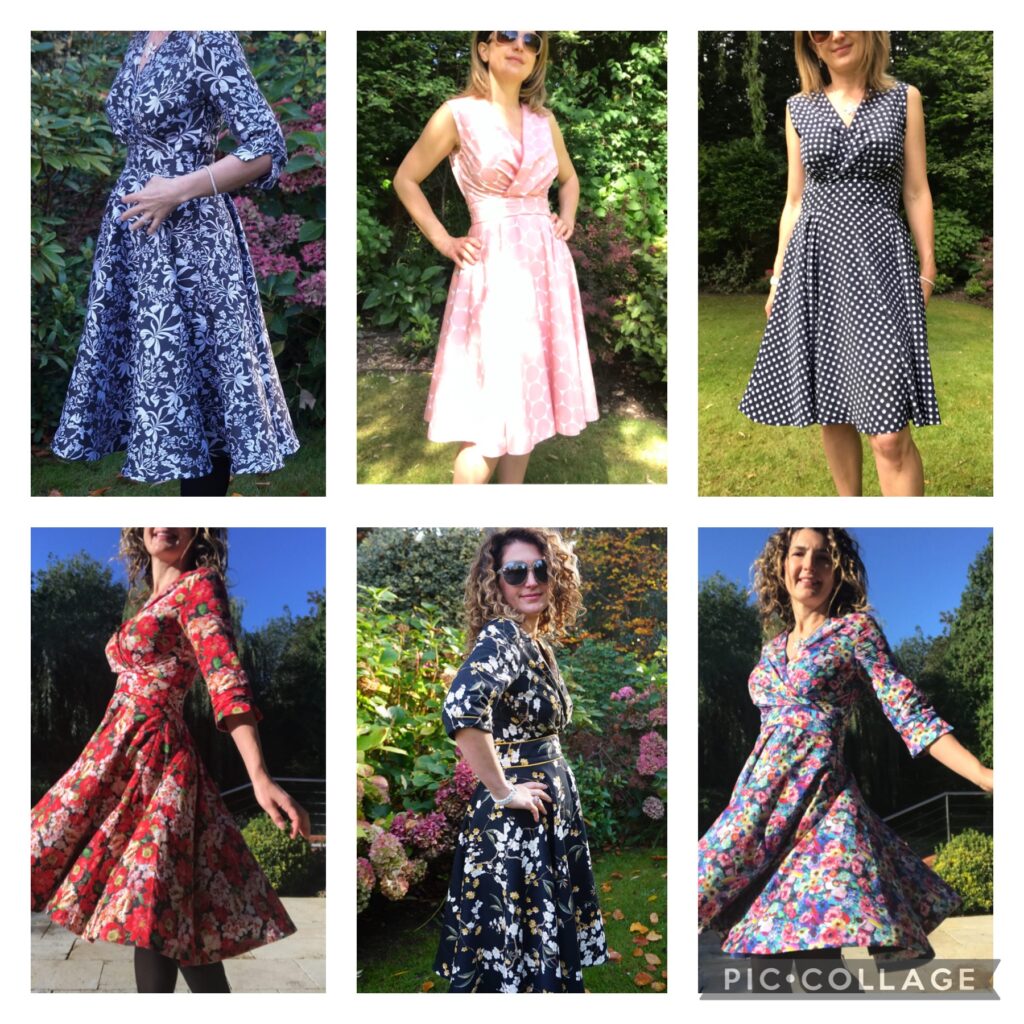 So obviously I run the risk of repeating myself… but never enough of a good thing, right?
If you haven't guessed already, I absolutely adore this pattern. It combines in a single dress all my favourite attributes: a mock wrap bodice, bust pleats, a fitted belt and a full circle skirt. The only possible improvement to the pattern would be to make the skirt midi length but then the fabric consumption would go completely out of control – one of my next articles will feature a maxi circle skirt (on its own) and I'll give you more details.
I made my usual changes to the initial pattern. They consist in:
Omitting the collar;
Fully lining the entire dress – which sorts out the issue of finishing neatly the neckline;
Using my pattern of the Cami dress by Pauline Alice for the sleeve cuffs.
I cut a size 10 and added 1cm of extra ease at the waist as the fabric has no stretch whatsoever and was cut against the grain, but otherwise the fit is perfect.
Fabric used: more silk sewing
I am completely obsessed with sewing silk currently, as my recent articles testify – I have gathered all my advice on how to tackle this scary material in this article. Just to summarise the key points: pre-wash your fabric; work with a Microtex needle; avoid having to unsew stitches by using a tried-and-tested pattern; and work slow!
After having worked on lightweight silk crepe (here) and silk-wool mix (here), I went for heavier embroidered silk dupion. This one is from AmoThreads, it is still in stock and was a massive bargain for such a beauty. You can tell it is quite stiff from how the bodice pleats and the circle skirt fall.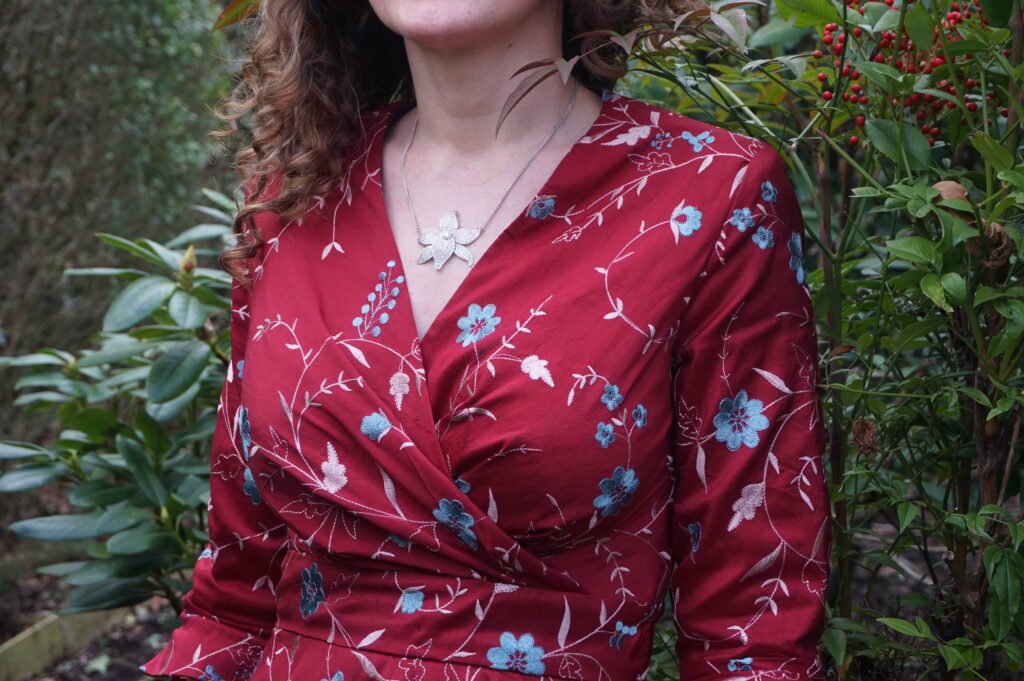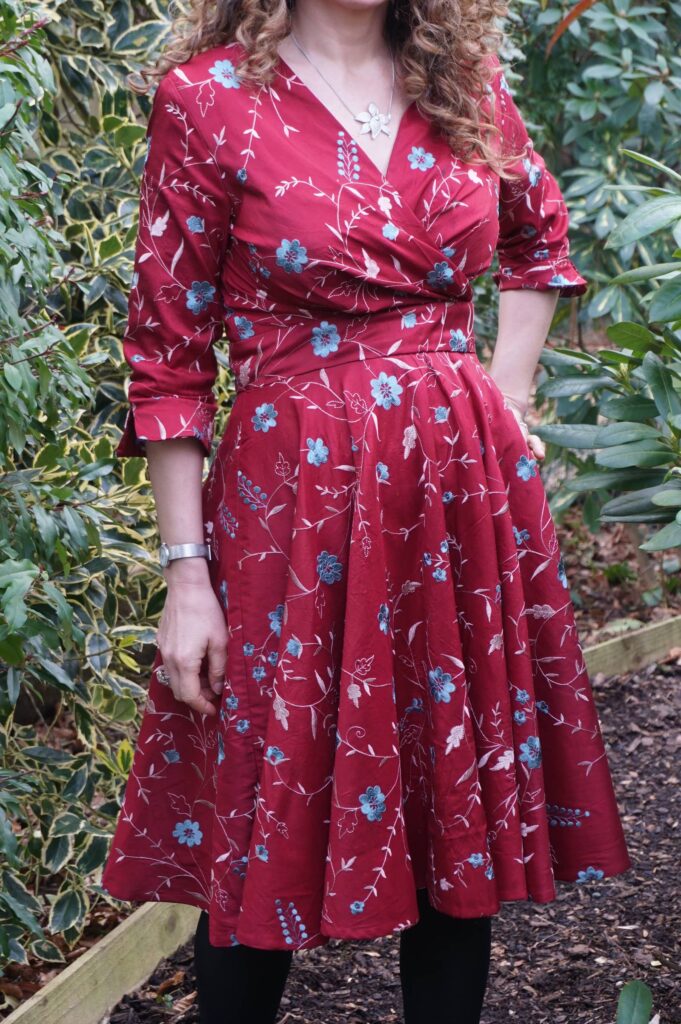 Working with dupion is actually a dream: it is reasonably thick (comparable to a cotton poplin) and it does not slip under the sewing machine foot (unlike lightweight silk). I did not even have to use a Microtex needle here.
The only thing you need to be aware to avoid a heart attack is that silk dupion seems to massively shrink when wet … then it regains its size when dry. I had a huge fear after machine-washing my dress for the first time: the skirt lining became completely visible, while I had been careful to cut it way shorter than the silk skirt. Arrggghhh! But then all came back normal, pfiou…
Conclusion: another little jewel in my wardrobe
I am very pleased with this little dress and I have worn it a lot since sewn – hence the need to wash it. The colour is definitely more within my Autumn hues, so it feels a bit strange to wear it in February. When Spring arrives it will sadly go into my out-of-season closet so I am making the most of it now!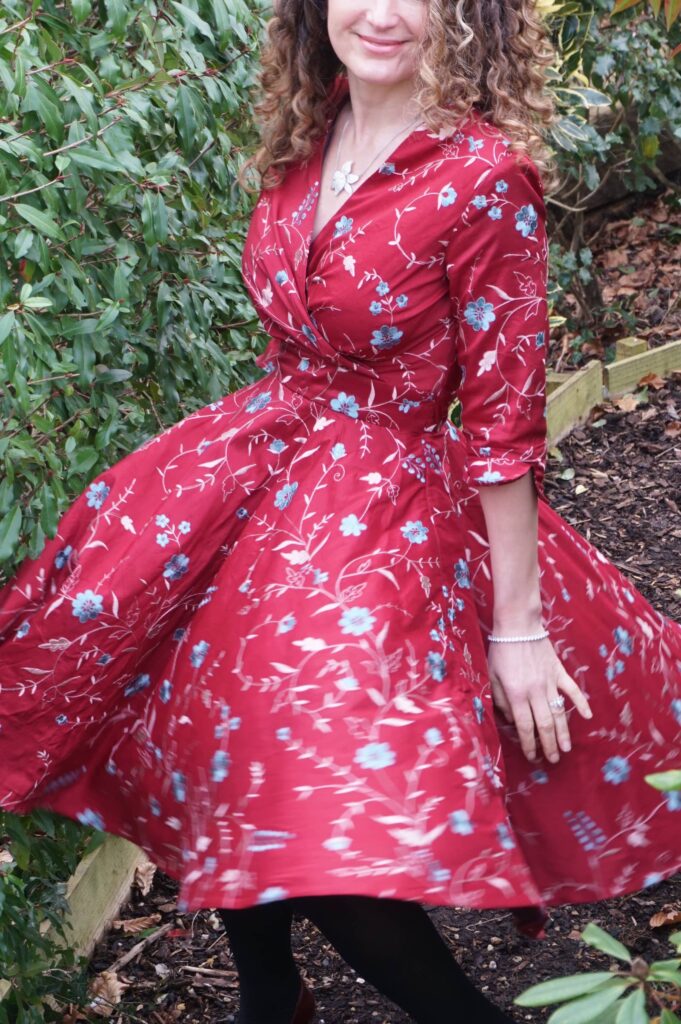 ---