Sewing silk: my "nearly Dior" dress
Do you have fabric stored in your stash, that you adore but is far too precious to touch? That's exactly how I felt about this one: a silk-wool mix, with a modernised jungle toile de Jouy pattern, directly from Dior's resort collection of a few years ago. Very expensive, very delicate… and very scary to work with!! Let me introduce you to my Dior silk dress: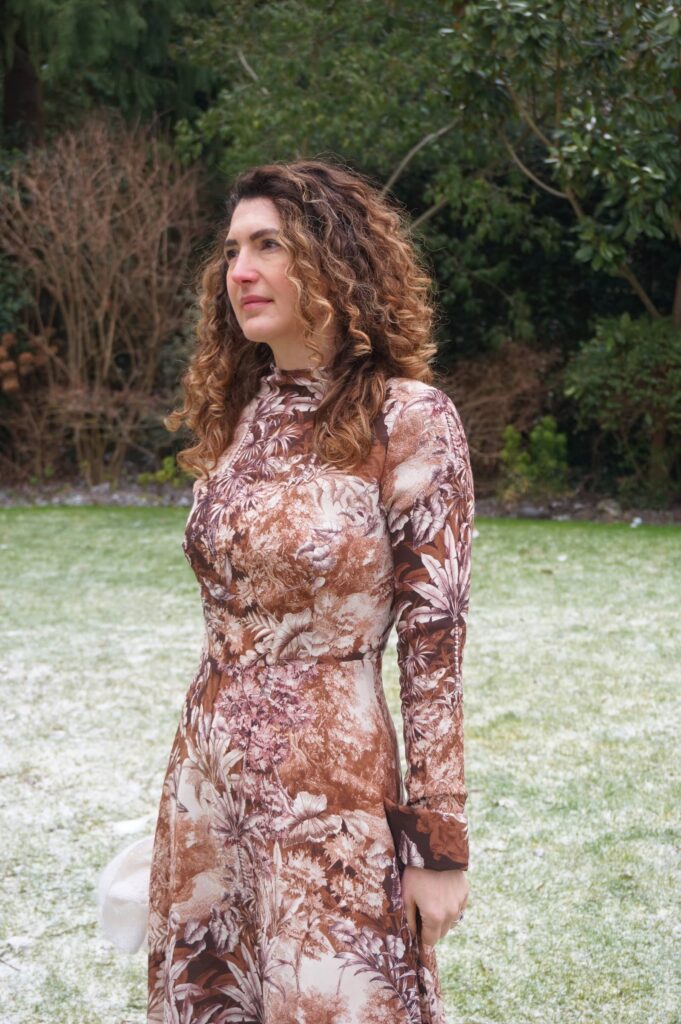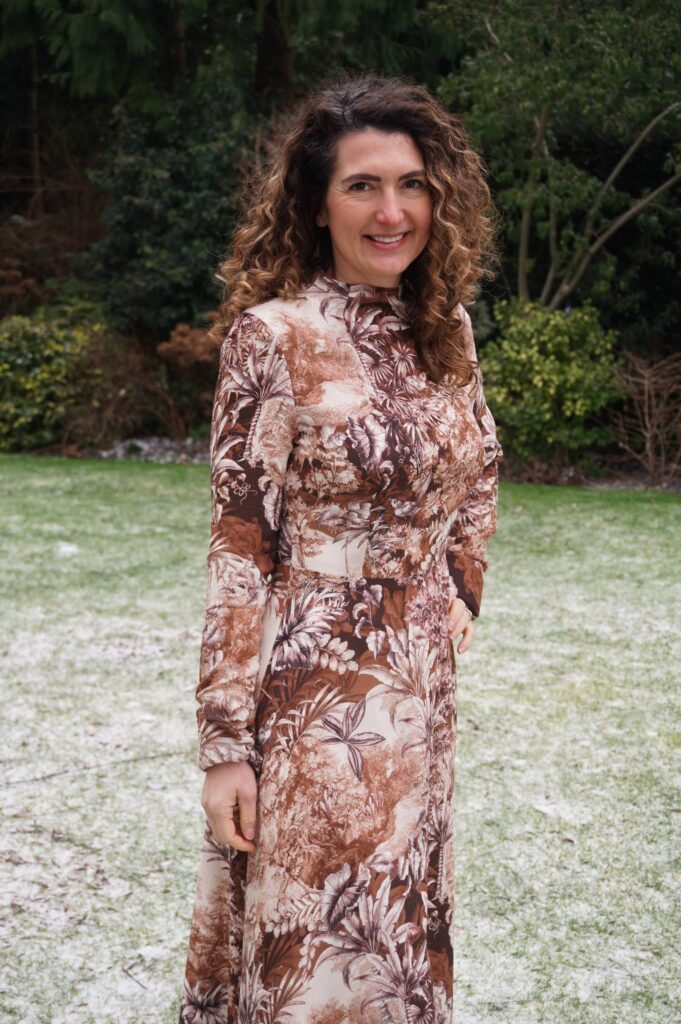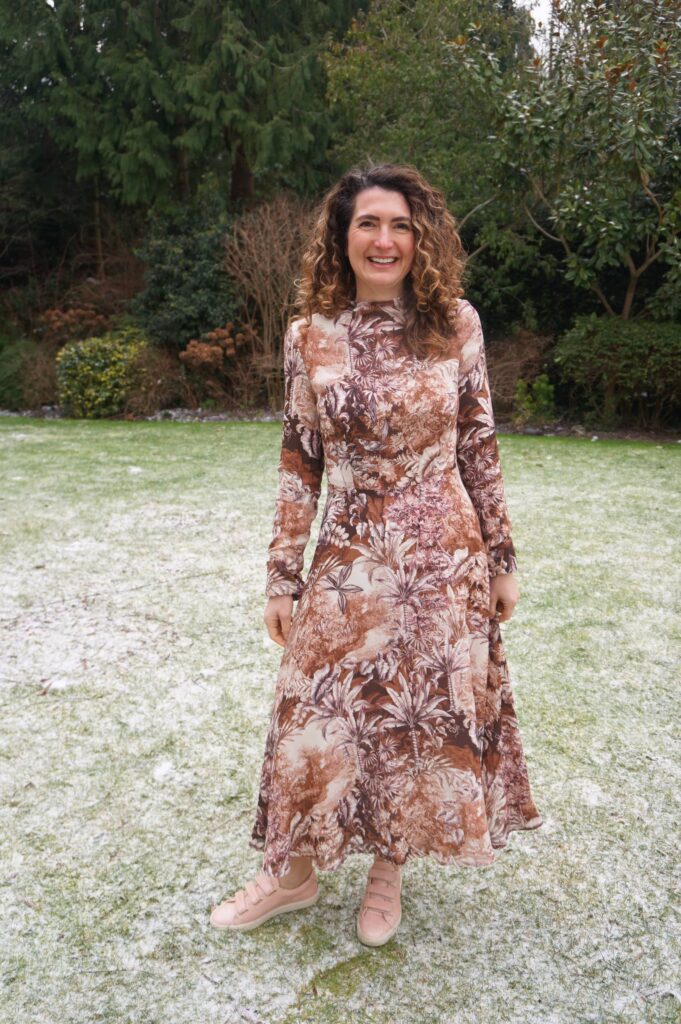 THE fabric: Dior toile de Jouy
I was familiar with Dior's toile de Jouy jungle theme thanks to my lovely husband, who surprised my with a gorgeous handbag a few years ago. Jouy en Josas, were toile de Jouy originated from, also holds a special place in our hearts as this is where we studied and started dating.
Toile de Jouy is characterised by pastoral scenes with a a few characters depicted in a natural background; and with the same motif repeated all over the fabric. Dior has reinterpreted it with jungle backgrounds, making it less traditional and a far more funky – my fabric is mostly palms and palm trees, with a few birds hardly visible.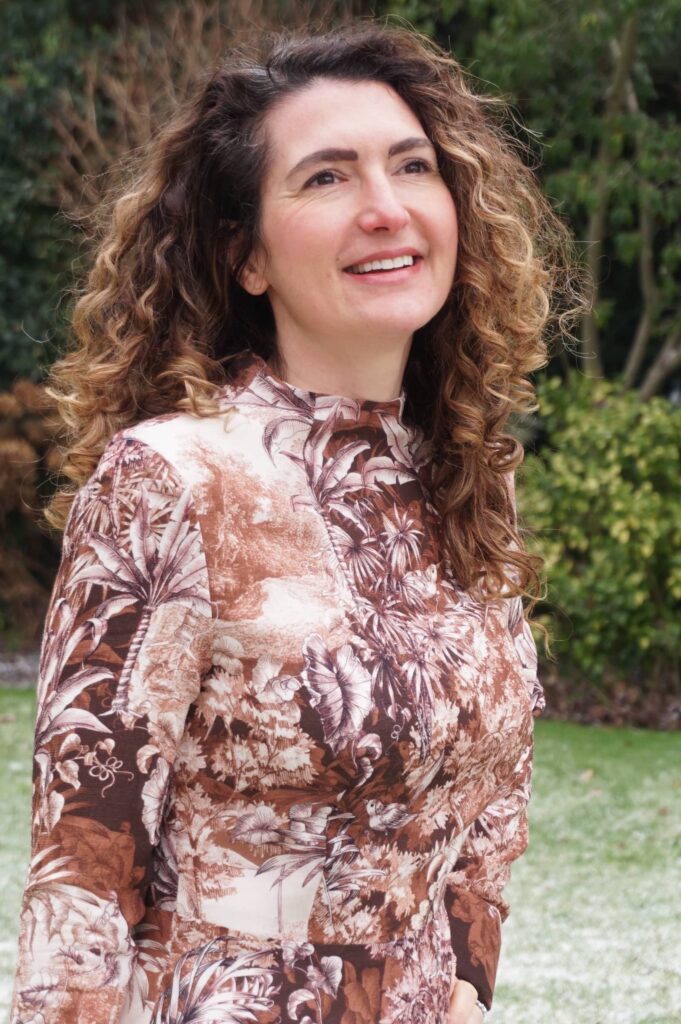 Getting hold of such a beauty was no small matter. I had previously missed the exact same fabric in blue from Selvedge and Bolts (one of my favourite fabric shops) – matching my bag, arrrgghhh!!!. So when it came back in a colour which is definitely not within my usuals, I did not think and immediately ordered 3 meters! – from my phone on the street… My Bestie was there and can testify… Fabric addiction is that bad!
Sewing with silk… again!
And then it stayed in my stash until I felt confident enough to sew it! That actually only happened a few weeks ago, when my first big silk project – otherwise named the coral bubble dress – turned out as a success.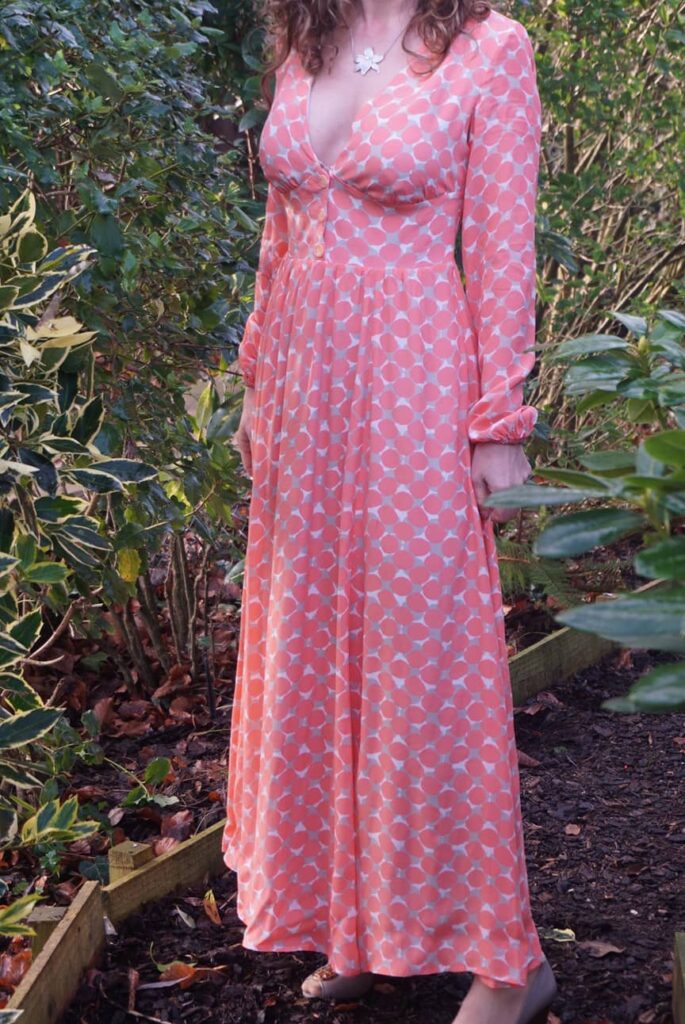 I wrote a full article with advice and tips on how to sew silk here, so do have a read for more details. I did pretty much followed my own advice:
Despite its price, I pre-washed my fabric as I would usually do for delicate material – in my Miele machine, wool program, cold, 600 spin;
I used a tried and tested pattern – but more on this later;
I worked with a microtex needle and super thin pins;
and I worked SLOWLY – this fabric was so delicate I was scared to death the ripe it!
Pattern review and modifications: V9327
You may have recognised V9327, a winter dress pattern which I had already used twice and reviewed once in the blog. Both previous versions were in wool suiting, a material way easier to use than this one! I made the black version two winters ago and I do wear it a lot.
I really like this pattern for:
its perfect fit: the bust darts and the custom bust cups help a lot here; I cut a size 10/ C cup for my UK 8/ US2/ FR36 and E cup; and required not adjustments at all;
its very wintery style: it is quite rare to find a dress pattern fully appropriate for winter, here the high neck, long sleeves and long skirt do the trick;
its sleeve details – I adore sleeve cuffs!
I made no changes other than fully lining it – with silk of course. Here is what the dress looks like from this inside: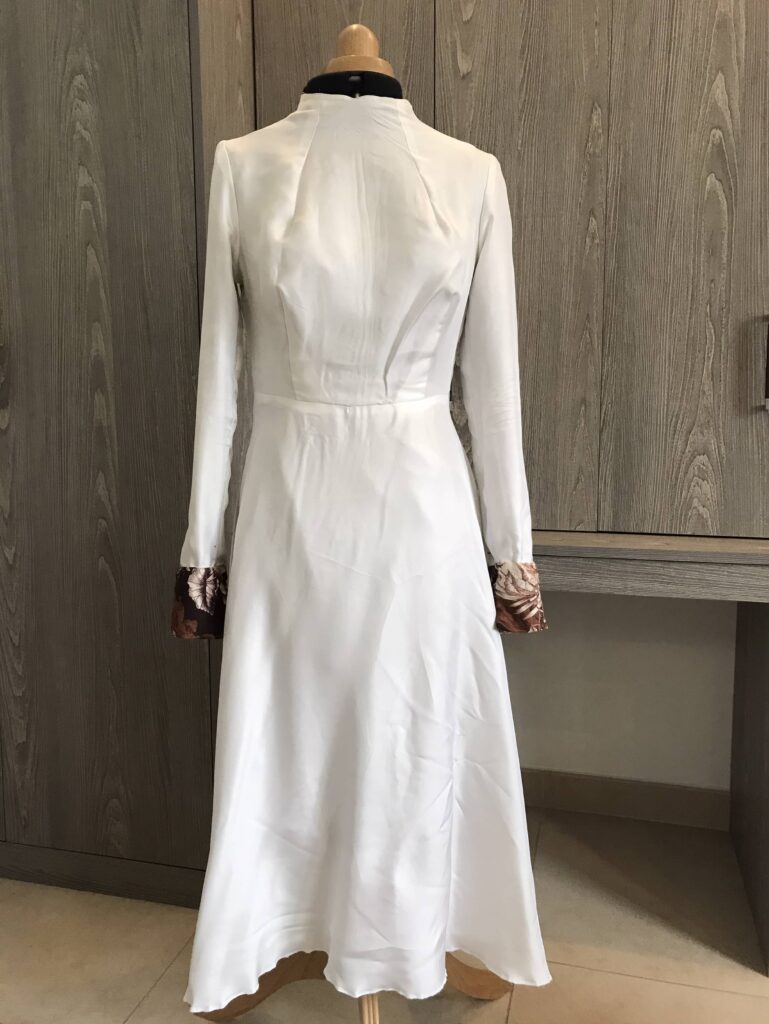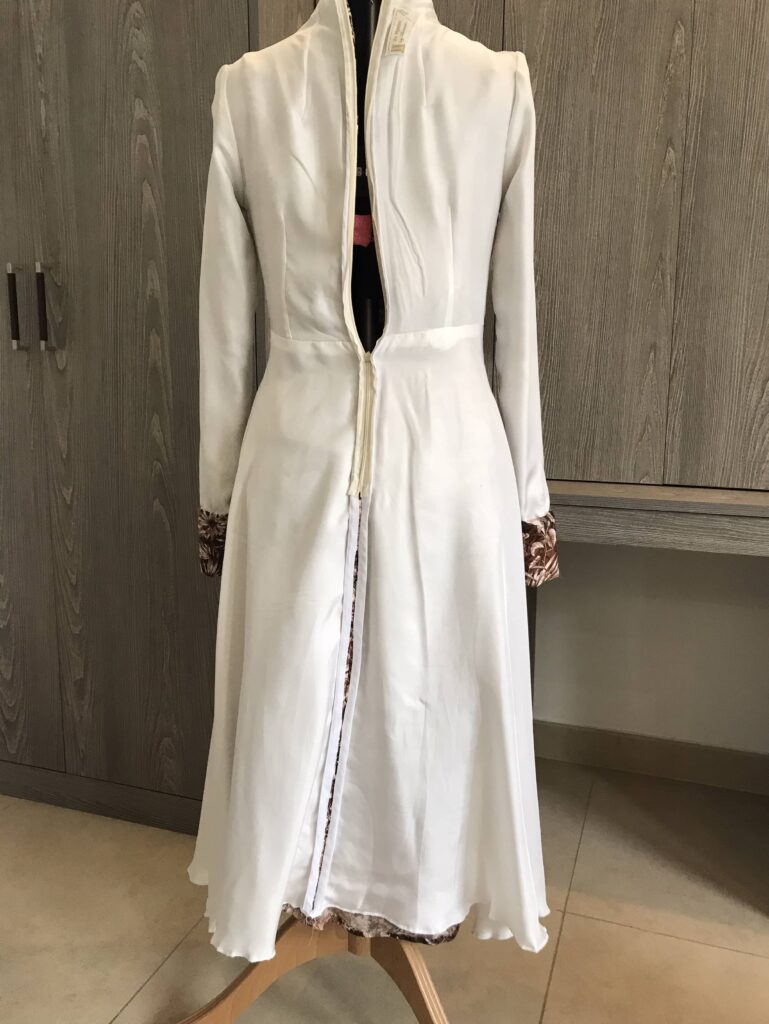 For this purpose, I made a second exact same dress in white silk and joined it to the first dress at the collar before adding my back invisible zip; and then added the zip as if both dresses were one.
This time I also covered the back sewing margins with bias tape, which I usually don't do but why not waste even more time for unnecessary details… To be fair, I was worried the wool sewing margins would turn out to be itchy next to the skin… so not completely unnecessary!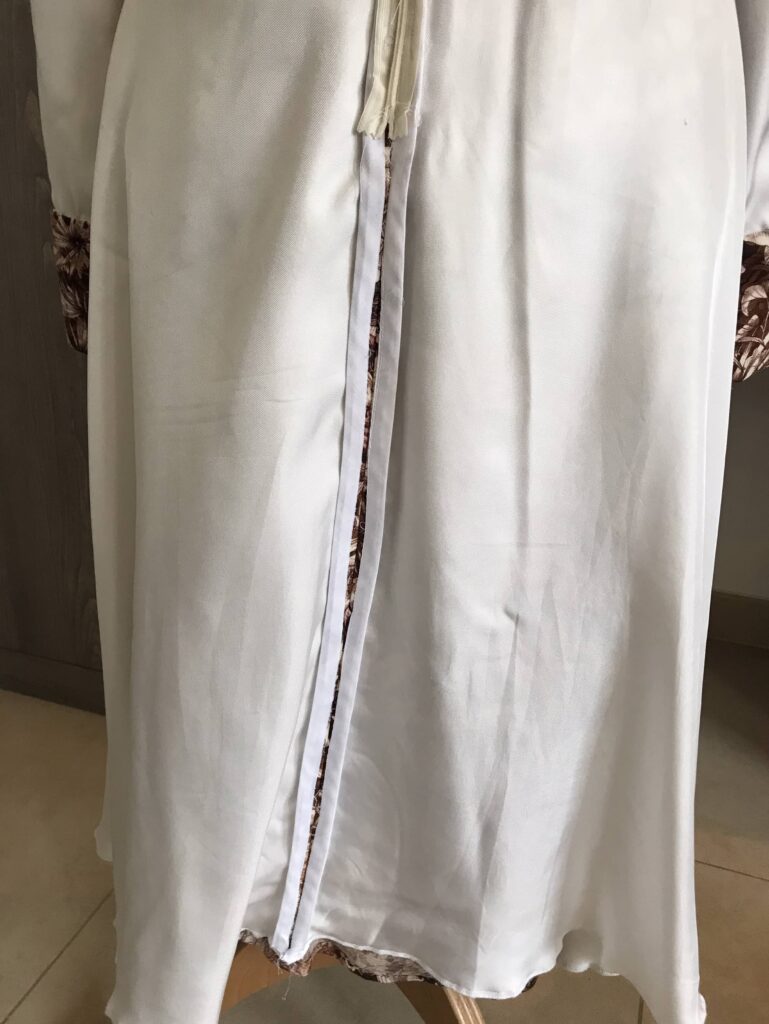 Conclusion
Will you believe it: I actually did not like this dress the first time we took pictures! We had chosen a dark background and I really felt like I had sewn a camouflage suit!
Obviously since then my view has completely changed. This dress is so lightweight and soft it is wonderful to wear it. And although it is not in my usual colour palette, I'm definitely starting to really fancy the warm hues – especially since I bought new boots to match (not shown here), naughty girl!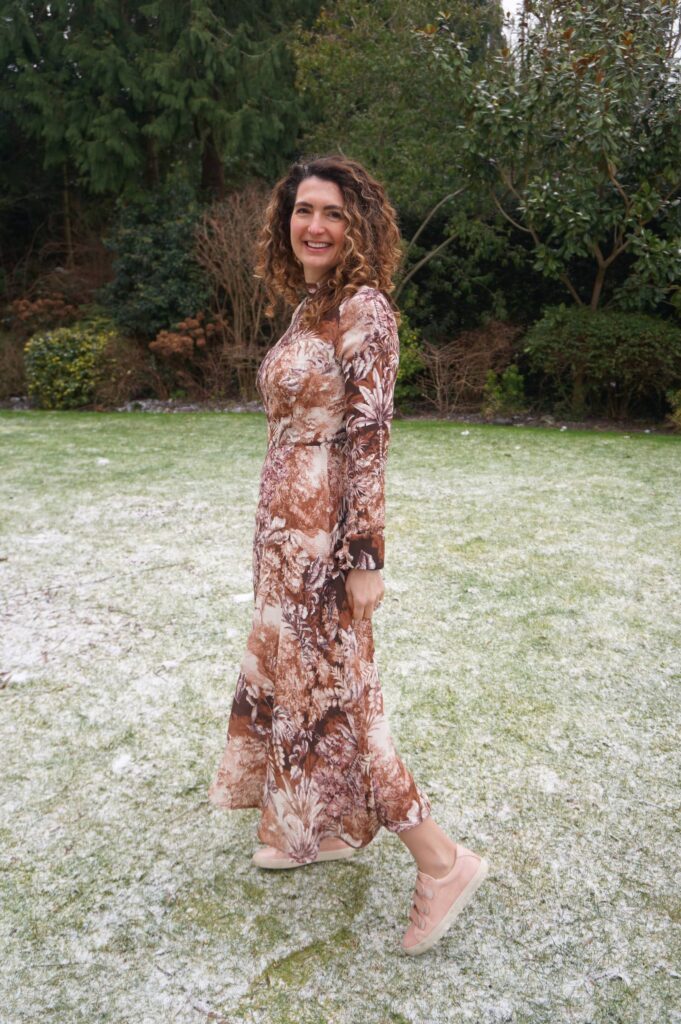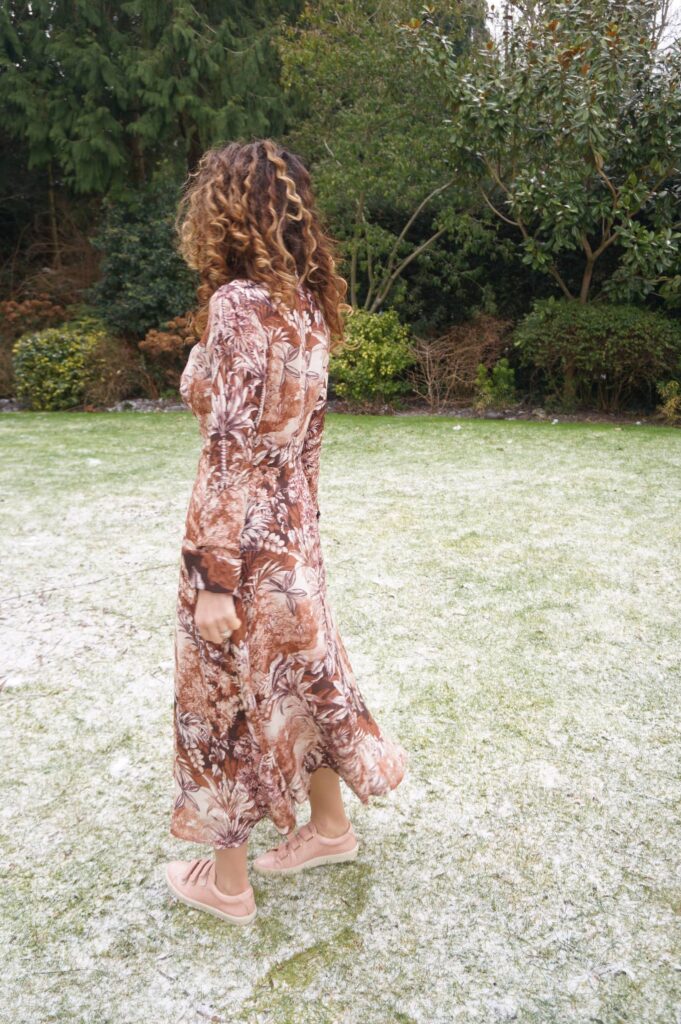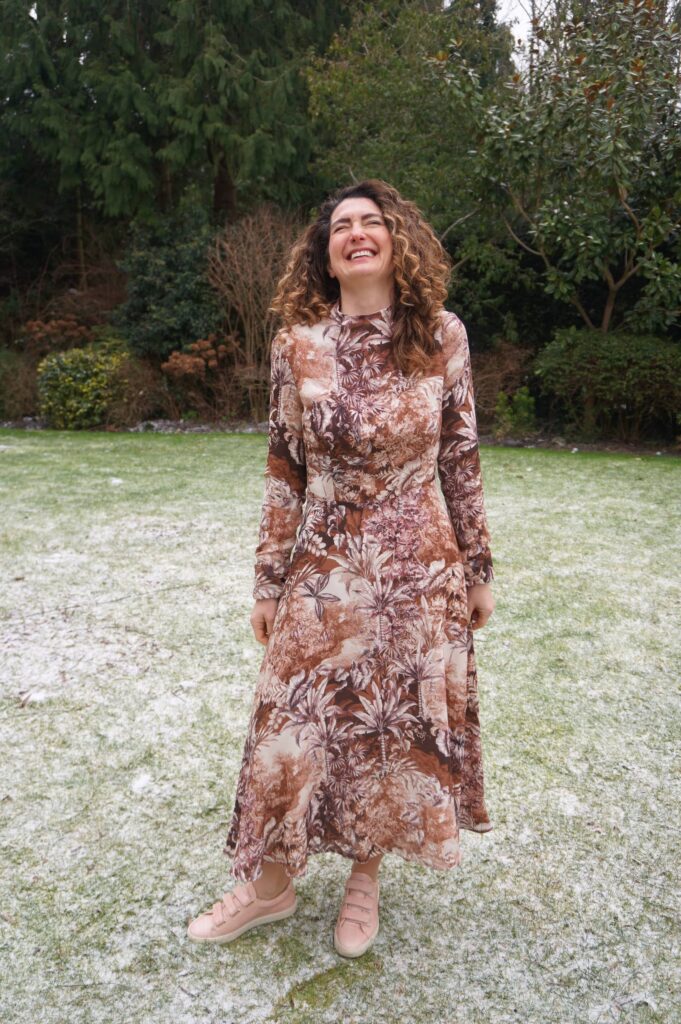 And if you've read to the end of this article, here is my little secret: I have managed to source two other Dior fabrics (silk only this time) and can't wait to get started on them. Do you have any suggestions of long, fitted but floaty dress pattern I could use?
---
2 responses to "Sewing silk: my "nearly Dior" dress"