Sewing with silk: a new M7974 dress
In my 2020 sewing review, I mentioned that one of the 2020 achievements I was proudest of was to have mastered sewing a silk dress. But the dress was actually never posted on this blog. So here it finally is, in all its silky beauty!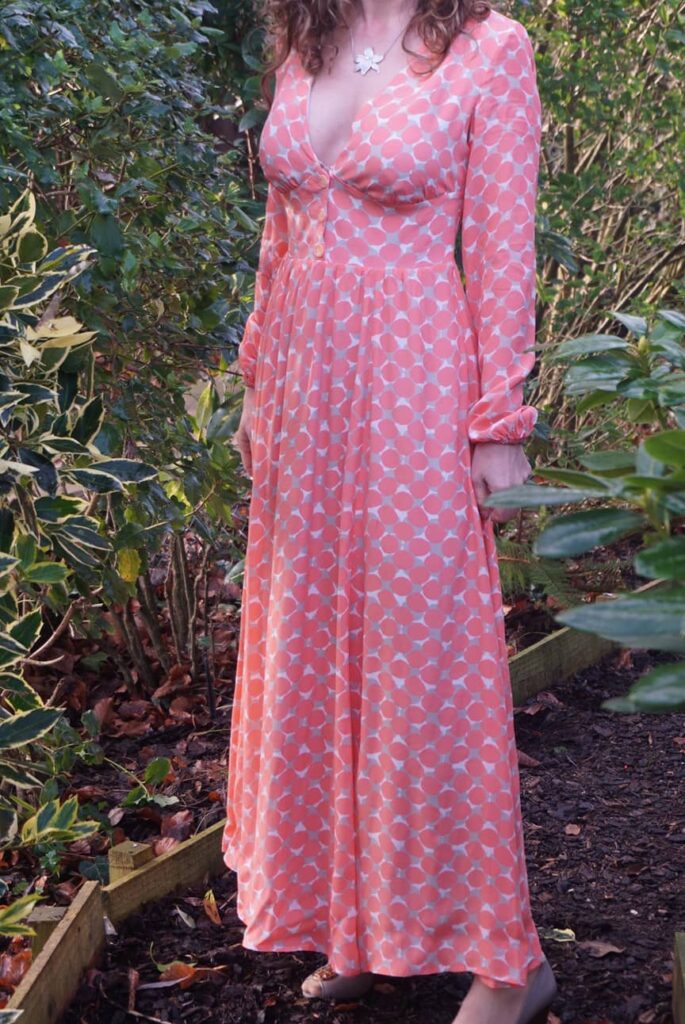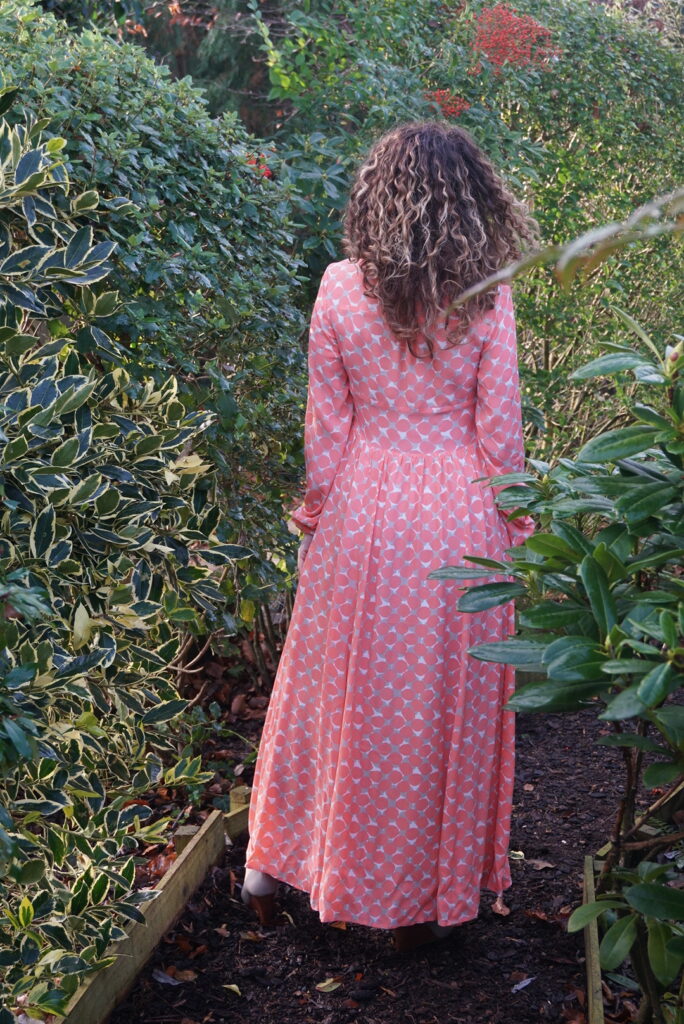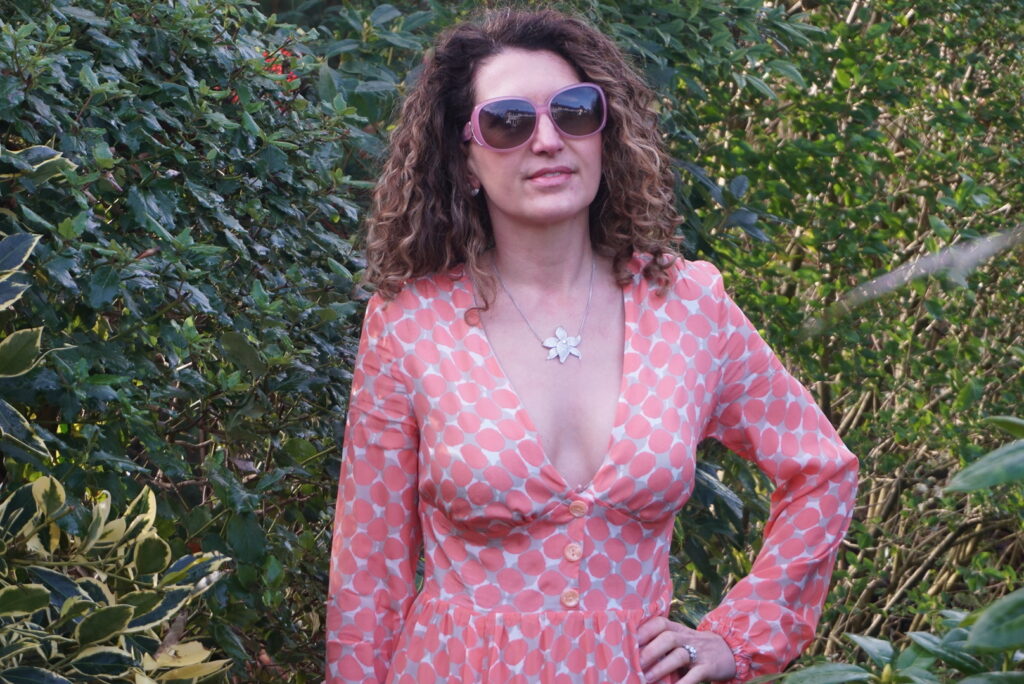 I am all the happiest that I have recently managed to accumulate a substantial silk fabric stock. I was until recently terrified to sew it but not anymore, ha ha!!!
Key advice for sewing silk
This dress was a great learning experience for me. So here are the tips I would give you if you are keen to start sewing silk:
Don't overspend on the fabric. The more you spend on silk, the more terrified you will be to use it. So for your first silk piece, I would recommend not spending more that GBP15/EUR18/USD18 per meter. My best source for reasonably-priced silk of good quality is Bennytex. Looking for deadstock is also a good option – I regularly browse through Amotreads' stock.
Pre-wash and iron you fabric as you normally would, except if you are planning to have your dress professionally cleaned in the future. I personally only sew and knit clothes I can machine-wash… but I am the woman who puts all of her husband suits in her Miele washing machine! Wool program, no temperature, 600 spin, it works a wonder for wool, silk, cashmere…
Go for silk that is slightly thicker or that has texture. I find that silk crepe and silk dupion are easier to work with, as they are less slippery that silk satin for instance. In any case look at the material weight, the heavier the easier.
USE A MICROTEX NEEDLE, absolutely, even if you can't find it on Amazon. Using a super-thin (60) general needle will not work a well, with some silks it may pull off strings and damage your fabric for good. And also use thin pins, not standard ones.
Use a pattern you have already sewn, to reduce the risk of mistakes. Having to unpick stitches is particularly dangerous with silk.
Line silk with silk if you can afford it, it would be such a pity to lose the softness and floatiness of silk because of a synthetic lining.
Go SLOW – no need to rush, you are unlikely to want tens of silk dresses in your cupboard (except if you are me), so you have all the time in the world!
Details of my dress
As for my new dress, you may or may not have recognised M7974, which I already sew last Autumn in a pretty polyester fabric with metallic yarn.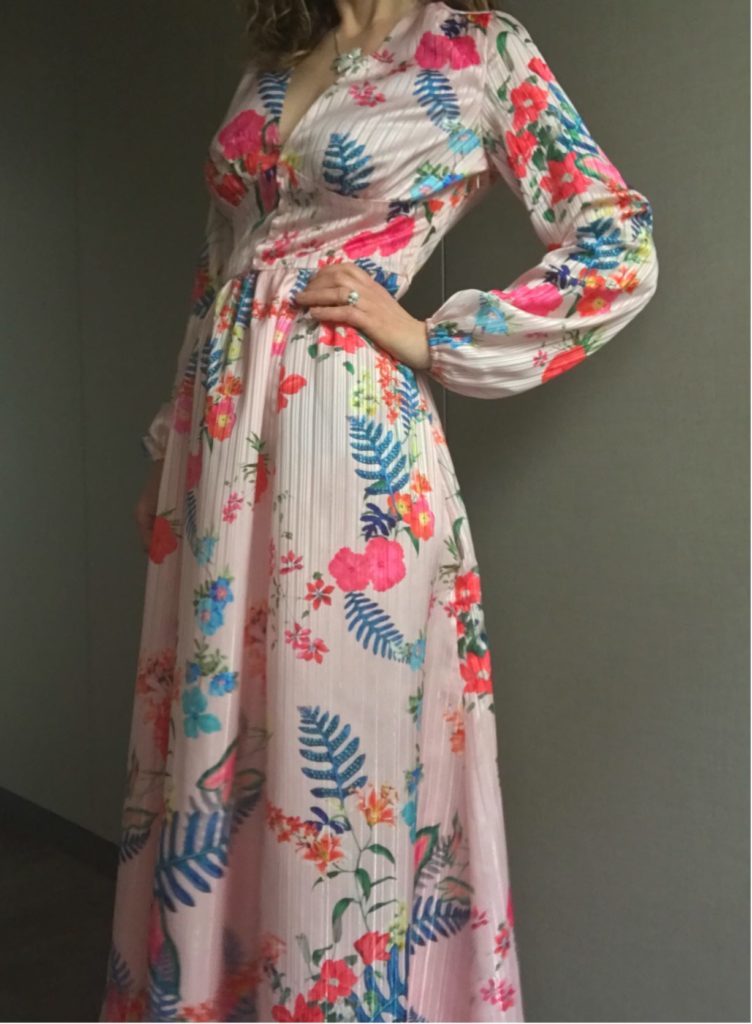 I had made an FBA at the time, but it turned out to be insufficient – so I followed the same methodology but made it even bigger.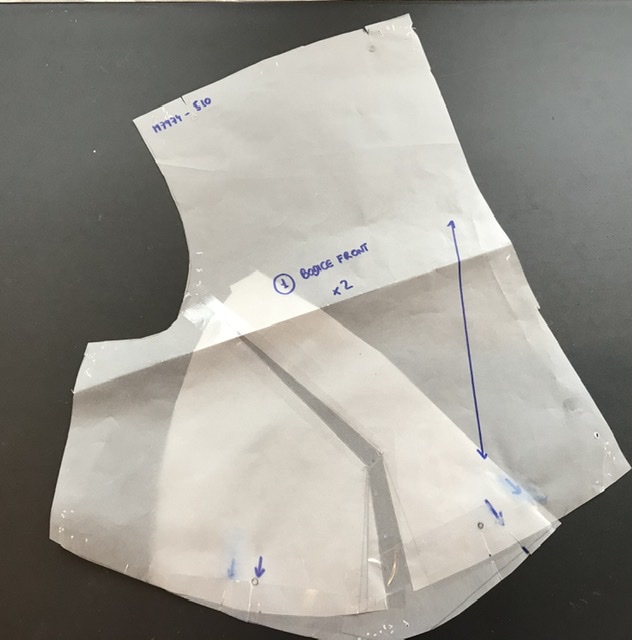 As for the other changes I made to the pattern, they are exactly the same as those I had made previously:
no buttons along the skirt front but a side zipper to open the dress;
longer sleeves elasticated at the bottom to make them more puffy;
fully underlined bodice and fully lined skirt (with silk lining of course) – because you know I am a lining addict…
And that's it. Next time I will try and up the neckline, as it is truly too low as it is, even with a very very low bra (forgive the creases, this dress had been worn quite a bit pre pictures).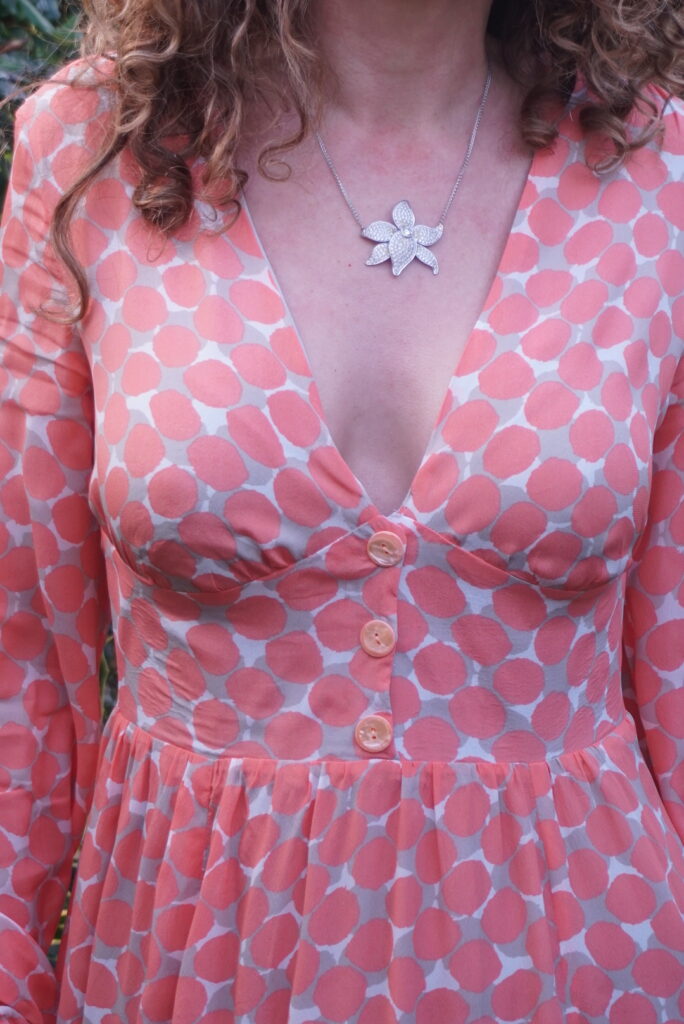 Apart from this, I am very happy with this dress, but the winter has been so cold that I haven't had much chance to wear it – looking forward to spring…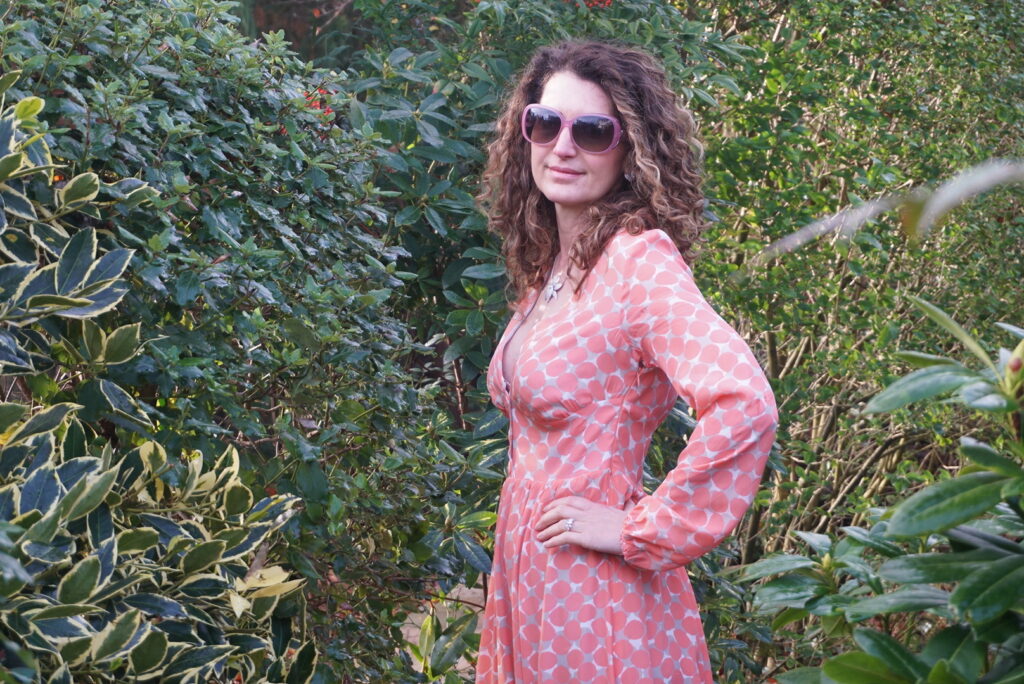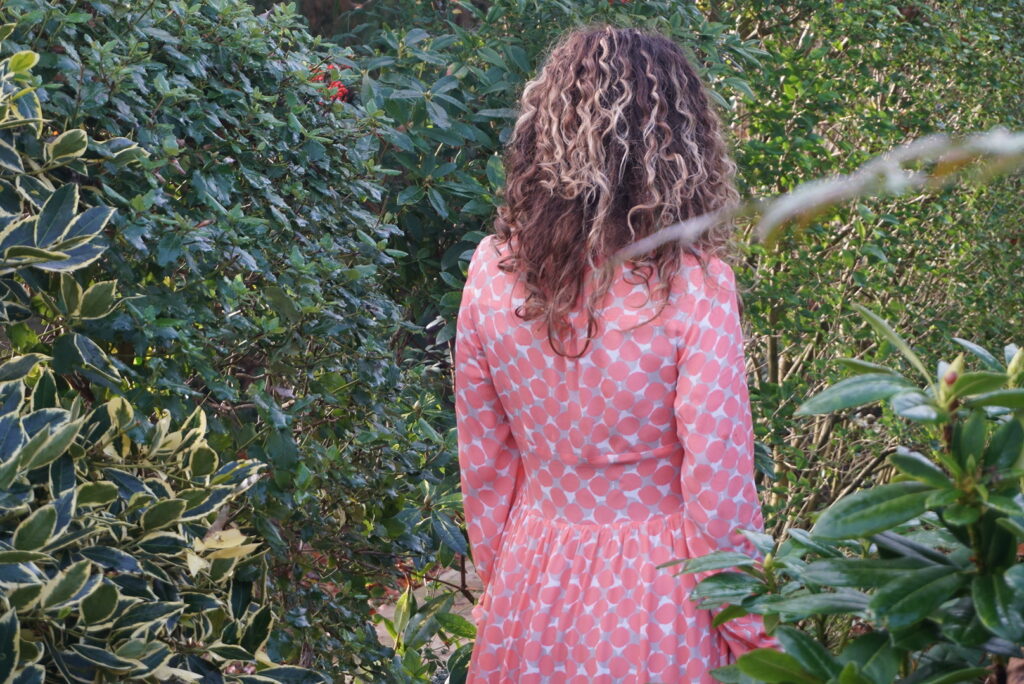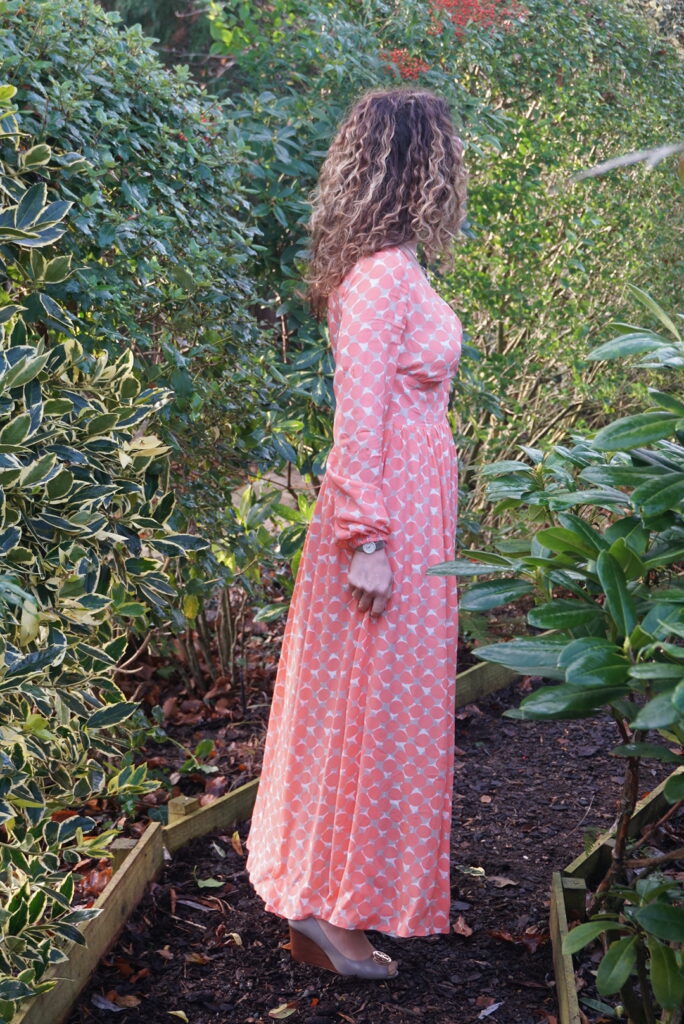 ---
2 responses to "Sewing with silk: a new M7974 dress"