I Wont' Buy It but I'll Make It – First Attempt
This post is also available in: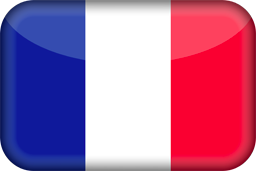 Français (French)
Up to now my sewing inspiration has been very much in closed circuit: I see a pattern I like, I find a fabric which matches my colour and texture obsession of the moment (this winter: wine hues, velvet texture) and then I get going. This usually results in a number of quite similar garments – you probably remember my (compulsive addictive) velvet Magnolias…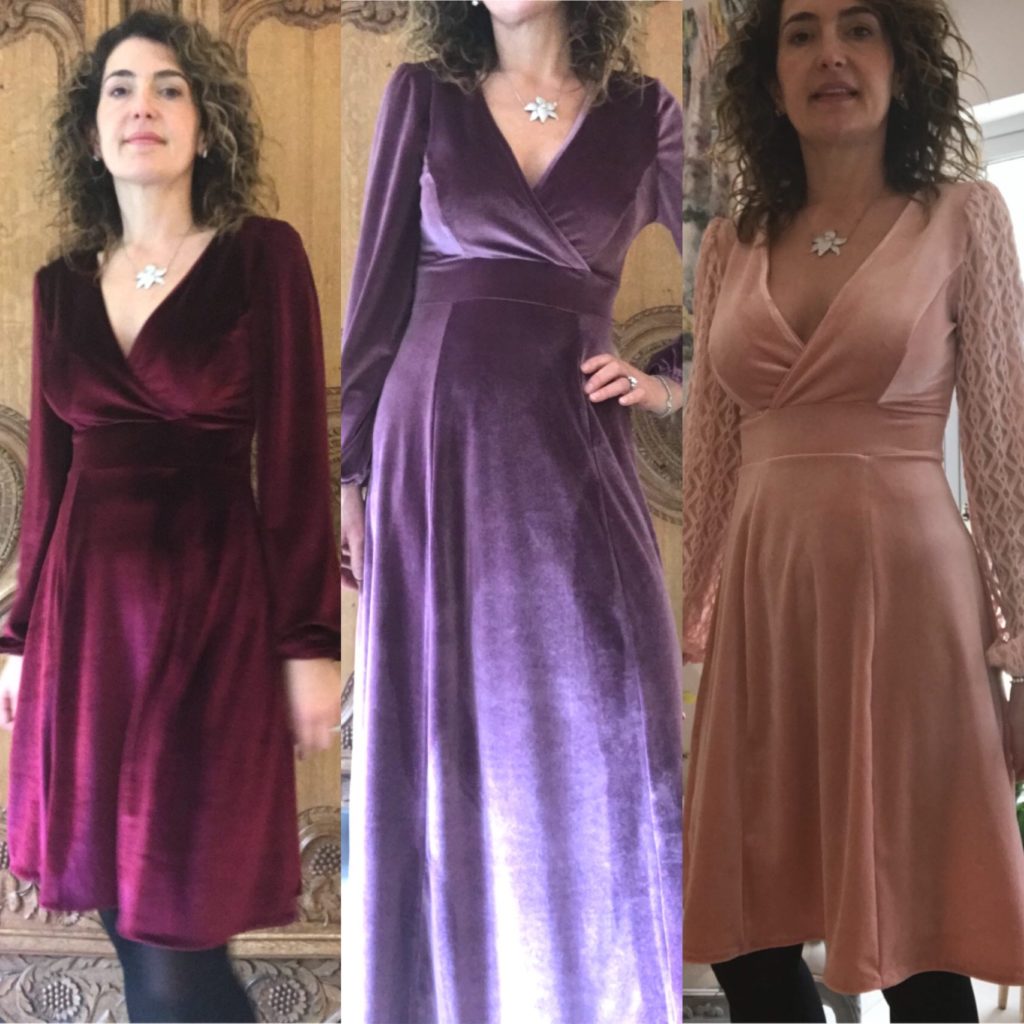 But recently, after years of restraint, I've been back to clothes shopping – and this has generated a whole new thinking about how I should approach sewing! I realised they are actually quite a few things I like in shops, but it is usually not the right fabric (I hate synthetic, I want wool, cotton or silk), not the right fit (my very narrow shoulders and large boobs rarely work for standard sizing), not lined (so transparent in the summer and itchy in the winter), or just outrageously expensive. Oh well…
So my big plan for this year it to look for more inspiration from my favourite designers (Red Valentino is my absolute fashion crush currently), look for compatible patterns and fabric and make the garment if I find the match … but buy it I don't! – because sometimes it is just impossible to source the right fabric.
This Red Valentino dress is a good exemple. Finding a matching pattern was very straightforward (V9197 would work wonders) ; but finding matching pleated and unpleated fabric, respectively for the bodice and for the skirt, is just impossible – the closest I got was with Stragier, which has « sun pleated » fabric like this one and matching plain fabric – but not perfectly fabric for top and bottom! So here… I bought the dress.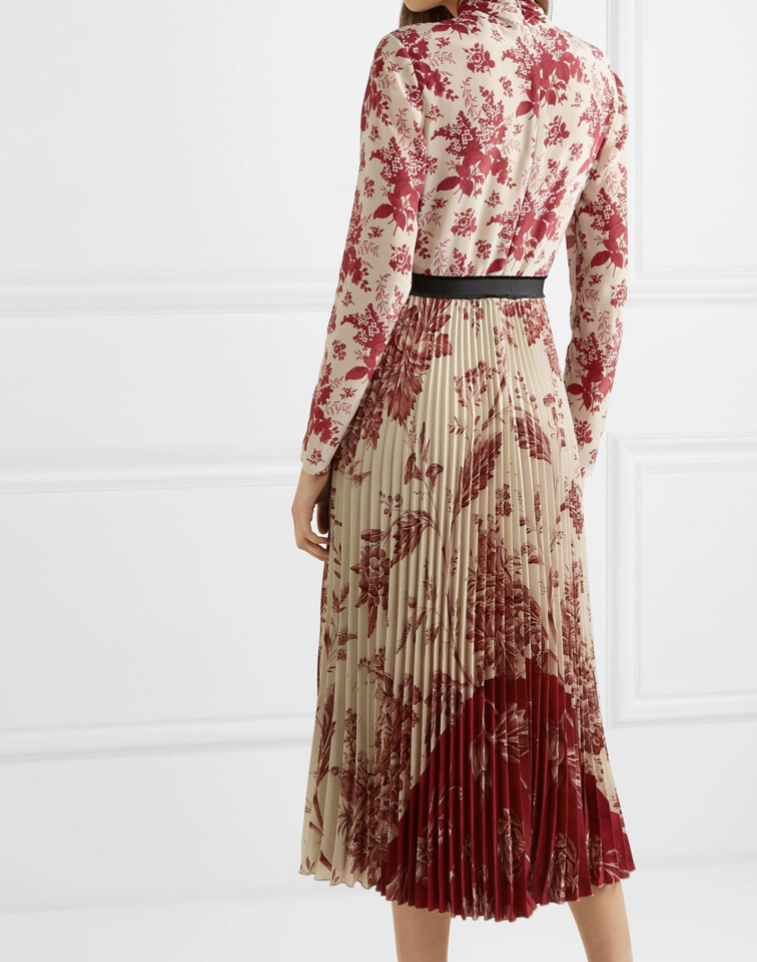 Back to reachable targets now! I saw this magnificent dress early January, fresh from the new 2020 Spring/Summer collections being put out on display. It is floaty, long and blush pink – everything I want for Spring! But the cleavage is far too low to be able to wear a bra; and in any case there is no room for any breast whatsoever!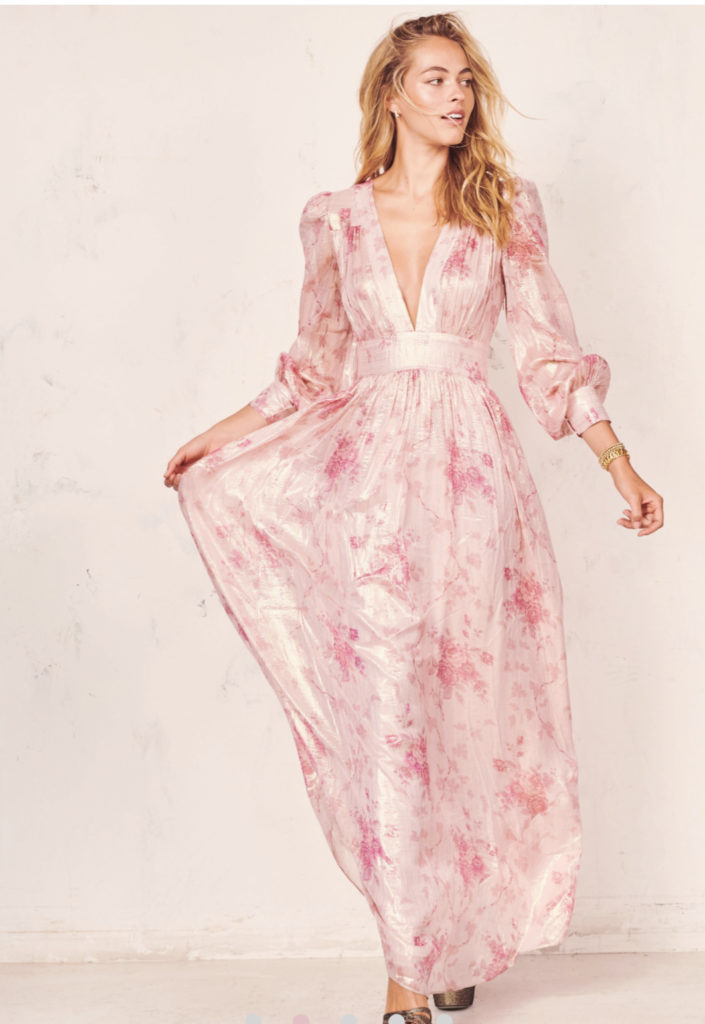 Here, the pattern and fabric match was very easy. I had been eying for a while this pale pink fabric from Croftmill without any idea of what to do with it – I ordered 3m immediately (and then another 2m when my daughter asked for a dress for herself). And M7974 had just be highlighted on McCall's Instagram as an inspiration for replicating another dress – lengthen the sleeves, omit the front opening and we're good to go!
So here the fabric and pattern: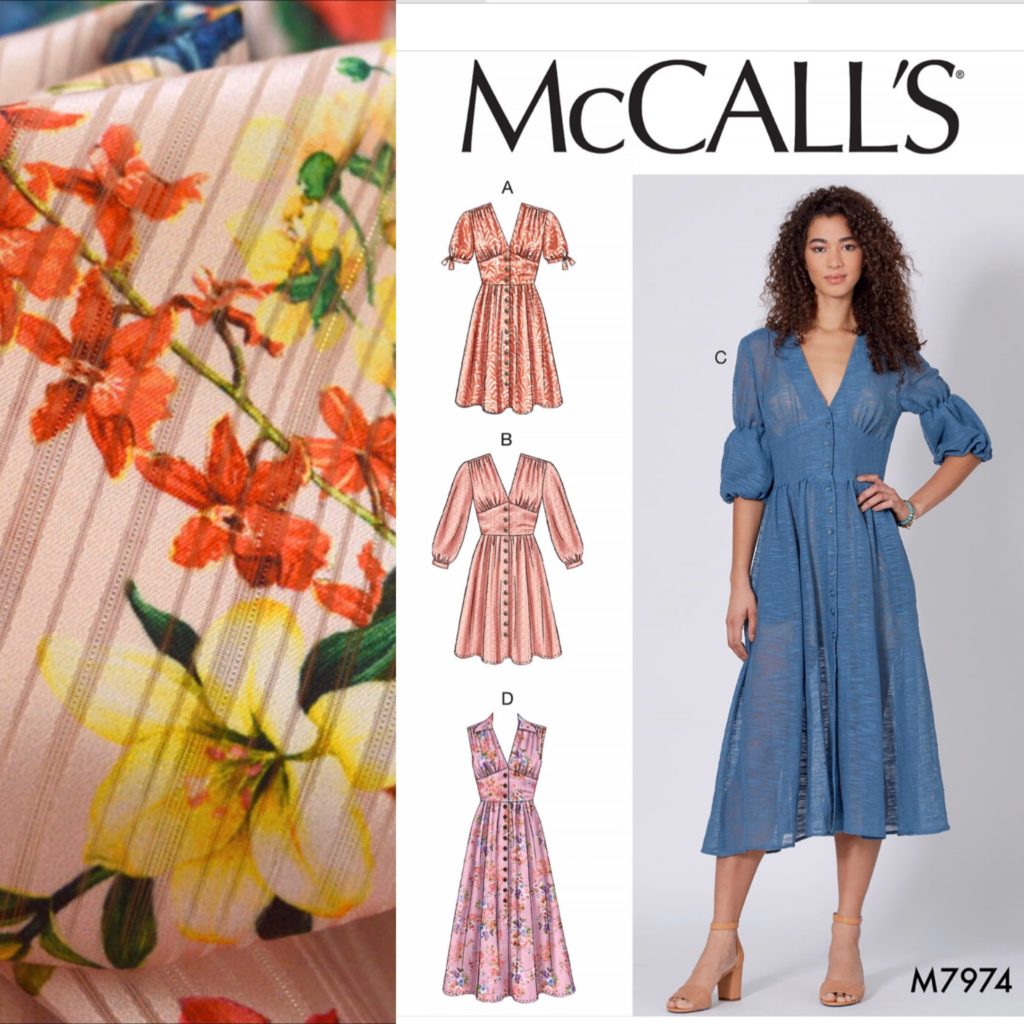 And here the inspiration and final dress: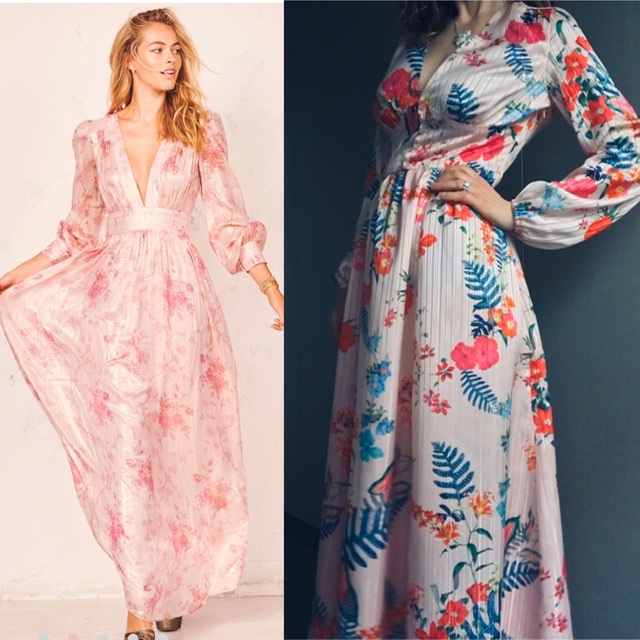 I have sewn a number of McCall patterns over the past year (most of which are on the blog!) so I bought the pattern without hesitation and made a size 10 muslim of the bodice without even looking at the finished measurements – I knew everything would fit except for the bust.
Using the muslim on myself, I made a non-conventional FBA – I added some fabric lengthwise in the bust area, so that the belt would sit below (and not over) my breast – I just traced the line of my bra underwire into the muslim; and I also (rather randomly) added about 1cm of width (I traced my bust apex on the muslin too. Then I re-did a muslin and it was perfect .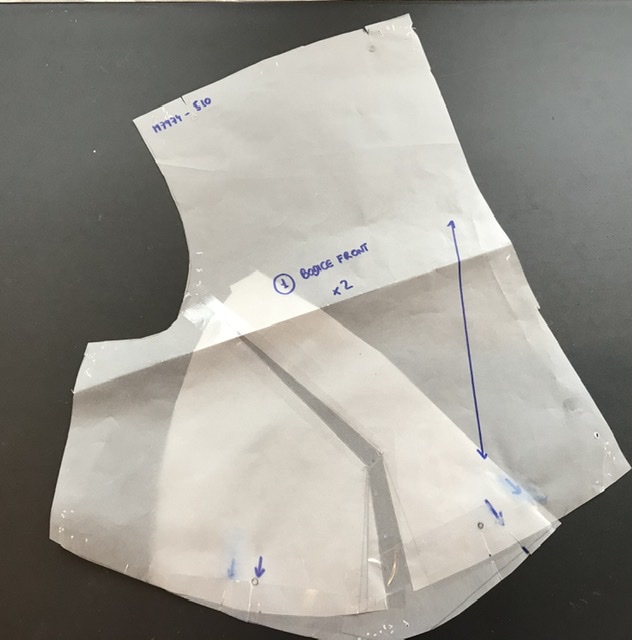 The other changes I made to the pattern are the following:
I omitted the buttoning for the skirt (I cut the front skirt piece on the fold, on the center front line indicated on the pattern), put an invisible zip on the side but kept the buttons at the belt, as I was worried I may not be able to put the dress on and off because of the sleeves (I had a painful experience in the past). I shouldn't have worried, the zip if enough.
I increased the sleeve opening by 1.5cm, without making any changes to the sleeve itself, which is something I always do for the McCall and Vogue patterns.
I used the initial view B pattern for the sleeves, but overlapped it with my (self-modified) Magnolia sleeve pattern to lenghten it; and put 19cm of 5mm-wide elastic at the wrist, exactly the same as for Magnolia – I just adore my Magnolia sleeves.
I lined the entire thing, no small matter – by now you know that I am a lining freak… It obviously doubled the time of making the dress.. Oh well…
This dress is definitely more Spring than end-of-winter, so it will have to wait for the right weather in my cupboard… I don't mind though, I am very excited at my replication achievement!!!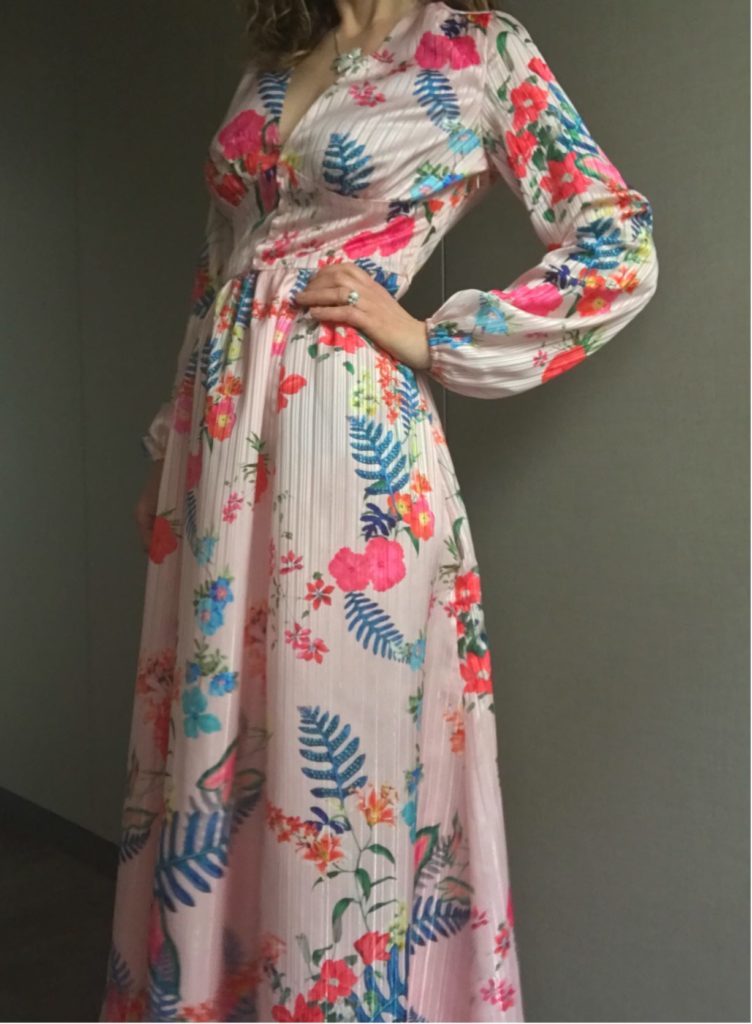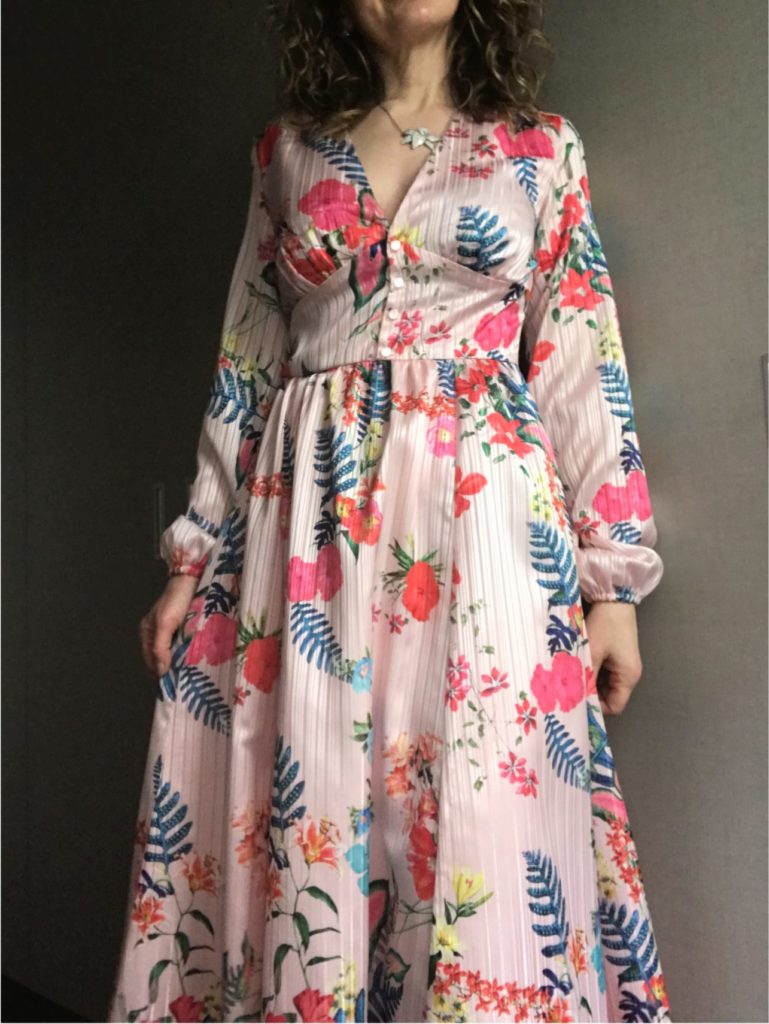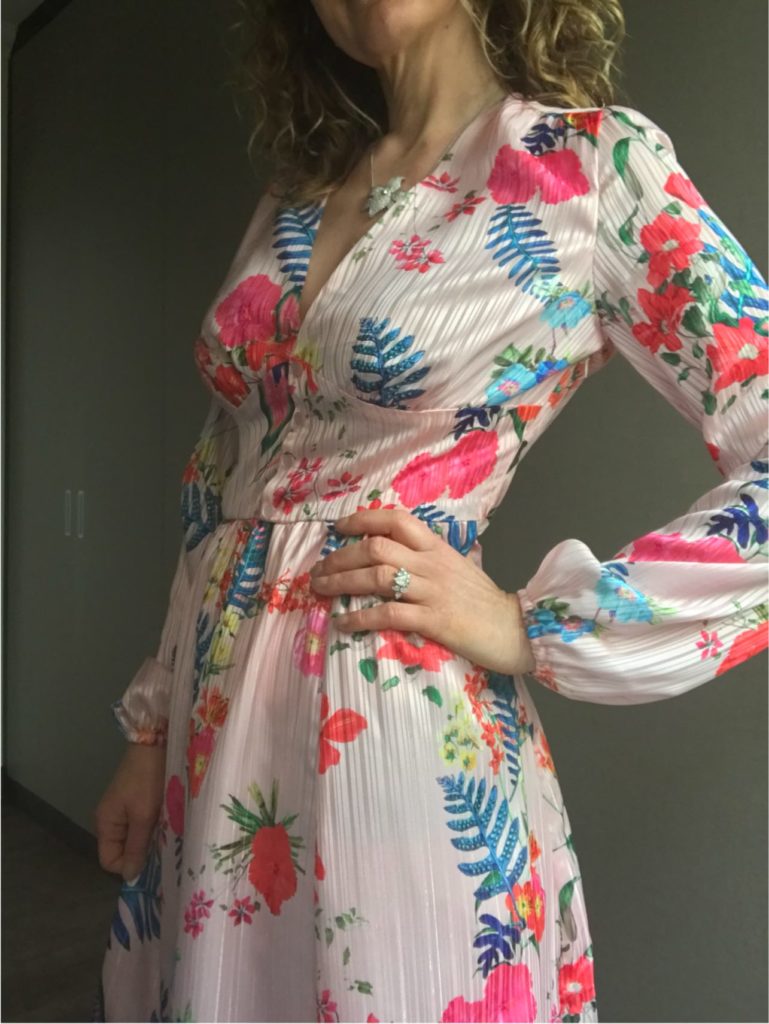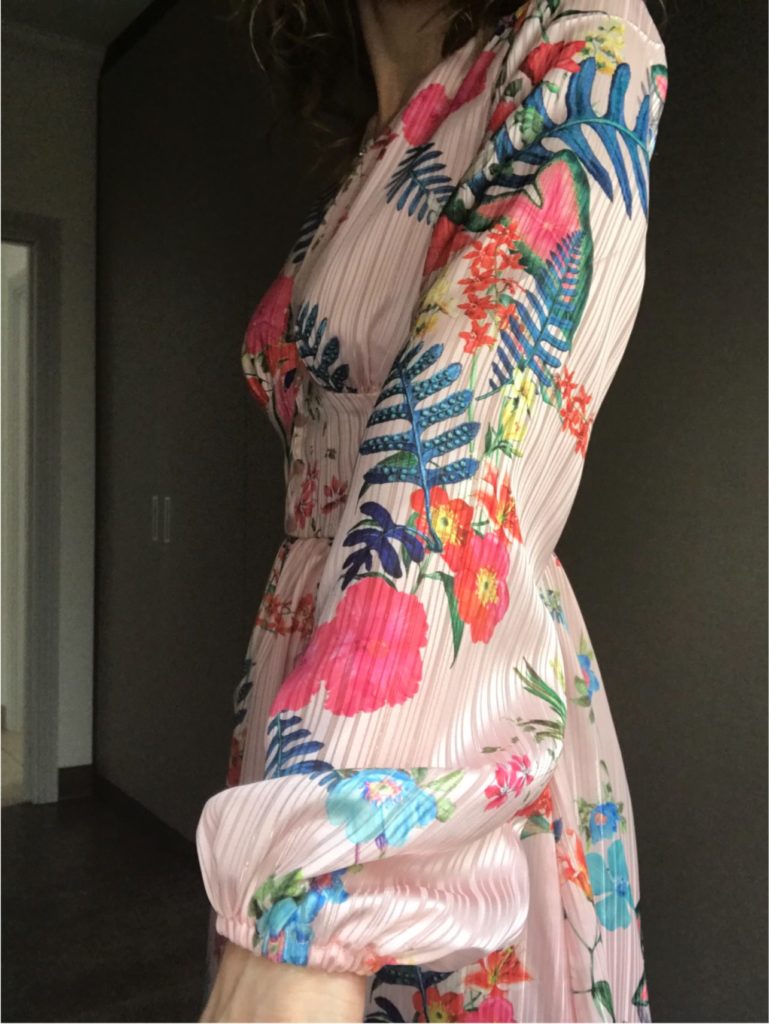 In the meantime I've already found new inspiration for another dress, this time in embroidered tulle with a silk lining – how complicated can I make my fabric search?…
---