Sewing for Autumn: Soft as Velvet
Let's continue my Autumn series by introducing you to my favourite pattern in my favourite fabric for this season: the Deer&Doe Magnolia dress in stretch velvet. And you know me: in my enthusiasm, I haven't stopped with one or two dresses… I have actually sewn three, all in my favourite seasonal hues discussed in my previous article.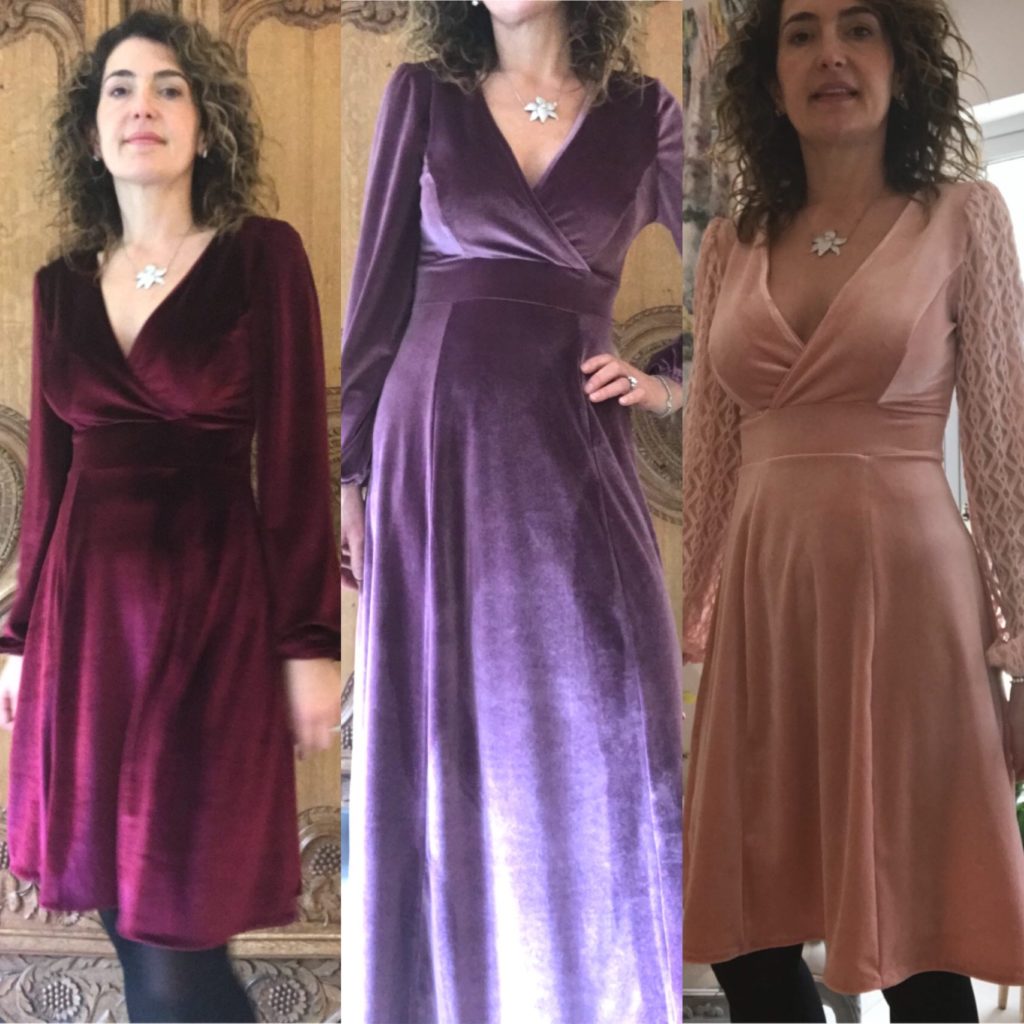 Magnolia is a pattern I had been wanting to sew ever since it was released. But I have a large bust and after discovering the McCall and Vogue Custom Fit patterns with different bust cup options (winter dresses sewn here, here, here and here) I just stopped looking at anything that would potentially require a Full Bust Adjustment (FBA for those familiar with this long process).
How stupid of me!!! I finally decided to try and sew Magnolia without making any FBA and… it worked perfectly!!! D&D patterns already size more generously at the bust than other indie and regular pattern companies and I also think the princess seams offer a bit more room for the bust. I cut a size 38, in line with with my measurements (except bust) , and all of my E cup fit in there – I just had to reduce very slightly the waist.
But Magnolia is a pattern for non-stretch fabric so my first trial version is this one, in a light viscose, with shiny piping of course!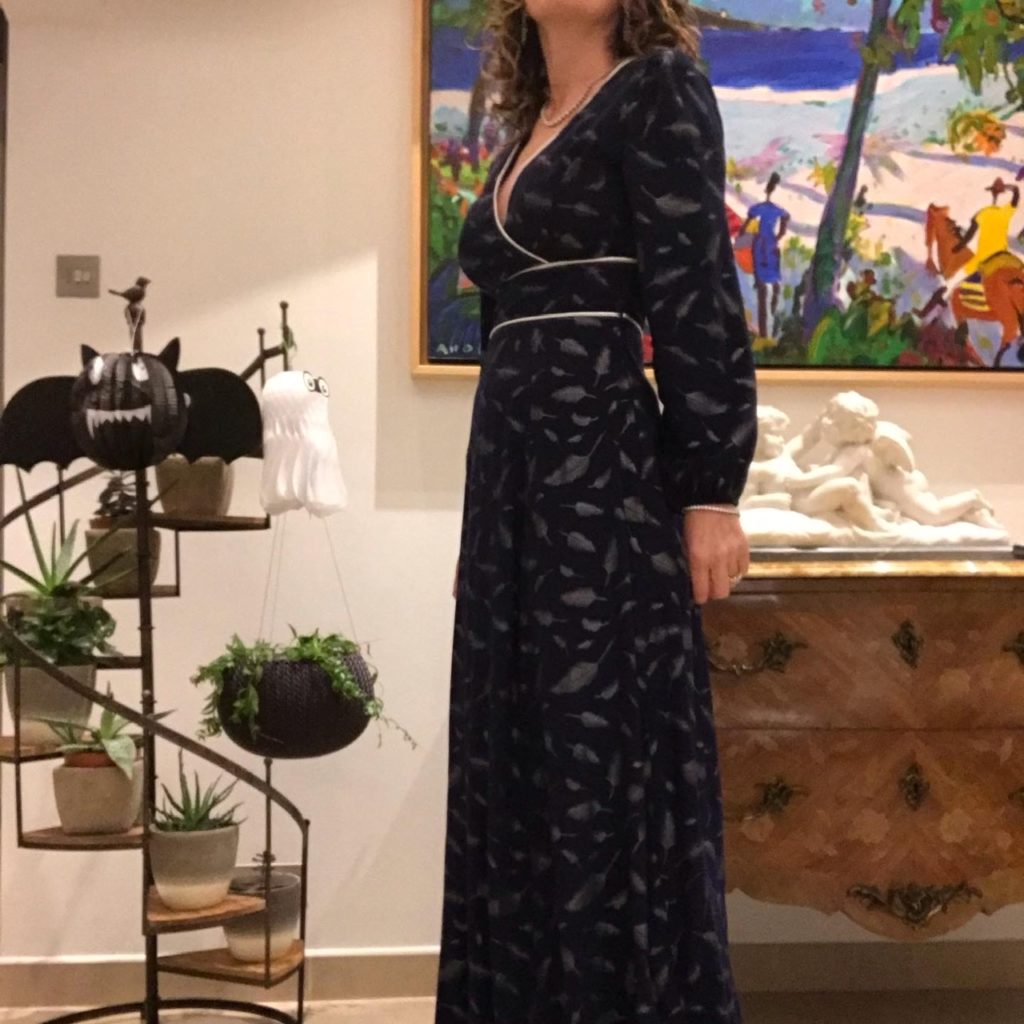 This dress is beautiful and I was over the moon with the outcome, but it is frankly not very appropriate for winter, as the fabric is very thin hence not very warm – for me anyway! I therefore decided to explore thicker fabric but still with drape; and stretch velvet came as an obvious candidate: it is very cosy, completely straightforward to sew and, importantly, all over the place in fabric shops. My favourite providers are Croft Mill and Fabrics Galore,
Here are the adjustments I made to convert the pattern for a stretch fabric:
I should really have gone a size smaller but I did not – I put the dress together in size 38, then before hemming it I tried it one and shaved off whatever was not necessary (depending on the stretchiness of the velvet, this was between 1 and 1.5cm). I know this is not the right way to do it but it worked really well.
I omitted the side zip, not needed with the stretch of the fabric.
To finish the neckline, I cut 1cm off the neckline, then cut a velvet band 3cm wide and the lenght of my neckline. I folded this band in two, wrong side to wrong side, overlocked the raw hedge, then assembled it to my neckline with an overlocker – the way you finish off the neckline on a tee-shirt but without making the band smaller.
I assembled everything with my overlocker, but hemmed by hand (for an obscure reason I really like thIs process, weird…)
Here are the picture of the neckline finish, which is the main adjustment I made to the pattern:
And that's it. Three dresses! First a long lilac one – I did not keep the side slit in the skirt but now I think I should really have. This dress looks very elegant but is a true secret pyjama, it is incredibly warm and cosy!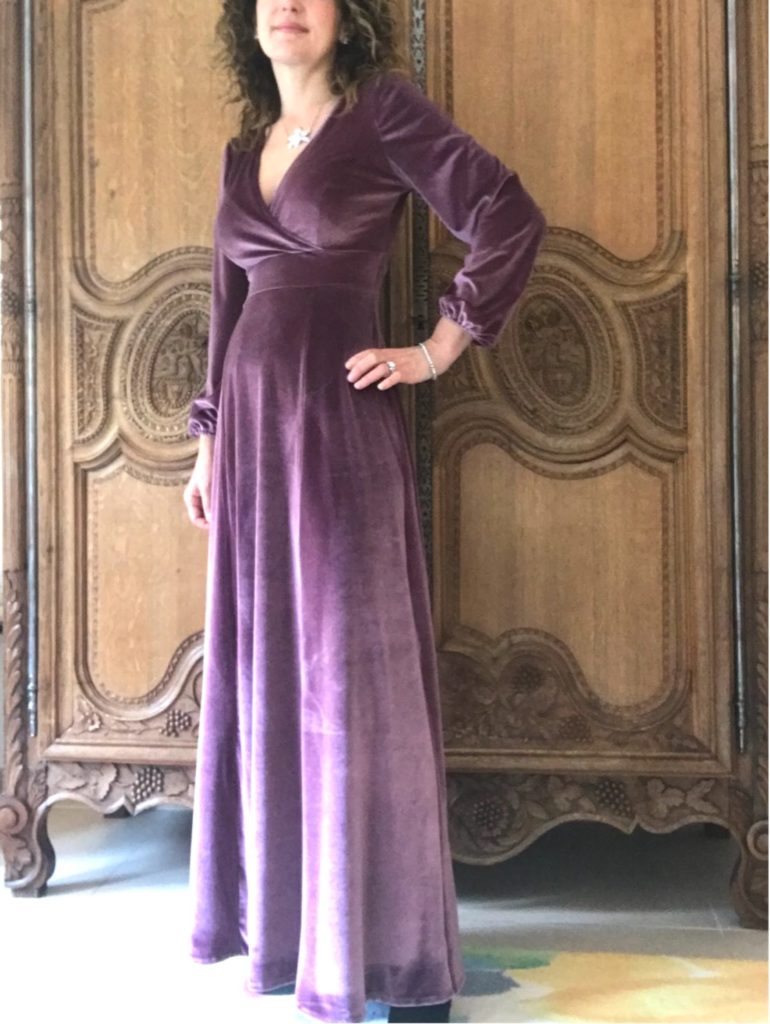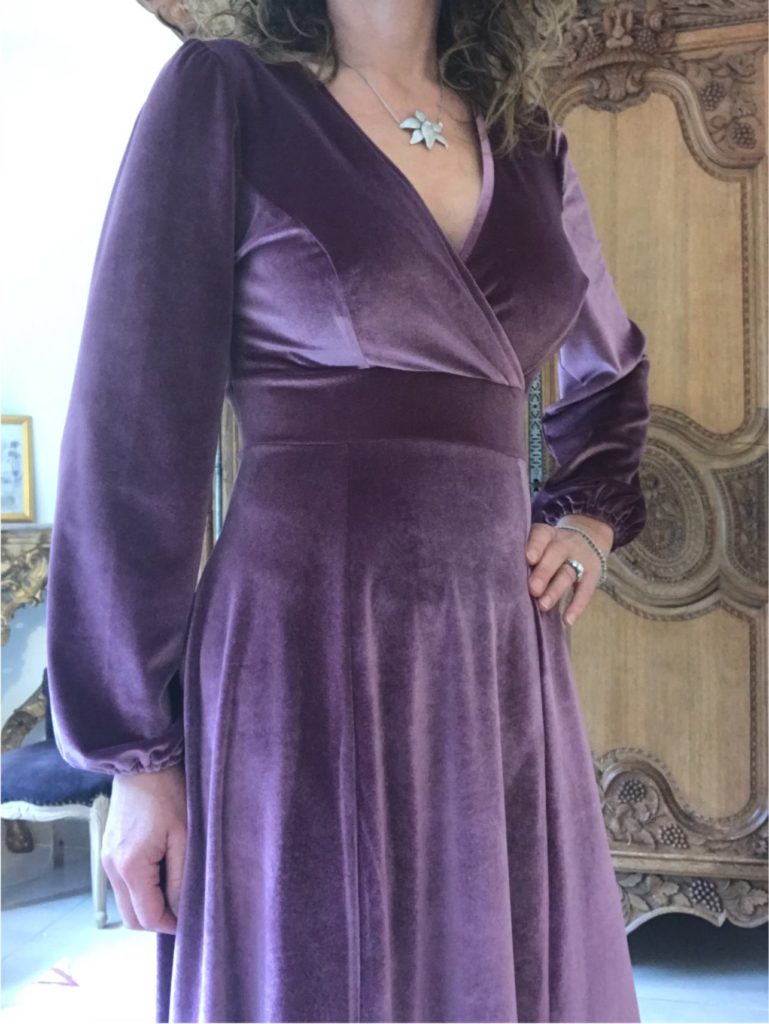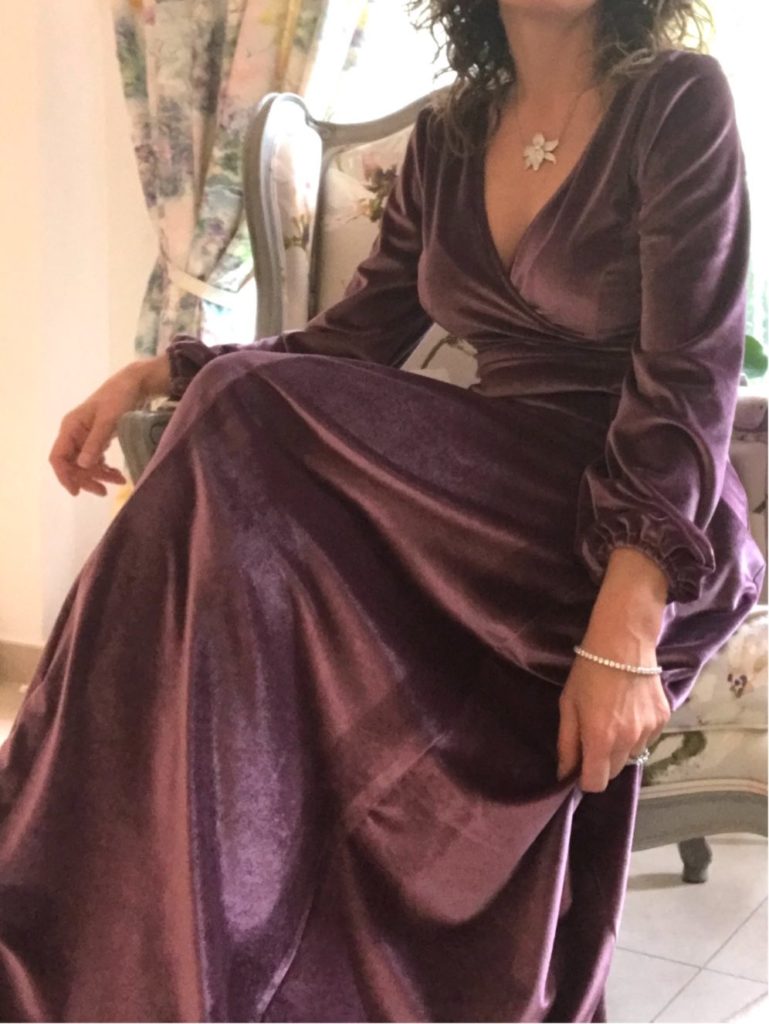 The second one is wine-coloured and my favourite – I am absolutely in love with the colour. I lengthened the sleeves by 5cm and made the wrist elastic slightly smaller than indicated (19cm), I find it more comfortable this way.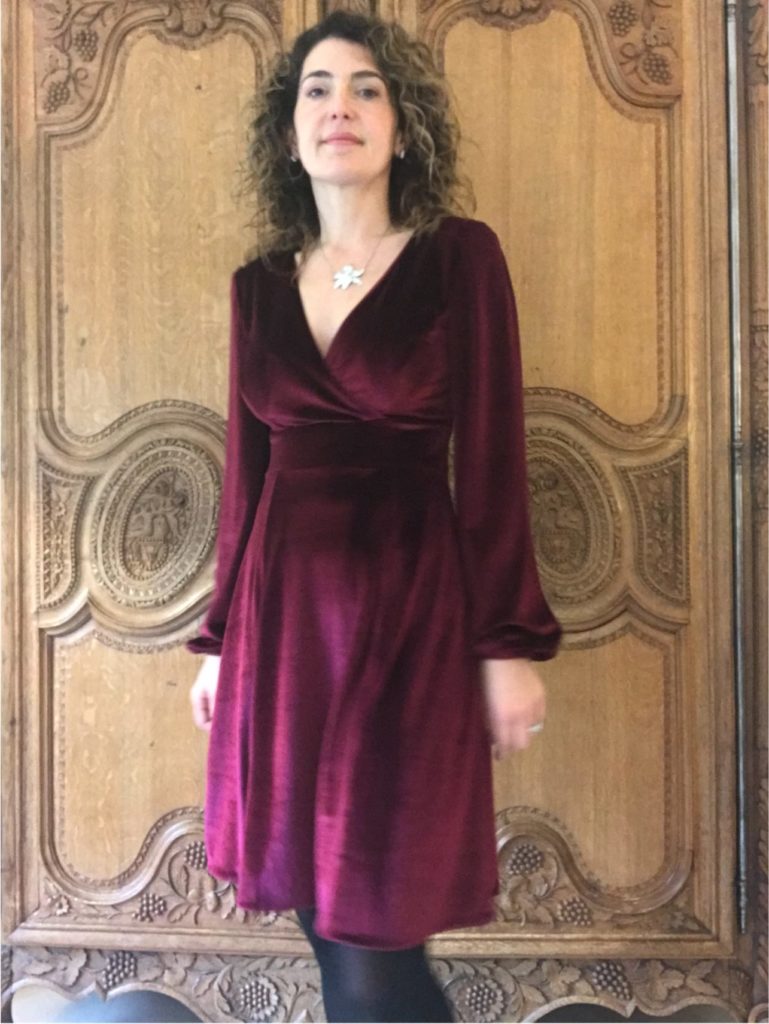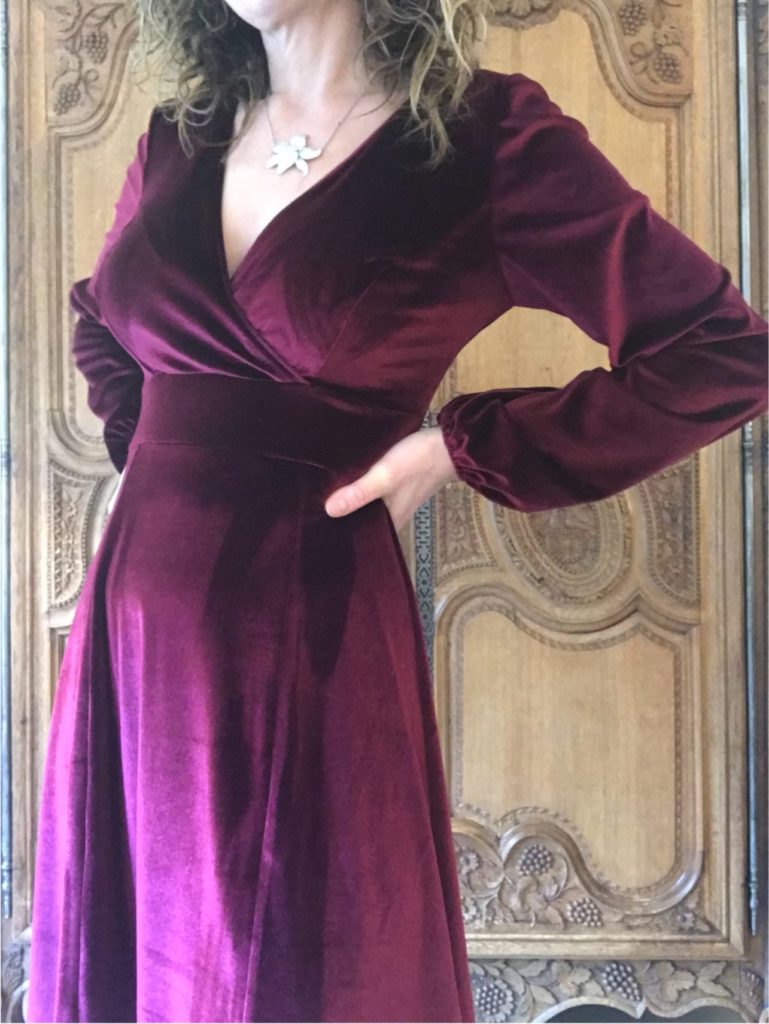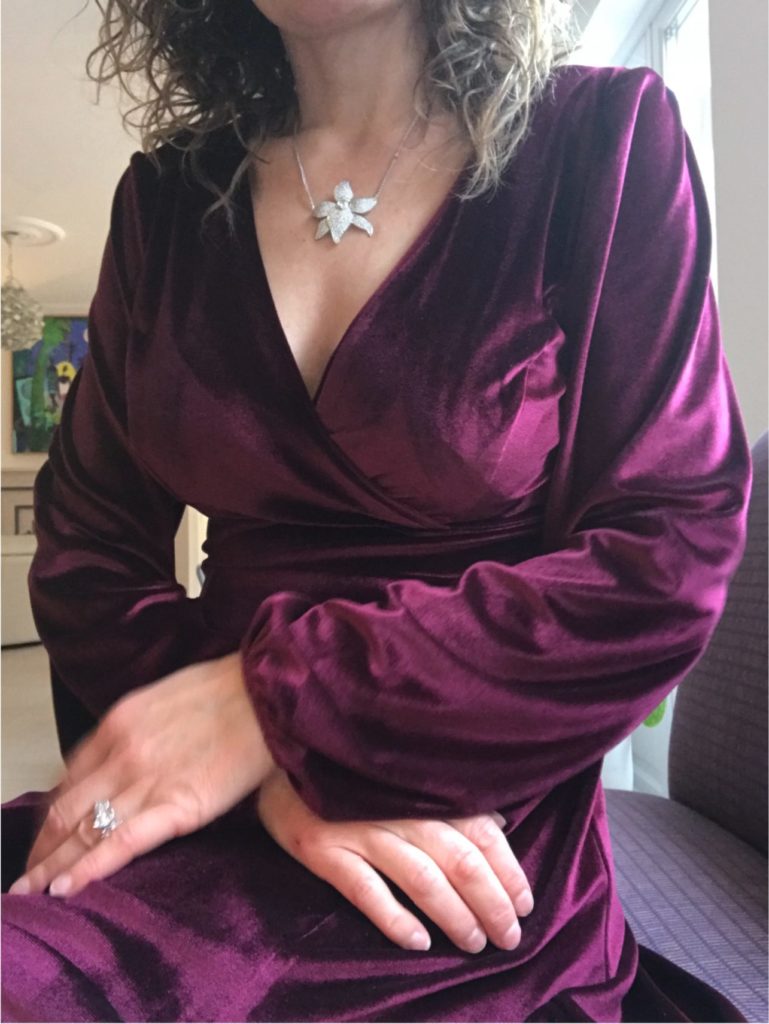 For my last version, in blush pink, I used a stretch lace fabric I had in stock for the sleeves – incredibly perfect match to my velvet! I slightly messed-up the neckline which is now very revealing… Oh well…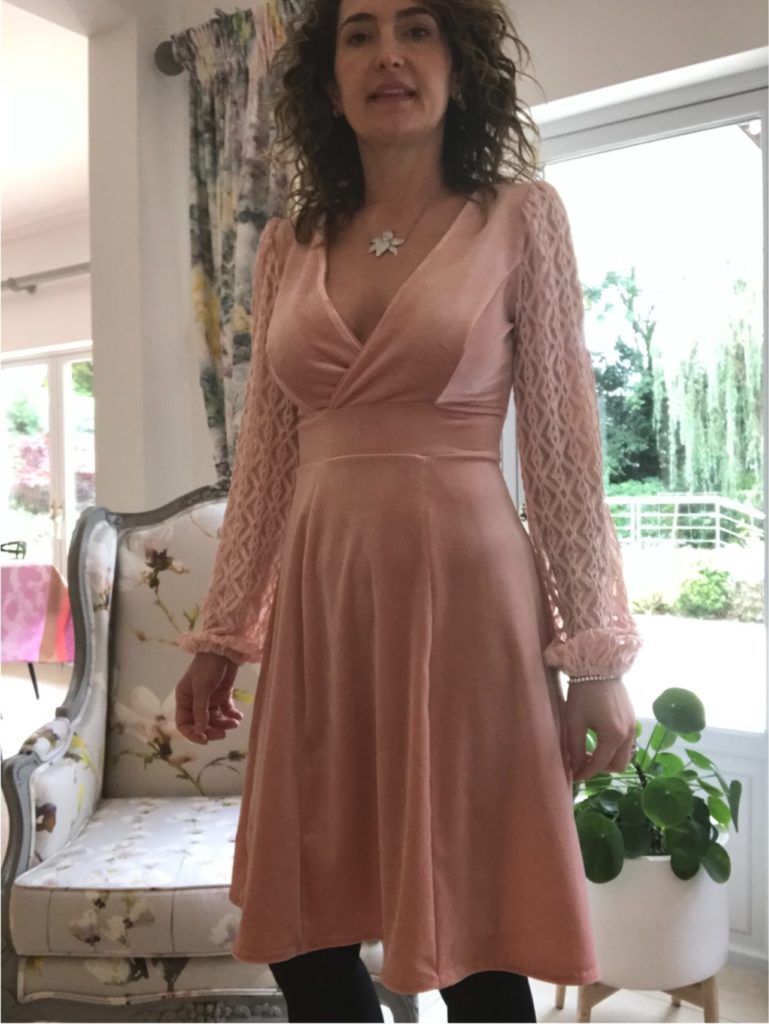 That's it for these, but I promise there are more Magnolias to come soon…
---
6 responses to "Sewing for Autumn: Soft as Velvet"