Oups, I Did It Again: A Second Vogue 8630 Dress!
Yes, very typical of me, after sewing a first version of the Vogue 8630 dress, I had to immediately sew a second one! And there is no hiding with this collar: despite the very different fabrics, the dresses do look very similar:
As I mentionned in my previous article, I was over the moon with the fit of my first V8630 dress – so much so that I even wondered if the fabric was being forgiving! But no, I can confirm that even in a less stretchy fabric, the fit is still impeccable!
I won't go through all the technical details of putting the dress together again, as you can find them here. The main difference is (quite obviously) the collar: I added silver piping all around, to have my usual touch of bling on this otherwise very sobre fabric. What do your think?
The pattern adjustments are the same for both dresses (very few for such a perfect fit in my view):
slightly larger sleeve head (+1cm)
slightlly longer bodice (+1cm)
massively shorter skirt (-15cm) – I wonder if I actually went a bit too short on this one, oh well…
The fabric is some sort of velvet, bought from Bennytex many moons ago, lovely and warm for the winter.
The dress is once again fully lined. To attach the lining to the dress at the sleeves, I used the wonderful technique recommended by Republique du Chiffon for lining the Michelle jacket (see step 11) – a bit complex at first but really worth it for a neat finish. I tried to use it for the hem as well but my dress and lining must be slightly misaligned, as it does not work… I ended-up hand-stitching. Next time I'll be more careful!
Otherwise I'm once again very pleased, although this time I did not get the "waouh" effect I got when I finished the first dress. This is quite a surprise for me, as I usually enjoy a lot making the same dress again and again. Maybe this dress is so visually stricking with its collar that one in my wardrobe was enough. Or perhaps I'm becoming less compulsive-addictive with my sewing… I really wonder!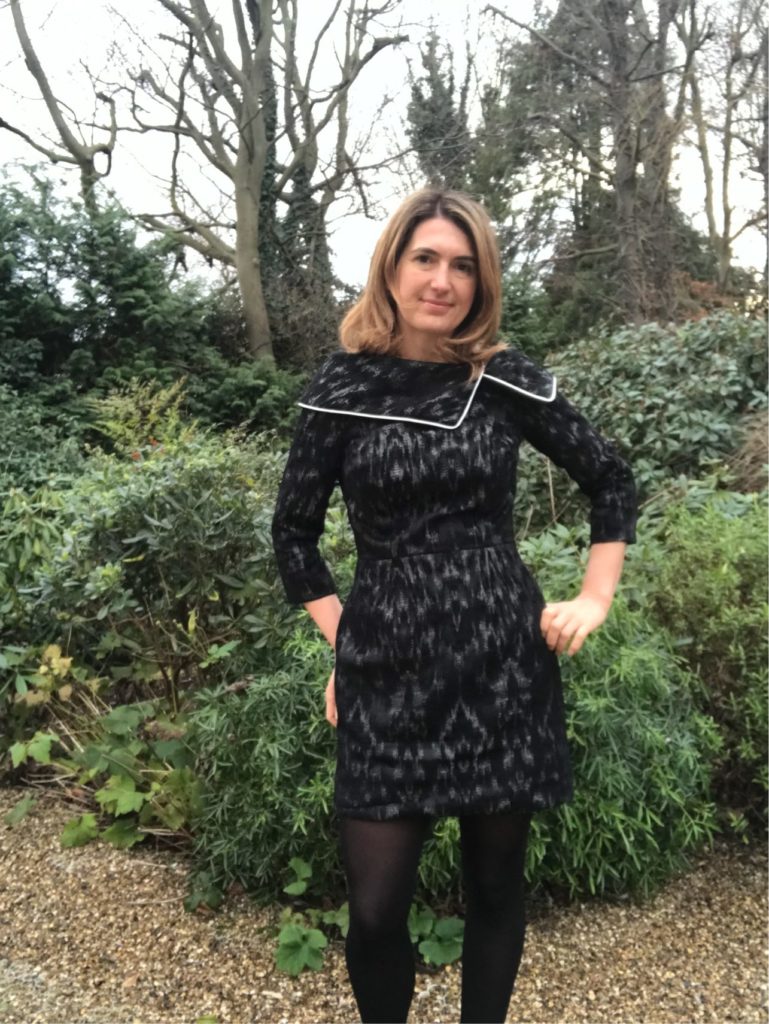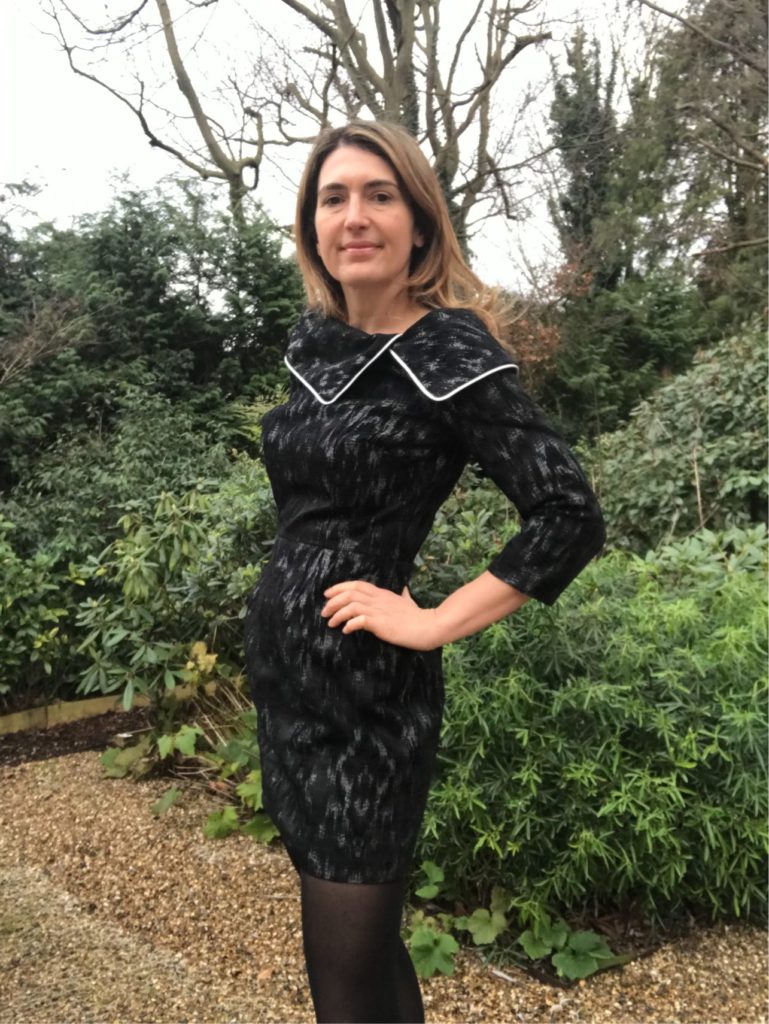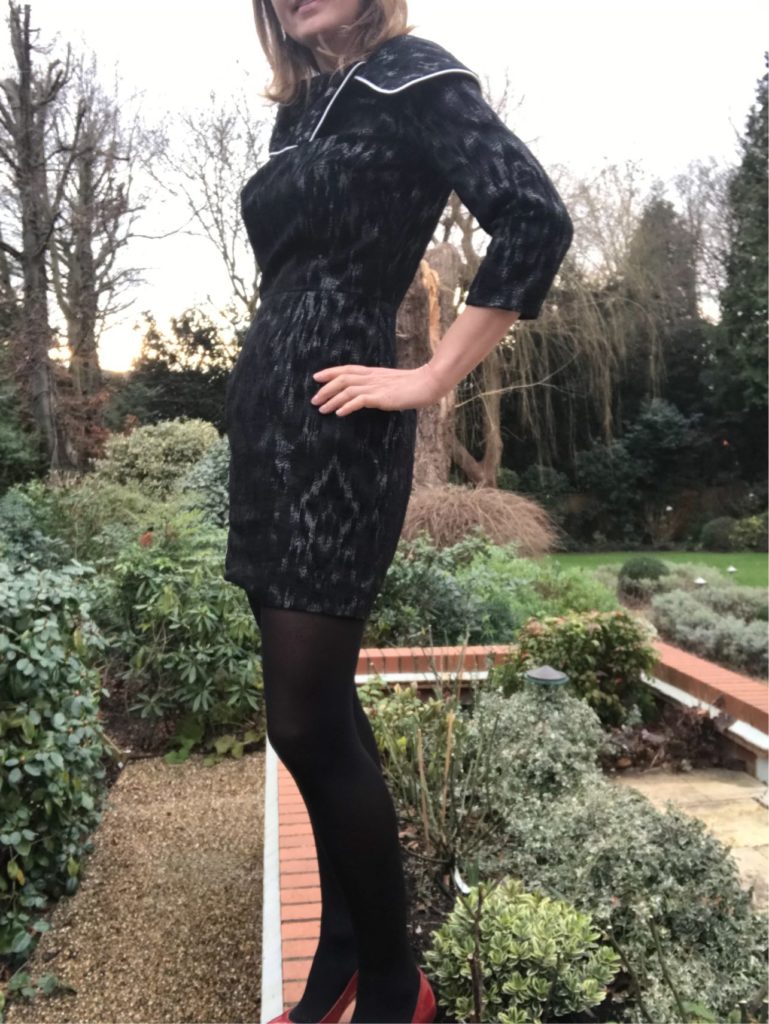 ---
In summary :
Pattern: V8630 (Google online to find the cheapest option for your country, mine was Amazon) from the Vogue Custom Fit collection, with a standard fitted bodice, a straight midi skirt and a large overlapping collar. Changing the skirt would be completely straigthforward, removing the collar far less so as the bodice has a very low neckline on its own.
Fabric: some sort of textured velvet, bought from Bennytex quite a whike ago. I am not sure of the composition but it is definitely warm enought for the winter! I used a basic synthetic lining fabric for the inside, which does the job perfectly.
Sewing level: Vogue calls it Very Easy, which I think is a bit harsh on the beginners. It is very straightforward but requires a bit of experience for the back invisible zip, the collar and the zillions of darts; and also a lot of patience, especially if you make a muslin beforehand, which I highly recommend!
Love level: I really like it and I think the fabric will make it more wearable than my previous V8630, as I wear a lot of black in the winter.


---
---
2 responses to "Oups, I Did It Again: A Second Vogue 8630 Dress!"