The Joy of the Perfectly Fitted Dress
This post is also available in: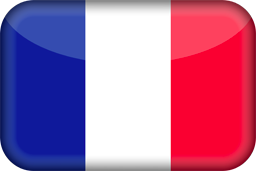 Français (French)
I think I have fulfilled one of my year-long sewing pursuits: finding the perfectly-fitted dress pattern. What do you think? – this is without any bust adjustment whatsoever!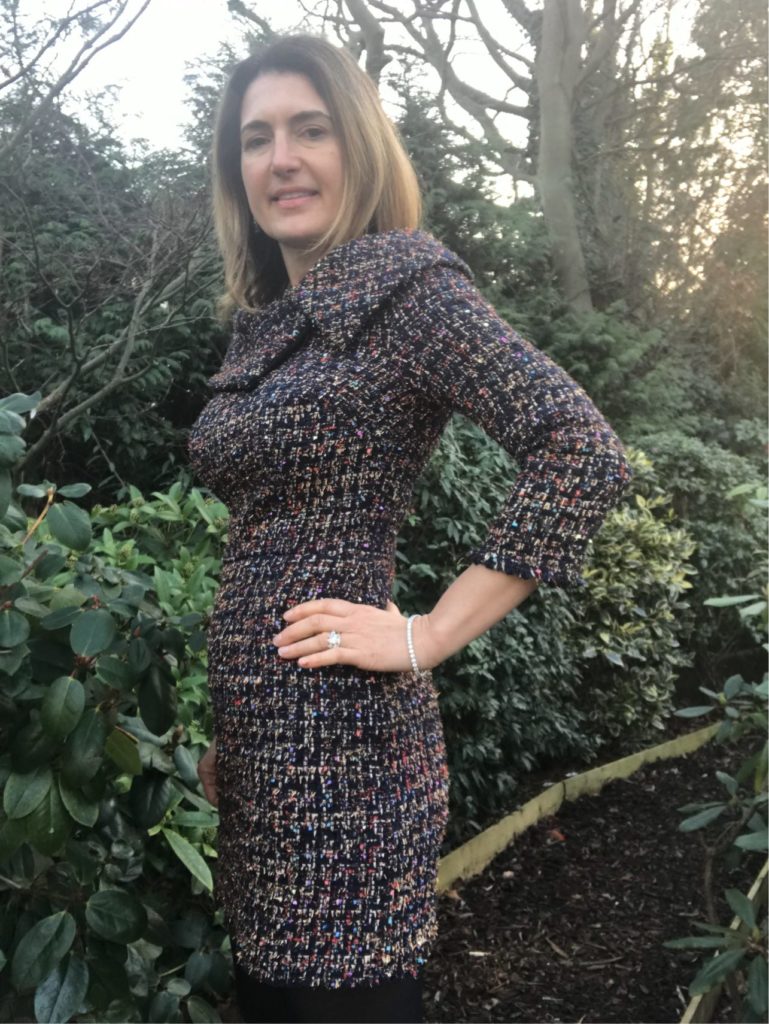 My dress size is a perfectly standard UK8 / French 36, I am even the standard height for most French Indie patterns (1.67m), but my bust is my sewing nightmare: 32E/85E, arrrrrgggghhhhhh! I love it otherwise but it has created many many hours of adjustment nightmares.
For a while, I used this great FBA tutorial by Annie Cotton (creator of the Artesane company), which I must admit worked very well, but took so much time for each new pattern! And I never felt I had managed the perfect fit in the end. I actually reached the stage where I would avoid making a dress from a new pattern just because of the hours of FBA required!
But at Christmas, I got this genius idea: why not look for patterns with the FBA built-in? (don't ask me while it took me so many years of sewing dresses to get there…) After a fair bit of googling I  discovered the Vogue Custom Fit collection and I was in awe, which offers within its patterns the full top options for A, B, C and D cup – Vogue has drawn everything for you! And within the different patterns on offers there are so many things I would love to make this winter! To be fair you need a bit of imagination, as the patterns are not always shown under the best light – so imagine a different fabric and shorten most skirts is my advice!
In any case here are my absolute favourites:
=>Version A of the one in a light black wool with a white lace collar: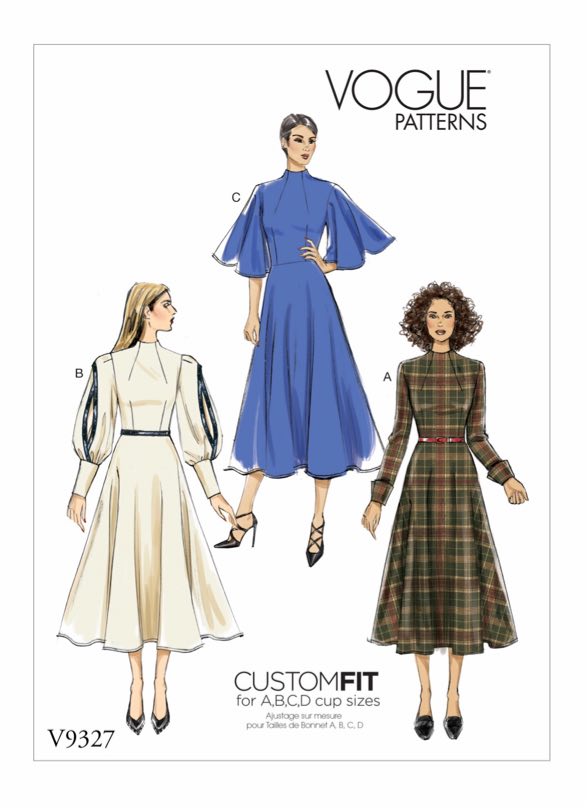 =>Version F of this one in burgundy velvet; or version C in light wool (PLAIN fabric in any case):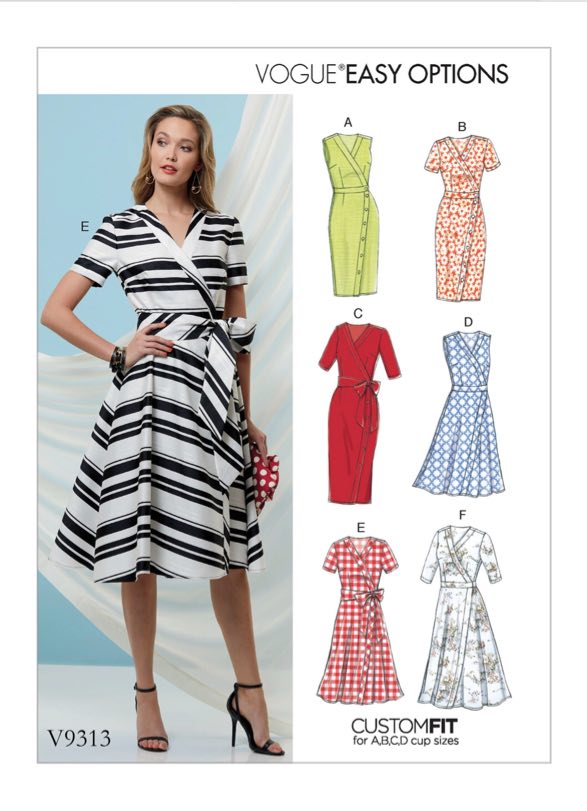 Before ordering all the patterns of in the collection, I was very reasonable and I tried my favourite: V8630, version B. I happened to have a Chanel-ish fabric in my stash, bought from Les Coupons de Saint Pierre at the beginning of the season, which seemed perfect for this pattern.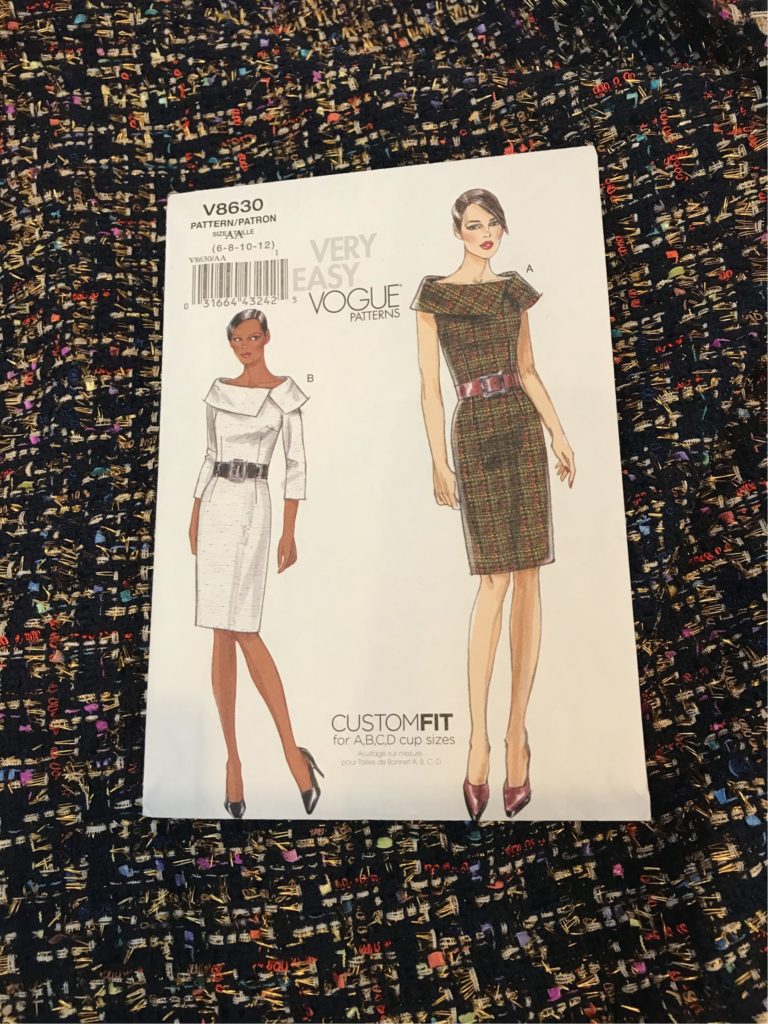 I re-took my measurements and was a bit puzzled by the sizing, which made me feel enormous (but apparently that's the way it is with Vogue) – so I cut size 10 at the top going to 12 from the waist down; and a D cup. I really shouldn't have bothered about the size 12 as after a muslin, I readjusted everything to a size 10.
And that was it! Appart from slightly enlarging the underarm (1cm, no change to the sleeve itself as their is plenty of ease to accomodate this); slightly lenghtening the bodice (1cm); and massively shortening the skirt (-16cm) to avoid the grandma effect, I made no adjustment whatsoever!!! And the bust and back where absolutely perfect!!! I could hardly believe my luck!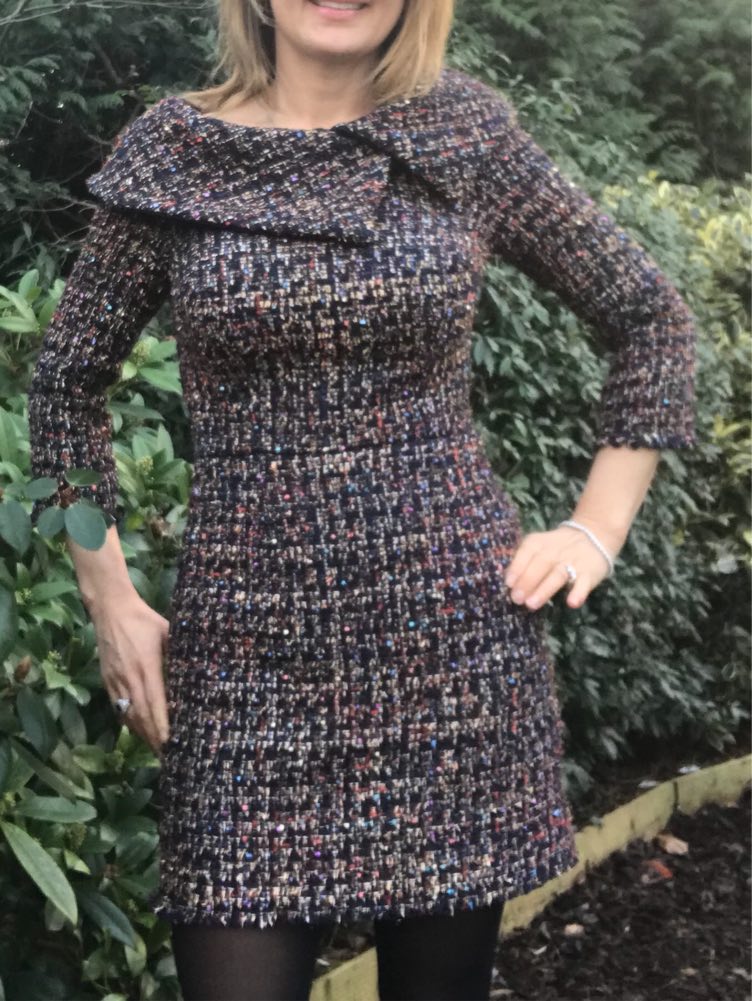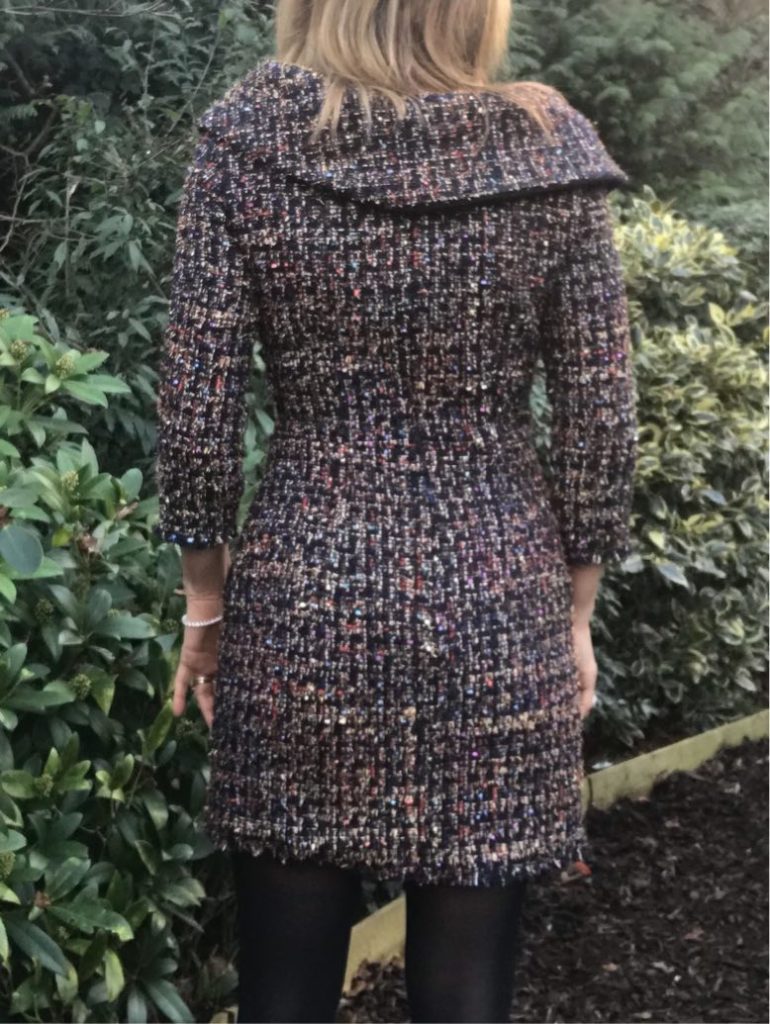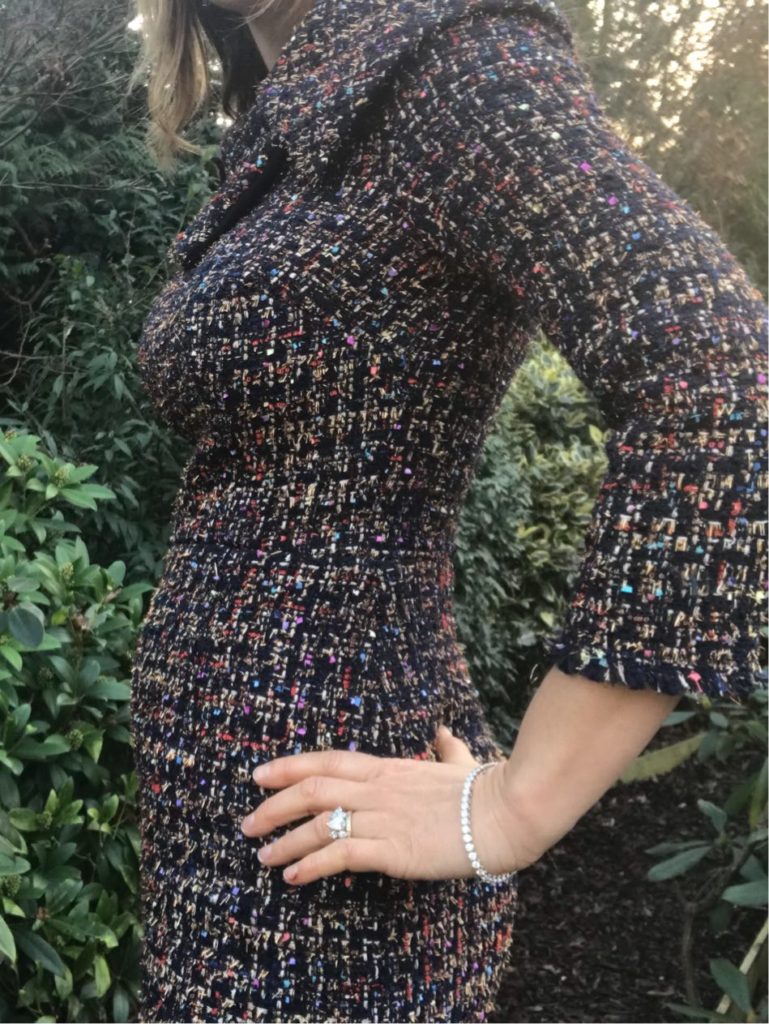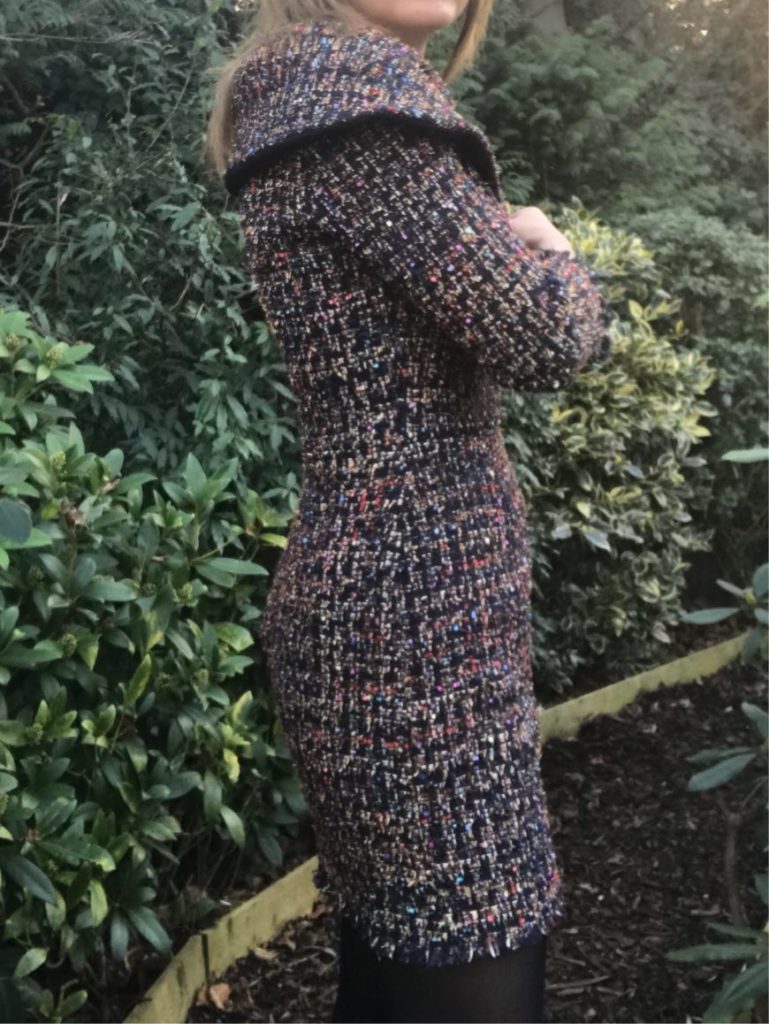 Given the Channel-ish nature of this fabric, I frayed the end at the hem and at the sleeves; and secured with a stretch zizag.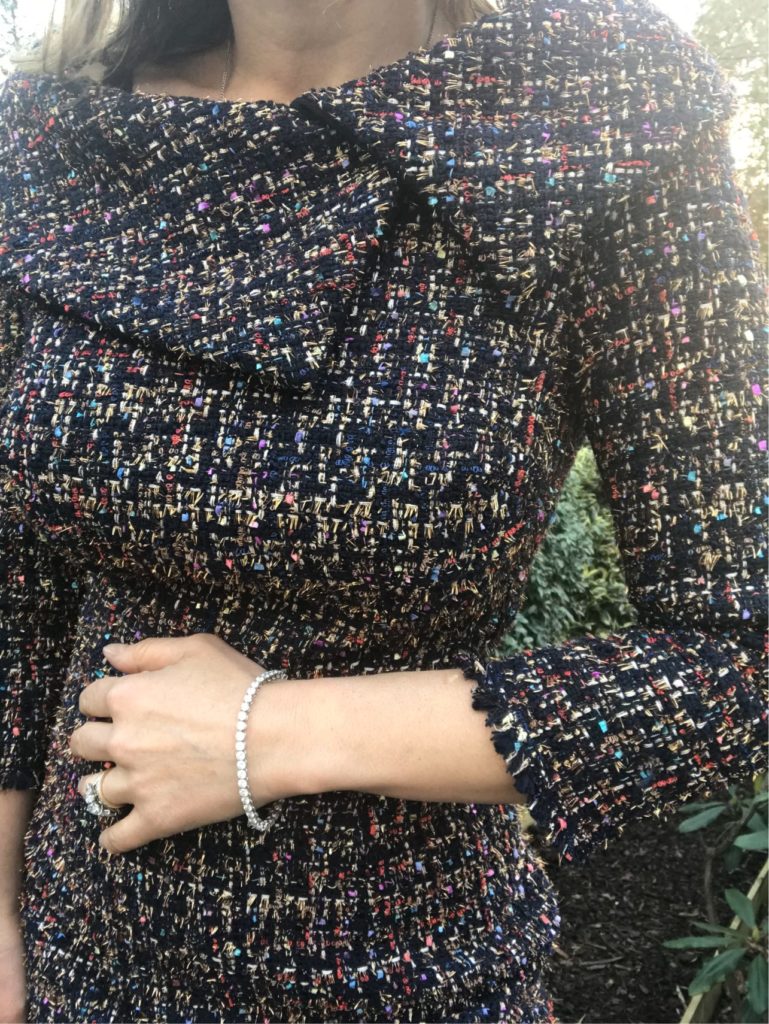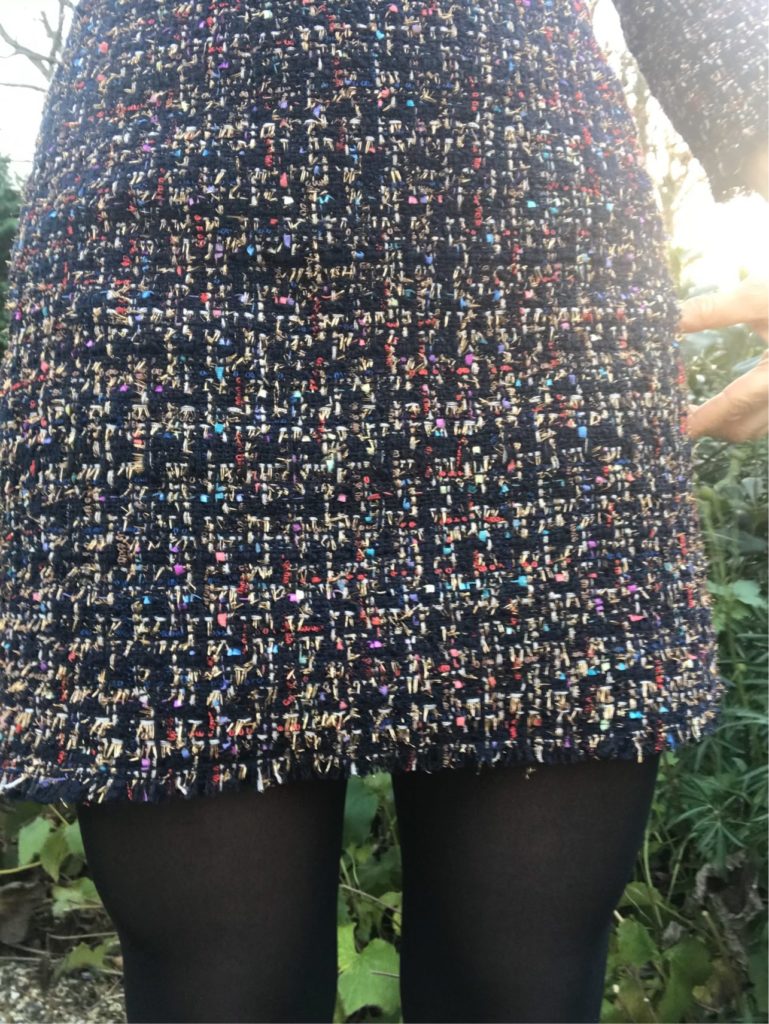 The collar is obviously quite a big feature of this dress – not sure yet whether I will redo it, as it makes putting the dress on a bit convoluted. It is very pretty though.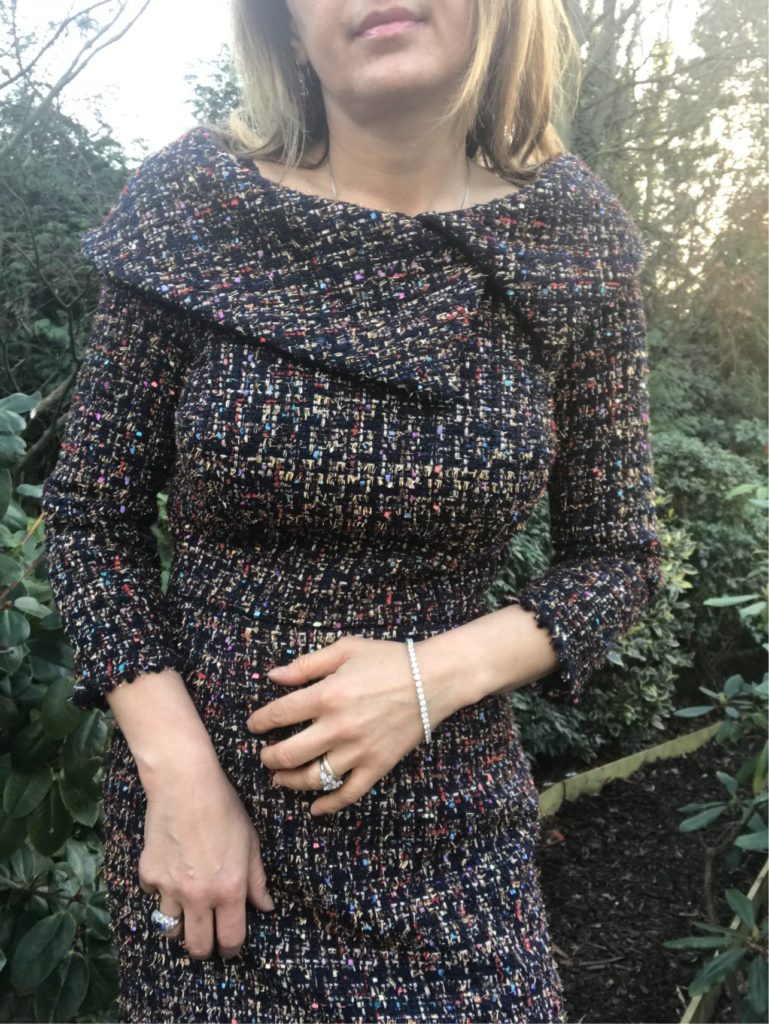 Overall I am over the moon to have found such a perfect pattern. On top of the perfect fitting, the explanations are crystal-clear and the finish is impeccable – the dress is fully lined and looks nearly as pretty in the inside as it does in the outside (I did a lot of hand-stitching, for once…)
Fingers crossed that all the Vogue Custom Fit range patterns will prove to be as good…
---
In summary :
Pattern: V8630 (Google online to find the cheapest option for your country, mine was Amazon) from the Vogue Custom Fit collection, with a standard fitted bodice, a straight midi skirt and a large overlapping collar. Changing the skirt would be completely straigthforward, removing the collar far less so as the bodice has a very low neckline on its own.
Fabric: Chanel-ish and quite heavy, this thing is a bit of a nightmare to sew as it frays so much – the pattern required no overlocking whatsoever of the sides (due to full lining) but I had to do it as I was cutting each piece to avoid excessive fraying. I also used my portable vacuum-cleaner non-stop! I used a basic synthetic lining fabric for the inside, which does the job perfectly.
Sewing level: Vogue calls it Very Easy, which I think is a bit harsh on the beginners. It is very straightforward but requires a bit of experience for the back invisible zip, the collar and the zillions of darts; and also a lot of patience, especially if you make a muslin beforehand, which I highly recommend!
Love level: I am very pleased with the fit achieved, not so sure about the collar and the straight skirt, but I've definitely sewn outside of my comfort zone and my tried and tested style on this one.
---
---