Sewing the B6018 vintage dress pattern
Very much like my recent Joan wiggle dress, this one had a long gestation period… In this article, I review in details the B6048 vintage dress pattern. This includes talking about the three details I adore about this dress; and the many positives and very few negatives of this pattern. I also explain how I made a Full Bust Adjustment (FBA); and how I sew silk dupioni . But first let me show you my dress.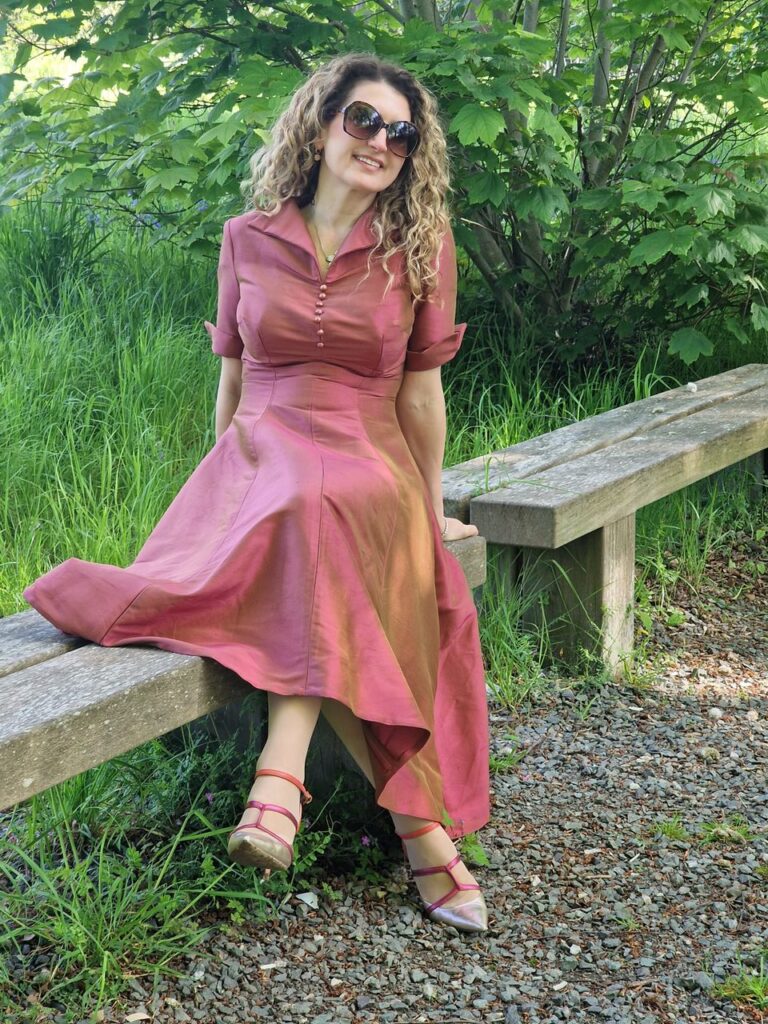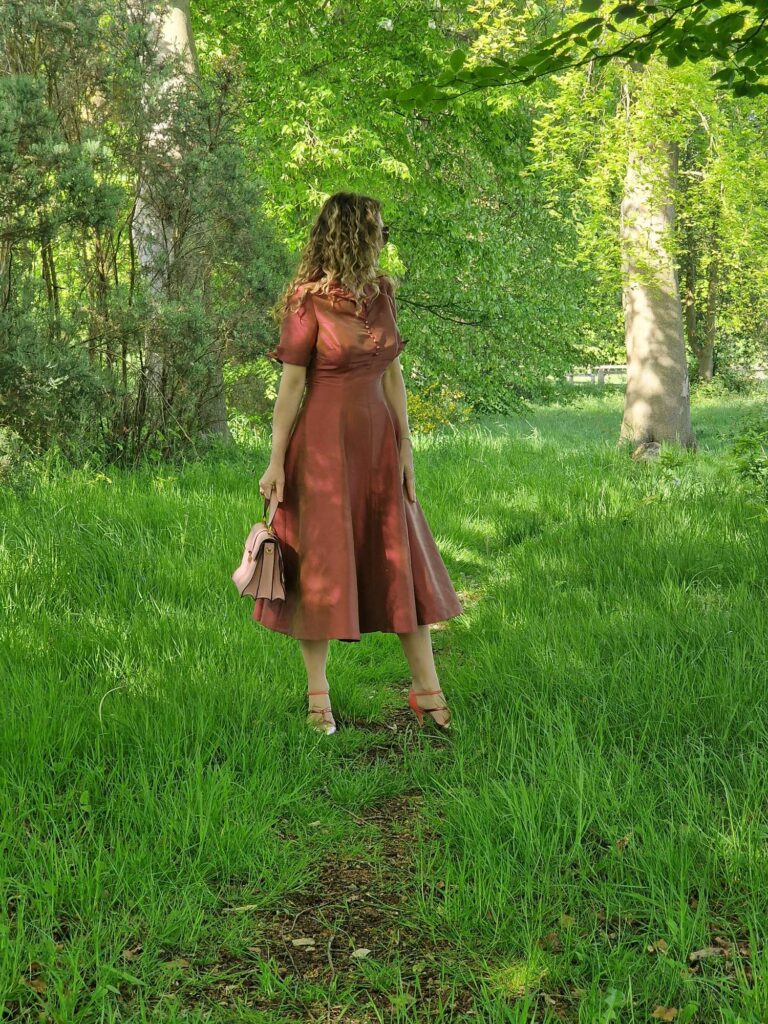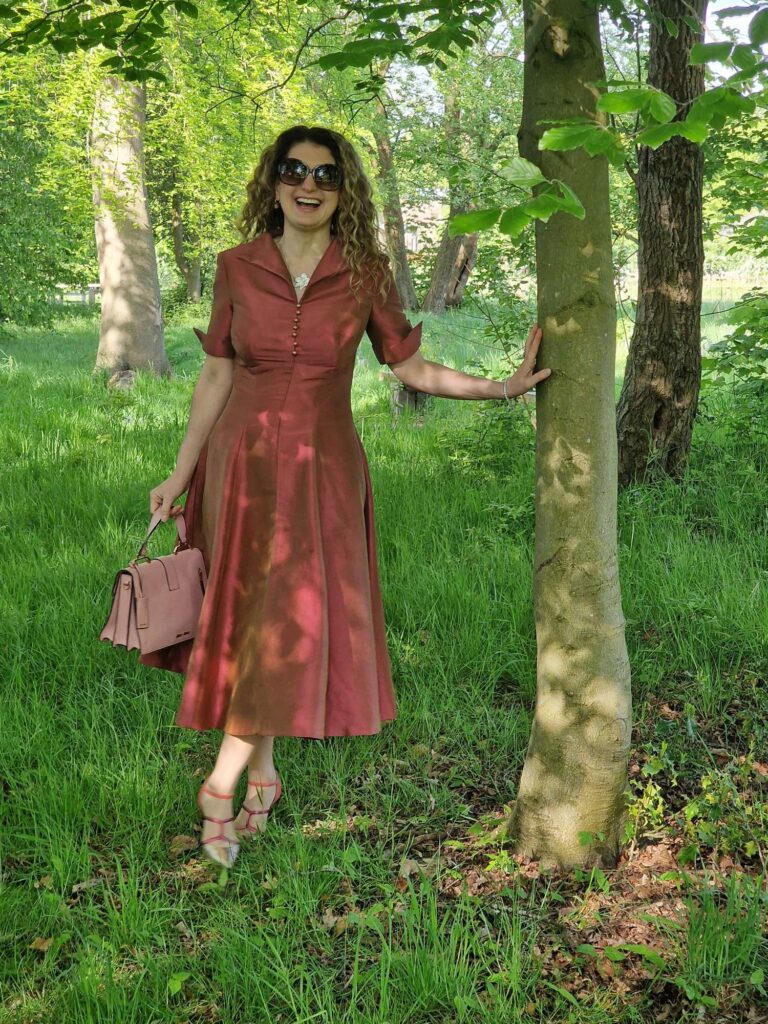 B6018 pattern description: three details I love
The B6018 dress is a Butterick re-edited vintage pattern from 1952. As such, it has none of the downsides of vintage patterns (weird sizing and light instructions anyone?) but all of the upsides. The sizing is completely in line with the contemporary McCall's, Vogue, Butterick and Simplicity patterns, so if you have been sewing as many as these as me you know exactly which size to pick. The style is 100% 1950's glamour, with a super fitted bodice and a gorgeous full dress.
Here are the pattern envelope and line art: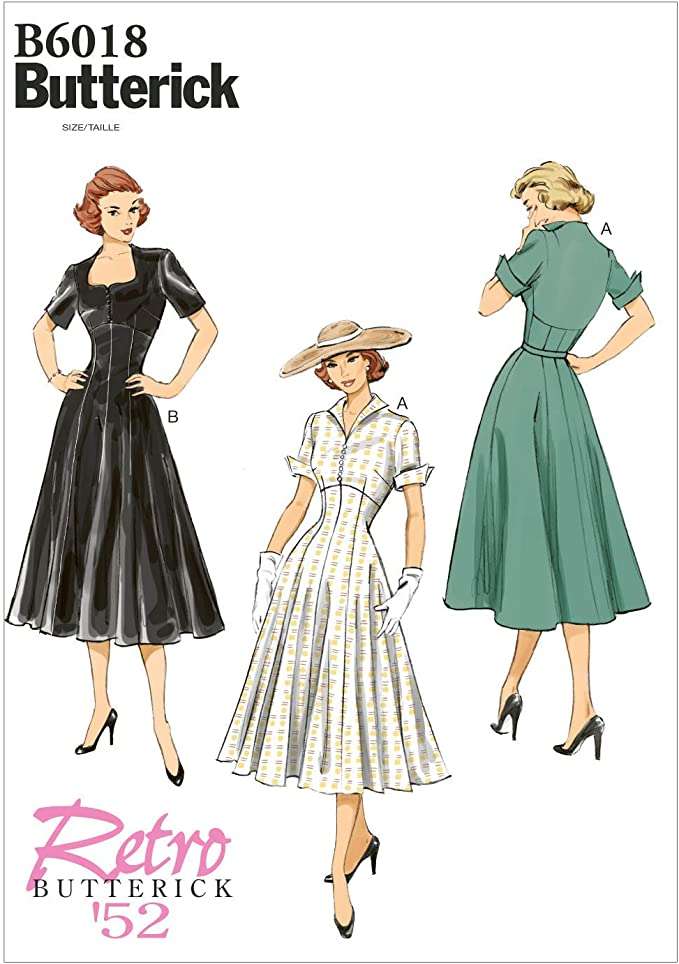 Despite the unwillingness of the line art picture to be centred (arrrggghhh!!!), you can see that the originality of this dress lies in the fact the bodice/ skirt split line is right under the bust. But unlike most empire-line dresses, the skirt is very fitted up to the waist, creating a very flattering elongated effect. This is definitely my favourite aspect of this pattern.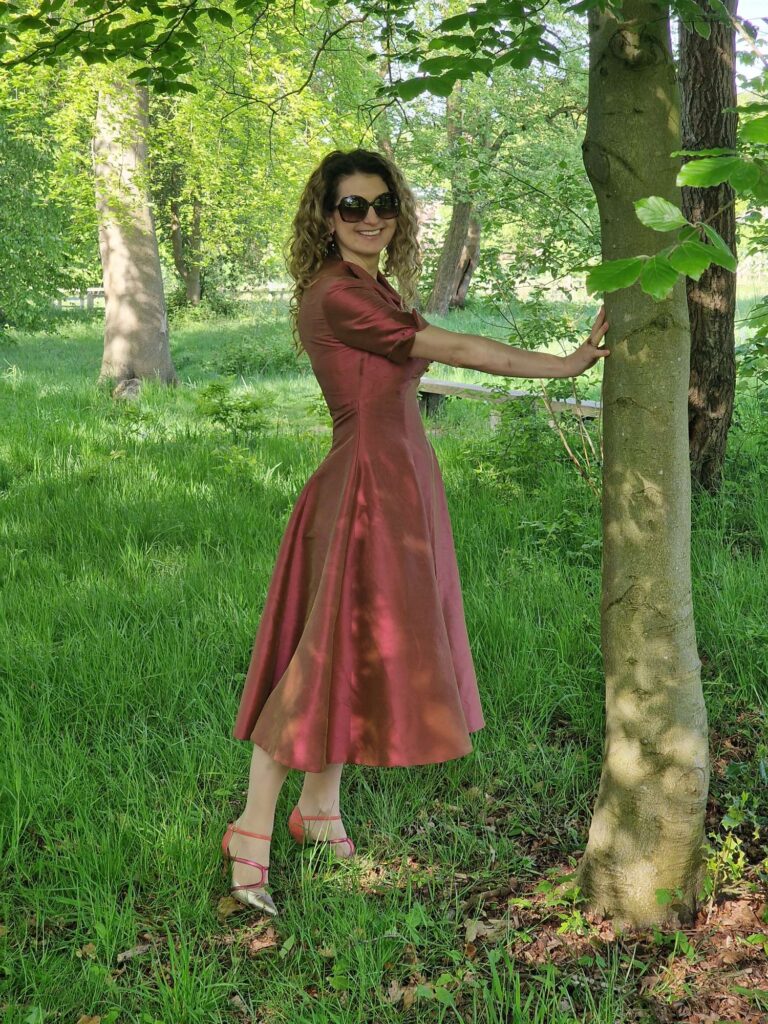 Another lovely detail is the turned-up raised collar of view A, which is a feature you rarely see on modern patterns, and which is definitely easier to sew than is seems.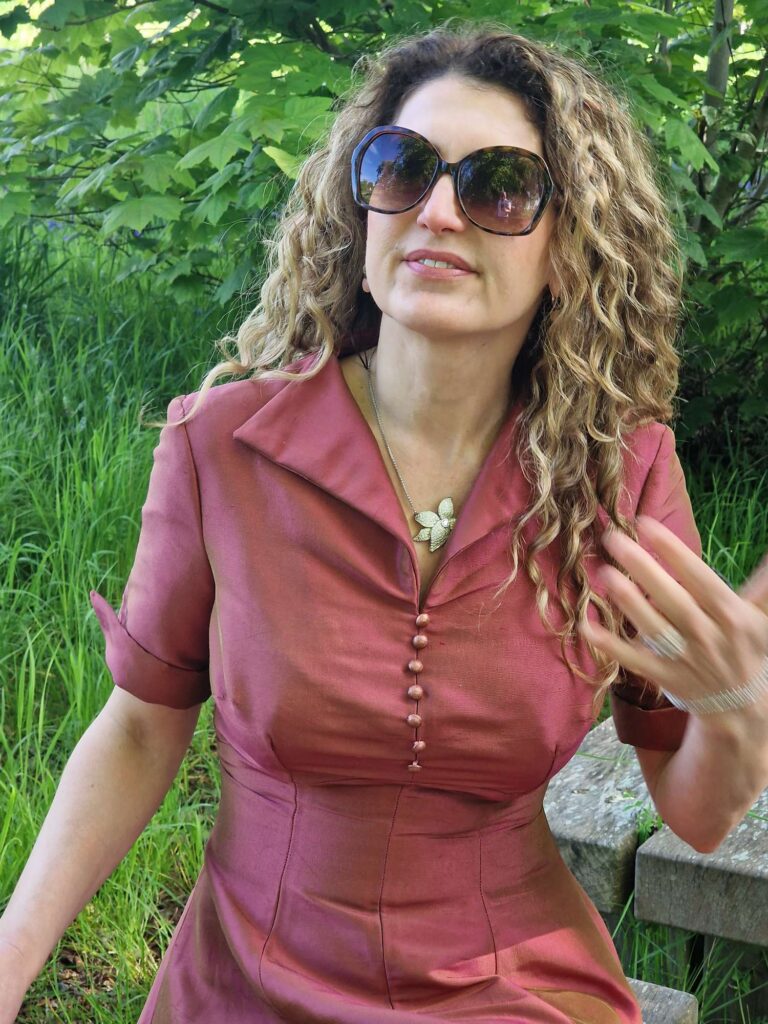 The third detail I really like is the shaped cuffs – but I definitely did not like the technique recommended to sew them!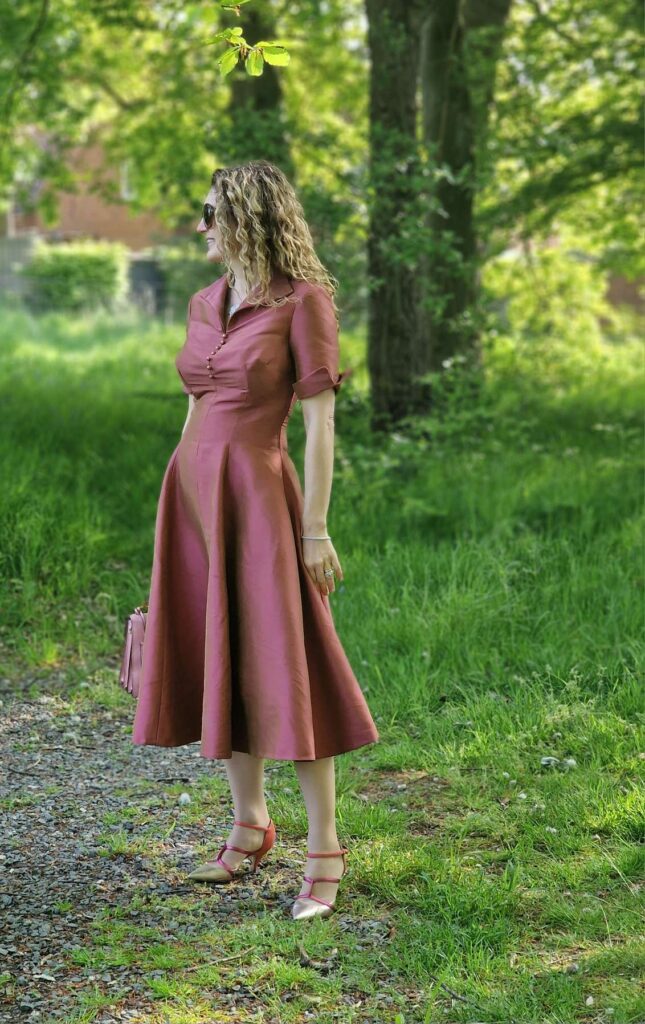 B6018 pattern review: positives and negatives
As you guessed, they are many things I like about this pattern… and very few I dislike!
On the positive side:
The 1950's style is absolutely spot on – not surprising for a pattern from the 1950's though…
This dress is a reasonably easy make and the instructions are crystal-clear.
The sizing is the usual McCall's/ Vogue/ Butterick, which is always perfect for me. I cut my usual size 10 (from my UK size 8, FR 36, US 2). I made no adjustment except for a FBA (more on this later).
On the negative side, I really did not like the way the sleeve cuffs were put together so I dug out my V8379 pattern and fiddled a bit. Also, the pattern does not come with custom bust cups, so if you're not a B cup you will have to make either a Small Bust Adjustment (SBA) or a Full Bust adjustment (FBA) – here is how I made the later.
Making a FBA for the B6018 pattern
I an an E bust cup, so not making a FBA for this pattern would have been pure suicide. To be honest, I've come to realise that it is actually pure suicide for all patterns but sometimes I am just lazy…
Thankfully, the FBA was a reasonably easy process, as the front piece of the pattern has two bust darts: one on the side and one at the waist line. Here is a picture of my modified pattern piece.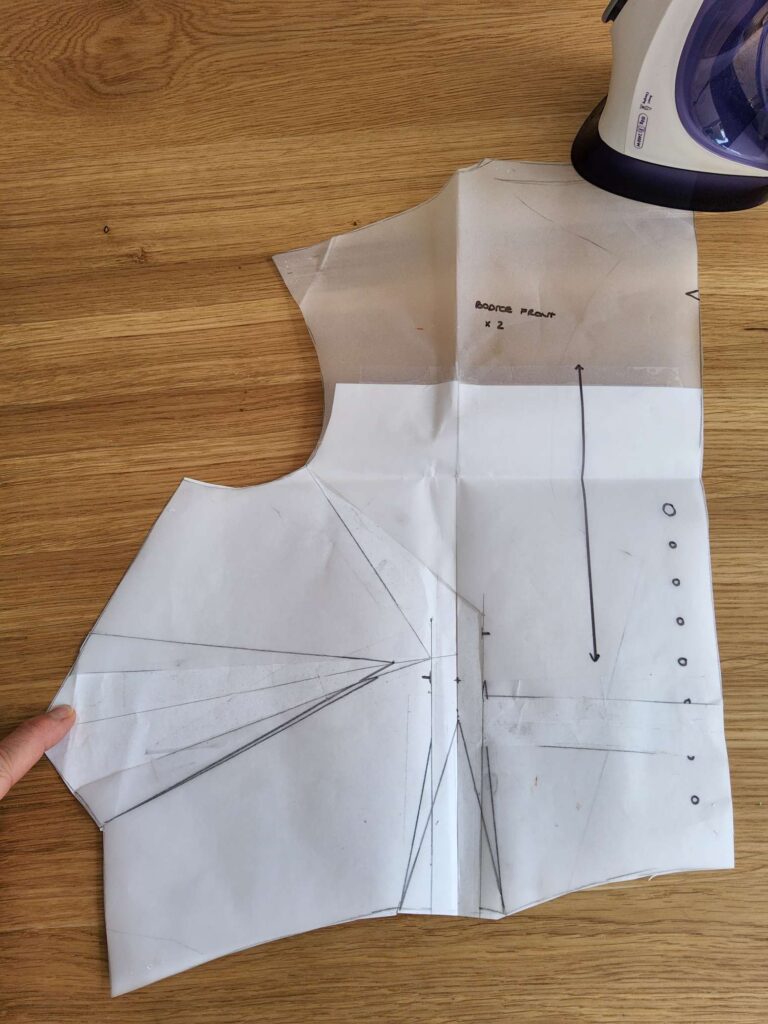 Overall, the FBA involves:
Drawing 3 lines: 2 from the top of each dart and 1 from the sleeve head, all converging to the bust apex.
Cutting along these lines to be able to insert 2.5cm (for my E cup) of extra space.
Lengthening the right side (on this picture) to match the left.
Redrawing the end of the two darts.
Making a quick toile to check all is well.
And then you cutting into your precious fabric and getting a perfect fit!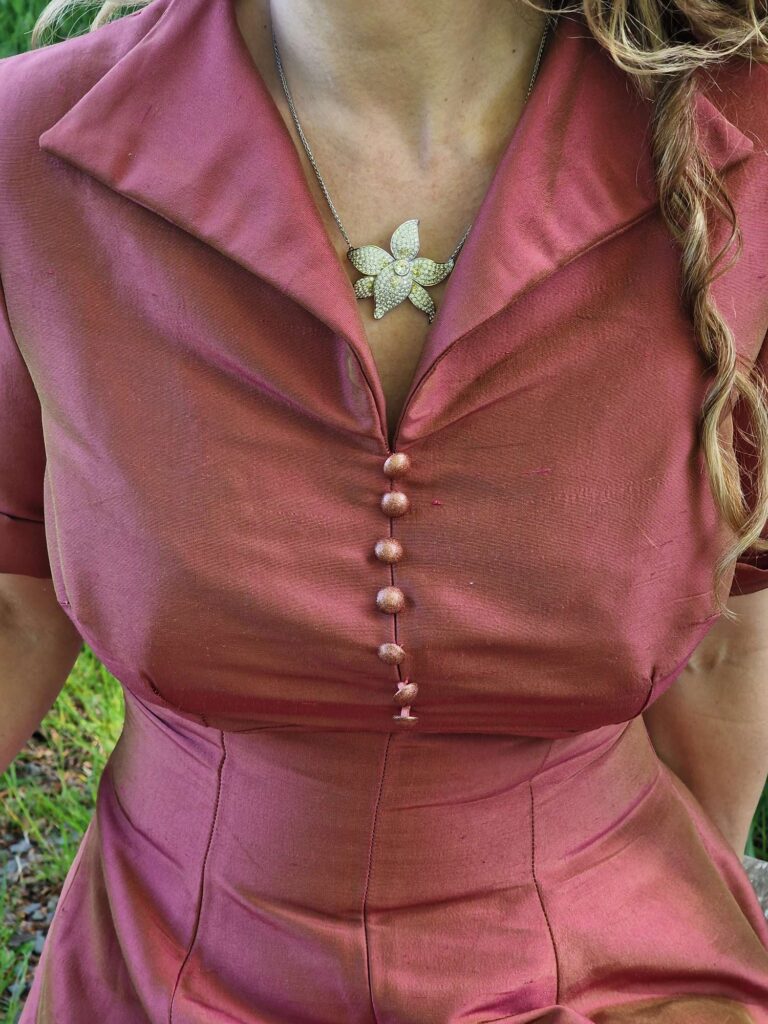 I posted a video of the FBA process on my Instagram account so I would advise you go and have a look if you need more visuals.
Sewing the B6018 dress on silk dupioni
As you know, I am a huge fabric snob and I would live in silk dresses if I could.
I used to be really scared about sewing silk, for all it delicacy and slipperiness (if such a word exists). But silk dupioni is actually neither slippery nor very delicate: it is actually quite good weight and very stable to sew.
My key advice (for any silk fabric) is to use a Microtex needle – 80 is a good size for silk dupioni, and then 60-70 for lighter silks. Microtex needles have a very sharp end so they do no pull out the delicate silk fibres.
I also rarely use my overlocker to finish raw edges on silk, I prefer a zigzag stich on my sewing machine.
My last bit of advice on silk dupioni: beware the fabric weight! I did not and the fabric for this dress is actually a bit heavy for my taste – nothing horrible but it just makes it a bit too formal.
Conclusion
Although I find this dress a bit too formal for everyday wear, even on my standard, I am absolutely delighted with this pattern and very keen to try an version in a lighter fabric.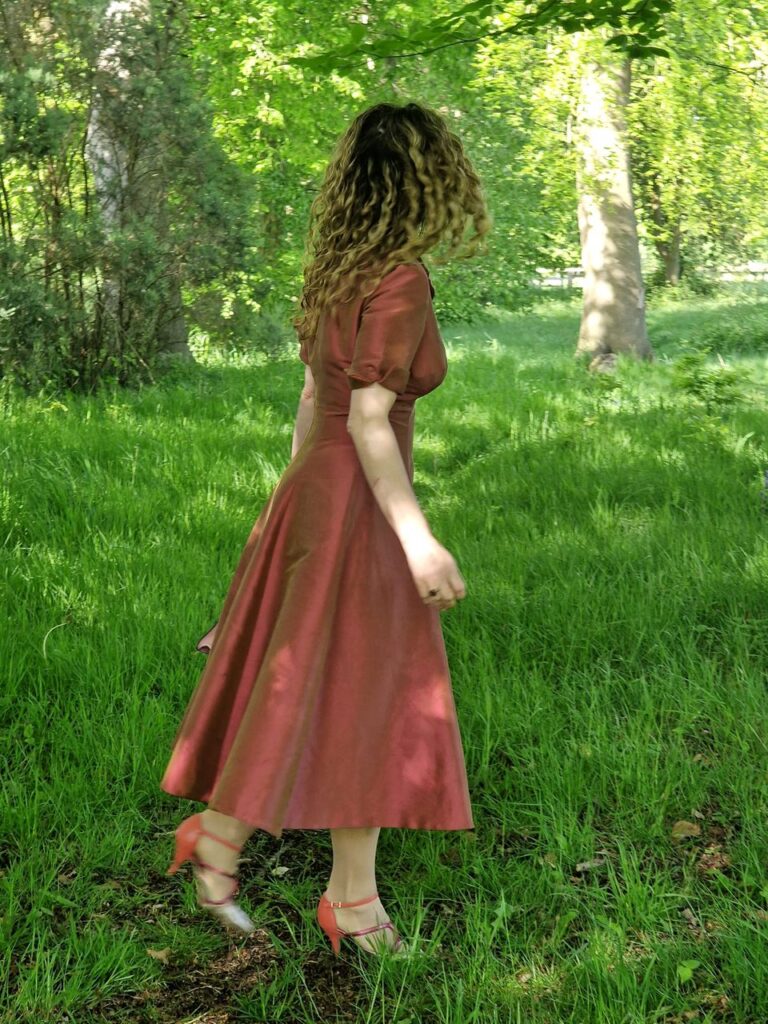 ---
One response to "Sewing the B6018 vintage dress pattern"