Sewing the V8379 dress…again!
When a dress pattern works, I tend to sew it again and again. So given the success of my first V8379 a few months ago, a second version was due to follow soon – here it is!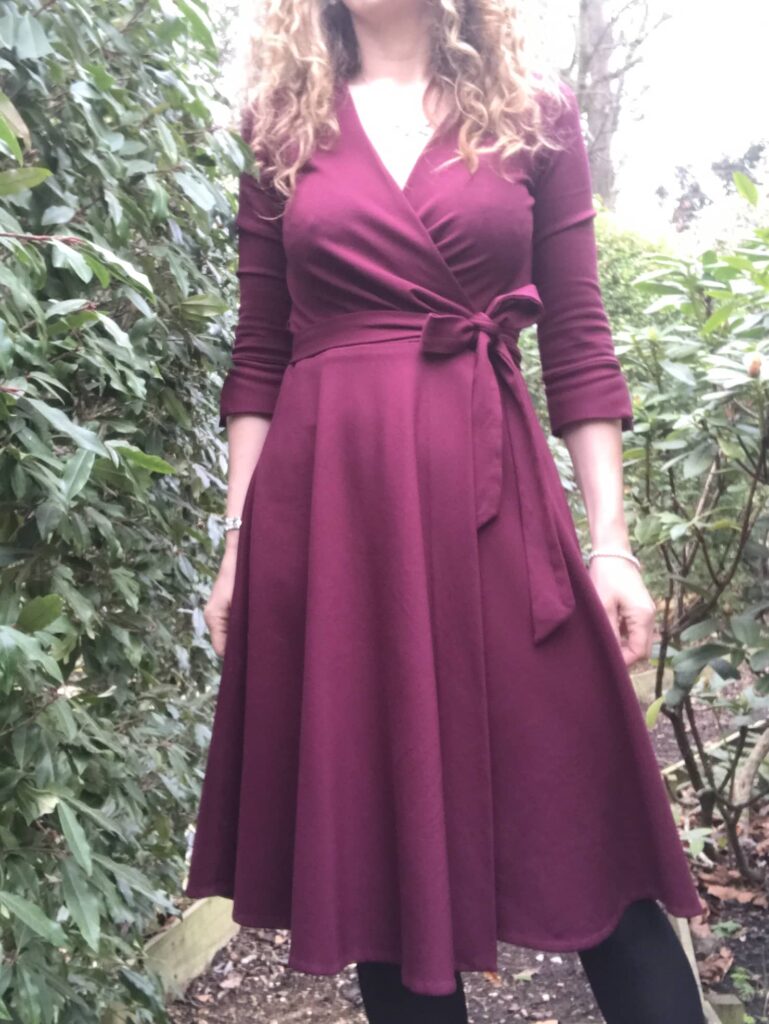 In no way dissimilar to its predecessor (except for the quality of the pictures maybe, oh well)…
V8379 pattern review – repeat!
I extensively reviewed this pattern in this article and nothing has changed, so just a quick summary of what I said before:
This is a very quick and easy dress to make: it has a very limited number of pattern pieces; there is absolutely no technical difficulty

(such as a zip or buttons); and

the fit is very forgiving, as the pattern is designed for knits.
What I love about this dress: its gorgeous pleated bodice, which works really well for my E cup without FBA; its beautiful fit-and-flare shape, with its knee-length semi-circle skirt; its perfect fit; and it lovely details (pleated bodice and sleeve bands).
My only deviation from the original pattern was to put some iron-on interfacing around the side-opening for the belt, to strengthen it.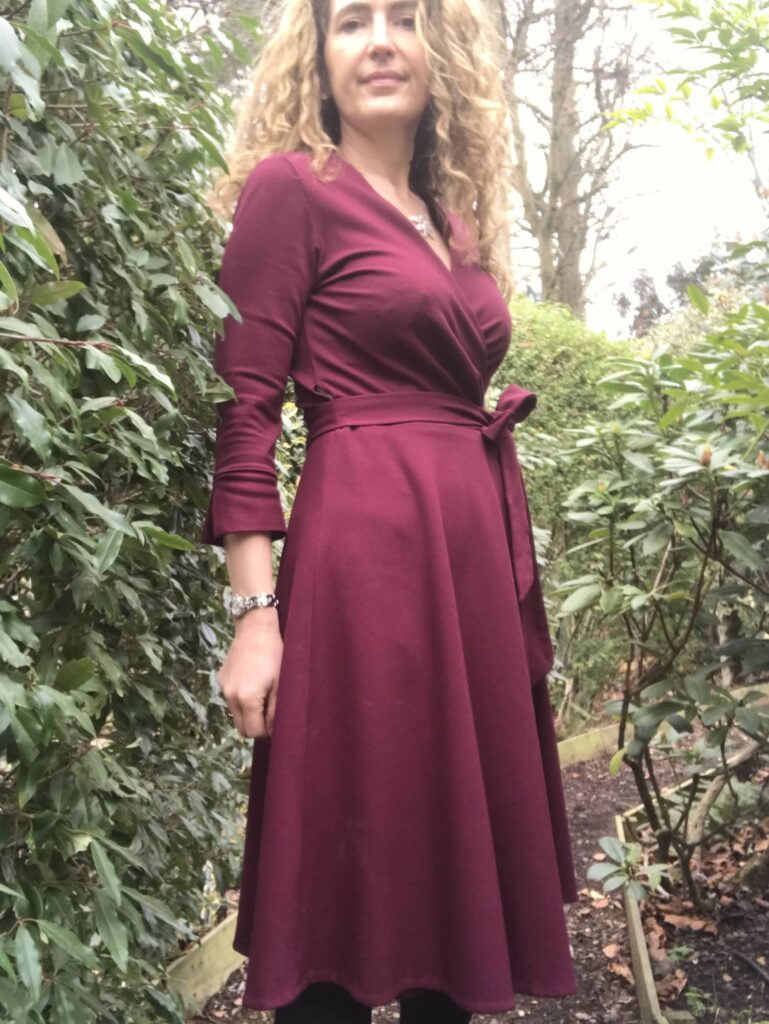 Fabric used: stretch but with weight
For both dresses I used Ponte Roma fabric , which has some stretch (as recommended by the pattern) but is also heavy enough to hold its shape. It is absolutely perfect for this pattern and I strongly recommend it. I would definitely not try making this dress is a very stretchy and light fabric.
A word of warning on Ponte Roma: always go for the viscose version, not the polyester one! The later piles when washed and your dress lovingly hand-sewn dress looks like a cheap rag in not time. I've been here before and had to throw away three dresses – heart-breaking!
Silly mistake!
Overconfidence is never a good thing when sewing, but it's quite common when you reuse a pattern – for me anyway! So can you spot the silly mistake I made in my second dress?
It's (thankfully) not that obvious but I initially completely forgot to stitch the bodice pleats in place. This stitching is not visible but it holds everything in place and without it… well, it just does not work! So I had to sew everything by hand and I am praying every time I wear this dress that the hand-stitching will not unravel!
Conclusion
Despite the not-so-perfect pleats, I'm very happy with this new addition to my wardrobe. Even more so because it perfectly matches one of my latest hand-knitted Hetty cardigans. I have one question though: how do your wear a cardi with a wrap dress? – I still haven't quite figured out…
---