Knitting Hetty by Andy Satterlund
Although my sewing mojo has been on-and-off, my knitting has gone full team over the past two months. Here are my latest two makes, hot off the needles:
You know by now my love for the patterns created by talented Andi Sutterland of Untangling Knots. Although Belladonna is by far my favourite (see my fifth version here), I do sometimes like to venture into the unknown and try a new pattern.
Hetty was the perfect occasion, as it gathers all the conditions to join my knitting pattern Hall of Fame:
It is a cardigan – I know it is weird but I actually rarely wear jumpers.
It has lace and I am absolutely addicted to knitting lace, as it very elegantly hides my somewhat rushed and irregular knitting.
The shape is fitted and cropped (as the large majority of Andi's pattern), perfect to go with my high-waisted, mostly circle skirts.
Hetty version 1 in power pink
I started with a powder pink version, using the same combination of Drops Baby Merino 54 Powder Pink and Drops Kids Silk 01 Off White I had used for my Whitmoor sweater. I truly adore this colour, with just the right amount of pink to give this subtle powder effect.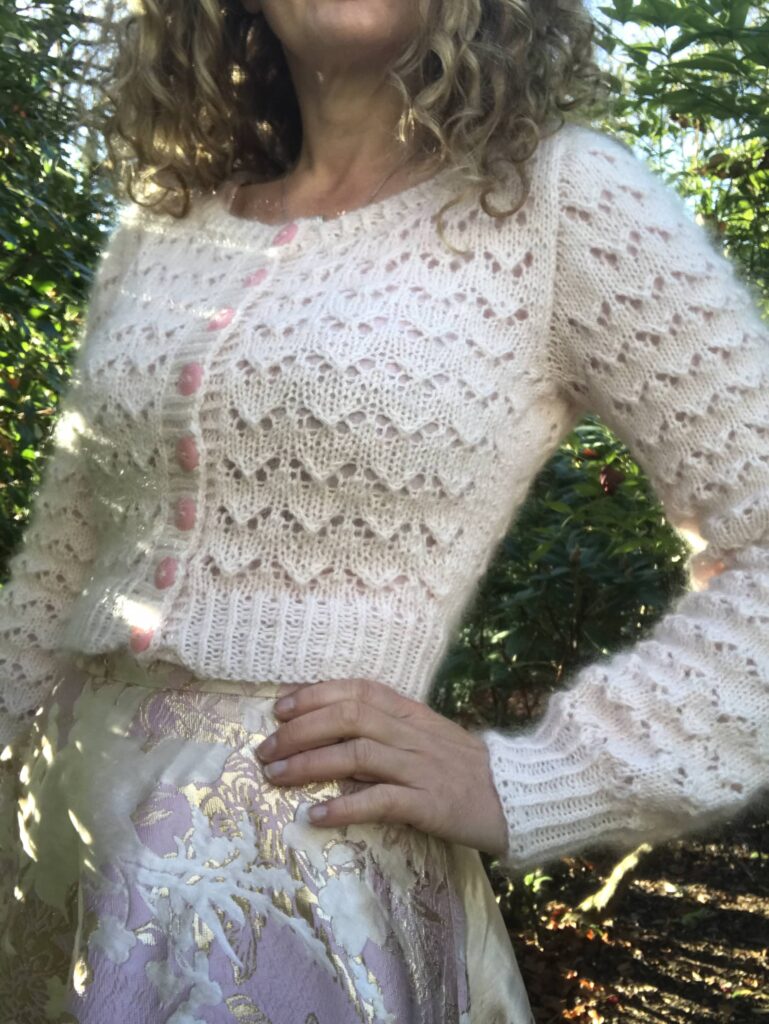 I used 5 balls of Baby Merino and 4 of Kid Silk, knitted in size 4 needles. It took me about 2-3 weeks to knit and I was extremely pleased with this cardigan, as the lace is easy to memorise and looks lovely.
I made two changes to the initial pattern:
I knitted bishop rather than tapered sleeves. To do this, I made no decrease to my sleeves up to the cuffs, where I halved my number of stitches; and I knitted much longer sleeves (50cm from underarm to cuff, then 6cm of cuff). Beware, it does take ages to knit!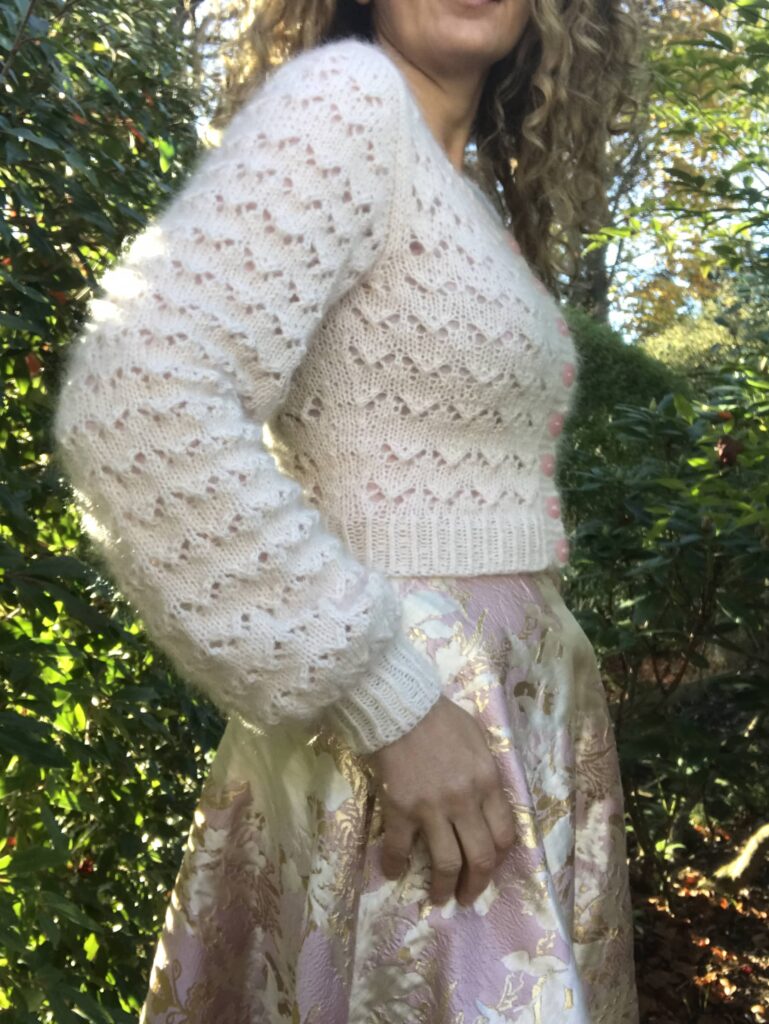 I made the button placket slightly larger to accommodate my bust, but stupidly I somewhat did not follow the instructions properly at the bottom of the placket and you can very obviously see the resulting mess. Oh well…
My only dislike with this cardigan is that it is extremely short. It sits slightly above my skirts' waistline and it drives me crazy (you can't tell on the picture as I cheated a bit by pulling the cardigan down just before – the girl is so vain…). I think is it probably because my E cup bust pulls everything up so if you are a lower cup size it might be OK.
Hetty version 2 in strawberry pink
So I obviously needed to have a go at a second, longer version of Hetty (preferably without messing-up the button placket). This time I combined Drops Baby Merino 41 Plum and Drops Kids Silk 17 Dark Rose.
To increase the length, I just added one row of lace before starting the waist ribbing and this length is absolutely spot-on!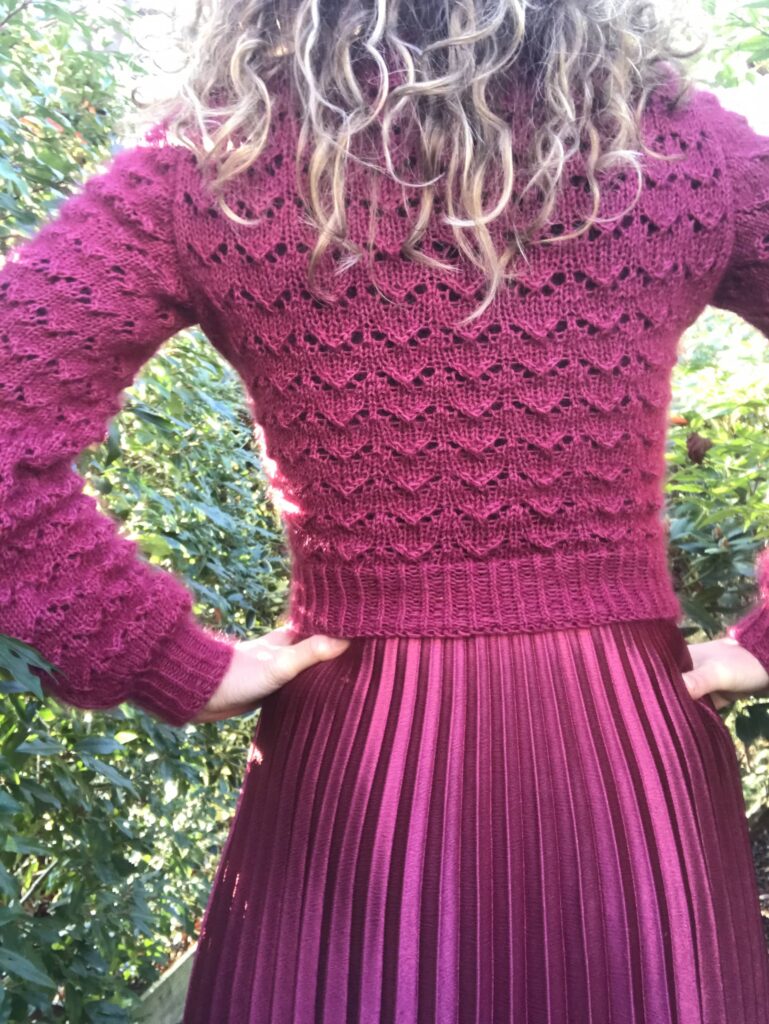 I also went for a larger button placket and bishop sleeves here – these sleeves are so much more comfortable than the tapered one, they are really worth the extra knitting effort!
I am very pleased with this colour, which is just this little bit brighter than the one I used for my Icon dress, my Chuck sweater and my Blossom Shawl (for this I used Drops Baby Merino 34 Heather and Drops Kids Silk 17 Dark Rose).
Conclusion
I am extremely pleased to have found a new pattern to add to my favourites, so don't be surprised to see a few other versions in the coming months…
---