Making tops: a Belladonna cardigan and a Libra bodysuit
I am notoriously bad at sewing tops, as I always think it requires a similar effort to sewing a dress for half the benefit – you end up with only half the outfit, why bother! However, my new passion for knitting cardigans has led to more skirt sewing, which is itself leading to more needs for tops. That's exactly the process I followed here.
First, there was a lilac skirt…
The skirt was sewn in Spring 2021. I did not document it at the time, as it is a very basic full circle skirt, using the bottom part of my beloved M7081 pattern. It looks quite special though, as I receive compliments from complete strangers every single time I wear it.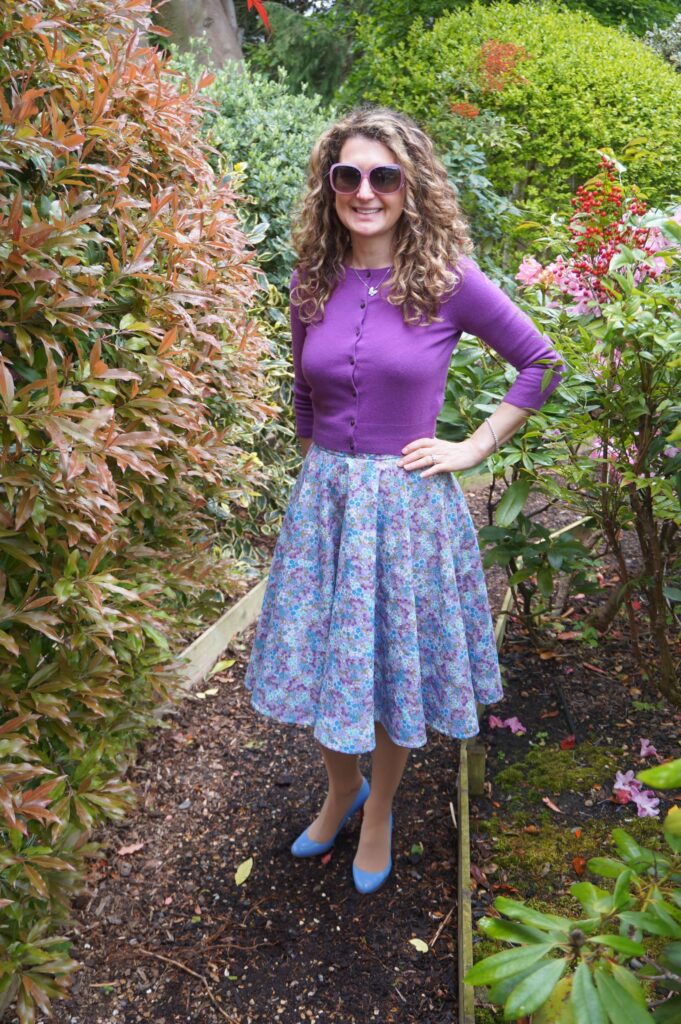 The fabric truly makes the skirt: it is quite a rigid cotton, perfect for the circle shape; the Japanese floral print with touches of gold is extremely pretty; and this lilac colour is exactly to my taste. You can actually still buy it (and many other similar prints) here. One word of caution: you can put it in the washing machine but always on a low temperature (30 C), low spin (600) cycle, otherwise the gold will go!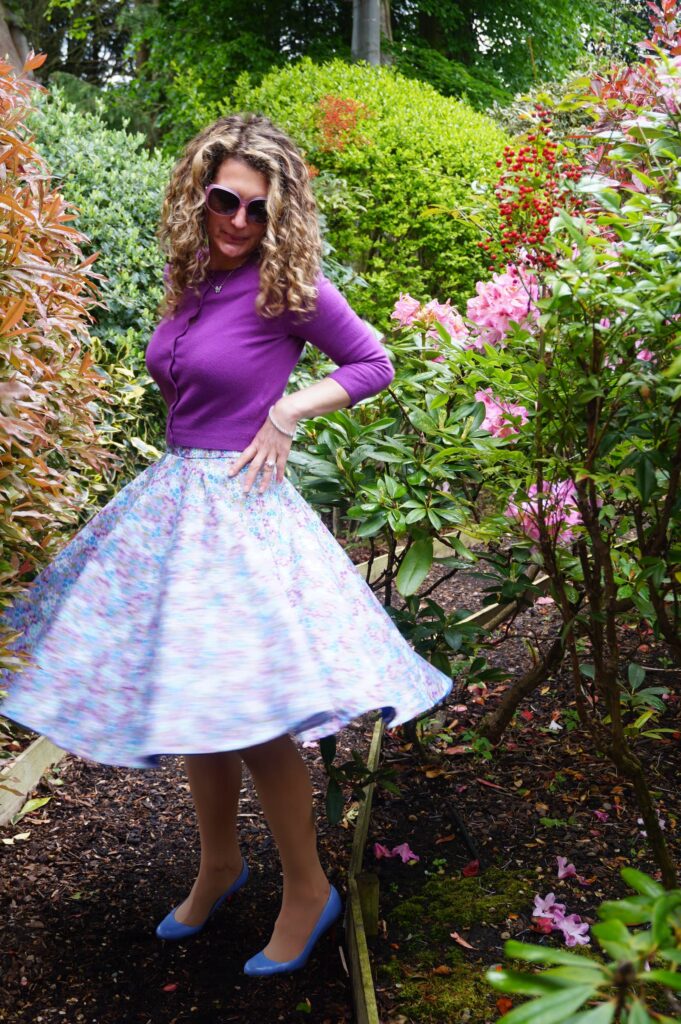 … which led to a lilac Belladonna cardigan…
I initially bought a RTW purple cardigan to wear with this skirt, which you can see on the above pictures. But it did not fully satisfy me, as I have become as fussy with knitted tops as I am with other garments. So obviously a hand-made cardigan had to happen! And obviously it had to be lilac.
I had a go at a self-drafted wrap cardigan, but after completing the all thing (sleeves included!), I never managed to design a nice wrap closure – arrgghhh! After this very frustrating experience, I reverted to my tried-and-trusted Belladonna pattern by Untangling Knots – this one in my fifth version (the first three are here, here and here, the fourth still needs to be photographed) and I am so pleased with it!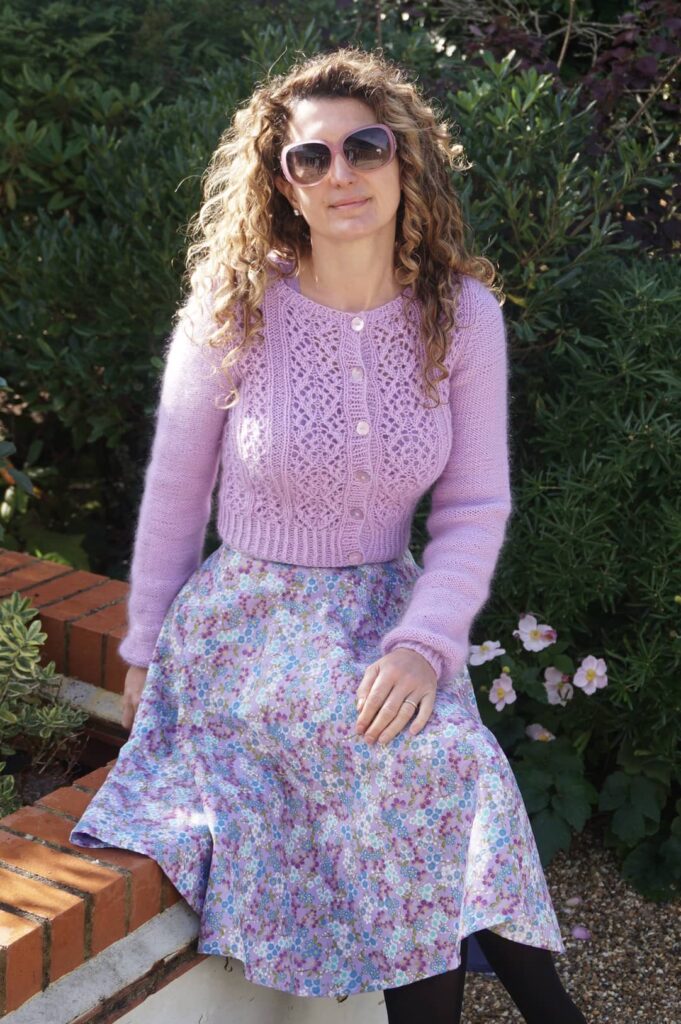 I am a huge fan of the Untangling Knots knitting patterns and Belladonna is by far my absolute favourite. The fitted and cropped shape is perfect to wear with my high-waisted skirts; the lace pattern, which appears both at the front and at the back, it stunning and not overly complicated; and the cardigan knits in size 4 needles, my favourite size – I am too impatient for anything smaller but I dislike chunky knits so cannot really go any bigger.
To get this vibrant lilac colour and this fluffy effect, I used a combination of Drops Kid Silk (09 light lavender) and Drops Baby Merino (15 light purple), which I knitted in double yarn. There are quite a few lilac variations within the Drops range and this colour combination is perfect – well, if you like lilac of course!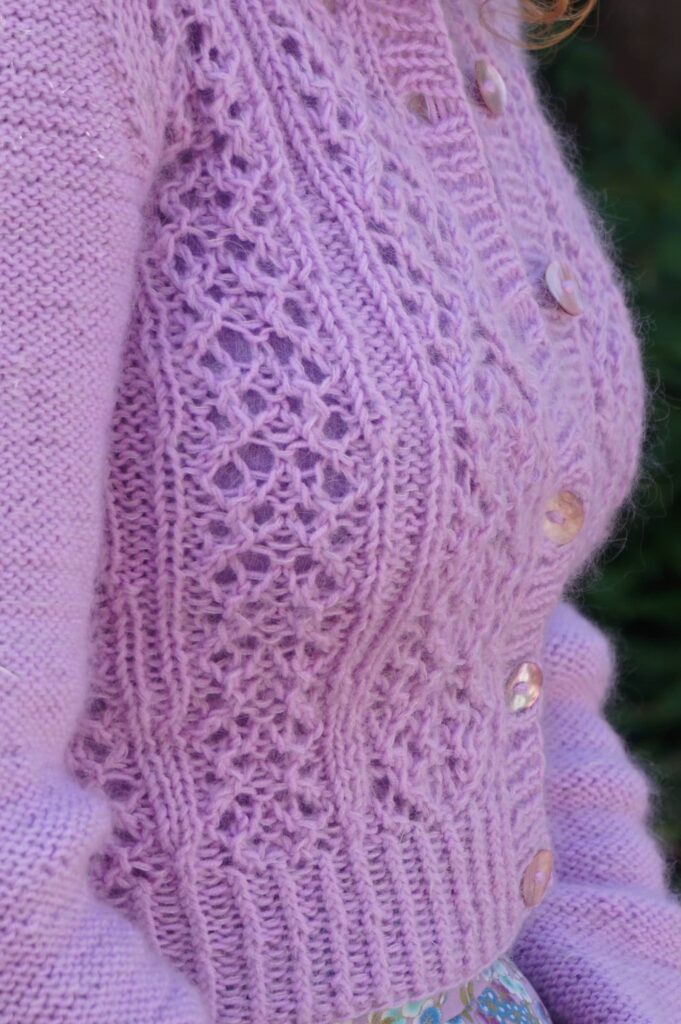 I knitted the smallest size of the pattern and I made two small changes:
I raised the neckline, as I find the original low neckline quite unpractical to wear with dresses. This is easy to do, you just have to start making increases for the neckline earlier than indicated in the pattern (after one repeat of lace in this case).
I knitted bishop sleeves instead of tapered sleeves. I discovered them while knitting my Whitmoor Sweater and I find them way more comfortable. Here as well very easy: you just omit the decreases indicated by the pattern, make the sleeve about 10cm longer then half your number of stitches at the cuff.
… which led to a lilac Libra bodysuit
Obviously I was still not fully happy with this outfit as it missed a key piece: a top to wear underneath the cardigan. I wear mostly bodysuits in the winter, to avoid any draughts (!!!). After looking desperately for a lilac bodysuit on all the online clothing shops I could think of and not finding anything in that colour, I had to accept that sewing one myself was the only way forward.
I used the Libra bodysuit pattern by French Poetry. I was looking for a streamlined shape, a reasonably modest neckline and, most importantly, long sleeves! – and this pattern perfectly fitted the bill. I had never sewn any French Poetry pattern before and I was extremely pleased with this one:
The explanations are very clear and detailed, which somewhat compensated my displeasure of having to sew this type of garment.
It takes no time to put the garment together, as there are only three pattern piece. What took me much longer was the neckline and sleeves finishes, as I was using my cover-stitch machine for the first time and… well… a few hair-pulling scenes happened here and there…
The fit is amazingly good, even for my long torso, as there is a specific section explaining how to adjust for torso and crotch length. I sew a size 38 and added 1cm both at the crotch and at the torso and here we are!
The only thing I dislike is that the back is designed in two pieces, resulting in a very visible seam, but it makes the swayback fit perfect so I am not sure how to get rid of it. Oh well…
In any case I was so pleased with this bodysuit that I ordered fabric for another… four! And I have already managed two, I'll write a specific article when there are all done. By the way the fabric is a rib knit of unknown fibre content, found on E-Bay for next-to-nothing and surprisingly comfortable to wear.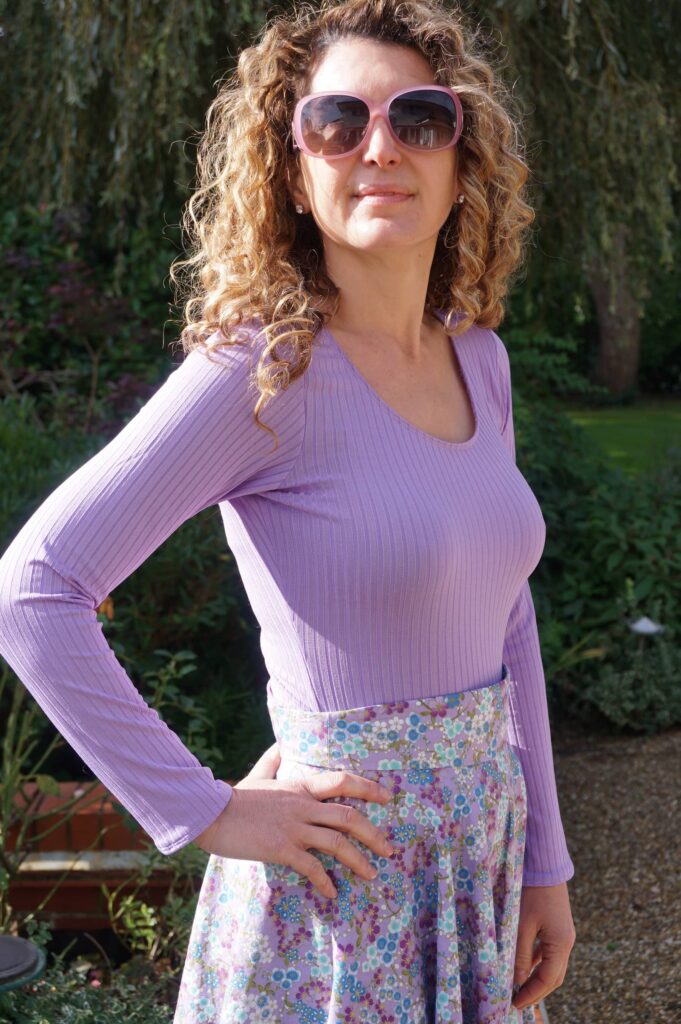 Conclusion
A bit of a convoluted article but at least it shows you how I go from one project to another to create a co-ordinated outfit! – I'm very much a matchy-matchy girl I'm afraid!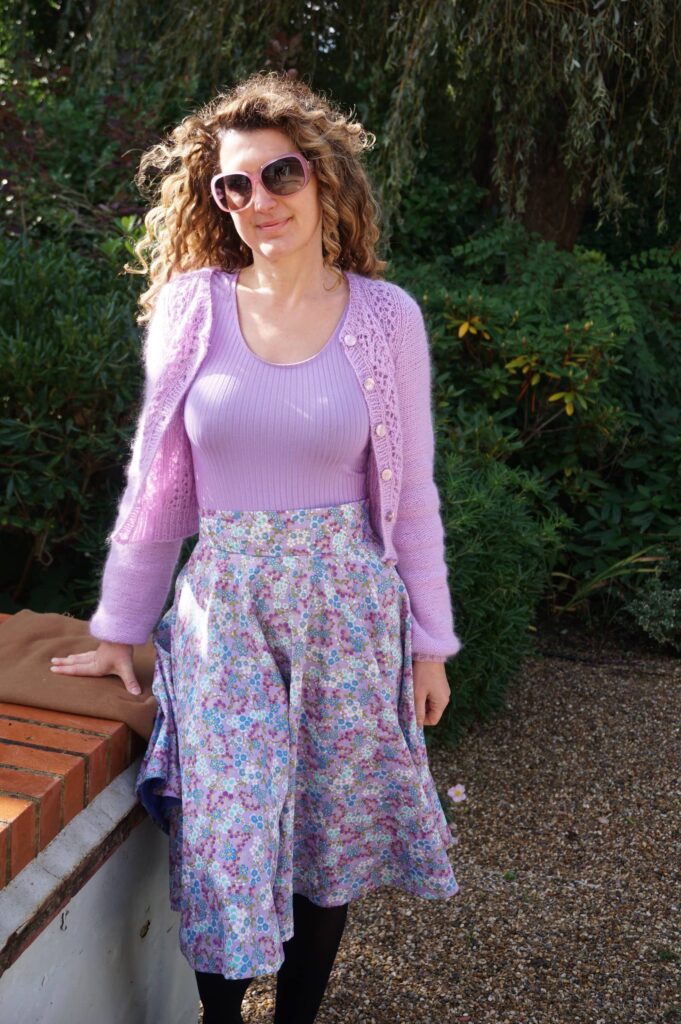 ---