2020 knitting in review
Aside from all the rest, I will definitely remember 2020 as the year of my knitting revelation. After ages of being intimidated by knitting patterns, everything finally clicked! As a result: 12 cardigans, 7 jumpers and 2 shawls knitted with love over the past twelve months.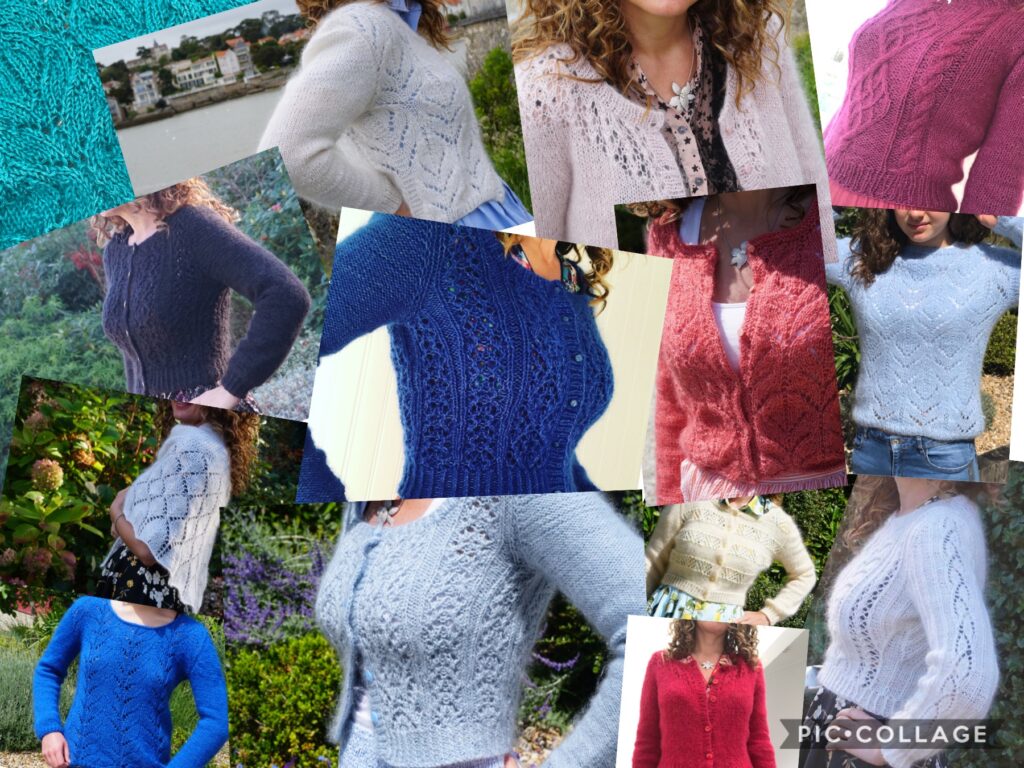 Favourite patterns: Belladonna, Enchantee and Blossom
My most knitted and by far favourite pattern this year is the Belladonna cardigan by Andi Satterlund. I knitted four versions over 2020 (and I don't rule out more versions in the near future…): pale blue, royal blue, black and purple – the only one not reviewed on this blog is the purple, completed just before the Christmas school break, parents will understand me…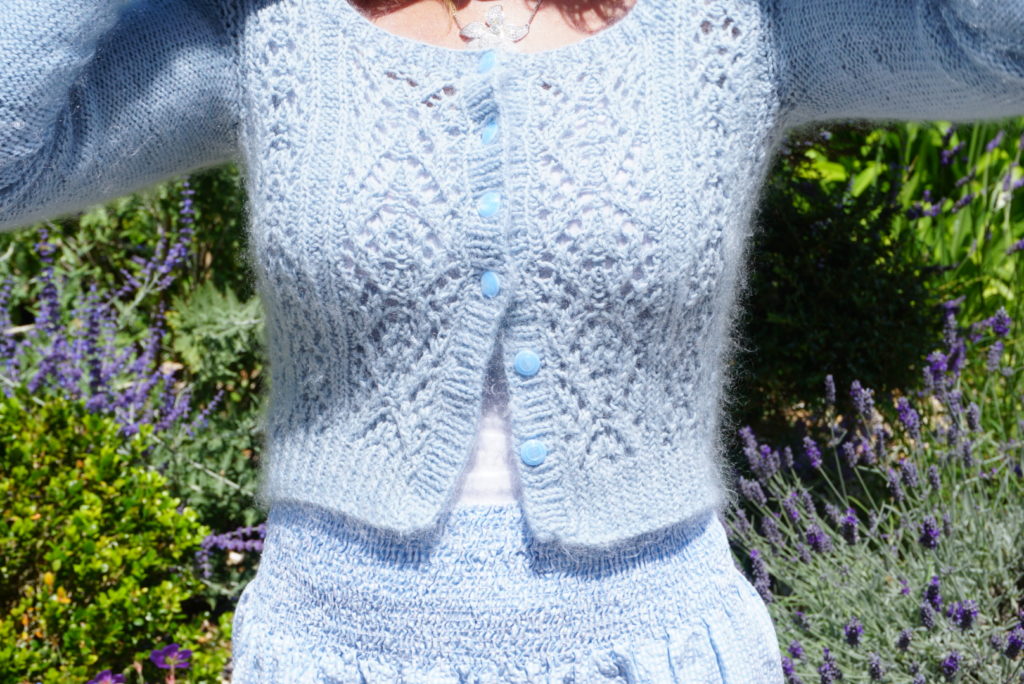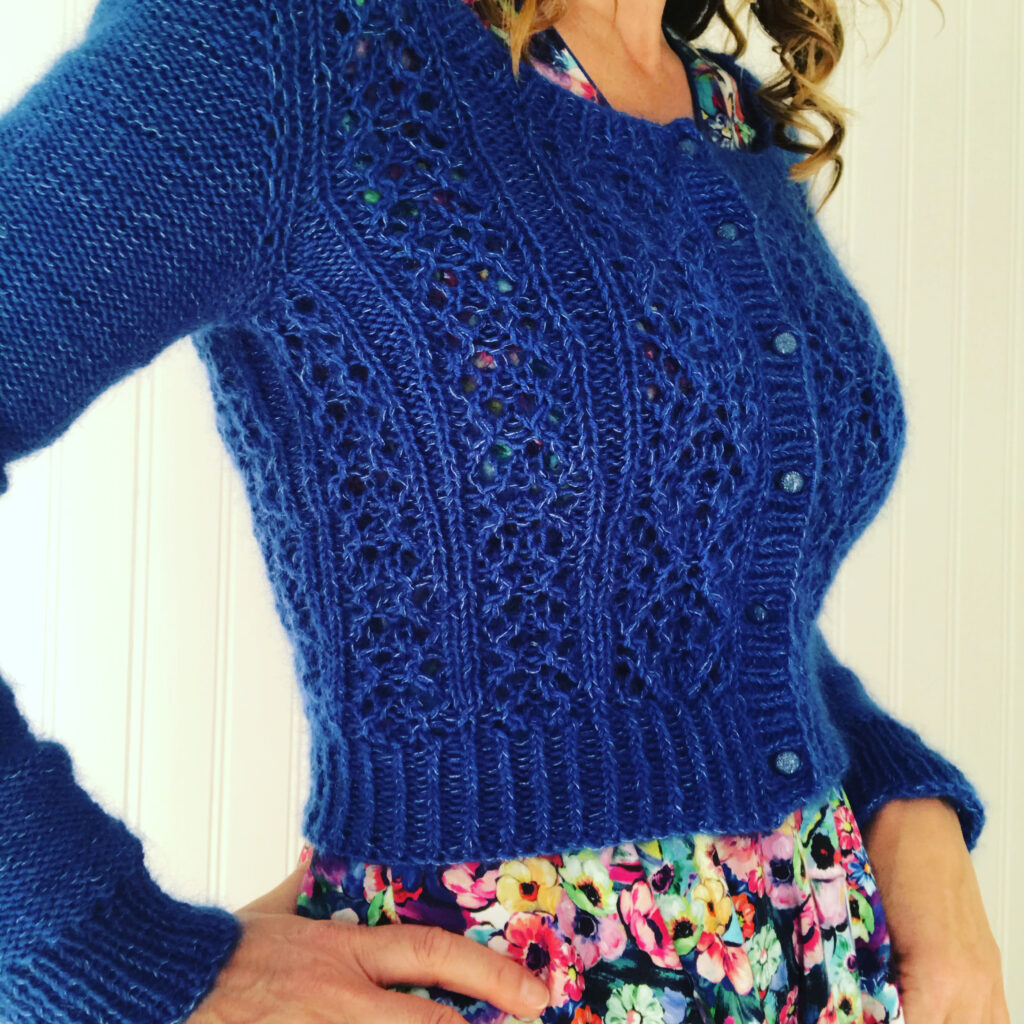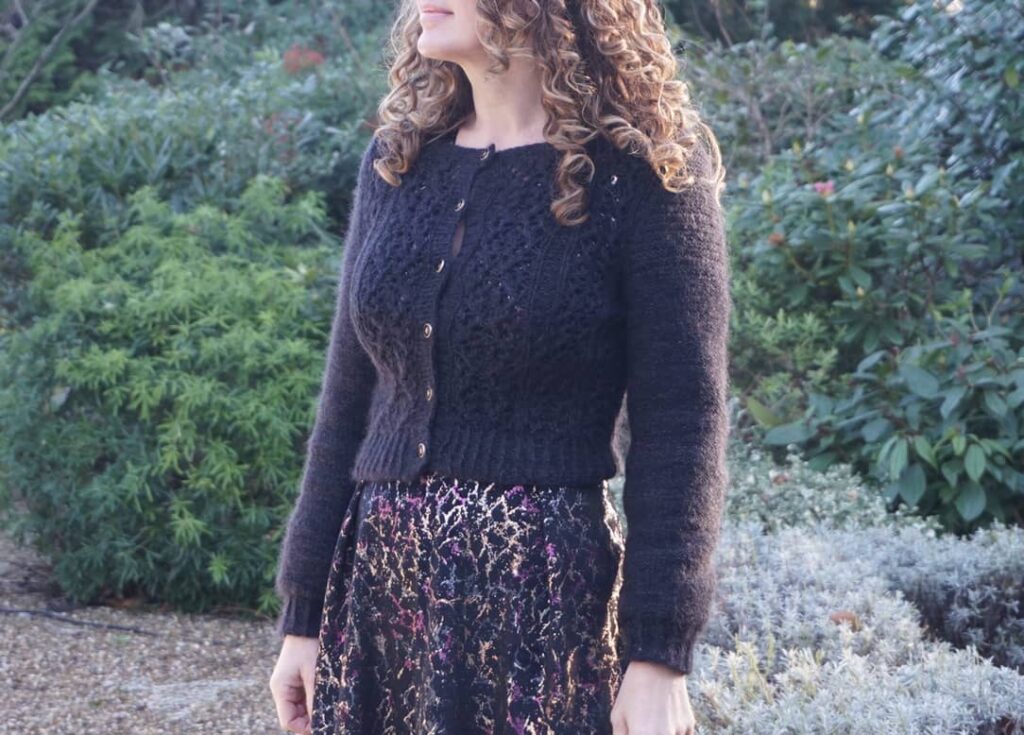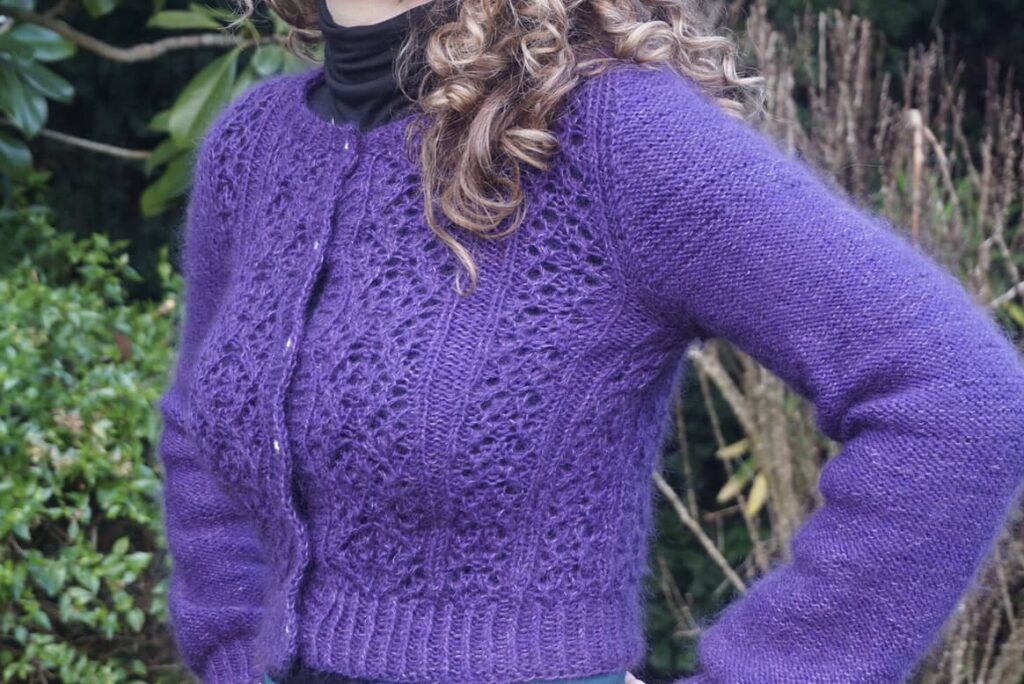 I adore this pattern for its beautiful lace inserts – there is literally lace everywhere except on the sleeves; and its absolute perfect fit. I raised the neckline for my black and purple ones and it makes them much more versatile, so maybe the low neckline is the only negative of this pattern.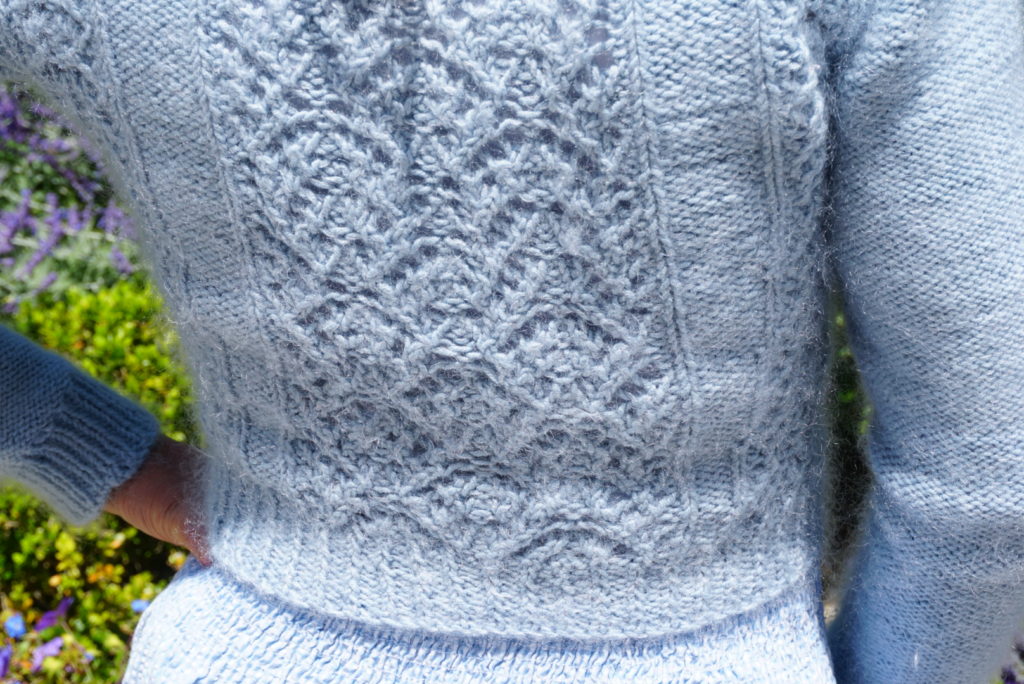 My second favourite pattern this year is the Enchantee sweater by Atelier Emilie – three jumpers knitted here (royal blue, baby pink and lilac), all for my teenage daughters.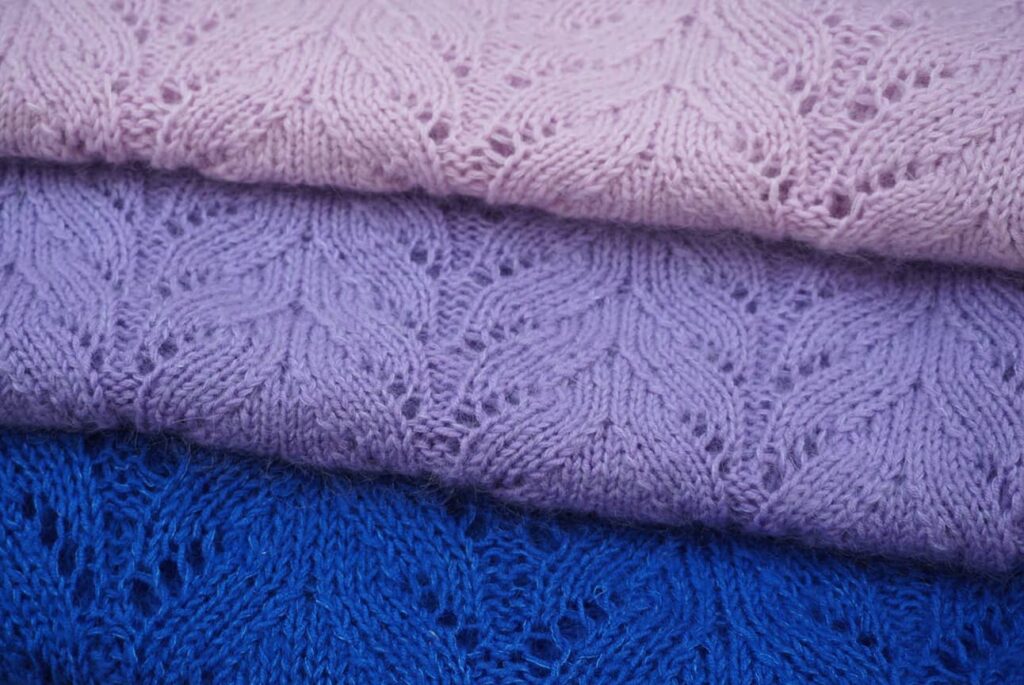 I am a huge fan of knitted lace leaves and this pattern is so easy that it can become quite addictive. I substantially reduced the smaller size to fit my daughters' FR 38/ UK 10/ US 4, as neither of us is into loose sweaters – 4 repeats of the lace at the front and at the back are amply sufficient.
And my third favourite pattern is the Blossom jumper by Along avec Anna (2 jumpers, 3 cardigans).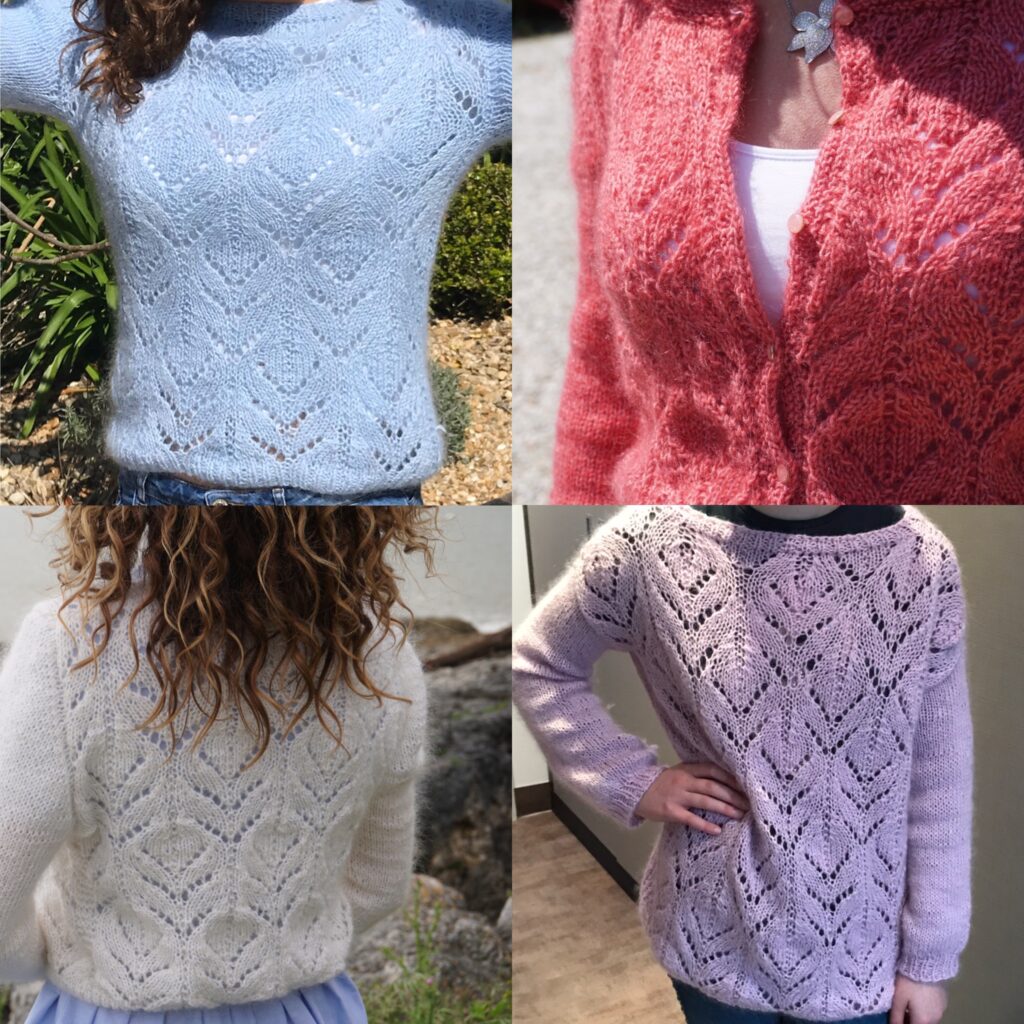 I had already knitted the Blossom shawl at the end of 2019 and I think it is the project that really got me into knitting lace.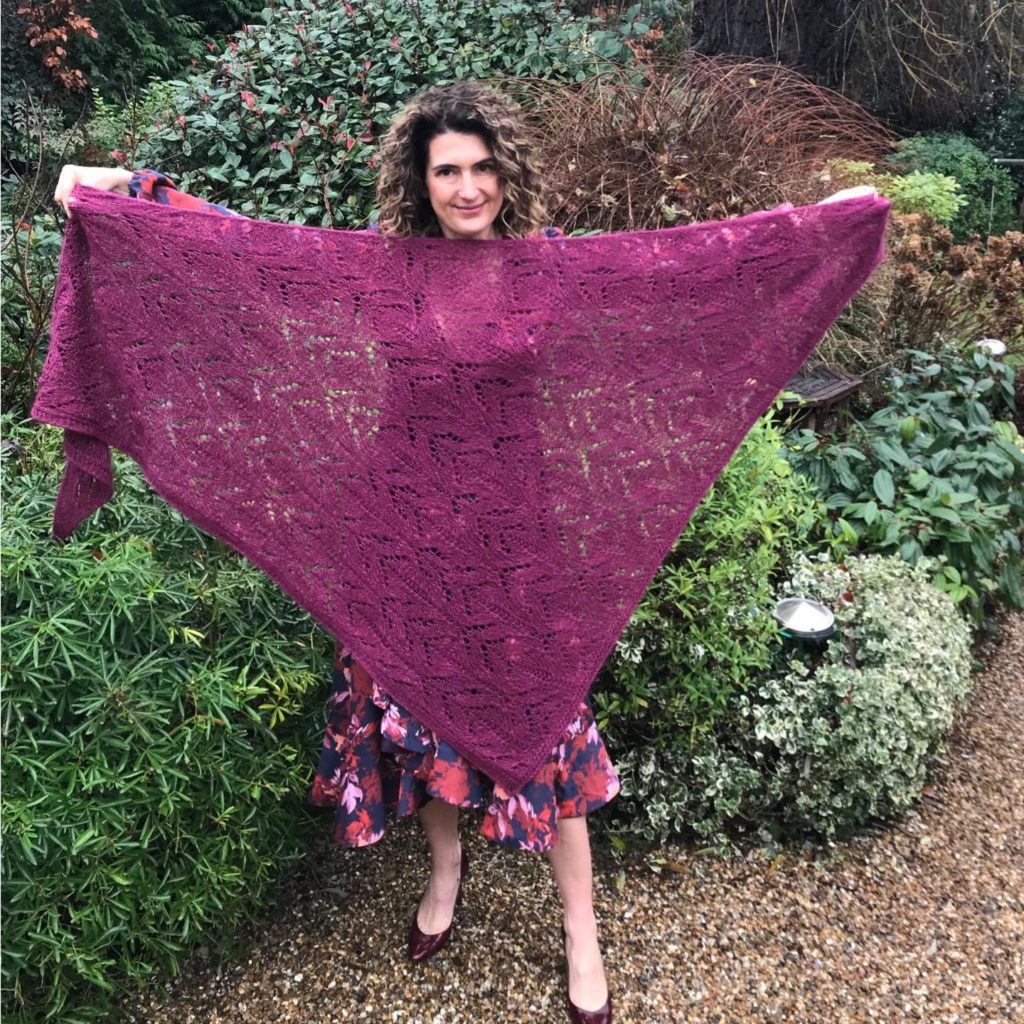 Knitting the jumper turned out to be thousand times easier than the shawl (which is quite complex as you have to manage increases on top of the lace chart). I knitted two jumpers for my daughters but the first one turned out far too large…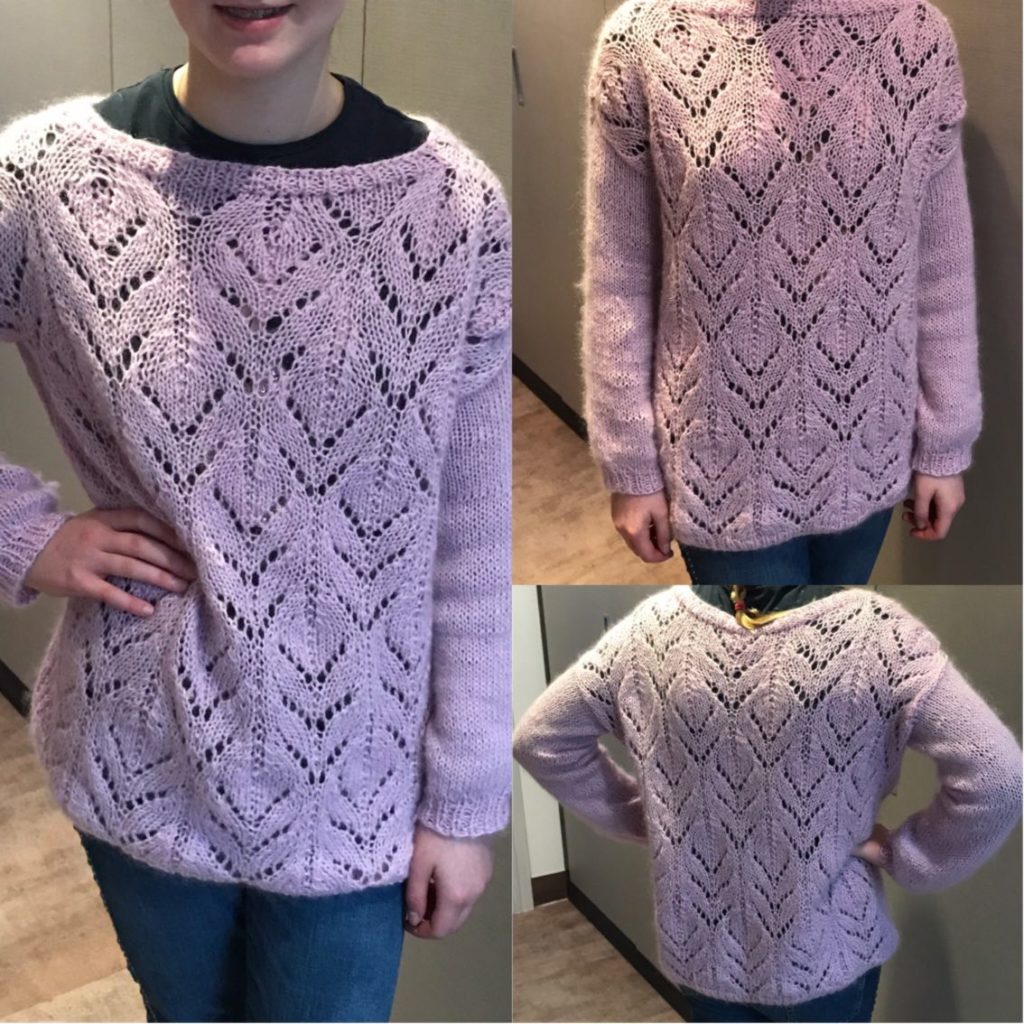 Here again this pattern is quite loose-fitting, so for my second version I substantially reduced the sizing.
The lace is so beautiful that I also self-drafted an all-over lace cardigan on the basis of the jumper – the Blossom cardigan pattern exists but the lace sadly appears only on the back, definitely not enough for me! I knitted a white and a coral version, both reviewed on the blog; and also a duck blue one, more on this later.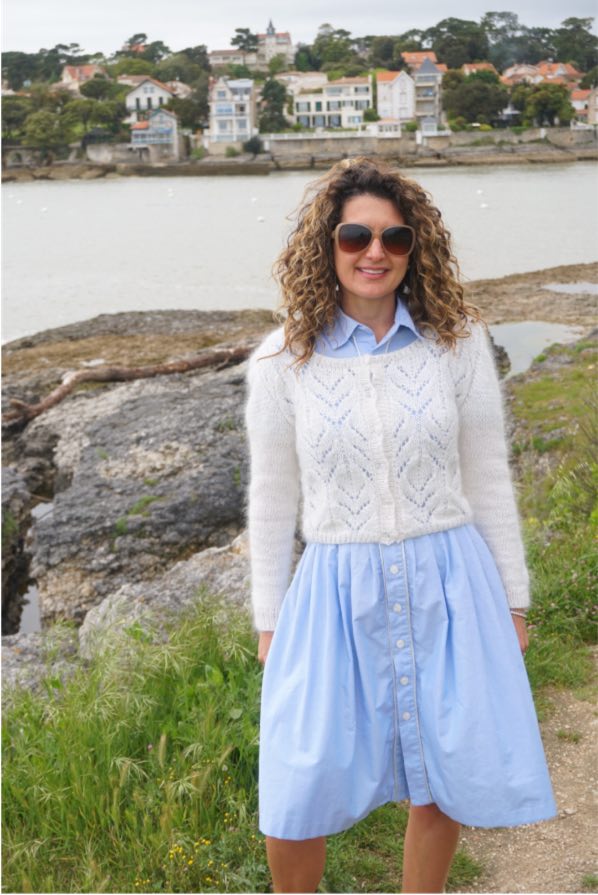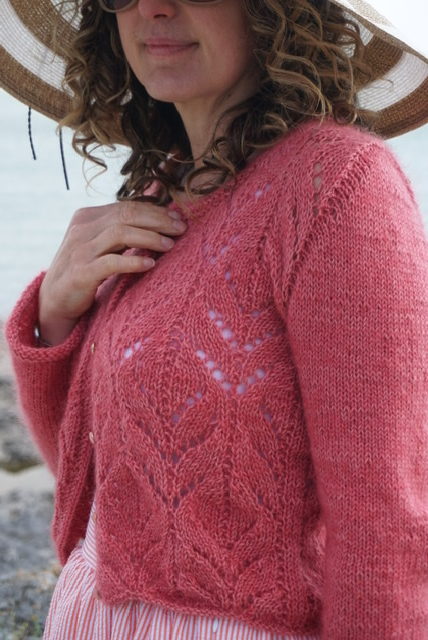 Favourite designer: Andi Sutterland
My absolute favourite designer of the year is Andi Sutterland, creator of Untangling Knots. This year I knitted nine Untangling Knots cardigans: Belladonna (x4), Salal (x2), Agatha (x1) and Wainthropp (x1); and two jumpers: Chuck x2.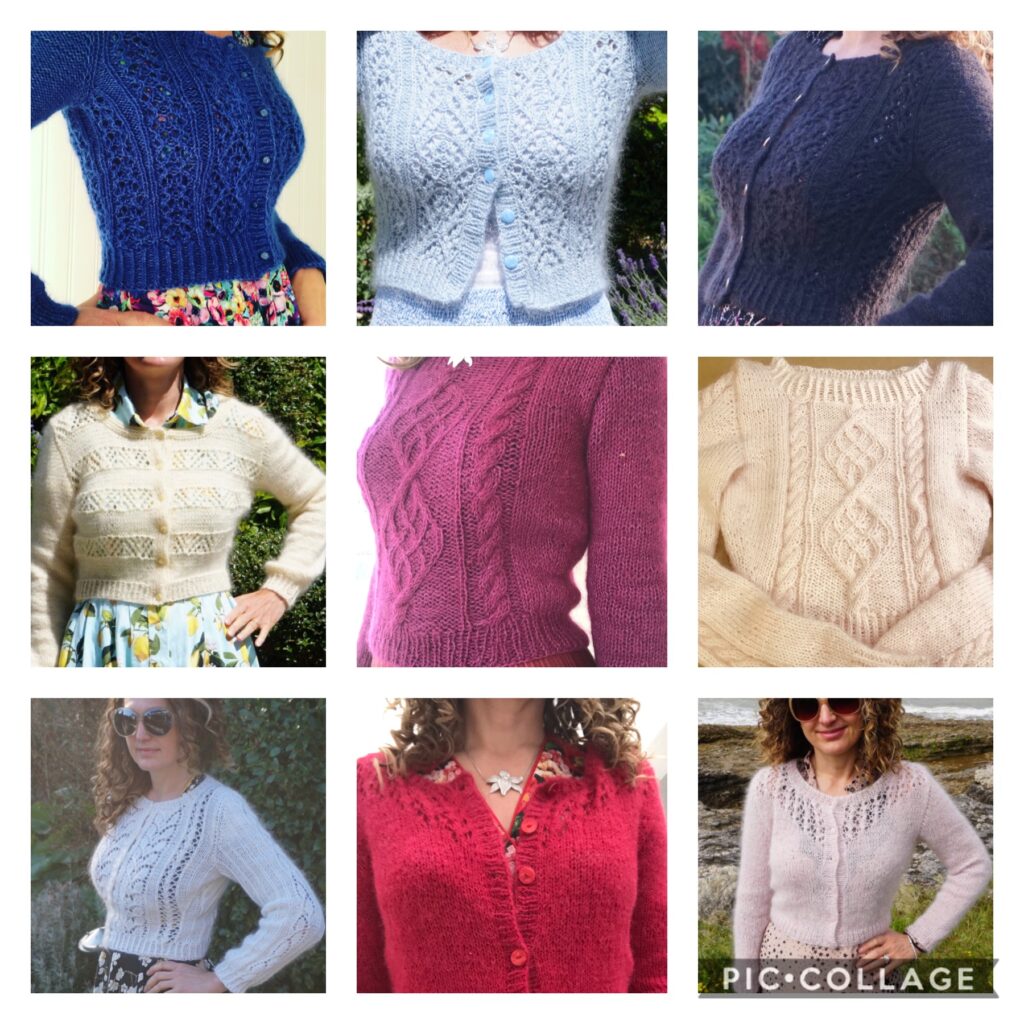 I had been eying Andi's patterns for many years, solely for their style: they have this consistent 50's fitted-and-cropped shape that goes so well with my staple fit-and-flare dresses. But when I started using the patterns, I had a big surprise: they are so amazingly clear! Everything is written down line-by-line, in the most simple manner, it is truly amazing! After that, it is really hard to follow other more convoluted instructions. And the fit is always spot-on, so no bad surprises on sizing. I am definitely a fan.
And a few flops obviously…
In case you are wondering, not everything went smoothly this year. My major disaster was at the beginning of lockdown 1, when I re-knitted three times a cardigan in size 3 needles, to realise it was far too big and my knitting was completely irregular. No picture for this one, it went directly to the bin.
A smaller-scale disaster was a recent baby project, for which I knitted the entire body and a full sleeve but then in a moment of madness pulled on a string… and unravelled everything… Arrrggghhhh!
My other fail was my red Salal cardigan, for which I did not use the right wool – it ended up too big and with a very irregular texture I abhor. This one went to the charity shop.
And a semi-fail: a Blossom cardigan for my daughter, longer than mine and in the colour she asked for… and which hasn't been worn a single time! Oh well…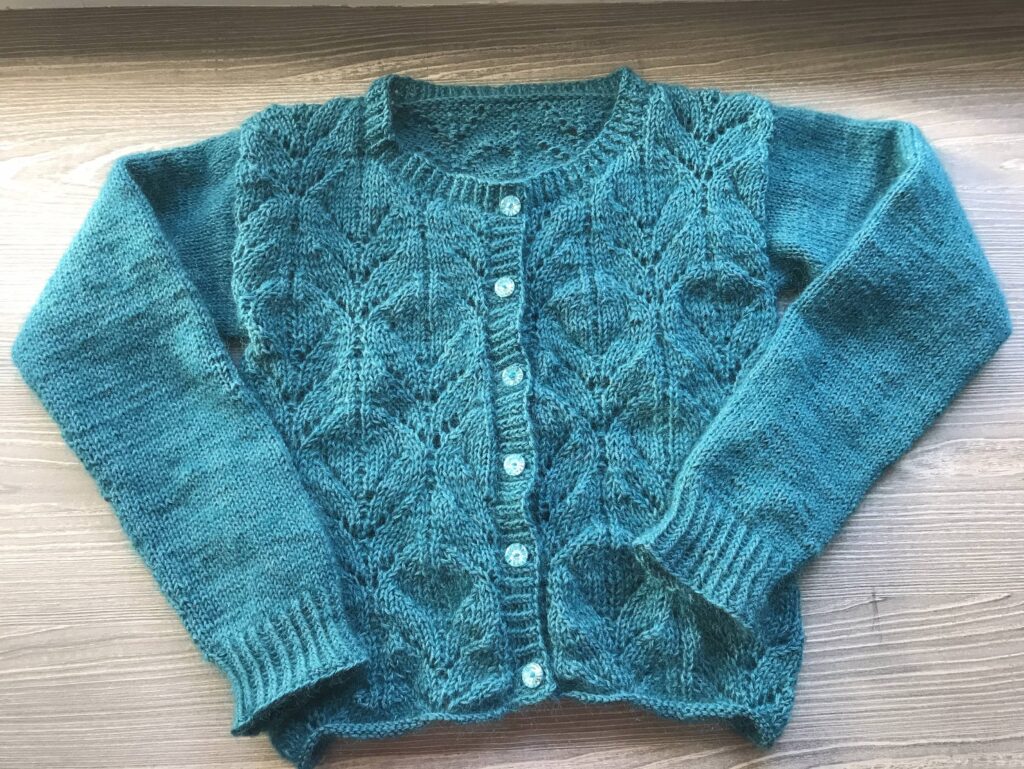 Conclusion: my most relaxing hobby
Knitting is such a different hobby to sewing !While I'm so focused on the end when sewing, when I knit it is more the process than I enjoy. Projects take so long anyway that there is no point counting the hours spent! If you haven't tried I definitely recommend you give it a go!
---
2 responses to "2020 knitting in review"