Blossom Cardi in Lily White
This post is also available in: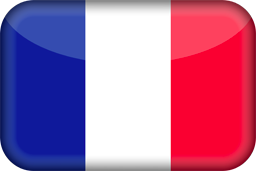 Français (French)
Another lock-down knit, another cardigan: here is my Blossom cardigan in Lily White.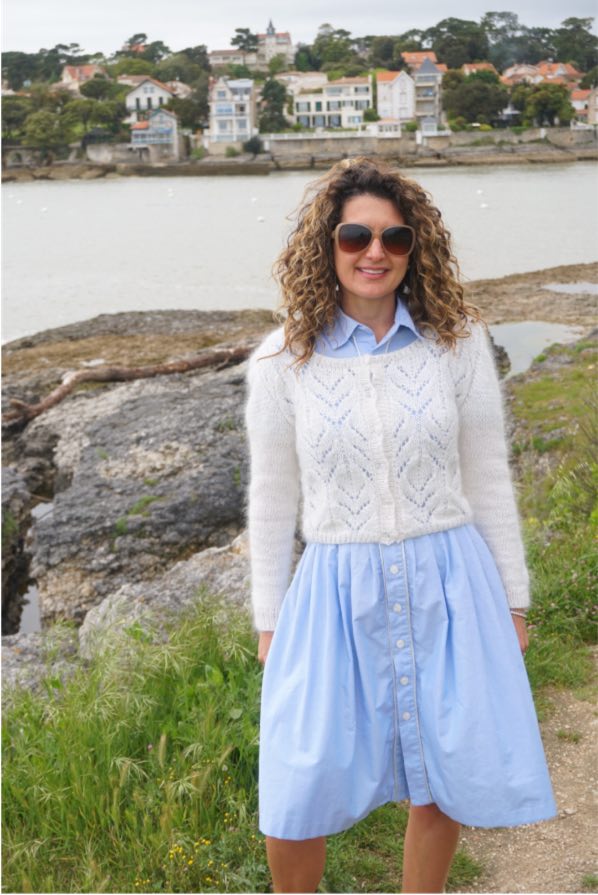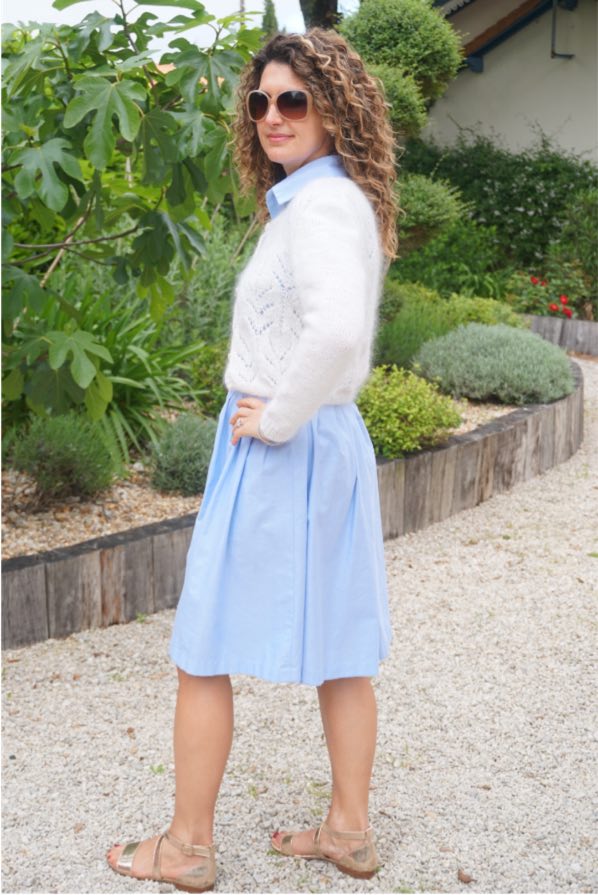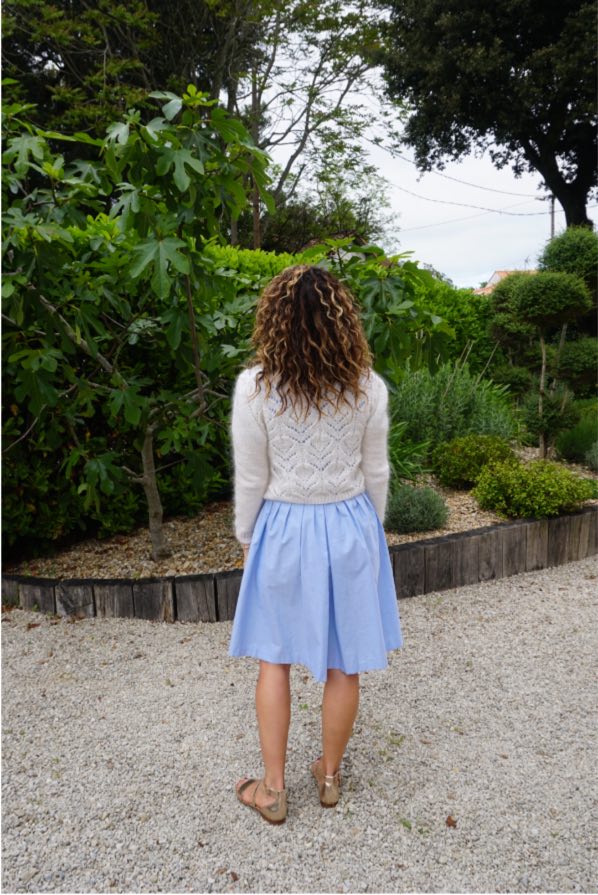 Blossom was designed by talented designer Anna Dervout and I am an absolute fan – under my needles first came the shawl, then two jumpers, the only thing missing was a cardigan!
But the one designed by Anna did not suit me, as the lace motif only appears at the back – what a shame! So ever since knitting my first Blossom jumper, I dreamt of a white cardi with full-on lace – here it is.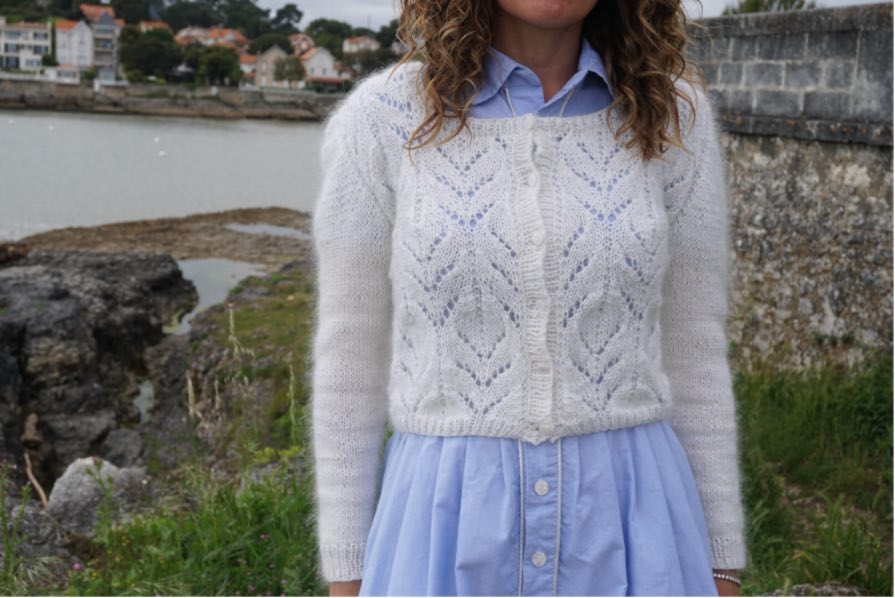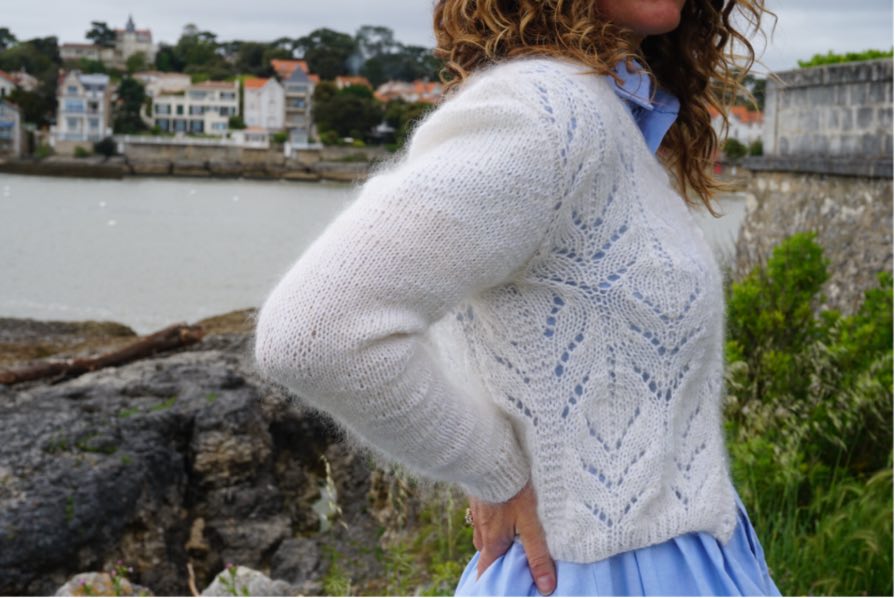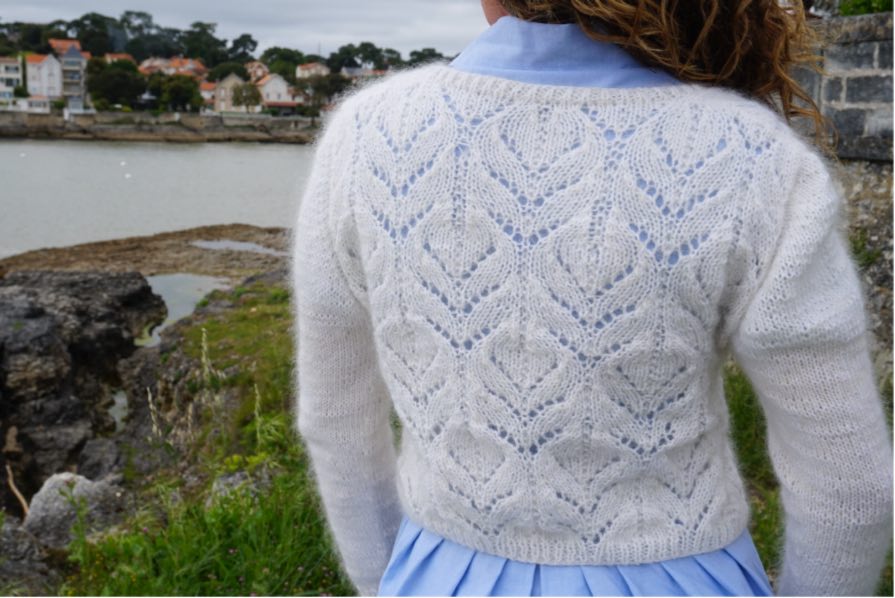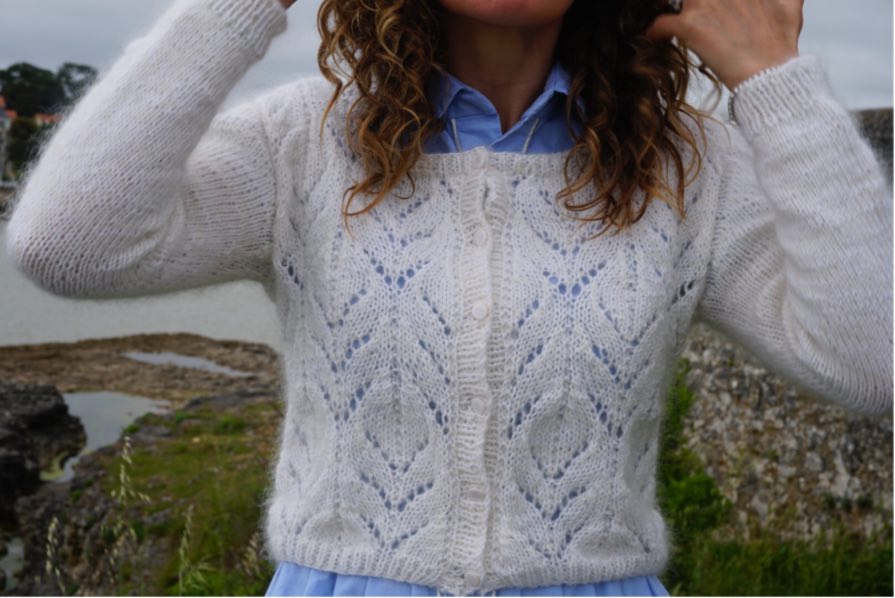 I did not use any specific pattern for this cardigan but obviously used the Blossom motif; and I also got quite a lot on inspiration from the Salal cardigan pattern for proportions. Here are a few details that could help if you're planning to knit a similar cardigan:
As I wanted a snug fit I casted on 8 motifs (16 stitches each), plus two additional stitches at the beginning and at the end (to attach the button placket); and three stitches in the middle for interruptions – these were for too much, miss!
I knitted 27cm from bottom to under-arm to achieve a cropped lenght and 19cm from under-arm to top, to get more ease at the sleeve opening than the (tiny) 15cm recommended by tyhe pattern.
I started my front neckline decreases 10cm above the under-arm, initially binding-off 10 stitches (2 beginning stitches + half a motif), then 2 stitches 4x on front rows.
For the button placket and the neckline, I knitted 6 rows of stockinette.
I used 4mm stitches for the body and 3.5mm stitches for the ribbing – but my knitting is very loose.
I knitted in a combination of Drops Baby Merino (5 skeins) and Drops Kid Silk (4 skeins), which is a combination I absolutely adore for it softness and it fluffy effect; and which I've used A LOT In my recent project
As for any self-drafted project, there are a few things I would (and did!) change for the next one. I am not a fan of the sides; and the sleeve opening is actually a bit too big. But these small details aside, I am very happy with this cardi – and quite proud I could achieve my vision and end-up with something more than decent!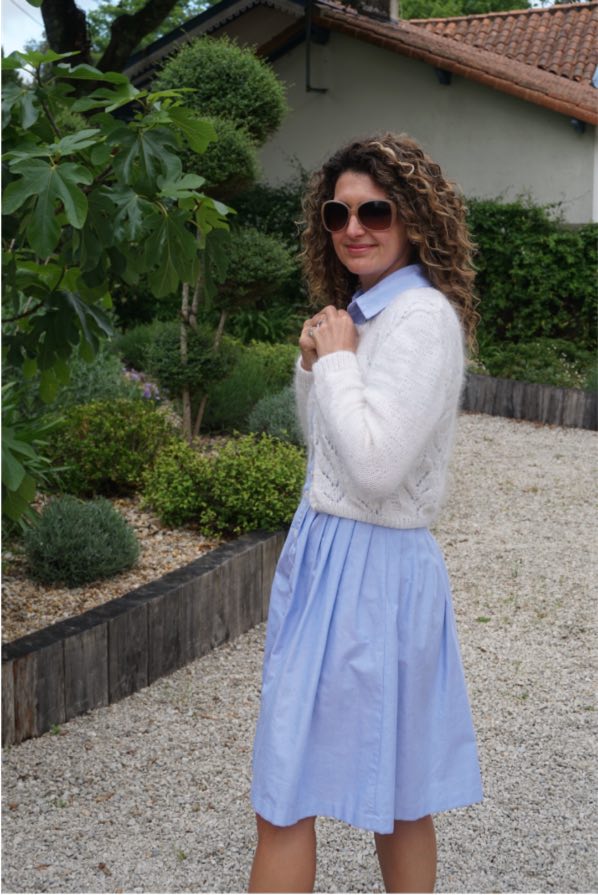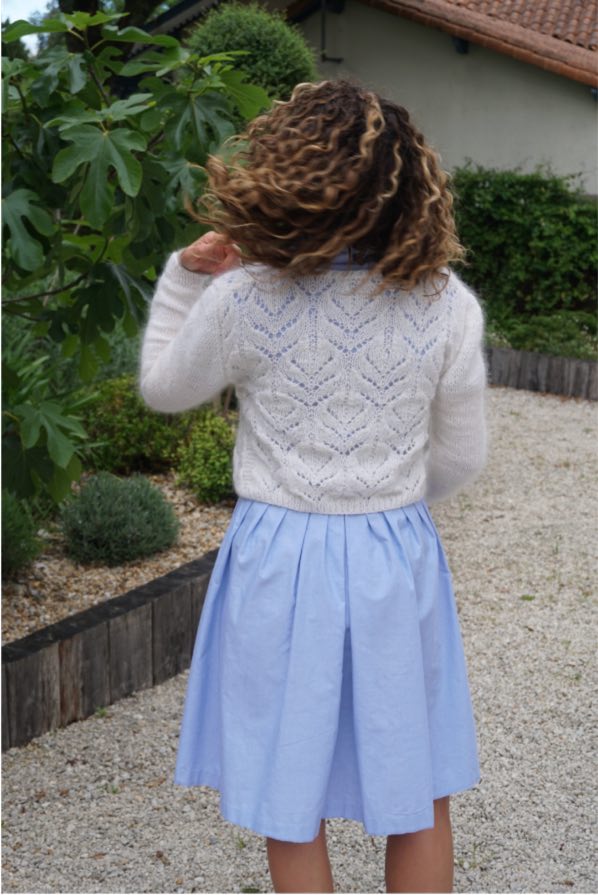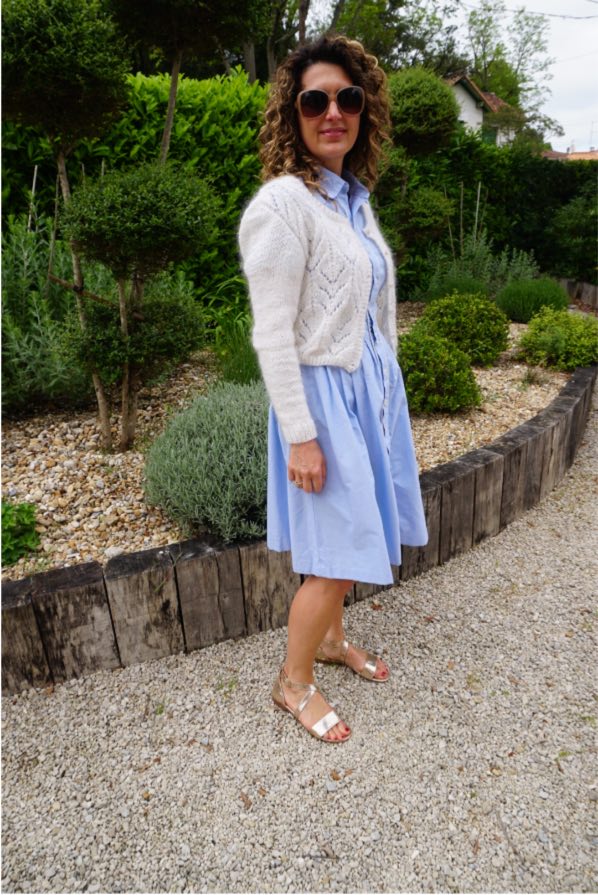 You've obviously guessed – another Blossom cardi was knitted and you will see it soon. Being slightly out of my usual colour palette, it just needed a matching skirt which I finished… today!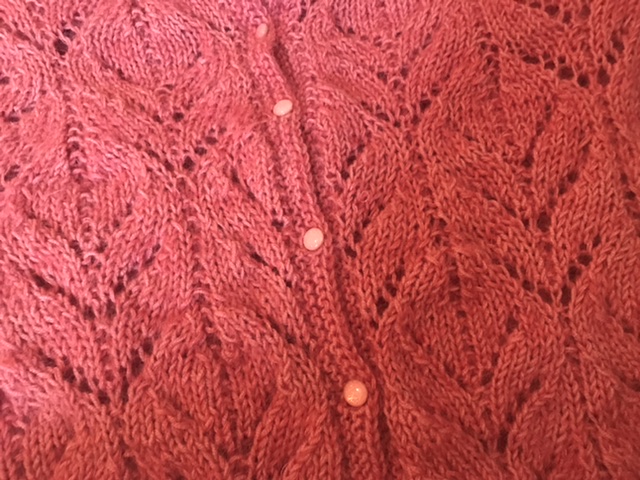 ---