My girls' Blossom jumpers
Once they saw my amazing lace Blossom shawl knitted earlier this year, both my girls were over-excited to discover I could make such pretty things – they had been used to my rather randomly-sized, irregularly knitted self-drafted horrors (they are SO good to wear them). I therefore had the perfect excuse to use this beautiful motif and knit them two Blossom jumpers one after the other- here they are:
Blossom was designed by talented designer Anna Dervout and there are three knitting options available: a shawl, a jumper and a cardigan. The motif is beautiful but actually quite easy to knit, as on top of knit and purls they are only three stitches you need to know: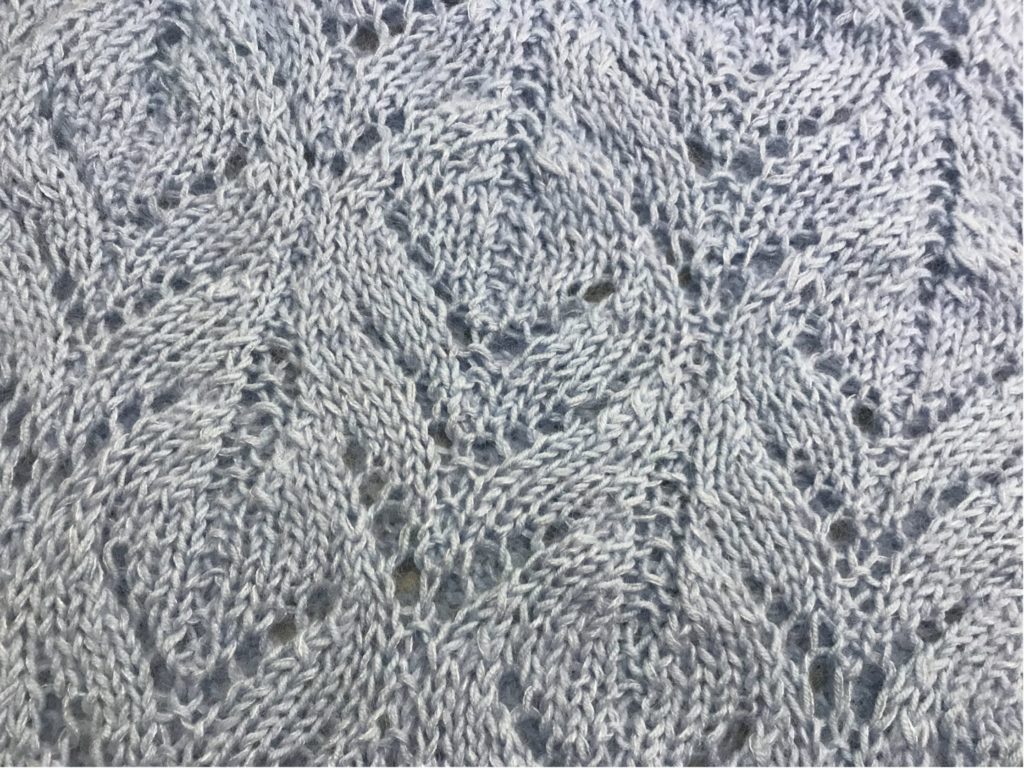 I had found the shawl quite complex, as on top of the lace you needed to manage increases, to create a triangle. So I must admit the jumper was a huge relief! – you just need to repeat the same motif several times, without too much thinking.
To avoid mistakes, I had the genius idea (only for the second jumper though!) to put a knit marker at each motif beginning. It increased my knitting speed considerably, as I was able to identify mistakes immediately rather than go a full round before. I also used markers for my sleeve decreases.
My first version was the pink one. The technicalities are the following:
Needles used: 3.5mm for ribbing and 4mm for body and sleeves (a size below the one advised by the pattern but my knitting is very loose).
Yarn used: knitted in double-year, using Drops baby merino light pink 05 (6 skeins) and Drops kid silk light pink 03 (5 skeins). This is a yarn combination similar to the one I used for my shawl and I love how soft it is to the skin.
I used the second size of the pattern with no modifications whatsoever.
I was actually quite disappointed by this jumper for several reasons:
First and most obvious, it is far too big!! I think I made the mistake of underestimating the loose aspect of the pattern – and neither I or my girls are into loose tops!
Second, I dislike the dropped sleeves shape – it was visible on the presentation pictures of the designer but I did not pay enough attention.
Third, the sleeve opening is far too tight – 15cm, while for my (very fitted) Chuck jumper it is closer to 19. I should definitely have checked before!
But on the other hand I was enamoured by the motif and the yarn combination. And as my older daughter was very keen to get her jumper, I knitted a second one! And this one is just… PERFECT!!!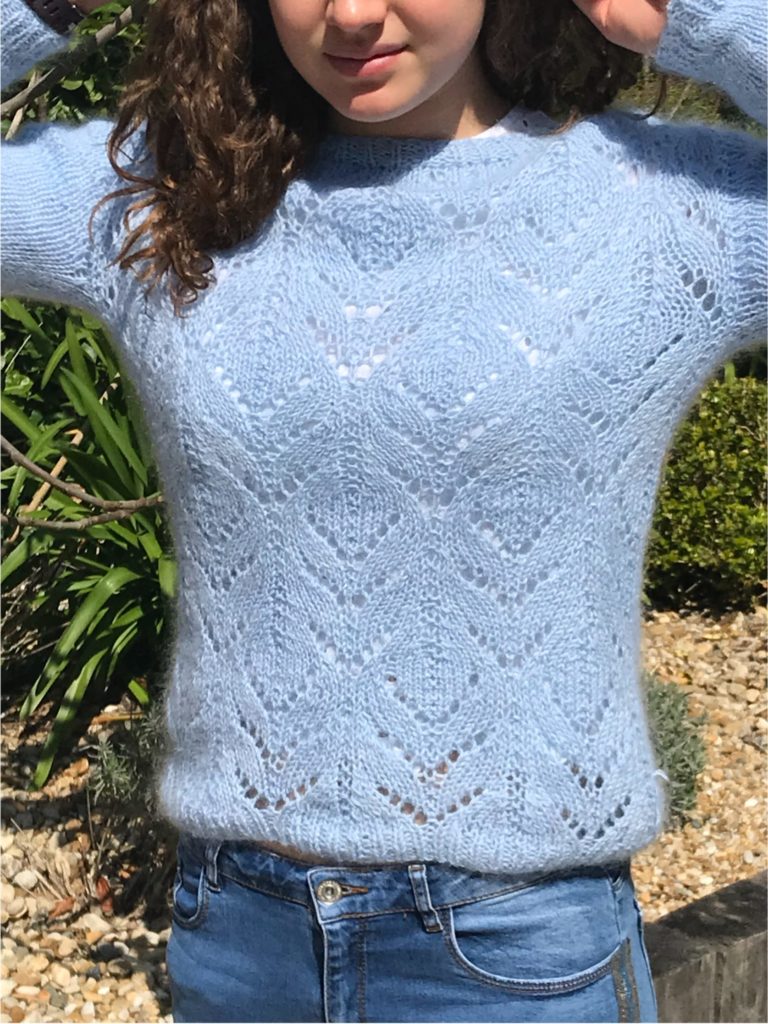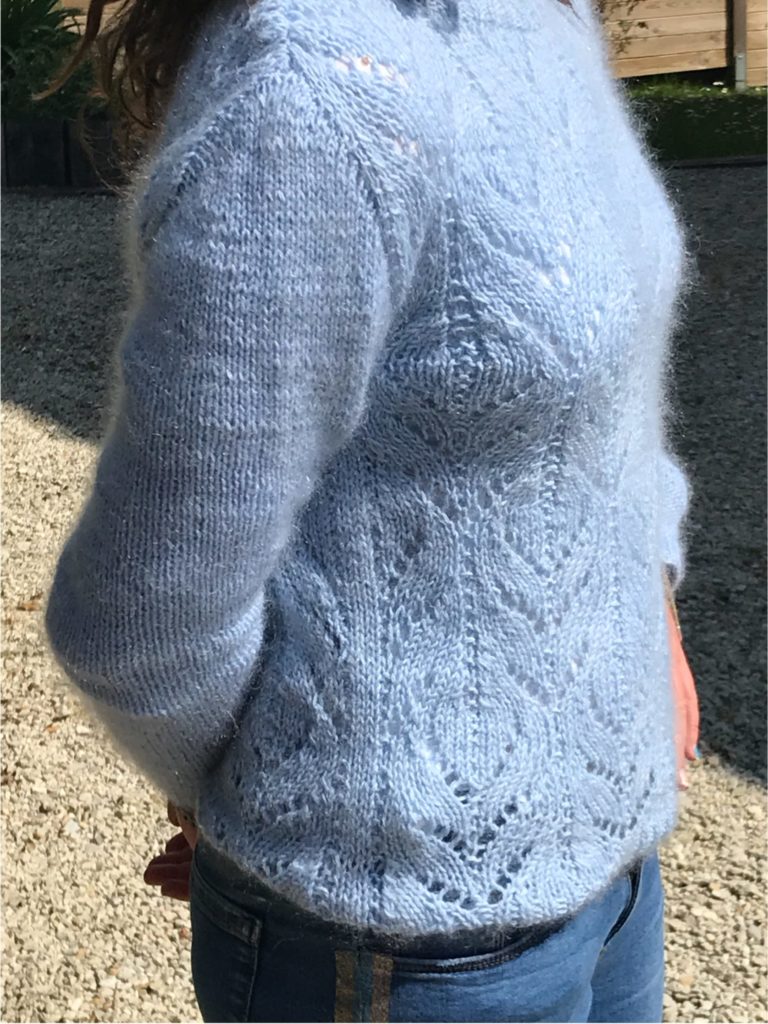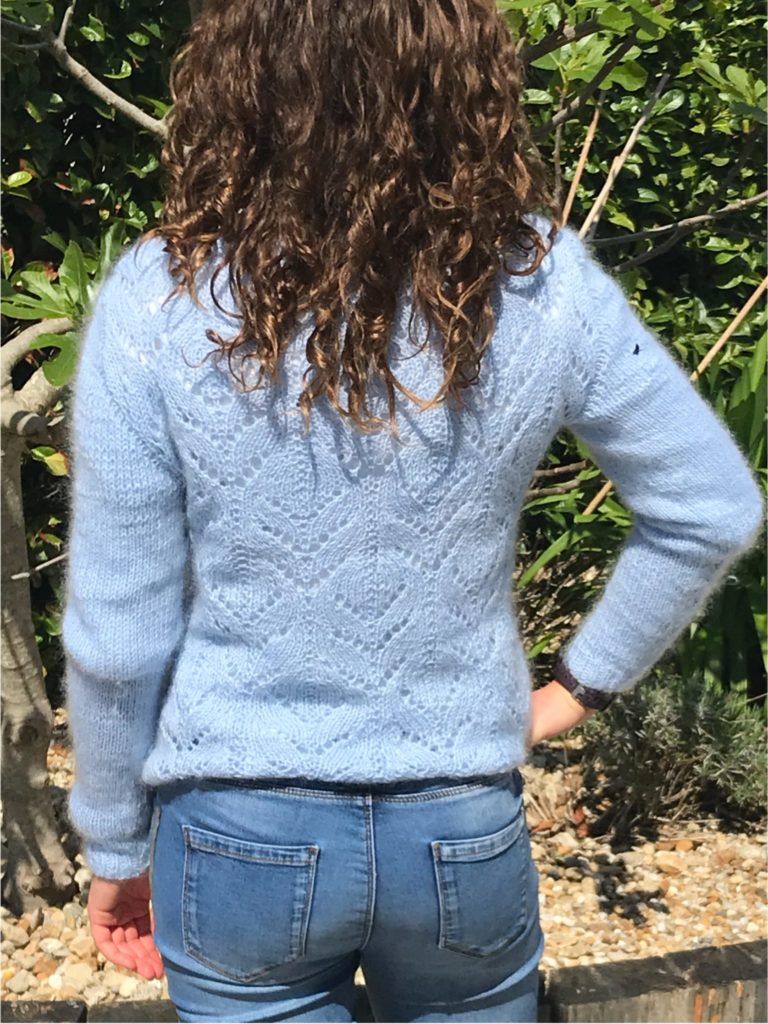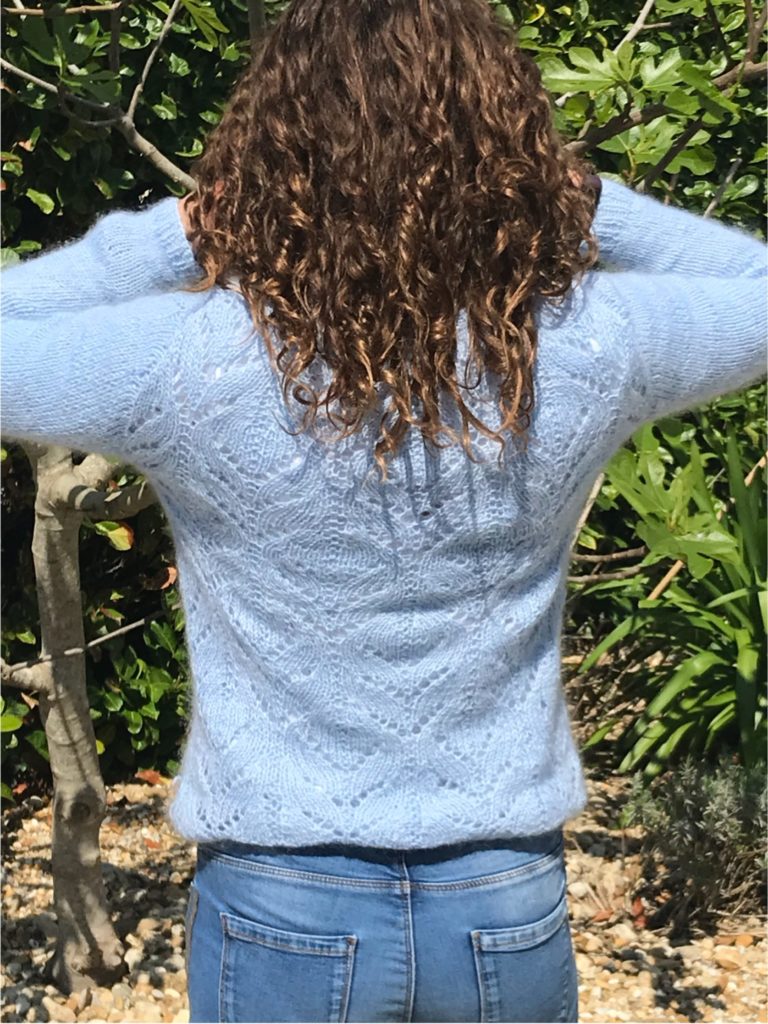 The yarn combination is Drops baby merino ice blue 11 (5 skeins) and Drops kid silk light steel blue 07 (4 skeins) and the needles used are the same. The main changes I made are these:
I reduced substantially the size – one size below the smallest recommended, with only 4 motifs at the front and 4 at the back (in case you are wondering my daughters, despite being two years appart, are the same size – which also happen to be my size, how convenient is that!).
I shortened the body length to what my daughter liked (bottom to under-sleeve is 37cm) – was it for me it would be even more cropped.
I increased the sleeve opening to 19cm.
I shaped the sleeves using German short rows, using the technique of the Chuck jumper – not more dropping shoulders!
Obviously it took me so long to write this article that I have now another two Blossom cardigans knitted now… but awaiting buttons to be introduced on my blog. Given how long mails takes currently, I may well post them in the middle of the summer… Of well!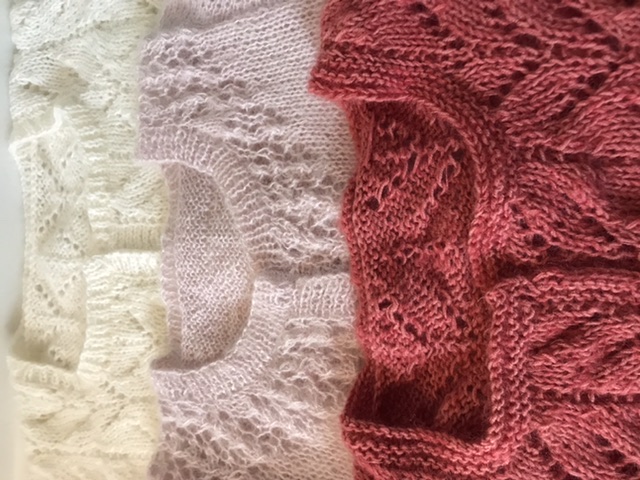 ---