Cozy winter cardis: Agatha and Belladonna
In Spring 2020, I had what I call a "knitting revelation": I discovered that I could easily follow a pattern, after years of being terrified by what looked like indecipherable code. And since then, my designer of choice has definitely been Andi Satterlund, creator of Untangling Knots. I had been admiring for years her 50's inspired designs, a perfectly match to my wide collection of fit-and-flare dresses.
Obviously as soon as I managed to understand Andi's patterns, I got very excited – I am not even sure how many I've knitted over the past 9 months…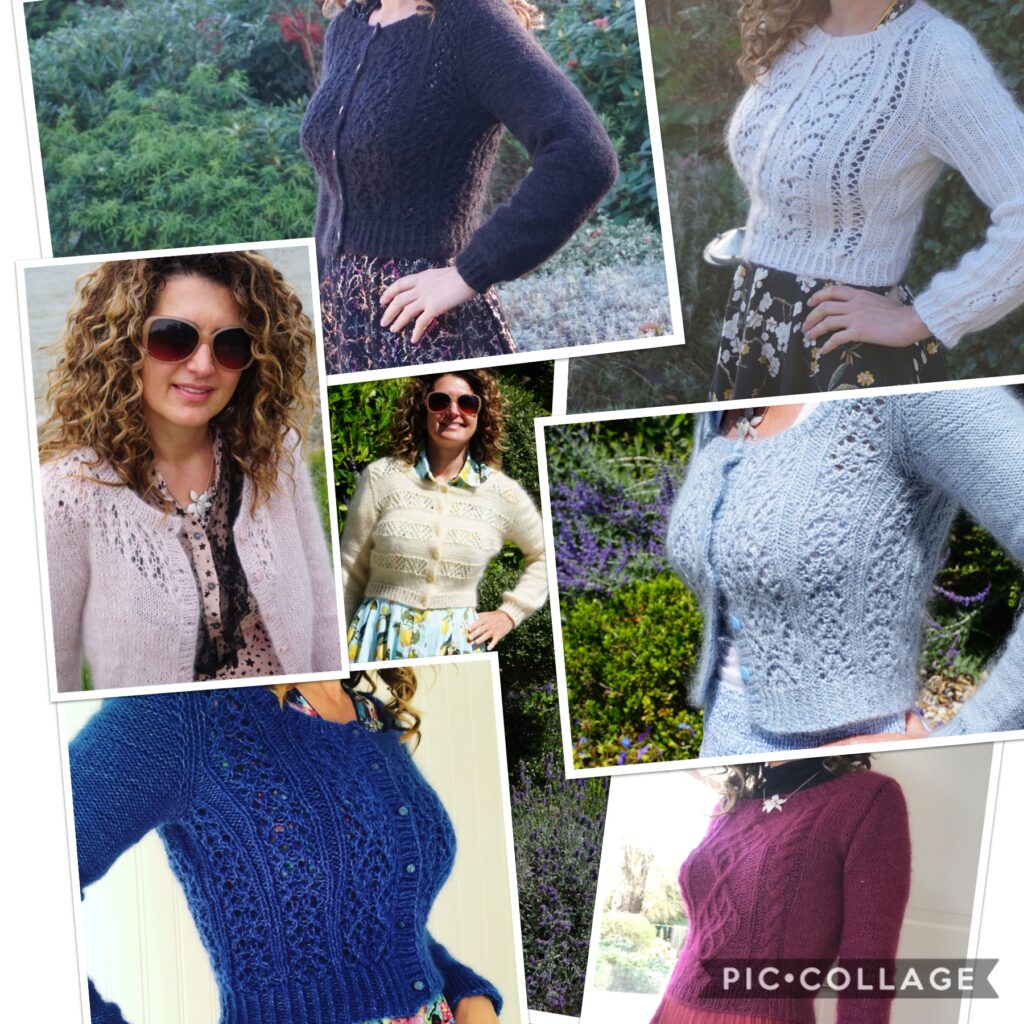 Although the Chuck jumper (wine version above and another pink version not shown) was my first ever Andi Sutterland knit and will as such always have a special place in my heart, I have a clear preference for cardigans. I have already presented in this blog my two Belladonnas (pale blue here and royal blue here); but I have also knitted two versions of Salal (pink beloved version above, as well as a failed red version due to the wrong wool choice); and a yellow version of Wainthropp.
In the middle of this rainbow of colours, I was really missing neutral cardis, especially as my wardrobe is definitely more subdued in winter than in summer. Problem solved now: let me introduce you to my two new makes, my black Belladonna …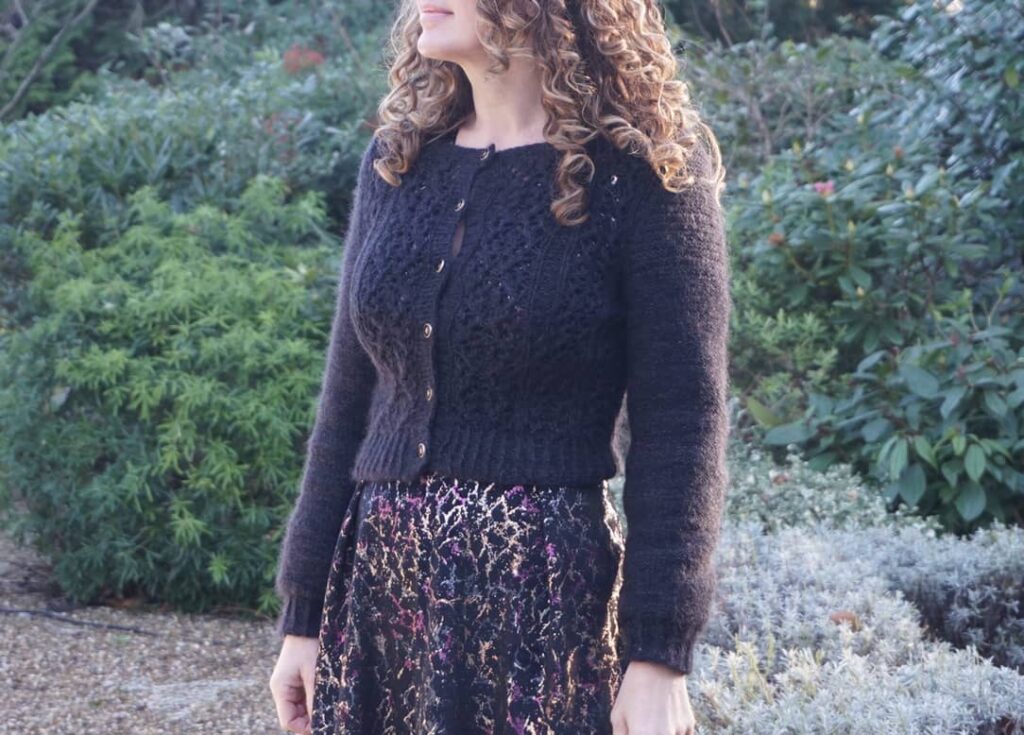 and my off-white Agatha: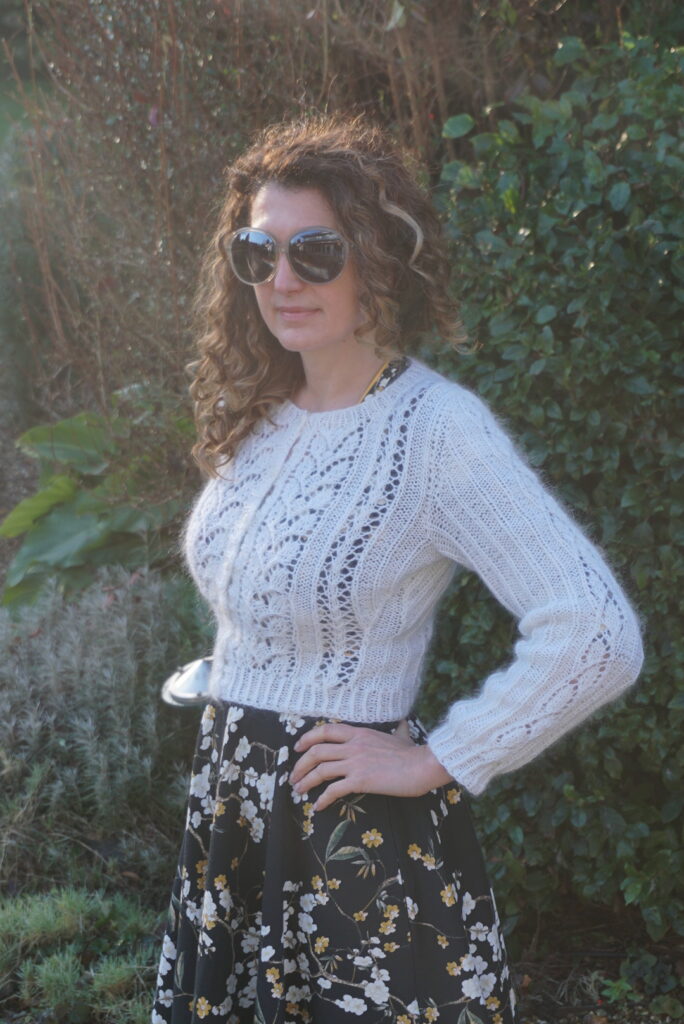 Both cardigans are actually quite similar in many respects: they are knitted in a similar way: bottom up and seamless, with A LOT of lace.
The construction starts from the back, which you knit from the top to the underarm. Then you cast-on each front side at the shoulder and knit them separately down to the underarm. At this stage all three pieces are joined and knit together to the bottom. The sleeves are cast-on around the sleeve openings. The construction finishes with the button and neck bands.
The joy of knitting comes from all the lace inserts. They are two lace charts for the body of Belladonna and Agatha; and a third for the sleeves of Agatha. They are impossible to fully memorise (for me anyway) but very easy to follow line by line – if you count your stitches all the time! (which I personally enjoy)
And the fit is just perfect! There are regular decreases from mid-body, which make the cardigans perfectly huge the waist. And I absolutely adore the cropped length, which not only perfectly compliments my dresses but also makes the project much quicker to knit!
Both patterns use a similar gauge, which works well for my favourite combination of Drops Kid Silk ad Drops Baby Merino knitted as a double strand. For my black Belladonna I used 21 black baby merino and 02 black kid silk; and for my off-white Agatha I use 01 white baby merino and 01 off-white kid silk. I knitted both cardigans in the smallest size offered (but my knitting is quite loose).
Here are more pictures of Belladonna – sorry for the poor quality but black is so hard to photograph! My only deviations from the pattern and from my previous projects is that I substantially raised the neckline and did not do any decreased for the sleeves. It makes the cardi much more versatile and comfortable to wear.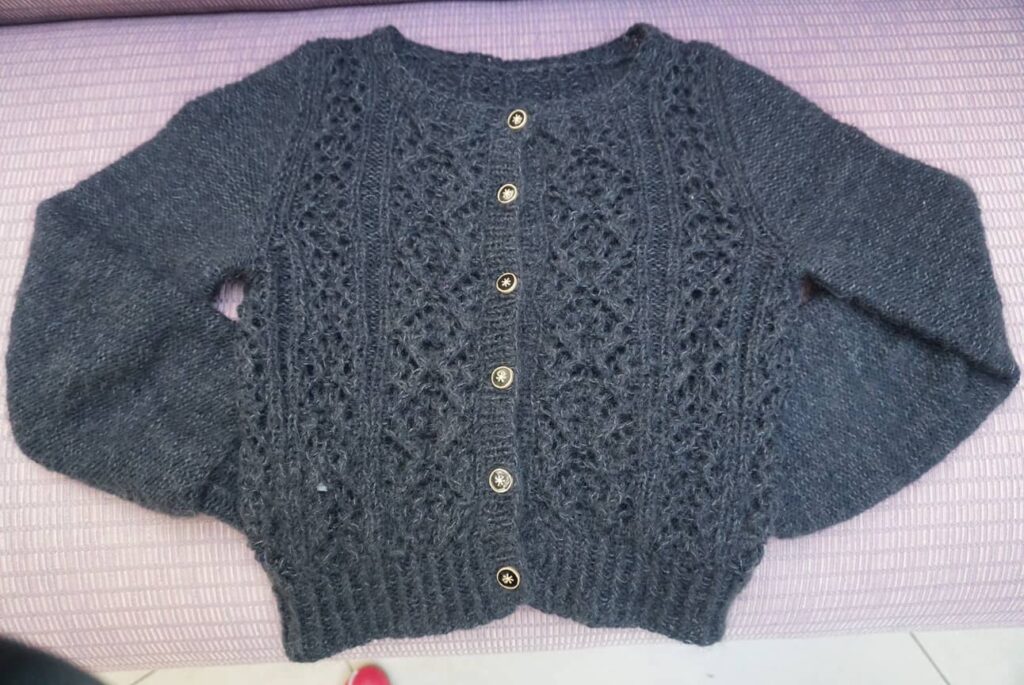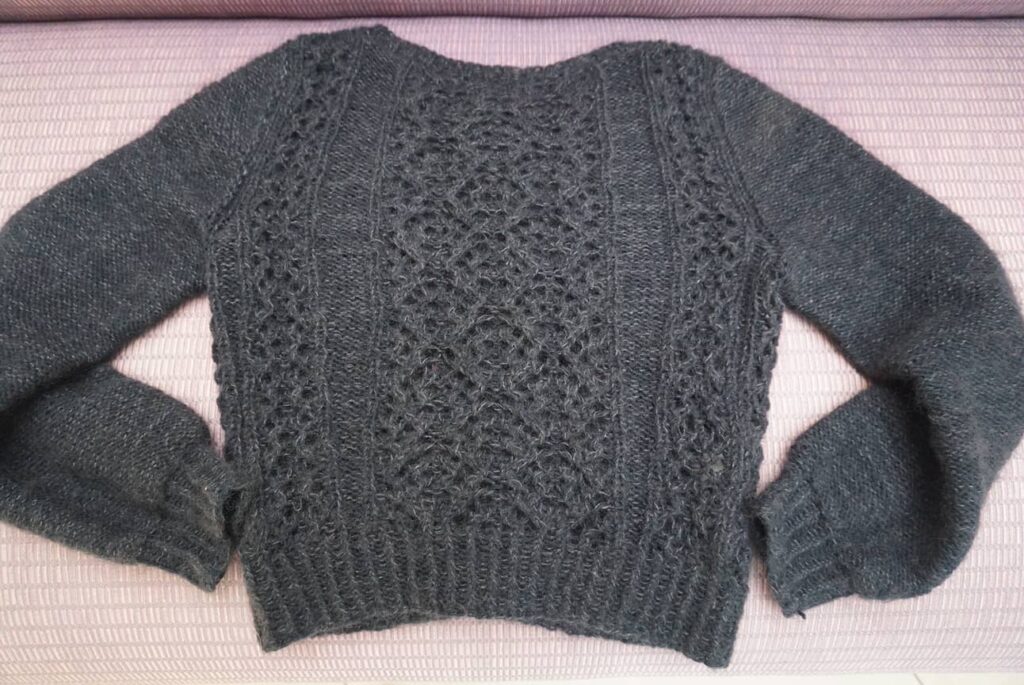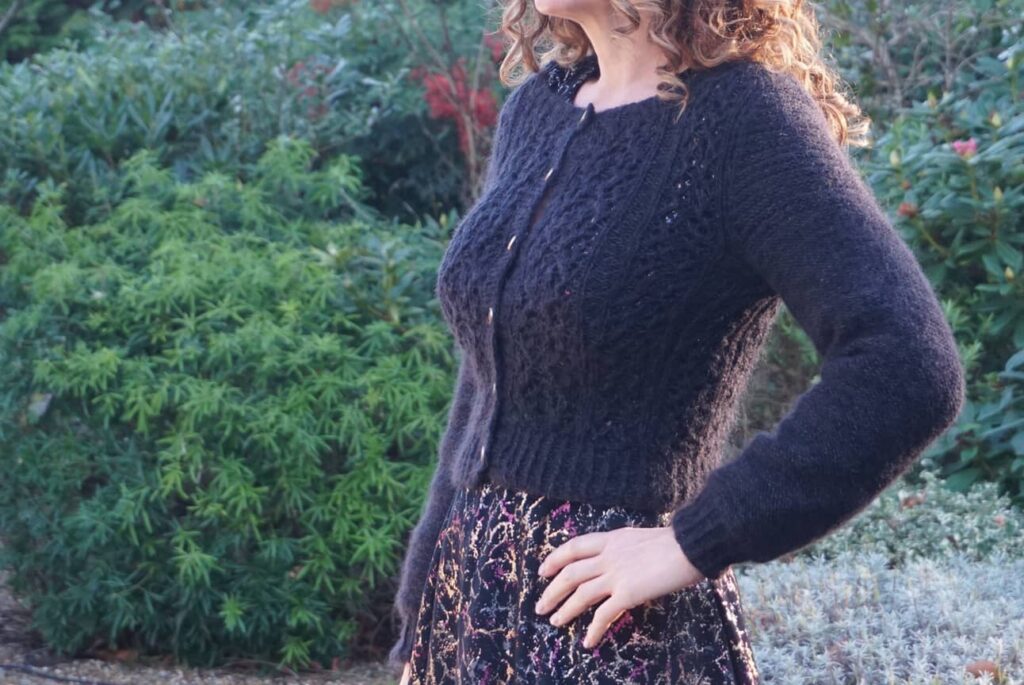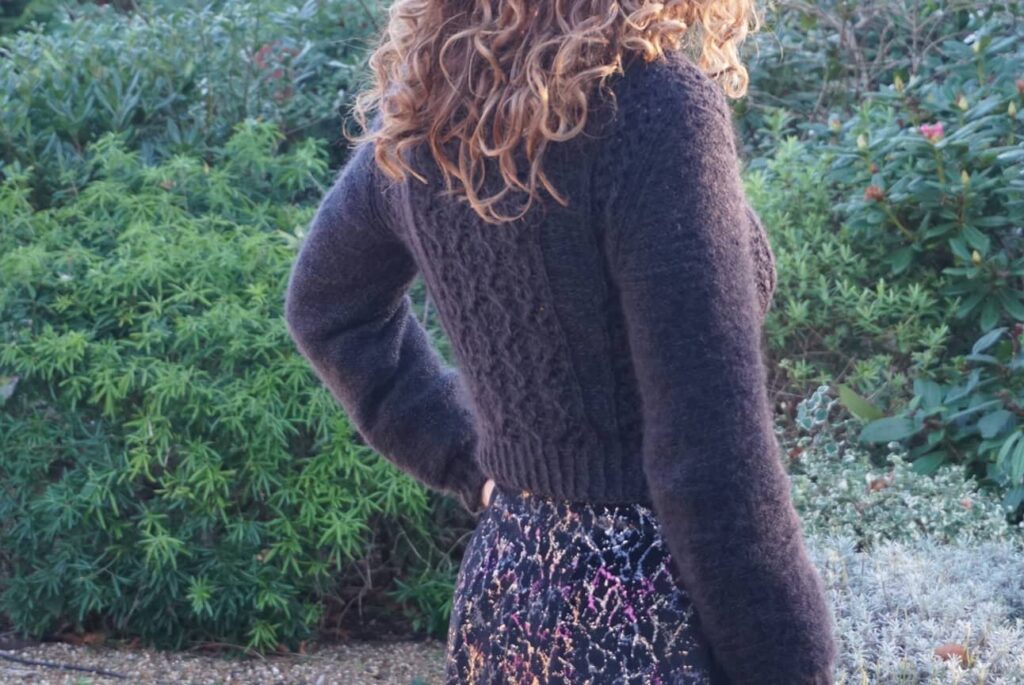 As for Agatha, this was my first time knitting it so except for making the sleeves larger by not making any decreases, I religiously followed the pattern. I particularly like the leaves design of the lace; but I am less a fan of the ribbing lines – although I like them more on the pictures than while wearing them (don't ask why!).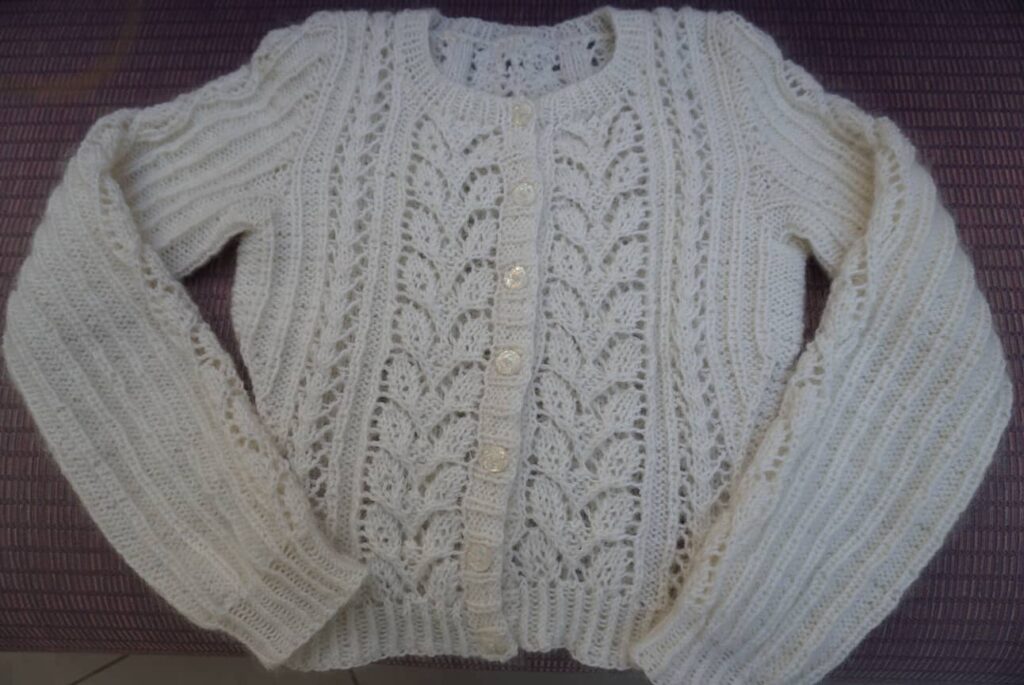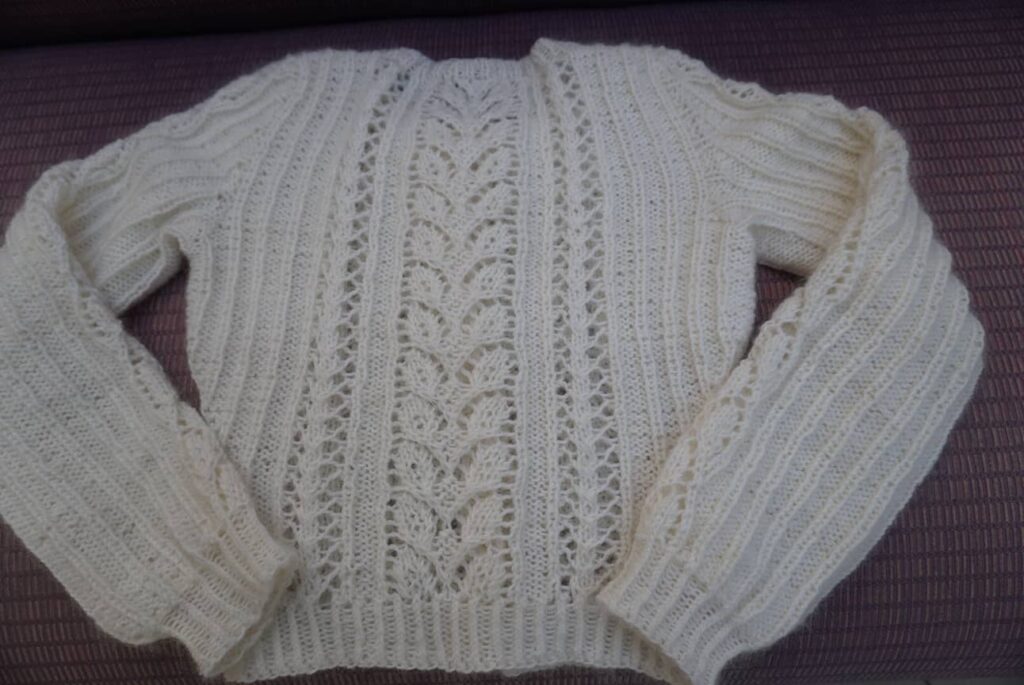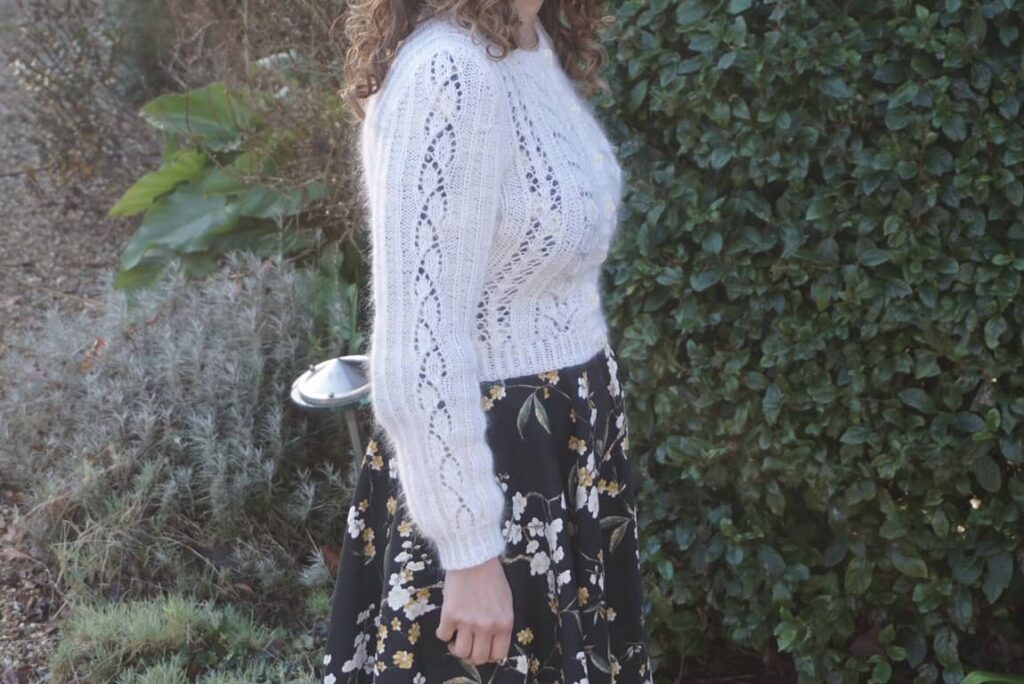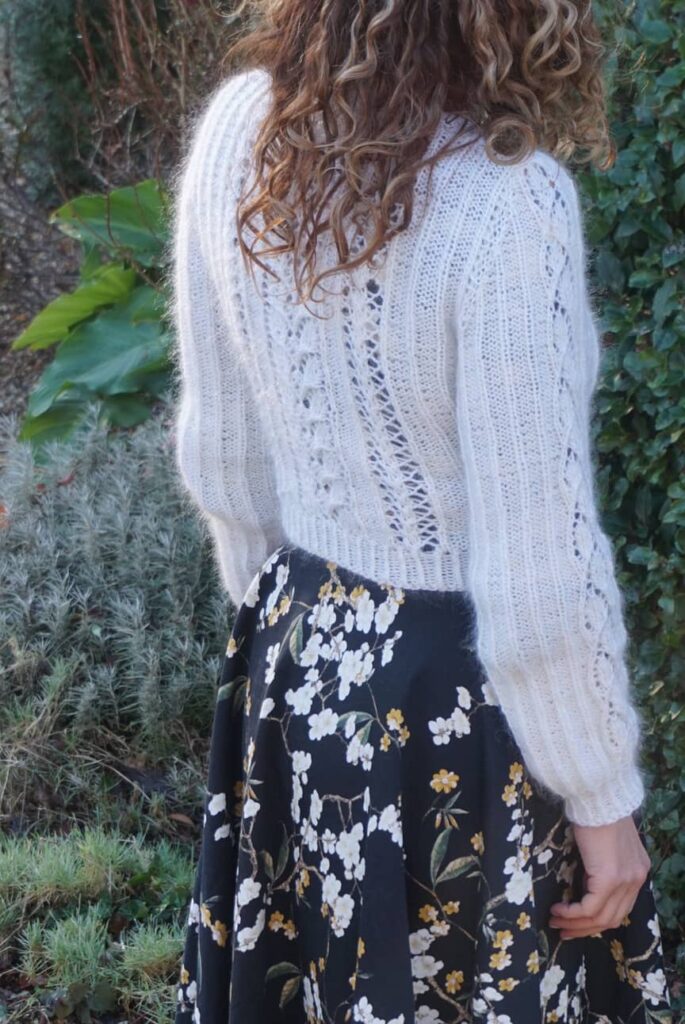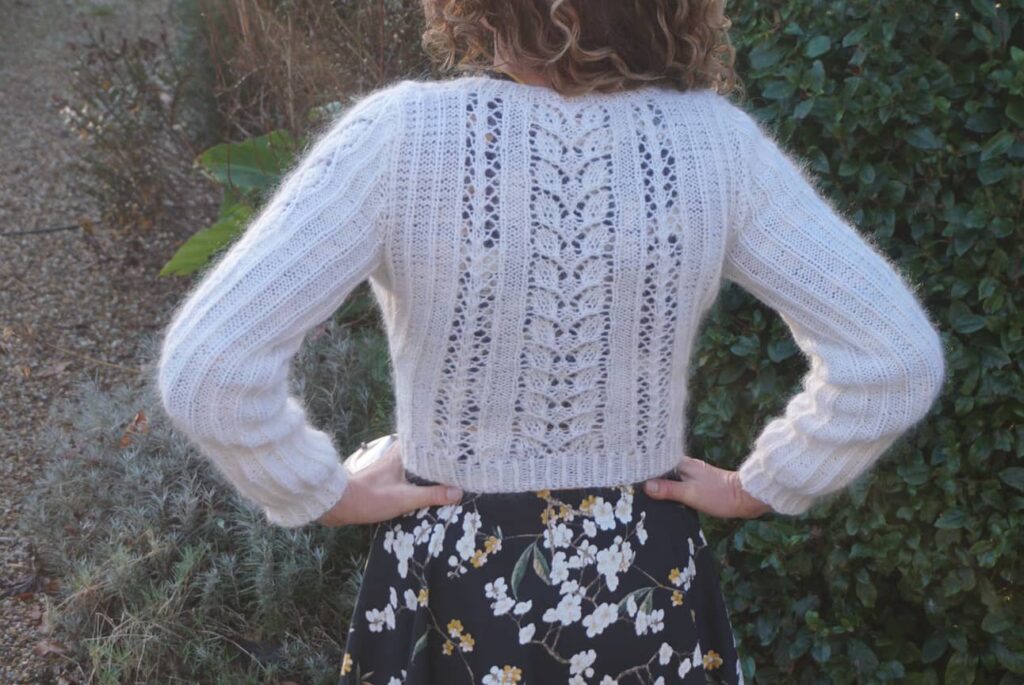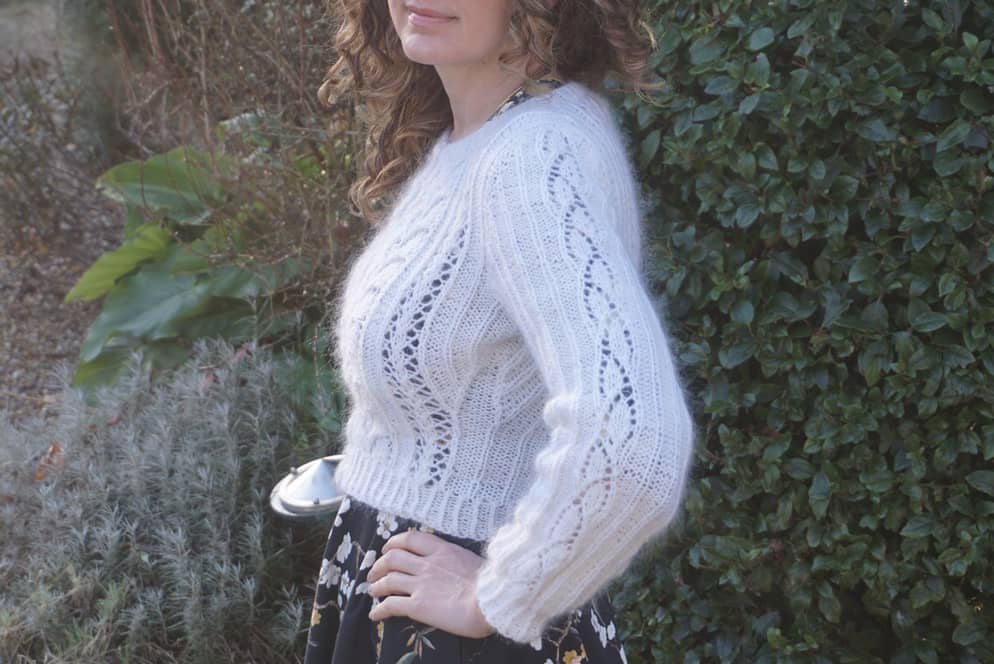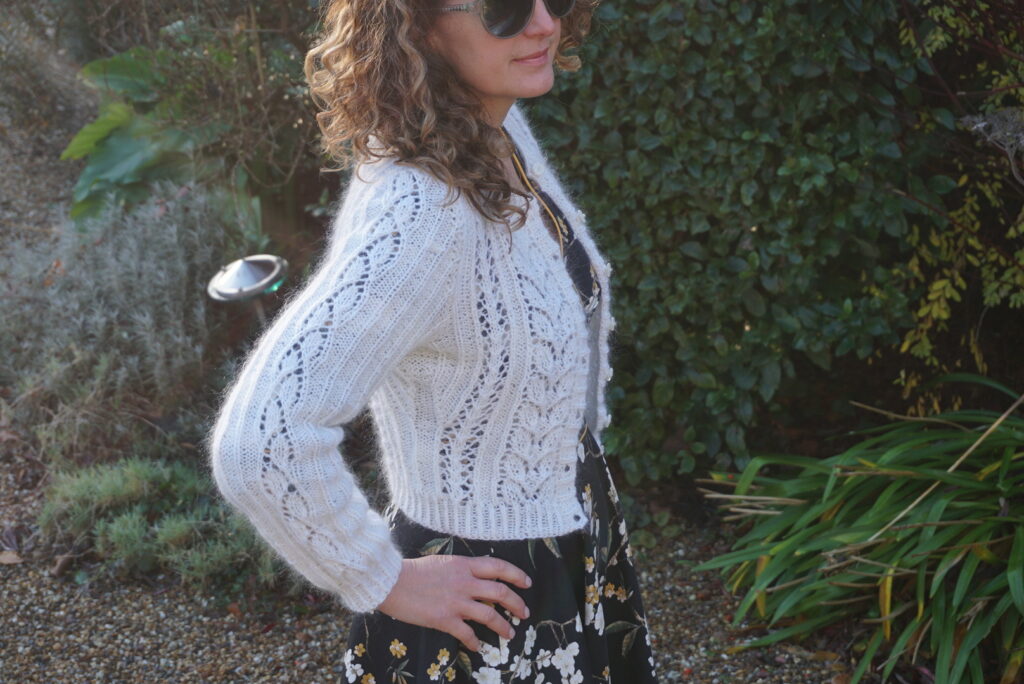 Overall I m very pleased with these two new knits – the black Belladonna in particular has been of so much use since finished! I am seriously thinking of making another black cardi as this is such a useful colour for me in the winter. In the meantime I am considering more basics: pure white and navy would be good additions to my cardi collection. Too many projects, too little time as usual!
---