Long Desired, Finally Knitted: My First Untangling Knots Jumper
This is definitely a major achievement in my knitting life: I have finally managed to knit an Untangling Knots jumper, specifically Chuck. And I just think he is the most handsome thing I've ever knitted!
I had been eying Untangling Knots knitting designs for years, after discovering them on Dolly Clackett's blog – if you don't know her yet, Roisin has the most amazing collection of handmade 50's-inspired dresses, and her Untangling Knots cardigans perfectly compliment them.
I even bought the Chuck pattern two years ago but… I just couldn't understand anything! I tried but I couldn't even understand how to cast-on the initial stitches. Being a top-down, French knitter, I did not understand the bottom-up construction method, the logic of the pattern, the abbreviations…
But as I progressed in my knitting over the past few months, here are a few things that helped:
First, I discovered this amazingly helpful website, which explains all the abbreviations and shows you in photos and videos how to make all possible stitches – this has been like a miracle in my knitter's life!
Second, I started knitting from patterns (previously I just knitted pattern-free shawls and randomly self-drafted jumpers) – I found the Along Avec Anna patterns particularly straightforward for pattern beginner. I started with the Blossom shawl and followed-up with two Blossom jumpers (soon to be blogged).
Third, the logic of the Untangling Knots patterns finally became clear. They seem to follow this logic: start from the back, keep on hold when at the under-sleeve level, attach the front, start knitting in round when the back level is reached, then add the sleeves. This techniques results in a completely seamless knit and a perfect finish.
So here I am, having completed my first Chuck in bit under three weeks. I must say I am utterly pleased with myself!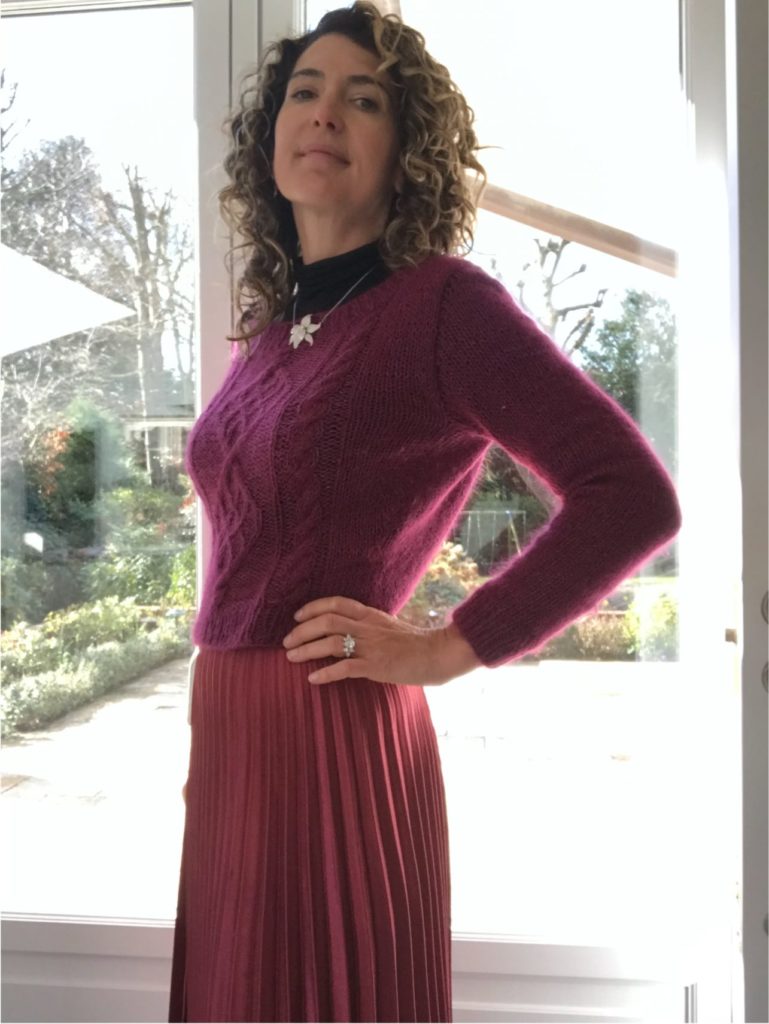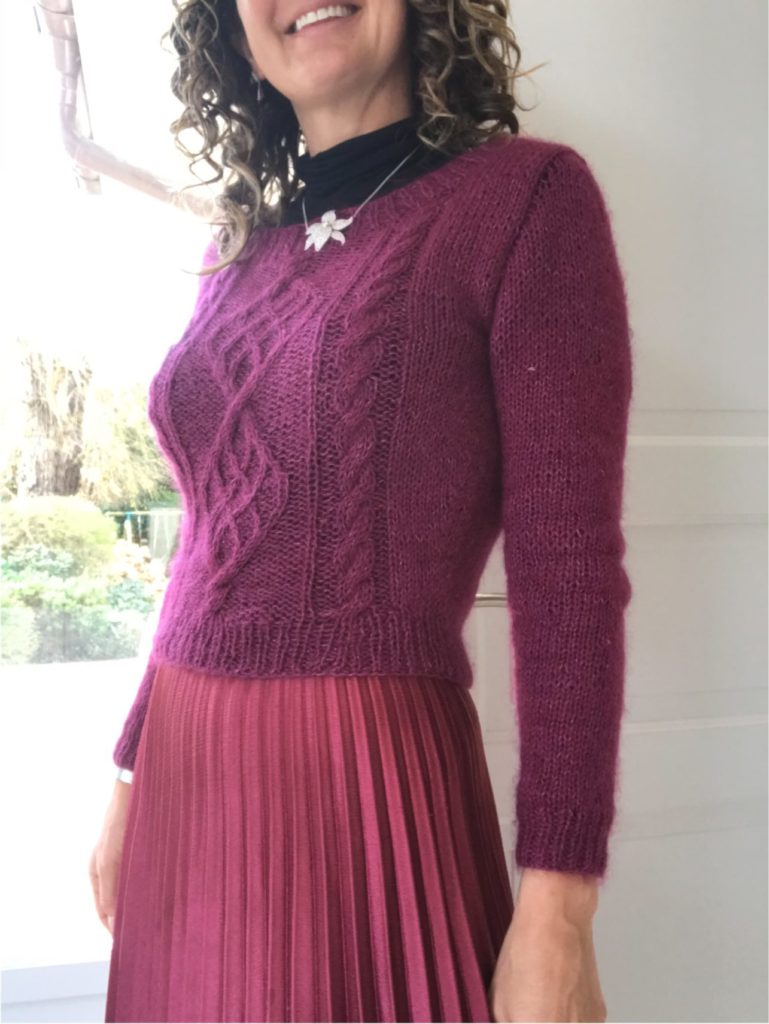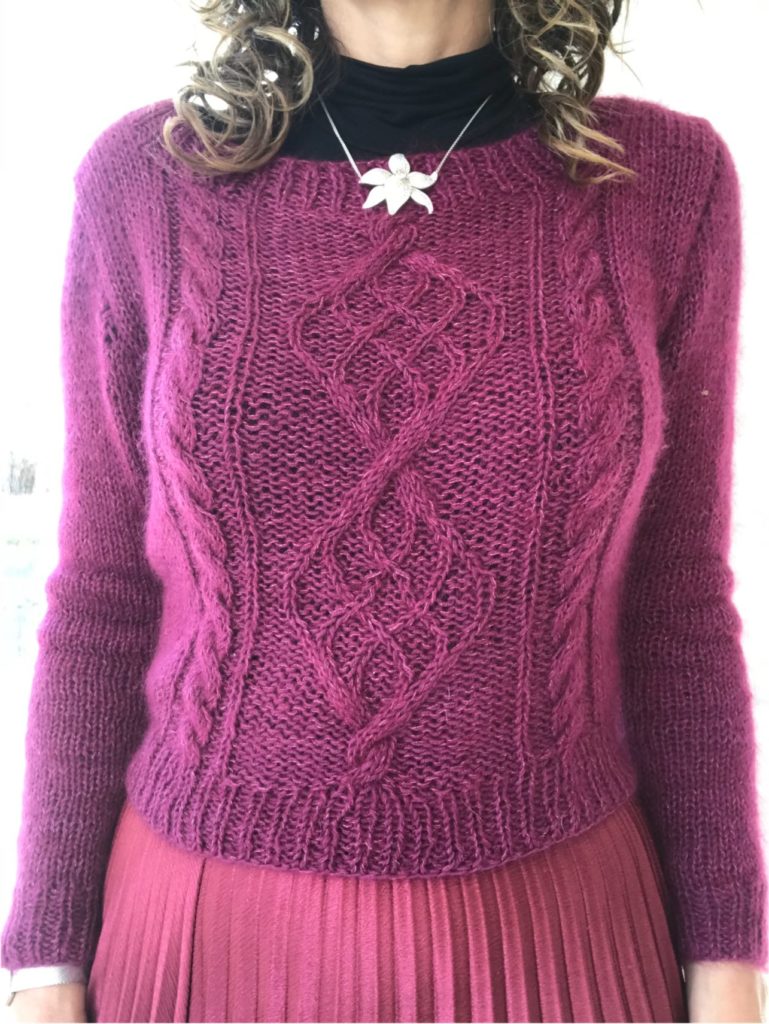 I absolutely love the fit and shaping of this sweater – except at the back, where it does look a bit loose. I think it is related to my unusually narrow shoulders but I don't really know how to sort this out without making the front too narrow – I think I will contact the designer for advice, as I am very keen to knit the exact same jumper in several other colours!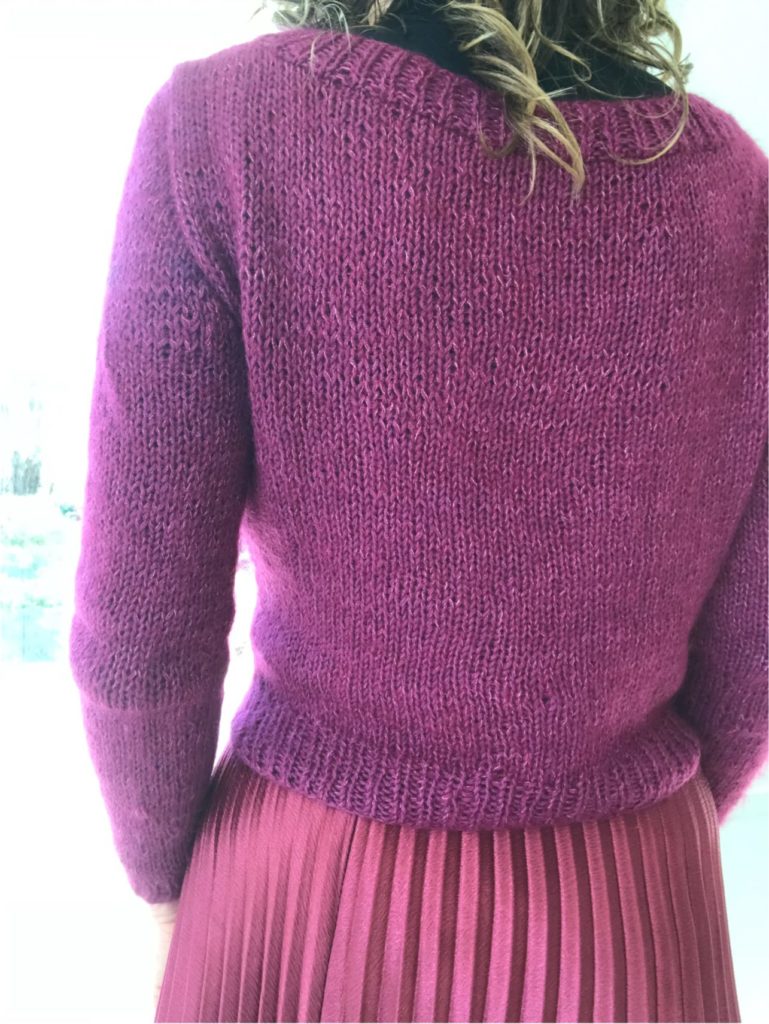 As for technicalities:
I am a UK size 8/ FR size 36 and I knitted the smallest size available.
I am a very loose knitter and achieved the right gauge using #4 needles and a combination of Drops Baby Merino yarn – colour 34 Heather, 4 skeins; and Drops Kid Silk – colour 17 Dark Rose, 3 skeins.
I used #4 needle for everything except the ribbing, where I used #3.5 (this is my only deviation from the pattern).
Not much else to say except that you're likely to see a number of Untangling Knots knits on the blog in the coming months… Next on the list is a yellow Salal cardigan, wait and see…
---