M7081: my new favourite winter dress
New season, new pattern…
Every seasons seems to come to me with a favourite dress pattern – winter 2019 was Magnolia's season…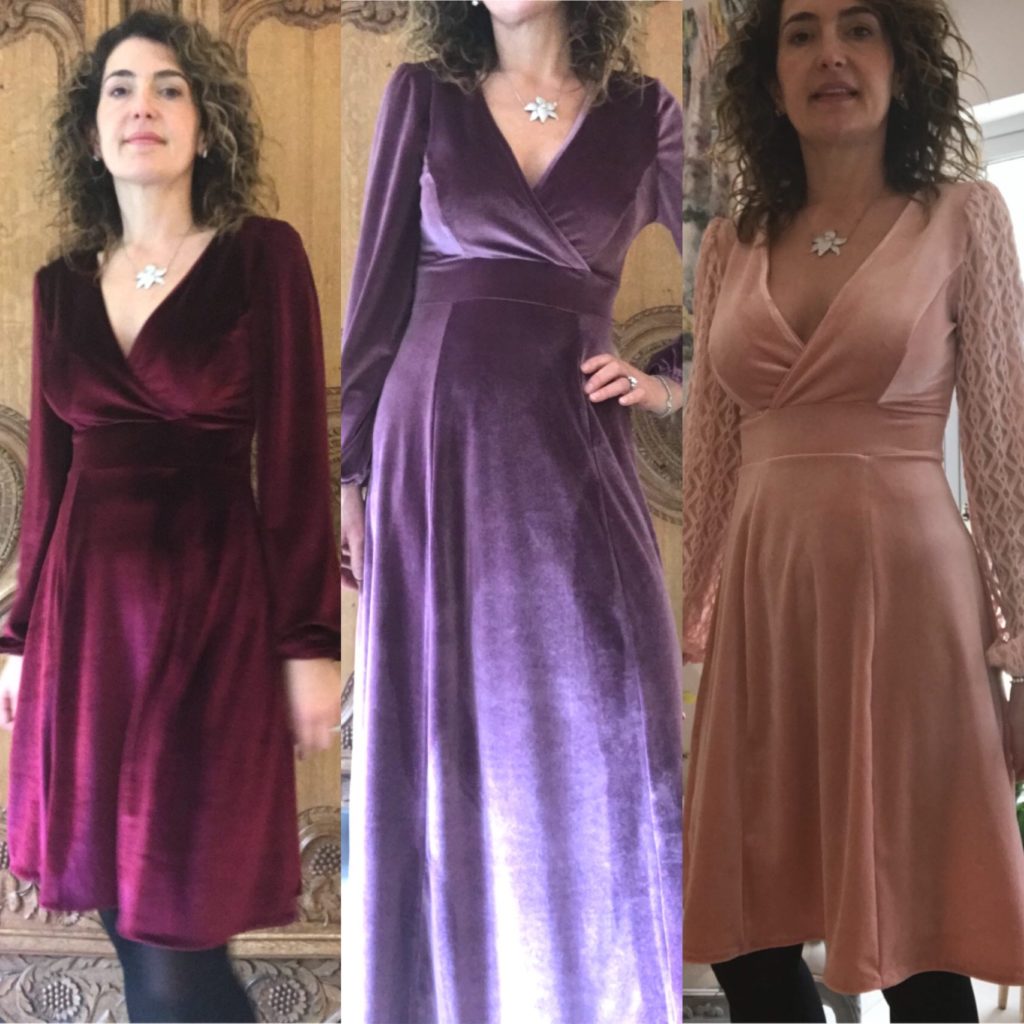 … summer 2020 was V9253's …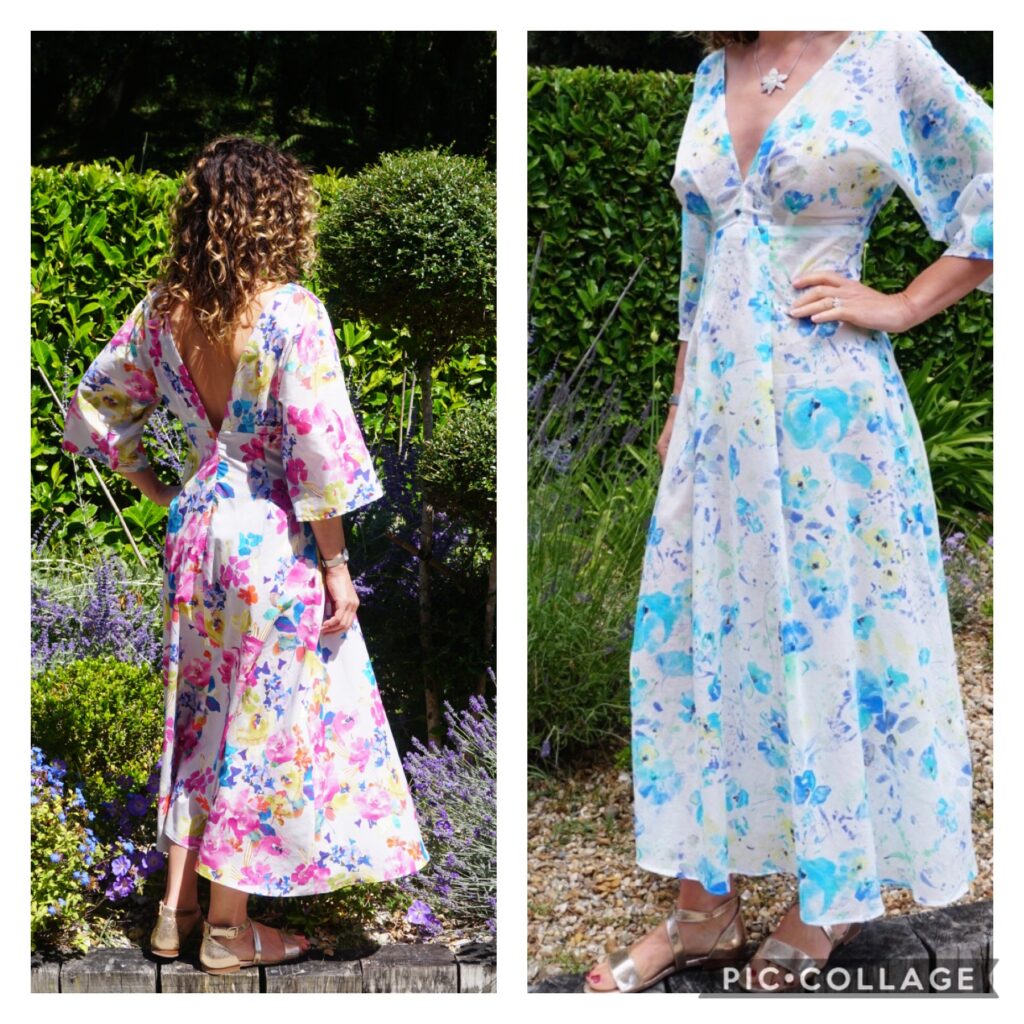 … and autumn 2020 is definitely all about V7081!
My "old" versions of M7081
In all honesty, the red and blue versions of these dresses were sewn last year (for those following my curl journey you can tell from my hair!). I got my hands on these magnificent Dolce & Gabbana floral fabrics and couldn't resist making each of them into twirling twin dresses.
They are constructed exactly in the same way as my two new versions: no collar, piping at the neckline and the belt and modified sleeve cuffs – but more on this later.
I only posted recently about the blue one recently though, when I knitted a matching Belladonna cardigan. No post about the red dress, lazy girl!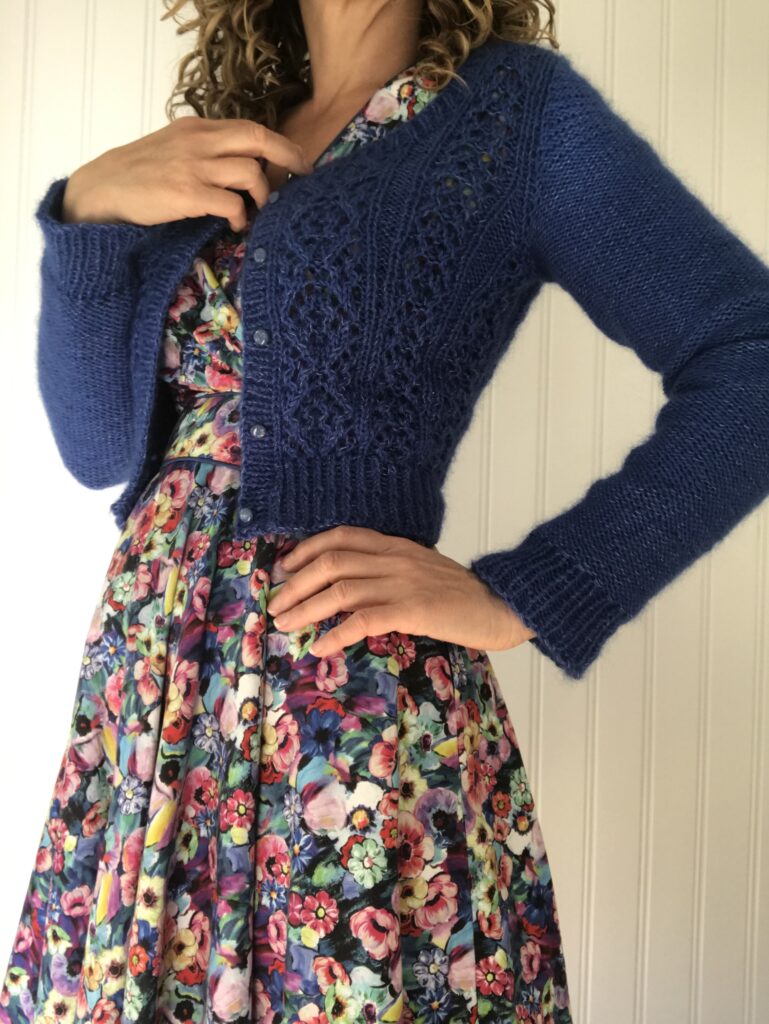 M7081 pattern review
But going back to M7081. This is a wonderful pattern of a fit-and-flare dress with a faux-wrap bodice, and middle belt joining the bodice and the skirt, and a full circle skirt – absolutely everything I adore. Depending on the sleeve option you choose, it can be made into a winter or summer version (I admit, I also have two summer versions, here and here). The only flaw of this pattern in my view is the collar, which can be easily omitted.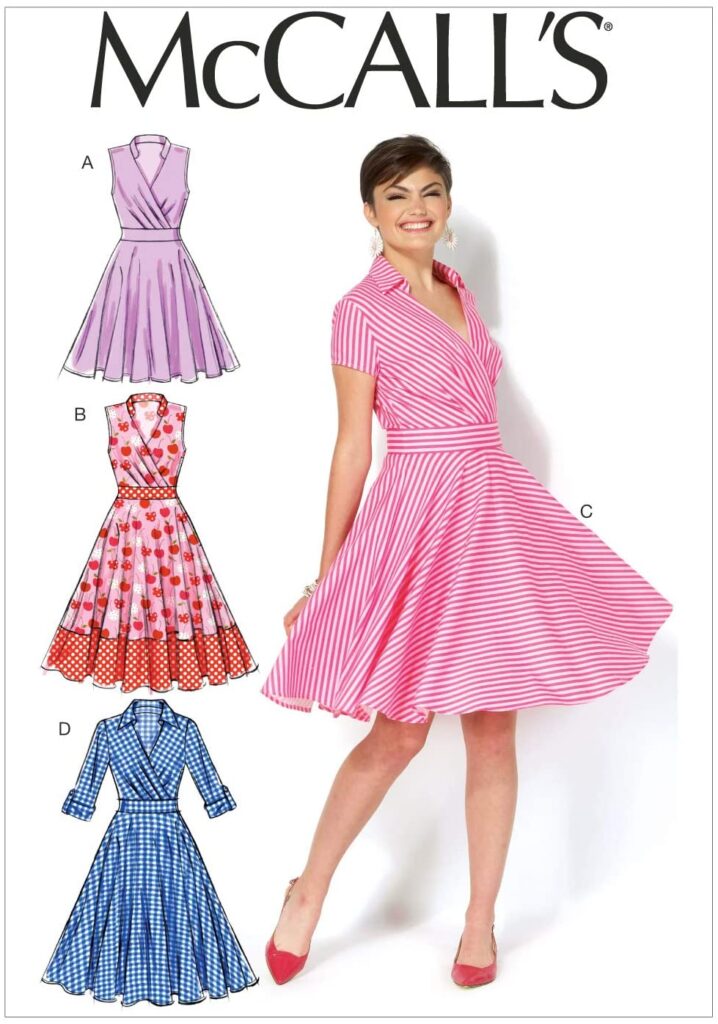 The fit is, as usual for me with McCall's and Vogue patterns, absolutely spot-on – even though there is no cup options here. For my UK size 8 / FR 36/ US 2, I chose as usual a size 10 but (unusually) had to create a tiny bit of extra ease at the waist (about 1cm on each side). I find it very necessary with stiffer fabric; but not so much so when there is a bit of stretch.
The other changes I made for all my dresses were:
omitting the collar and finishing the neckline with bias binding;
adding contrasting piping at the neckline and the waist;
using my pattern of the Cami dress by Pauline Alice for the sleeve cuffs – this is not hugely necessary but I adore these cuffs.
lining the skirt – I am a lining addict…
My latest winter versions of M7081
And here they are! My two latest winter versions of the pattern.
The first one is in a beautiful brocade I got ages ago from Bennytex.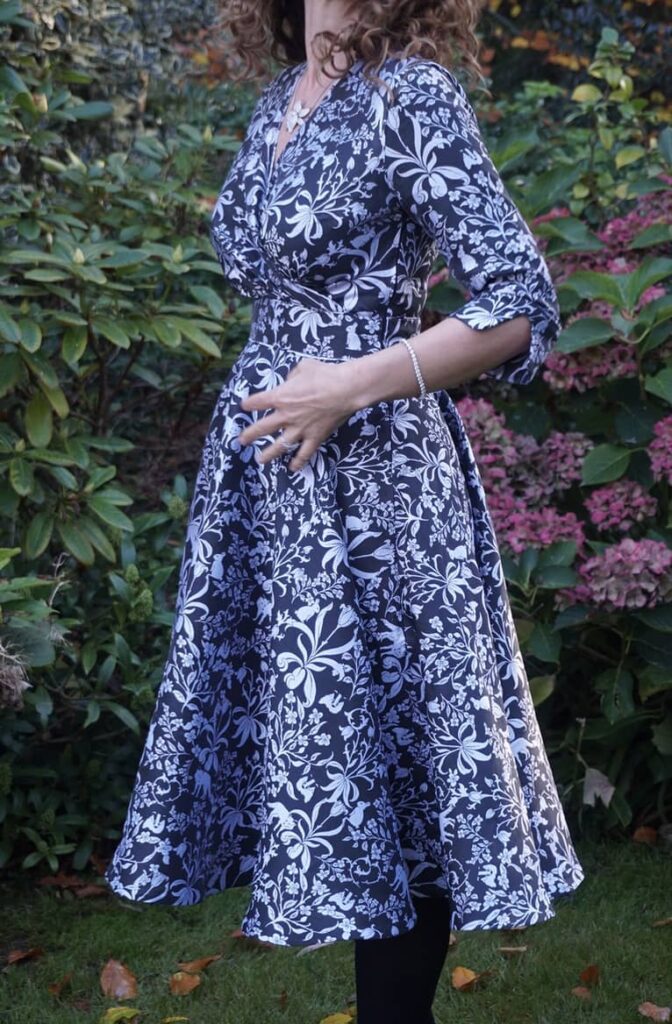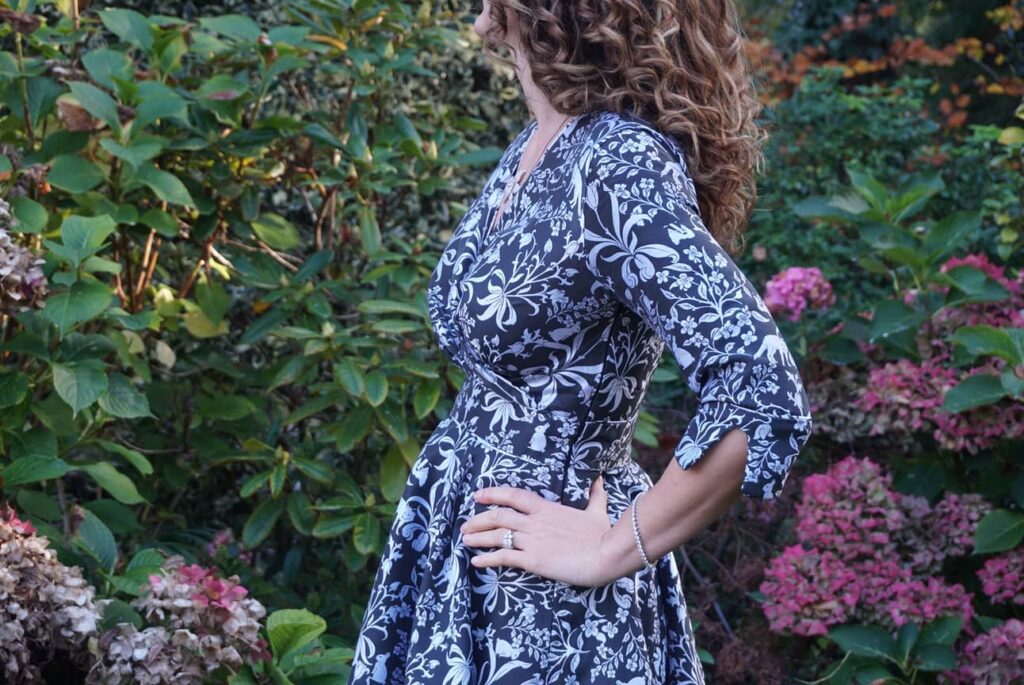 The fabric is lightweight enough for a dress but, being brocade, it has no stretch whatsoever so this is probably the tighter of my versions.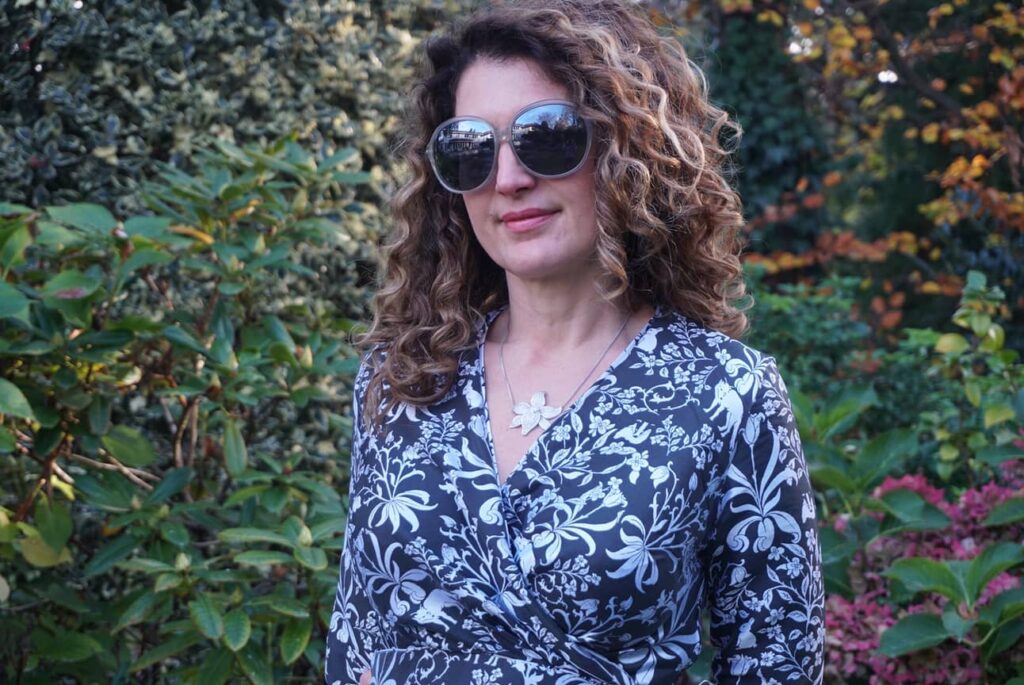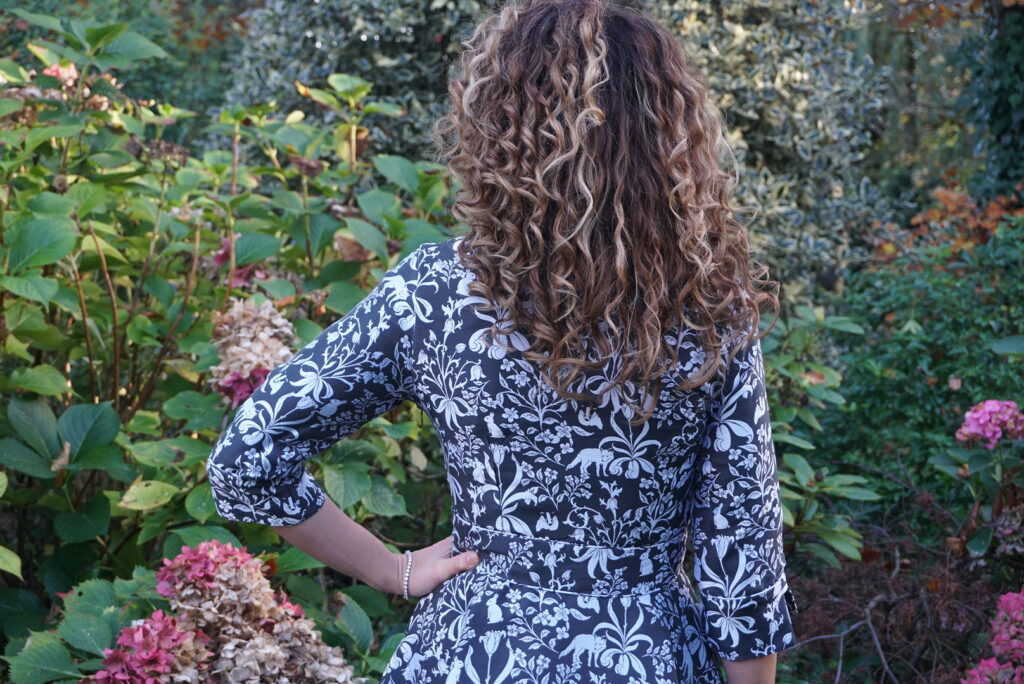 I used the other side of the brocade for my piping, not my best ideas as it makes it nearly invisible… Never mind!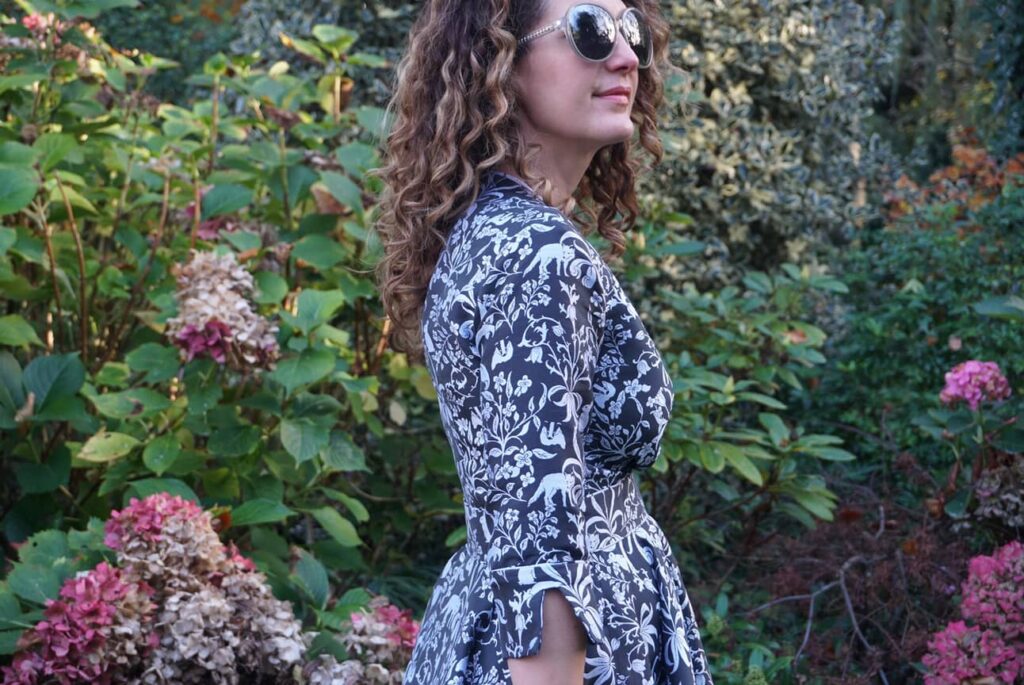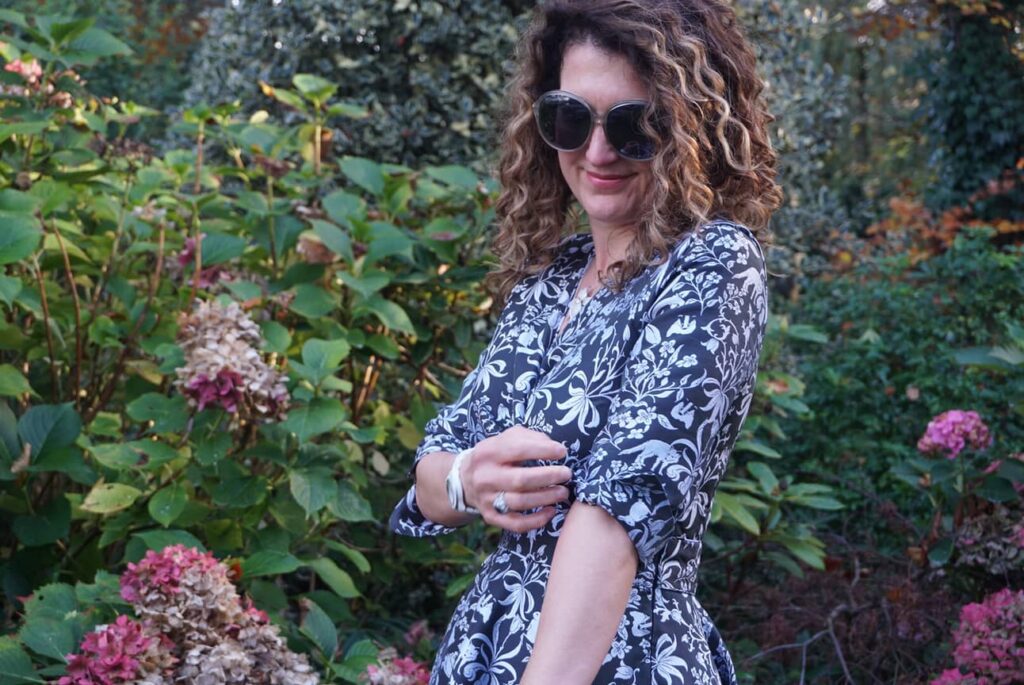 And obviously this dress has a big circle skirt, which I LOVE!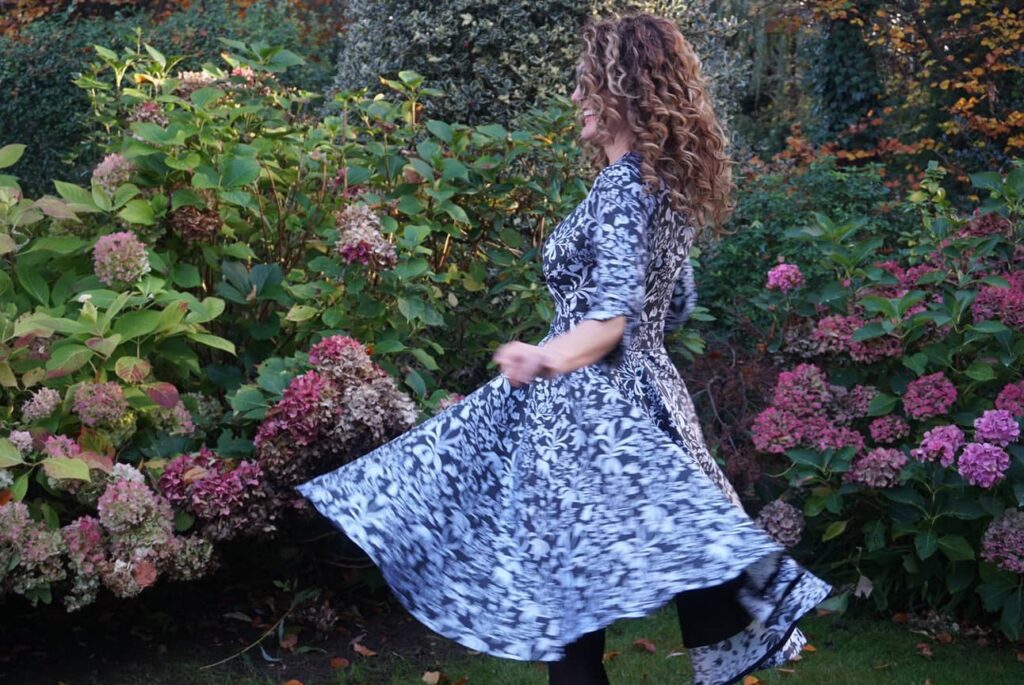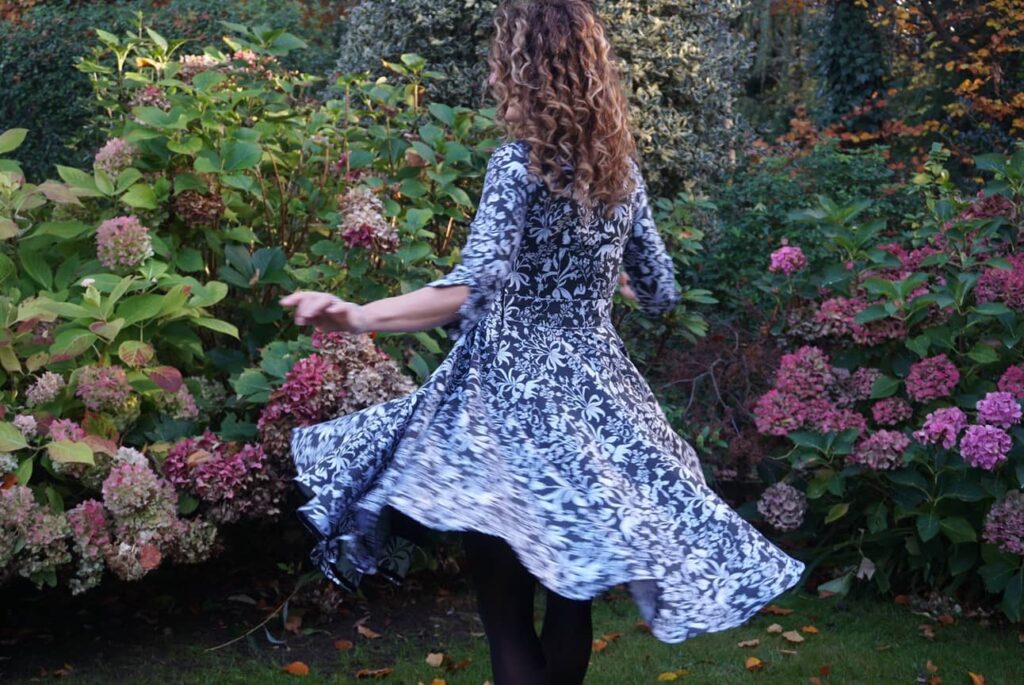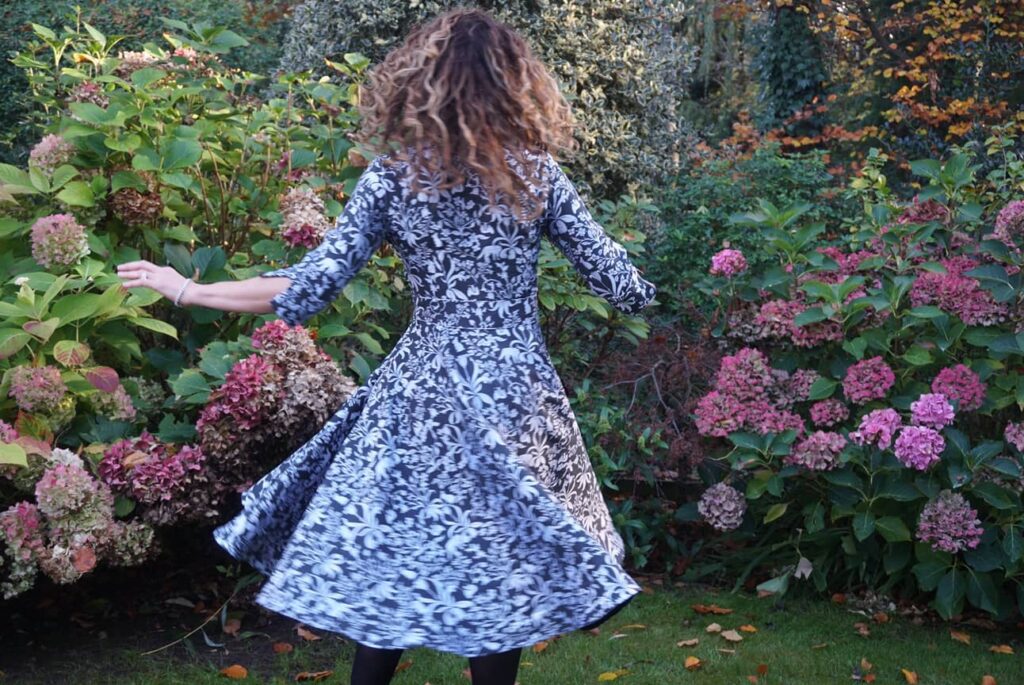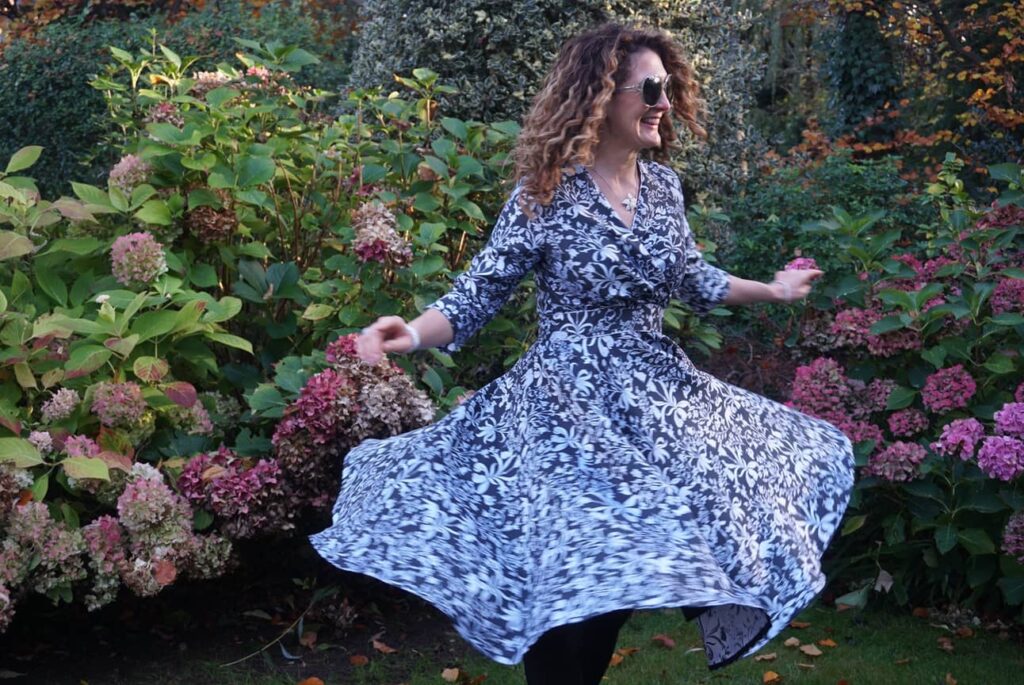 My second version is also in a fabric from Bennytex, this time a floral cotton satin with a reasonable amount of stretch. Using this fabric was on my Autumn to-sew list and although I changed pattern, I am very pleased with my stash-reduction accomplishment!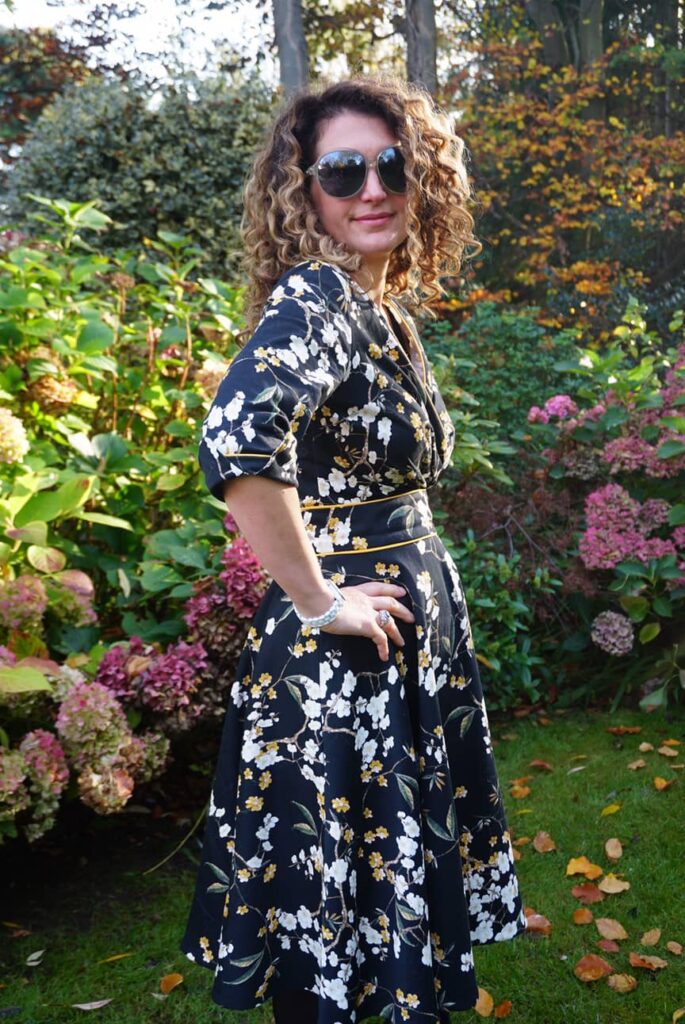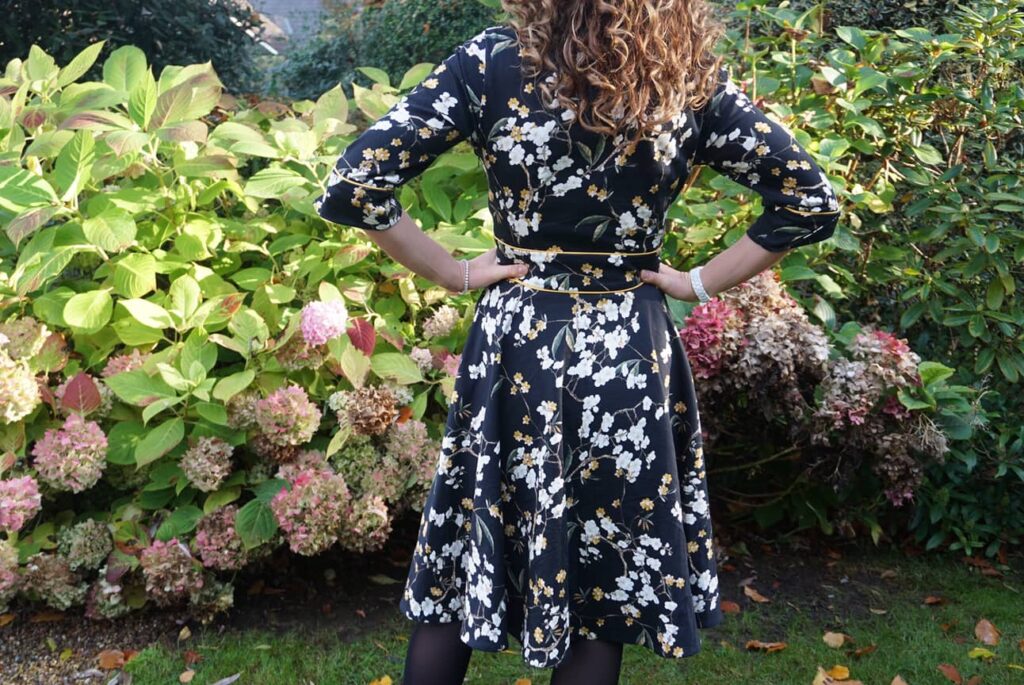 The piping definitely worked better here!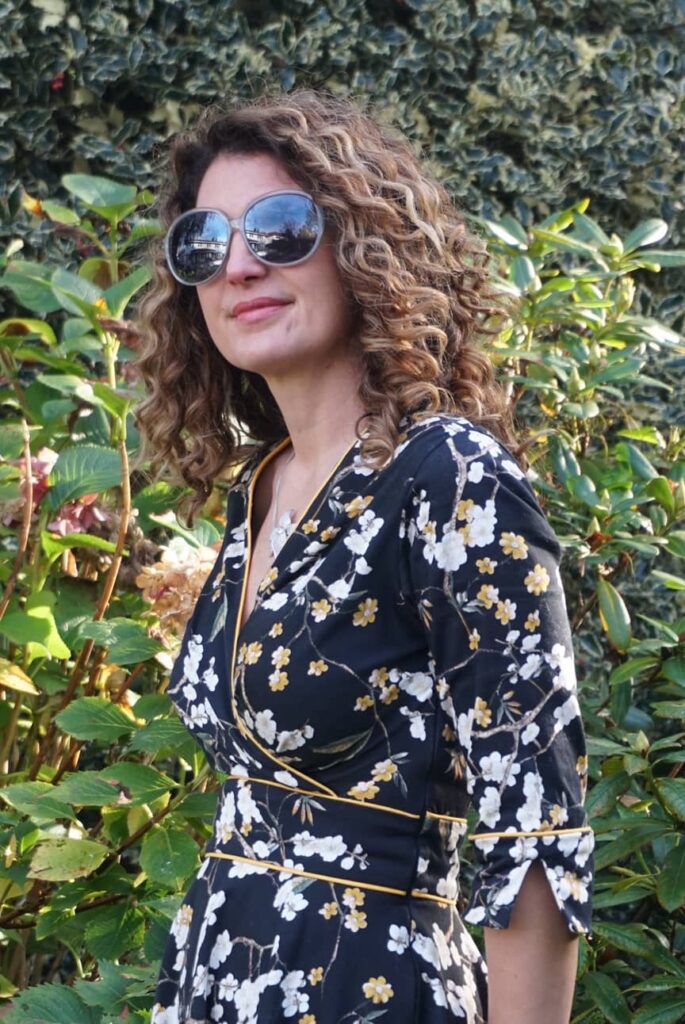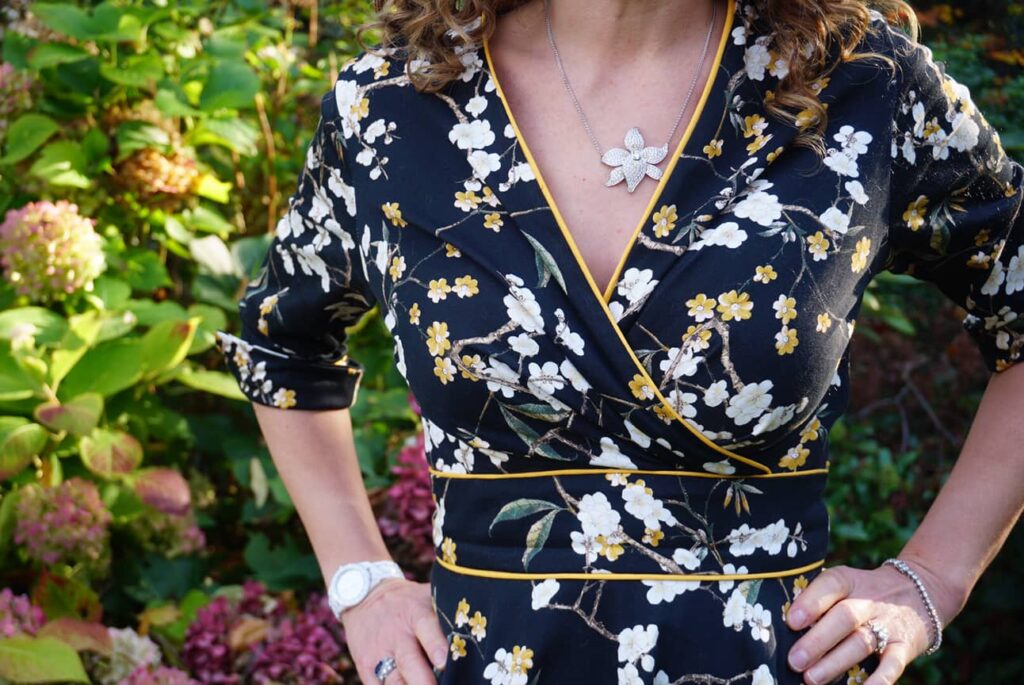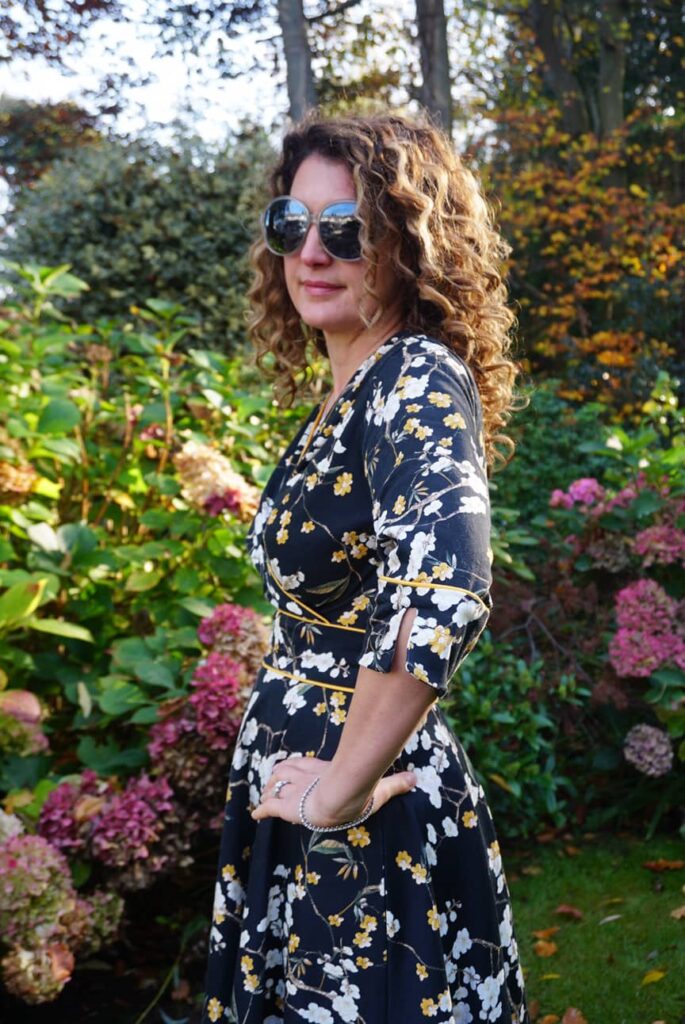 And here we are with these dresses! I love this pattern so much that I need to refrain myself from sewing more if these dresses… Next I need to show you the two cardis I knitted to match – watch out!
---