Sewing the Joan Wiggle Dress by Charm Patterns
After eying this pattern for far too long, I have finally taken the plunge and sewn it. In this article, I review in details the Joan Wiggle Dress pattern by Charm Patterns. I tell you where to find it. And I give you my opinion on the best fabrics to use for this dress. But first let me introduce you to my latest make.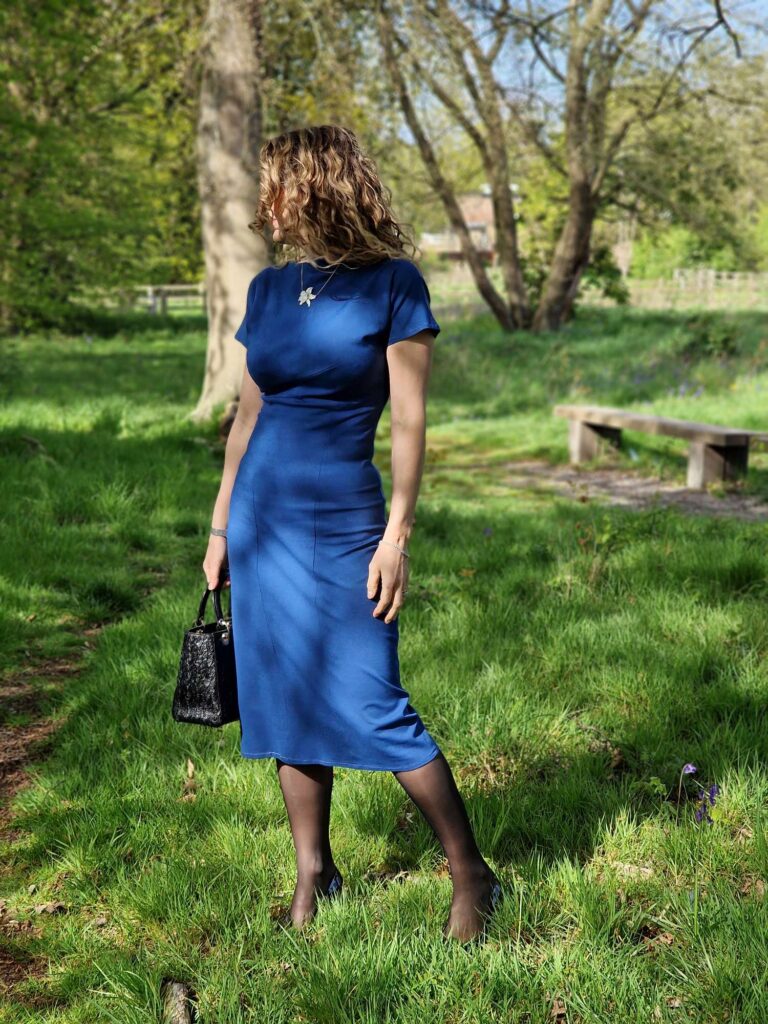 Where to find the Joan Wiggle dress pattern
I like to think that this pattern is exclusive, as it is a bit like a Thermomix (another obsession of mine). You cannot readily buy it in physical or online shops. It is only available to Gertie's Patreon members, who pay a monthly fee for access.
To be honest, the idea of a monthly membership really bugged me initially. But seeing all the beautiful patterns available – such as the Brooklyn Jacket or the Swing Coat only to name the one I have sewn up to now – was just too tempting.
I finally became a patron and I am so glad I did. The monthly fee is extremely reasonable, starting at £5.50/month. For this, you get monthly pattern releases; access to all past patterns; and incredible instructions, both written and video for each release. I am really in awe at the incredible work Gertie does!
Joan Wiggle Dress pattern review
What is the Joan Wiggle dress?
The Joan Wiggle dress is a close-fitted dress (or top) with two bodice options: deep-plunge or high-neck; and a straight, below-the-knee skirt.

Both versions of the dress sewn by Gertie look equally amazing. I was initially very tempted by the deep-plunge version… but then chickened out, wondering how to wear a bra with it… So my dress is the high-neck version.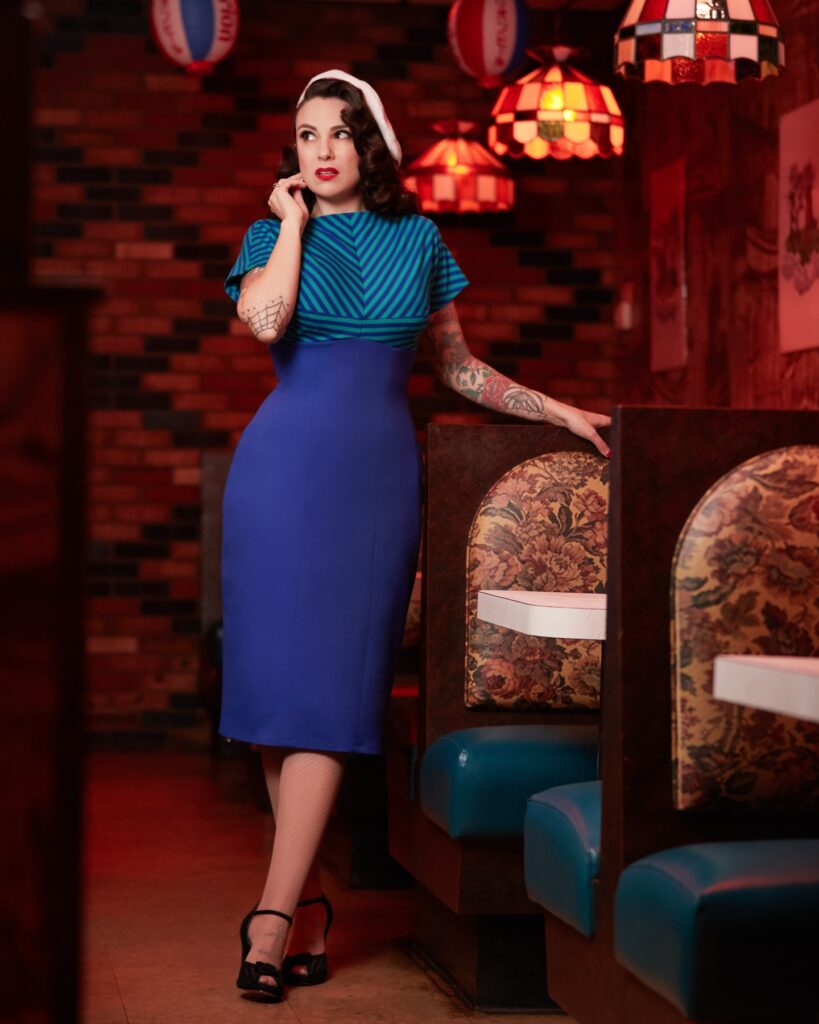 Joan Wiggle dress pattern (many) positives
There are many things I like about this pattern (and very few I dislike):
This dress is extremely easy to sew. Once the pattern is printed and cut (I NEVER print and tape, I always order the A0), it takes about 2 hours to put together. Or more if like me, you have no idea about how to use your new coverstitch machine but you really want to try… No comment!
Gertie's explanation are crystal clear – both written and video. I usually stick to instruction manuals but I found the video so pleasant I actually watched it all!
The shape is incredibly flattering yet practical enough to walk in. The dress is nicely fitted at the bust and waist but then becomes straighter. This means it is not overly tight around the hips (thank God!); and there is comfortable room for walking at the knee level.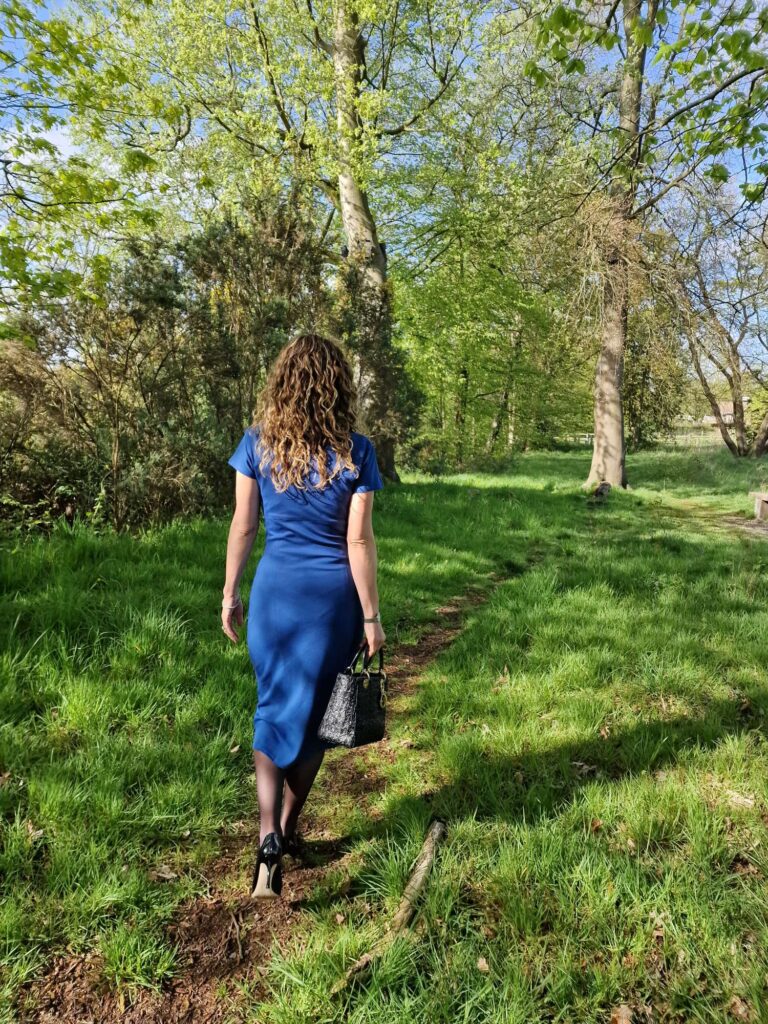 I really like the the middle bust darts, which create a stunning detail.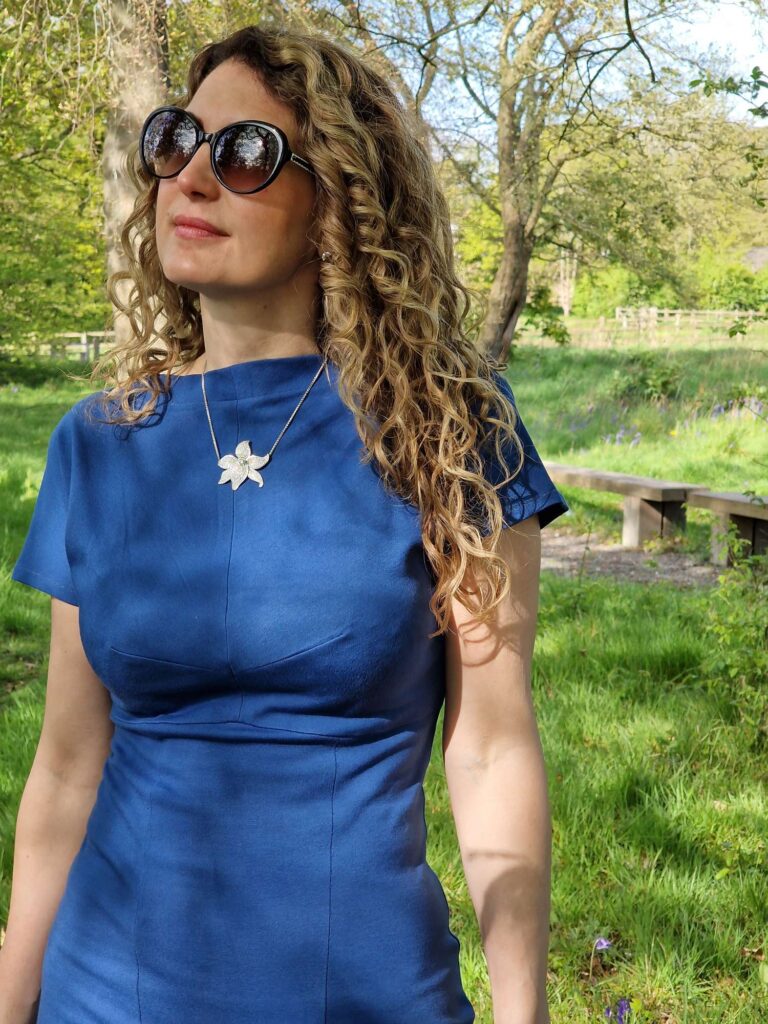 As ever with Gertie's patterns, the fit is impeccable. No fussing about to get te right fit; and the bust cup options are a God-send, making an FBA (or SBA) completely unnecessary.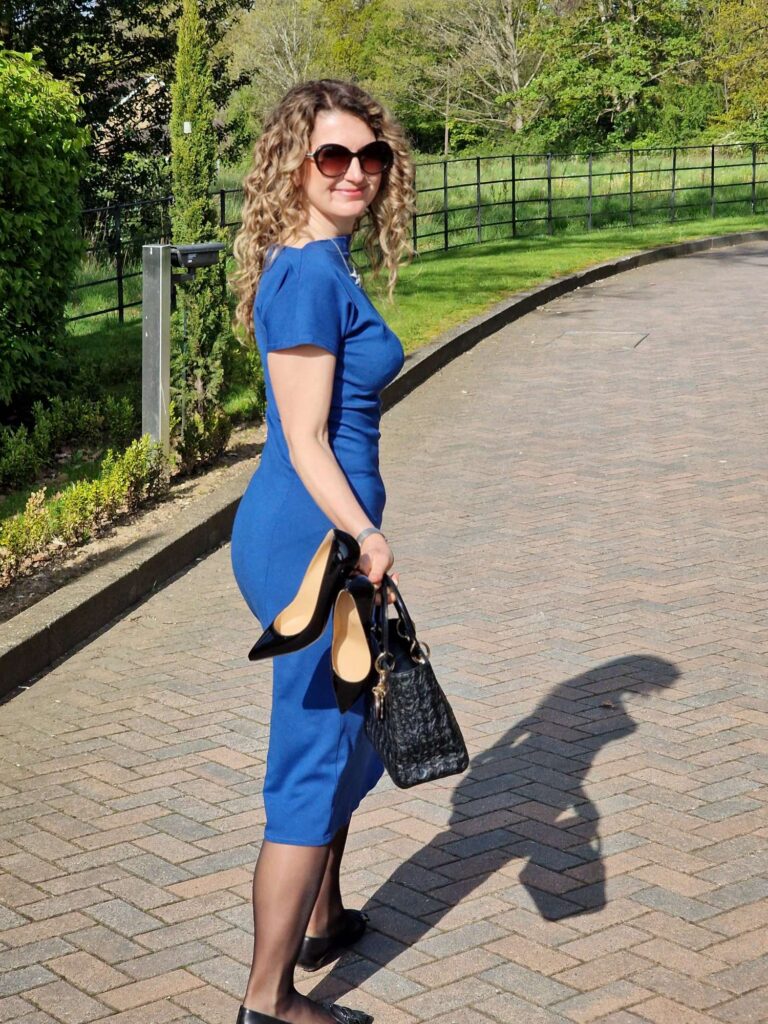 Joan Wiggle dress pattern single negative
The only negative is the sizing, which is the bit off. I went for a size 4 according to my measurement and had to take quite a lot of ease off the sides – not a disaster but just a bit annoying.
Joan Wiggle dress: fabric recommendations
Gertie advises to use stable knits for the Joan Wiggle dress. Her own version of the high-neck dress is in Ponte Roma, so is mine and I would strongly advise to follow her lead. Ponte is super stable so very easy to sew. It is also thick enough the hide any humps and bumps (if like me, you refuse any form of shapewear).
That said, after a number of disappointing experience, I now avoid polyester Ponte and only go for the viscose version. Polyester Ponte piles at every wash, so your lovey dress very quickly becomes a rag – infuriating when you have lovingly sewn it!
My Ponte comes from Croftmill and I could not be happier with the quality.
Conclusion
I am absolutely thrilled with this dress and now on a fabric hunt to make a deep red one – let me know if you have any leads…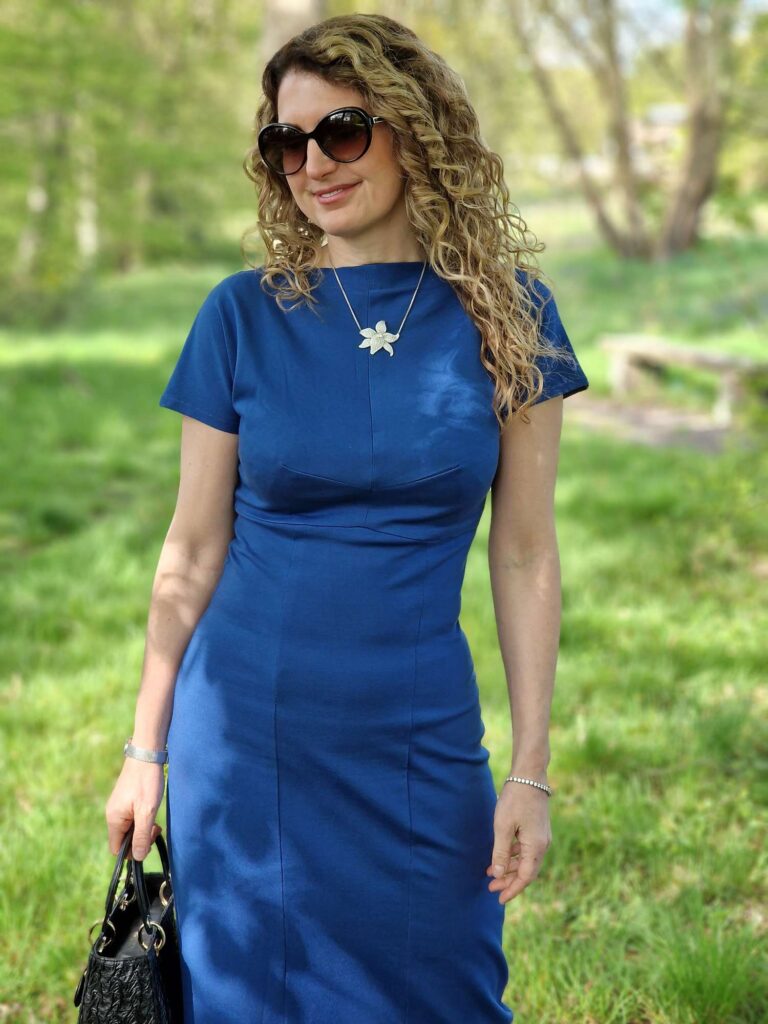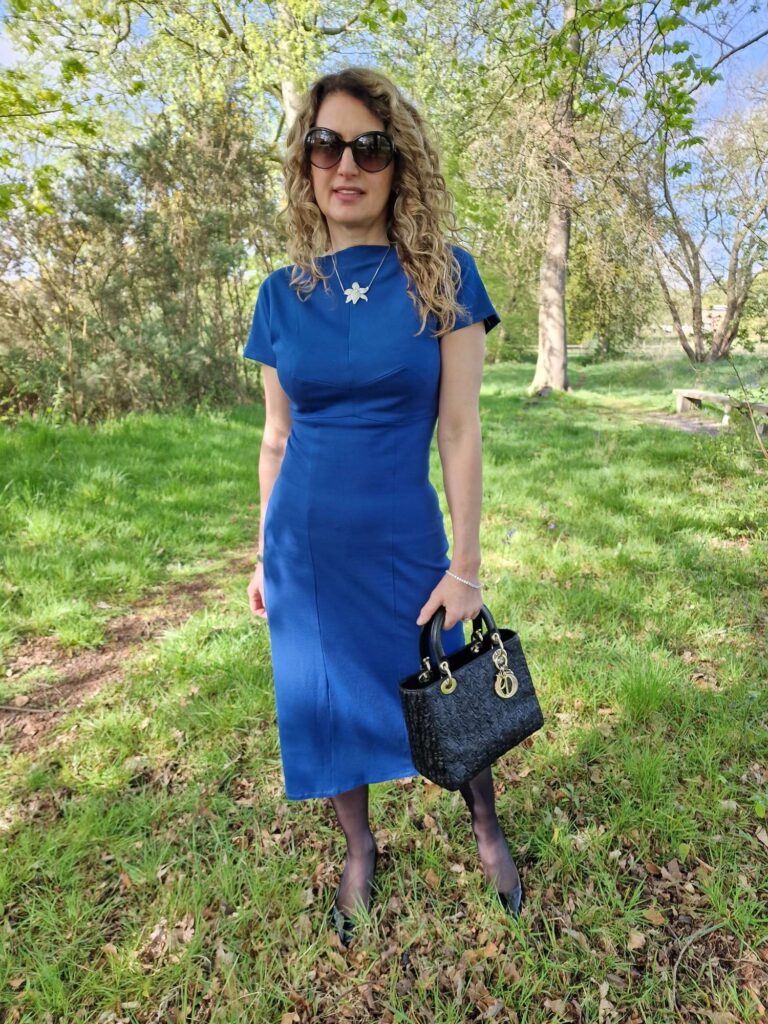 ---
One response to "Sewing the Joan Wiggle Dress by Charm Patterns"