Sewing the V8379 dress: the perfect pick-me-up project
You wouldn't believe this if you saw the tremendous progress I've made on my Autumn 2021 sewing plans to date (one coat, three dresses, one top, one skirt, three bodysuits, three cardigans!). But I actually struggled going back to sewing in September: not the right weather, not knowing where I wanted to start. So to get things in motion, I needed a quick-to-make and highly rewarding project. And the V8379 dress turned out to be exactly that!
Let me introduce you to my first dress of the season: V8379, sewn in a gorgeous deep purple ponte roma fabric.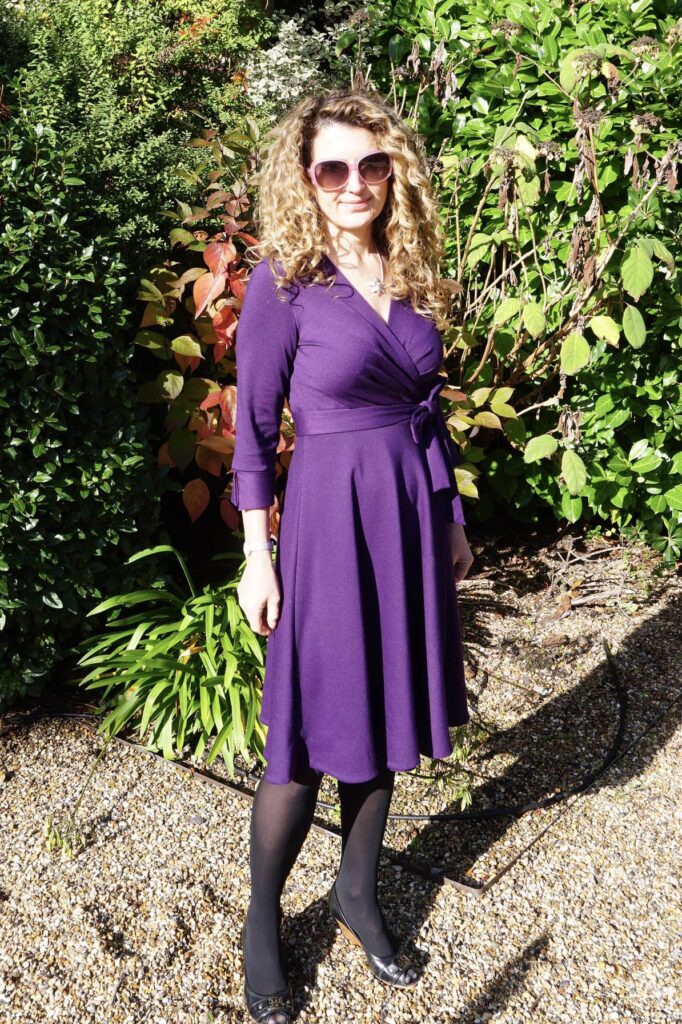 Inspiration: Emily Hallman, my sewing idol
I absolutely adore sewing blogger Emily Hallman: her style, her pattern and fabric choices, her sewing precision and knowledge, she is truly my sewing idol! I actually discovered her blog about a year ago while she had been writing it for quite a while already. So I binge-read all her articles, which generated a to-sew list so large that it will need a lifetime to complete it… Never mind!
V8379 is one of Emily's favourite dress patterns (see her latest one here) and it perfectly fits my style too: a fitted bodice and a flared half-circle skirt, with the bonus of being a wrap! That said, the envelope illustration is far from flattering, so had I not seen Emily's version, I would definitely not have bought this pattern ever!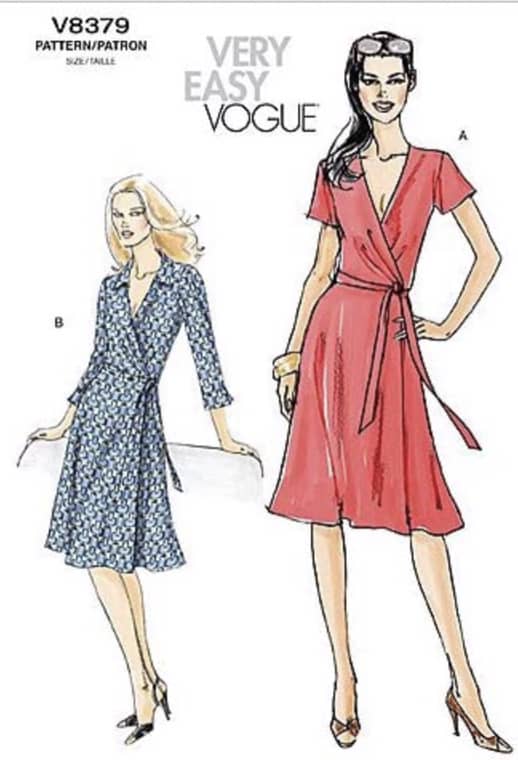 I went for a collarless version B – although I know these collars on wrap dresses are very DVF-esque, I just don't find them nice at all! I kept the knee-length, which works really well for me.
A super quick and easy make
This dress has a few attributes which make it the perfect candidate for a relaxed Sunday afternoon sewing session (which is actually exactly how I saw it):
It has a very limited number of pattern pieces (4 + 2 facings if you omit collar and sleeve bands).
There is absolutely no technical difficulty, such as a zip or buttons, as the dress simply closes with its belt.
The fit is very forgiving, as the pattern is designed for knits, much more accommodating to curves than woven fabrics. And also because the bust is shaped with pleats – my newly found best alternative to bust cup options. These pleats are actually gorgeous, they are my favourite part of thedress I think.
Pattern positives, negatives and alterations
This pattern has only positive to me, no negatives at all – incredible from this French girl who always likes to pick those tiny little negative details!
So here are the positives:
After quite a few complex projects, I particularly enjoyed how easy to sew this dress is.
The fit-and-flare shape is by far my favourite for dresses. Here the skirt is semi-circle so less flared than my usual but it is actually perfect for a wrap dress.
The fit is spot-on: as usual with Vogue (McCall's, Butterick), I cut a size 10 (for my FR36/ UK8/ US2 and E bust cup), made absolutely no adjustment anywhere, and it fits like a glove.
Despite it simplicity, this dress has absolutely lovely details: the bust pleats mentioned above and also the pretty sleeve bands.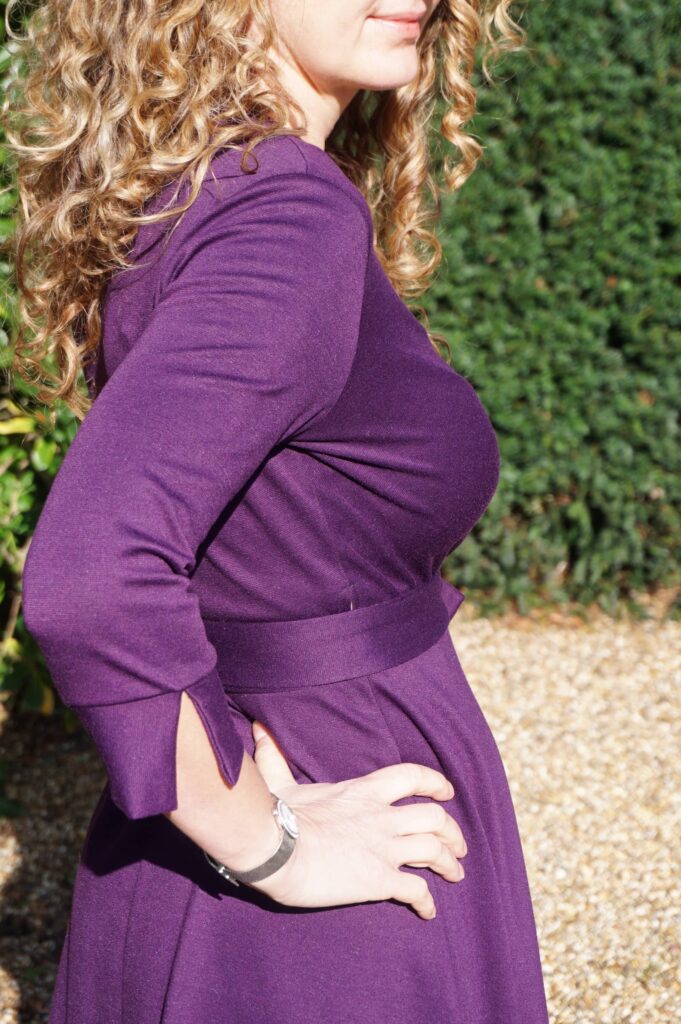 My only deviation from the original pattern was to put some iron-on interfacing around the side-opening for the belt, to strengthen it – 100% Emily's idea and not mine I'm afraid!
Conclusion
This dress is a great addition to my Autumn wardrobe. The ponte roma fabric is a nice weight for Autumn; and when the weather turns chilly I layer it with one of my multiple hand-made cardigans (I actually never showed it but I own a gorgeous deep purple Belladona!); or even with my new Princess Coat – how great is this match?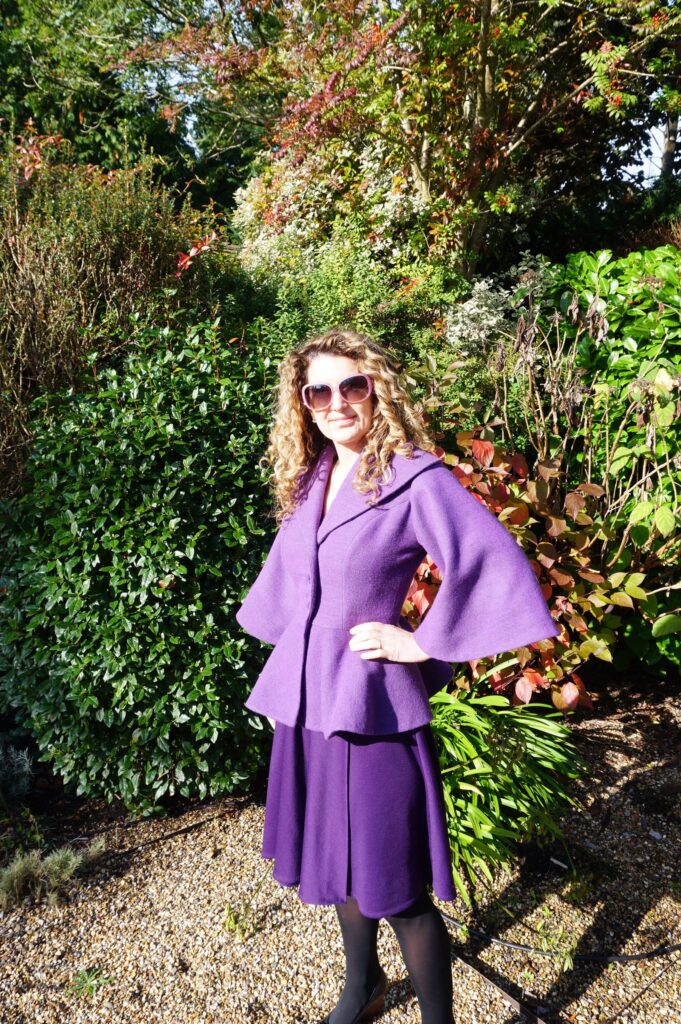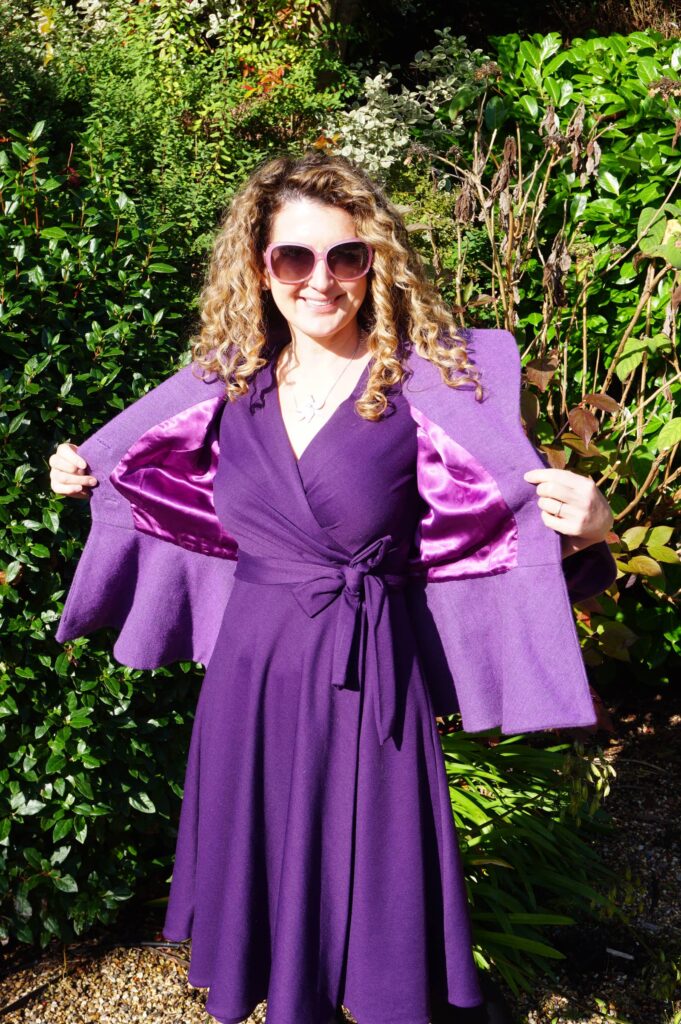 ---