All my favourite patterns in one dress
I love sewing dresses and although I am not so keen on self-drafting, I have reached the stage where I have a few tried and tested patterns which I can comfortably manipulate to create new designs. So let me introduce you to shirt dress of my dreams, which is the result of mixing, matching and hacking three of my favourite patterns.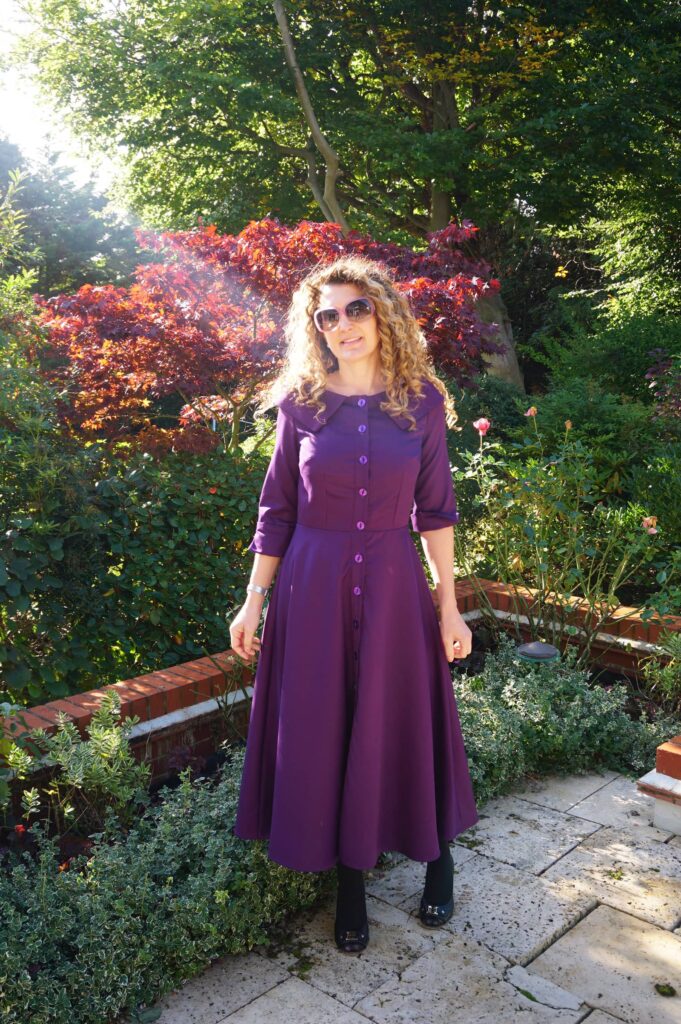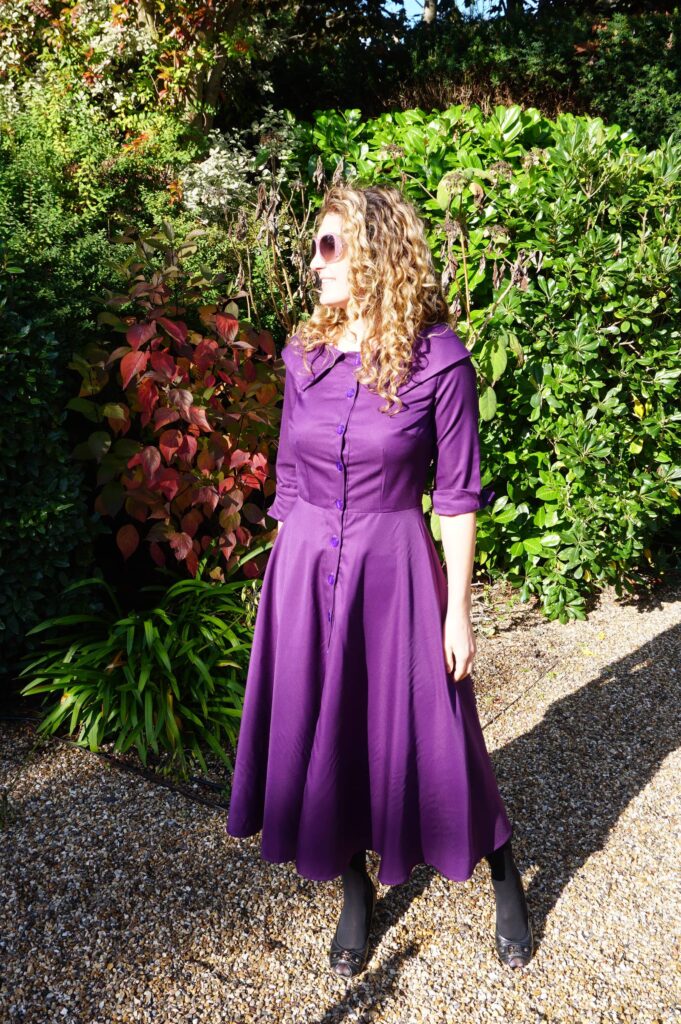 Inspiration: a more feminine take on the shirt dress
The inspiration from this dress comes – yet again – from Bittersweet Colours. Veronica wore several versions of this dress over Spring and I immediately fell in love with the shape.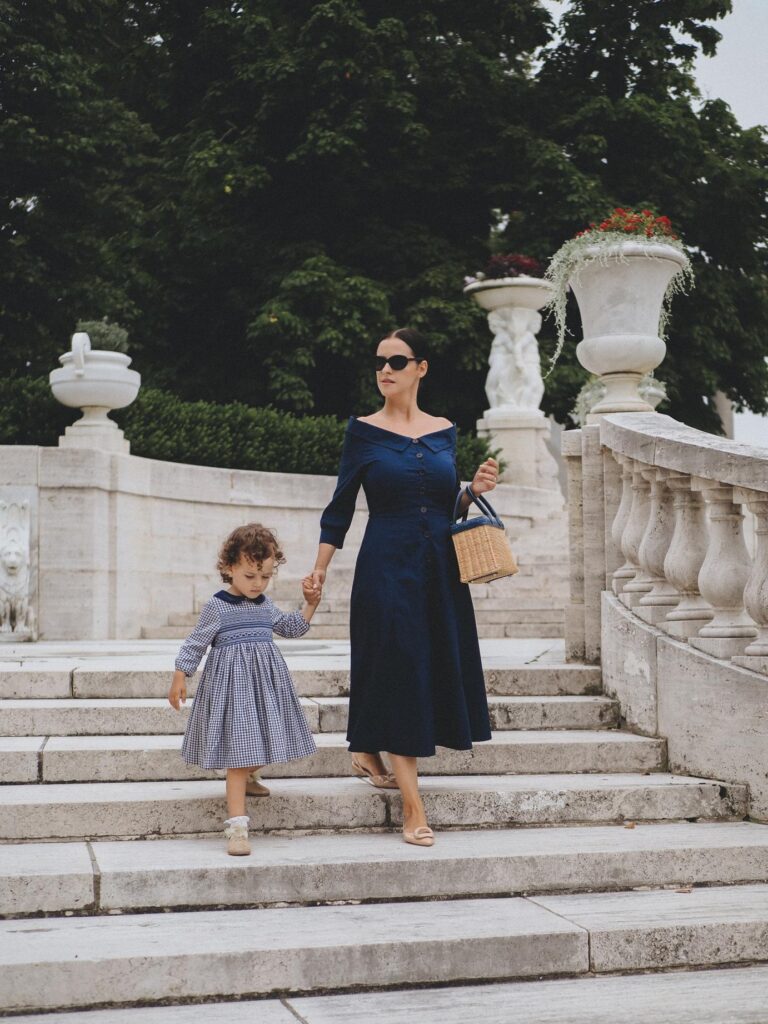 I have had quite a fancy for shirt dresses since Spring 2021 and have sewn a surprising number considering my fear of buttonholes (largely healed since my sewing machine went for its long-overdue maintenance).
All of them were based on the McCall's M6696 bodice, combined with the Butterick B6702 skirt for the two midi dresses. I really like these dresses and have written blog articles on all of them (here, here and here).
I was always ambivalent about the collar though: on the one hand I find it quite masculine and definitely not my style; but on the other hand a shirt dress without a collar is not really a shirt dress anymore, right? So seeing Veronika's dress was a revelation: a shirt dress collar could actually be made much more feminine!
Realisation: combining three of my favourite patterns
To make this dress, I mixed, matched and hacked three of my favourite, tired-an-tested patterns: V8630 (on the blog here and here), V9327 (here and here) and M6696 (here, here and here). All of these fit to perfection and have never failed me.
V8630 for the collar and the bodice
Except for its asymmetry and its width, V8630's collar shape is quite similar to that if this inspiration dress.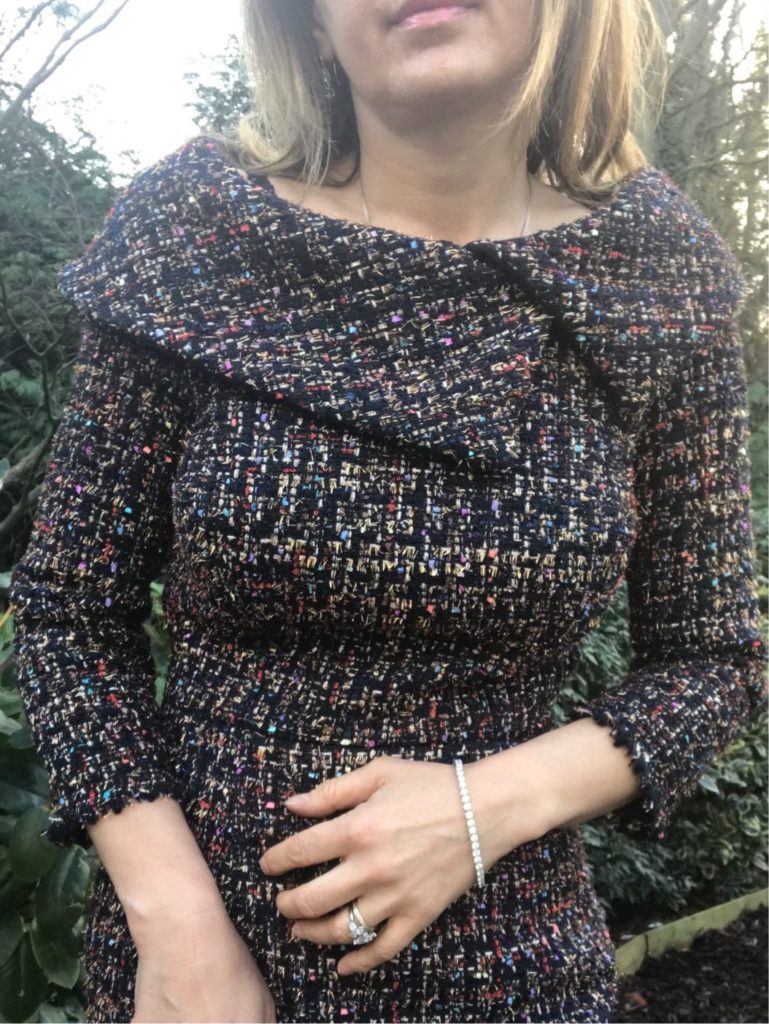 I used the right side of the original collar piece (the longer, overlapping at the front), which I reduced to the centre front (indicated on the pattern) and shortened in width by 4cm. I also slightly reduced the collar point projection after checking on a quick muslin.
The new collar (on the left) versus the old one (on the right) looks like this.
As for the bodice, V8630 is one of the best-fitting bodice I have ever encountered, thanks to its numerous darts, so I was very keen to use it.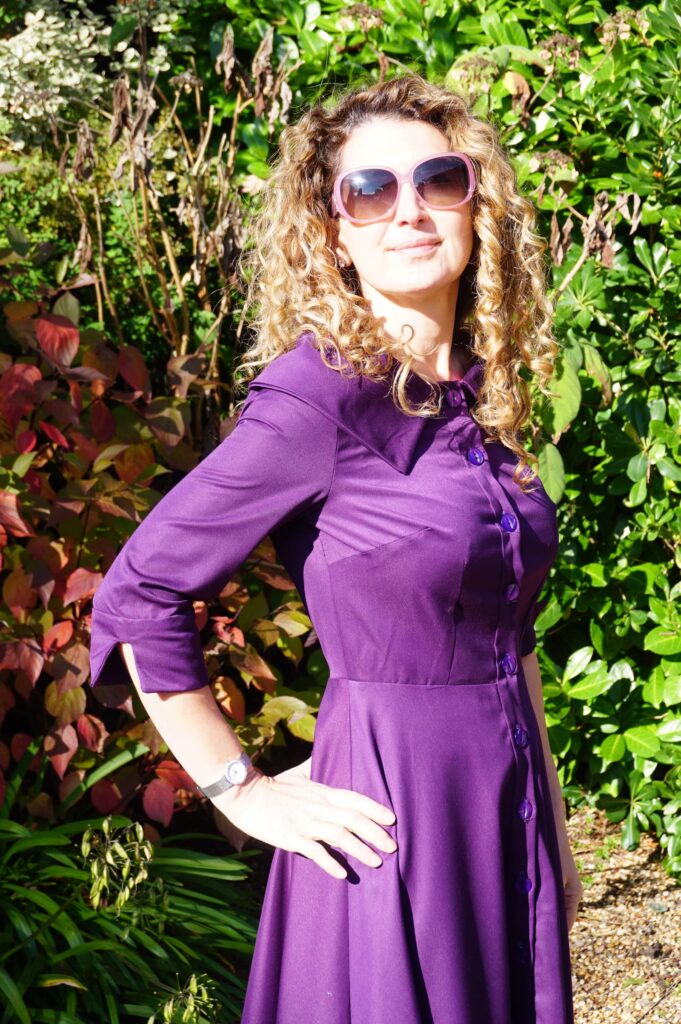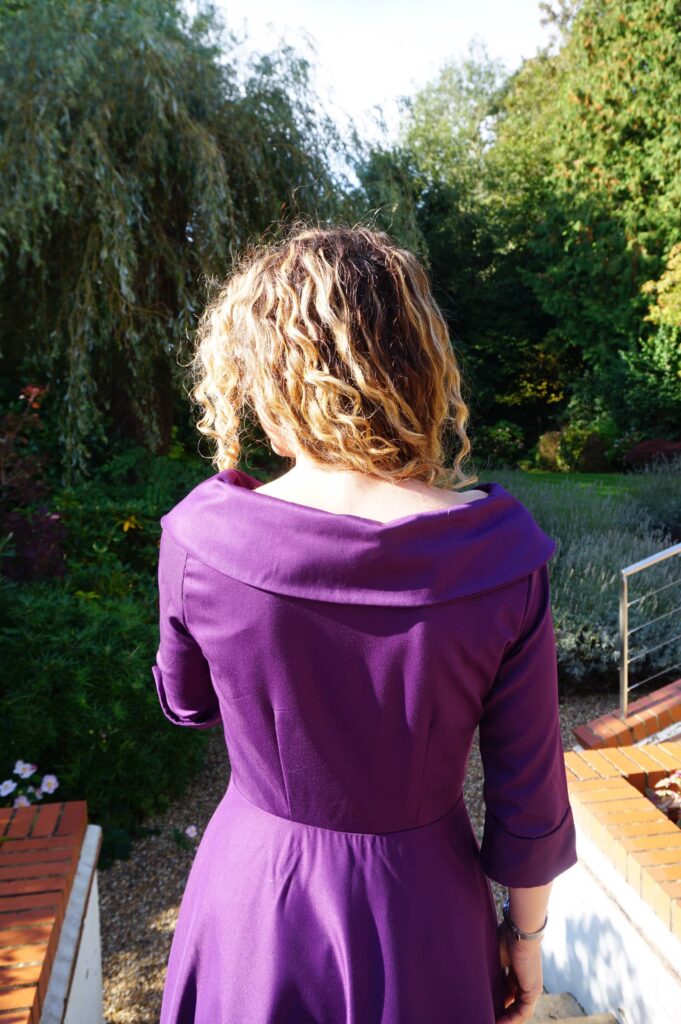 The only change I made to the bodice was that instead of cutting the front piece on the fold, I cut two pieces, without adding any seam allowance in the middle.
V9327 for the skirt
V9327 has a simple midi semi-circle skirt, with only a front and a back panel.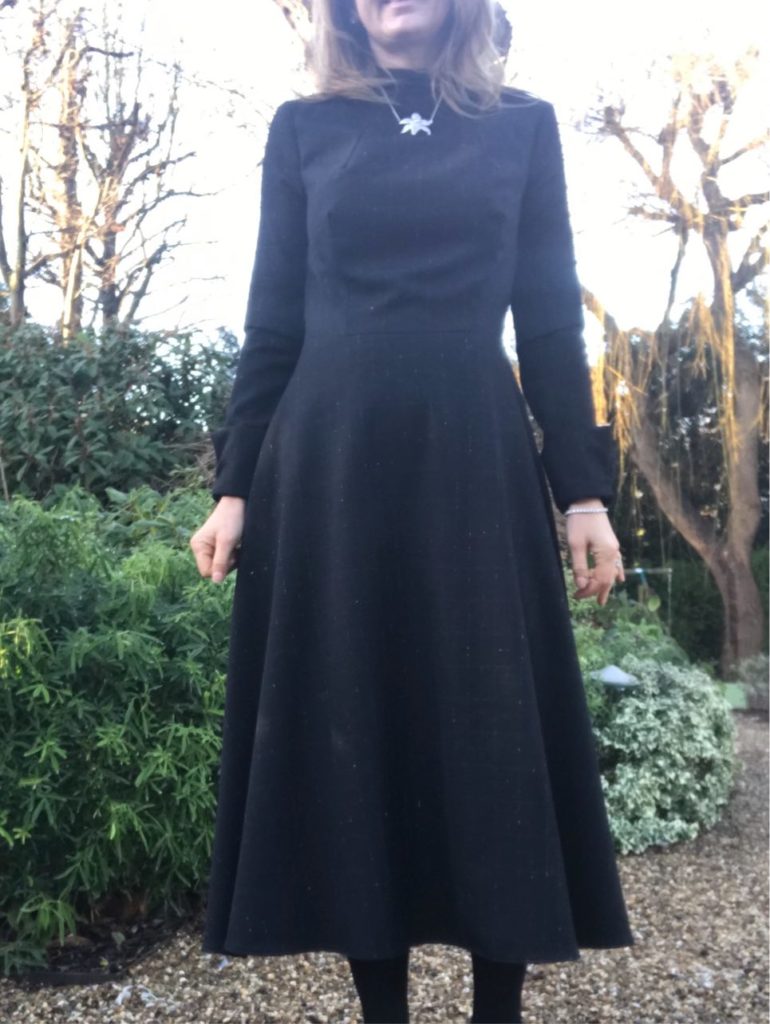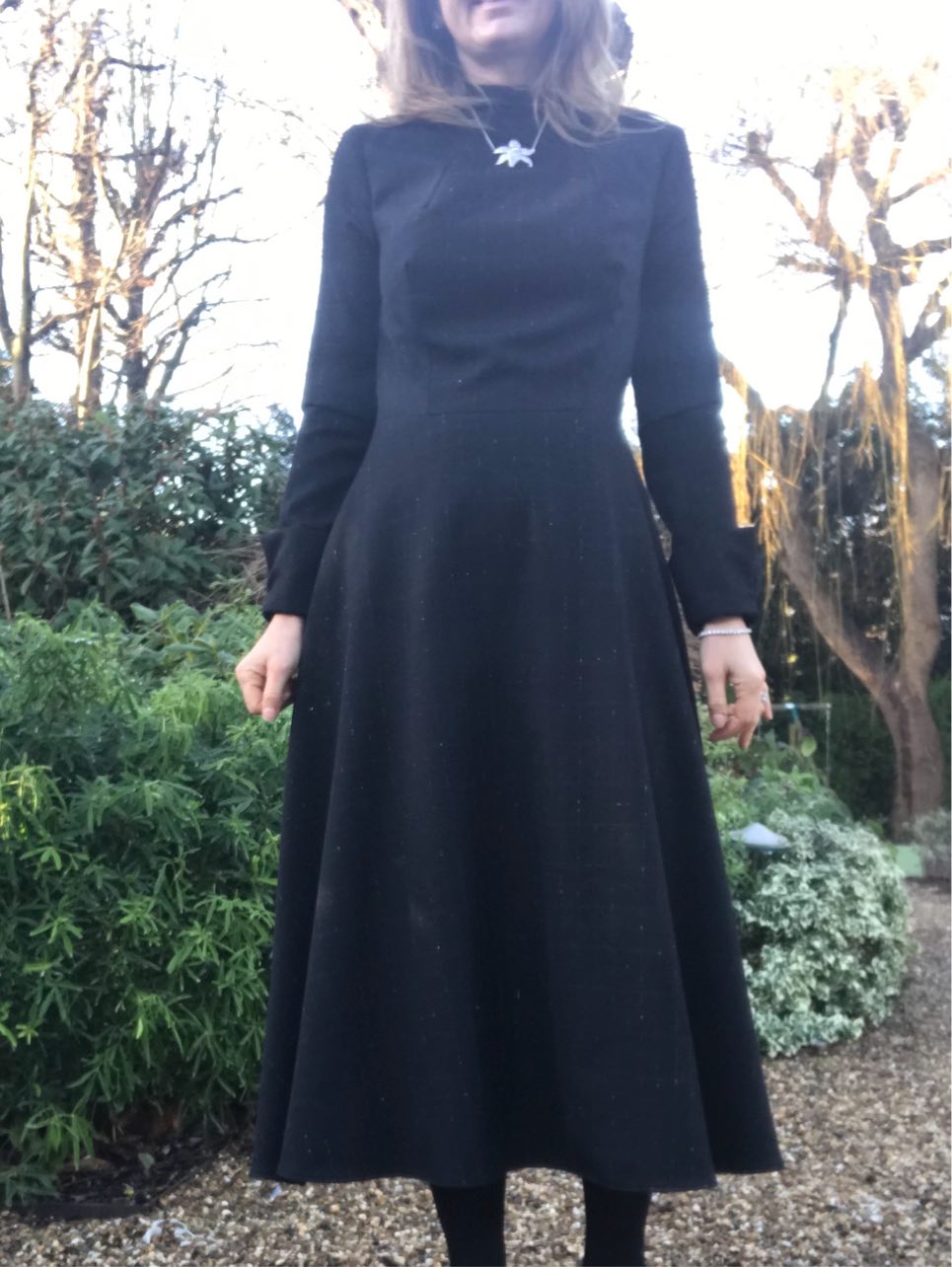 So for the sack of simplicity I thought it would work better than the multi-panel B6702 midi skirt used in my Spring 2021 shirt dresses. Here as well I cut two pieces for the front skirt with no extra seam allowance.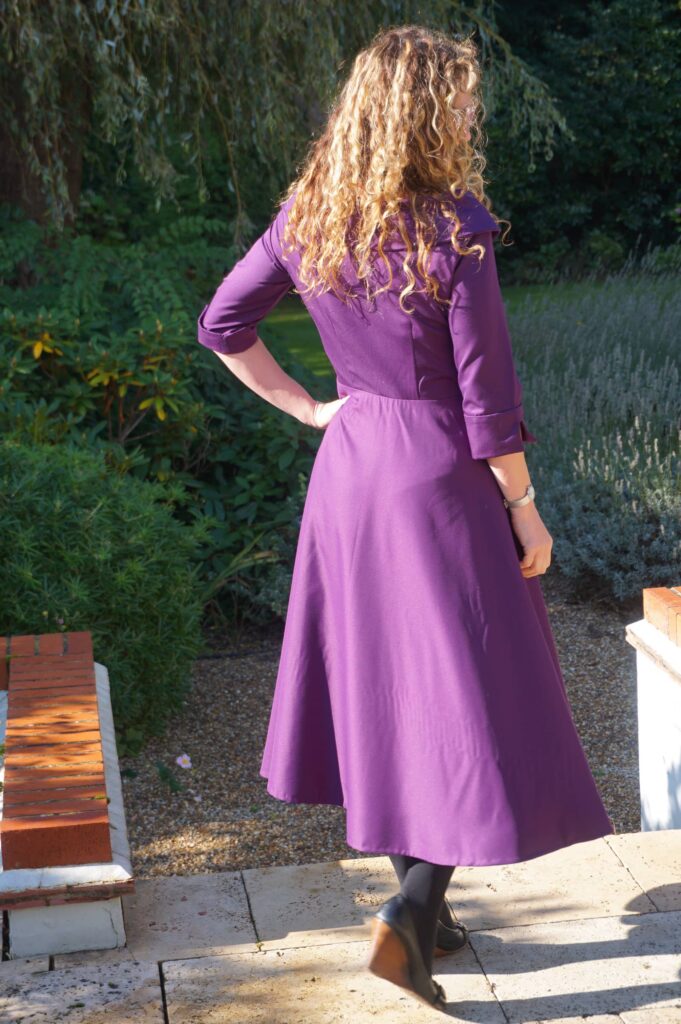 M6696 for the button placket and the sleeve cuffs
I used the M6696 button placket for inspiration, as I wanted to make mine slightly narrower and it also needed to be longer to accommodate the midi skirt. I also used the sleeve cuffs, by adjusting the width and length of my V8630 sleeves to match the M6696 three-quarter ones.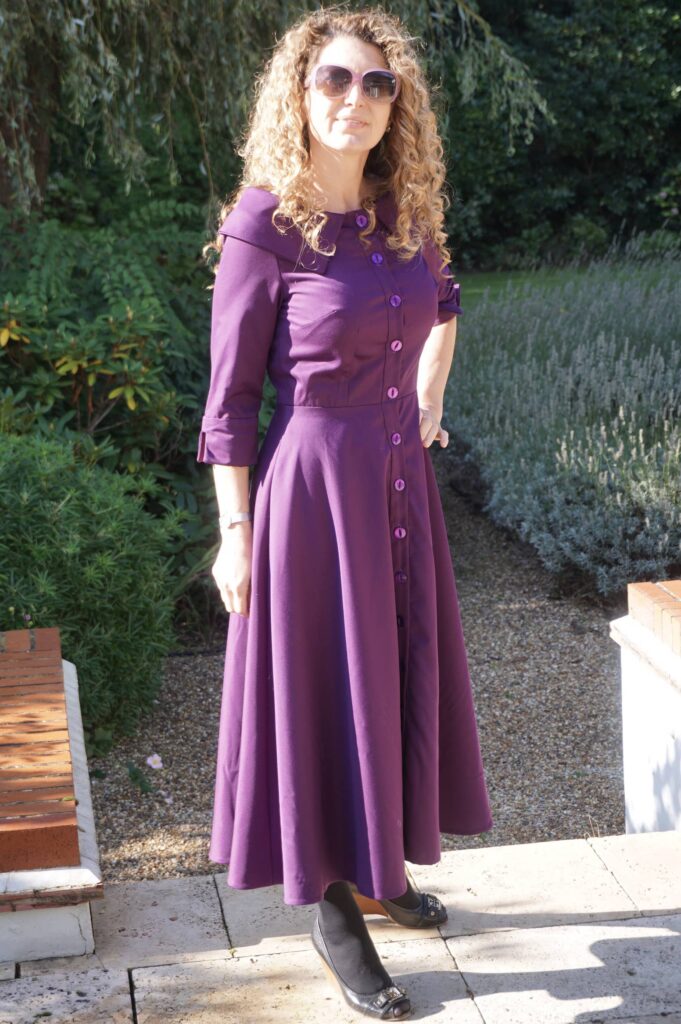 Fabric used and final touches
For this dress, I used a gorgeous cotton suiting fabric, which has similar weight and drape to wool suiting but without the itchiness. I found it on my first ever (but definitely not last) trip to Goldhawk Road, which I really should have documented as it was such an amazing experience – I promise I'll document the next one!
I lined the entire dress by simply replicating the pattern pieces, with a cotton chambray leftover for the bodice and with antistatic lining fabric for the skirt.
I spaced the buttons quite close to each other (there are 16) and added a waist-stay (see this article for more details on what a waist-stay is and how to make one).
Conclusion
The conception stage took me ages for this project, as I wasn't quite sure where to start. I am pleased I spent so long thinking about it though, as I am thrilled with the result, this dress is exactly how I envisioned it.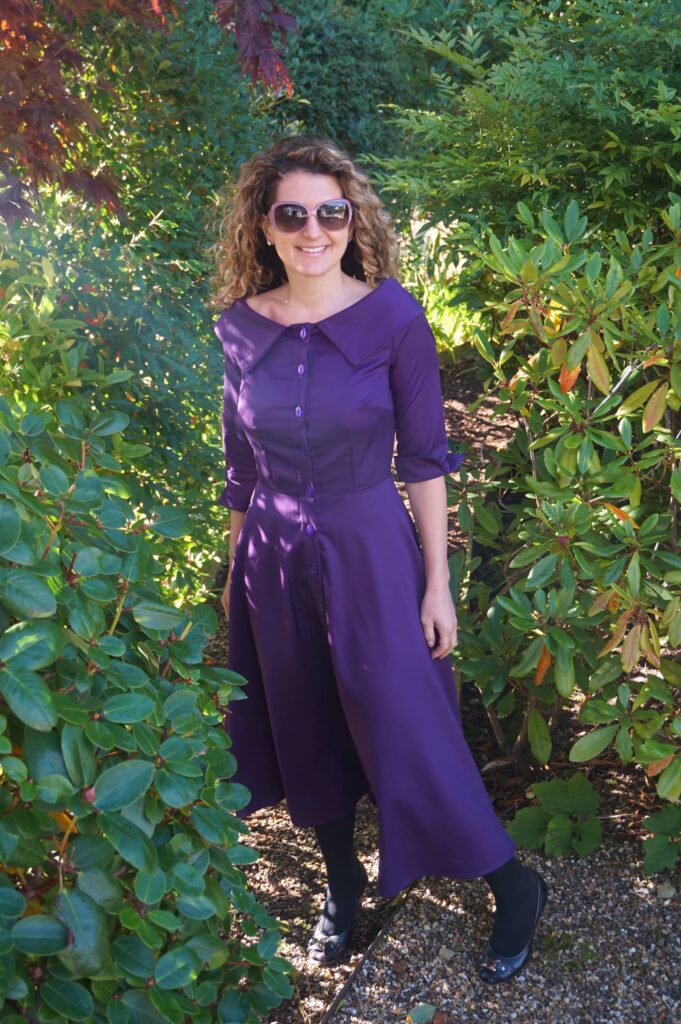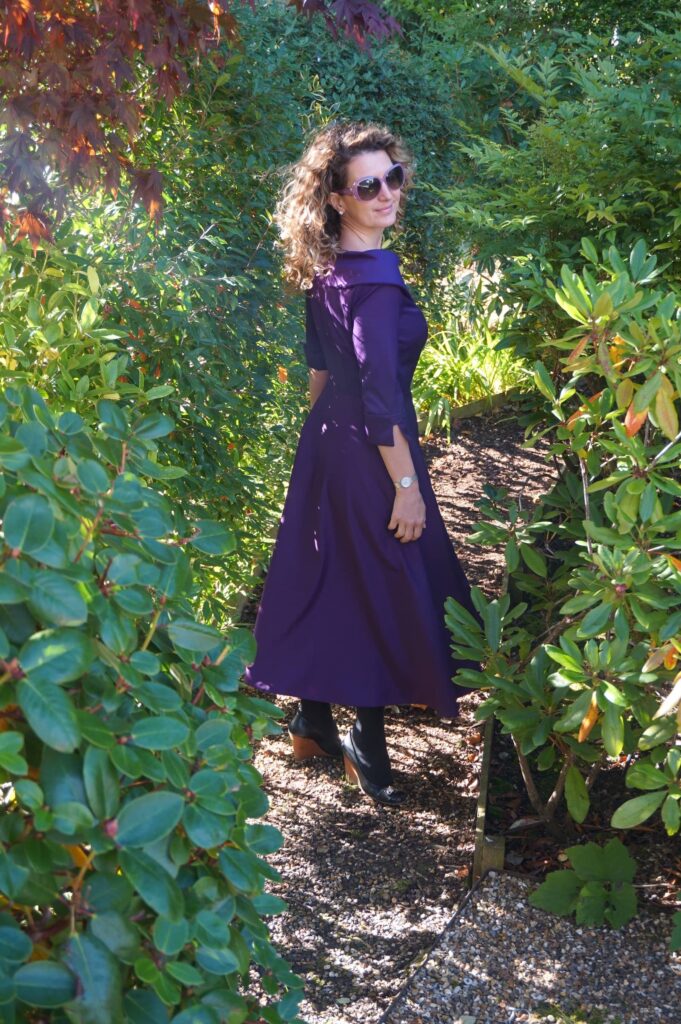 ---