A second shirt dress for Spring
Despite the complete absence of Spring weather, I have been making tremendous progress on my handmade Spring wardrobe and have nearly completed all the projects I had planned earlier in the season – I am so proud of myself! Here is my latest make, a midi shirt dress in Liberty fabric.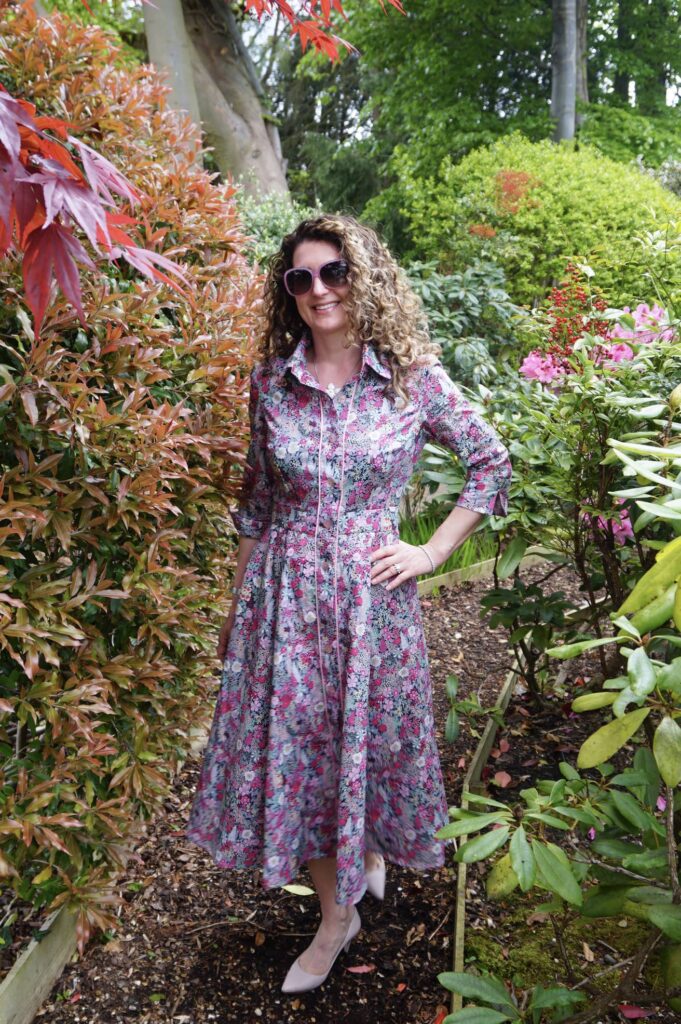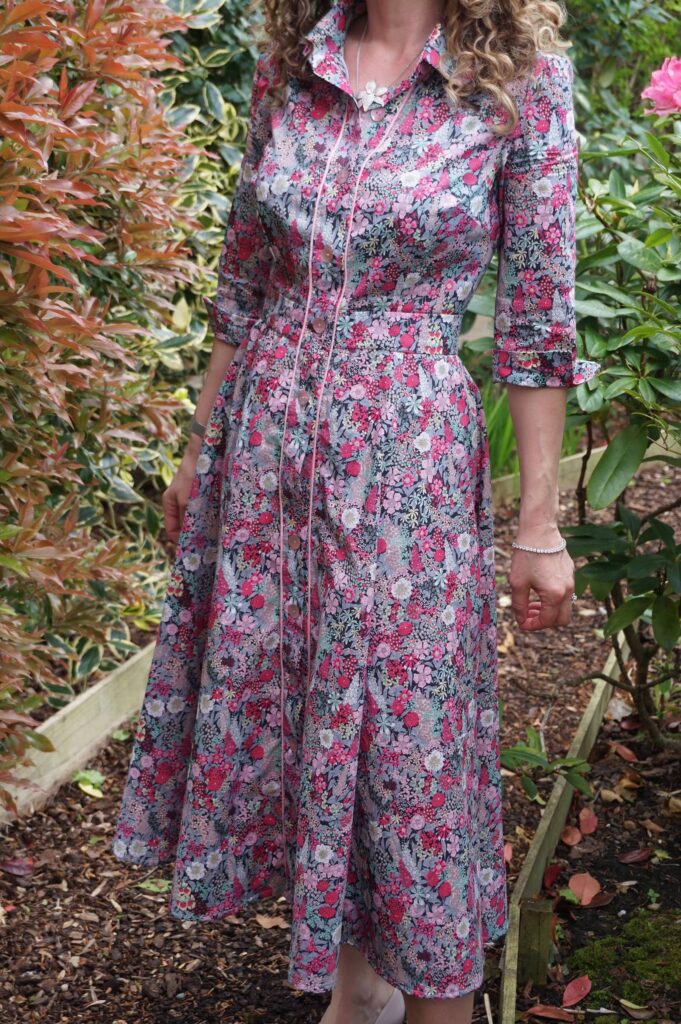 Mixing patterns: B6702 and M6696
I had originally planned to make this dress using a Butterick pattern, B6702. I have already sewn three shirt dresses using the knee-lenght, pleated skirt of M6696 (here, here and here) and I absolutely adore them. However I was keen for a change, especially to go for a longer and wider skirt.
However I pondered for ages about the absence of belt in B6702 – would it mean a less fitted waist? and the weight of the skirt bodice pulling on the bodice? I don't have answers to these questions because I eventually decided to combine the top of M6696 (bodice + belt) with the midi skirt of B6702. And it worked wonders!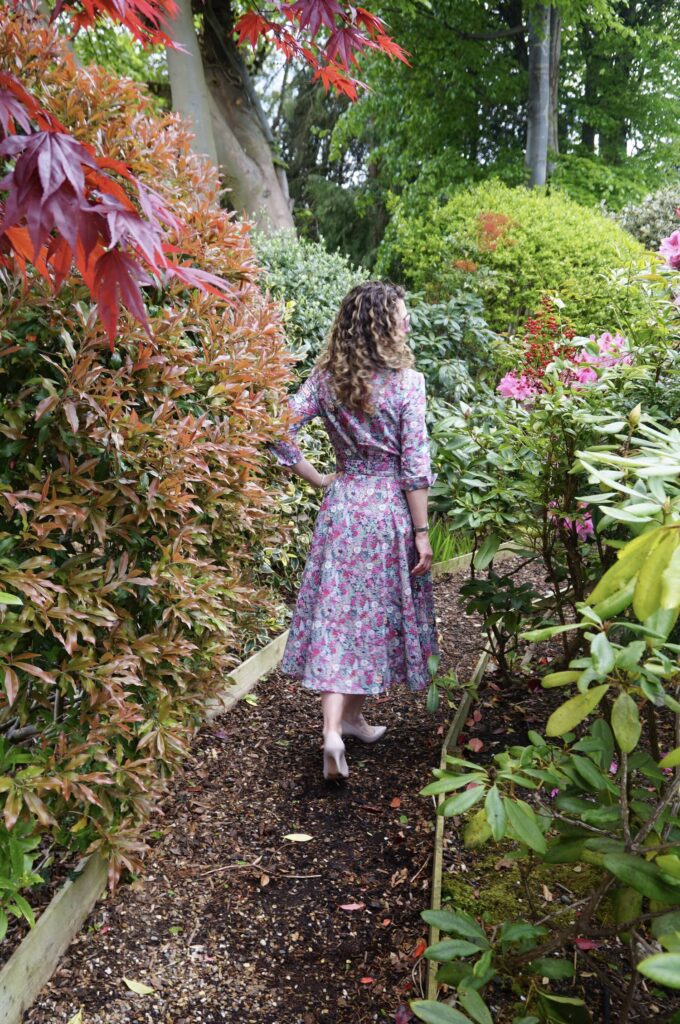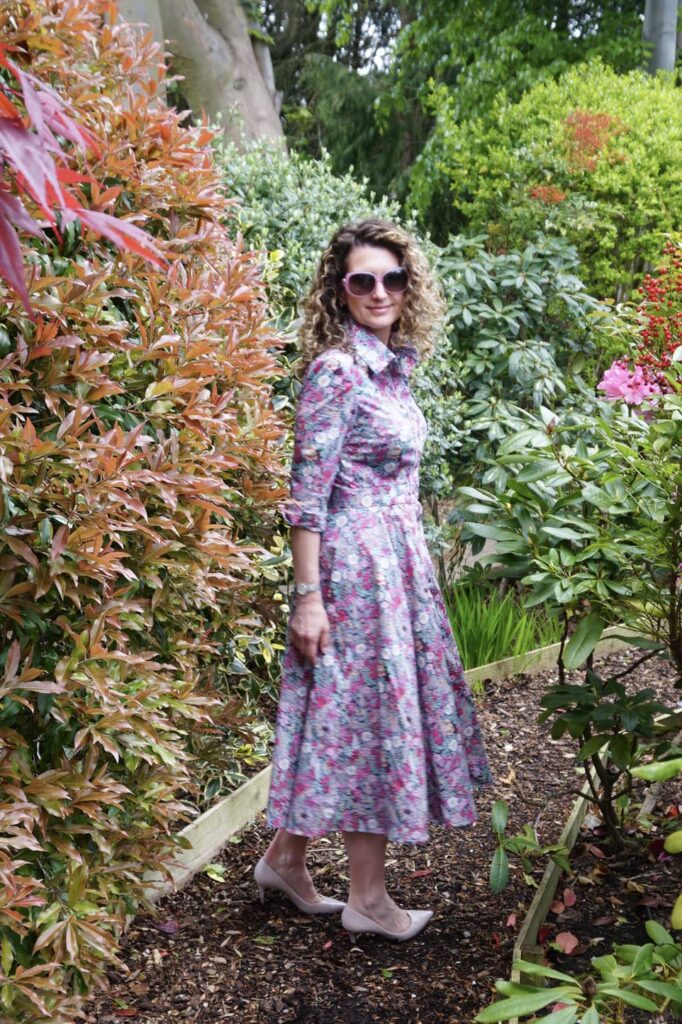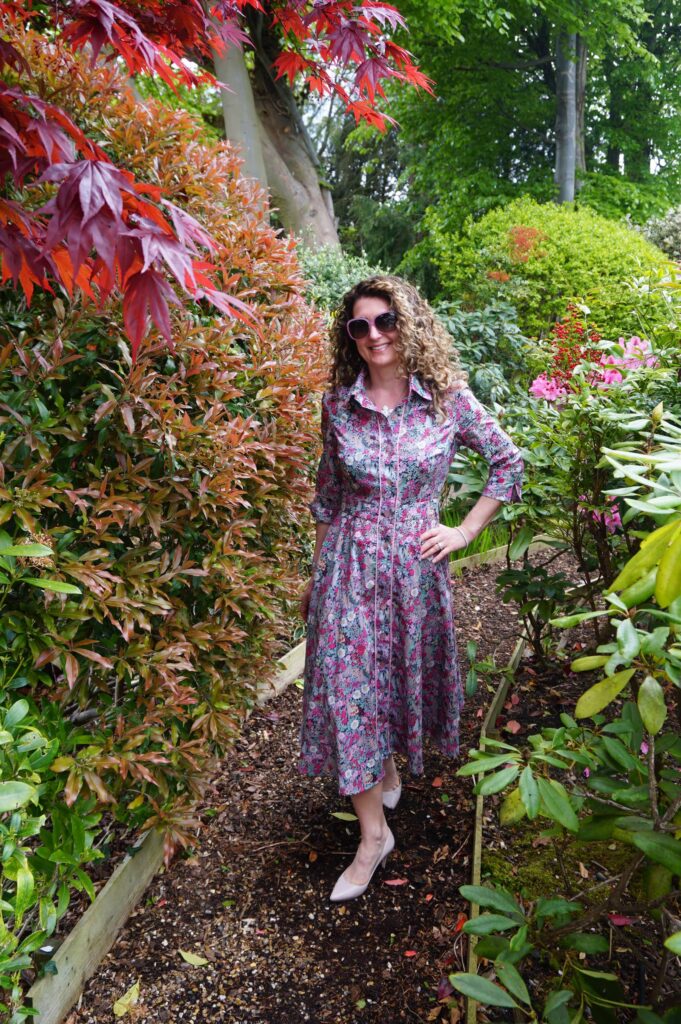 McCall's and Butterick (along with Vogue) belong to the same pattern company so combining their patterns is actually a piece of cake! I very roughly measured the skirt and bodice waist circumference to check they matched in my usual size 10 (FYI I am a UK 8/ FR 36 / US 2) – and they perfectly did! These two shirt dresses are also constructed exactly in the same way: the button placket is added to the dress once the bodice and skirt have been assembled, so I did not have to fiddle with different button placket constructions.
M6696 and B6702 pattern reviews
As far as the patterns are concerned, I recently reviewed M6696 extensively (here) so not much more to add: this is an absolutely impeccable pattern, with a gorgeous shape, a beautiful finish and perfect sizing (it has bust cup options, which help massively the bust fitting). The instructions are extremely clear and will immensely help you if you're sewing your first shirt dress – I still follow them religiously.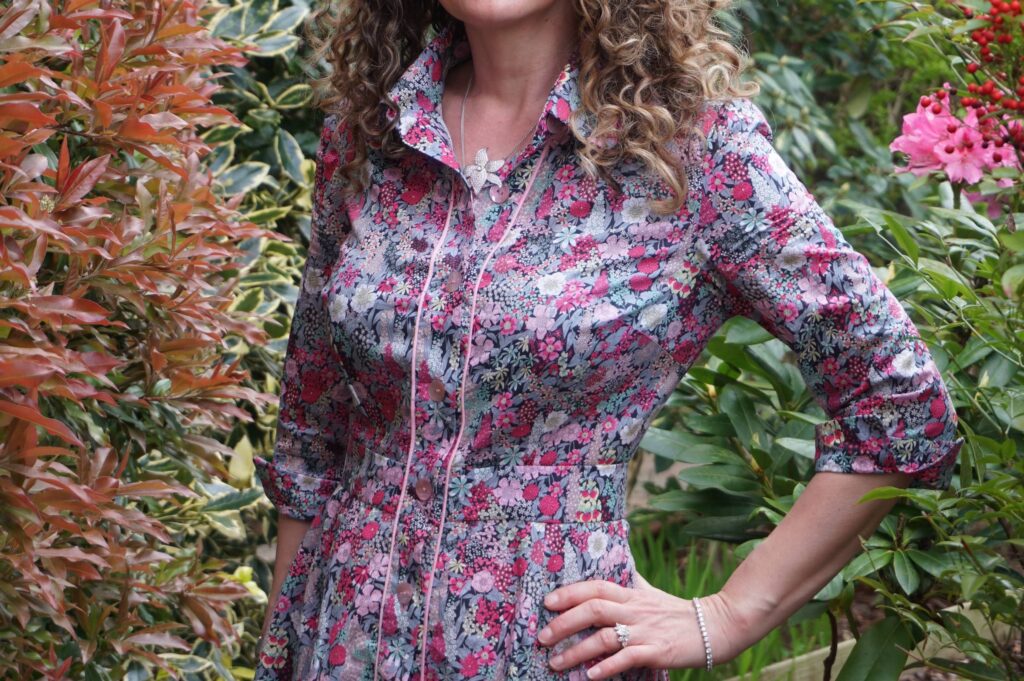 As for B6702, I did not sew the bodice but it has custom bust cups too, a huge positive in my view. The skirt is very pretty but I am a bit disappointed that it does not have more volume, especially for a skirt with six pieces! (you can tell I am a fan of two-pieces circle skirt) That said, I really should have realised this from the enveloppe illustration. And the big advantage of this skirt is that it does not consume a huge amount of fabric.
Word of warning: when making this dress (either following one of the patterns or mixing the two), you need to be careful about your button placket: make sure it is way longer than what you need! The M6696 button placket pattern piece is scarily short, so after a stressful experience of not having more fabric to cut into, I am overly generous when I cut it!
Modifications to the original patterns
The only two modifications I made to the patterns (on top of mixing them of course) is that first I added piping on each side of the button placket – I adore this detail and have used it in my previous dresses too. I hesitated for a long while between a vivid or pale pink – I am so pleased I chose the pale with the busy fabric. The buttons are also pale pink, in mother-of-pearl and found on E-Bay (which, with Etsy, is my main source of buttons).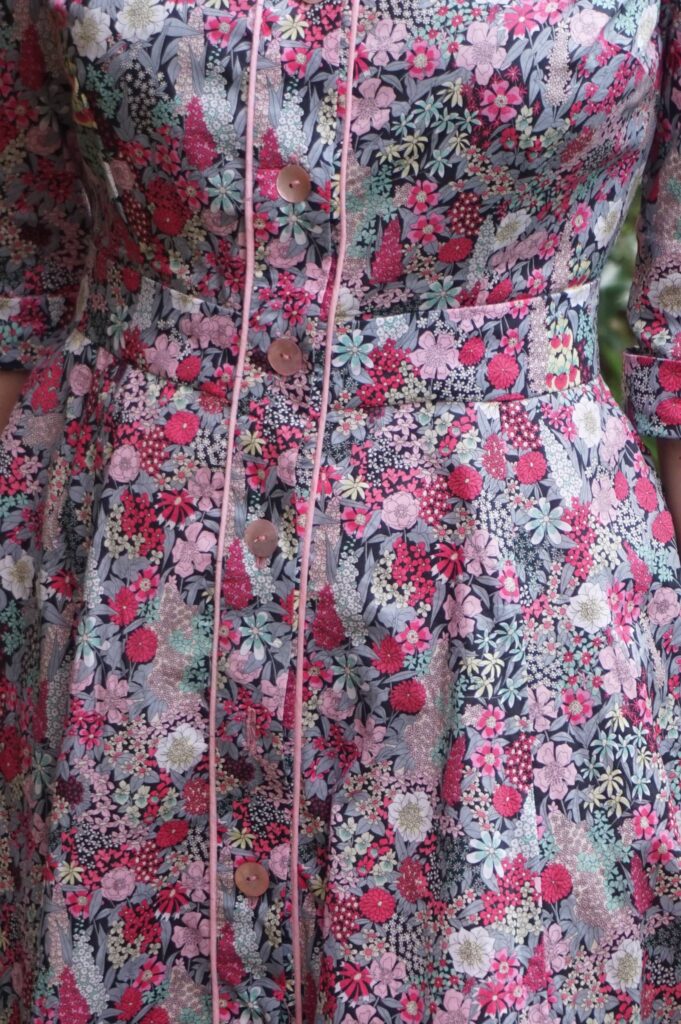 And second I added sleeve cuffs to my 3/4 sleeves, because I also adore this finish and put everywhere.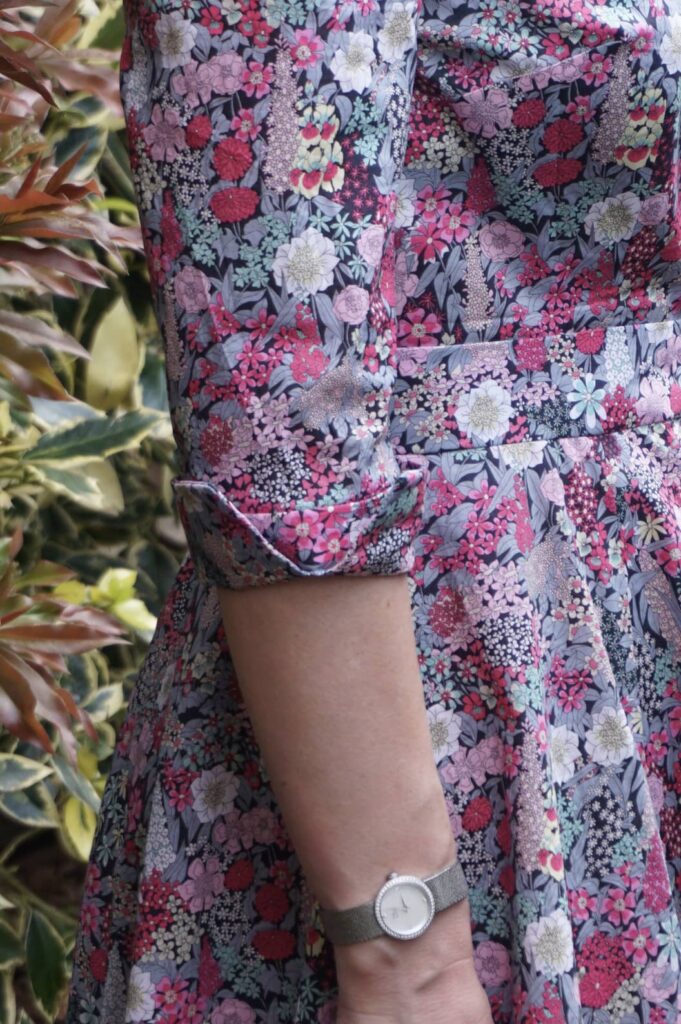 Fabric used: Liberty lawn lover forever
The fabric is a Liberty lawn bought from Croftmill. If you've already sewn Liberty lawn, you know it is the nicest fabric that exists on Hearth: soft as silk to wear, easy as cotton to sew, it is just an absolute dream. Sadly the price keep increasing and since the production was relocated to Italy a few years ago, it is impossible to find cheaper end of rolls, so this purchase was a real treat to be honest!
Why did I chose this specific Liberty – well, guess! Obviously I will never wear these together though.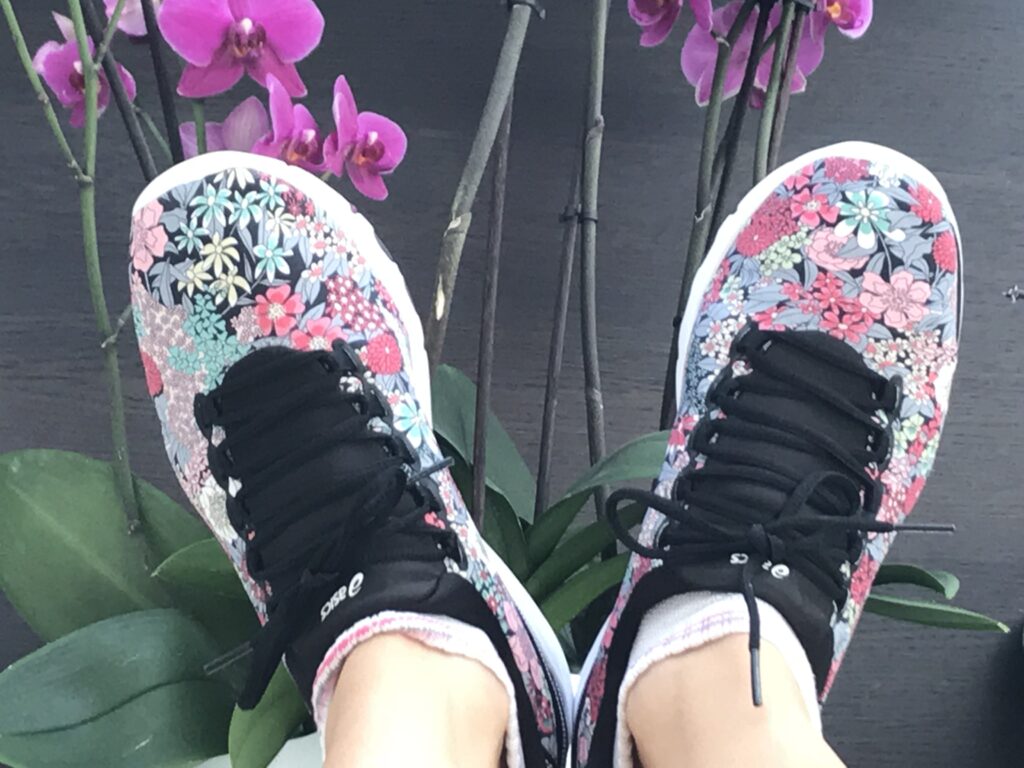 Conclusion: how many more shirt dresses do I really need?
I am extremely pleased with this dress, which I have been wearing a lot recently given the freezing cold of the past few week. Whenever the weather improves, I will however need a sleeveless version. There is no such thing as too many shirt dresses in a girl's wardrobe, right?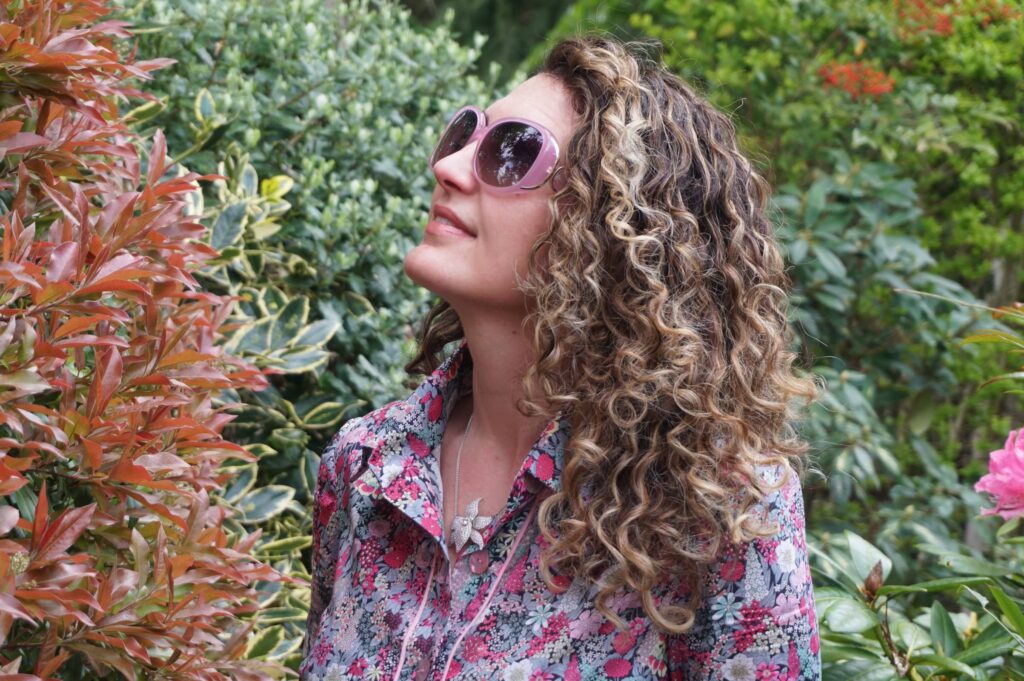 ---