What to sew for Spring?
With a few glorious days over the past week, blooms everywhere and days becoming longer, Spring is definitely in the air. And after months of sewing wool and adding lining to all my dresses, I just can't wait to start sewing my Spring wardrobe. So here are my inspirations for Spring sewing – with a little sneak preview on some already completed items, that's how impatient I was!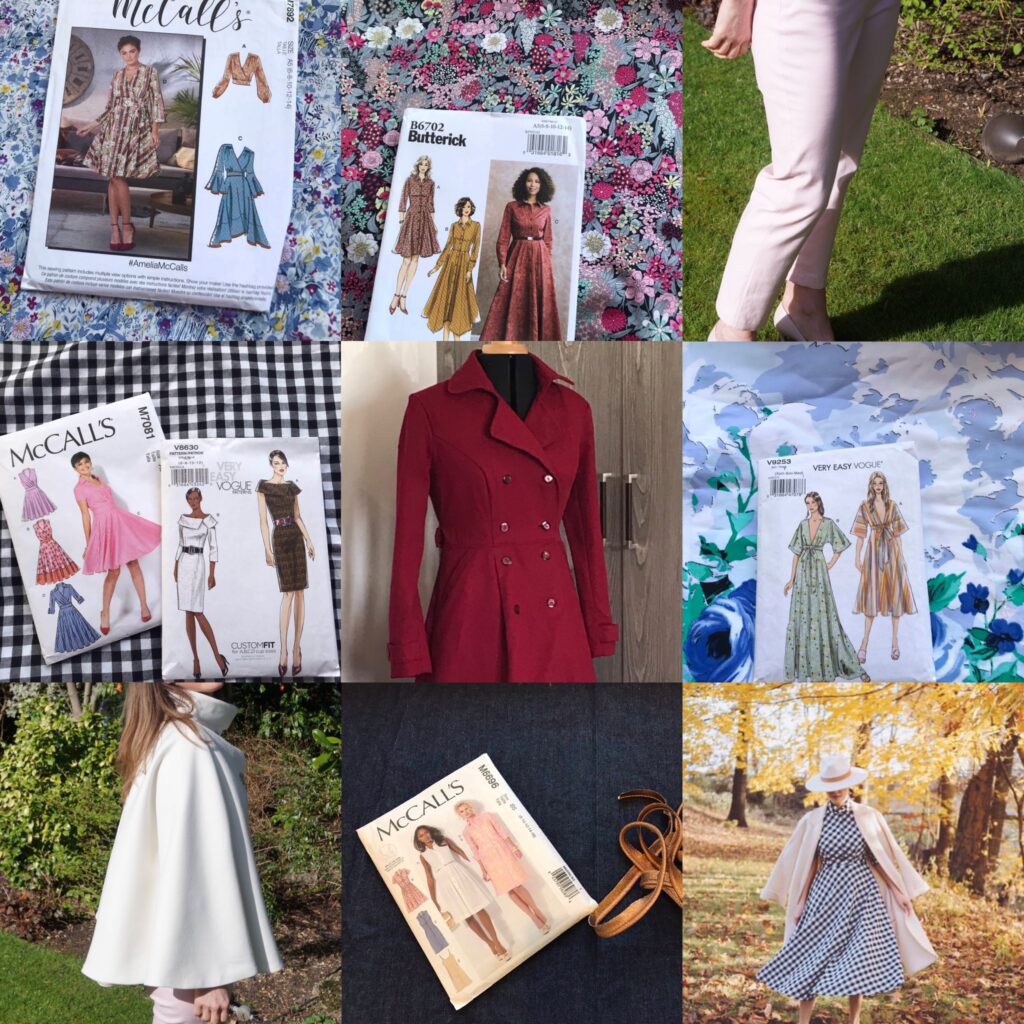 Spring outwear: a cape and a trench coat
Since I discovered Veronica Popoiacu's Bittersweet Colour blog, I basically want all her outfit! Her style is just incredibly beautiful! For Spring 2021, I specifically want to reproduce this beautiful off-white cape (last picture below, taken from her blog, full credit to her amazing style and to her gifted photographer!). It is not a colour I have for mid-season outerwear and I think it would work very well with some of my recent makes, in particular my full circle silk skirt; my "nearly Dior" dress; and "not so sure about this one" dress.
The "Trendy Cape" pattern by Vanessa Pouzet, which I made in the past but never photographed, is definitely a good option to reproduce this cape. However if you are looking for it, it seems to have disappeared from Vanessa Pouset's website, why?!! As for fabric, I have been eying this gorgeous double-sided cashmere for ages, so when Les Coupons de Saint Pierre confirmed they were still delivering to the UK, I just took it as a sign and immediately ordered 2m!
And here is a sneak preview of this one, which I made a few weeks ago (and photographed, incredible!) – a blog article will follow imminently I promise!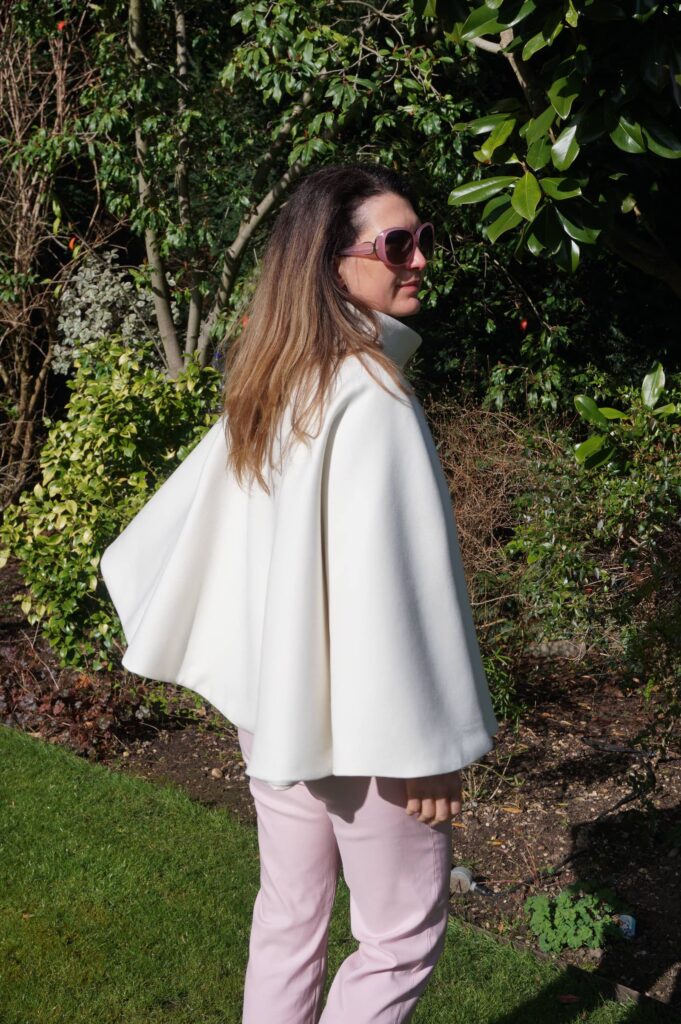 The second item of outwear on my to-do list is the Luzerne trench coat by Deer and Doe. This one has actually been on my two-do list ever since Lise Tailor published this article about hers… 3 1/2 years ago! I literally feel in love and wanted the exact same – in a deep cherry/burgundy colour! (the picture on the right is from Lise's blog).
It took me a good 2 years (October 2019 to be precise) to find the right fabric in Europe: a burgundy cotton twill by Robert Kaufman, which I had tracked on a US website but finally managed to get from SewMeSunshine in the UK. Amazingly, there is still 9m left at the time of writing – I think because the website picture really does not reflect the gorgeous deep and warm burgundy of the fabric. And then another year and a half to get going… and here we are! Finished yesterday actually and I am over the moon, here is a preview as well, before a detailed blog article is written.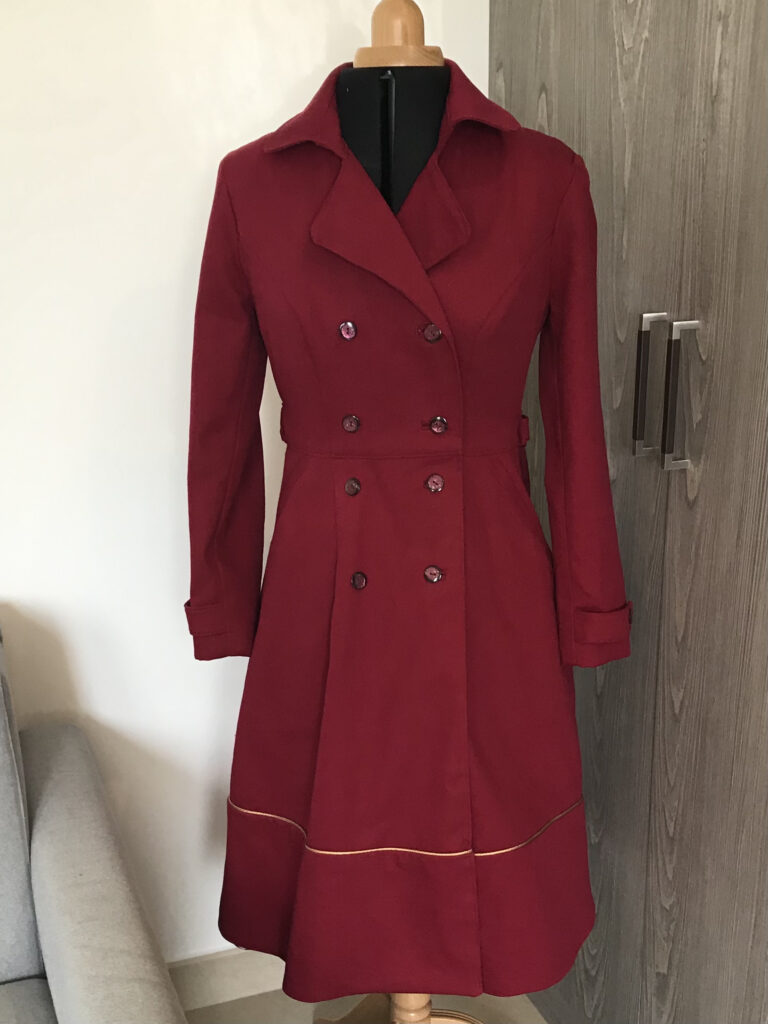 I have just ordered more double-sided cashmere for a second Luzerne; and I have some some powder pink Ventana twill in my stash for a third, so do expect many more to come… in due time, as this is not a quick and easy sew!
And third?… I have ambitions to try and make a toile of the short version of The Princess Coat by Charm Patterns. This one will probably have to wait until Autumn to be honest, as it it a very technical piece…
Trousers and blouse combination… for a change!
You know that I rarely wear anything else than dresses – skirts with hand-knitted cardigans at a stretch. And I actually own very few pairs of trousers, which I mainly use for weekend family walks in the countryside. So these plans will definitely surprise you!
However I have been wanting to have a go at trousers ever since the Loulou trousers pattern by Maison Fauve crossed my path. Cigarette is my favourite shape for trousers; and I much prefer an invisible side zip than any other type of closure, as it makes the silhouette more elongated in my view. Another big plus of Loulou is its gorgeous pockets.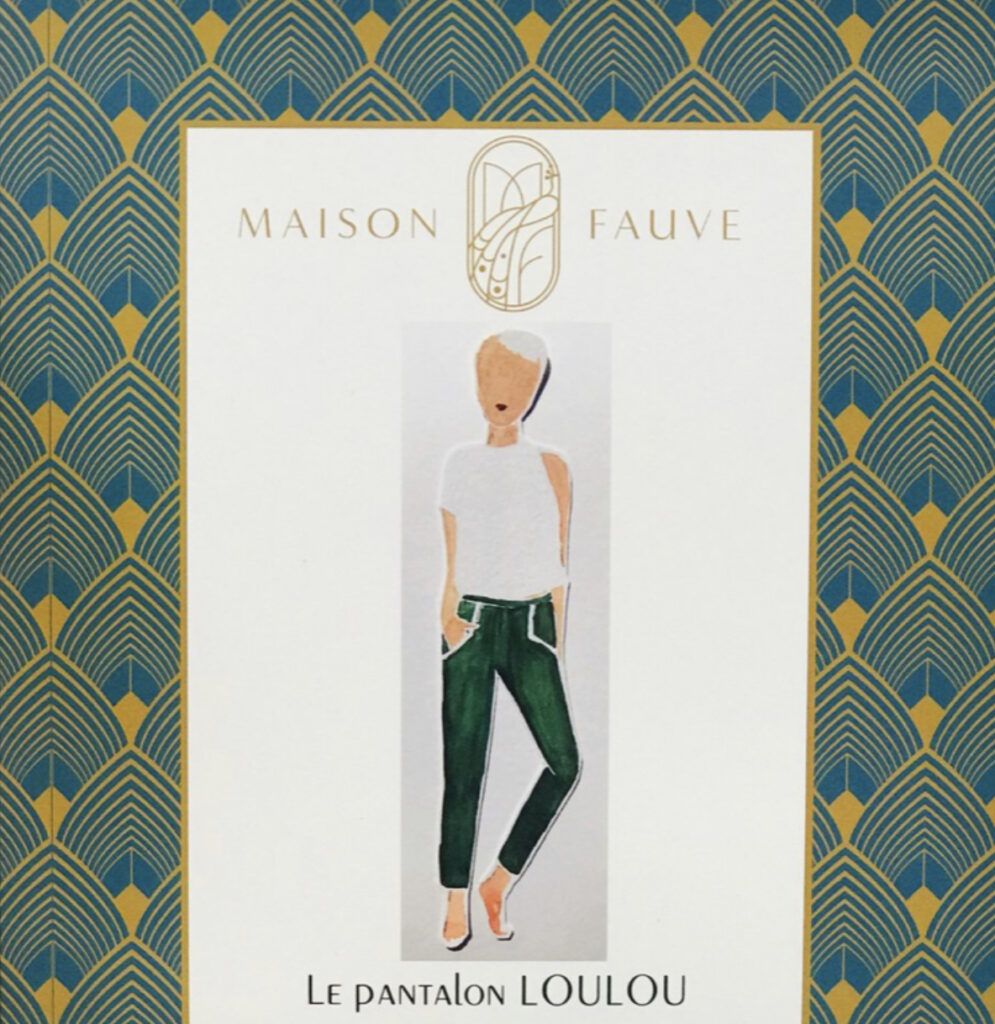 Once again, the stars weren't quite aligned. First, until very recently, the pattern was only available as paper, not PDF, so getting it to the UK was prohibitive (so says the girls who buys cashmere and silk on a regular basis… no comment). Second I was struggling to get the right fabric, I wanted a semi-weight cotton with slight stretch but it never seemed to appear in a colour I liked.
Eventually we got there. Loulou's PDF was released and I ordered it. I also found this great baby pink stretch cotton fabric from Croftmill, and… I actually found a more suitable pattern!!! My only reservation with Loulou is that it is quite low-waisted, while The Ultimate Trousers by Sew Over It have quite a similar shape but a higher waist. So here we are now.
And yes these trousers have been sewn too… Here is a picture but much more details to follow.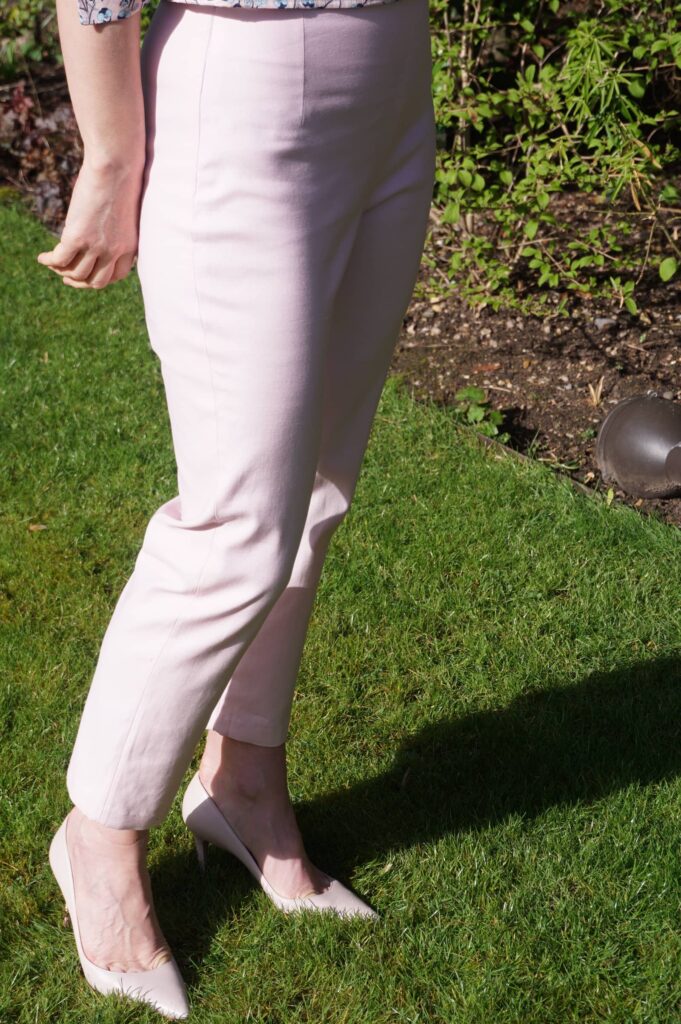 To wear with these trousers, I (obviously) need a blouse – I am not a huge fan of wearing buttons so no shirt ambitions here. I want something reasonably fitted and short. But I am struggling to settle on the pattern. Here are the different possibilities I am considering: M8147 for it beautiful neck bow; M7542 because I've sewn it before and the fit is perfect; V9315 because I love wraps… In any case the fabric will have to be baby blue or candy pink, my colours of choice this season.
Dresses, dresses, dresses!
Of course, I kept the best for the end. As ever, I want to sew load of dresses.
First, a dark blue denim shirt dress with bronze piping is my utmost priority – don't ask my why! I made a similar dress in a pale blue chambray with silver piping two years ago, which I adore but which is more appropriate for warm weather. I think a darker version would be better for mid-season.
Second, a black and white gingham dress. Here as well the inspiration comes from Bittersweet Colour. I'd like to reproduce this beautiful dress, with a bias-cut perfectly fitted bodice and a midi circle dress. I have found the perfect fabric from Fabrics Galore – fingers crossed 4m will be enough for another fabric-gobbling project! However, I am not sure I want to have a shirt bodice, as I am not very good with pattern matching… So I haven't chosen the pattern yet, but I may well combine the M7081 skirt with the collarless, raised neckline bodice of V8630 (the best fitted bodice I ever found).
Third, fourth and fifth: lots of flowers! Does a girl need so many flowery dress in her wardrobe? Of course! Here are the ideas, we'll see how they go.
Conclusion
So nine projects in total, some of which are likely to create an unavoidable urge for immediate repeats… I'd better get going!!
---