Which jumpsuit to sew? M7908 of course… three times!
As you know, I am a bit of a matchy-matchy girl and rarely sew separates for this reason. Dresses are therefore my go-to garment. Jumpsuits are also a good option and I think I have found a really attractive pattern: let me introduce you to my three versions of M7908.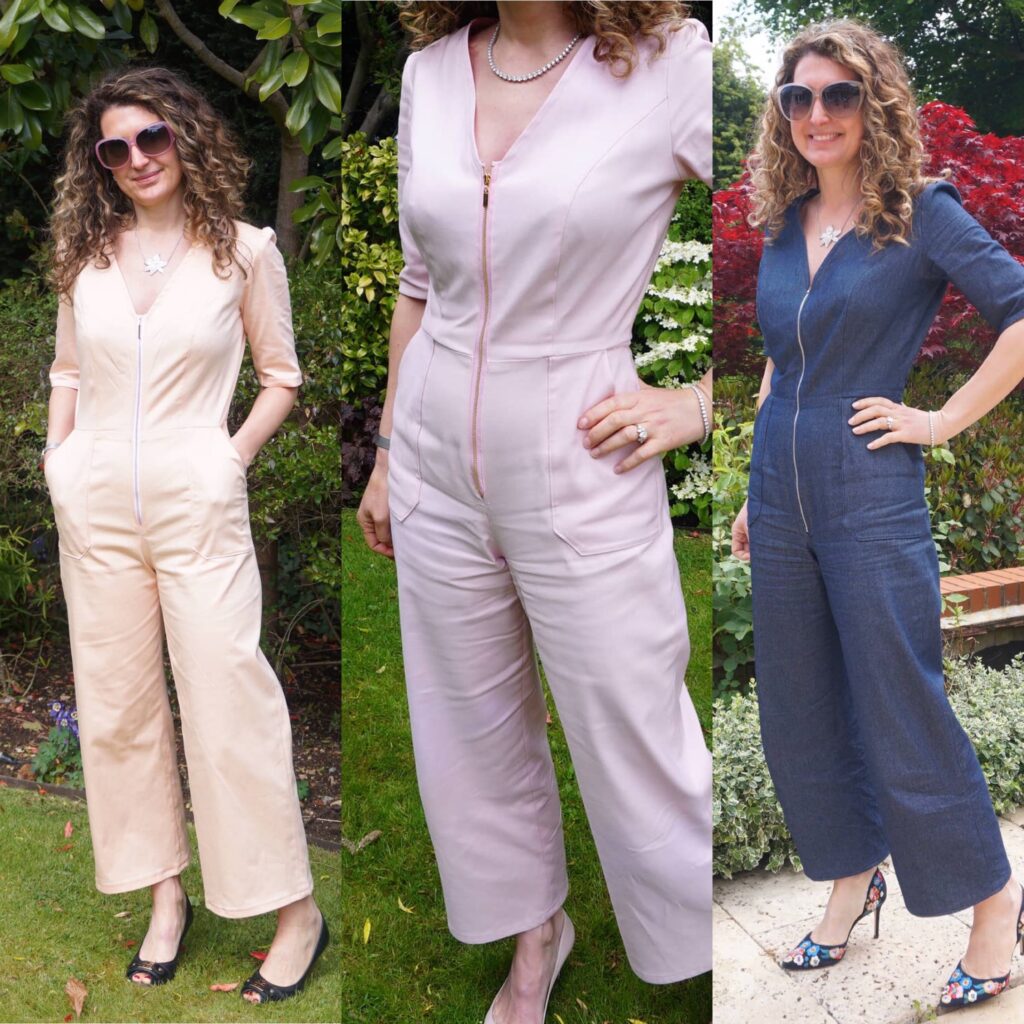 Which criteria for the right jumpsuit?
I fully embrace the idea of jumpsuits – a dress with legs, genius! – and jumpsuit patterns have proliferated over the past few years. However, when it comes to choosing which pattern to sew, I must admit I am super fussy. Here are my non-negotiable criteria:
It must be easy-peasy to take off for loo-breaks. Sorry to be so basic but I am not making clothes to have practical problems with them several times in the day.
The top and waist must be perfectly fitted, because for me this is definitely the area I want to draw attention to. No potatoes sack (as my husband calls them) for me I'm afraid!
The legs must be super flattering – because saying that I am not a fan of my legs is an understatement.
It must fit my long torso – I wish the length was in my legs but it sadly isn't…
Up to now, I have been tempted by many jumpsuit patterns but the only one that fitted all my criteria was Sirroco by Deer&Doe – see articles here (black versions), here (pink) and here (burgundy).
M7908 turned out to be the woven version of Sirocco (which is designed for jersey fabrics):
The front zip makes taking it on and off the easiest thing ever – even easier than with Sirocco. From the picture below you can see how long the zip is (45cm), hence how much rooms it creates to get out when you unzip it.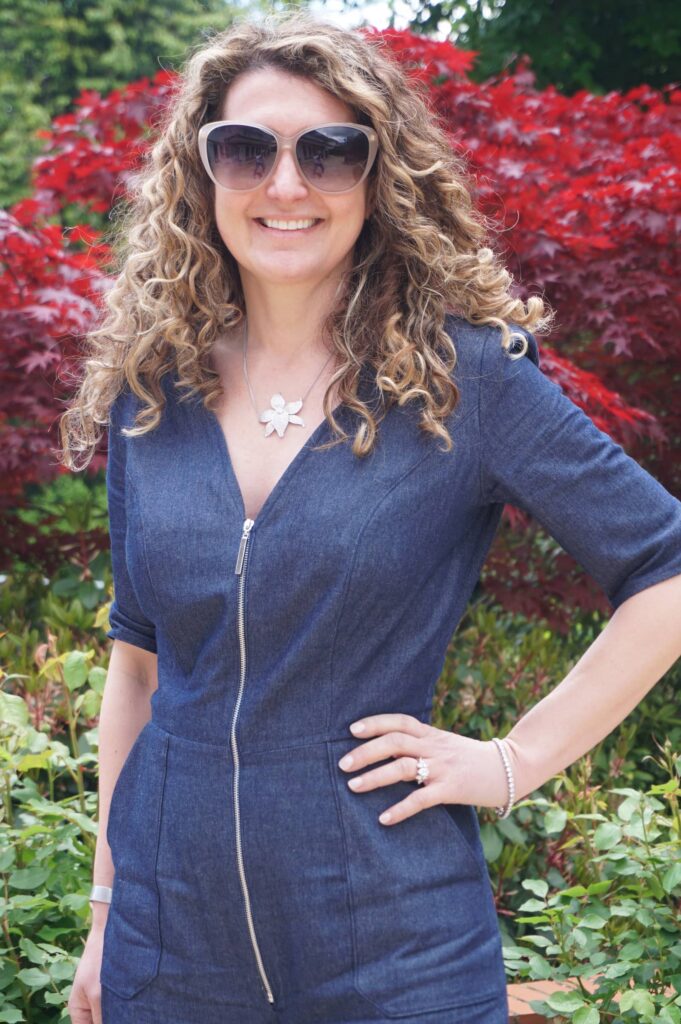 The bodice is perfectly fitted, for two reasons: first the pattern offers custom bust cups, so no need of FBA (full bust adjustment) or SBA (small bust adjustment); and second princess seams positioned both at the front and at the back perfectly huge shapes.
The large, 7/8th legs work very well for my personal shape (thin waist, large hips, muscly legs). This is particularly visible from the back, where trousers rarely falls smoothly for me (well, never actually).
As for the long torso bit, this definitely was not the pattern to go for – let's talk about fitting now.
A fitting battle I finally won – ha ha!
If you are planning to sew a fitted jumpsuit, BEWARE: you are likely to spend a lot of time on fitting. Adding a fitted top to fitted trousers just increases massively the likelihood or something, somewhere, not fitting right. And the problem is that your fitting adjustments are not necessarily going to be similar to mine. After reading several reviews, for the M7908 jumpsuit I think there is however an agreed fitting flaw: it is way too short at the torso!
The first jumpsuit I made is the pale orange one. I was planning to make it a wearable muslin, using the generous seam allowance (1.5cm or 5/8in ) to make my adjustments. And it worked indeed for most fitting aspects, except for the torso length – see how it all pulls at the crotch and consequently does not sit well at the waist. So muslin indeed but not wearable. Whether you go through the muslin path or not, I would strongly advise not to topstitch before you are 100% sure of your fit.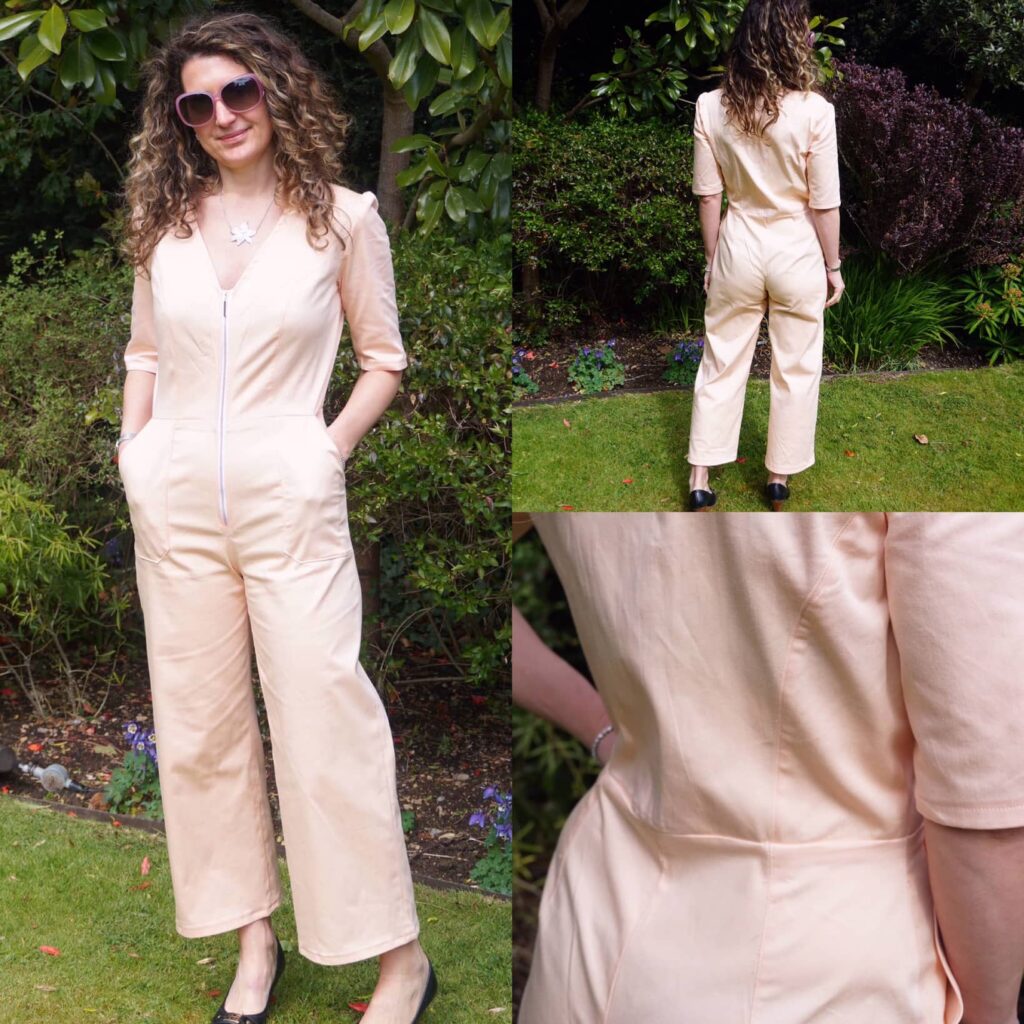 After this muslin, I adjusted my pattern pieces to reflect the changes needed. Below is a picture of the adjusted pattern pieces – the white bits are where I had to make changes (very often quite iterative). I worked mostly on the bottom pieces, because the top had fitted bust cups which work wonders on my E cup; and McCall's patterns usually fit me like a glove (I am a McCall's/Vogue/ Butterick pattern size 10 for a UK 8/ FR 36/ US 2).
In summary my adjustments were the following:
lengthen the torso by 3cm;
add 1cm width at the hips;
slightly reduce the crotch length;
take a bit of width off the back both at the trousers and the bodice (swayback adjustment, not visible because I just cut some of my pattern paper out).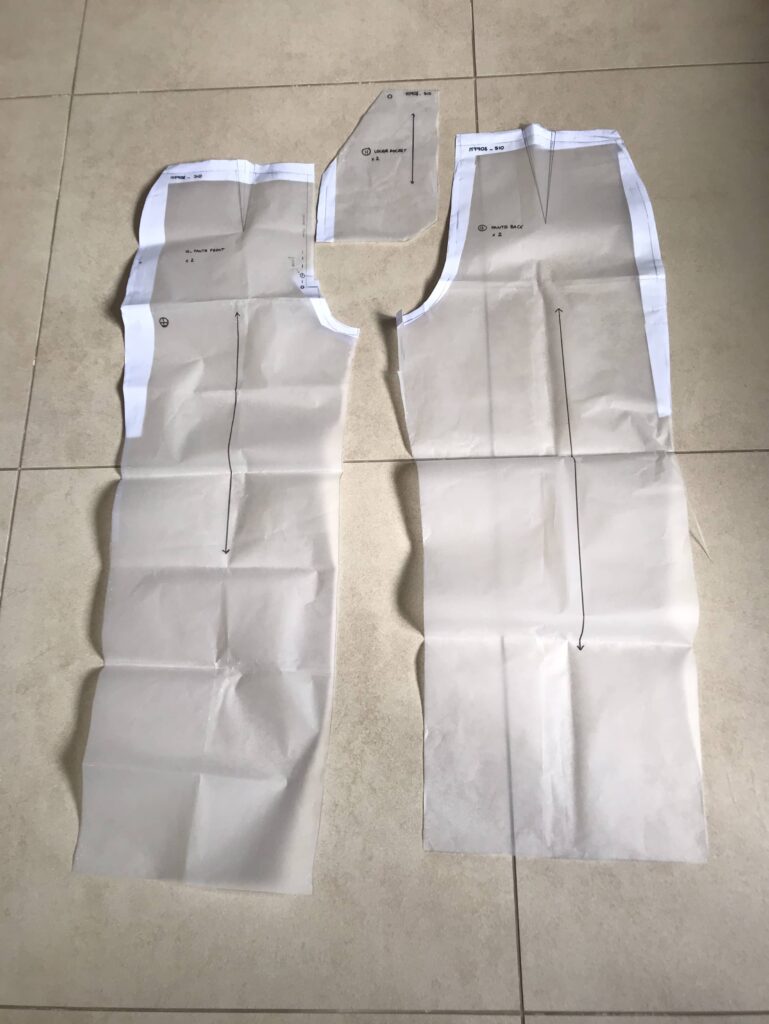 My subsequent pink and denim versions are based on these adjustments and are a perfect fit. I voluntarily left a bit of extra fabric in the back bodice because … this girls needs to breath!
V7908 pattern review: pro and cons
I very much like this pattern, for reasons I have already stated and even more:
I really like the shape, with its fitted bodice and waist and its 7/8th wide leg trouser;
It is super easy to put on and off, thanks to its long front zip;
Once you have worked out all the adjustments you need to make, it is a very quick and easy make. The only technical difficulty is the zip.
This pattern has really nice details, such as the visible front zip and the pockets .
It offers bust cup options, which I am always a huge fan of as it prevents me from having to make a FBA.
That said, there are quite a few things I disliked:
The fitting effort needed is a terrible hassle and the fact that the torso is so short is just really annoying.
The instructions are completely hopeless for the insertion of the zip. If you follow them you should cut into your fabric right at the beginning of the process, risking the fabric to tear when you try on the fit before installing the zip. For the pink jumpsuit I did not cut and you can see a bulge at the bottom of the zip; for the denim one I did cut but only at the end (and then misaligned my front seams and have to redo that again but can't be bothered, oh well…).
The pockets do not align to the bodice seams in all sizes. For my size 10 it just about worked (and I think the envelope picture much be in a similar size). However if you look at the illustrative drawings and if you read bigger size reviews, the alignment does not work – huge pity! I would definitely advise to redraw the pockets to reach alignment.
The order of assembly in the instructions is not very helpful for a garment which requires so much fitting. You are supposed to first put the top together, then the bottom, then join them together; and you topstitch as you go. I assembled my denim jumpsuit in a completely different way : 1/ join back top and bottom – check the darts alignment; 2/ join front top and bottom – check the darts alignment; 3/ join back and front together – check fit and then topstitch; 4/ install zip.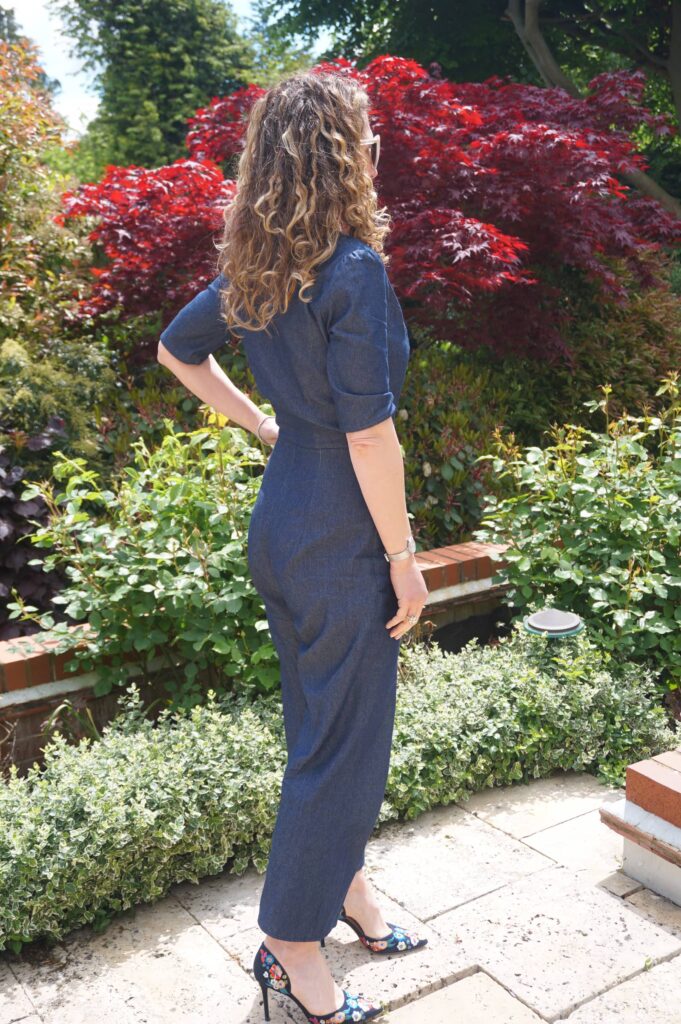 Fabric and notions advice for V7908
The pattern calls for woven fabric, but I would strongly advised that you use something that has a tiny bit of stretch (but not too much). It makes the fitting a bit more forgiving and the garment more comfortable.
For both my pink and denim versions, I picked fabrics I had recently used with great pleasure. The pink is a stretch cotton (between chino and twill) from Croftmill, which I used for my Ultimate Trousers. It does have quite good structure, which works really well for this pattern in my view. It does crease a bit but such is life!
The denim fabric is from Fabrics Galore (still available at the time of writing!) and was used for my recent Spring denim shirt dress. It is 6oz in weight and I think I could have gone to 8oz for this jumpsuit, but it is super soft and comfy to wear. The colour is "stonewash indigo blue" and it is truly stunning (I am probably as fussy for denim choice as I am for fitting issues).
As for the zips, I got them from E-Bay, my go-to place with Etsy for sewing notions. The pattern calls for a 45cm zip but I used 40cm for my first two versions and I actually think 45cm is a bit too long.
Conclusion
Despite its fault, M7908 is a lovey pattern. And after my long fitting battle, I am definitely keen to reuse this pattern as much as possible.
After three versions, I am taking a little break and will go back to it in Autumn – I already have a gorgeous burgundy twill fabric just waiting to be cut! This is definitely the perfect garment for the transitional weather we have been having in England… well, since March!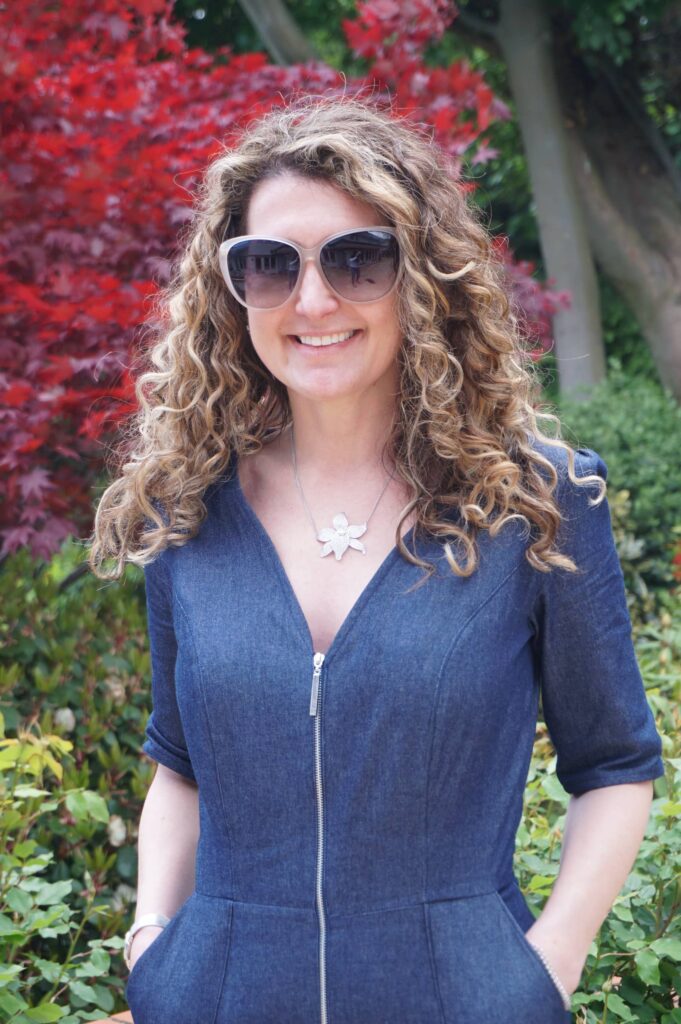 ---
4 responses to "Which jumpsuit to sew? M7908 of course… three times!"