Fitting Frenzy: the Sirocco Jumpsuit
If you've been following this blog for a while, you will have noticed that I have become seriously obsessed with fitting issues lately. Along with my competencies, my sewing goal have evolved: I now want to get the perfect fit for my handmade clothes – no matter how many muslins it may take. So I should definitely have expected that tackling a jumpsuit like Sirocco by Deer & Doe would be my fitting nemesis – and it was!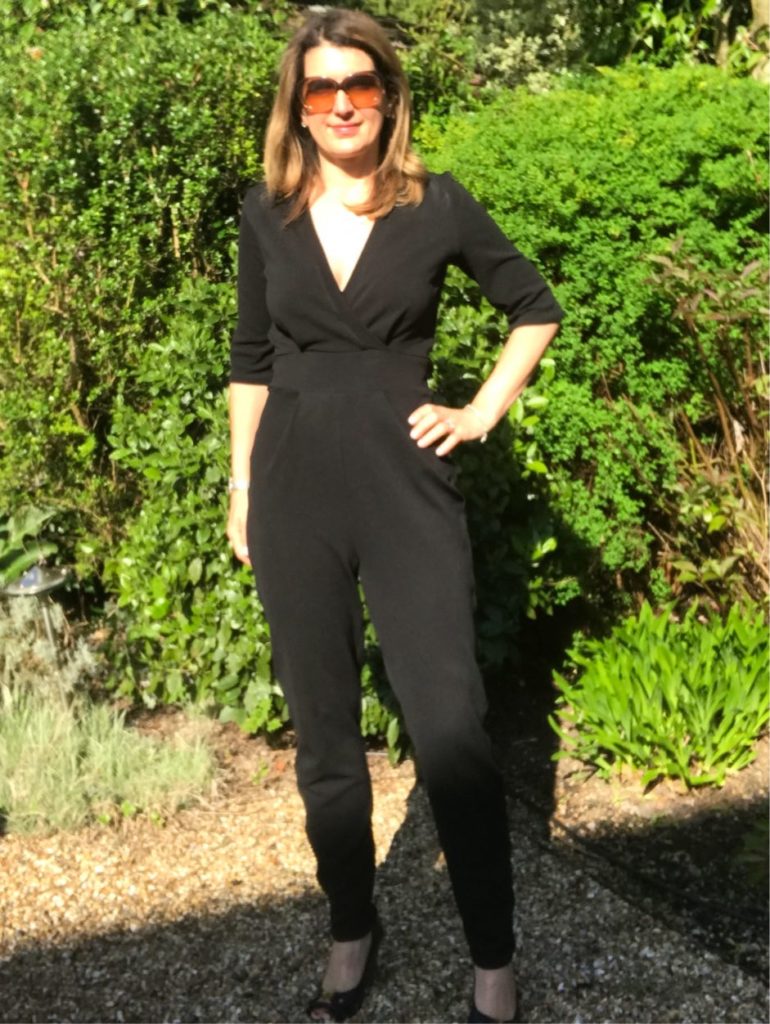 Sirocco is part of the latest Deer & Doe collection that came our early April (2019); and clearly it has been a sewer's favourite, with many version popping all over Instagram (I could not find many blog reviews though). There was nearly no mention of fitting issues, so I thought ah ah, an easy one! With my tiny shoulders, my E cup bust and my long torso (versus short legs, oh well…), I should have known better!!! It took me three muslins and a half to get the right fit… Arrrrgggghhh!
Muslin 1: is it REALLY supposed to be a jumpsuit? Despite the sizing charts suggesting a size 38, I (very unwisely) cut a size 36 – in a previously Deer & Doe world, that worked but not this time! So I ended up with an overly tight wrap top, a very fitted bottom, and 8cm missing in the middle so no way to join one to the other!!! And I'm definitely (and sadly) too old for the mid-rif look…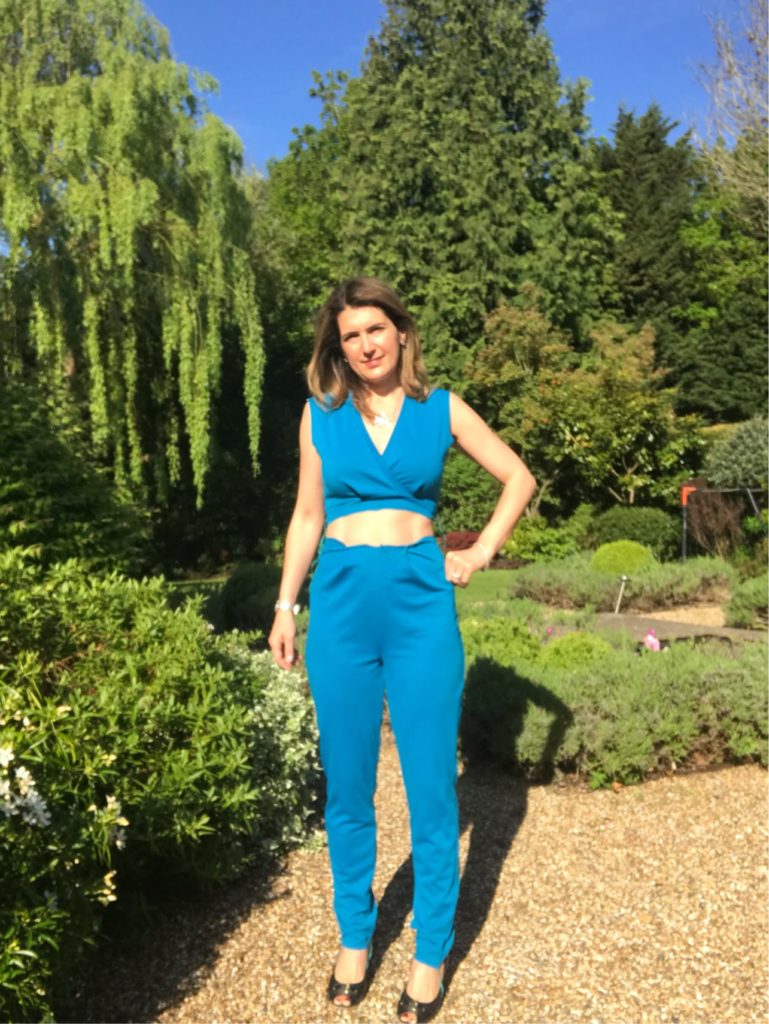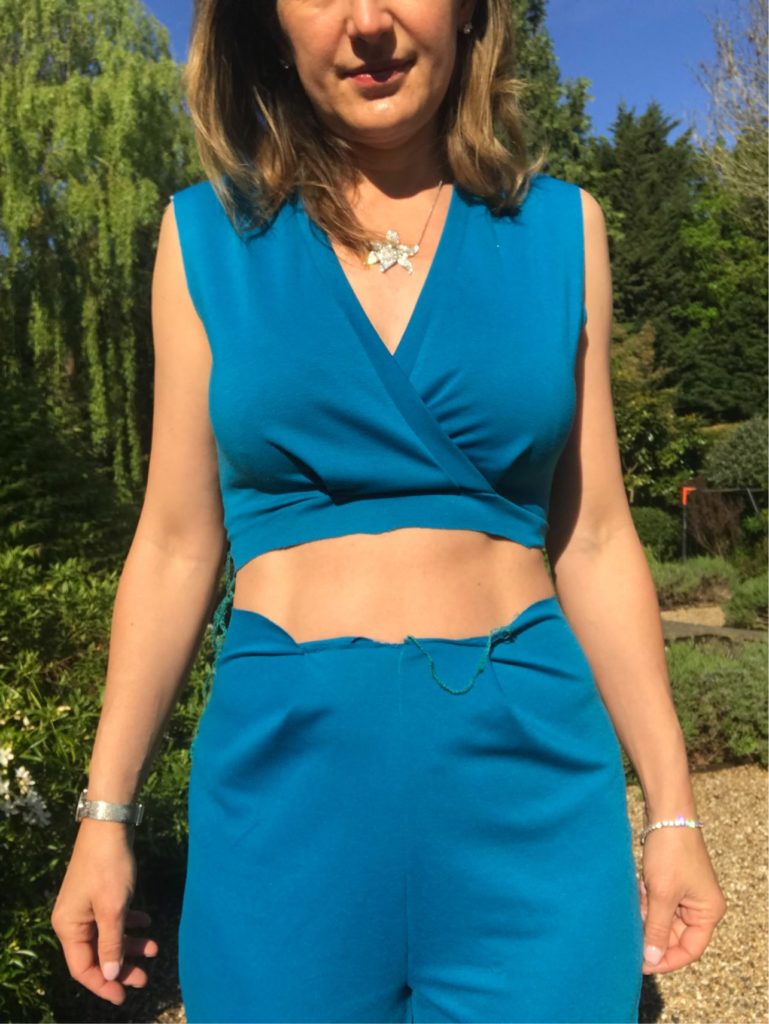 Muslin 2: hello boobies! In my frustration, I decided to go not one but two sizes up (except at the shoulders and sleeves, I am very narrow up there) and add the full 8cm to the bodice. What was I thinking about? Obviously this increase caused a massive cleavage issue, with FAR too much on display. I did not even bother joining this one to a bottom… But there is enough length to do it, that's one thing!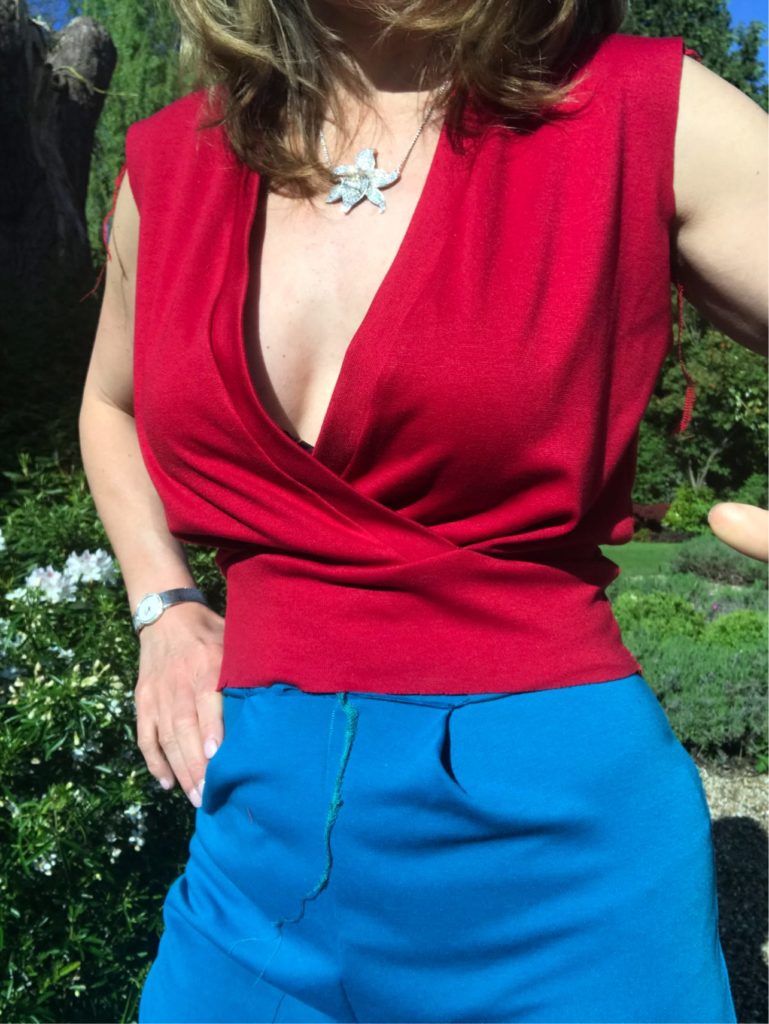 Muslin 3: nearly there… The time I kept the same sizing choices (36 shoulders, 40 rest), did not lengthen the bodice but doubled the width of the belt; and took off 1cm on both sides, top to bottom. The fitting was OK but the belt looked far too wide for my liking! And the bust was a tiny bit tight. I also experimented with sleeves length – I did not like the idea of short sleeves for such a warm garment; and I definitely prefer the aesthetics of the 3/4 version.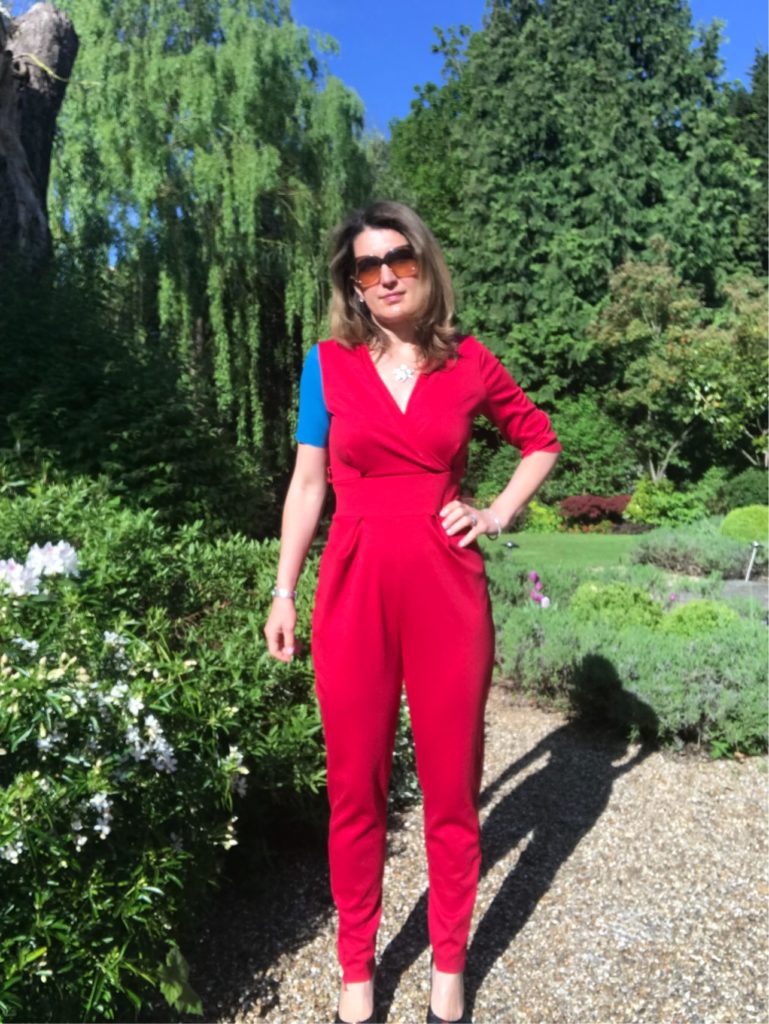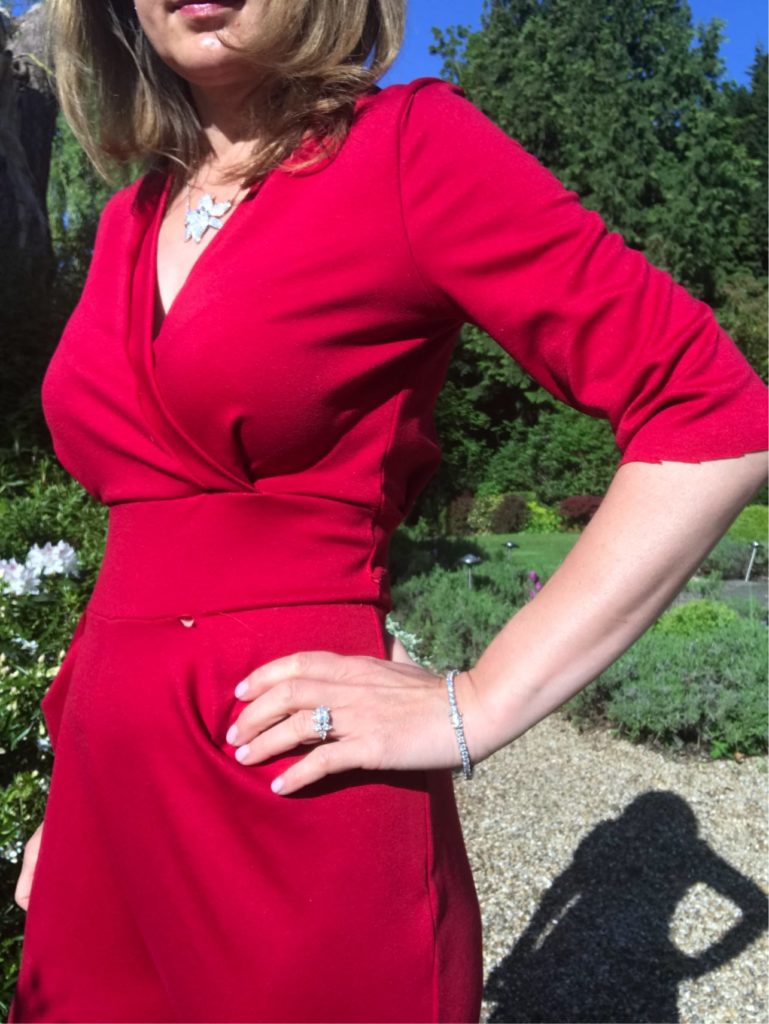 Version 4: finally there!!! I took the risk of making few more tweak directly to my final version: I shortened the (doubled) belt width by 2cm and transferred this adjustment to the bodice. This results in a slightly lower cleavage, but nothing unmanageable! All good now… finally! I forgot to mention previously, the legs were way too long so I trimmed 7cm off!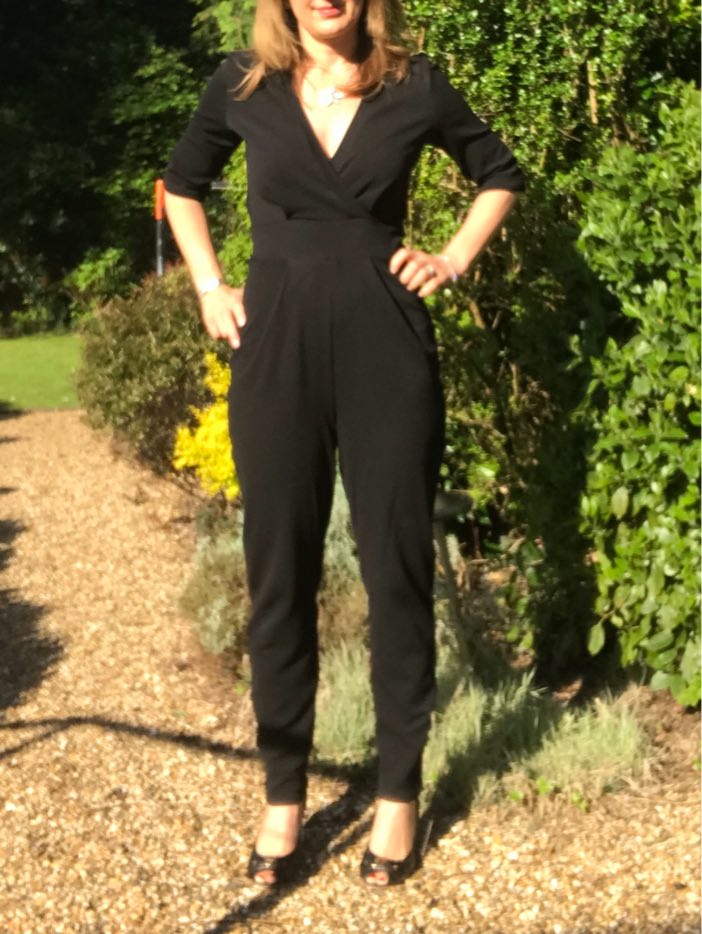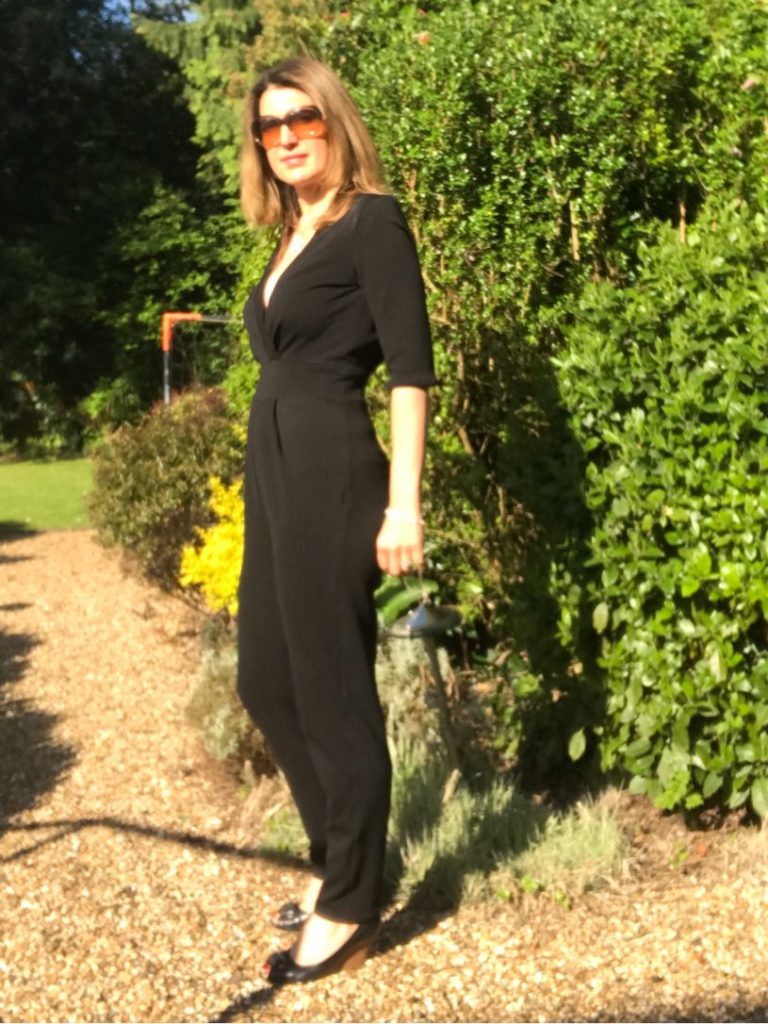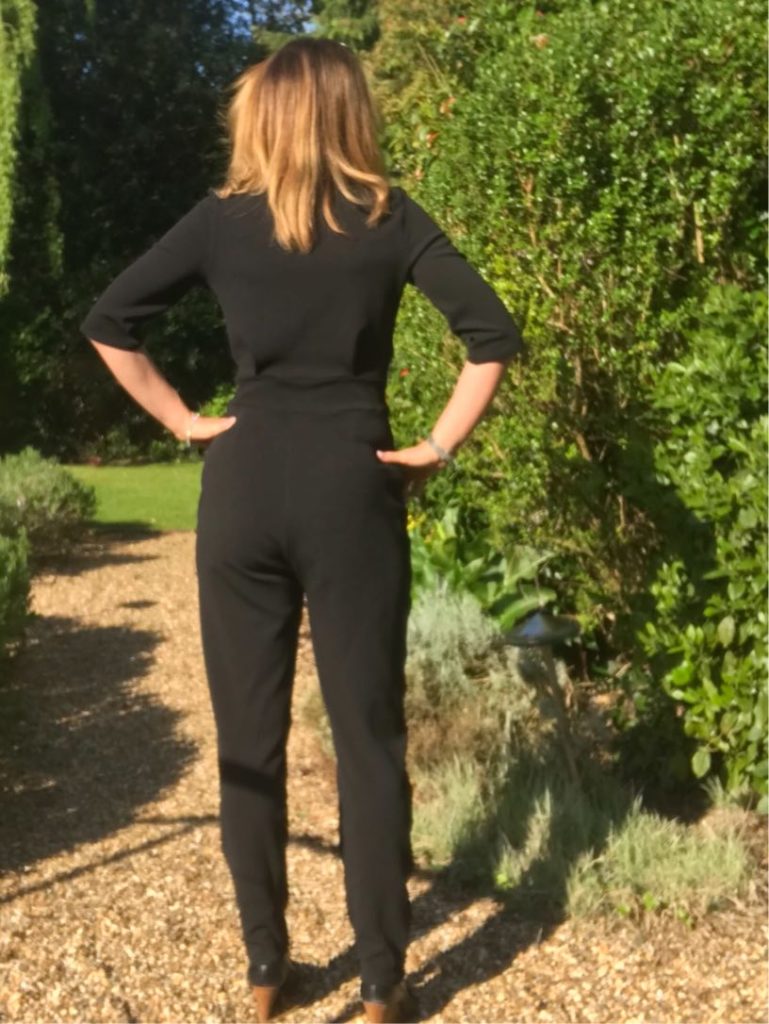 In summary :
Pattern: Sirocco by Deer & Doe. Mine is the jumpsuit but this pattern also offers a romper option (which frankly does not take my fancy).
Fabric: the pattern recommends to use a high-recovery jersey with at least 60% elasticity – not that easy to find. Yvonne from The Sweet Mercerie posted on Instagram a very useful article about appropriate fabrics for Sirocco – which convinced my to use my Milano jersey for muslins (these age so badly that I have decided not to buy them anymore). My black fabric is this one from Mondial Tissus – it really works wonder for this pattern!
Sewing level: not that many people seem to have fitting issues so if jumpsuits usually fit you (not my case) you should be fine. It is actually quite an easy sew, especially if you own an overlocker!
Love level: I really like it, the shape is super stylish with high heels (which in any case I always wear) but it is even more comfy than PJ's!!
---