How to Sew with Metallic Brocade
This winter has definitely been for me the season of glittery brocade! I've always loved this fabric but feared sewing it. After purchasing an excessive quantity at Bennytex, I had no choice but learn hands-on! The result: two party dresses for my daughter, two everyday dresses for me (not everyday for everyone though!), a top and skirt set, a mini and a midi skirt… And also many lessons on do and don't of sewing metallic brocade, which I'm very keen to share!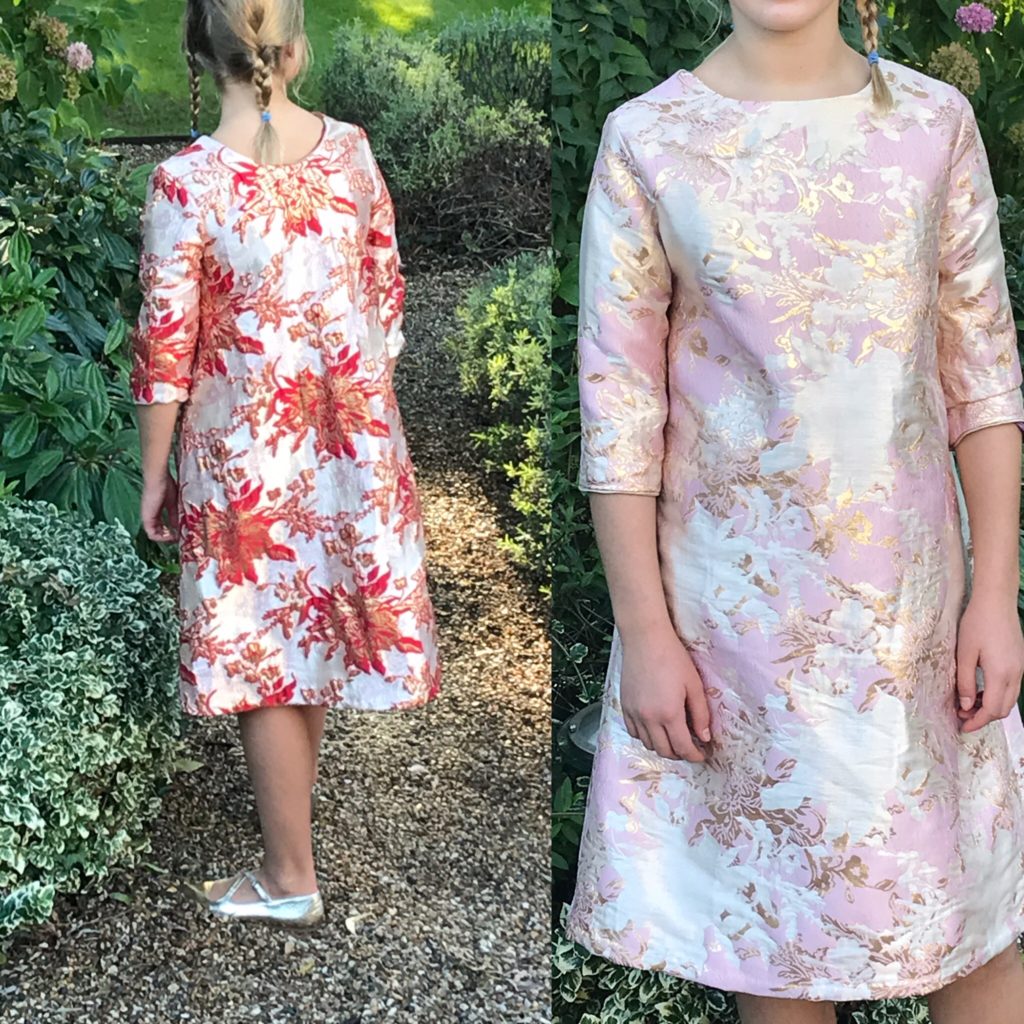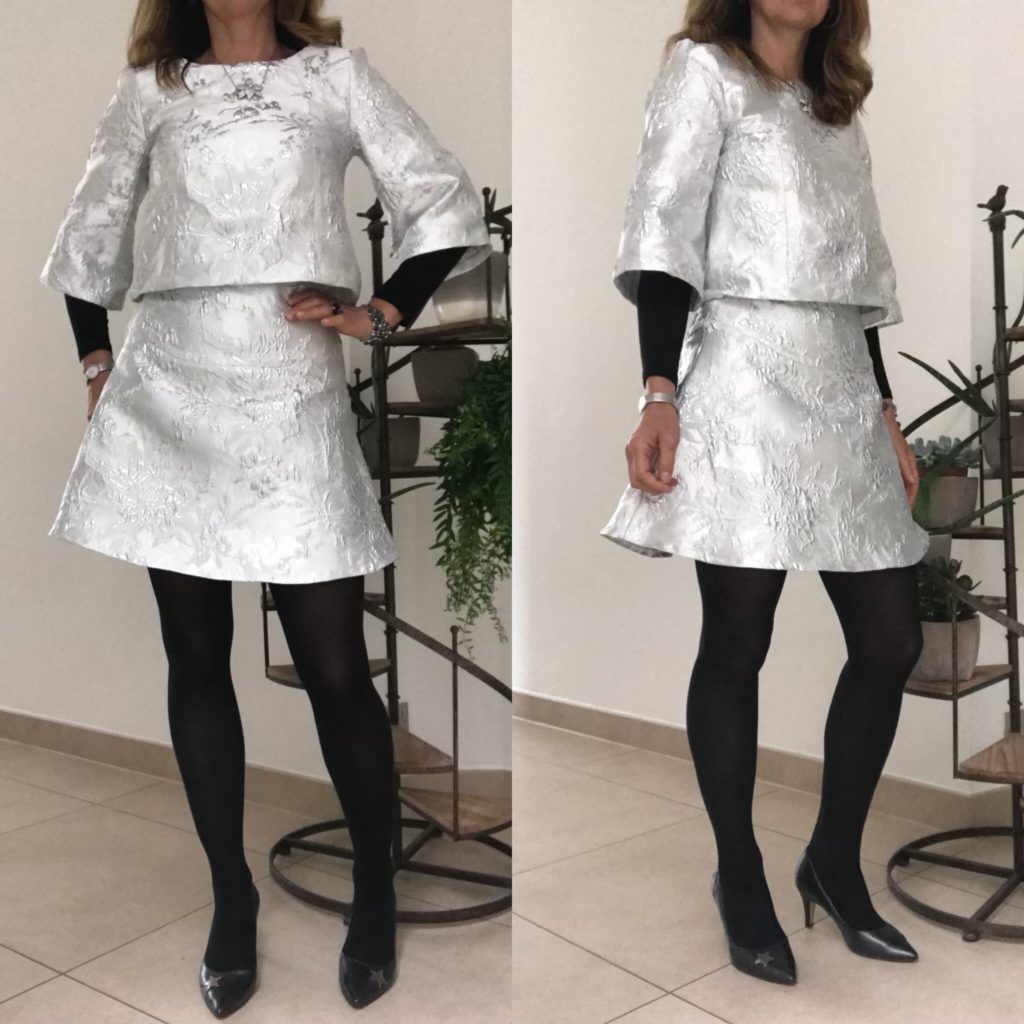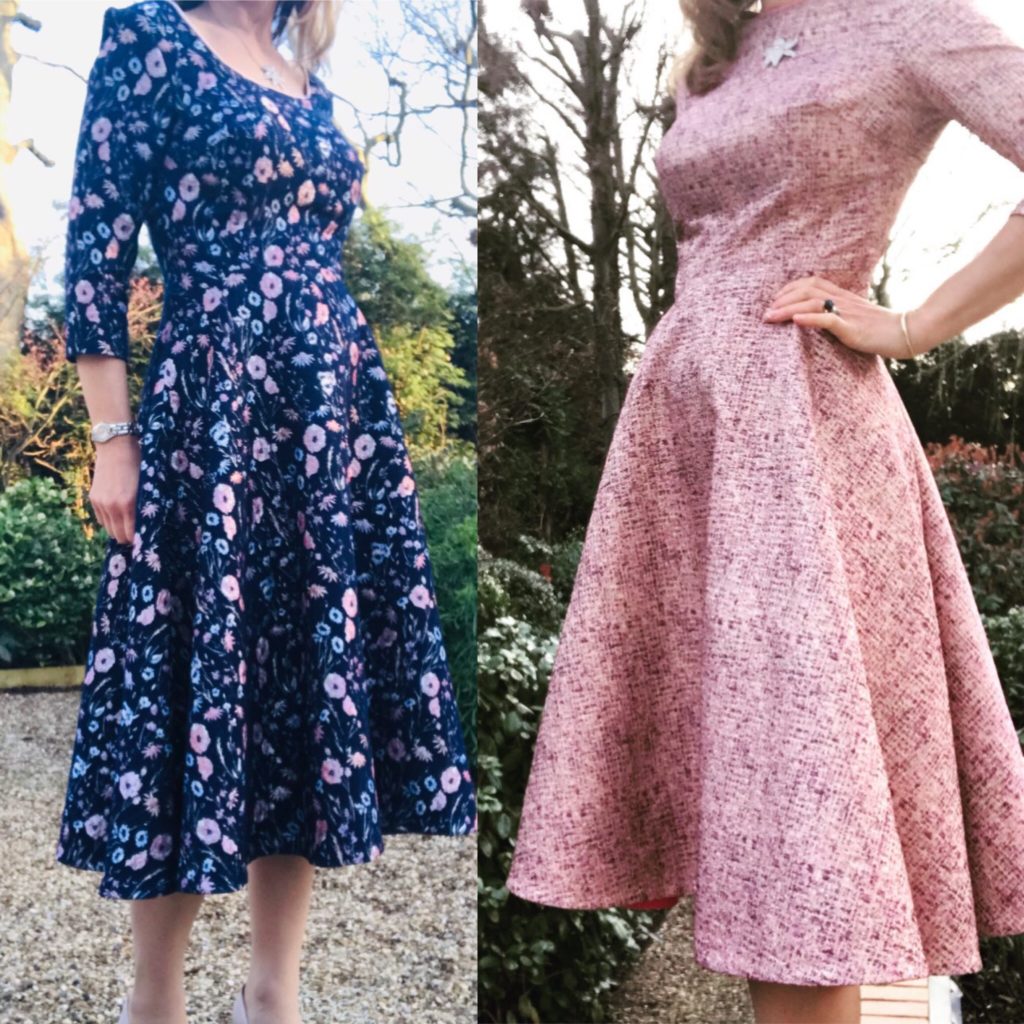 I've read many times in sewing blogs and on Instagram that there are no rights or wrongs in sewing, just different ways to do things – which I'm not sure is totally true. Let's say that when sewing with metallic brocade, there are many things I wish I had been told, and here they are.
I WISH I HAD BEEN TOLD NUMBER 1… BROCADE FRAYS LIKE THERE IS NO TOMORROW!! So as soon as you've cut all your piece do overlock them all, fully, even if they are to be fully lined – I suspect that if not overlocked they could fray by use, so personally I would not risk it. Also it will save you a lot of hoovering while sewing!
I WISH I HAD BEEN TOLD NUMBER 2…. METALLIC BROCADE IS EXTREMELY ITCHY and absolutely unbearable on bare skin. This has several implications.
First, all metallic brocade projects need to be fully lined – partial or no lining just won't do. I did not line the silver top/ skirt set and no matter how beautiful I find it, I just cannot wear it, even with ties and a long-sleeve turtleneck t-shirt underneath. In contrast, both my dresses are fully lined and I put them on bare skin with no problem.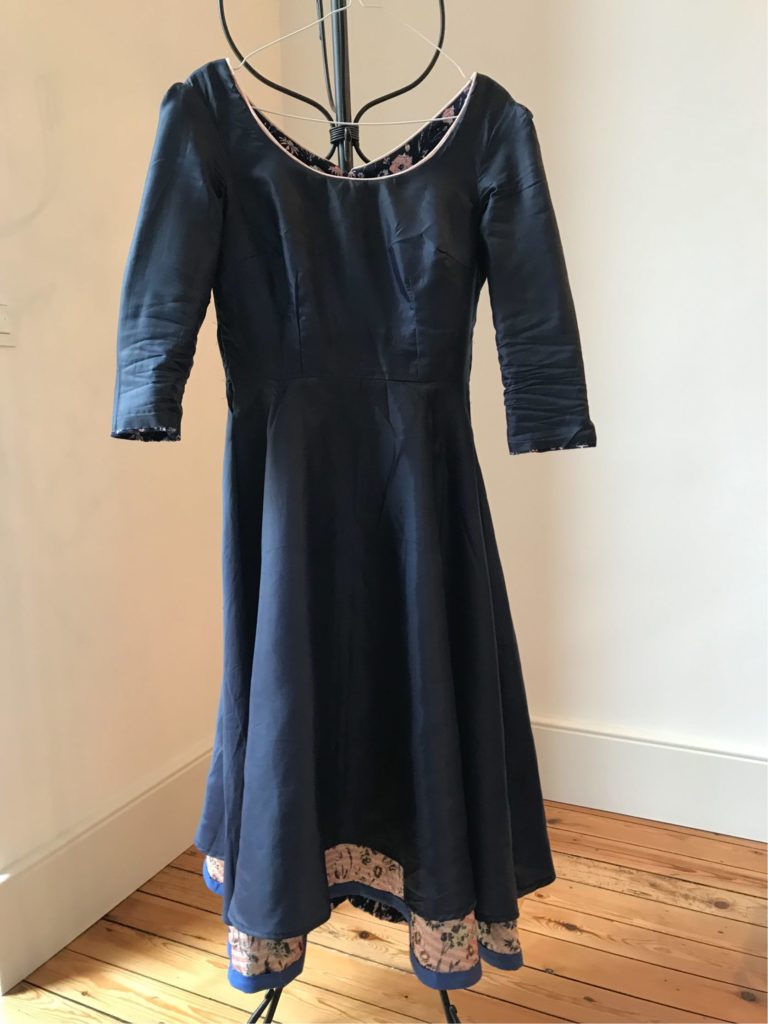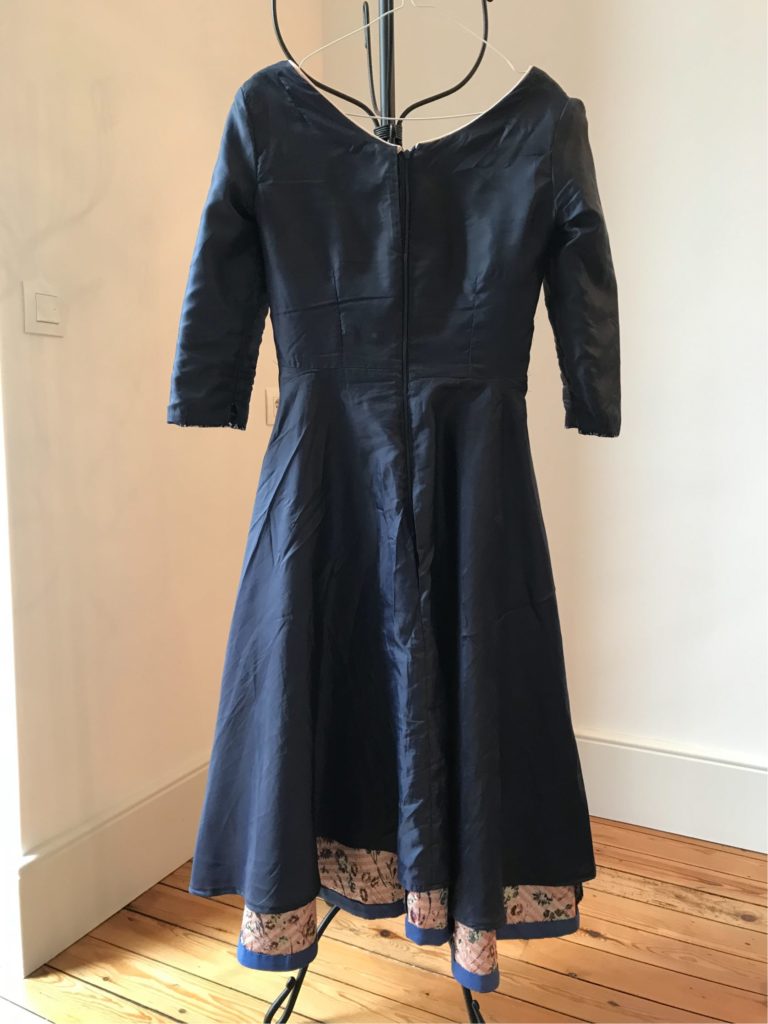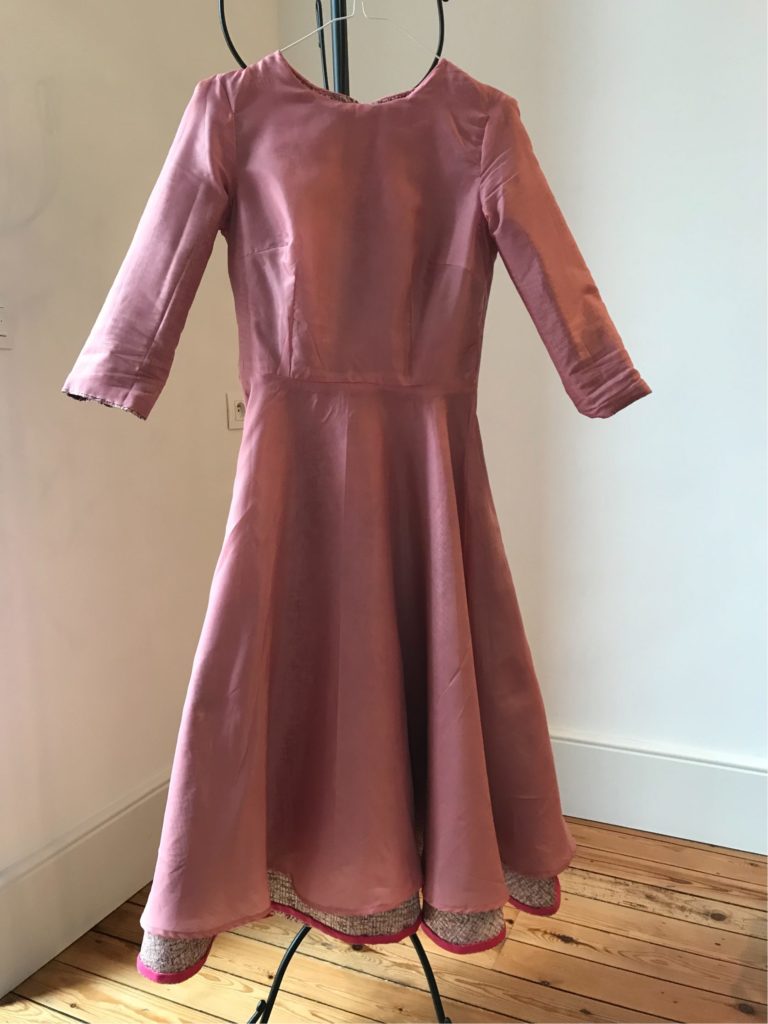 Second, you will need to cleverly think about how you finish your neckline, as this is definitely a very sensitive area. For both my dresses I inserted some piping, in a similar colour for the pink dress and in a contrasting one for the blue dress. To do this I sew the lining to the dress before attaching the lining by the neckline. You can also use a slighly overlapping bias, using the same method. Whatever your preference, you will need to use a different, skin-friendly fabric.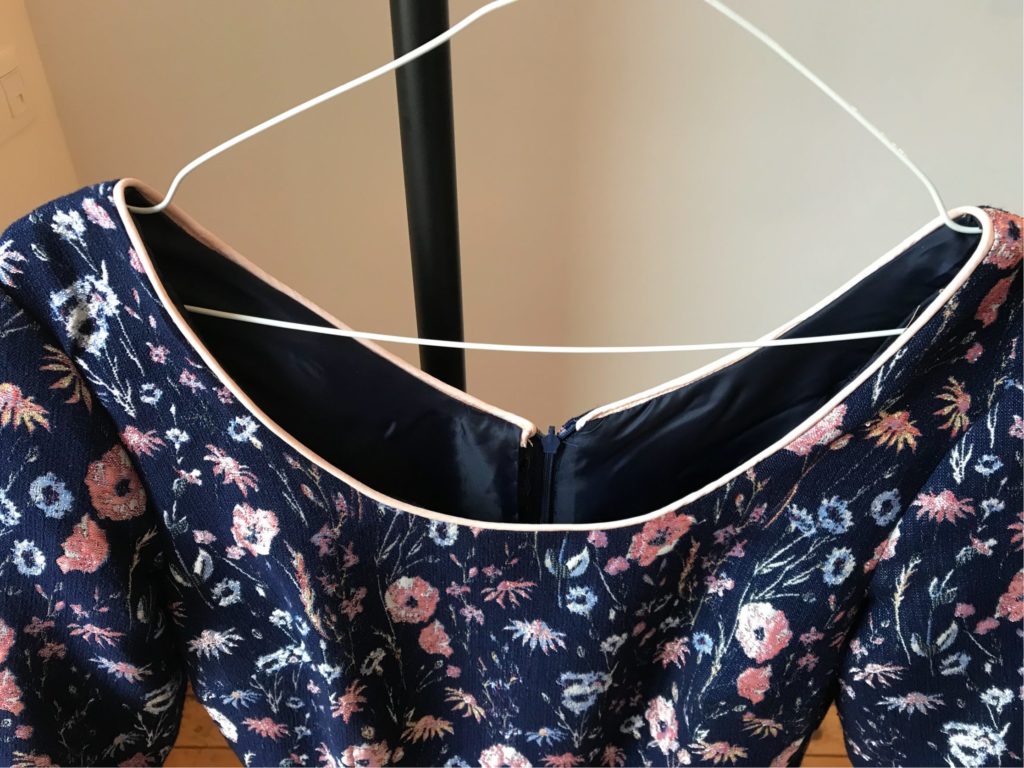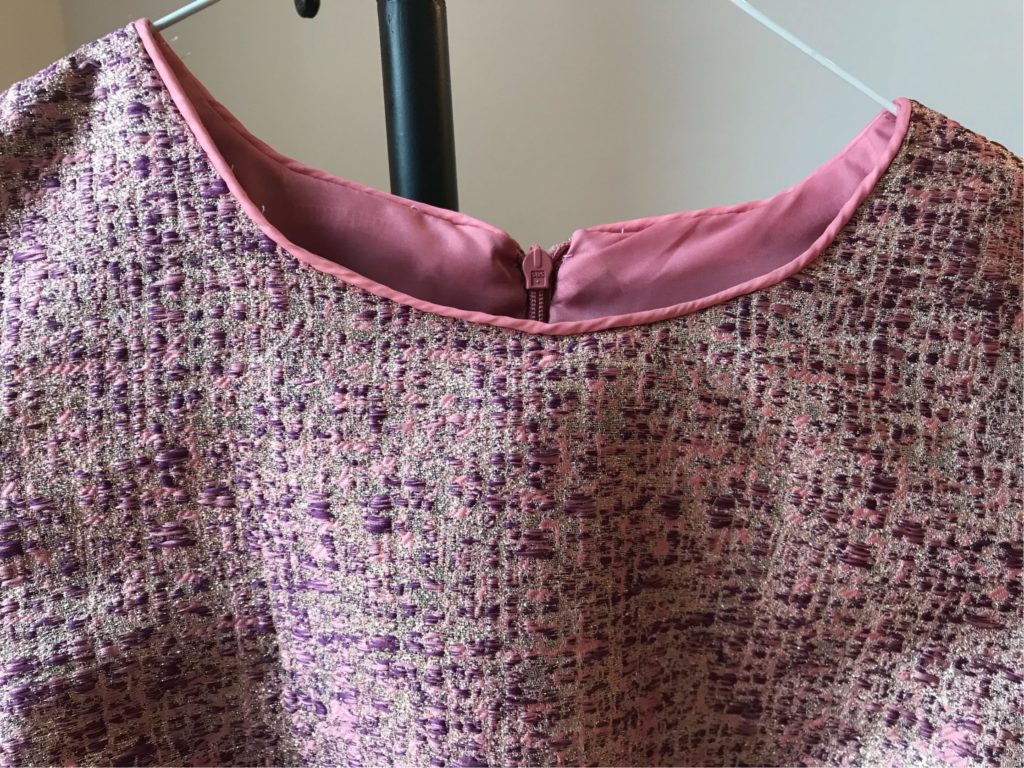 I WISH I HAD BEEN TOLD NUMBER 3… BROCADE IS VERY RIGID. It has no give whatsoever and does not really shape to the body. So I would not recommend using it for very tight fitted garments like my mini skirt, because it is just not comfortable to wear.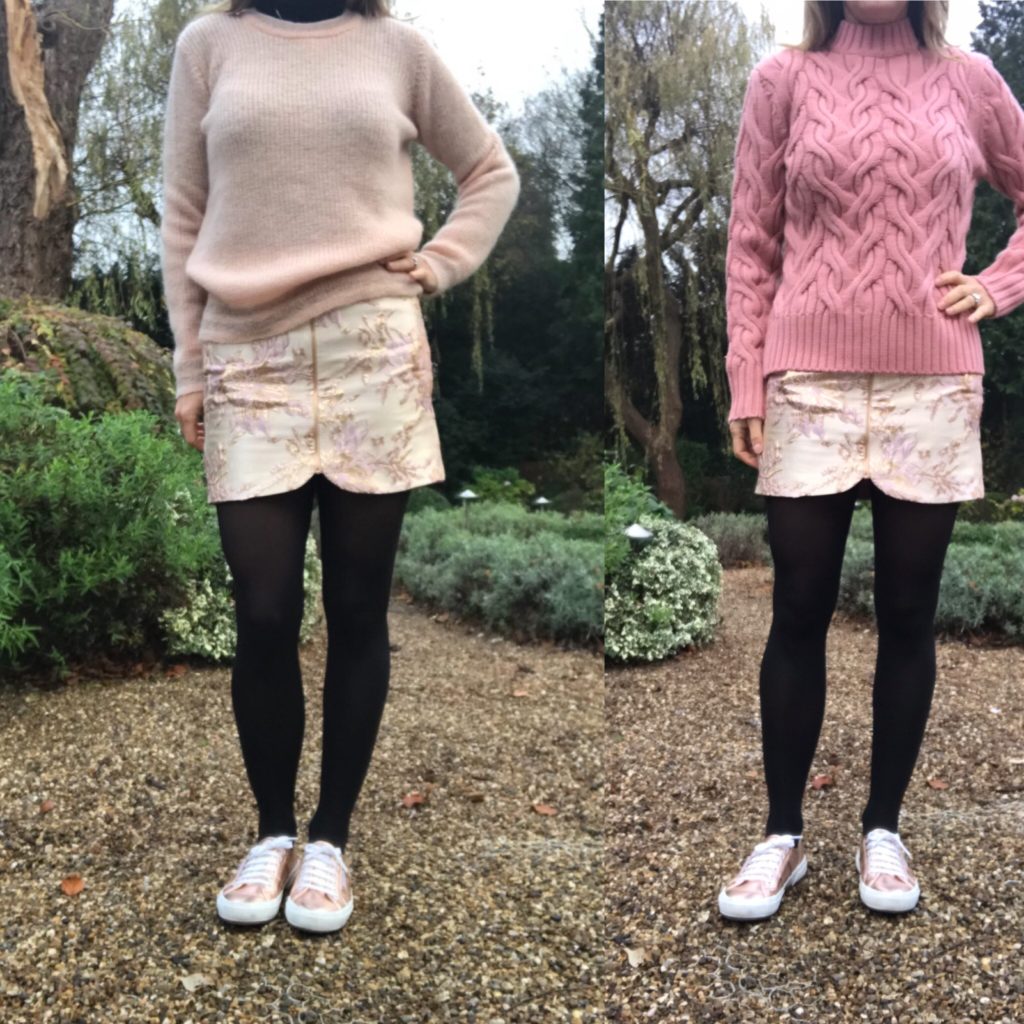 I would not recommend a very puffy gathered or pleated skirt either – I tried the later and it looked terrible. And I would strongly advise having plenty of seam allowance, to be able to enlarge at key areas – I did have to enlarge both my dresses (which are based on a fully tried, tested and perfectly fitted pattern) and my midi skirt at the waist.
I WISH I HAD BEEN TOLD NUMBER 4… BROCADE AND VISIBLE STITCHES JUST DO NOT WORK WELL TOGETHER. So get ready for a lot of hand-stitching, especially if you chose a circle skirt! Both brocade dresses and my brocade skirt are based on a (self-drafted) semi-circle skirt pattern; and I followed wonderful Emily Hallmann's advice on how to line them: I sew with my machine a bias tape at the bottom, then fold it and and hand-stitched it inside. The hand-stitching takes absolute ages (90 minutes for a half-circle skirt, I counted!) but it is really worth the effort, the result is flawless. The bias also creates a nice rigid curve at the bottom, which is really pretty in my view.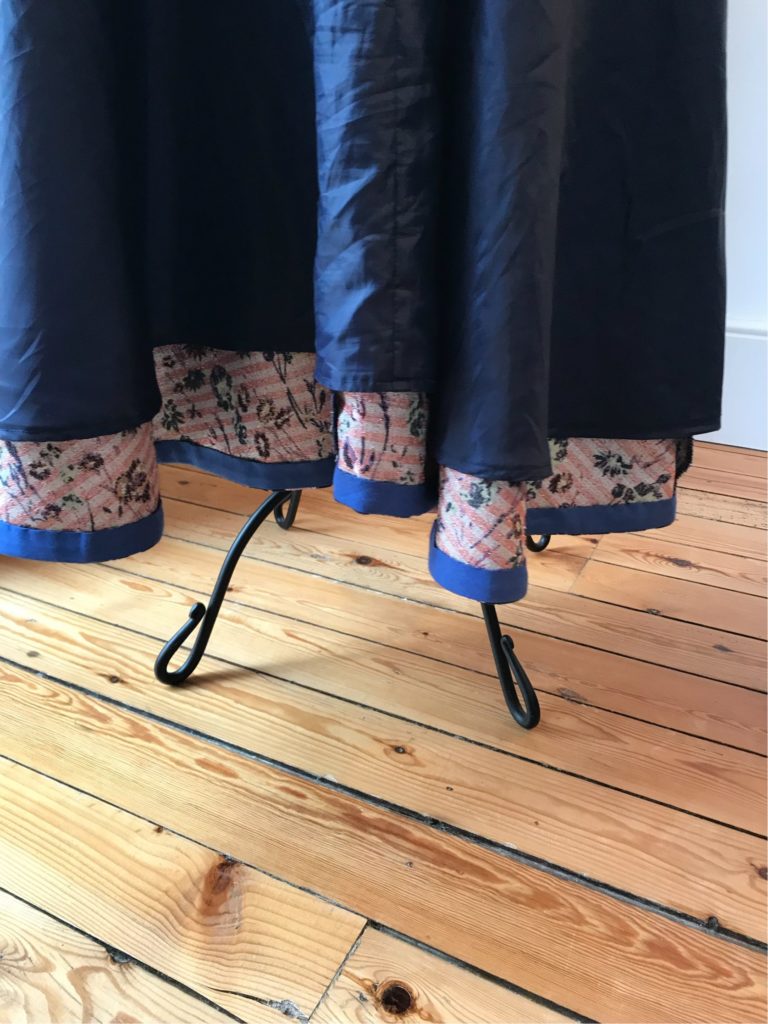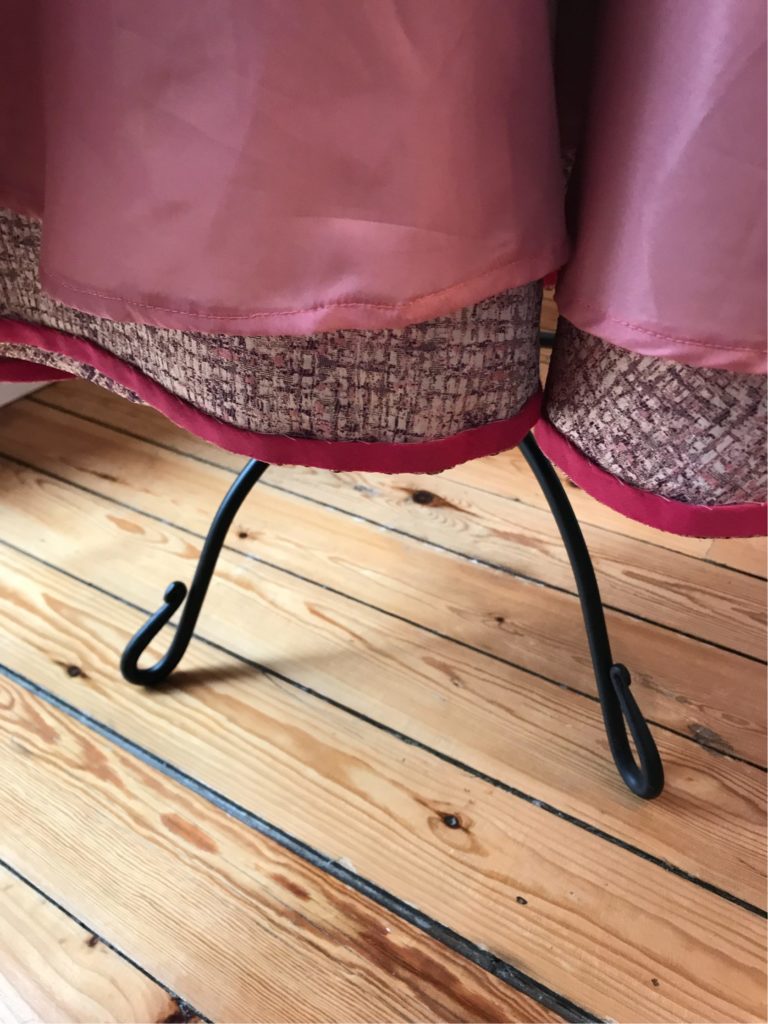 I WISH I HAD BEEN TOLD NUMBER 5 … BROCADE OFTEN HAS A "WRINKLY SIDE", WHICH IS QUITE DIFFICULT TO WORK WITH. So you have two options: either use the wrinkly side as your right side and be super careful that you don't create unwanted folds when you sew – this will definitely require more time and attention than with "normal" fabric. Or work on the other side of the fabric, which is perfectly smooth – for illustration my mini skirt is wrinkly-side out, while my midi skirt is smooth side out.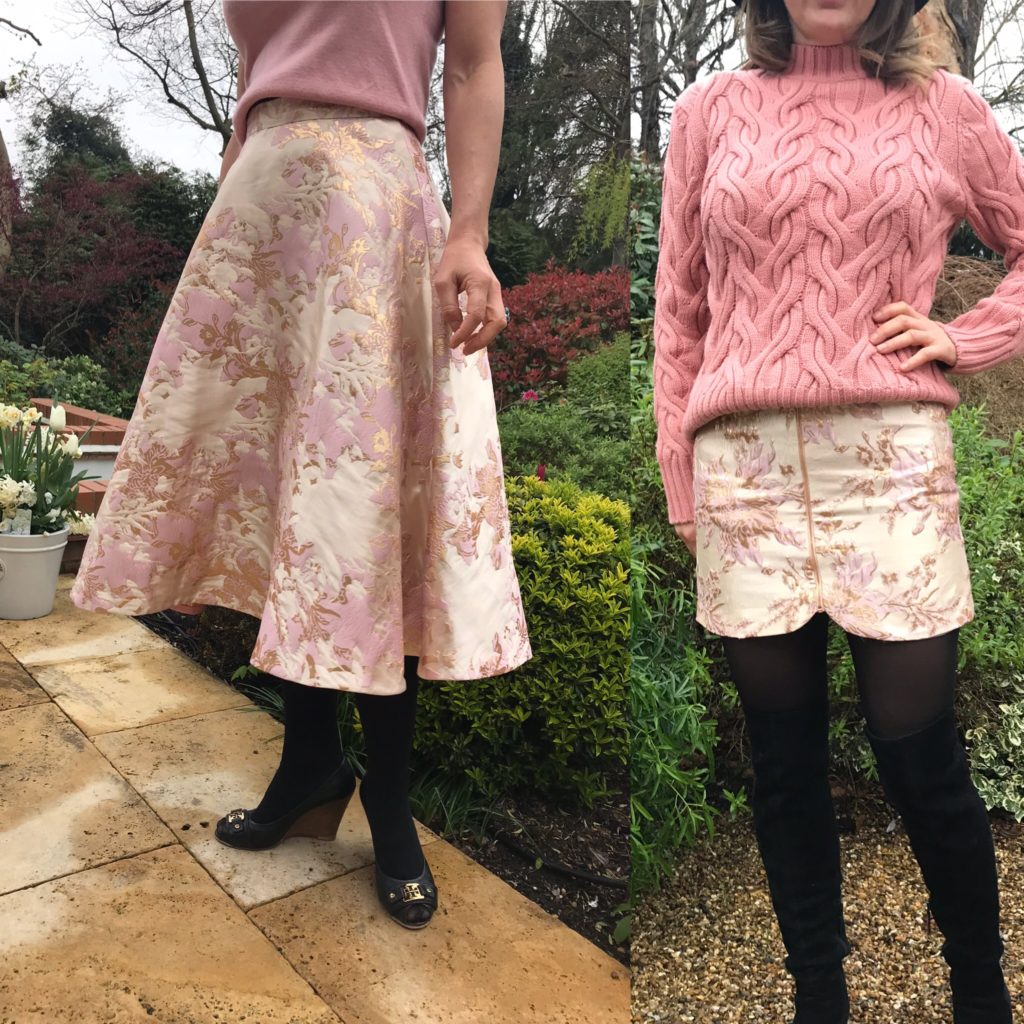 I WISH I HAD BEEN TOLD NUMBER 6… BROCADE IS ABSOLUTELY BEAUTIFUL SO DO GO AHEAD AND USE IT!!! And I hope you will find this article useful to tackle this material.
---
4 responses to "How to Sew with Metallic Brocade"