My little gingham dress
Black and white gingham seems to be everywhere this Spring. Having no shame to follow the crowd, let me introduce you to my latest Spring make, a very simple knee-length, fit-and-flare, black-and-white gingham dress: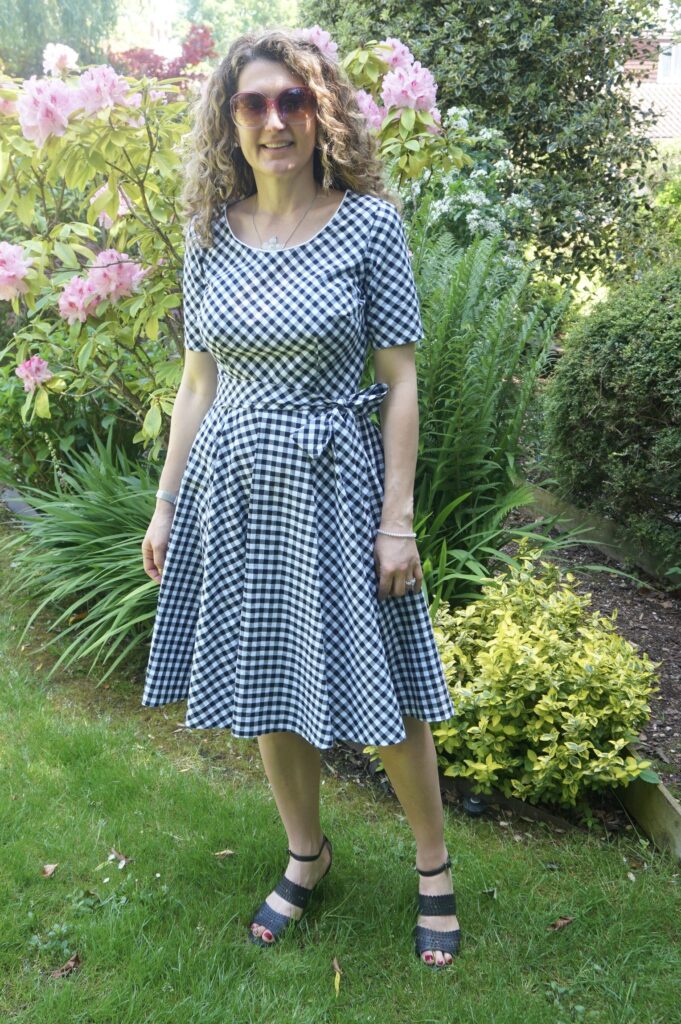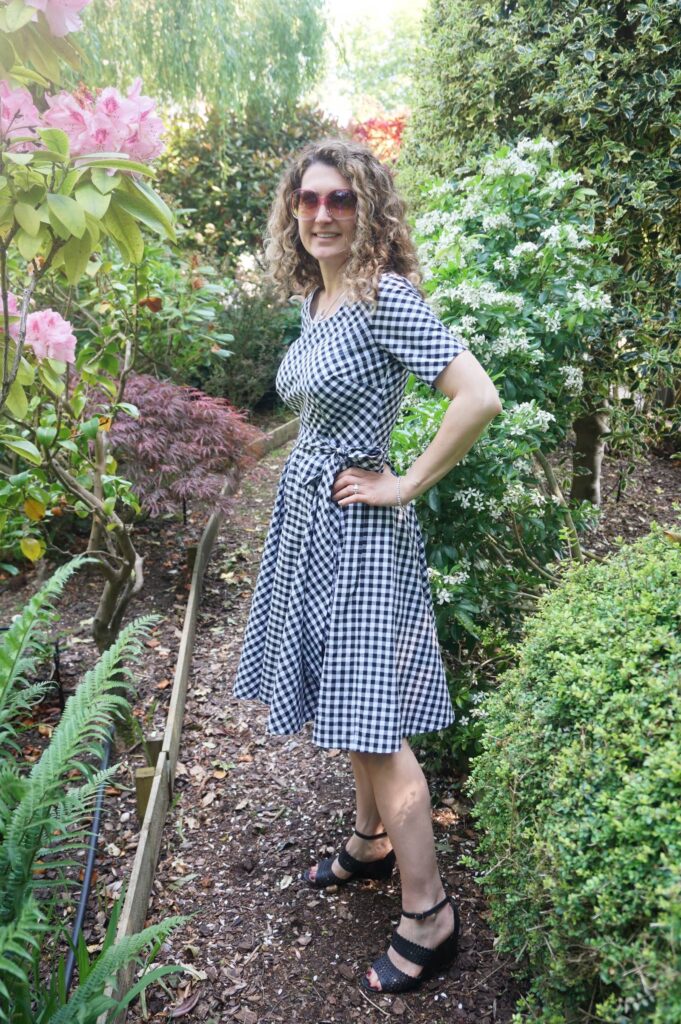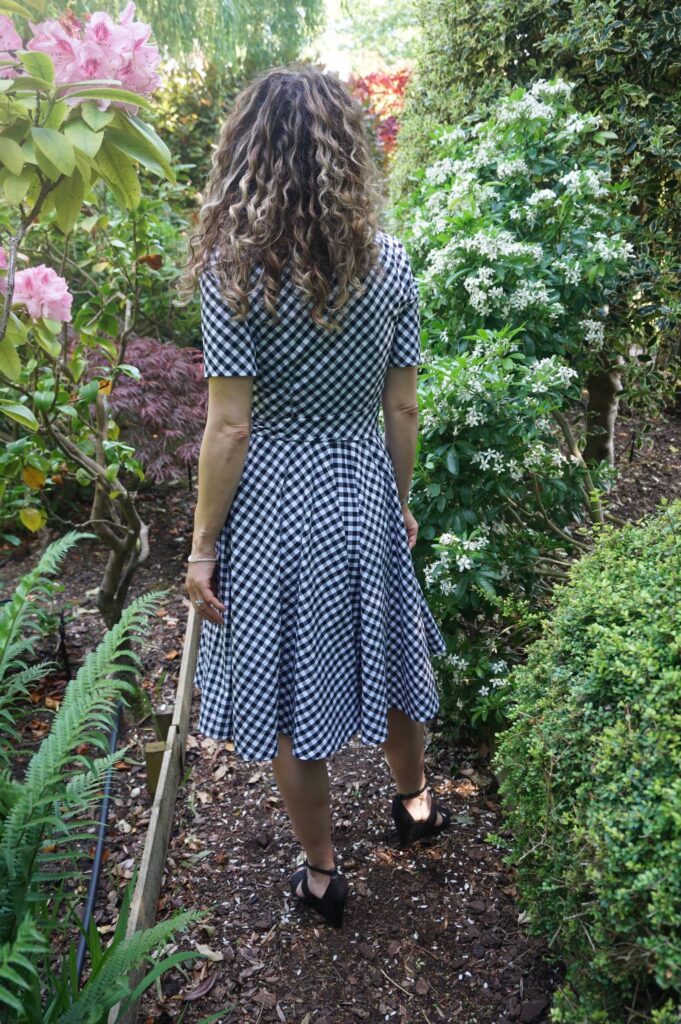 Gingham dresses inspiration
I had been wanting to sew a little gingham dress for ages and this Spring the stars finally aligned: I managed to find not only the inspiration but also the right pattern and the right fabric, all at the same time. Hurrah!
As discussed in my "What to sew for Spring" article, the main inspiration for this dress came from Bittersweet Colour. I wanted to reproduce this beautiful dress, with a bias-cut perfectly fitted bodice and a midi circle dress.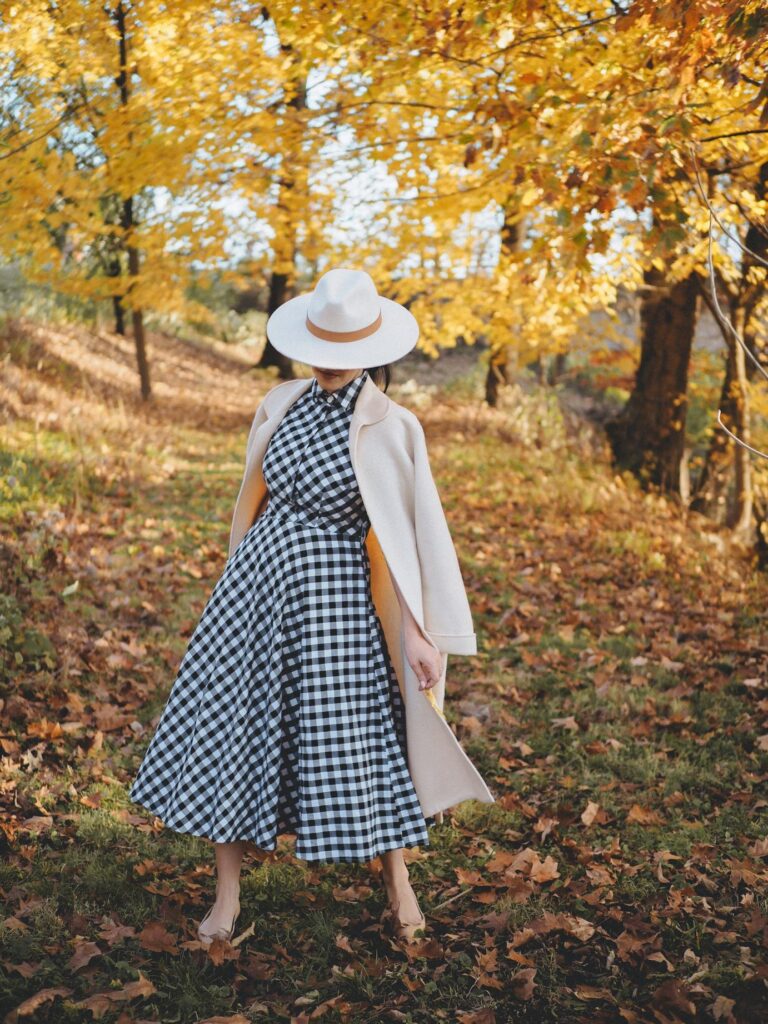 Funnily enough, I also stumbled across a number of black and white gingham dresses on Instagram – here are a few (moodboards from The Sweet Mercerie, middle dress from Cha's Hands):
I also found the perfect black-and-white gingham fabric from Fabrics Galore: 100% cotton (I really don't recommend a poly mix for the summer); with just the right size of gingham – 1cm (1/3in); and very affordable (about £8/m). The black-and-white in not available anymore at Fabrics Galore but they have other colours of similar quality here; and Sew Me Sunshine has a good selection too here.
Pattern selection and review
As for pattern choice, I wish I had been brave enough the tackle a shirt bodice similar to my inspiration dress. However I worried (a lot) about pattern matching on the bias so I just went for the most straightforward and best fitting bodice I could think of: that of V8630.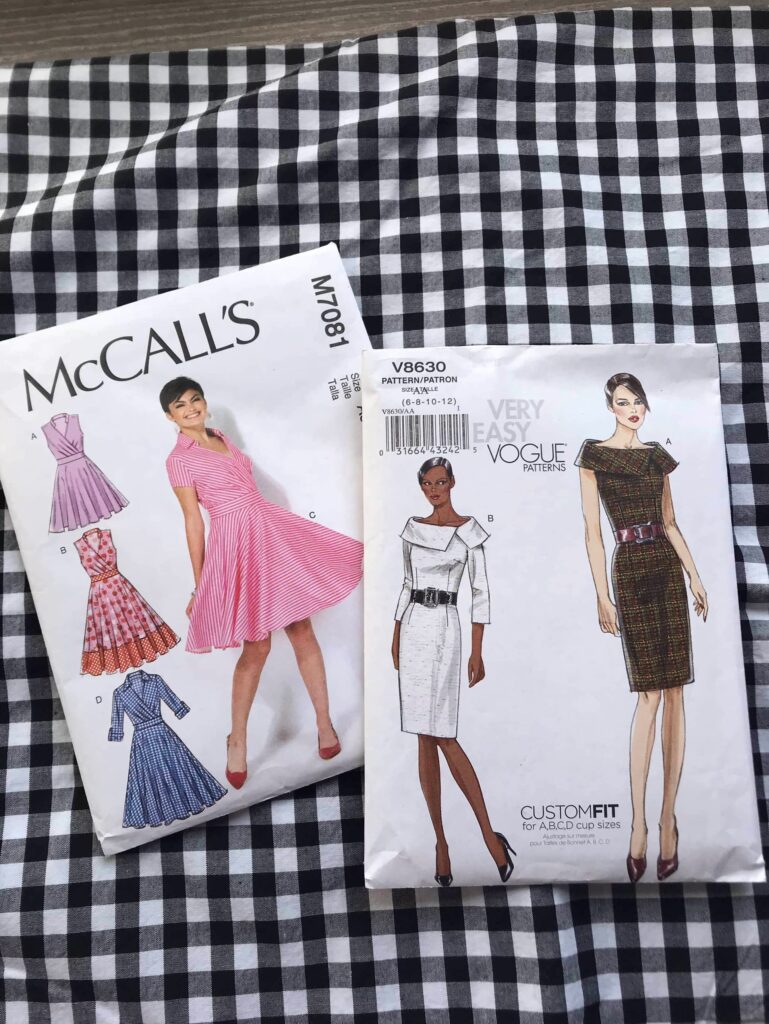 I have been singing the praises of this pattern before (here and here). I have also reused the bodice with other skirts numerous times (here, here among many others) because it just fits so well. It has bust-cup options and both bust and waist darts, which with my E-cup and my small waist is the best recipe for a good fit. To make the bodice work without the collar, I had to raise the neckline using another pattern as a guide – nothing very complicated. And here I cut my fabric in the bias for purely aesthetic reasons, I just think it works much better this way with a circle skirt.
As for the skirt, I used my tried and tested M7081 circle skirt pattern piece (like I recently did for this skirt). It is the perfect length for summer (just on the knee) and it fits exactly in a 150cm wide fabric. Not the case of this specific fabric but cutting it non grain wise wasn't an issue, especially as my bodice was on the bias.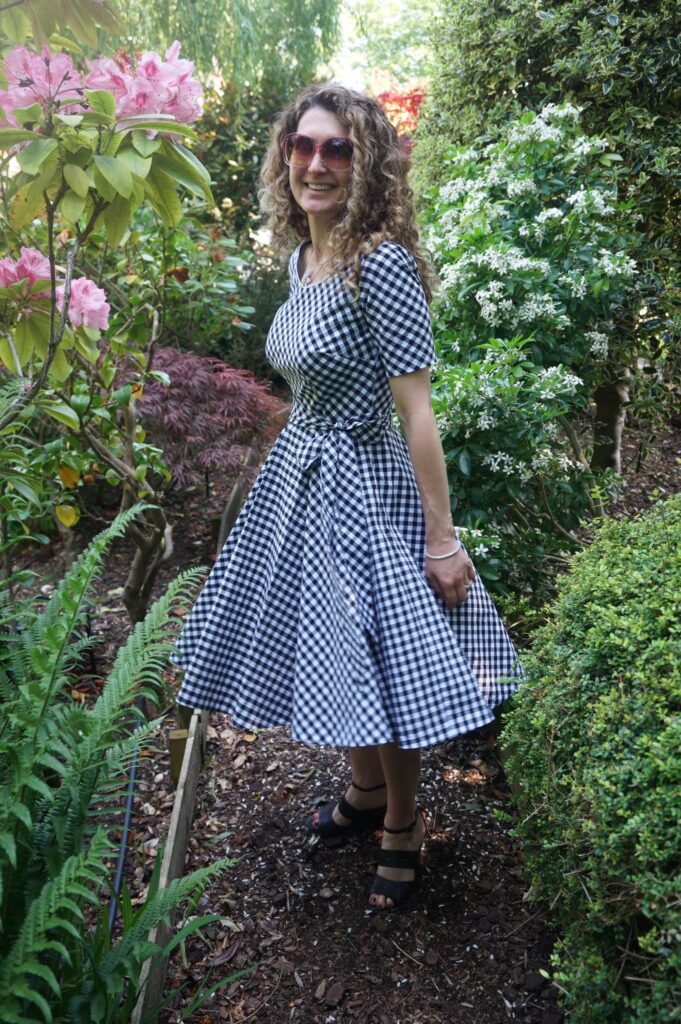 I had initially omitted a sash but did not like the way the bodice connected to the dress. So I used the sash of V9253, another of my beloved pattern. Problem sorted, hurrah!
Conclusion
This is a very easy dress to make, with only four pattern pieces: circle skirt, front bodice, back bodice and sleeves. I finished the neckline with piping (not sure it was hugely necessary) and for once I did not line anything, as this one is solely aimed at warm days.
Despite this simplicity, the shape is perfectly to my taste: a nicely fitted top with a spinning skirt, everything I like! I am very tempted to make a sleeveless version now.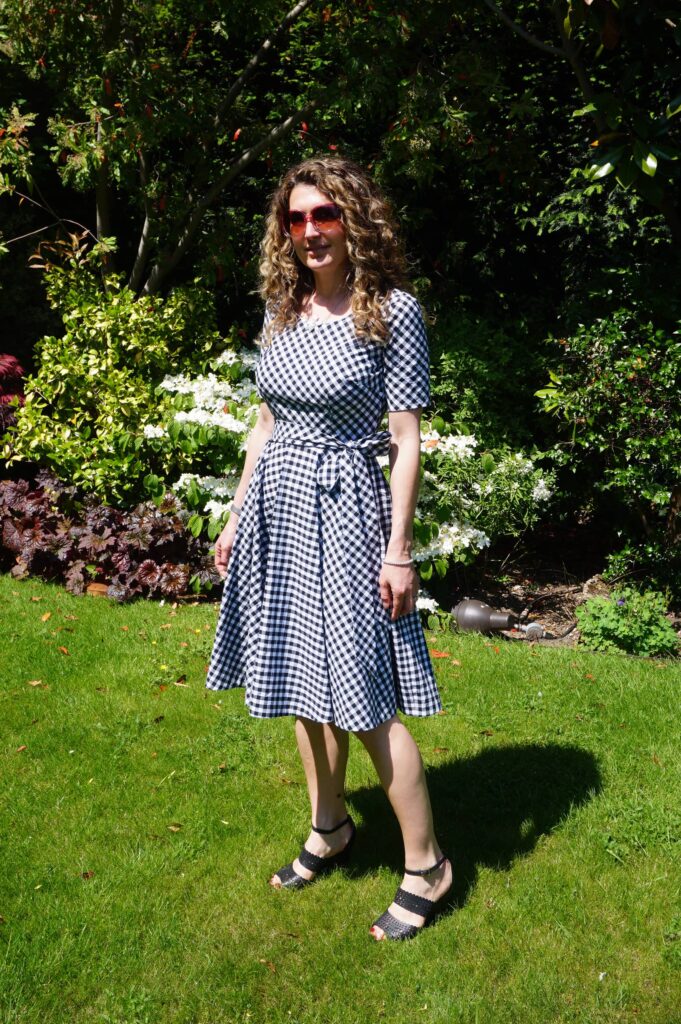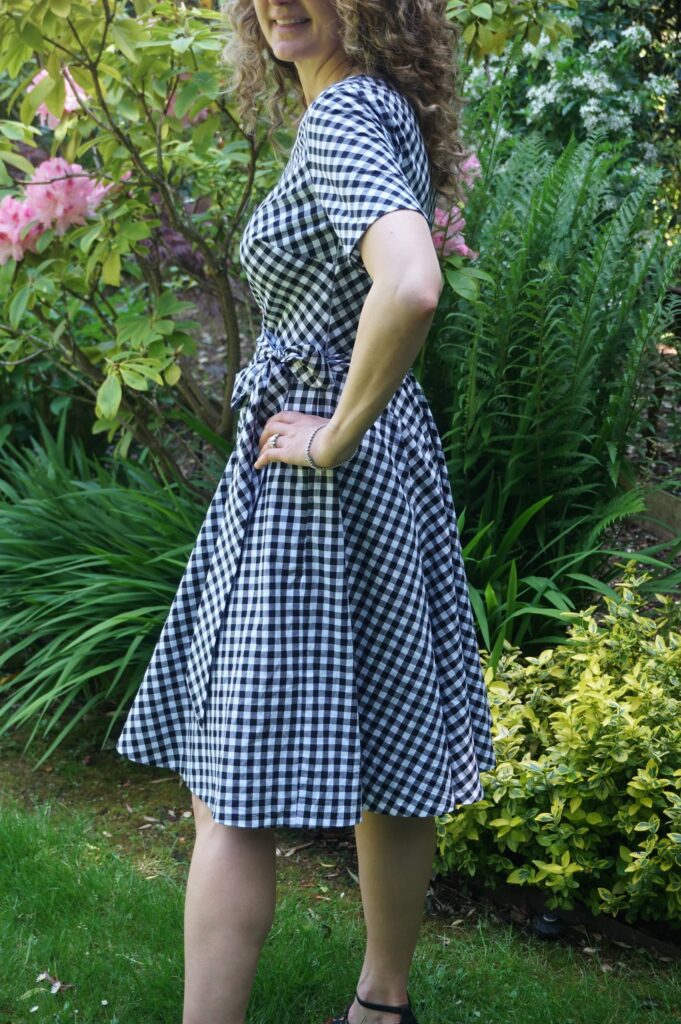 ---