Wrapping-up Spring with #AmeliaMcCall's
Do you remember my "What to Sew for Spring" article, where I discussed all my sewing project for Spring 2021? Well, that's it, I've completed my Spring sewing plans! Incredible! Let me introduce you to the last of my Spring projects: the #AmeliaMcCalls dress- also named M7892.
M7892 pattern description
M7892 is a recent pattern within the McCall's family. If memory serves me well, it was part of the Spring 2020 collection, when McCall's decided to follow the Indie trend of giving names to patterns. It is a (real) wrap dress, with a bodice that is mildly loose at the bust and adjusted at the waist; and with a full circle wrap skirt. It closes with invisible hooks and eyes and a (optional) side sash.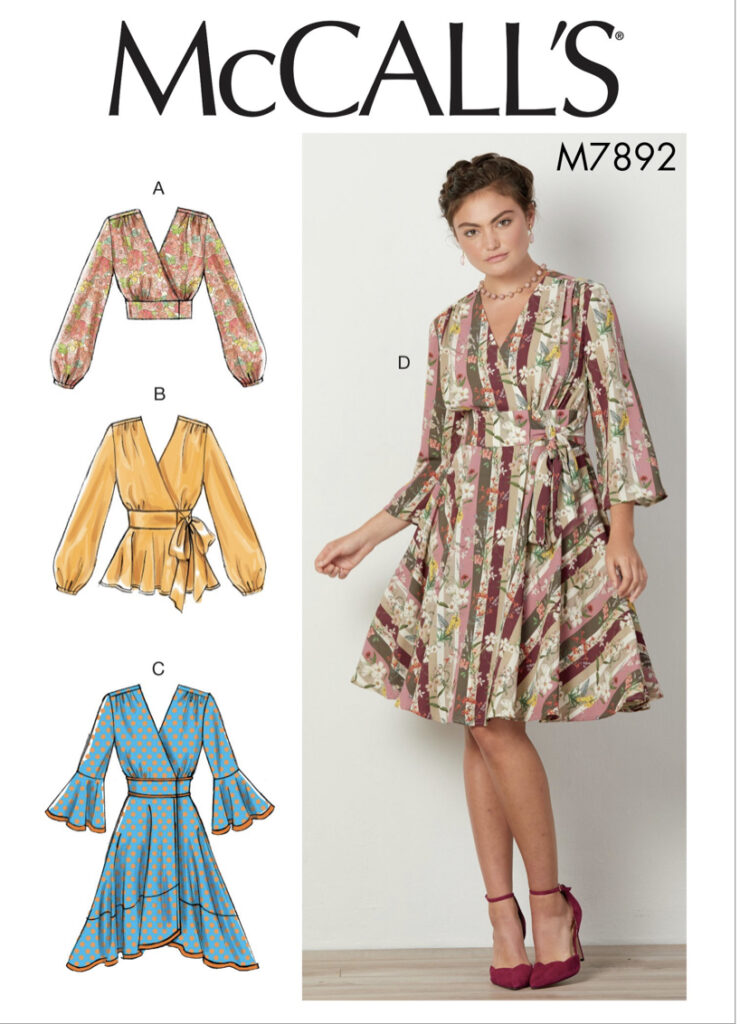 I did like the skirt flounce of view C, which reminded me of my La Bohème skirt. However Mr SixMignons did not quite agree, so I went for a sleeveless version of view D – which has the notable advantage of consuming far less fabric!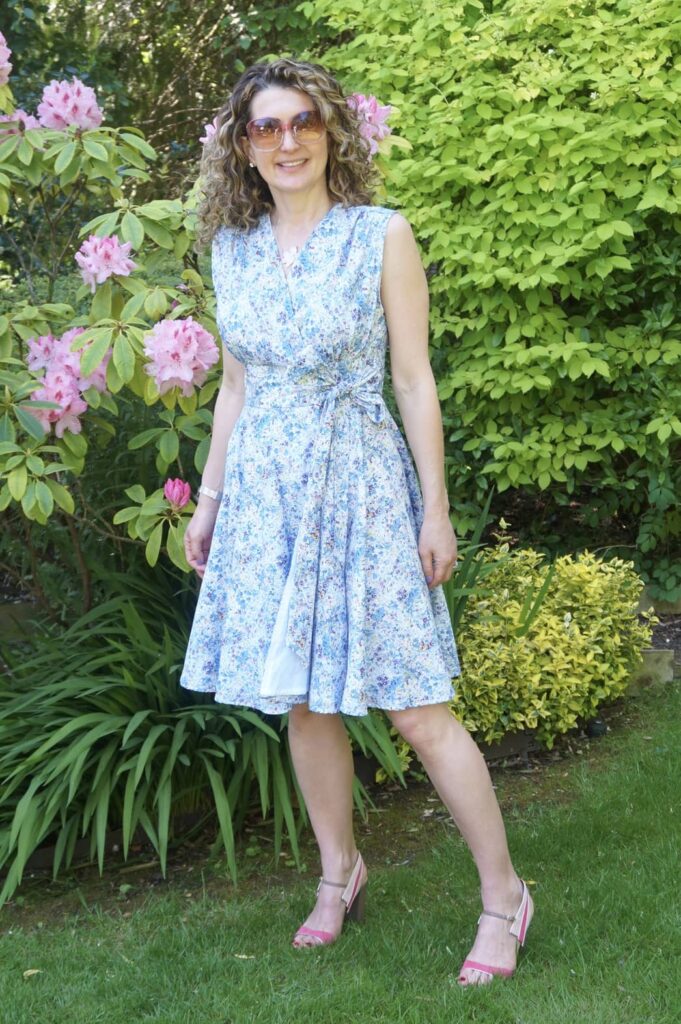 What really drew me to this pattern is the bodice. It has gathers at the shoulders and at the waist, making the bust shaping quite unusual and very appropriate for larger busts – no FBA needed for my E cup and still plenty of room.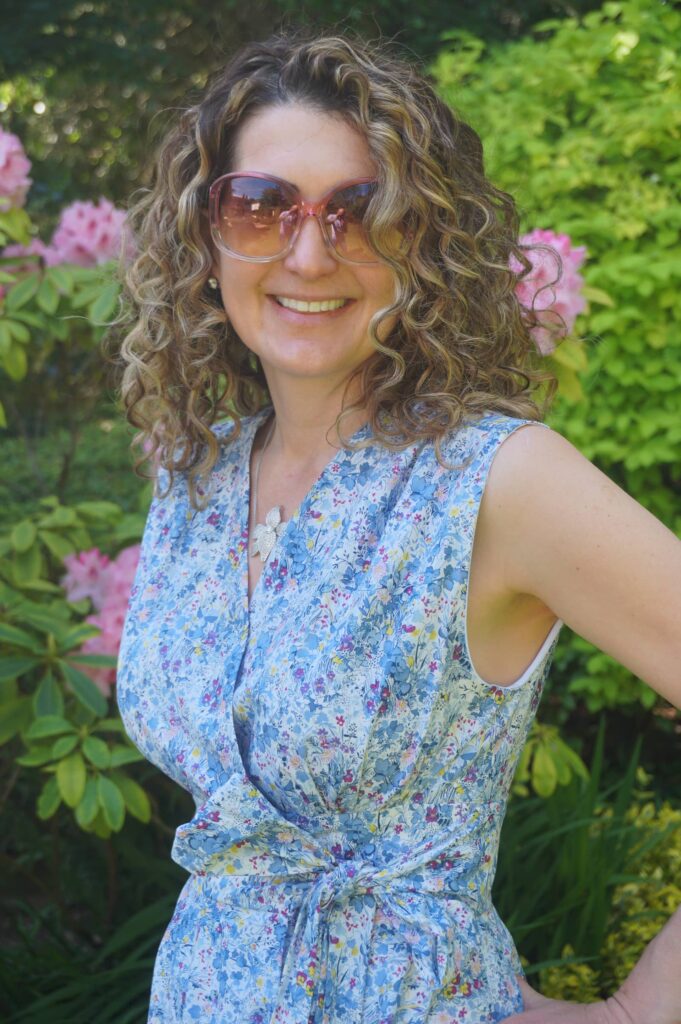 And I also really fancy wrap dresses but I find most patterns quite plain. My last wrap had to be self drafted and it took me ages!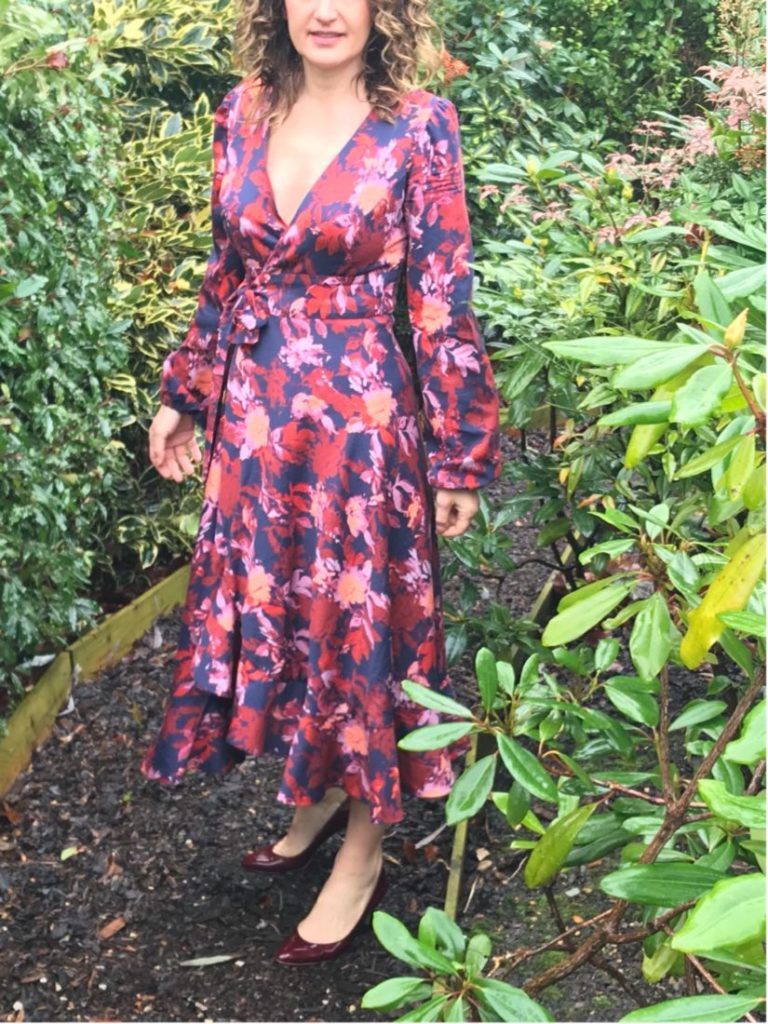 M7982 pattern review: likes and dislikes
They are a number of things I really like about this pattern:
As mentioned before, I really like the shaping of the bodice through gathers ; as well as the overall wrap shape.
The sizing is spot on, as most of the time with McCall's and Vogue patterns for me. I am a UK 8/ US 2 / FR 36, I cut my usual size 10 and made no fit adjustment whatsoever. Were you to need adjustments though, I think that would be quite easy, as adjusting the waist is a question of moving the hooks and eyes.
There is no need for FBA, as there is plenty of bust space, hurrah! That said I think the bodice might look a bit wide on a smaller bust.
I really like the fact that the wrap closes through hooks and eyes and that the sash is mostly for decorative purposes, as this makes the dress far less prone to tearing at the waist. For the burgundy dress I just showed you, I solely relied on the sash for closure and it is now completely torn. Lesson learned!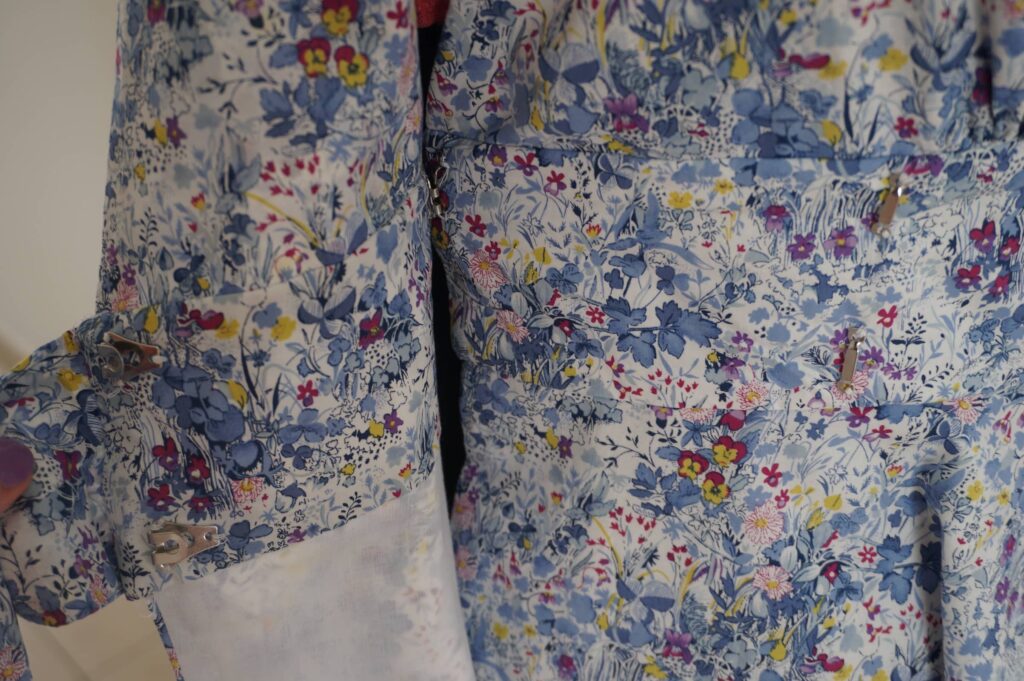 The only thing I dislike in this pattern are the rather simplistic and not so neat finish instructions. In particular, the sash is added as a bit as an afterthought, while it should really by sandwiched in the seams (which is the way I did it).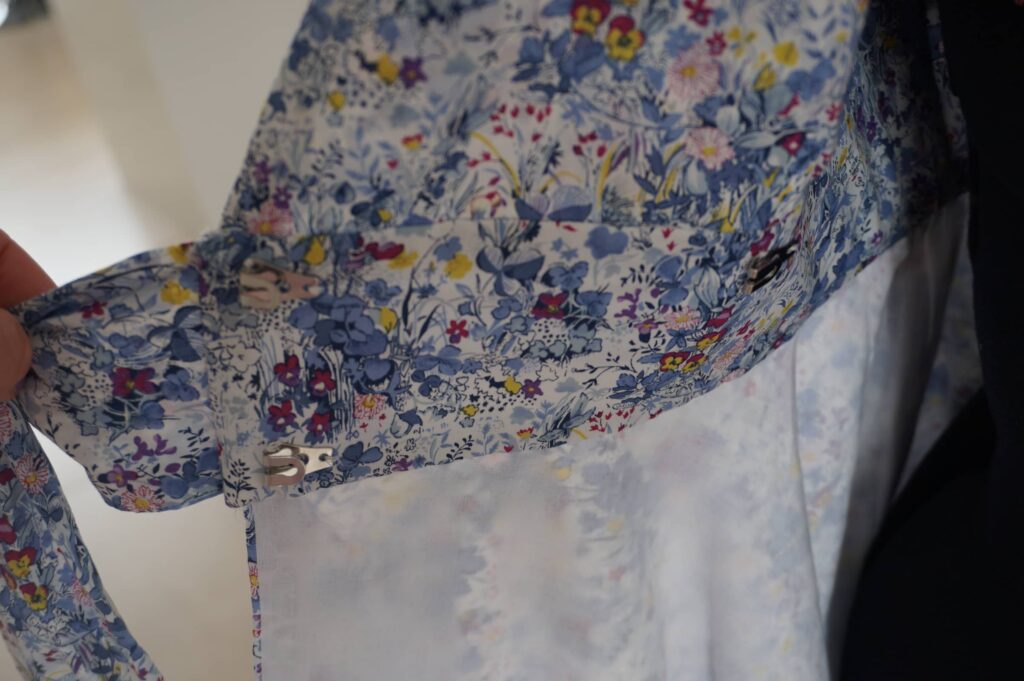 Changes I made to the pattern
It was my first time sewing this pattern and I did not make a muslin so I did not go crazy as I ususally would on pattern modifications! My changes are mostly internal:
As I just said, I sandwiched the sash within the seams rather than leaving the ends exposed.
I fully lined the bodice instead of finishing the neckline with a facing.
While I was at it, I also fully lined the skirt.
So the inside looks like this.
I wish I had discovered the burrito method then for finishing my sleeve openings rather than using bias tape – I am working on a quick tutorial to tell you all about it!
Fabric choice: the most amazing cotton lawn
For this dress, I used the most gorgeous Pima cotton lawn I have ever got my hands on.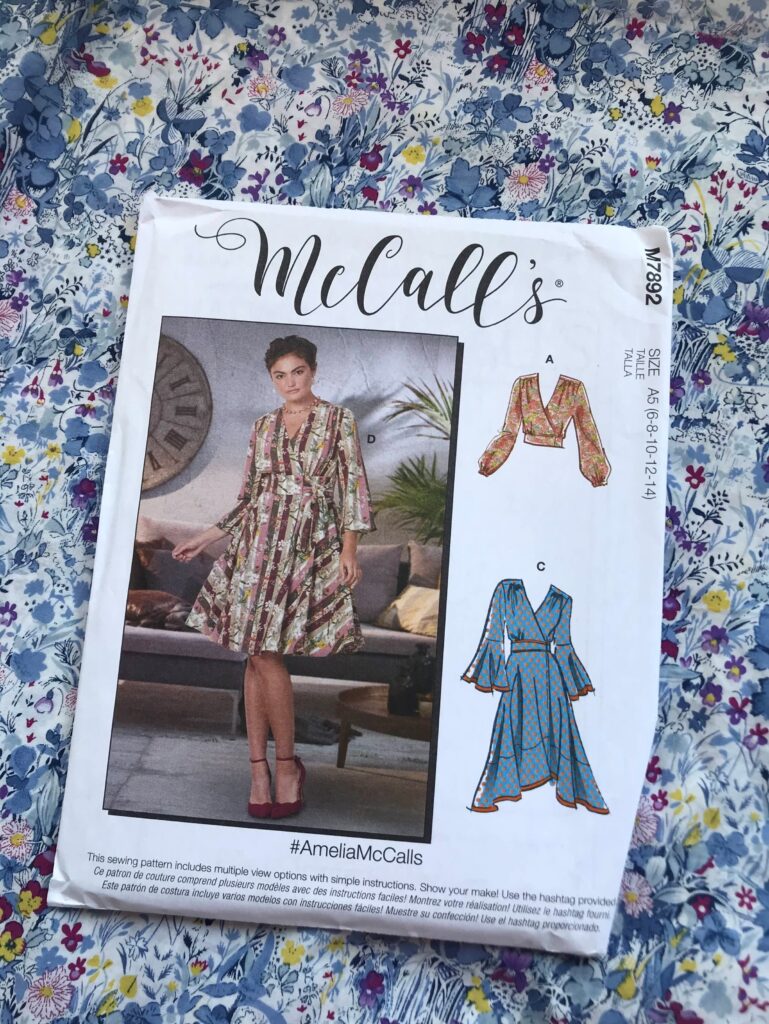 It is very much a Liberty lawn weight (unlike some other so-called cotton lawns), very light for summer but not transparent, with an amazingly soft hand. And the most surprising thing: it does not crease at all! All the pictures I'm showing you were taken after a very hot day of wear – as you can see not a crease in sight!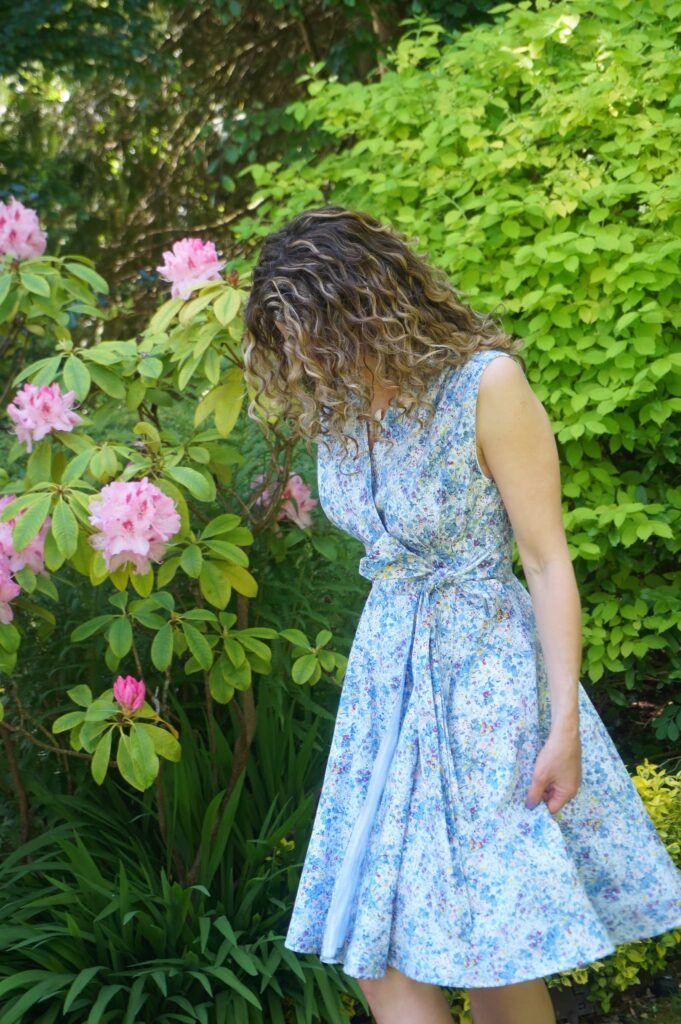 The fabric combines colours I really like: blue and purple with some light yellow touches. I bought it from Croftmill, which now only stock this remaining colour way. But I also found some more at John Lewis Oxford Street (for those of you living in London) – a godsend after I cut my fabric wrong and was missing one front skirt panel! Nothing better than a bit of fabric drama to make you love your finished dress, right?
Conclusion
After sitting on this pattern for ages, I am so pleased I used it! It is a nice change from my all-time favourites and I am so much in love with it! Expect to see at least one Autumn version of this one in the future…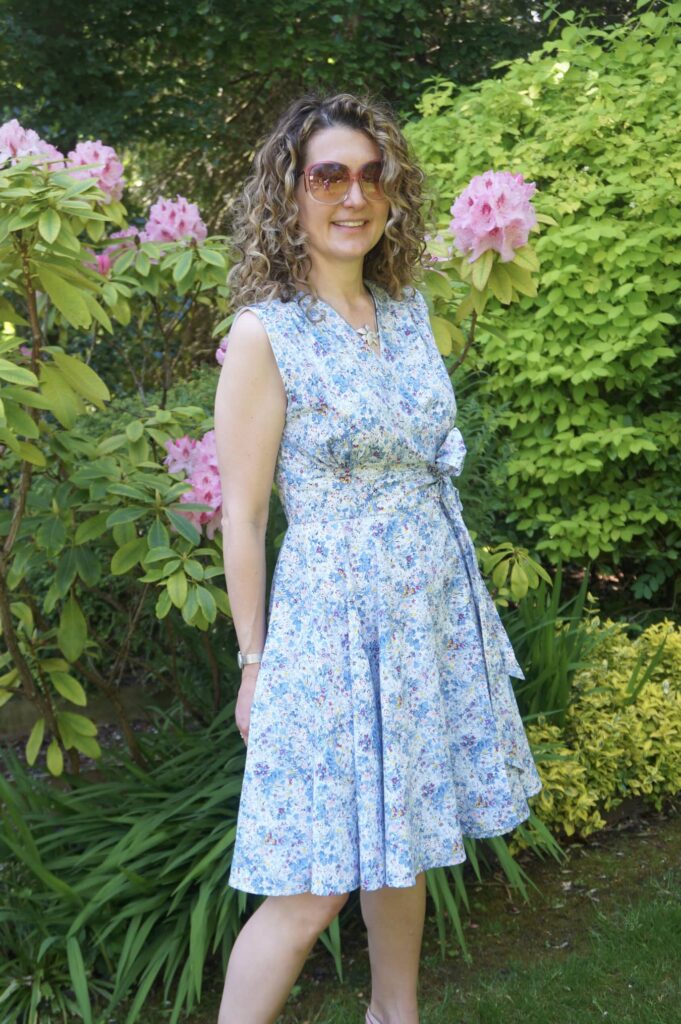 ---