And a third shirt dress for Spring 2021!
I warned you in the past that my shirt dress addiction was going strong this season. So after my denim shirt dress and my Liberty shirt dress…
… let me introduce you to my third shirt dress of the season!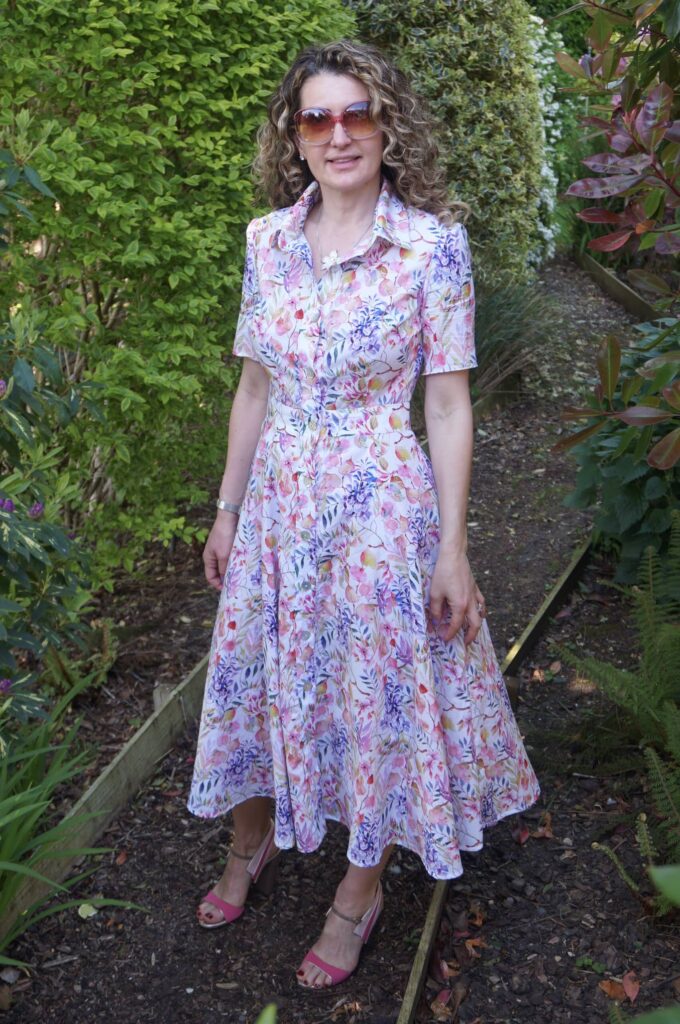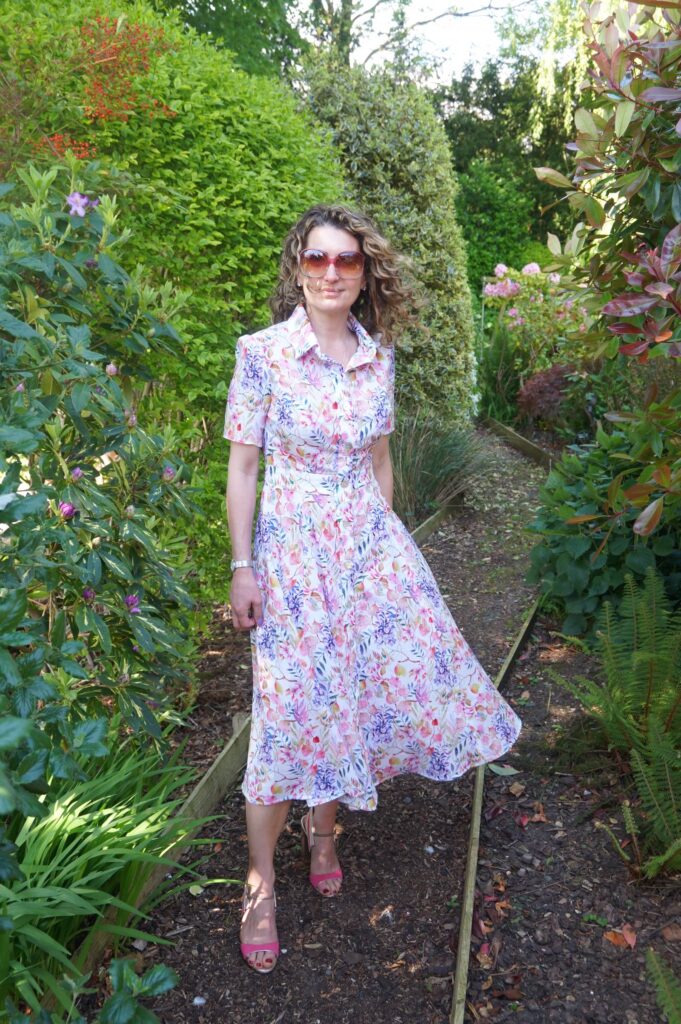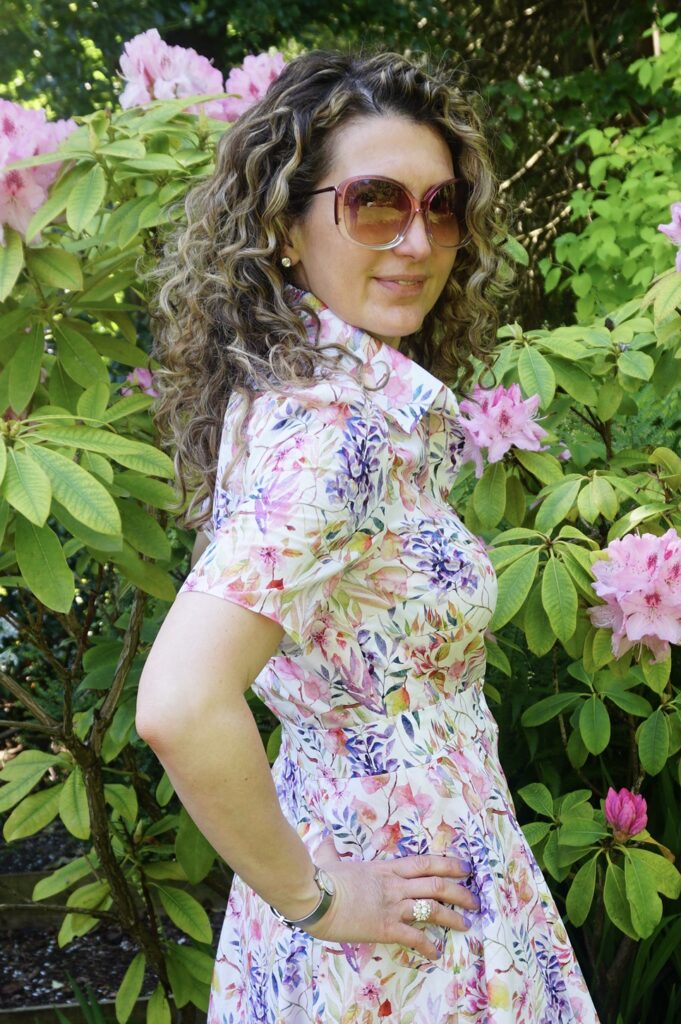 Mixing patterns again: B6702 and M6696
You may (or may) not have recognised the exact same mix of pattern that I used for my recent Liberty shirt dress. This is the M6696 bodice combined with the B6702 skirt.
I won't bore you with how easy it is to combine both patterns – it is all discussed here. The only difference this time is that I went for short sleeves and I omitted the piping around the button placket. So an even simpler dress to put together!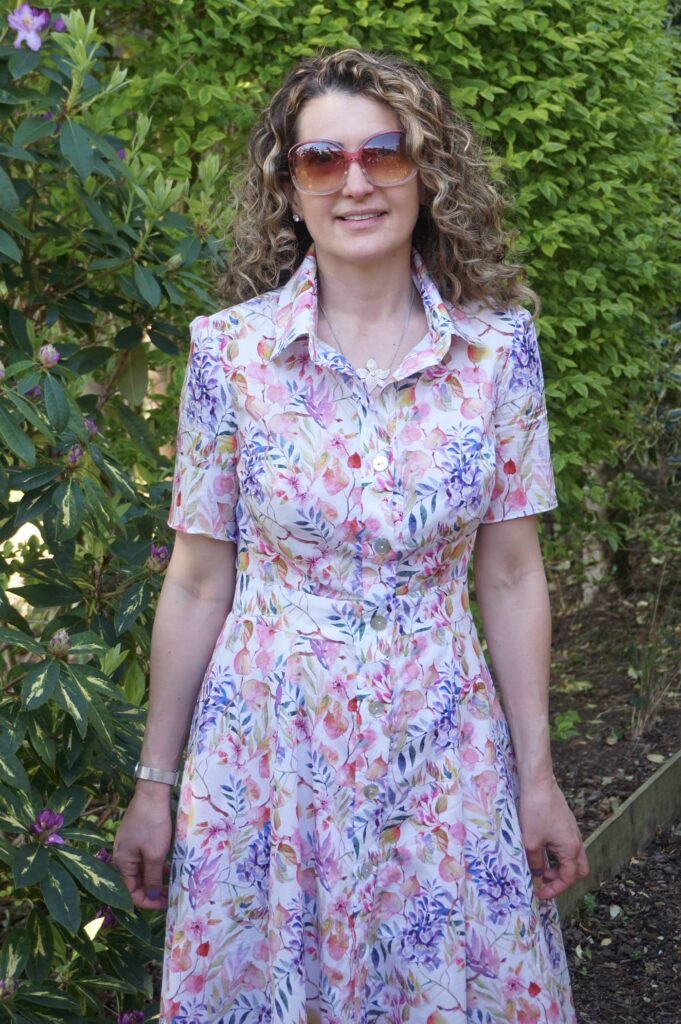 I won't bore you either with extensive pattern review. This is my fourth time using M6696 ( (here, here, here and here) and I recently reviewed the pattern in full details (here) so not much more to add. This is an absolutely impeccable pattern, with a gorgeous shape, a beautiful finish and perfect sizing (it has bust cup options, which help massively the bust fitting). The instructions are extremely clear and will immensely help you if you're sewing your first shirt dress.
As for B6702, I did not sew the bodice but it has custom bust cups too, a huge positive in my view. The skirt is very pretty but I wish it had a bit more volume.
Beware that when making this dress (either following one of the patterns or mixing the two), you need to be careful about your button placket. Make sure it is way longer than what you need to avoid any stress when positioning it on the dress.
How to make a waist-stay on a shirt dress?
You may have noticed on shirt dresses that even if they are well-fitted and in no way too tight at the waist, they tend to gap at the center front of the waist. This is something which particularly annoyed me with my denim dress! This prompted me to commit to waist-stays on all my future shirt dresses!
What is a waist-stay? If you look at this inside of my dress, you can see that there is Petersham ribbon at the waist, closing with a hook-and-eye. That's basically my waist stay! When you put the dress on, you close the hook-and-eye before the buttons and it does the trick!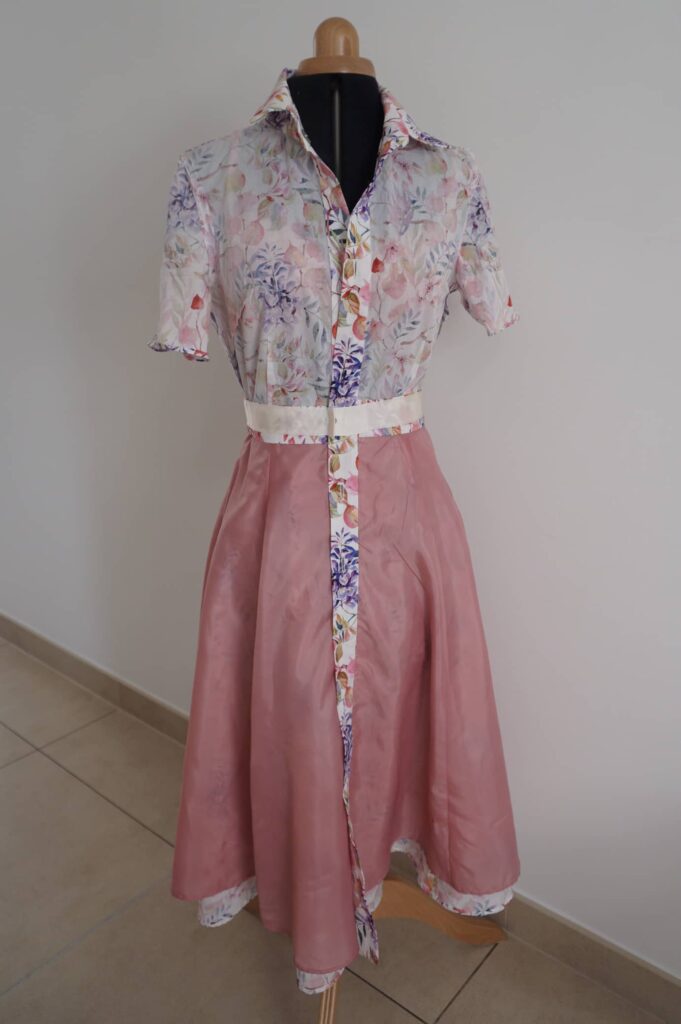 A waist-stay should not be attached to the outside fabric, so the way the M6696 is constructed is perfect for purpose. You just need to sew it to the lining of the belt before actually attaching it to the dress and you're done.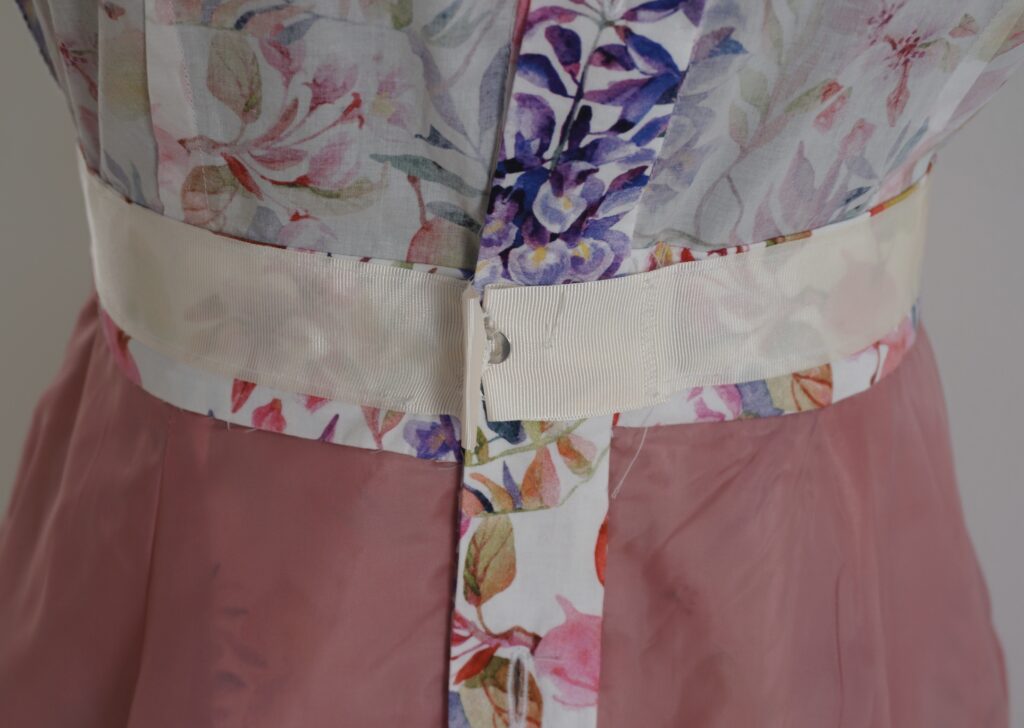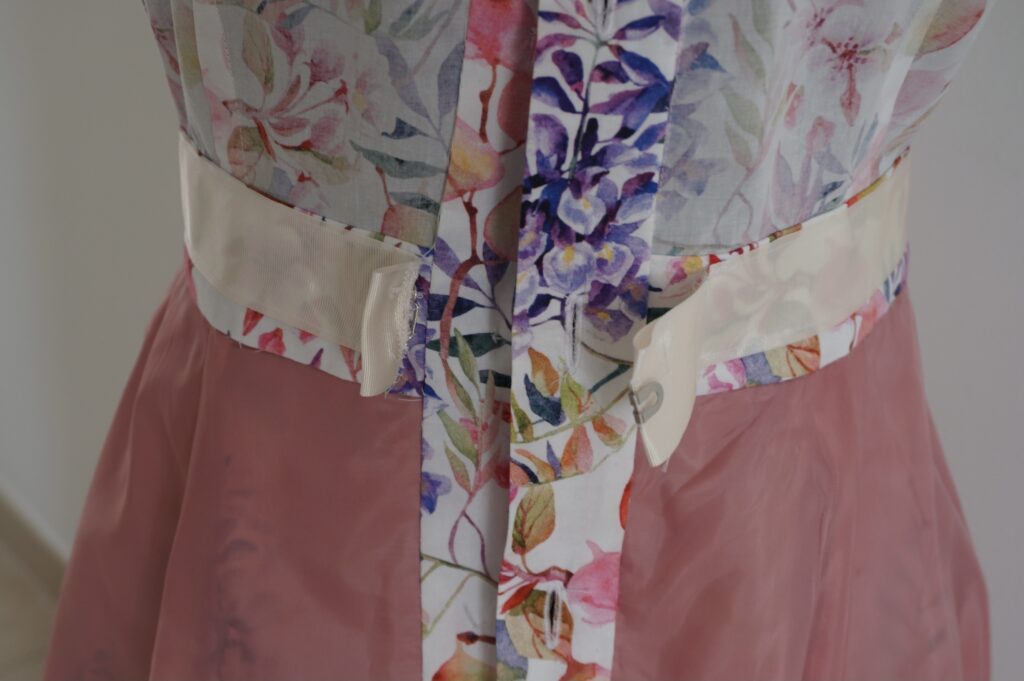 I am not sure I have achieved the neatest waist-stay on this inside but it works wonders on the outside – no gaping whatsoever!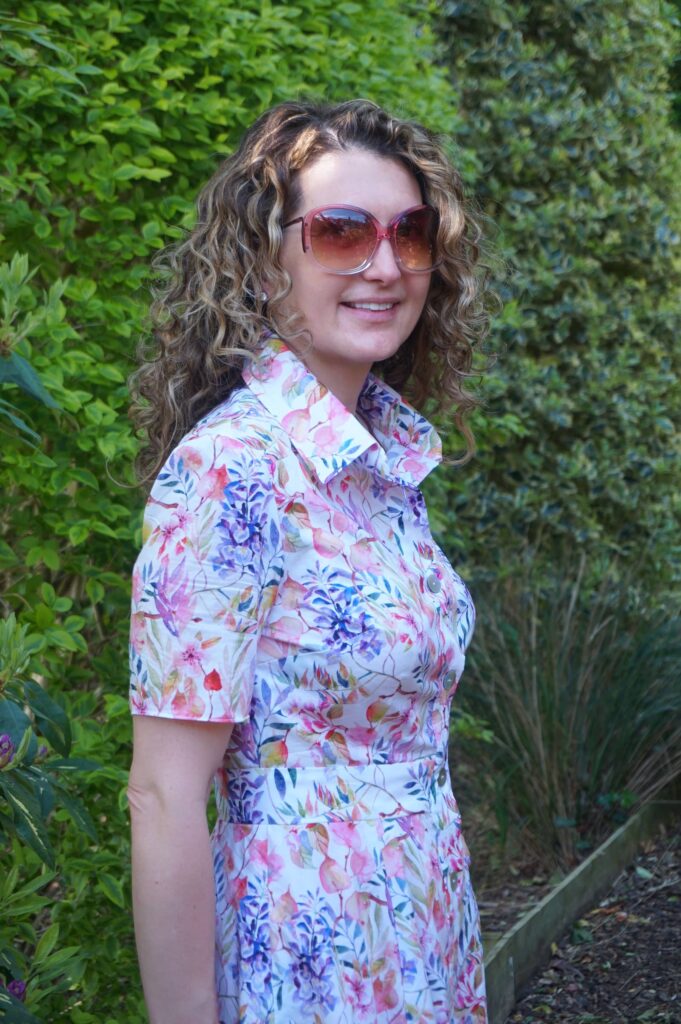 Fabric used: Pima cotton lawn again
The fabric I used for this dress is a Pima cotton lawn I bought from Croftmill. If you fancy it, there is still some stock left! I was absolutely blown out by the quality of the Pima cotton I recently bought for this dress, so very keen to reorder a similar quality. This one is not as amazing, albeit very nice: it is lightweight, has absolutely gorgeous colours but it is, sadly, slightly see-through (hence my skirt lining).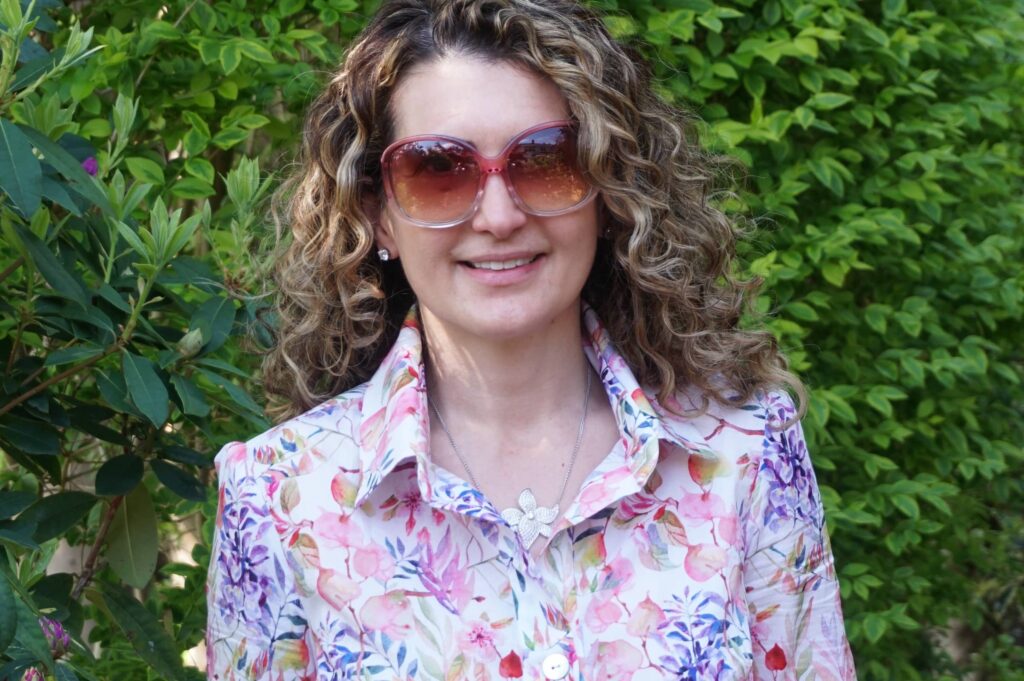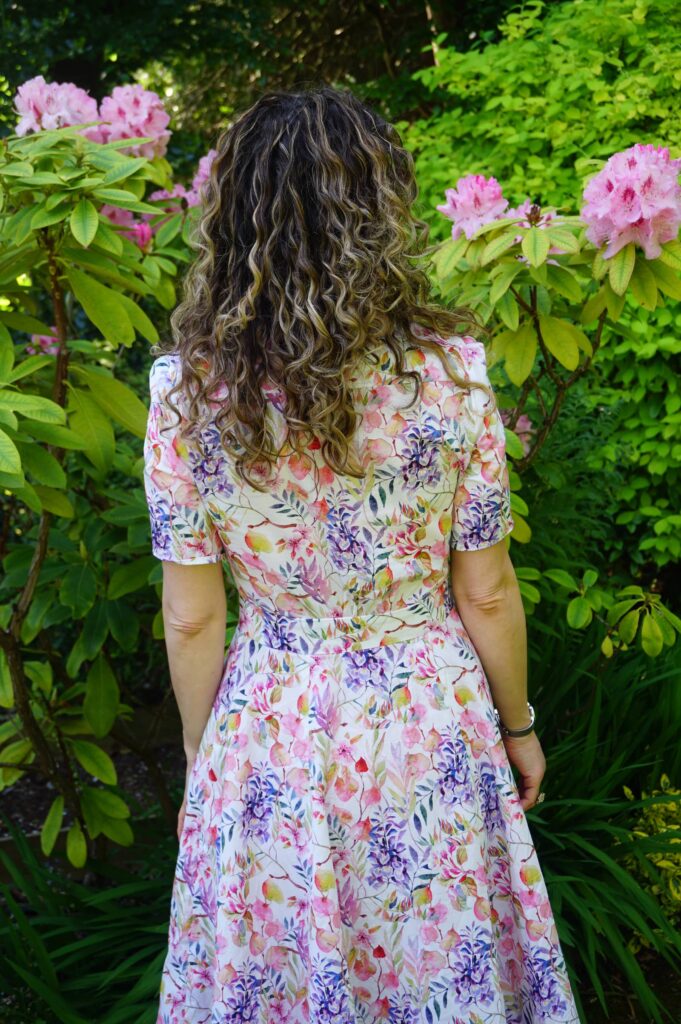 Conclusion: another favourite in my wardrobe
Just writing this article makes me feel like sewing another shirt dress – crazy, isn't it? However I don't think they are particularly appropriate for hot days. So Iwill probably calm down with the prospect of our French summer holiday. In the meantime, I hope to enjoy many wears of this new dress.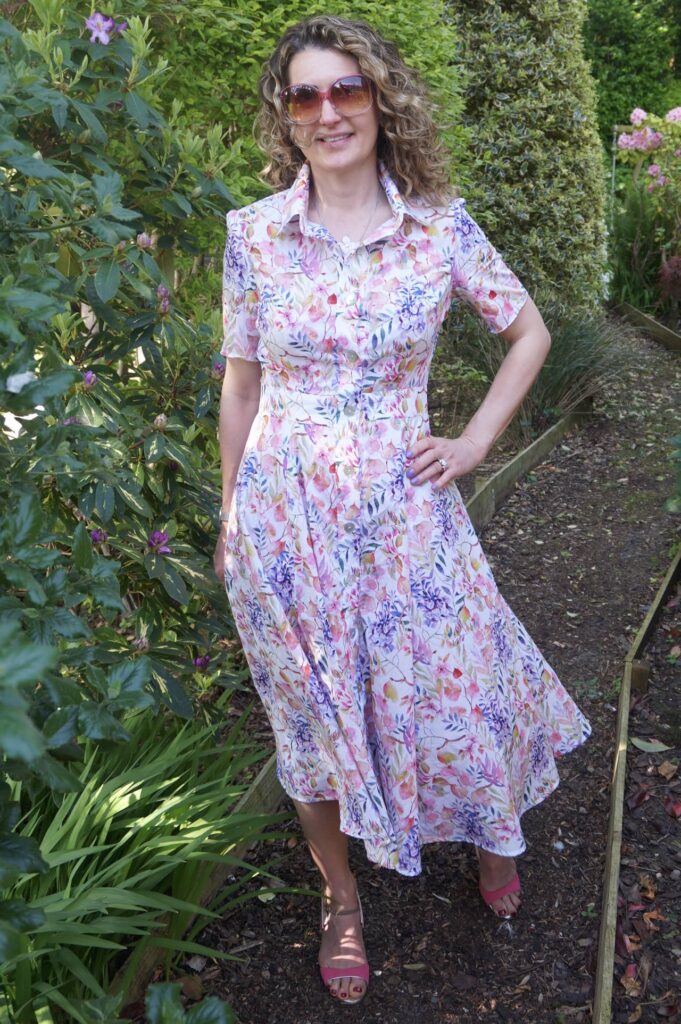 ---
2 responses to "And a third shirt dress for Spring 2021!"