Sewing for Spring: my denim shirt dress
While I was putting my Spring sewing plans together a few weeks ago, I got a sudden and irrepressible desire for a denim shirt dress. Thankfully I had a tried and tested pattern in stock and I easily found the perfect fabric online, so here it is – waiting for the buttons was the longer part of the process here!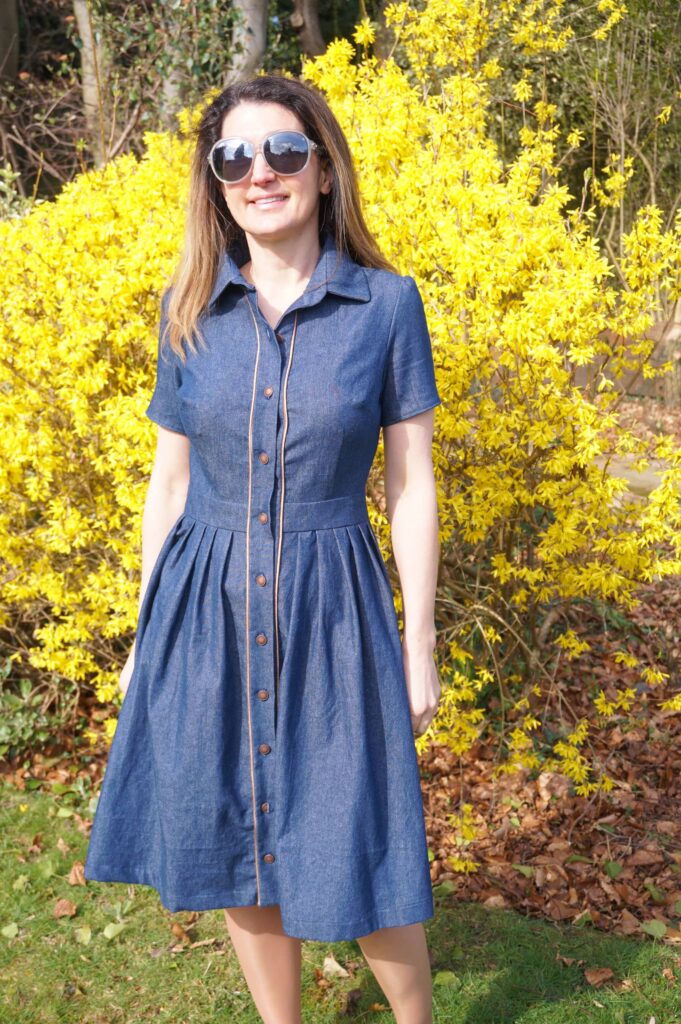 Another favourite shape
You may (or may not) have recognised McCall's M6696, another McCall pattern I adore.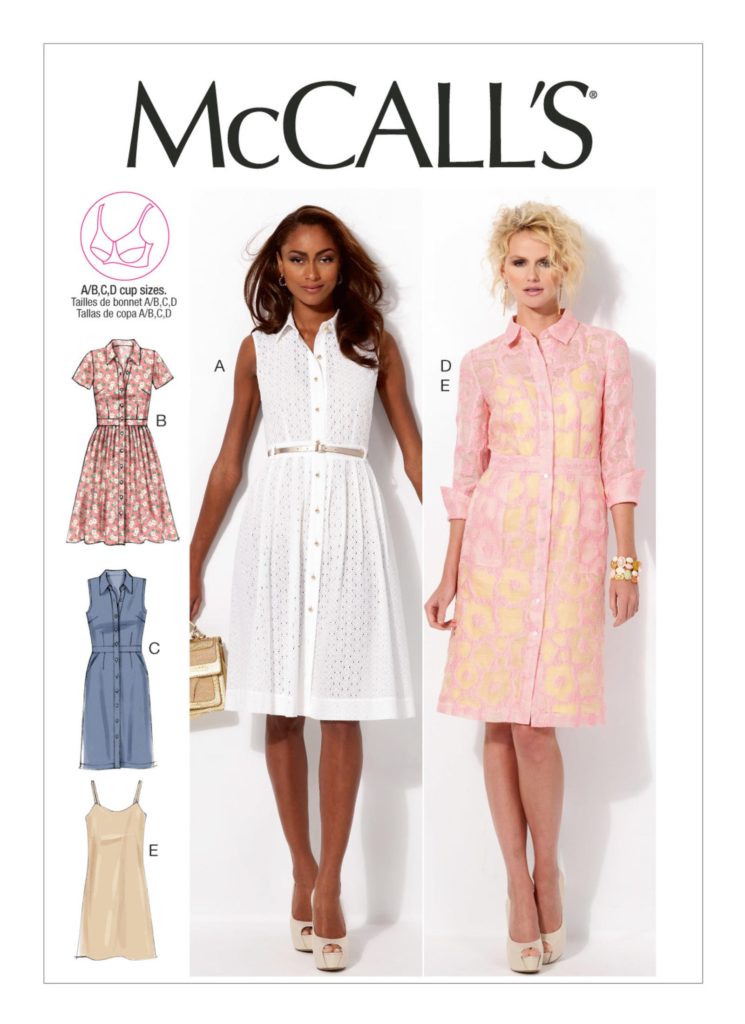 This dress has a fitted bodice and a pleated, knee-length skirt which are joined by a middle belt. This middle belt is a feature I really like in fitted dresses, as it accentuates the waist and avoids the skirt pulling on the bodice – M7081, another favourite of mine, has the same – just a few of my versions below…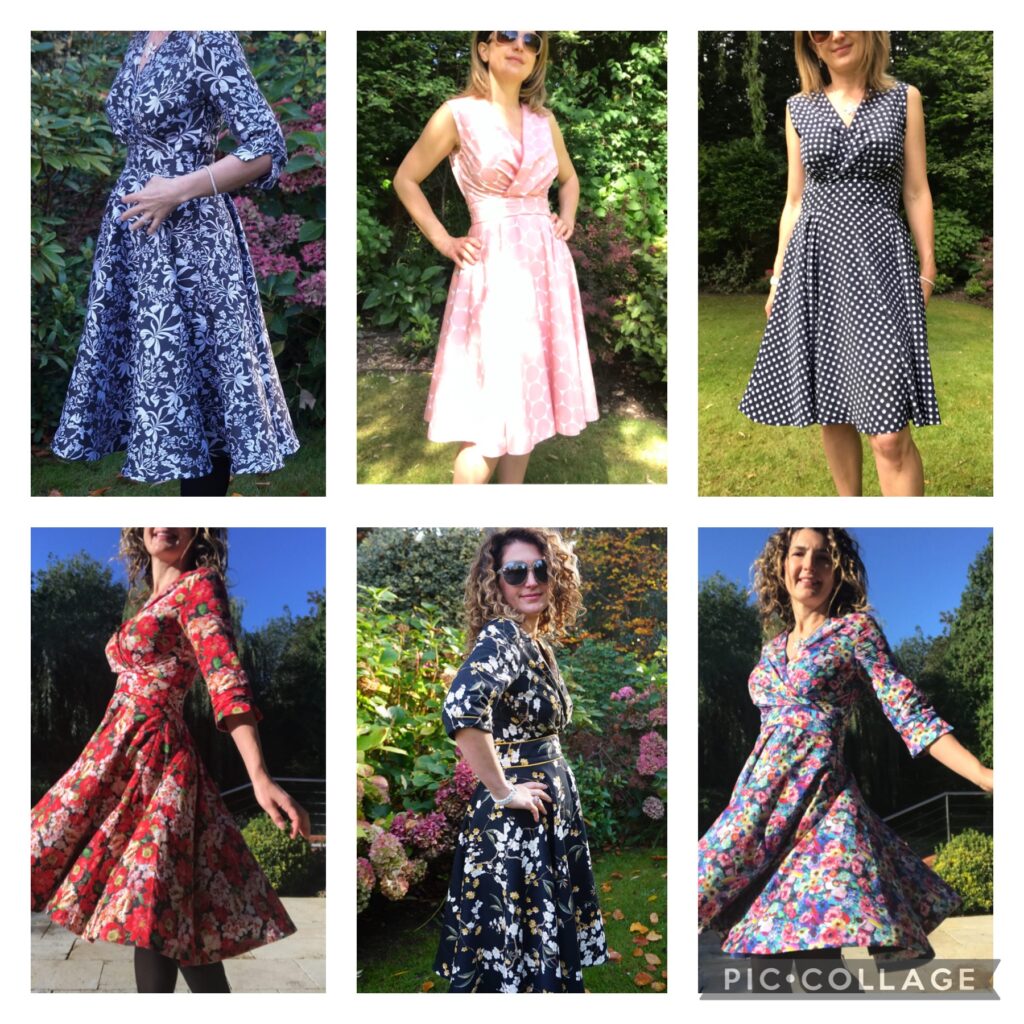 Anyway, back to M6696! I already made two versions in Spring 2019 and was itching to make another one as soon as the weather would be appropriate (I still haven't worked out how to fully line it, otherwise I would have made a number of wool versions too). Here are my previous dresses, still featuring high in my Spring wardrobe – and I even managed to write blog articles about them, here for the blue chambray version and here for the lemon version.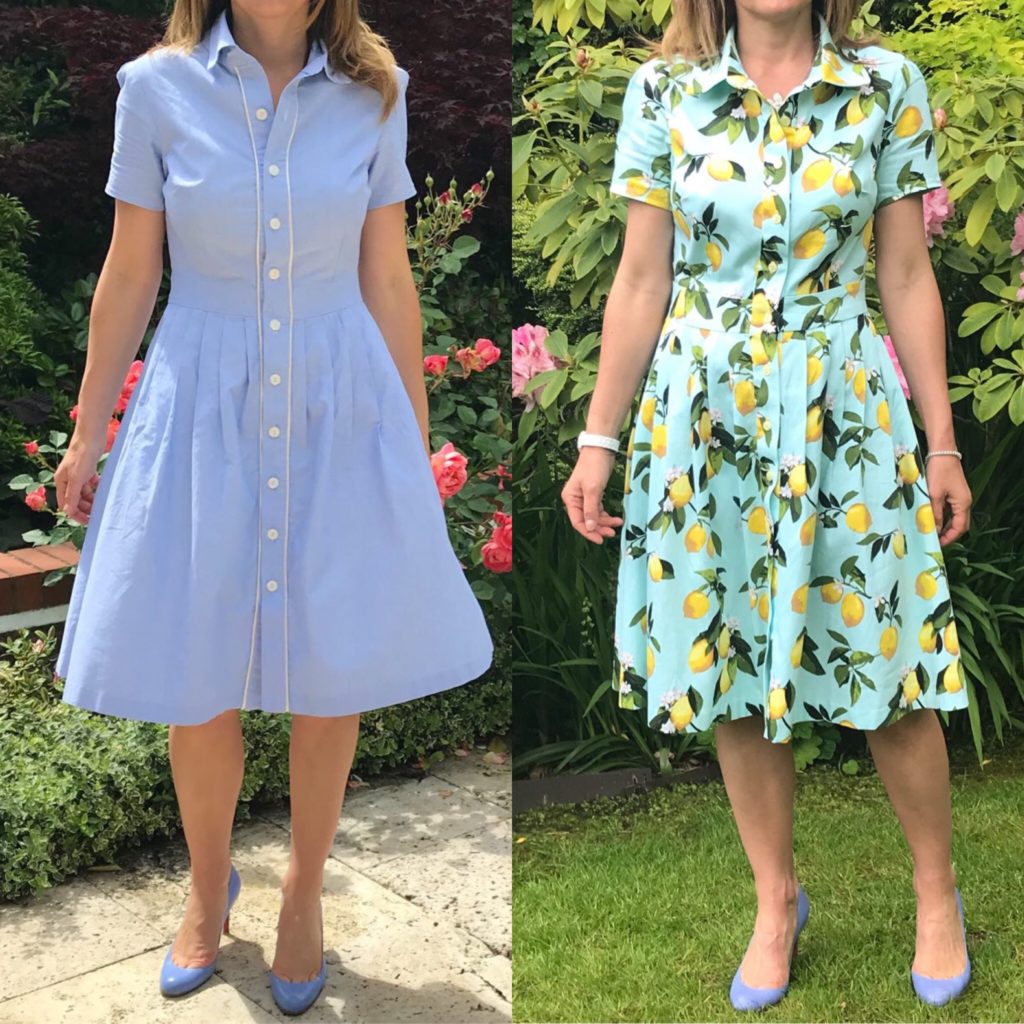 M6696 pattern review
I really have only positive comments about this pattern so… let's start:
Perfect shape, as I discussed above.
Perfect fit. This is definitely a very important point for me, as I like dresses with fitted bodices. McCall and Vogue patterns rarely disappoint me on this front. This pattern has the added advantage of offering custom bust cups, which mean perfect bust fit without an FBA, even for my E cup, hurrah! I am a 36 FR/ 8 UK/ 2 US, I cut a size 10 with C cup and did not have to make any fit adjustment whatsoever.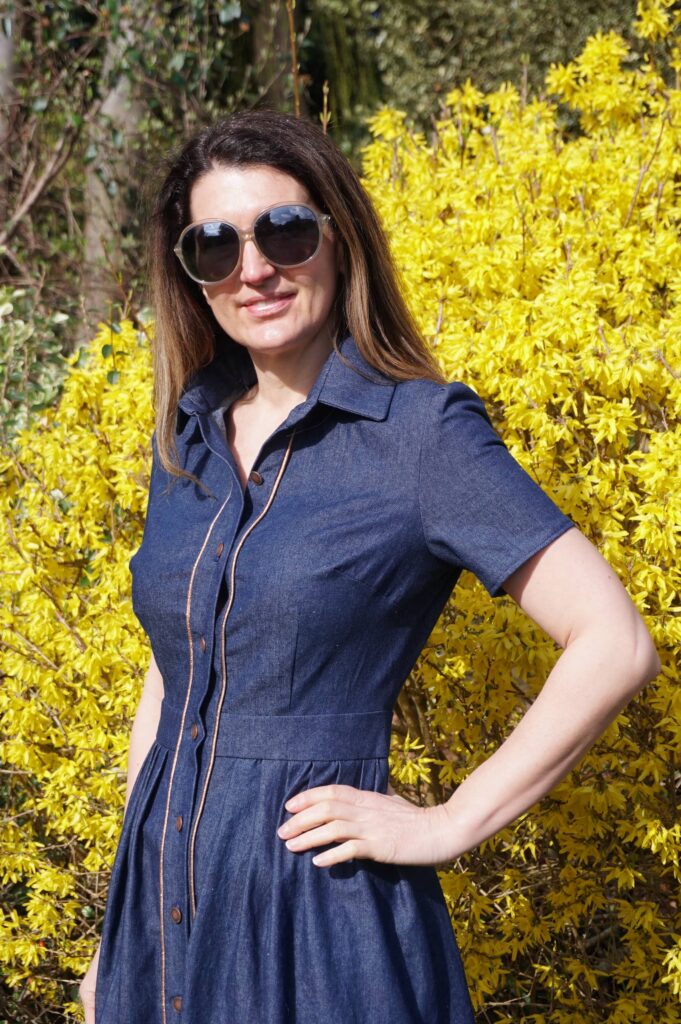 Crystal clear instruction. The shirt style makes this dress a bit more complex than a basic fit and flare, due to the collar and the button placket. However the instructions are so clear that the pattern is completely accessible to everyone – as long as you know how to use the buttonhole function of your sewing machine! (it took me several years to master I admit…)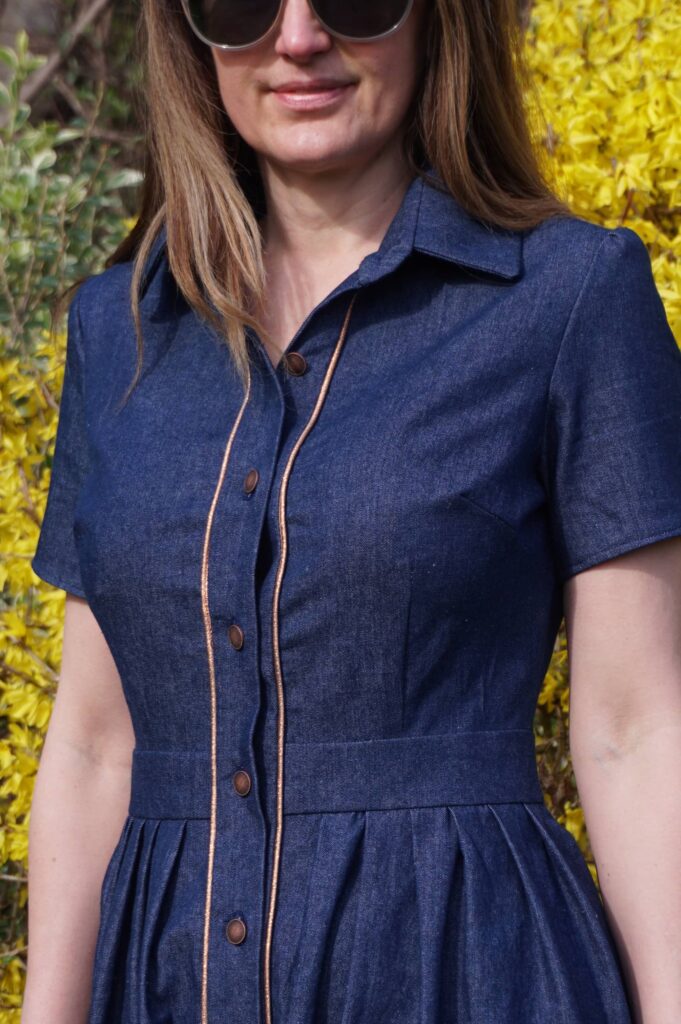 I made only two changes to the initial pattern:
I added some metallic bronze piping on each side of the button placket – very easy to insert while you join each side of the placket to the dress. I had done the same thing with my chambray dresses and really liked the effect.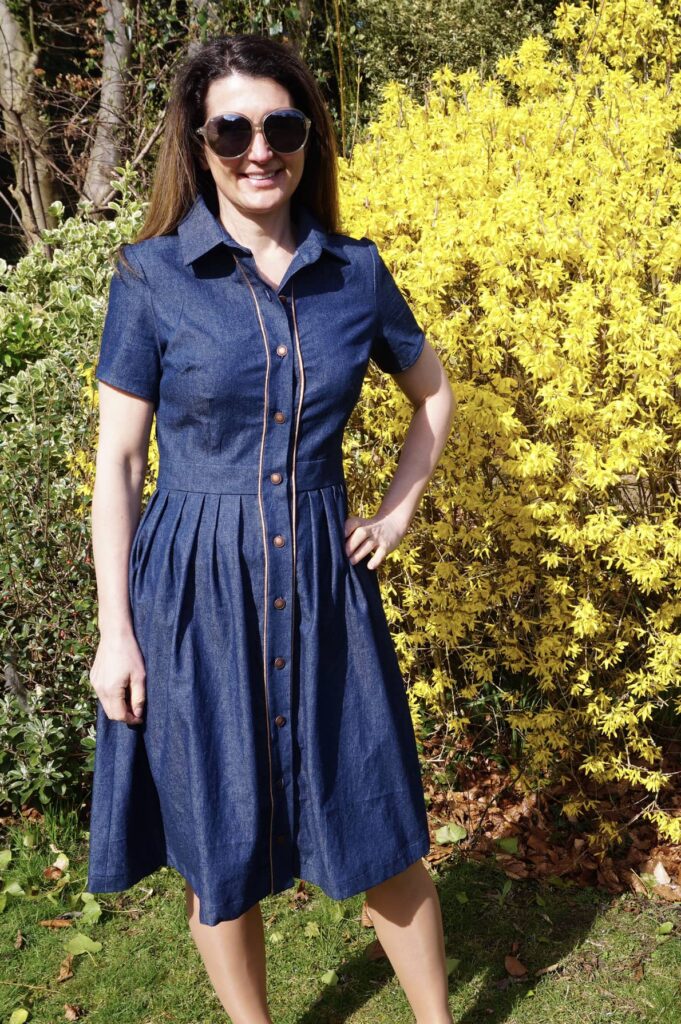 I replaced the gathers of the back bodice by a pleat – much neater in my view, especially with slightly thicker fabric like denim.
The only minor negative of this pattern is that it does not have a waist-stay, i.e. an inside closure which avoids the buttons pulling out, particularly at the waist level. I will definitely experiment with my next shirt dress. To make matters worse, I sew my buttons a bit too far on the outside. I did rectify this since these pictures, so now the placket sits better. But I did not have an volunteer to take new pictures, sorry!
Fabric used: 6oz is the perfect weight for a denim dress
I usually struggle to buy denim, even more so online. I got lucky this time : I ordered this 6oz denim from Fabrics Galore and it was both the perfect colour and weight.
The piping had been in my stock for years, bought in France when it was difficult to get metallic piping in the UK (plenty on E-Bay now). And I found the buttons on Etsy, after a long search for bronze buttons that would match the piping.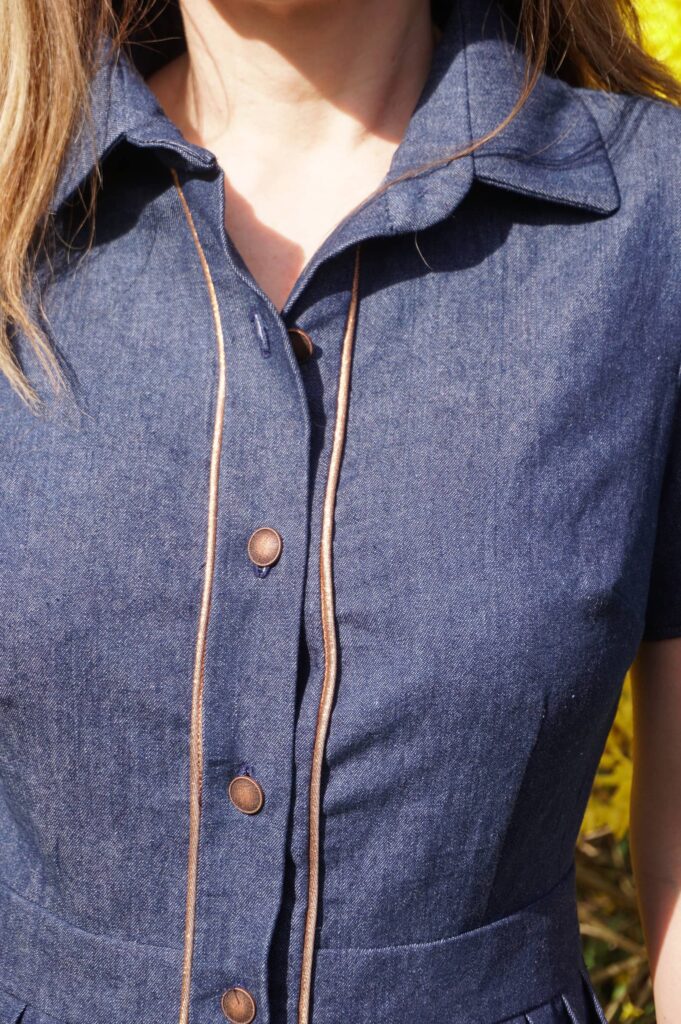 Conclusion: shirt dress frenzy
I recently brought my sewing machine for repair, after damaging it by sewing over a pin (I know….). Since then, the automatic buttonhole function has been working perfectly – although for 10 buttons, you still need to turn the machine on and off a few times, otherwise at some stage the function goes crazy…. Oh well…
I am very pleased with this dress, which reminded me how much I like shirt dresses. With the buttonhole situation now under control, do expect more shirt dresses on the blog soon!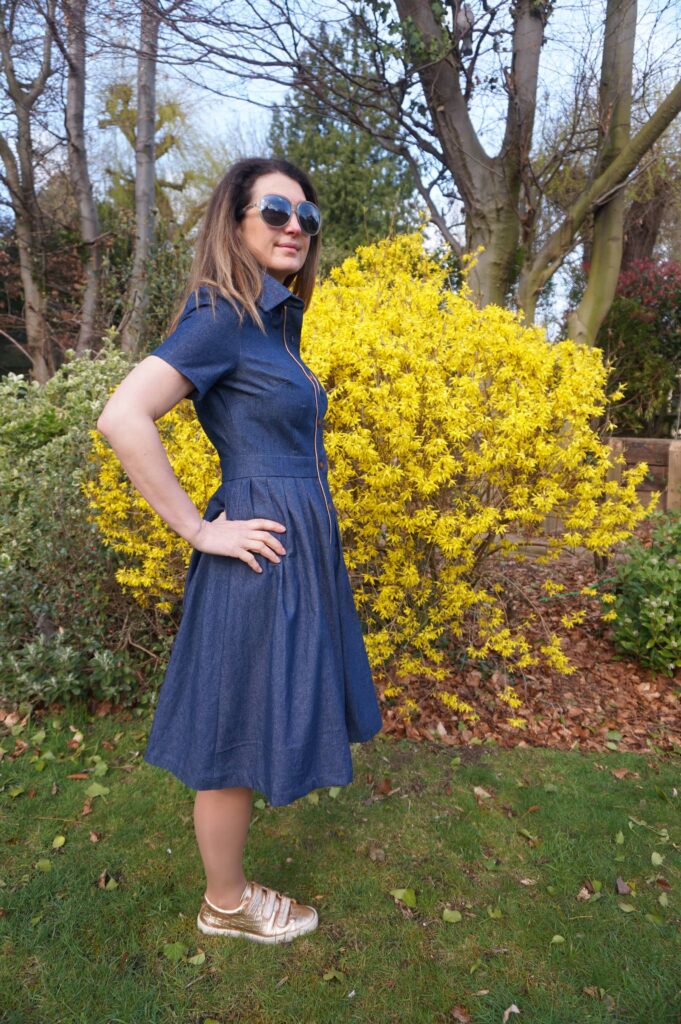 ---