Sewing for Spring: the improbable trousers
Incredible but true: I have sewn trousers! They are the Ultimate Trousers by Ready to Sew and I think I am actually going to wear them!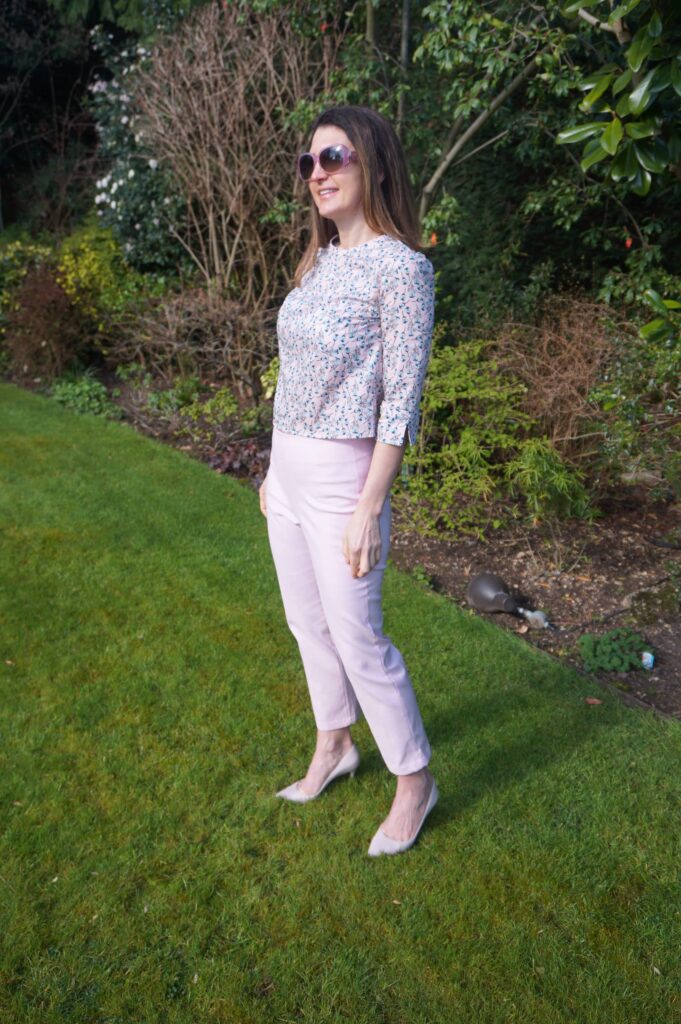 My search for the perfect trousers pattern
You know that I rarely wear anything else than dresses – skirts with hand-knitted cardigans at a stretch. I actually own very few pairs of trousers, which I mainly use for weekend family walks in the countryside.
However I have been wanting to have a go at trousers ever since the Loulou trousers pattern by Maison Fauve crossed my path. Cigarette is my favourite shape for trousers; and I much prefer an invisible side zip than any other type of closure, as it makes the silhouette more elongated in my view. Another big plus of Loulou is its gorgeous pockets.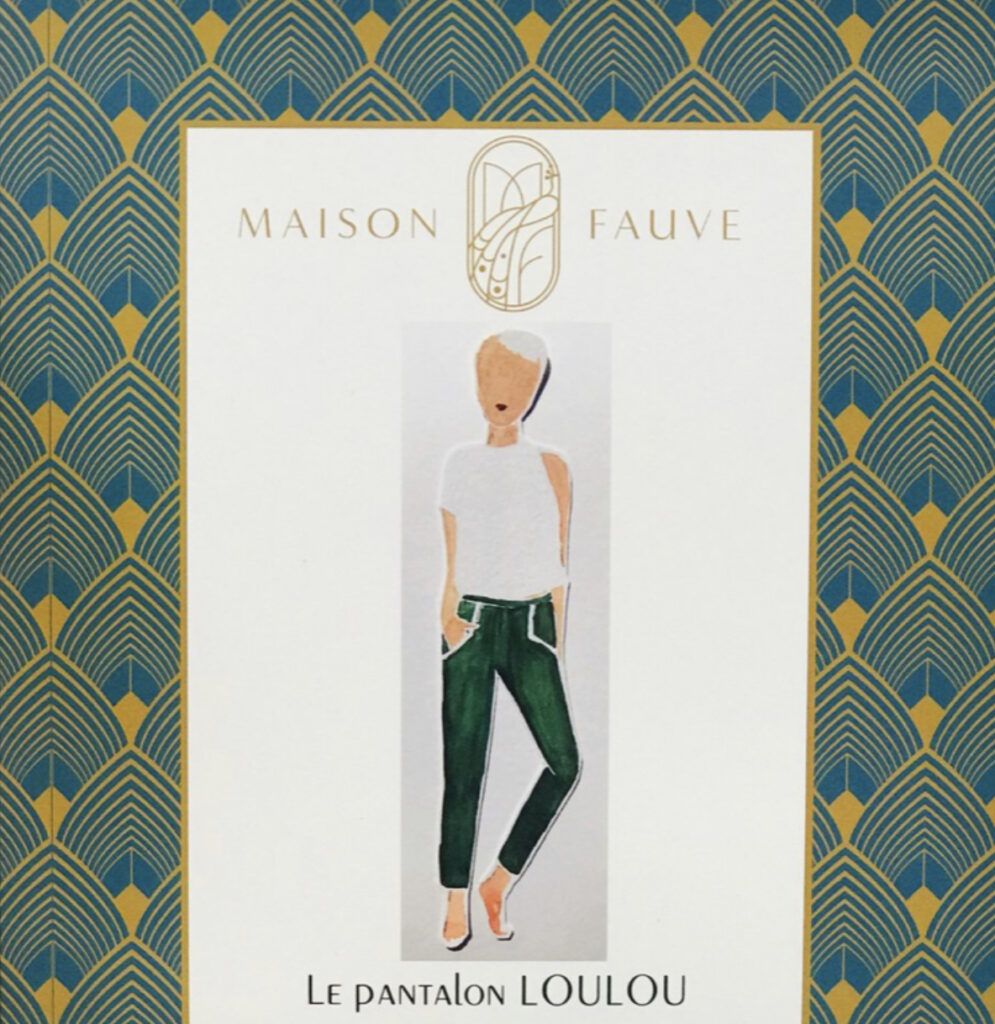 But the stars weren't quite aligned. First, until very recently, the pattern was only available as paper, not PDF, so getting it to the UK was prohibitive (so says the girls who buys cashmere and silk on a regular basis… no comment). Second I was struggling to get the right fabric, I wanted a semi-weight cotton with slight stretch but it never seemed to appear in a colour I liked.
Eventually we got there. Loulou's PDF was released and I ordered it. I also found this great baby pink stretch cotton fabric from Croftmill, and… I actually found a more suitable pattern!!! My only reservation with Loulou is that it is quite low-waisted, while The Ultimate Trousers by Sew Over It have quite a similar shape but a higher waist. So here we are now.
Pattern review: the Ultimate trousers by Ready to Sew
A perfectly streamlined pattern
The Ultimate Trousers have in my view the perfect shape. They have a reasonably high waist (they just cover the tummy button) and fitted cigarette legs; perfectly sit on the waist thanks to front and back darts; and close via an invisible zip on the side, which removes any potential bulk at the waist while making the sewing much easier than with a flap!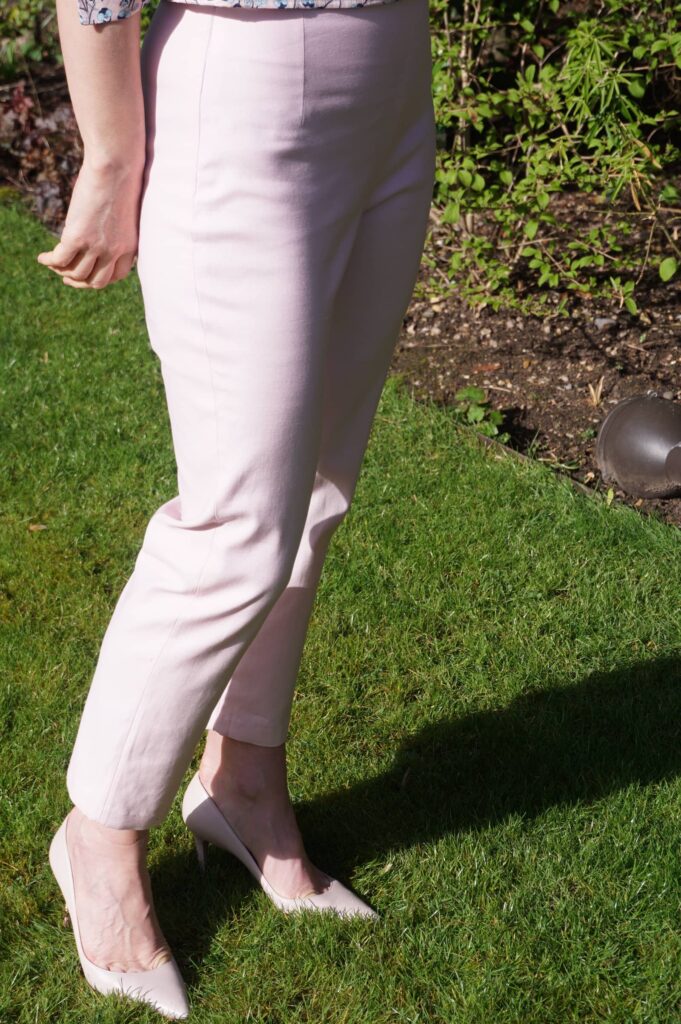 They are, in my view, the perfect pattern for beginners. There is a very limited number of pattern pieces (4 including facings). And the 1.5cm/5.8in sewing allowance gives some room of manoeuvre for easy fitting.
Pattern adjustments
Purely out of laziness, I did not make a muslin to check fit ahead of cutting into my fabric. However I had a lot of extra fabric available in case things went completely wrong; the fabric I chose has a bit of stretch, which I do recommend to make fitting easier; and the pattern sewing allowance was sufficient to make fit adjustments afterwards. If you want to go with a fabric without stretch or if your fabric is very valuable, I would definitely recommend a muslinthough.
My body measurements sat between a recommended size 8 at the waist and a size 12 at the hips – but with the finished measurements my hips fitted into a 10. So I cut a size 10 everywhere, assembled the trousers without zipper, tried them on and then made the following modifications:
I took off 1cm (x2, ie on each side) at the waist;
I had some bagging at the front of the crotch, so I trialled and errored and ended up taking 1cm(x2) off here as well;
I have quite muscly calves and the trousers weren't falling very well there so I added 1 cm (x2) of width to the legs from 3/4 thight – it slightly enlarges the cigarette shape but I can't see any better way.
I removed 6cm at the bottom to get a 7/8 length.
I was able to make all these changes within the seam allowance and that was quite lucky! Overall this fitting exercise was quite easy.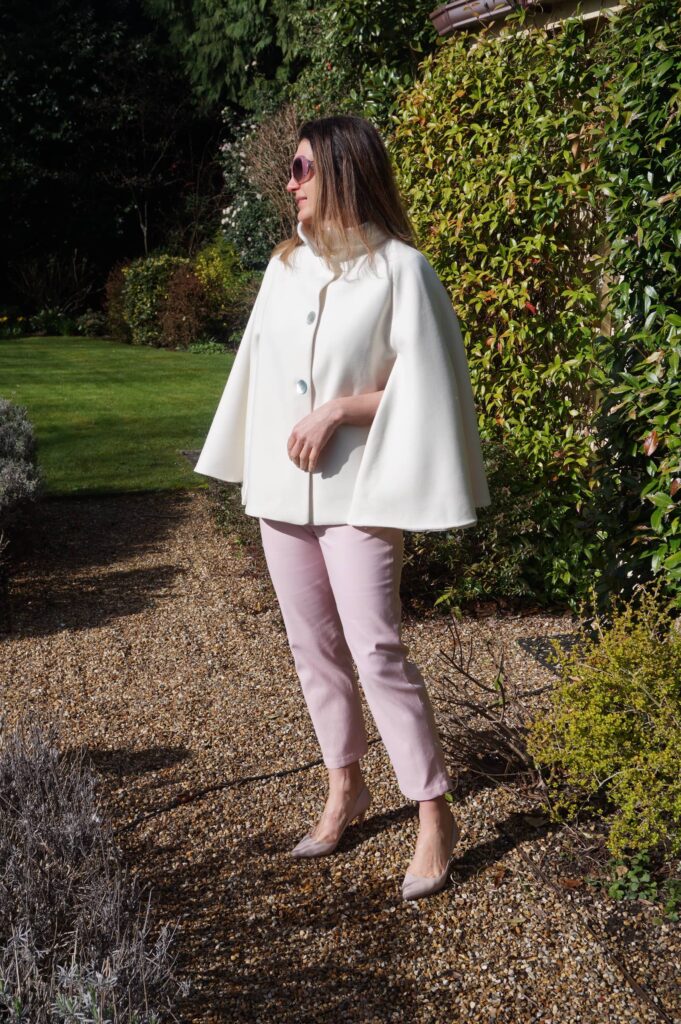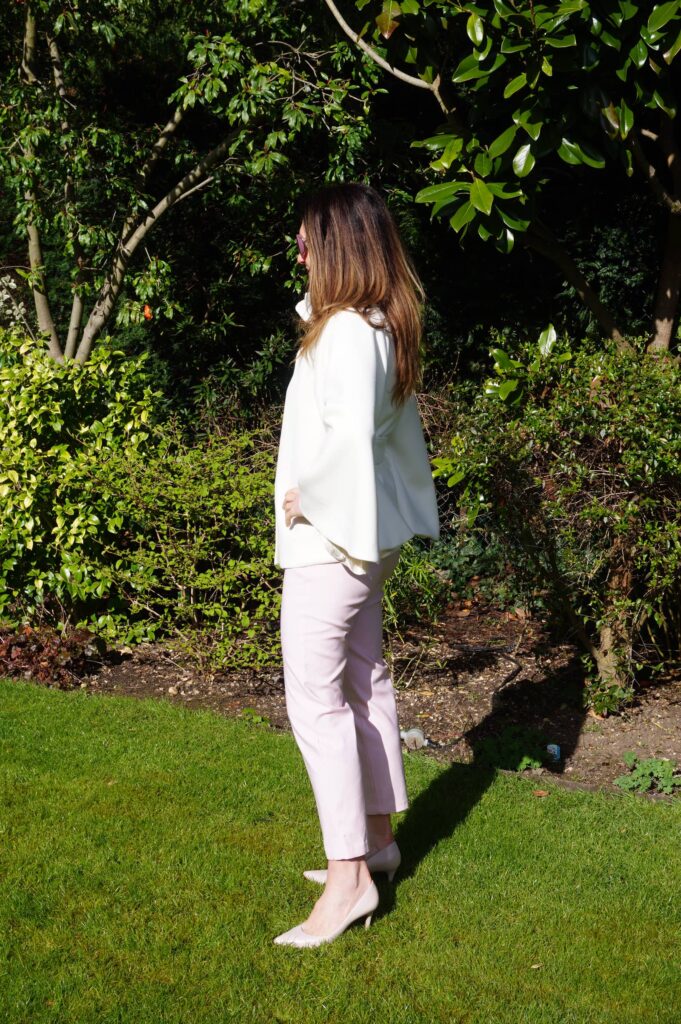 I am particularly happy with the perfect fit around the waist and hip area…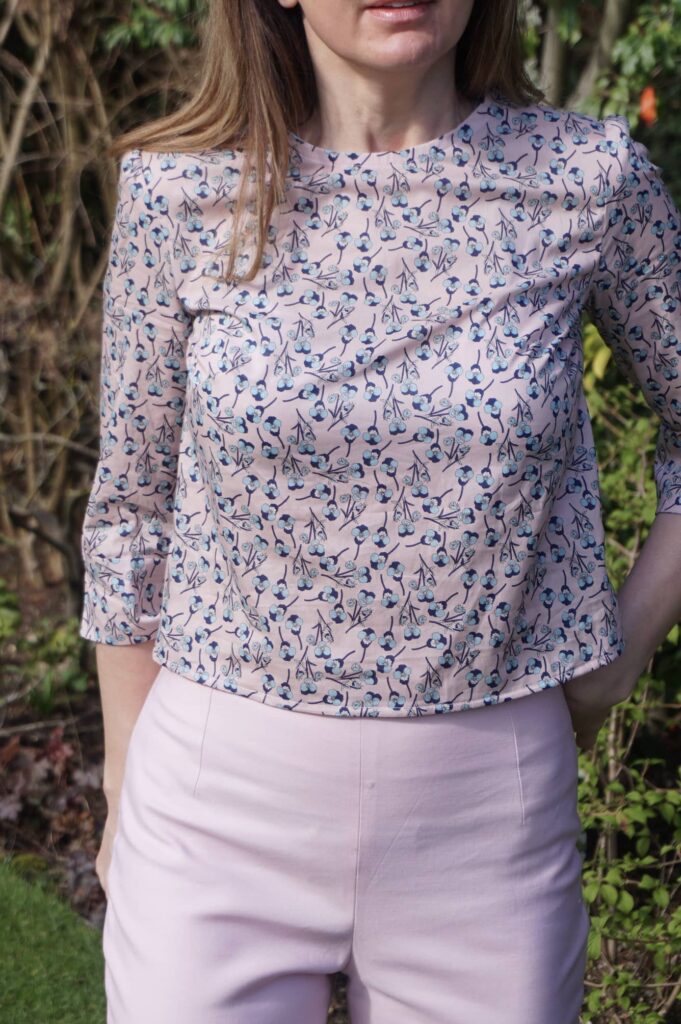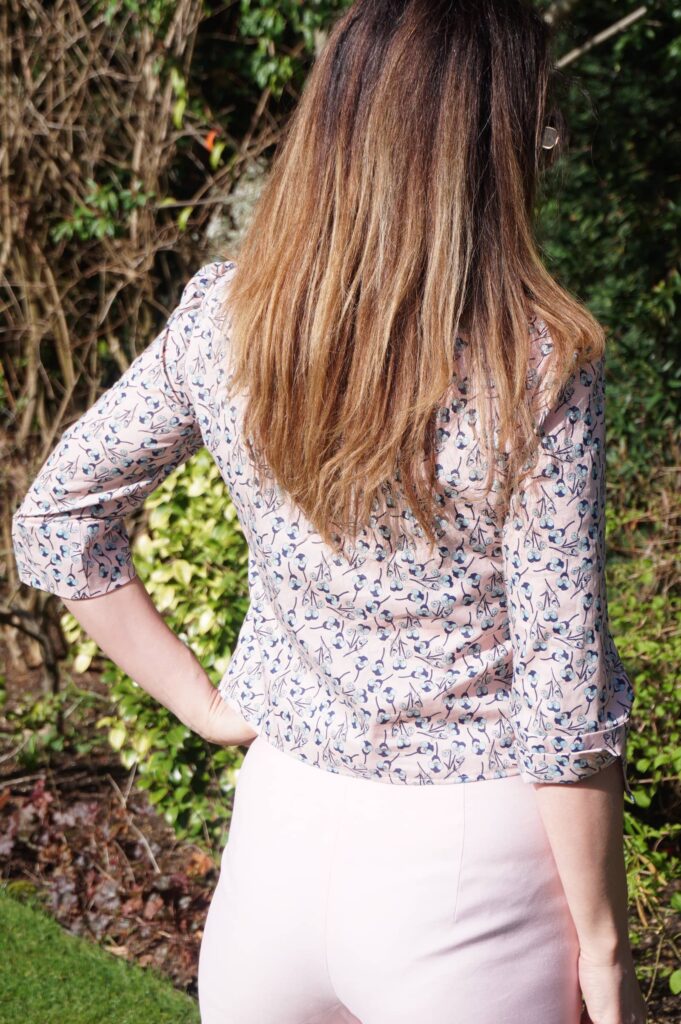 The back leg fit is far from perfect but I think I'll go with this for the moment. Maybe making the legs completely straight would sort out the problem.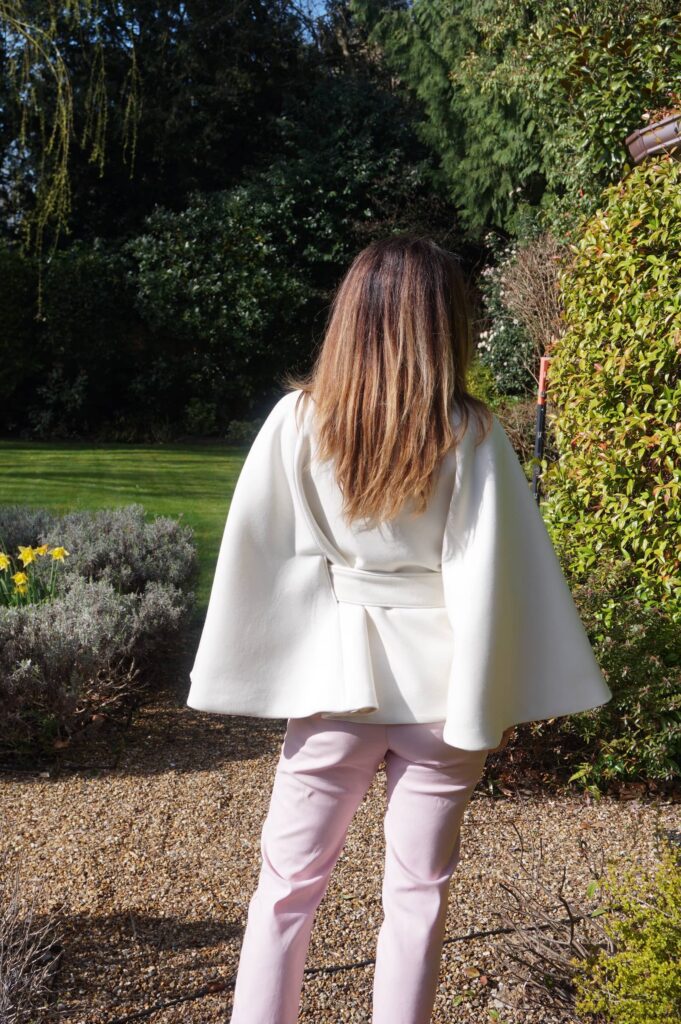 Making a matching blouse using the M7542 pattern
As you can see in the above pictures, I made a matching blouse to go with my trousers – because never mind that it looks a bit too much, I cannot help being a matchy matchy girl!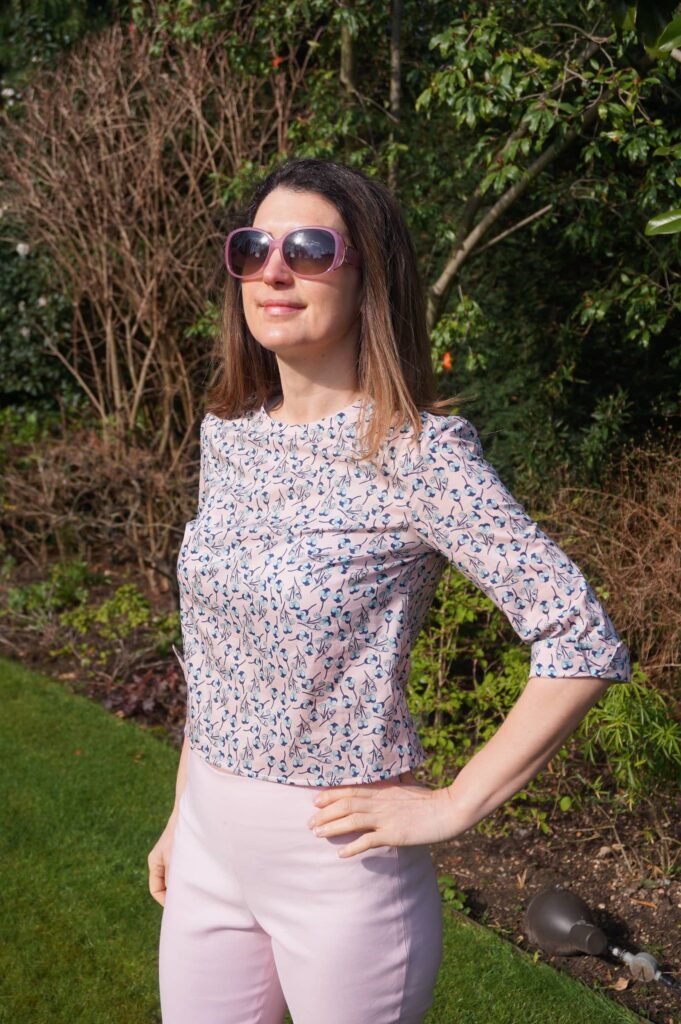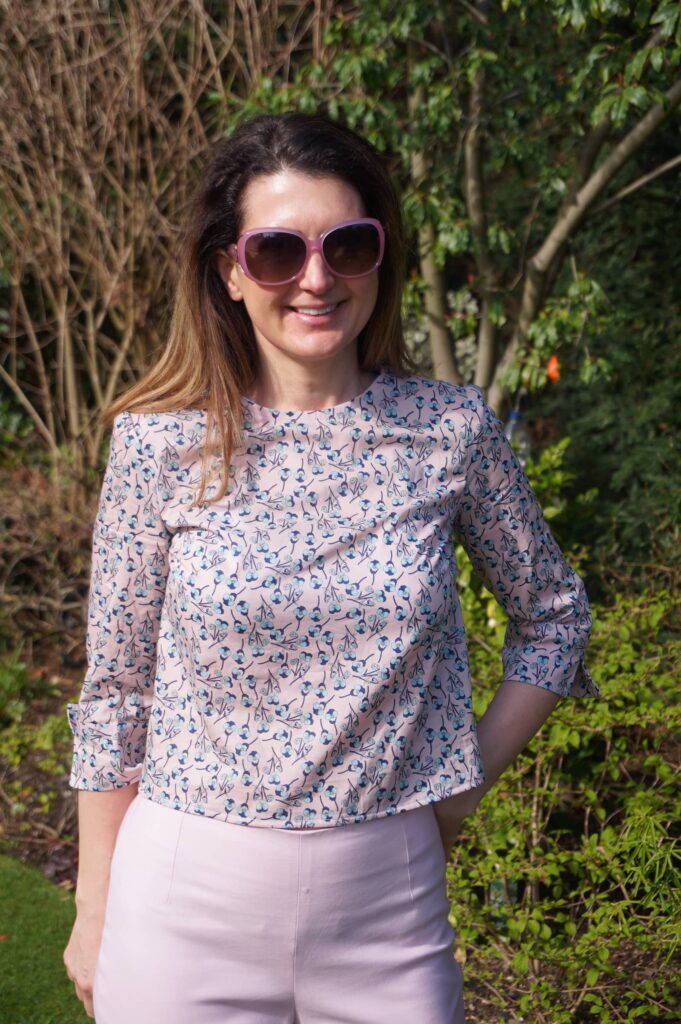 I used the McCall's M7542 blouse pattern, which I had already used for this set, and which is the perfect length for high-waisted bottoms . It is a super quick and easy sew, with perfect fit thanks to the custom bust cup options. I cut a size 10/ C cup, as always with my Vogue and McCalls patterns, and no fit adjustment whatsoever was needed.
The only change I made was adding sleeve cuffs, but I really shouldn't have bothered as they are hardly visible with this fabric (a Liberty Tana lawn bought on sale a while ago. such a pleasure to work with). Oh well…
In conclusion
I am very pleased with this set and I have been wearing it much more often than I thought I would. I am definitely planning a repeat of the trousers, maybe with wider legs if I manage to draft them. We'll see! But the next few articles will be all about dresses, it has been far too long!
---