The Vogue love story continues with the V9327 dress
After a very positive initial experience of the Vogue patterns (see my articles about the V8630 dress here and here), I continued my exploration of their Custom Fit collection with their V9327 dress: perfect for the winter with its high-collar, its long cuffed sleeves and its midi circle skirt.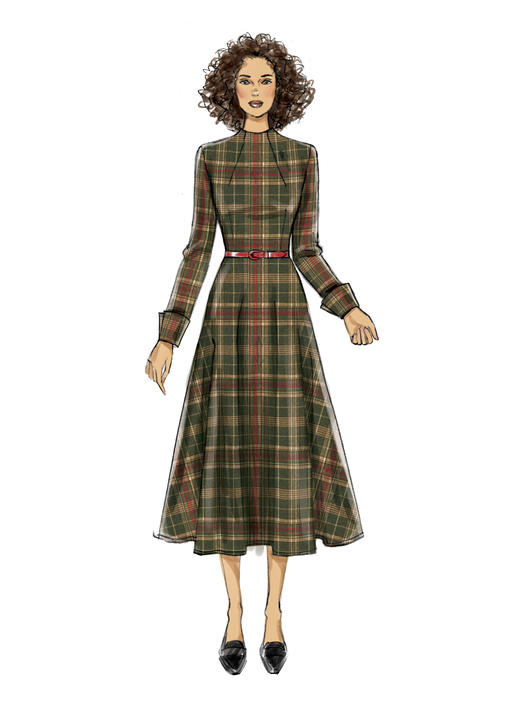 These beautiful details really appealed to me – and they look exactly the same in real life as on the drawing!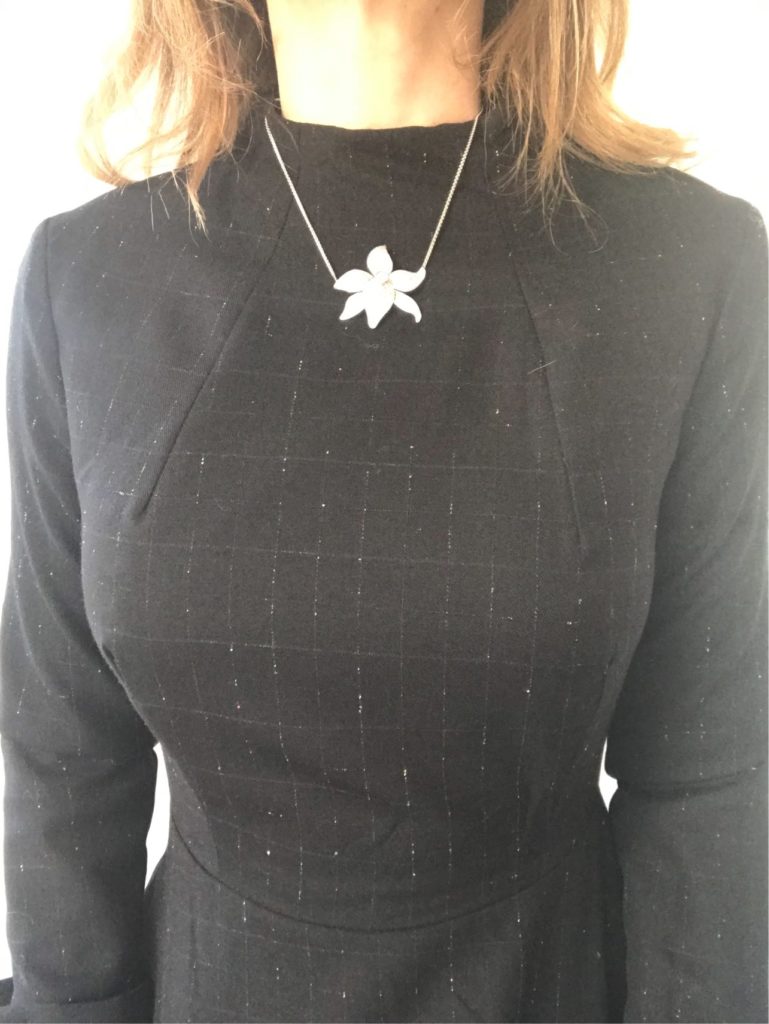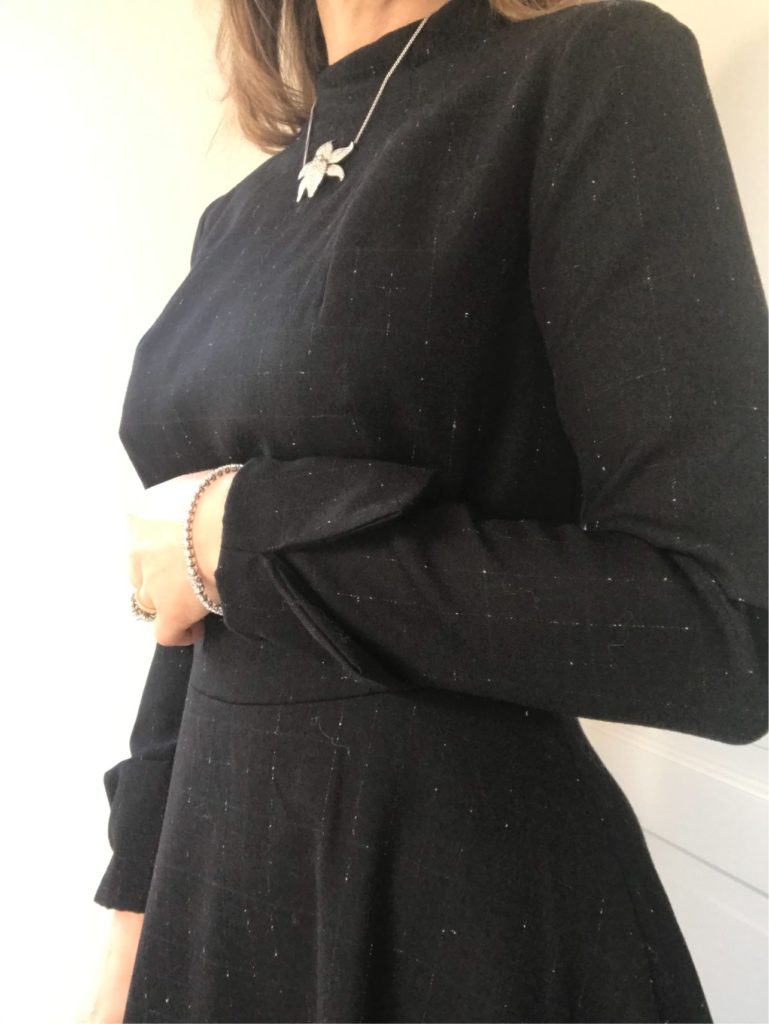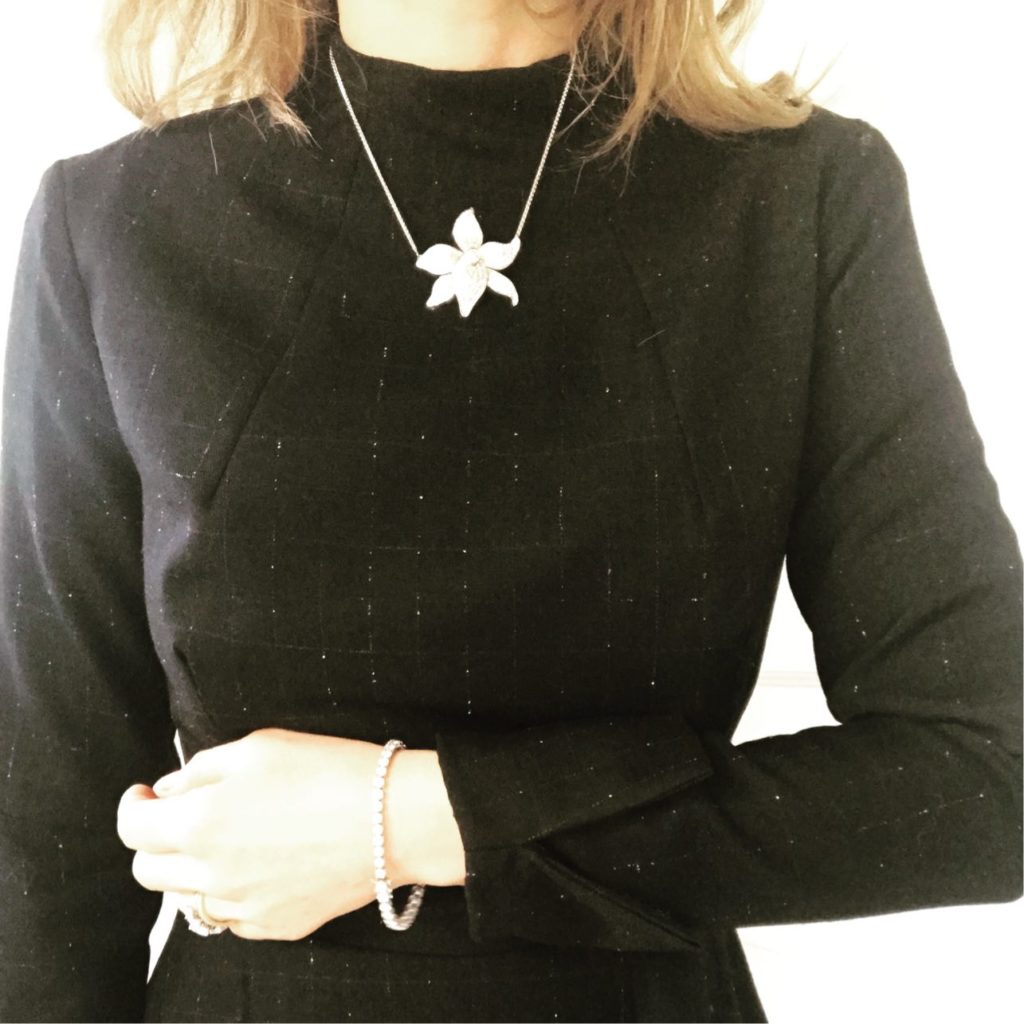 As I explained previously, being a UK size 8 with an E-cup, FBAs are my worst nightmare; and the Vogue Custom Fit collection is my latest best find, with its 4 cup options (D is perfect for my E).
Although my measurements indicate a 12 top/ 14 bottom in Vogue, I decided to cut a 10 as I had eventually done with my two previous Vogue dresses (from reading other reviews of the Vogue patterns, it seems to be quite a common thing). I made a muslin to check the fit of the top and the sleeves and appart from adding 1cm ease at the underarm (quite a common adjustment for me, disregarding the pattern brand), I MADE NO FITTING ADJUSTMENT WHATSOEVER! How good is that?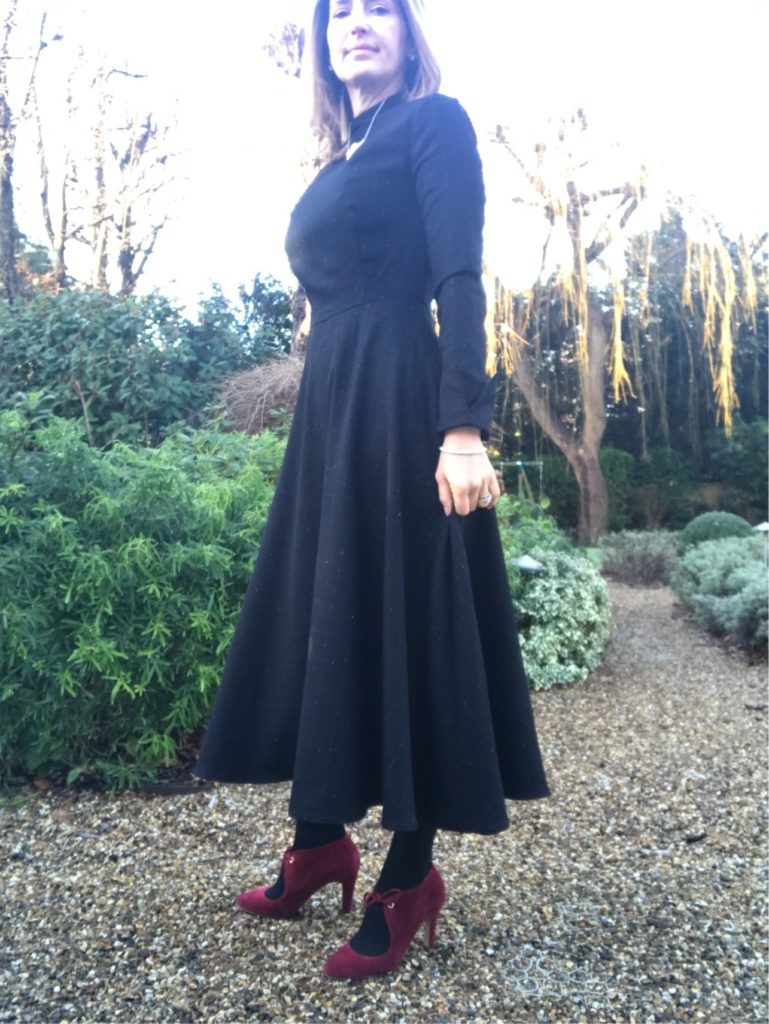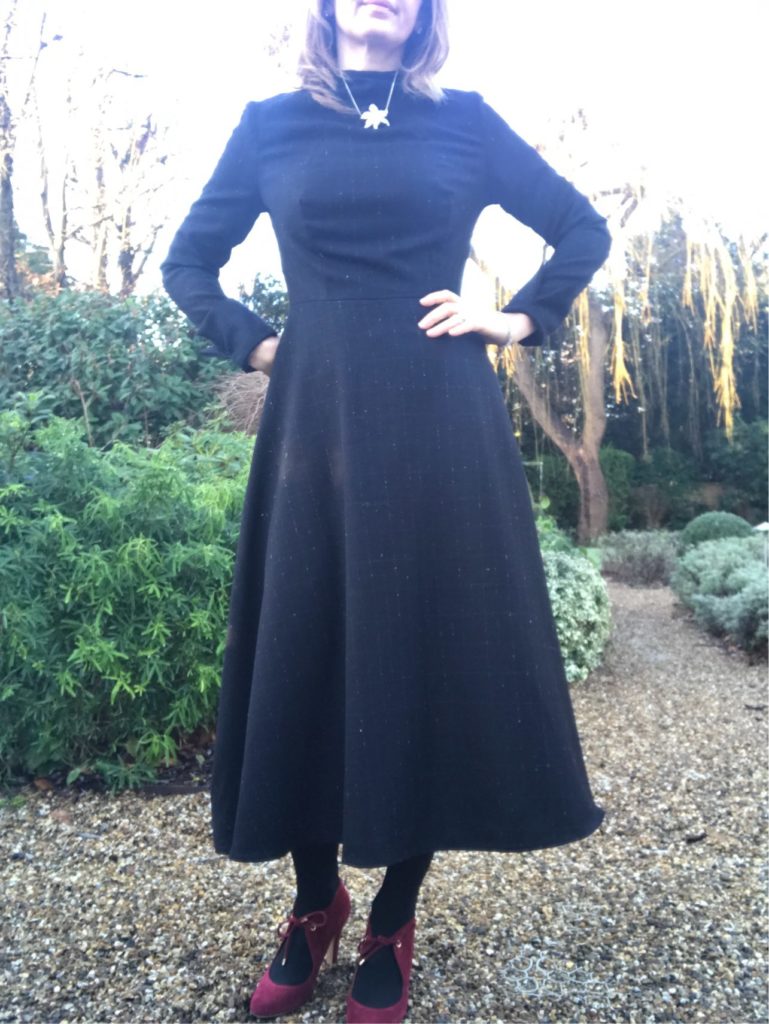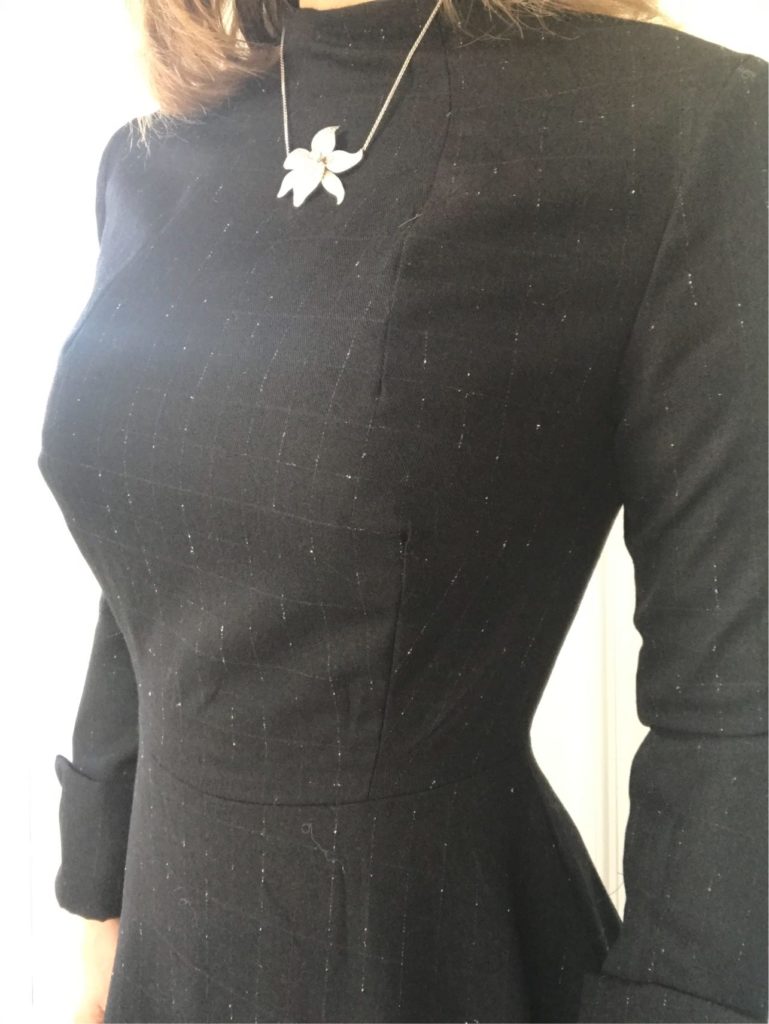 The only change I made was to fully line the dress. The pattern only indicates how to line the top, but adding a skirt is pretty straightforward – and there was no way I was having an unlined wool dress!
The fabric I used is 100% wool suiting fabric from Crofmill, my go-to online shop when I want rather classical high-quality fabric at a discount – this one was £15/m, very reasonable for such nice wool! The pattern needs quite a lot of fabric though, due to the big skirt – the enveloppe said 3.5m, I used 3m. The fabric is black with very fine lines of blue and silver, a beauty!
As with my other Vogue experience, the instructions were crystal-clear; and the final dress looked perfectly like the enveloppe drawing, so absolutely no surprise here. I am very pleased with how this dress turned-out and it is so warm and cosy I am sure I will get a lot of wear out of it – plus it is a perfect match with my new favourite winter jacket! ( this one is not handmade I'm afraid…)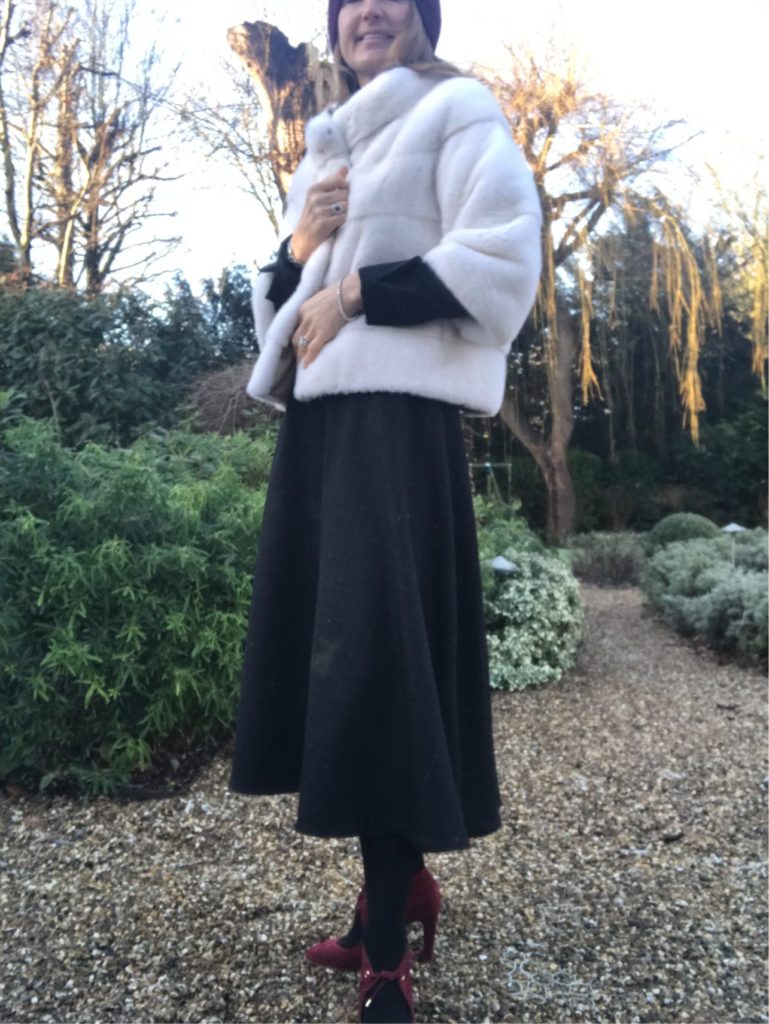 ---
In summary :
Pattern: V9327 from the Vogue Custom Fit collection, with a high collar neck, a fitted bodice, sleeve cuffs and a long circle skirt. The collar and sleeve details are beautiful in my view; and I adore the big skirt!
Fabric: I made this dress in a 100% high-quality wool-suiting fabric from Croftmill; the lining fabric is a cheap one from E-Bay – but antistatic, this is absolutely essential so that it does not stick to tights!!!
Sewing level: intermediate in my view. There are quite a few curved-stitch lines for the collar and invisible zip, otherwise very straigtforward but long, especially if you decide to fully line the dress. The explanantions arte crystal clear though, I particulalry appreciated therm for the cuffs.
Love level: I absolutely love it, so much my style! I don't think I will make another one this winter though as there are quite a few other Vogue Custom Fit patterns I want to explore.
---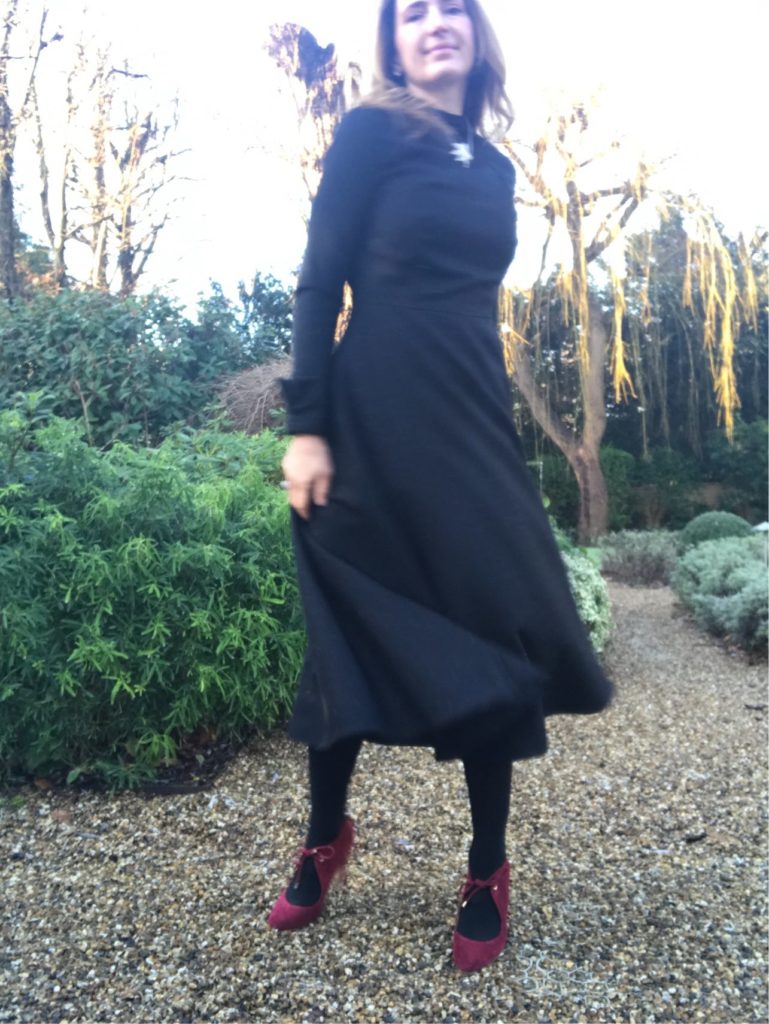 ---
2 responses to "The Vogue love story continues with the V9327 dress"