Icon: my first knitted dress
You probably guessed that 90% of my wardrobe is dresses – I seem to sew them by the truckload, fit-and-flare preferably (see my 2020 sewing review if you don't believe me)… But ever since I started knitted, it had never occured to me that you could knit a fitted dress.
It seems I was wrong: let me introduce you to Icon, my first (and definitely not last) knitted dress. Hurrah!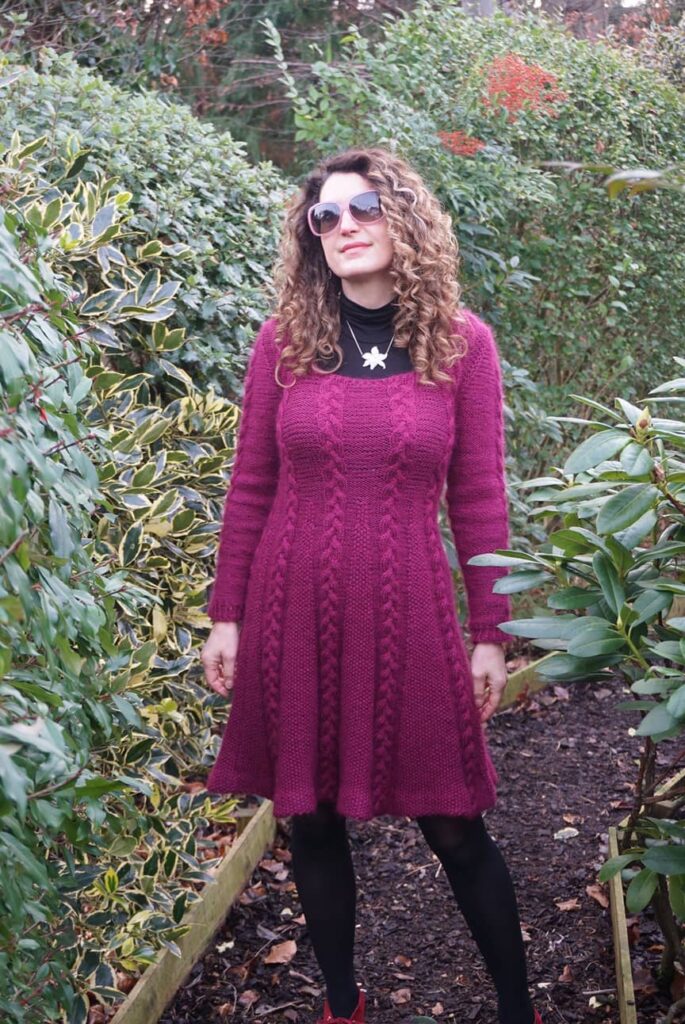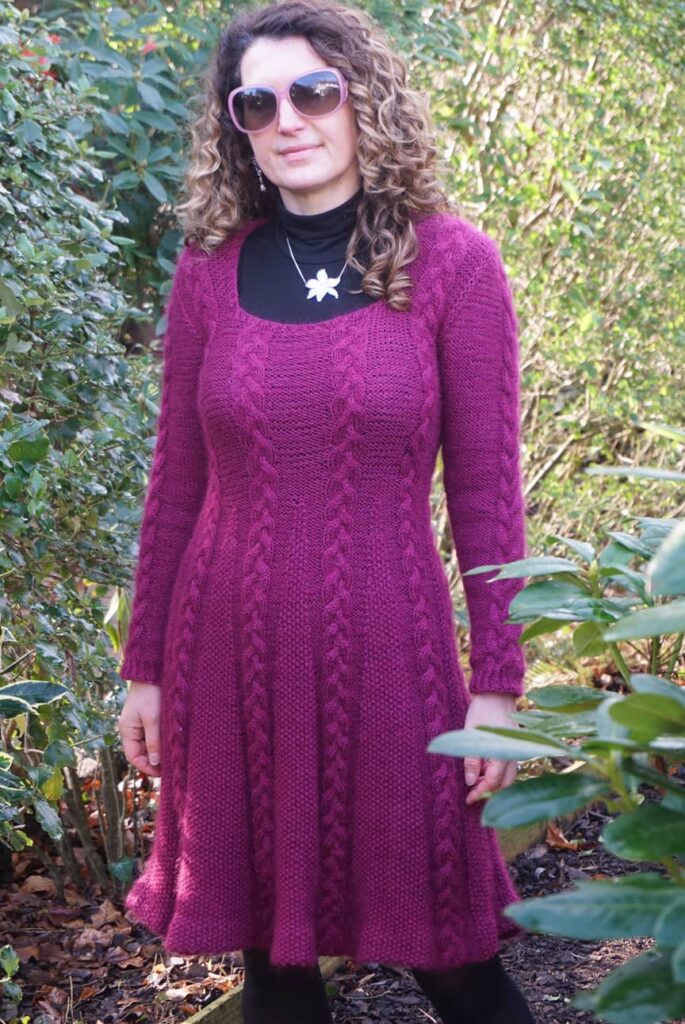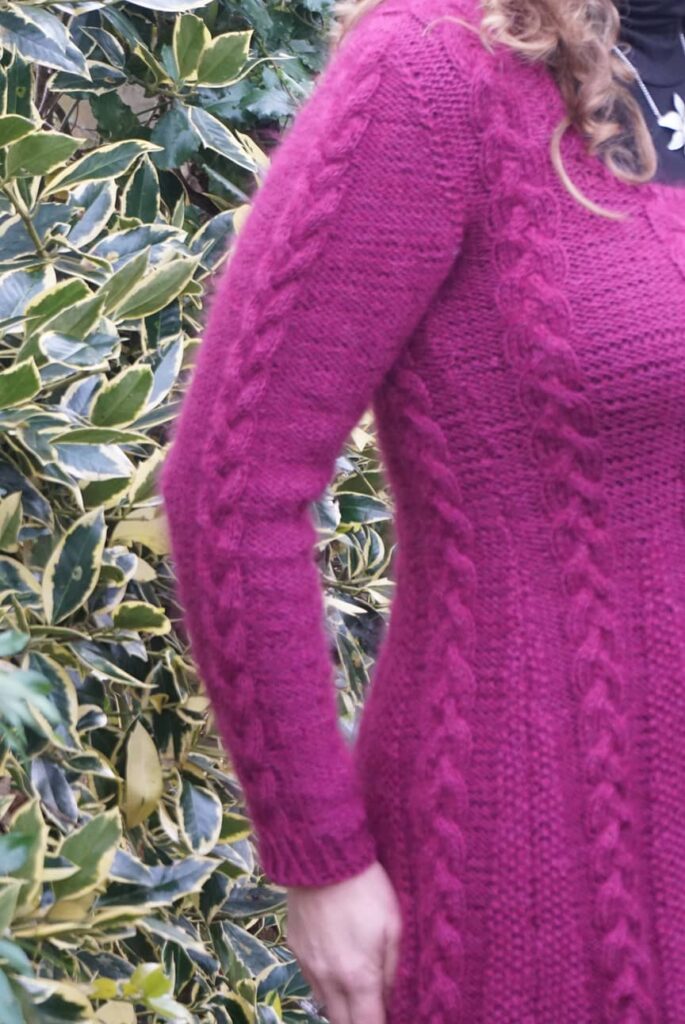 The Icon dress
This is the Icon dress by Purl Alpaca Designs, to which I added sleeves for extra warmth in the middle of the winter. The initial dress looks like this – how pretty!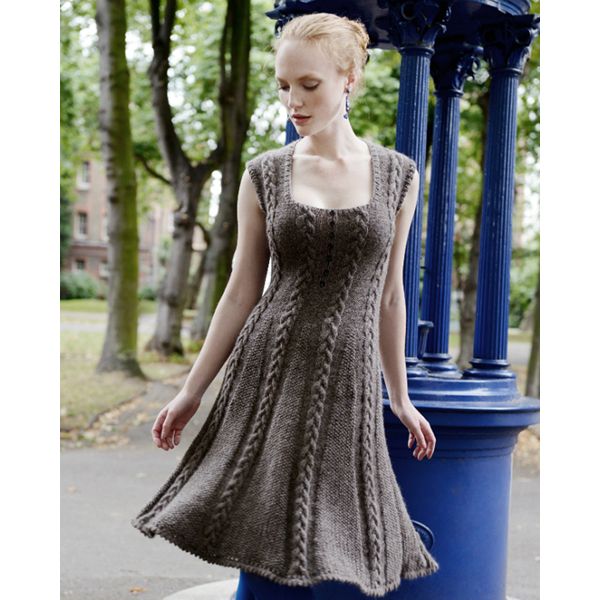 I got tempted to knit a dress by Sam_Sew_Good recent Instagram posts of her two gorgeous Miko dresses, also from Alpaca Purl Designs). Miko has very large pockets though, and I am not a pocket person, but Icon and Maddie definitely caught my eye. After an unfortunate try at Maddie – 480 stitches casted, ten rows knitted in the round, and then I realised I had twisted my first round, arrggghhhhh!!!!), I went for Icon and I am very pleased I did.
Pattern and wool details
The Icon dress knits bottom up, flat (ie not in the round). You knit the front of the dress, then the back, stitch both together, finish off the neckline and armholes and there you are. Well, actually, it seems quick but it isn't: it took me four weeks to make this dress… with no other project going on… and I am quite a fast knitter! With a flared skirt there is just a lot of knitting to be done. And adding sleeves wasn't exactly a time-saving option…
This is not very complicated knitting though: you need to know how to knit, purl, create a seed stitch and make cables – all quite easily achievable. Once the pattern is established, there is not even that much counting required.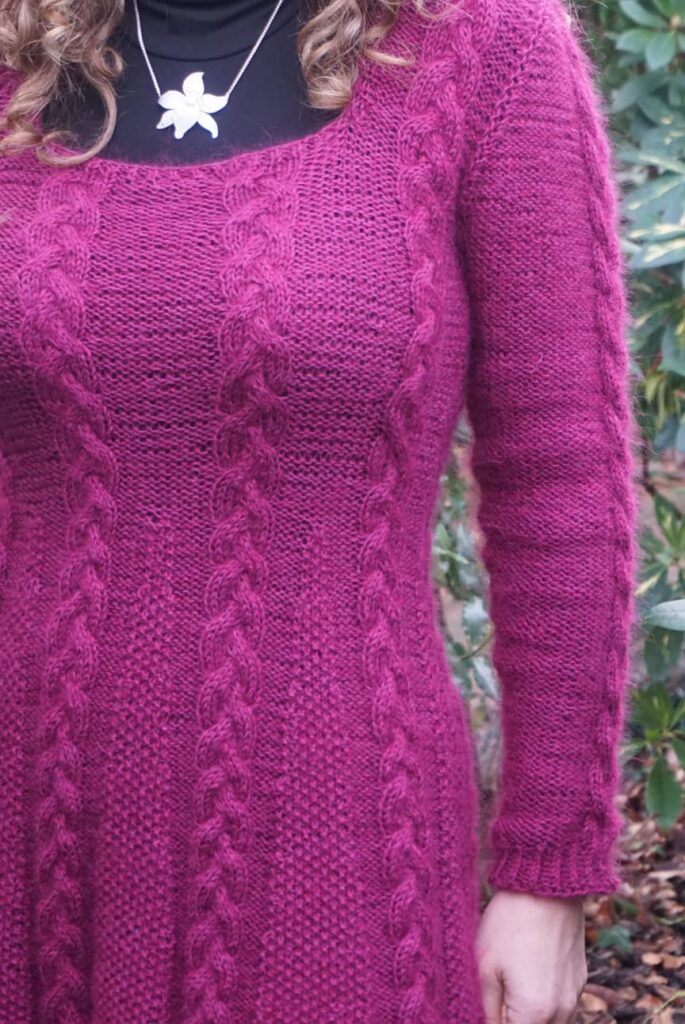 The flared skirt is cleverly designed: you start with the bottom of the skirt, so with the higher number of stitches, then you decrease on the seed stitch sections, which form a triangle until they disappear.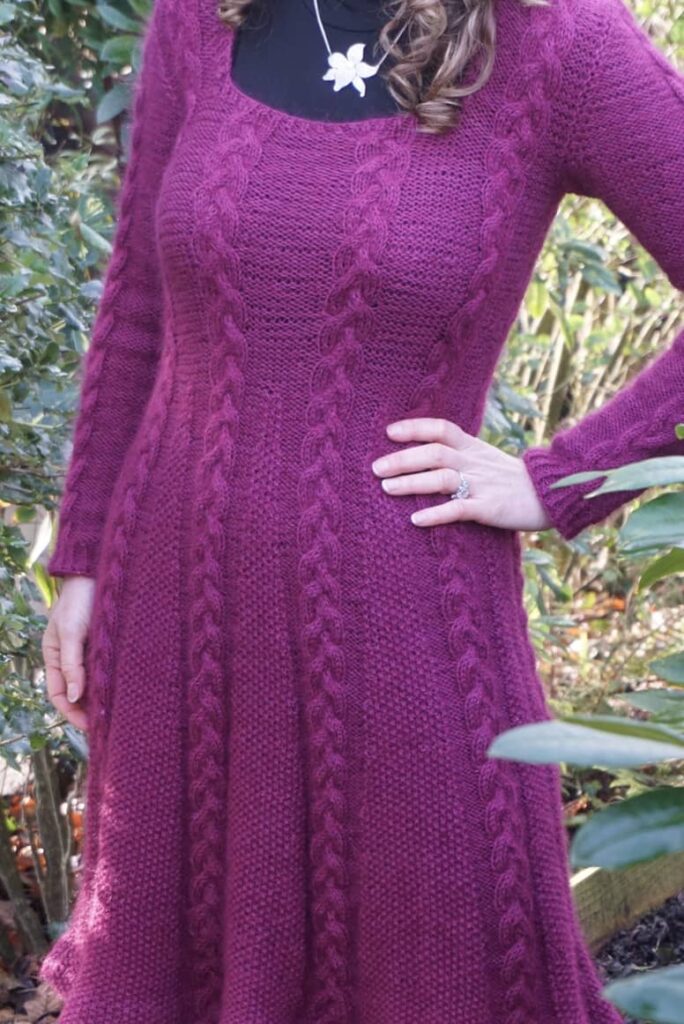 Then when working with the bodice you have to make a few increases and decreases around the armholes, but nothing too difficult either.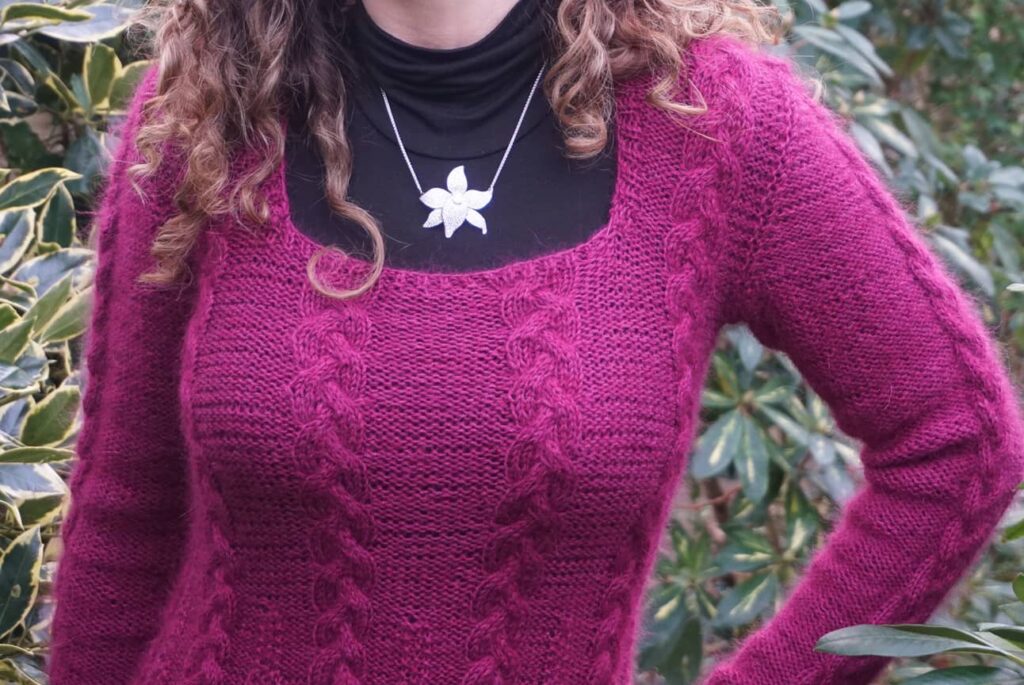 The pattern recommends using Alpaca Fine Wool (from Purl Alpaca Design own herd of Alpacas, how cool is that!) but sadly I find Alpaca wool quite itchy. So I knitted in double-strand, using a combination of Baby Merino and Kid Silk from Drops (colour codes 34 and 17 respectively), which I adore and had already used for my Blossom Shawl and my Chuck jumper. I used size 4 needles for the entire dress, as recommended by the pattern, and knitted a size XS because my sample was a bit bigger.
Changes I made to the initial pattern
The initial pattern is completely fine as it is but I couldn't help making a few changes to it:
Instead of the picot stitch at the bottom of the dress, which I am not a fan of, I knitted 10 stockinette rows, which when the dress was finished I turned and hand-saw on the inside.
I substantially reduced the length of the bodice, so that the end of the seed stitch would sit on my natural waist (slightly above the navel) rather than on my high hips. This is due to my personal body shape: I am very curvy so I always prefer to draw attention to my narrow waist that to my wide hips!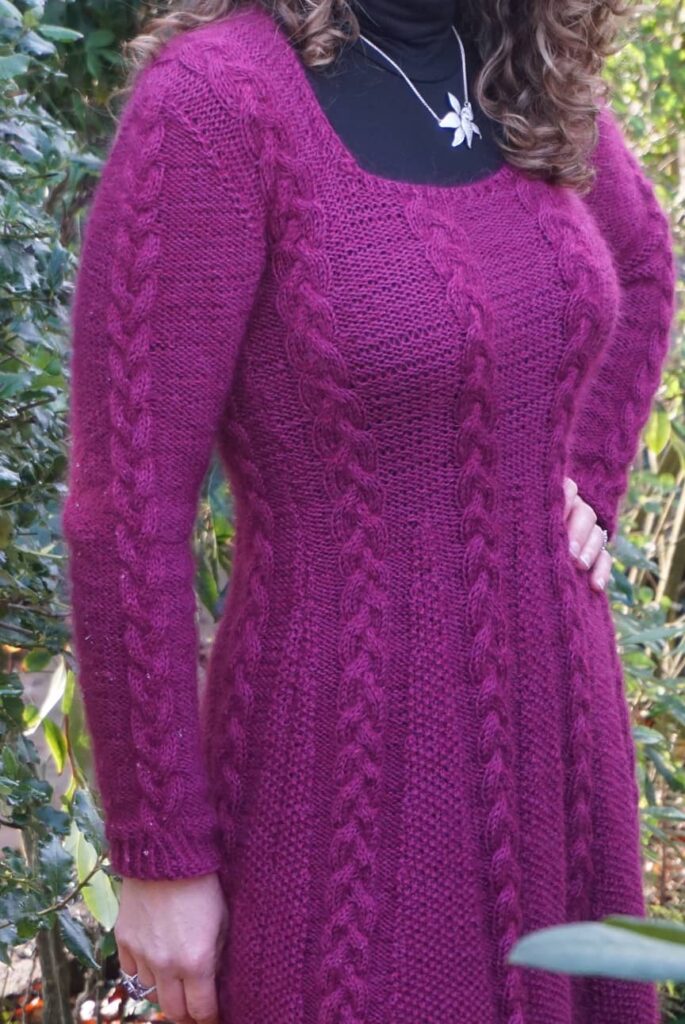 I attempted some sort of Full Bust Adjustment, to avoid my E-cup boobs pulling on the cables. When I reached the under-bust, I added one stitch before and after each of the cable sections, on two front rows (8 stitches added twice); and then took these extra stitches off over the next two front rows. A bit trial and error but I am very pleased with the end result.
I added sleeves – a LOOOONNNNG process but absolutely necessary for me in the winter!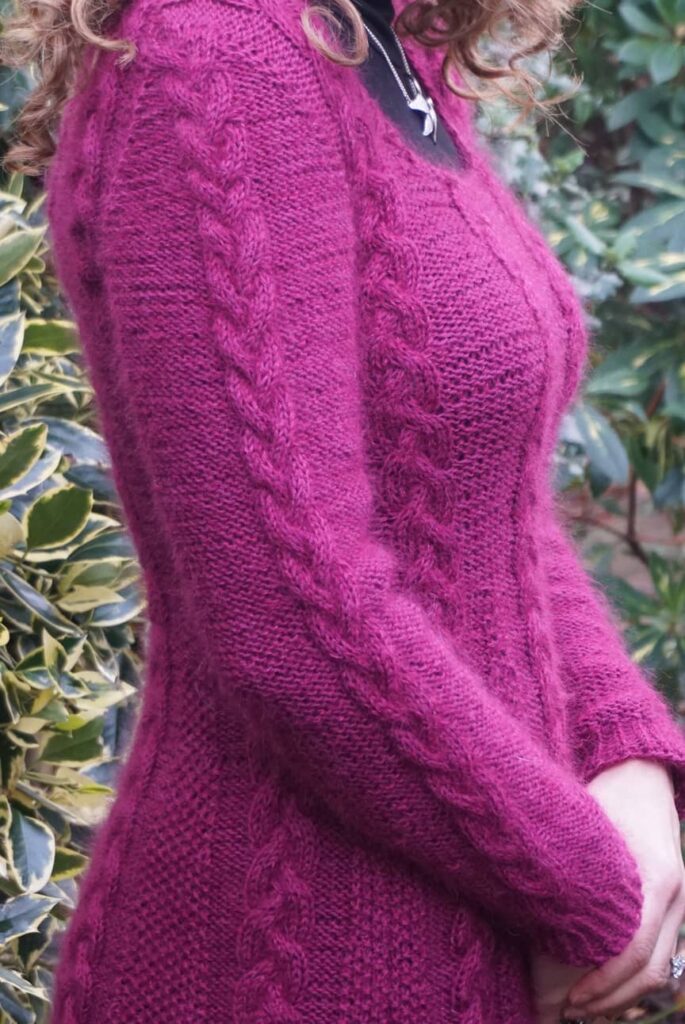 My two regrets are that I should have make more decreases around the waist area, which is not fitted enough to my taste. And that my stockinette stitch is not super regular, but it never is for an obscure reason… Next time…
Conclusion
This was a long process and I am still trying to work out how to make the waist a bit more fitted; but overall I'm very pleased that I made this dress. It completely demystified the process of knitting a dress and I am ready for another Icon with lace instead of cables maybe. I may even be brave enough the try and tackle Maddie again. We'll see! In the meantime I am frantically making hats because they only take a couple of hours!!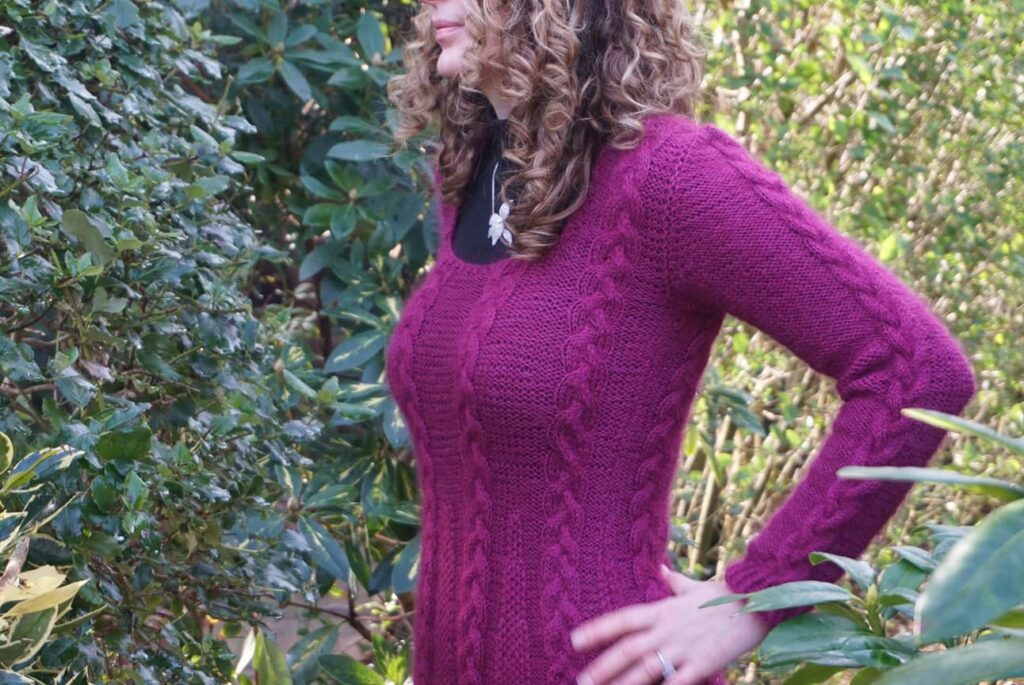 ---