Three Elegante skirts for the winter
My ever-growing collection of hand-knitted cardigans has been calling for matching skirts since the beginning of the winter. What better excuse to make a few Elegante skirts, a pattern by Popeline Linon I had been eying for a while. So here is version 1, in an embroidered denim fabric from Selvedge and Bolts: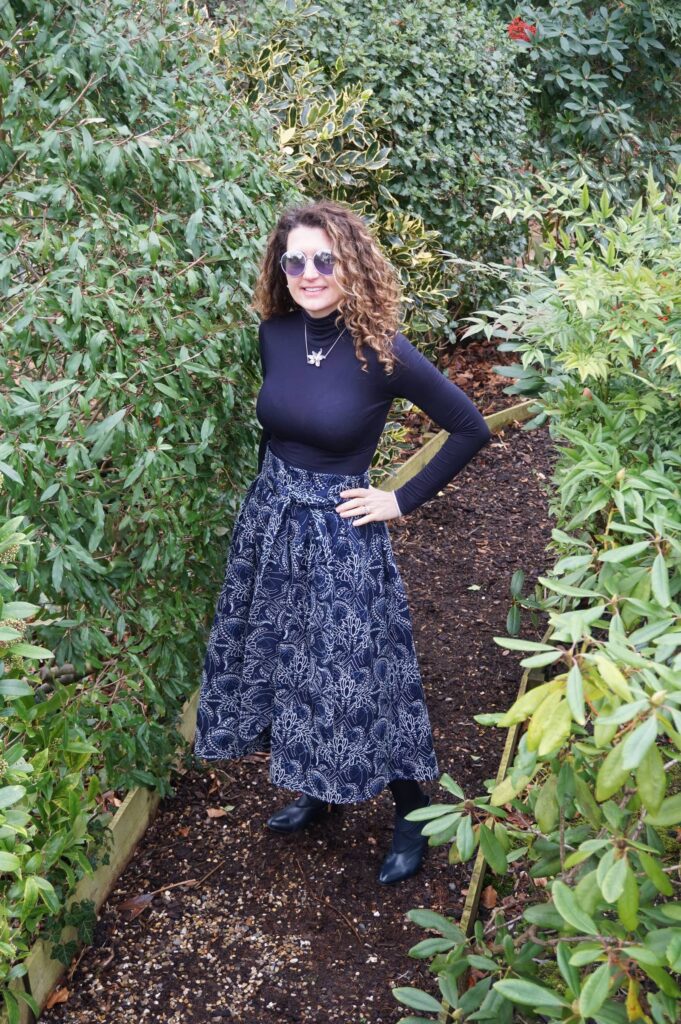 … version 2 in a candy pink and baby blue brocard, also from Selvedge and Bolts: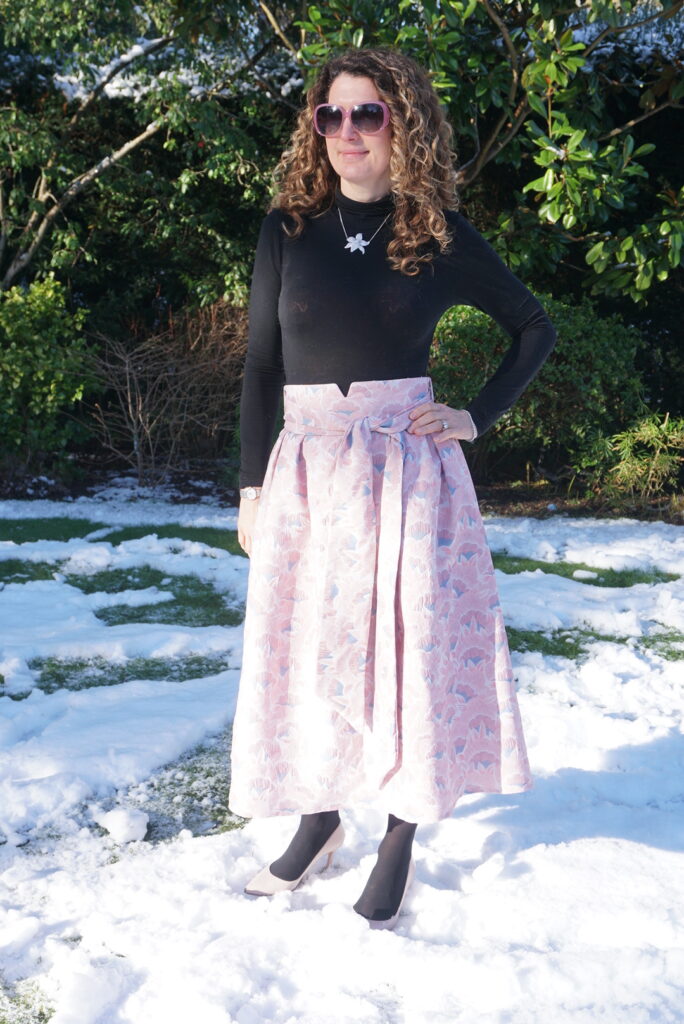 … and version three, in an off-white and black checked wool from Croftmill: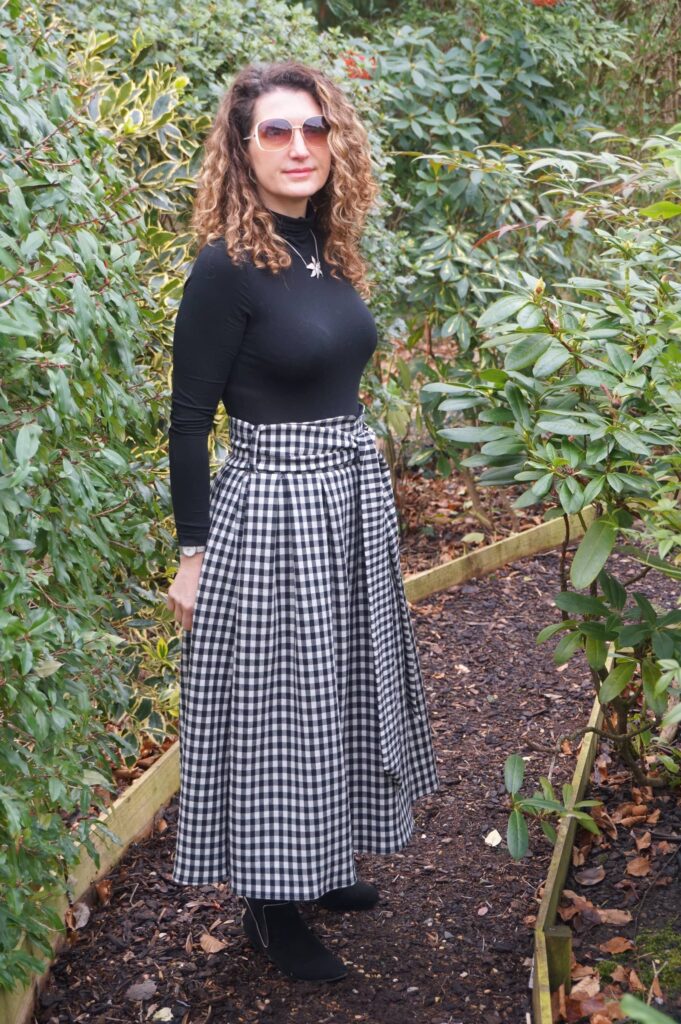 L'Elegante by Popeline Linon: pattern review
L'Elegante is a midi (on the longer midi side actually) skirt, pleated at the waist with box-pleats and with a very pretty shaped waist. It comes with a large belt, which in my view is absolutely necessary to make – without it, the skirt loses a lot of its appeal.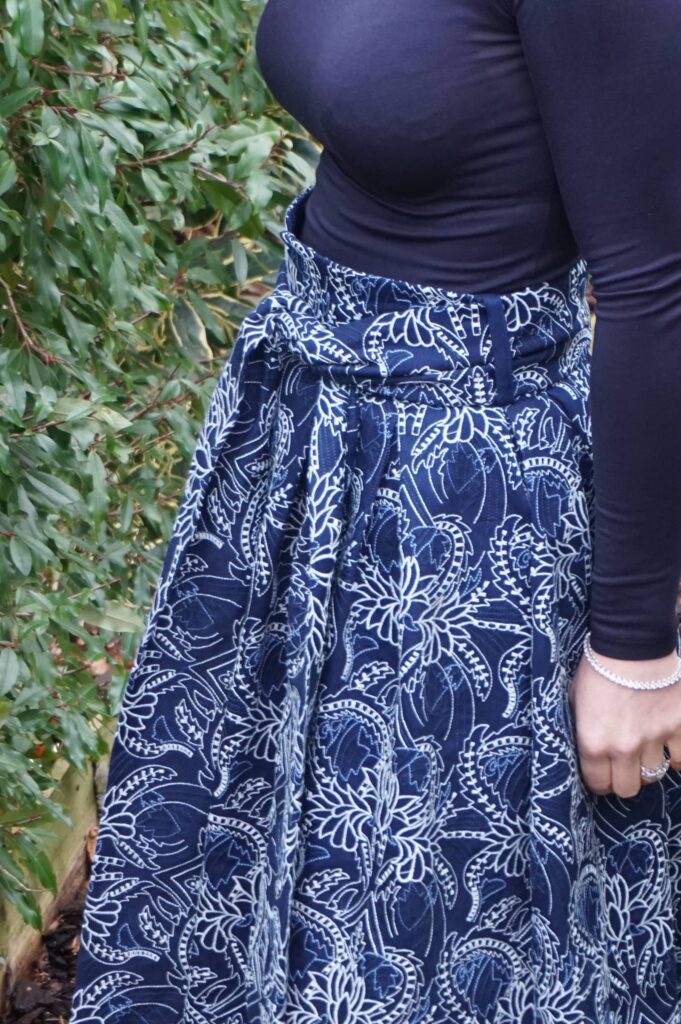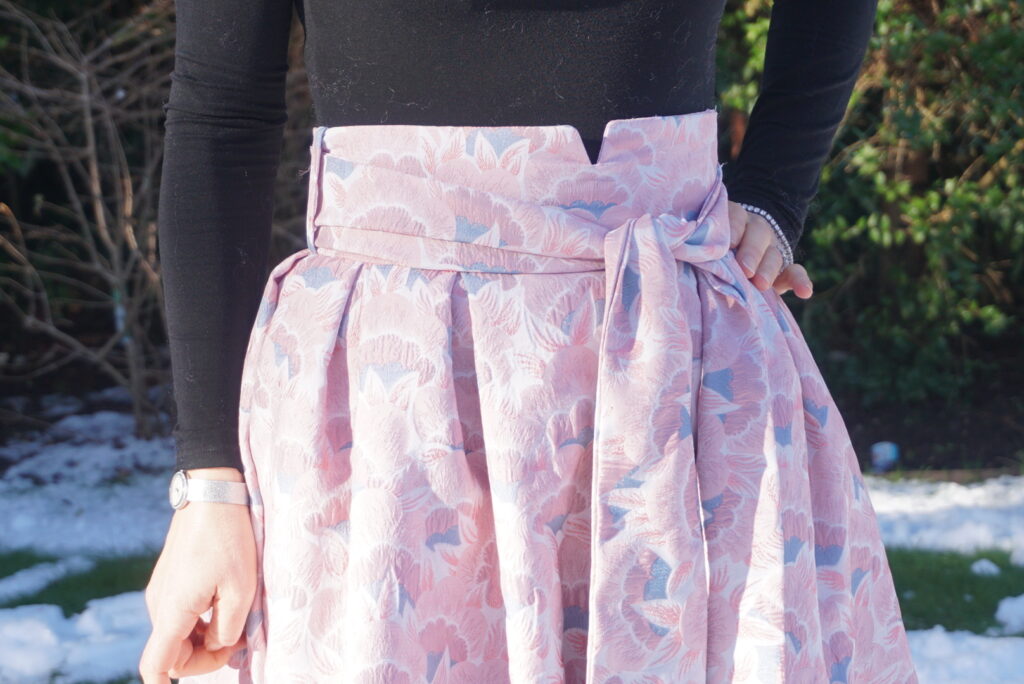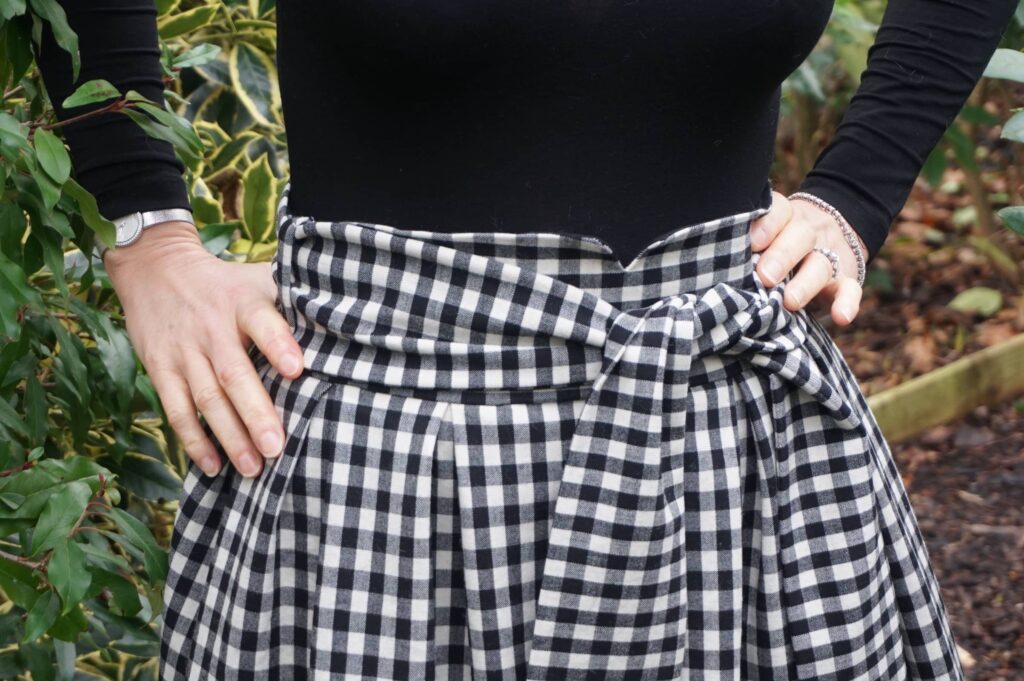 The pleats are well-proportioned and well-positioned – not funny effect at the back, I assure you!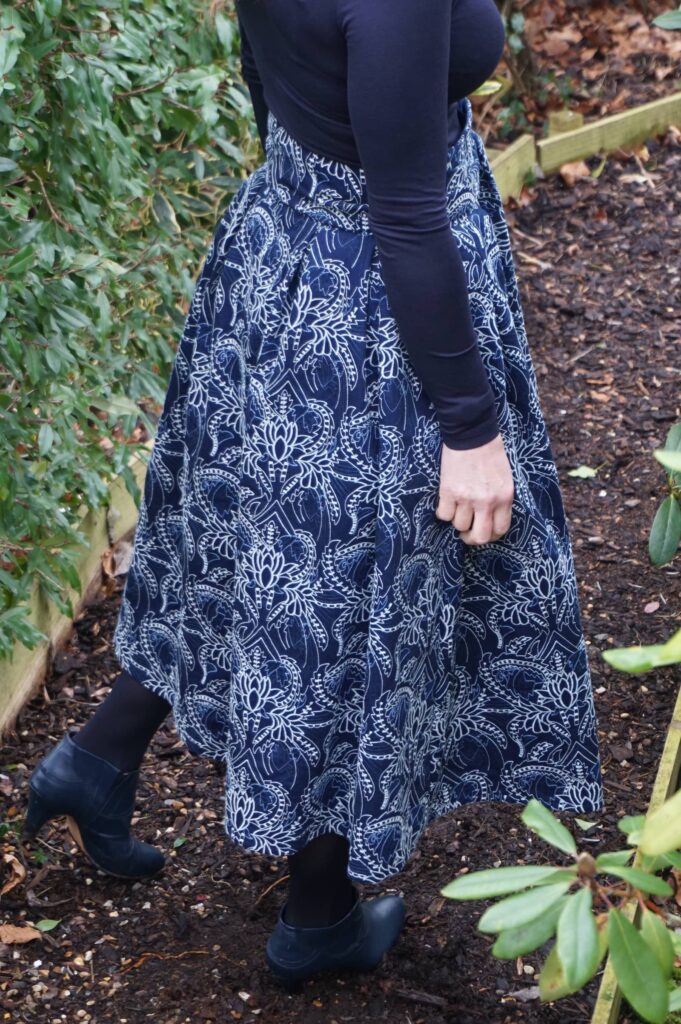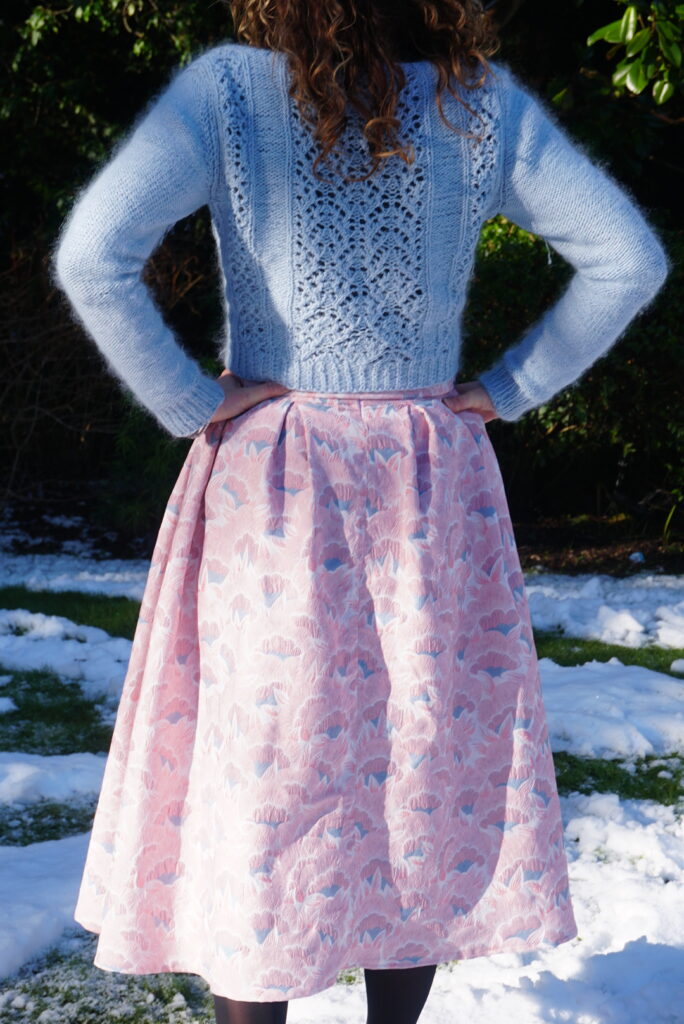 The pattern was issued a while ago and was a success among French Instagram seamstresses – now I know why! It is quite straightforward to make, very comfortable to wear and consumes a relatively modest amount of fabric for a big skirt (2.3m in my case).
I cut a size 36, which corresponded exactly to my waist measurements, and the fit is perfect – the waist measurement is crucial but the hip measurement is pretty irrelevant, as the skirt is not fitted. I am 1m68 and the skirt is quite long for a midi skirt and could easily be shortened – I personally like it this way.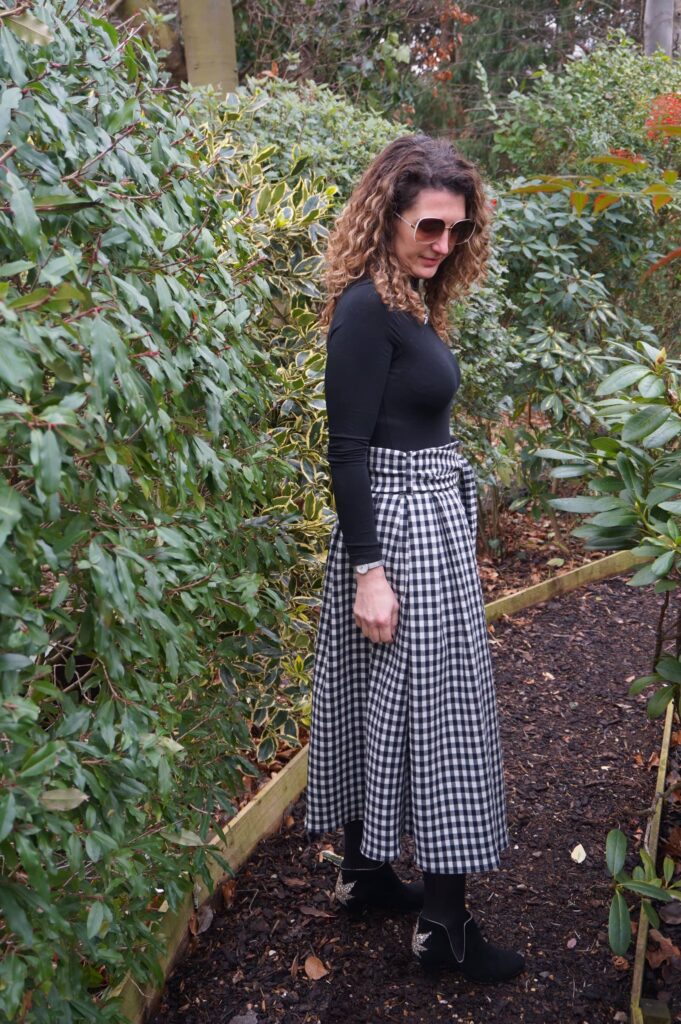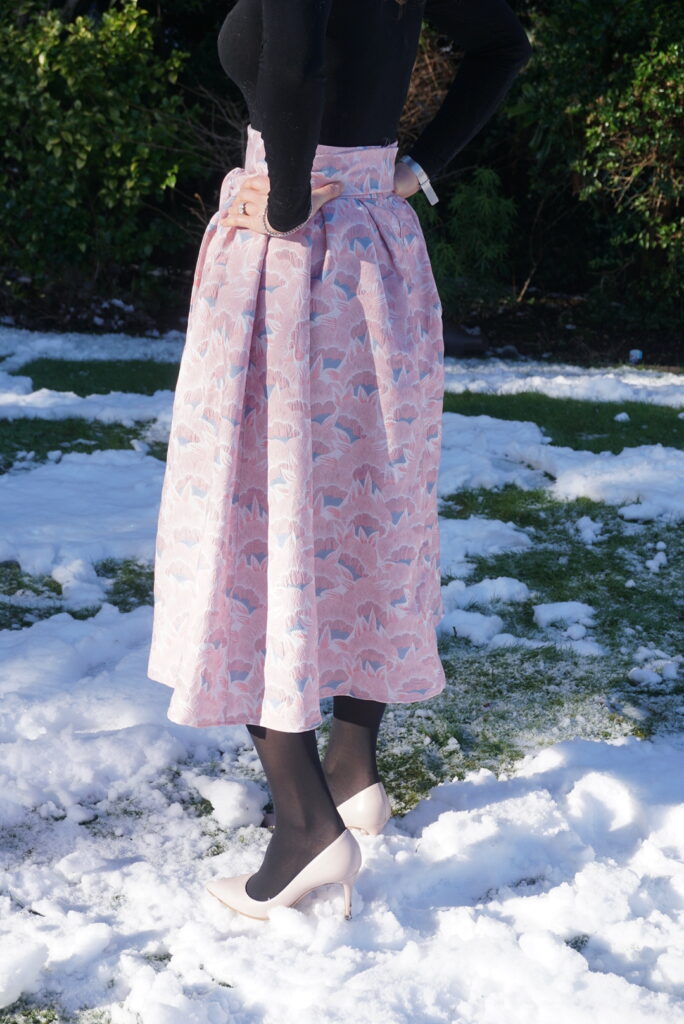 The instructions are very clear (although I am not sure using a busy floral fabric for the pictures was the best idea) and the only change I made to te pattern was lining the skirt (I'm sure you could have guessed that!!). I basically cut a rectangle of fabric of 150x70cm, gathered the top to the belt width and sandwiched it into the belt.
Fabrics used
I used very different-looking fabrics and I am very pleased with each of them. The one thing they have in common is that they are reasonably heavy and structured (but not overly so), which I think works well with the box-pleats.
Fabric one is an embroidered denim from Selvedge and Bolts. The denim is quite light in itself but the amount of embroidery makes it much stiffer and heavier. I really like the fact that there are some blue threads in the embroidery, allowing me to mix and match with my blue Belladonna cardigans (number 2 here).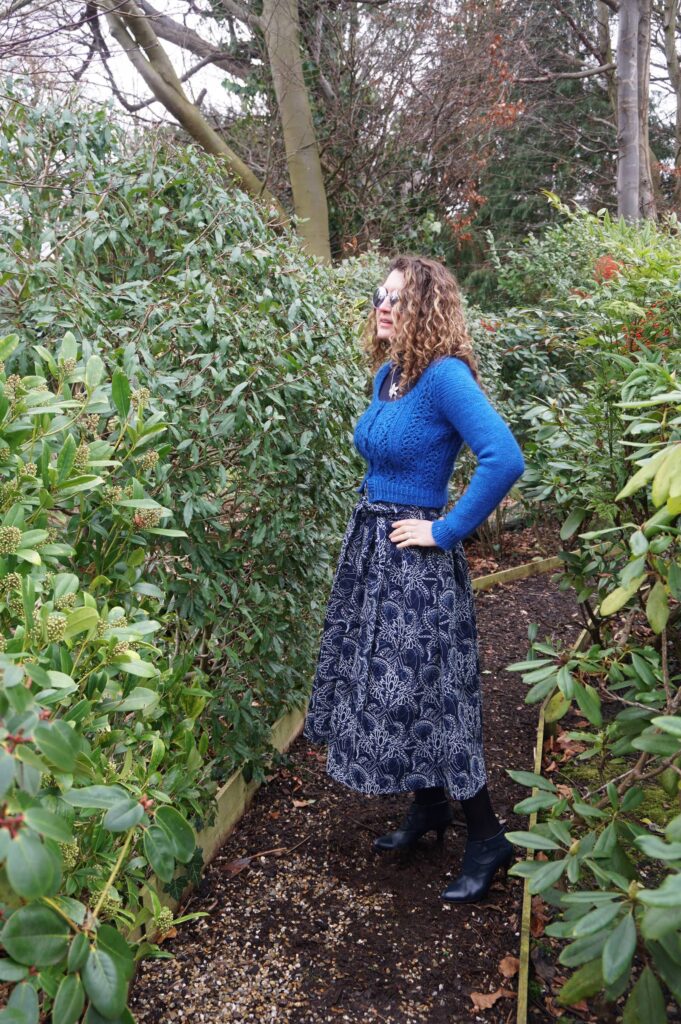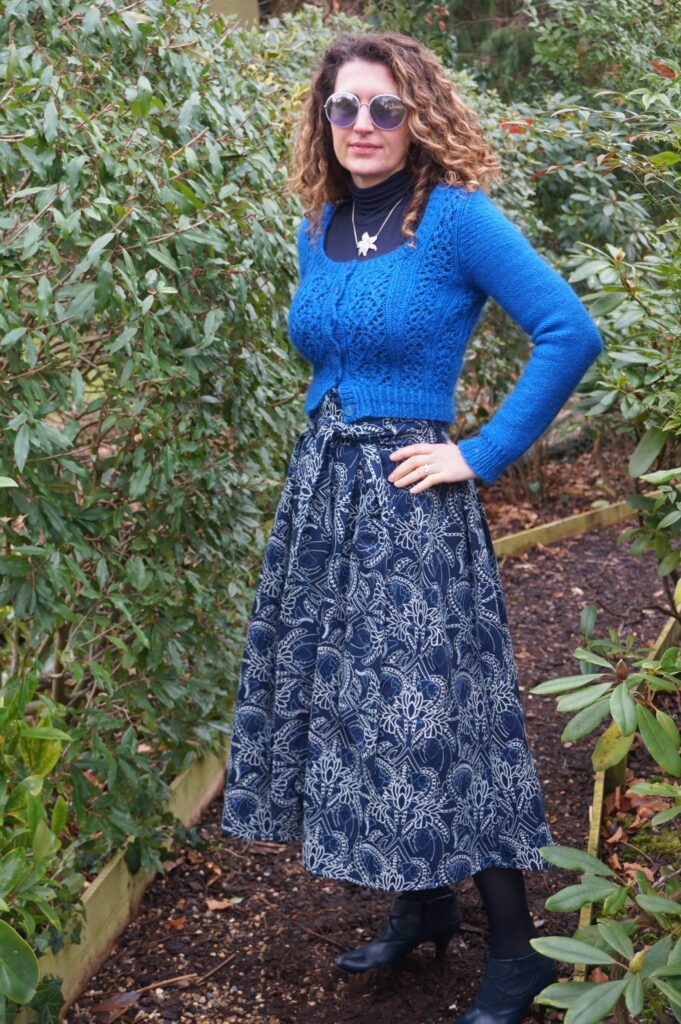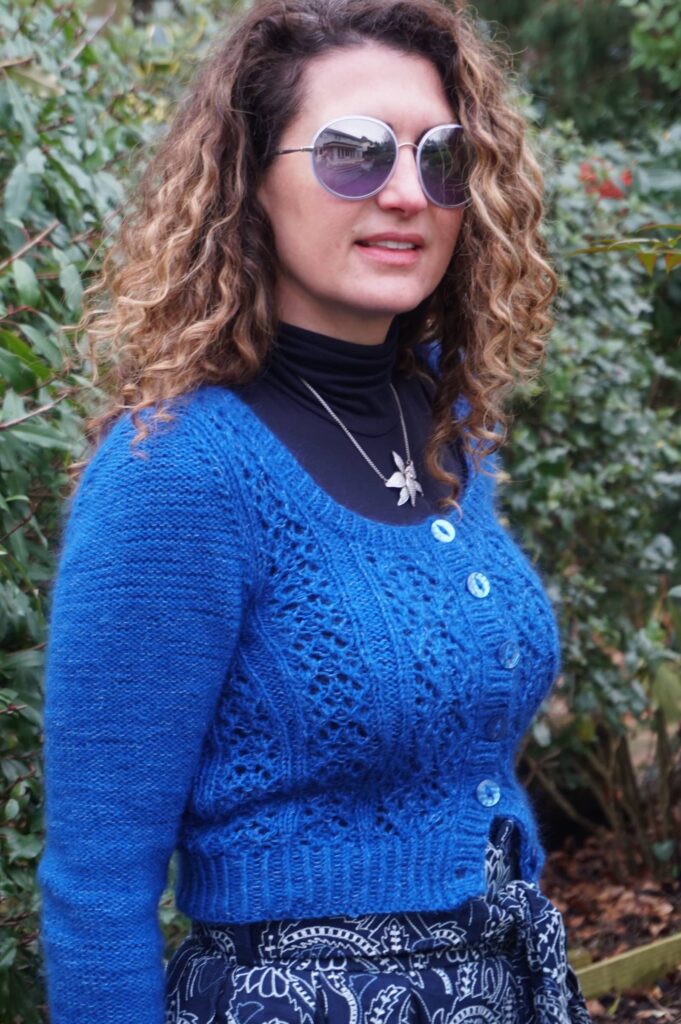 Fabric 2 is a light brocart, from Selvedge and Bolts too. I absolutely adore the colours – I am a candy girl at heart – and I think I will be able to transition this skirt easily into Spring. Here too a perfect match with Belladonna, version 1 this time.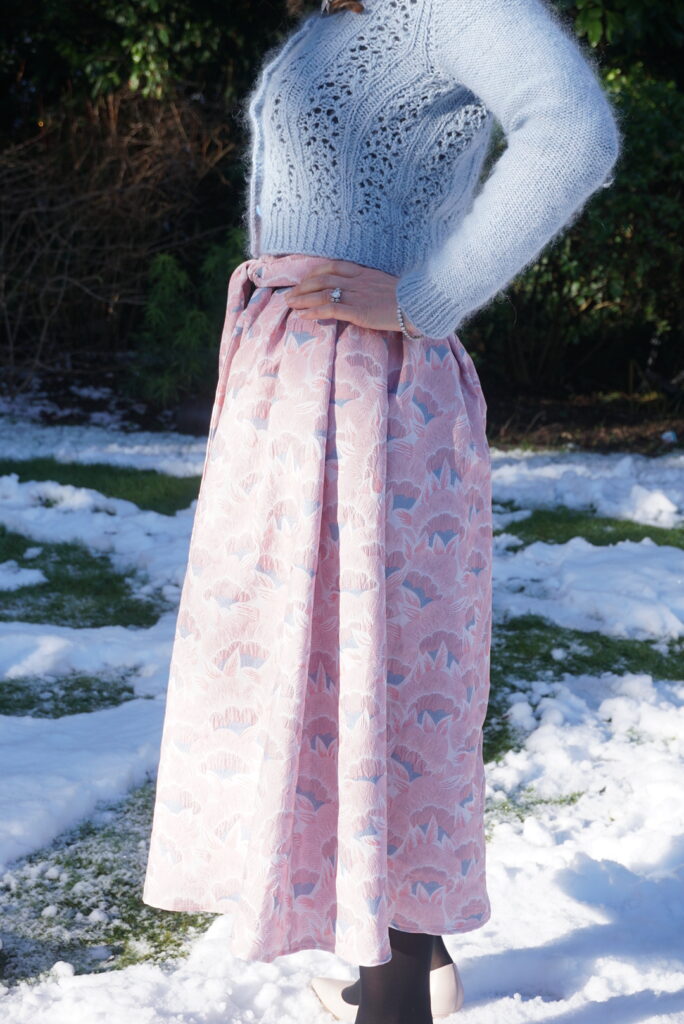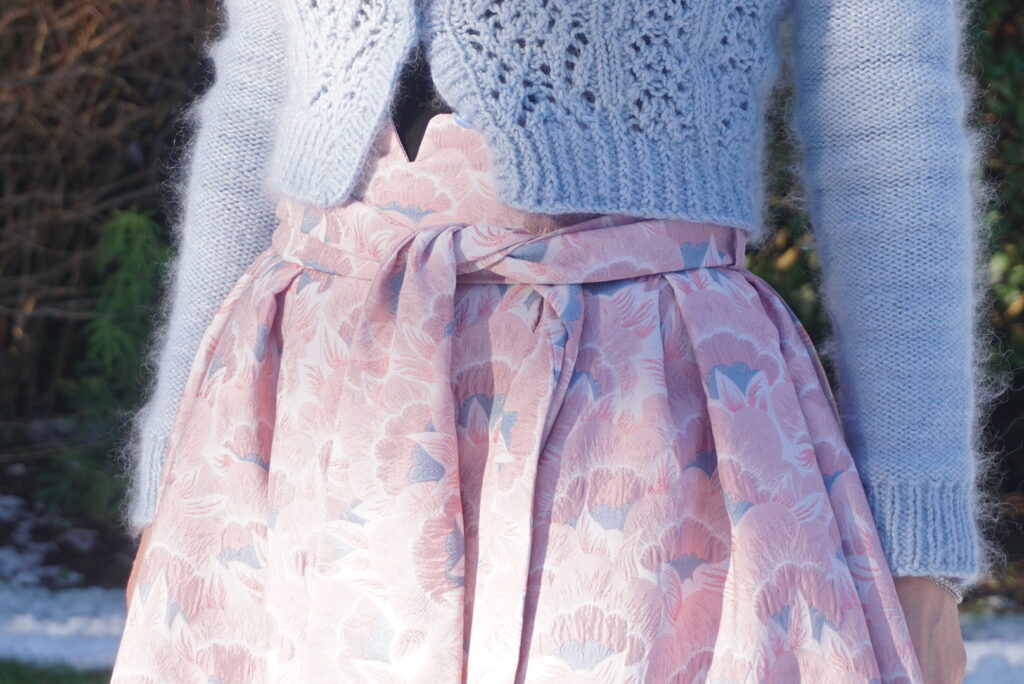 Fabric 3 is a slightly stretchy checked wool from Croftmill – the stretch was definitely not necessary but never mind. As ever for Croftmill's wools, the quality is to die for – if I was not worried about pattern matching (definitely not a success here), I would definitely buy more to make a fitted dress. This one will be worn with my off-white Agatha and my black Belladonna cardigans.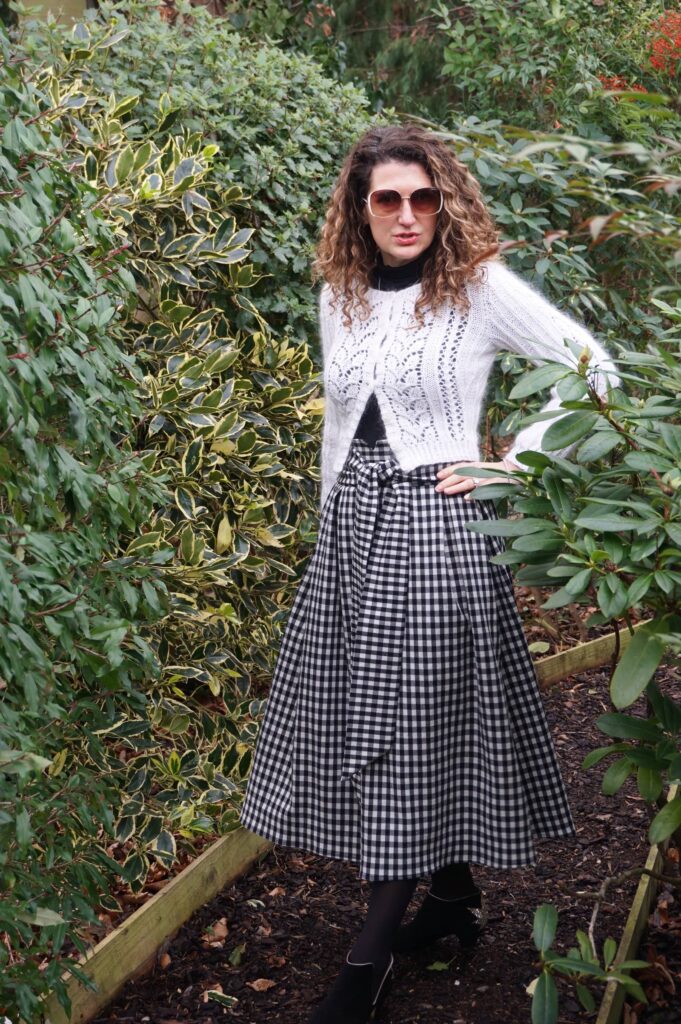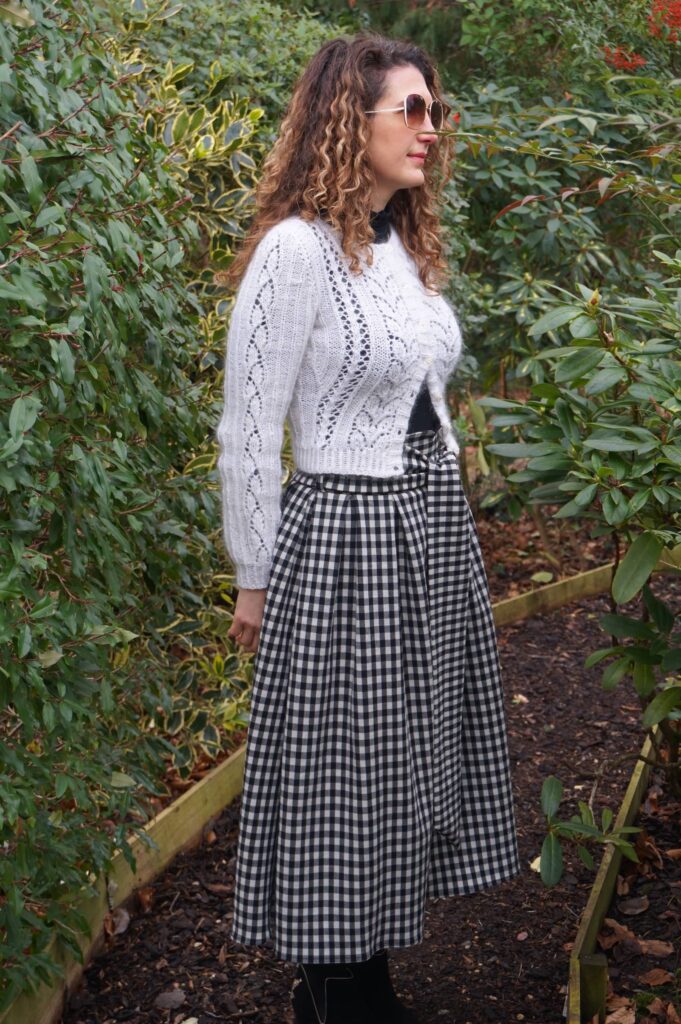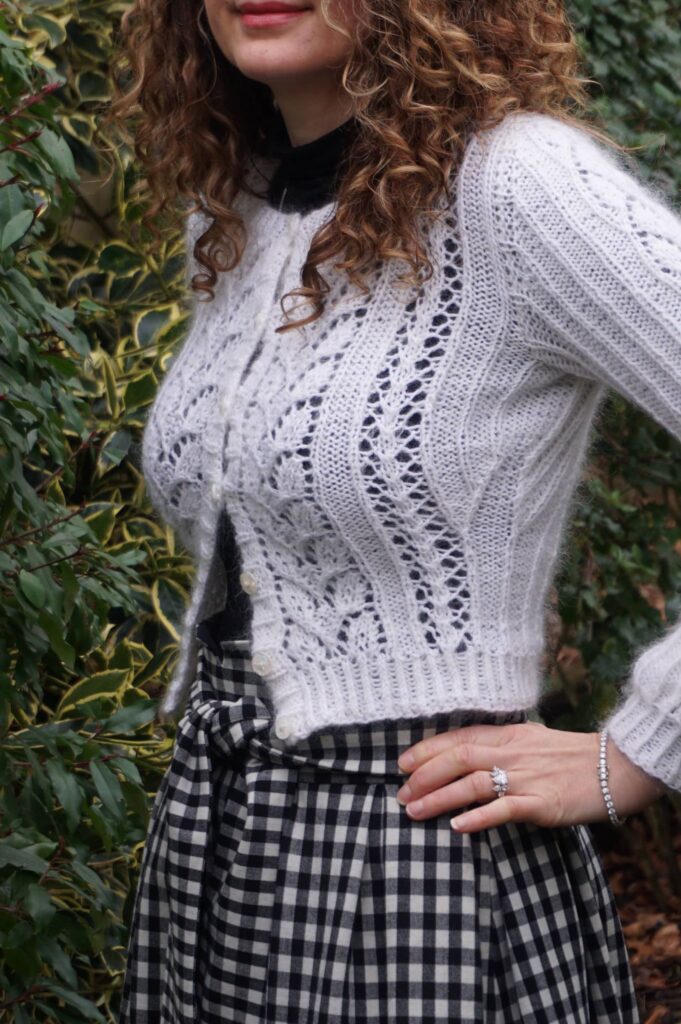 Conclusion
I must admit that I was hugely tempted to make dresses out of these fabrics – I always am – but I am very pleased I didn't. This winter has been quite cold by London standards and skirts are so much easier to wear than dresses when it's colder (especially with thermal turtlenecks!). They also perfectly work with my hand-knitted cardigans – and I definitely needed a justification to continue knitting more. A never-ending virtuous circle of garment making!
---