My first stranded colorwork knit: the Bowfell jumper
One of my (untold) resolutions for 2021 was to learn stranded colorwork (also called Fair Isle) knitting. And even though it took me until December, I did it! Let me introduce you to my first ever (and definitely not my last) stranded colorwork knit: the Bowfell jumper by AlongAvecAnna.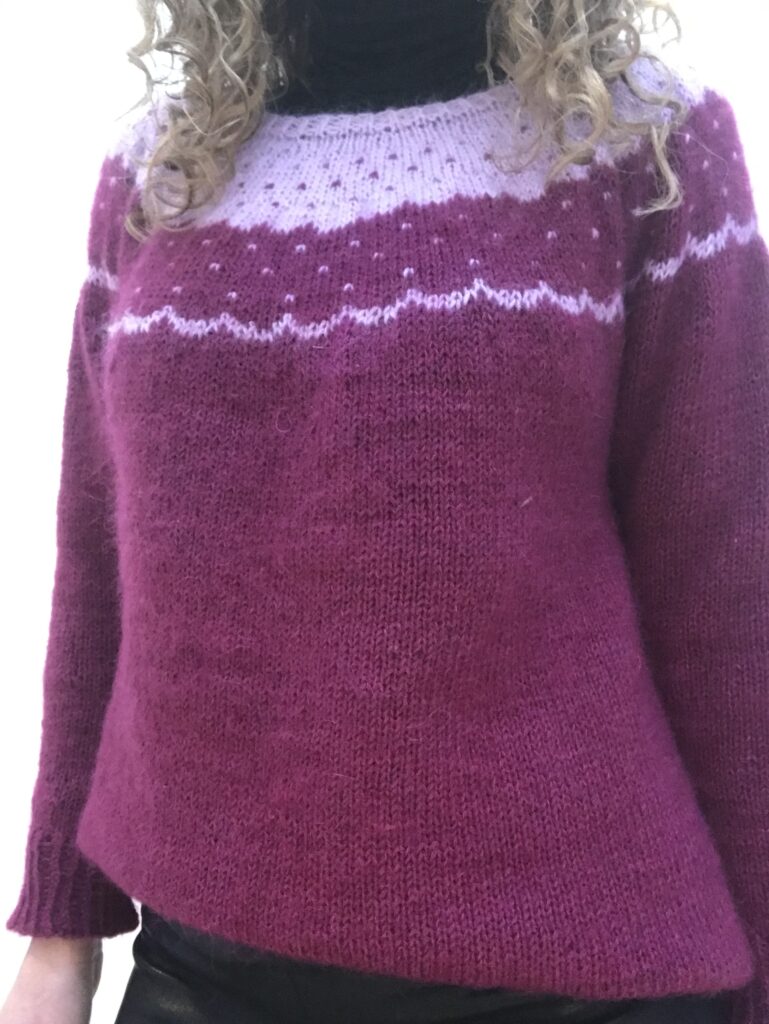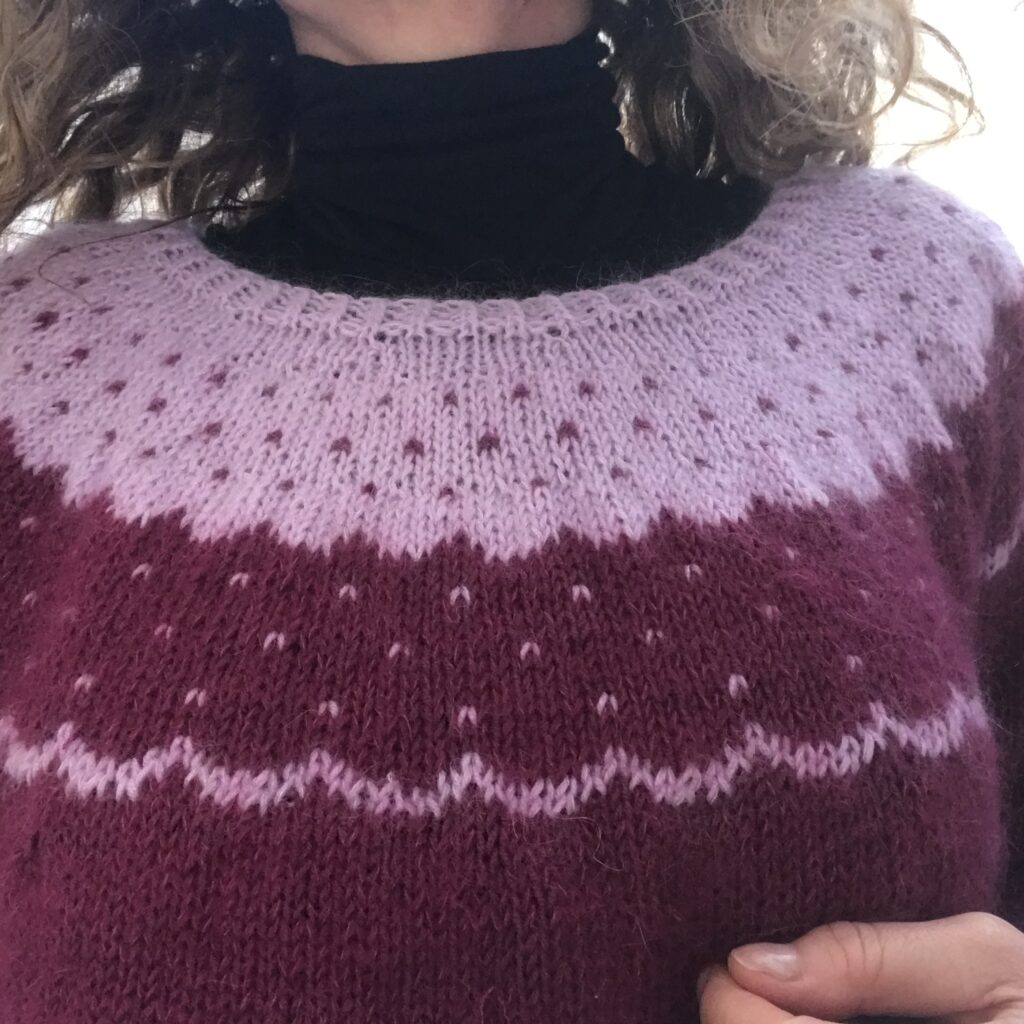 Knitting colorwork: where to start?
Although I am pretty good at managing double strands, even when knitting lace, creating patterns with different colours is a completely different kettle of fish! I must admit I was a bit at a loss as to where to start initially.
My salvation was Anna Dervout's excellent book: « Tricoter le jacquard en rond »: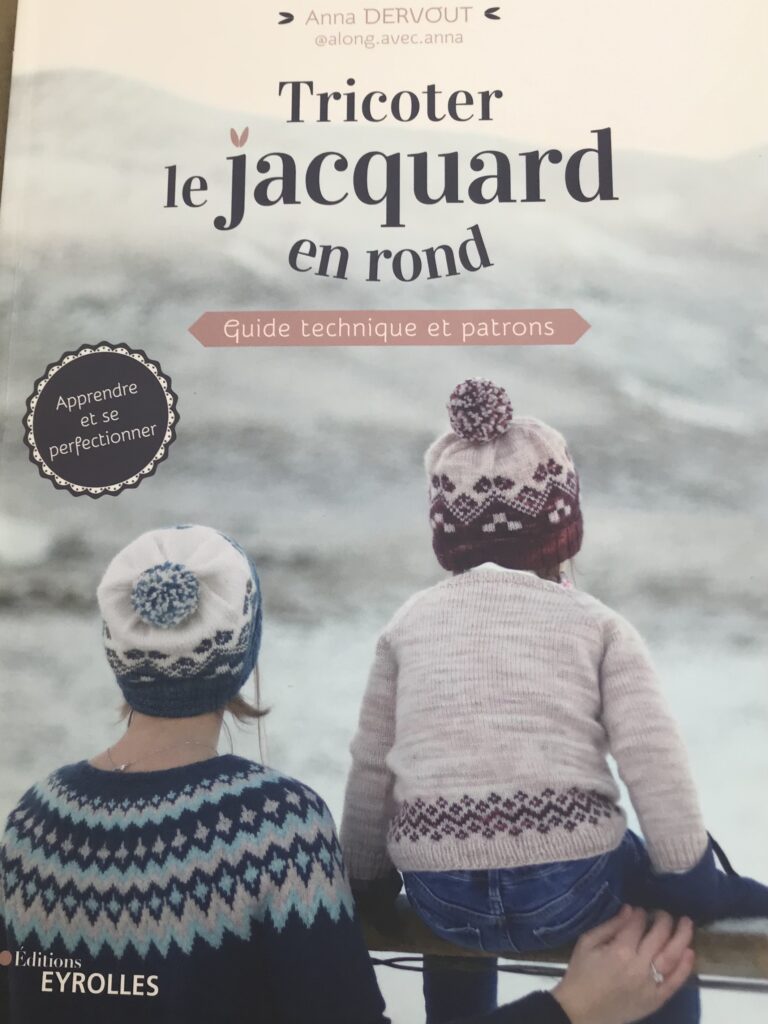 Sadly for English speakers, this book is available only in French at this stage. But if you can read (even only a little bit of French, I strongly recommend you get it, as Anna highlights a number of important issues I was very pleased to be aware of before starting.
So after reading Anna's book (several times!) and experimenting with three jumpers (this one is my first, the two others will hopefully follow on the blog), here is my advice to stranded colorwork beginners:
Take plenty of time to chose your colours. I am always in a hurry to move to my next project but this is not a good idea here, as you need colours that you like and that will contrast enough so that the jacquard pattern is completely visible. Anna advises to use a colour wheel and either go for colours that are opposites on the wheel; or adjacent but with very different brightness. I am definitely more into the second option.
Start with a pattern that only alternates two colours on the same row– understanding how to alternate colours in by no way intuitive, so two colours are far enough to start with! This is the case of Bowfell but its pattern is only available in French in the book; but Marieke is available in many langages and also fits the bill.
Control your tension constantly. The hardest thing I find with stranded colorwork is not to mess up the tension of the yoke, as there is always at least one strand running free on the back of the works (those in the know call them « floats ») and it is extremely easy to make them too short. Here is the inside of my yoke so you can see what I mean. My tricks for controlling the tension are: 1/ to knit inside out, so that the float is on the larger curve of the yoke; 2/ extend my previous stitches when I insert the new colour, to make sure the float is the right length; 3/ allow for plenty of thread when I make increases (as for me this is usually whenmy tension goes wrong.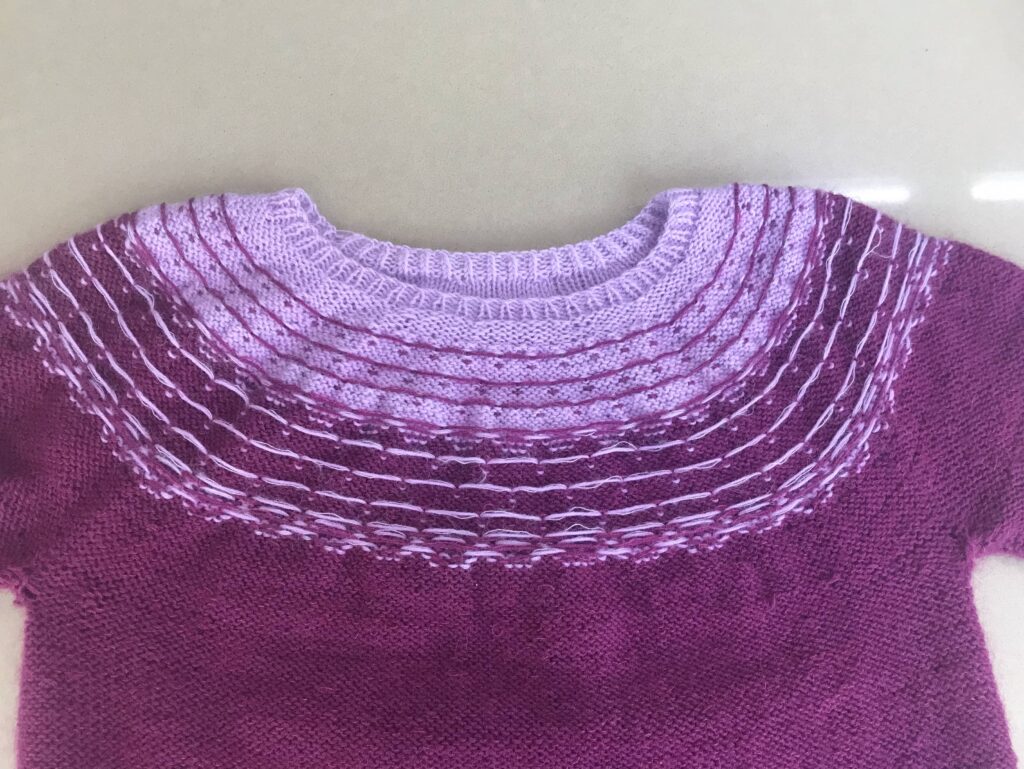 Get yourself a yarn guide – absolutely definitely best purchase ever! For Bowfell, I knitted with one strand in each hand. But I am a continental knitter at heart and for my following projects, a yarn guide allowed me to keep all my yarns in the left hand.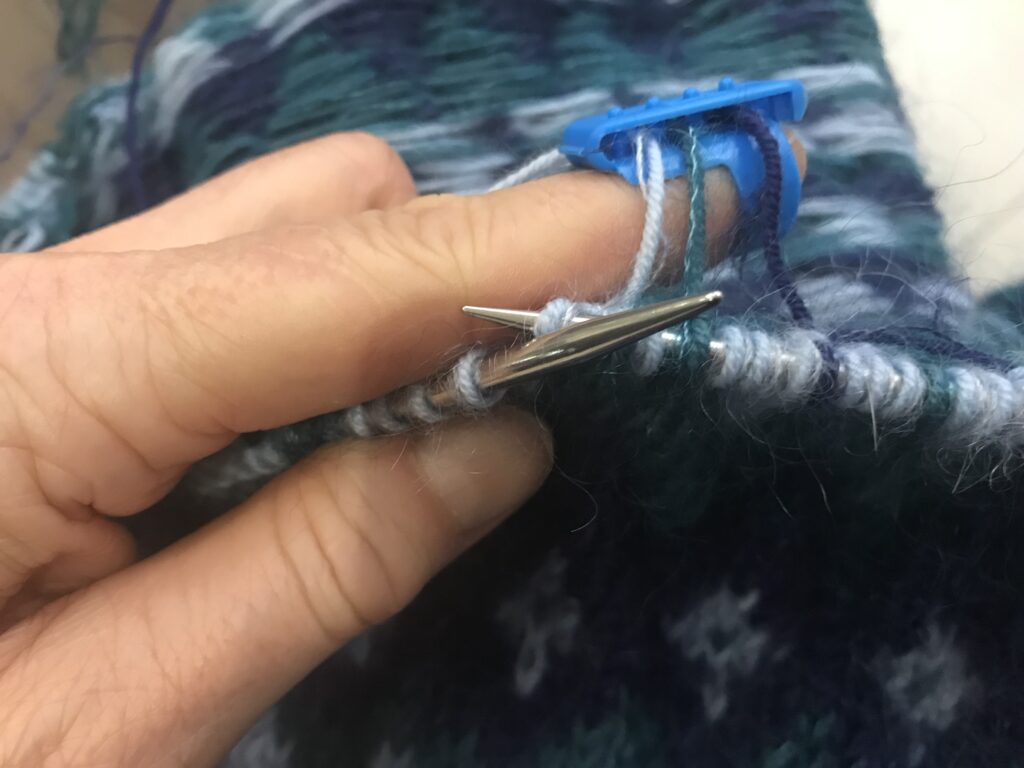 Do not make each of your colours a double-strand. I am so addicted to the Drops Kid Silk/ Baby Merino combination that I just couldn't resist using it for Bowfell… And God what a mistake! It effectively means that you are working with four strands, increasing massively the possibility of knots. And if you decide the wind te same-colour strands together, you quickly realise that they have totally different tensions and that you always have extra Kid Silk hanging around. A nightmare!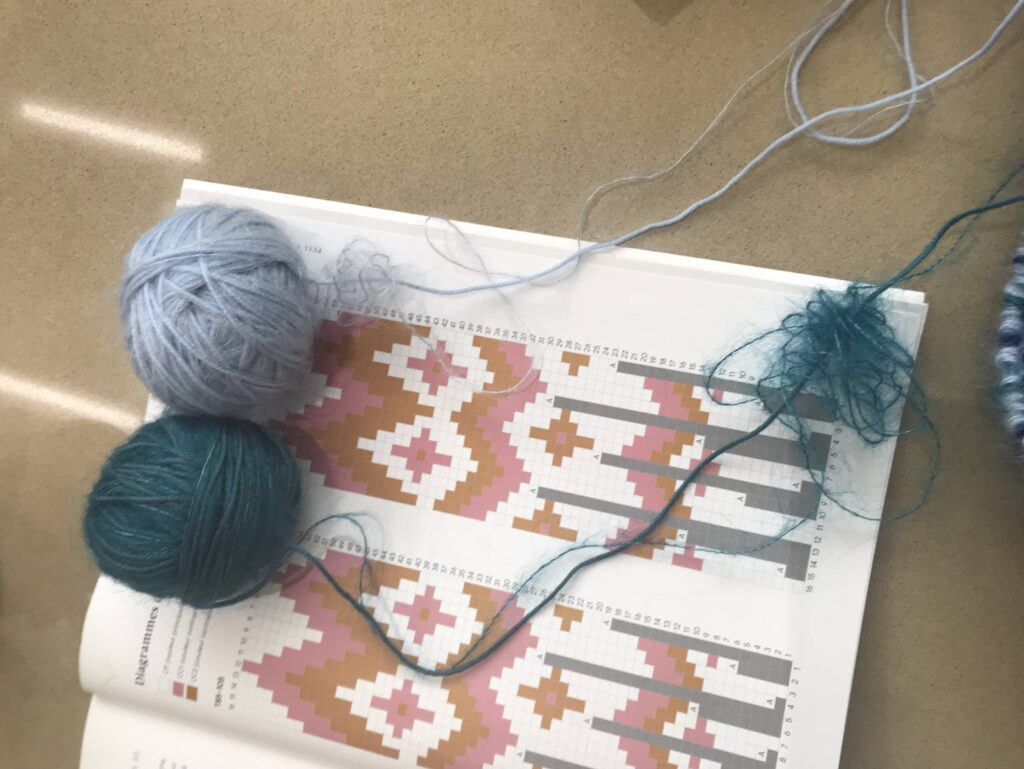 Knitting Bowfell: pattern review
All that said, I enjoyed knitting Bowfell a lot.
Technically, the pattern is perfectly suited for a stranded colorwork beginner: only two colours to alternate overall and a diagram that is quite easy to follow.
Aesthetically, it does not shout out « beginner » at all. I was actually pretty impressed with myself to manage to achieve something so pretty!
I knitted in size 4 needles and used two combinations of Drops Kid Silk and Baby Merino, already used separately for my Chuck jumper and my Belladonna cardigan:
the dominant wine colour is made up of Baby Merino 34 Heather and Kid Silk 17 Dark Rose
the contrasting lilac colour is made up of Baby Merino 14 Purple and Kid Silk 11 Lavender
I really like how these colours compliment each other.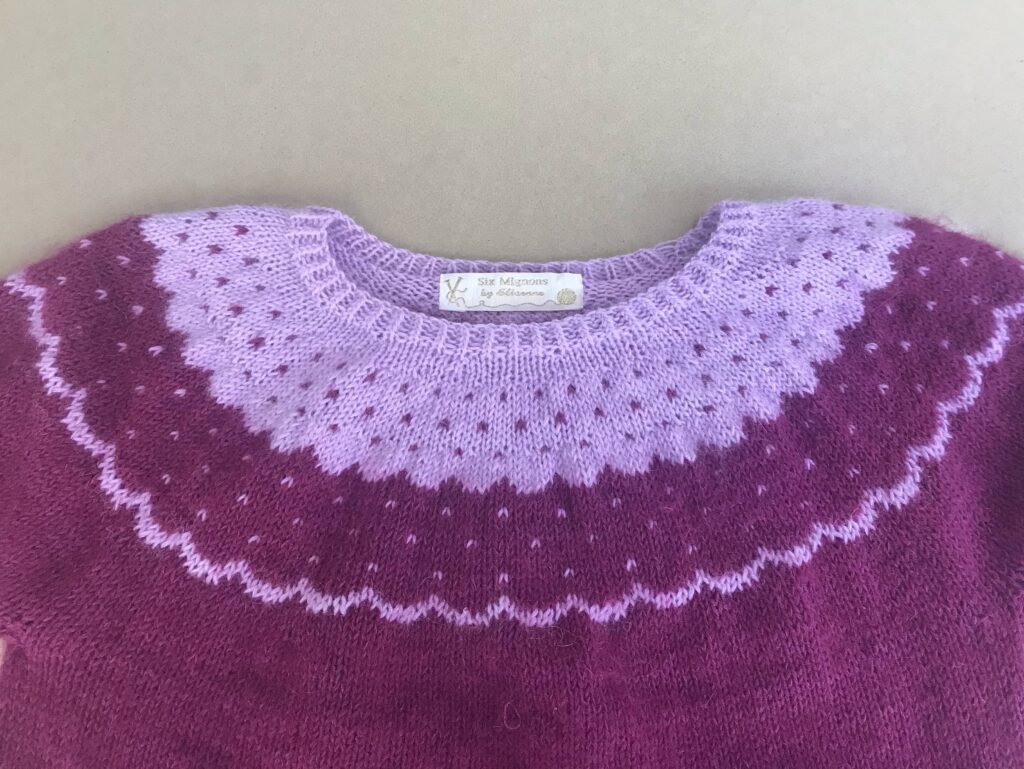 This jumper is for my daughter, who at 13 is now taller than me (!!). So I knitted the second size and it is a touch big as my gauge wasn't exactly the same as the pattern – nothing that she cannot fill while growing more though!
Conclusion
I was so excited with this first stranded colorwork experience that I immediately knitted a second jumper; and a third is still under my needles. Here is a little preview of a soon to come article I hope.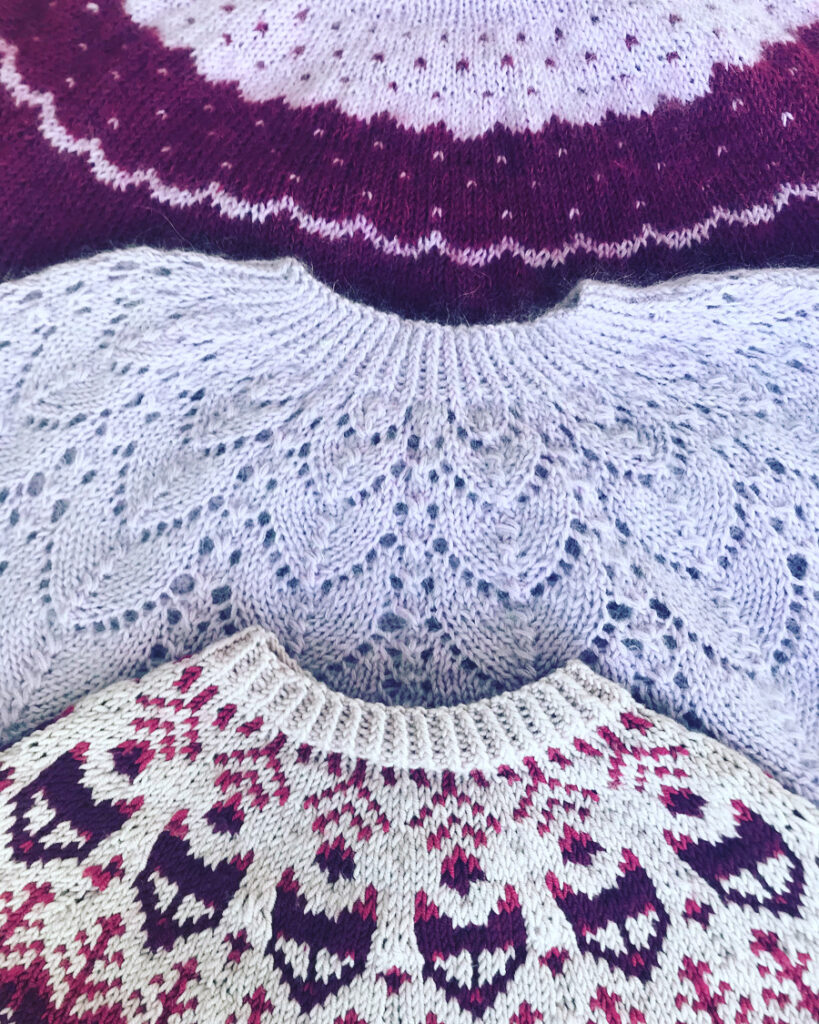 ---
2 responses to "My first stranded colorwork knit: the Bowfell jumper"