Wrap dress passion: sewing the B6446 pattern
A new wrap dress has entered my list of all-time favourite patterns! Let me introduce you to the B6446 dress, of which I have already sewn 2 versions!
My passion for wrap dresses
You know my passion for dresses and in particular for wrap dresses (mock or real). My three absolutely adored patterns, which I have sewn countless times, are M7081 (10 versions sewn, latest here and here), V9253 (5 versions, latest here) and Deer & Doe's Magnolia (7 versions, latest here). I also recently discovered M7892 (only sewn once here), which fully deserves to join this hall of fame.
I find wrap bodices particularly appropriate for larger busts (I am an E cup), They are both flattering and utterly practical to sew, as they rarely require a Full Bust Adjustment (FBA). Among the five patterns mentioned above, I made a FBA only for V9352 (fully explained here) and retrospectively I really don't think I should have bothered.
So obviously I am always on the lookout for a new wrap dress pattern; and B6446 had caught my eye quite a while ago, after seeing @mom.maker.model's gorgeous version on Instagram.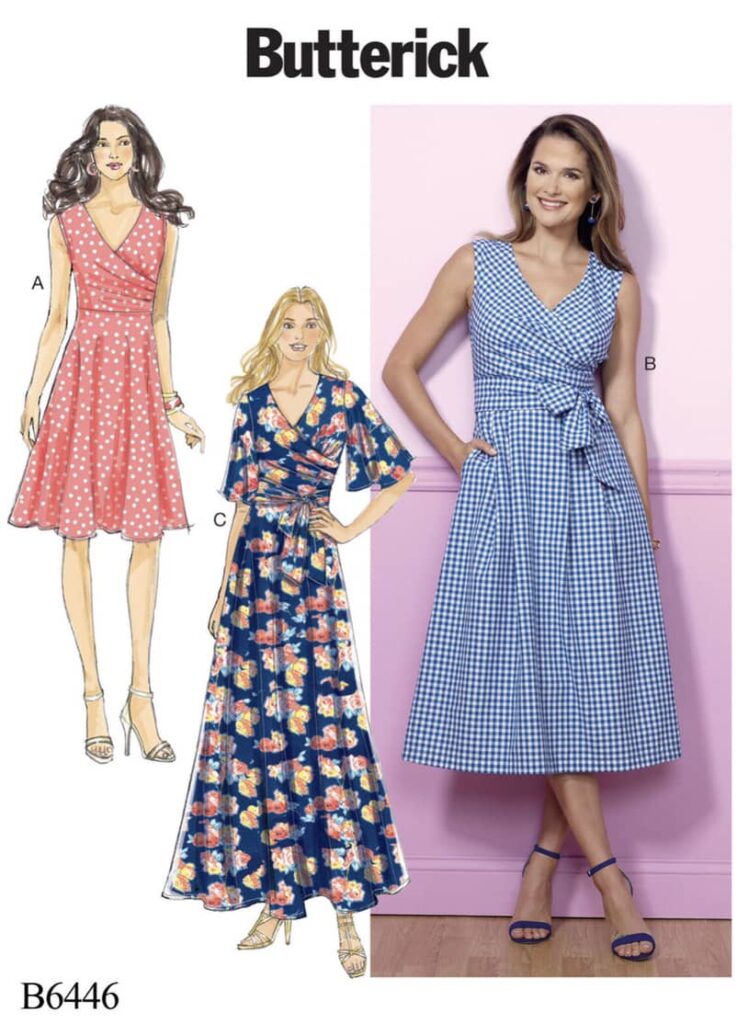 My two versions of B6446
B6646's beauty lies in its mock-wrap bodice: the bust ease of the top piece is created by three side pleats, caught in the side seam. The bodice piece underneath is different, shaped with a waist dart, to avoid unwanted volume. The skirt is far less remarkable, with three skirt options: knee-length semi-circle, pleated midi or maxi semi-circle. There is the option of a sash.
Version 1: with a midi pleated skirt
After ages of pondering whether I should go for a full circle skirt, I eventually went for the midi pleated skirt… and utterly regretted my choice!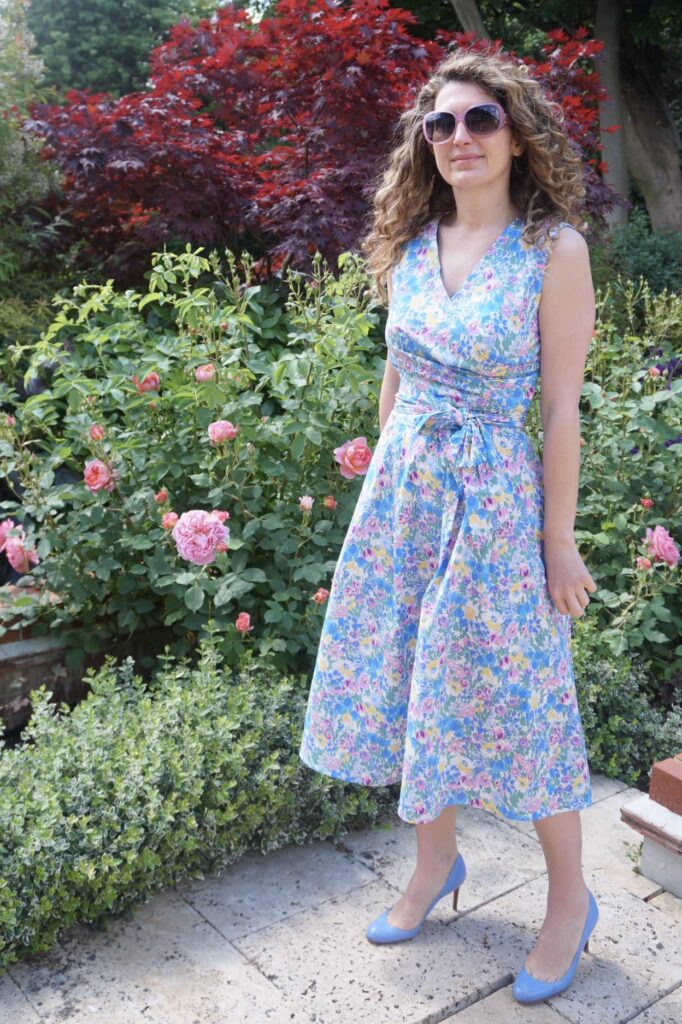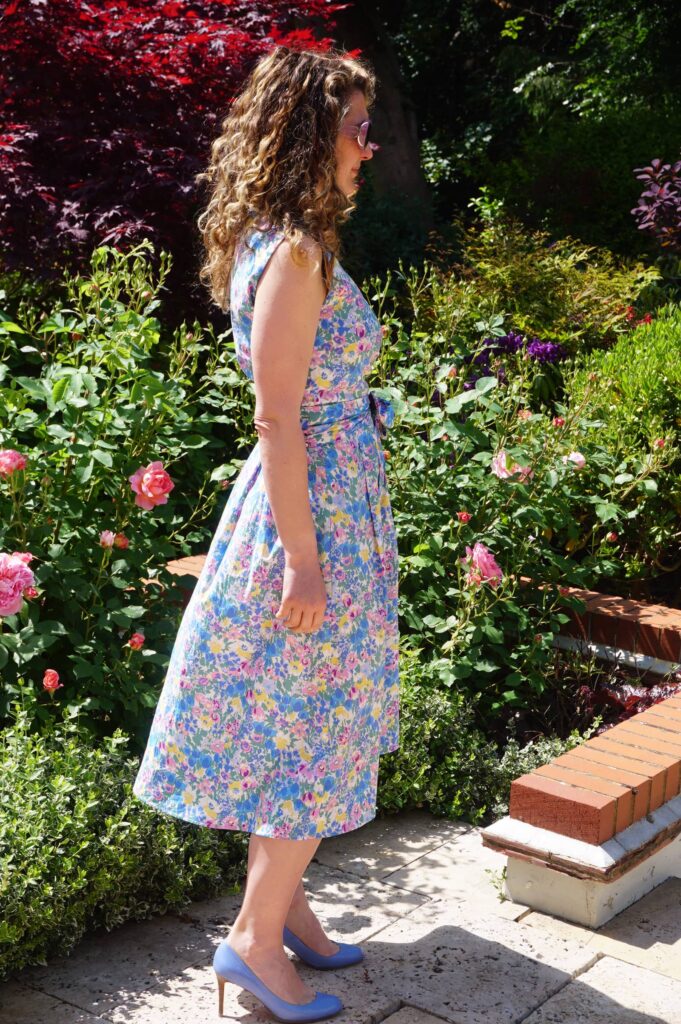 The bodice is extremely pretty and I was definitely under its spell. The pleats create impeccable bust shaping; the length is just right; and the back bodice is fitted to perfection.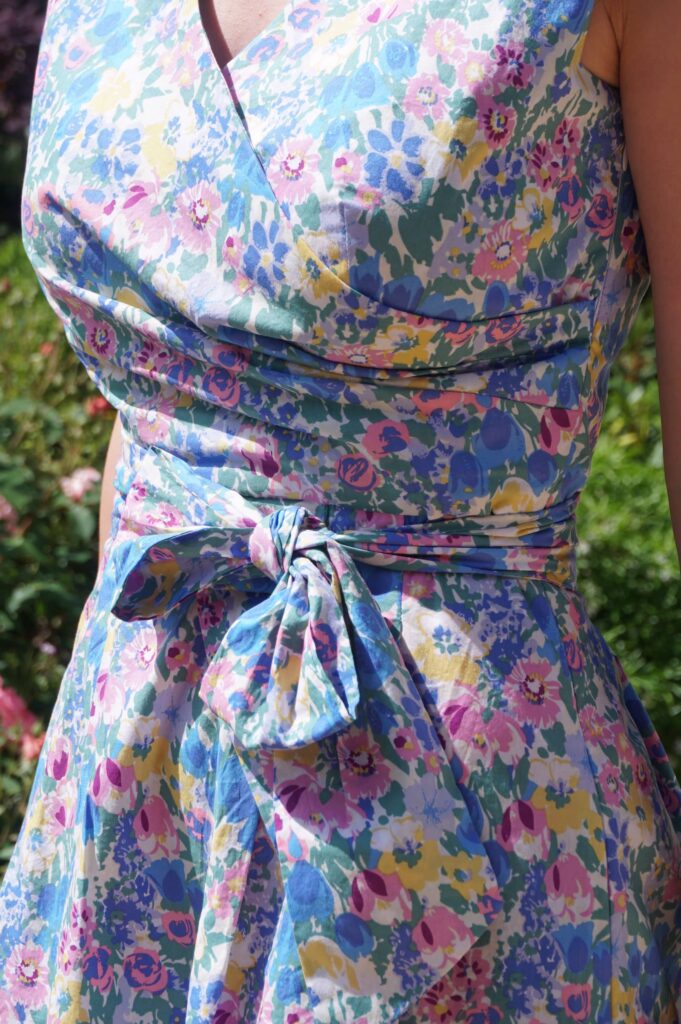 But the midi pleated skirt has no volume and in my view does not go well at all with the bodice – huge disappointment! Thankfully, the sash, if tied in a big bow, helps to give the ensemble a bit of coherence.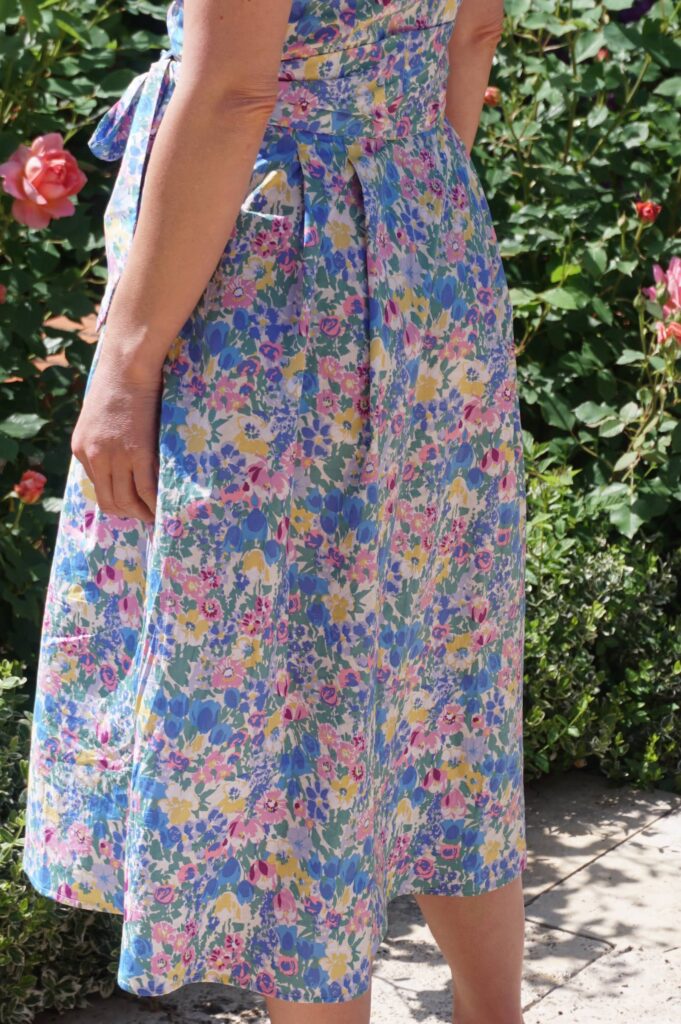 Version 2: with a full circle skirt
There was no way I was giving-up on such a nice bodice so as soon as my first version was finished, I made a second version, this time with my favourite knee-length full circle skirt (from the M7081 dress pattern). This one is definitely much more like what I envisioned, as the volume of the skirt pairs so much better with the pleats of the bodice.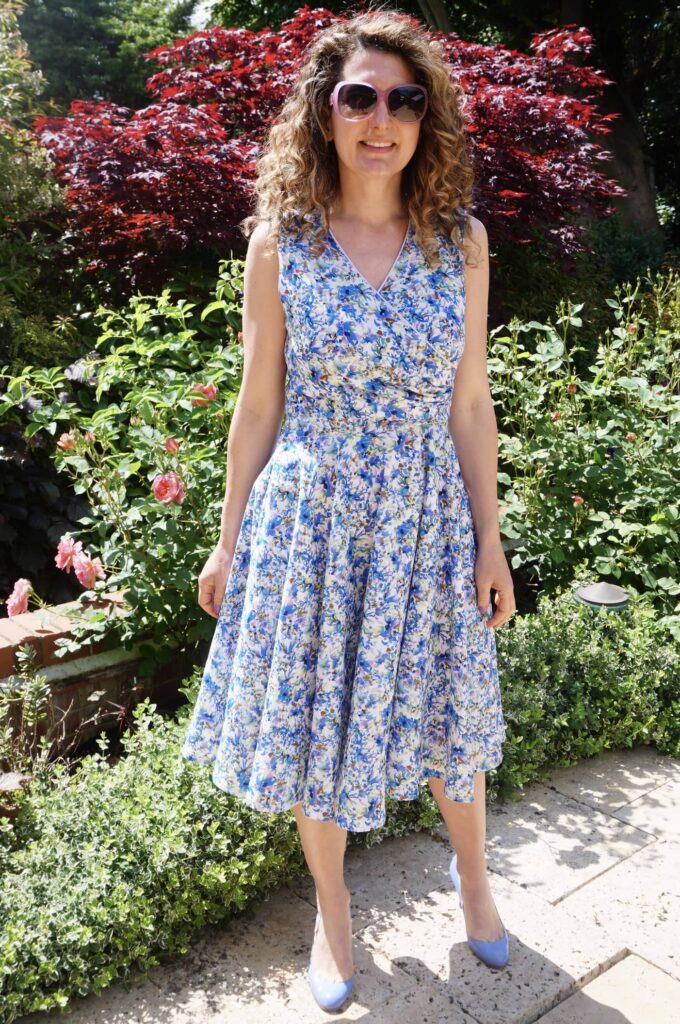 The bodice remains gorgeous and this time I added some piping at the neckline – why not!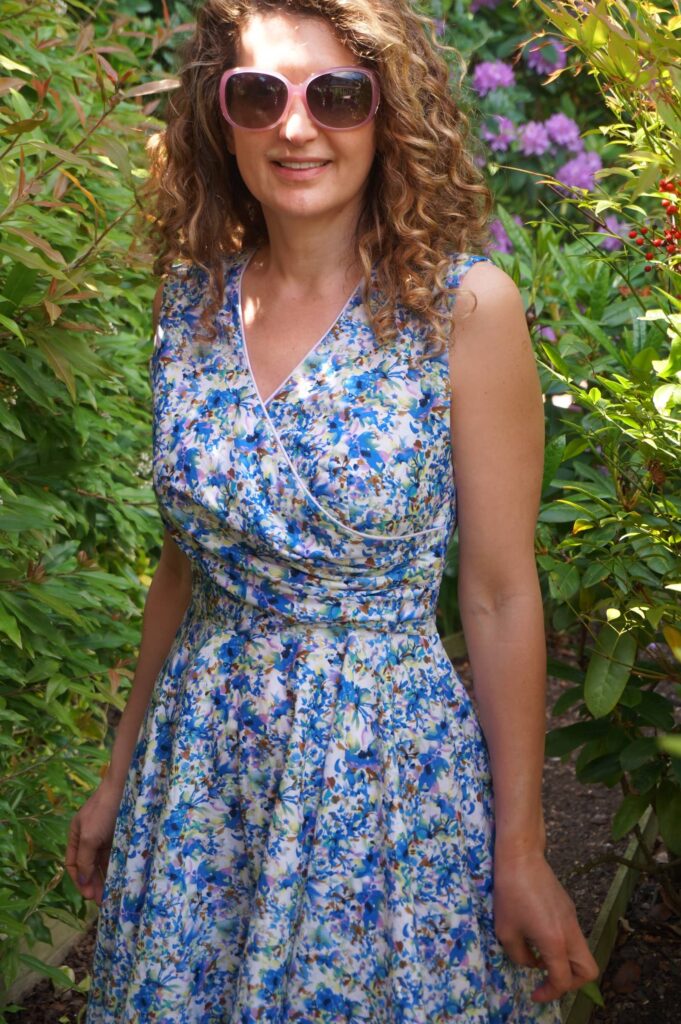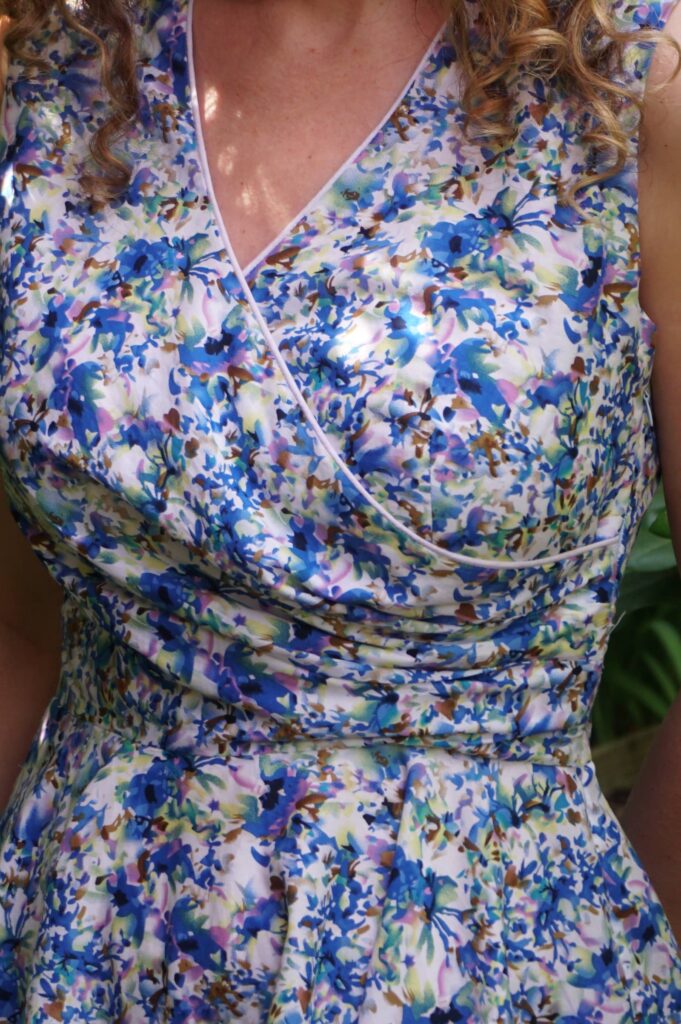 B6446 pattern review: positives, negatives and changes I made to the pattern
Don't be misled by my critical view of my first make, there are many things I like about the B6446 pattern:
As I mentioned before, I adore the clever and extremely pretty shaping of the bodice through side pleats; and the fact that these are not replicated on the hidden part of the bodice wrap, to avoid unnecessary volume.
The dress fits to perfection. As usual with Vogue/ Mc Call's/ Butterick pattern, I cut a size 10 for my UK 8/ FR 36 / US 2. After making a bodice muslin, I did add 0.5cm at the waist to have a tiny bit more ease; but I absolutely no other changes. In particular, there is plenty of bust room and I did not need an FBA for my E cup – hurrah!
With a fully lined bodice, the inside finish is absolutely impeccable. I fully line my dress bodices most of the time anyway but it is usually not included in the pattern instructions – here it is.
The pattern instructions are crystal clear, as they usually are for Butterick, Vogue and McCall's. If you are not used to lining bodices, they will help you immensely, as the order of operations to get a perfect finish at the neck and arm openings is in no way straightforward.
The major negative of this pattern is the bottom. The skirts on offer are frankly uninteresting in comparison to the bodice. I would strongly advise you go for much more volume.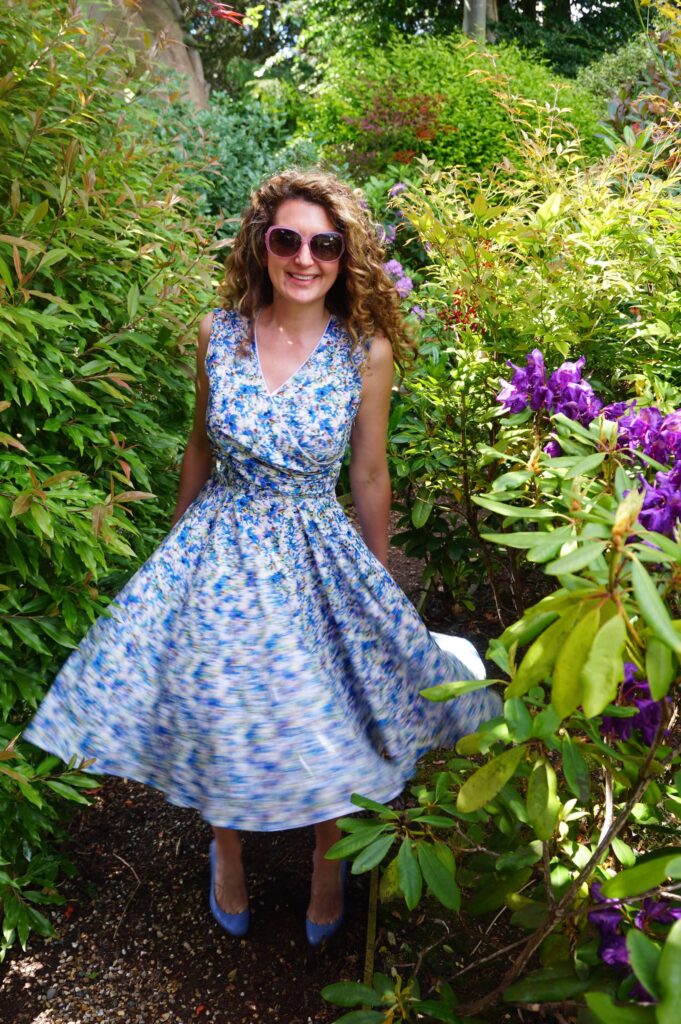 The changes I made to the pattern are the following:
I went for a full circle skirt and it was the best idea ever.
I fully lined the skirt, as I find it more comfortable to wear and it gives the circle a bit more volume, without having to use a crinoline.
I added piping at the neckline, sandwiched between the main fabric and the lining.
I used the burrito method to finish my armholes, rather than following the pattern instructions.
Fabric used
For both dresses, I used cotton lawn fabric, lightweight but not see-through. I suspect the second one is luxurious Pima cotton, as it hardly creases when worn and it drapes beautifully. I had already used the exact same fabric for a very different dress last summer and I was thrilled to find more of it this year!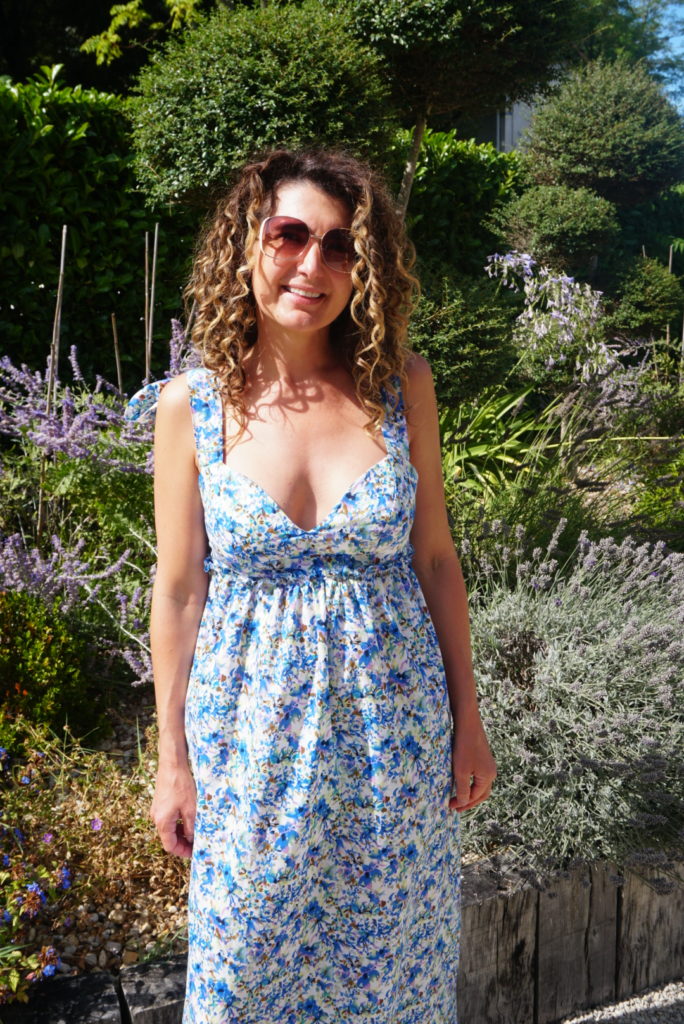 Conclusion
Despite my first slight miss, I am thrilled to have finally given this pattern a go. I am pretty sure it will become a strong favourite and I have already two other dresses in mind – let's see when these get an opportunity to be sewn!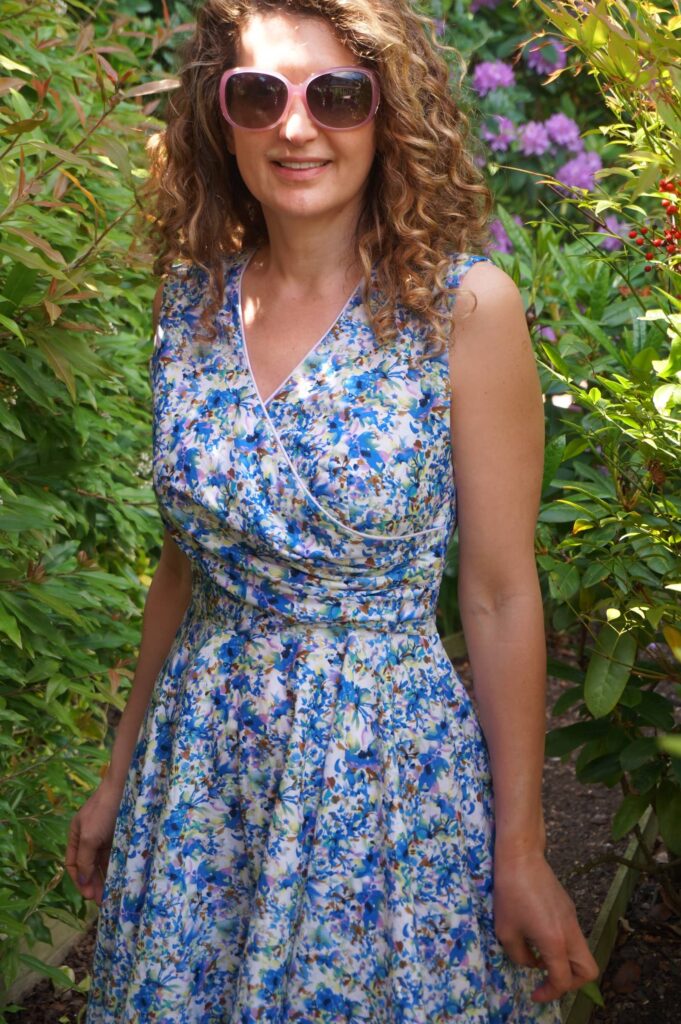 ---