Cozy winter cardis: Agatha and Belladonna
In Spring 2020, I had what I call a "knitting revelation": I discovered that I could easily follow a pattern, after years of being terrified by what looked like indecipherable code. And since then, my designer of choice has definitely been Andi Satterlund, creator of Untangling Knots. I had been admiring for years her 50's inspired designs, a perfectly match to my wide collection of fit-and-flare dresses.
Obviously as soon as I managed to understand Andi's patterns, I got very excited – I am not even sure how many I've knitted over the past 9 months…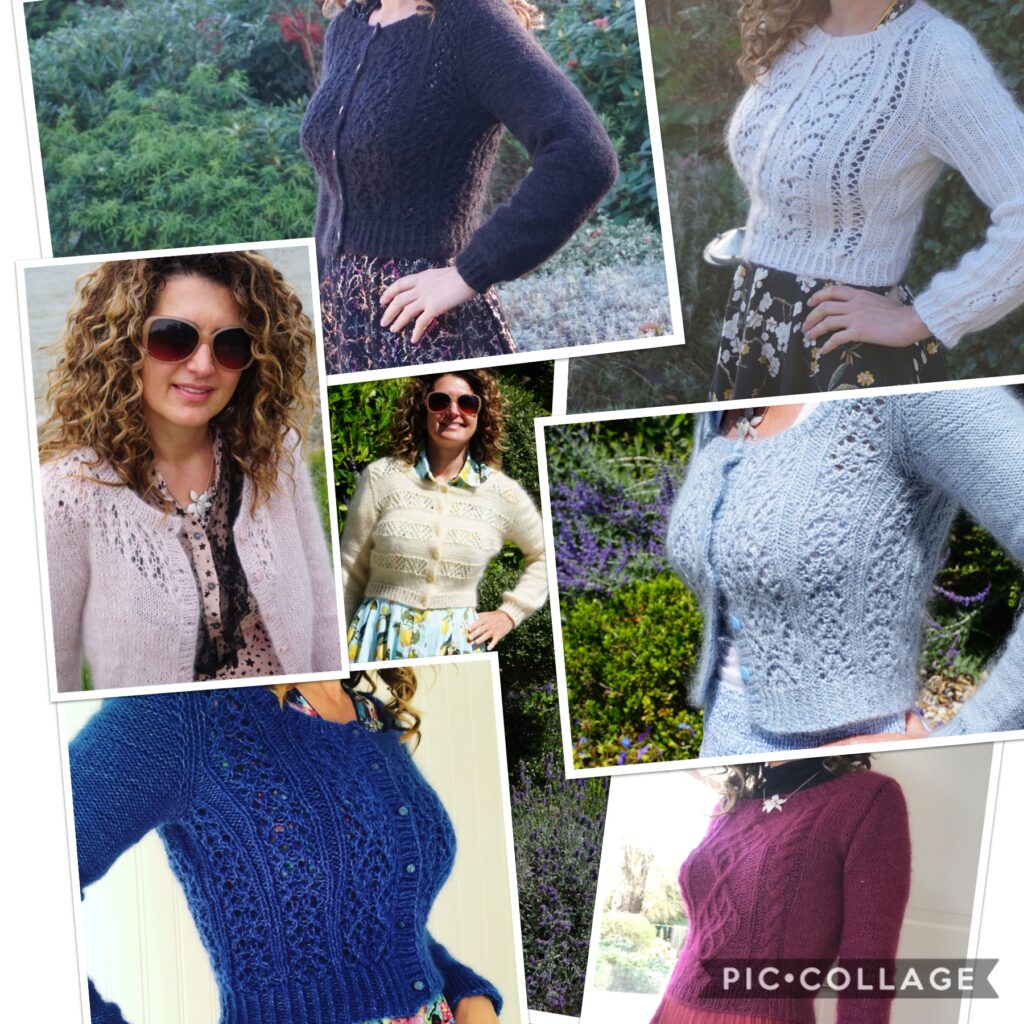 Although the Chuck jumper (wine version above and another pink version not shown) was my first ever Andi Sutterland knit and will as such always have a special place in my heart, I have a clear preference for cardigans. I have already presented in this blog my two Belladonnas (pale blue here and royal blue here); but I have also knitted two versions of Salal (pink beloved version above, as well as a failed red version due to the wrong wool choice); and a yellow version of Wainthropp.
In the middle of this rainbow of colours, I was really missing neutral cardis, especially as my wardrobe is definitely more subdued in winter than in summer. Problem solved now: let me introduce you to my two new makes, my black Belladonna …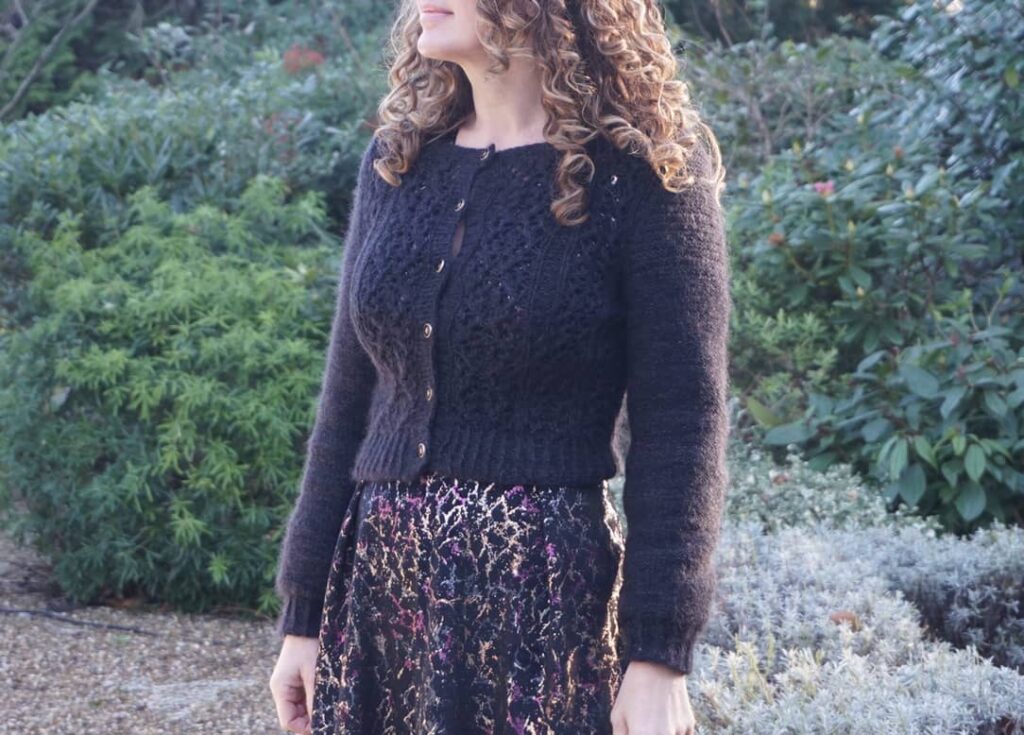 and my off-white Agatha: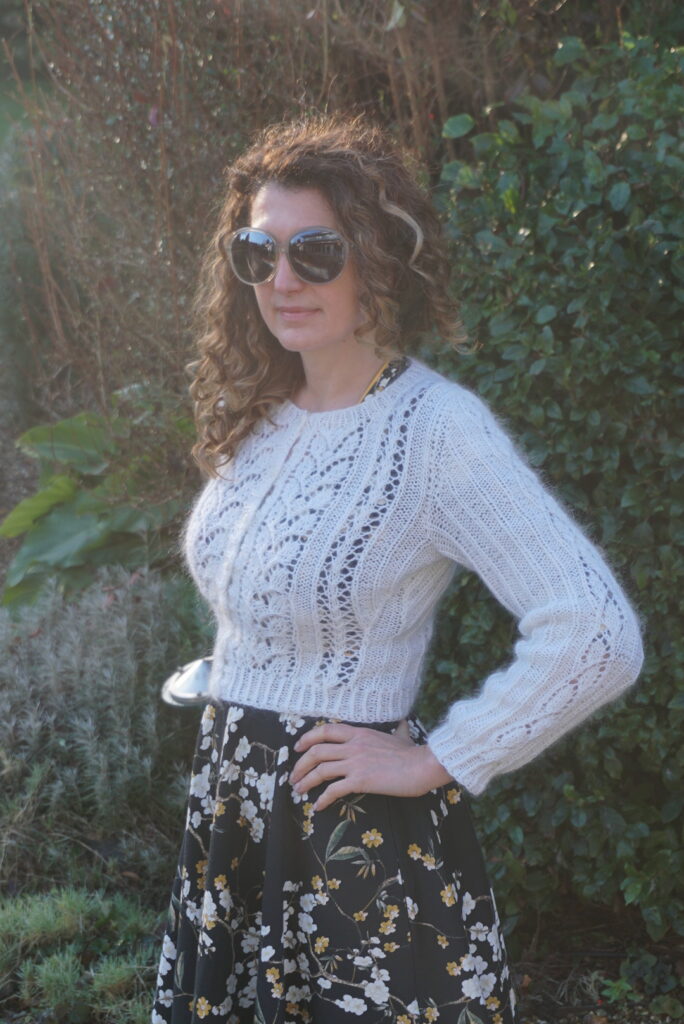 Both cardigans are actually quite similar in many respects: they are knitted in a similar way: bottom up and seamless, with A LOT of lace.
The construction starts from the back, which you knit from the top to the underarm. Then you cast-on each front side at the shoulder and knit them separately down to the underarm. At this stage all three pieces are joined and knit together to the bottom. The sleeves are cast-on around the sleeve openings. The construction finishes with the button and neck bands.
The joy of knitting comes from all the lace inserts. They are two lace charts for the body of Belladonna and Agatha; and a third for the sleeves of Agatha. They are impossible to fully memorise (for me anyway) but very easy to follow line by line – if you count your stitches all the time! (which I personally enjoy)
And the fit is just perfect! There are regular decreases from mid-body, which make the cardigans perfectly huge the waist. And I absolutely adore the cropped length, which not only perfectly compliments my dresses but also makes the project much quicker to knit!
Both patterns use a similar gauge, which works well for my favourite combination of Drops Kid Silk ad Drops Baby Merino knitted as a double strand. For my black Belladonna I used 21 black baby merino and 02 black kid silk; and for my off-white Agatha I use 01 white baby merino and 01 off-white kid silk. I knitted both cardigans in the smallest size offered (but my knitting is quite loose).
Here are more pictures of Belladonna – sorry for the poor quality but black is so hard to photograph! My only deviations from the pattern and from my previous projects is that I substantially raised the neckline and did not do any decreased for the sleeves. It makes the cardi much more versatile and comfortable to wear.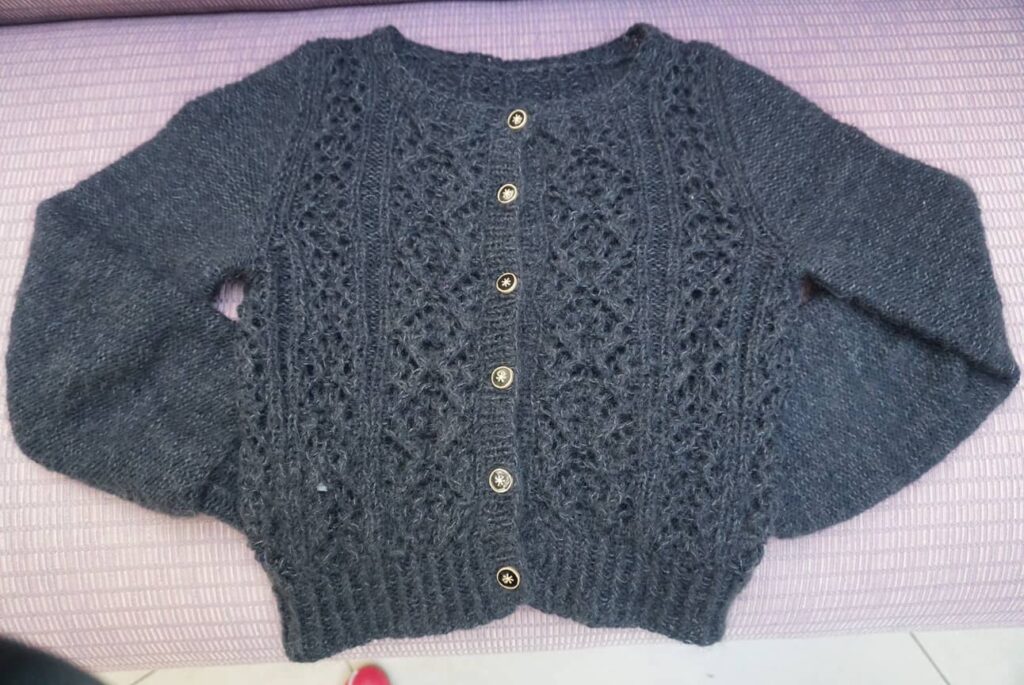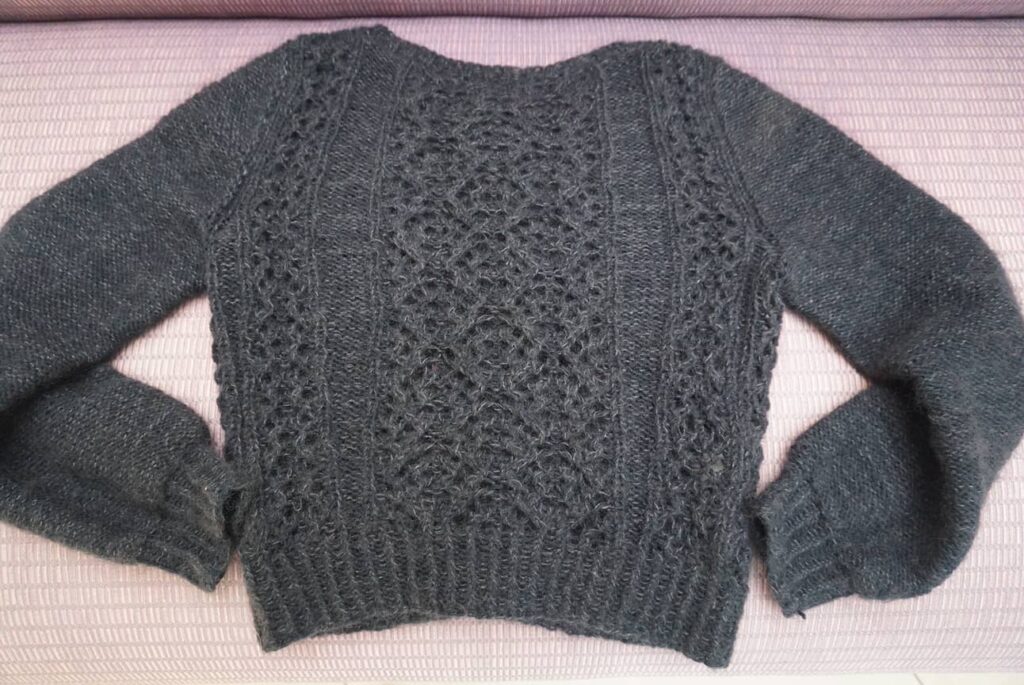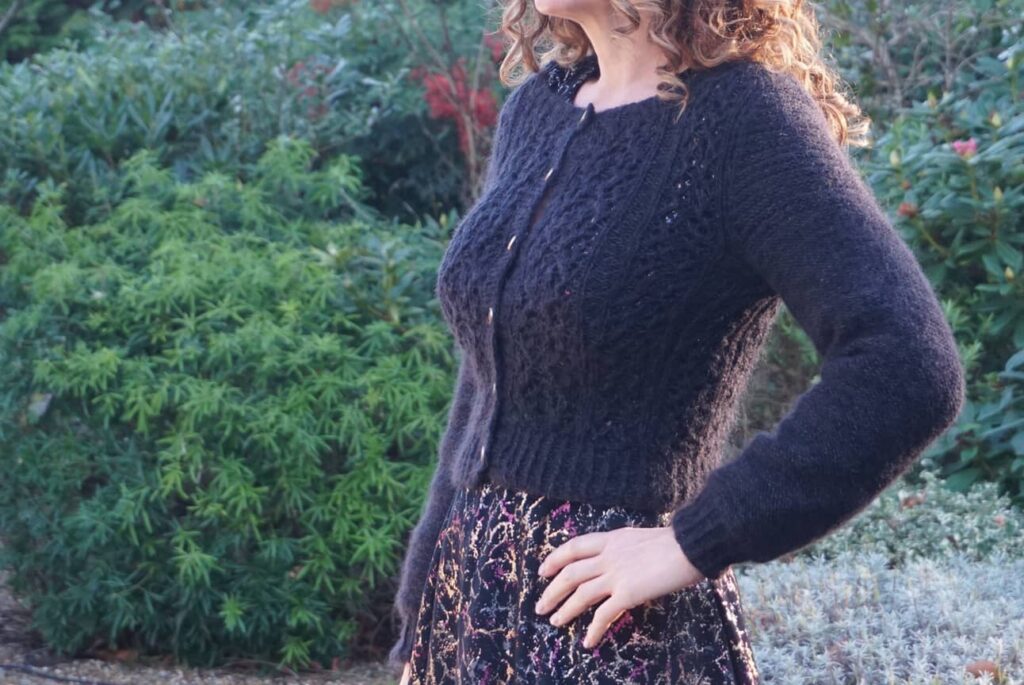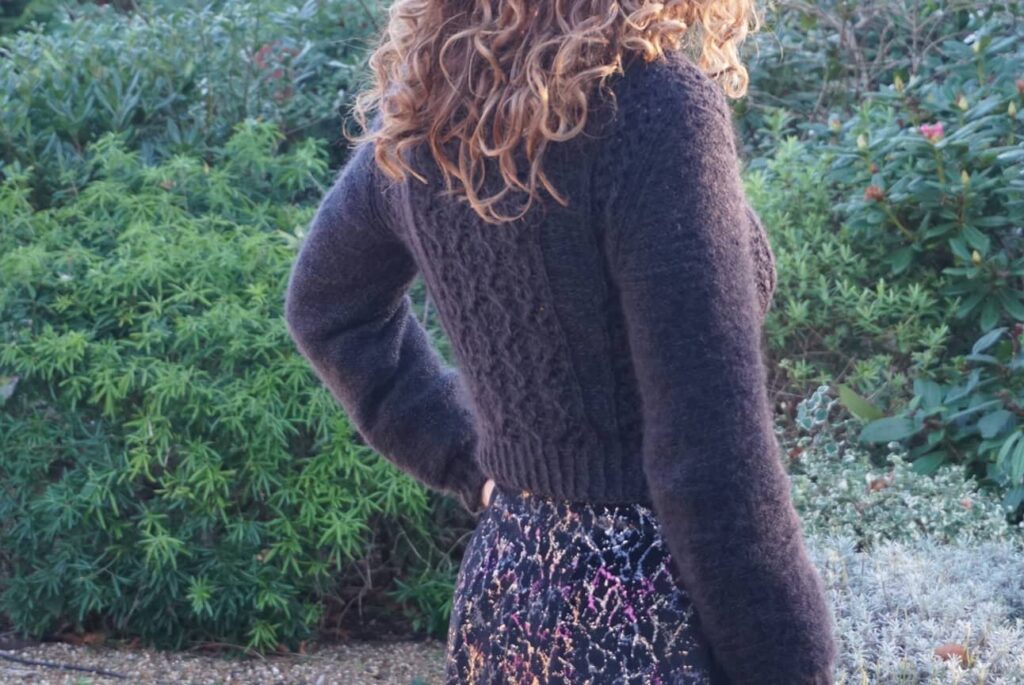 As for Agatha, this was my first time knitting it so except for making the sleeves larger by not making any decreases, I religiously followed the pattern. I particularly like the leaves design of the lace; but I am less a fan of the ribbing lines – although I like them more on the pictures than while wearing them (don't ask why!).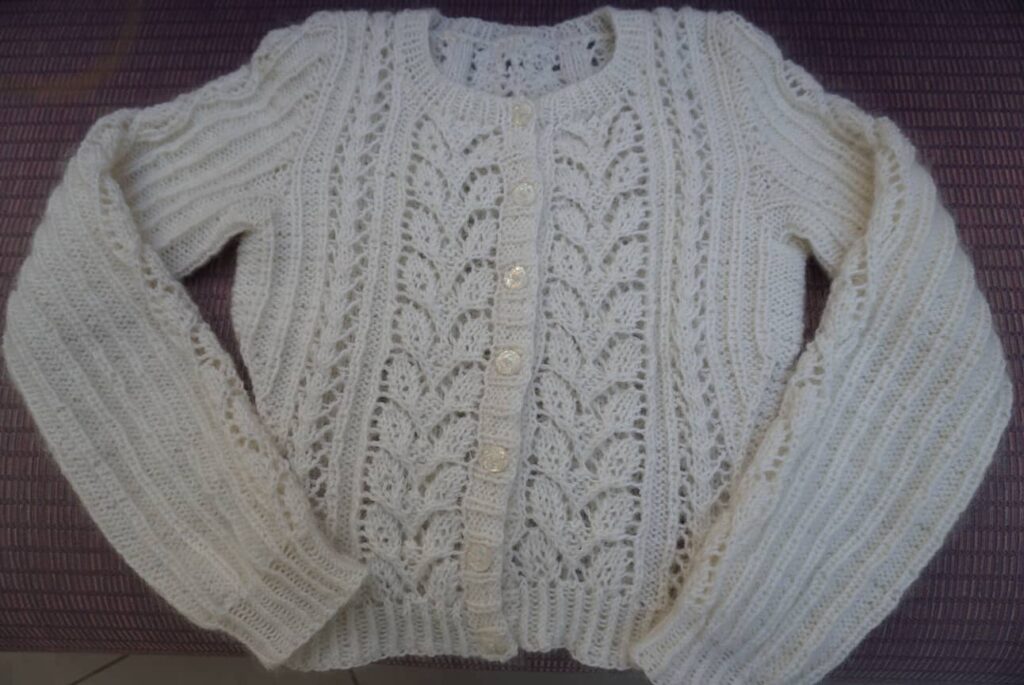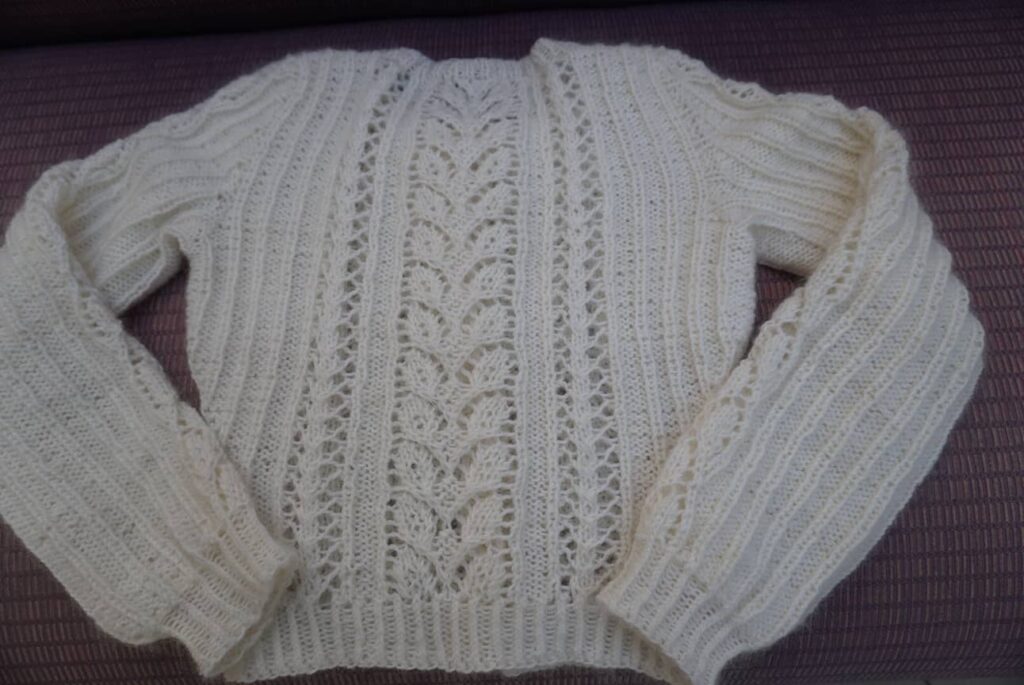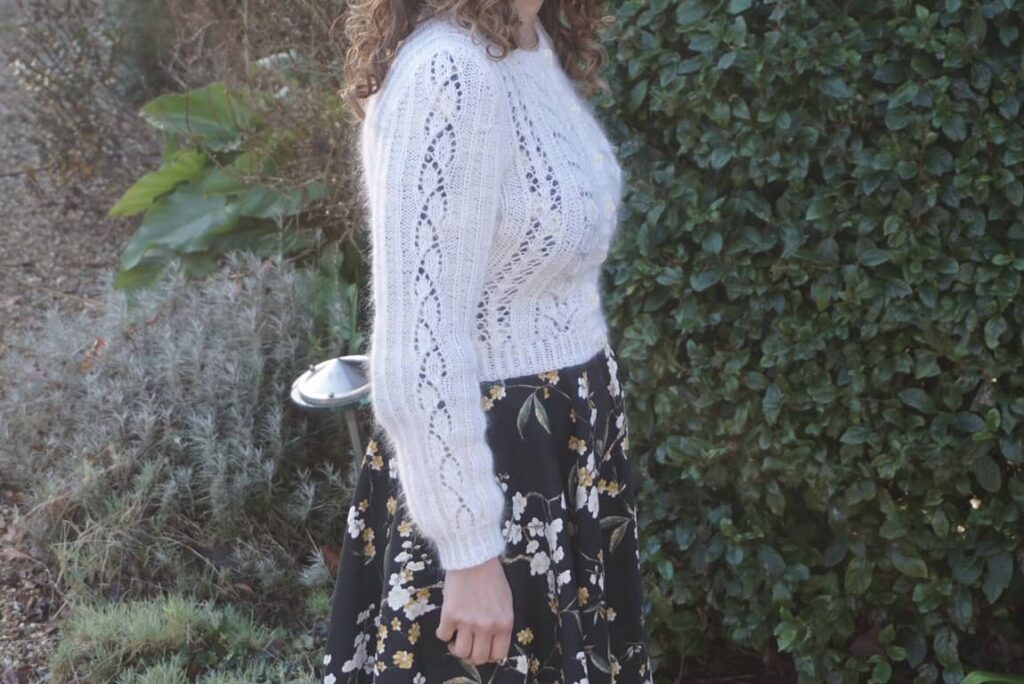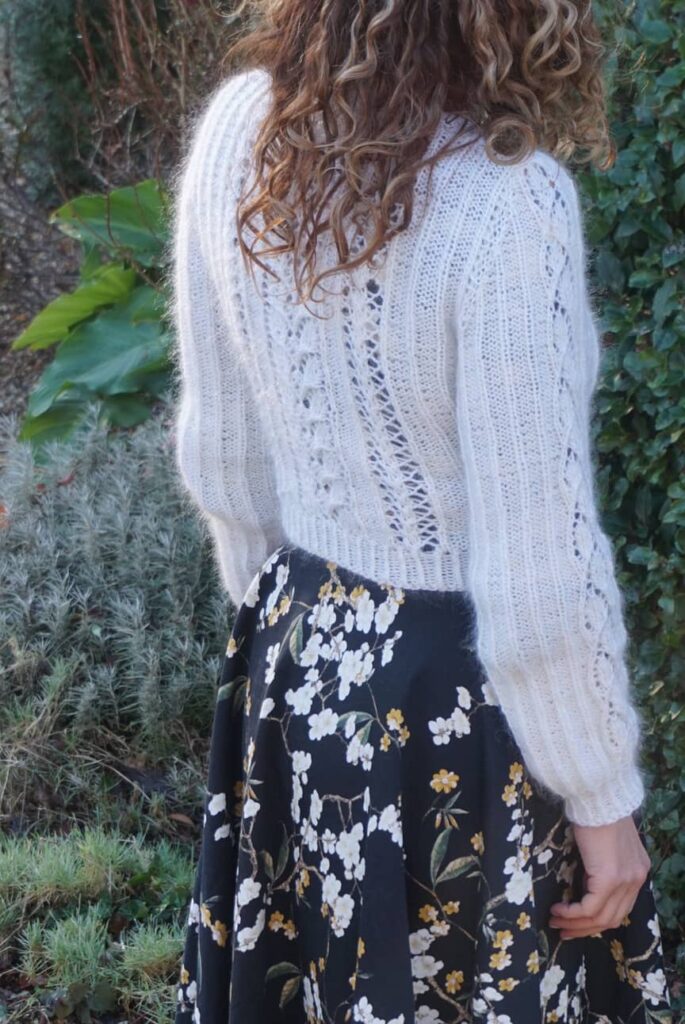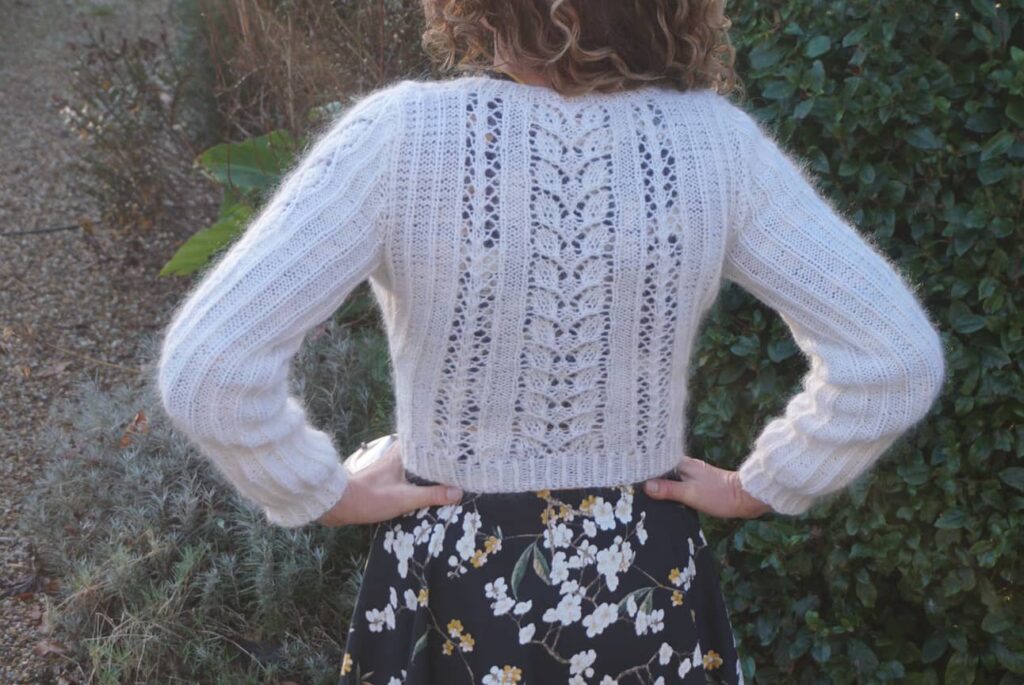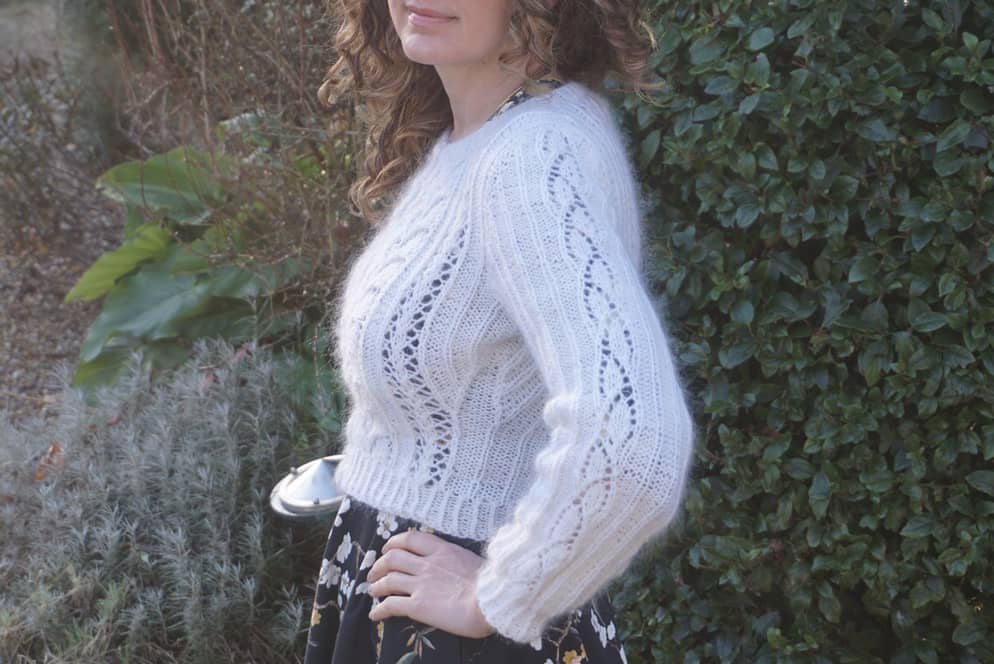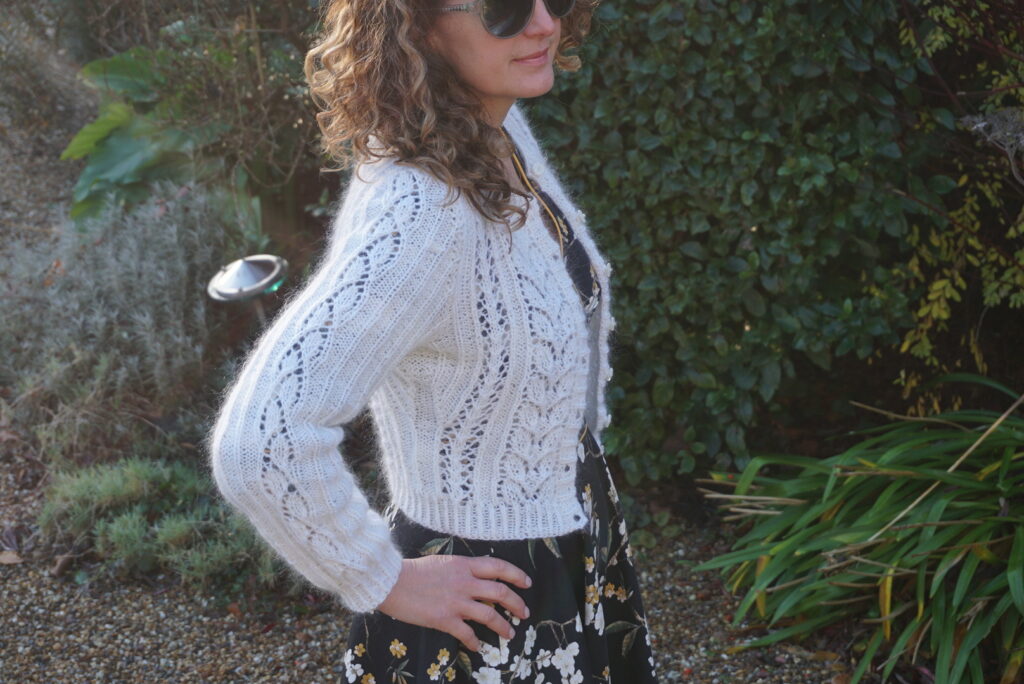 Overall I m very pleased with these two new knits – the black Belladonna in particular has been of so much use since finished! I am seriously thinking of making another black cardi as this is such a useful colour for me in the winter. In the meantime I am considering more basics: pure white and navy would be good additions to my cardi collection. Too many projects, too little time as usual!
Royal blue sew & knit combo: M7081 + Belladonna
Now that I have become a competent knitter (thanks to lockdown!), one of my targets is to matches my hand-knitted and hand-sewn garments. And knitting a cardigan to wear with the dress sat very high on my list of projects for Autumn 2020 (reviewed in this article).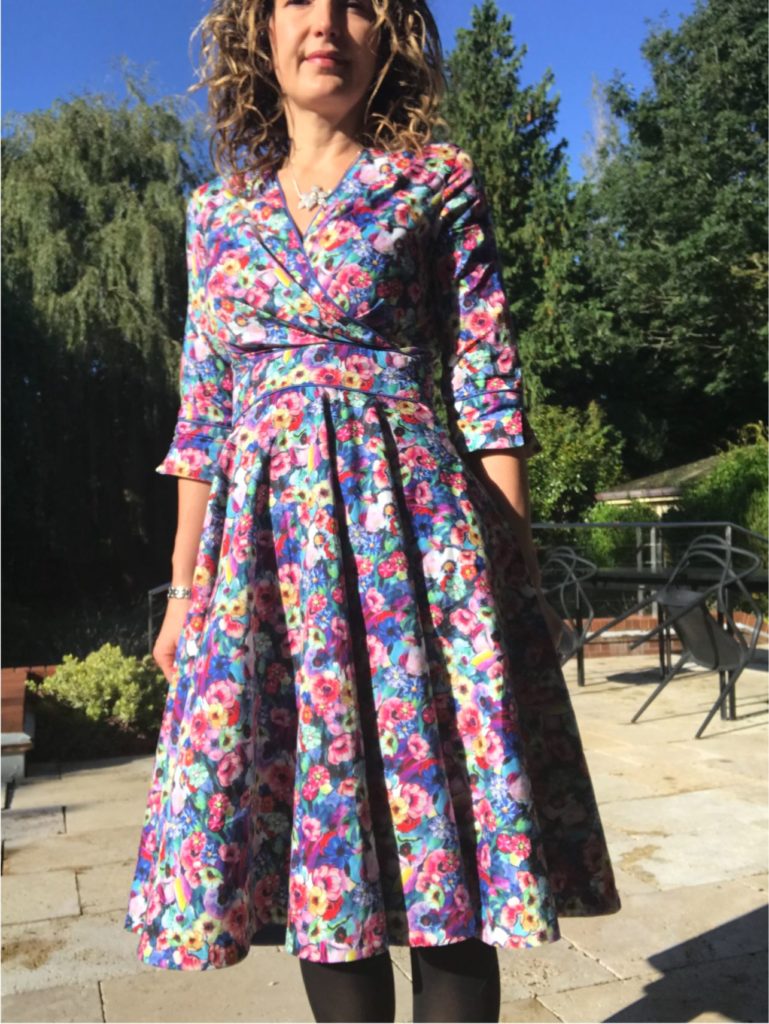 This dress is one of my favourite, so much so that she has a red twin sister.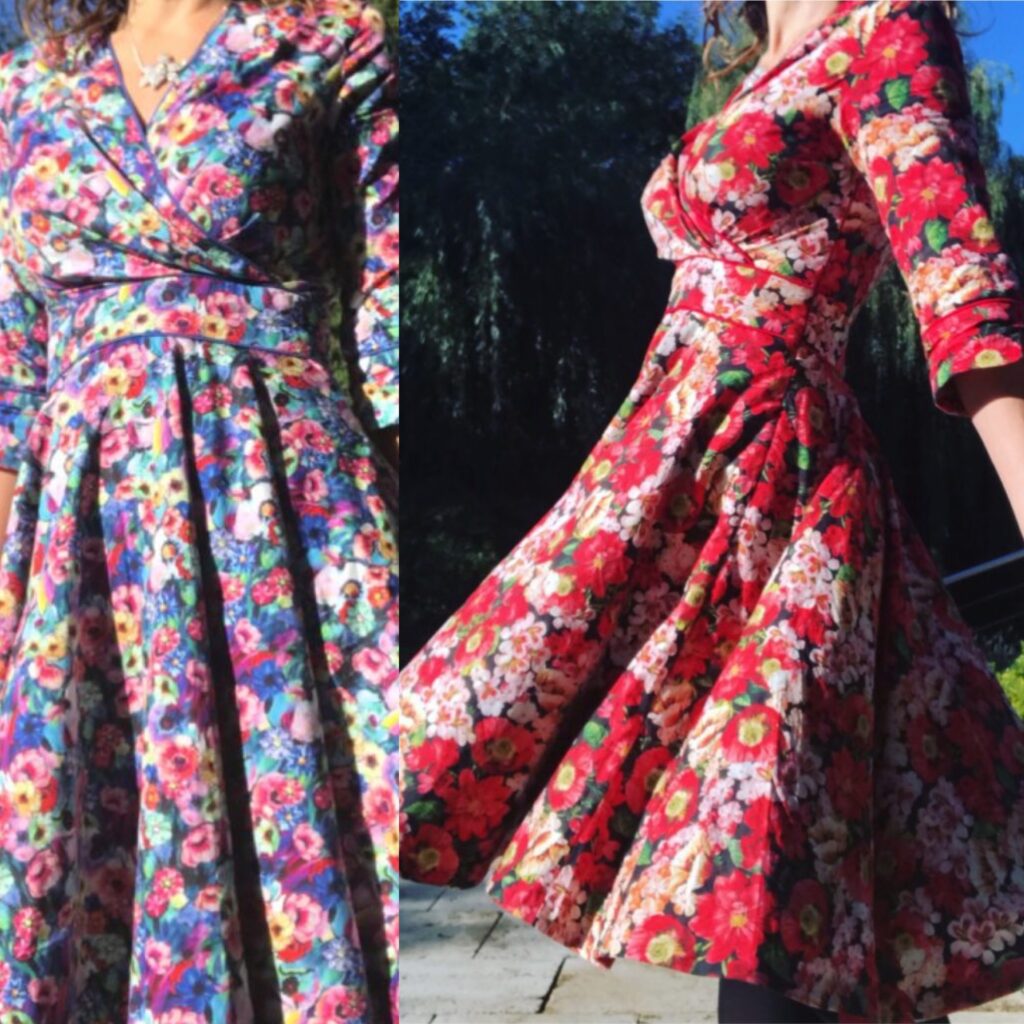 But strangely enough I never blogged about any of them. Let's remedy this!
The pattern is McCall's M7081 – a knee-lenght dress with a mock-wrap bodice and a full circle skirt, joined by quite a large belt. The bodice has pleats instead of darts for bust ease, which make the dress it very pretty.
I cut a straight size 10 without any adjustment. I even avoided the dreaded FBA (I am an E cup), which is why the skirt slightly pulls up at the front. But for once I am not too bothered.
The changes I made to the initial pattern are purey aesthetic: I omitted the collar, inserted some piping at the neckline, belt and sleeves and added sleeve cuffs.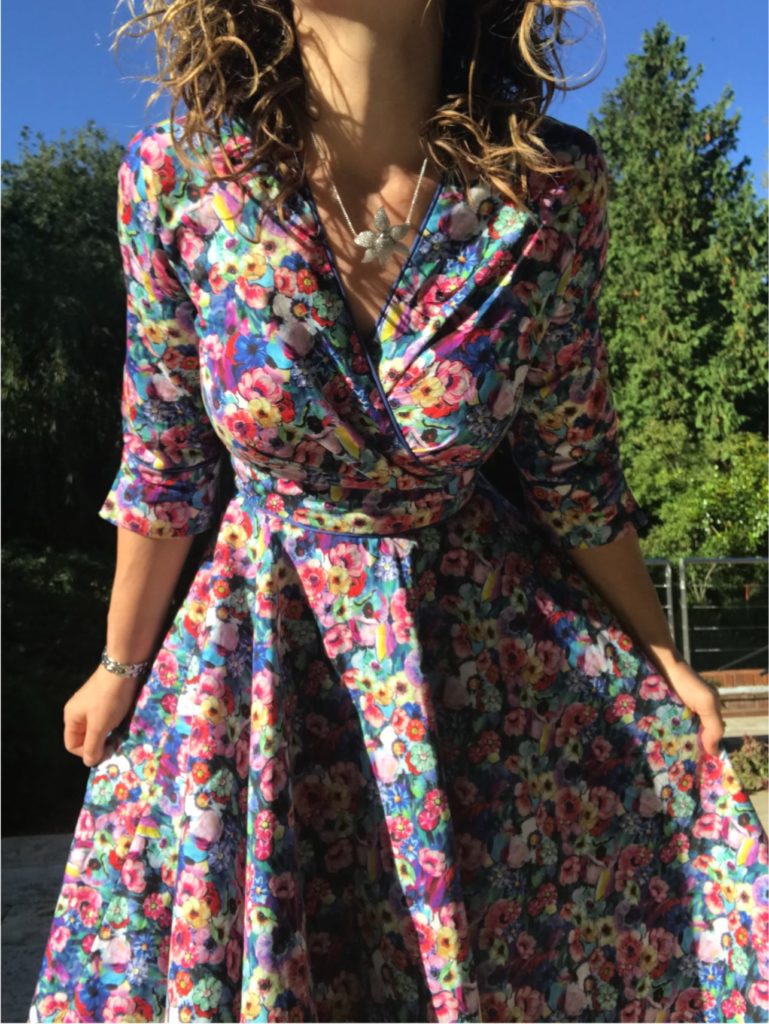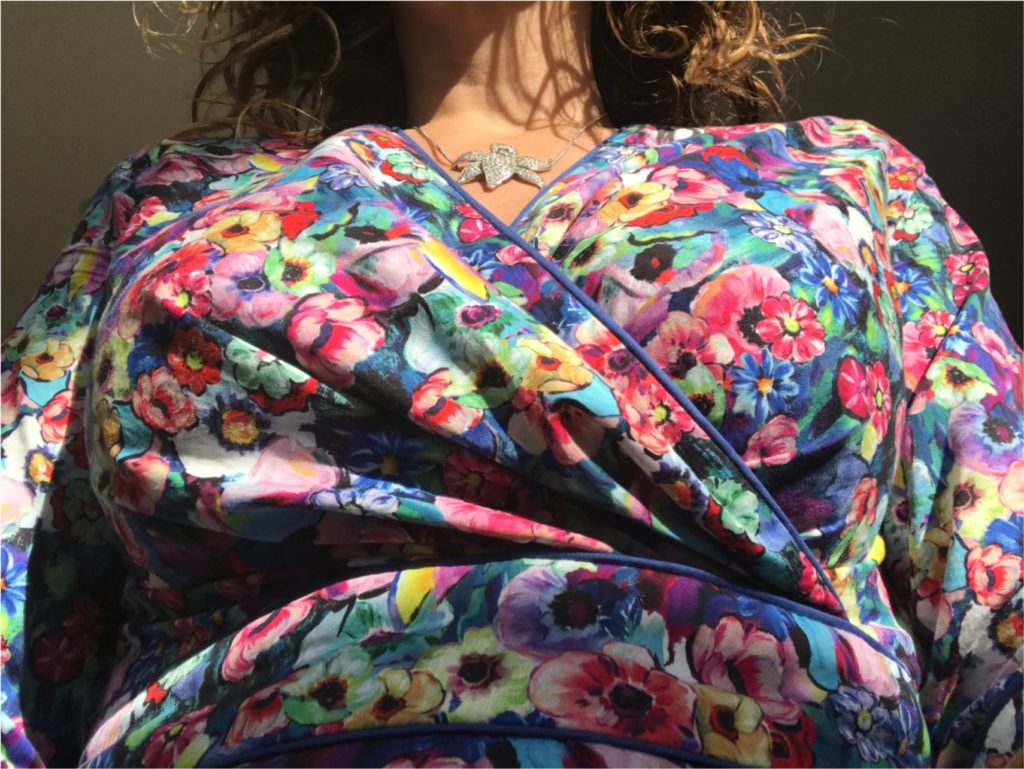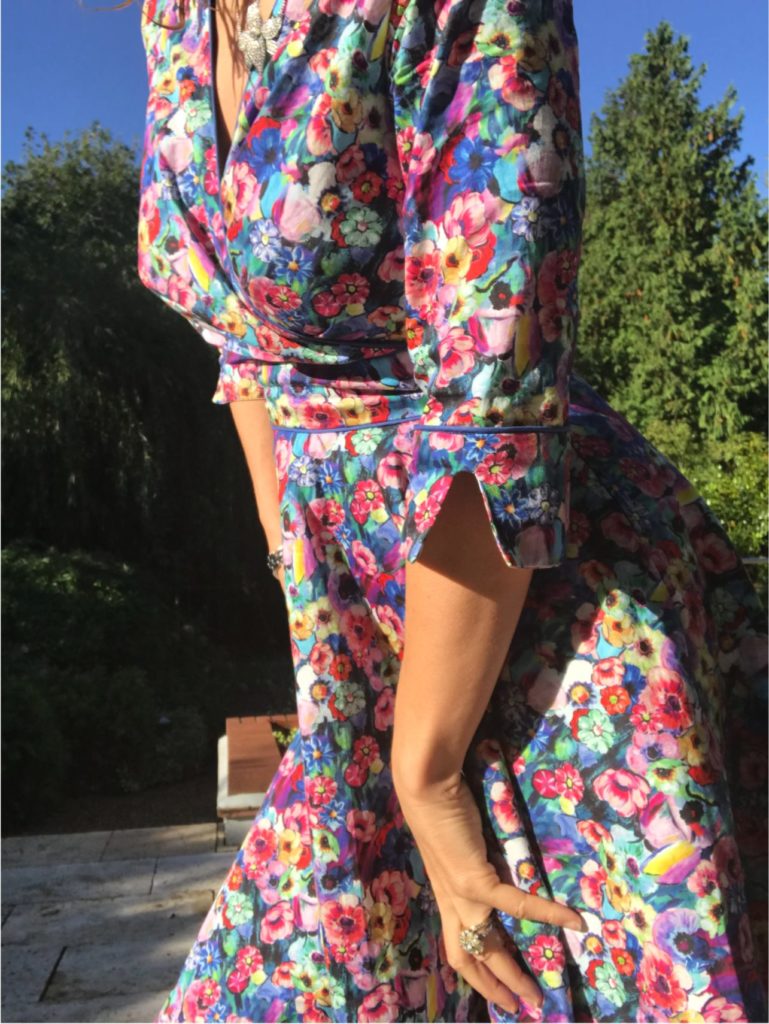 The fabric is a Dolce & Gabbana lawn-weight cotton , bought from Sew Me Sunshine. This fabric is magnificent and largely explains my adoration for this dress.
But the fabric being lightweight, the dress definitely needed a cardigan, cropped of course. Here it is!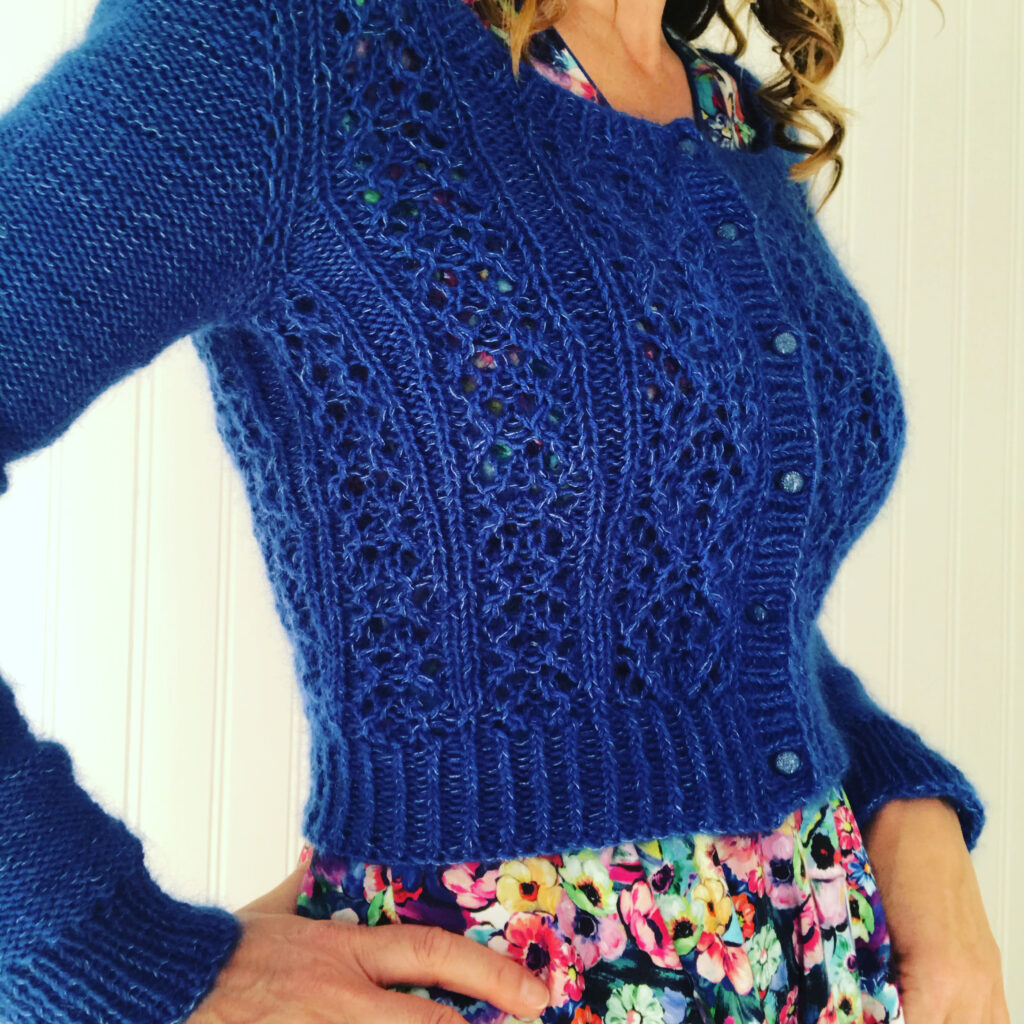 You may have recognised Belladonna by Andi Sutterland, a stunning cardigan with all-over lace which I already knitted earlier this year – see here for the article on my first Belladonna.
I absolutely adore this pattern, the all-over lace effect is gorgeous and the cropped length is perfect. And the pattern is so perfect, crystal clear to follow.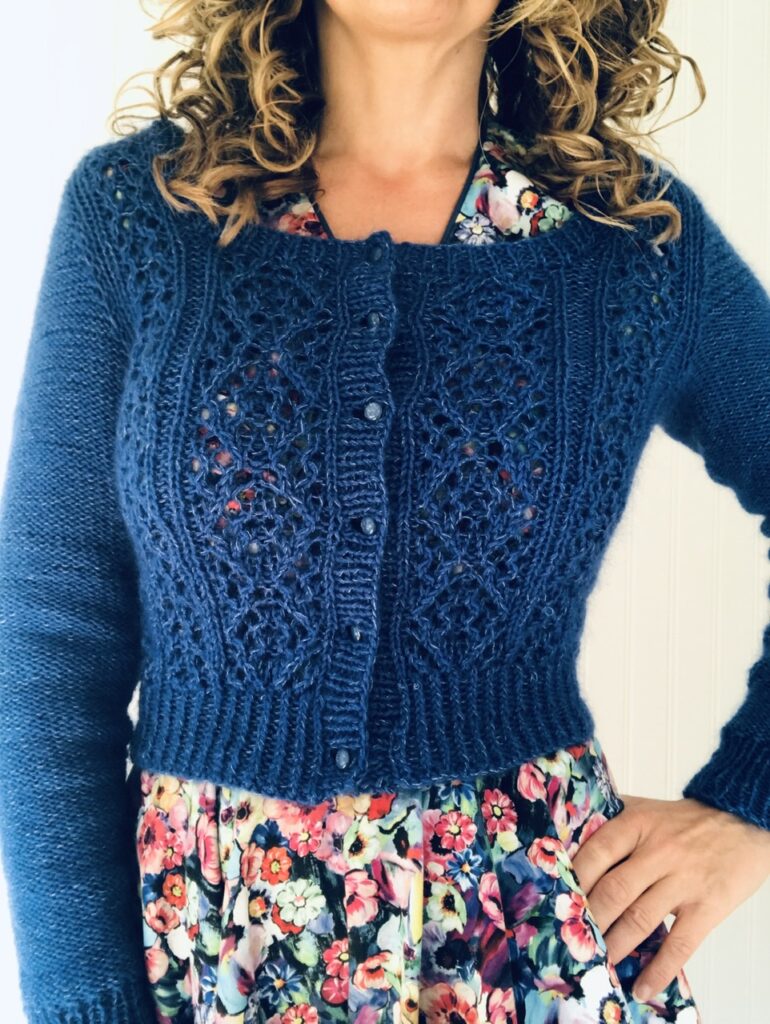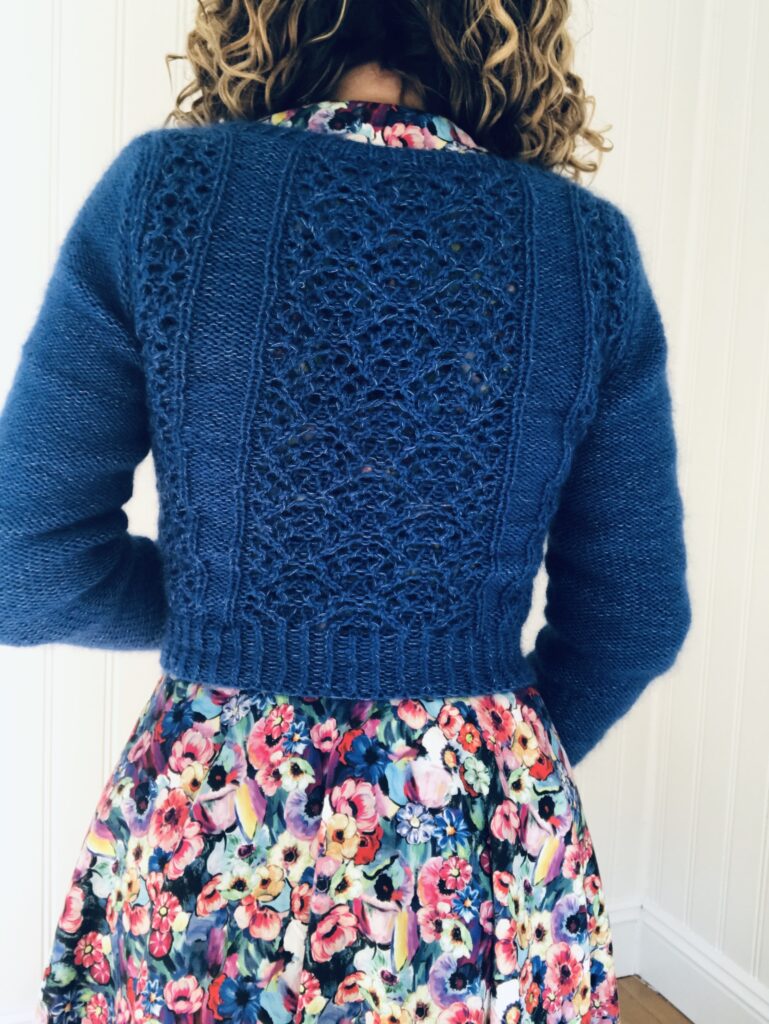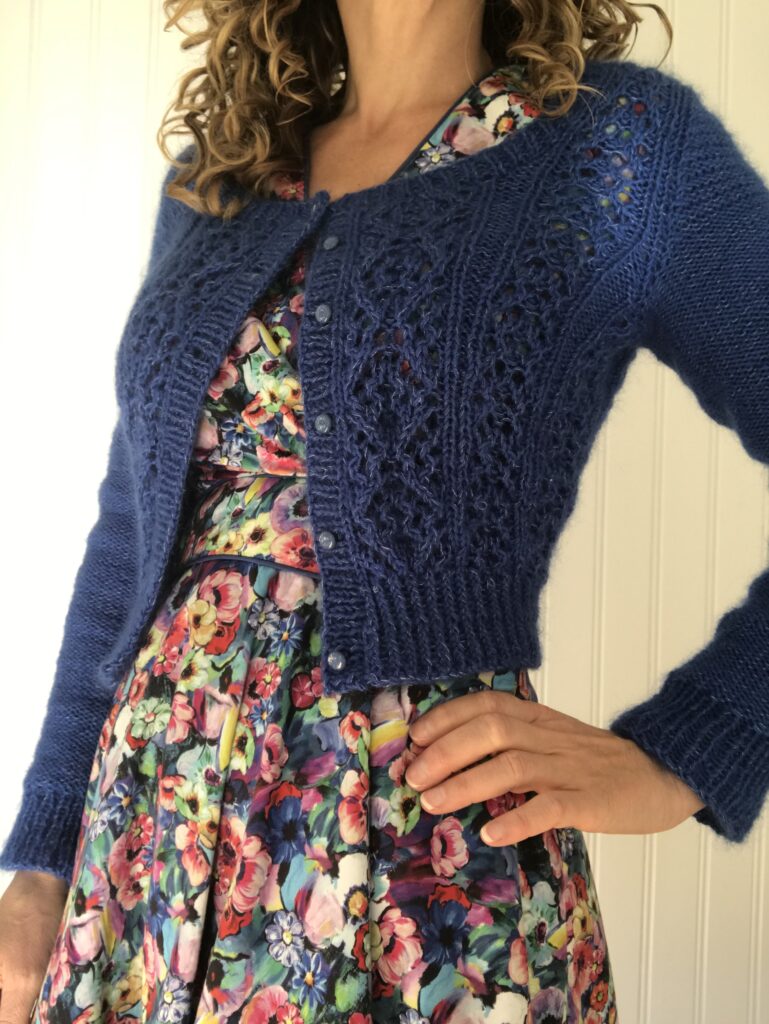 I used a combination of Drops Baby Merino Electric Blue 33 and Drops Kid Silk Cobalt blue 21. I had knitted this combination already for my daughter and the result is a magnificent vivid blue, the pictures of the cardigan actually don't give it full justice.
My only disappointment is that Drops seems to have slightly changed the Kid Silk, adding some white speckle, which makes it less bright – I realised it when after knitting the back and front down to underarm level with my wool leftovers, I started using my new wool and… it just did not match at all! I therefore had to start all over again! But all worth it, because this dress-cardigan combo is exactly what I had envisioned !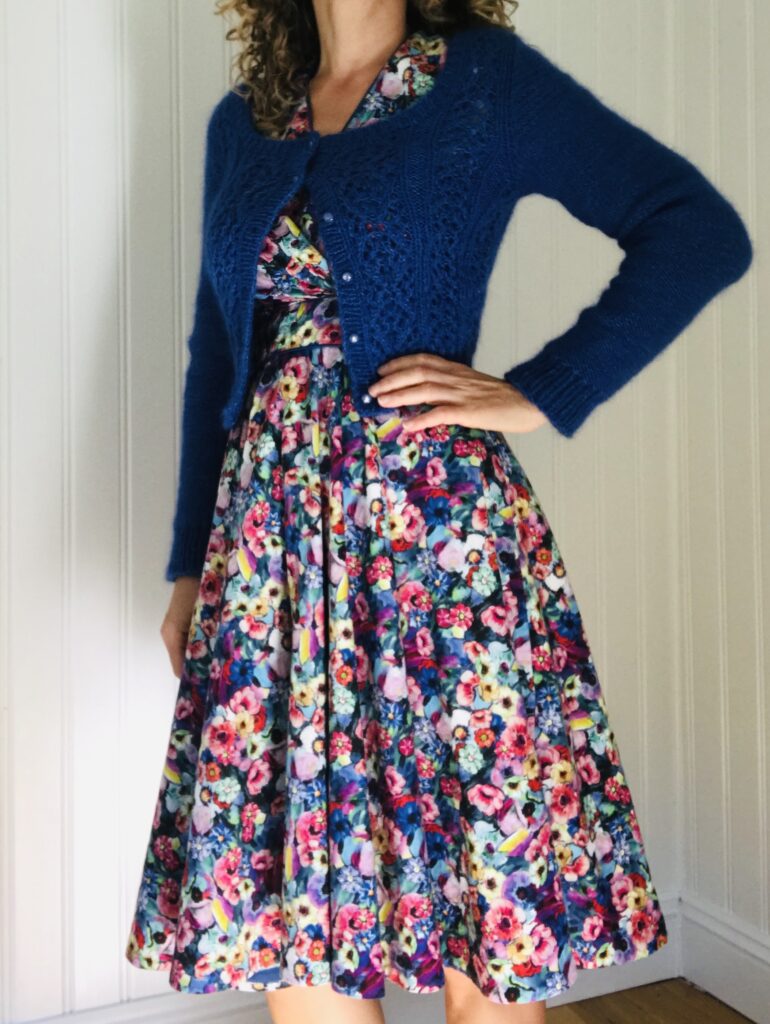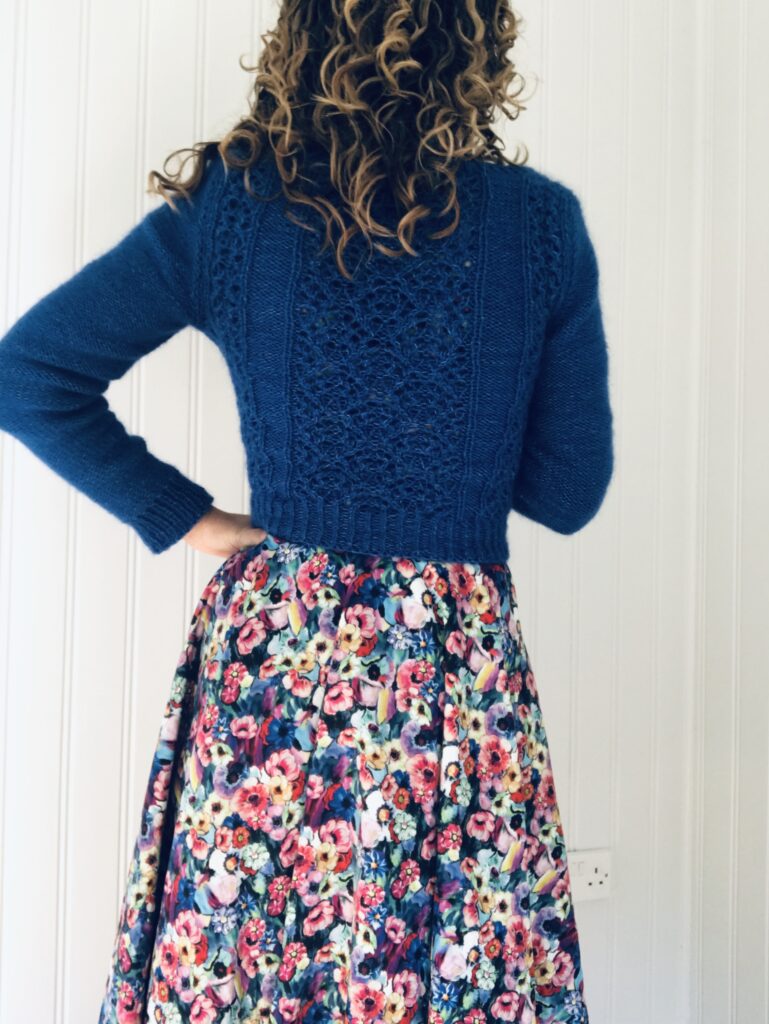 One combo done, two more to come…
No such thing as too much lace: my Belladonna cardi
Now that I have discovered that I can follow a knitting pattern (it only took me three years to gain the confidence), I have been knitting compulsively, with a passion for both cardigans and lace. So I could only fall for Untangling Knots' latest cardigan pattern Belladonna.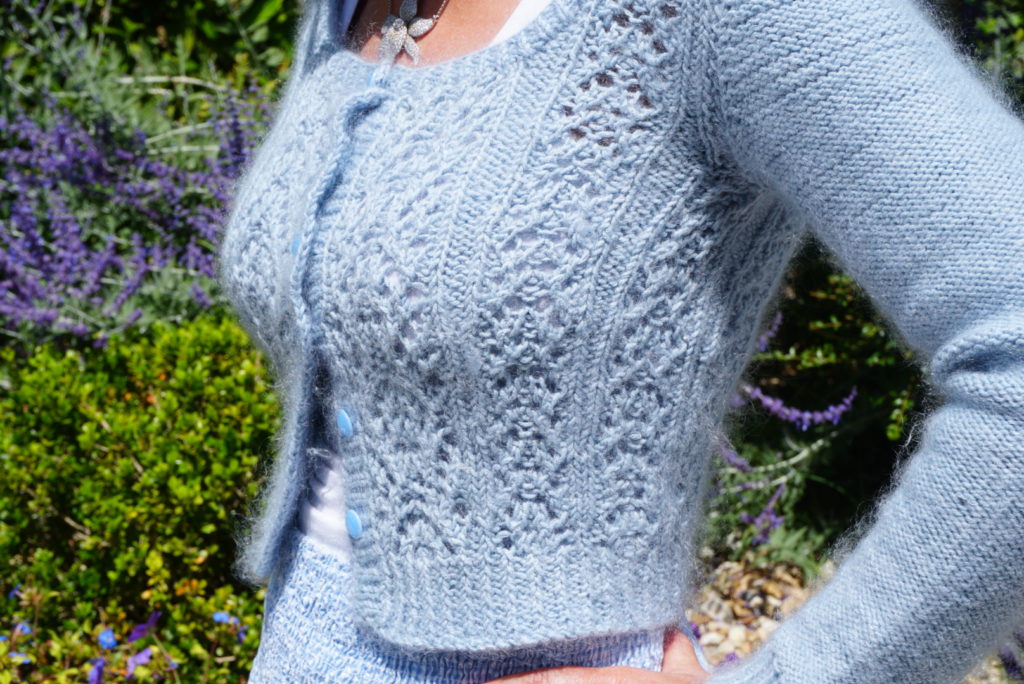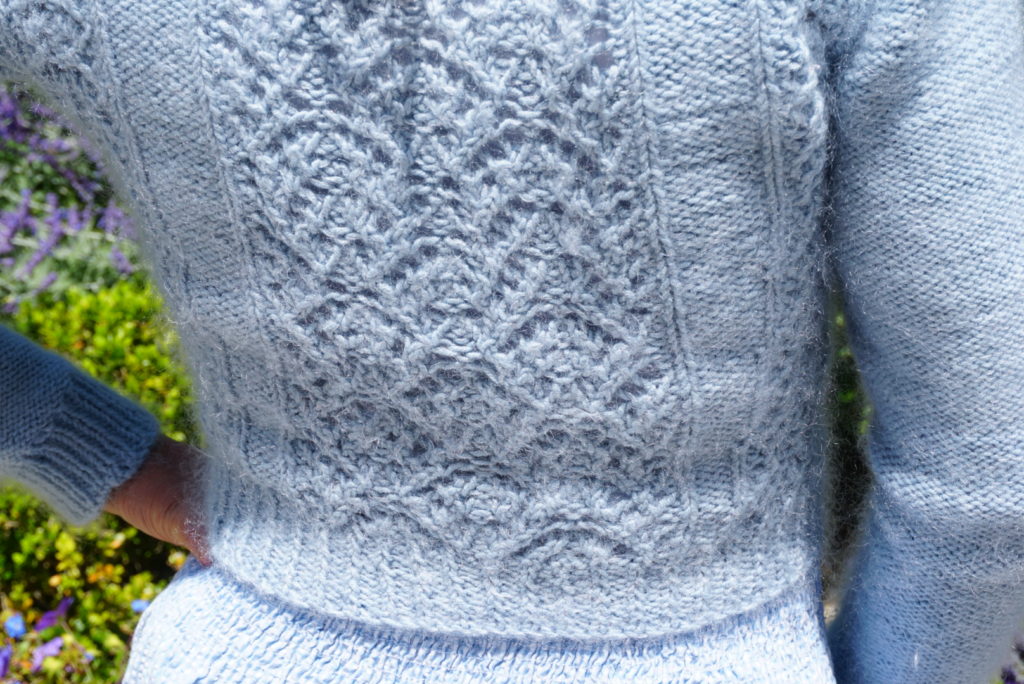 For sure there is lace absolutely everywhere in this cardigan (except for the sleeves, which as we agreed with my lovely auntie would look tacky). There are three motifs at the back, two on each side of the front and another one under each arm when you join the round while working top-down – oh God! So although the lace charts are quite straightforward, you need to stay focused all the time! But so much worth it!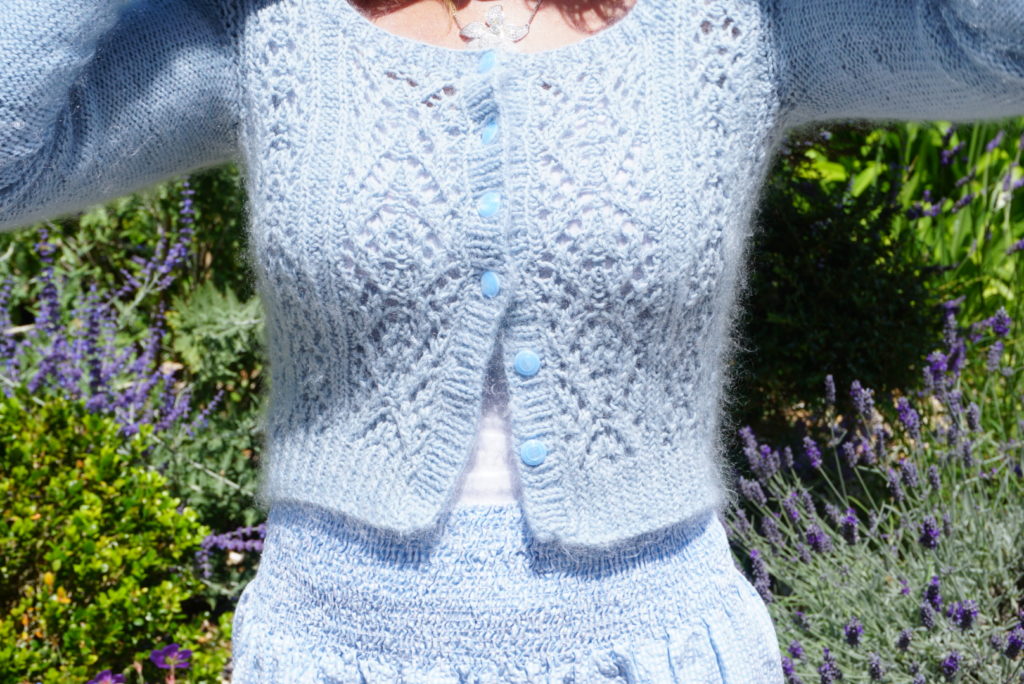 This is my third Untangling Knots project (after my Chuck jumper and my Salal cardigan) and I am an absolute fan of Andi Satturlund's knitting patterns. Initially I was attracted to their shape: always cropped and snug-fitting, they match perfectly my retro-ish dress sense.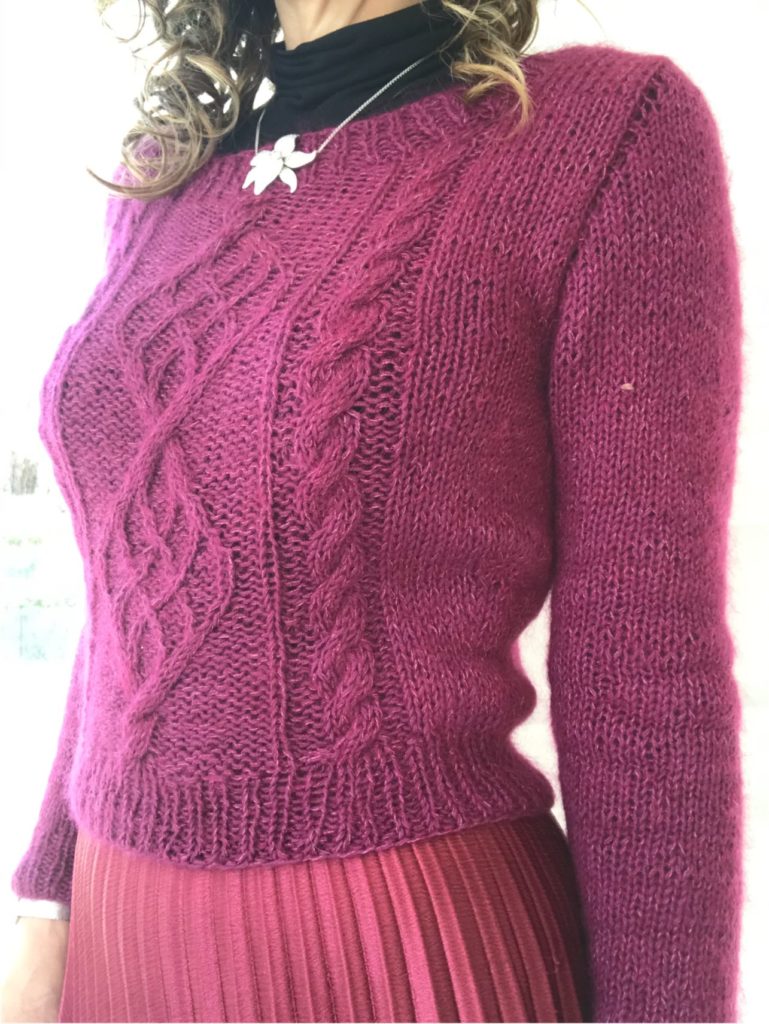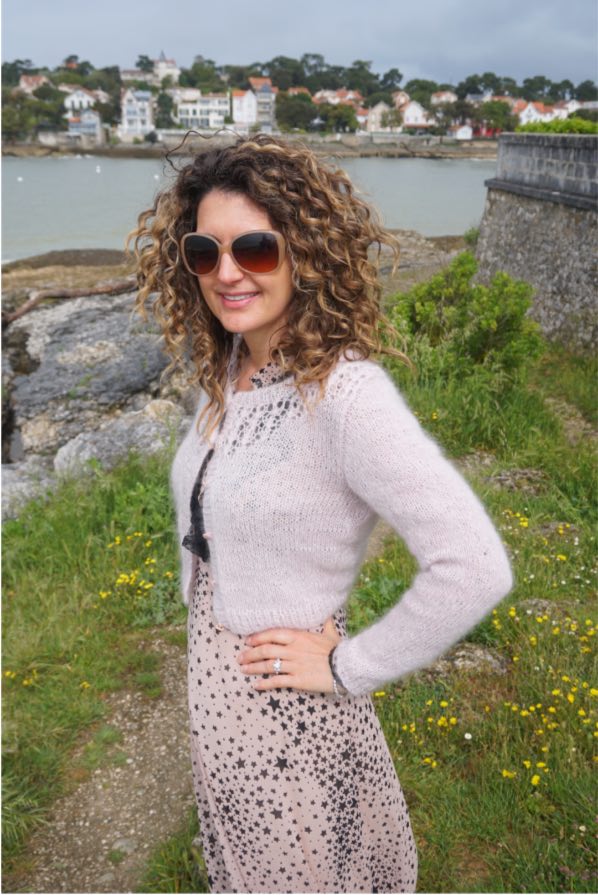 But when I started knitting them I discovered how amazingly well explained the patterns are. They also always follow the same construction logic so once you understand how they work your life is much easier. And they are perfect – I never ever make any change because I know every single stitch is calculated to be here! Anyway, I have already knitted a fourth one and many more will follow for sure!
Back to Belladonna, you will be surprised to read that I was actually grumpy most of the time while knitting it because I made a mistake in my wool order. I wanted to order the exact same Drops Baby Merino/ Drops Kid lace as the one I use for this blue jumper.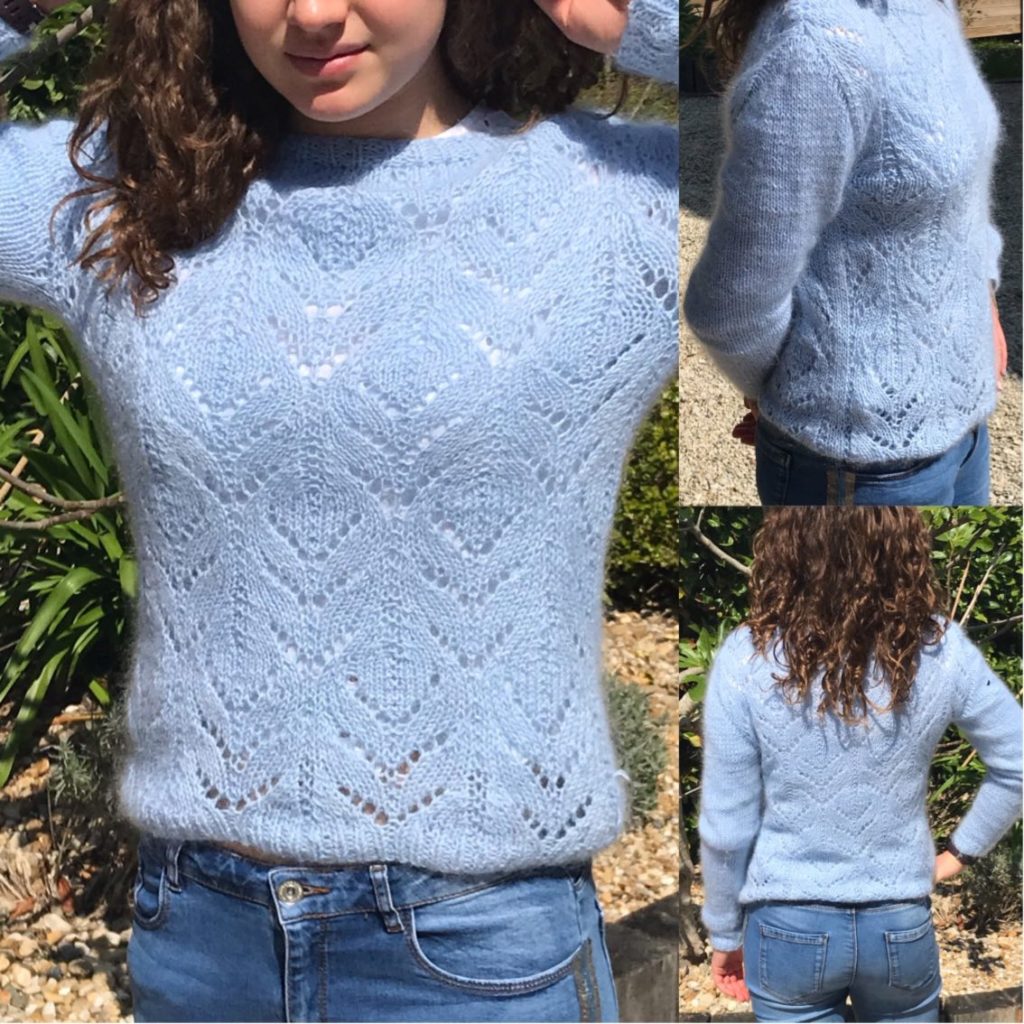 But I made a mistake and ordered what I thought was only a different colour of wool – but ended-up being also a different quality… which I only realised when I was missing wool to finish my second sleeve, horror! So in the end here is what I used: 4 skeins of Drops kid silk light steel blue 07; and 7 skeins of Drops cotton merino ice blue 09. The cotton-merino is much thicker than the baby merino so all the way though my knitting I wondered what was happening… No comment!
In the end this cardi looks completely fine and the cotton merino makes it even fluffier than the baby merino would (the picture below gives you a good idea). But it is definitely not as soft and will be only worn in the winter with long-sleeved dresses!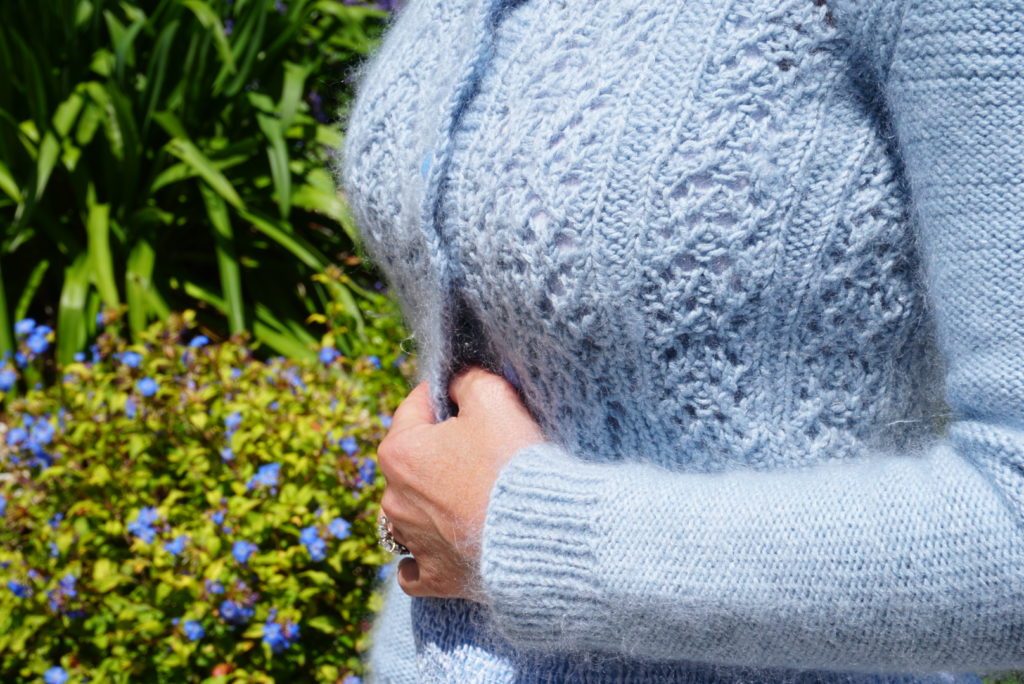 Appart from the wool drama, I am very pleased with this cardi and I am so tempted to make another one in royal blue – but I need two weeks of peace and quiet for that, and with the kids' summer holiday looming this is unlikely to happen any time soon… So maybe one for autumn, we'll see!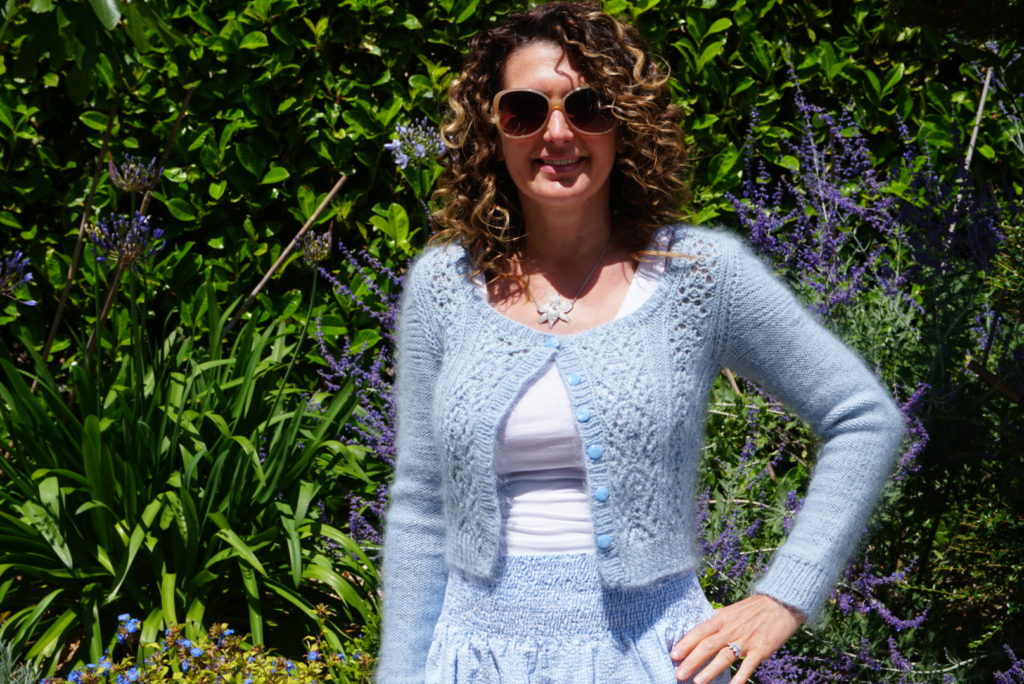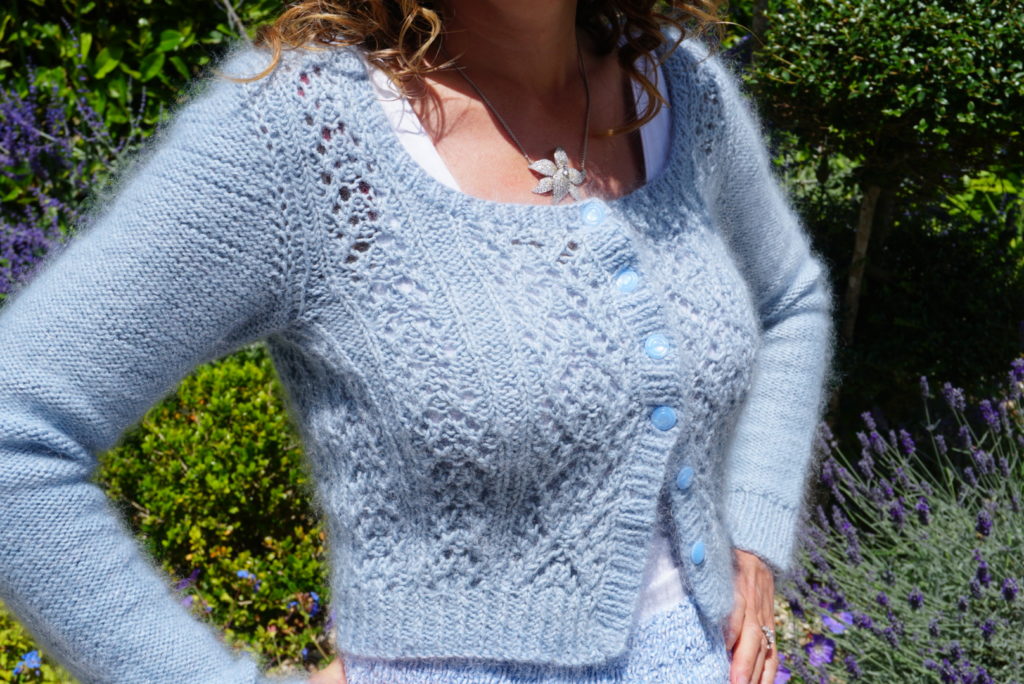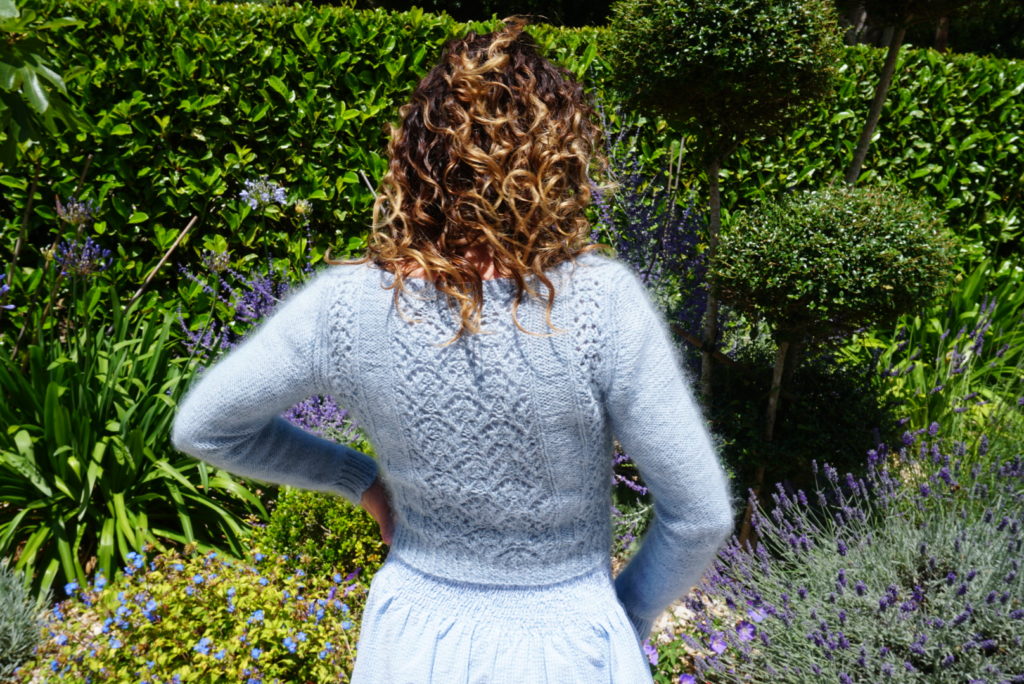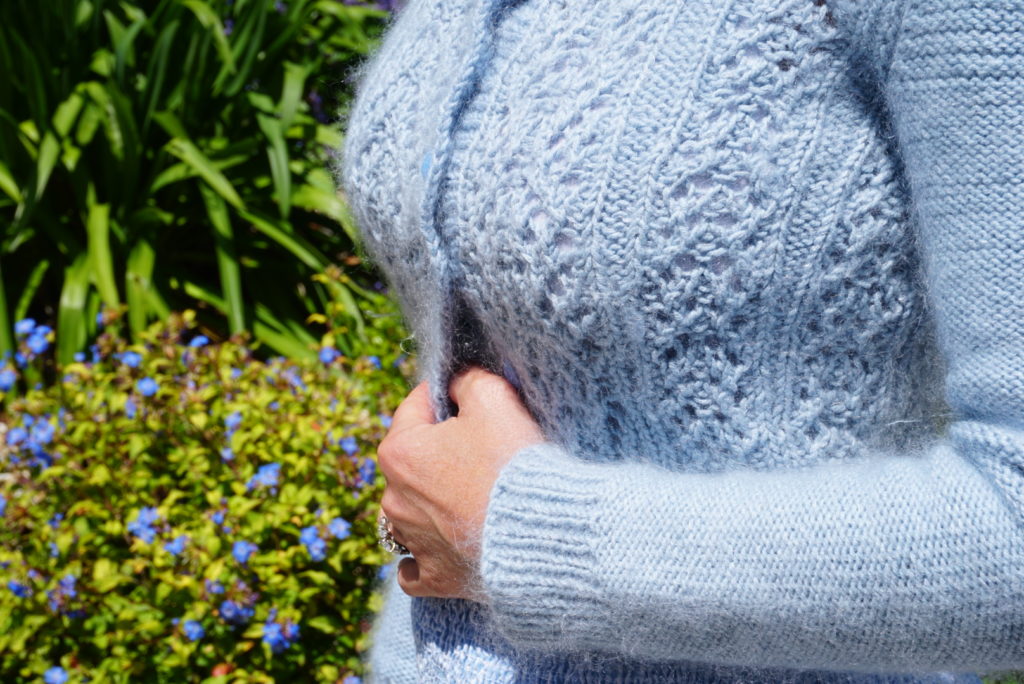 Three Elegante skirts for the winter
My ever-growing collection of hand-knitted cardigans has been calling for matching skirts since the beginning of the winter. What better excuse to make a few Elegante skirts, a pattern by Popeline Linon I had been eying for a while. So here is version 1, in an embroidered denim fabric from Selvedge and Bolts: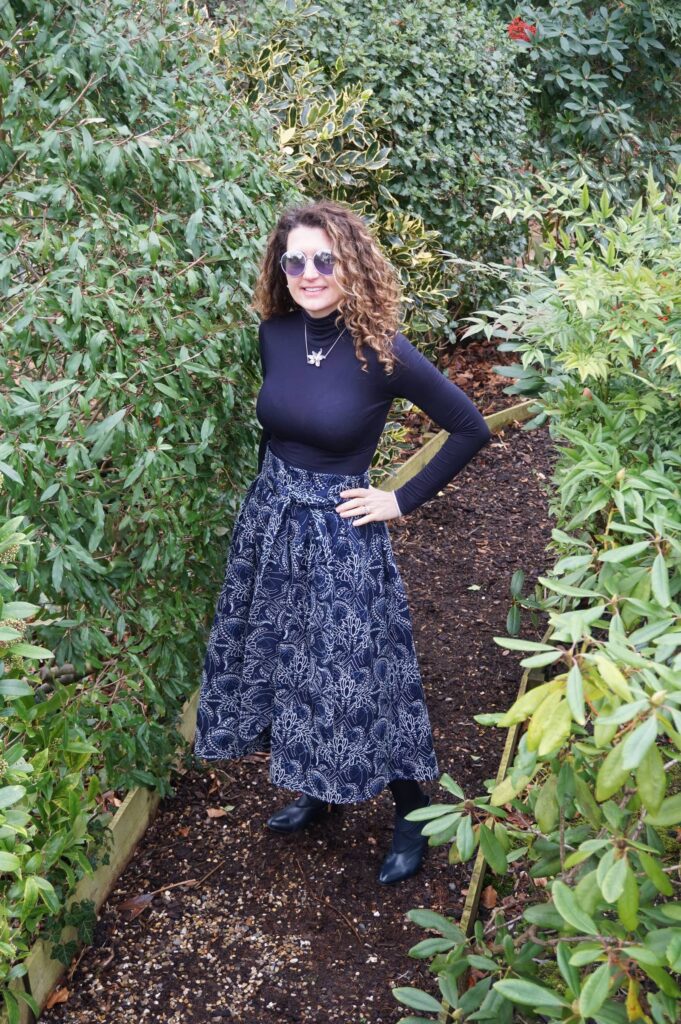 … version 2 in a candy pink and baby blue brocard, also from Selvedge and Bolts: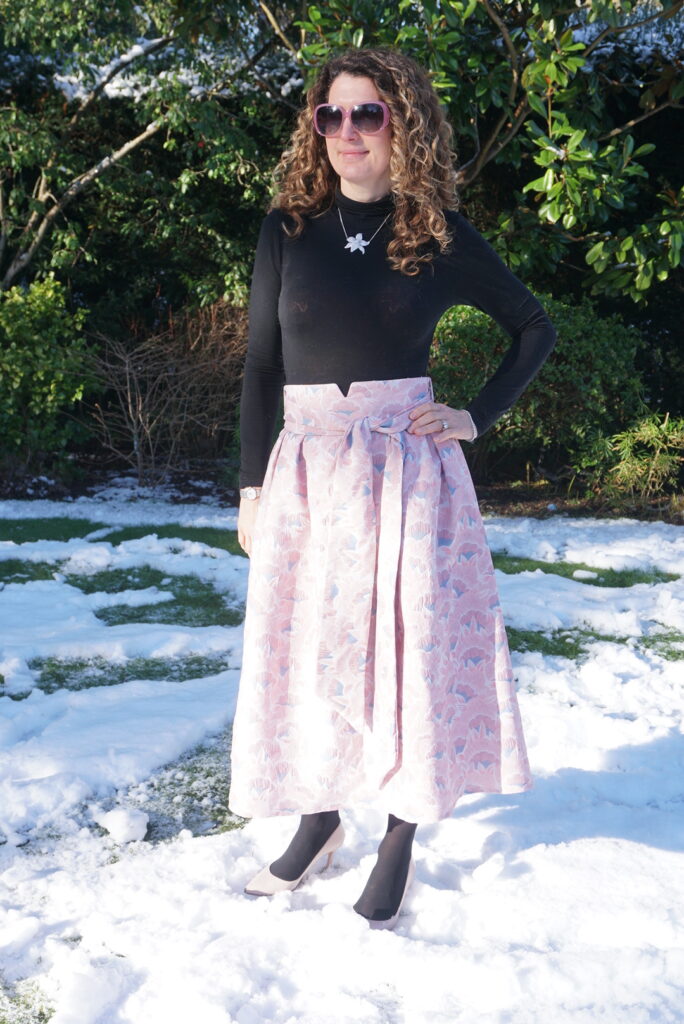 … and version three, in an off-white and black checked wool from Croftmill: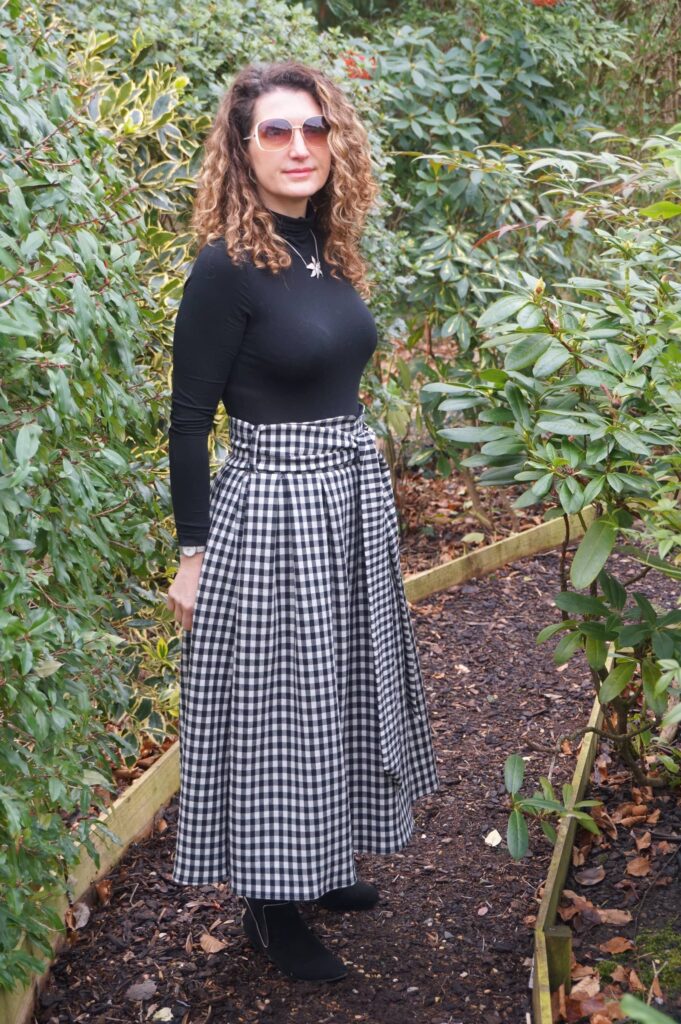 L'Elegante by Popeline Linon: pattern review
L'Elegante is a midi (on the longer midi side actually) skirt, pleated at the waist with box-pleats and with a very pretty shaped waist. It comes with a large belt, which in my view is absolutely necessary to make – without it, the skirt loses a lot of its appeal.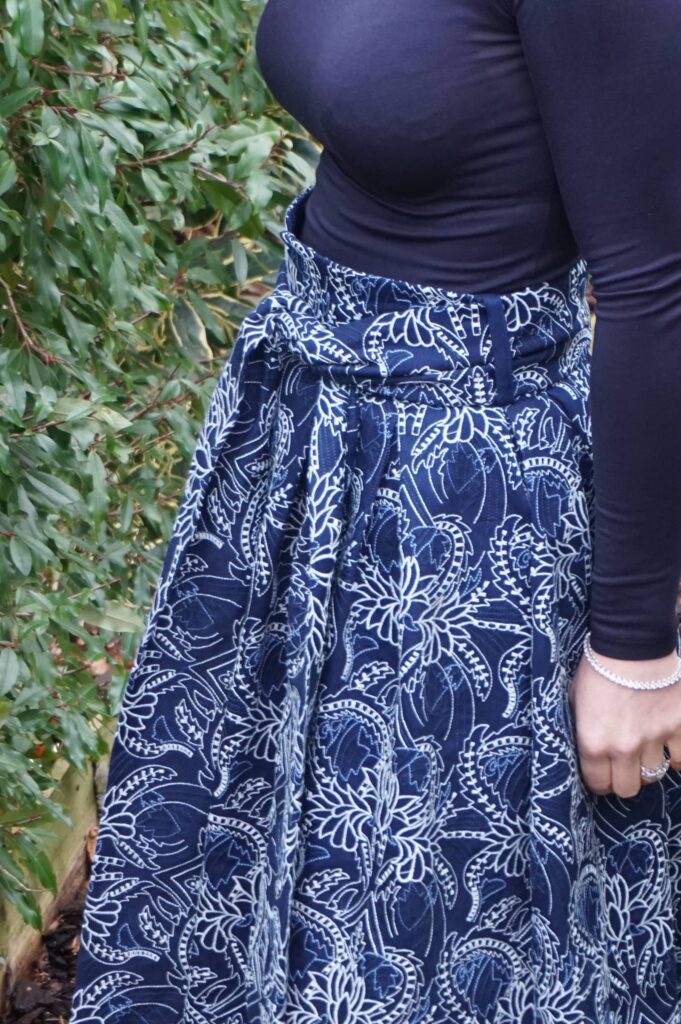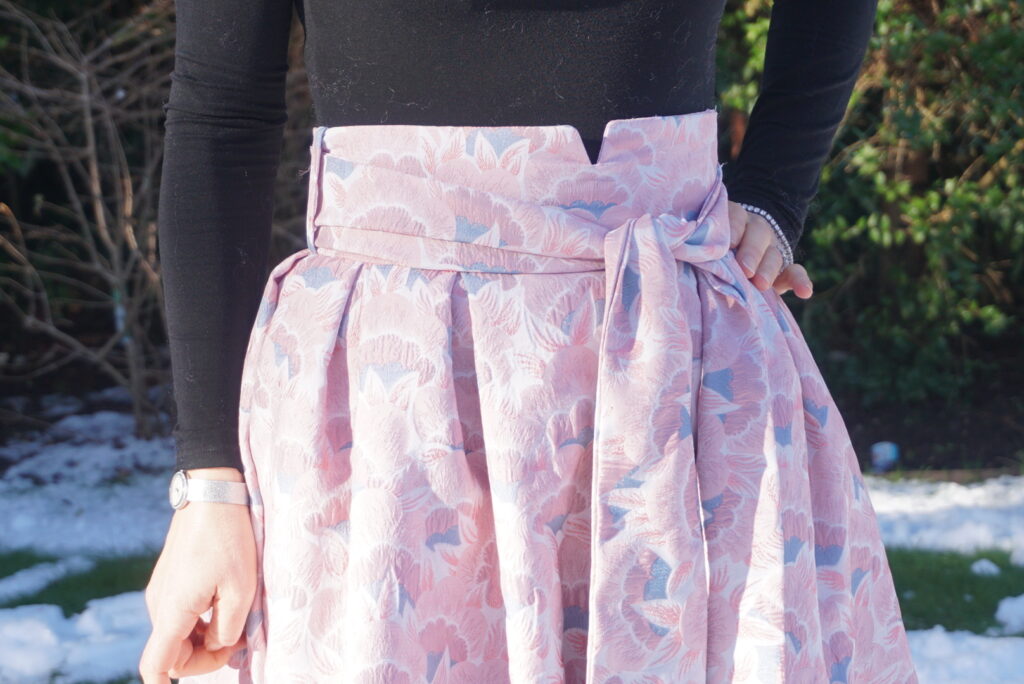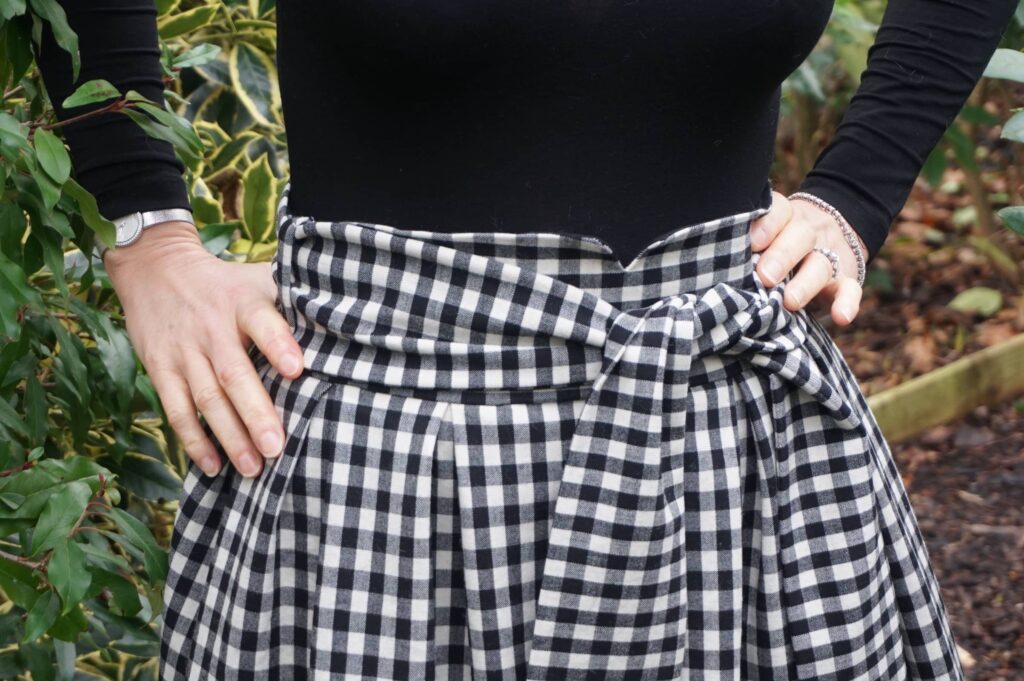 The pleats are well-proportioned and well-positioned – not funny effect at the back, I assure you!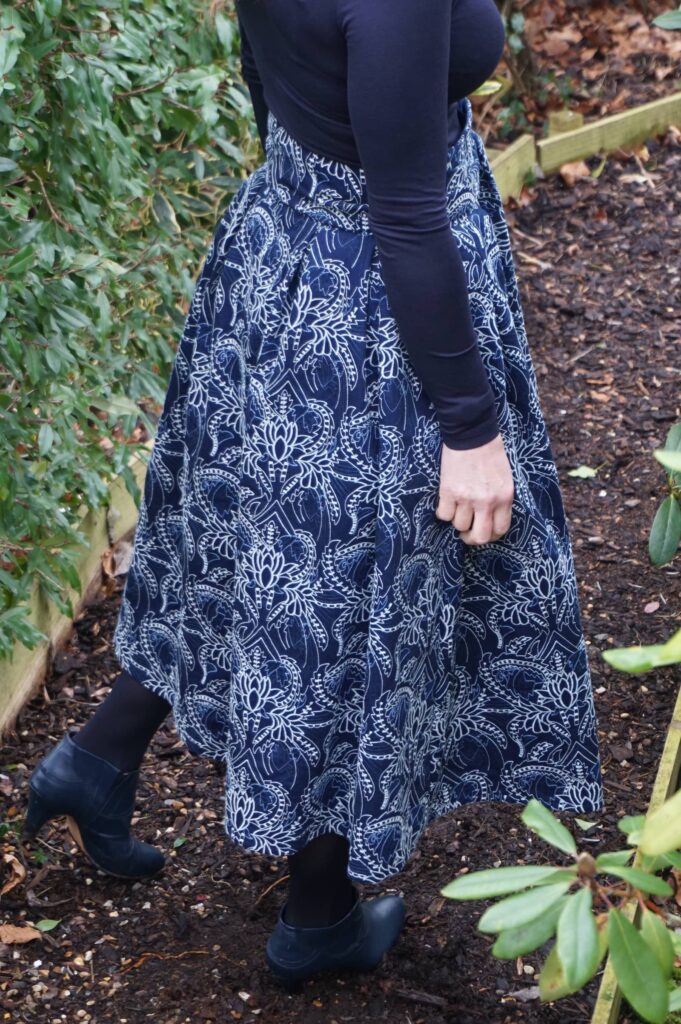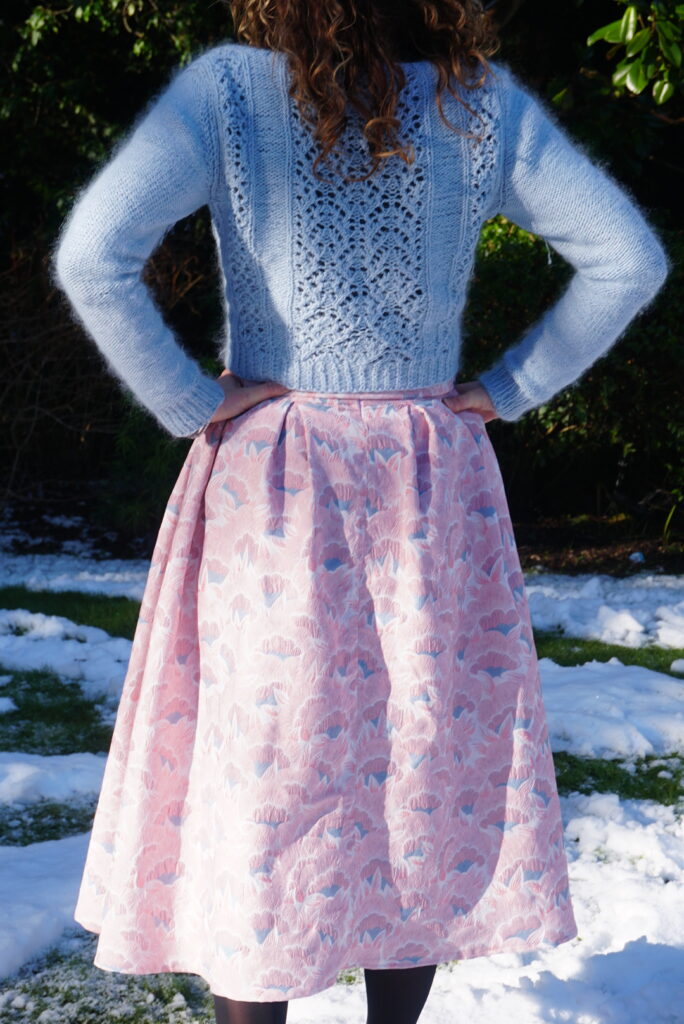 The pattern was issued a while ago and was a success among French Instagram seamstresses – now I know why! It is quite straightforward to make, very comfortable to wear and consumes a relatively modest amount of fabric for a big skirt (2.3m in my case).
I cut a size 36, which corresponded exactly to my waist measurements, and the fit is perfect – the waist measurement is crucial but the hip measurement is pretty irrelevant, as the skirt is not fitted. I am 1m68 and the skirt is quite long for a midi skirt and could easily be shortened – I personally like it this way.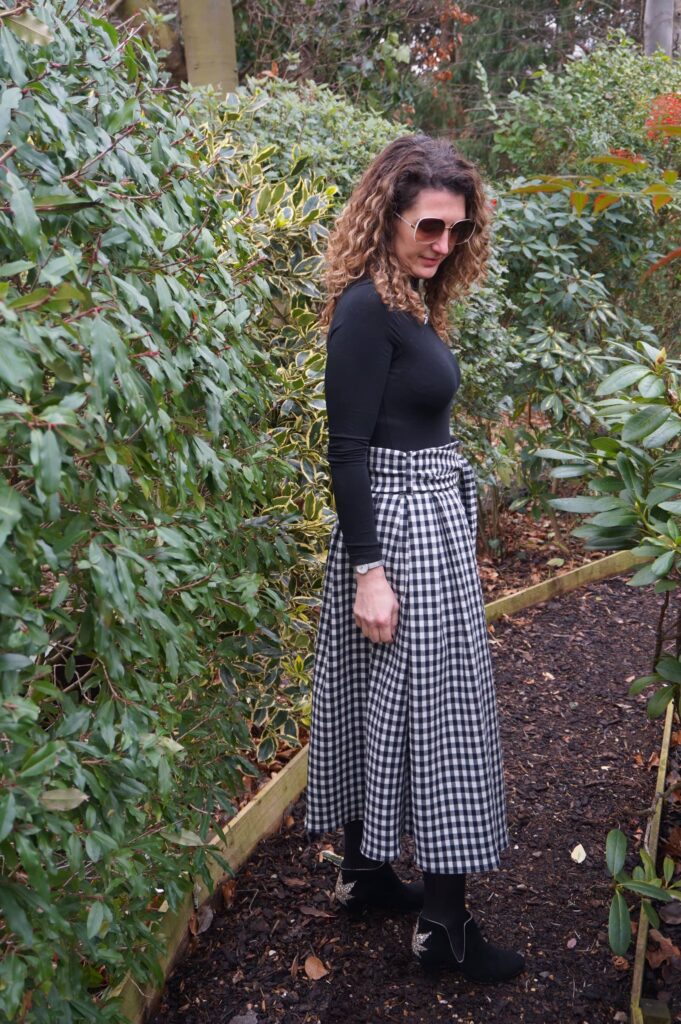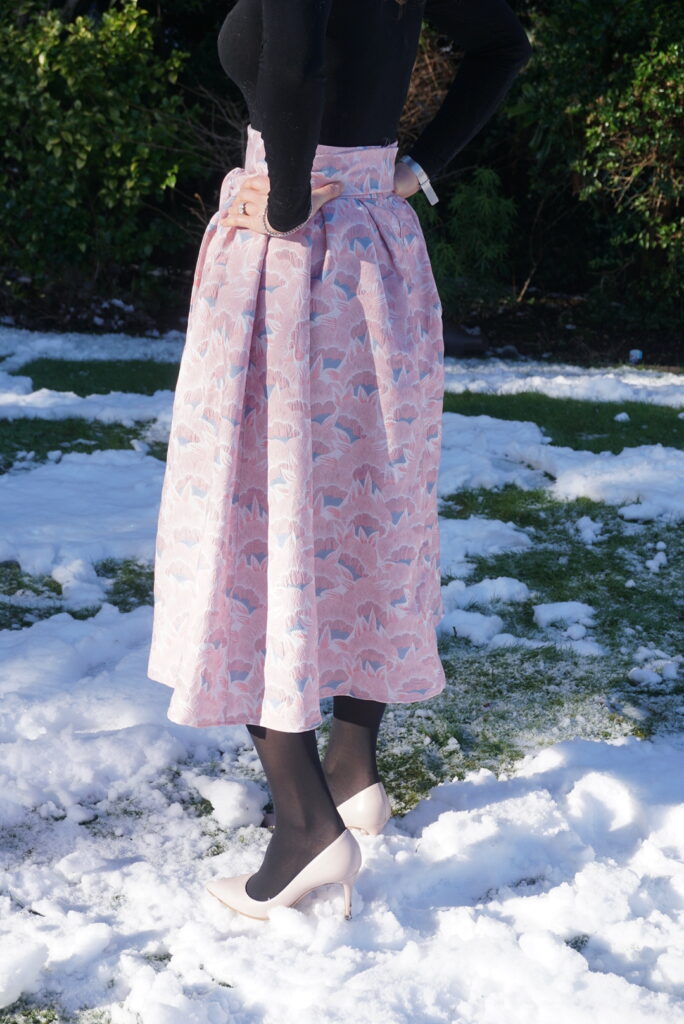 The instructions are very clear (although I am not sure using a busy floral fabric for the pictures was the best idea) and the only change I made to te pattern was lining the skirt (I'm sure you could have guessed that!!). I basically cut a rectangle of fabric of 150x70cm, gathered the top to the belt width and sandwiched it into the belt.
Fabrics used
I used very different-looking fabrics and I am very pleased with each of them. The one thing they have in common is that they are reasonably heavy and structured (but not overly so), which I think works well with the box-pleats.
Fabric one is an embroidered denim from Selvedge and Bolts. The denim is quite light in itself but the amount of embroidery makes it much stiffer and heavier. I really like the fact that there are some blue threads in the embroidery, allowing me to mix and match with my blue Belladonna cardigans (number 2 here).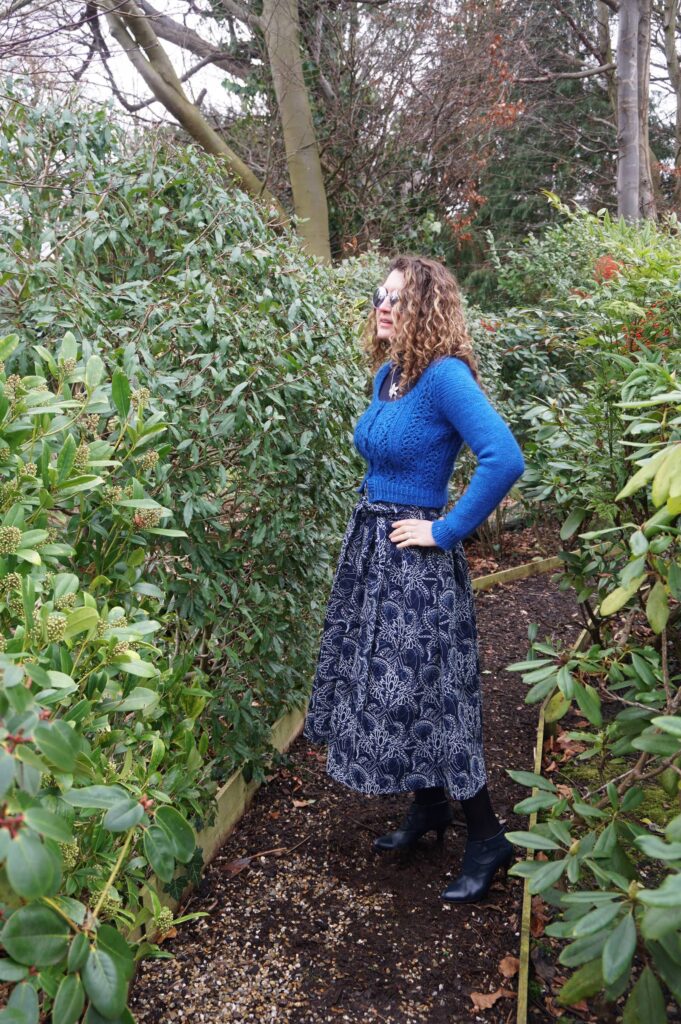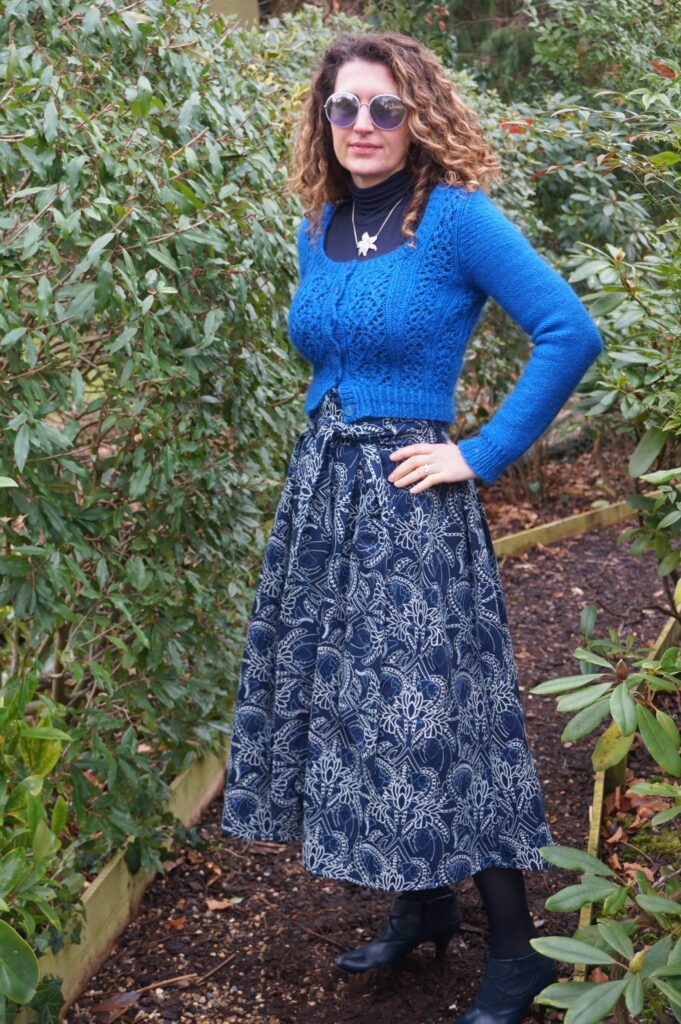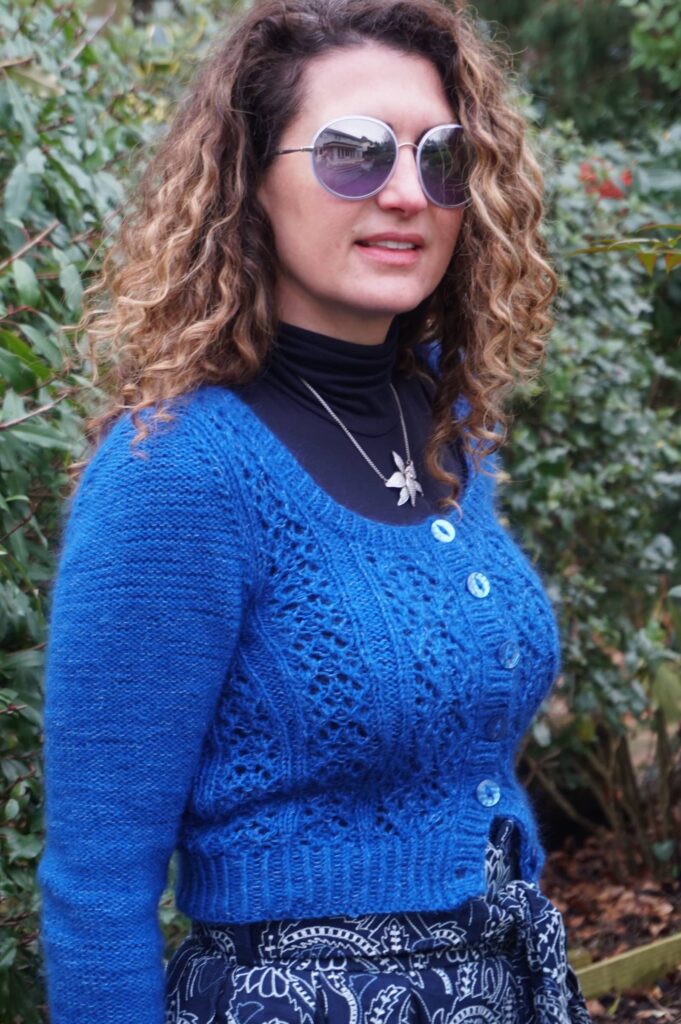 Fabric 2 is a light brocart, from Selvedge and Bolts too. I absolutely adore the colours – I am a candy girl at heart – and I think I will be able to transition this skirt easily into Spring. Here too a perfect match with Belladonna, version 1 this time.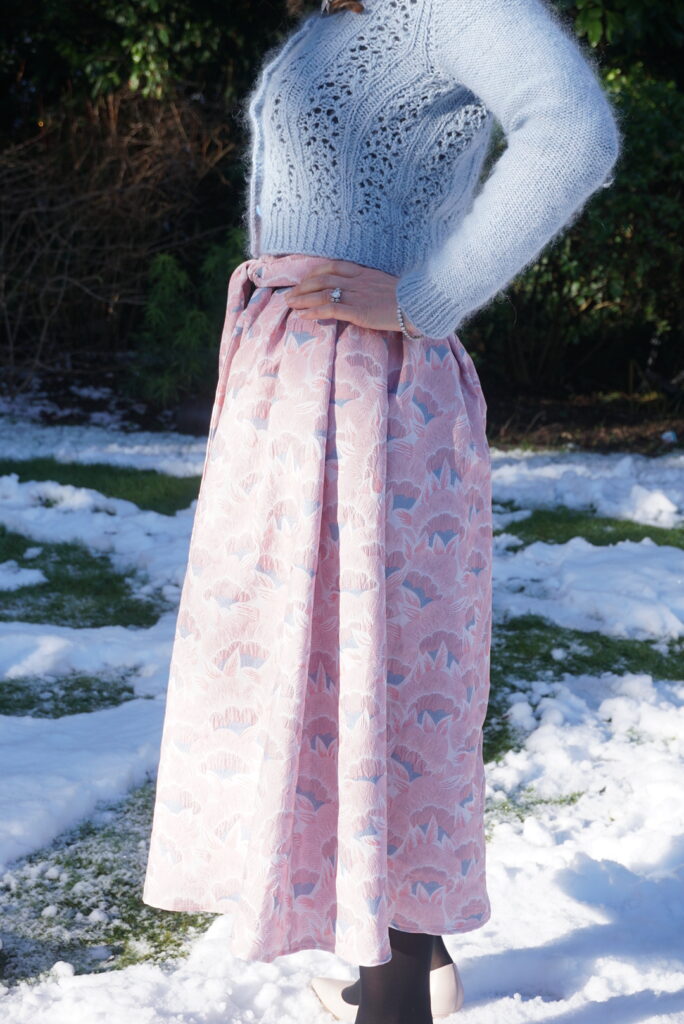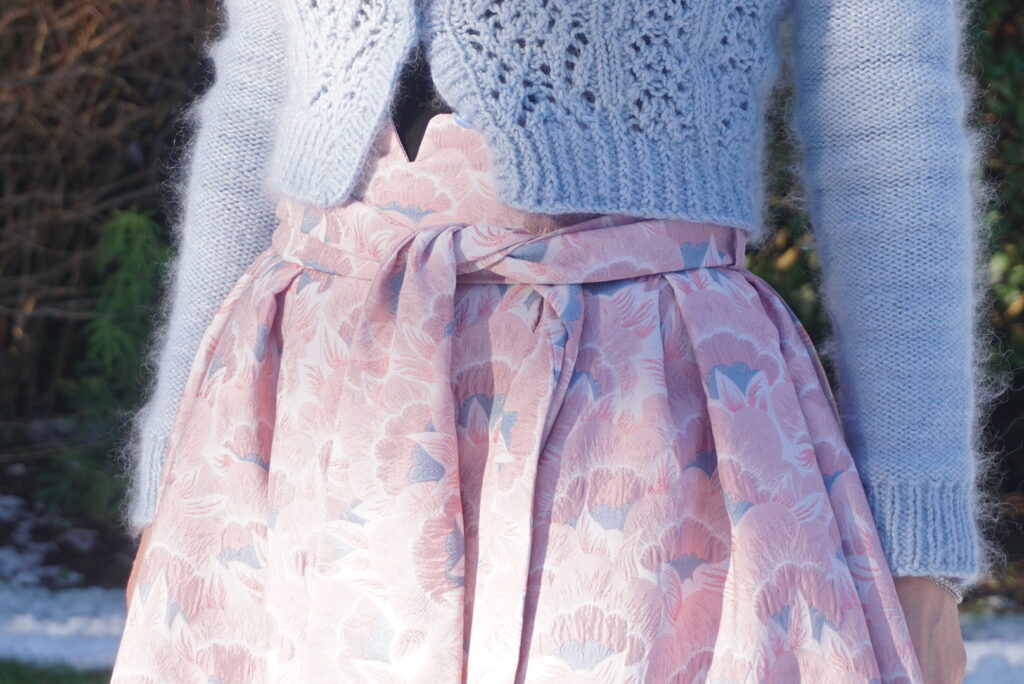 Fabric 3 is a slightly stretchy checked wool from Croftmill – the stretch was definitely not necessary but never mind. As ever for Croftmill's wools, the quality is to die for – if I was not worried about pattern matching (definitely not a success here), I would definitely buy more to make a fitted dress. This one will be worn with my off-white Agatha and my black Belladonna cardigans.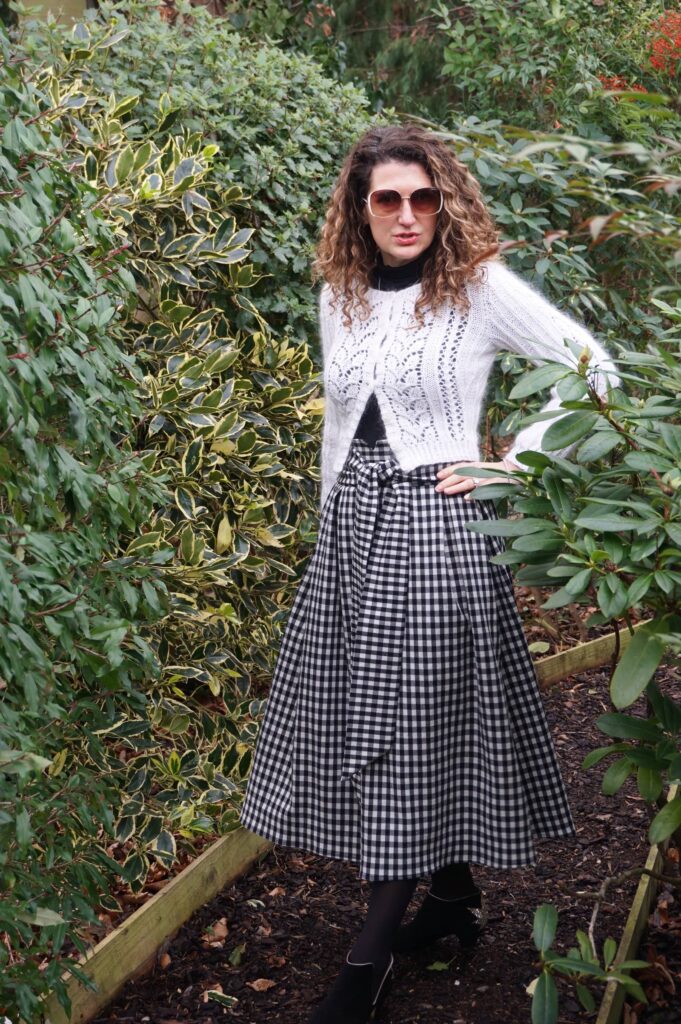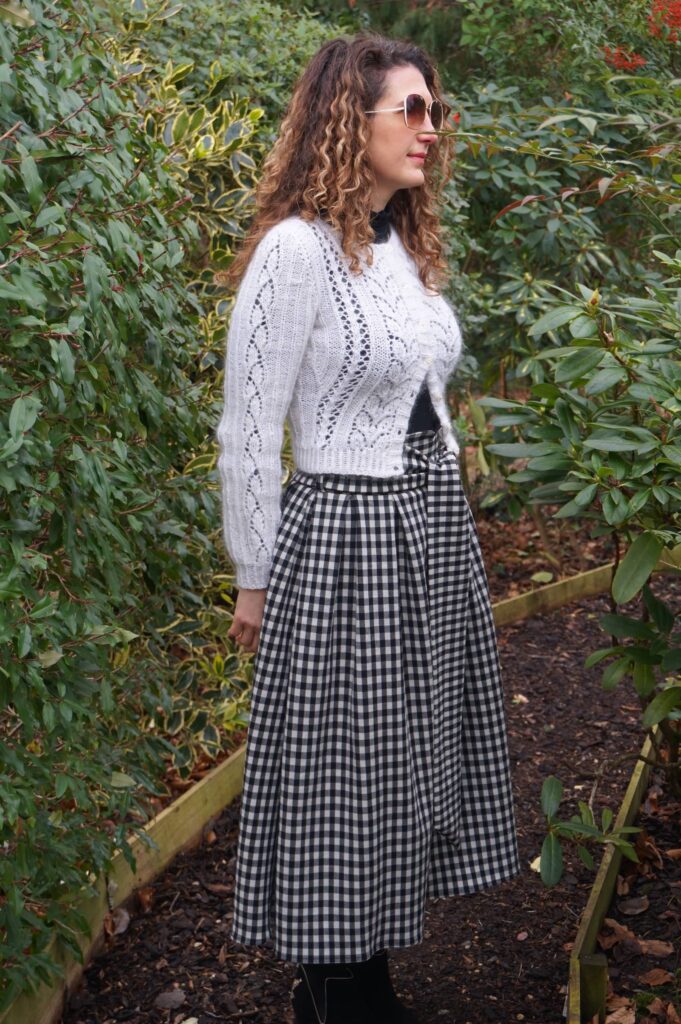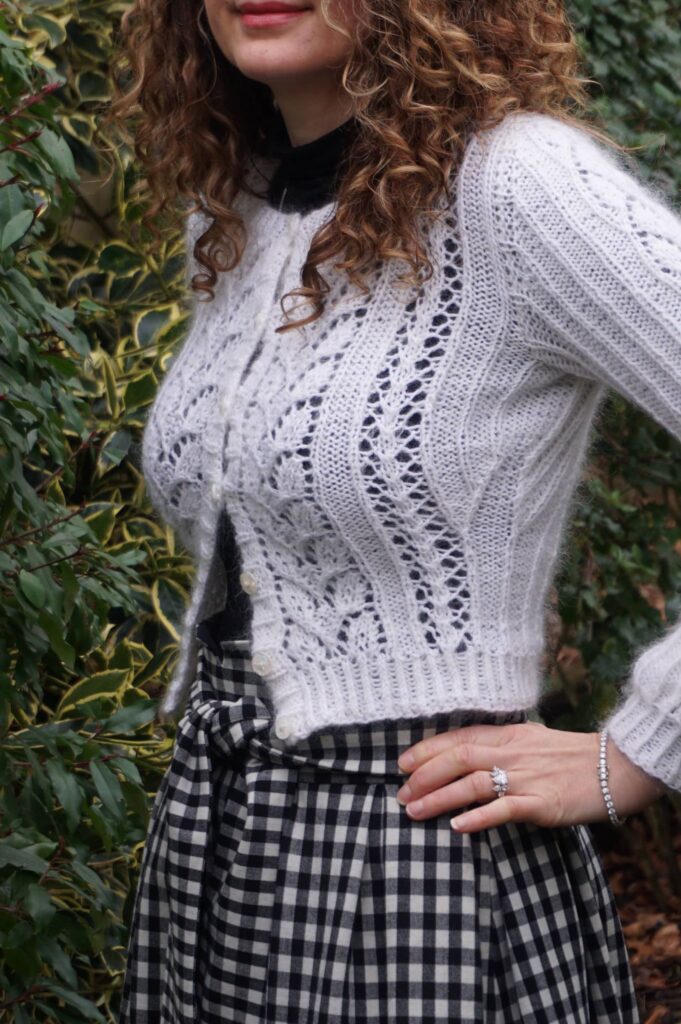 Conclusion
I must admit that I was hugely tempted to make dresses out of these fabrics – I always am – but I am very pleased I didn't. This winter has been quite cold by London standards and skirts are so much easier to wear than dresses when it's colder (especially with thermal turtlenecks!). They also perfectly work with my hand-knitted cardigans – and I definitely needed a justification to continue knitting more. A never-ending virtuous circle of garment making!