Royal blue sew & knit combo: M7081 + Belladonna
Now that I have become a competent knitter (thanks to lockdown!), one of my targets is to matches my hand-knitted and hand-sewn garments. And knitting a cardigan to wear with the dress sat very high on my list of projects for Autumn 2020 (reviewed in this article).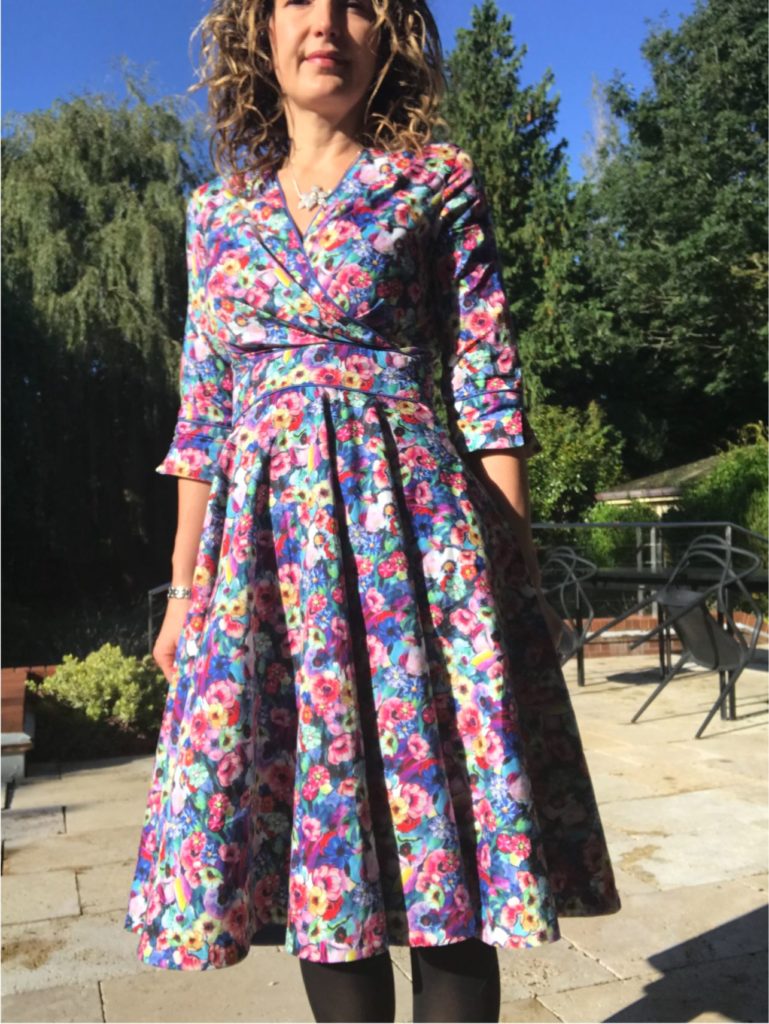 This dress is one of my favourite, so much so that she has a red twin sister.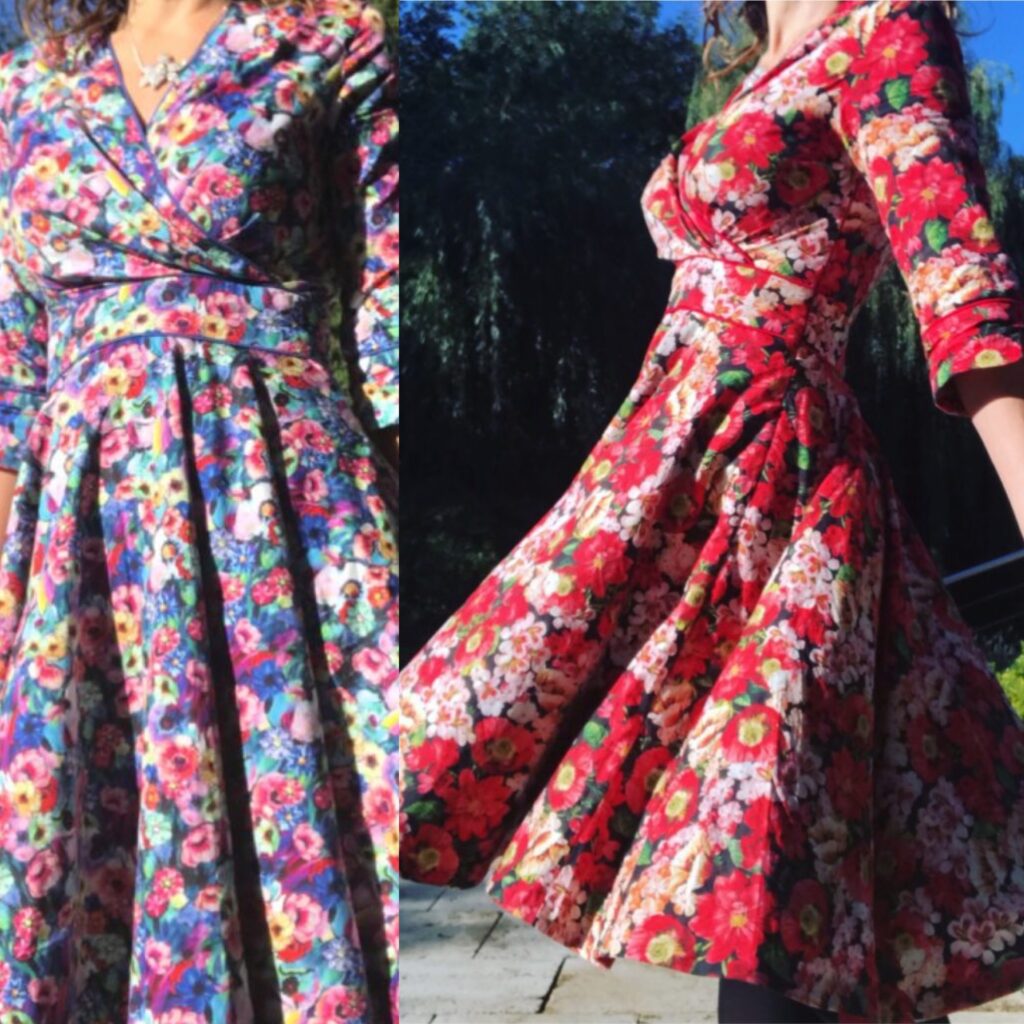 But strangely enough I never blogged about any of them. Let's remedy this!
The pattern is McCall's M7081 – a knee-lenght dress with a mock-wrap bodice and a full circle skirt, joined by quite a large belt. The bodice has pleats instead of darts for bust ease, which make the dress it very pretty.
I cut a straight size 10 without any adjustment. I even avoided the dreaded FBA (I am an E cup), which is why the skirt slightly pulls up at the front. But for once I am not too bothered.
The changes I made to the initial pattern are purey aesthetic: I omitted the collar, inserted some piping at the neckline, belt and sleeves and added sleeve cuffs.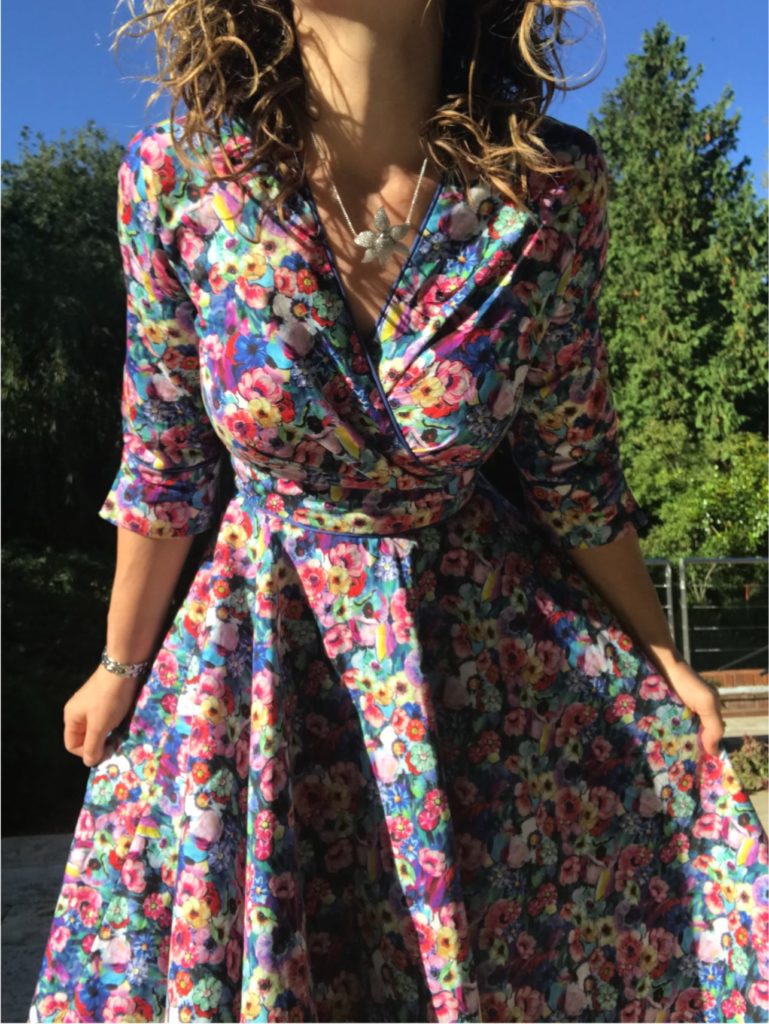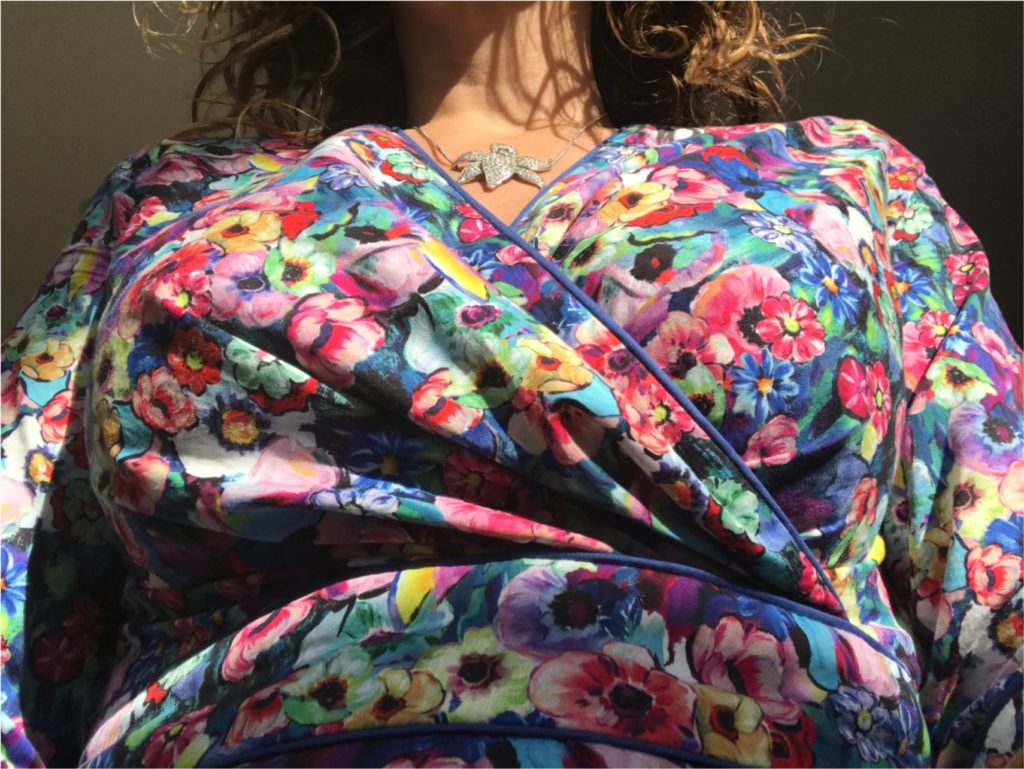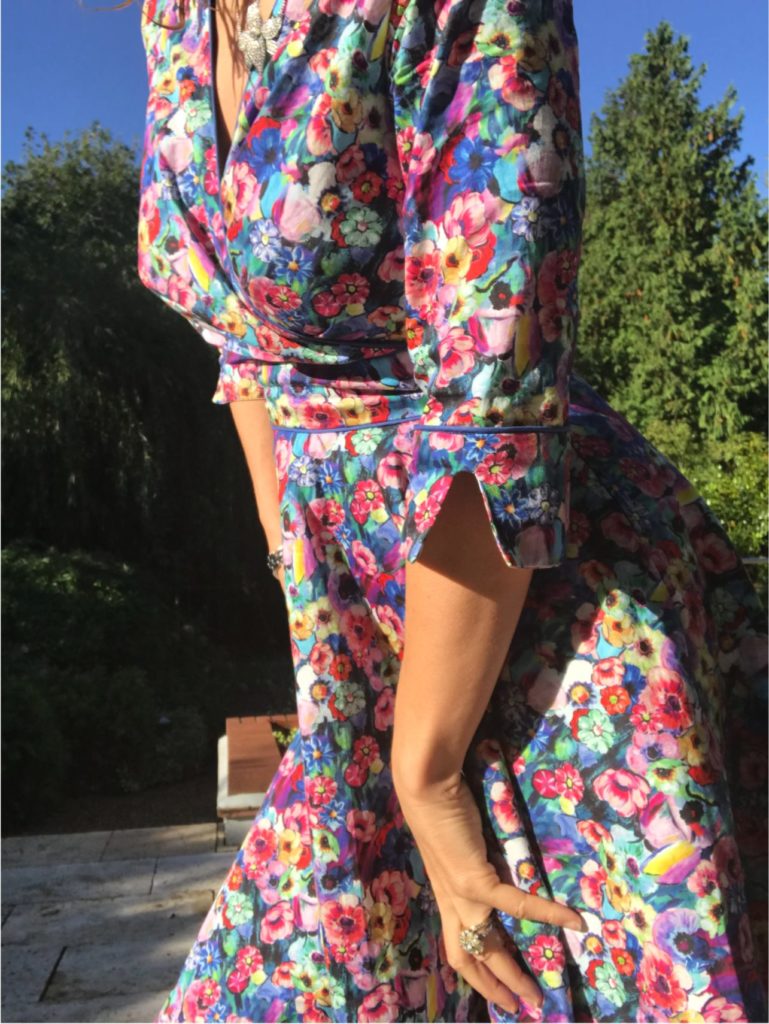 The fabric is a Dolce & Gabbana lawn-weight cotton , bought from Sew Me Sunshine. This fabric is magnificent and largely explains my adoration for this dress.
But the fabric being lightweight, the dress definitely needed a cardigan, cropped of course. Here it is!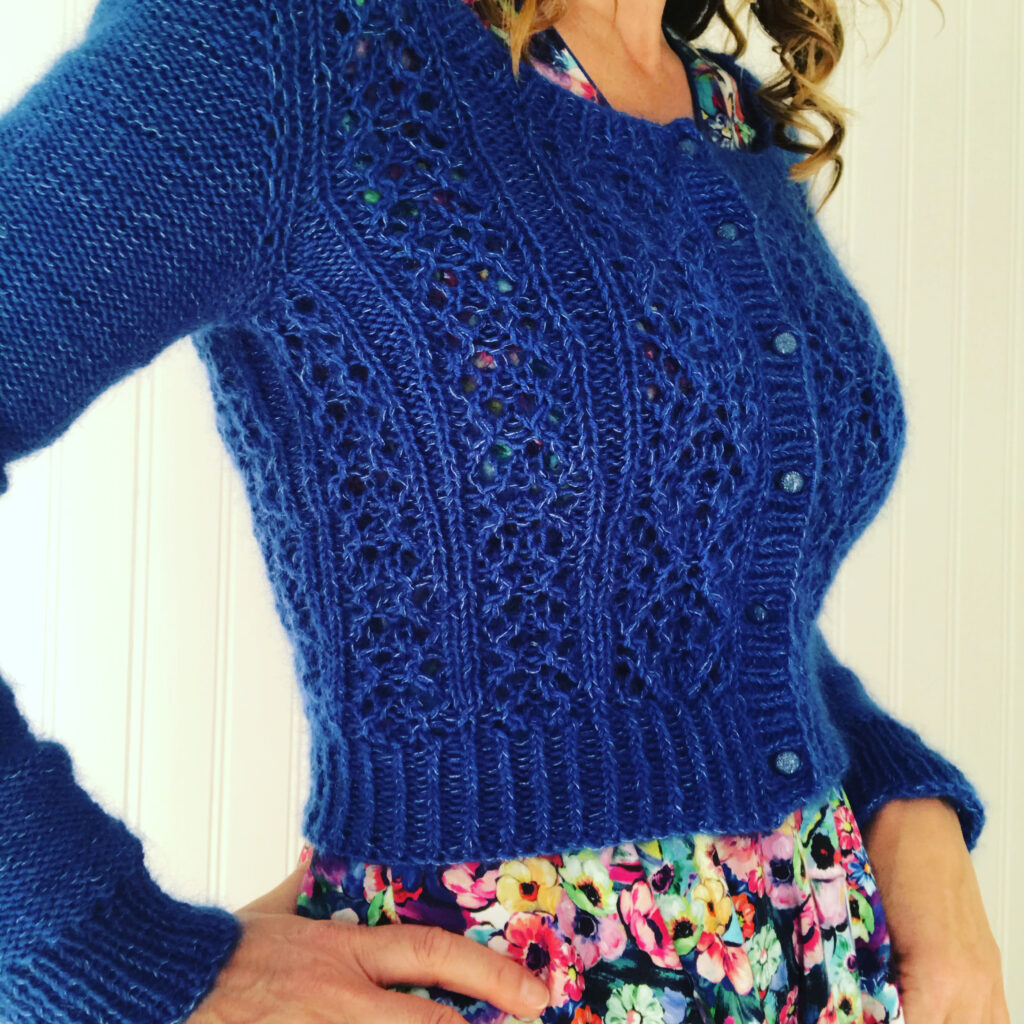 You may have recognised Belladonna by Andi Sutterland, a stunning cardigan with all-over lace which I already knitted earlier this year – see here for the article on my first Belladonna.
I absolutely adore this pattern, the all-over lace effect is gorgeous and the cropped length is perfect. And the pattern is so perfect, crystal clear to follow.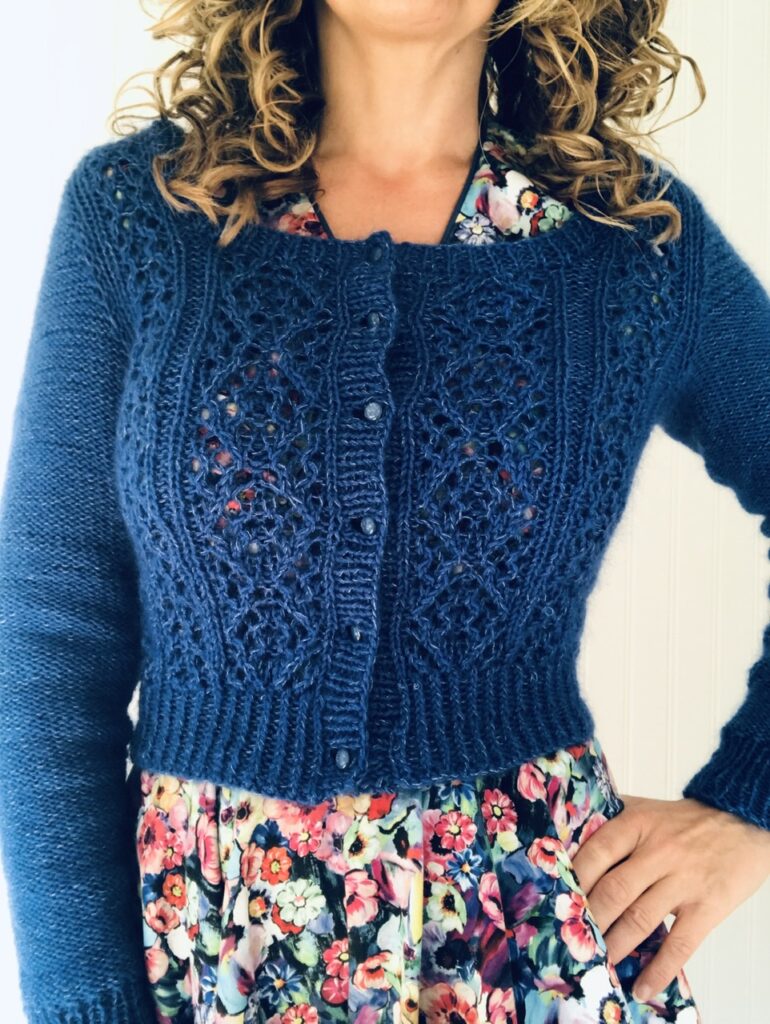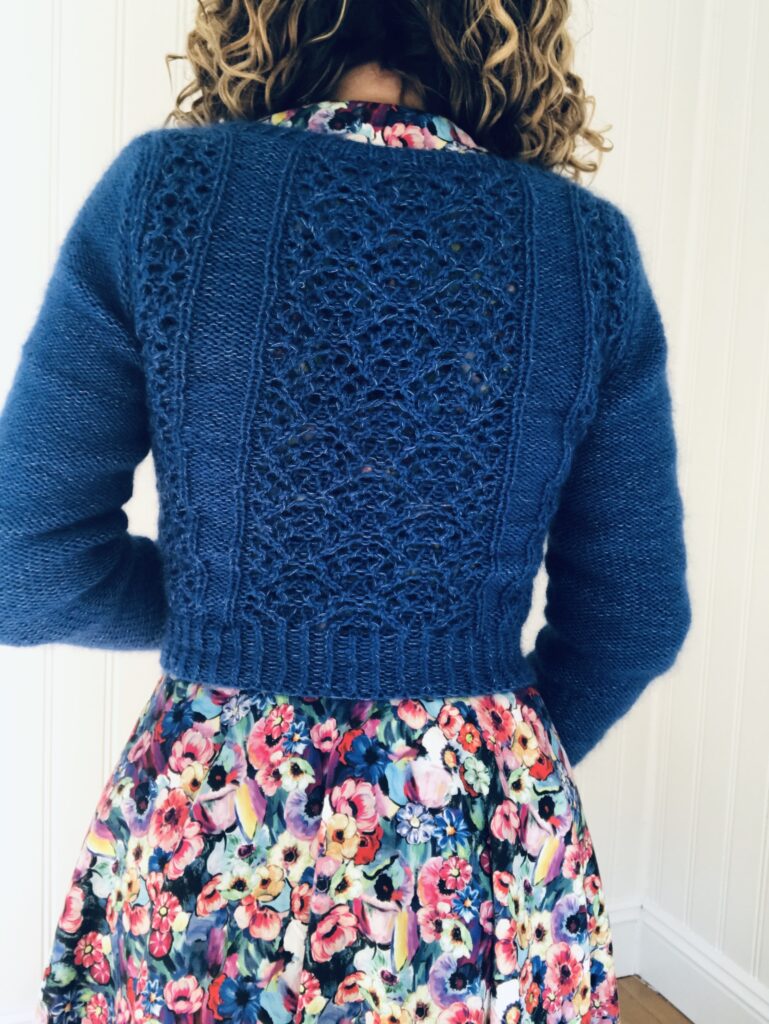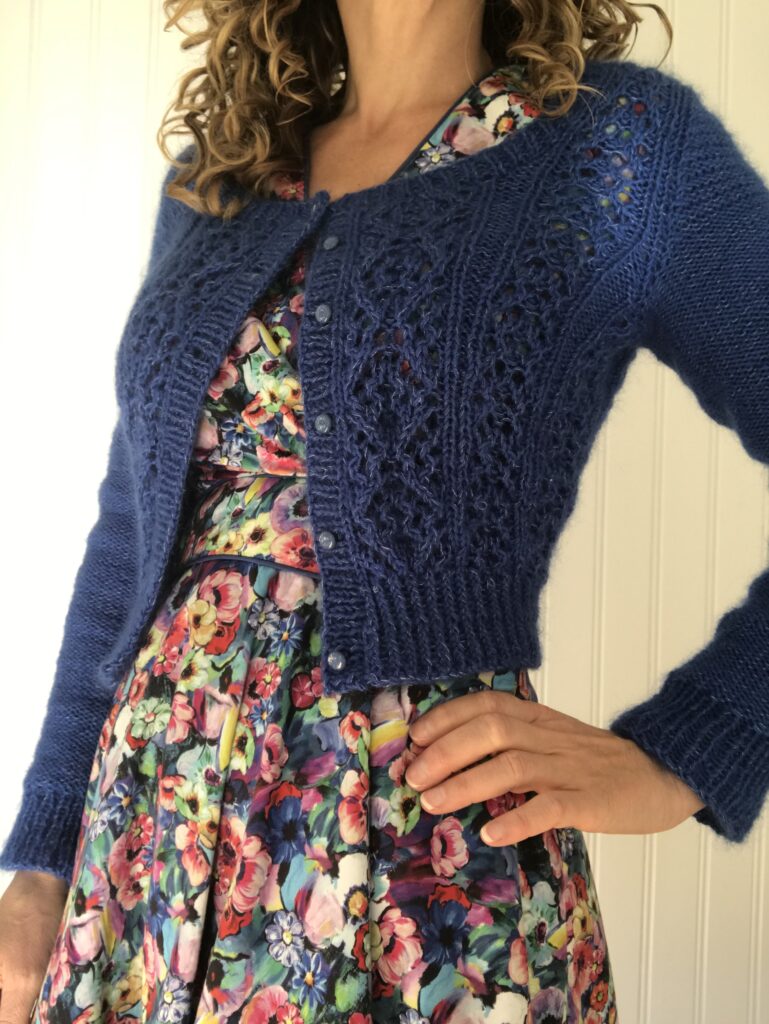 I used a combination of Drops Baby Merino Electric Blue 33 and Drops Kid Silk Cobalt blue 21. I had knitted this combination already for my daughter and the result is a magnificent vivid blue, the pictures of the cardigan actually don't give it full justice.
My only disappointment is that Drops seems to have slightly changed the Kid Silk, adding some white speckle, which makes it less bright – I realised it when after knitting the back and front down to underarm level with my wool leftovers, I started using my new wool and… it just did not match at all! I therefore had to start all over again! But all worth it, because this dress-cardigan combo is exactly what I had envisioned !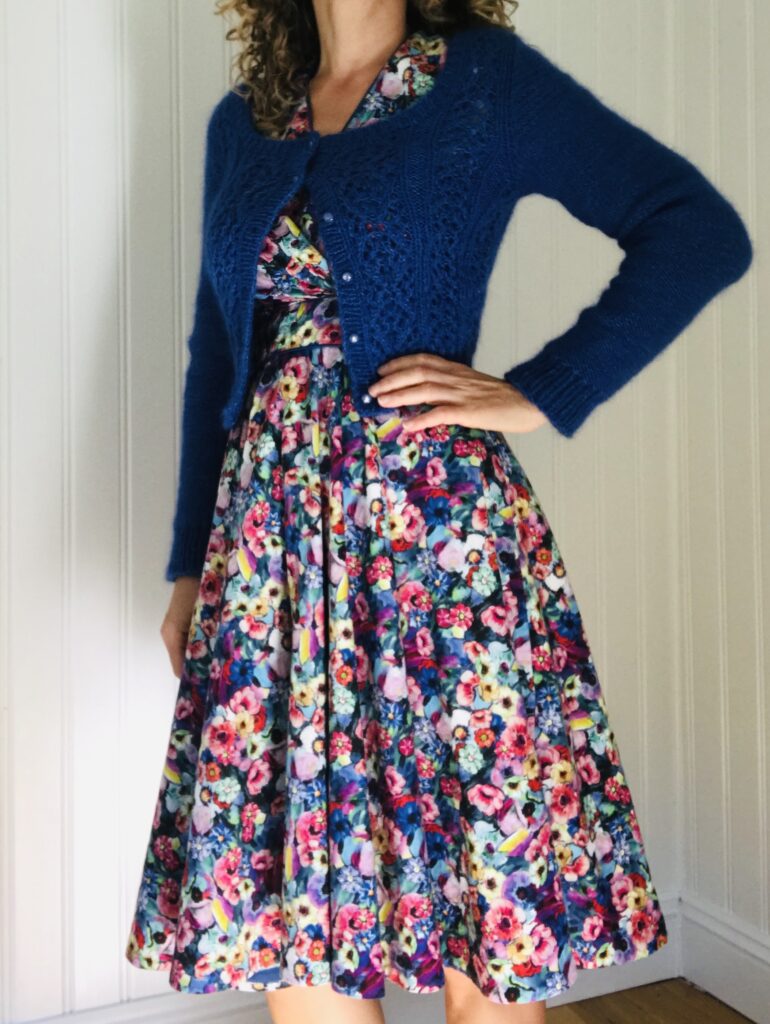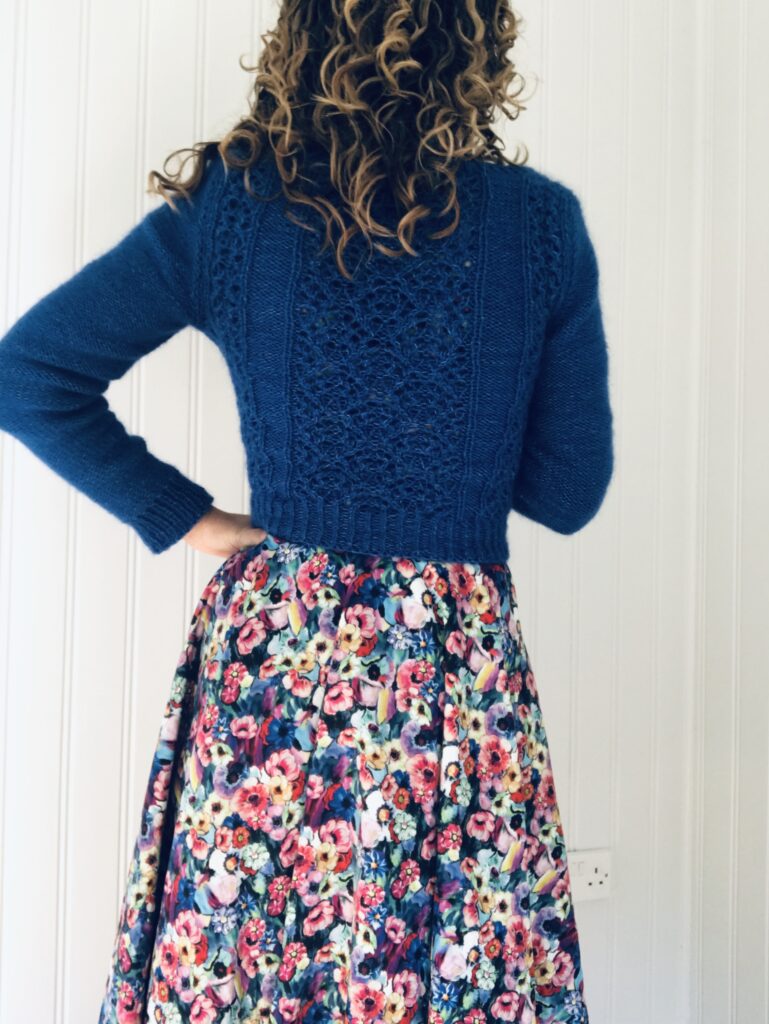 One combo done, two more to come…
Compare and Contrast: the Summer Wrap Dress
As I told you in my previous article, I did make a second navy version of the M7081 dress, pretty much immediately after the first coral one. So here it is, in a little compare and contrast exercise with its twin sister!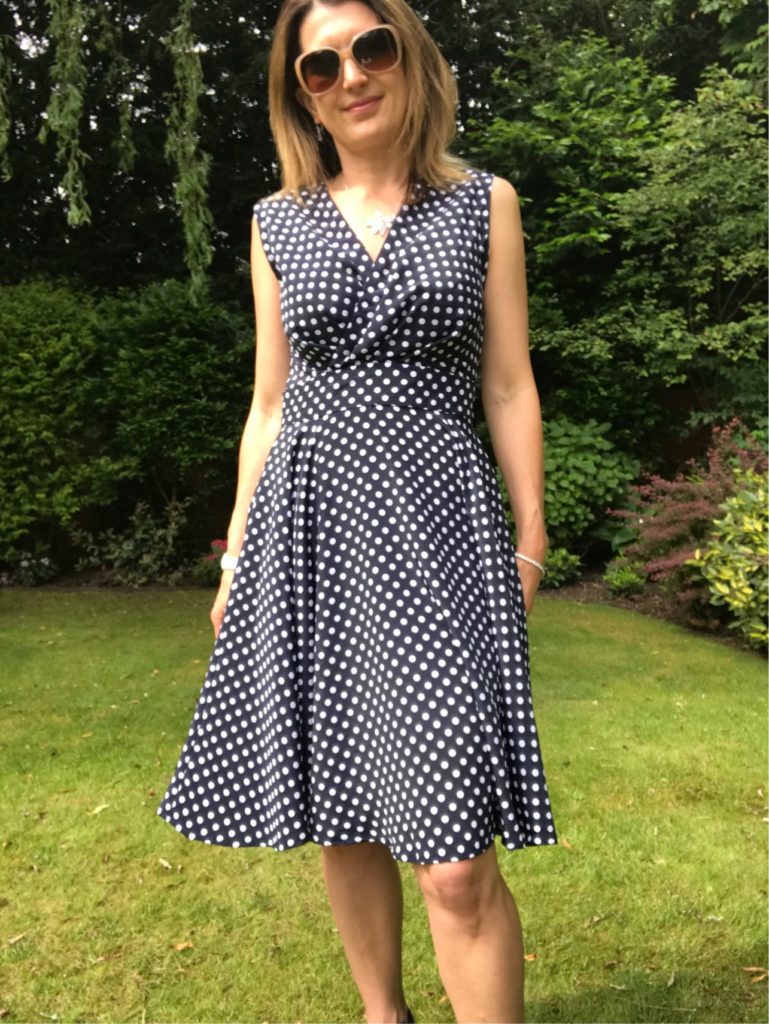 I reviewed this pattern in full details here, so I'm not going to do it again – in summary I absolutely love everything about it: the wrapped bodice, the belt, the full-circle skirt! I also love the fact that it is so versatile, as a 3/4 sleeve version is offered, so a winter version will probably appear in my wardrobe at some stage.
The main difference between the two dresses is, quite obviously, the fabric – I chose spots for both dresses, quite a funny coincidence which I did not even notice until putting the pictures ! Both fabrics come from my beloved Fabrics Galore. But the coral fabric is a lightweight cotton, which despite its weight has the inherent rigidity of cotton; while the navy fabric is a viscose (I think, although could also be polyester) fabric, quite heavy and with a wonderful drape. I was convinced that a drape fabric would lead to a much better result with this dress but the result is not so clear-cut – each fabric has is pros and cons.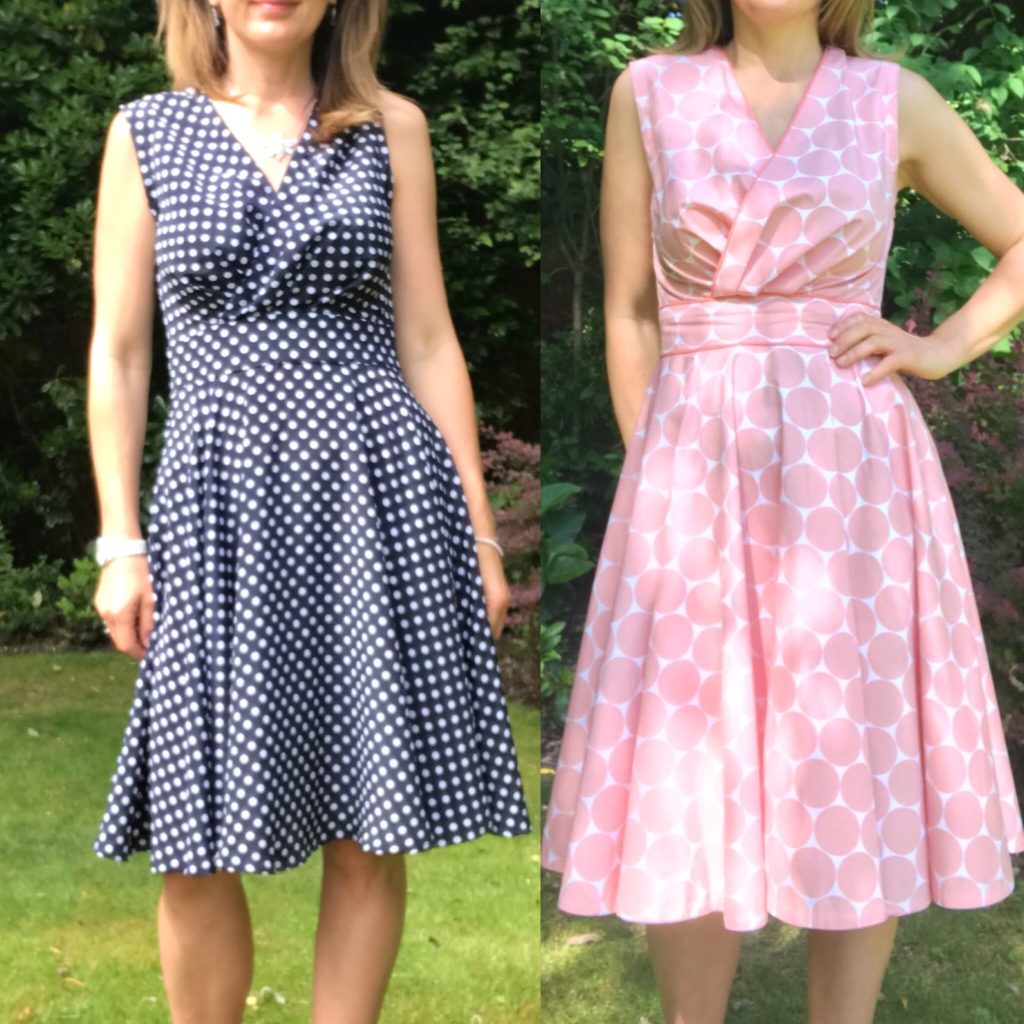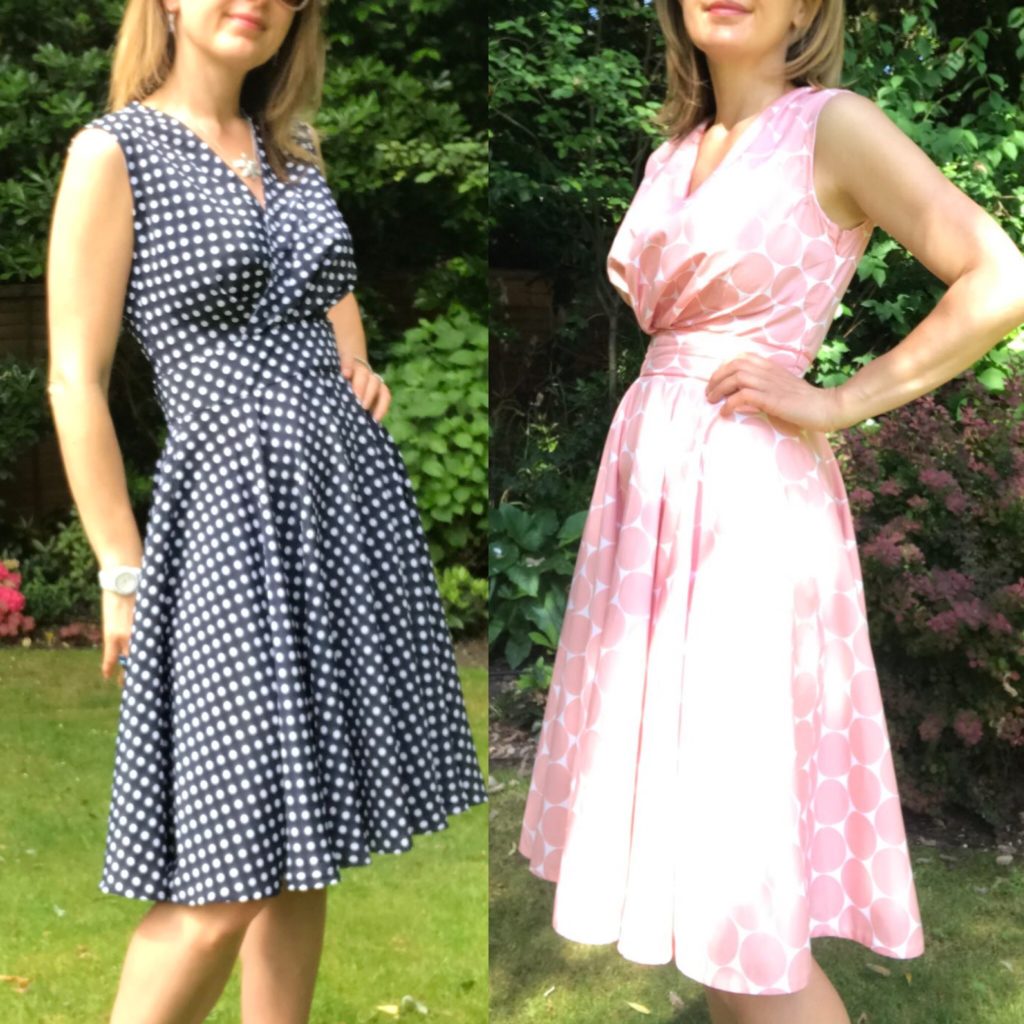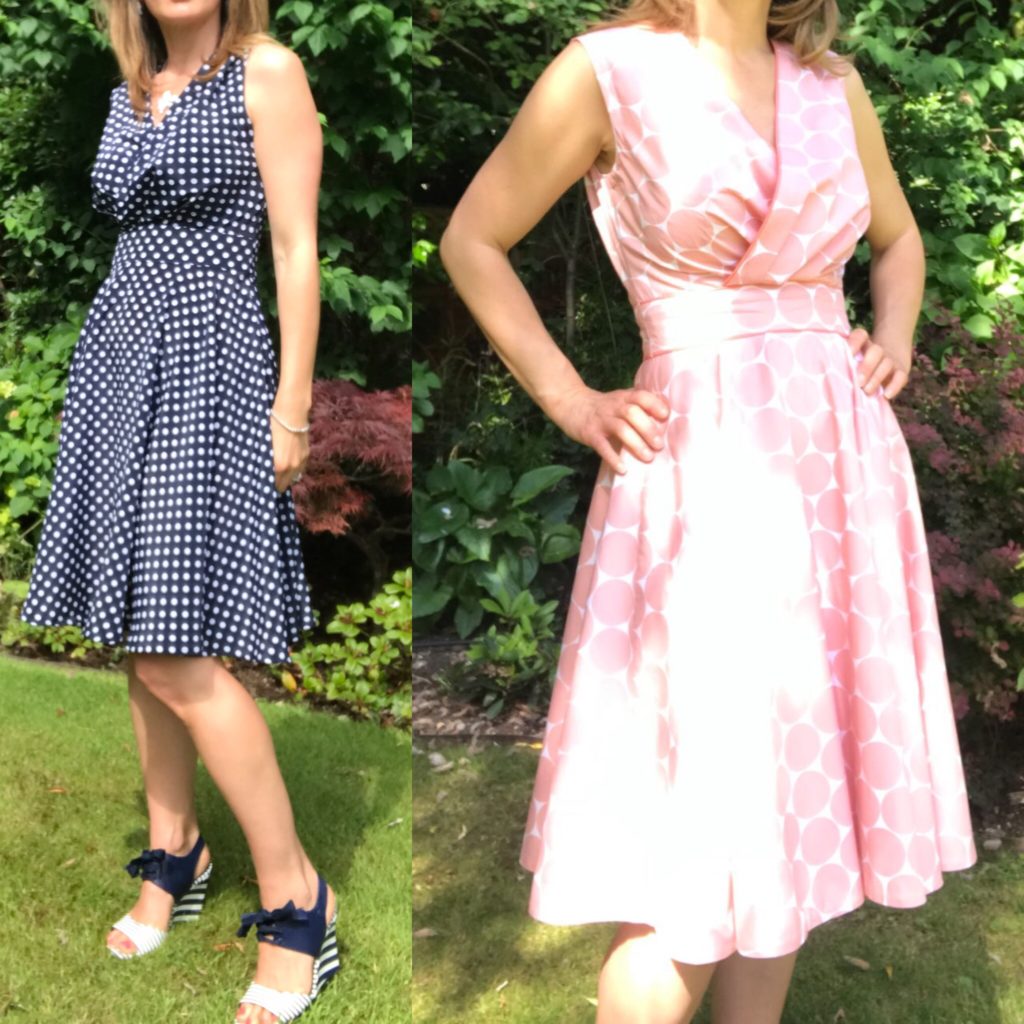 If you have eagle yes, you will have noticed two minor changes between the coral and the navy dress. First, I added a few cm at the belt, to have more ease – but I think it was a mistake as the dress does not sit so well on the hips. Second, I had to substantially shorten the skirt of the navy dress, after a bit of a hemming disaster… Oh well…
Appart for that, the pictures speak for themselves. I find the bodice nicer in the cotton fabric, as the pleats are very neat, while the navy version has somewhat of a saggy boobs effect. But maybe the piping helps – I did not add piping to the navy version for fear of pattern overload!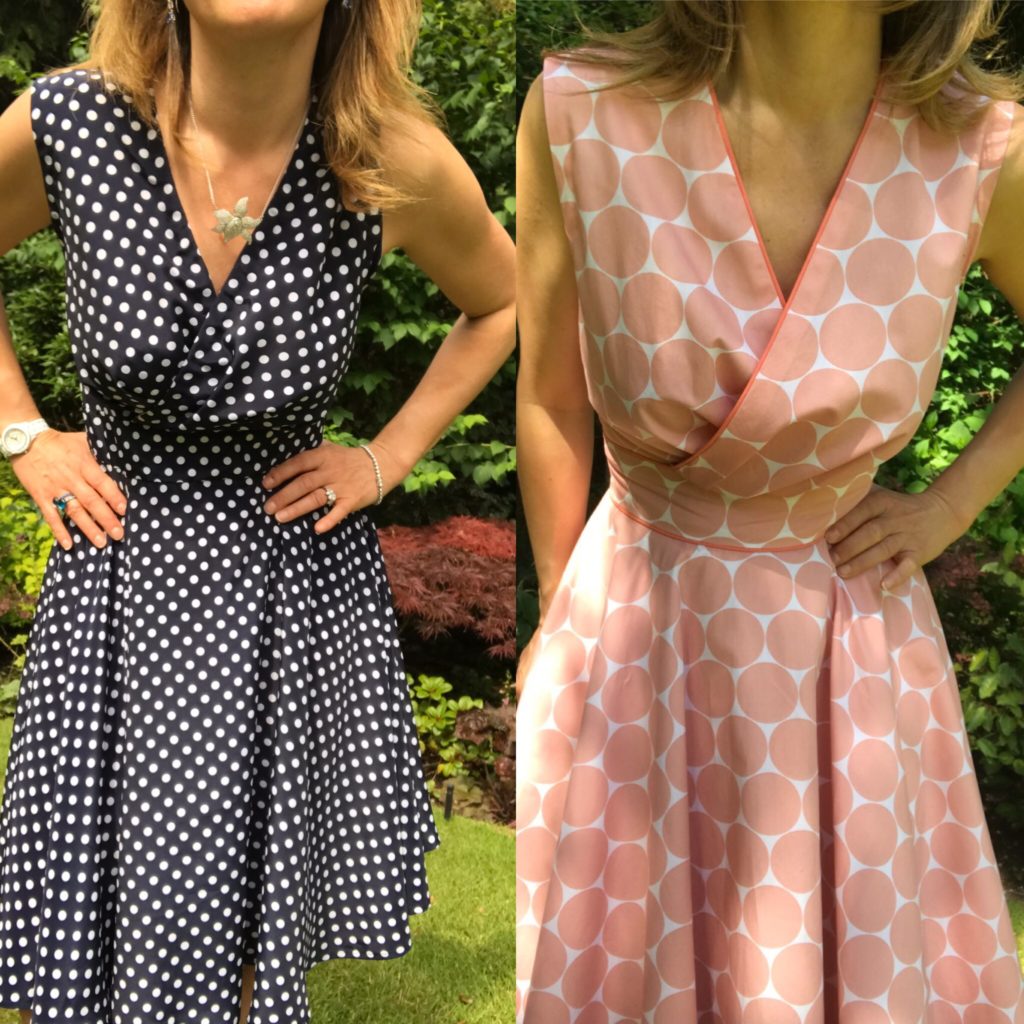 I also find that the back sits better in the coral version, but that's probably more related to the tighter belt than to the fabric. To be honest, I actually quite like both version from the back…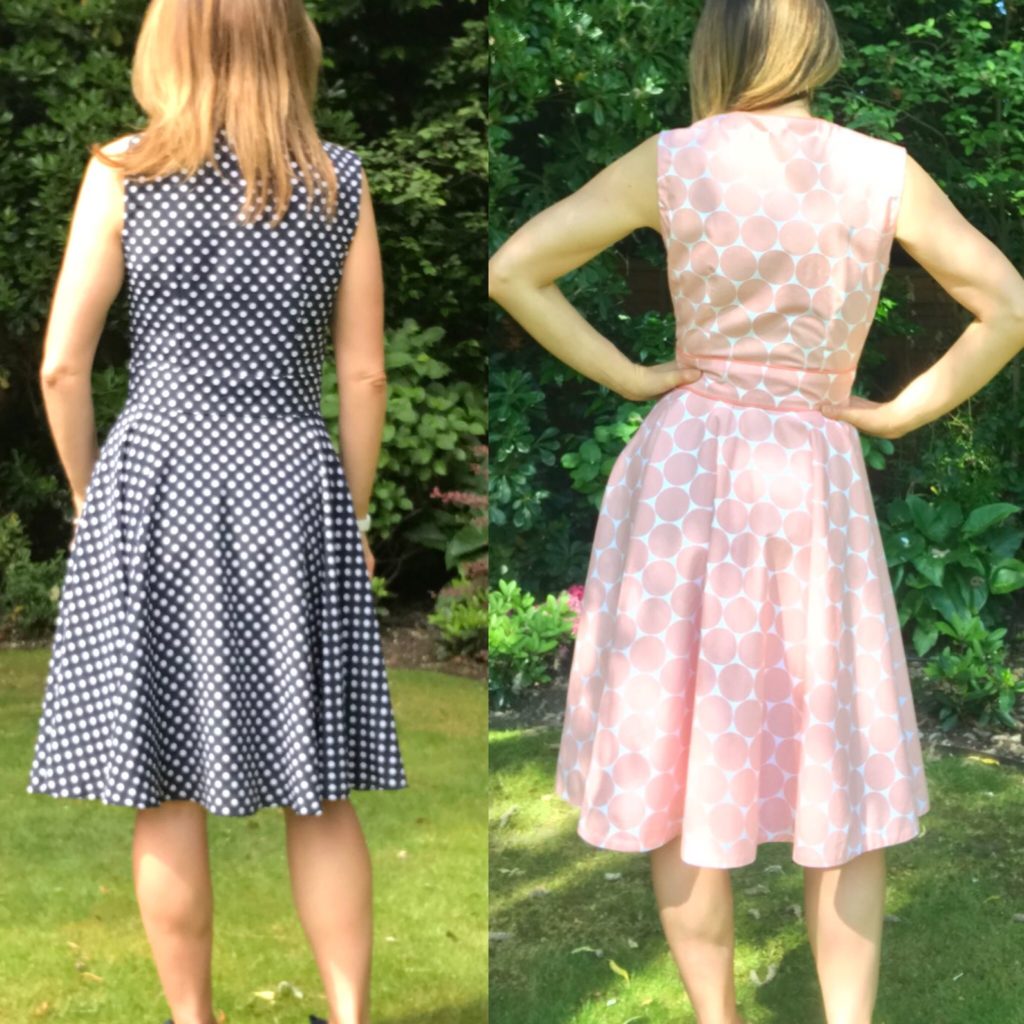 But the most striking difference is in the circle skirt. In cotton, it does look much fuller, due to the rigidity of the fabric and also to the fact that I had to line the skirt. In viscose, the skirt drapes marvellously, especially when in movement. I actually love both equally.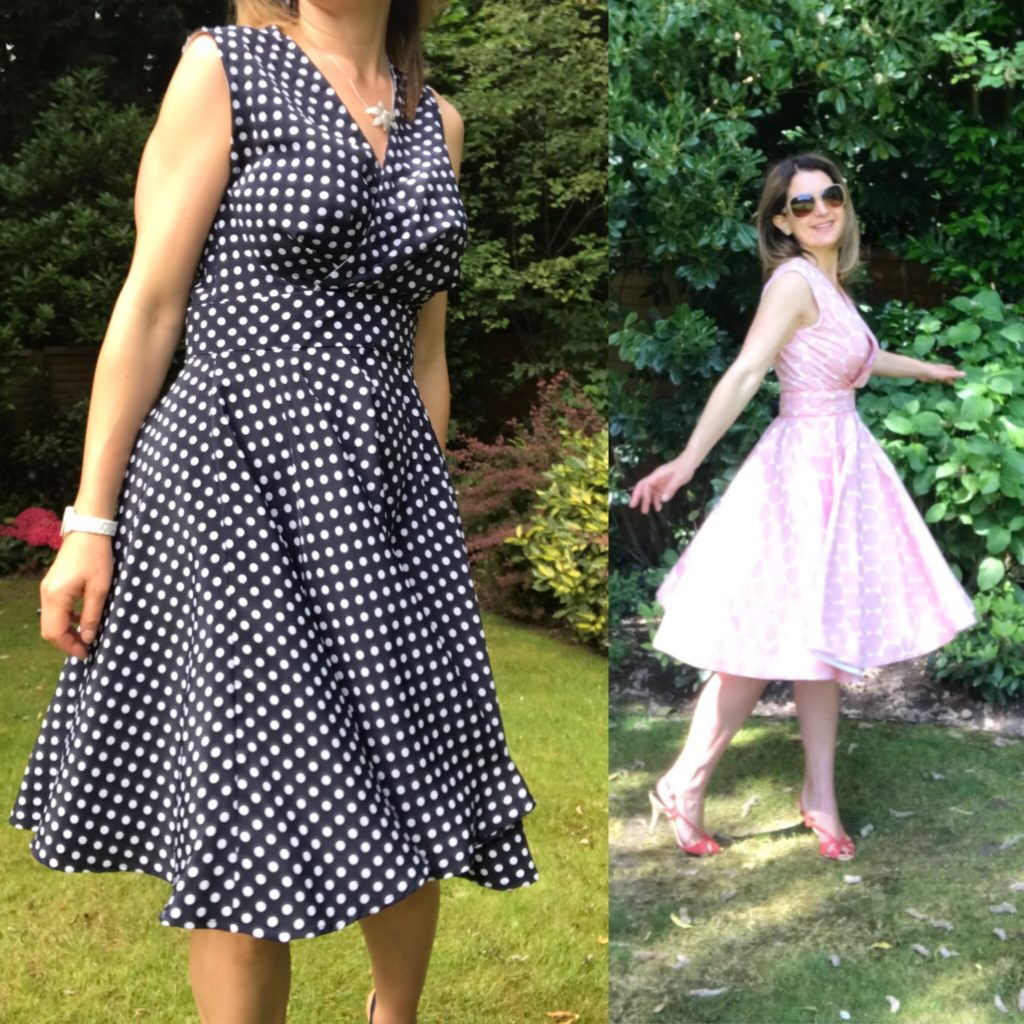 The only think I disliked was hemming the viscose. I initially used the same method than for the cotton, using bias tape sewn on one side with the machine and on the other side by hand (don't ask how many hours it took!). But then the bias created too much weight, or I hadn't let my fabric rest enough, or both, and my hem ended up completely uneven. So I had to remove the bias tape, cut back my skirt to an even level, and then I did a machine hem because at this stage I had lost all patience!
This little accident appart, I am very pleased with both dresses. They are light and pretty, so I'm sure I'll get a lot of use from them… when the sun comes back!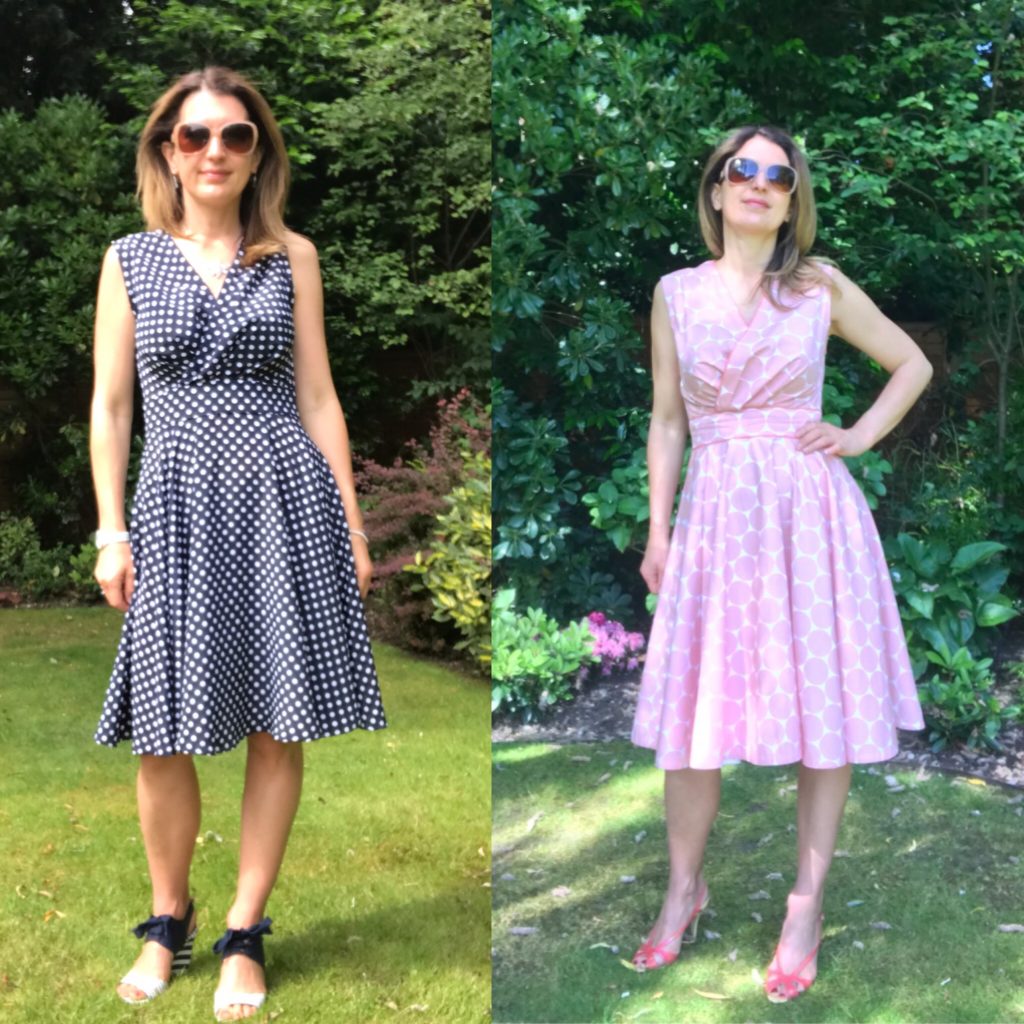 Summer Wrap
My idea to take pictures of this dress as soon as the sun came out was definitely a good one! It was two weeks ago and since then, I haven't been able to wear any of my newly-sewn summer dresses at all because it was far too cold, so frustrating!!!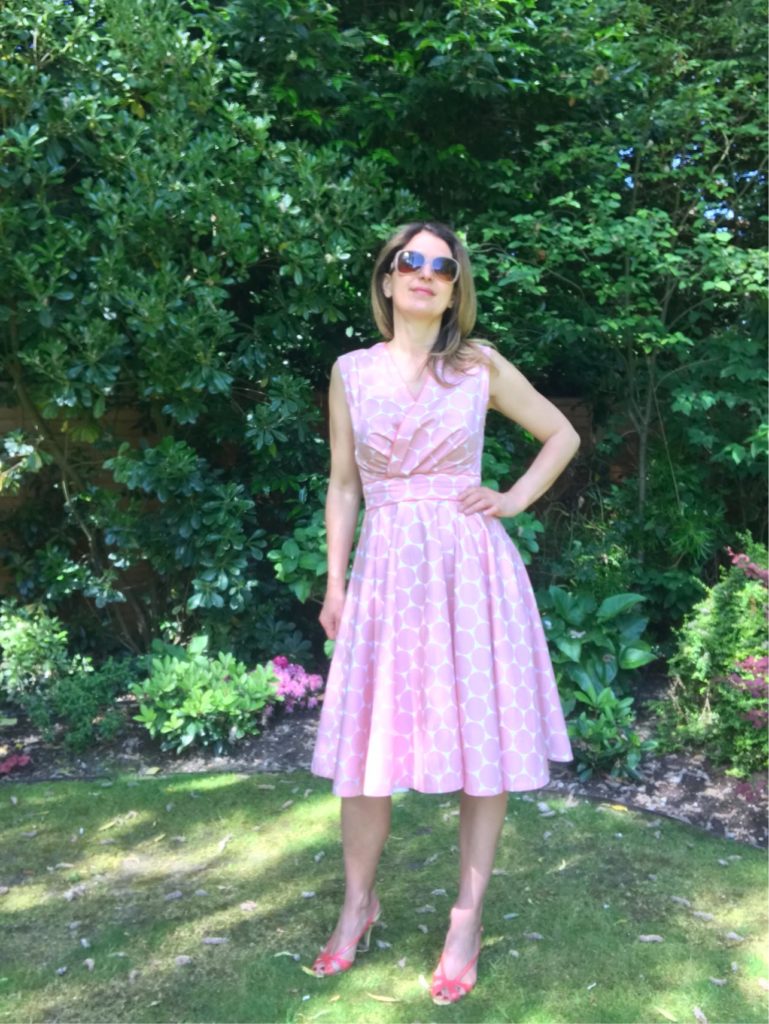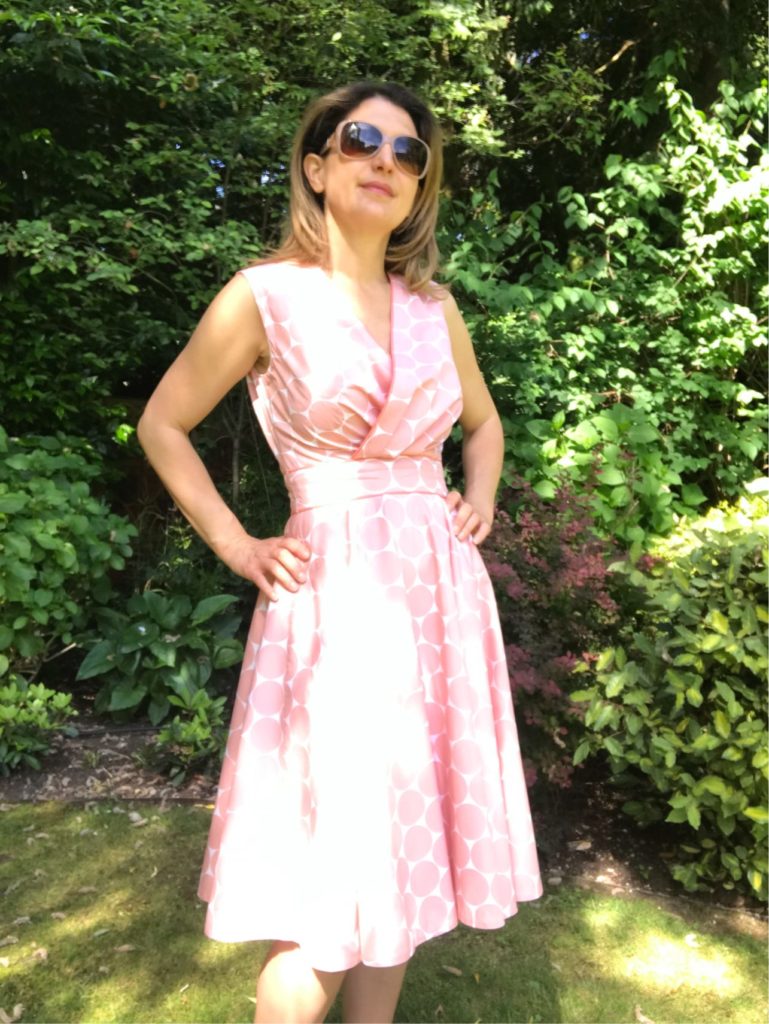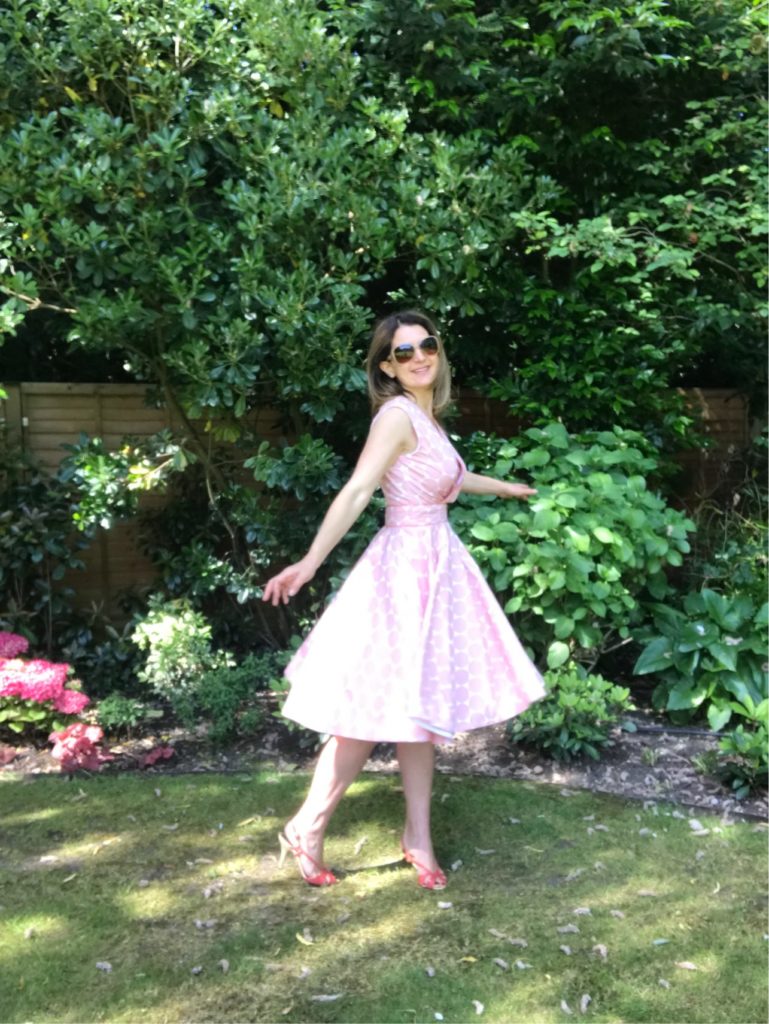 So this one is M7081 – a dress with a mock-wrap bodice and a full circle skirt, joined by quite a large belt.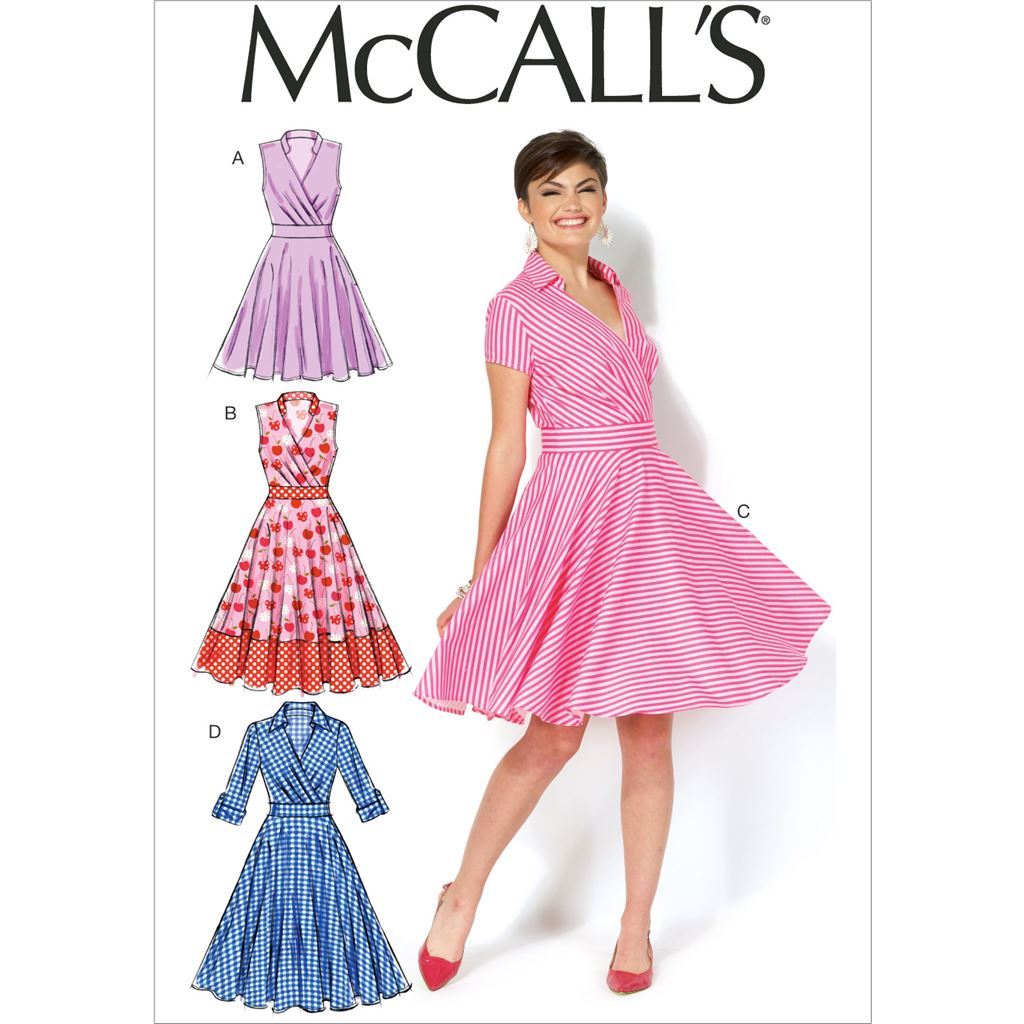 I love everything about this style: the pleats of the front bodice, which replace the bust darts and make the wrap fall perfectly into place; the belt, which creates a very neat joint between bodice and skirt; and the circle skirt, my favourite of all skirt shapes! (in case you hadn't noticed…)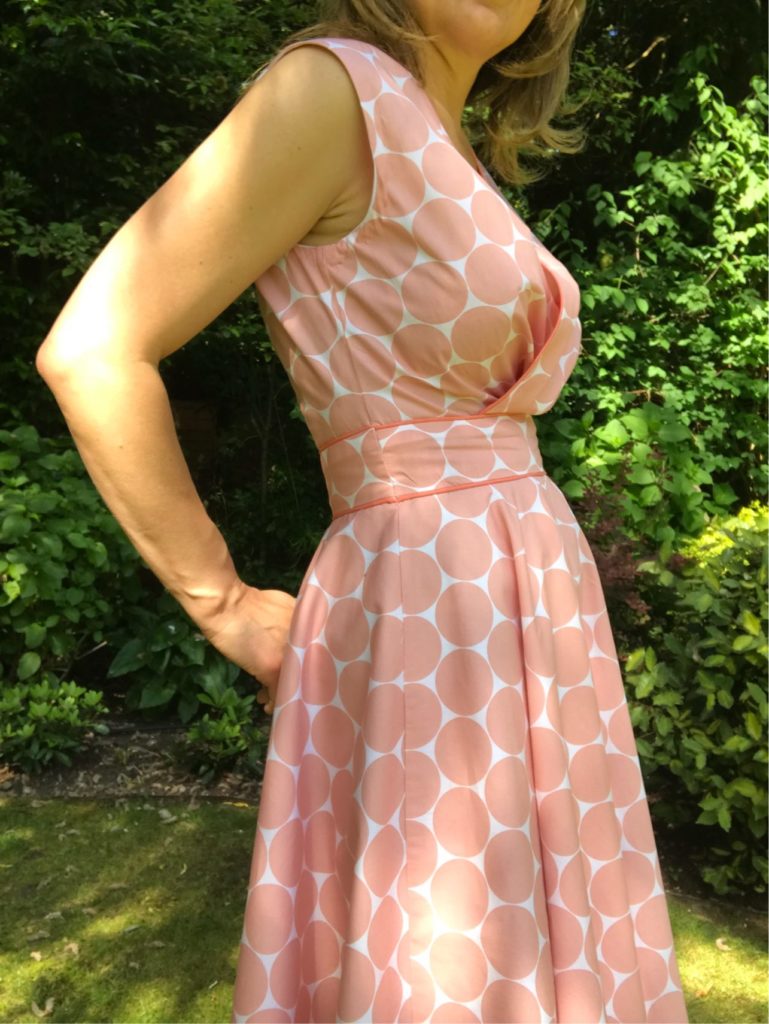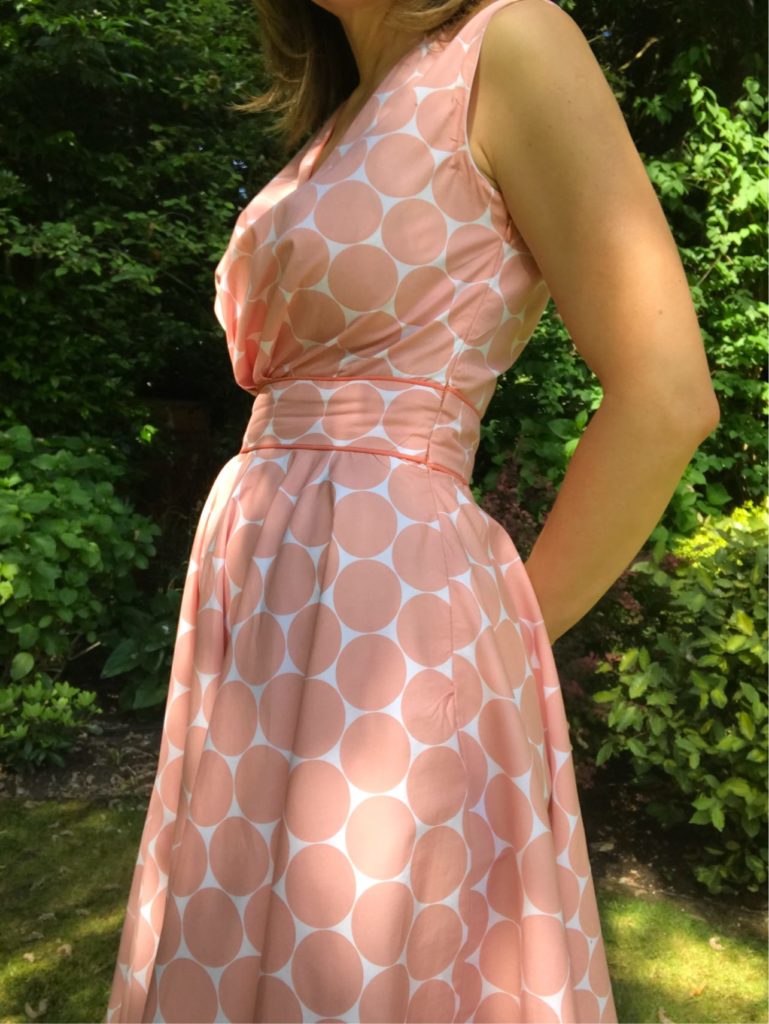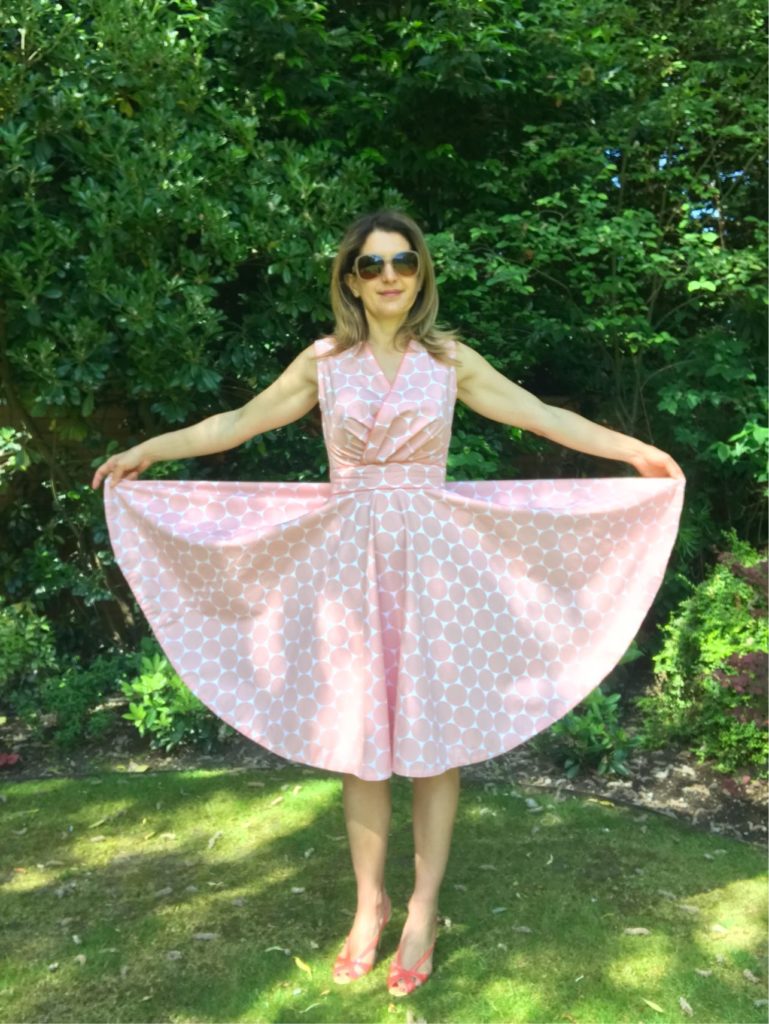 For once, this is not a Vogue Custom Fit pattern but pretty close, as Vogue and McCall are the same company. There is no bust cup options but I thought I could get away without any FBA thanks to the folds in the bodice – under close inspection I really should have bothered, because the front belt is slightly pulled upward. But nothing to make me lose sleep! This is such a straightforward make that I actually did not use the instructions, which I would usually do when I sew a new style.
I made a few minor changes to the pattern:
– I added piping all around the belt and the neckline. For the belt it was very easy, as it is lined inside, so I just had to add my piping between the two pieces of fabric. For the neckline, I saw the piping in place then finished with bias tape.
– I did not add a shirt collar, I found it unnecessary on a summer dress.
– I lined the skirt, as my fabric was slightly see-through.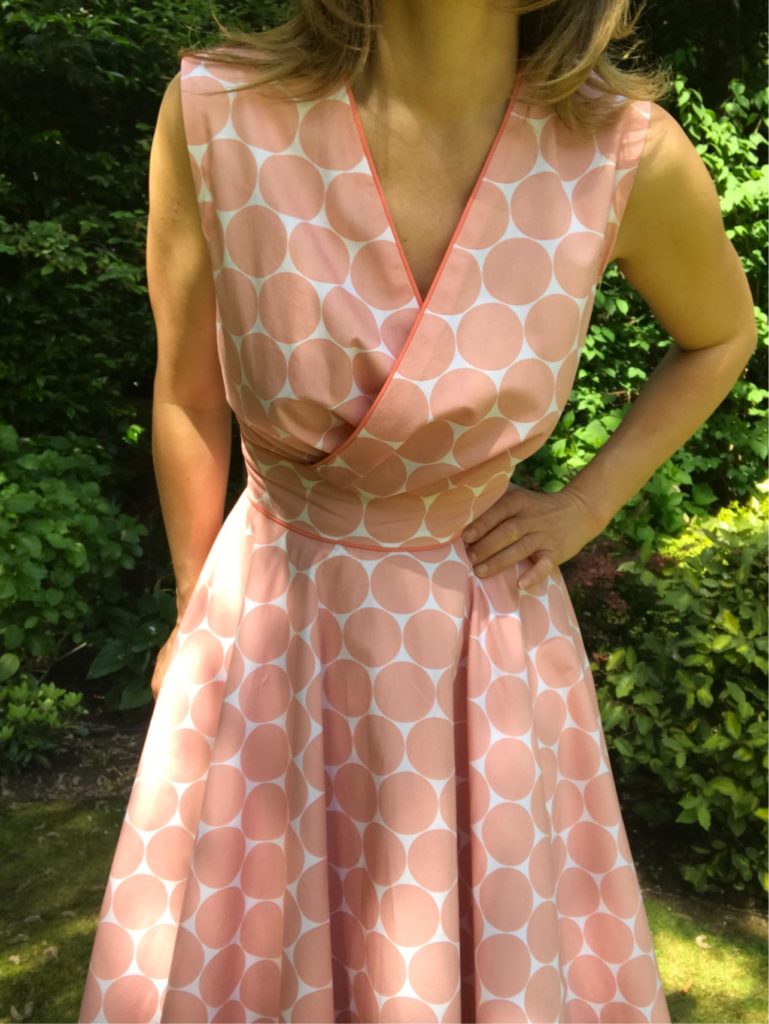 The hardest thing with Vogue and McCall patterns, in my opinion, is to get the sizing right – the envelope indications are way too large, always! But once you've worked out how many sizes you need to go down, I find their sizing very consistent. So for me, the envelope tells me I'm a 12, but I always cut an 8 at the shoulders, going to 10 at the waist – this gives me a perfect fit without any adjustment (except of the bust when I bother).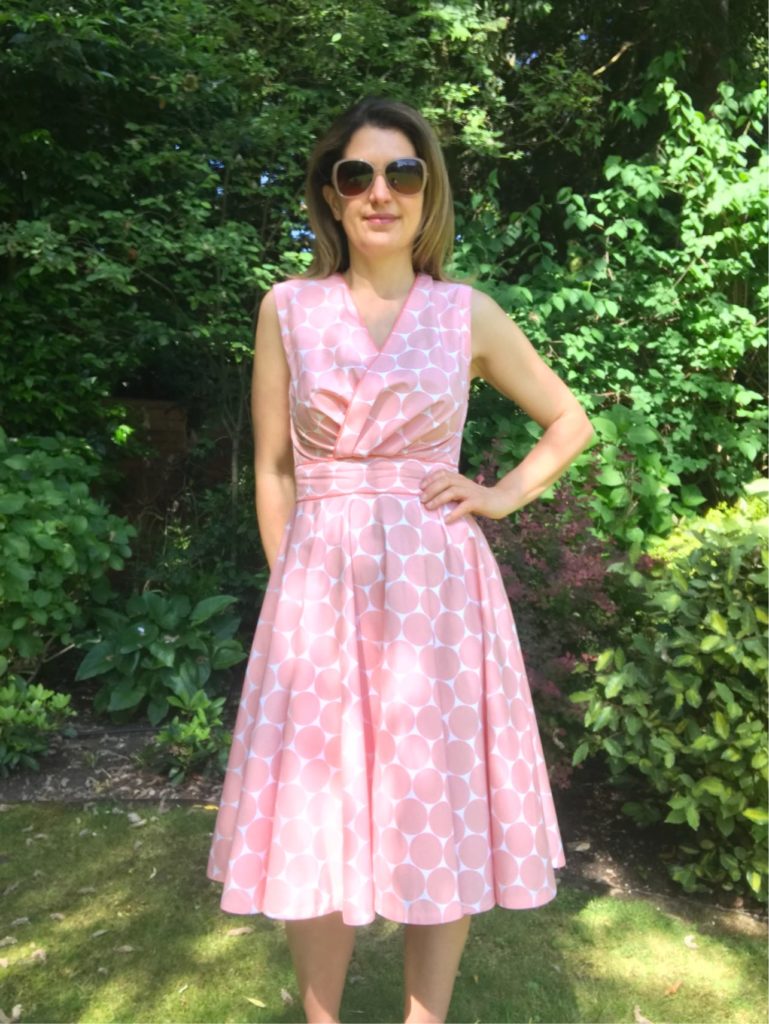 The fabric is a lightweight cotton from my favourite fabric shop in London: Fabrics Galore, so well worth the trip North to South London! My last trip of a month ago was a huge success, with 5 garments sewn from the fabrics I purchased then! My philosophy towards fabric buying has changed a lot recently: instead of buying in bulk, putting in a cupboard and forgetting about it, I try to use the fabric I buy quickly after purchase. I've noticed my tastes change quite a lot with fabric, as they do with clothes, so I will most often not feel like sewing a fabric I adored the year before.
Philosophical considerations appart, I am thrilled with this dress. It is light and fresh for summer days but still with a structured shapes. A second one is already sewn… Naughty me!