Late summer dress: a pink and red M7081
After a long break from the blog and before summer leaves us for good, let me show you the last of my summer makes: another version of my favorite pattern ever, M7081, in a vibrant red and pink fabric.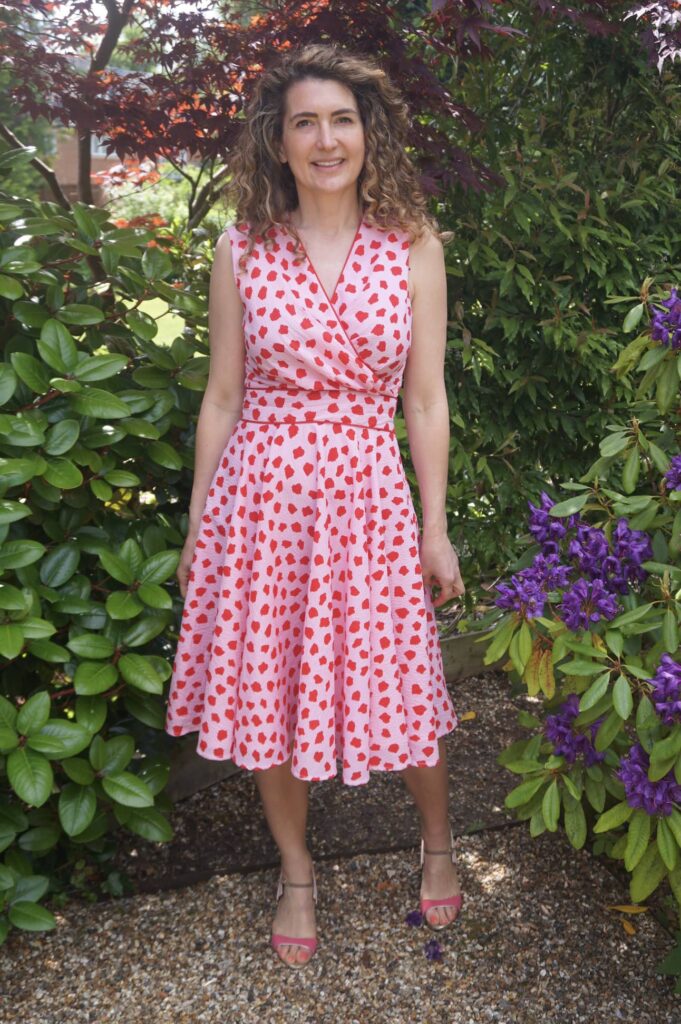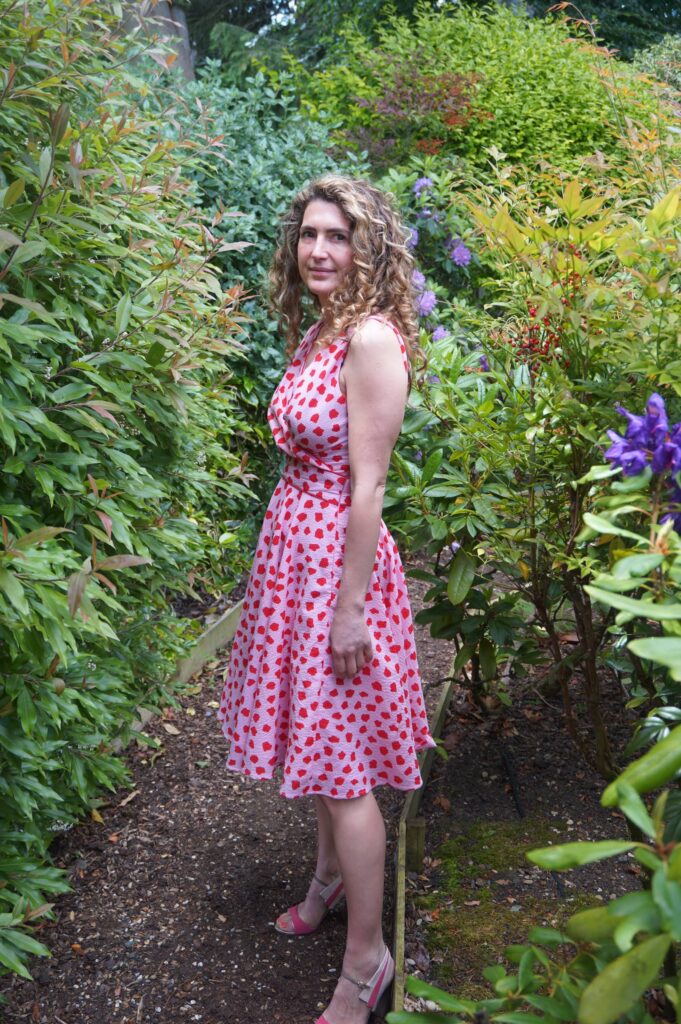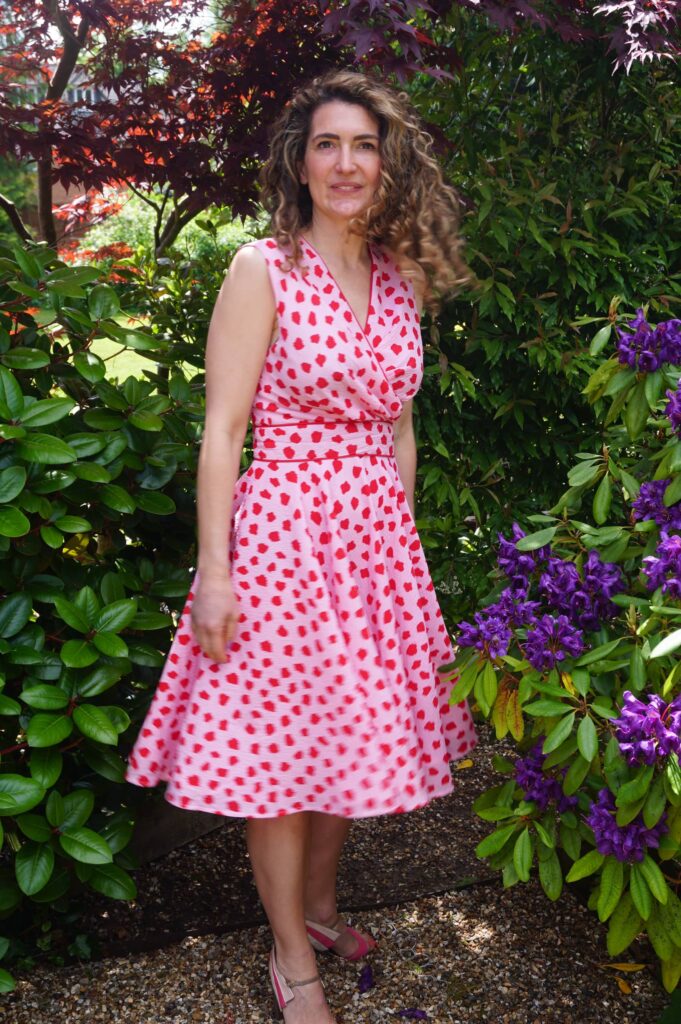 M7081: my absolute favourite pattern ever
I think M7081 is now officially my most ever sewn pattern, as I have actually lost count of how many times I've sewn it in the past. In case you forgot, here is a quick view of the enveloppe.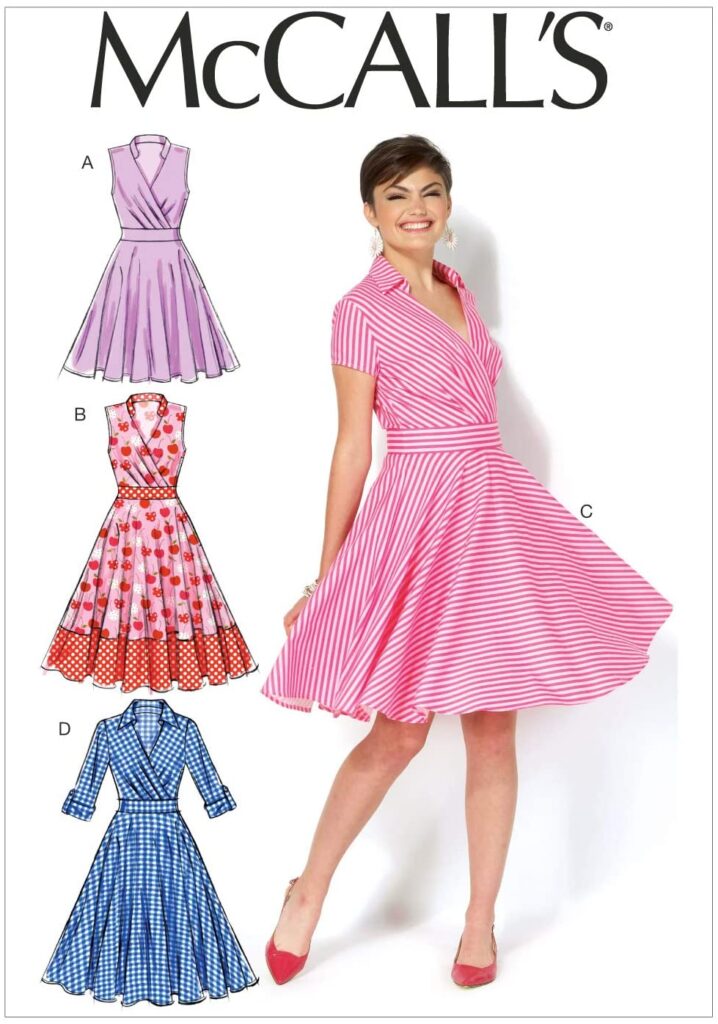 I now own sleeveless summer versions…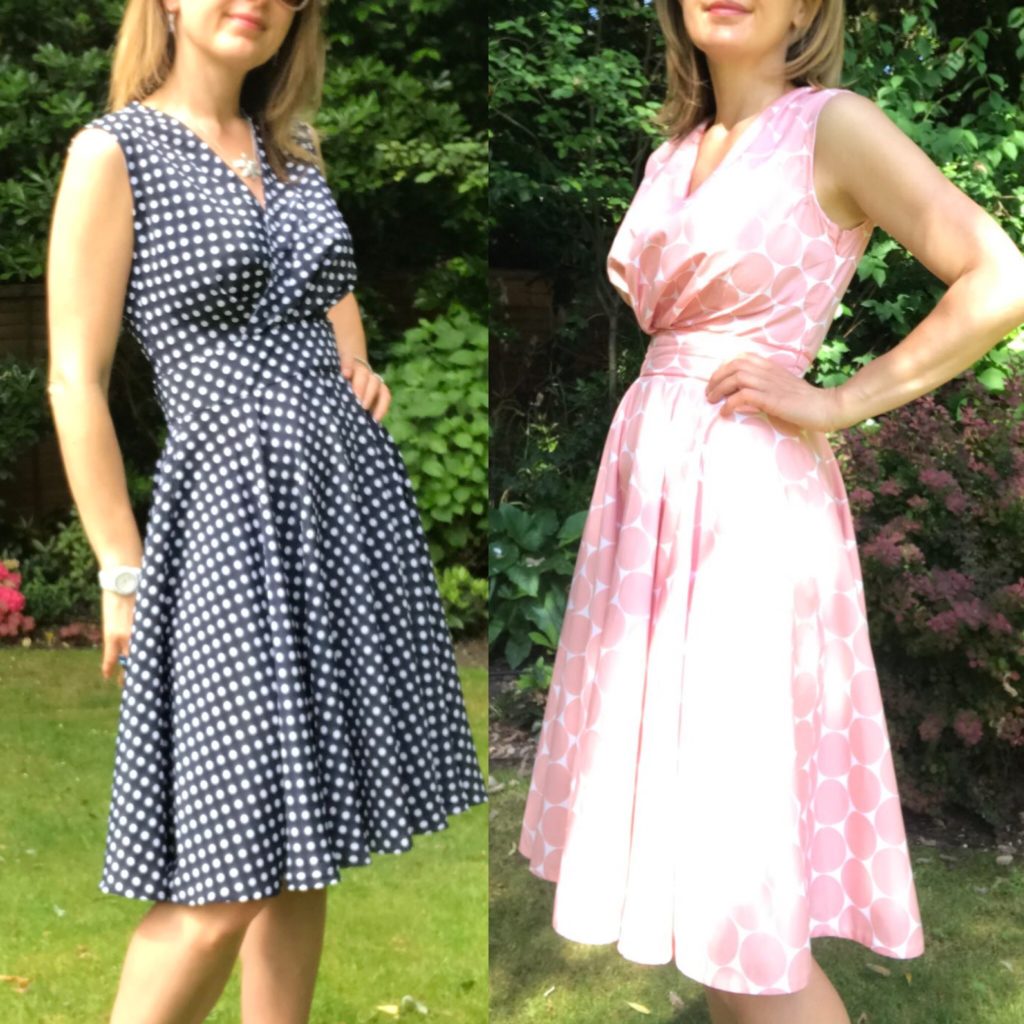 and winter versions – even one in Dupion silk!
I just adore the shape of this dress, which I find utterly flattering for my figure. I love its mock-wrap pleated bodice, fitted waist belt and circle skirt. The collar shown on the envelope is the only element I dislike. But it is so easy to omit that it does not bother me at all!
My usual modifications to the pattern
I have already written articles about this pattern here, here and here and nothing has changed really… So just as a quick summary:
The fit is perfect: I cut my usual McCalls'/ Vogue size 10 and added 1cm of extra ease at the waist, as I was cutting my fabric against the grain to get the full circle skirt. Beware that for these pattern you need to follow the finished garment measurements table to determine your size though, otherwise the end garment will be one or two sizes too big!
The instructions are extremely clear, which is usually the case for McCall's patterns.
Overall the dress is quite easy to put together, there is no major technical hurdle except for the invisible zip.
I made my usual changes to the initial pattern. They consist in:
Omitted the collar;
Added red piping to the neckline and the belt;
and lining the entire dress – which sorts out the issue of finishing neatly the neckline and the arm opening. I am now using the burrito method for lining sleeveless bodices and it has been the my great sewing discovery of the year! I strongly advice you have a look at the numerous YouTube videos out there, so helpful that I feel making a tutorial is pure duplication…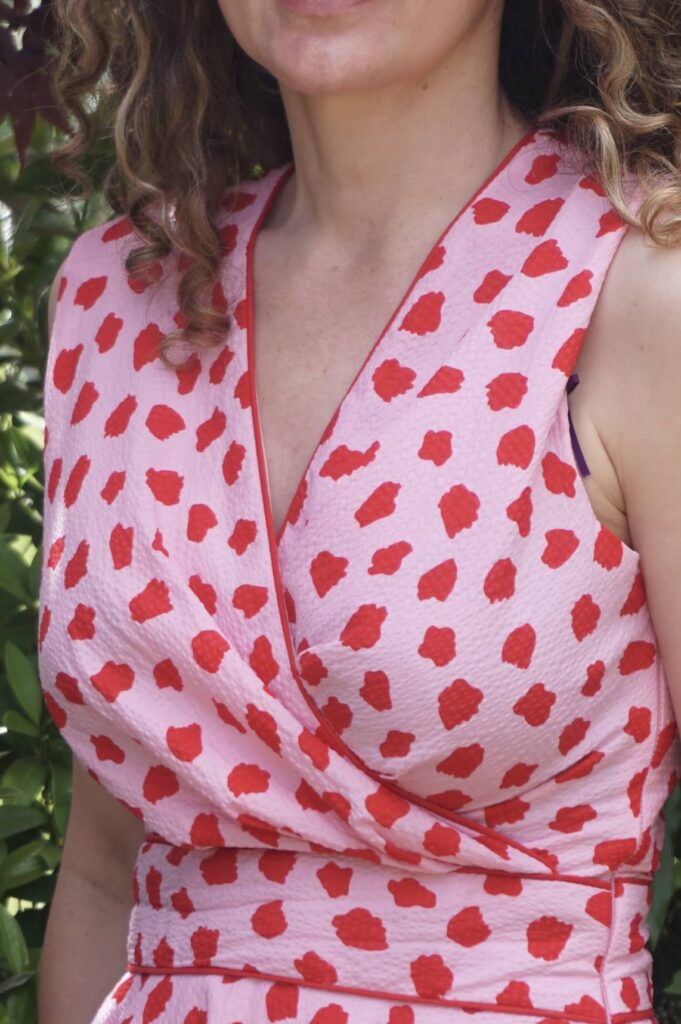 Vibrant colours and stunning fabric
I made this dress in pure cotton seersucker fabric from SewMeSunshine (out of stock now sadly), in a vibrant pink and red color palette. I do really like this color combination but I had never found a pattern that suited me before – this one is perfect.
If like me you are into seersucker for the summer, do make sure it is 100% cotton though! Very often seersucker is offered in a poly-cotton mix and you obviously lose all the benefit of a breathing fabric. Obviously I completely forgot about that when I lined my entire dress with polyester lining fabric… Oh well… Thankfully the British weather is mild enough to sort out this problem!
A quiet summer but plenty of projects for Autumn
My summer has been very quiet sewing-wise, with only two dresses sewn after this one – which I did not even photograph and left on my French cupboards, shame on me!
But I am now very keen to go back to my sewing machine and I have plenty of ideas for Autumn; and plenty of fabric to make them happen, of course! More on this very soon.
I've done it again! Another M7081 dress… in silk
I warned you a few months ago, McCalls's M7081 has become one of me favourite ever patterns. And as I have turned into a complete fabric snob, I only sew silk now (only kidding – well…). So let me introduce you to my newest dress, a silk version of M7081.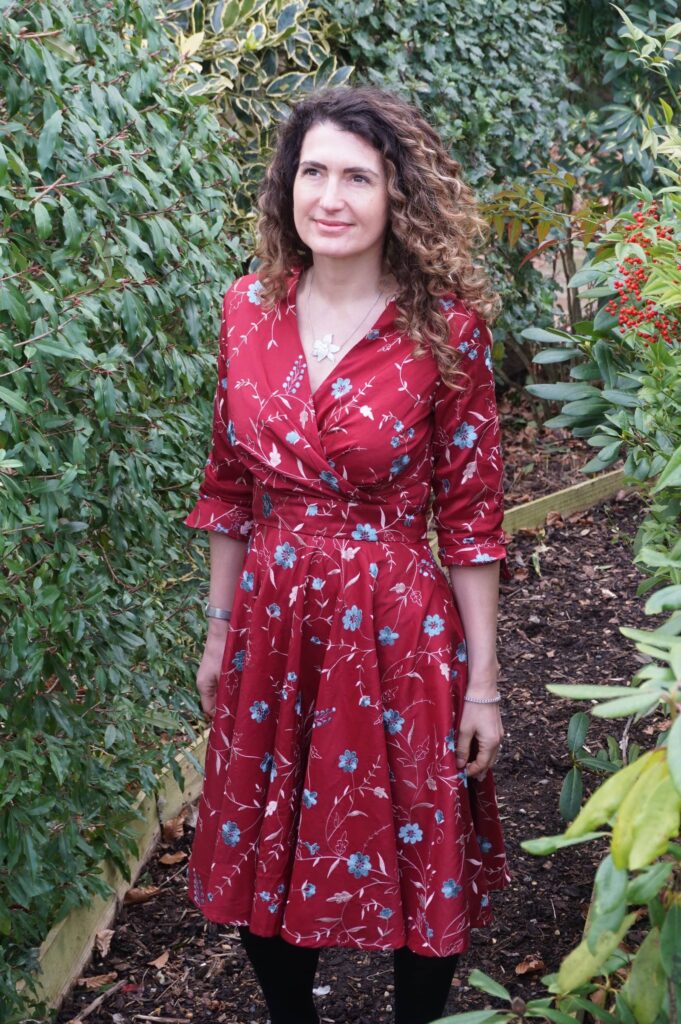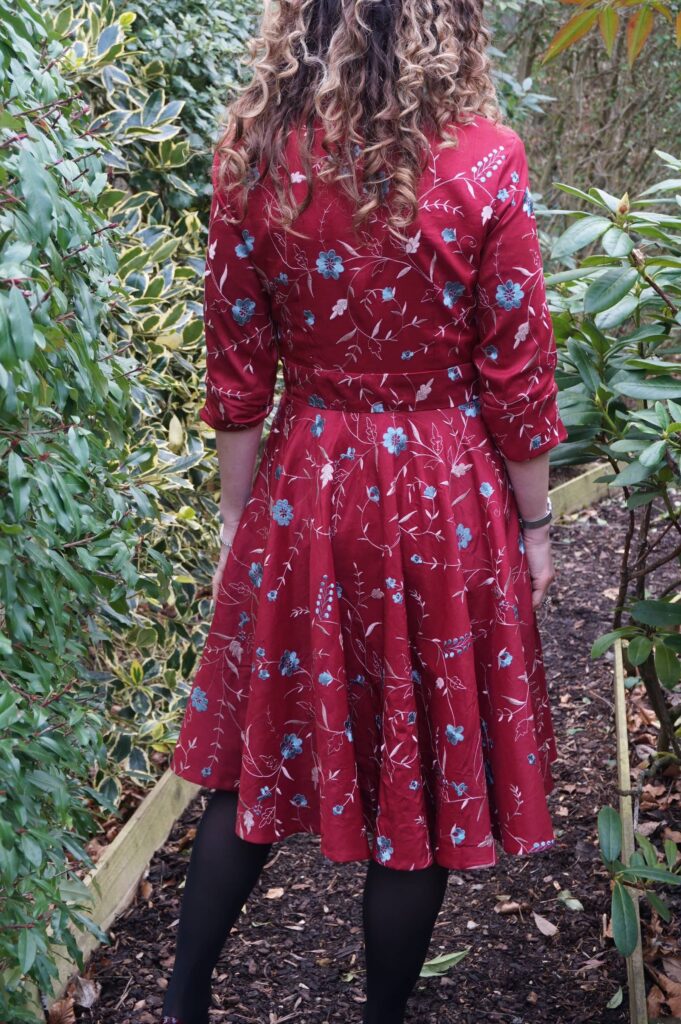 M7981 pattern review: one of my favourites
This is my … well, seventh!!! version of this pattern… No wonder I can sew it with my eyes closed! I already reviewed it on the blog several times – see here and here for my winter versions; here and here for my summer versions.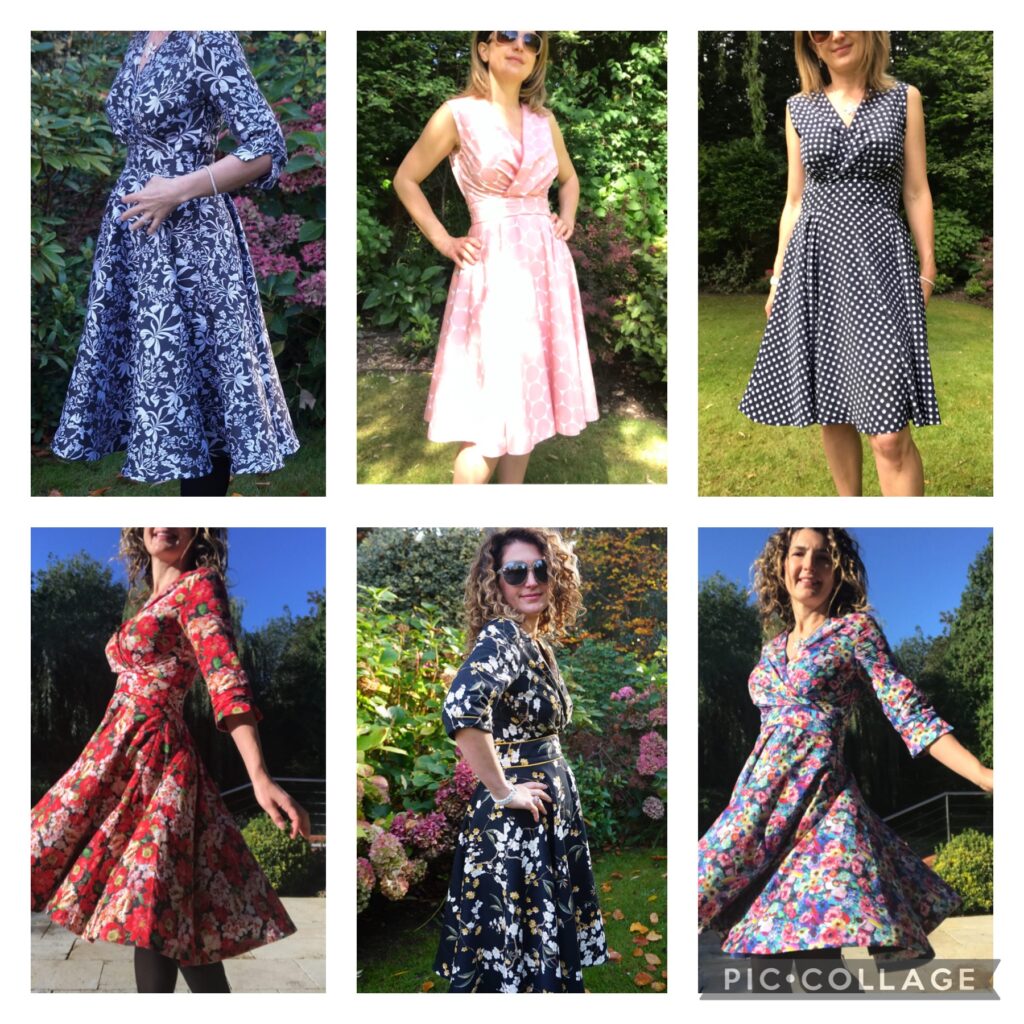 So obviously I run the risk of repeating myself… but never enough of a good thing, right?
If you haven't guessed already, I absolutely adore this pattern. It combines in a single dress all my favourite attributes: a mock wrap bodice, bust pleats, a fitted belt and a full circle skirt. The only possible improvement to the pattern would be to make the skirt midi length but then the fabric consumption would go completely out of control – one of my next articles will feature a maxi circle skirt (on its own) and I'll give you more details.
I made my usual changes to the initial pattern. They consist in:
Omitting the collar;
Fully lining the entire dress – which sorts out the issue of finishing neatly the neckline;
Using my pattern of the Cami dress by Pauline Alice for the sleeve cuffs.
I cut a size 10 and added 1cm of extra ease at the waist as the fabric has no stretch whatsoever and was cut against the grain, but otherwise the fit is perfect.
Fabric used: more silk sewing
I am completely obsessed with sewing silk currently, as my recent articles testify – I have gathered all my advice on how to tackle this scary material in this article. Just to summarise the key points: pre-wash your fabric; work with a Microtex needle; avoid having to unsew stitches by using a tried-and-tested pattern; and work slow!
After having worked on lightweight silk crepe (here) and silk-wool mix (here), I went for heavier embroidered silk dupion. This one is from AmoThreads, it is still in stock and was a massive bargain for such a beauty. You can tell it is quite stiff from how the bodice pleats and the circle skirt fall.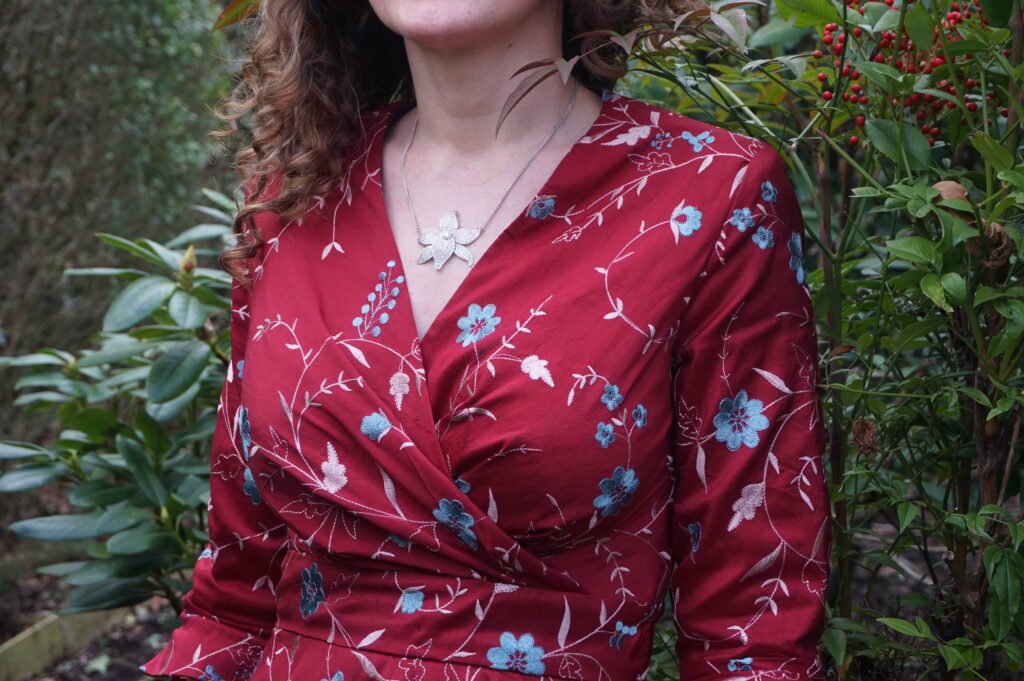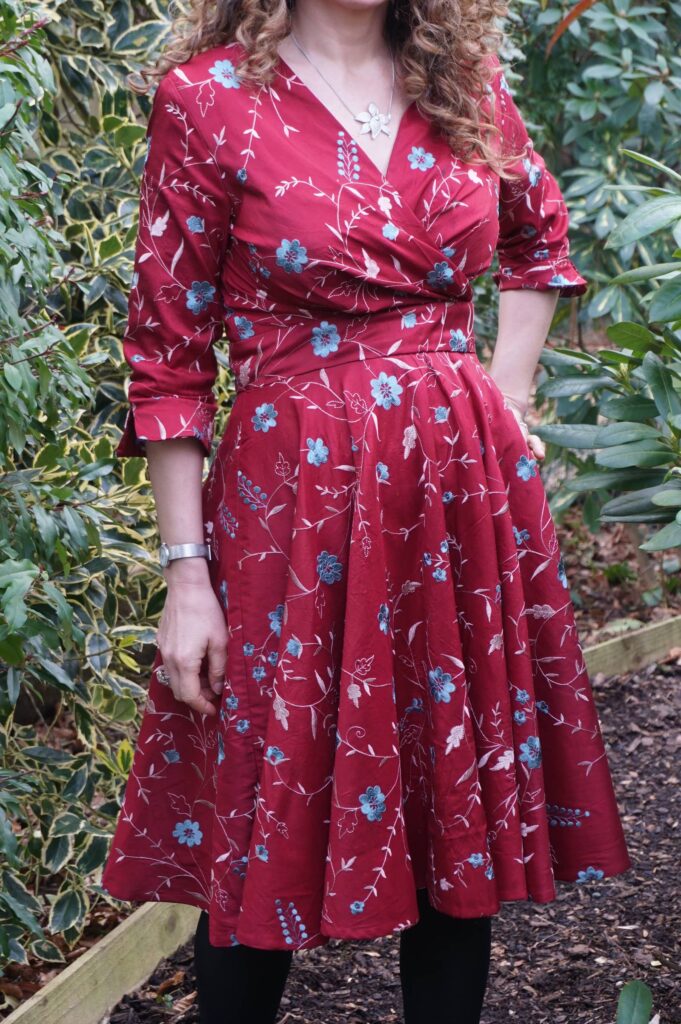 Working with dupion is actually a dream: it is reasonably thick (comparable to a cotton poplin) and it does not slip under the sewing machine foot (unlike lightweight silk). I did not even have to use a Microtex needle here.
The only thing you need to be aware to avoid a heart attack is that silk dupion seems to massively shrink when wet … then it regains its size when dry. I had a huge fear after machine-washing my dress for the first time: the skirt lining became completely visible, while I had been careful to cut it way shorter than the silk skirt. Arrggghhh! But then all came back normal, pfiou…
Conclusion: another little jewel in my wardrobe
I am very pleased with this little dress and I have worn it a lot since sewn – hence the need to wash it. The colour is definitely more within my Autumn hues, so it feels a bit strange to wear it in February. When Spring arrives it will sadly go into my out-of-season closet so I am making the most of it now!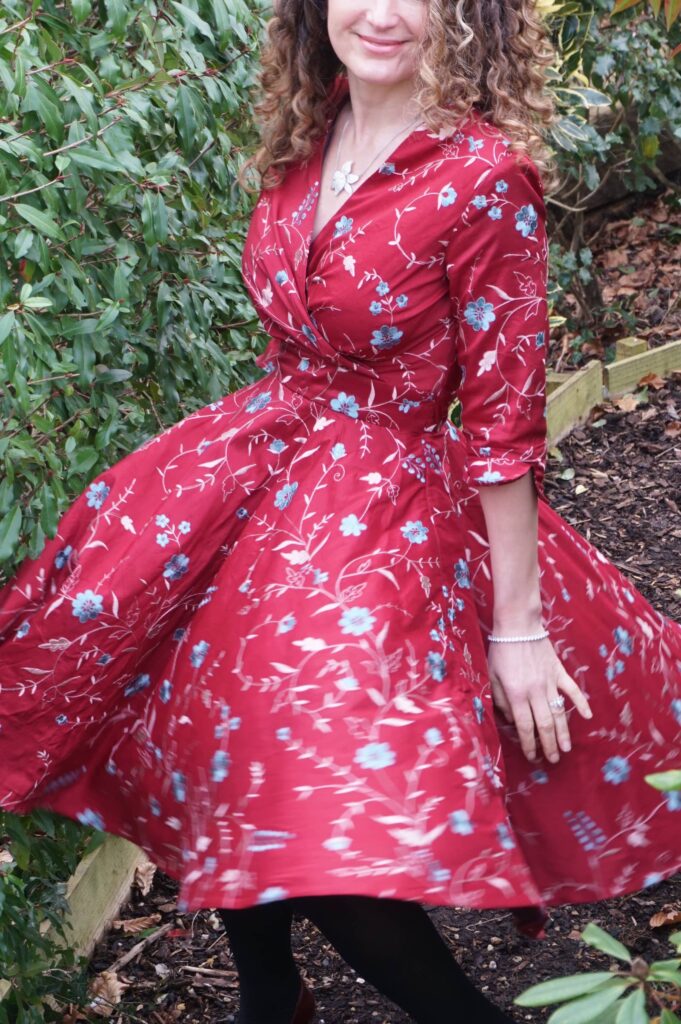 M7081: my new favourite winter dress
New season, new pattern…
Every seasons seems to come to me with a favourite dress pattern – winter 2019 was Magnolia's season…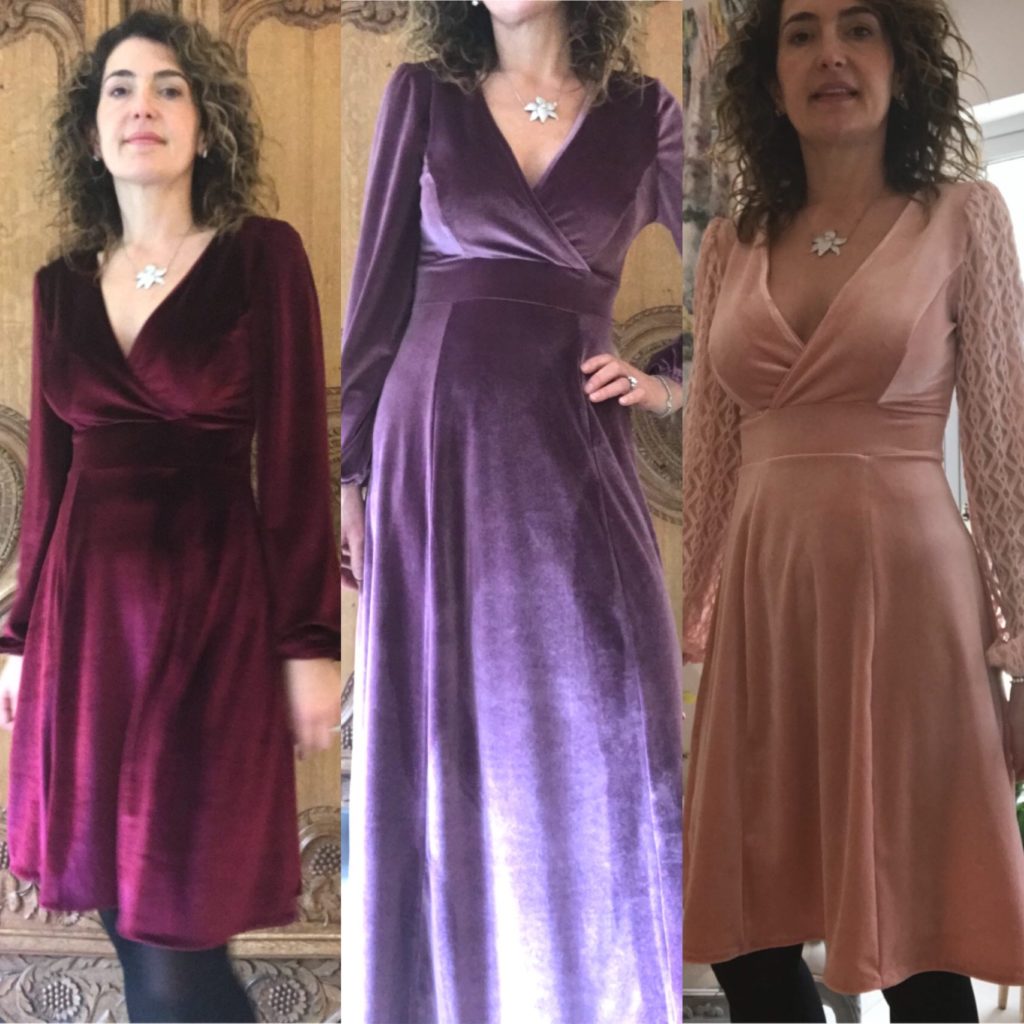 … summer 2020 was V9253's …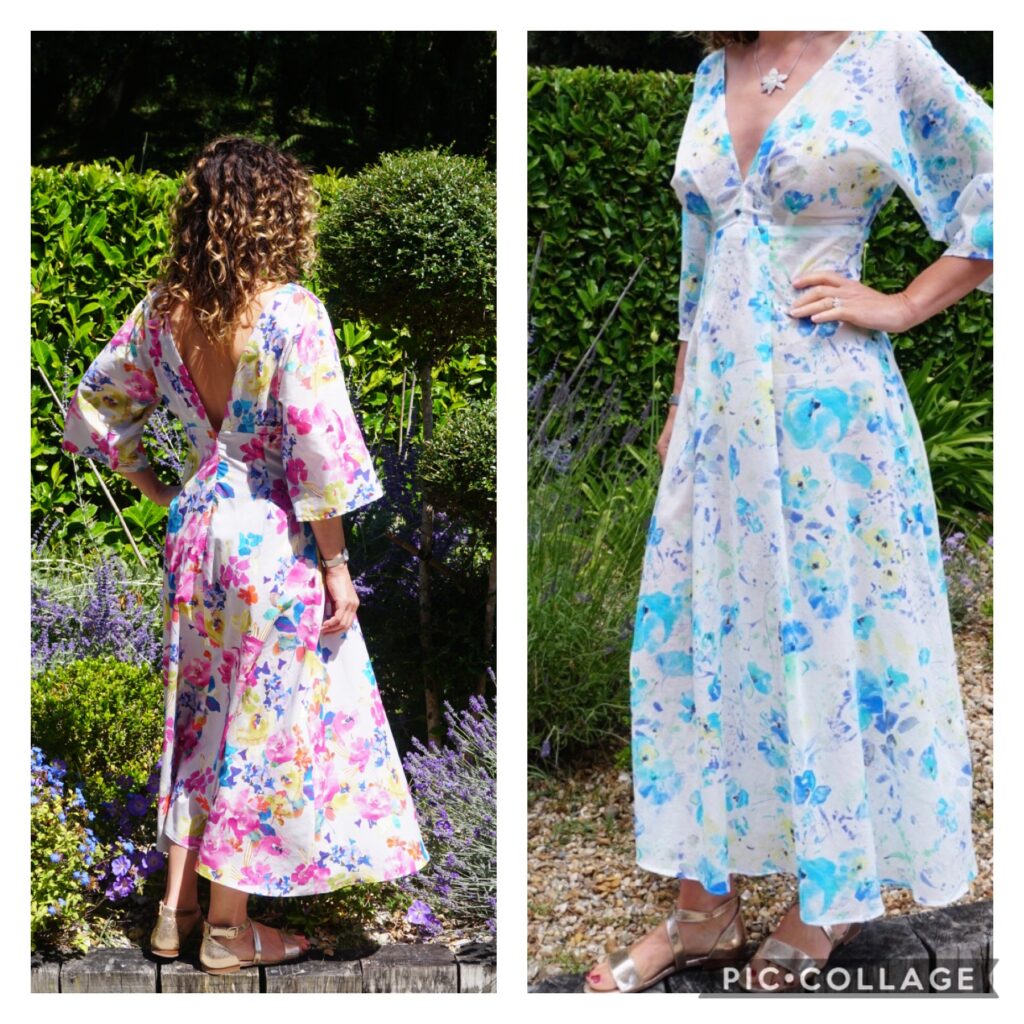 … and autumn 2020 is definitely all about V7081!
My "old" versions of M7081
In all honesty, the red and blue versions of these dresses were sewn last year (for those following my curl journey you can tell from my hair!). I got my hands on these magnificent Dolce & Gabbana floral fabrics and couldn't resist making each of them into twirling twin dresses.
They are constructed exactly in the same way as my two new versions: no collar, piping at the neckline and the belt and modified sleeve cuffs – but more on this later.
I only posted recently about the blue one recently though, when I knitted a matching Belladonna cardigan. No post about the red dress, lazy girl!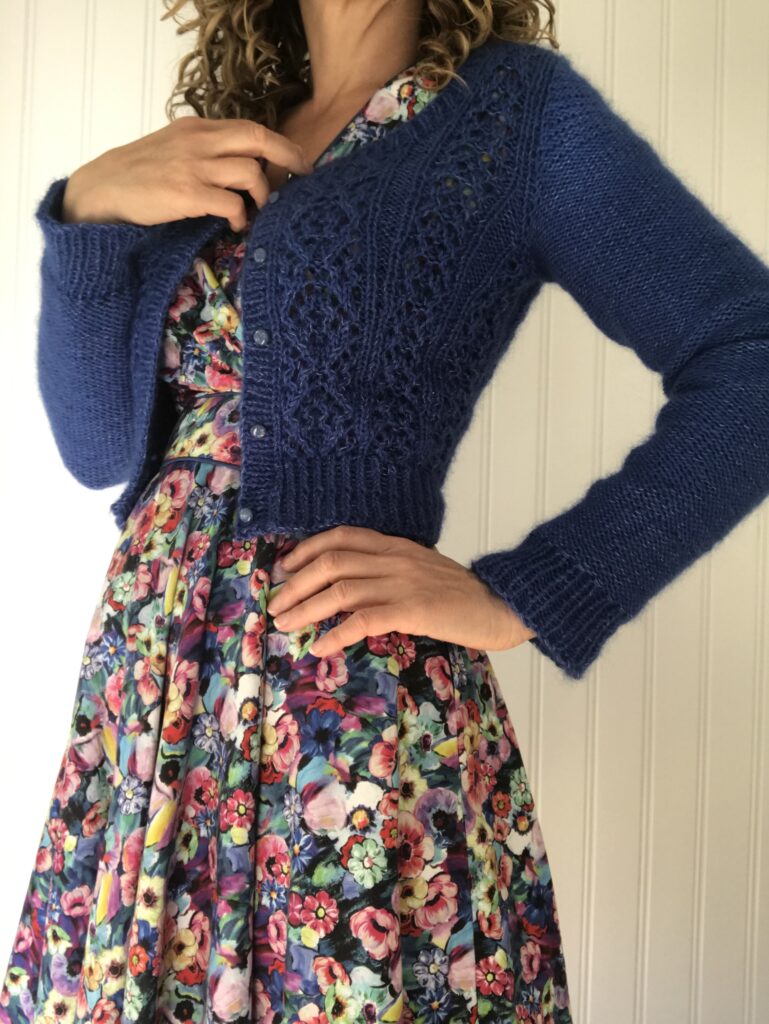 M7081 pattern review
But going back to M7081. This is a wonderful pattern of a fit-and-flare dress with a faux-wrap bodice, and middle belt joining the bodice and the skirt, and a full circle skirt – absolutely everything I adore. Depending on the sleeve option you choose, it can be made into a winter or summer version (I admit, I also have two summer versions, here and here). The only flaw of this pattern in my view is the collar, which can be easily omitted.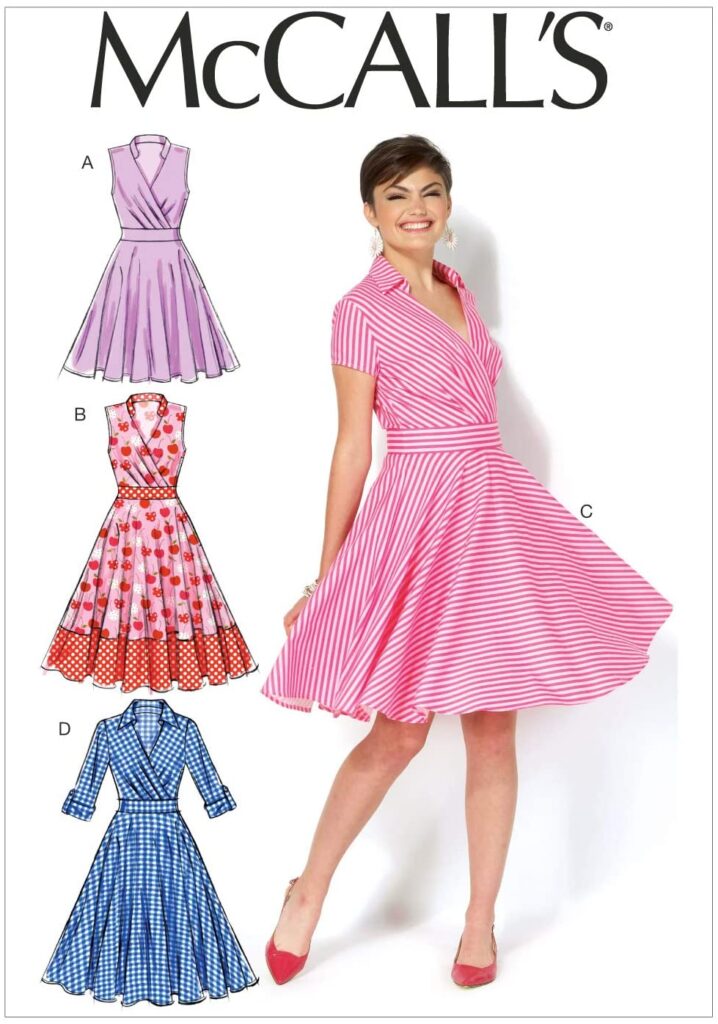 The fit is, as usual for me with McCall's and Vogue patterns, absolutely spot-on – even though there is no cup options here. For my UK size 8 / FR 36/ US 2, I chose as usual a size 10 but (unusually) had to create a tiny bit of extra ease at the waist (about 1cm on each side). I find it very necessary with stiffer fabric; but not so much so when there is a bit of stretch.
The other changes I made for all my dresses were:
omitting the collar and finishing the neckline with bias binding;
adding contrasting piping at the neckline and the waist;
using my pattern of the Cami dress by Pauline Alice for the sleeve cuffs – this is not hugely necessary but I adore these cuffs.
lining the skirt – I am a lining addict…
My latest winter versions of M7081
And here they are! My two latest winter versions of the pattern.
The first one is in a beautiful brocade I got ages ago from Bennytex.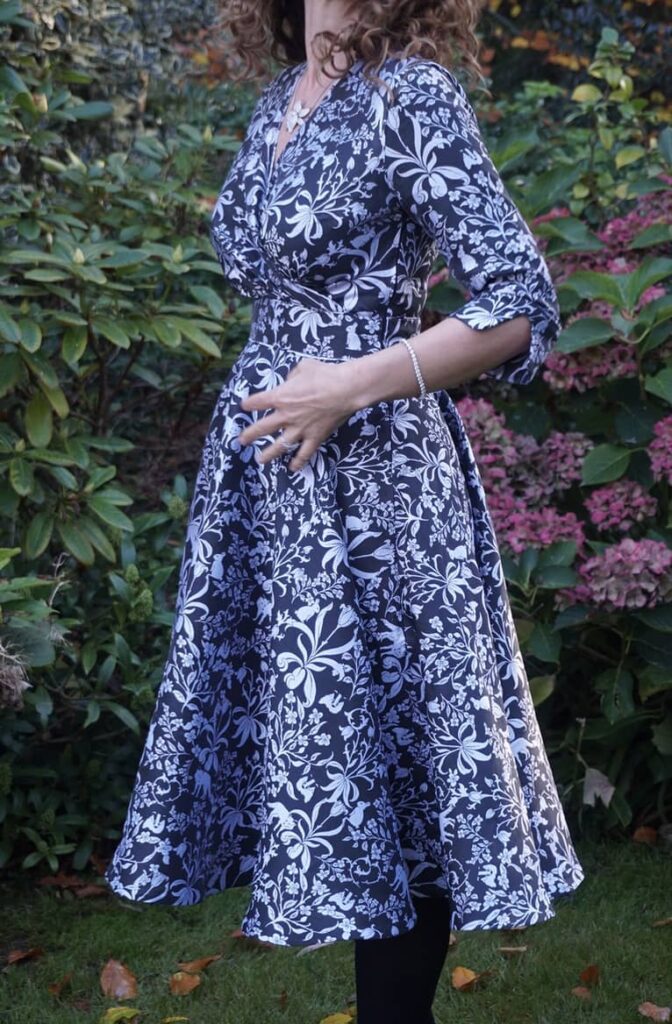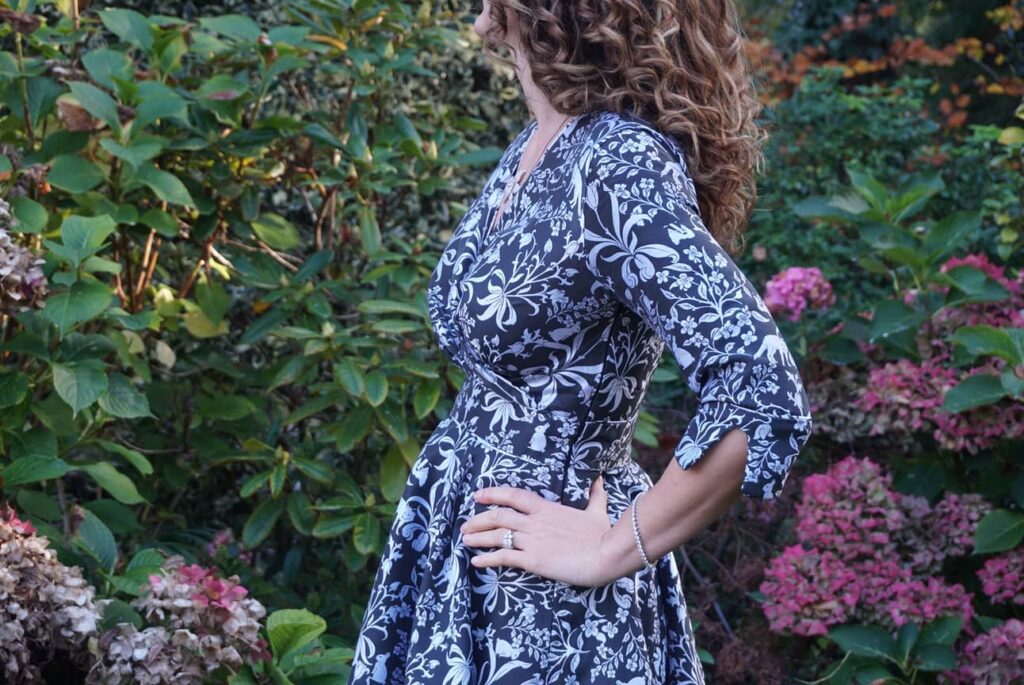 The fabric is lightweight enough for a dress but, being brocade, it has no stretch whatsoever so this is probably the tighter of my versions.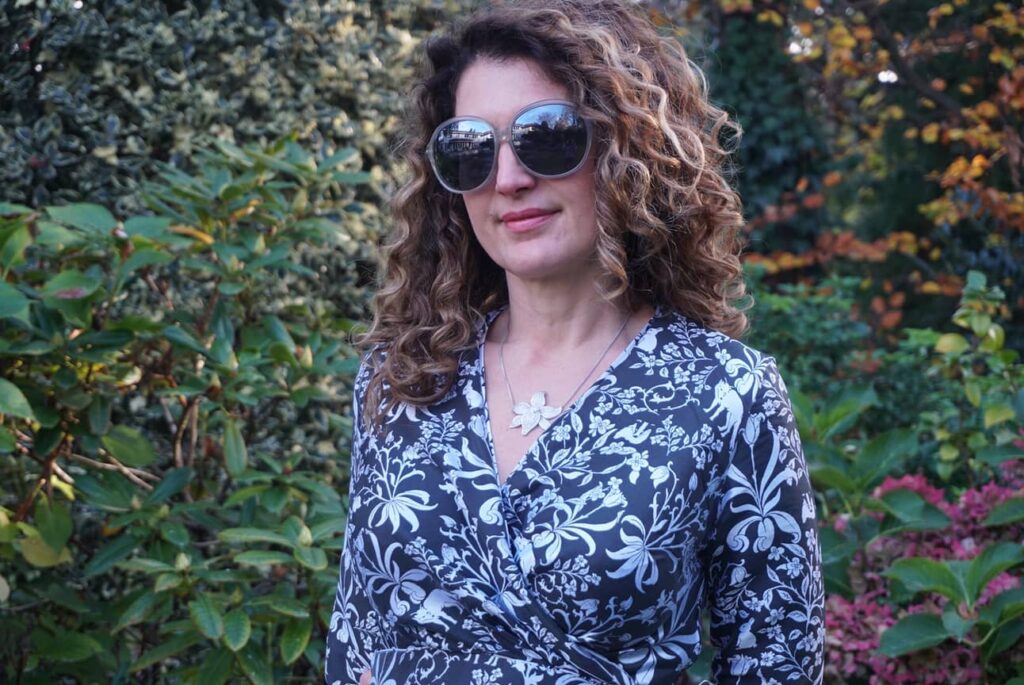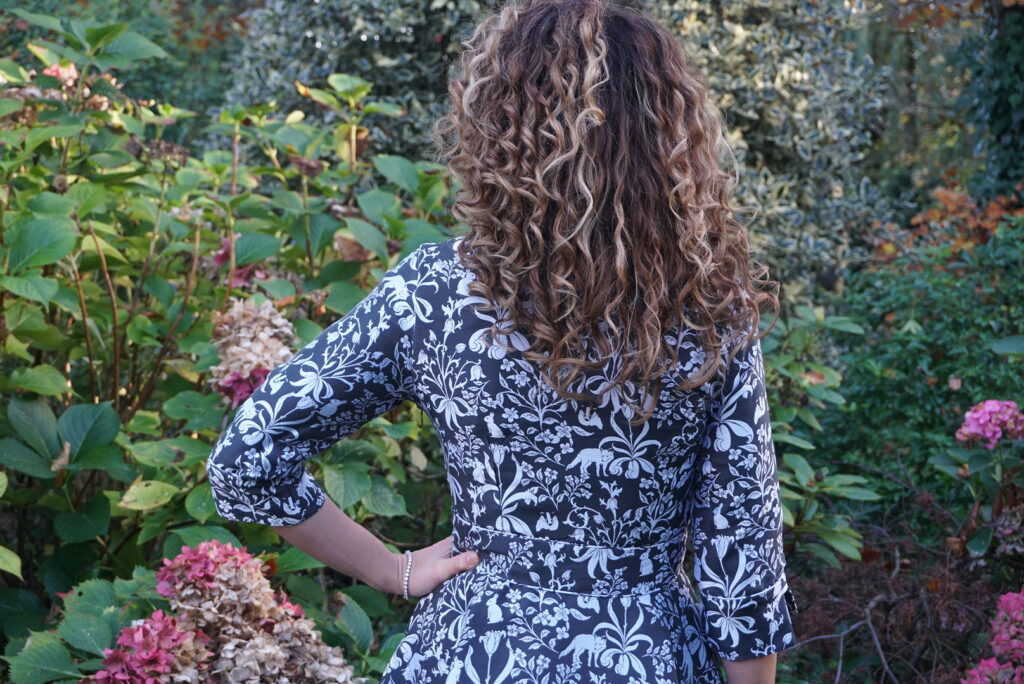 I used the other side of the brocade for my piping, not my best ideas as it makes it nearly invisible… Never mind!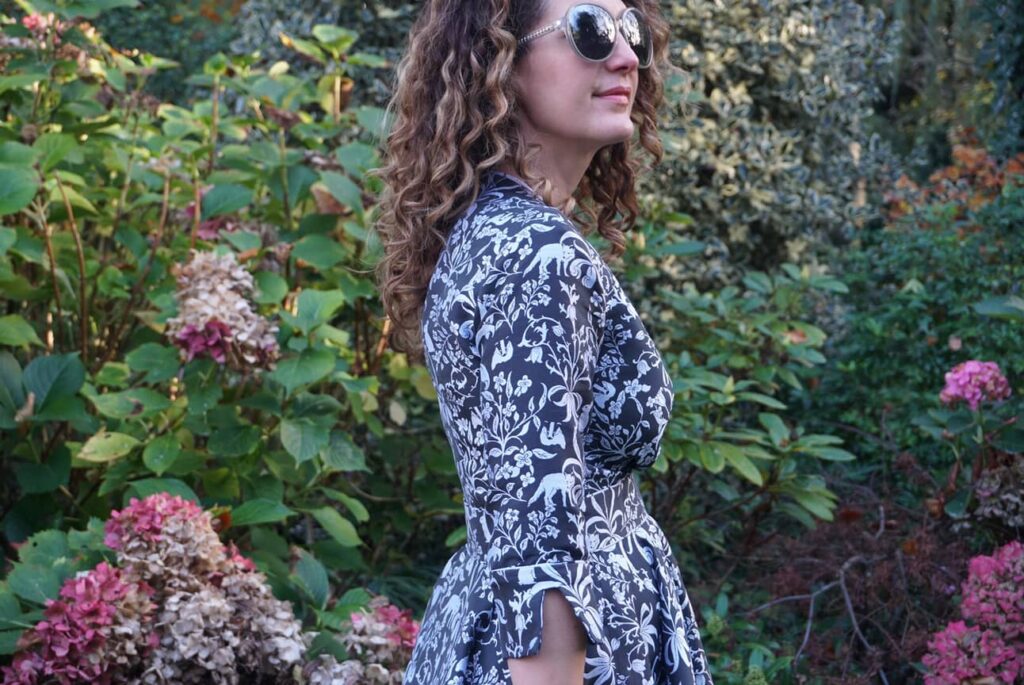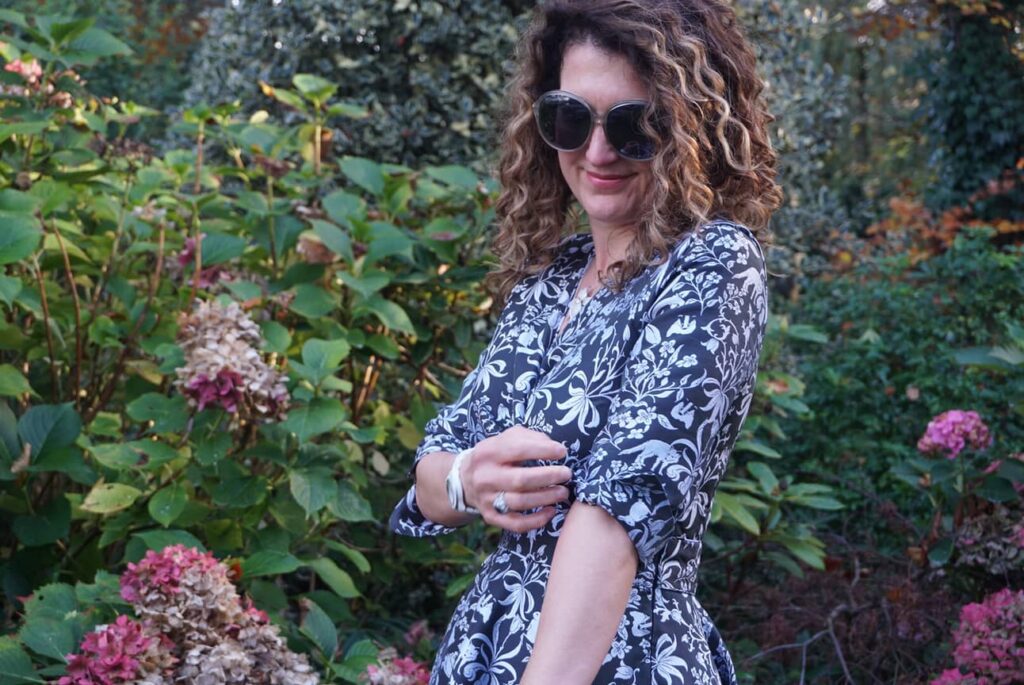 And obviously this dress has a big circle skirt, which I LOVE!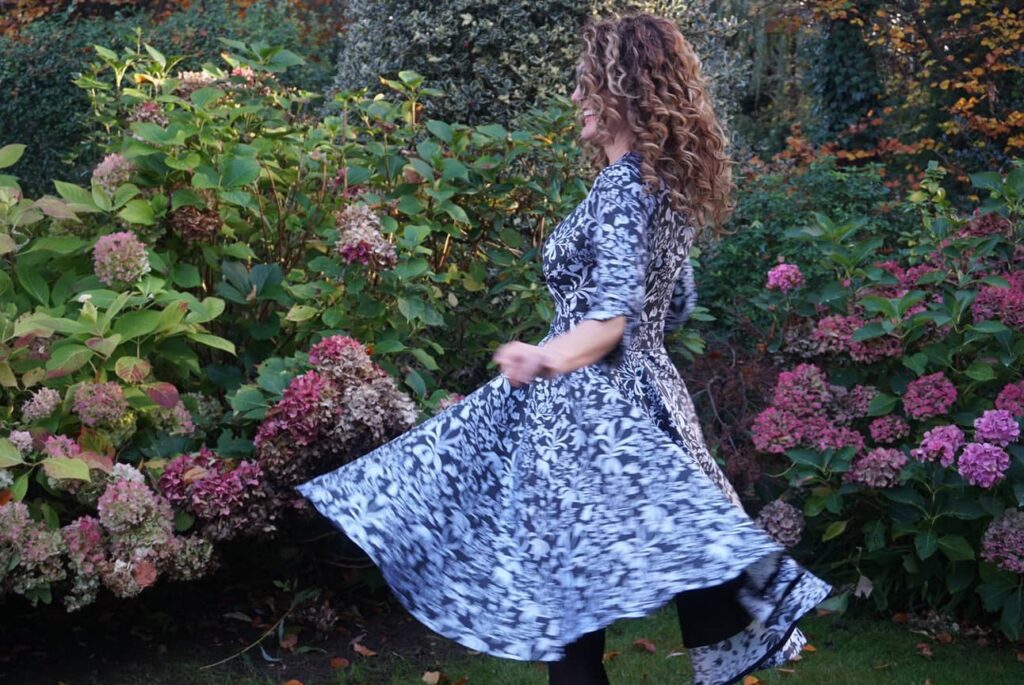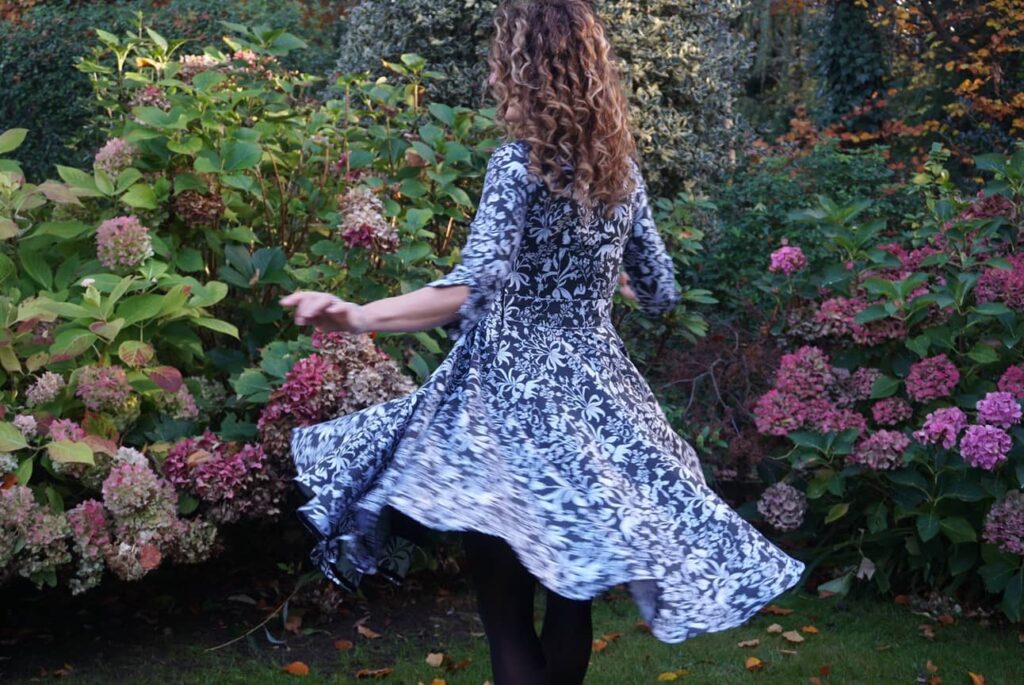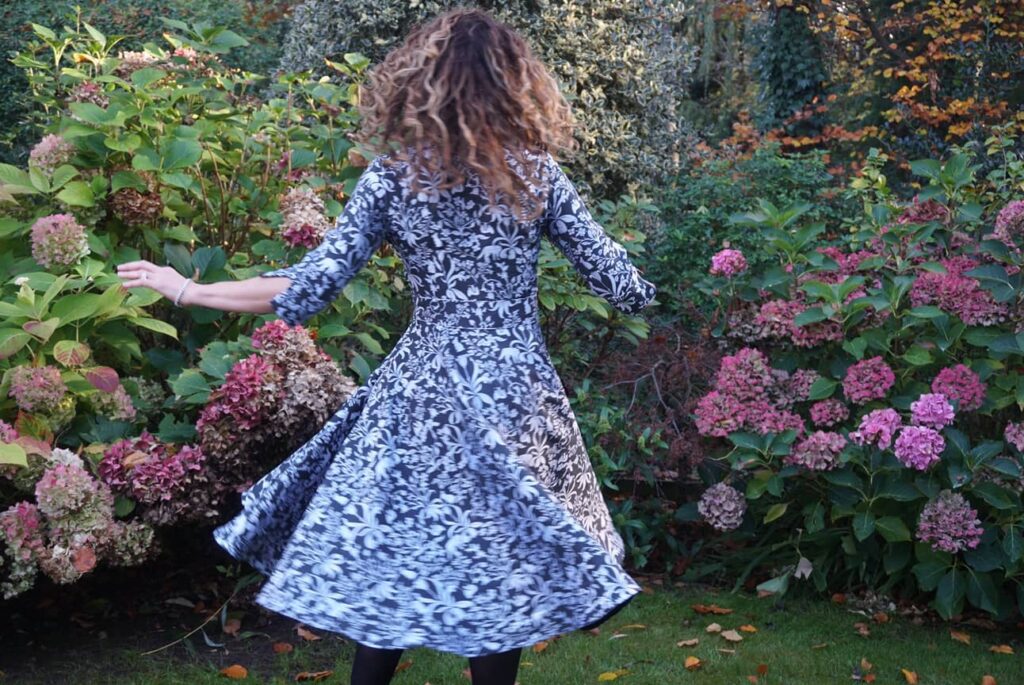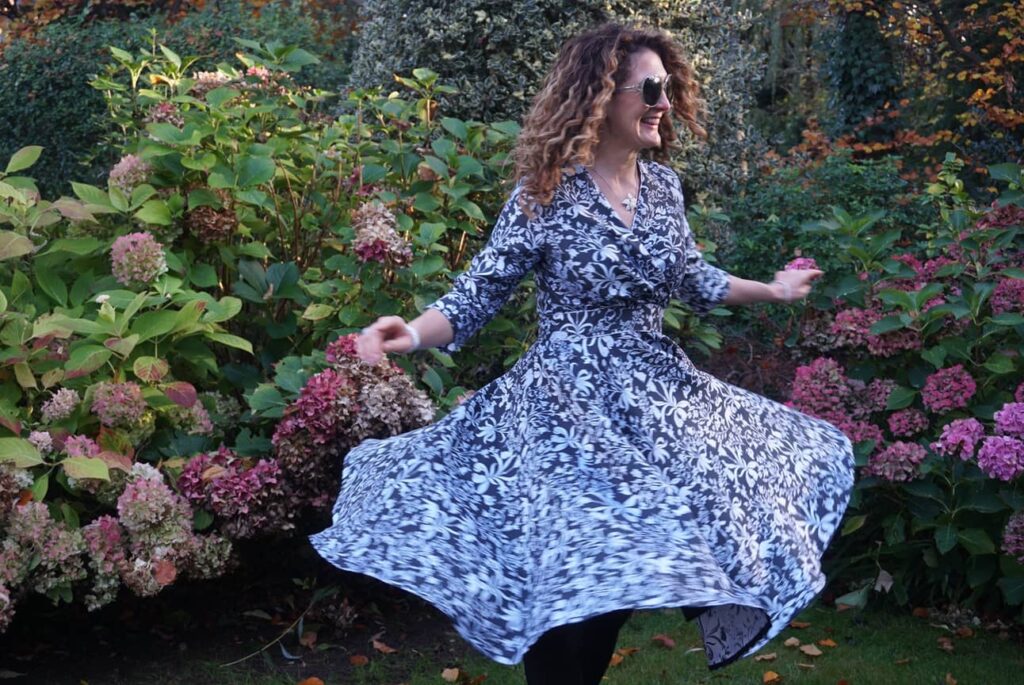 My second version is also in a fabric from Bennytex, this time a floral cotton satin with a reasonable amount of stretch. Using this fabric was on my Autumn to-sew list and although I changed pattern, I am very pleased with my stash-reduction accomplishment!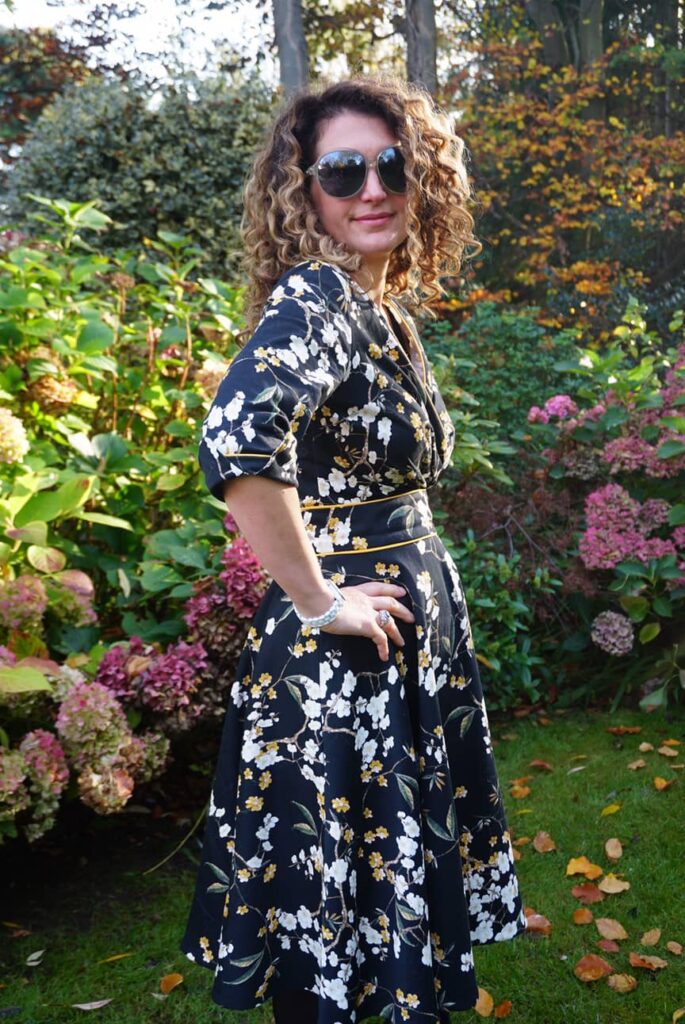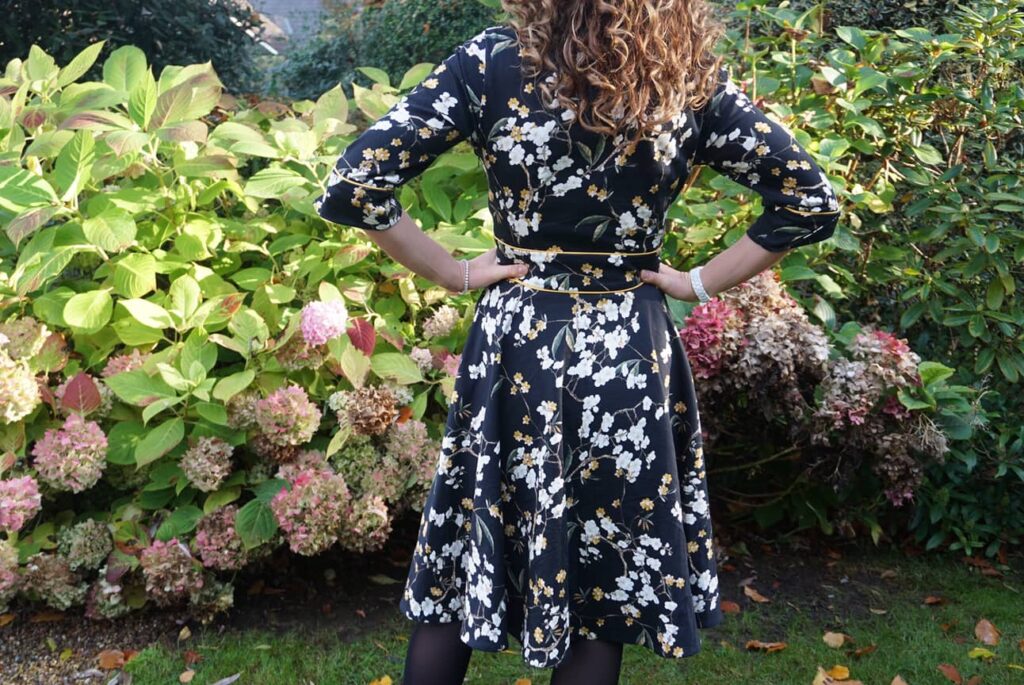 The piping definitely worked better here!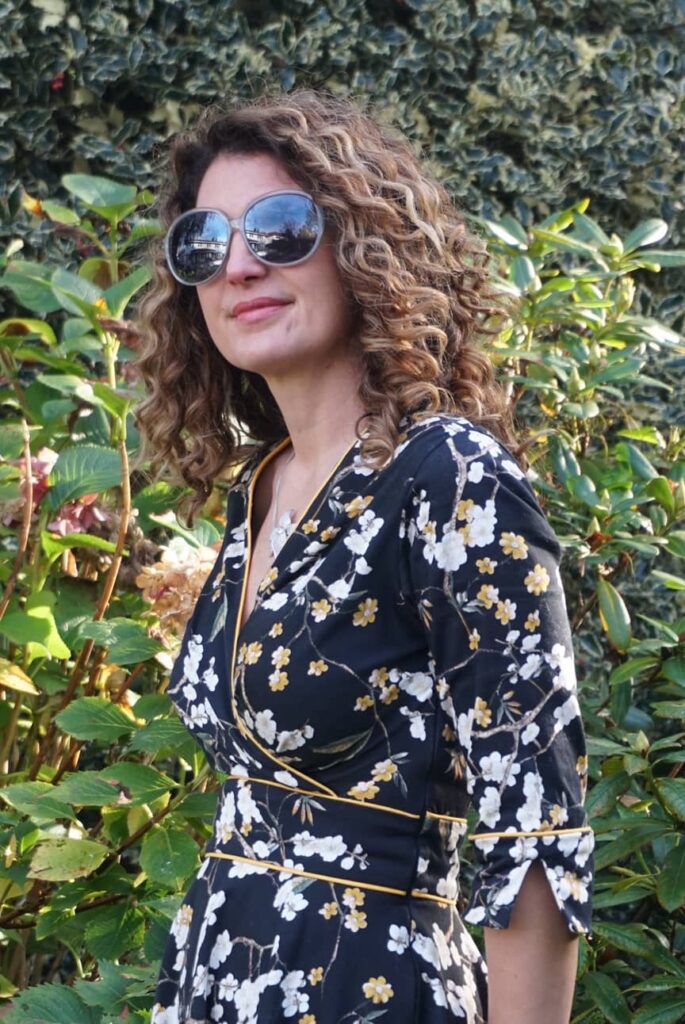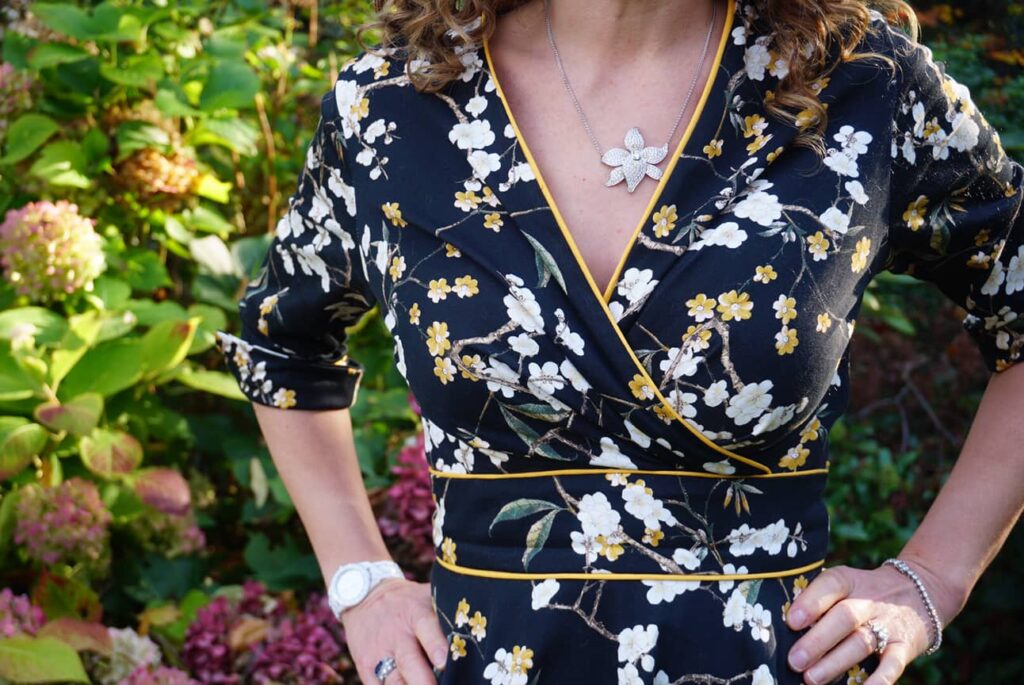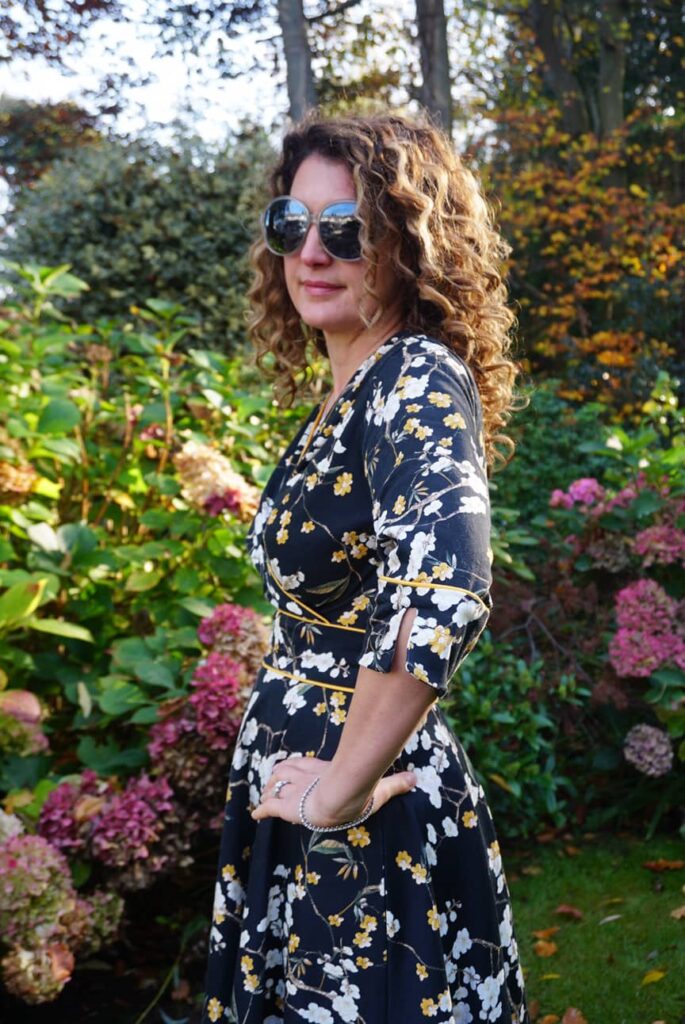 And here we are with these dresses! I love this pattern so much that I need to refrain myself from sewing more if these dresses… Next I need to show you the two cardis I knitted to match – watch out!
Royal blue sew & knit combo: M7081 + Belladonna
Now that I have become a competent knitter (thanks to lockdown!), one of my targets is to matches my hand-knitted and hand-sewn garments. And knitting a cardigan to wear with the dress sat very high on my list of projects for Autumn 2020 (reviewed in this article).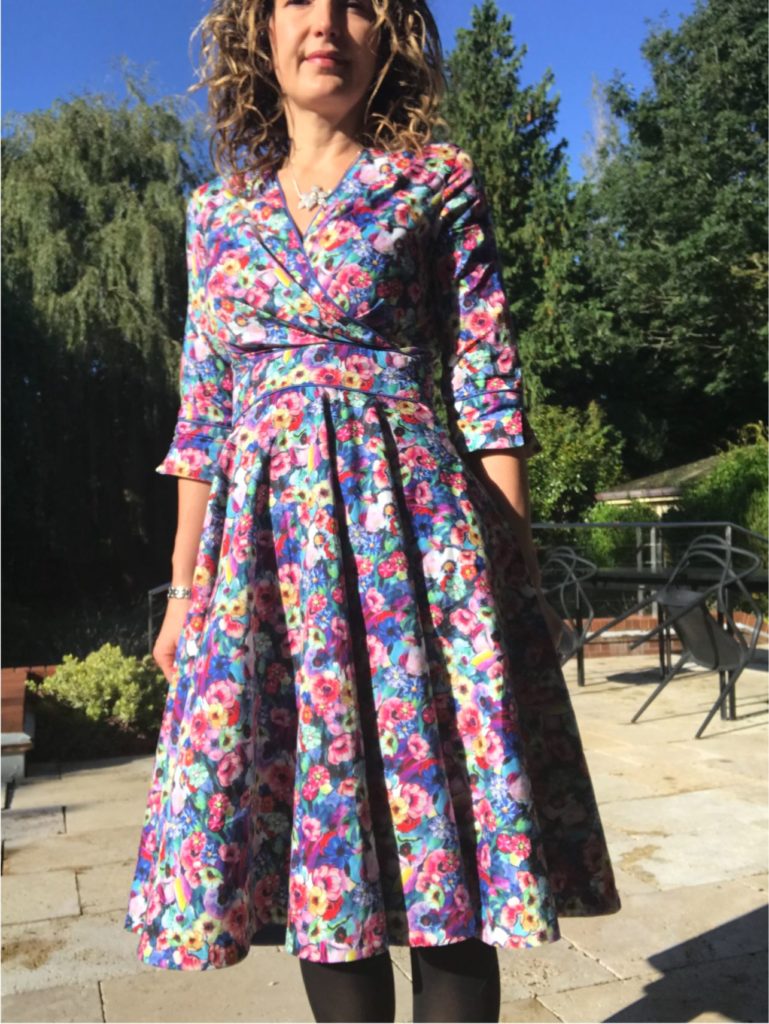 This dress is one of my favourite, so much so that she has a red twin sister.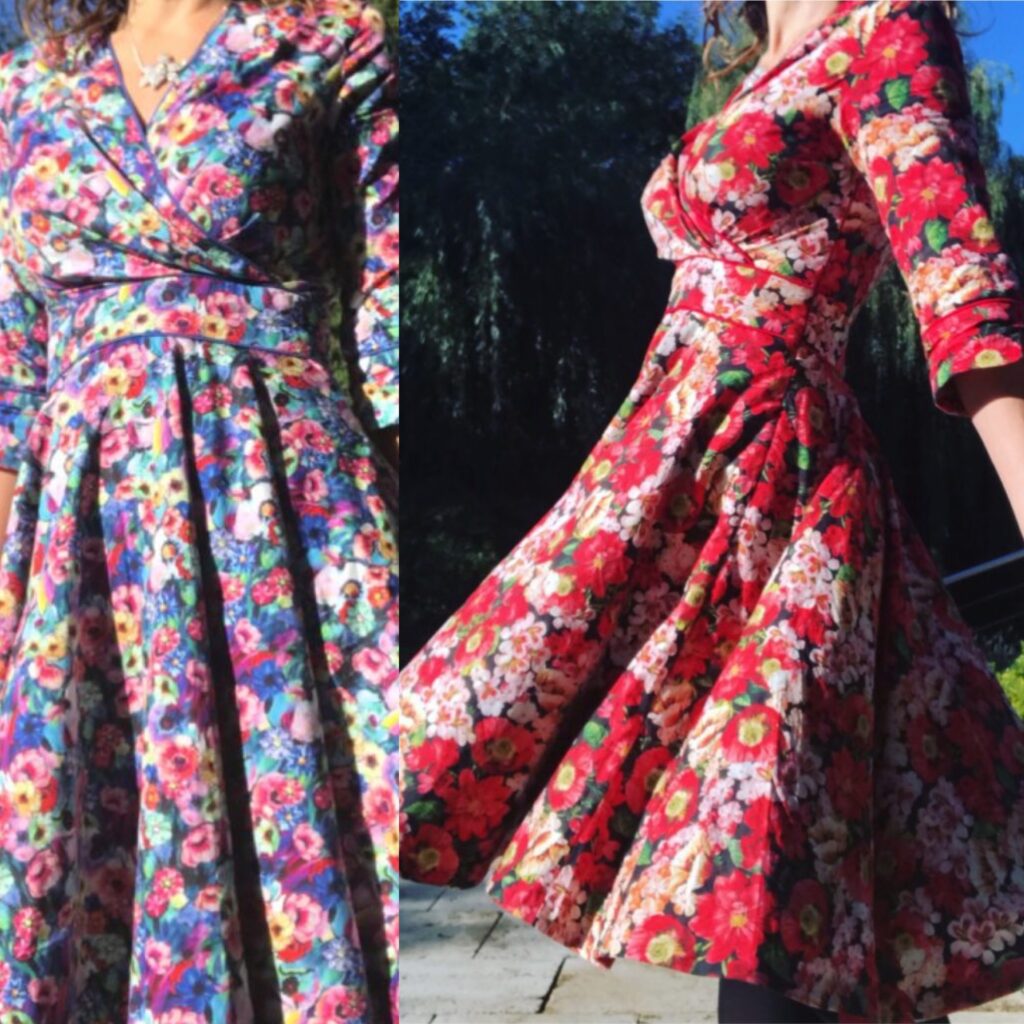 But strangely enough I never blogged about any of them. Let's remedy this!
The pattern is McCall's M7081 – a knee-lenght dress with a mock-wrap bodice and a full circle skirt, joined by quite a large belt. The bodice has pleats instead of darts for bust ease, which make the dress it very pretty.
I cut a straight size 10 without any adjustment. I even avoided the dreaded FBA (I am an E cup), which is why the skirt slightly pulls up at the front. But for once I am not too bothered.
The changes I made to the initial pattern are purey aesthetic: I omitted the collar, inserted some piping at the neckline, belt and sleeves and added sleeve cuffs.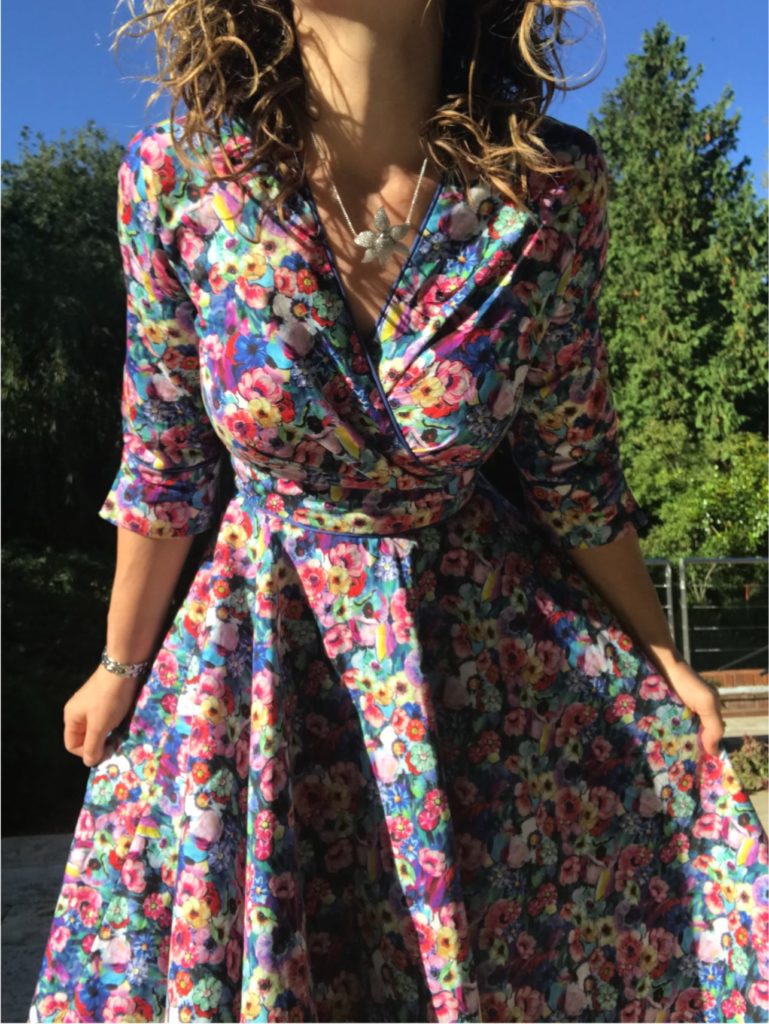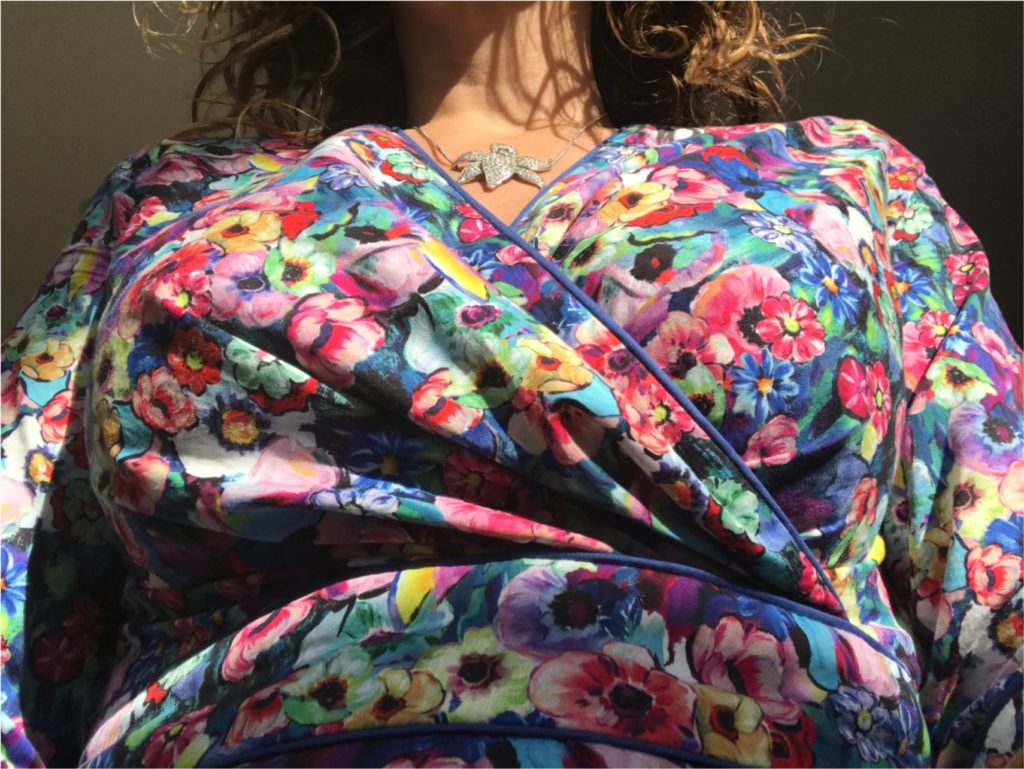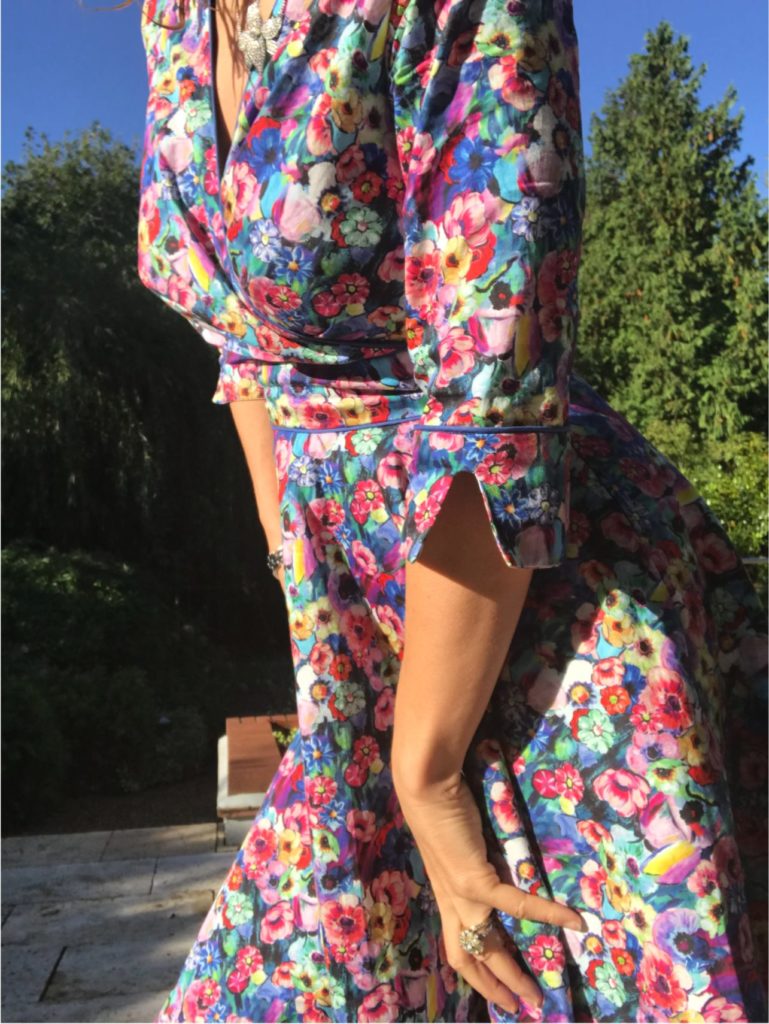 The fabric is a Dolce & Gabbana lawn-weight cotton , bought from Sew Me Sunshine. This fabric is magnificent and largely explains my adoration for this dress.
But the fabric being lightweight, the dress definitely needed a cardigan, cropped of course. Here it is!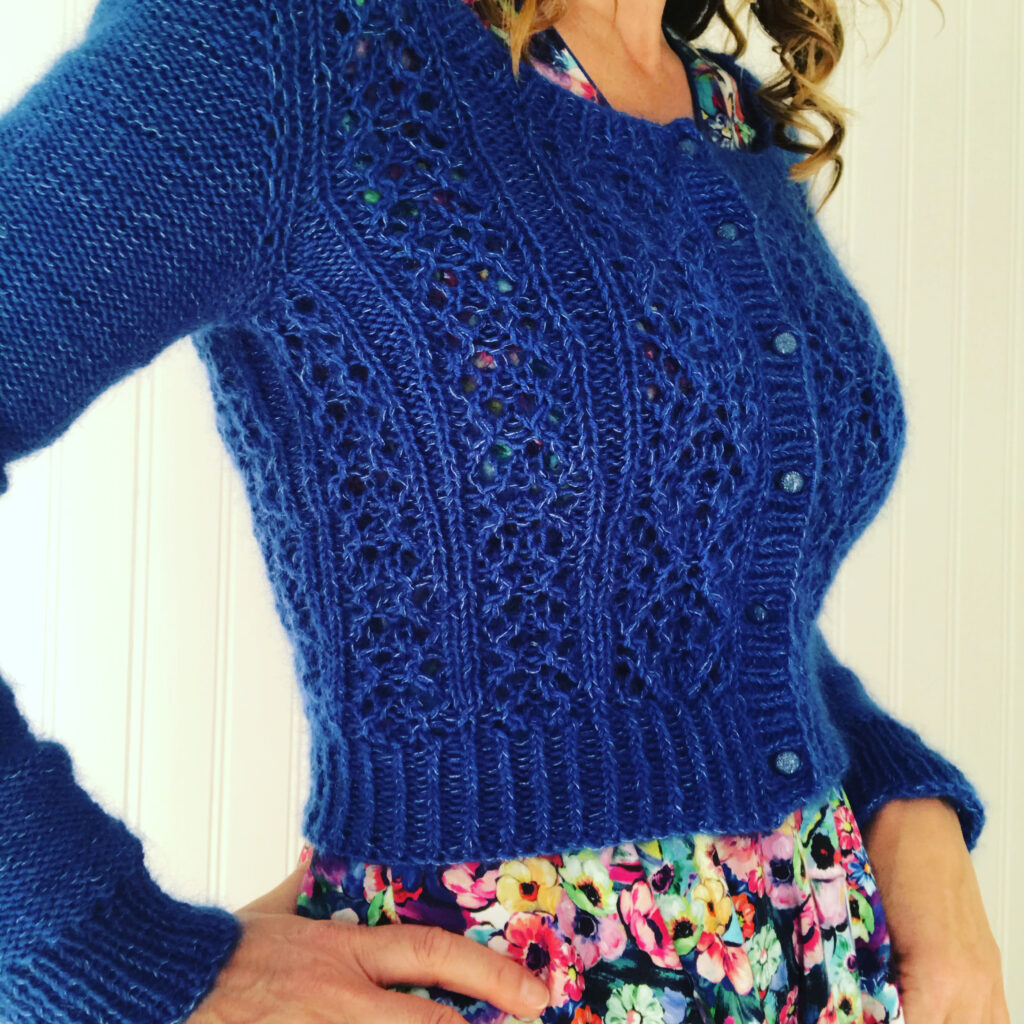 You may have recognised Belladonna by Andi Sutterland, a stunning cardigan with all-over lace which I already knitted earlier this year – see here for the article on my first Belladonna.
I absolutely adore this pattern, the all-over lace effect is gorgeous and the cropped length is perfect. And the pattern is so perfect, crystal clear to follow.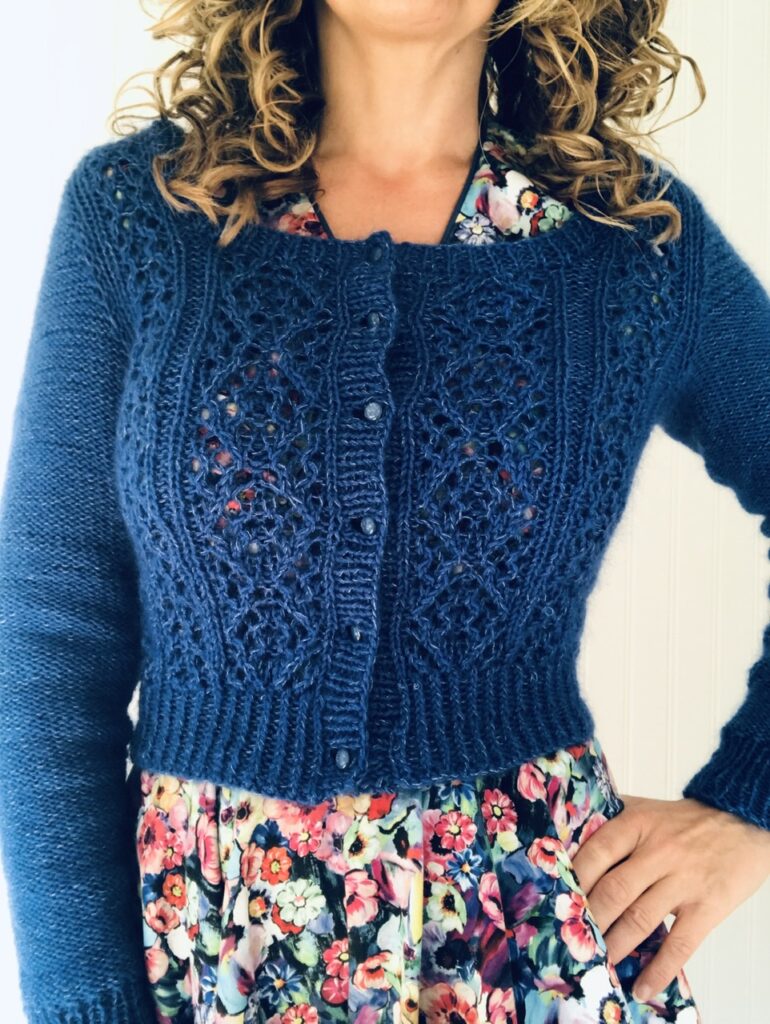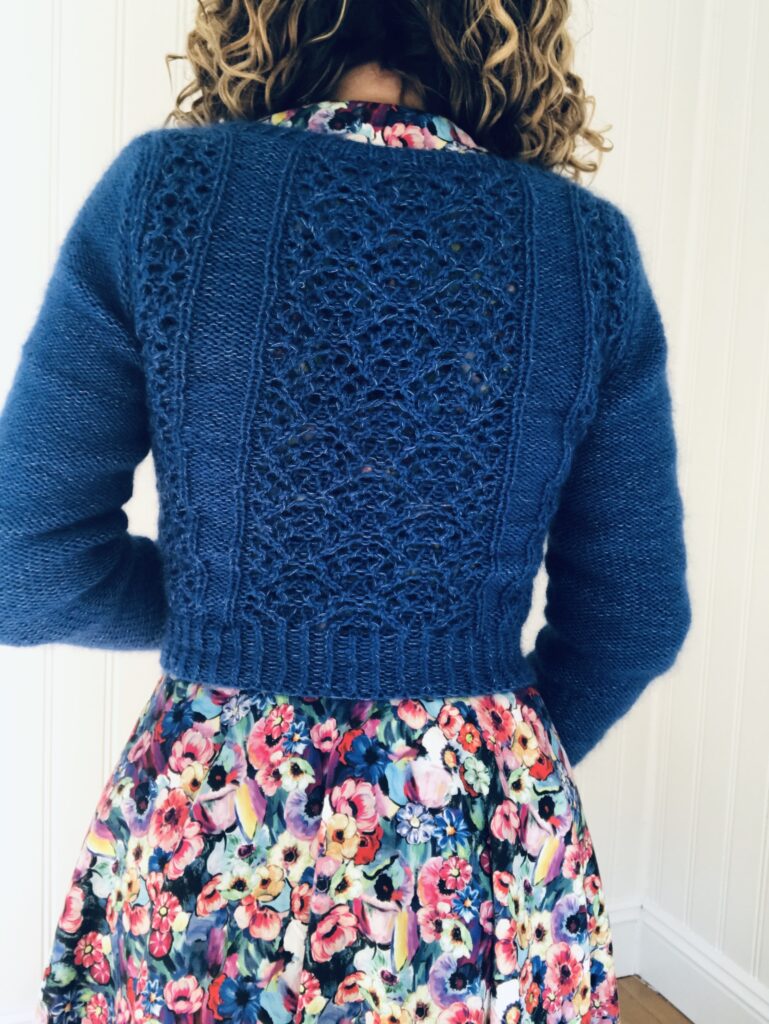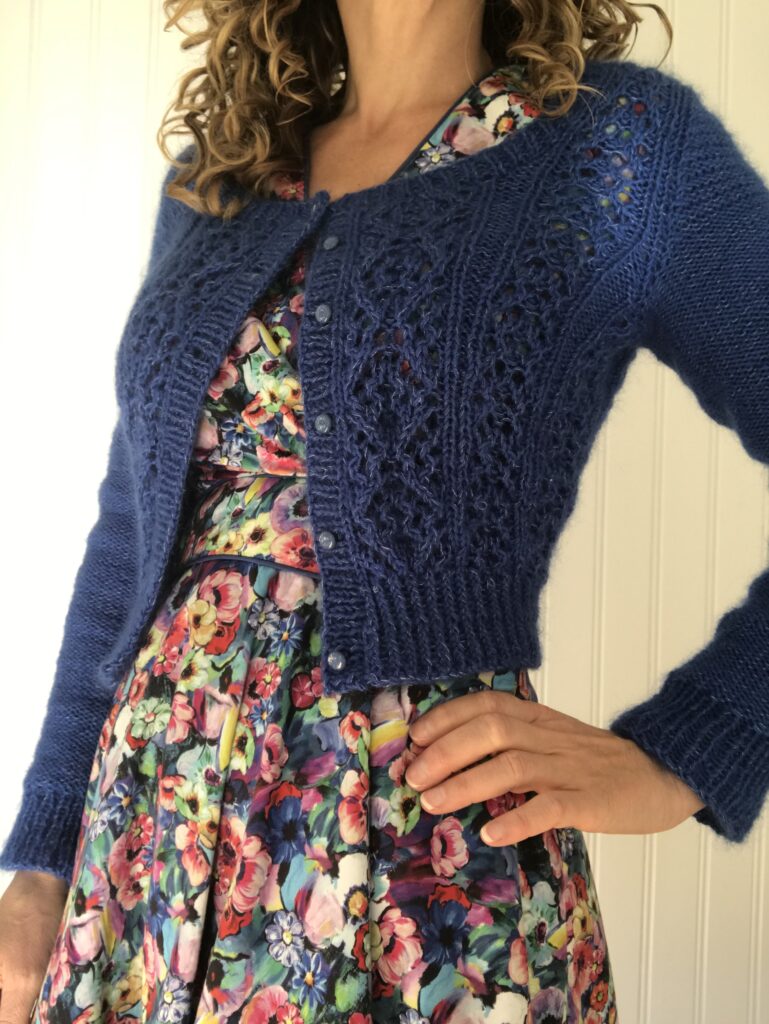 I used a combination of Drops Baby Merino Electric Blue 33 and Drops Kid Silk Cobalt blue 21. I had knitted this combination already for my daughter and the result is a magnificent vivid blue, the pictures of the cardigan actually don't give it full justice.
My only disappointment is that Drops seems to have slightly changed the Kid Silk, adding some white speckle, which makes it less bright – I realised it when after knitting the back and front down to underarm level with my wool leftovers, I started using my new wool and… it just did not match at all! I therefore had to start all over again! But all worth it, because this dress-cardigan combo is exactly what I had envisioned !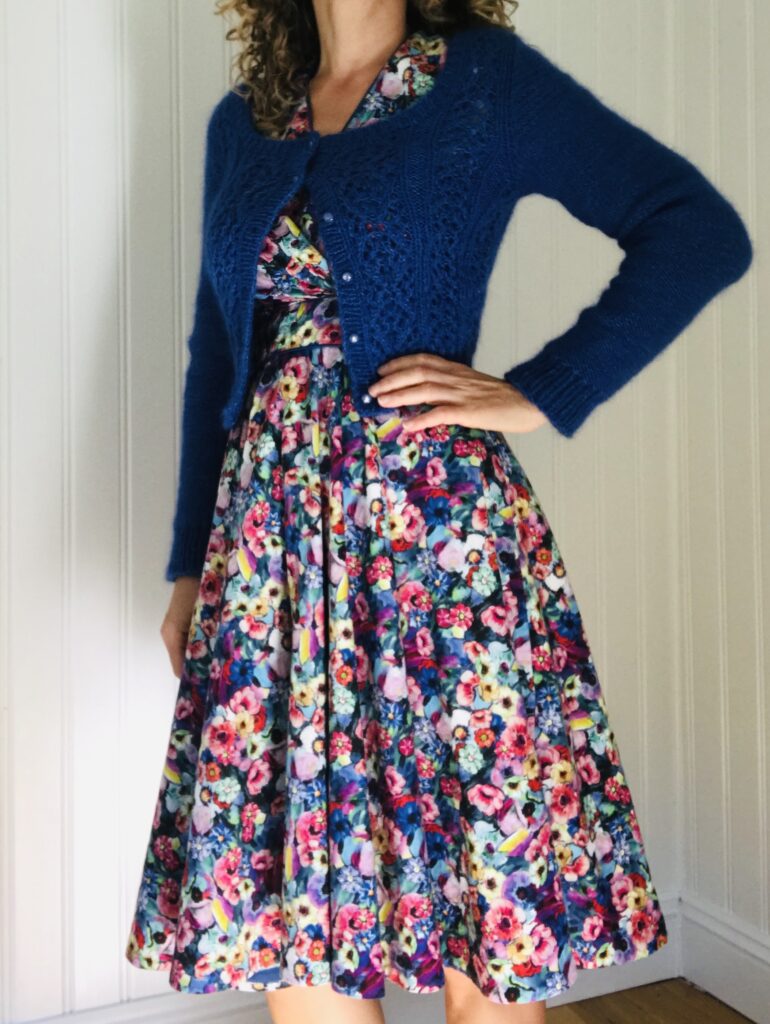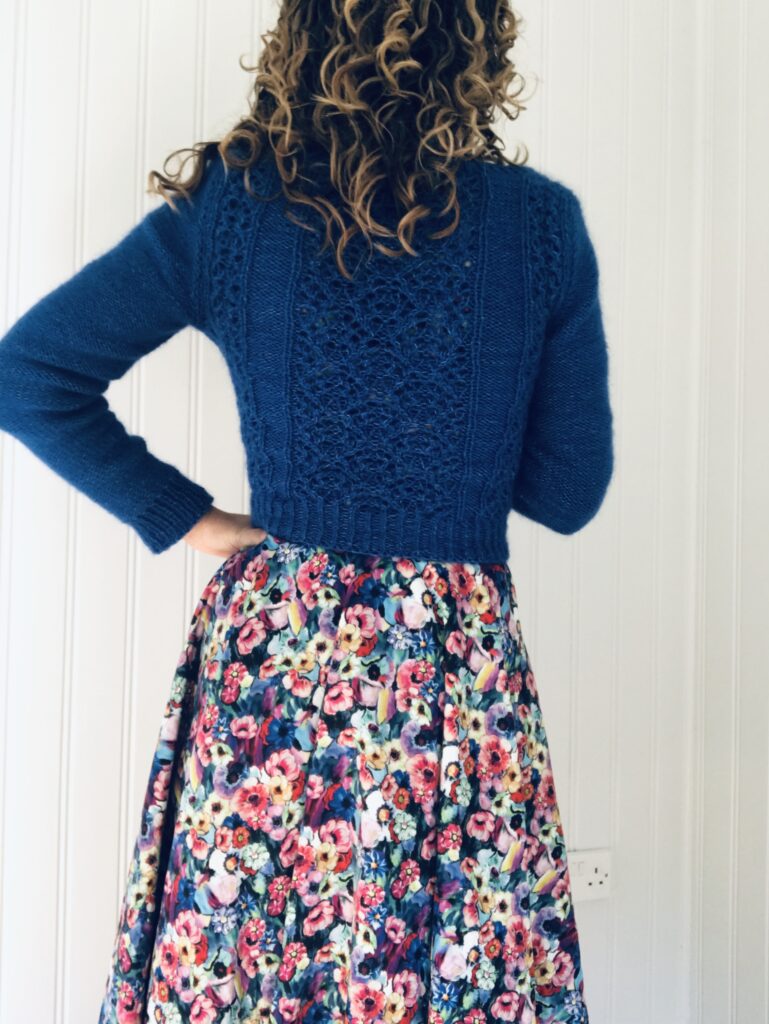 One combo done, two more to come…