Summer 2020 sewing review
This post is also available in: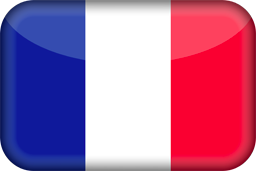 Français (French)
Although I've tried to avoid admitting it, my summer sewing is definitely drawing to an end. Before moving to autumn sewing, here is a little recap of what has been undeniably a very productive time.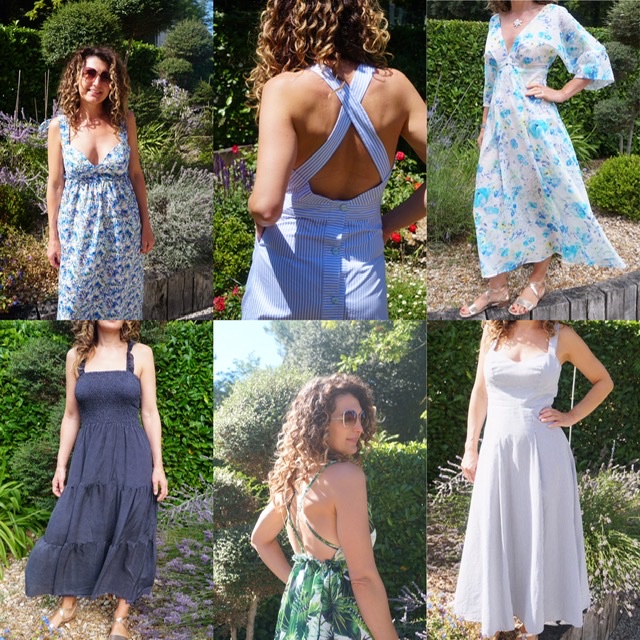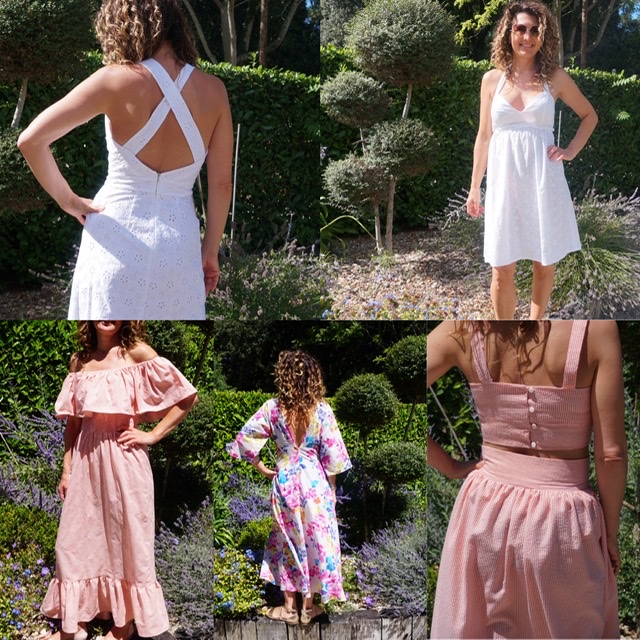 Looking back at these pictures is quite emotional for me, as this year our family spent five months instead of the usual two in our French home. This obviously gave me ample time to improve my summer wardrobe there! With the only caveat that my sewing machine there is… not the latest technology to say the least! Not even mentioning my inexistent sewing space…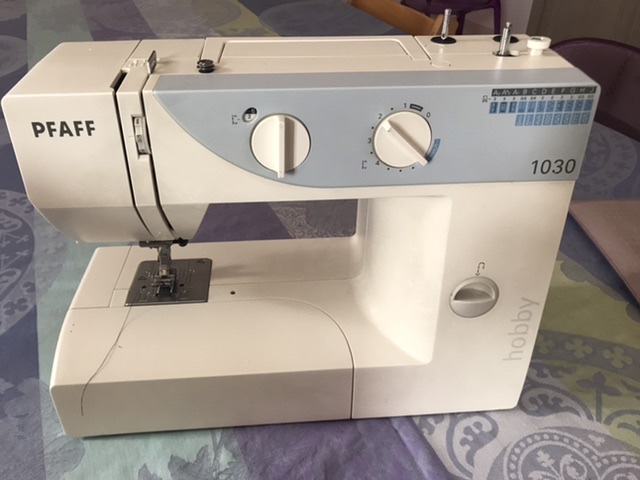 This is the sewing machine my mum gave me when I left home, more than 20 years ago. It is noisier and slower than my all-electronic Janome Atelier 5 back home but it is amazingly reliable and efficient. Just tp ,ake the point that when you want o sew, you can sew under any circumstances. Anyway, back to summer sewing…
Back Obsession
I did not diversify much from my sewing focus on dresses but this summer I was really attracted to beautiful backs.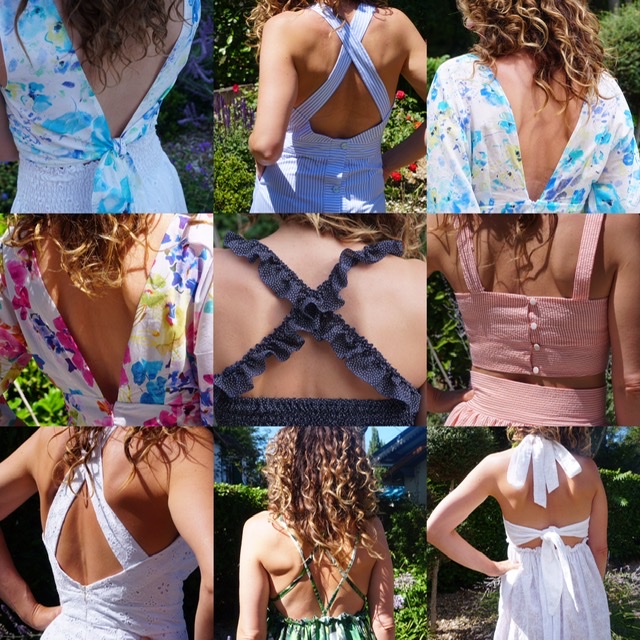 This was definitely the case of M7952 with its crossed straps (reviewed here and here), which I had to make twice this year because I liked the first version so much!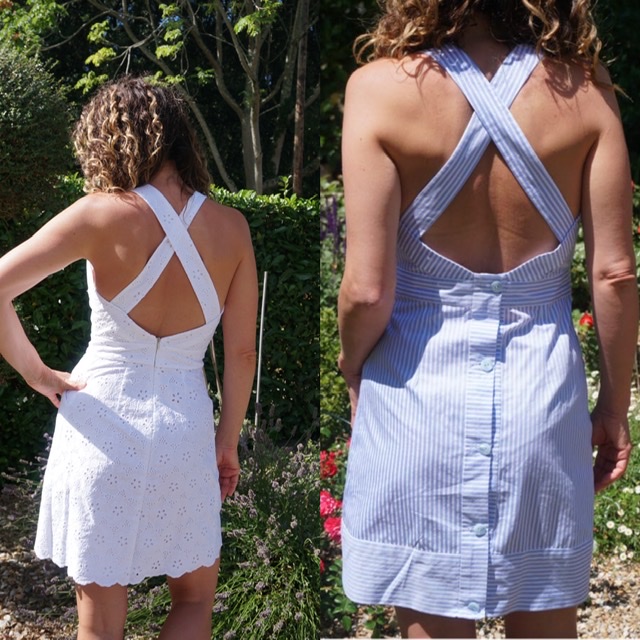 The Glory top from Clematisse pattern was an exception to my dress focus, I was drawn to it by… its back of course, and made two versions for my eldest. Who conveniently is the same size as me so clothes swapping is fully possible!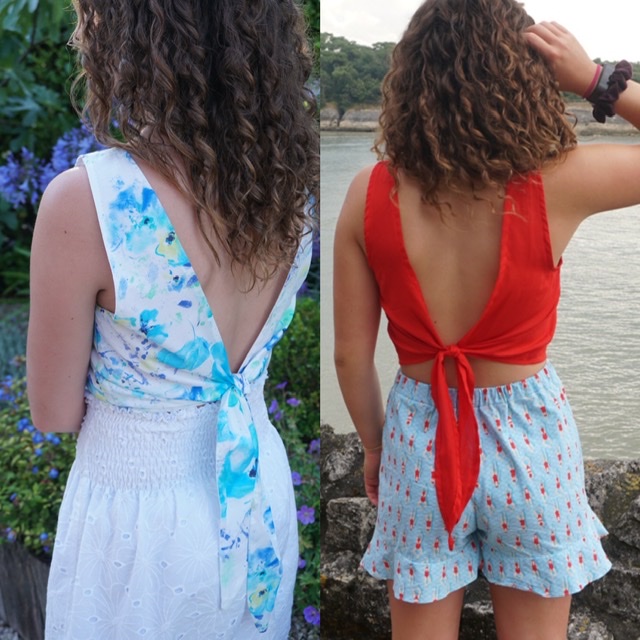 When the pattern did not have a noticeable back, I hacked it to make it so. For V9253 (reviewed here and here), I replicated the front deep plunge V at the back – it makes the dress even less bra-friendly but who care!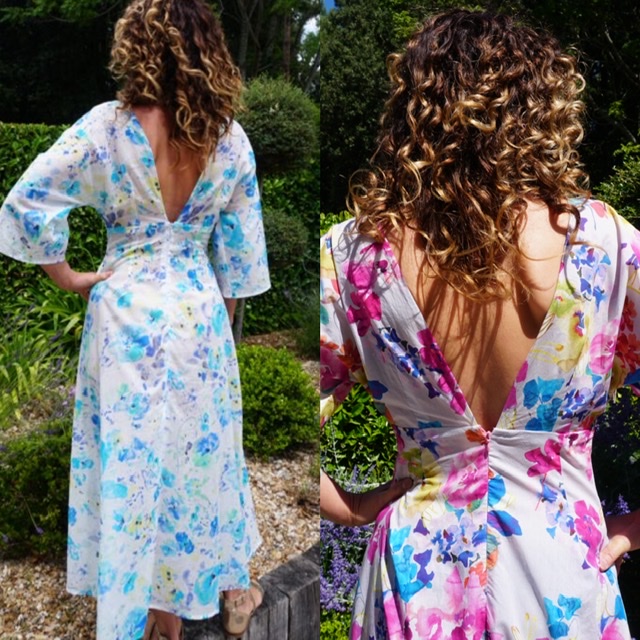 And I did also play a lot with straps!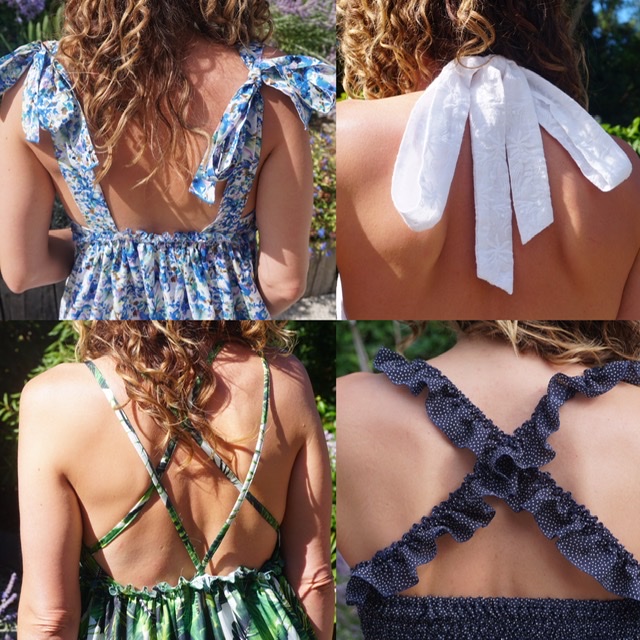 New favourite patterns
This summer's sewing frenzy was also the opportunity to sew new patterns, as we had left London in a panic and I took none of my patterns (or fabric for that matter) with me – can you believe it?
My favourite ever is definitely V9253, which I had been eying for a while and which has been a massive success in the sewing community since its release a few years ago – now I know why! It is extremely easy to make while utterly stylish. I think I will definitely try a lined wool version for the winter, to wear with layers underneath.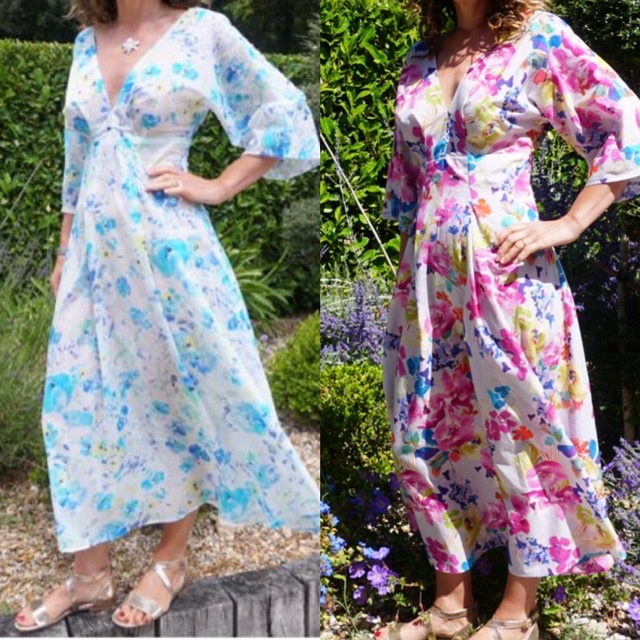 I also fell in love with the Cassandre dress by Clematisse Patterns, definitely the ultimate summer dress, which I extensively hacked by making three versions in total (reviewed here and here).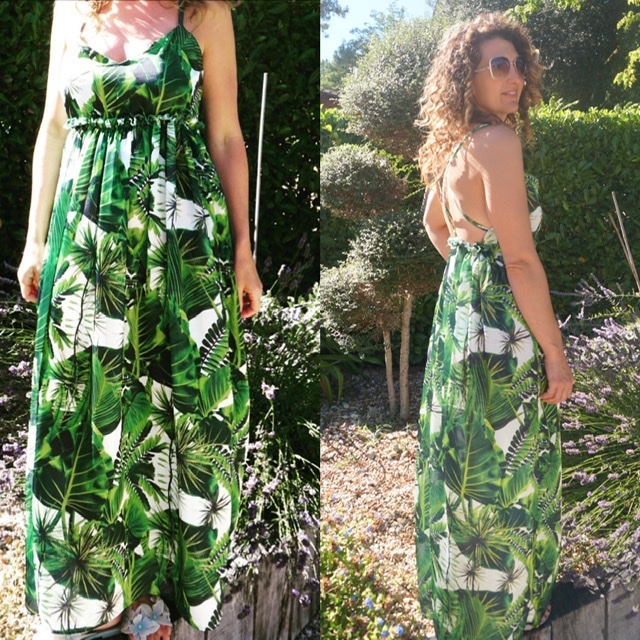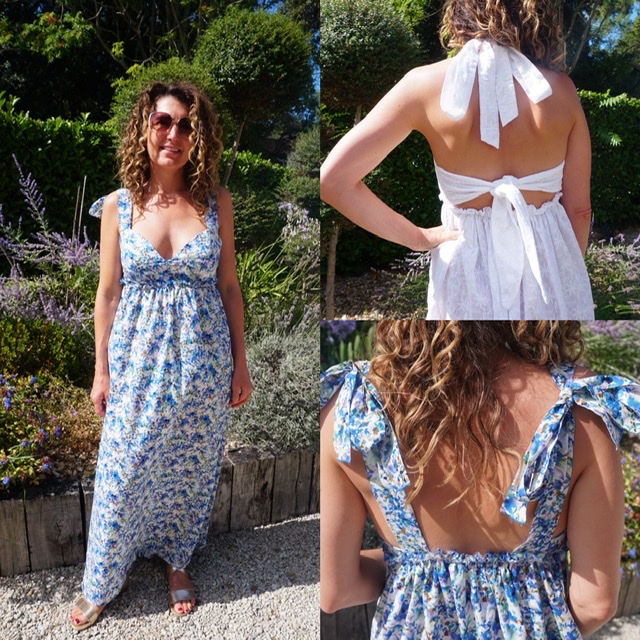 And I also extensively used the M7958 cropped top pattern as a basis for making dresses, as the bust fit is perfect with its cup options and the cropped factor makes it perfect to add a skirt to.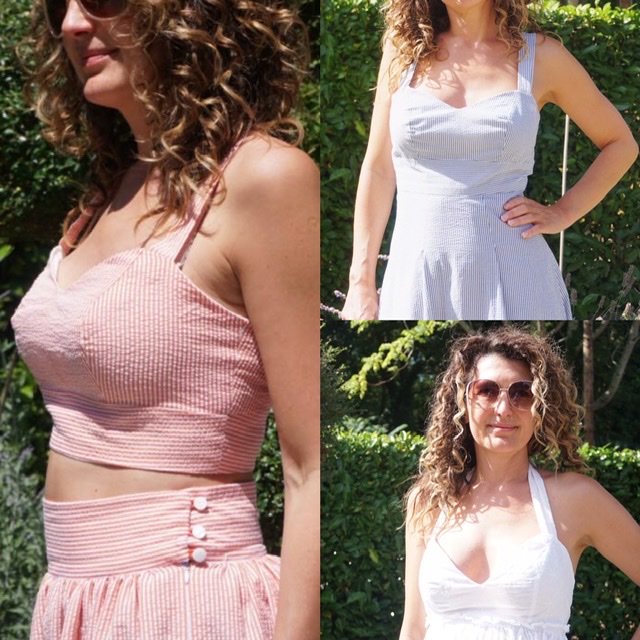 New shirred dress tutorial
This year was definitely the year of the shirred dress on Instagram, with loads of lovely versions popping up everywhere. I have been in love with shirred dresses for years and after my tutorial for a basic shirred dress of two years ago and for a tiered shirred dress of last year, I added a shoulder-ruffle version for those of us who prefer to hide a bit their arms.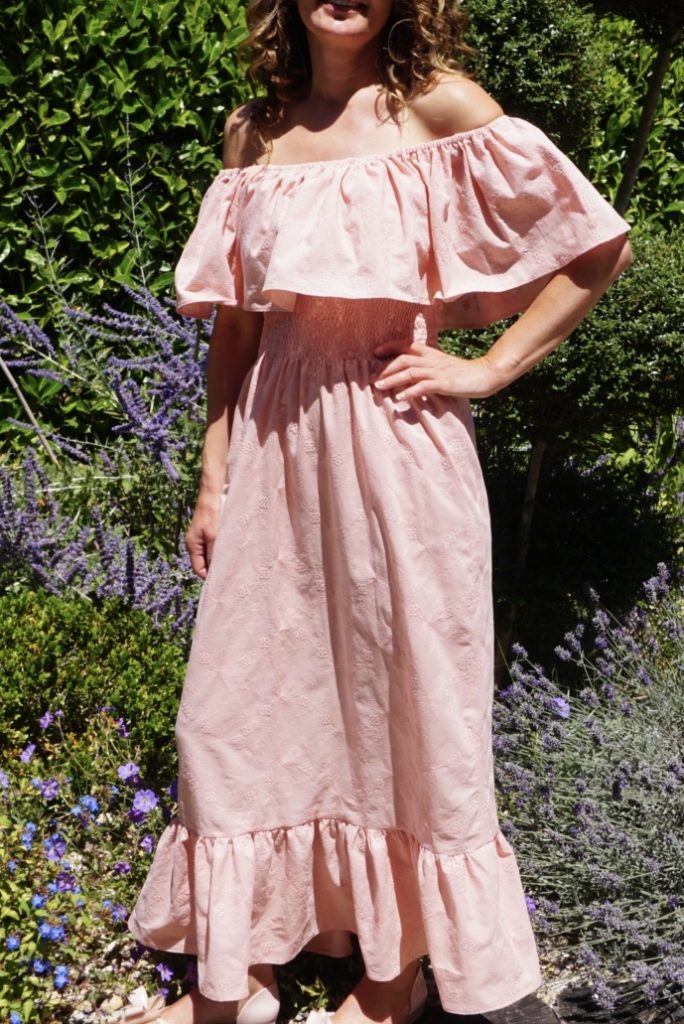 New fabric shops
This summer was also the opportunity for me to try new fabric shops. My two best find are Selvedge & Bolts, where lovely Dibs sources the most magnificent ex-designer fabric – both my V9253 dresses with their impressionist flowers are from there; and Un Chat sur un Fil, where I ordered a batch of embroidered cottons and broderie anglaise of amazing quality (from which I made my tutorial shirred dress and my two white dresses).
In conclusion
I also made a few other bits for my girls – a few skirts, shorts, tops, a few face masks for the family (joy!) and some scrunchies, not all photographed. But overall that's it for summer sewing! Now fully ready to warm up to autumn and winter sewing (such a bad pun) – stay tuned!
---