Summer stripes and pretty back: my M7952 dress
This post is also available in: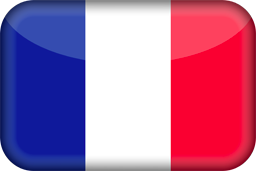 Français (French)
As promised, back to sewing at last! – the weather is so hot currently that none of my models wants to wear woolen sweaters anyway! This year I've transitioned directly from winter to summer sewing and here is my first summer make: the McCall's M7952 dress, with its beautiful back.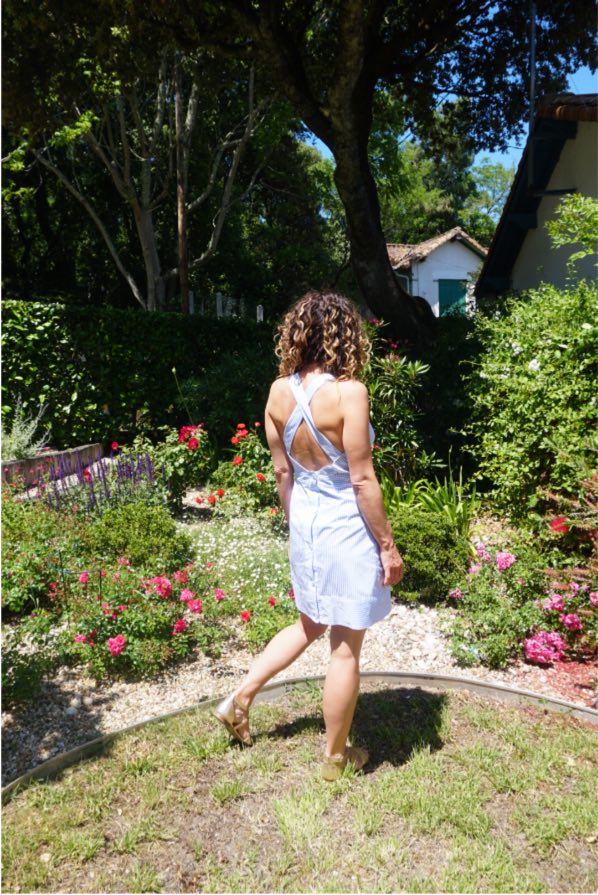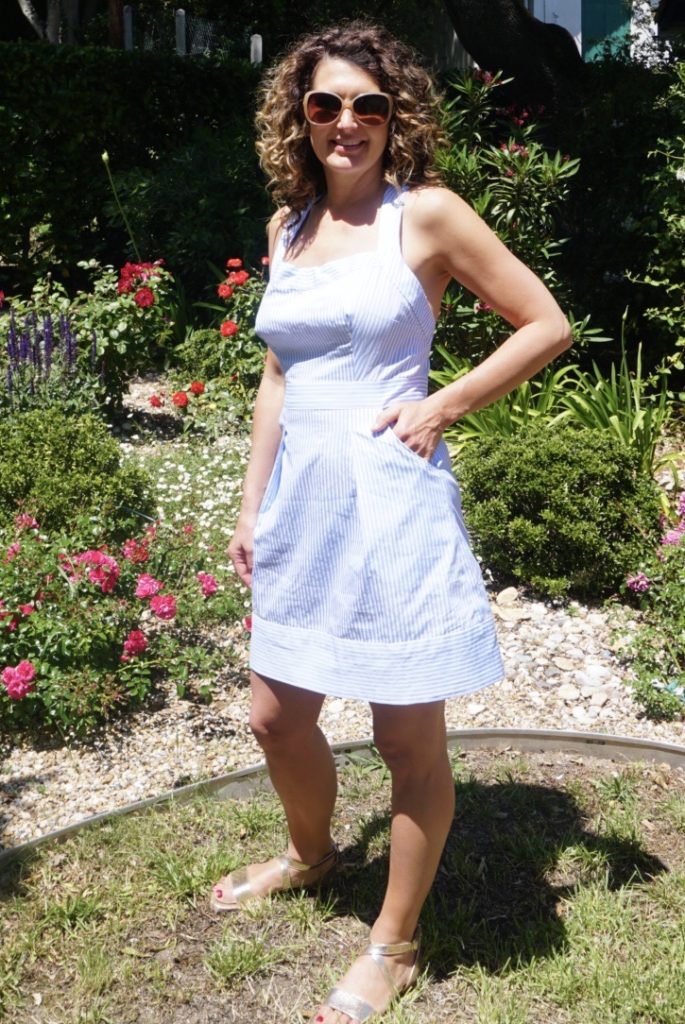 The pattern was released in Spring 2019 and I feel in the love with the presentation picture (view A) – the contrasting stripes, the pockets, the back, I wanted exactly the same…. just not in yellow!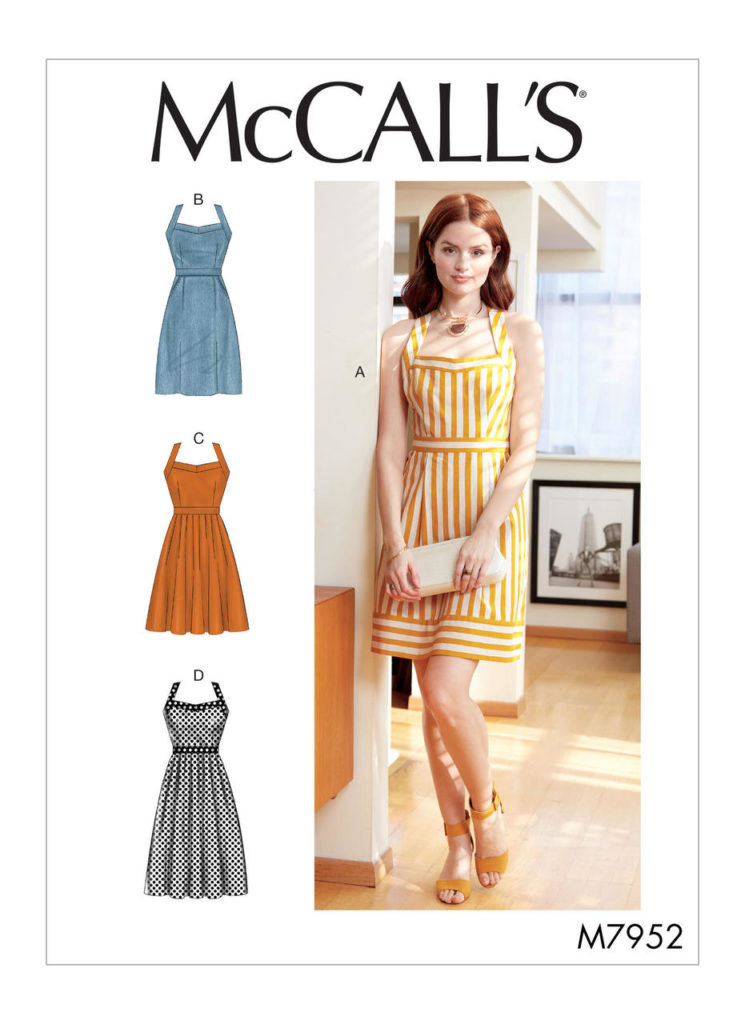 Despite having the perfect fabric in stock, a lovely striped cotton poplin from Bennytex, it took me a full year to actually get going on this dress. My main problem was the bust: this pattern sadly has no bust cup options, so to make it fit properly I had to do an FBA… and I find them such hard work that it really held me off. Here is a picture of my adjusted bodice, where I added 1.5cm in width at the bust. I added a side dart on top of the existing waist dart to avoid a pointy boob effect – and even with two darts, I did have to fiddle quite a bit between to get where I wanted shape-wise. I am still not fully happy with the result but it will have to do I'm afraid…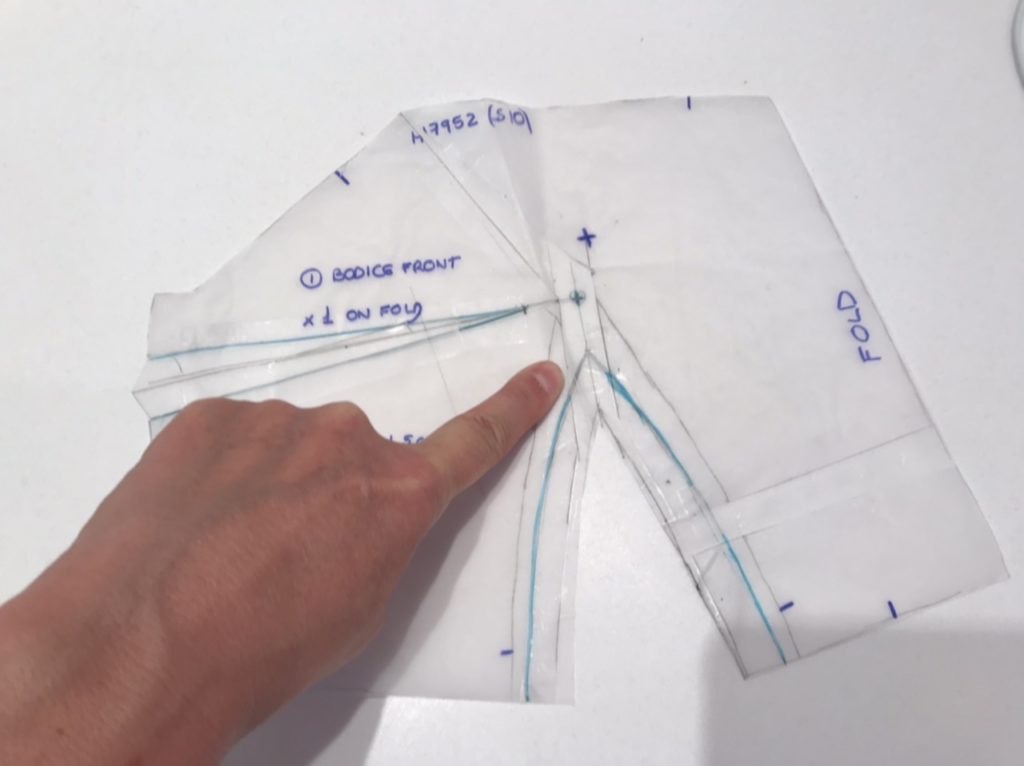 My other issue were the stripes – until June 2019, I had astigmatism, a vision defect which among other things make stripes very blurry so nearly impossible to sew! I got my eyes lasered last June and now stripes are sewable ad nauseam – brace yourself for a lot of them this summer!
Cutting the fabric took ages, as I really wanted to get the same effect of horizontal versus vertical stripes as the one shown on the presentation pictures. But I'm happy I took the time because the effect is exactly what I wanted.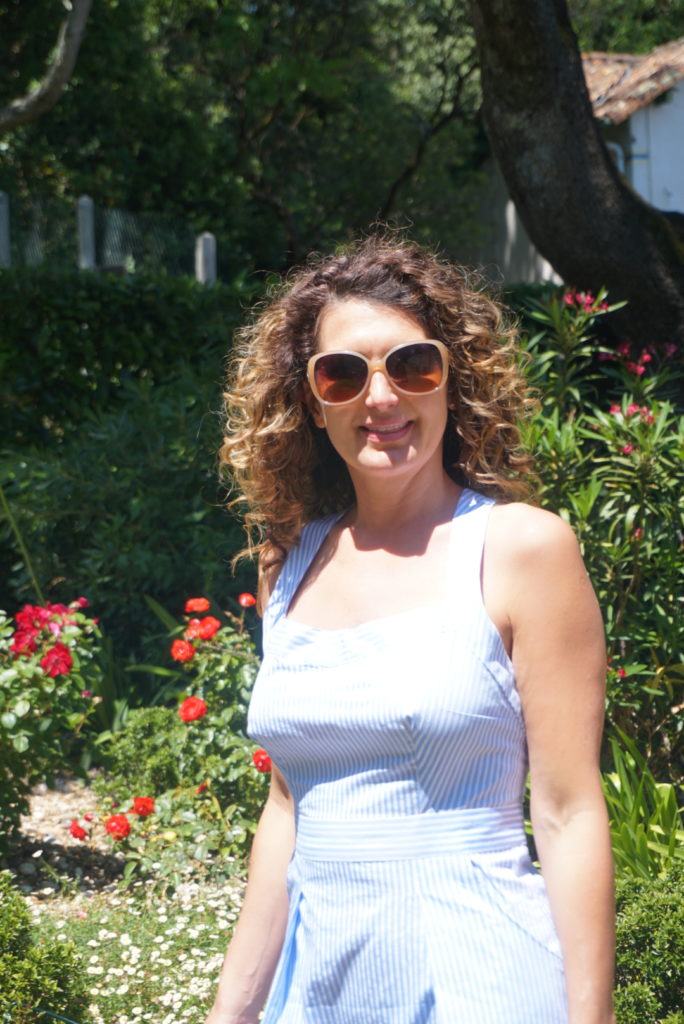 A really charming aspect of this dress is the back – not only the crossed shoulders, which fit perfectly well, but also the buttoned skirt. However this dress is definitely not bra compatible – keep that in mind when doing your FBA (bra-less measurements should be used, not that it occurred to me initially, hum hum…).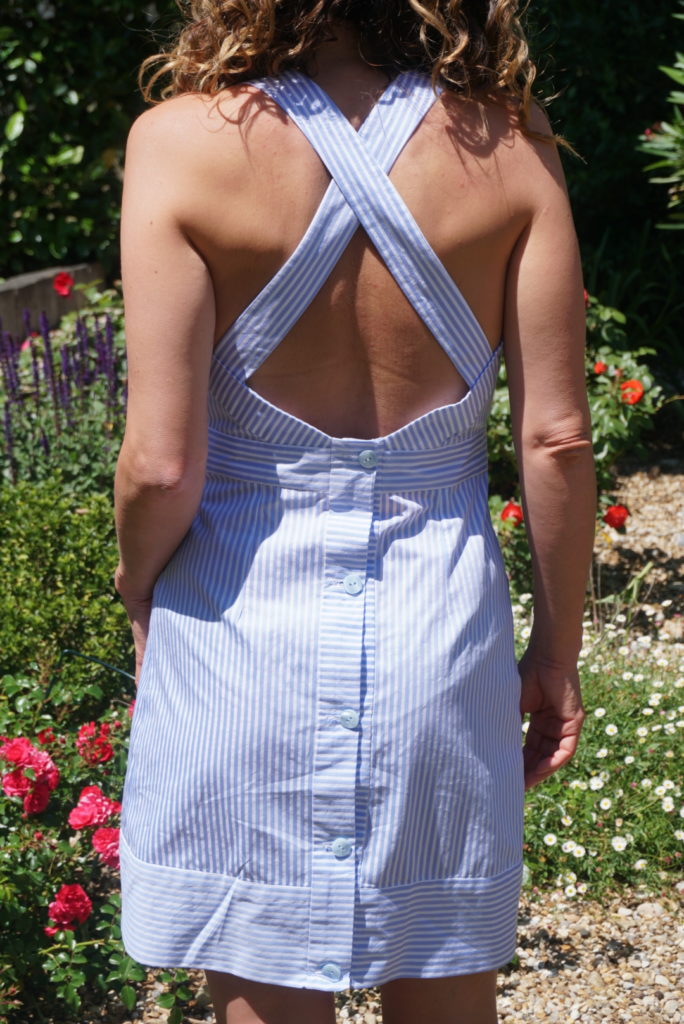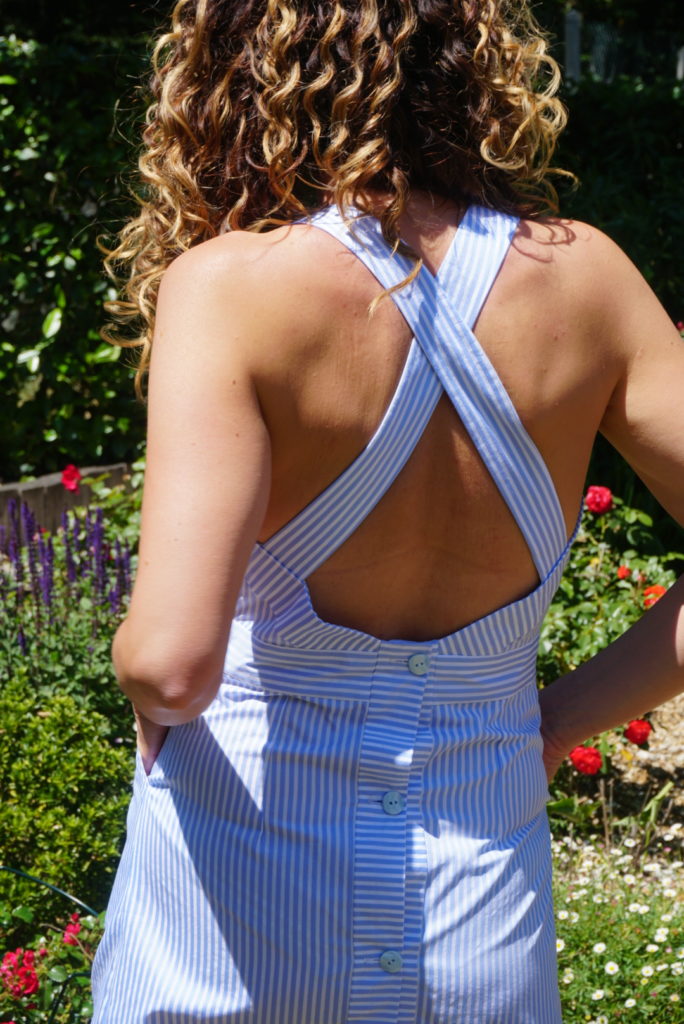 Being completely uninterested in dresses with pockets (unlike the rest of the world it seems), I was surprised to love them so much in this dress. They are actually the only reason why I used the skirt suggested by the pattern instead of something a bit fuller. That said, this skirt is a bit to tight to my liking for hot summer days – but I'm used to big and floaty so I may not be completely objective here.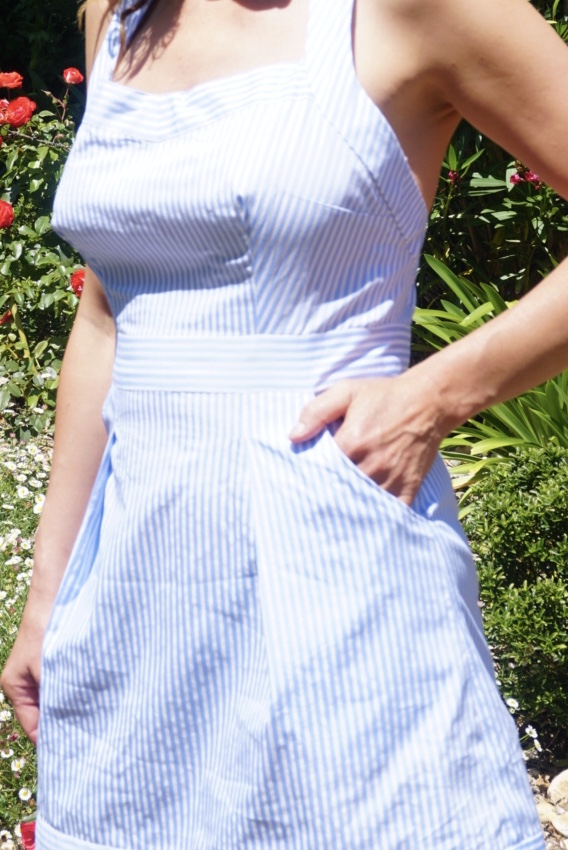 As for technicalities:
I cut a size 10 and made no adjustment whatsoever (except for the FBA), which is always the case for all the McCall's and Vogue patterns I've sewn and the reason I adore them!
The pattern explanations are very straightforward and result in an extremely neat inside finish so I strongly recommend that you follow them.
I used way more fabric than I would have thought, due to the stripe contrasting – and the many mistakes I made while cutting! So a good 2.5m.
Other than that not much to say, I am quite keen to try this dress with a circle skirt – but I would need to give-up the stripes for that. We'll see.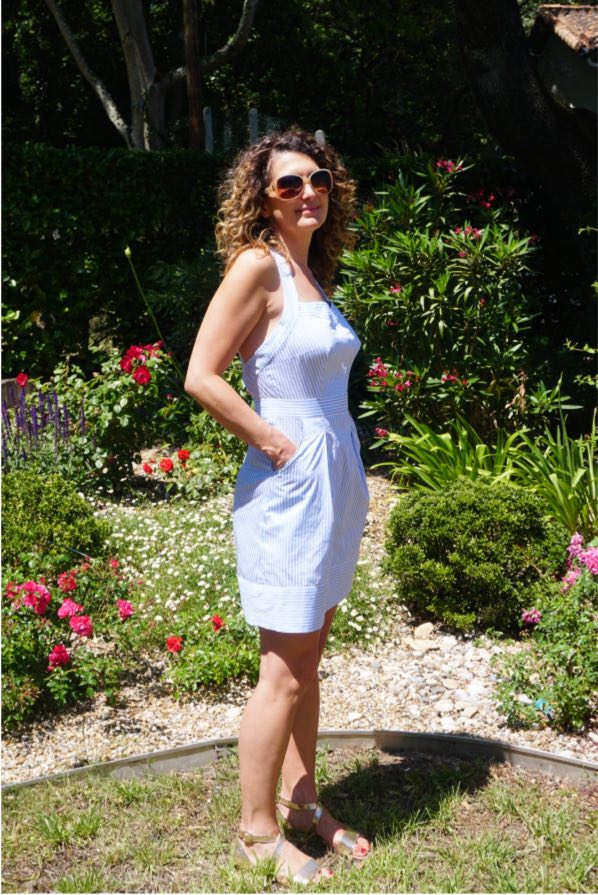 ---