More stripes for Summer: my cropped top and midi skirt set
I have been sewing more skirts recently, which will surprise many who know my passion for dresses! However since lock-down, we've been staying in France with far less sewing space than in London, so I thought skirts would just be easier to make than dresses. Here is the first of my skirt makes, the Jupe Midi by Vanessa Pouzet, in a beautiful seersucker cotton from SewMeSunshine.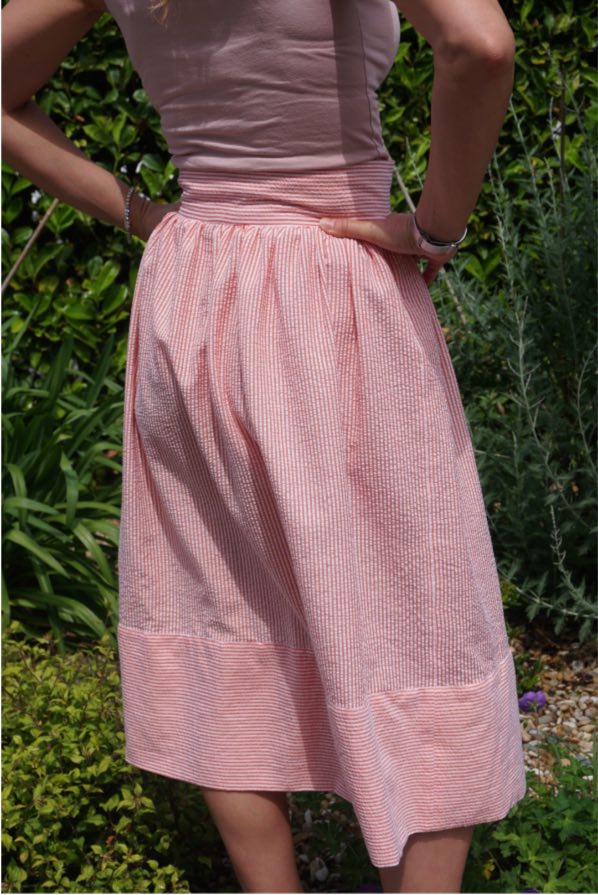 The pattern for this skirt is extremely simple, with no physical paper pattern but just measurements – 5 rectangles in total, which you cut directly on the fabric. So it definitely fitted the "I have no space to sew in" bill! I also really liked the possible contrasting of belt, skirt and bottom band, perfect for my current stripe frenzy!
The skirt closes on the side with an invisible zip at the skirt and buttons at the belt. Instead of making button holes with my rather unreliable sewing machine, I experimented with (my daughter's hair) elastics: I folded them in two to create a button hole, then sewn them into the margin allowance on the side of the skirt. The hardest part was to align the buttons and get a good fit at the waist – but this is due to the very large belt, despite the pretty look I would have made it narrower had I known…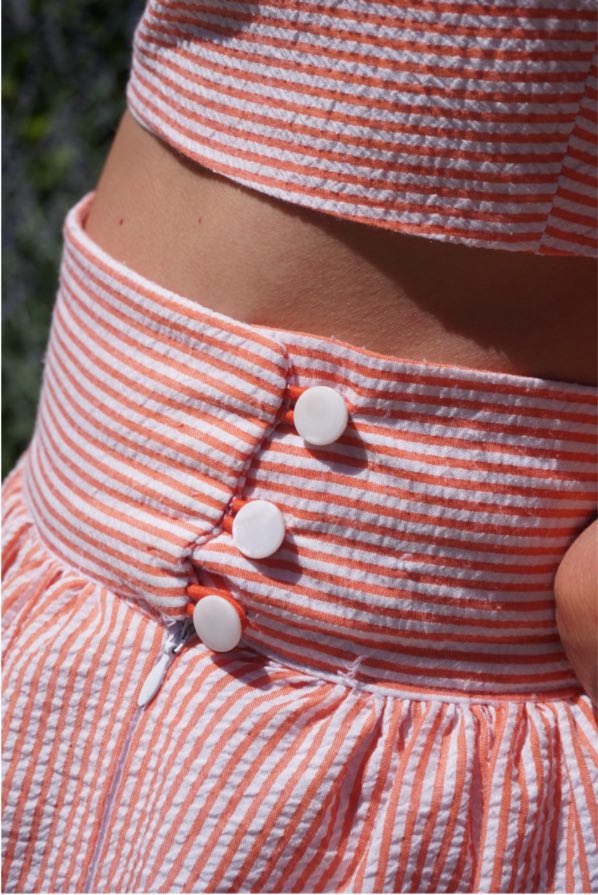 It was all good to have a skirt and I tried to wear all kinds of top to go with it – I even made a cardigan just for this skirt!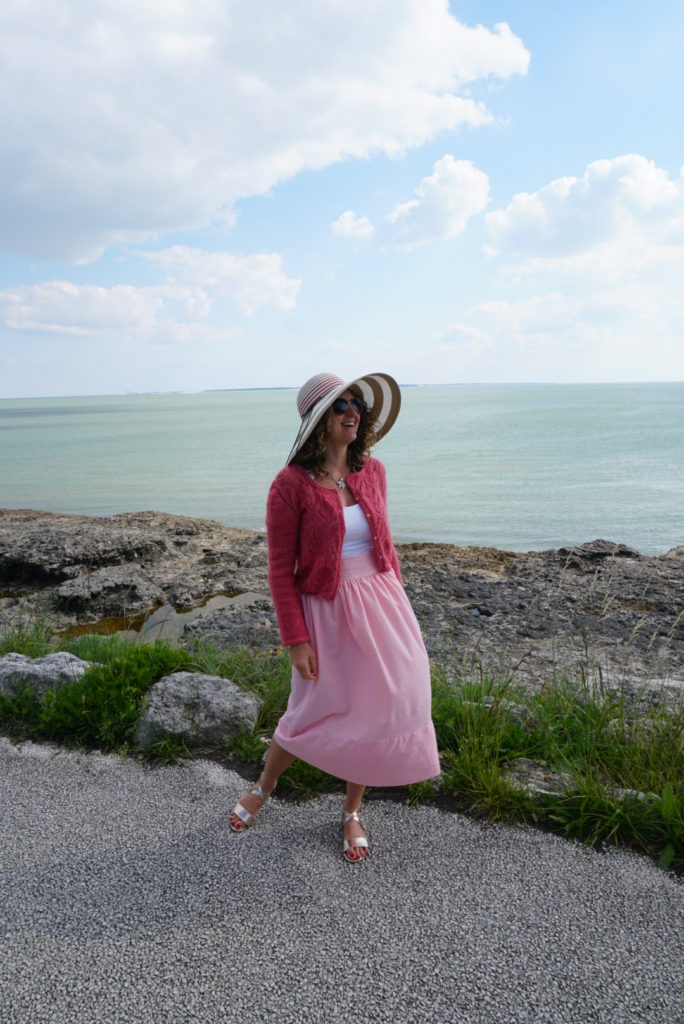 But this is a summer skirt, it definitely called for a summer top and I am a matchy-matchy girl. So I searched and searched top patterns (which I am obviously not familiar with at all) and found McCall's M7958, which suited me for several reasons: it looked easy to make, was (decently) cropped, and it came with several bust cup options, yessssss!!!! McCall's and Vogue pattern always fit me like a glove and I am a huge fan but the bust options are always the cherry on the cake, as I am not the one making the FBA!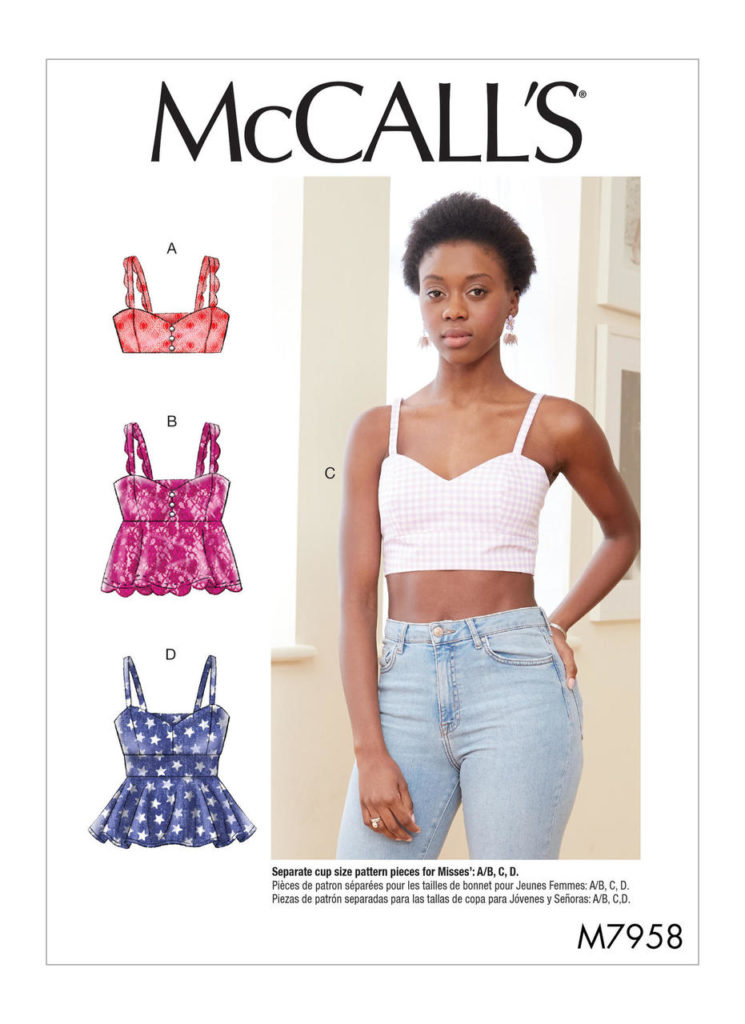 I was too impatient to wait for the post and the pattern was luckily available online (which is a very recent option for McCall's pattern, not available for all their patterns) so I went the PDF way. Clearly McCall's PDFs are not fully up to speed, compared to many independent pattern companies: they take a while to be available on their website once you've ordered them; the files are not super easy to naviguate (the instructions in particular look a bit grim); and there was a mistake in one of the pattern pieces, which was missing 1cm in width – lucky I made a muslin and corrected this before cutting into my fabric! Emily Hallmann had also mentioned a mistake in a PDF she recently used too so just be very careful!
That put aside, the pattern was perfect as ever. I picked view C and cut a size 10 with D bust cup (as I always do) and the fit was spot-on, without adjustment needed except slightly narrowing the top of the back. It is all lined so the inside finish is exactly as I like. I had difficulty fitting the shoulder straps but I widened them, to make them bra-friendly, so I think that's what caused the problem. I also used elastic and buttons for the back, as I did for my skirt, instead of the recommended zip.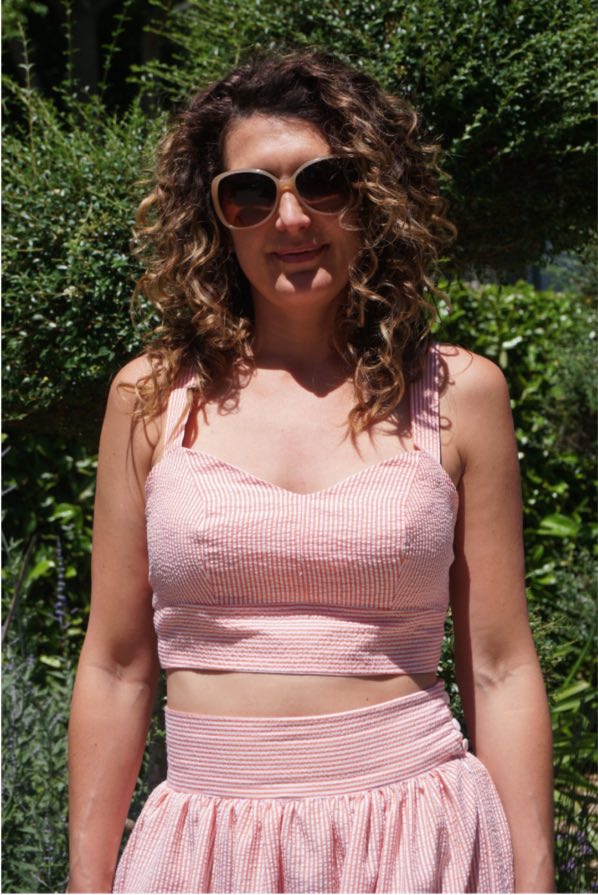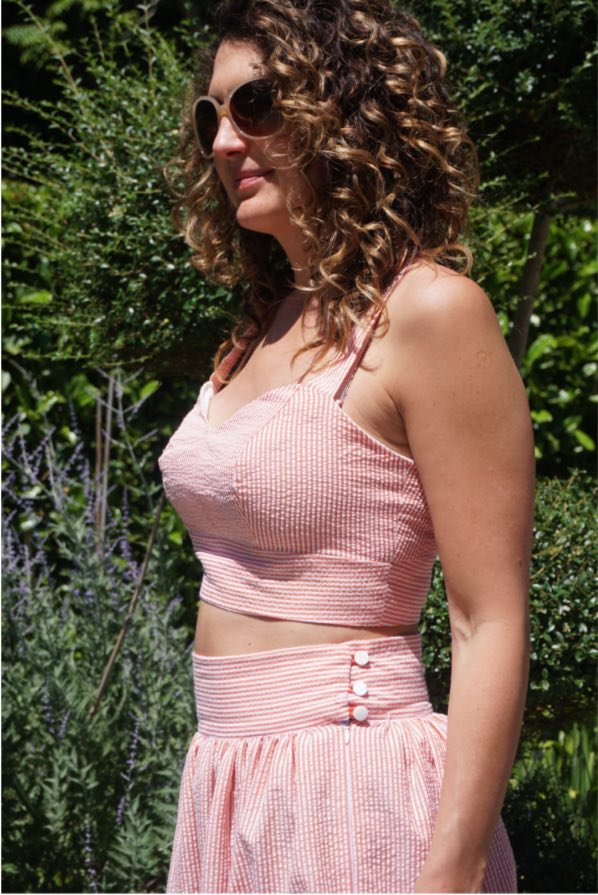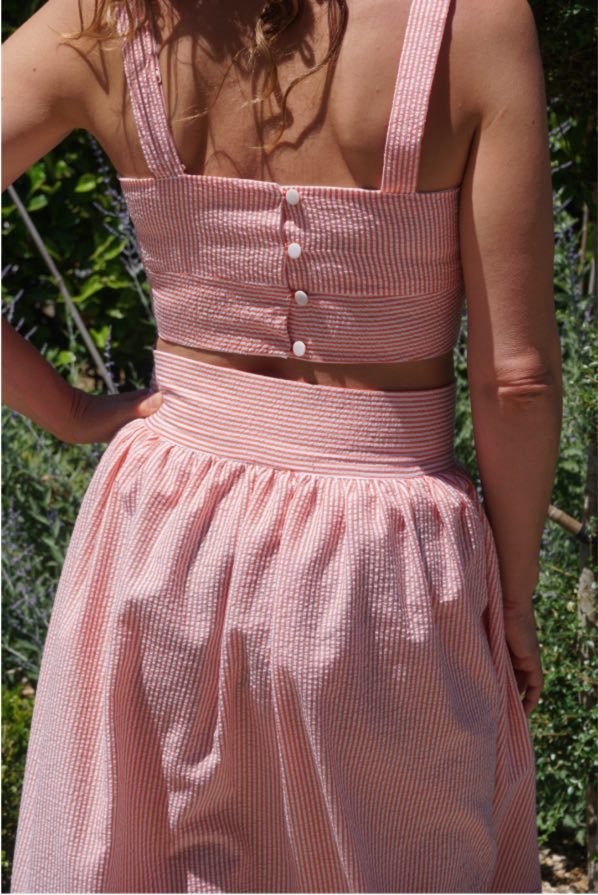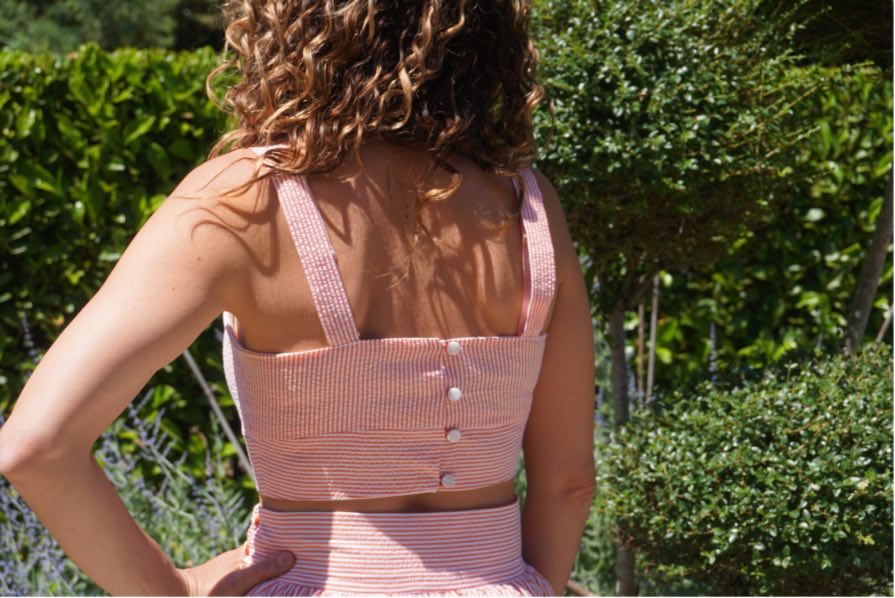 And here is the set – a perfect match! I obviously very rarely wear them as separates!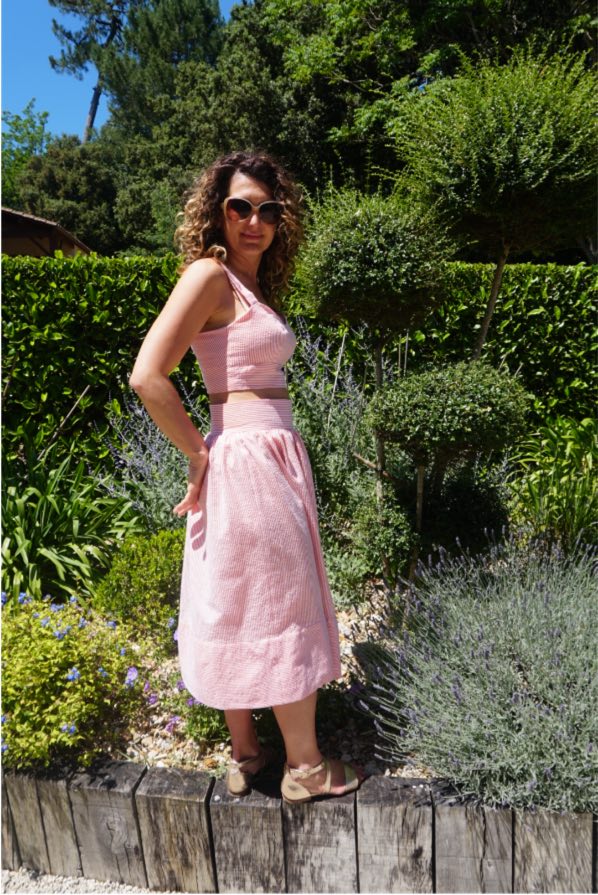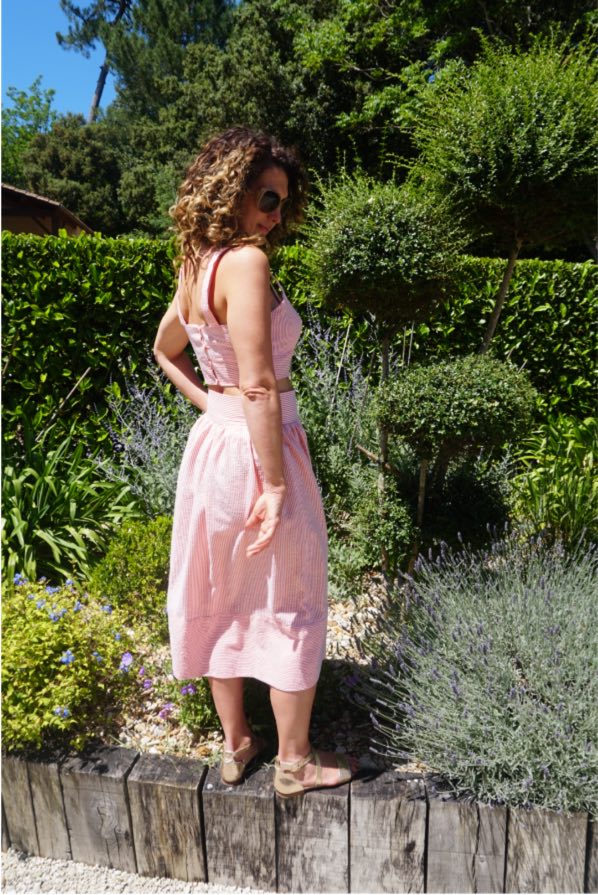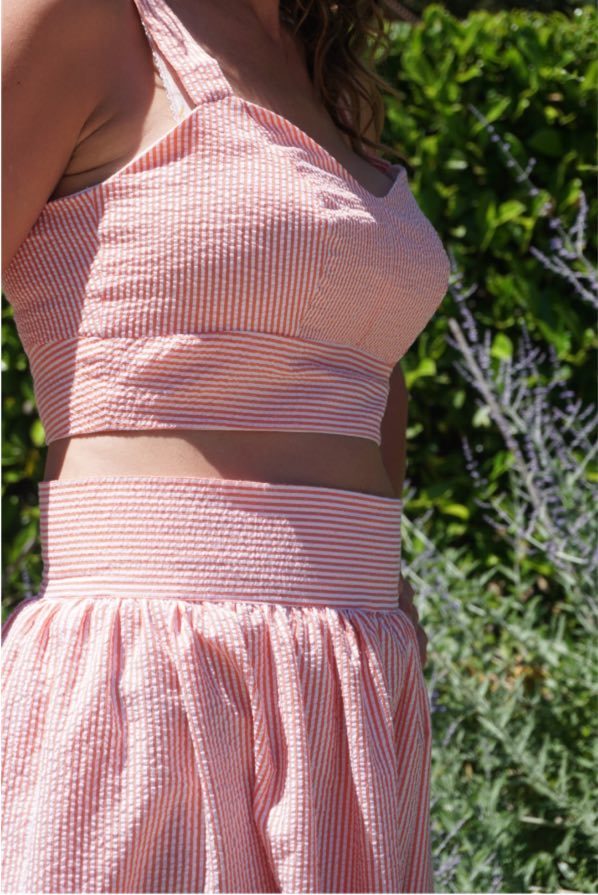 ---