Sewing with Croft Mill: my lilac chambray co-ord
Guess what: I have just become a brand ambassador for one of my favourite online fabric shops Croft Mill! I am beyond excited!!! My plan was to use their wonderful fabrics to sew lots of summer dresses. But the English weather had other plans…
So instead let me introduce you to my lilac chambray co-ord: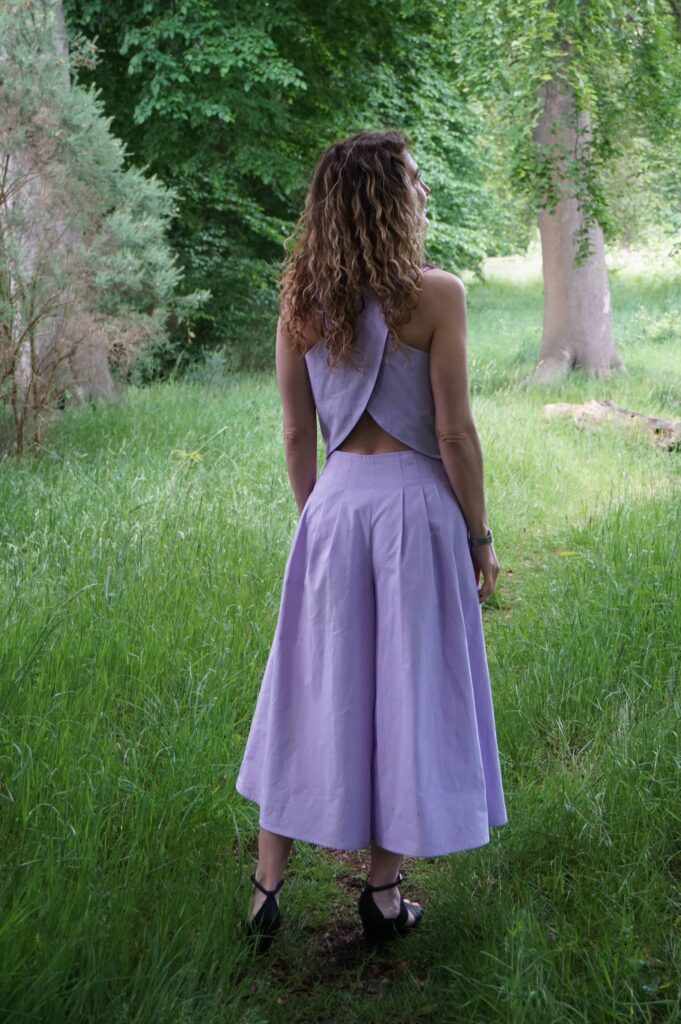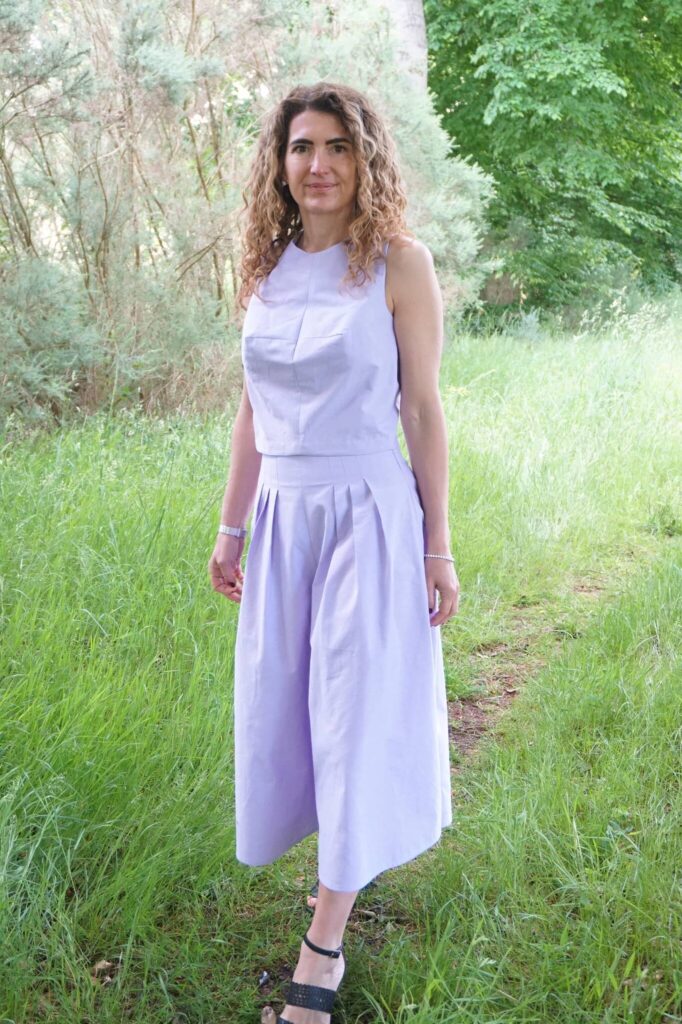 A long love story with Croft Mill
I am always a bit dubious when bloggers become brand ambassadors, as you never know how objective they are in their reviews. I also had a poor experience a few years ago, when a fabric shop gifted me fabric of such poor quality I did not know what to do with it…
But with Croft Mill I had no doubts. I have been using their fabric for years (first article on the blog dates from 2018!!) and I am a huge fan. The quality is always good and the prices very reasonable. They have an extensive range and stock a lot of natural fabric (cotton and wool), which are my favourite.
Here is a sample of a few of my makes – all of these are reviewed on the blog actually (just go here to pick and choose the ones you like!).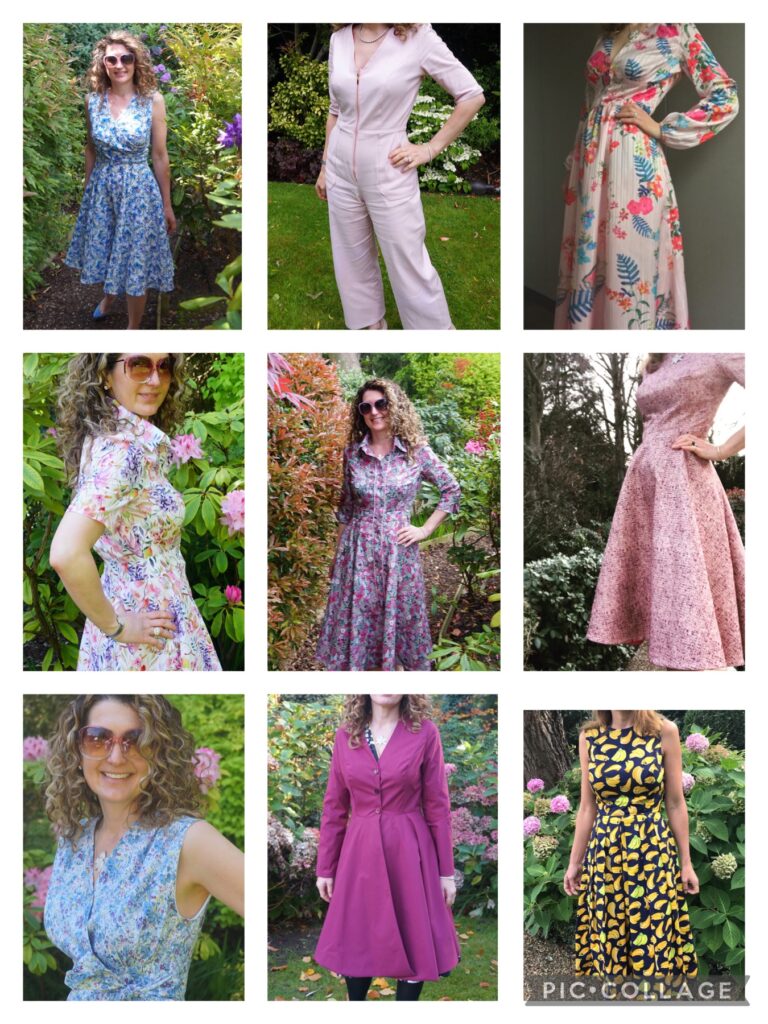 What to sew in charming chambray?
But back to my makes! This is a culotte and top set in a gorgeous lilac chambray fabric, with enough structure to keep the defined shape of both the bottom and the top; but 100% cotton so breathable and super soft to the skin. The quality of this fabric is truly (a very objectively) amazing for such an affordable price (£7.75pm!!). Not even to mention the colour , my chambray holy grail!- you know how much I like lilac (just a couple of examples here and here…).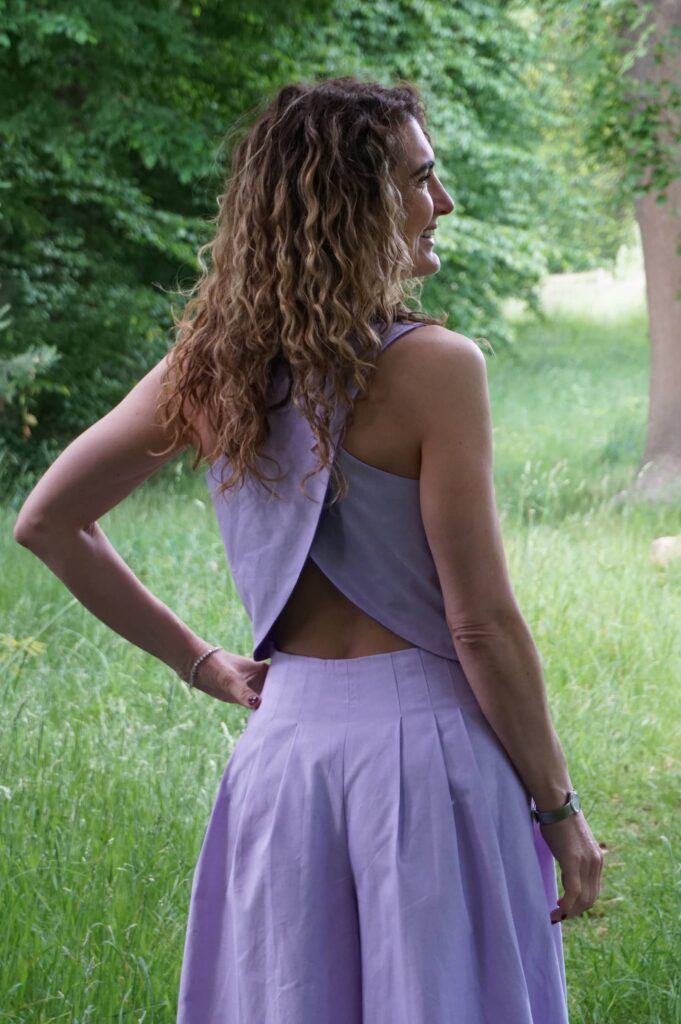 I have used chambray in the past and I really like it for more structured garments. It behaves a bit like lightweight denim but is way more breathable. I also like that the way it is woven gives it quite a lot of visual texture – as if it had little speckles of colours.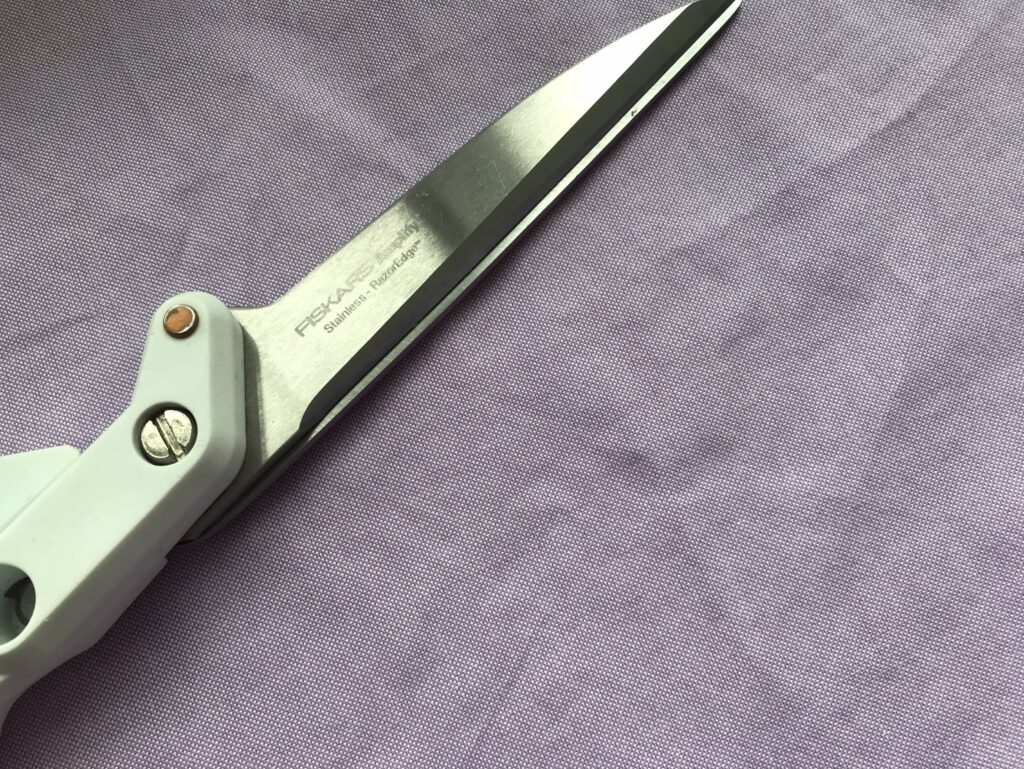 On the left, one of my favourite ever makes, the iconic M6696 shirt dress in blue chambray. I am actually very tempted to make this dress in purple (and with puff sleeves)… On the right, the Lune dress by French Poetry, which is so elegant in this fabric (I also saw it in cotton lawn and the outcome is completely different). Both dresses are made in a chambray of exactly similar weight and texture to the lilac one.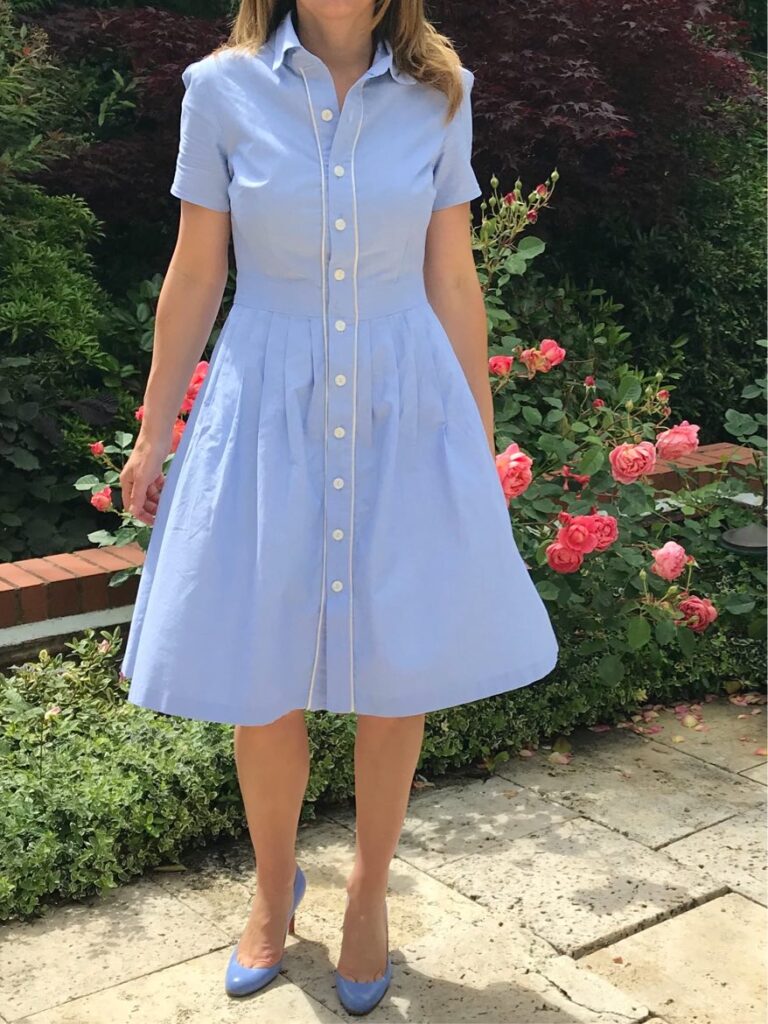 Patterns used: V9075 culottes, Altlas Top
V9075 pattern review
For the bottom, I used the V9075 jumpsuit pattern, from which I only kept the bottom culottes. As much as I would like to sew this jumpsuit, I still haven't worked out how you can conveniently take it off with a zip at the back and such a high neckline… Maybe more yoga is needed to gain flexibility?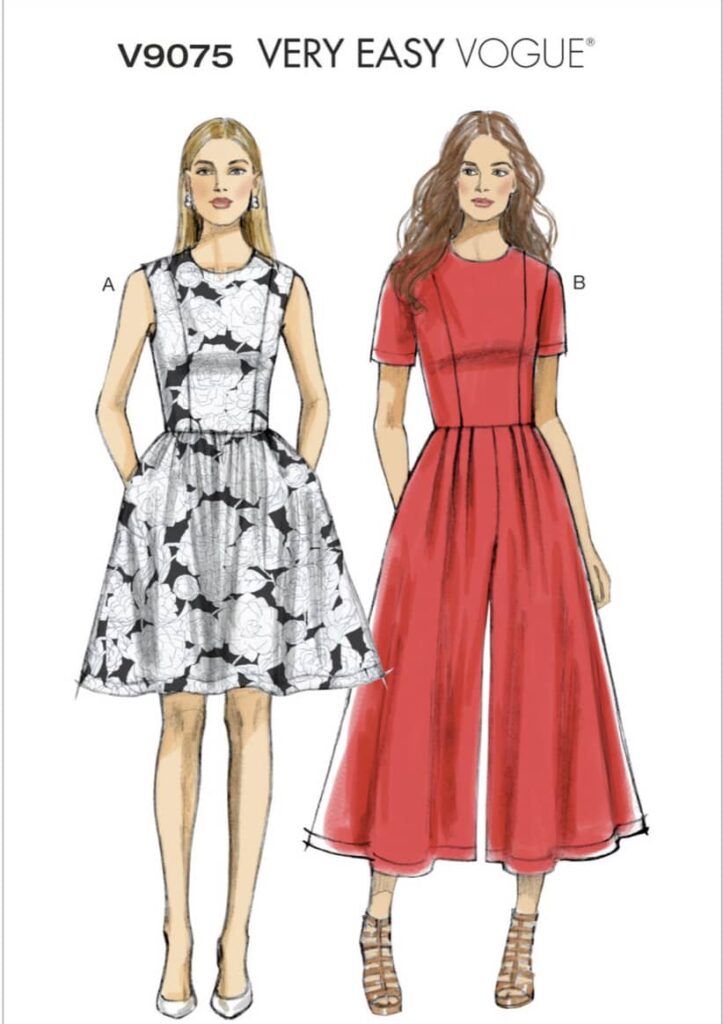 The culottes have an exquisite shape. They are very fitted at the top thanks to 12 pleats in total; and then very wide at the bottom – super flattering if like my you have a small waist and… well, "generous" hips!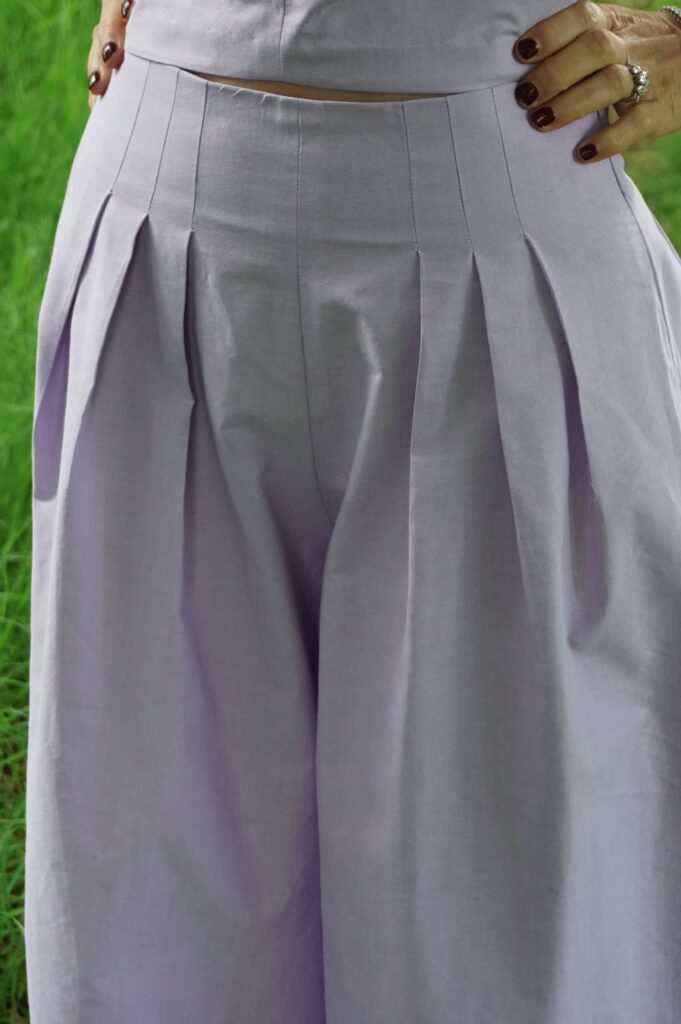 They also have perfectly proportioned, with the length being just right to balance the volume (for my 1.68m anyway!).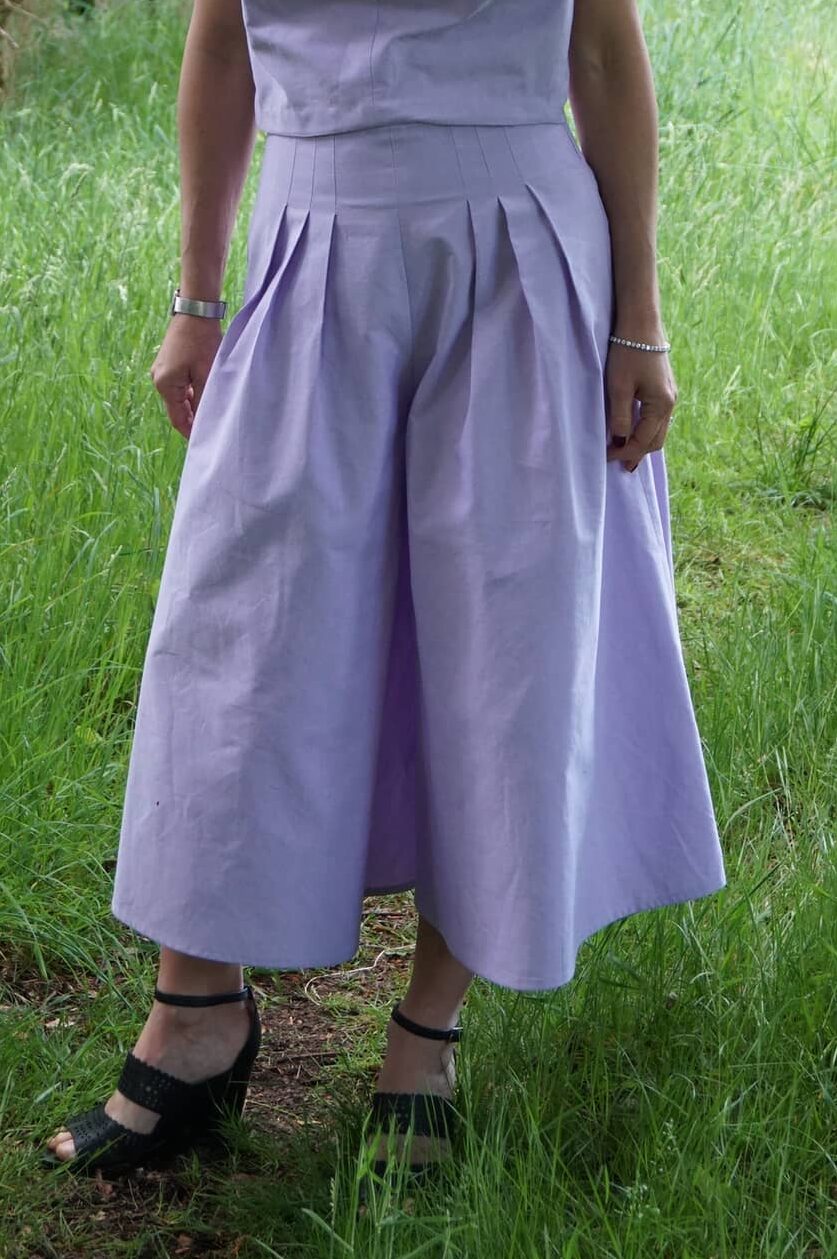 I cut a size 10 (for my UK size 8, FR 36 and US 2) and made no fit adjustment whatsoever – incredible for me, as sewing trousers is ususally a huge headache!
My only change to the pattern was to make the culottes as separate. For this, I created front and back facings, using my half front and back pieces as guides once the pleats had been sewn. And I added an 20cm invisible zip on the side. Nothing complicated really.
Atlas Top pattern review
The top is the Atlas top by Stitch Witch patterns. I thought it would be the perfect candidate to be sewn in chambray; and a very good match with the culottes. And to be honest I am absolutely thrilled by this outfit, especially seen from the back – look at this lovely triangle!
I had already sewn with great enjoyment some Stitch Witch patterns (namely the Tudor Blouse and the Boleyn Top), but for an obscure reason never came round to showing them on the blog.
Sewing the Tudor Top was similarly enjoyable: it is a very easy make, with straightforward instructions and a lovely outcome. The crossed back is particularly stunning…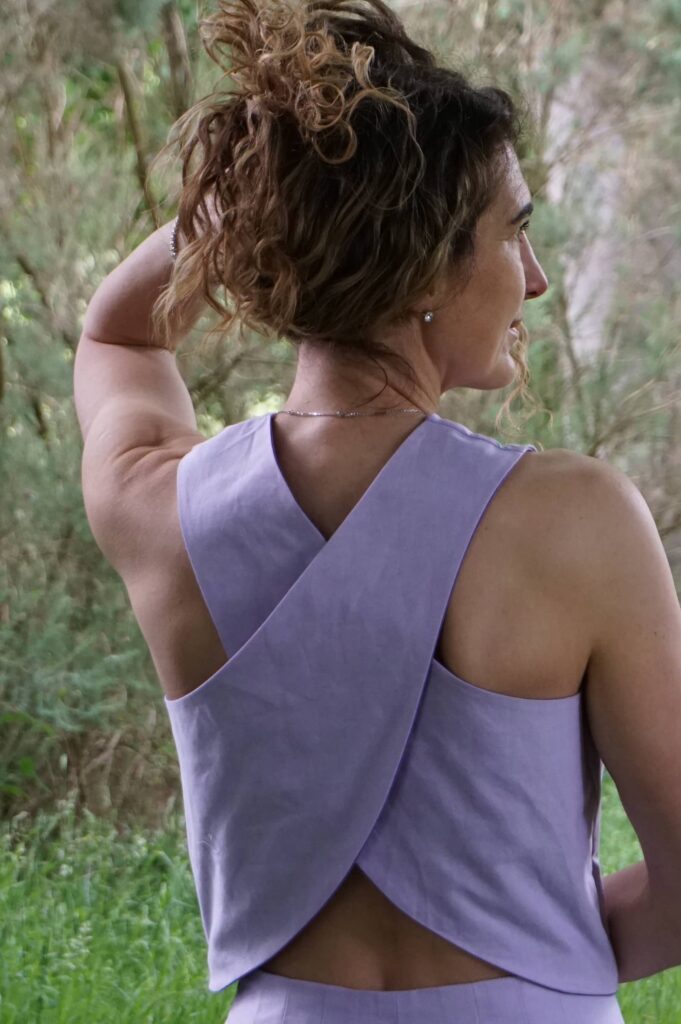 … and the central bust darts at the front create a very original look.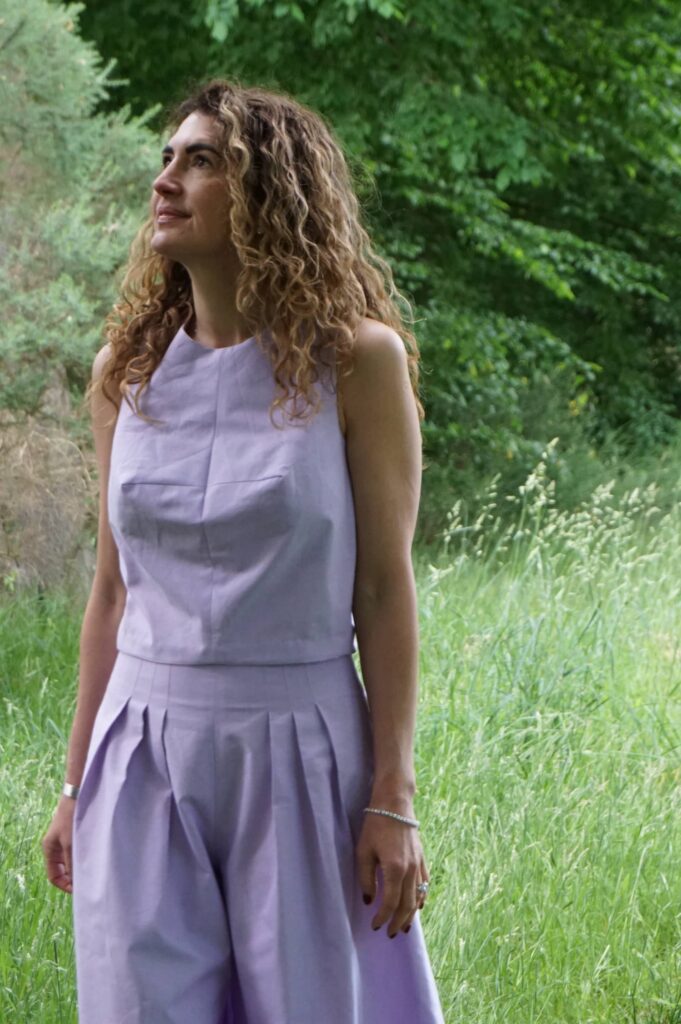 I chose a size 8 but had to make a Full Bust Adjustment (FBA) to fit my E cup. The FBA was absolutely necessary to be able to put the top on, as there is very little bust ease if you compare the body and finished measurements. Here is what my front piece looks like after the FBA.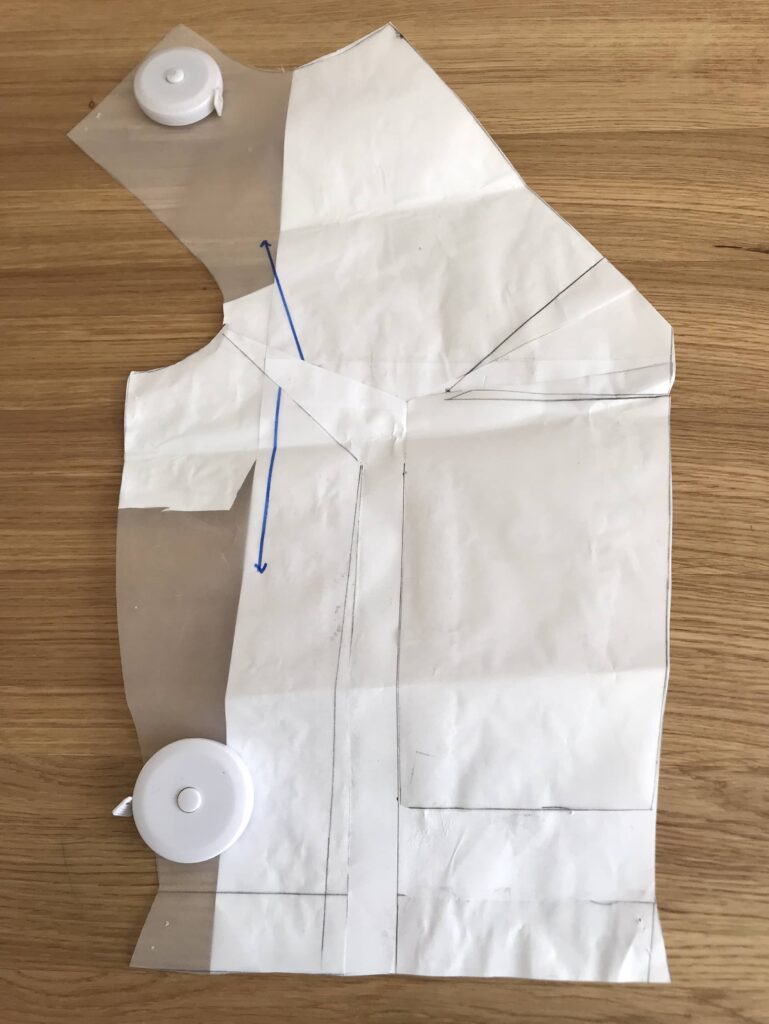 Last but not least, this pattern consumes less than 1m of fabric if you line the back with a different fabric. So the best stash buster ever!!
Conclusion
It took me quite a lot of thinking to chose what to do with this fabric, as I really did not want to mess-up – the only disadvantage of being gifted fabric I guess.
So now my problem is that I have so many ideas of garments in lilac chambray that I may well need to purchase whatever is left in stock. Because of course I have used all my fabric leftovers already – here is a sneak peek…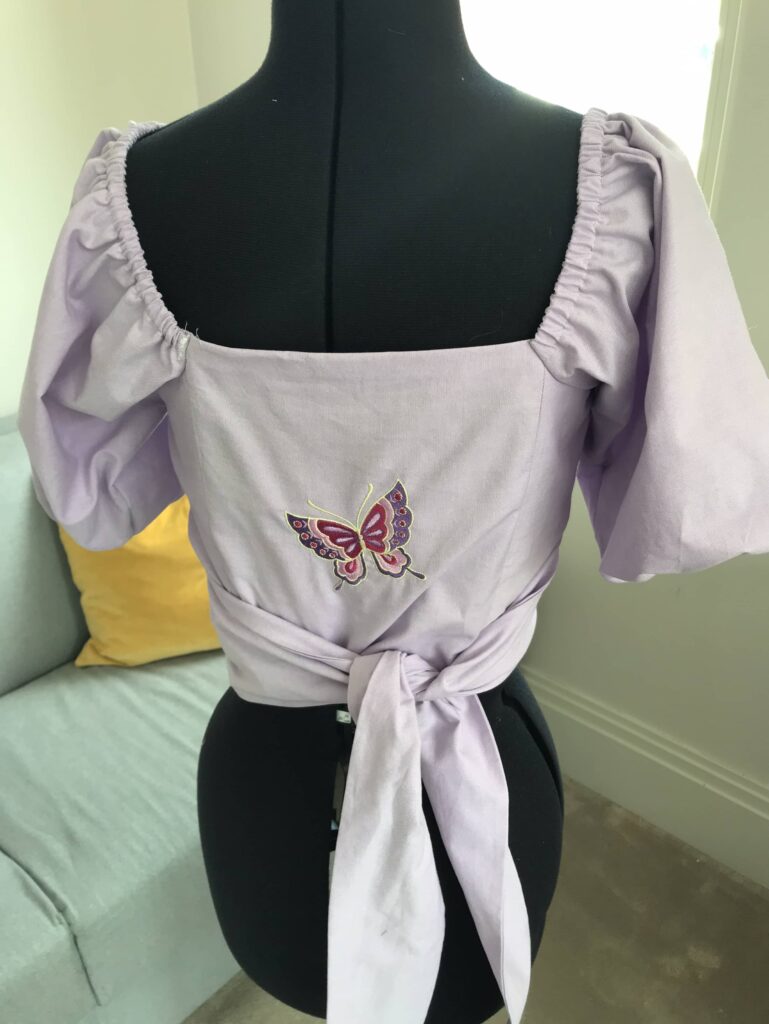 ---
2 responses to "Sewing with Croft Mill: my lilac chambray co-ord"