Sewing a B6446 dress in pink and gold brocade
The transition to Autumn sewing has been slow on the blog. Life has been busy, with a very big project finally materialising – we are building a house and the construction is finally happening, hurrah!!! However, I have managed to find time to sew, and here is my latest make: a B6446 dress, in a glorious pink and gold brocade – discreet and understated as ever…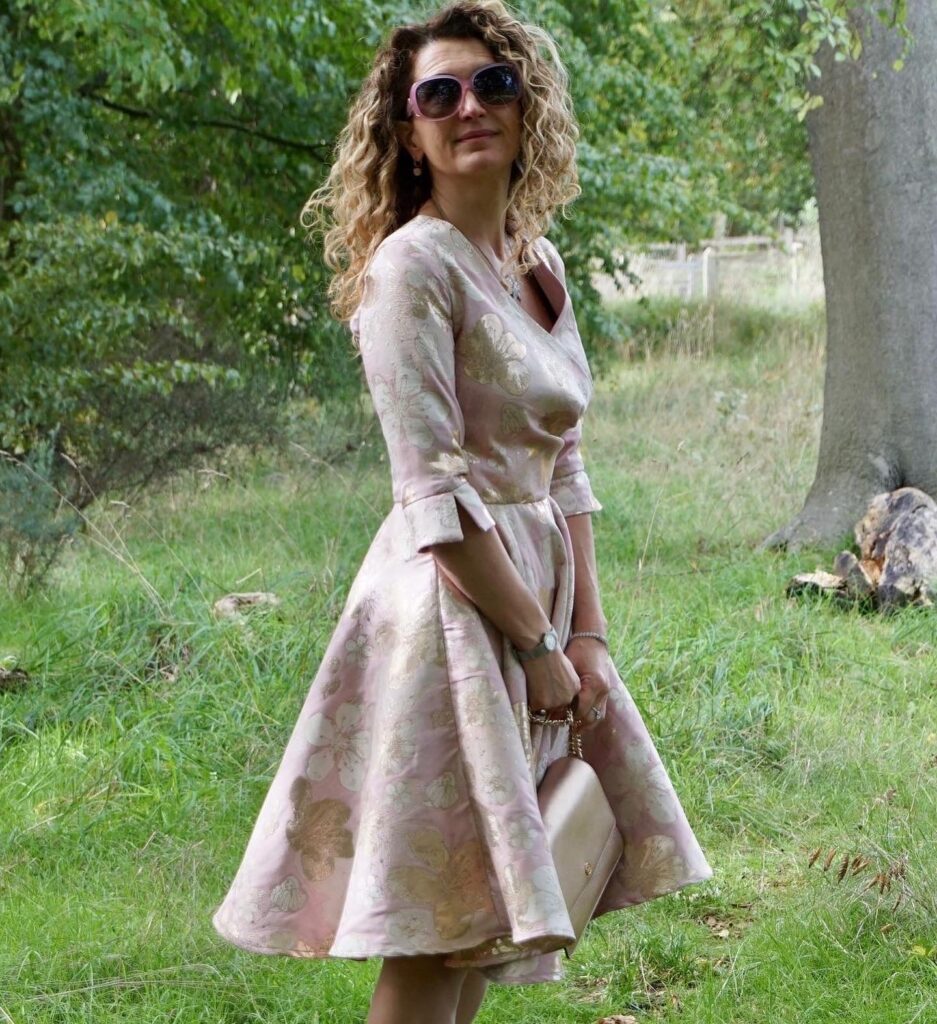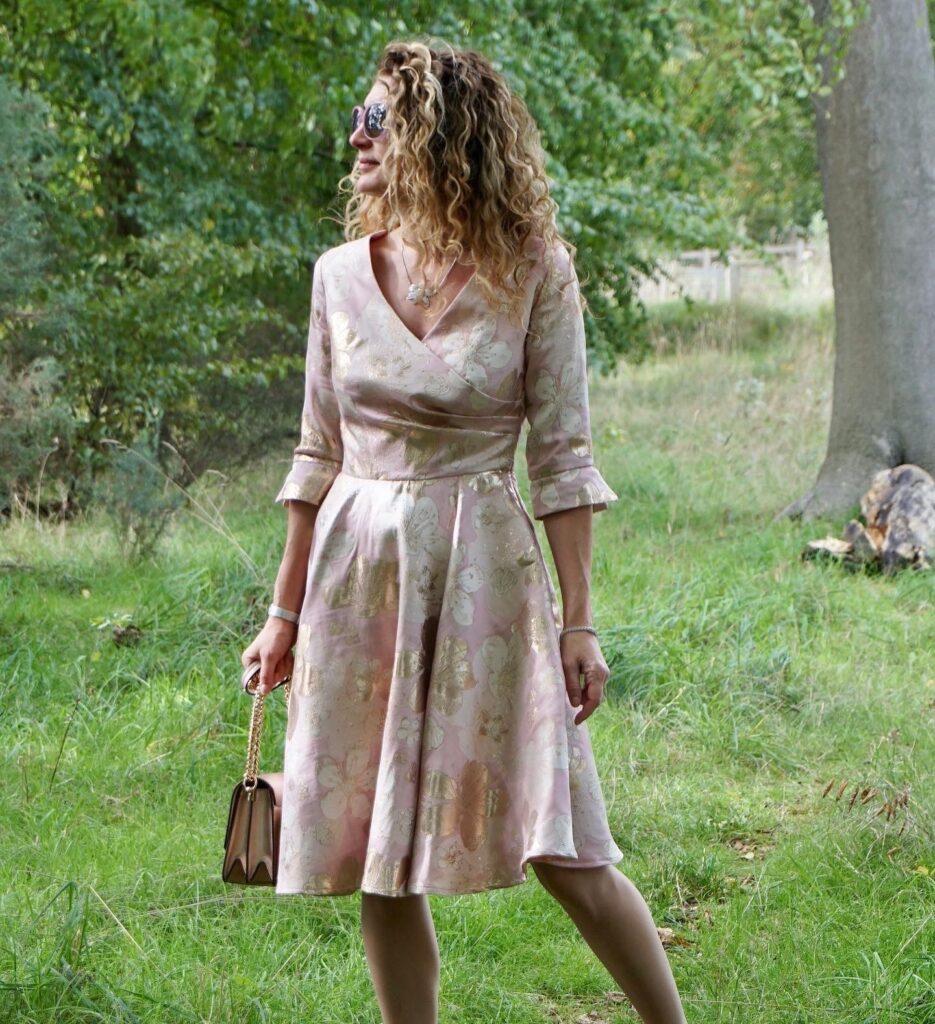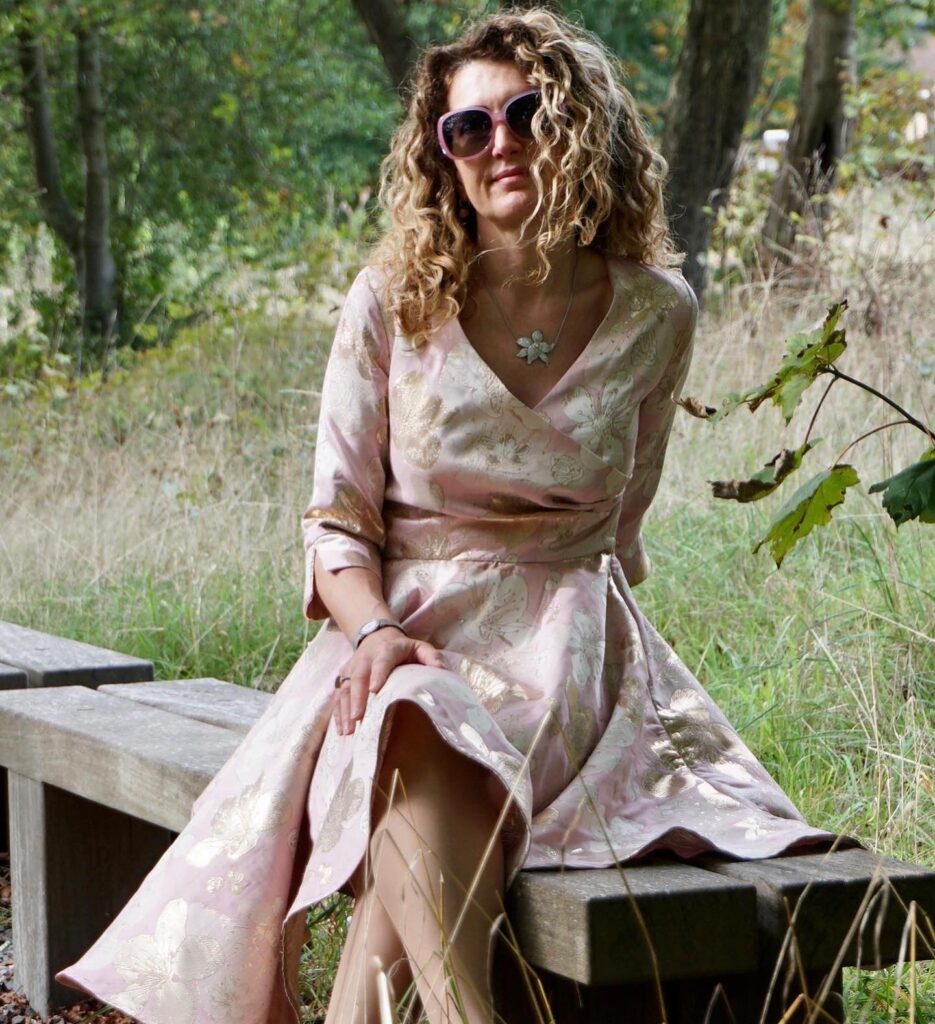 B6446: an all-time favourite pattern
I have now sewn the B6446 dress pattern… well, quite a few time! Enough for it to become well establishes in the "Six Mignons Sewing Hall of Fame", along with M7081 (8 versions), Magnolia by Deer&Doe (x8), V9253 (x5), M6696 (x4) !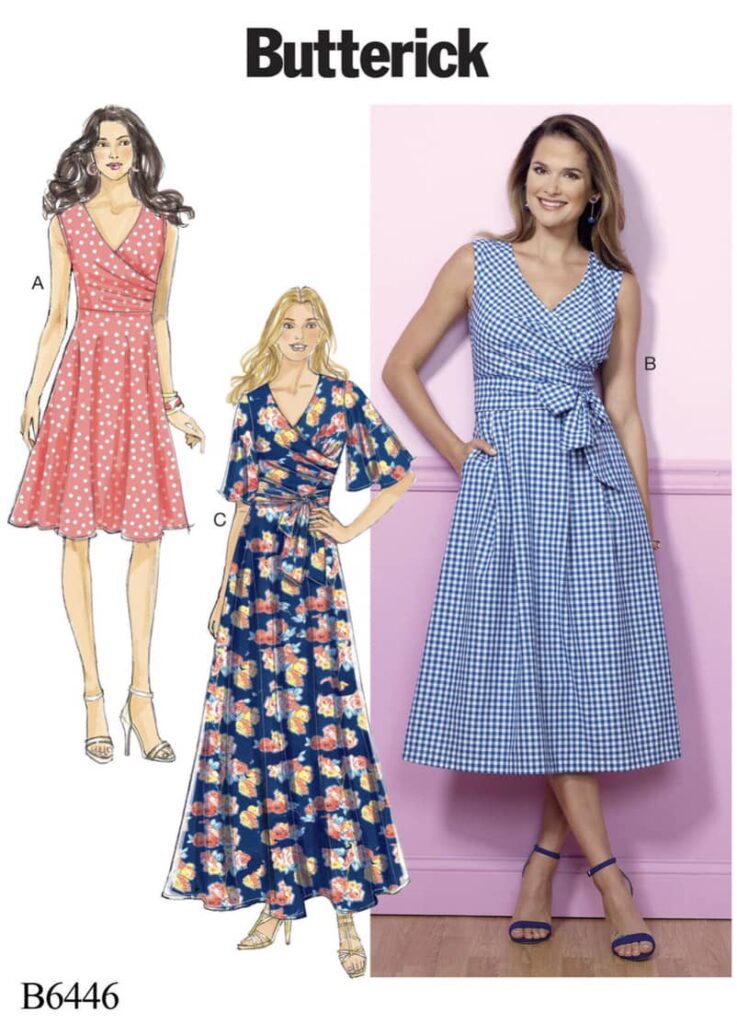 Here are my previous three versions of this pattern (reviewed on the blog here and here).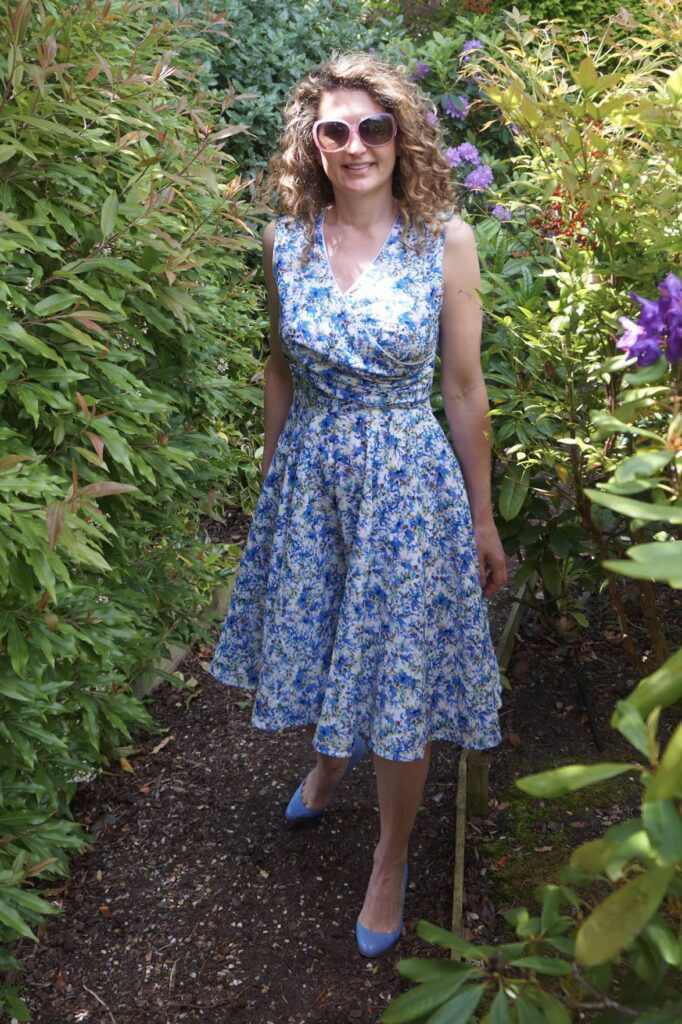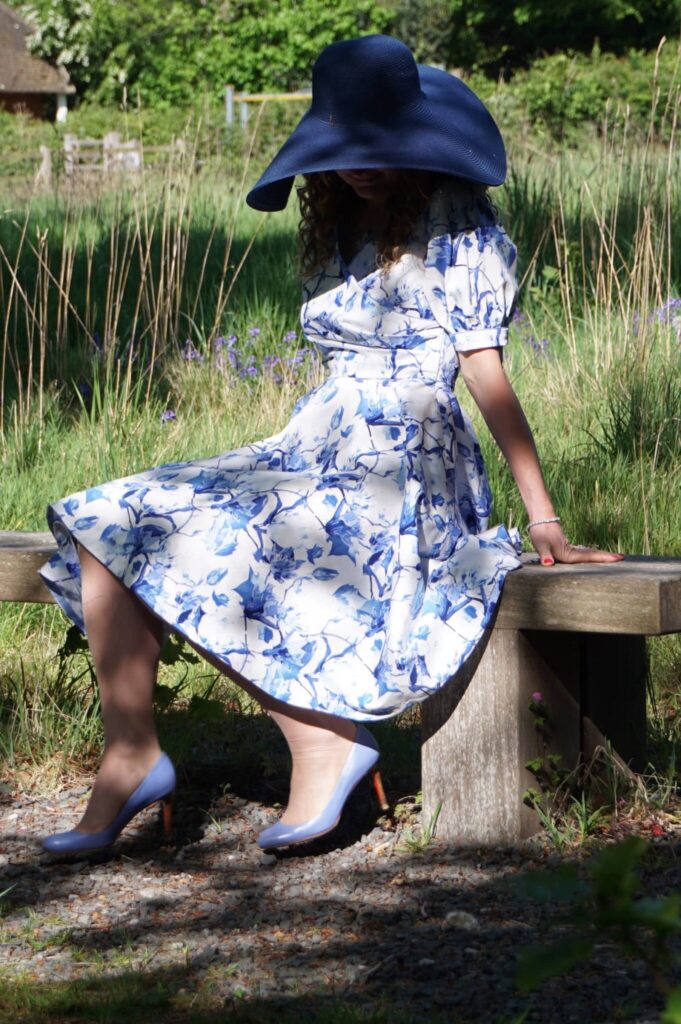 B6446 pattern review: many positives, only one negative
Let's repeat what I said before. There are many things I like about the B6446 pattern:
The dress beauty lies in its mock-wrap bodice: the bust ease of the top piece is created by three side pleats, caught in the side seam. These pleats are not replicated on the hidden part of the bodice wrap, to avoid unnecessary bulk.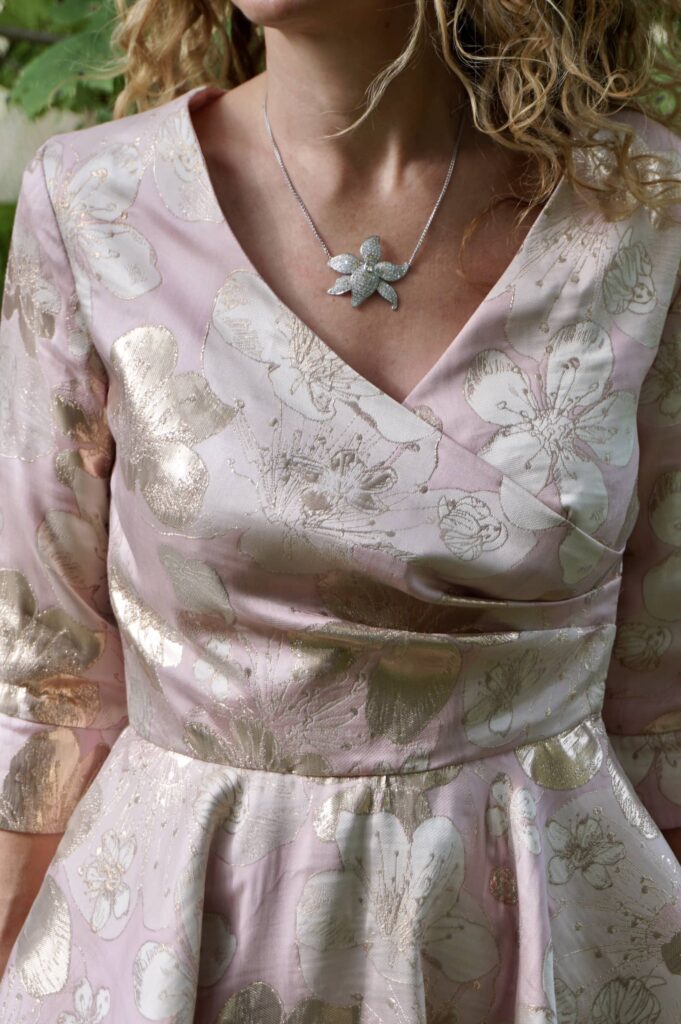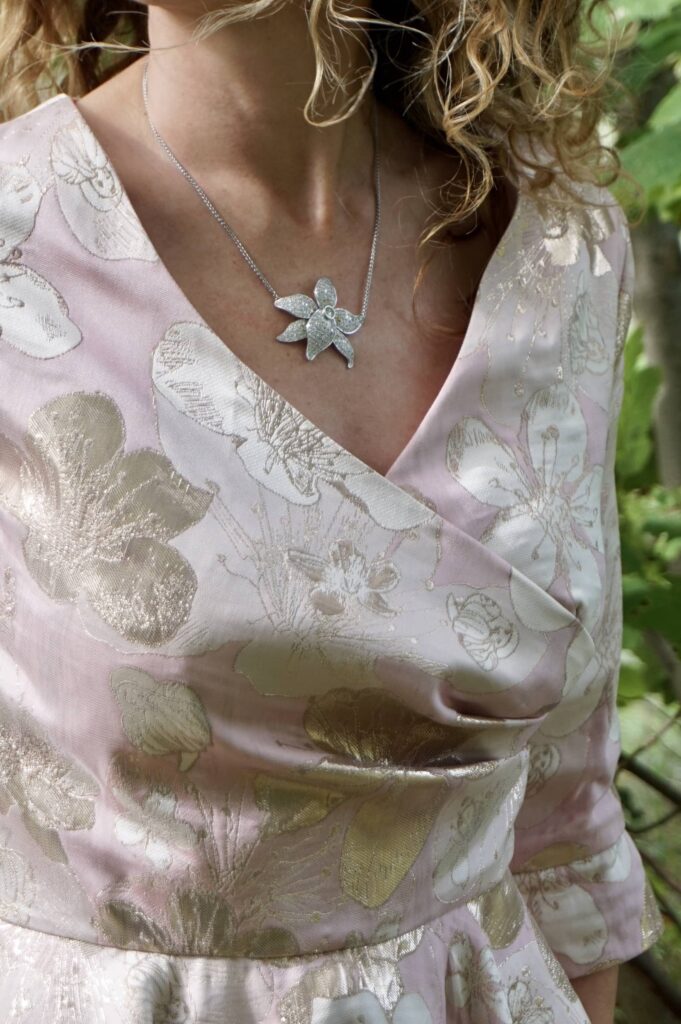 The dress fits to perfection. As usual with Vogue/ Mc Call's/ Butterick pattern, I cut a size 10 for my UK 8/ FR 36 / US 2. After making a bodice muslin, I did add 0.5cm at the waist to have a tiny bit more ease; but I made absolutely no other changes. In particular, there is plenty of bust room and I did not need an FBA for my E cup – hurrah!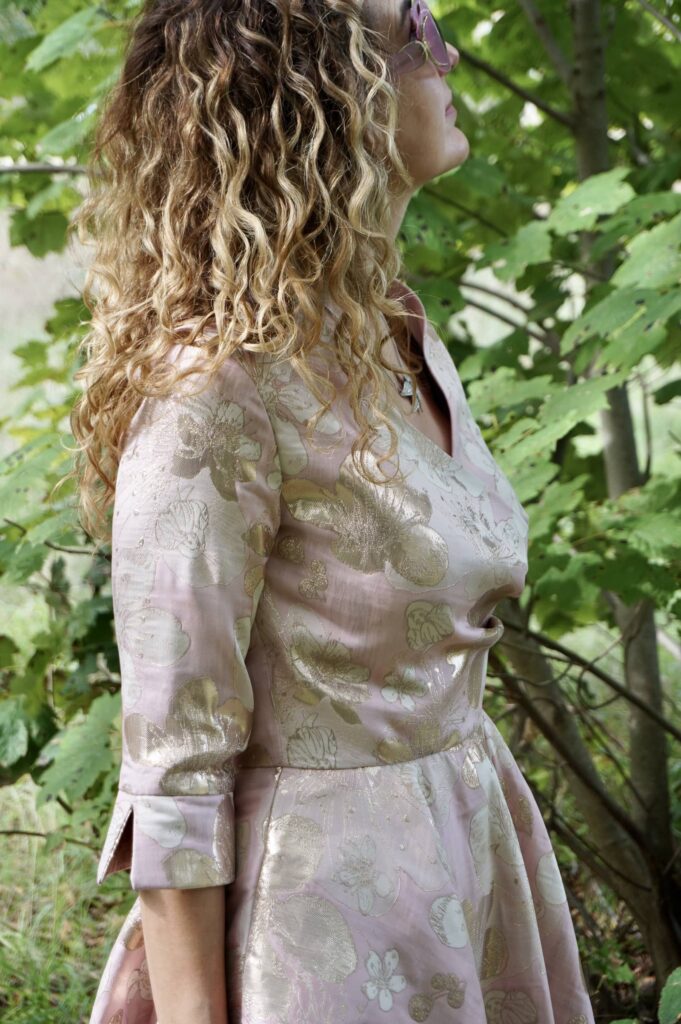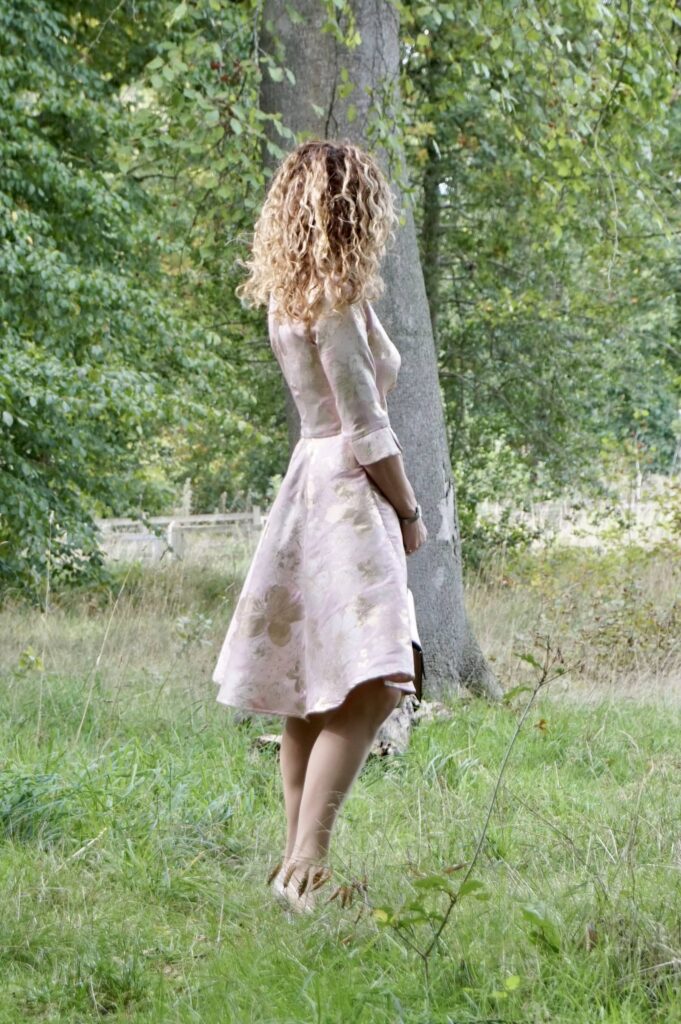 With a fully lined bodice, the inside finish is absolutely impeccable. I fully line my dress bodices most of the time anyway but it is usually not included in the pattern instructions – here it is.
The pattern instructions are crystal clear, as they usually are for Butterick, Vogue and McCall's. If you are not used to lining bodices, they will help you immensely.
The major negative of this pattern is the bottom. The skirts on offer are frankly uninteresting in comparison to the bodice. I would strongly advise you go for much more volume with a full circle skirt, as I did.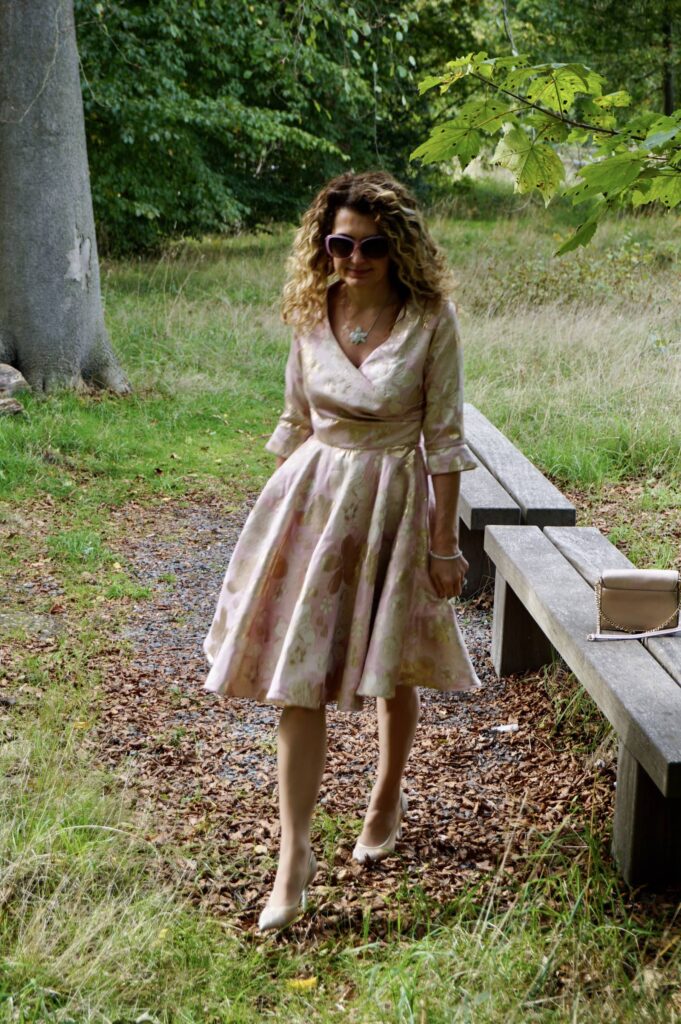 Changes I made to the pattern
I made two main changes to the pattern, using pattern pieces from my beloved M7081:
As just mentioned, I swapped the skirt for a full circle, so much more appropriate to the style of this dress in my view. Please note that I am note wearing a petticoat under my skirt, all the volume comes from the skirt itself – this is the reason why I like full circle skirts so much!
As I really dislike the sleeve option offered by the pattern, I used the sleeves from M7081.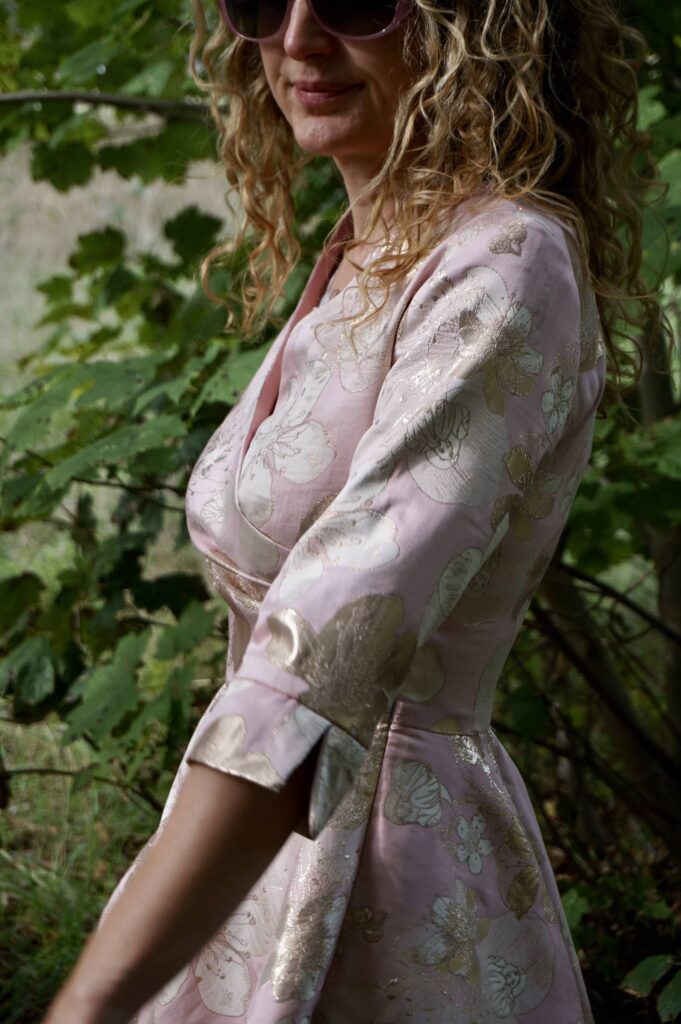 Fabric choice: advice for sewing metallic brocade
The fabric is used for this dress is a gorgeous pink and gold brocade from Croftmill (still a tiny stock left here at the time of writing). This is a fabric I enjoy wearing a lot in colder months, in a colour combination I absolutely adore.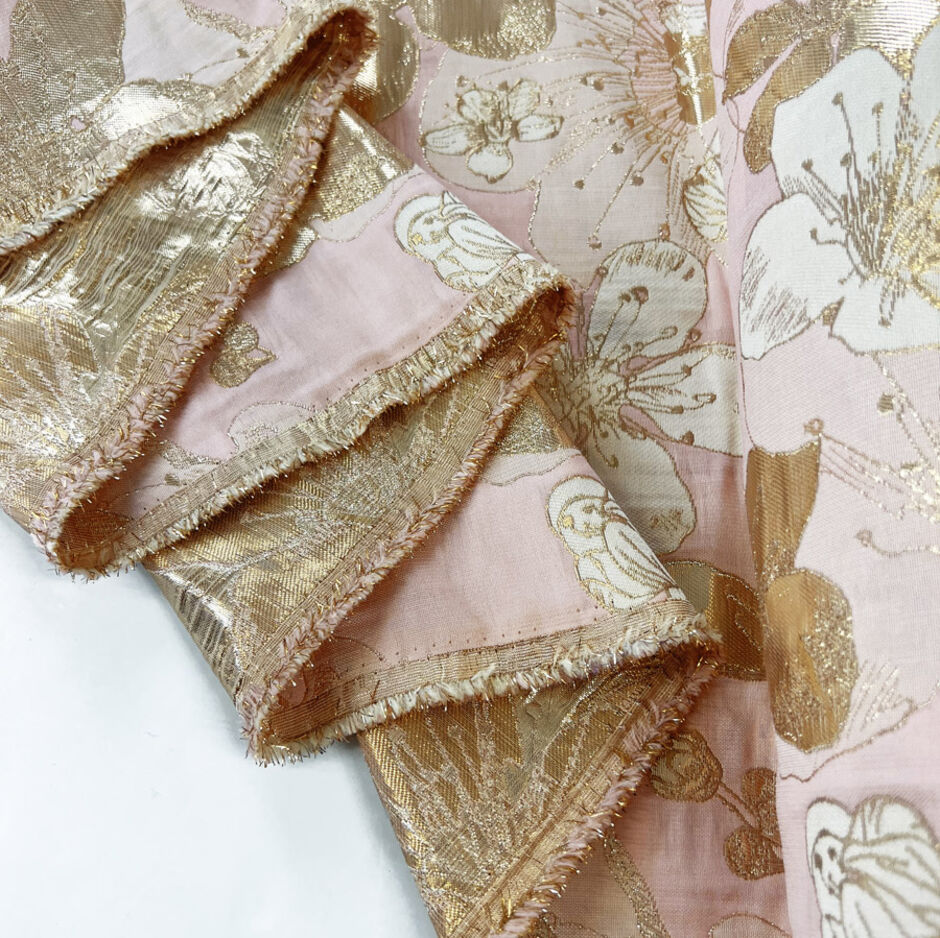 Croftmill had a large arrival of these brocades early September and I really had to refrain myself from purchasing the entire stock… They have two very big advantages: they are very affordable, at £12/metre (brocade usually costs £30 +); and most are soft brocades, which are perfect for dresses – did you not know I sew mostly dresses? Here are two other options I am about to purchase: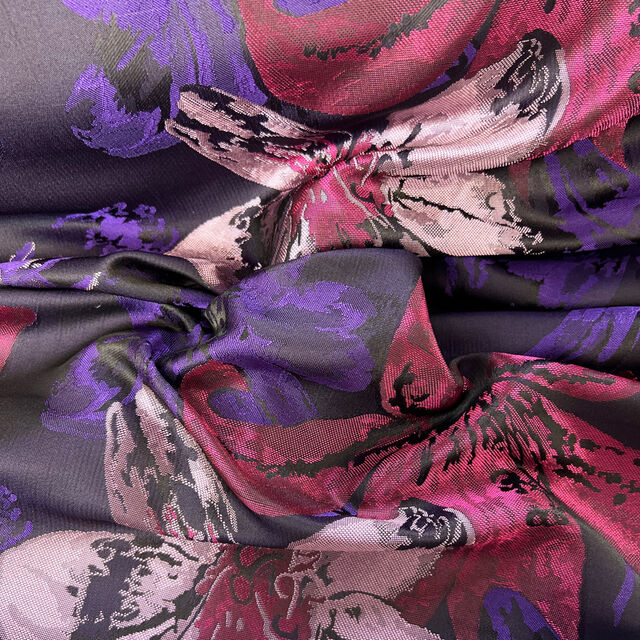 The problem with metallic brocade is that it creates several challenges to sew. I wrote a full article about how to sew metallic brocade a few years ago, here is a summary:
Brocade frays like there is no tomorrow so make sure you overlock absolutely all raw edges, even if they are covered with lining.
Metallic brocade is extremely itchy and absolutely intolerable on bare skin, so make sure to entirely line your garment and to finish your neckline so that the brocade fabric in not in contact with your neck (piping is a good option).
Brocade has very little give, so I would not recommend it on extremely fitted garments; and I would allow a bit more ease than usual.
Visible stitches are a no-go on brocade, so all hems will need to be invisible!
Once you're aware of these points, the sewing is quite easy, because brocade is very stable hence easy to sew.
Conclusion
Another dress I am entirely satisfied with! I am now working frantically on a collection of mid-season cropped jackets to match my fit-and-flare dresses, more to follow soon…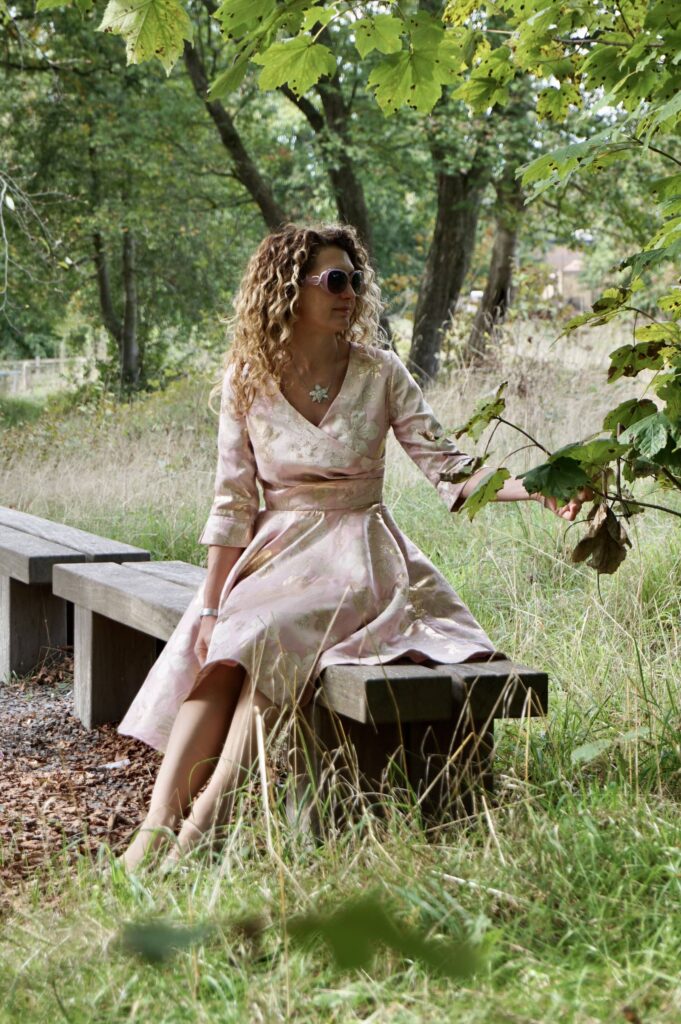 How to Sew with Metallic Brocade
This winter has definitely been for me the season of glittery brocade! I've always loved this fabric but feared sewing it. After purchasing an excessive quantity at Bennytex, I had no choice but learn hands-on! The result: two party dresses for my daughter, two everyday dresses for me (not everyday for everyone though!), a top and skirt set, a mini and a midi skirt… And also many lessons on do and don't of sewing metallic brocade, which I'm very keen to share!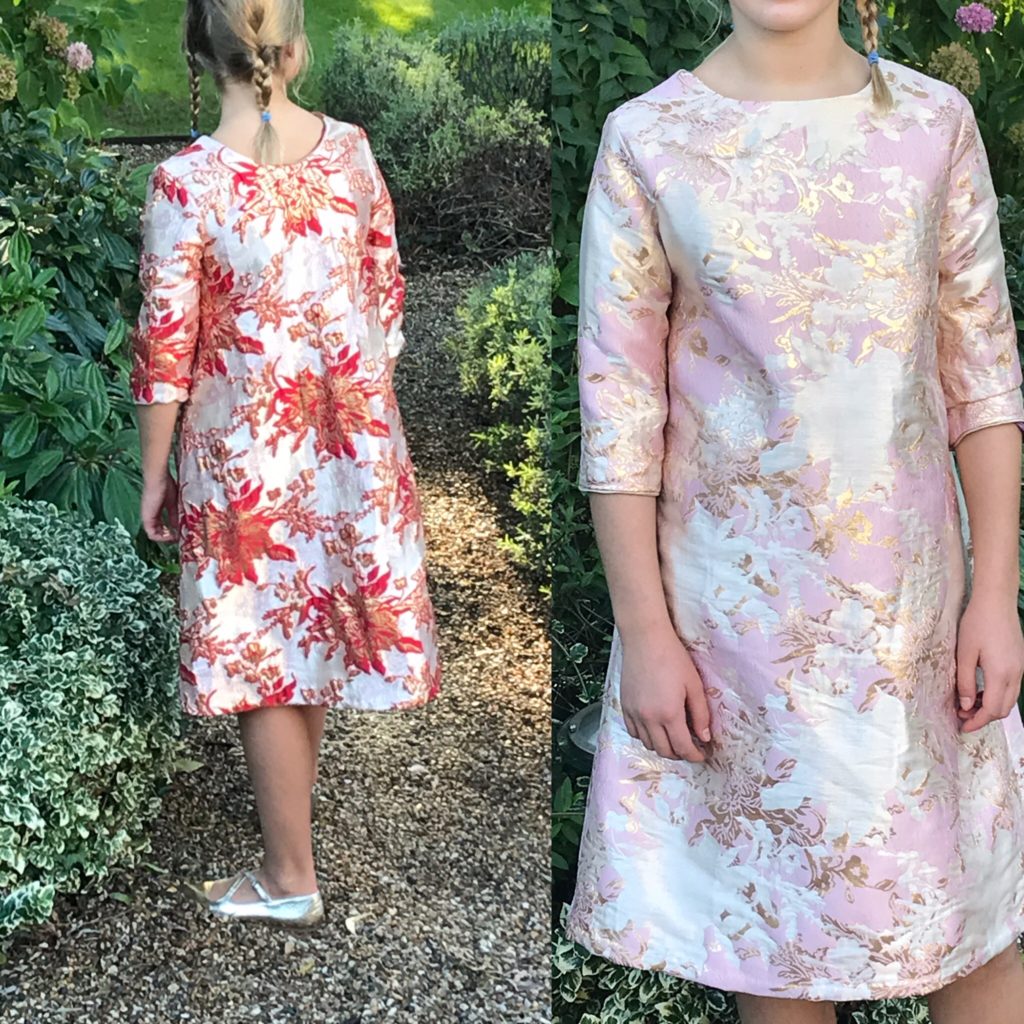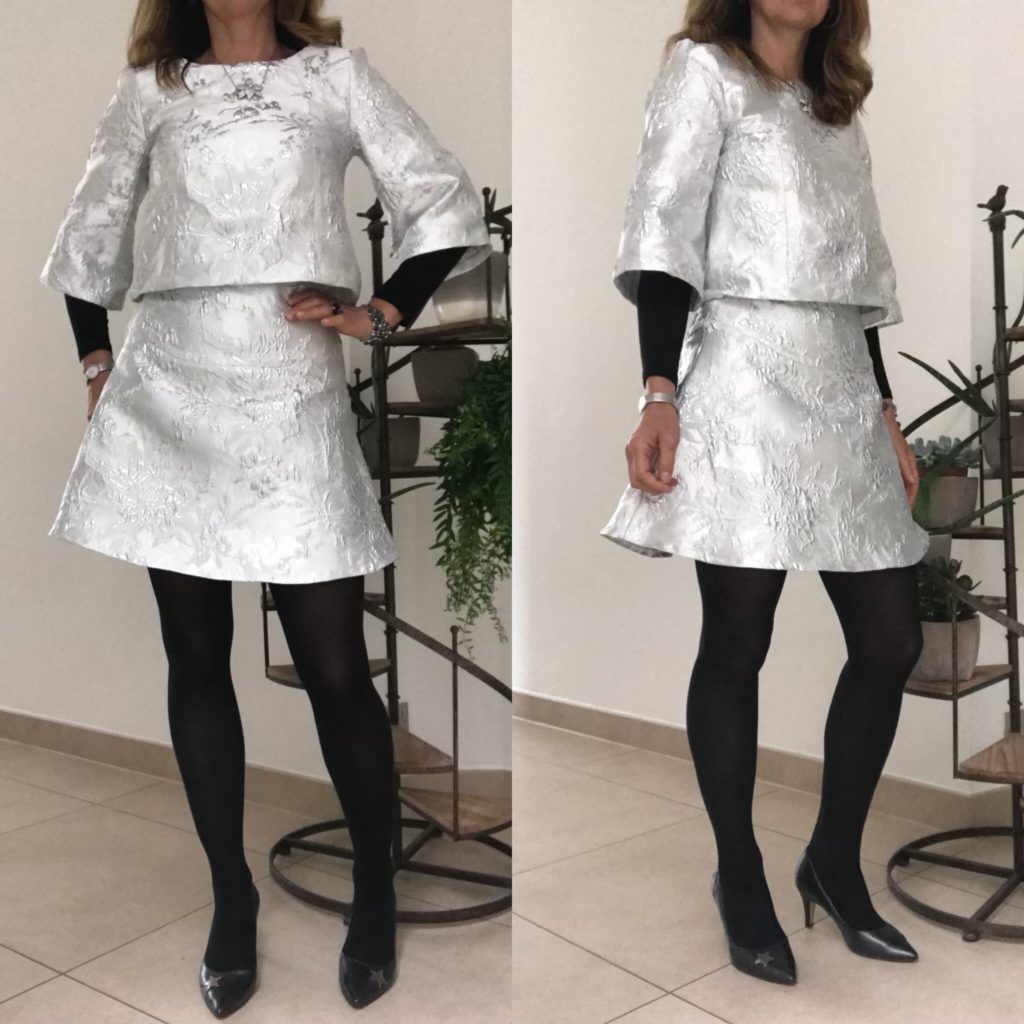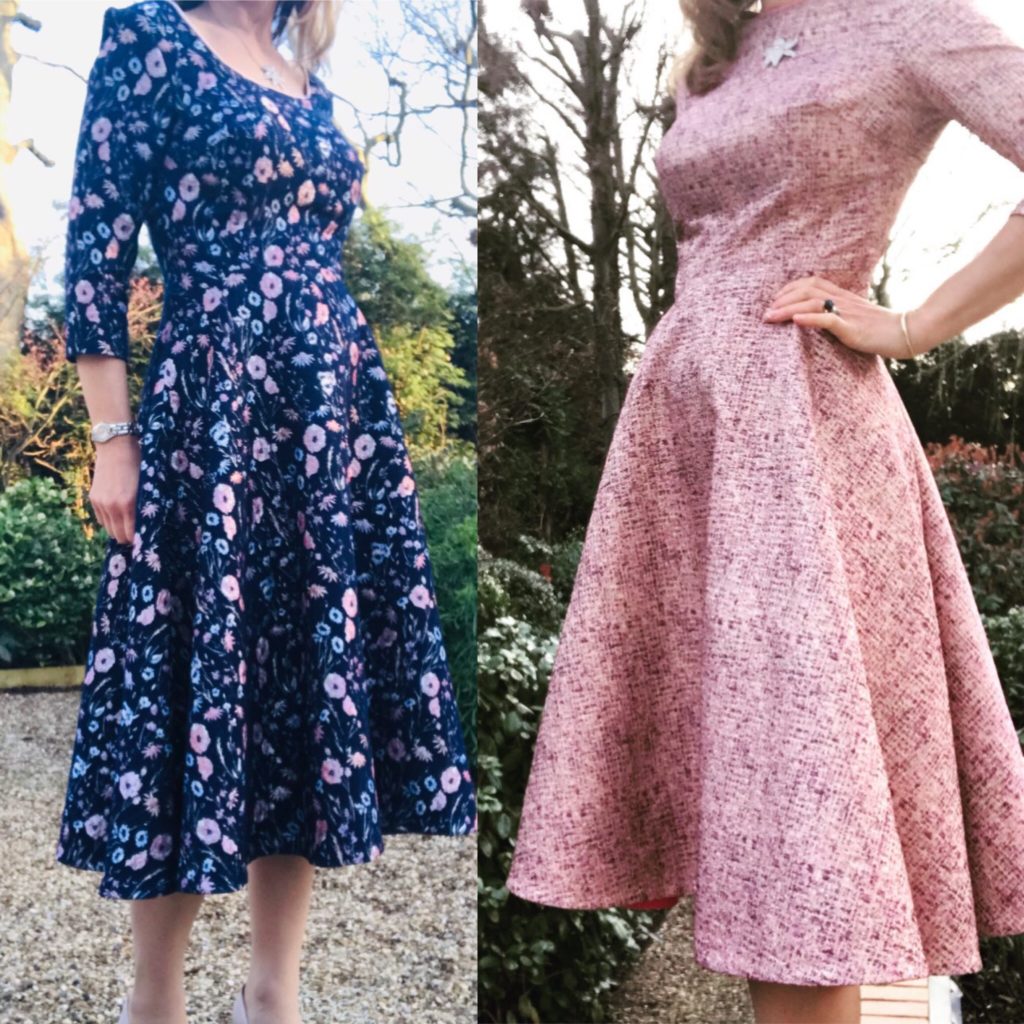 I've read many times in sewing blogs and on Instagram that there are no rights or wrongs in sewing, just different ways to do things – which I'm not sure is totally true. Let's say that when sewing with metallic brocade, there are many things I wish I had been told, and here they are.
I WISH I HAD BEEN TOLD NUMBER 1… BROCADE FRAYS LIKE THERE IS NO TOMORROW!! So as soon as you've cut all your piece do overlock them all, fully, even if they are to be fully lined – I suspect that if not overlocked they could fray by use, so personally I would not risk it. Also it will save you a lot of hoovering while sewing!
I WISH I HAD BEEN TOLD NUMBER 2…. METALLIC BROCADE IS EXTREMELY ITCHY and absolutely unbearable on bare skin. This has several implications.
First, all metallic brocade projects need to be fully lined – partial or no lining just won't do. I did not line the silver top/ skirt set and no matter how beautiful I find it, I just cannot wear it, even with ties and a long-sleeve turtleneck t-shirt underneath. In contrast, both my dresses are fully lined and I put them on bare skin with no problem.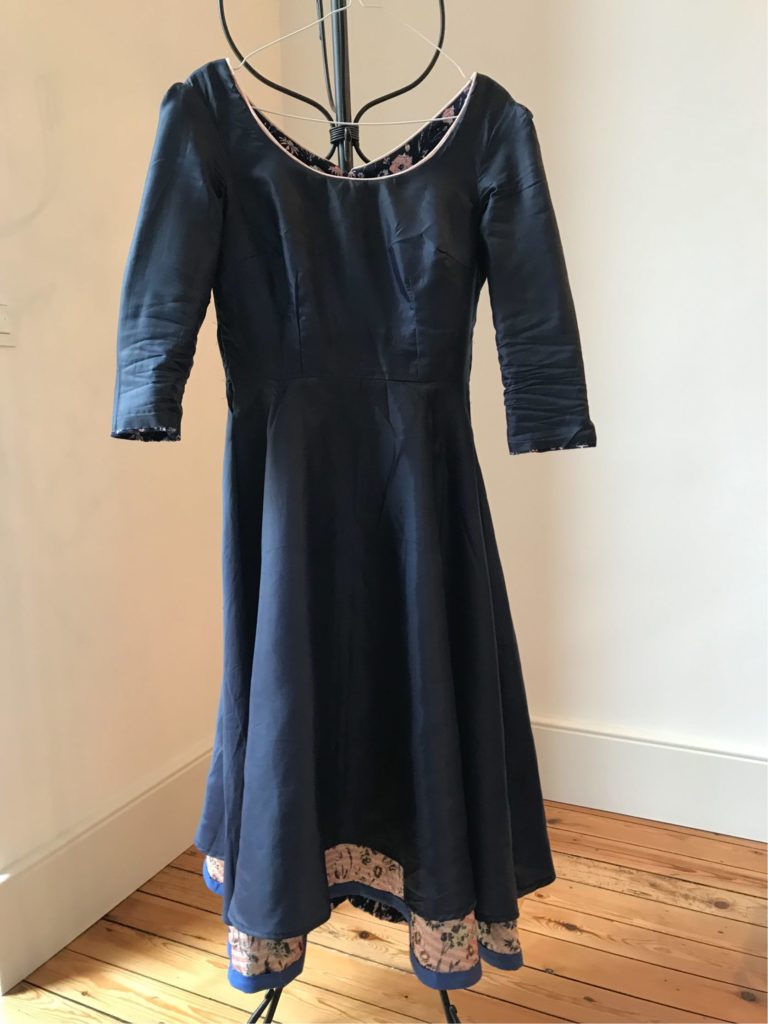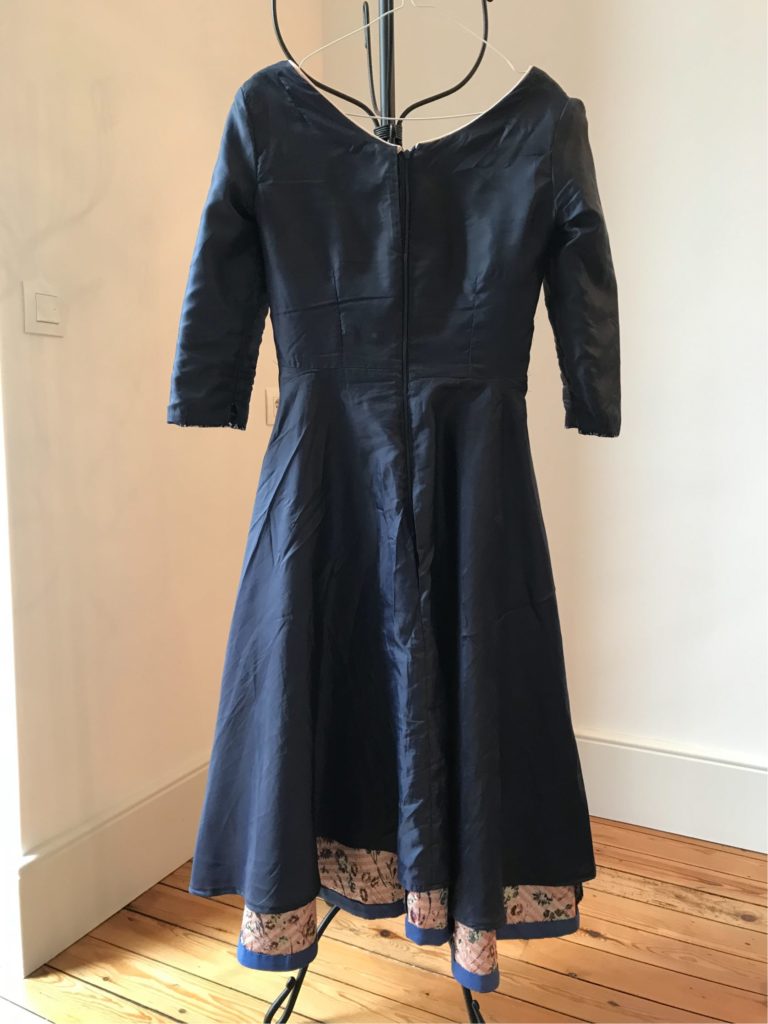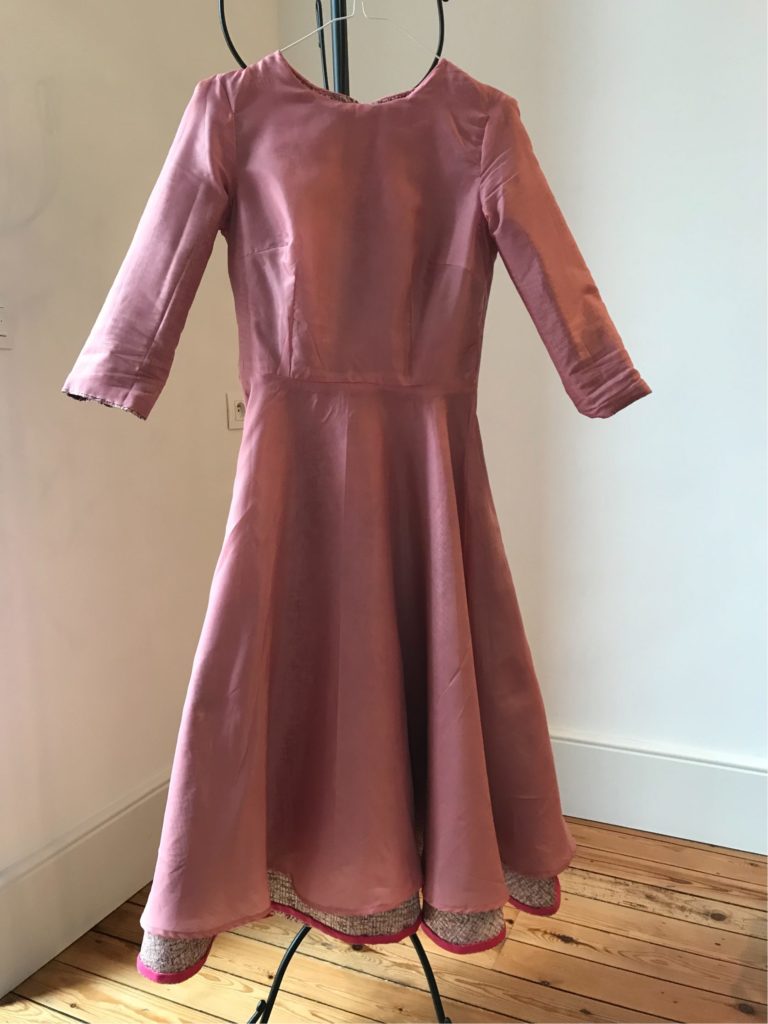 Second, you will need to cleverly think about how you finish your neckline, as this is definitely a very sensitive area. For both my dresses I inserted some piping, in a similar colour for the pink dress and in a contrasting one for the blue dress. To do this I sew the lining to the dress before attaching the lining by the neckline. You can also use a slighly overlapping bias, using the same method. Whatever your preference, you will need to use a different, skin-friendly fabric.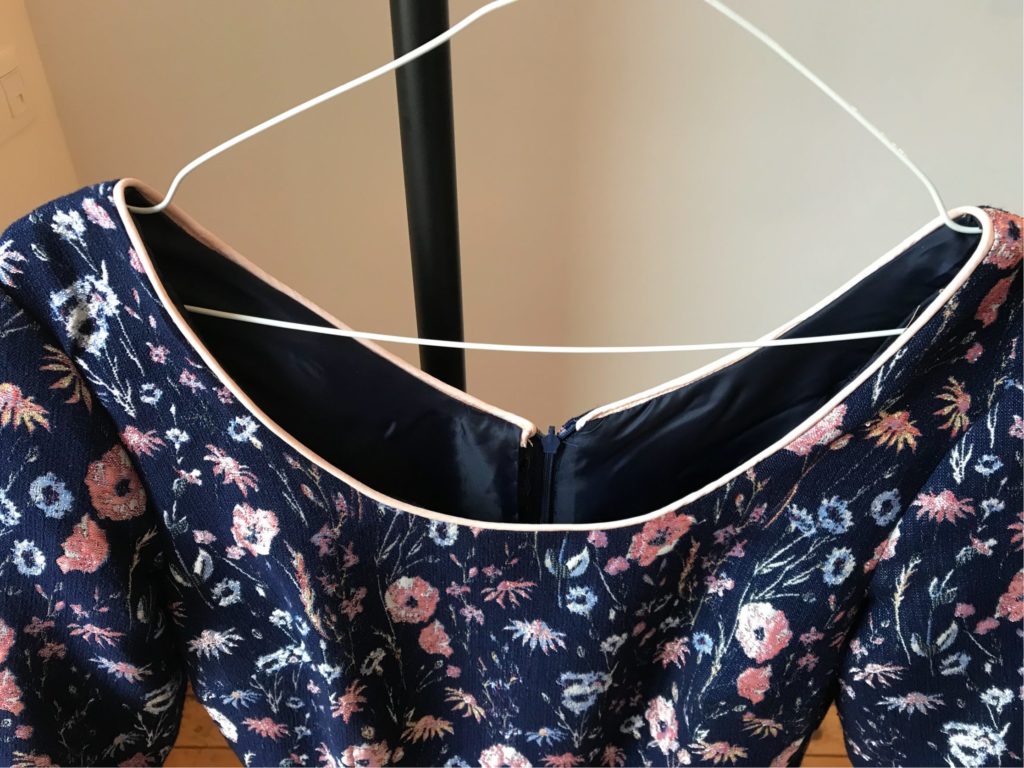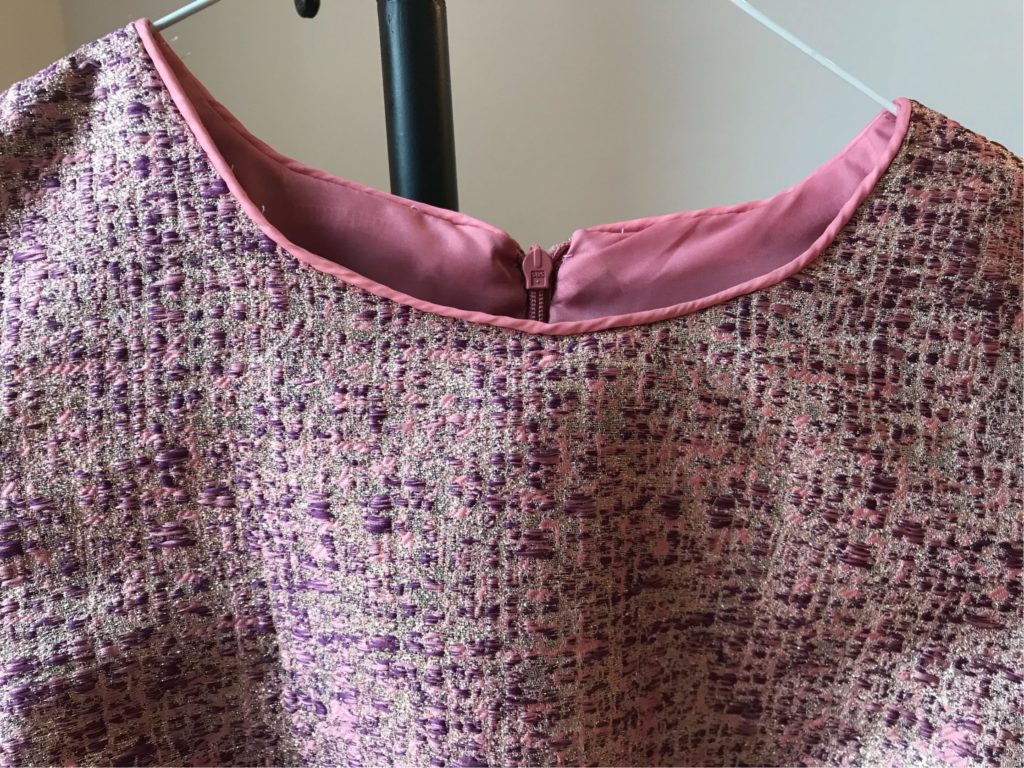 I WISH I HAD BEEN TOLD NUMBER 3… BROCADE IS VERY RIGID. It has no give whatsoever and does not really shape to the body. So I would not recommend using it for very tight fitted garments like my mini skirt, because it is just not comfortable to wear.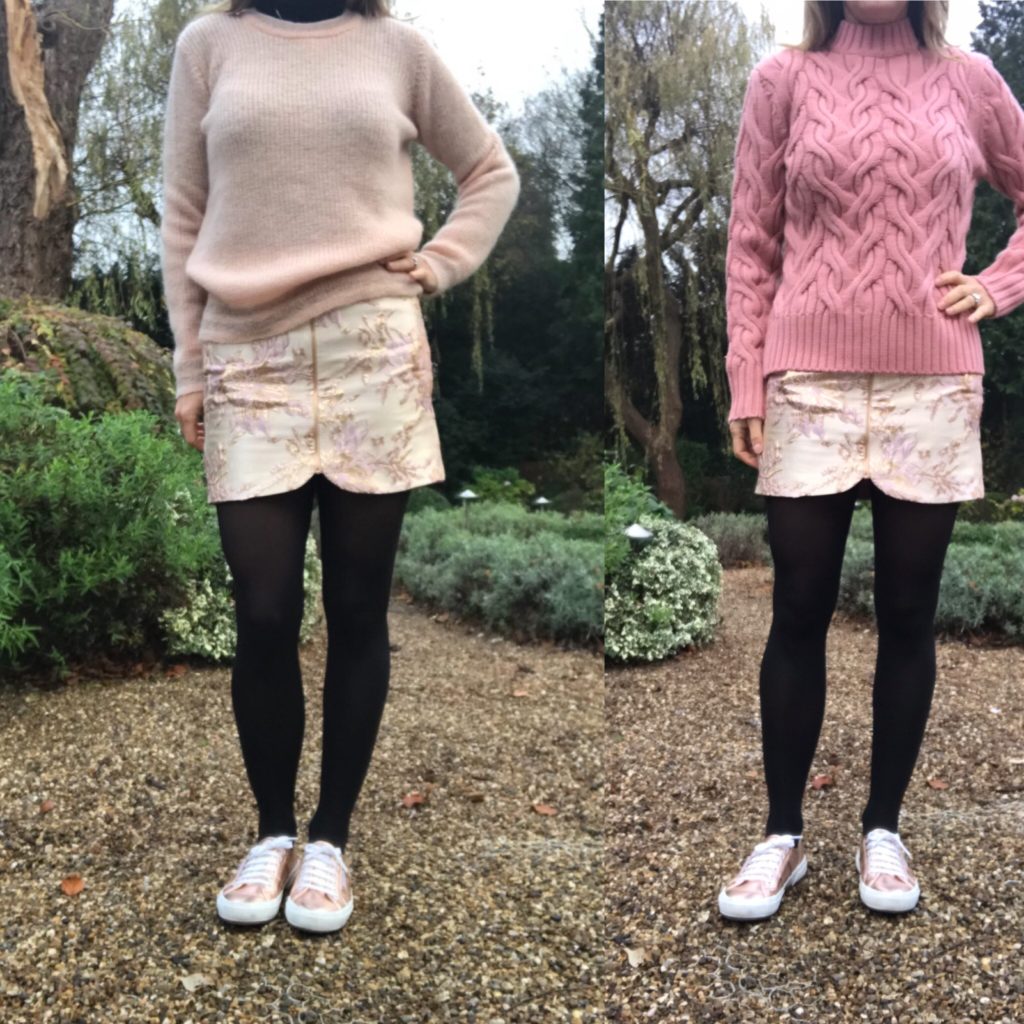 I would not recommend a very puffy gathered or pleated skirt either – I tried the later and it looked terrible. And I would strongly advise having plenty of seam allowance, to be able to enlarge at key areas – I did have to enlarge both my dresses (which are based on a fully tried, tested and perfectly fitted pattern) and my midi skirt at the waist.
I WISH I HAD BEEN TOLD NUMBER 4… BROCADE AND VISIBLE STITCHES JUST DO NOT WORK WELL TOGETHER. So get ready for a lot of hand-stitching, especially if you chose a circle skirt! Both brocade dresses and my brocade skirt are based on a (self-drafted) semi-circle skirt pattern; and I followed wonderful Emily Hallmann's advice on how to line them: I sew with my machine a bias tape at the bottom, then fold it and and hand-stitched it inside. The hand-stitching takes absolute ages (90 minutes for a half-circle skirt, I counted!) but it is really worth the effort, the result is flawless. The bias also creates a nice rigid curve at the bottom, which is really pretty in my view.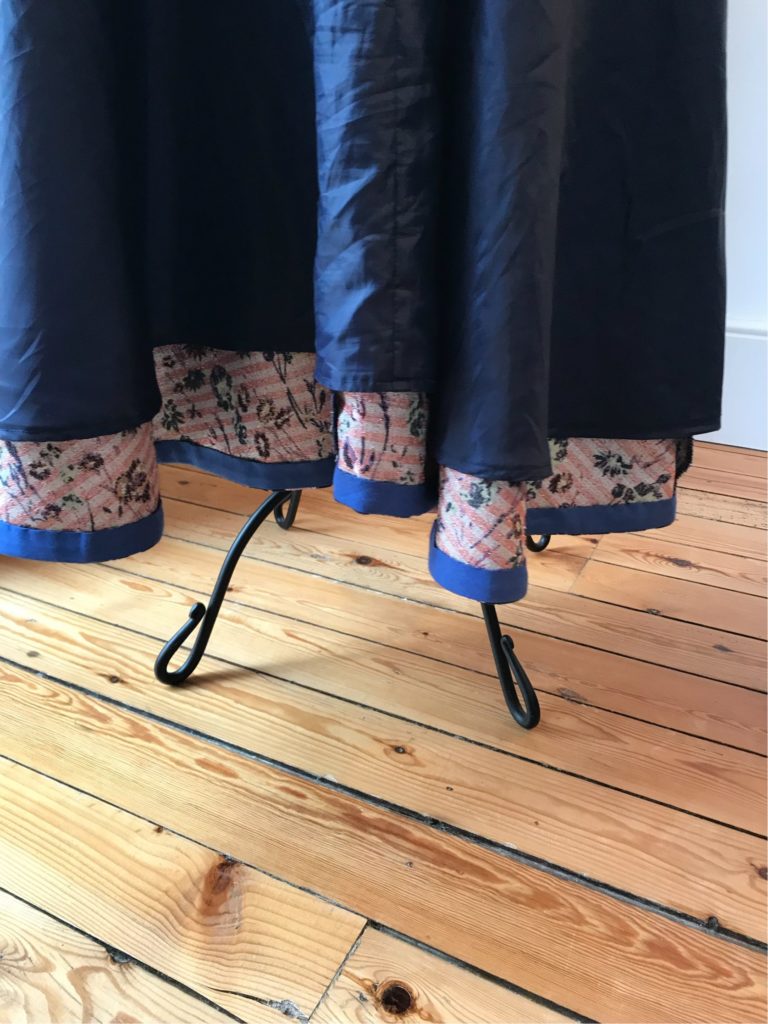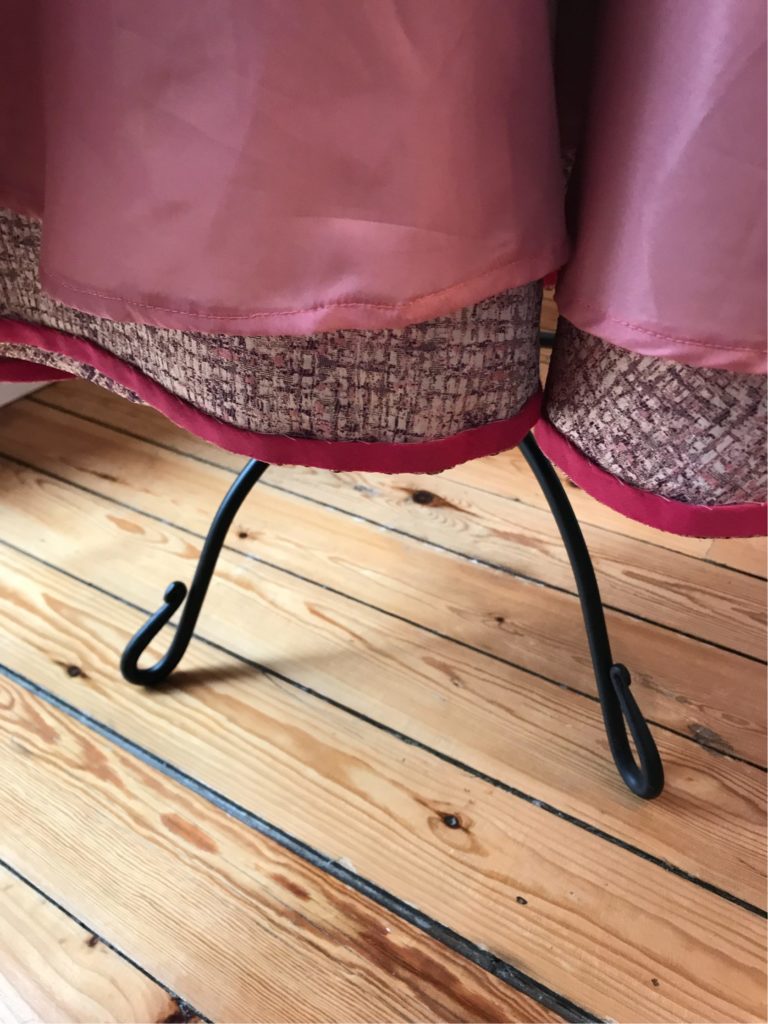 I WISH I HAD BEEN TOLD NUMBER 5 … BROCADE OFTEN HAS A "WRINKLY SIDE", WHICH IS QUITE DIFFICULT TO WORK WITH. So you have two options: either use the wrinkly side as your right side and be super careful that you don't create unwanted folds when you sew – this will definitely require more time and attention than with "normal" fabric. Or work on the other side of the fabric, which is perfectly smooth – for illustration my mini skirt is wrinkly-side out, while my midi skirt is smooth side out.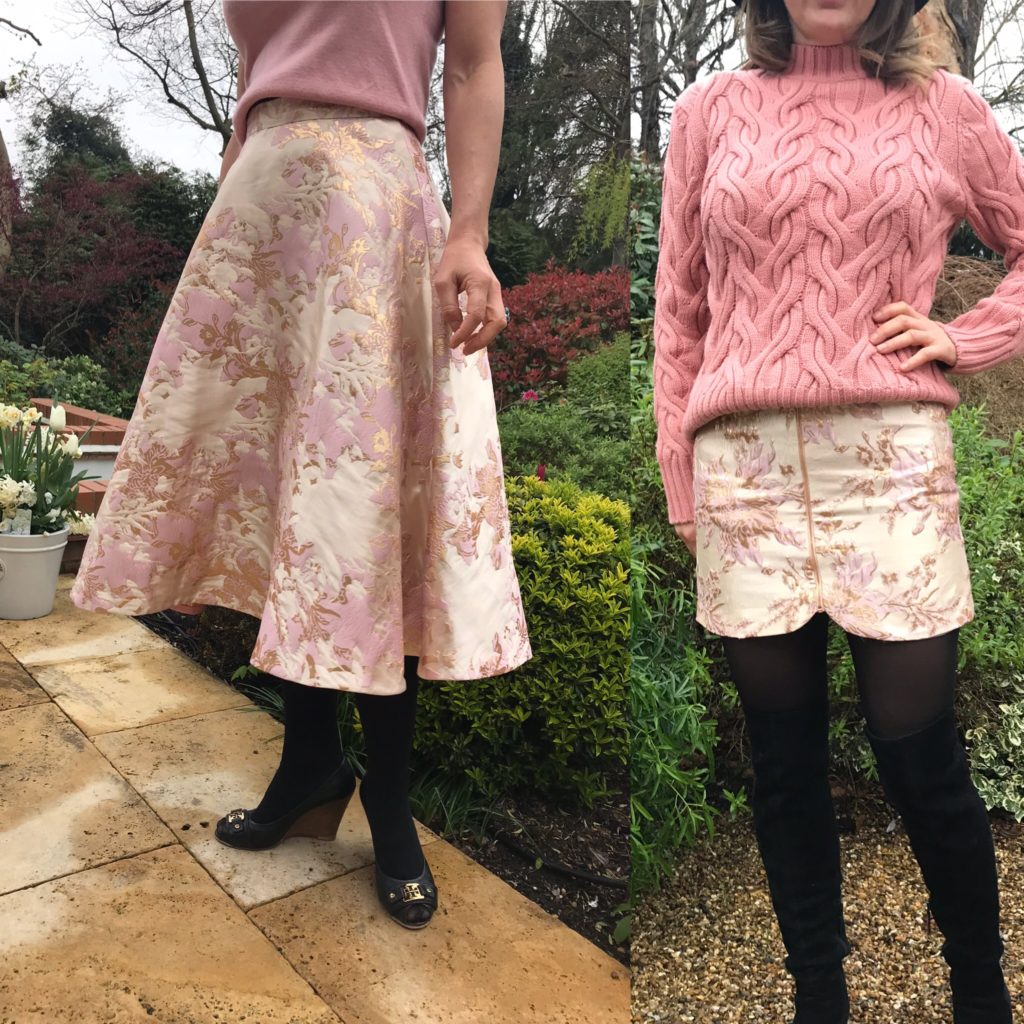 I WISH I HAD BEEN TOLD NUMBER 6… BROCADE IS ABSOLUTELY BEAUTIFUL SO DO GO AHEAD AND USE IT!!! And I hope you will find this article useful to tackle this material.
Sewing two new variations of the V8630 pattern
Long time no see my sewing friends! Four months is probably the longest time I have ever been away from my beloved blog and I've really missed it. But life has been incredibly busy and many things have kept me away from writing and sewing. But here I am!
These are my last winter makes: two dresses, made on the basis of the V8630 pattern, with a few modifications: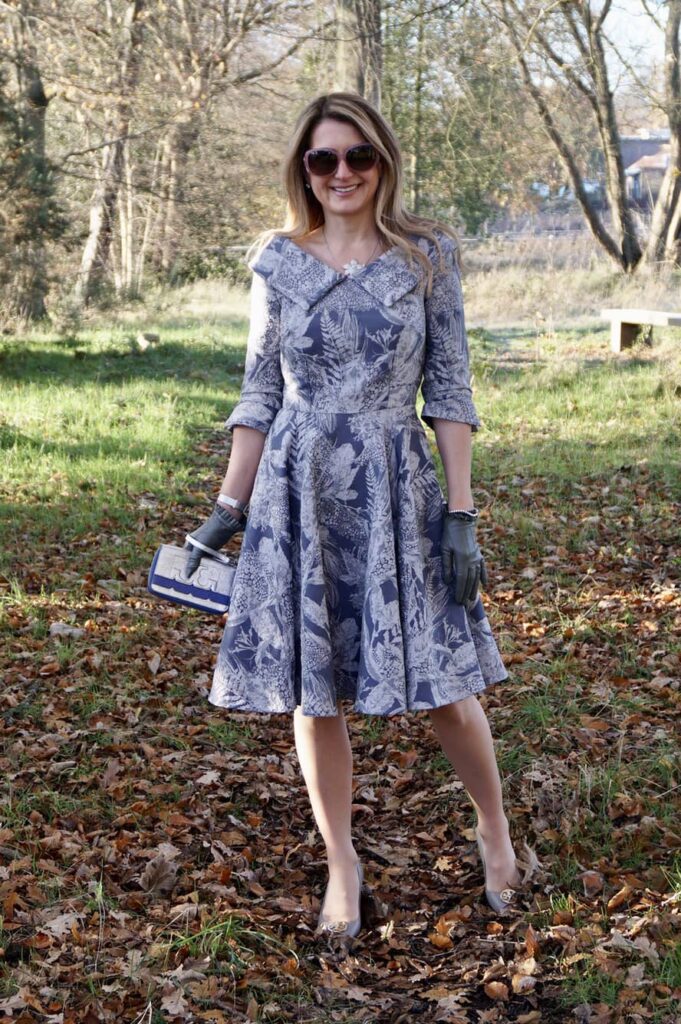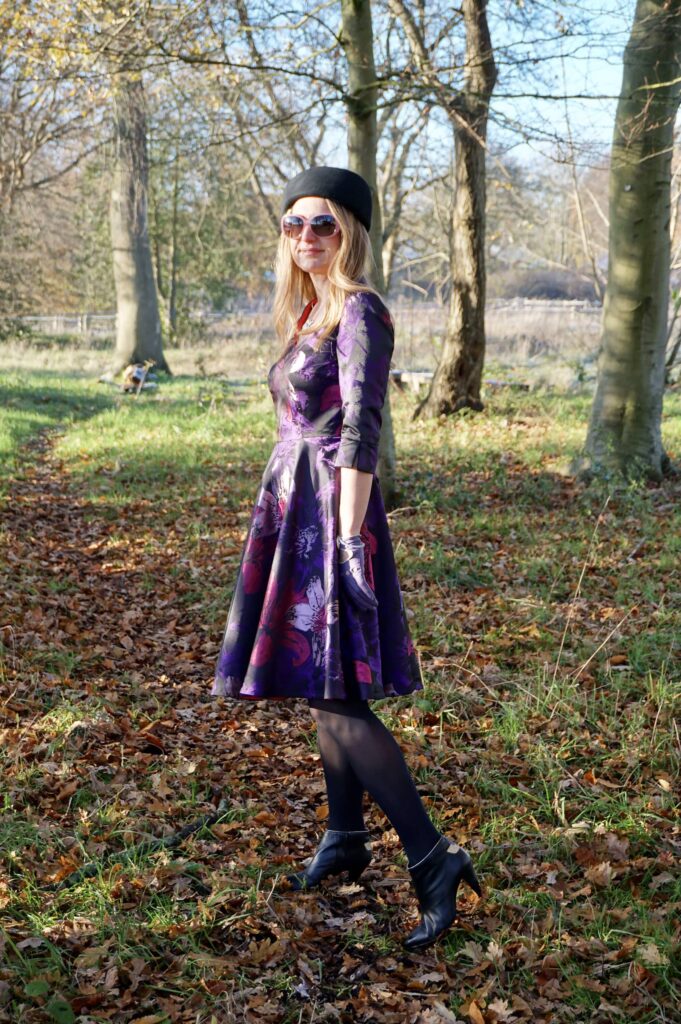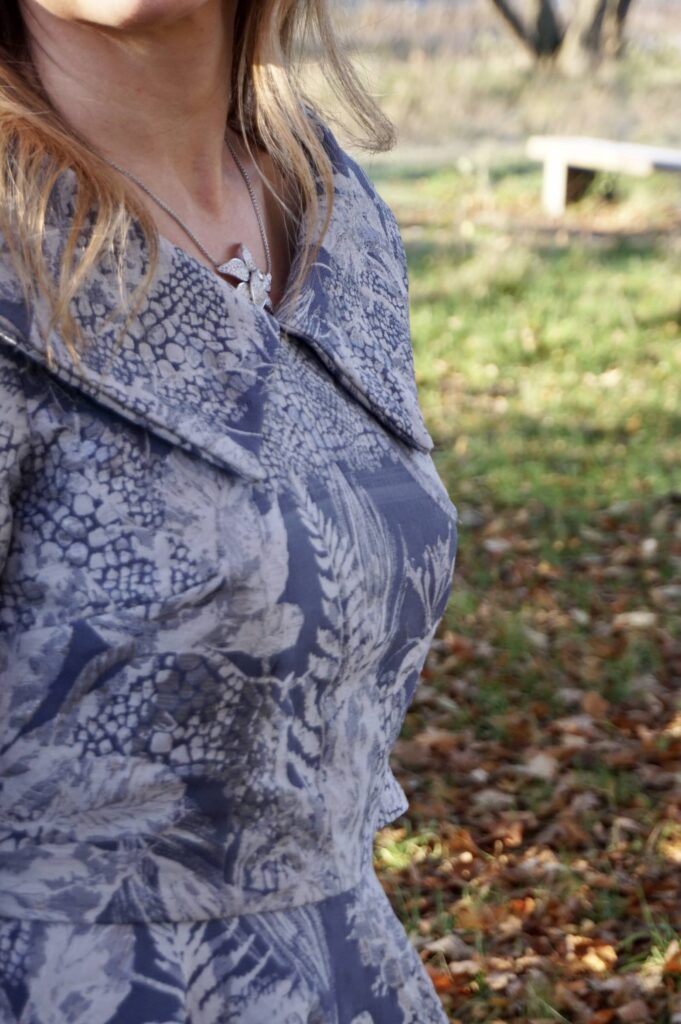 Using the V8630 patterns as my base for many dresses
Is it really the same pattern?
At first sight, you would not think these two dresses are based on the same pattern. Let me confuse you even more by showing you the enveloppe of this pattern…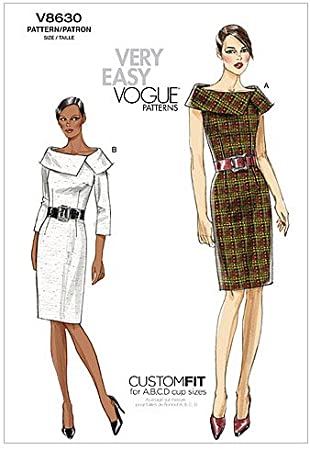 … and the various dresses I have in the past made using it…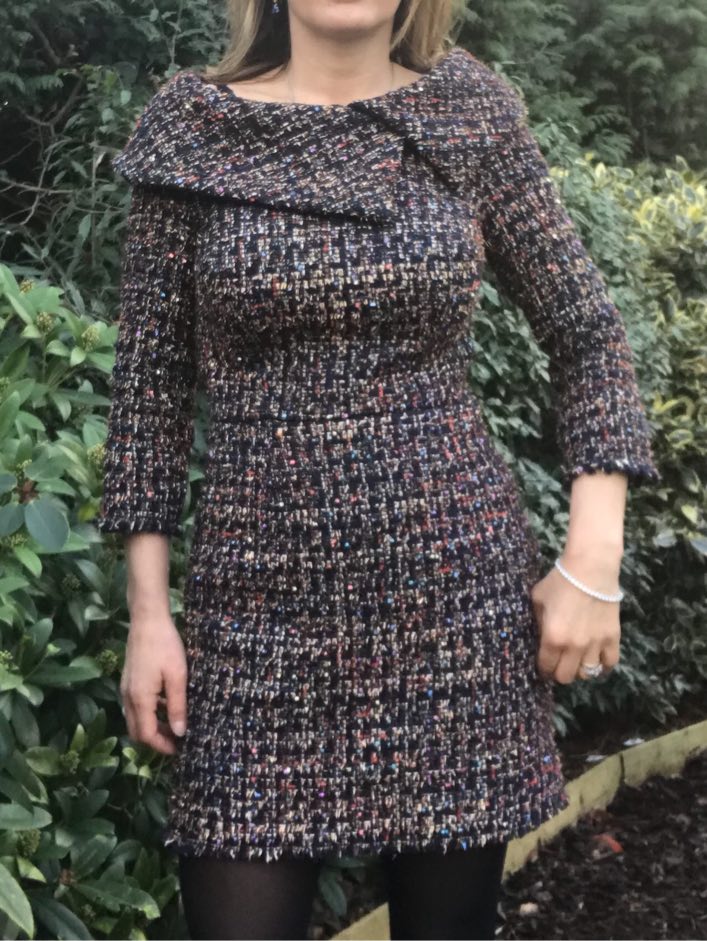 So we're officialy on version 8 of this pattern, and they all look extremely different. Incredible, isn't it?
The most perfectly fitted bodice… for me
The joy of this pattern for me is that the bodice fits absolutely PERFECTLY: at the bust, at the shoulder, at the waist, at the back, everywhere is just made for me!!! Having tried many other dress patterns (and you know my love for dresses), I always come back to it when I want a 100% safe fit without the nightmare of FBAs and muslins.
Most pattern-drafting afficinados will recommend you find a perfect bodice pattern and play with it. However, I am actually quite bad at self-drafting, so I was initially reluctant to make modifications to patterns and I preferred to buy new. However, after several fitting nightmare, I realised than minor amounts of self-drafting – such as changing the shape of the neckline or adding a collar – were completelty achievable and a huge time saver versus fighting for the right fit.
For my new dresses, the changes I made to the inital pattern are tiny:
for the blue dress, I centered the original collar to the middle and made it slightly less deep;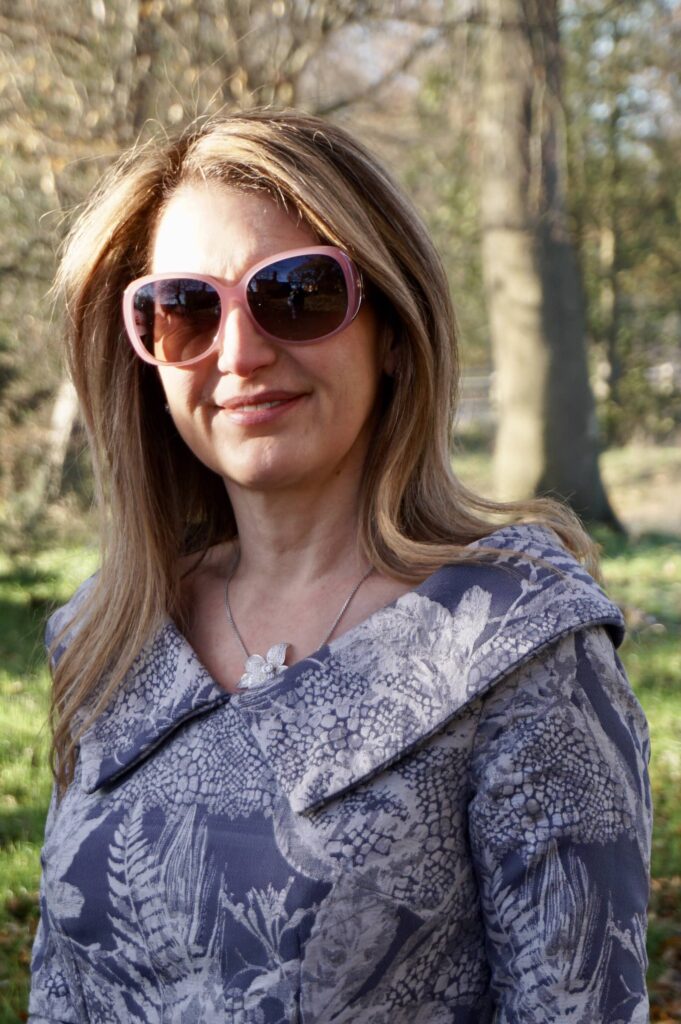 for the purple and pink dress, I created a heart-shape neckline and removed the collar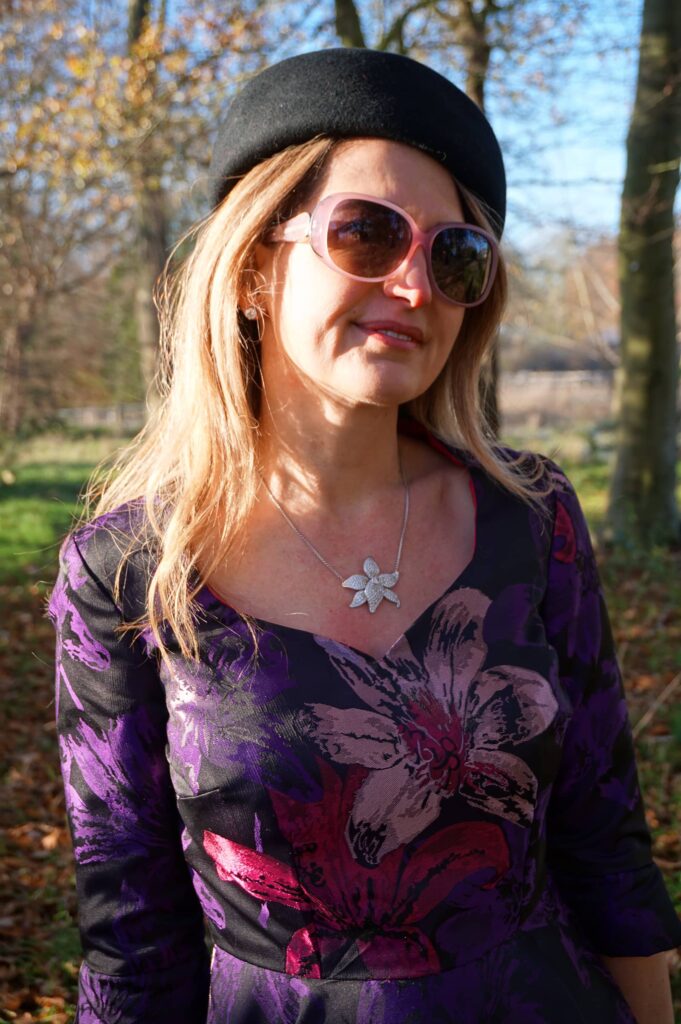 And for both dresses, I used a full circle skirt and 3/4 sleeves with turn-ups, all directly from another of my beloved patterns, M7081 (zilions of versions on the blog, here, here, here, here, here, here and a few more…).
As for all the other versions of M8630, each blog article details the different modifications I have made – just click on each of the pictures above to get to the articles.
Brocade frenzy
Both dresses are sewn in brocade from Croftmill: the purple and pink is still available here;
… while the blue and silver is sadly out of stock.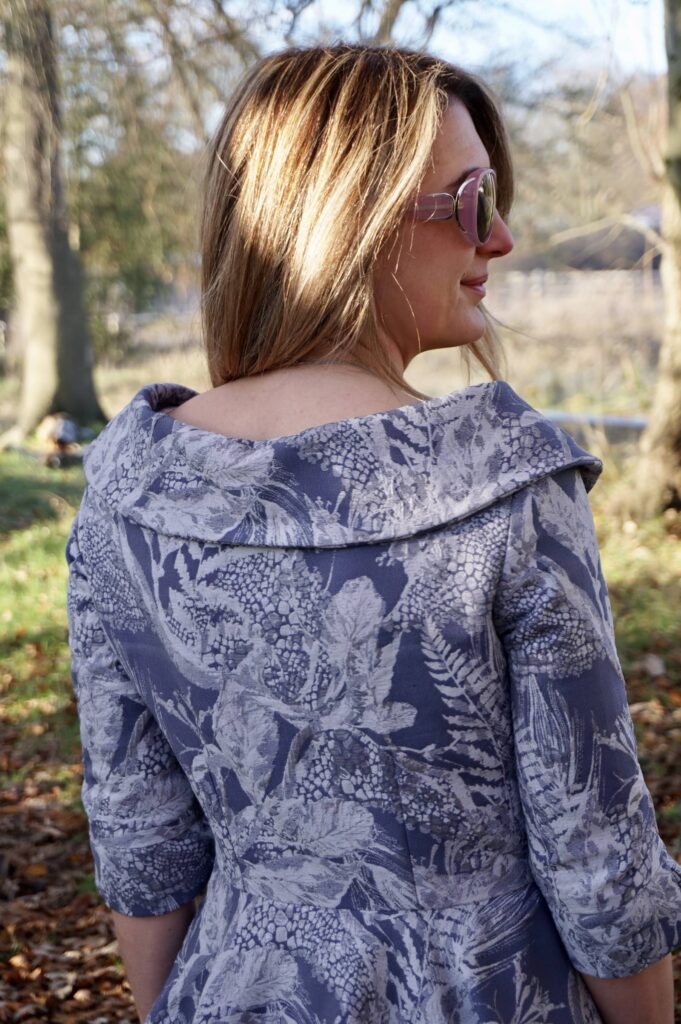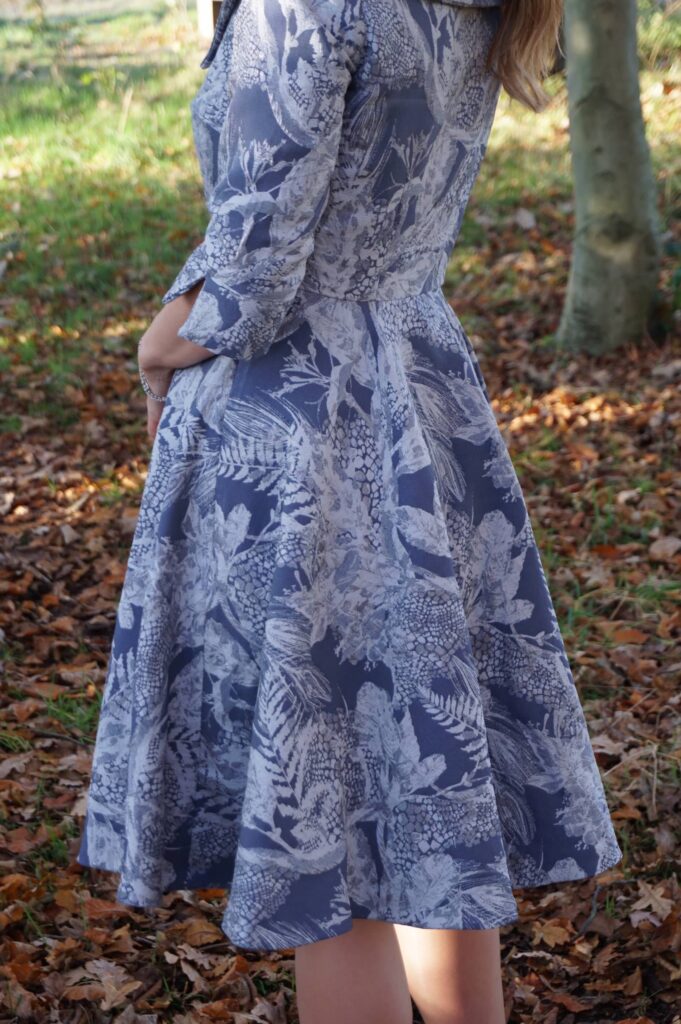 I actually managed to match the lining of my pink Swing coat with my dress for a total Marvellous Mrs Maisel look – I just love it!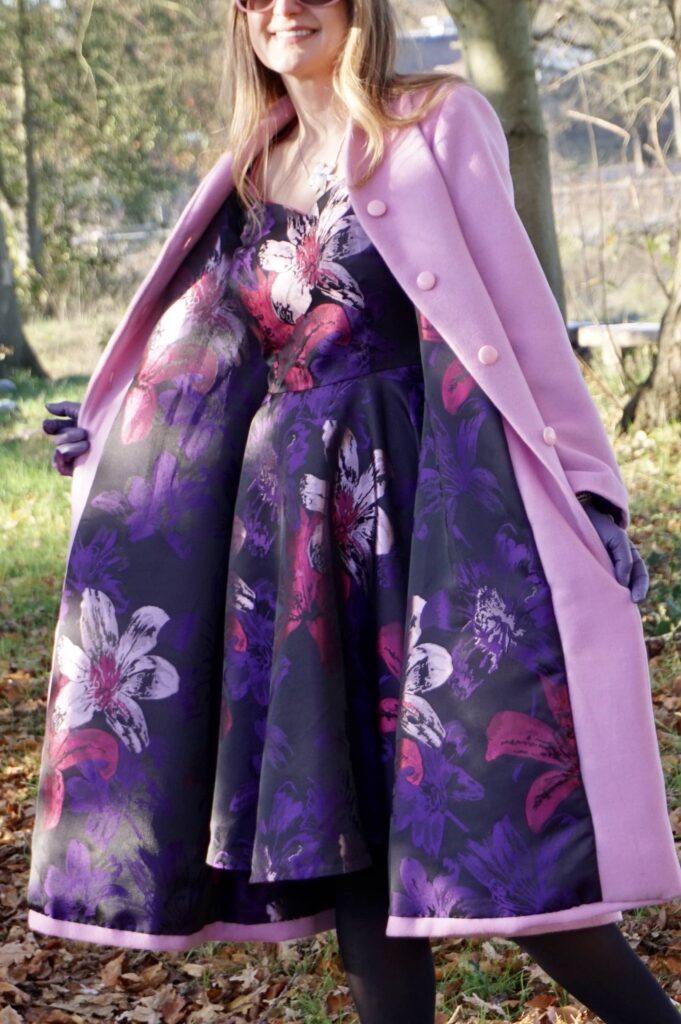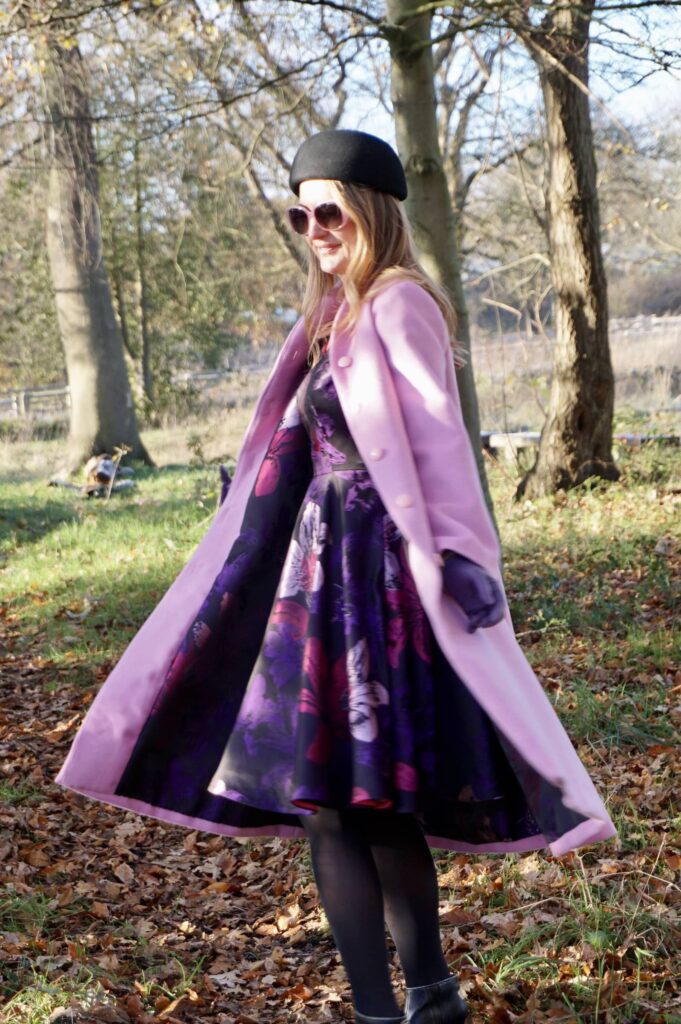 Conclusion
Definitely a lovely set of dresses which I really enjoyed wearing over the past few months. But I admit I am now very much looking foward to sewing for Spring! Lighter colours, lighter fabrics, here we come!
M7081: my new favourite winter dress
New season, new pattern…
Every seasons seems to come to me with a favourite dress pattern – winter 2019 was Magnolia's season…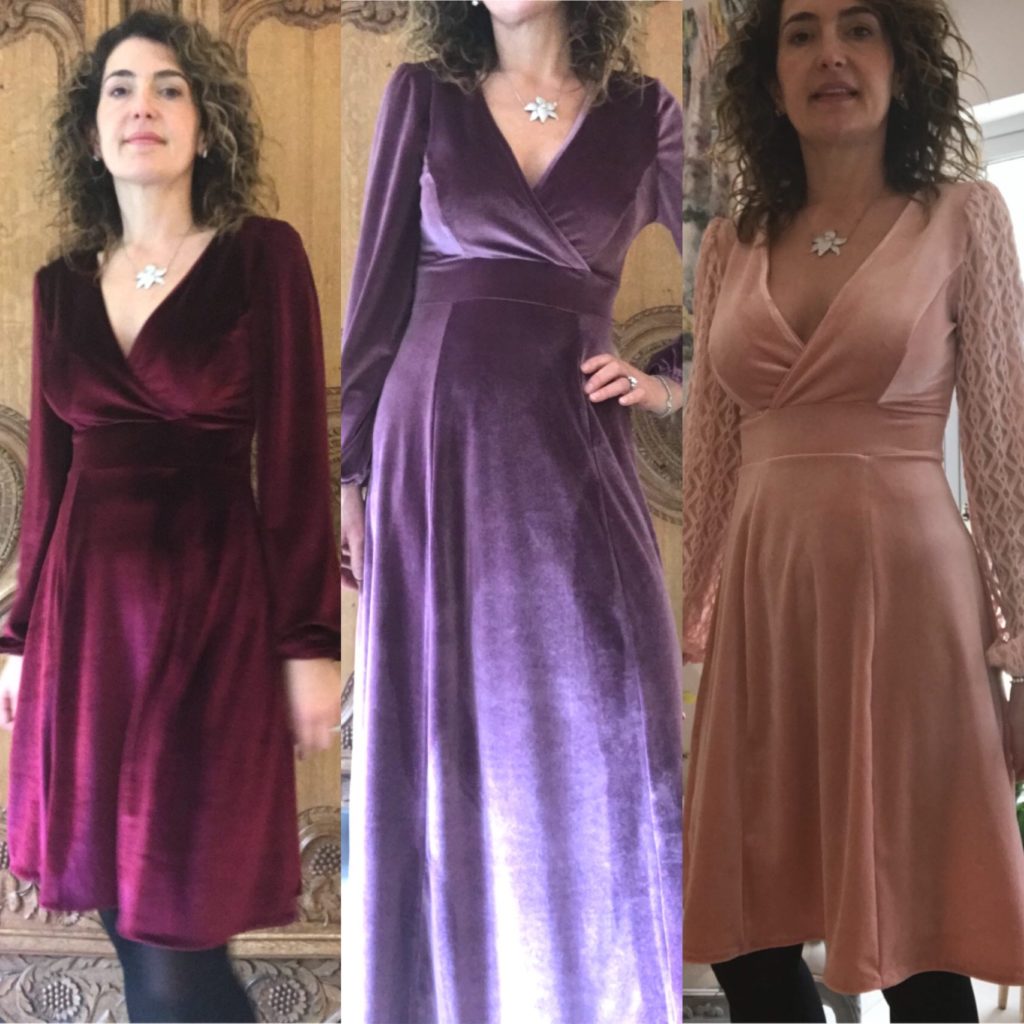 … summer 2020 was V9253's …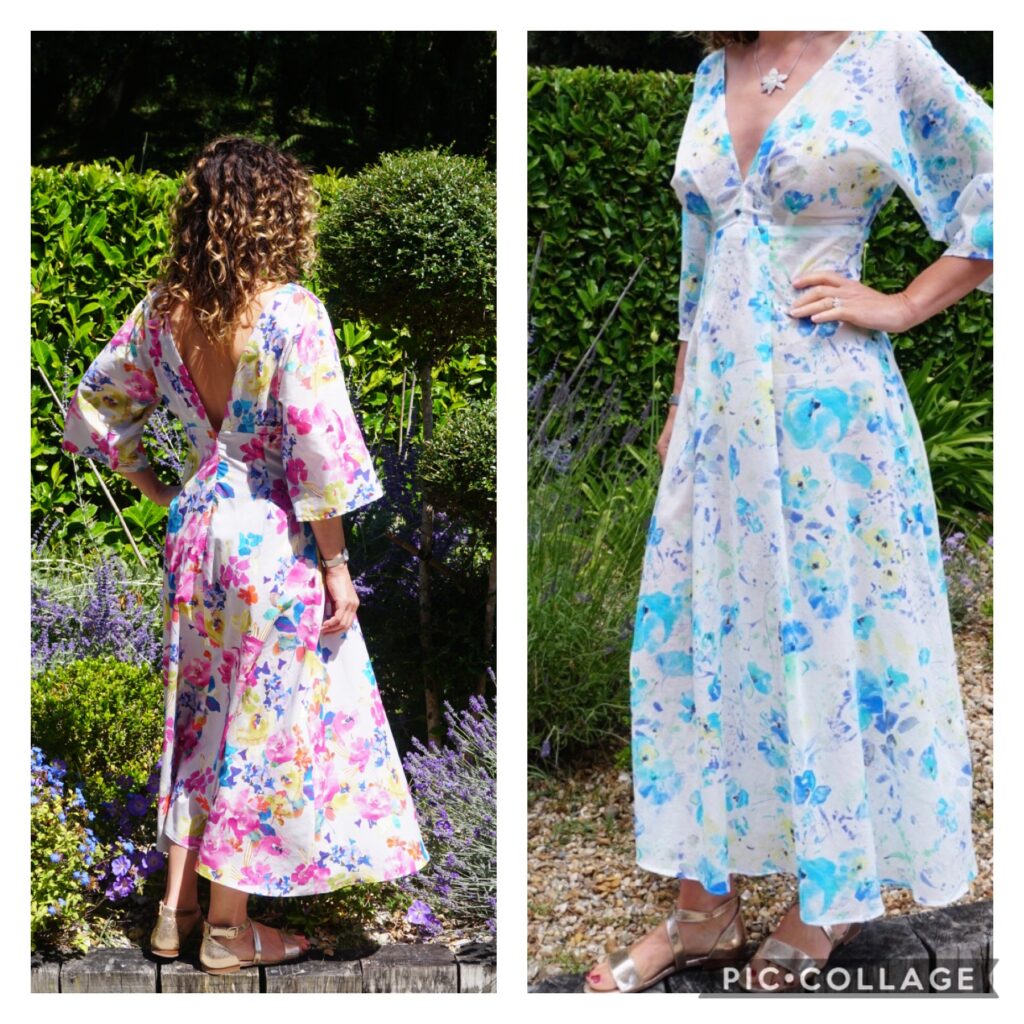 … and autumn 2020 is definitely all about V7081!
My "old" versions of M7081
In all honesty, the red and blue versions of these dresses were sewn last year (for those following my curl journey you can tell from my hair!). I got my hands on these magnificent Dolce & Gabbana floral fabrics and couldn't resist making each of them into twirling twin dresses.
They are constructed exactly in the same way as my two new versions: no collar, piping at the neckline and the belt and modified sleeve cuffs – but more on this later.
I only posted recently about the blue one recently though, when I knitted a matching Belladonna cardigan. No post about the red dress, lazy girl!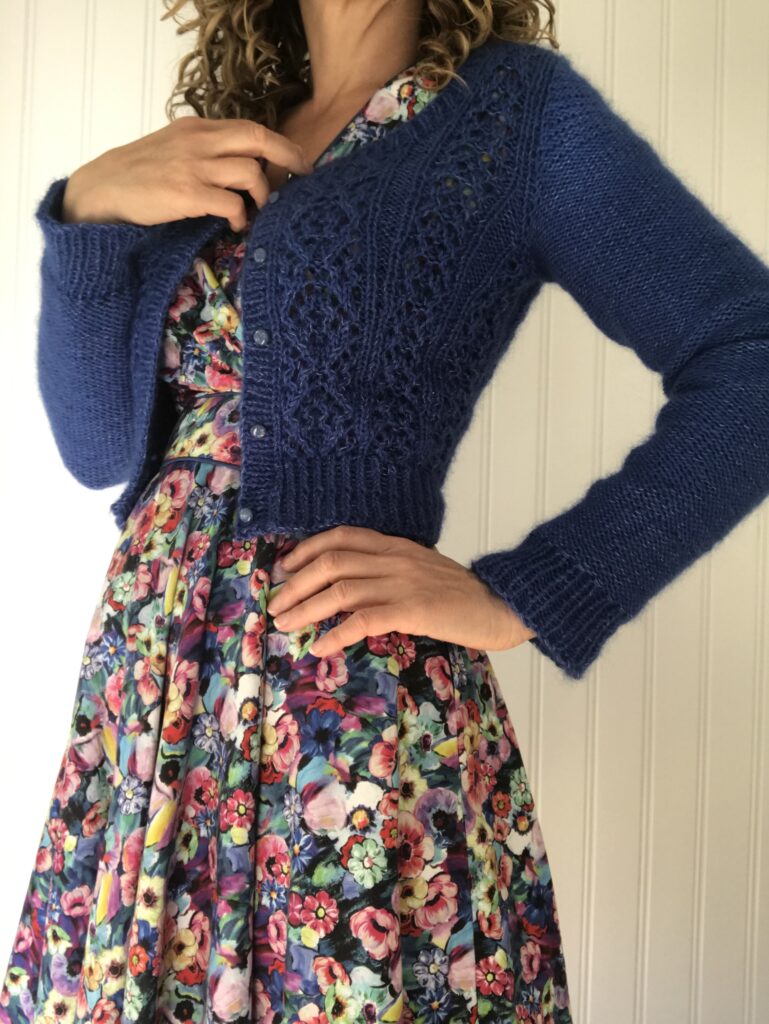 M7081 pattern review
But going back to M7081. This is a wonderful pattern of a fit-and-flare dress with a faux-wrap bodice, and middle belt joining the bodice and the skirt, and a full circle skirt – absolutely everything I adore. Depending on the sleeve option you choose, it can be made into a winter or summer version (I admit, I also have two summer versions, here and here). The only flaw of this pattern in my view is the collar, which can be easily omitted.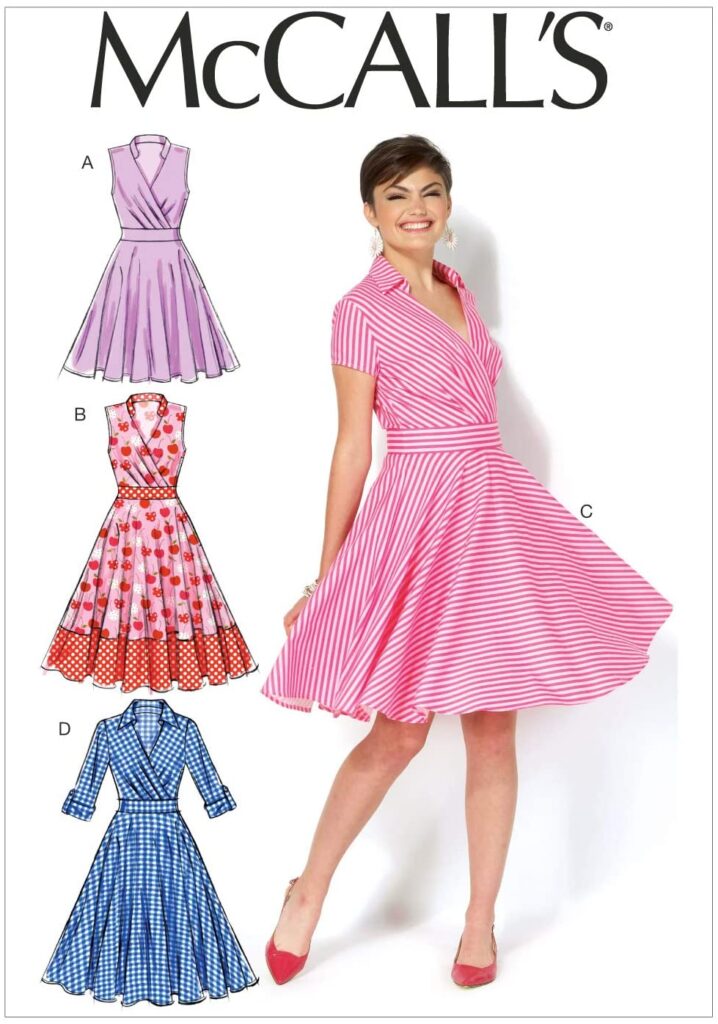 The fit is, as usual for me with McCall's and Vogue patterns, absolutely spot-on – even though there is no cup options here. For my UK size 8 / FR 36/ US 2, I chose as usual a size 10 but (unusually) had to create a tiny bit of extra ease at the waist (about 1cm on each side). I find it very necessary with stiffer fabric; but not so much so when there is a bit of stretch.
The other changes I made for all my dresses were:
omitting the collar and finishing the neckline with bias binding;
adding contrasting piping at the neckline and the waist;
using my pattern of the Cami dress by Pauline Alice for the sleeve cuffs – this is not hugely necessary but I adore these cuffs.
lining the skirt – I am a lining addict…
My latest winter versions of M7081
And here they are! My two latest winter versions of the pattern.
The first one is in a beautiful brocade I got ages ago from Bennytex.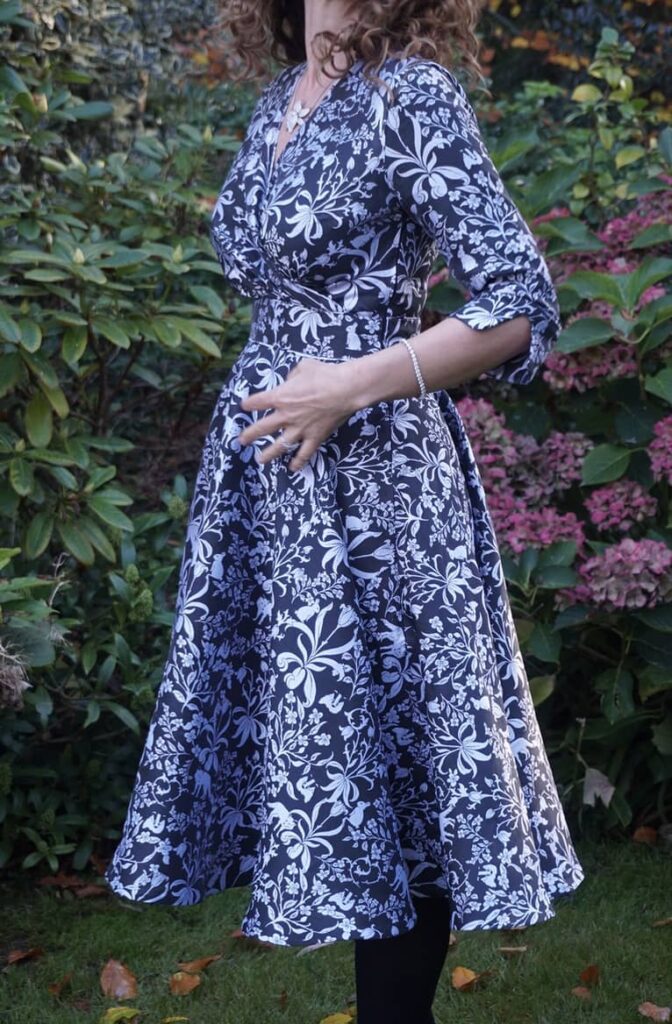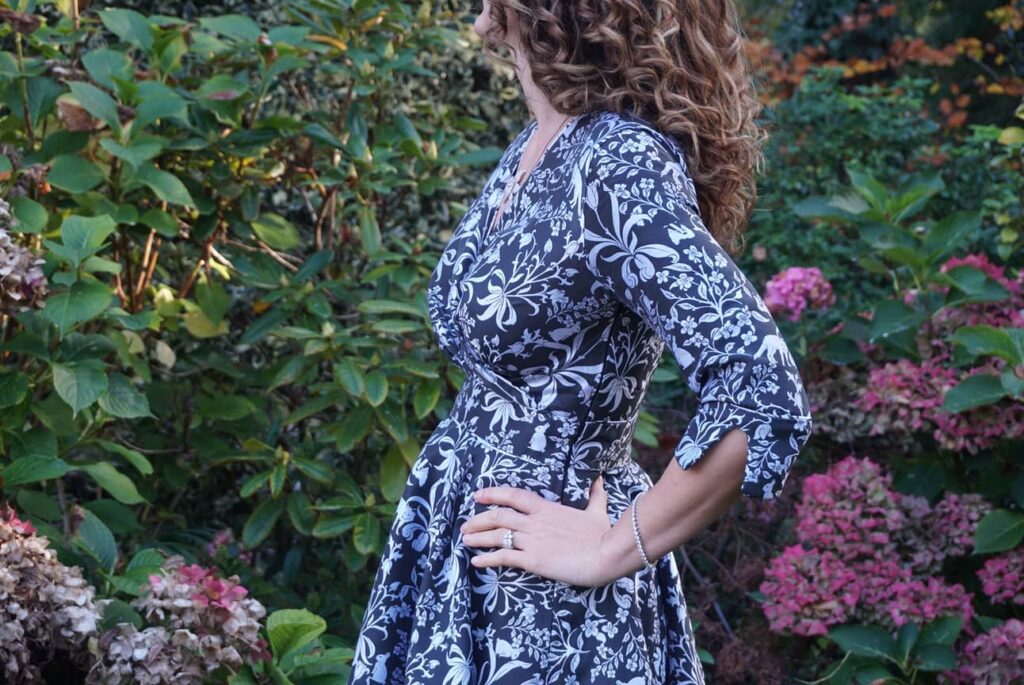 The fabric is lightweight enough for a dress but, being brocade, it has no stretch whatsoever so this is probably the tighter of my versions.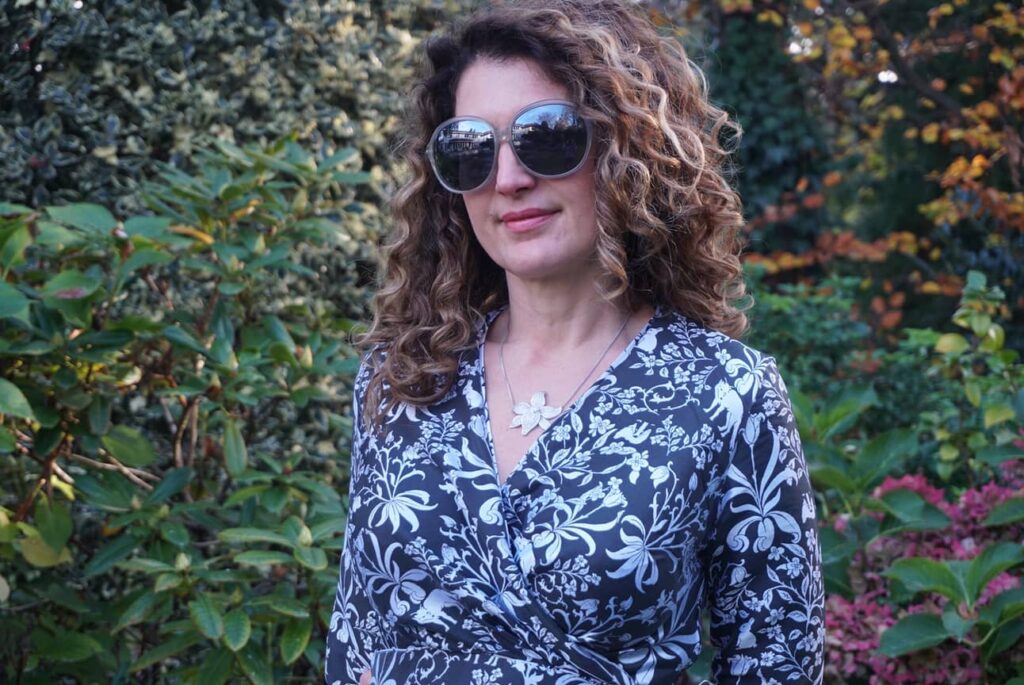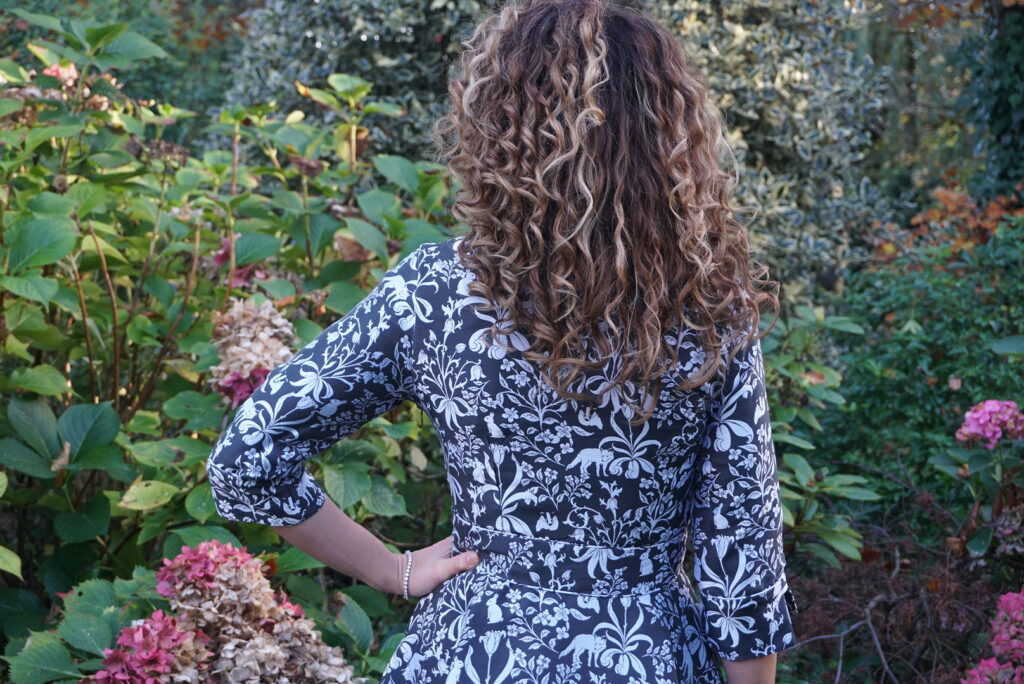 I used the other side of the brocade for my piping, not my best ideas as it makes it nearly invisible… Never mind!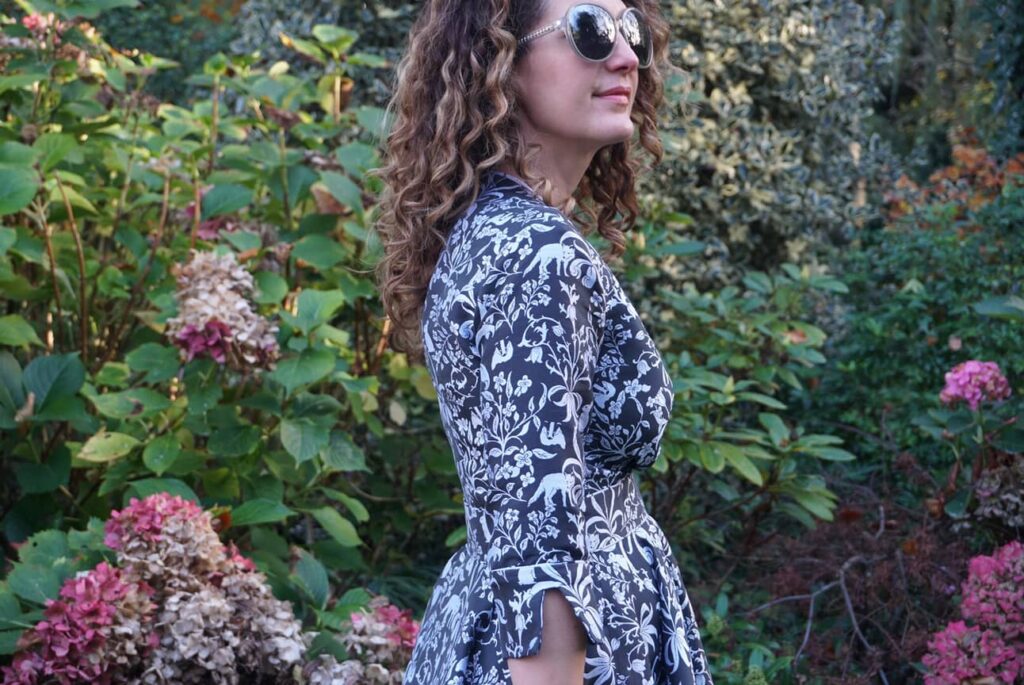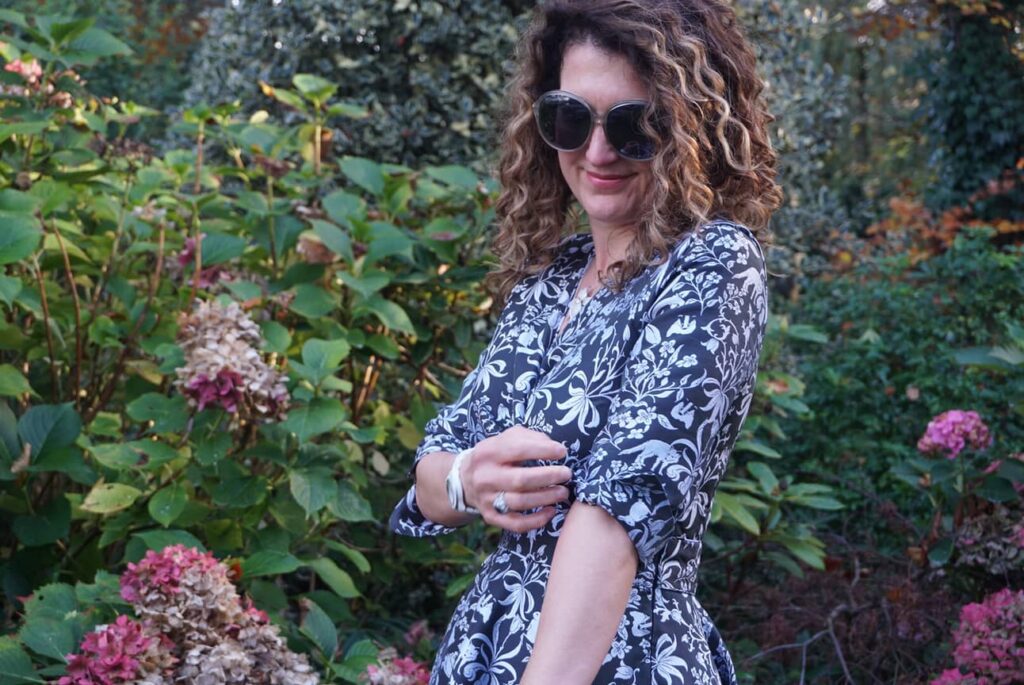 And obviously this dress has a big circle skirt, which I LOVE!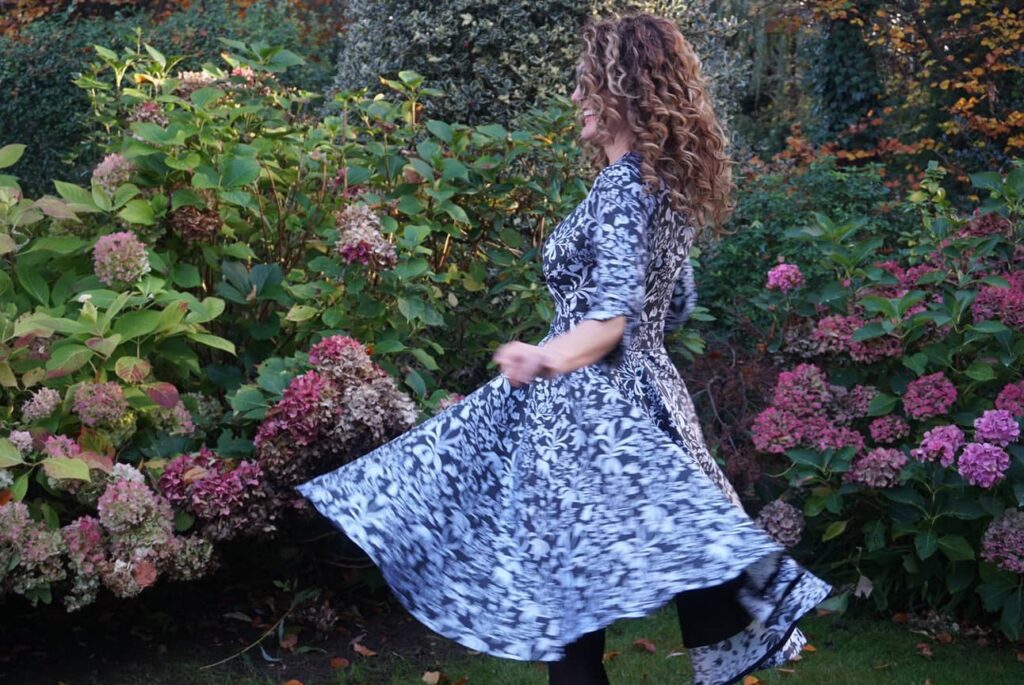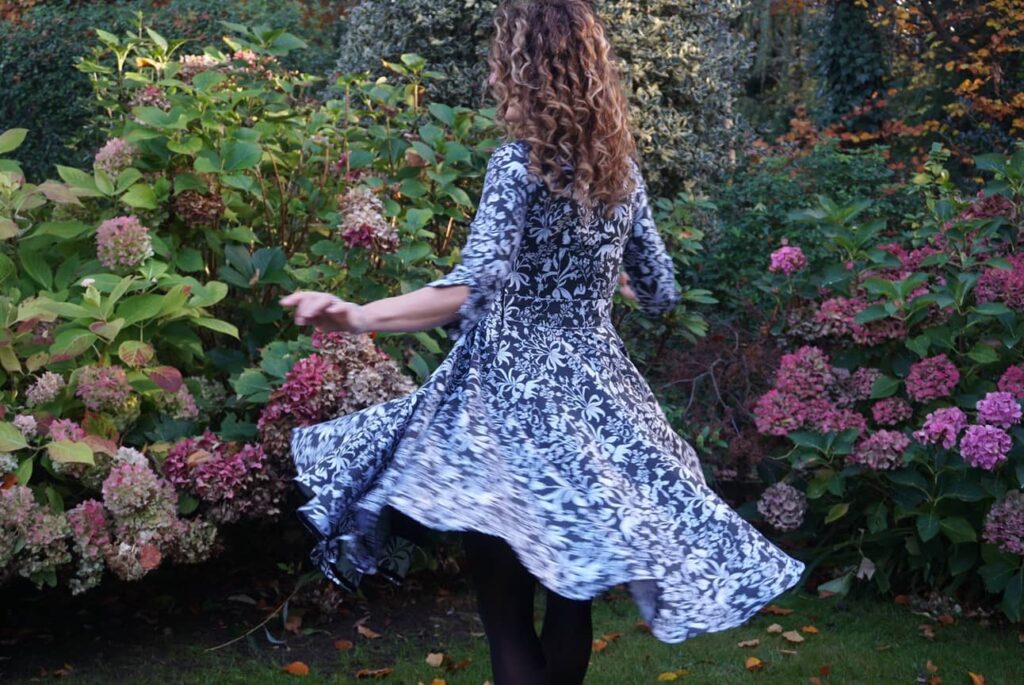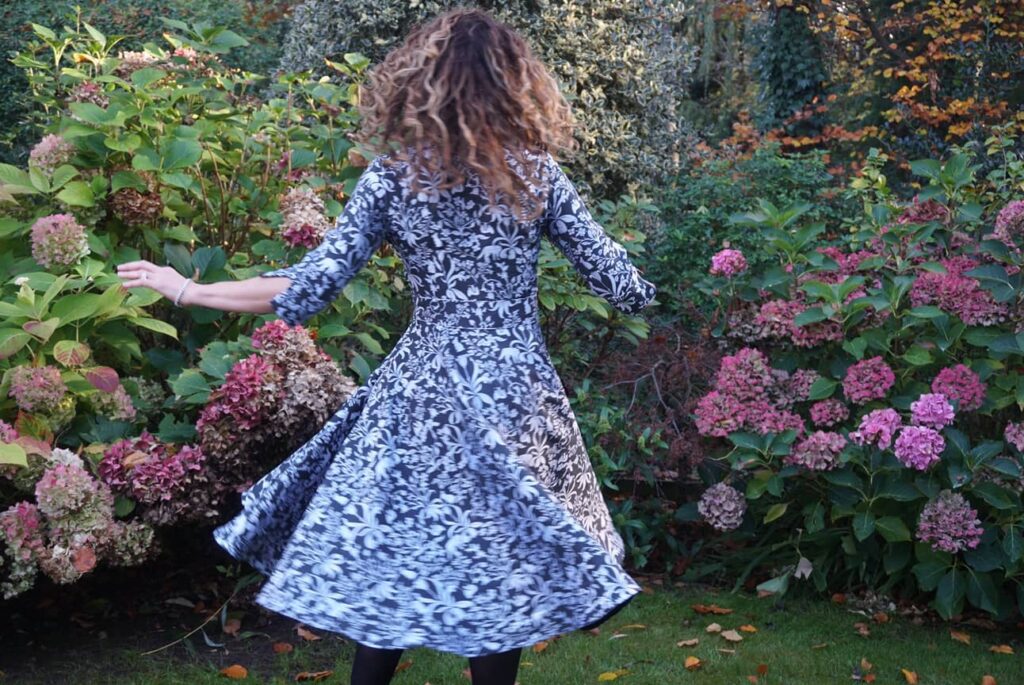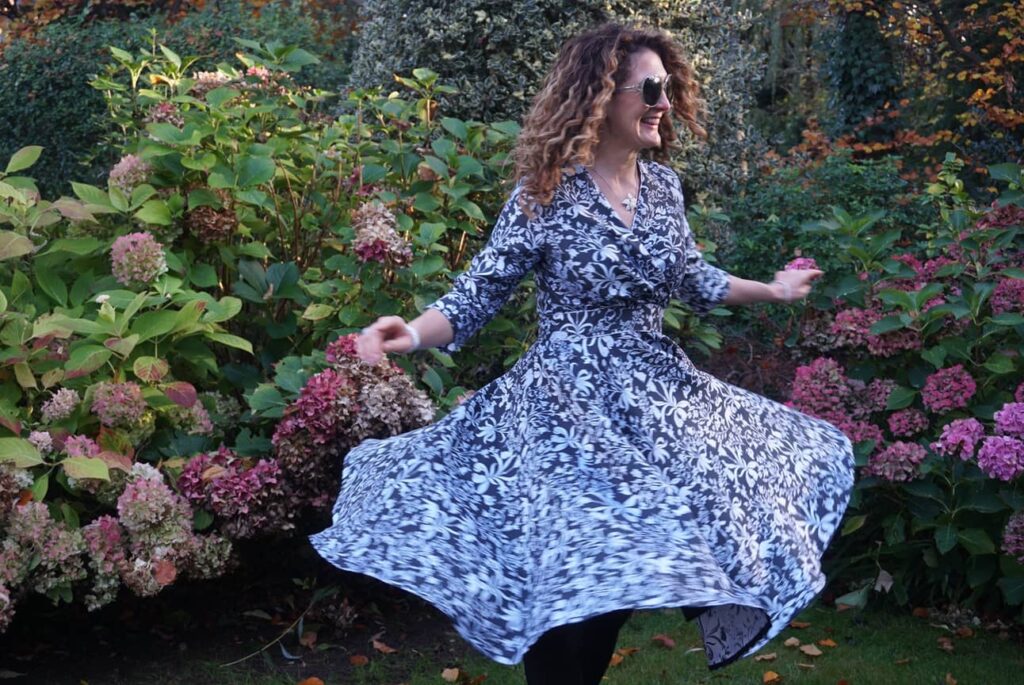 My second version is also in a fabric from Bennytex, this time a floral cotton satin with a reasonable amount of stretch. Using this fabric was on my Autumn to-sew list and although I changed pattern, I am very pleased with my stash-reduction accomplishment!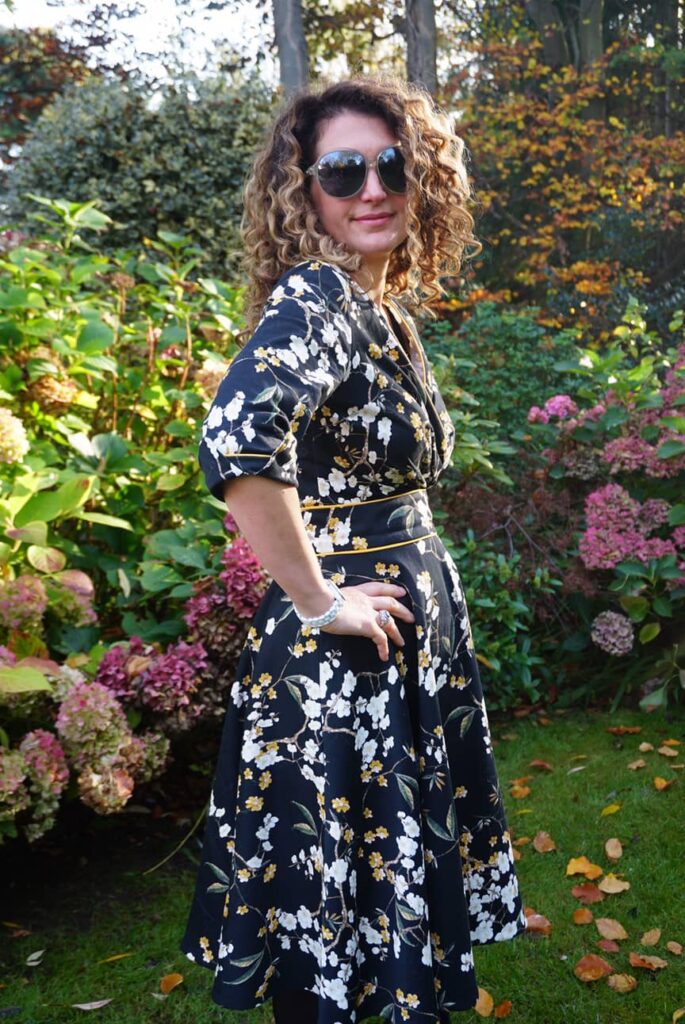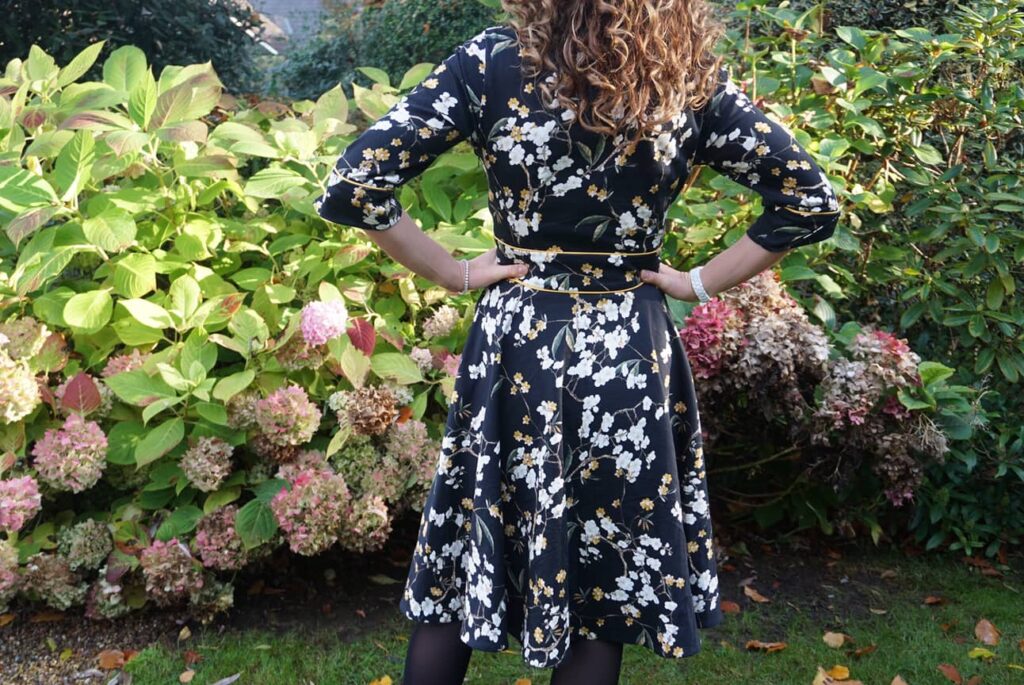 The piping definitely worked better here!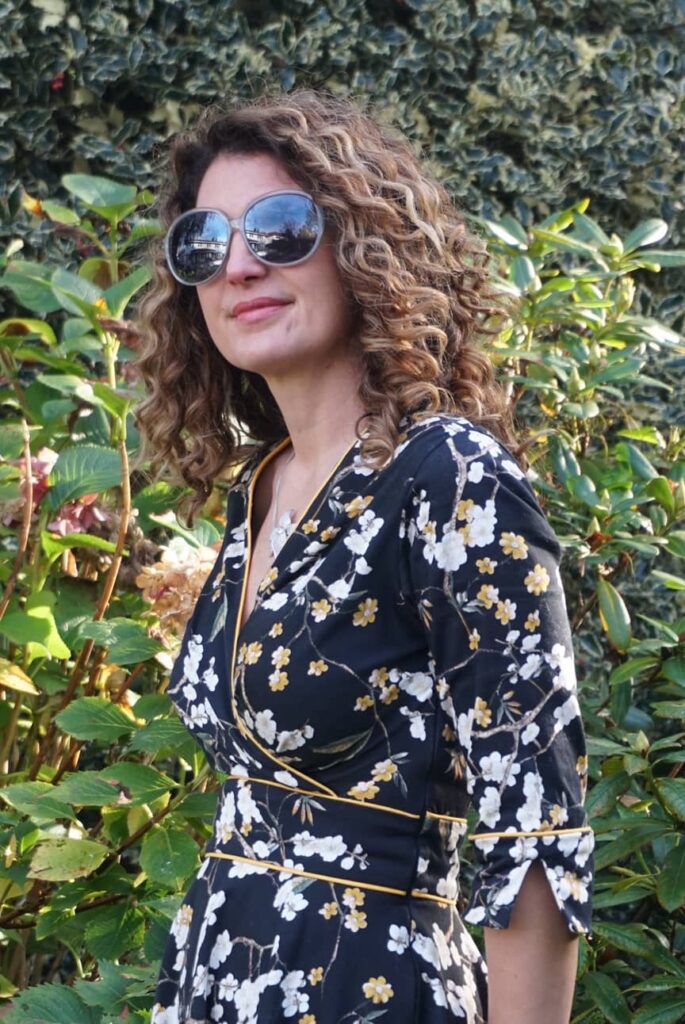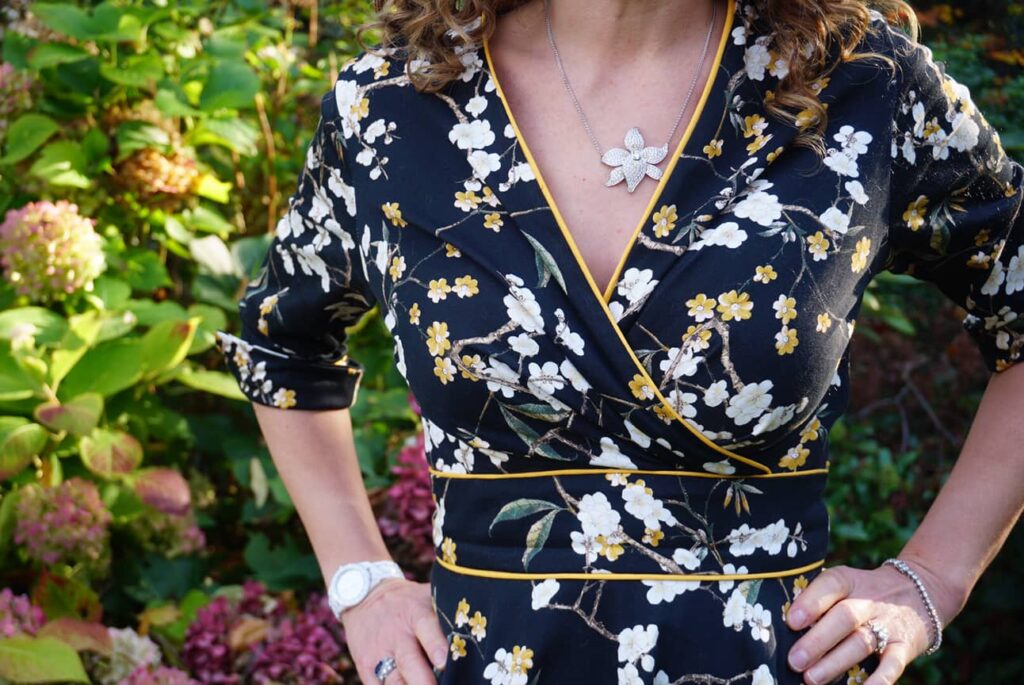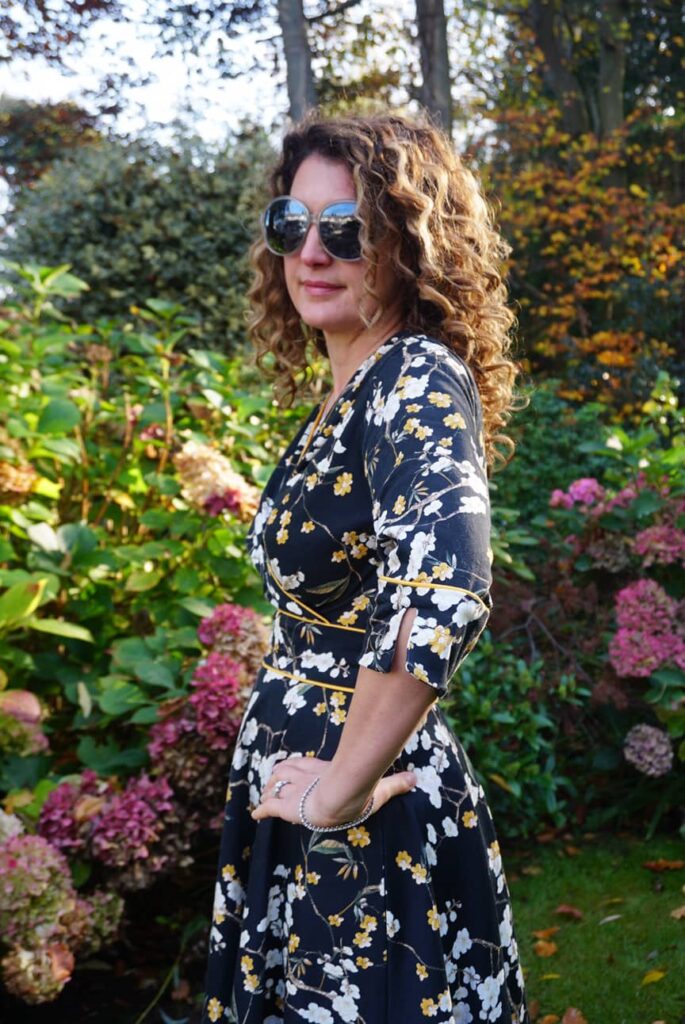 And here we are with these dresses! I love this pattern so much that I need to refrain myself from sewing more if these dresses… Next I need to show you the two cardis I knitted to match – watch out!