How to Sew with Metallic Brocade
This winter has definitely been for me the season of glittery brocade! I've always loved this fabric but feared sewing it. After purchasing an excessive quantity at Bennytex, I had no choice but learn hands-on! The result: two party dresses for my daughter, two everyday dresses for me (not everyday for everyone though!), a top and skirt set, a mini and a midi skirt… And also many lessons on do and don't of sewing metallic brocade, which I'm very keen to share!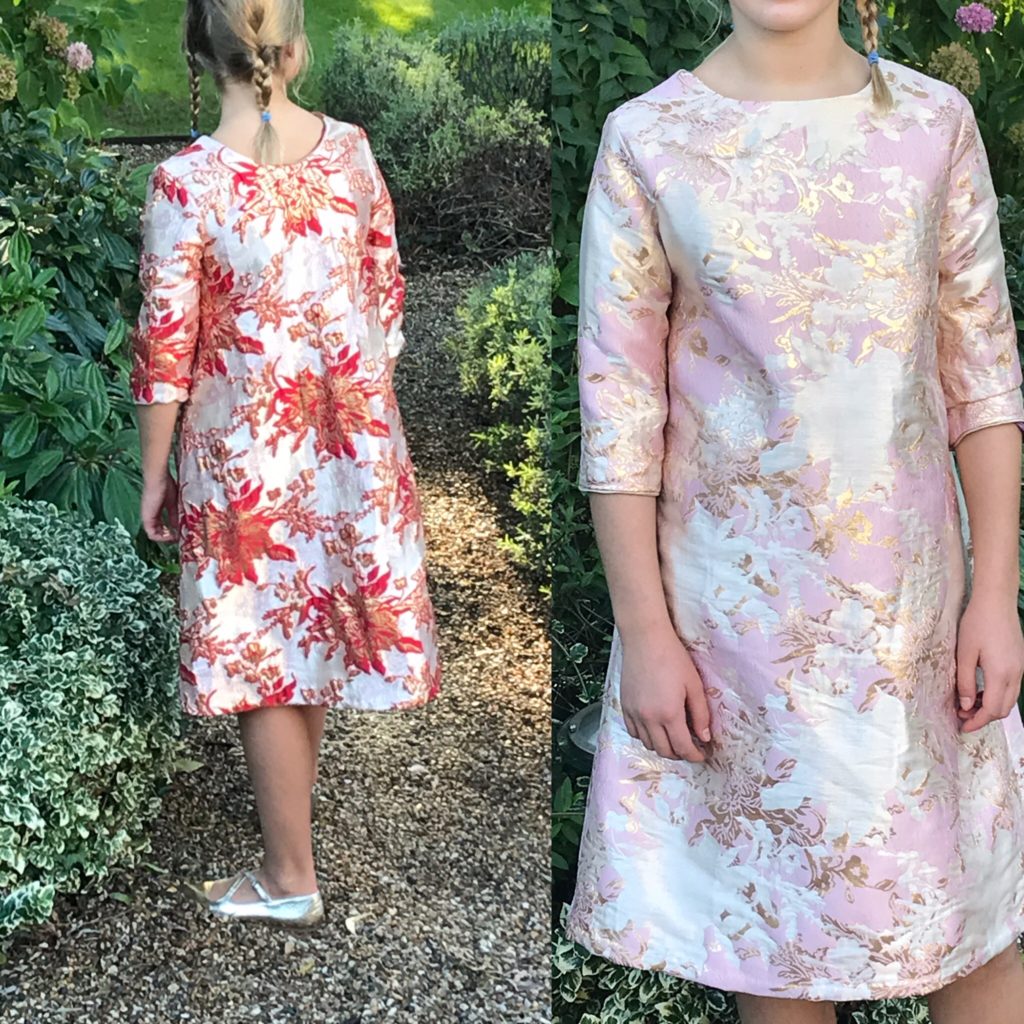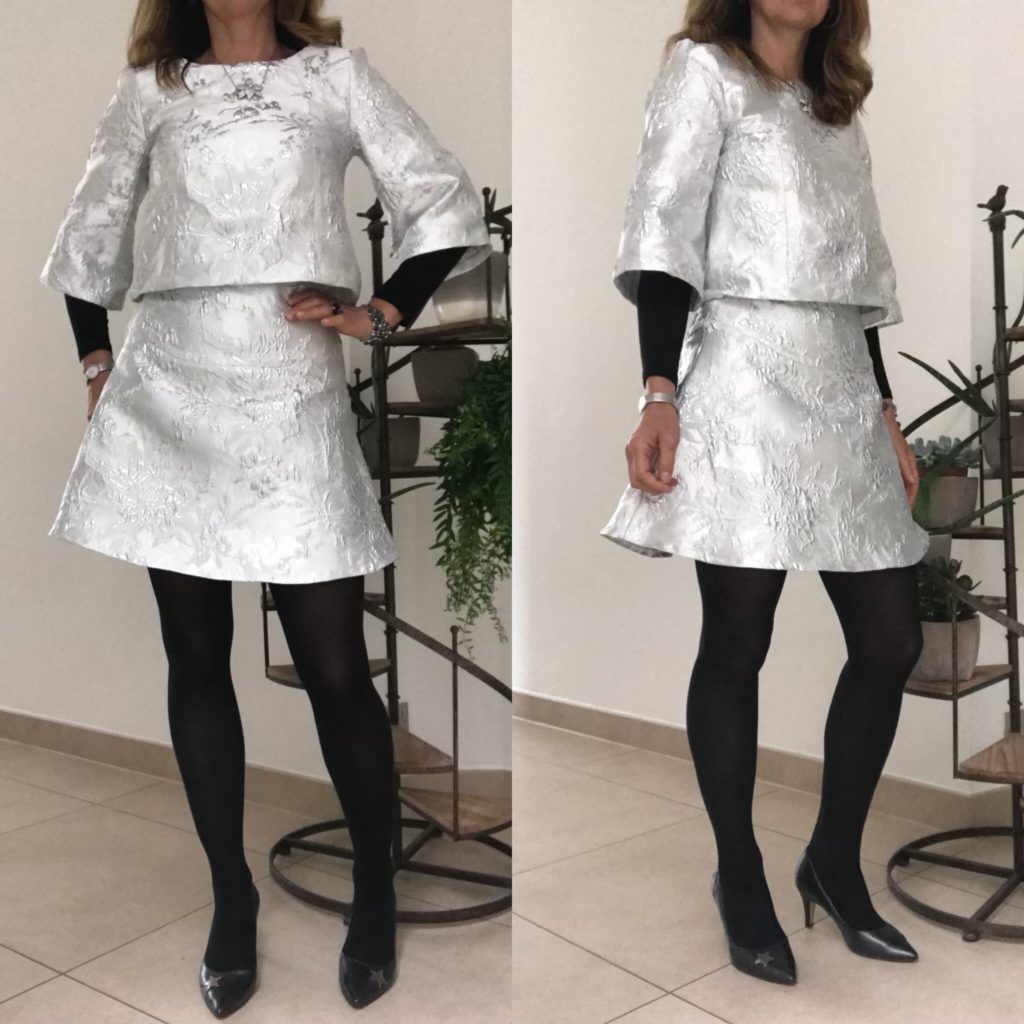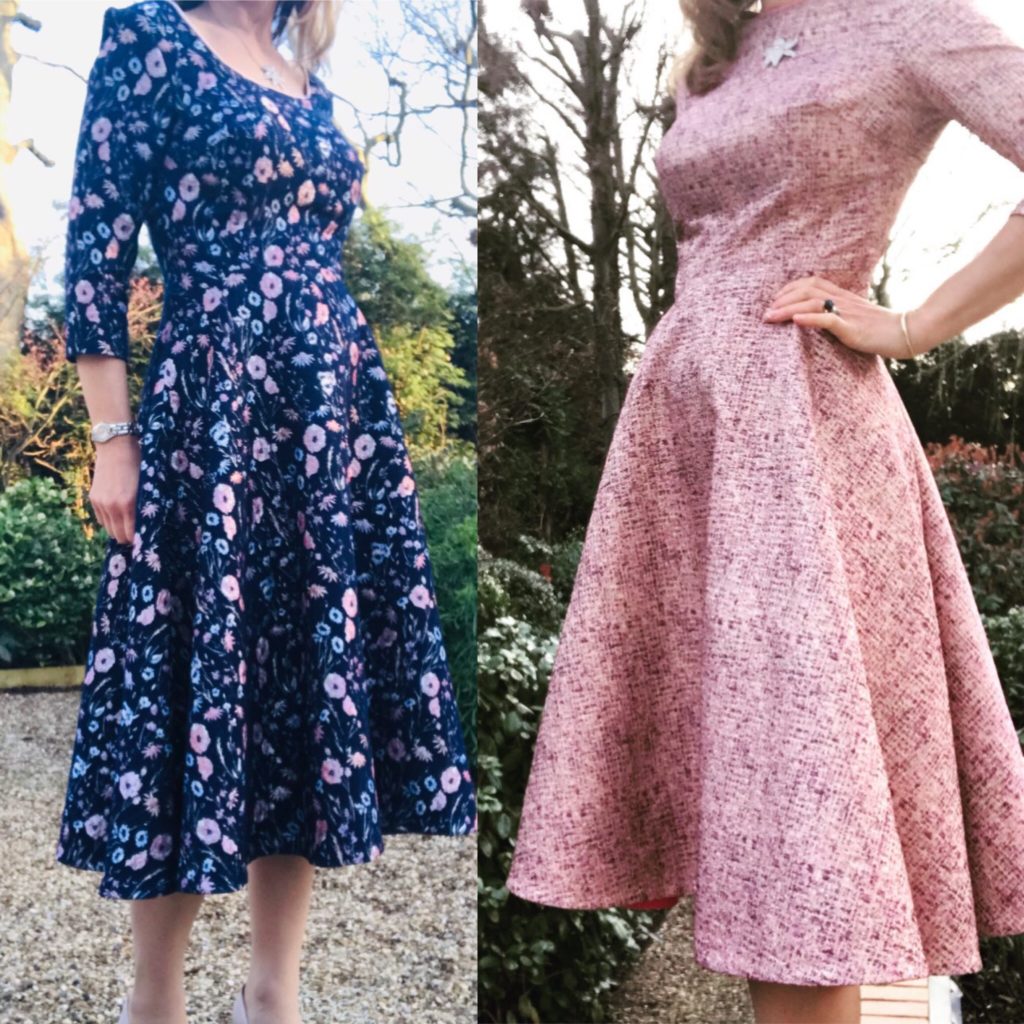 I've read many times in sewing blogs and on Instagram that there are no rights or wrongs in sewing, just different ways to do things – which I'm not sure is totally true. Let's say that when sewing with metallic brocade, there are many things I wish I had been told, and here they are.
I WISH I HAD BEEN TOLD NUMBER 1… BROCADE FRAYS LIKE THERE IS NO TOMORROW!! So as soon as you've cut all your piece do overlock them all, fully, even if they are to be fully lined – I suspect that if not overlocked they could fray by use, so personally I would not risk it. Also it will save you a lot of hoovering while sewing!
I WISH I HAD BEEN TOLD NUMBER 2…. METALLIC BROCADE IS EXTREMELY ITCHY and absolutely unbearable on bare skin. This has several implications.
First, all metallic brocade projects need to be fully lined – partial or no lining just won't do. I did not line the silver top/ skirt set and no matter how beautiful I find it, I just cannot wear it, even with ties and a long-sleeve turtleneck t-shirt underneath. In contrast, both my dresses are fully lined and I put them on bare skin with no problem.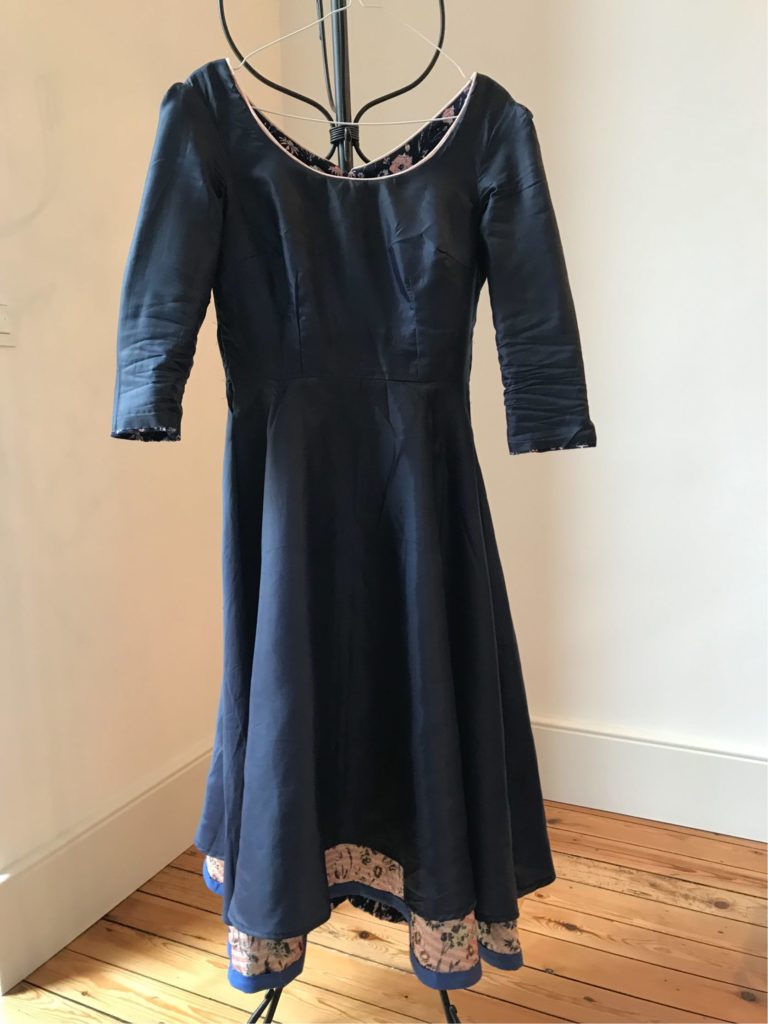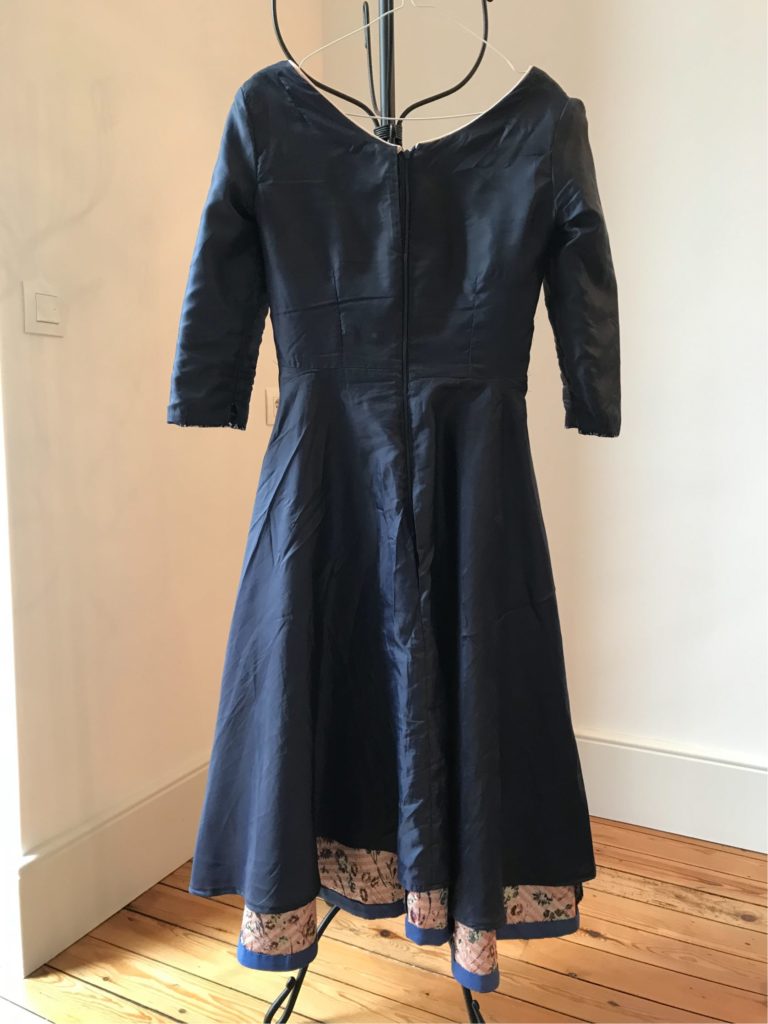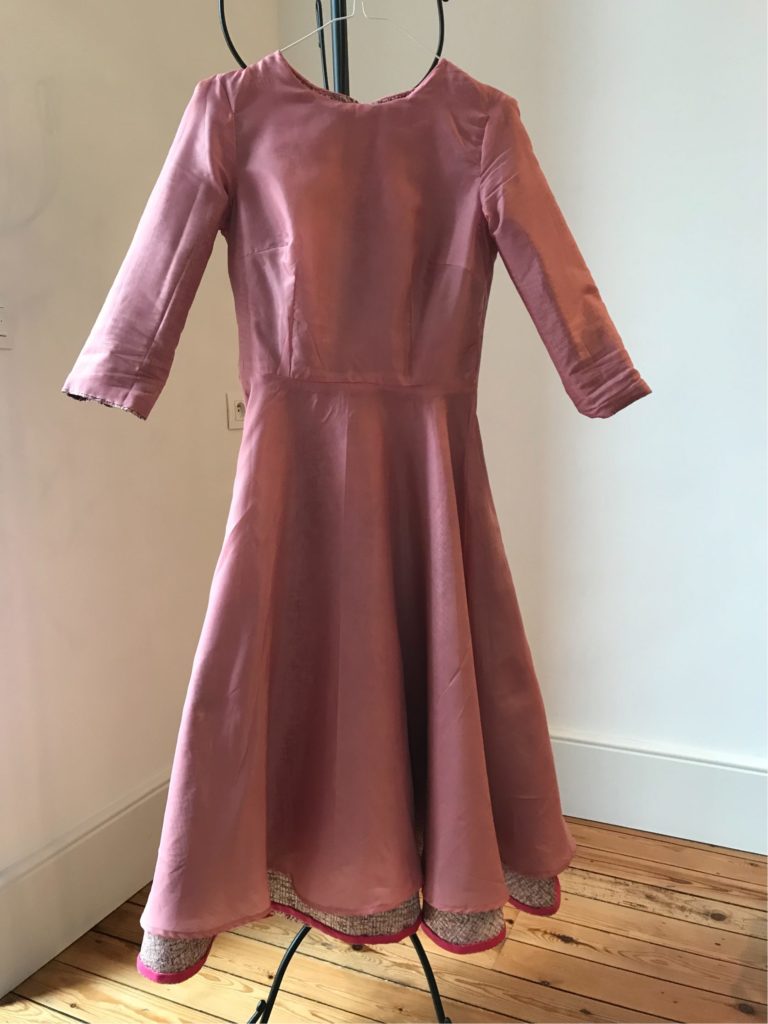 Second, you will need to cleverly think about how you finish your neckline, as this is definitely a very sensitive area. For both my dresses I inserted some piping, in a similar colour for the pink dress and in a contrasting one for the blue dress. To do this I sew the lining to the dress before attaching the lining by the neckline. You can also use a slighly overlapping bias, using the same method. Whatever your preference, you will need to use a different, skin-friendly fabric.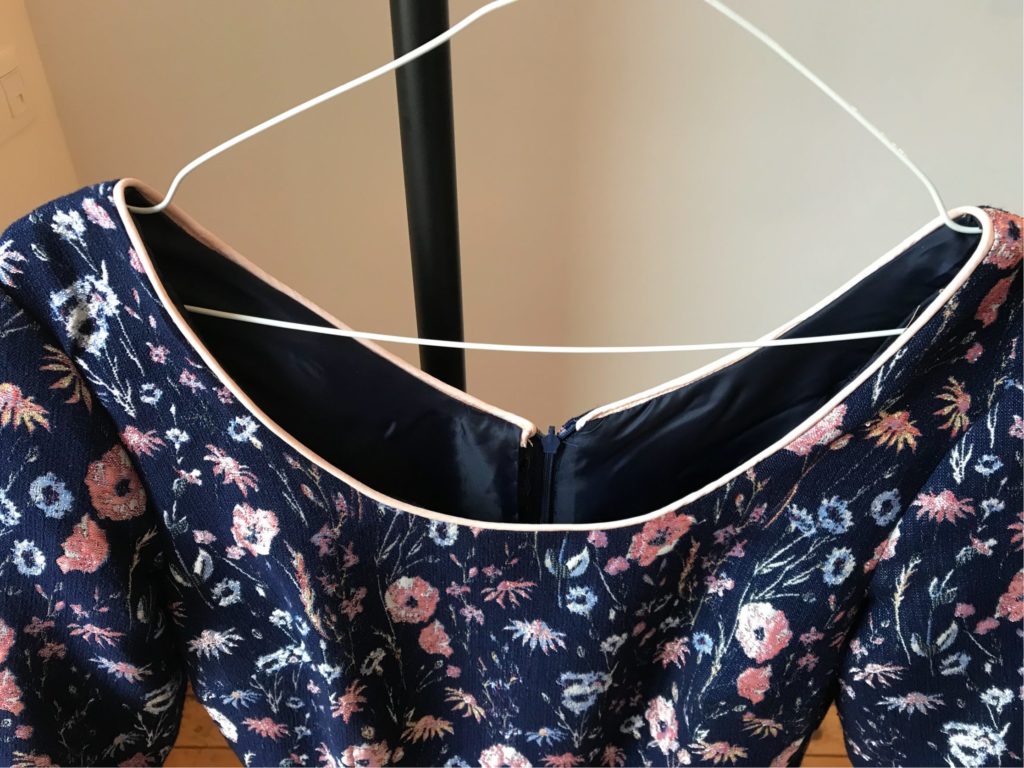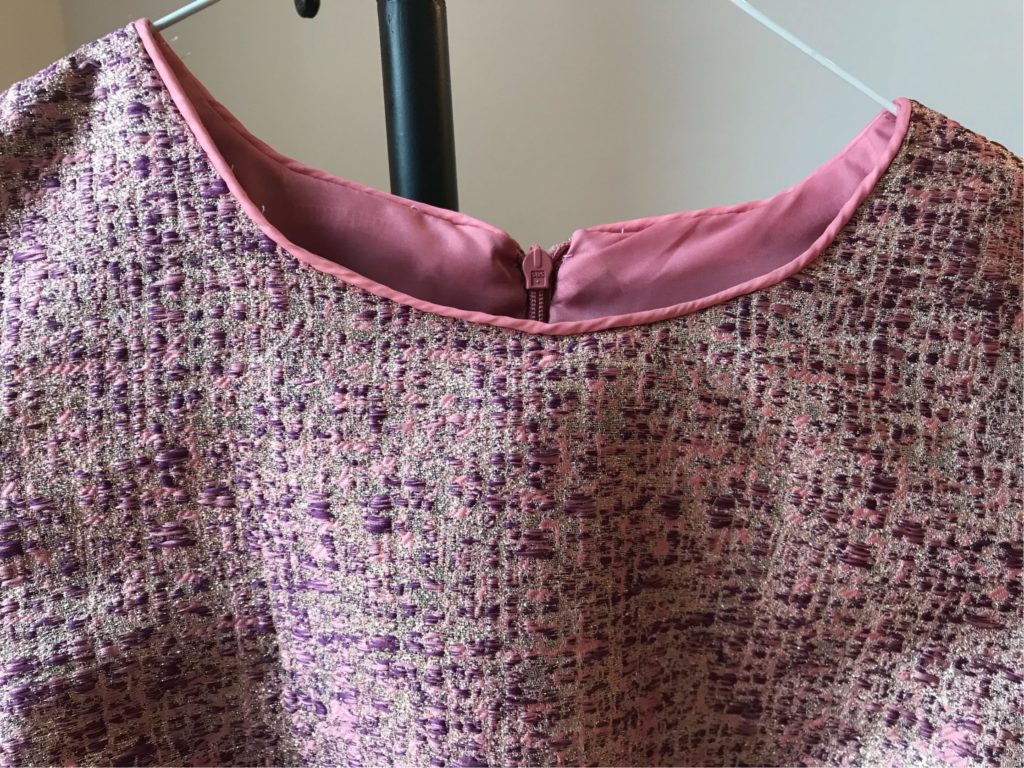 I WISH I HAD BEEN TOLD NUMBER 3… BROCADE IS VERY RIGID. It has no give whatsoever and does not really shape to the body. So I would not recommend using it for very tight fitted garments like my mini skirt, because it is just not comfortable to wear.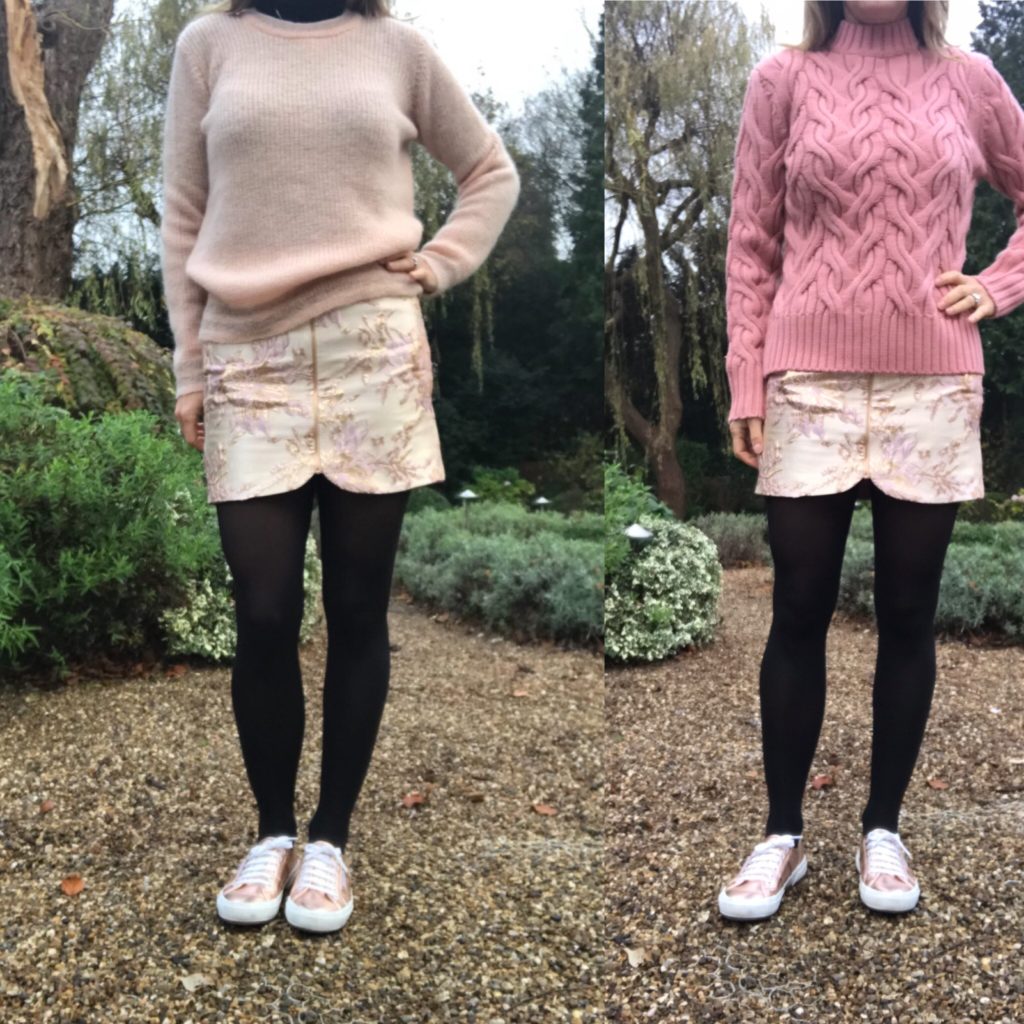 I would not recommend a very puffy gathered or pleated skirt either – I tried the later and it looked terrible. And I would strongly advise having plenty of seam allowance, to be able to enlarge at key areas – I did have to enlarge both my dresses (which are based on a fully tried, tested and perfectly fitted pattern) and my midi skirt at the waist.
I WISH I HAD BEEN TOLD NUMBER 4… BROCADE AND VISIBLE STITCHES JUST DO NOT WORK WELL TOGETHER. So get ready for a lot of hand-stitching, especially if you chose a circle skirt! Both brocade dresses and my brocade skirt are based on a (self-drafted) semi-circle skirt pattern; and I followed wonderful Emily Hallmann's advice on how to line them: I sew with my machine a bias tape at the bottom, then fold it and and hand-stitched it inside. The hand-stitching takes absolute ages (90 minutes for a half-circle skirt, I counted!) but it is really worth the effort, the result is flawless. The bias also creates a nice rigid curve at the bottom, which is really pretty in my view.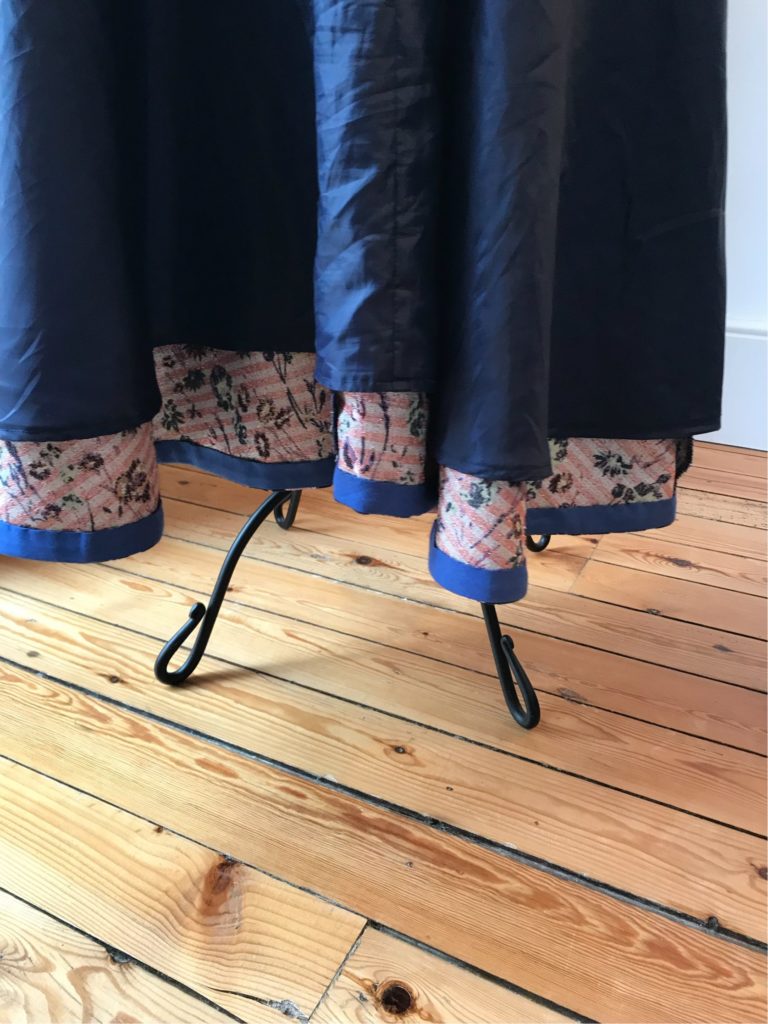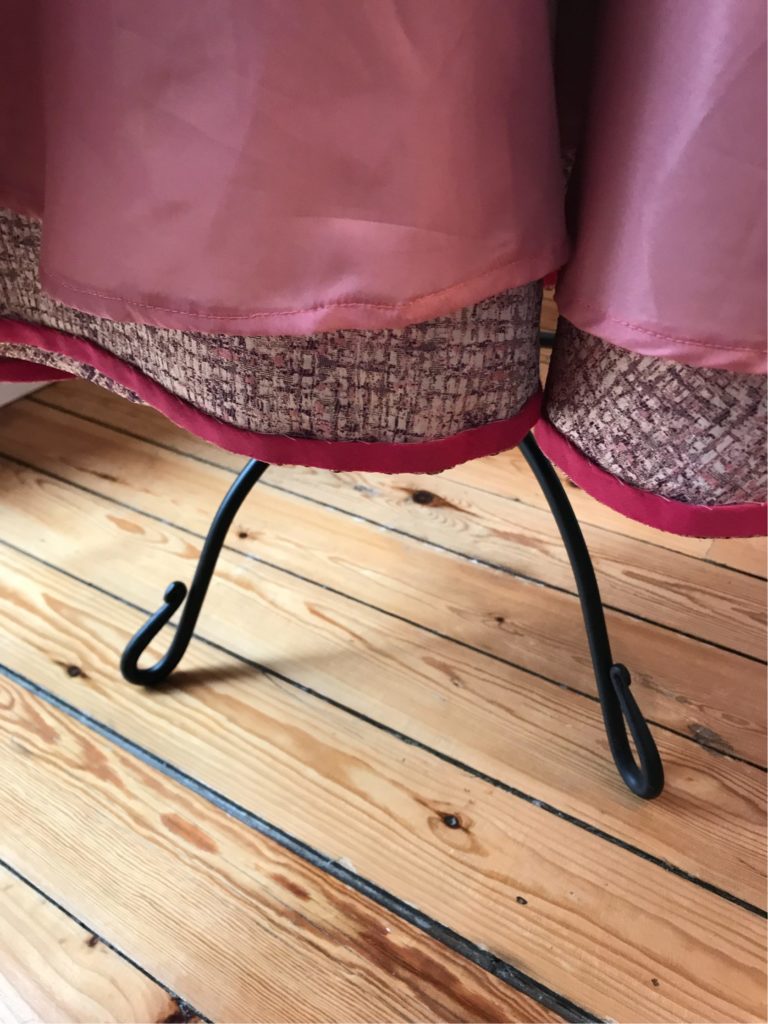 I WISH I HAD BEEN TOLD NUMBER 5 … BROCADE OFTEN HAS A "WRINKLY SIDE", WHICH IS QUITE DIFFICULT TO WORK WITH. So you have two options: either use the wrinkly side as your right side and be super careful that you don't create unwanted folds when you sew – this will definitely require more time and attention than with "normal" fabric. Or work on the other side of the fabric, which is perfectly smooth – for illustration my mini skirt is wrinkly-side out, while my midi skirt is smooth side out.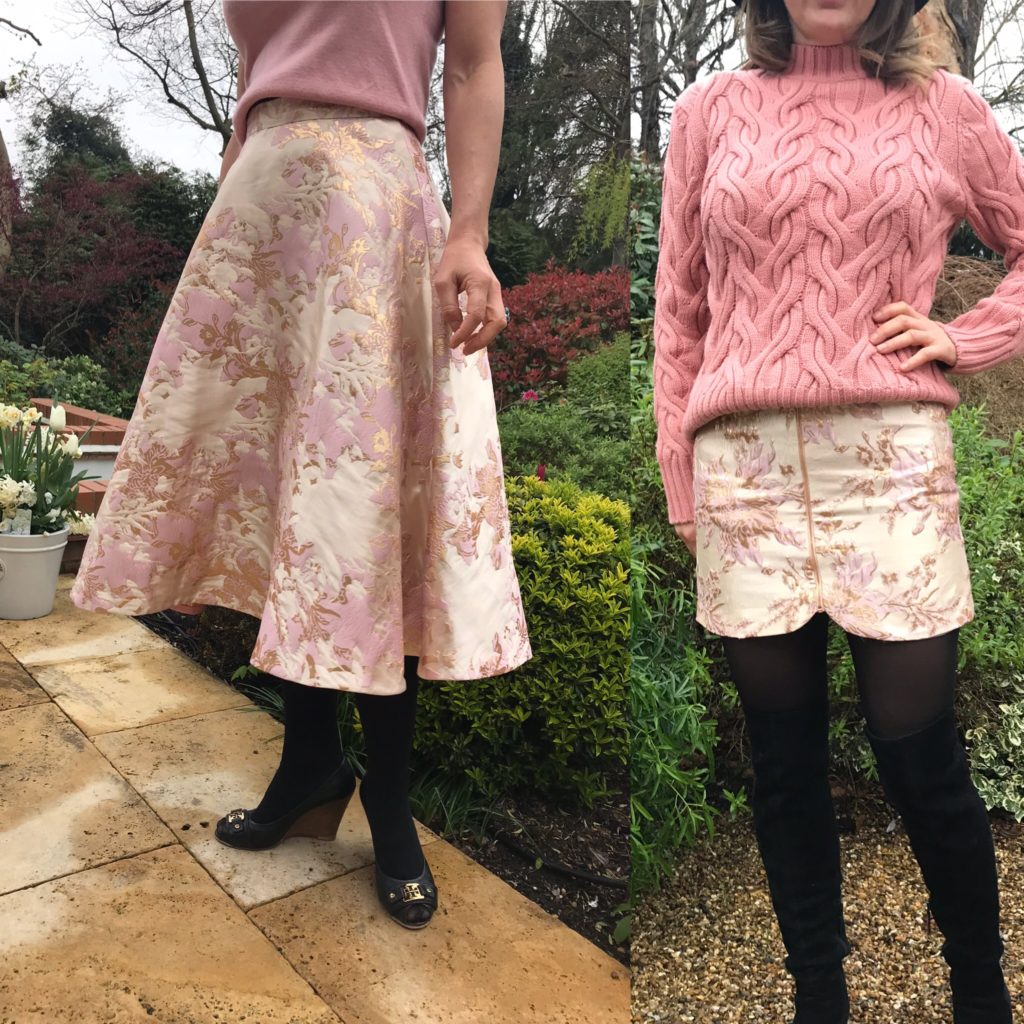 I WISH I HAD BEEN TOLD NUMBER 6… BROCADE IS ABSOLUTELY BEAUTIFUL SO DO GO AHEAD AND USE IT!!! And I hope you will find this article useful to tackle this material.
Step-by-step tutorial for a pleated midi skirt
As you know from my skirt of choice for many of my dresses, I am an absolute fan of circle skirts. But every once in a while I feel the need for a voluminous pleated skirt – this was one of those moments.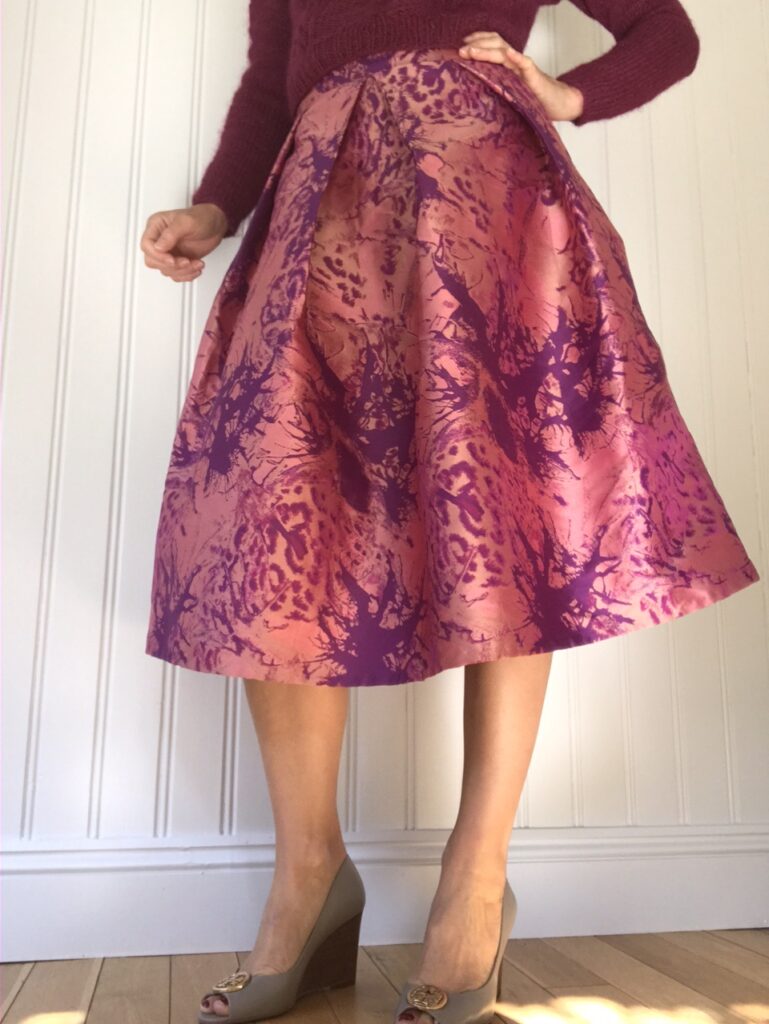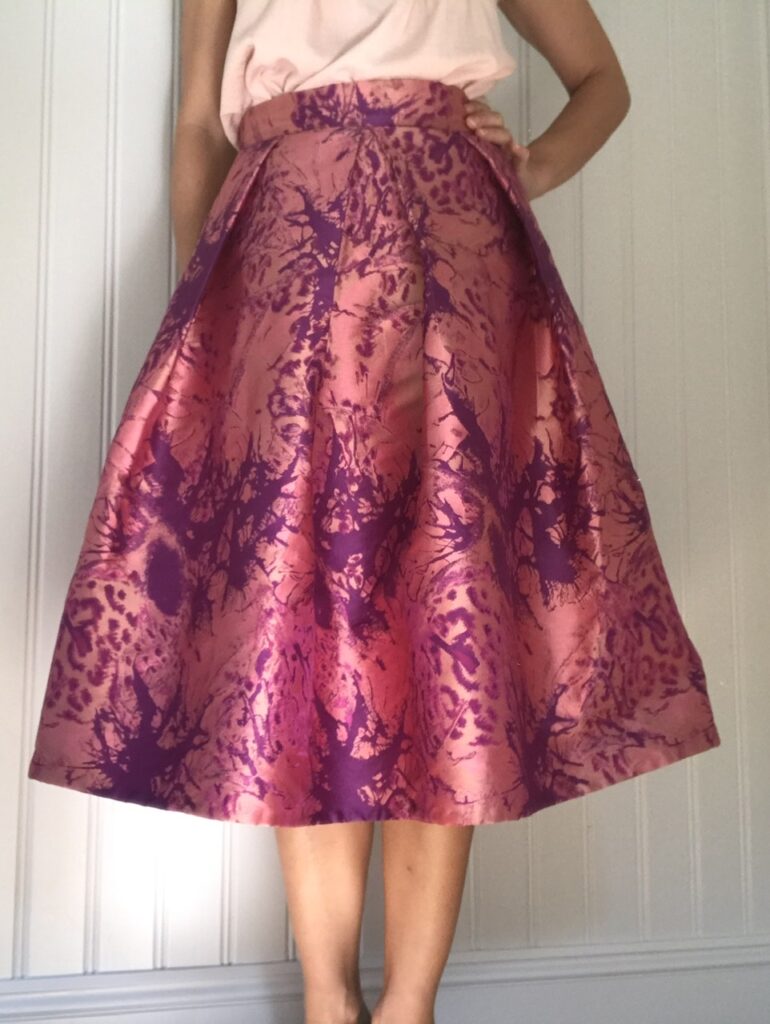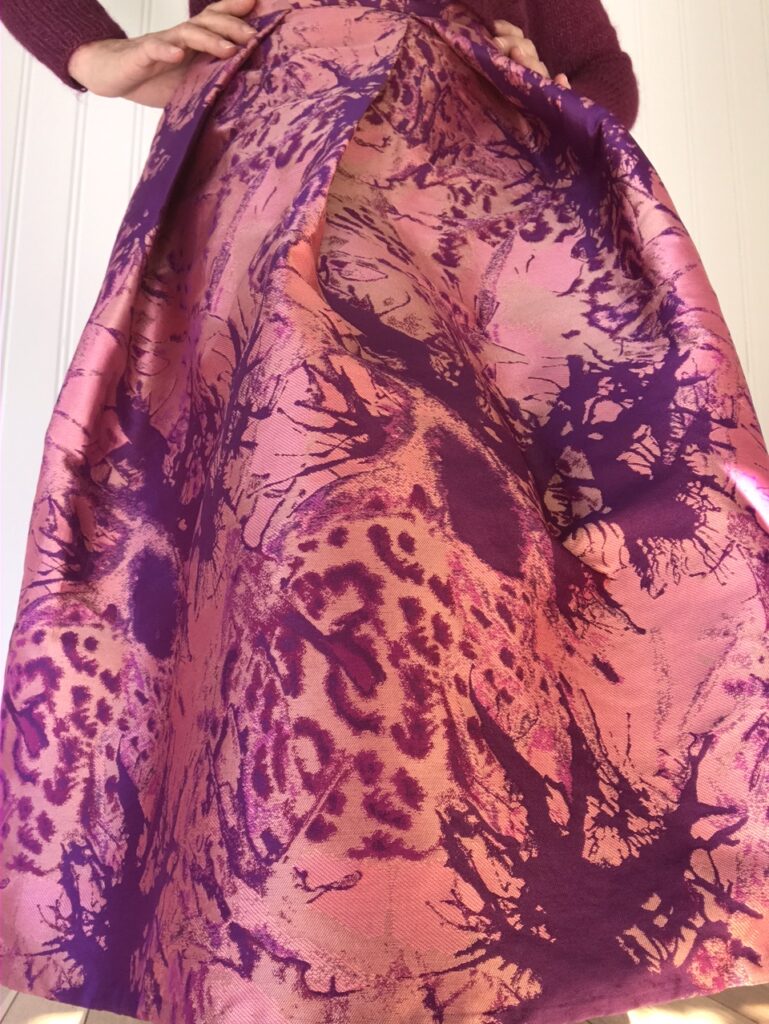 Pleated skirts are particularly appropriate versus circle skirts when you have a border print you don't want to lose in the circle; when you have a strong directional pattern; or when your fabric is quite rigid and you are worried of a balloon effect – this was what worried me here. As much as I love this gorgeously brocade fabric bought from AmoThread for a bargain price, which I chose specifically to match my hand knitted Chuck jumper, it is definitely more on the rigid side.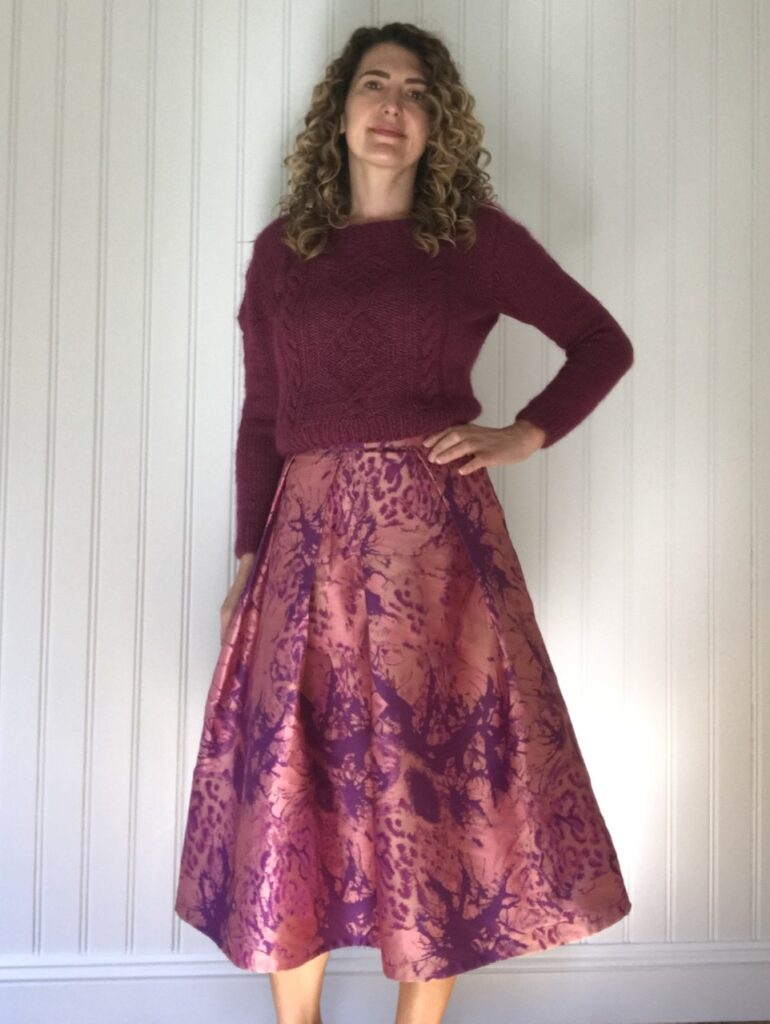 A few weeks after making my skirt (and incidentally taking pictures of all the steps), I stumbled upon an Erdem skirt which was its exact twin as far as shape is concerned (not for price though, my fabric cost was £20 while the Erdem skirt is £400!). So I thought that if even Erdem is into pleated skirts, a tutorial was definitely greatly needed!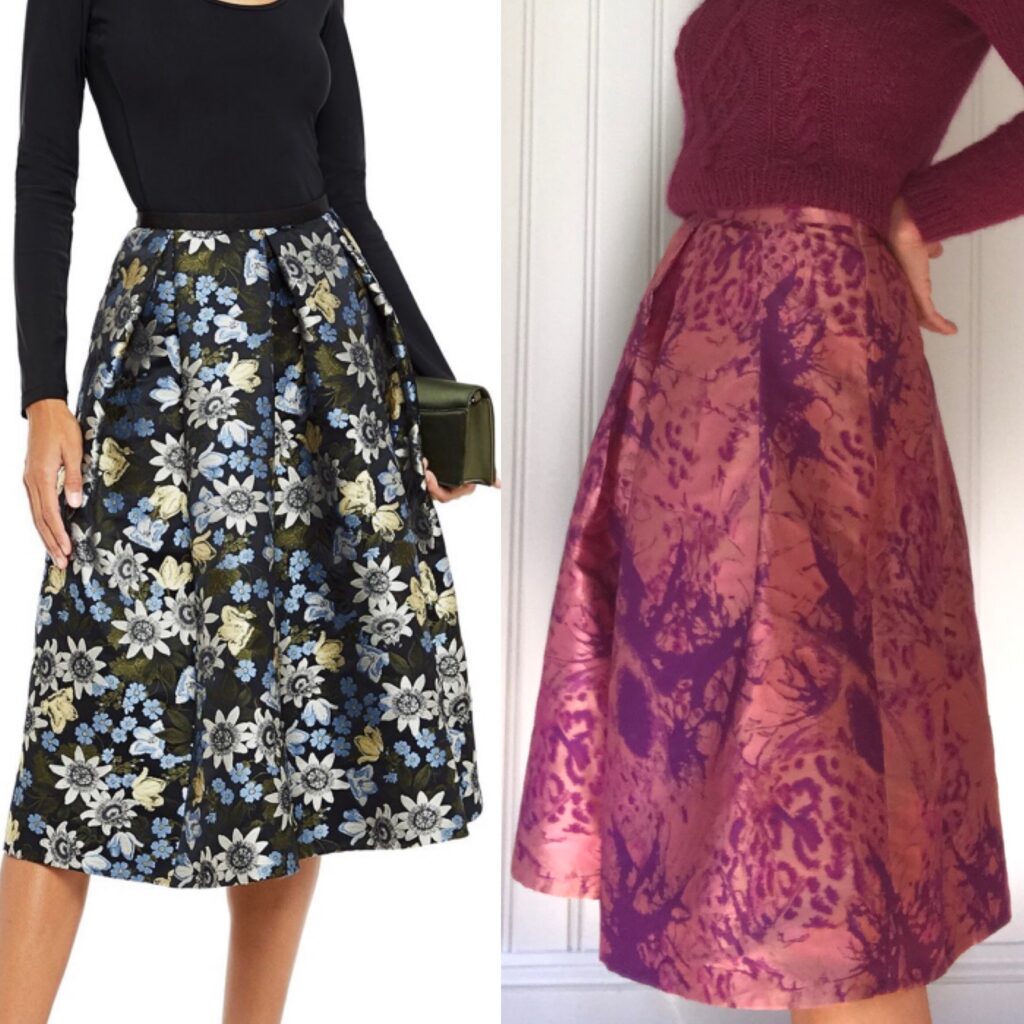 MEASUREMENTS
Before you start:
Measure your waist at its narrowest point – while breathing! And decide on the skirt lenght you want from that point.
Decide on your lenght. My skirt is 70cm long – perfect midi for my 168cm height.
SUPPLIES
2m of fabric (150cm wide) – washed and ironed
68 cm of lining (150cm wide) if you wish to line the skirt – washed and ironed
A 10cm x1m band of fusible interfacing
a c20cm invisible zip
CUT YOUR FABRIC
For the skirt: 2 rectangles of fabric of 73.5cm long (chosen lenght + 3.5cm) x 150cm wide
For the belt: 1 rectangle of fabric 10cm long x (measured waist + 4 cm ease + 3cm margin) ; and a similar rectangle of fusible interfacing.
CREATE THE SKIRT PLEATS
First define your pleats width. My skirt has 8 pleats: 4 at the back, 4 at the front. To define their width you therefore need to do the following calculation: pleat width = (waist measurement + ease) / 8. My waist is 68cm and I added 2cm of ease of each side or 2cm in total (in retrospect 1cm on each side would have been enough), so my calculation was : pleat width = (68+4)/8= 9cm. Each of my pleats is therefore 9cm wide.
Working with one of the large rectangles, define the top of the skirt and then mark the middle of the waist folding the fabric in two. From the middle and moving to the left, place 7 needles each 9cm appart, then an 8th needle 1.5cm appart from the previous one.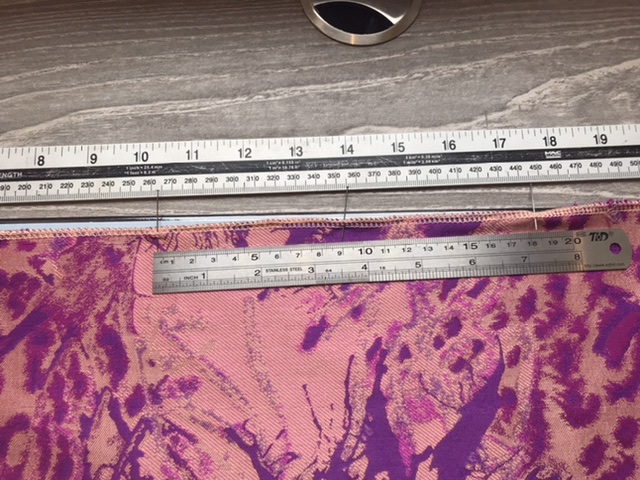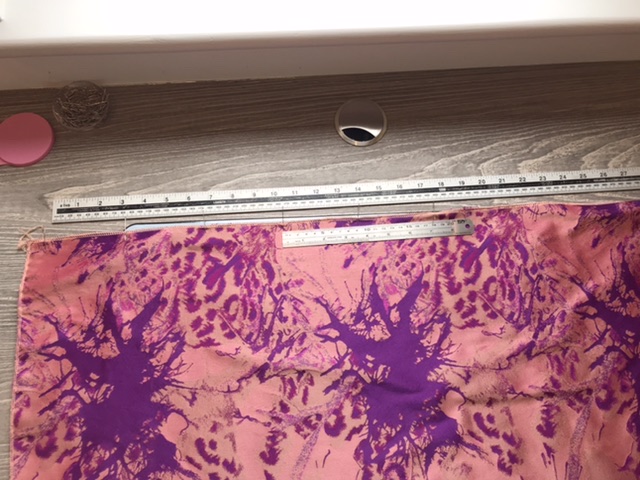 Using your needles for positioning, make overlapping pleats directed towards the skirt center. Starting from your center needle on the right, fold the fabric right side to right side, overlapping needle number 1 (the centre needle) with needle number 3, while needle number 2 marks the pleat on the left.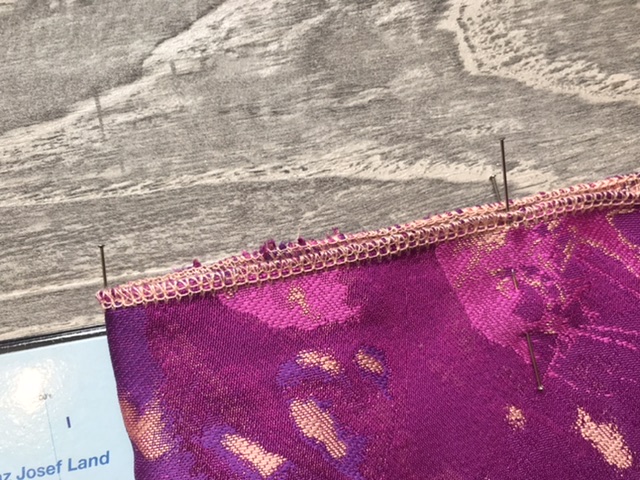 Then open the first pleat, and add loads of extra needles to keep the pleat in place.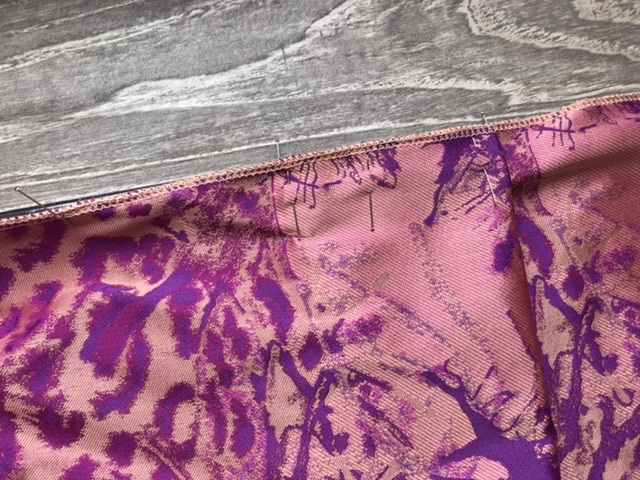 The first pleat will look like this from the top, with three layers of fabric: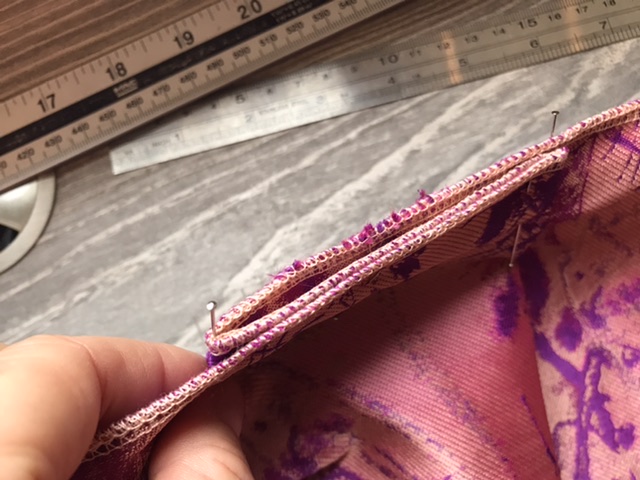 Proceed in a similar way for the second pleat: needle number 6 will overlap needle number 4 and needle number 5 will mark the pleat.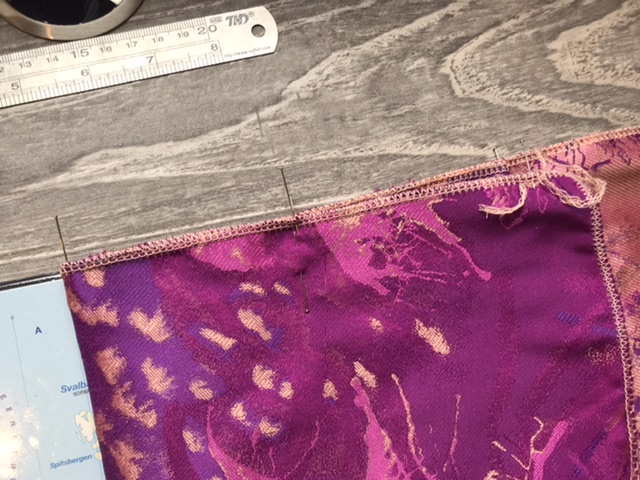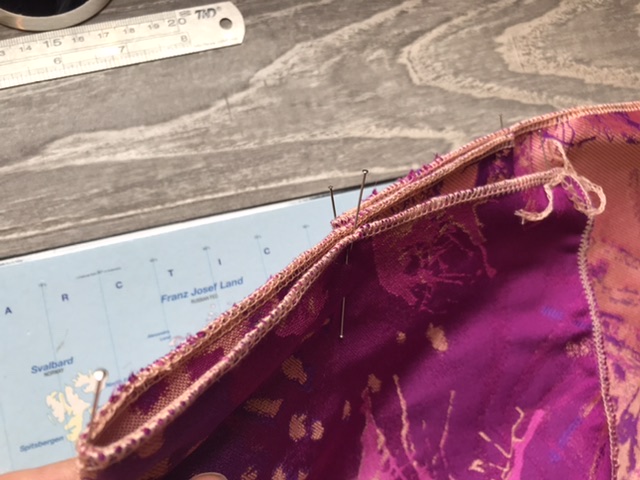 Needle number 7 marks the left end of the 2nd pleat, and needle number 8, located 1.5cm appart, marks the end of your needed fabric – you can cut the excess fabric on the left and overlock the side. (I only cut here in case I get my initial pleat calculations wrong!).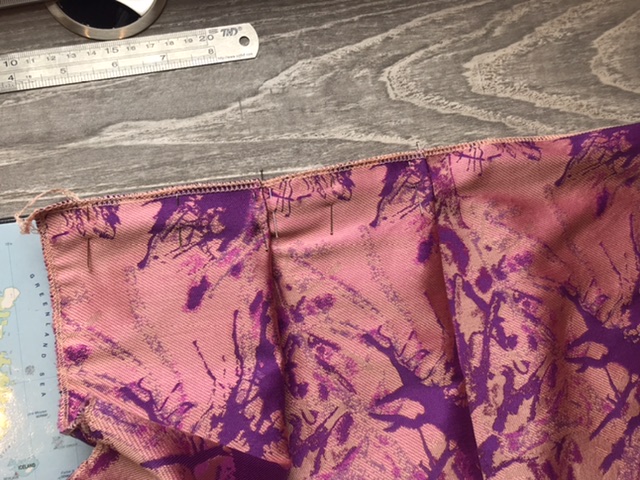 Here is a rough schematic of how it works: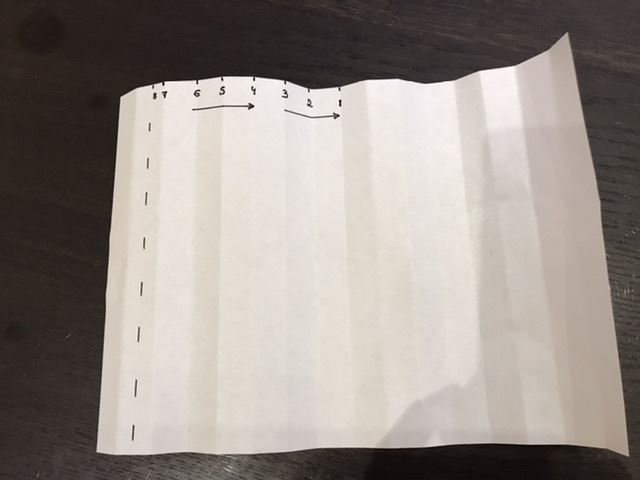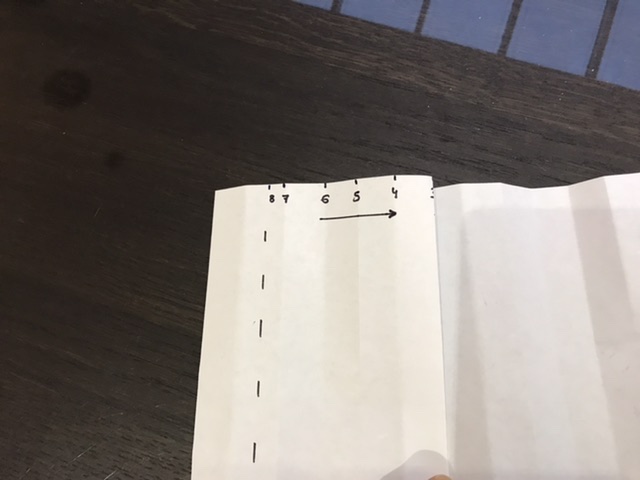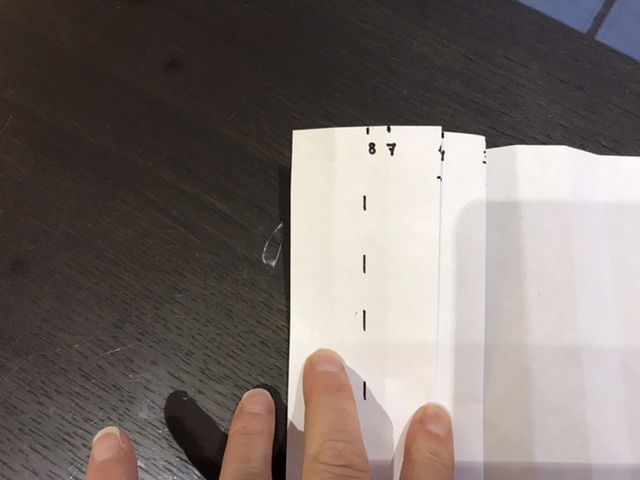 Proceed similarly for the right side of this skirt panel.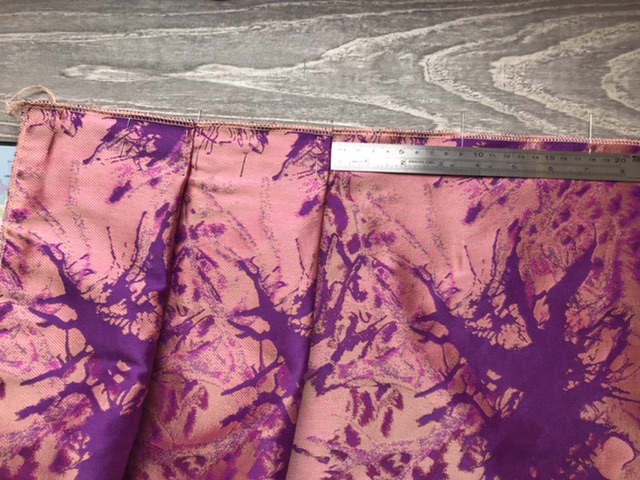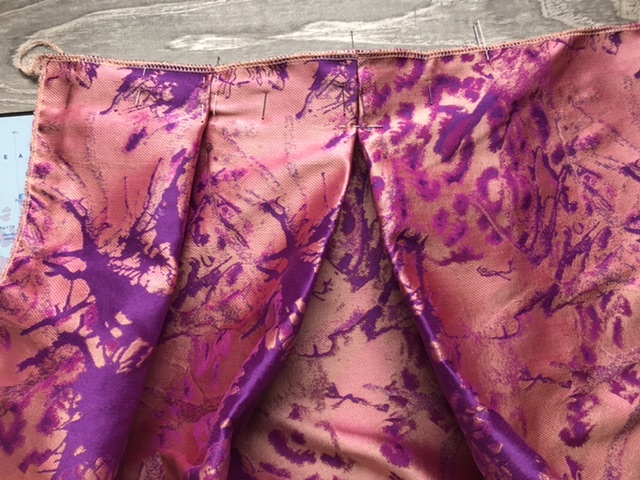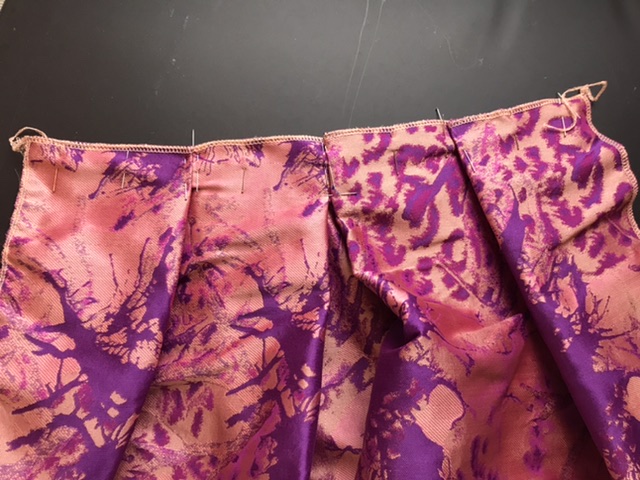 And then do the same to the other skirt panel.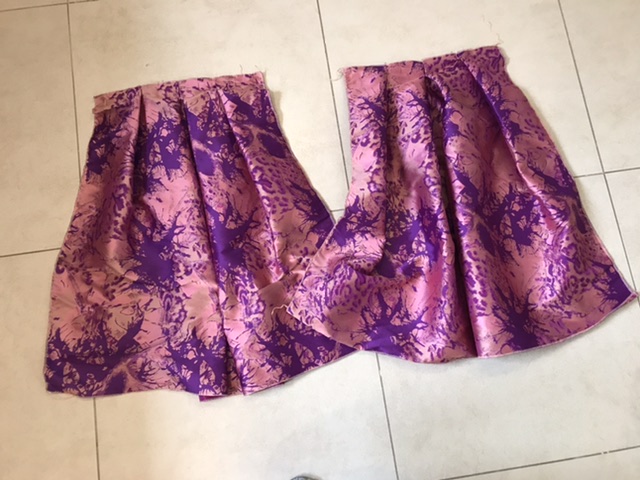 JOIN FRONT AND BACK SKIRT ON ONE SIDE
Make sure all side hedges are overlocked at this stage (if you don't have an overlocker, a zigzag stitch is perfect). Sew 1.5cm for the hedge on only one side of the skirt (the zip will be positioned on the other side),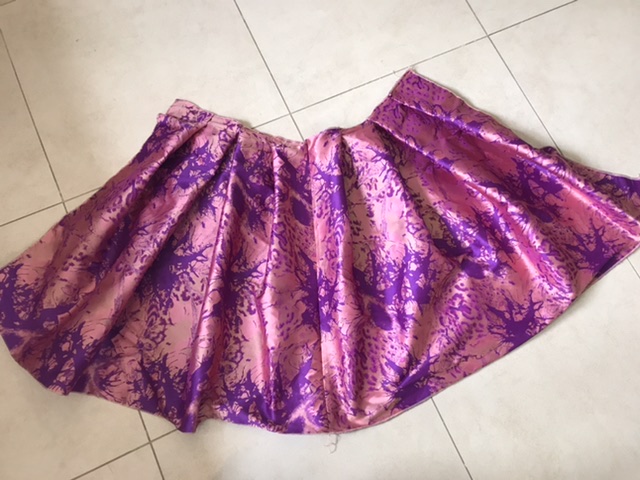 Also overlock the top of the skirt, to keep the pleats in place – but keep pins in place too.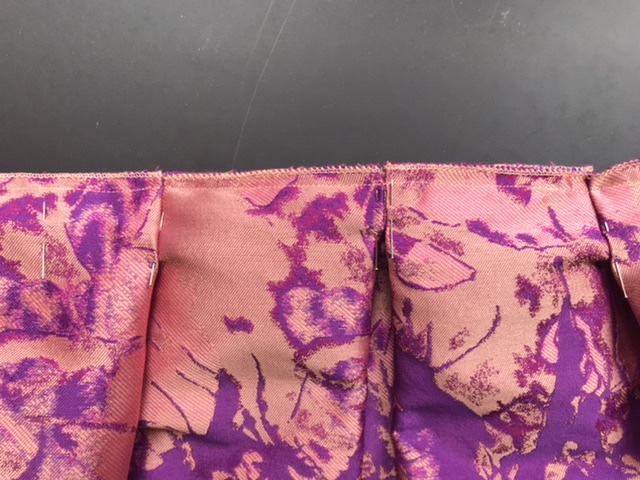 ADD THE LINING
Here you can be totally lazy and not line the skirt at all (but read my article about sewing metallic brocade first if this is your fabric of choice, because you need to know that metallic brocade is very itchy!!!). You can be a complete perfectionist and reproduce the pleating to the lining. Or you can chose a quicker route and just gather a rectangle of fabric, 150cm wide and slightly shorter than you skirt. Once the rectangle is gathered attach it to inside of the skirt.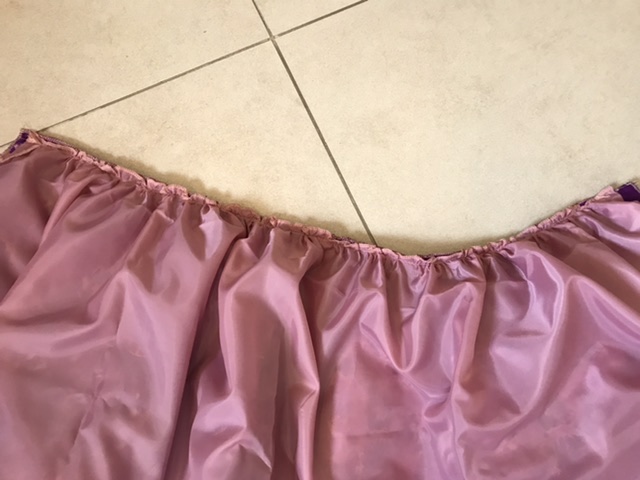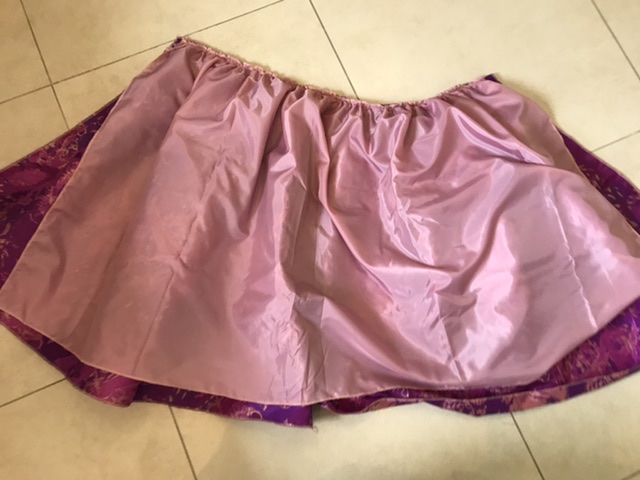 You want the side of the lining to be 1.5cm away from the side of the skirt; and the excess lining fabric to be folded on the inside (not on the outside like the picture!!!), so that you can attach the side to the skirt but not to the lining.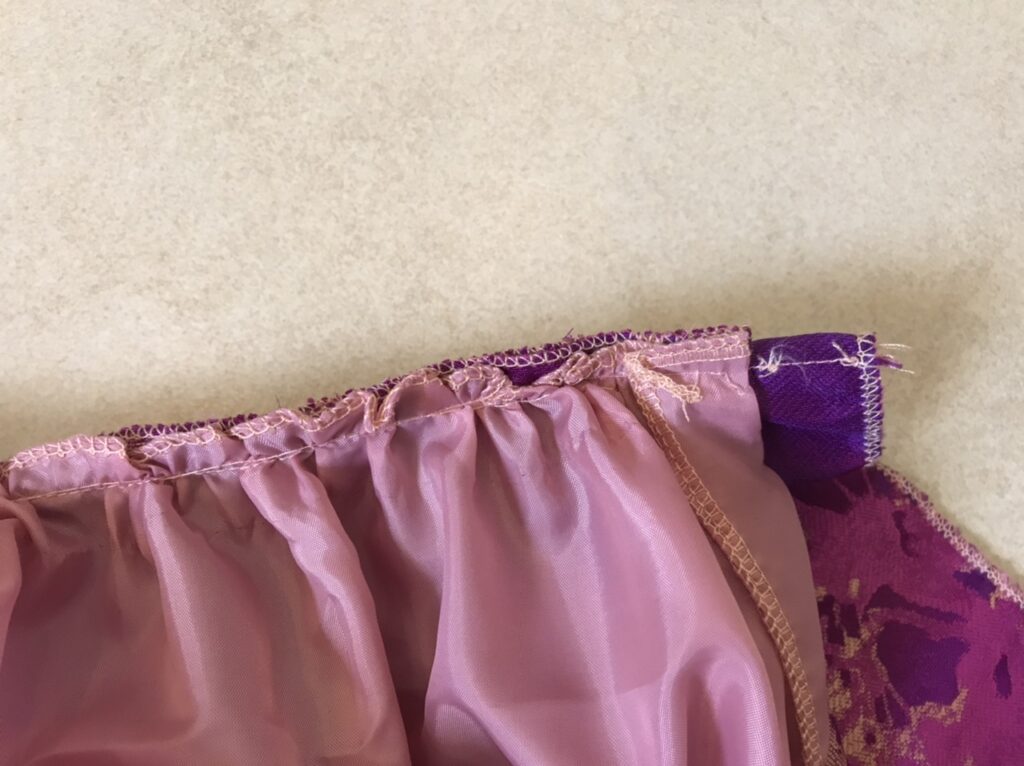 JOIN THE BELT
If you haven't done it before, cut the belt piece to the width required (waist measurement + 2cm ease + 3cm sewing margin) and overlock the short sides. Do the same with the fusible interfacing and iron it on the wrong side of the belt fabric.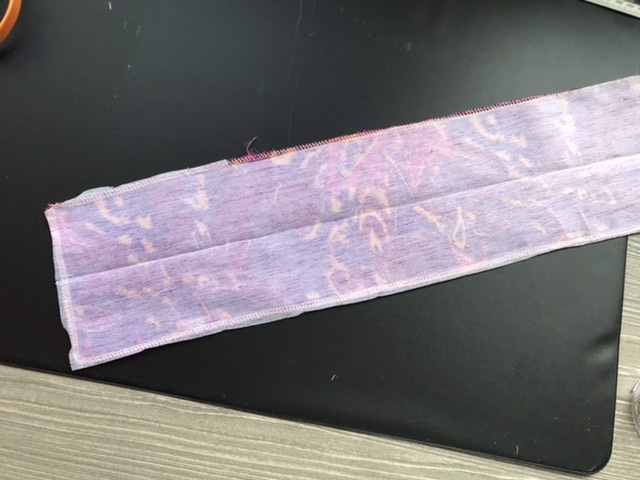 Fold the belt in two, wrong side of fabric to wrong side, to mark the 5cm center width.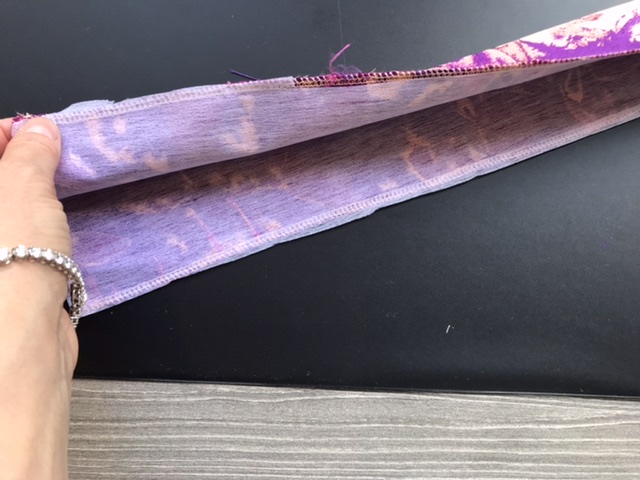 Attach the belt to the skirt, right side to right side, sewing 1.5cm from the edge.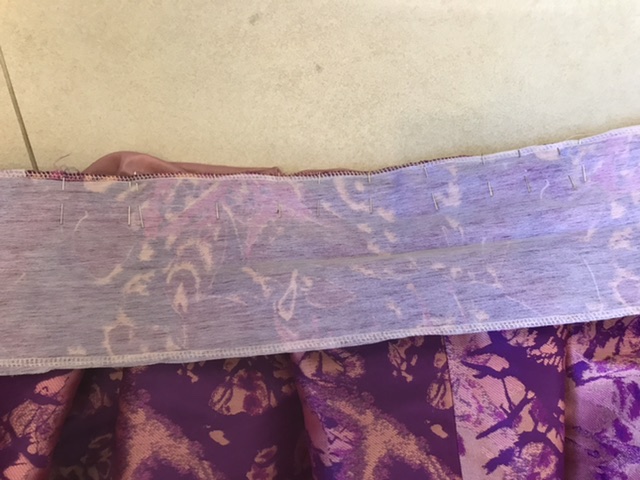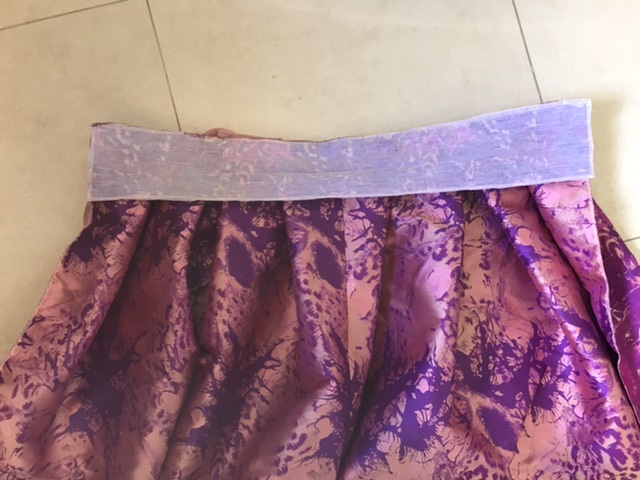 Fold the belt in two and overstitch from the right side of the skirt fabric.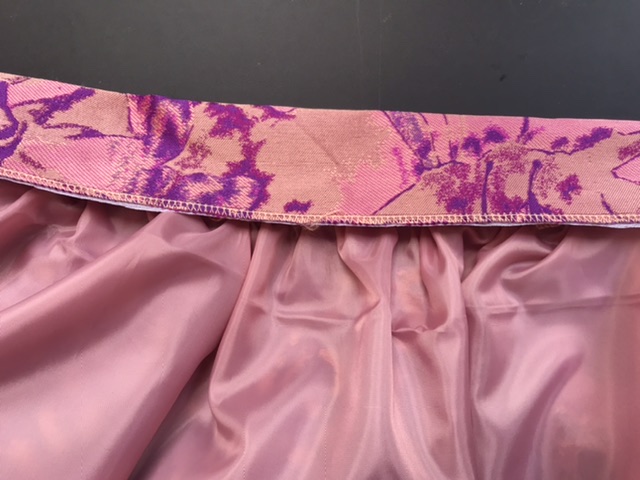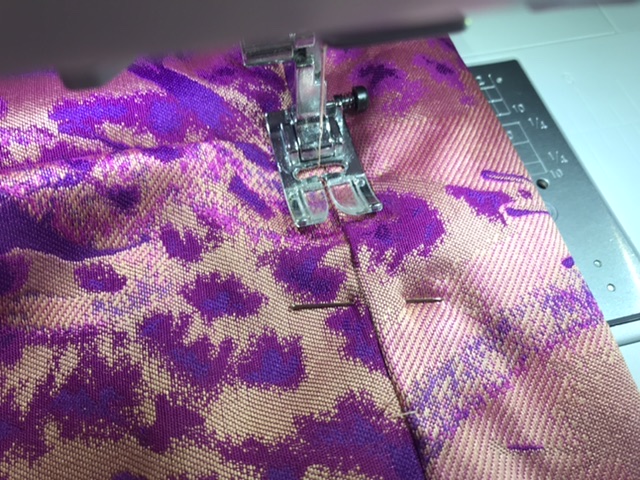 For a neater finish on the inside, you can chose to use bias to cover the belt exposed edge (do this before overstitching).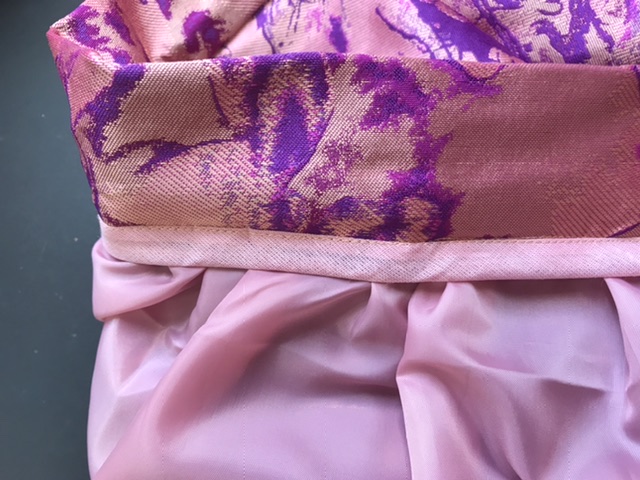 FINISHING LINE
On the unsewn side of the skirt, add an invisible zipper.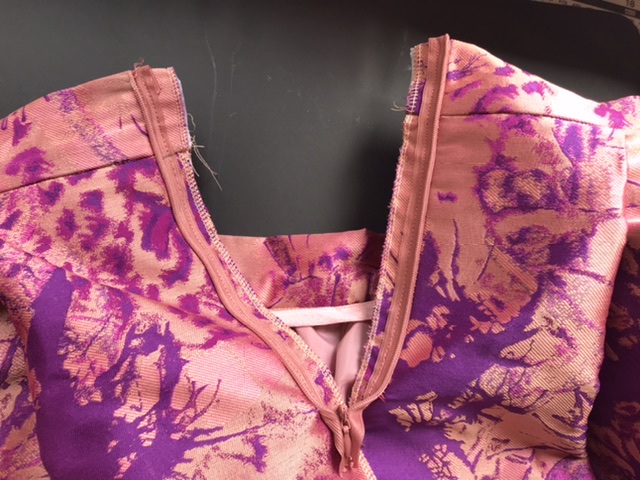 Sew the sides of both skirt and lining, 1.5cm from the edge.
Hem both skirt and lining by folding the fabric twice by 1cm – you can hand-sew the hem of the skirt but I would strongly advise machine-sewing the lining!
ET VOILA!!!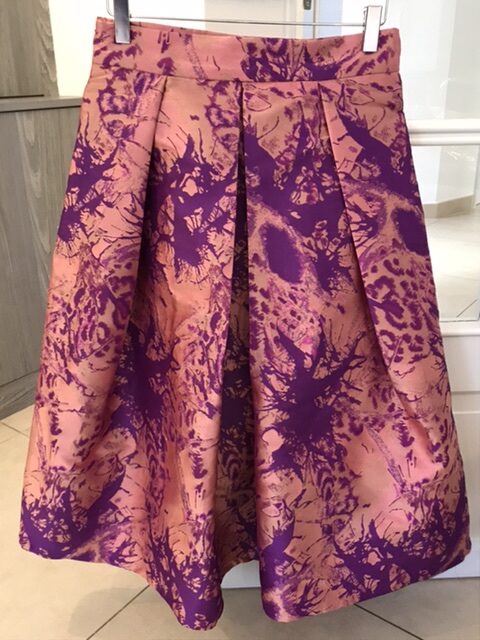 Autumn shorts: Pascal by Coralie Bijasson
Sewing other garments than dresses (!!!) was one my challenges for Autumn 2020. And I managed! Let me introduce you to my Pascal shorts by Coralie Bijasson.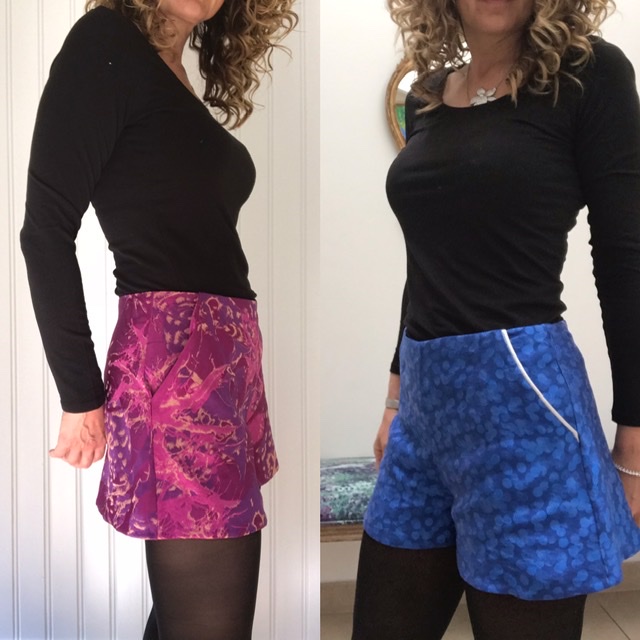 I love shorts for the colder months but I haven't worn them for ages, as I couldn't find a shape I liked, either ready-made or for sewing. So when I saw Joviana 2's versions of the Pascal short on Instagram, I was over the moon: a very plain model with a slightly trapeze shape and a low waist, exactly what I needed. That said the overskirt version is definitely not my cup of tea!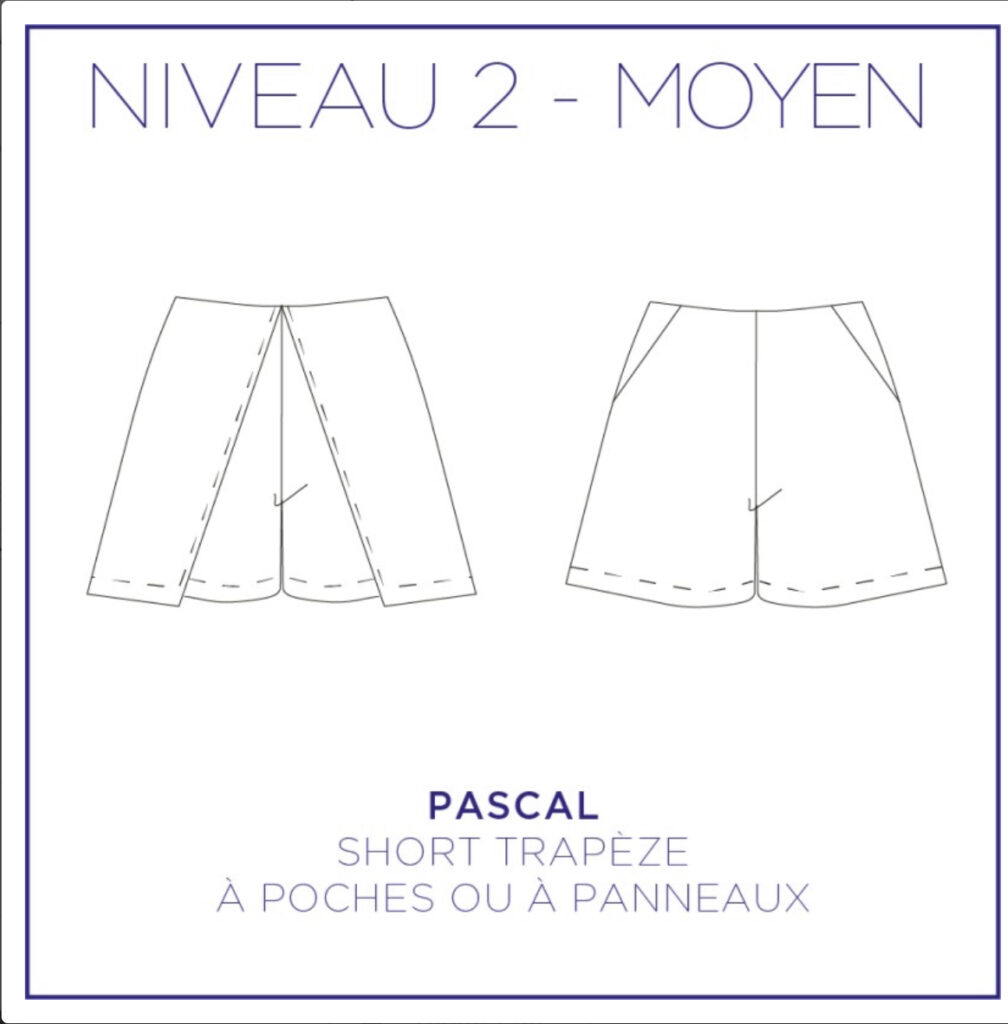 Theses shorts are incredibly easy to make: the pattern has very few pieces (5!) and requires less than a metre of fabric. It is the perfect pattern to optimise fabric leftovers, which was another of my goals for this season.
My first version is in a blue brocade fabric from Amothreads. Initially I wanted to use this fabric for a midi skirt, but the supplier only had 1m left, which he kindly gave me for free! I cut a size 38, slightly shortened the legs, added some silver pipping and entirely lined the shorts (because brocade tends to be itchy, as I previously discussed in this article).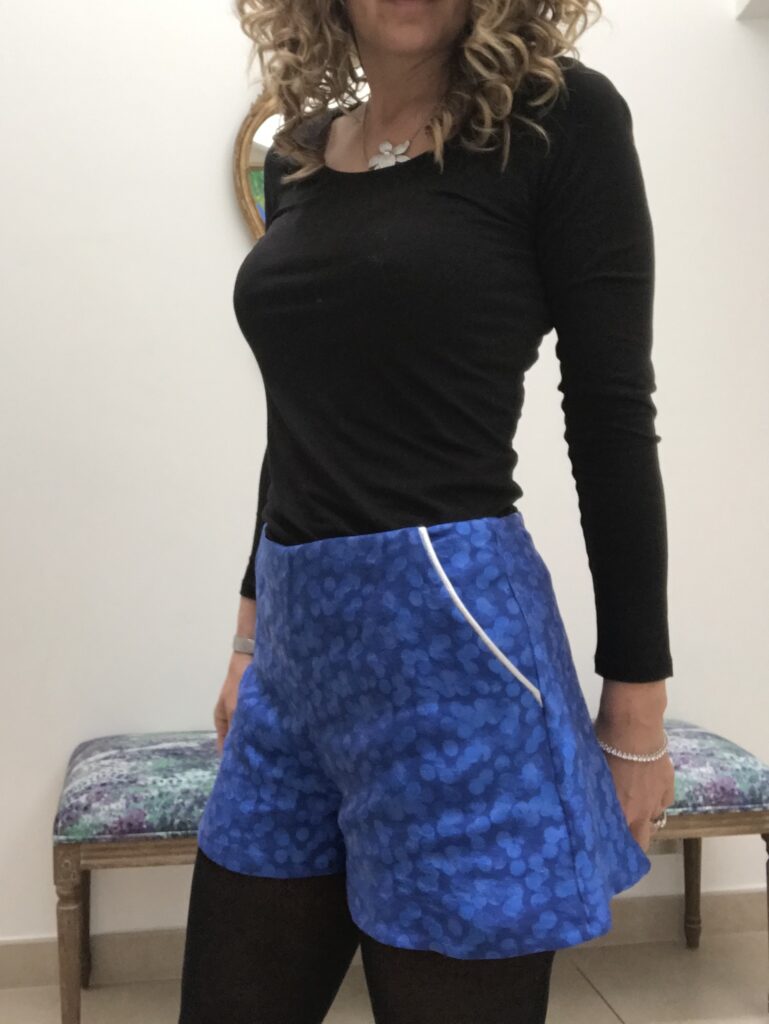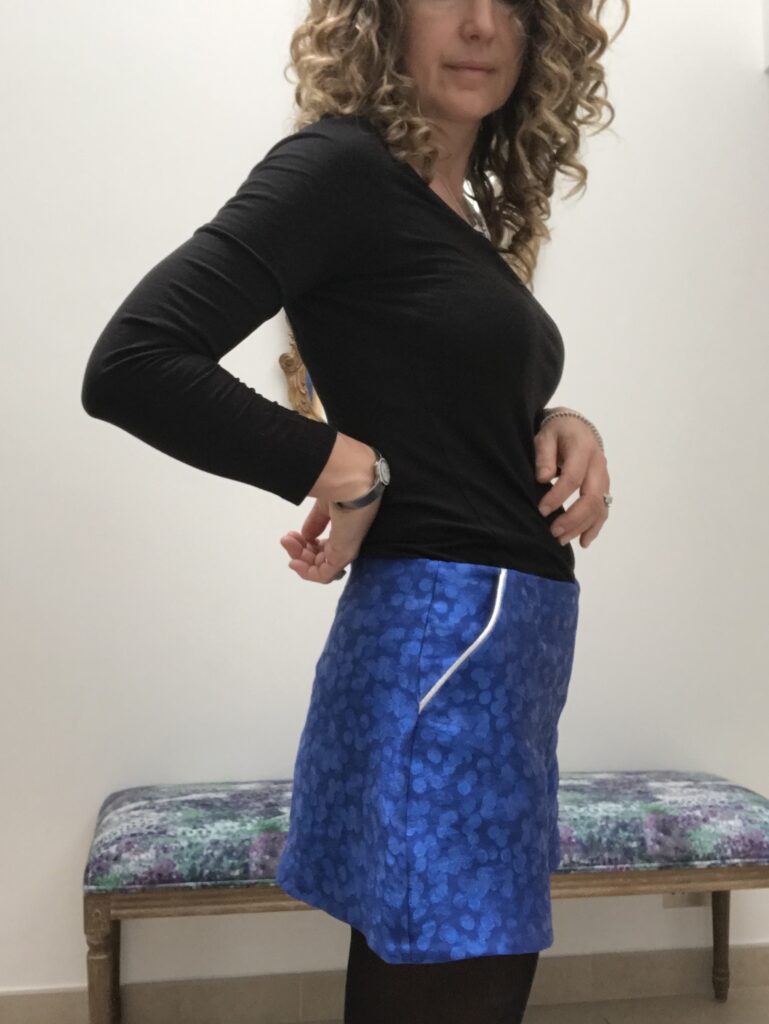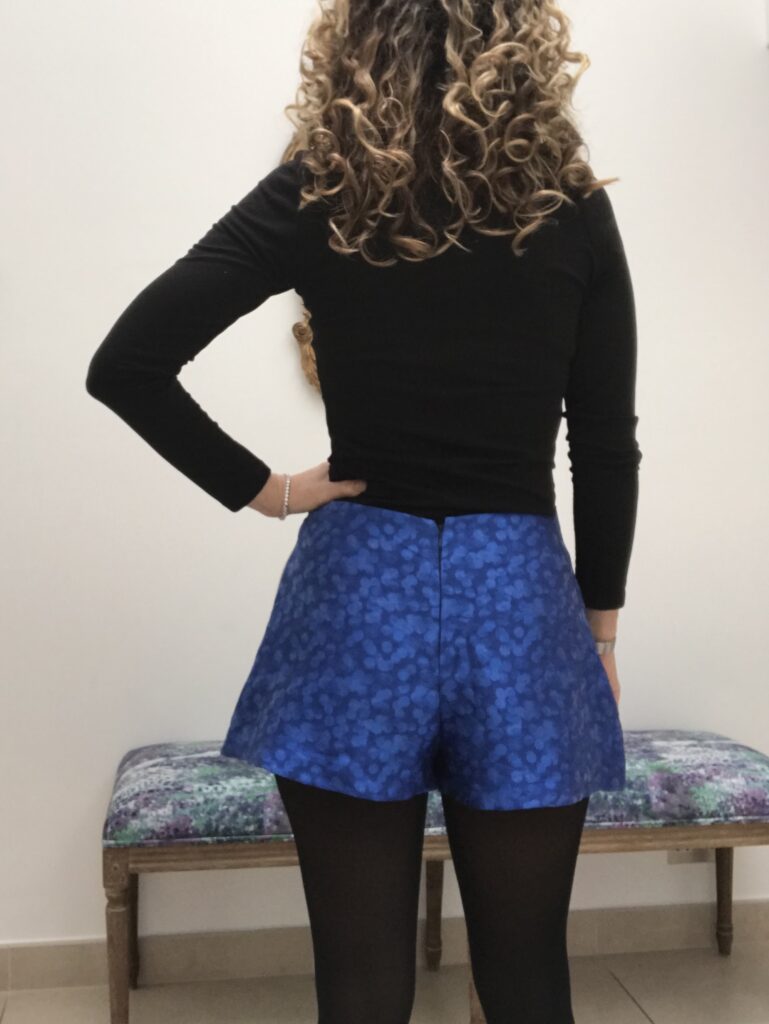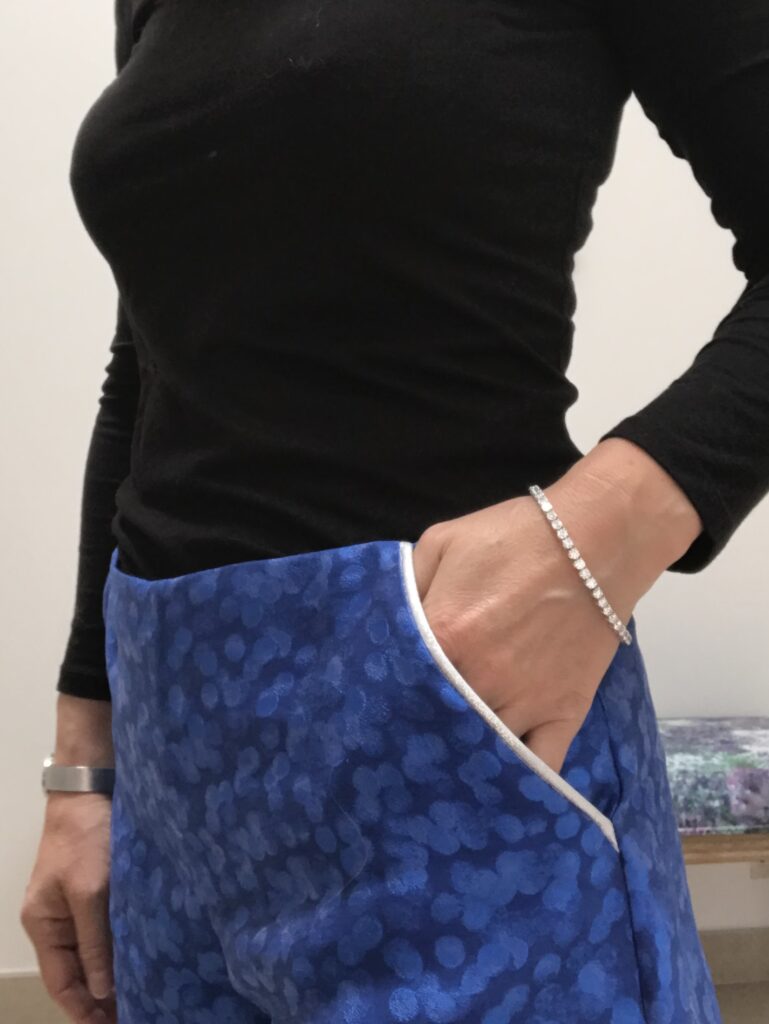 Ce short a le net avantage d'être très bien assorti au joli pull Enchantée tricoté pour ma fille – comme elle porte un uniforme toute la semaine je peux lui emprunter sans aucune culpabilité!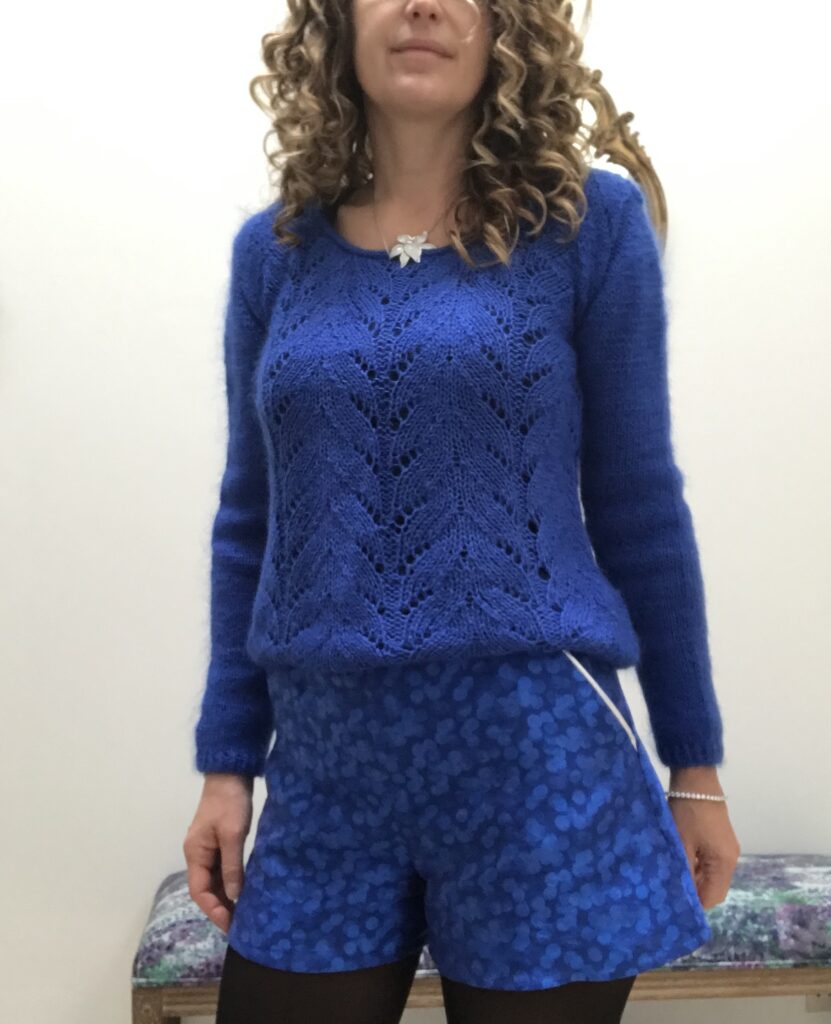 My second version is in brocade too, from the same Amothread supplier, but this time I used real fabric leftovers! They come from a midi pleated skirt, for which I hope to publish the tutorial soon. It is the exact twin of my first version except for the piping, which I omitted this time.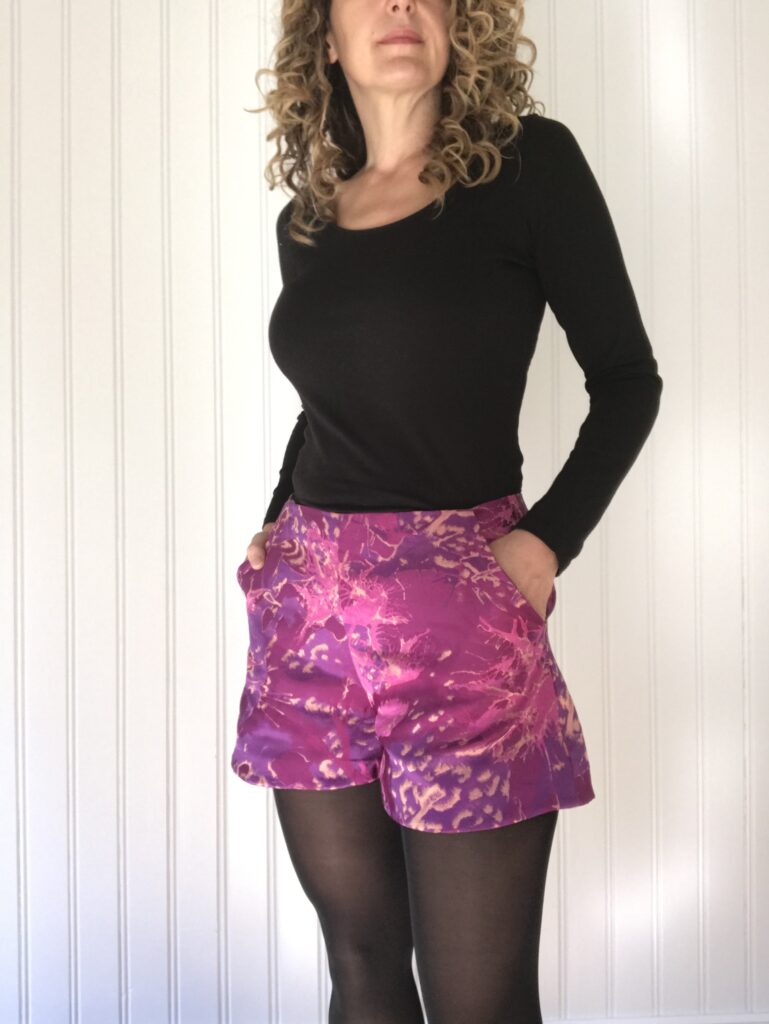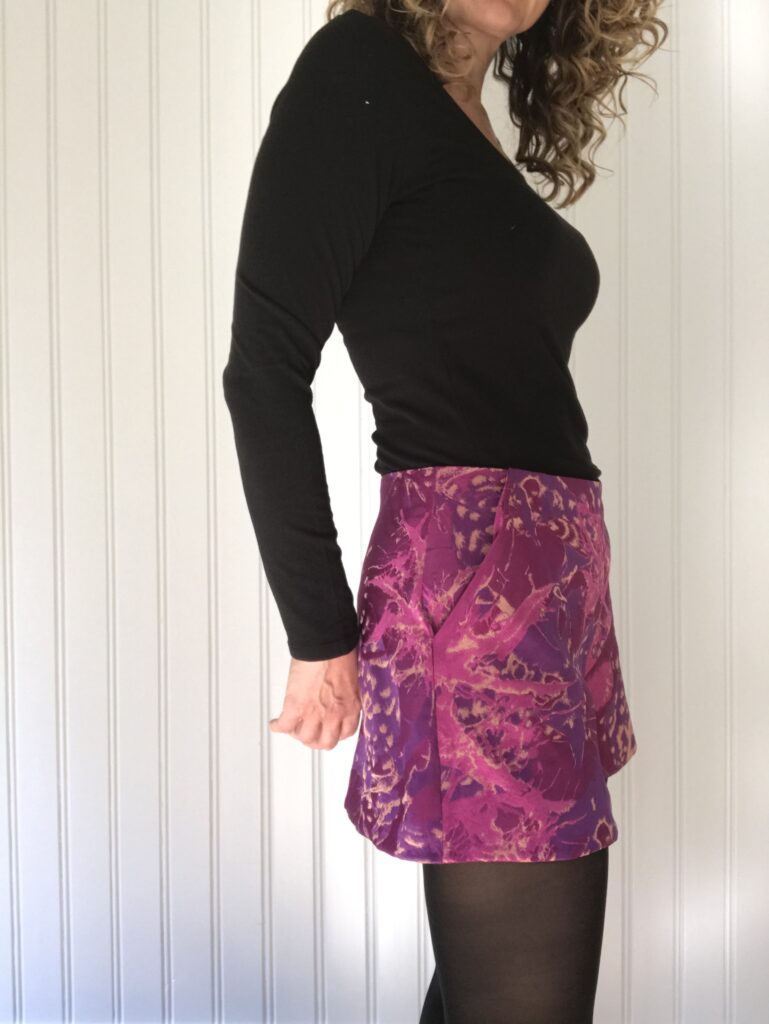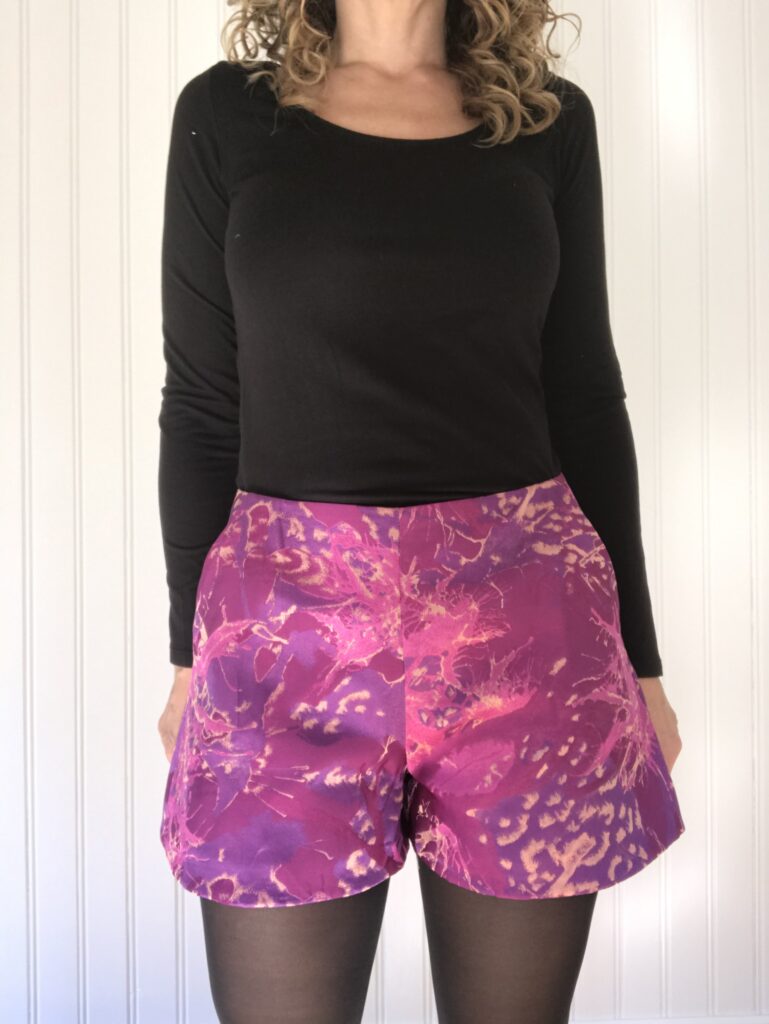 I am extremely please with these shorts! And also by how well my Autumn wardrobe is taking shape. More to come on the blog soon!
Autumn 2020 sewing and knitting plans
After five years of sewing my clothes, I have been recently inclined to better plan my makes, for two main reasons. First, it means my sewing is less compulsive – I realised that sewing on a whim is actually quite stressful to me. Second, I have recently started knitting properly, which opens-up a wide range of opportunities of clothes-matching – especially as I am such a dress/cardigan girls.
I started properly planning for Spring 2020, using the Canva app because drawing is unfortunately not my forte. But with an unexpected exodus to France for lockdown without taking any of my patterns or fabrics with me, this completely went out of the window and I ended-up going back to my usual compulsive-self, buying far too much fabric and making far too many dresses – which I all love but were definitely not planned!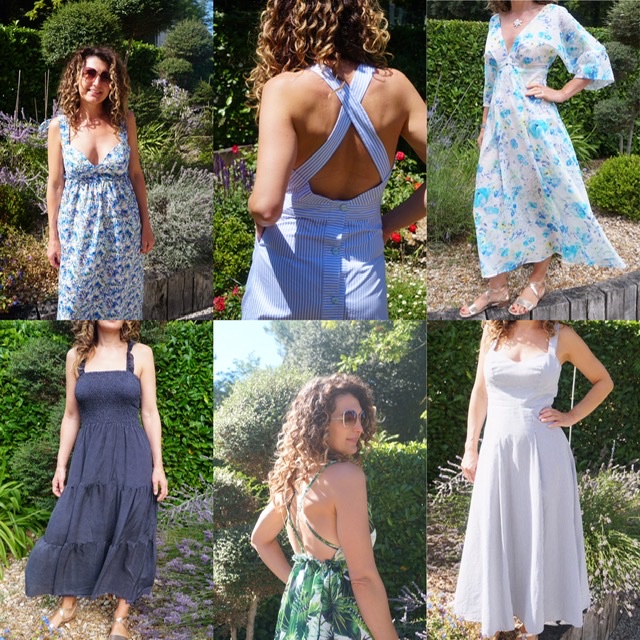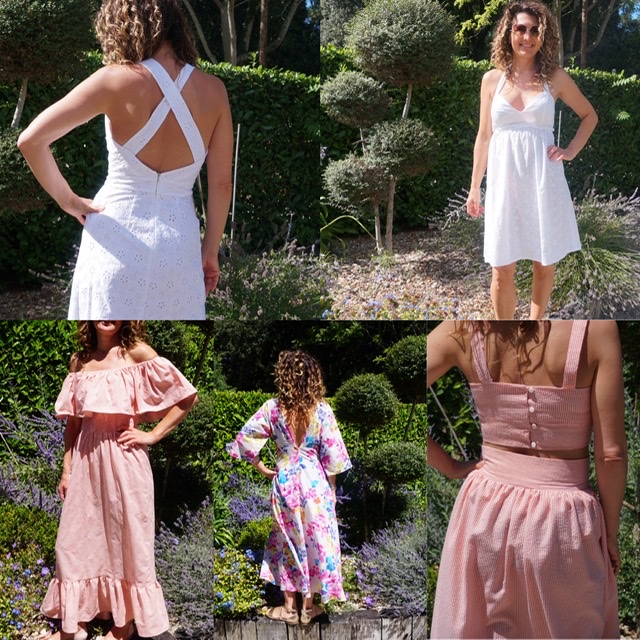 So back to square one on planning! But at least this time I have quite a precise idea of the main directions I want to follow!
Key piece to add to my wardrobe: a fit-and-flare raincoat
Raincoats tend to be straight-shaped but to match all my lovely mid-season fit-and-flare dress, I have been wanting a fit-and-flare raincoat for ages. I found the perfect water-repellent fabric in my favourite wine colour last year from Croftmill and after years of searching, the perfect pattern appeared in McCall's Spring/Summer 2020 collection, in the form M8048 – and it has bust cup options, hurrah!!!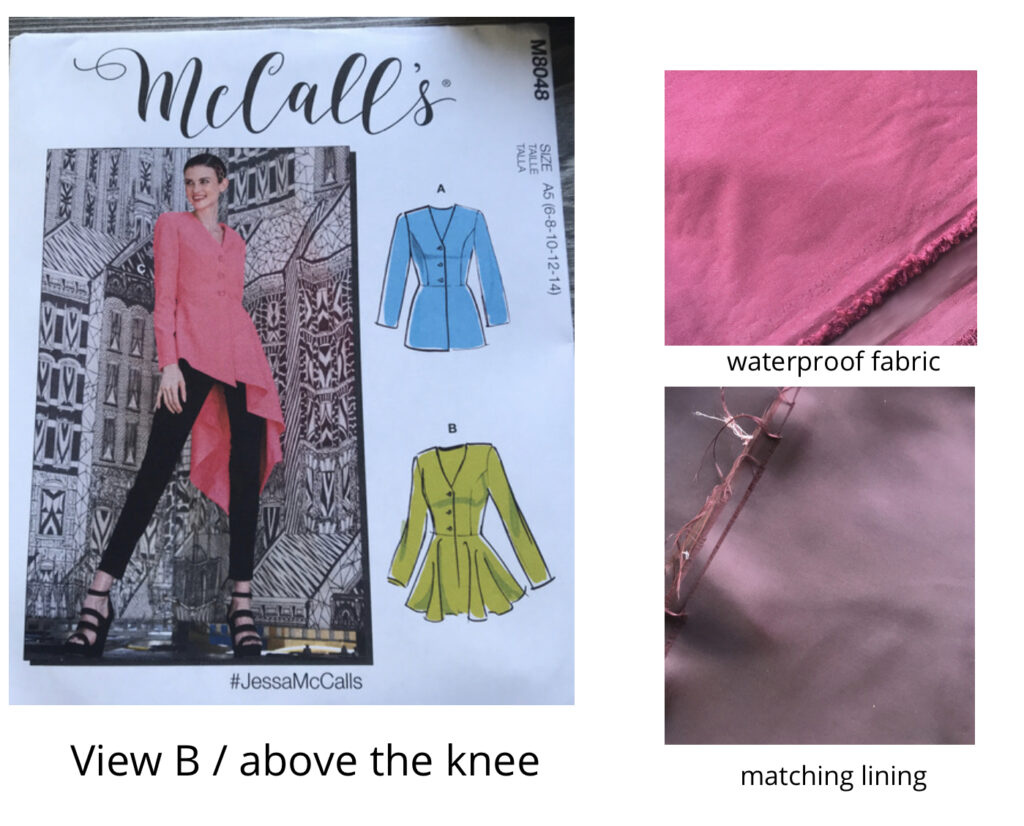 Ideally, I would make a matching hat using the free Bob Fauve pattern, but given how much I hate sewing accessories I would not bet on it…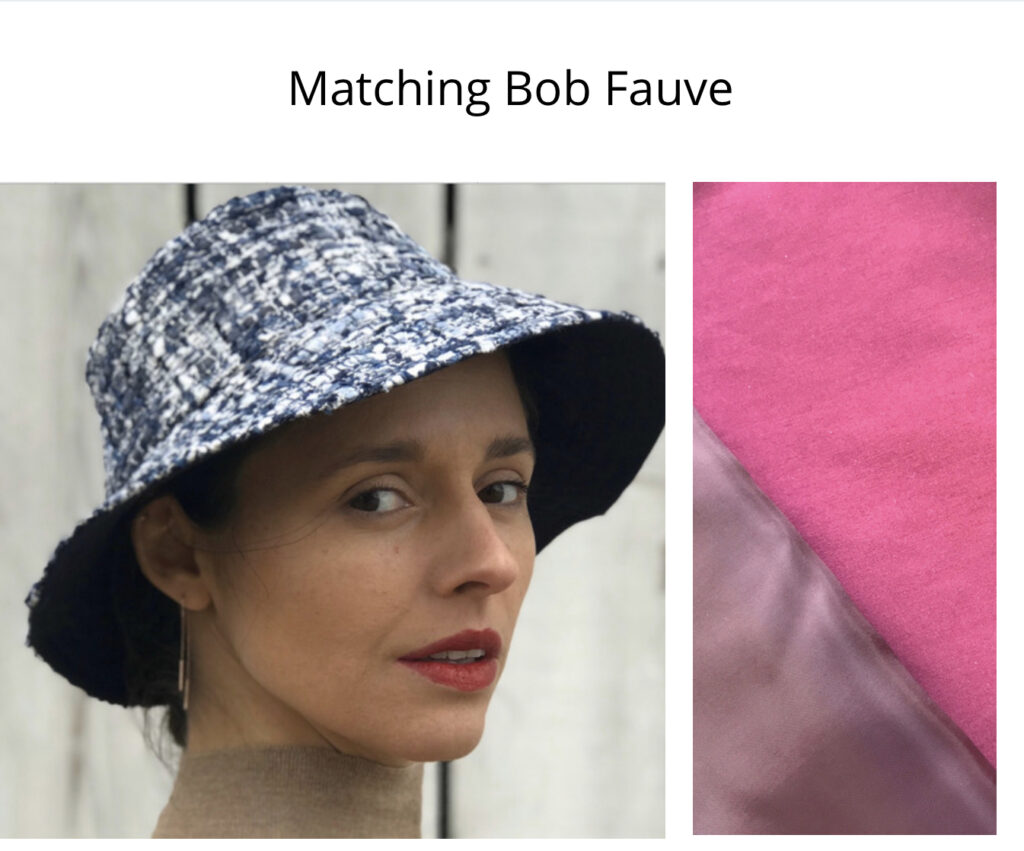 Key knit and sew matches: blue cardi, red cardi, wine skirt
Last autumn, I made two gorgeous dresses which I adore, in two different colour tones of the same Dolce & Gabbana fabric from SewMeSunshine.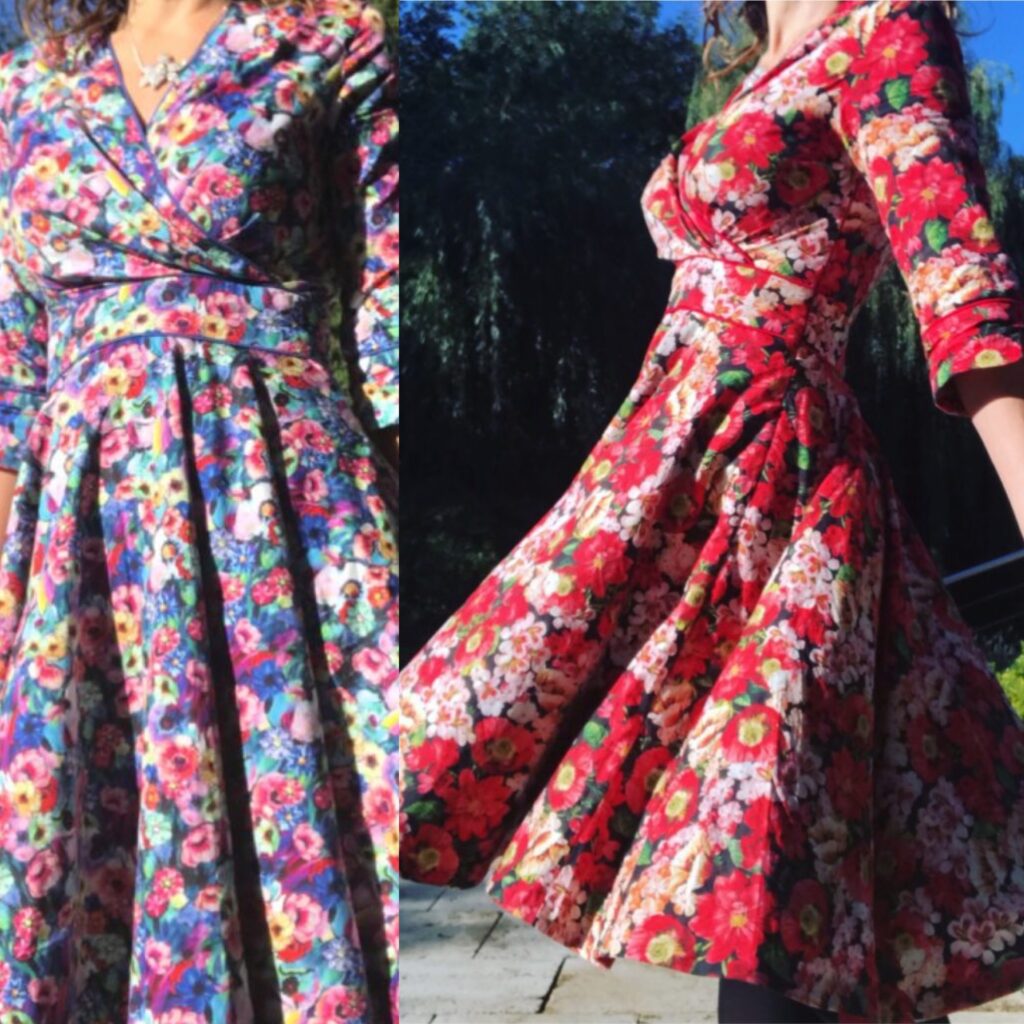 They are definitely crying-out for a matching cardigan and now that I am a more competent knitter, I can definitely tackle this gap in my wardrobe. For the blue dress, I am planning a second Belladonna cardigan (see the first I knitted here), in the same glorious royal blue I used for my daughter's Enchantée sweater.
For the red dress, I have managed to buy some deep red Drops Lace before this quality was discontinued for a Salal cardigan – a very easy knit and I adore the versatility of my powder pink one. After many sample orders for a matching fluffy fibre, I chose the Drops Brushed Alpaca Silk – I usually prefer the Kid Silk quality but the red was for too bright for my liking.
Last match, I want a brocade midi skirt to match the wine Chuck Jumper I knitted last winter. I am keen on a pleated skirt and I have already found the fabric at AmoThreads, I now just need to decide whether I am brave enough to self-draft it!
Key technical challenge: sewing a silk dress
Although I now buy very few dresses, I recently splurged on two Red Valentino beauties – both silk maxi dresses. The only reason to justify the price is that I couldn't make them myself. This really needs to change so my challenge is to make another M7974 (see my first version here), in silk both for the outer fabric and the lining. Thanks to Bennytex, I have sourced all the silk I need at very reasonable prices so wish me luck!
Key sustainable challenge: more small pieces with fabric leftovers
With my recent love of maxi dresses, I know tend to buy fabric by 3m rather than 2 in the past. I therefore end up with bigger pieces of fabric leftover, which I'd love to use. I've been making quite a few summer tops from my girls this summer with the fabric leftover from my dresses. For the winter, I think shorts ar the way forward, using the Pascal pattern by Coralie Bijasson. Here is a quick preview of two recent makes, an article will follow soon I promise!
And a bit of stash busting would be good too! I am very keen to make a long sleeved version of M6696, using yellow piping along the button placket in the same way as I did for this dress.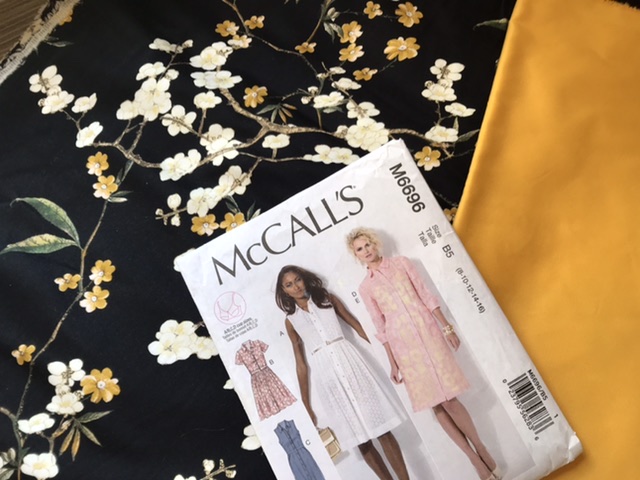 And a few random projects of course…
Knowing myself I really cannot rule those out. Given the size of my silk stash, do expect at least another silk maxi dress if my first attempt is successful. I need some silk nightdresses toobut haven't found the right pattern yet. Another jumpsuit may or may not happen, depending on whether I find the appropriate fabric. Many more happy hours in prospect!