Sewing a powder pink Luzerne trench coat
After sewing my first Luzerne trench coat nearly exactly a year ago, I have managed to make a twin! Let me introduce you to my powder pink Luzerne coat, hot off the sewing machine.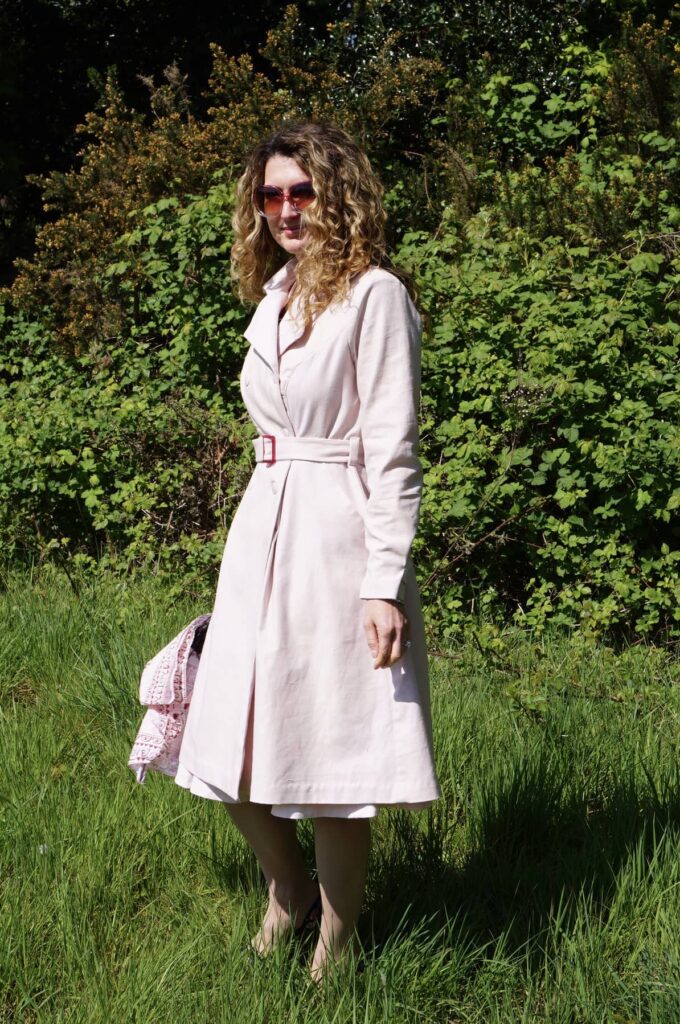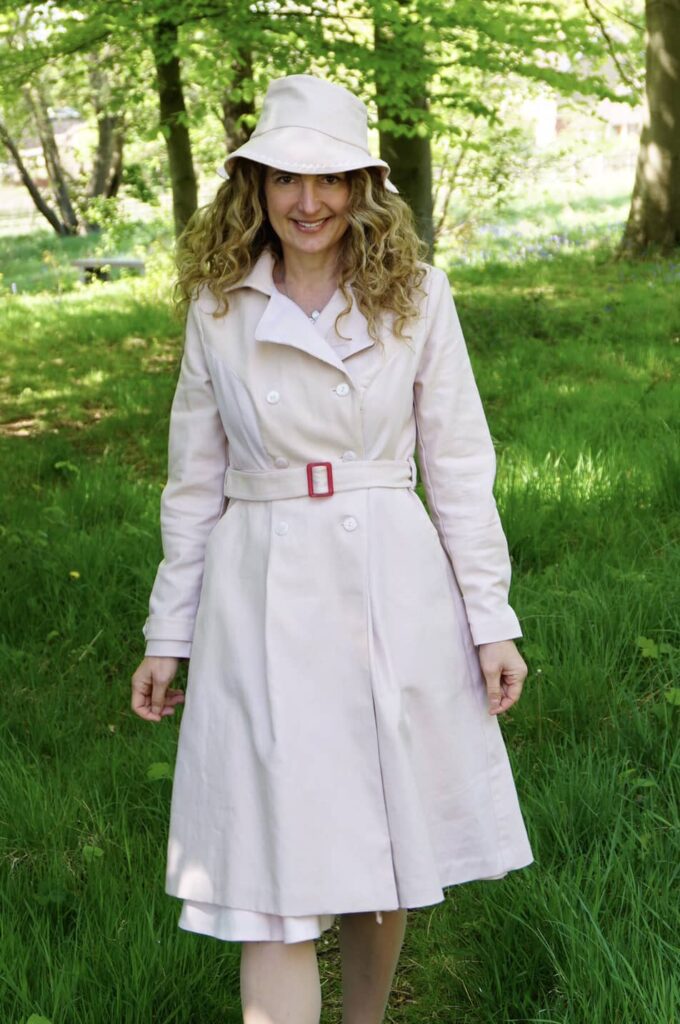 Spring coat envy
Spring seems to be the main time when I sew outwear, weirdly enough! By March, I have had enough of my winter wardrobe but there is no way I can switch to my summer one… So a new coat is a nice way to pimp my « old » clothes up!
Last year I made a deep burgundy Luzerne and a off-white cape…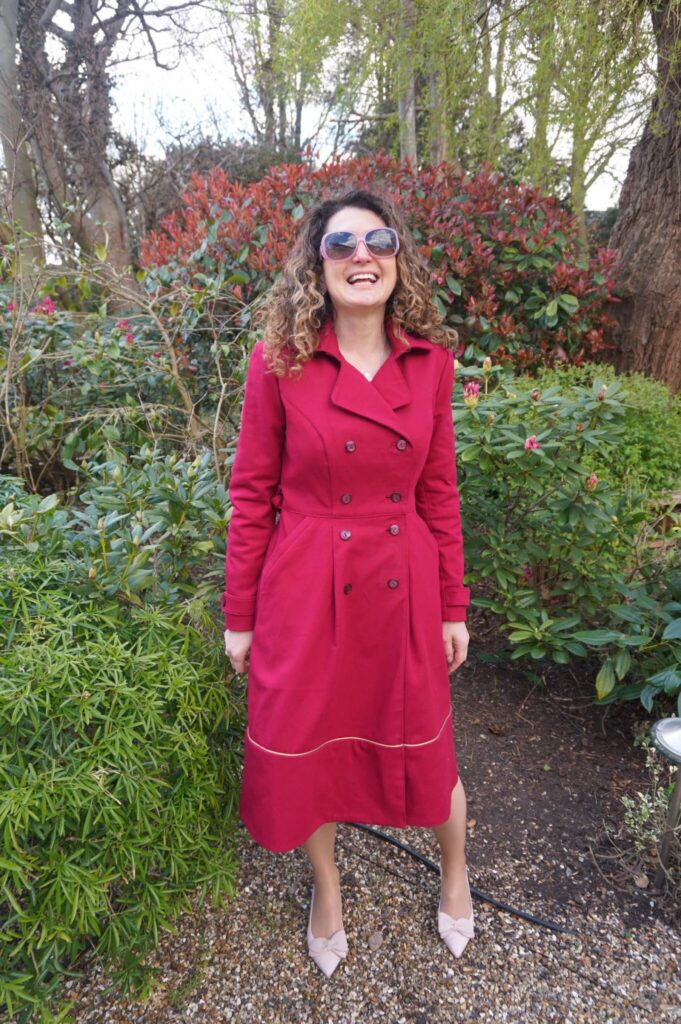 … this year a lilac woollen coat and a powder pink Luzerne…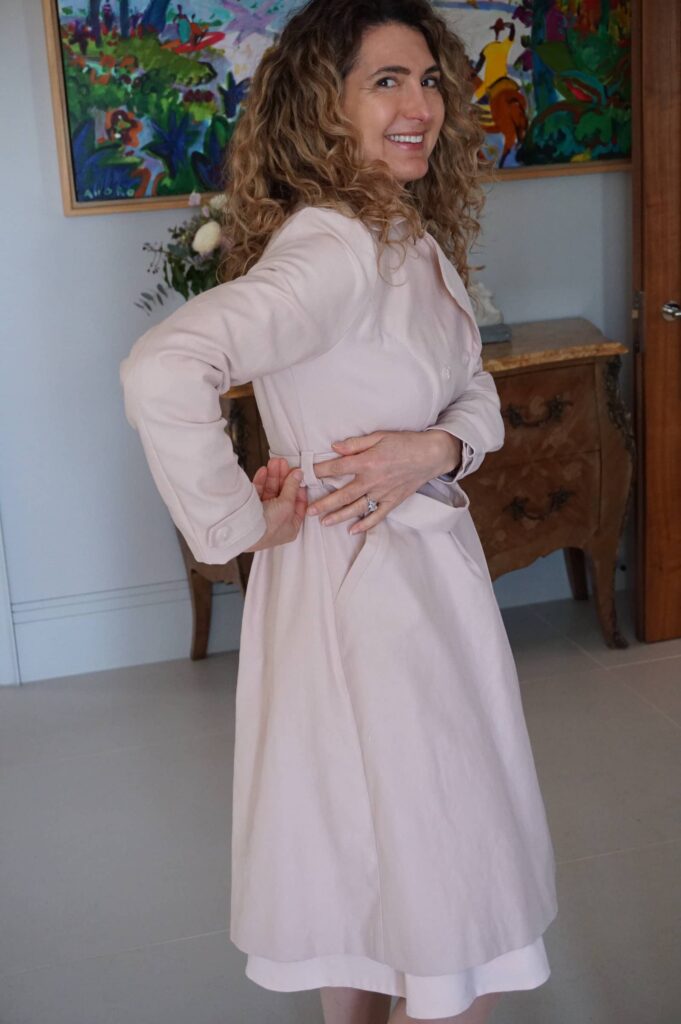 … and all four are being worn extensively, as Spring this year has been far from warm and sunny!
Luzerne trench coat pattern review
There is now quite a few trench coat patterns available on the market. But Luzerne by Deer & Doe was one of the first to be published. I adored it as soon as I saw it. However between a long search for fabric and two years of Covid, it took a long while for me to sew it. All worth it though!!
I wrote an extensive review of the pattern in this article and nothing has changed really.
Many likes
There are many things I like about it:
The style is my holy grail for coats. It is sufficiently fit-and-flare to work with all my dresses but not unwearable for grocery shopping or the school run.
The instructions are so good that the coat feels actually very easy to put together. You just have to follow meticulously absolutely all the steps – something I rarely do for easier pieces I am used to sewing (did I hear someone say dresses?).
The sizing is spot on, with enough room at the bust and perfect ease at the waist. My usual Deer & Doe size 38 works perfectly, I would really change nothing to the fit. For reference I am a UK8/ US 2/ FR 36 with an E-cup bust.
The finished coat is impeccable, both outside thanks to a lot of topstitching and inside thanks to having all visible seams bound with bias tape. I wish there were some additional instructions to line the coat though…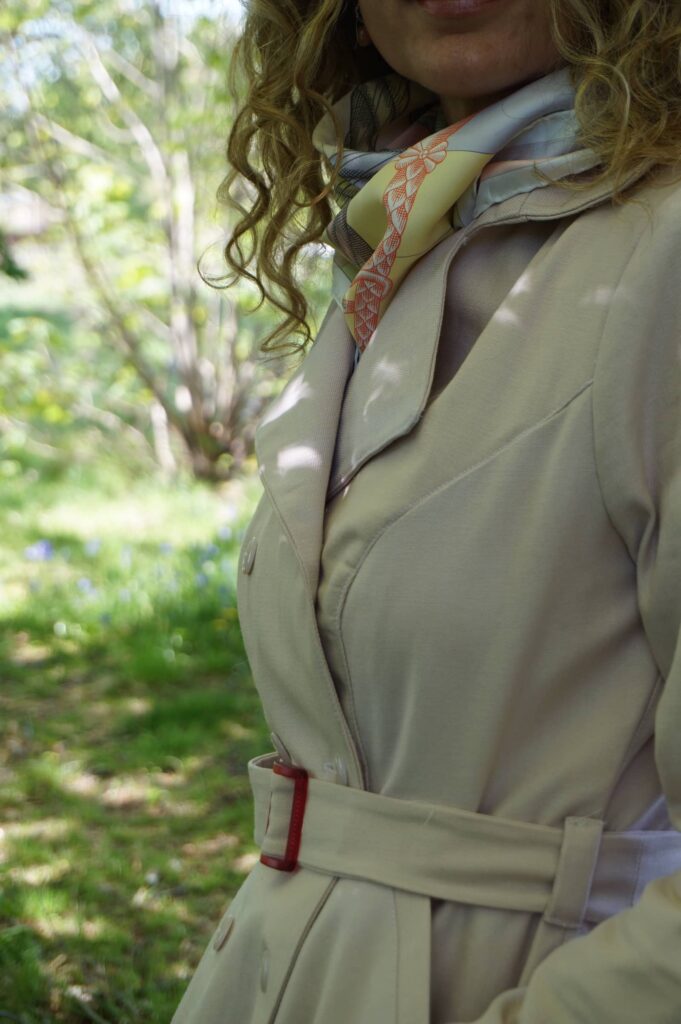 Very few dislikes
The main negative of this coat is its length: in its original version it stops at mid-tight, far far far too short if you intend to wear it with knee-length skirts! I had a massive drama with my first Luzerne coat (hence the piping, which is actually a last-minute, disaster recovery solution). This time I was fully prepared and cut all skirt pieces an extra 20cm longer (I am 1.68m).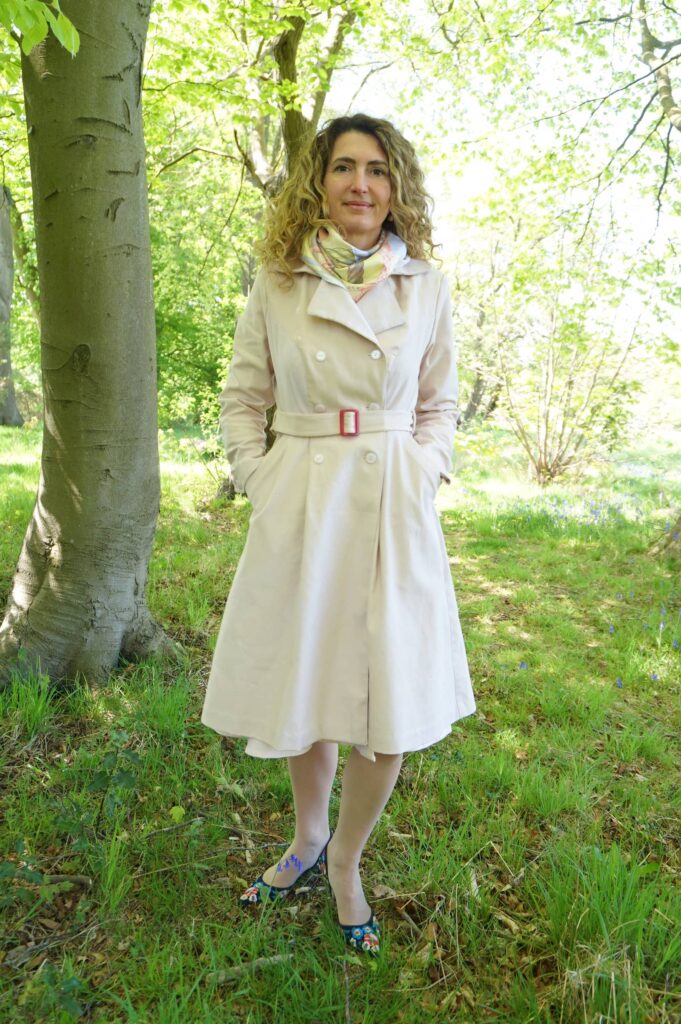 The other thing I dislike about this pattern are the bound buttonholes: the instructions recommend to put them in first thing, a recipe for placement disaster I have learnt; and in any case I don't think they work really well with the fabric I used (cotton twill). So this time I wisely gave-up on the bound buttonholes and went for machine-made ones instead.
Fabric used and changes to the pattern
I used the exact same fabric as for my previous Luzerne: a Robert Kaufman cotton twill ("Ventana"), this time in its powder pink version. I got it a few years ago from SewMeSunshine and they still stock a wide range of colours, all here if you are interested (and my previous Luzerne was in this colour).
As for changes to the pattern, on top of lengthening the coat and giving-up on the bound buttonholes, I added a buckle to the belt. I find that it makes for a much neater finish than a knot. I found this buckle on Etsy and it is very straightforward to sew. As it is sliding, you don't need any heavy duty equipment, hurrah!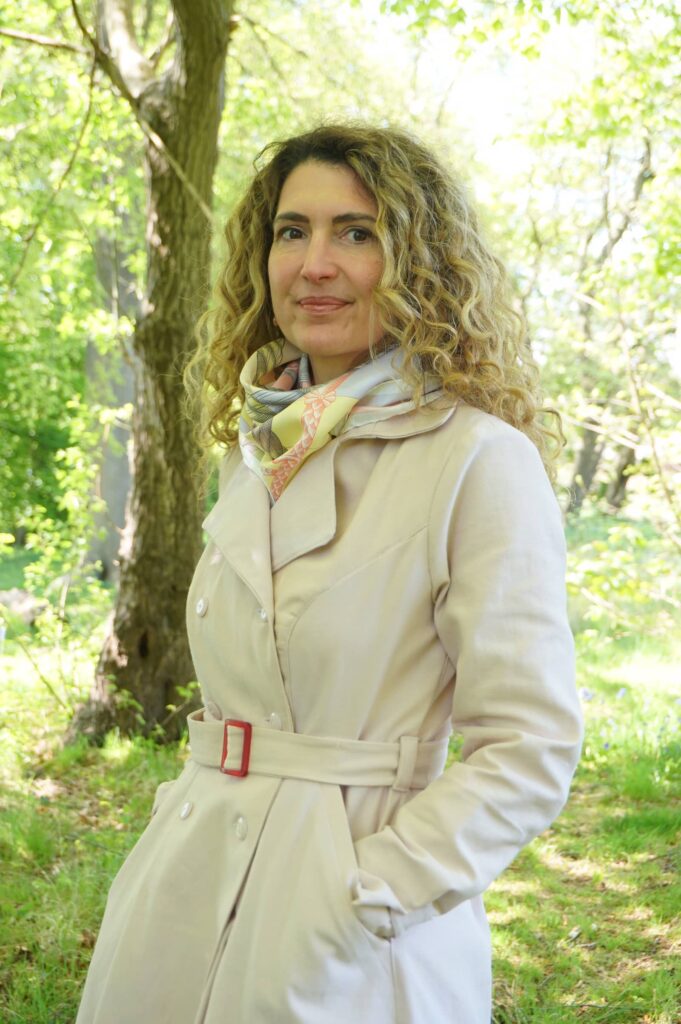 Conclusion
I had a fantastic time sewing this coat: it is a long but very rewarding project, and ever so useful if my wardrobe. I now have to refrain myself from buying another 5m of Ventana twill for yet another version…. Purple? Periwinkle? No no no!!!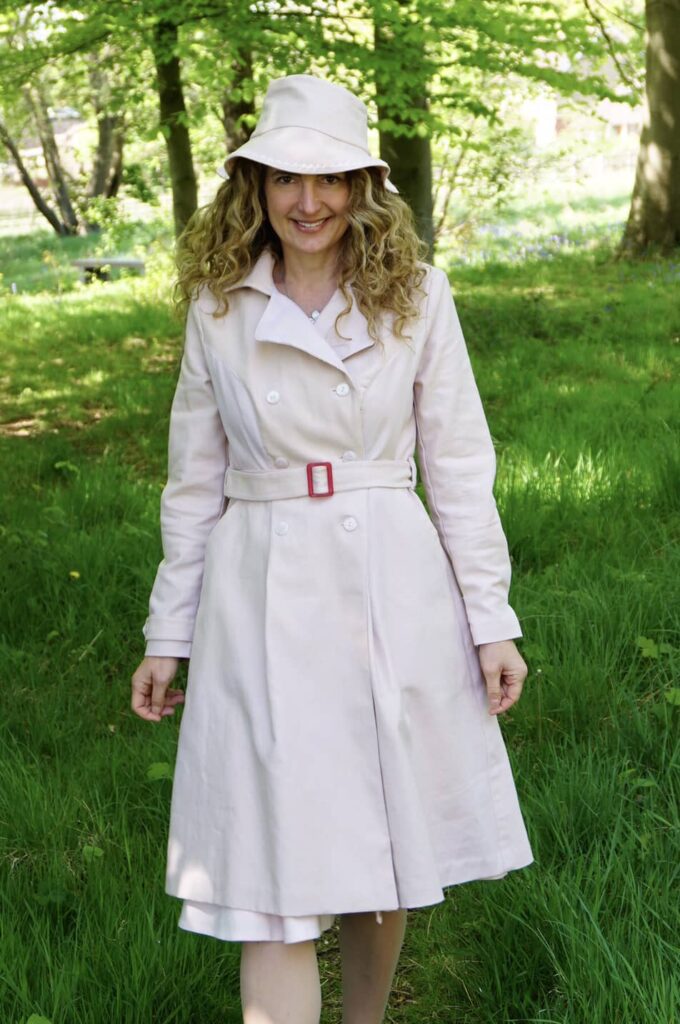 ---