The Long-Awaited-For V-Ruffled Dress
I saw this dress quite a few times on Instagram (and so did you if you're as addicted as me) before being able to sew it: the famous swing dress with a V-ruffle! It had to be mine!!! After hesitating for months on which pattern to hack, I eventually made up my mind and saw two dresses in one go – how typical…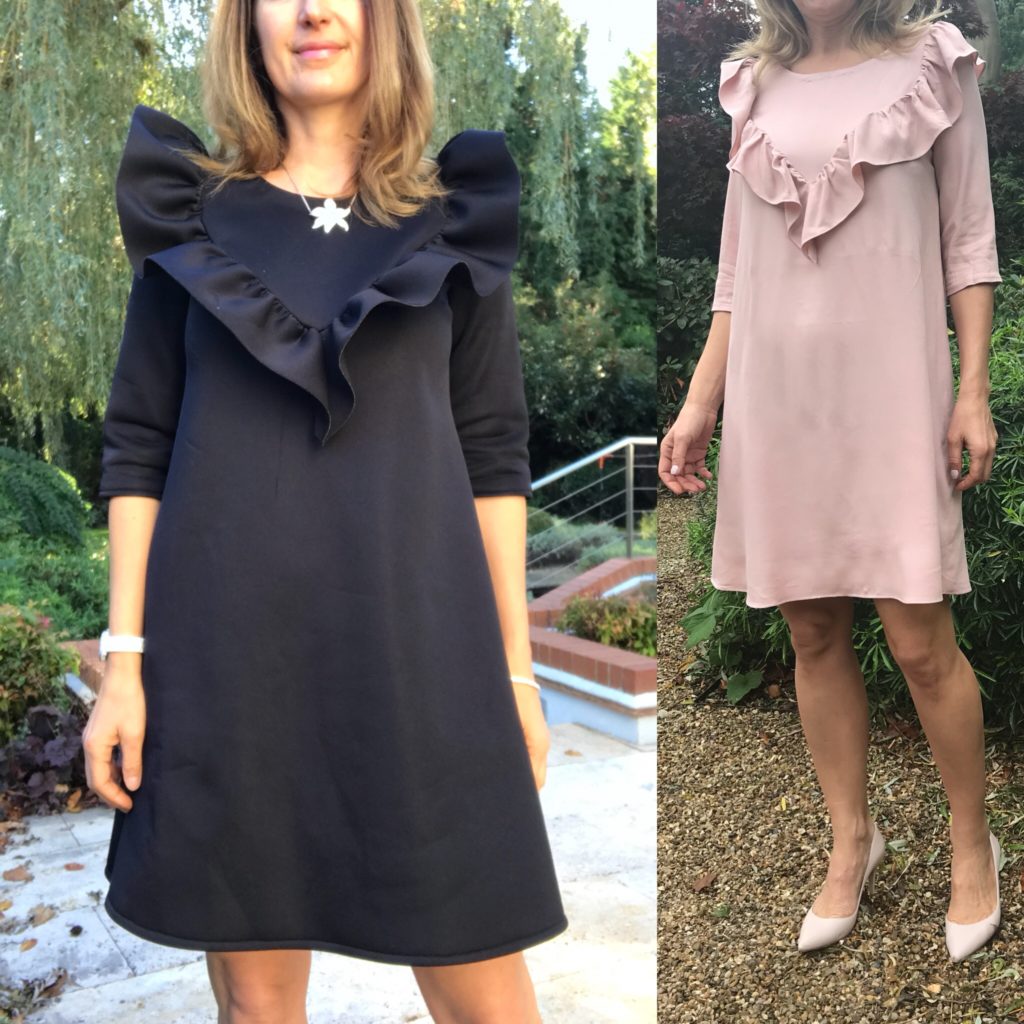 I first came accross this dress on the Instagram account of @madeinestel, whom I admire immensly for her perfect dress sense and her amazing ability to transcribe her ideas into self-drafted clothes. As an extra quality, Estelle loves sharing, so thanks to her I discovered @ma-minimoi's version of this dress – and the indication she had used the Delphine&Morrissette La Brune blouse pattern as the basis for her dress. A Godsend! – I had the pattern in my stock, all ready to go as already used to make a blouse. No picture of this one though, as despite my efforts to sew separate, I can't help wearing mostly dresses…
I therefore went back to my La Brune pattern and made the following changes:
I lenghtened the blouse into a trapeze shape, to achieve an above-the-knee lenght;
I added a V cut to insert my ruffles at the front, following the existing shoulder inserts of the initial pattern;
I lenghtened the ruffles for them to follow the V-shape, with a ruffling ratio of about 1.5x.
And here is the first dress, in a reasonably thick black scuba fabric from Bennytex. This was supposed to be my muslin but it is fully wearable in my view – hurrah!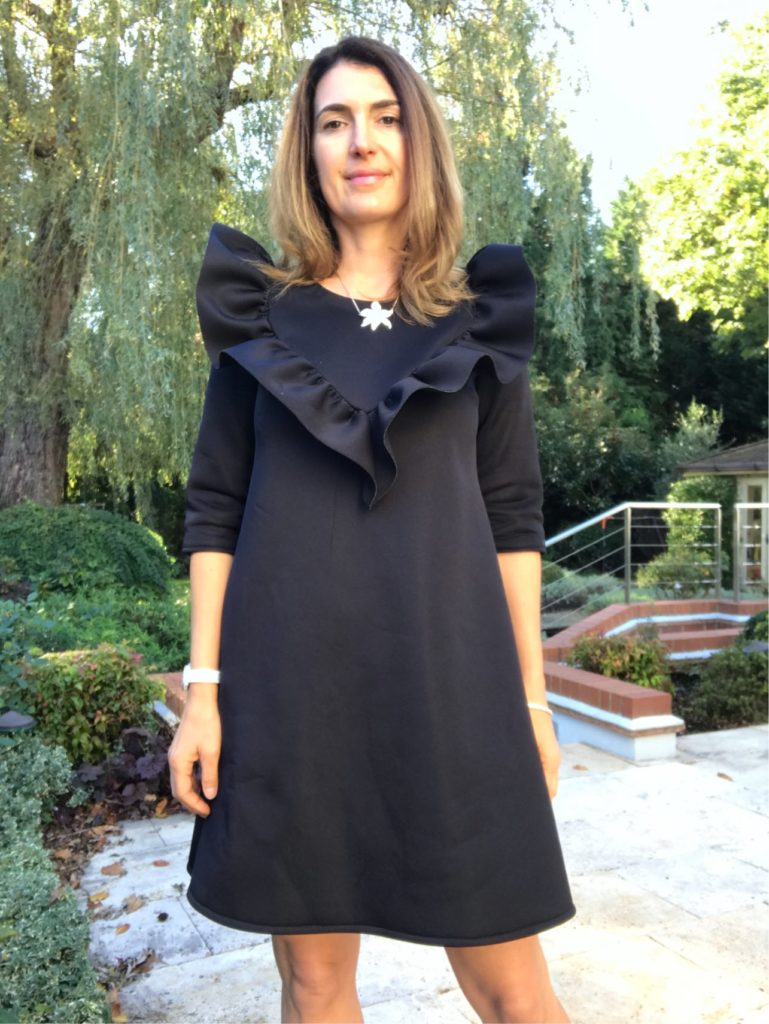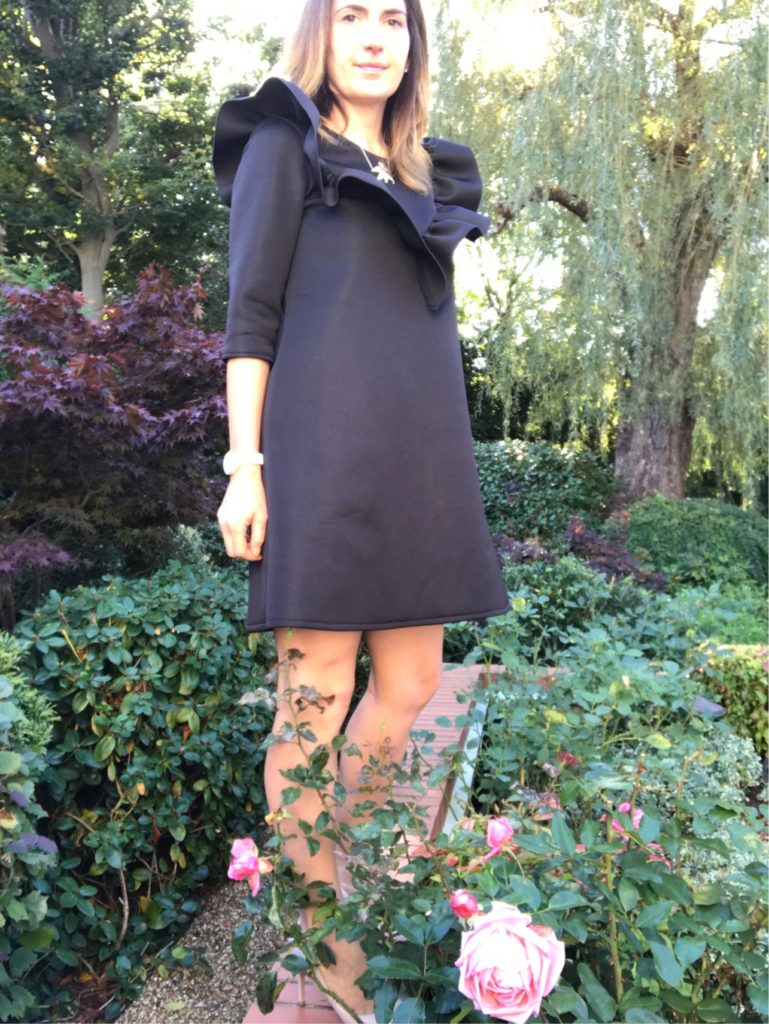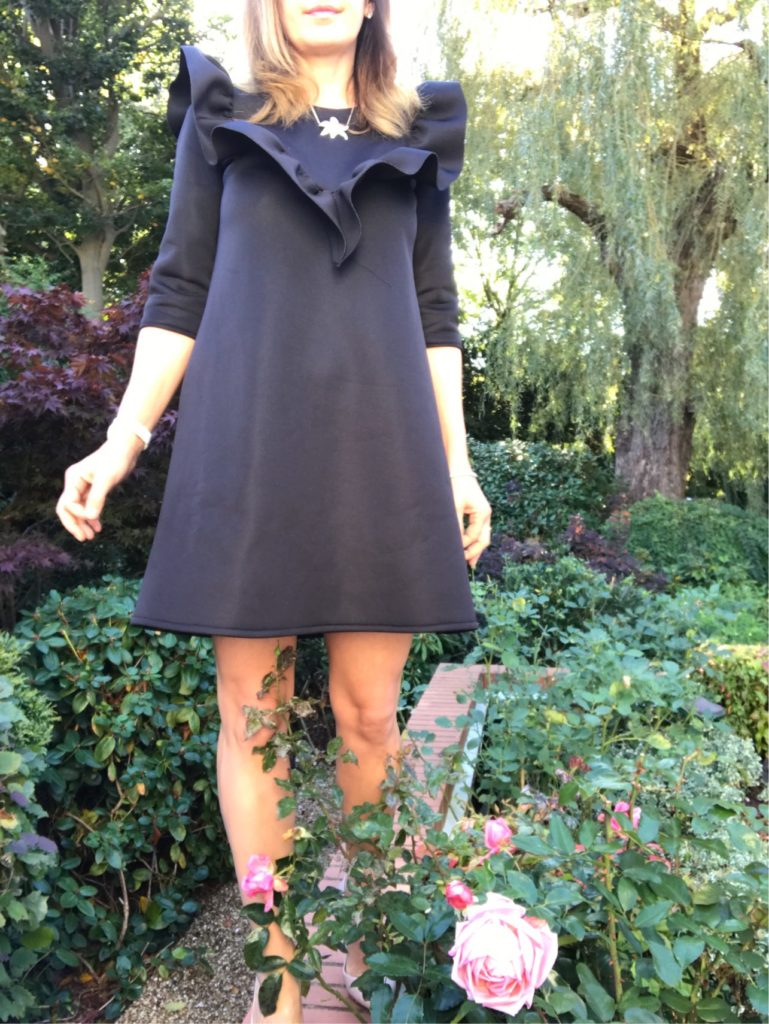 The big downside of this dress is its back – far too much fabric there! I tried to fix it without having to unstitch the all thing but I'm not very happy with what I did. Let's say that I can't see the back when I wear it…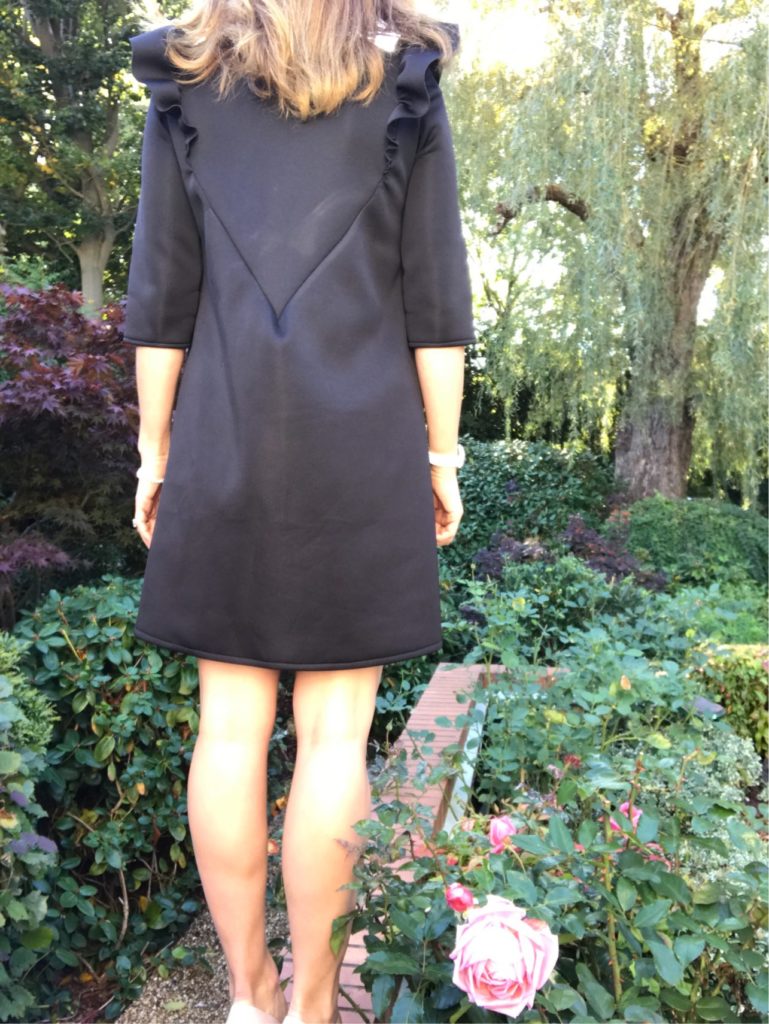 After this rather promising first attempt (except for the back that is!), I decided to use my latest purchase, a beautiful powder pink crepe, bought very recently from my favourite fabric shop in London, Fabrics Galore. Did I not tell you then thousand times – I LOVE powder pink, I am so physically attracted to it that it's borderline psychotic…I reduced the width at the back of my pattern before cutting,to have less volume; and then all went well!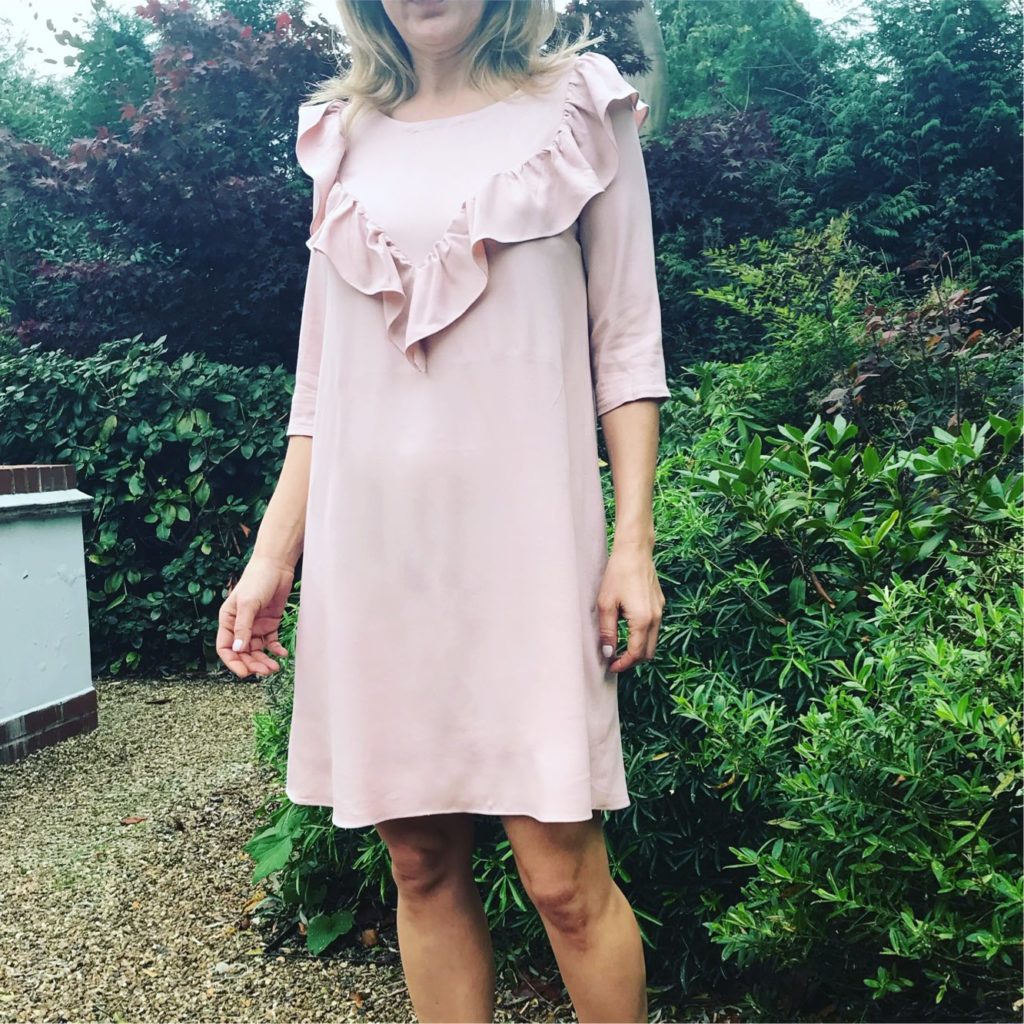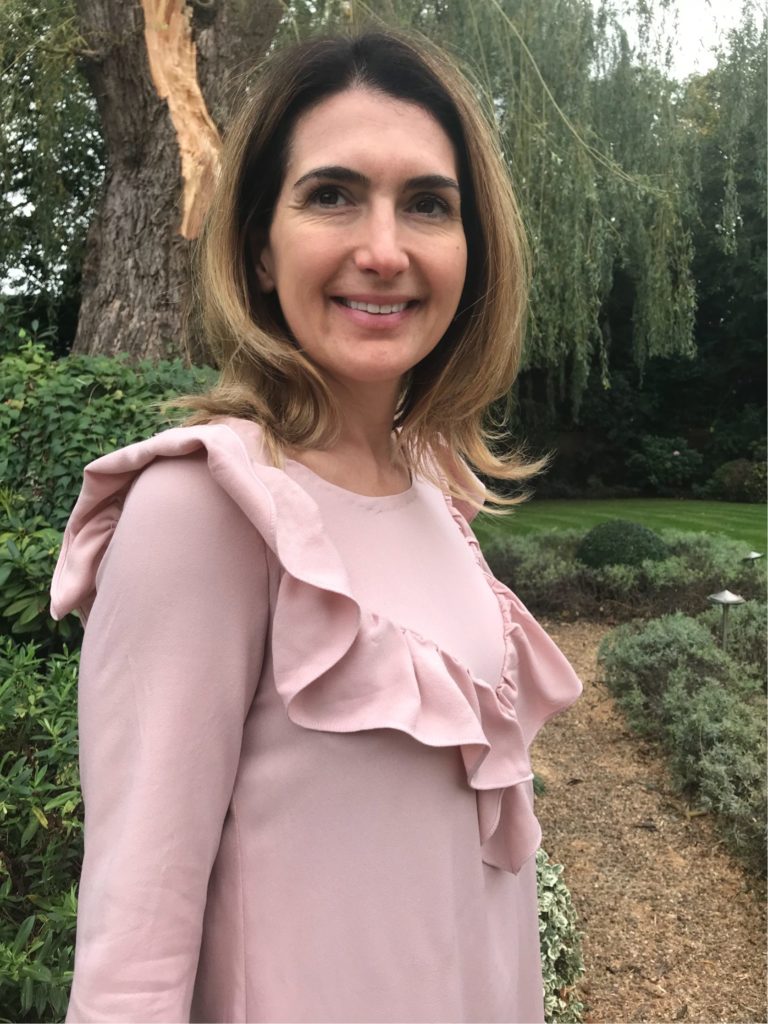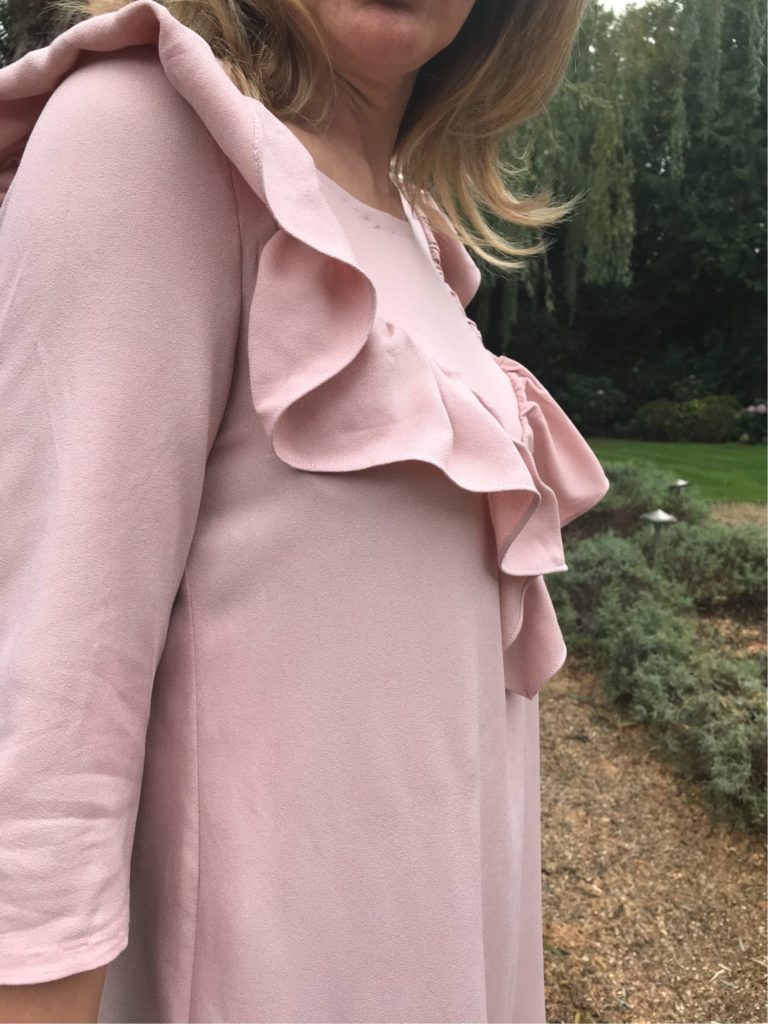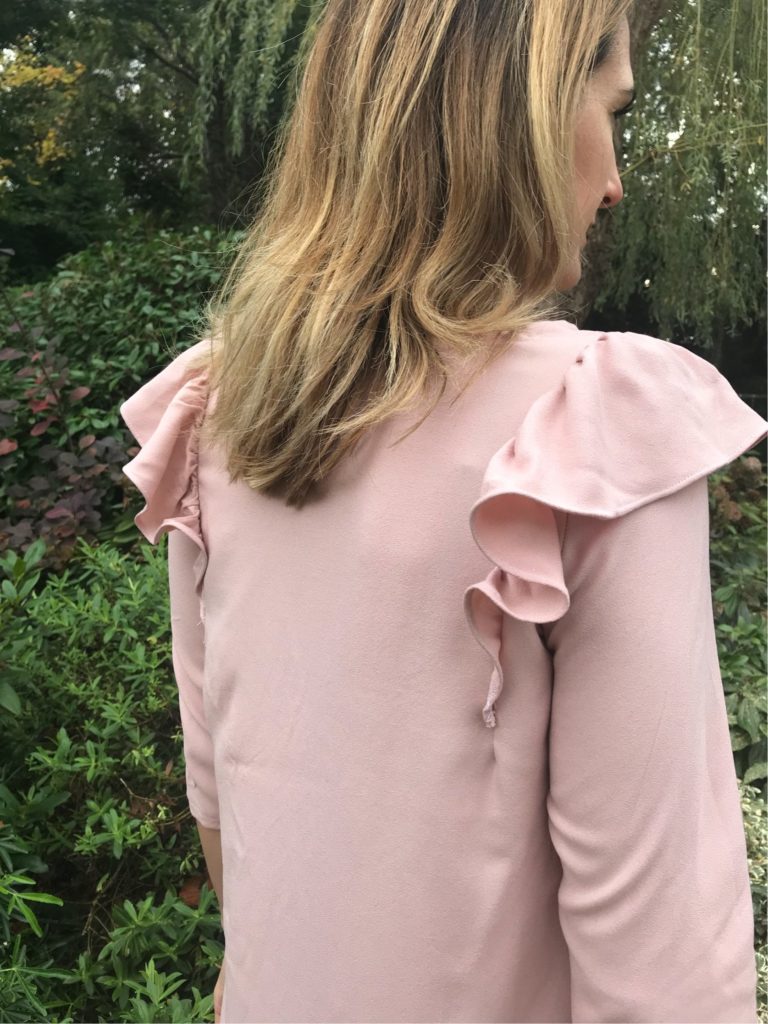 Still not perfect at the back (and pictures with my face but without sunglasses are definitely a no no now!) but much better – and the great lesson is that I should have used a swing dress pattern as a base!
---
In summary:

Pattern: La Brune blouse by Delphine & Morissette, with all the canged detailed above
Fabric: thick black scuba from Bennytex; light poweder pink crepe from Fabrics Galore
---
---