Mini Skirt, Maxi Joy
My sewing moto has stalled lately, after a few sewing dissapointments in the wrap dress area (but more on this later). For the moment I need a quick, highly satisfactory project and this SisterMini by Vanessa Pouzet perfectly worked as such.
I am not a huge mini skirt person but I am all into the chunky sweater + dressy skirt combination this winter, and when I stumbled upon this beauty at COS, I immediately wanted to wear it with a mini skirt. I would have bought this corduroy one from the same brand but the pinks did not match. Thankfully I had the perfect fabric in my wardrobe, a beautiful pink and gold brocart fabric from Bennytex. And jumping to conclusions, here is the outfit, which is exactly what I was looking for!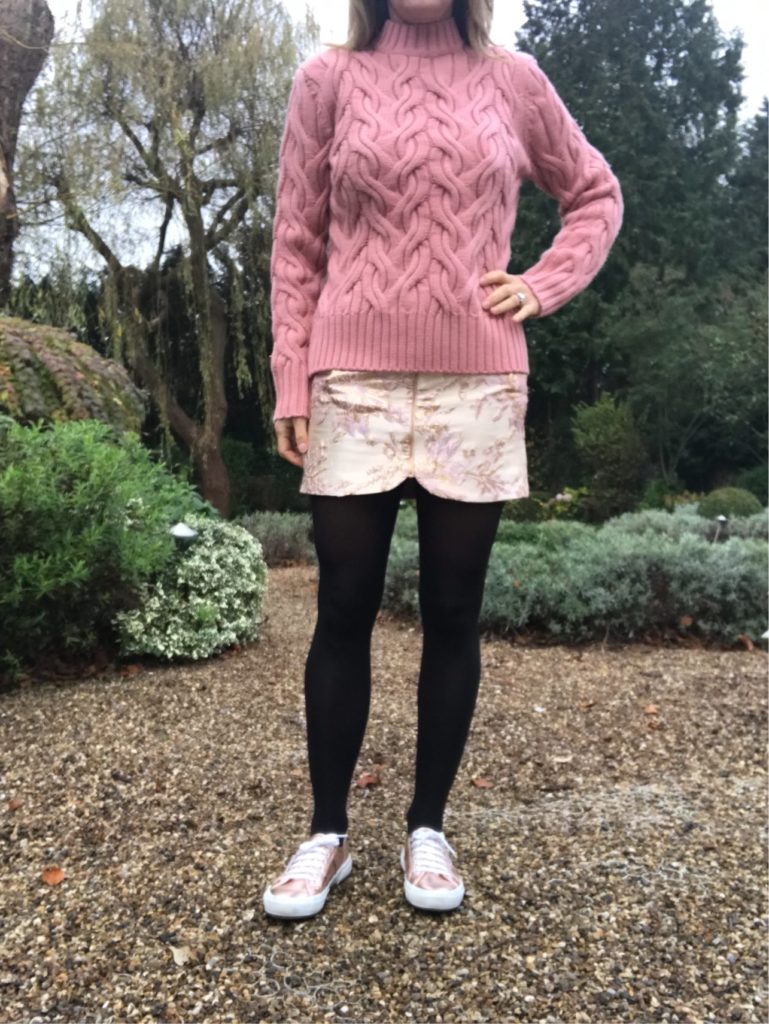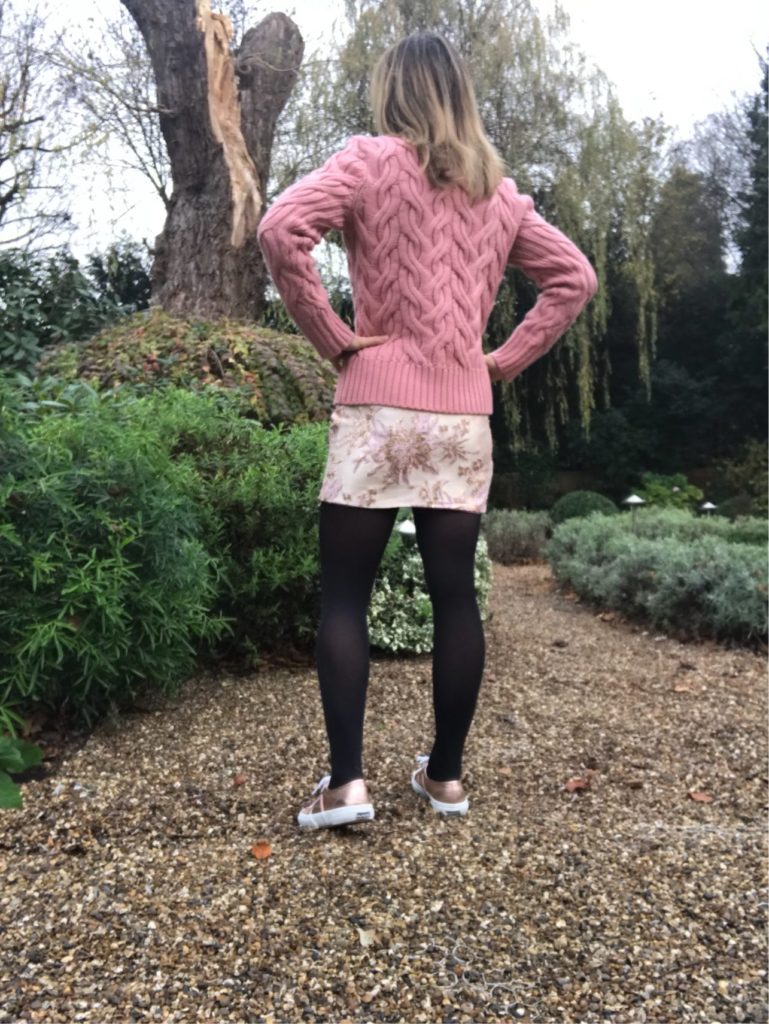 In terms of sewing, the Sister Mini is a wonderful experience: in mimimum time you achieve a highly rewarding make, which is as pretty on the inside as it is on the outside. I have sewn three Vanessa Pouzet patterns up to now (including TheCape for my daughter, reviewed here) and I am extremely impressed by their quality: the number of pages to print from the PDF is tiny, the explanations are crystal-clear and full of humour, the finish is impecable and the sizing spot-on.
As for the skirt itself, it is a very short mini skirt – my key rule is never to wear it when I have to take the Tube! Rule number 2 is to drop the heals and wear trainers, not something I'm used to at all…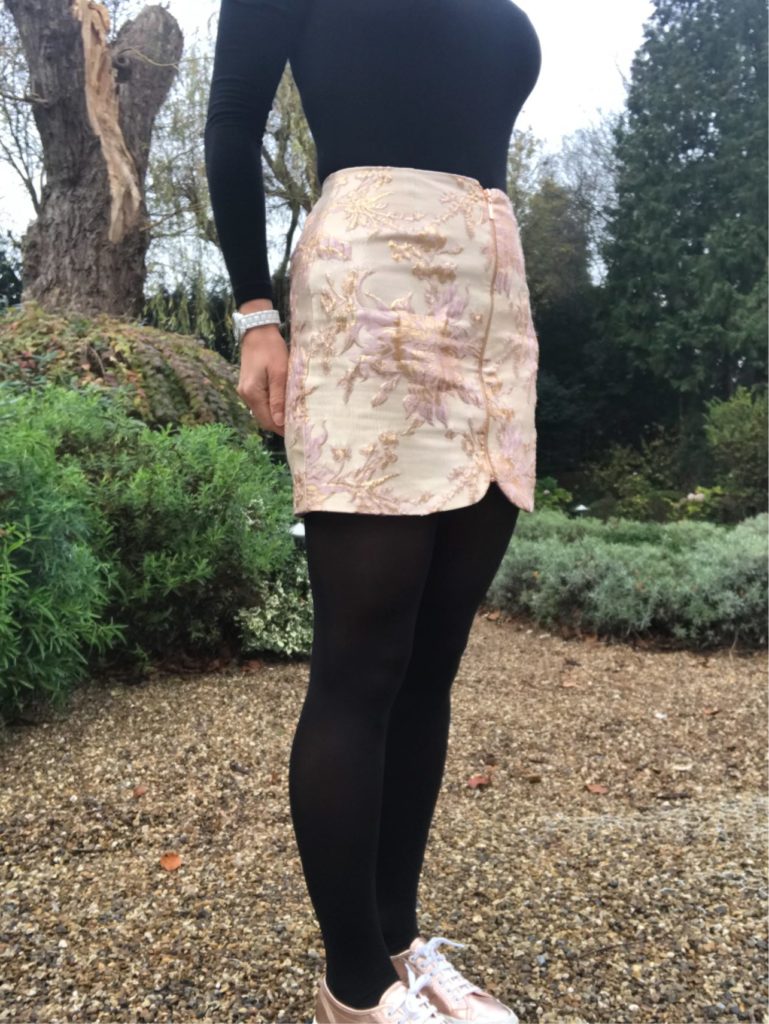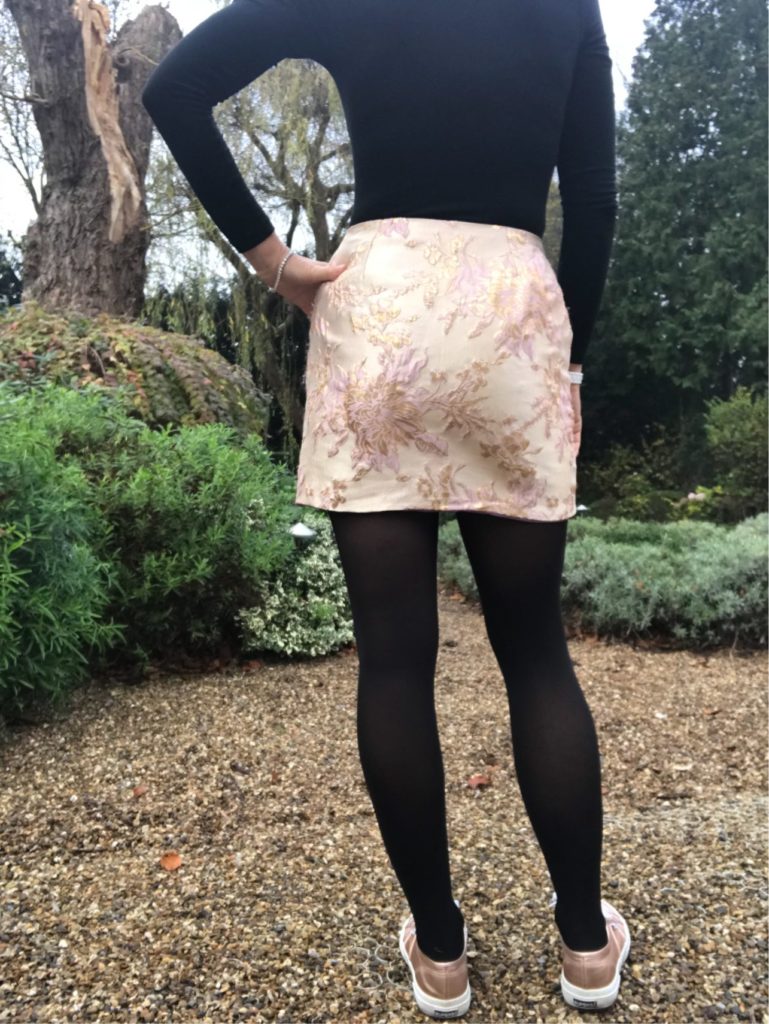 There is a fully-detachable zip at the front, which is a key element of the skirt. I looked for ages on E-Bay to find the right one, with a pink gold zipper on a beige background, perfectly matching my fabric.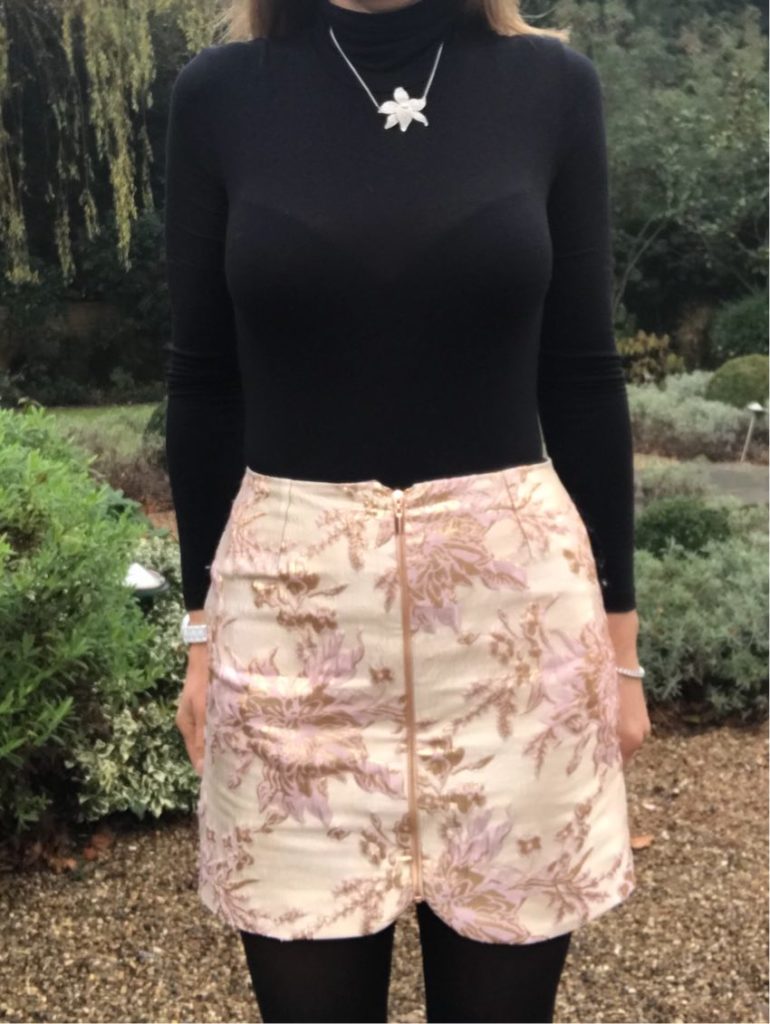 The skirt is fully lined, in such a way that the inside is trully pretty – come on, have a look!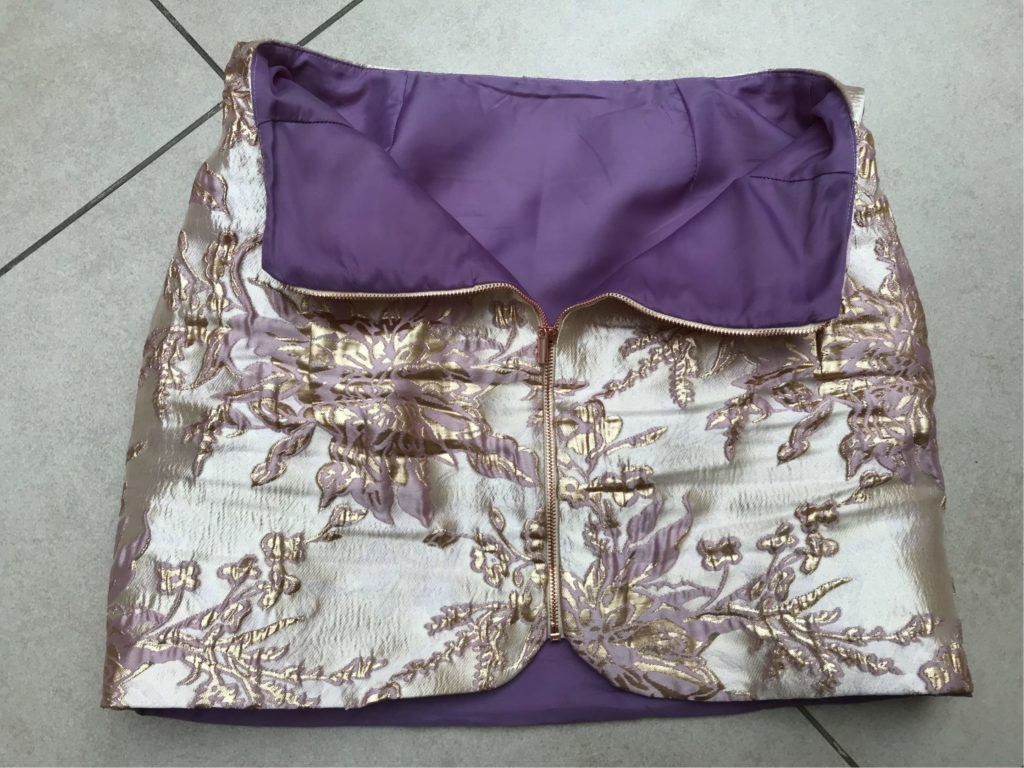 And joy, it also matches another of my recently bought jumpers, hurrah! – what do you mean, yet another blush item in my wardrobe?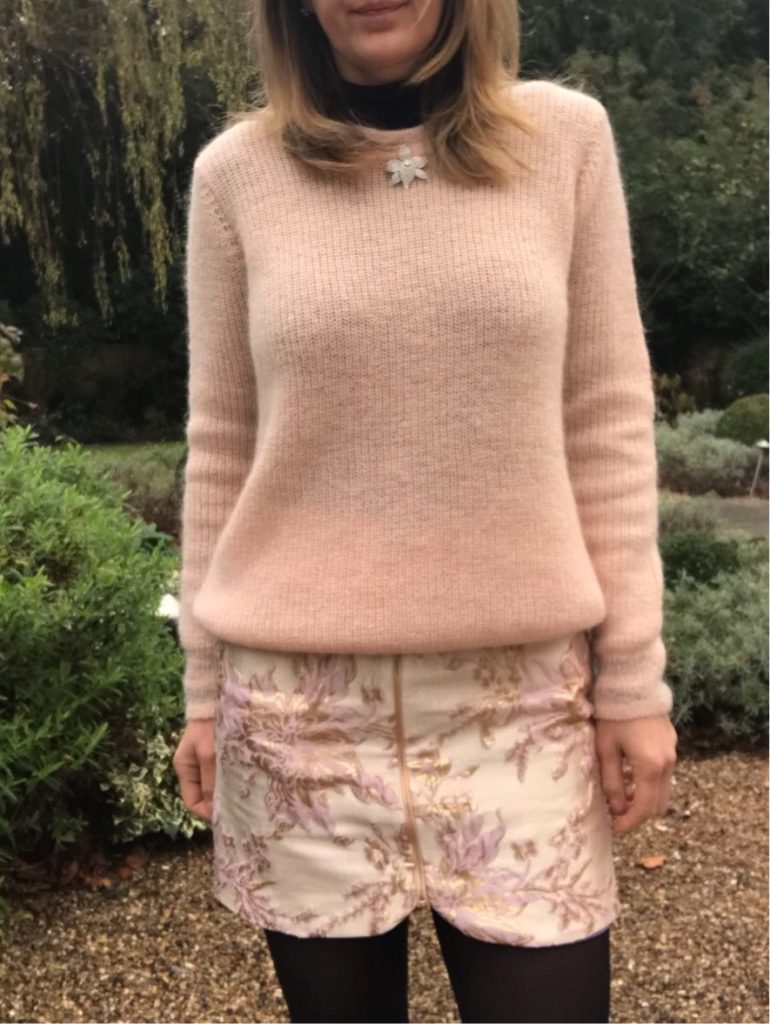 ---
In summary :
Pattern: SisterMini skirt by Vanessa Pouzet, an absolute must in my view after a mini skirt, such an easy make with a really professional finish. I picked size 36 (my shopping size) after trying a way too large 38 with my muslin.
Fabric pink and gold brocart fabric from Bennytex, this specific one is not available anymore but they still have a wide selection here.
Sewing level: you absolutely need to make a muslin to check the size, which can be a bit boring; and you need to be precise when positionning the zip – but it is exposed so not as fiddly as a concealed zip. Otherwise very straightforward as the explanantions are so good.
Love level: suprisingly for a mini skirt and my difficult relationship with my legs, I absolutely adore it!
---
---