Weekly Family Meals
This post is also available in: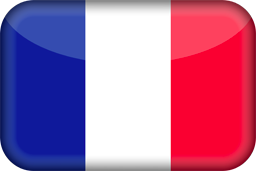 Français (French)
SEMAINE 18:
WEEK 17 :
SEMAINES 16 :
SEMAINE 15 :
SEMAINE 14 :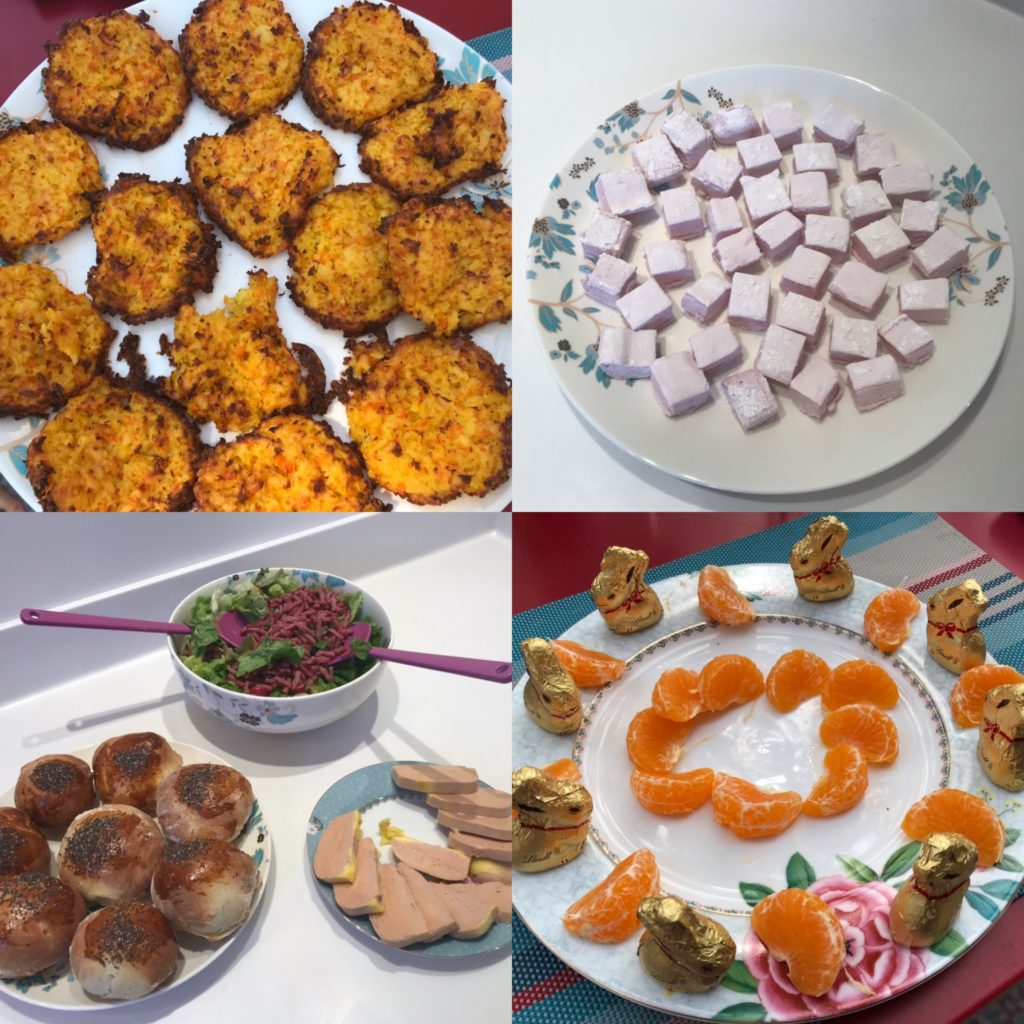 WEEK 13
Thursday lunch: salad with cherry tomatoes, Kalamata olives, cucumber, thick ham
Thursday dinner: ratatouille and rice
Friday lunch: Perigord salad+ bruschetta (goat cheese, polives, dried tomatoes)
Friday dinner: pink lentils dhal, white rice
Saturday lunch: beef roast, salad with chicory, oranges and cashew nuts, roasted new potatoes
Saturday dinner: pepper and tomatoe soup, vegetable, lardons and parmesan crumble (mushrooms, leek, carrots, onions)
Sunday lunch: aubergine lasagna + cucumber salad
Sunday dinner: tomatoe, lentil and chorizo soup
Monday lunch: carrot and coriander , thai salade, charcuterie
Monday dinner: green risotto (p185 de of this book)
Tuesday lunch: salad with lettuce, cherry tomatoes, sweetcorn, ham, Conte cheese
Tuesday dinner: lettuce, onion tart
Wednesday lunch: lamb rack, côtelettes d'agneau au four, chips, slow-cooked cherry tomatoes
Wednesday dinner: Cantonese rice
Thursday lunch: macedoine salad, eggs, lardons
Thursday dinner : soupe Tom Kha Kai soup with chicken
SEMAINE 12
Vendredi soir: chili sin carne (p114 de ce livre), riz blanc
Samedi midi : aubergines farcies au four, soupe de courgettes
Samedi soir : rouleaux de printemps
Dimanche midi: côtelettes d'agneau, haricots verts, tomates au four
Lundi soir : dhal de lentilles, riz blanc
Mardi soir : quiche lorraine sans pate en muffins, soupe carottes coriandre
Mercredi soir : crevettes flambées, légumes au curry
Jeudi soir : hot dogs, salade de concombre
SEMAINE 11
Friday dinner: sweet potatoe waffle, smocked salmon, cucumber salad
Saturday lunch: potato galettes, beef meatballs with tomato sauce, lettuce
Sunday lunch:Banh Xeo (Vietnamese pancakes) + thai salad
Monday dinner:Tom Kha Kai soup with prawns
Tuesday dinner: bouddha bowl with honey/soy sauce chicken, spinach, carrots, rice
Wednesday dinner: falafels (blog Yummix: ), salad with cucumber and cherry tomatoes, pita breads, yogurt sauce
Thursday dinner pork meatballs in teriyaki sauce, white rice, green beans
WEEK 10
Friday lunch: bouddha bowl(p24 of this book) with pulled pork, cucumber, carrots, baby potatoes
Friday dinner: pancackes
Saturday lunch: chickpeas curry, white rice, yogurt and coriander sauce
Saturday dinner: tomato and pepper soup+ courgettes and cheese puff tart
Sunday dinner: tomato, lentil and chorizo soup
Monday lunch: gluten-free pasta, bolognese sauce
Monday dinner: lamb meatballs (p162 of this book), aubergines in miso sauce
Tuesday dinner: sashimi, edamame, miso soup
Wednesday dinner: mi-cuit sesame red tuna , mango, black rice
Thursday dinner: miso soup with rice noodles, tofu, seaweed, shiitake mushroom
WEEK 9:
Friday dinner: lettuce+ aubergine, spinach and ricotta cannellonis (p214 of this book)
Saturday lunch: marinated chicken, houmous, cherry tomatoes, cucumber and lettuce salad, pita breads
Saturday dinner: out
Sunday lunch: salmon (p170 of this book), fine green beans, potato puree
Sunday dinner: pancakes
Monday dinner: pepper and tomatoe soup, cantonese rice
Tuesday dinner: butternut squash soup, broccoli lardons parmesan gratin
Wednesday dinner: chorizo and lentils soups
Thursday dinner: bouddha bol p10 with lamb balls, yogurt sauce, red peppers, spinach
WEEK 8:
Friday night : cordons bleus + haricots verts (long love the Ocado Picard frozen range!!!)
Saturday lunch: smoked salmon, green lentils, mango
Saturday night: petits fours and olives/ smoked salmon and spinach medallions/
Fish cakes in lettuce cups (p107 of this Thermomic book) / sticky toffee pudding (p188 of Thermomix book)
Sunday night : marinated chicken, tomatoe cucumber olives salad, pita bread
Sunday night: winter vegetable gratin (carrots parsnip mushrooms leek parmesan)
Monday night: carrot and coriander soup+ spinach and goat cheese puffs
Tuesday night: chick pea curry, white rice, yogurt and coriander sauce
Wednesday night: bouddha bol p24 with pulled pork, cucumber, carrots, new potatoes
Thursday night: courgettes and vache qui rit soup, aubergine cannellonis with ricotta
WEEK 7 :
Friday dinner: pizzas
Saturday lunch: tagliatelles with smocked salmon, cream and egg
Saturday dinner : petits fours + olives/ Tom Kai soup with king prawns (Yummix 1, p78) / marinated venison with sweet potatoe puree / chocolat-tofu mousse
Sunday lunch: cherry tomatoes + cheese puffs+ olives/ cod with spinach and black rice(Yummix 1, p78) / brownies and raspberries
Sunday dinner: vegetable gratin
Monday dinner: tuna tartare , sweet potatoe blinis, lime whipped cream
Tuesday dinner: vegetable dips(pepper, carrots, cucumber) and houmous, carrot-coriander soup, charcuterie
Wednesday dinner: Buddha bowl chicken, green beans and carrots (p30)
Thursday dinner: Buddha bowl king prawns, rice noodles, cucumber, red pepper(p44)
WEEK 6:
Friday dinner: paella (frozen from Picard)
Saturday Lunch: honey lime chicken with mangoe chutney, mashed potatoes
Saturday dinner: petits fours + olives / crabe with mango puree/ monkfish curry and black rice/ chocolate-tofu mousse
Sunday dinner: Bouddha bowl with smocked salmon and thai salad (carrots, red pepper, fenel)
Monday dinner: stuffed aubergines, pepper-tomatoe soup
Tuesday dinner: marinated venison and sweet potatoe puree
Wednesday dinner: lentils dahl, rice, yogourt coriander lemon sauce
Thursday dinner: oriental lentils soup with Polish sausage
WEEK 6:
Friday lunch: Tom Kha Kai soup (Yummix 1, p78) with rice noodles
Friday dinner: pancakes
Saturday lunch: vegetable gratin
Saturday dinner: sashimi, edamame and gyoza
Sunday dinnerr: tomatoe omelette, green salad
Monday dinner: pulled pork with roasted carrots (Bouddha bols p24)
Tuesday dinner: bouddha bowl with salmon, mangoe and black rice (Bouddha Bols mix p34-p46)
Wednesday dinner: miso soupe with tofu, rice noodles, edamame, mushroom
Thursday dinner: chickpea curry, white rice, yogurt and coriander sauce
WEEK 4
Friday dinner: pizzas
Saturday lunch: Marinated beef (brown sugar, coriander powder, smoked paprika, pepper, garlic powder, fennel powder, lemon and orange zest), mashed potatoes, cherry tomatoes salade
Saturday dinner: restaurant
Sunday lunch: glazed salmon (Yummix 1 p170), coconut creamed kale(Cookidoo)
Sunday dinner: winter vegetables crumble (Yummix 1 p172), lamb lettuce salad
Monday dinner: Aubergine cannellonis with spinach and ricotta (Yummix 2 p214)
Tuesday dinner: lentils and chorizo soup with Morteau sausages instead of chorizo (Cookidoo)
Wednesday dinner: Tom Kha Kai Soup (Yummix 1, p78) and rice noodles
Thursday dinner: black and kidney bean chili (Deliciously Ella p114), rice
WEEK 3
Friday: sashimi (salmon, prawns), wakame salad, edamame beans in pods
Saturday lunch : recipe still needed …
Saturday dinner:
Lasagna for kids
For grown-ups :
Sunday dinner : smoked salmon, raw vegetable dips(carrots, pepper, cucumber) with houmous
Monday dinner : brocoli gratin with lardons and parmesan, courgette soup
Tuesday dinner : bouddha bowl (p10 of this book) with lamb meatballs, grilled aubergines, quinoa, mint yogurt sauce
Wednesday dinner: bouddha bowl (p68 of this book) with lentils dhal, rice, coriander and lemon yogurt sauce
Thursday dinner: bouddha bowl (p44 of this book) with king prawns, cucumber, carrots, rice noodles
WEEK 2
Vendredi soir: crêpes salées et sucrées
Samedi midi: moules frites
Samedi soir: soupe de sorcière crabe-coco/ cocottes de poisson gratinées aux champignons et riz noir / crèmes au chocolat au tofu soyeux
Dimanche soir: Bouddha bowl avec saumon fumé et salade thaï (j'utilise les légumes suivants : carottes, poivron, céleri)
Lundi soir: tartes aux asperges et fromages (pâte feuilletée sans gluten, 3 fromages : chèvre/ gorgonzola/ parmesan, asperges précuites à la vapeur, cuisson 45mn à 180C) + soupe veloutée de courgettes avec Vache qui Rit
Mardi soir: Calamars aux oignons et tomates à la poêle + nouilles de riz
Mercredi soir: cuisses de poulet marinées au citron et gingembre, purée de carottes
Jeudi soir: champignons Stroganoff, riz blanc, haricots verts
WEEK 1
Friday dinner : kids make pizzas – home-made dough with the recipe from this book, I give them various options (requiring limited prep) for toppings: tomato puree, mozzarella, grated parmesan, chorizo, ham, cherry tomatoes, peppers
Saturday lunch : marinated duck with sweet potato puree + fine green beans
Saturday dinner/ Sunday lunch: we're out so no cooking, but I'm baking 2 brownies and 1 brioche, using my own recipes.
Sunday dinner : vegan bolognese from the freezer + rice
Monday dinner : Thai chicken meat balls with rice noodles
Tuesday dinner: Sashimi (tuna, salmon, prawns and scallops – I marinate the prawns and scallops in lime or lemon juice) with edamame in pods, served with soy, sweet chili and hoisin duck sauce.
Wednesday dinner:Vegetable waffles (I had a handful of spinach to the recipe) + sauce with Greek yogurt, coriander and a bit of olive oil) + carrot and coriander soup
Thursday dinner: Oriental lentil soup, I will add cubes of polish sausages cooked separately to make it kid-friendly and more filling
WEEKLY MEAL PLANNER: LET'S GET STARTED!
fter several request from friends to share my weekly meal plans, I have decided to use my blog as a platform for doing it. Surely sewing is an enormous part of my life, but cooking is too – the later more out of necessity than passion though! I will (try and) post menus every Thursday evening for the following week so if you're interested watch this space!
If you know me, you for sure have realised that I cannot survive unless most of my life is organised to the extreme – this excludes packing (which I HATE HATE HATE doing in advance) but includes meals planning.
I have been planning our family meals on a weekly basis for many many years – probably before children (!!!) – and this removes so much stress on a daily basis that I seriously have no idea how I would cope without. No more pulling your hair off in the kitchen every other day wondering what on hell you're going to cook. No more throwing food away (as you only purchase what you need). No more daily trips to the supermarket. And maybe most importantly, no more children asking you constantly what they're going to eat for the next meal (or it is just my children who are food obsessed?).
If you've been toying with the idea of meal planning but don't know where to start, here is how I do it: